INSIDE: All you need to know Guide to the Best Place to Buy Traditional Japanese Souvenirs in Tokyo.
I hope you paid for luggage when you bought your airfare because Tokyo is the ultimate shopping dream zone, and you ARE going home with extra kilos in your suitcase.
Whether you love to shop for Japanese fashion, technology and gadgets, fun & quirky Japanese products for home organisation, Japanese stationery, Japanese food, Japanese snacks, Japanese chocolate, Japanese candy or shoes, you'll find it in Japan.
But it can be hard to find them all in one place.
Want a tip?
Let's talk Japanese souvenir shopping!
Disclosure: This article contains affiliate links. If you make a purchase after clicking on one of these links, we may receive a small commission at NO extra cost to you. Main image: Brian Jeffery Beggerly via Flickr CC BY 2.0
What to buy in Japan?
Tokyo is a place that blows your mind, and there's zillions of mind-blowing things to spend your money on, including authentic traditional Japanese souvenirs that reflect Japanese culture.
Shopping in Tokyo for traditional Japanese gifts and authentic Japanese souvenirs for your family and friends is just as fun as shopping for yourself.
But you need to know WHERE to go.
When it comes to finding beautiful, artistic, or traditional Japanese souvenirs in classic Japanese textiles, patterns and prints, and things made with Japanese craftsmanship and style, there's not many obvious choices in Tokyo unless you want to spend a fortune in a Japanese Department Store.
You really have to hunt to find shops selling authentic Japanese souvenirs.
---
RELATED: Read this Monster List of Awesome Things to buy in Japan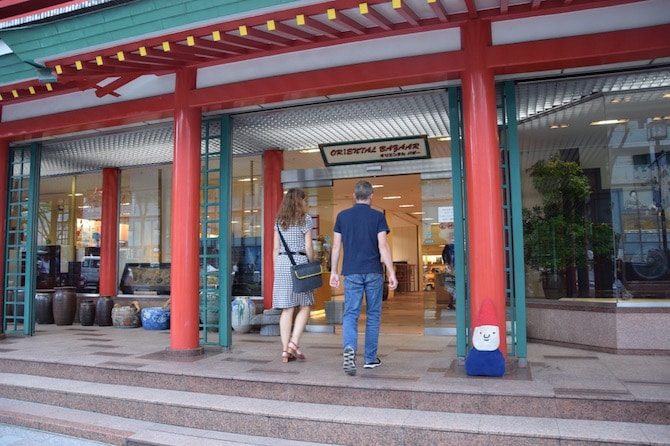 Where are the authentic Japanese Souvenirs Tokyo?
Luckily, we know THE best place for finding charming and authentic Japanese souvenirs in Tokyo.
It's called Oriental Bazaar Tokyo, and it's on the main road – Omotesando shopping street- that runs parallel to the pedestrian friendly Takeshita street in Harajuku.
I was introduced to this shop when I was a 15 year old student in Japan.
It's still my go-to Japanese souvenirs shop today.
It's full of recommended Japanese souvenirs to buy.
---
RELATED: Big List of the Best Things to do in Tokyo with kids

GUIDE TO ORIENTAL BAZAAR TOKYO
Oriental Bazaar Harajuku Tokyo is a funny choice of name for this elegant, refined, and orderly Japanese souvenirs store.
30 years later, this Japanese souvenirs shop retains its crown as the premiere world-class location for Japanese souvenirs to take home for friends, family, and colleagues.
In fact, it's nickname is Chamber of Handicrafts.
If you are in Shibuya shopping, or planning some Harajuku shopping, make a detour.
Recommended Japanese Souvenirs to buy
It has everything – a one-stop shop for Japanese souvenirs including:
antiques
samurai swords
armour and helmets
ceramic lamps
antique kimonos
cotton yukatas
quirky Japanese knick knacks
Japanese towels
Japanese handkerchiefs
Japanese kitchenware
Japanese t-shirts
chopsticks
Japanese folding fans
Japanese face masks
You don't have to go anywhere else for souvenir shopping, except to stock up on your favourite Harajuku souvenirs – weird blue wigs, sky high platform shoes, tasty Japanese snacks, fun Japanese DIY candy kits, and Japanese candy.
BUY NOW ON AMAZON: Five different flavors of Japanese POCKY chocolate sticks!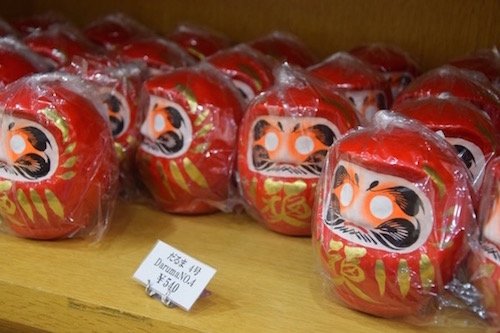 Popular Japan Souvenirs at Oriental Bazaar Harajuku
These is a list of our most recommended Japanese souvenirs. Our family can never leave Japan without these popular souvenirs from Japan.
No.1: A new Daruma Doll (or three).
These are top of the list of must have souvenirs from Japan.
A Daruma, according to the folk at We Love Daruma, is a "traditional handmade Japanese wishing doll (charmingly referred to as a "GOAL DOLL") that keeps you focused on achieving your goal!
Darumas are modeled after Bodhidharma, the founder of the Zen sect of Buddhism, 1500 years ago, and represent the silhouette of Bodhidharma in deep meditation, sitting in the customary zazen position.
Daruma is closely associated with a beloved Japanese proverb, Nana korobi yaoki, which states, Fall down seven times, get up eight. The Daruma doll's unique rounded shape allows it to return to its original position even if knocked over, representing such persistence."
This centuries-old tradition begins by choosing a goal.
When you've done this, you lock in your commitment to this goal by colouring in one of the Daruma's white eyes, and placing him in a prominent spot in your home, where you'll see him daily, narrowing his focus to the goal and reminding you to do the same.
When your goal is achieved, after all your hard work and effort, you colour in the other eye on the Daruma to thank him for his support.
Miniature ones cost less than 300 yen each, while a large one hovers around the 1000 mark ($10 AUD)
BUY NOW ON AMAZON: Set of 10 Daruma Fortune Dolls for ALL the fortunes!
No.2: Lucky Cat ornaments.
Japanese Lucky Cats, or Maneki Neko, are believed to be a lucky charm by the Japanese people, to bring good fortune and happiness.
We've heard a rumour that if the cat's right arm is raised, it invites and beckons money. If the cat's left arm is raised, it invites people and community.
The traditional ceramic Japanese lucky cats are a superb meaningful gift to give, (who doesn't need a good luck blessing?)
I also love the Japanese lucky cat dolls made from traditional Japanese chirimen crepe fabric. These lightweight souvenirs from Japan are a sweet gift from Japan for children.
---
RELATED: Ultimate Guide to Gotokuji Cat Temple Tokyo for kids
No.3: Japanese Kokeshi Dolls
The top souvenirs from Japan for anyone who collects dolls are the Kokeshi doll.
A Kokeshi doll in a red kimono is the most adorable of all the cute Japanese souvenirs we know.
BUY NOW ON AMAZON: Hiro the Samurai Kokeshi doll
No.4: Japanese Tableware & Japanese ceramics
I just cannot resist a teeny-tiny blue and white indigo soy sauce dish, or a ceramic rice bowl, and continually add to our collection.
Japanese ceramics for Japanese tea ceremony, including a Japanese teapot, and Japanese tea cups are another popular Japanese gift to bring home.
You'll find quite the collection at Oriental Bazaar Tokyo.
BUY NOW ON AMAZON: 5 piece Saikai Traditional Japanese pottery plates in indigo patterns

What to buy in Japan for kids – Games and toys
If you are looking for cool souvenirs from Japan for the kids, look no further.
Ninja Costume Dress Up for boys
Movable Toys – they stock the "Going Down the Tracks Walking Ninja Doll" and a "Rolling Daruma" toy
Japanese Paper Balloons
Spinning Tops
Koi no Bori flags or carp-shaped wind socks that are traditionally flown to mark Children's Day, but are just cute any day of the year
A kendama is a cup and ball string toy that came to Japan in the 1700s and is popular with children
A yukata summer kimono, with an obi waistband, tabi toe socks, and geta (the wooden clog-like shoes).
BUY NOW ON AMAZON: Traditional Japanese Koinobori Fish Wind sock (79 inch)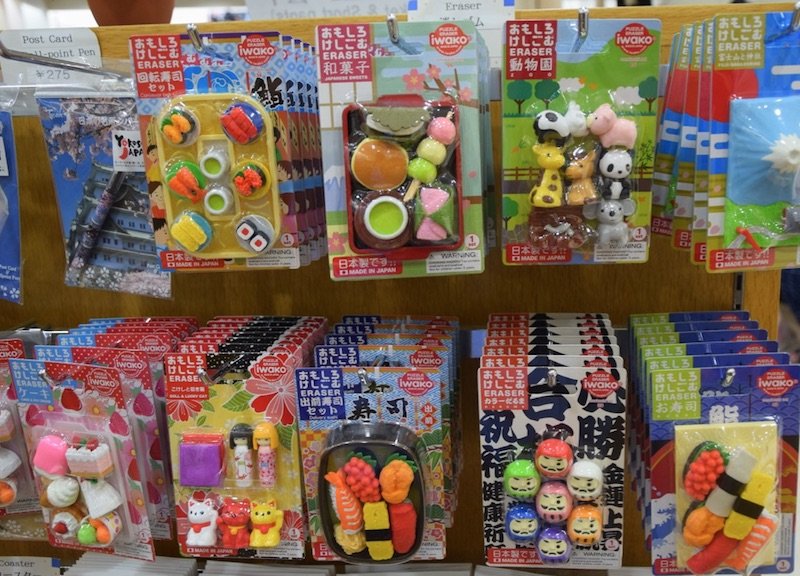 No.1: Japanese Erasers for Kids
Even the eraser gets a cute makeover in Japan. You can buy rubber erasers shaped as pieces of sushi, daruma dolls, a traditional obentoo lunch box, japanese sweets, and koi fish too.
Kids love them, even if they don't make much sense to us.
BUY NOW ON AMAZON: 20 Assorted Japanese Erasers (Sweet Desserts and Japanese Cakes)

Best Japanese souvenirs for women
Find some of the best Tokyo souvenirs for women at Oriental Bazaar. Good Japanese souvenirs are beautiful in design and make you smile.
Foldable Sensu fans. Invented in Japan, and made of Japanese paper or cloth fixed to a collapsible frame of bamboo or wood, Oriental Bazaar has quite a selection. They also stock Uchiwa hand-held fans, perfect for anyone who feels the heat.
A traditional kimono or summer yukata
Japanese Hair accessories – made from a combination of resin and/or traditional Japanese fabric, they stock pretty flower-centric hair pins known as Kanzashi, plus hair clips, hair ties, hair bands, and hair slides.
Japanese ceramics – dishes, mugs, tea services, and cutlery featuring Japanese sakura cherry blossoms
Japanese hand towels, and handkerchiefs
Pretty fabric bags
Delicate purses in all shapes and sizes, made from patterned Japanese textiles and linen
Japanese Letter sets
Japanese stationery items
BUY NOW ON AMAZON: Oval Shaped Barette Hair Clip in traditional Japanese chirimen fabric

Typical Japanese souvenirs for men
Here's some ideas for cool Japanese souvenirs for men.
A traditional kimono or summer yukata
For a laugh, and a soft clean complexion, the man of the house might like a kabuki face mask
Nunogoyomi towels – for use in the bath, or to drape around the neck to collect sweat as you work. Failing that, they make fabulous kitchen cleaning cloths being so absorbent.
Unique T-shirts with prints of large kanji characters.
BUY NOW ON AMAZON: 4 x Japanese face masks for good skin care in kabuki design

The Best Souvenirs in Japan on a budget
These are ideas for souvenirs to buy in Tokyo for those who might be hard to buy for too.
No.1: Japanese key chains
No.2: Japanese phone charms
make cute souvenirs from Japan. They are also cheap things to buy in Japan for the neighbourhood kids or the kid's school friends.
No.3: Onamori
These are Japanese amulets, charms or talismans (commonly sold at religious sites) that Japanese people buy as a request for luck or protection.
No.4: Tenugui towel
A Tenugui towel is a thin Japanese hand towel made of cotton.
It is typically about 35 by 90 centimeters in size, plain woven and is almost always dyed with some pattern.
Tenugui can be used as a decorative placemat or hall table runner, placed under a vase of fresh flowers, turned into artwork by hanging it as a scroll, or wrapped around wine bottles when serving.
Traditionally, Japanese men have often wrapped these cloths around the head as a headband to keep hair and sweat out of their eyes, and they are still used as a head covering in kendo, where it functions as a sweatband, as extra padding beneath the headgear, and to identify the participants by team colour.
No.4: Japanese books
Visit the book corner at Oriental Bazaar to find books about Japanese history and culture.
No.5: Japanese chopsticks set
If you get stuck, traditional Japanese chopsticks are your backstop.
BUY NOW ON AMAZON: Miyamoto Japanese traditional towel 'tenugui' – set of 5 small towels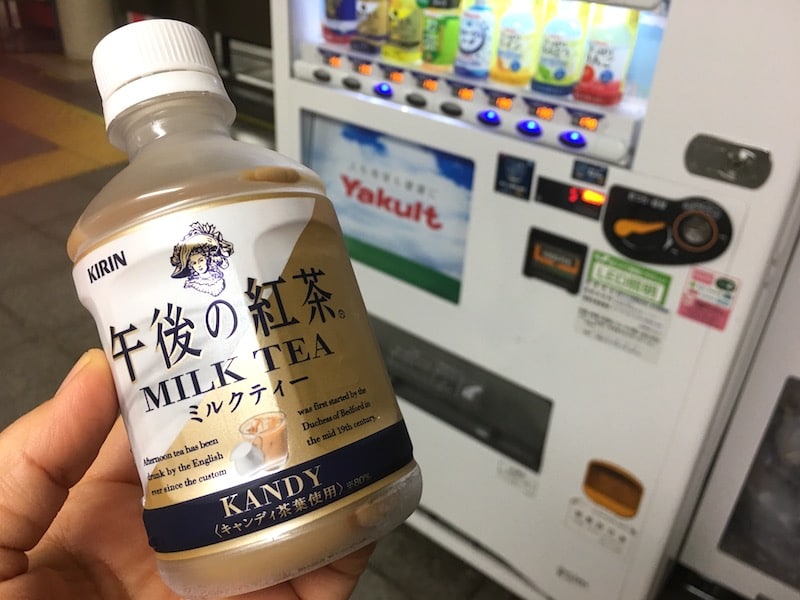 Japanese Drinks
One more thing.
While you can't take home a Japanese vending machine, you can purchase Japanese drinks as souvenirs too.
Someone will be chuffed with an unusual flavor of Japanese Fanta, delicious milky tea, or a unique Peach Tea in a pretty bottle.
RELATED: Roam the Gnome's Guide to Japanese Drinks in Japan

THE INSIDE SCOOP: The Best Souvenirs from Japan at Oriental Bazaar Harajuku
Correct at time of publication on Roam the Gnome. Please check with venue for updates. We apologise in advance if there have been any changes we are unaware of. All prices in yen, unless otherwise stated
Address: 9-13 5-chome Jingumae Shibuya-ku Tokyo 150-0001 Japan.
Oriental Bazaar is located directly opposite Omotesando Hills shopping centre, and just a hundred metres down to the left from Kiddyland as you face it from Harajuku's main shopping area.
Opening hours: 10:00A.M.-7:00P.M daily. Closed Every Thursday
Telephone: 81-3-3400-3933
How to get to Oriental Bazaar Souvenir Shop in Tokyo
By Train – JR Yamanote Line Harajuku Station – approx. 5-min. walk from the Omotesando Exit
By Metro – Tokyo Metro Chiyoda Line (Omotesando Station) – approx. 4-min. walk from Exit B4 or Tokyo Metro Chiyoda Line (Meiji-jingumae Station) – approx. 3-min. walk from Exit 4
Map of Oriental Bazaar Souvenirs Japan
MORE SOUVENIR SHOPPING IN TOKYO
No.1: Harajuku Souvenirs at Meiji Shrine Tokyo
If you do want to keep shopping for authentic and traditional souvenirs, we'd also definitely recommend a visit to the souvenir shop at Meiji Jingu shrine nearby.
It's another unexpectedly good spot for traditional Japanese souvenirs shopping with plenty of traditional Japanese sweets in pretty packages in stock.
No.2: Daiso Harajuku
Also, on Harajuku main street, visit the Harajuku Daiso 100 yen store to pick up:
Crunky Chocolate Balls
Matcha Green Tea Kit Kats
Milky Hard Candy, and
lots of Pocky Japanese Chocolate stick varieties.
It's a bit clique, but Pocky and KitKats are the things everyone will ask you for!
More ideas of where to buy Japanese souvenirs in Tokyo?
Don't forget Kappabashi Kitchenware Street between Asakusa and Ueno Park for Japanese knives & plastic food displays.
Wondering what to buy in Japan Electronics?
No.1: Akihabara Tokyo
Visit Akihabara Electric Town for the best Japanese gadgets including bizarre alarm clocks that scream at you to wake up, all in Japanese of course.
Ask the staff here about buying Nintendo Switch and Nintendo Switch games before you buy, to ensure they are a match, and can be used at home.
No.2: Bic Camera Tokyo
Bic Camera has cool things to get from Japan in the way of photography and camera equipment.
No.3: Don Quijote Tokyo
Don Quijote or Donki is the biggest discount store in Japan and has all the cool things from Japan.
They have the best things to buy in Japan for nerds and pranksters too.
No.4: Tokyu Hands
Tokyu Hands is the place to get unusual gifts from Japan for craft lovers, cyclists, knitters, model airplane makers, world travellers, and book lovers.
Check out our complete guide to shopping in Tokyu Hands.

MORE of the Best Shopping in Japan
Click the blue links below for more Tokyo tips. fo find more ideas of where to buy souvenirs in Tokyo.