INSIDE: Roam the Gnome's Guide to the Best Australian Souvenirs to buy in Australia.
Planning a visit to Australian and want to know the best Australian souvenirs ideas, or what to buy in Australia for friends and family?
Don't limit yourself to the 'standard' Australian gift.
We've also gathered the BEST of the rest:

Handmade Australia fashion
the best Australian shoes
famous Australian products for the house and home (including awesome cleaning products and decor)
famous Australian toys
Australian books for kids
Australian homewares
Aboriginal art and unique Aboriginal gifts
Australian jewellery brands
the best skincare and hand creams, and so much more.
Plus, find all the details of where to buy Australian souvenirs, and the best shops for Australian themed gift ideas below.
Disclosure: This article contains affiliate links. If you make a purchase after clicking on one of these links, we may receive a small commission at NO extra cost to you. Main image credit: Bernard Spragg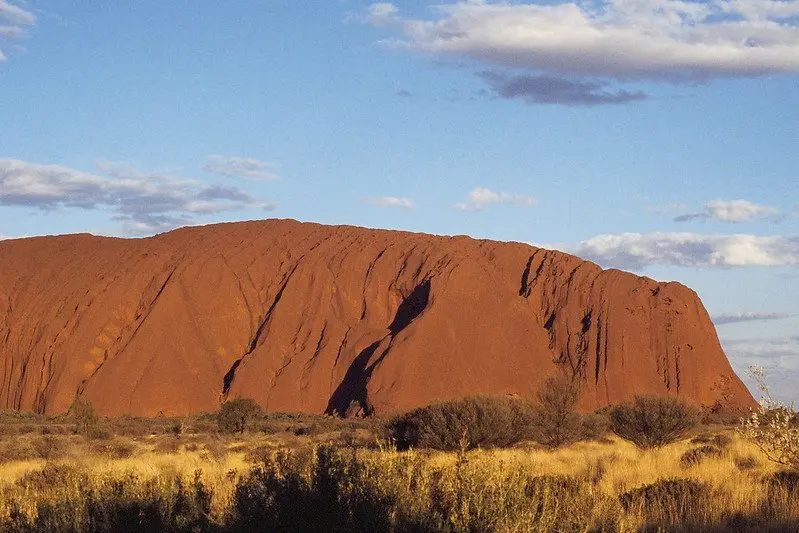 Image credit: Ellen Forsyth via Flickr CC BY-SA 2.0
The 100+ Best Australian Souvenirs & Gifts for Family and Friends
Correct at time of publication on Roam the Gnome. Please check with venue for updates. We apologise in advance if there have been any changes we are unaware of. All prices in AUD dollars, unless otherwise stated
We've organised the list of unique Australian souvenirs ideas by category.
Click the headings in the contents box to go straight to a particular topic, or scroll the list of the best souvenirs from Australia from top to bottom.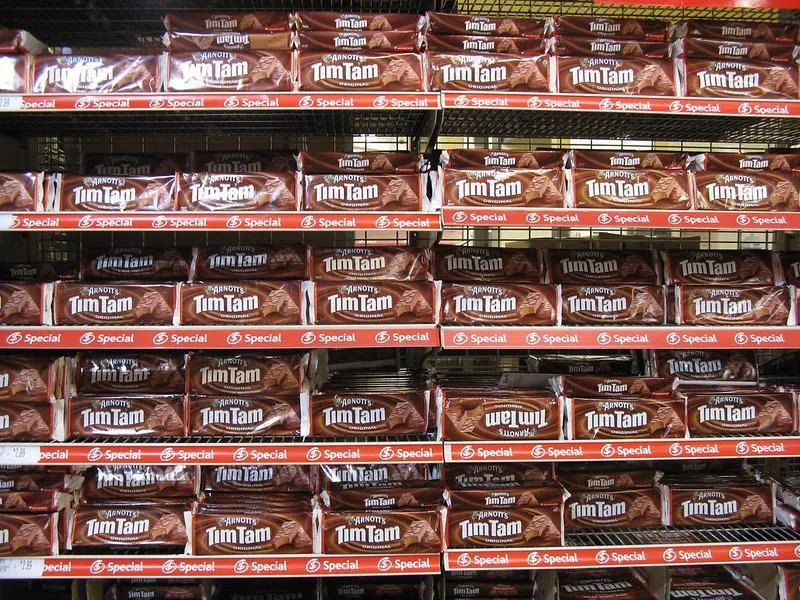 Image credit: CharlotteinAustralia via Flickr CC BY-2.0
FAMOUS THINGS TO BUY IN AUSTRALIA
Let's get the most obvious souvenirs of Australia out of the way.
These things are known as the most popular souvenirs in Australia so you can't go wrong, but if you are looking for unique souvenirs from Australia, keep reading below.
If you are looking for the best Australian souvenirs to take overseas, there's plenty of inspiration here too.
No.1: Tim Tam biscuits
These are the most well known Australian biscuit on the supermarket shelves in Australia.
They are top of the list of Australia snacks to send overseas.
But Tim Tams are not the only Australian food gifts you should buy.
There's a WHOLE bunch of famous Australian foods (think Vegemite) and popular Australian chocolates and candy you need to get your hands on.
Hot tip: Take a sneak peek at the video of "how to do a Tim Tam Slam" further down the page.
This is the ONLY proper way to eat a Tim Tam as far as Aussies are concerned.
---
READ MORE: The BEST Australian Food Products for Friends, Family & Homesick Mates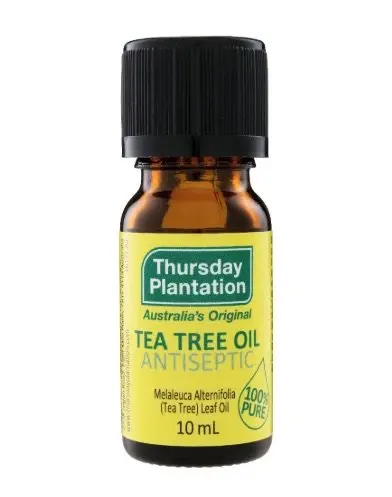 No.2: Tea Tree Oil
Used as a topical antiseptic ointment or spray to prevent germs, stop inflammation, inhibit fungi growth and conditions like Athletes Foot, treat pimples, soothe dermatitis, kill household germs, help with dandruff and cradle cap. Lots of Aussie families put a few drops in a spray bottle with water and spray their kids' hair every morning to prevent nits!
The most popular brand is from Thursday Plantation, manufactured near Byron Bay.
Pop a bottle or two of Tea Tree oil in your suitcase. This Australian essential oil has magical properties!
Buy Now: Click here to check prices on Amazon
No.3: Emu Oil
Emu oil has similar properties to tea tree oil.
Many Aussies swear by Emu oil for treating joint and muscle pain, skin conditions and arthritis.
Try it for yourself!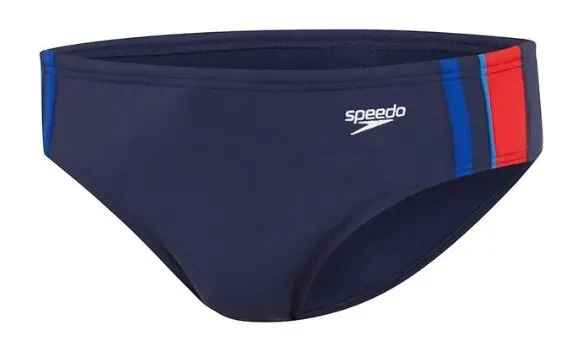 No.4: Mens Speedos
Discover Australia's best men's swimwear, born in 1928 around the waves of Bondi, is built for comfort, endurance and style.
These swimwear briefs are not to everybody's taste of course, but they are definitely iconic in Australia.
The woman's Speedos bathing suits are also a very popular purchase each summer season.
BUY NOW: Click here to check prices on Amazon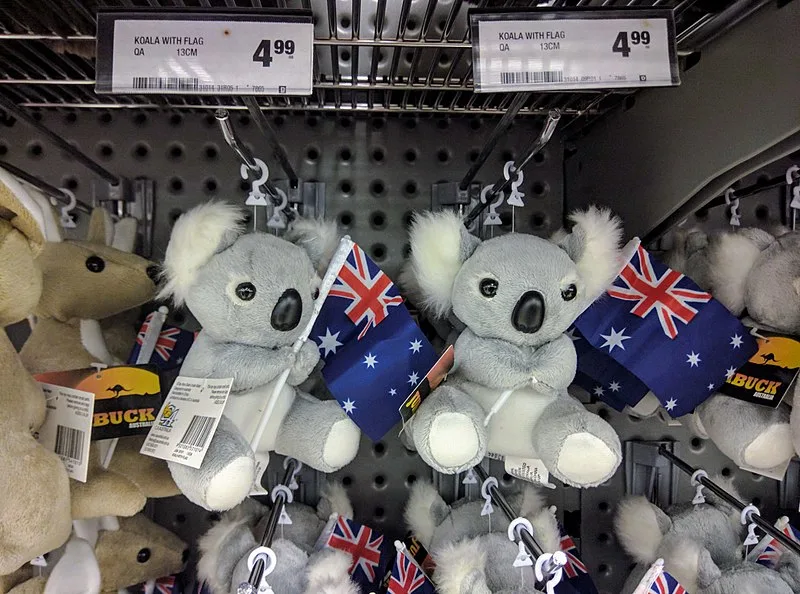 Image credit: Maksym Kozlenko
No.5: Stuffed Toys – Kangaroos, Koalas & Wombats
Try to buy kangaroo toys made in Australia.
Unfortunately, many "Australian made toys" have been produced offshore in China.
Check the tags to make sure your koala toy, echidna toy, and crocodile plush toy are made in Oz.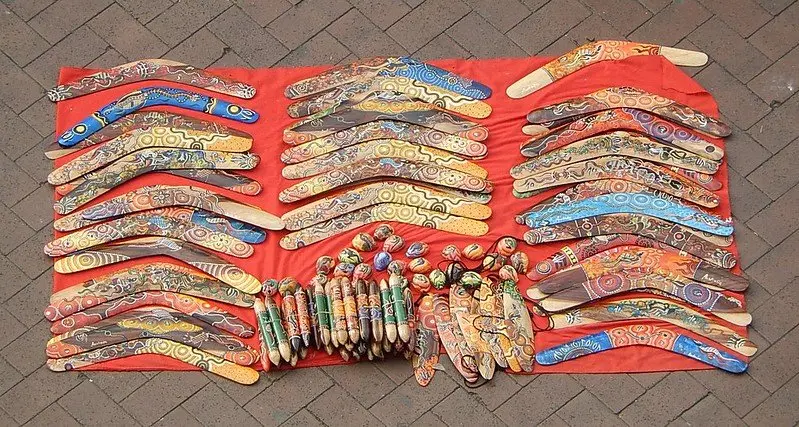 Image credit: Michael Coghlan via Flickr CC BY-SA 2.0
No.6: Boomerang
A boomerang is a weapon used by Indigenous Aboriginals in hunting.
In modern times, this thrown tool has become a canvas for Aboriginal art designs, and many a tourist or visitor to Australia has bought one or more as an gift to take home for friends and family.
It's also a famous Australian souvenir to hang on a wall in your home to remember a special vacation.
As Darryl Kerrigan from the Castle film (1997) would say,
'This is going straight to the pool room".

Image credit: Neil Tilbrook via Flickr CC BY-2.0
No.7: Australian Cricket Bat
Cricket is a National Sport in Australia.
Why not take home a cricket bat, or a cricket set and recreate the legendary play at home?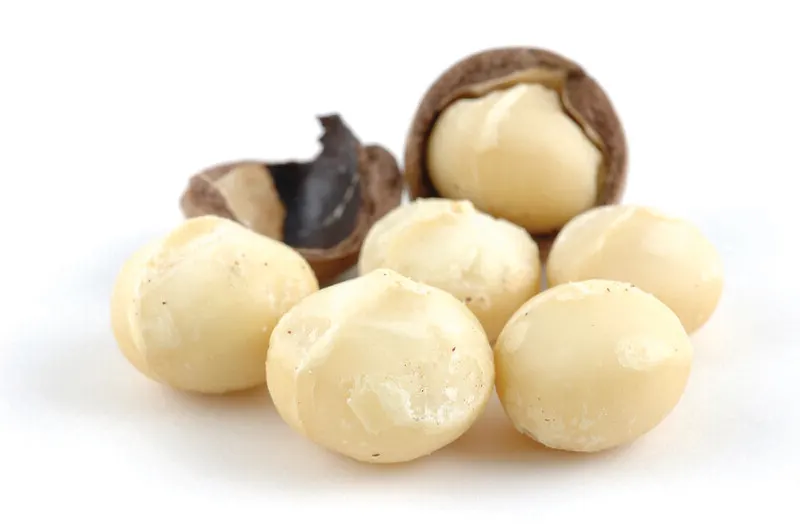 Image credit: Alex Whyte via CC BY-1.0
No.8: Australian Macadamia Nuts
Freshly cracked from their shell, packaged in a gift box as a chocolate covered macadamia, you can't just eat one of these Australian grown nuts.
You can even buy special Macadamia nut crackers.
Looking for cool things to buy in Australia? Why not make a combo of both?
Now let's take a look at more of the must have Australian souvenirs you should buy on your Australian trip.

Image credit: Blundstone Boy via Flickr CC BY-2.0
BEST AUSTRALIAN SHOES
The Famous Australian Work Boots?
There's a few brands of Australian boots that are much loved by both "tradies" and the fashion set, but there's two Australian boots brands you need to know.
Don't leave Australia without them.
No.1: Australian Blundstone Boots
Blundstone boots are experiencing an unprecedented resurgence among the Australian instagram set, and no self respecting Australian influencer in Byron Bay would be without them.
Teamed with a long floaty linen in shades of terracotta or mustard, these Australian work boots are in.
BUY NOW: Check current prices on Amazon

Image credit: RM Williams History
No.2: RM Williams Boots
The other Australian boots to buy are RM Williams Boots.
Made in Australia for over 90 years, the R.M Williams company was established in 1932.
Their first products were handmade leather saddles and leather riding boots.
These leather boots were designed to ensure they could withstand the tough conditions of the Australian outback, but the aesthetic of their look was also important for RM.
These iconic handmade one-piece-leather boots are now an award-winning staple for people who love good design.
BUY NOW: Check current prices on Amazon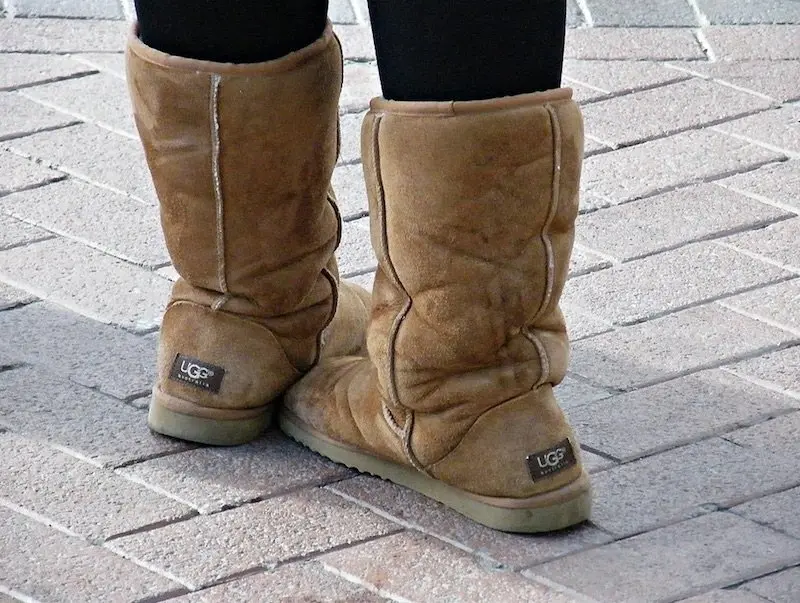 Image credit: Ugg Boy Ugg Girl
No.3: Real Ugg Boots
Our next suggestion is to buy a pair of authentic ugg boots.
These sheepskin boots are an Australian staple, and you'll find them in just about every Australian home, despite the fact more than half the country experiences about a week of winter!
There are Australian UGGS for men, UGGS for women, UGGS for kids, toddler UGGS and UGG booties too.
You can buy tall Australian sheepskin boots that come up to the knee, UGG slipper boots, UGG classic minis that reach the ankle, and strangely, UGG flip flops too!
The UGG classic shorts are the most popular in Australia.
You'll see people wearing these UGG ankle boots to the supermarket after work!
Hot tip: Buy Australian ugg boots in Chestnut. It's the color of the moment.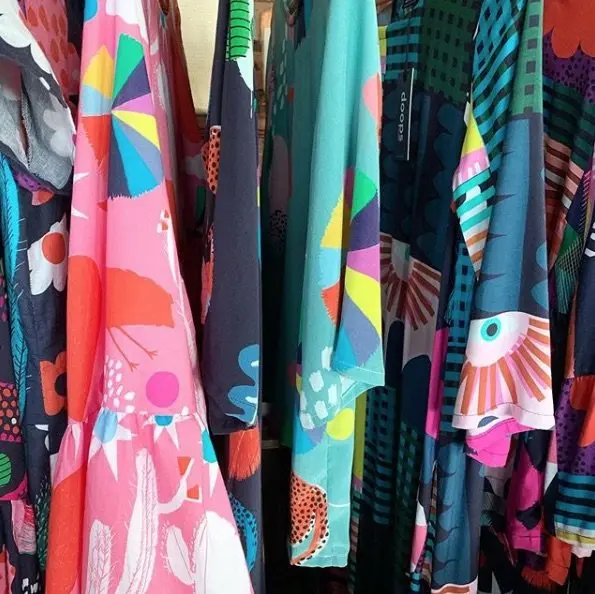 Image credit: Doops design
BEST AUSTRALIAN FASHION
No.1: Popular Australian Clothing Brands
Looking to style your wardrobe and add a few iconic pieces of Australian clothing?
Check out these Australian fashion brands and their most famous & most popular pieces:
Australian Womenswear & Accessories
Ksubi jeans
Sass and Bide dresses
Country Road
Witchery
Seafolly bathing suits
Oroton handbags
Camilla and Marc fashion
Leona Edmiston ladies wear
Jenny Kee, the pioneer of bold Australian fashion. Buy a Jenny Kee scarf to tie around your neck or hair.
Gorman
Gorman, a brand created by Lisa Gorman, a girl from the Great Ocean Road coastal town of Warrnambool in Victoria, is one of our favourite Australian fashion brands.
These well made pieces are the ideal clothing for the Australian climate.
Take a look at their bold designs and bright colors, many of which take their inspiration from Aboriginal culture, the Australian land and the colors of the Australian desert.
It's not a brand for a wallflower.
Doops Design
Our newest find is Doops Design, based in the hinterland of Byron Bay.
Their bright, fun dresses feature Australian flowers, Australian birds, Australian animals and birds (kangaroos! magpies! ) and coral reef designs.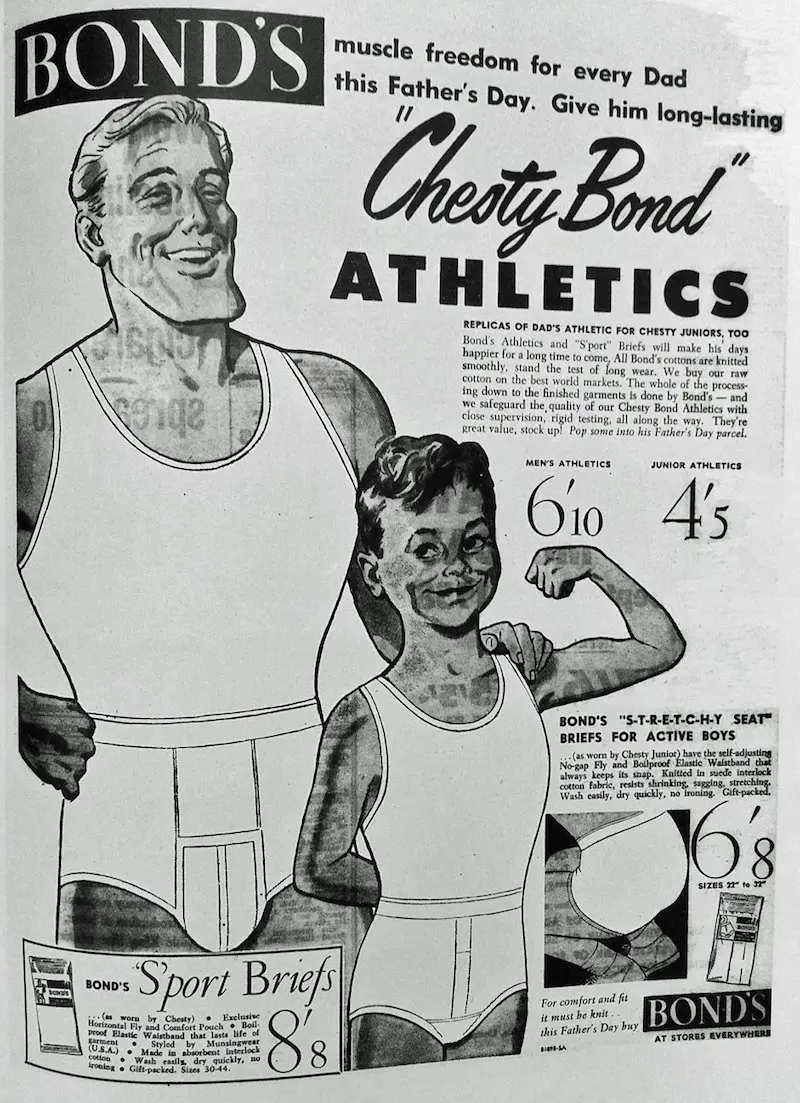 Image credit: AussieMobs via Flickr CC BY-1.0
No.2: Best Australian underwear
Don't go home without:
Berlei bras
Bonds underwear
Bonds is an iconic shop in Australia.
You'll find Bonds undies, bonds singlets, bonds jumpers and bonds tracksuit pants in every Australian wardrobe.
They are a staple piece of clothing!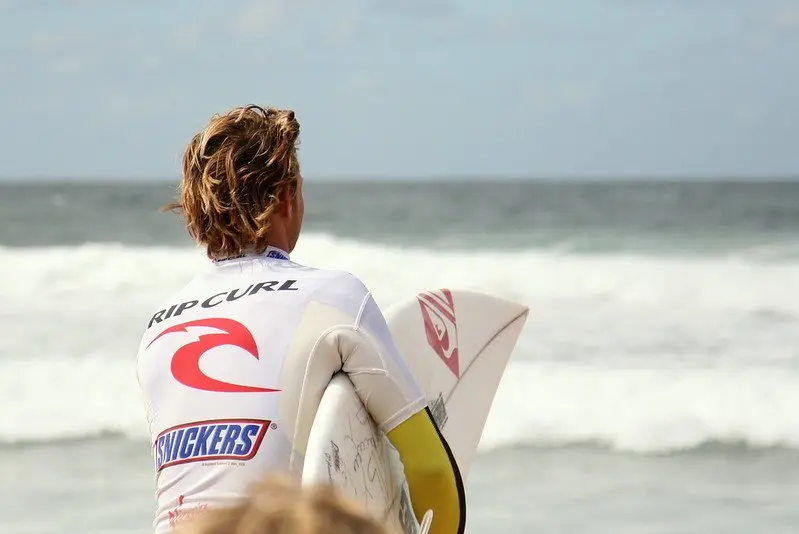 Image credit: Ari Bakker via Flickr CC BY-2.0
No.3: Best Australian Surfing brands
Hot Tuna t shirts – buy one of these

Australia t shirts for the teenagers in your life

Billabong surfwear
Quiksilver surfwear
Rip Curl surf clothing
No.4: Best Australian Mens Wear
KingGee workwear
Stubbies shorts & tshirts for men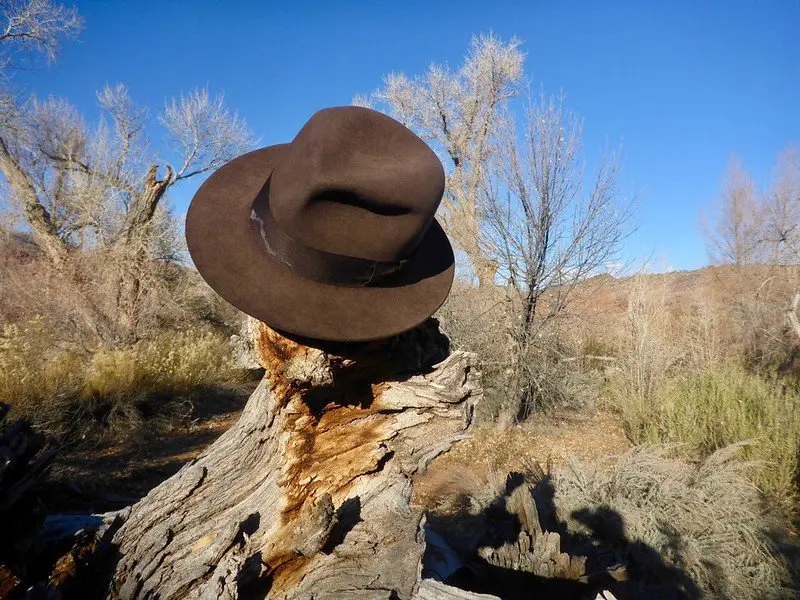 Image credit: Puuikibeach via Flickr CC BY-2.0
No.5: Australian Akubra hat
Started in 1874 in Hobart Australia by a newly arrived Englishman, these hats became really popular during World War 1 when the slouch hat was created.
By 2015, Akubra had produced two million hats for the military.
But these hats are worn in daily life every single day, by thousands of Aussies all around the country, especially in places where the Australian sun's bite is strong.
They are an iconic Australian gift for men and women.
BUY NOW: Click here for latest prices on Amazon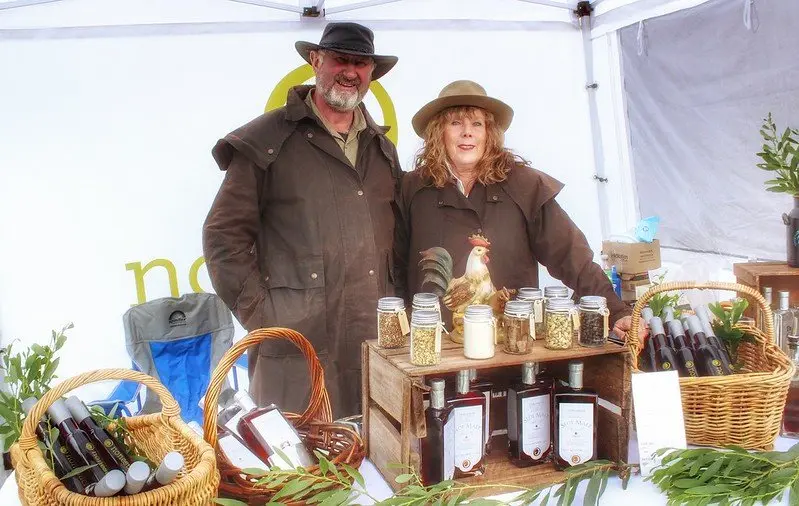 Image credit: Cobber755 via Flickr CC BY-2.0
No.6: Australian Drizabone coat
Another Australian invention, the classic Driza-Bone was invented when Emilius Le Roy realised that old sailcloth could be used to make practical rainwear for the Australian bush.
These days, the Drizabone coats (long and short) are worn by both country folk and bushmen to keep dry from the elements, and stylish city dwellers who adore the range of anoraks, wax coats, oilskin jackets, and bomber jackets.
They make oilskin coats for dogs now too!
BUY NOW: Click here to check prices on Amazon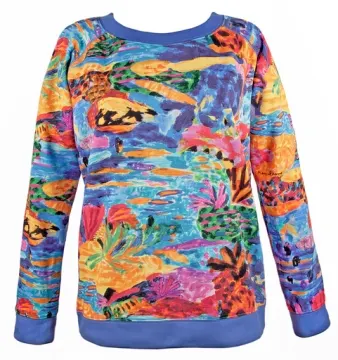 Image credit: Ken Done Australia
No.7: Ken Done clothing
If you love bright and bold clothing, take a look at Ken Done.
World famous in the 80's, a Ken Done t-shirt, sweatshirt, or bathing suit featuring a print of a well known Ken Done painting will be THE best souvenir to remember your time in Oz.
This Golden Reef unisex sweatshirt (pictured above) is a sight to behold.
You can read all about Ken Done, and his iconic Australian art here.
The Ken Done Flagship store is at 1 Hickson Road, The Rocks, Sydney.

No.8: Australian Mambo clothing
100% owned Australian company making designer surf, snow and street clothing including:
tees
towels and
board shorts.
The designs by Reg Mombassa are timeless.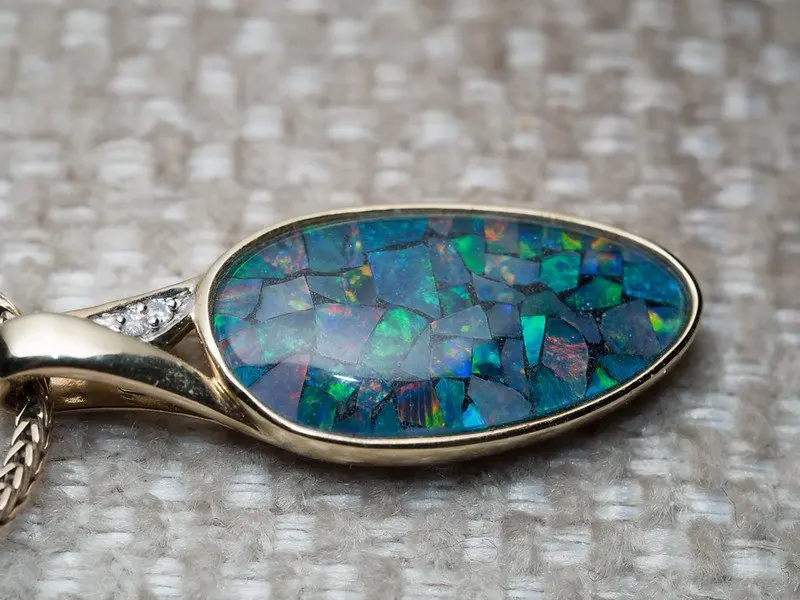 Image credit: James Petts via Flickr CC BY-SA 2.0
AUSTRALIAN JEWELLERY
No.1: Opal Jewellery
I have to be honest. I don't know a single Australian friend who owns a piece of Opal jewellery.
I'd say that the popularity of opal jewellery as an Australian souvenir is due to clever tourist marketing.
But if opal jewellery is your thing, you'll find opal earrings, opal rings, and opal necklaces in most Australian souvenir shops and opal jewellery shops.
Try:
Australian Opal Shop at Harbour Town outlet shopping mall on the Gold Coast
Opal Gallery in Surfers Paradise
Opal Minded at 55 George St, Sydney
The National Opal Collection in the Walk Arcade, Melbourne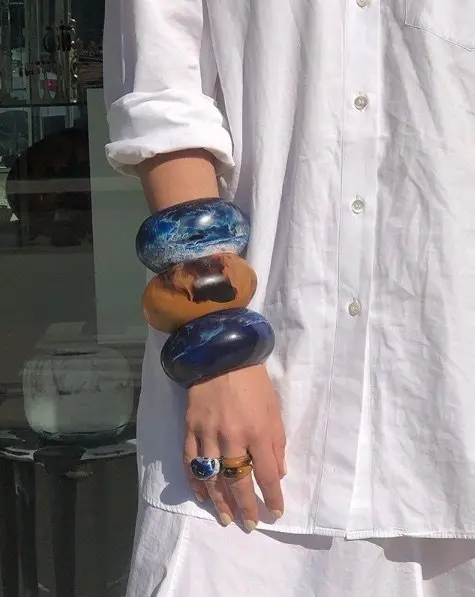 Image credit: Dinosaur Designs Australia
No.2: Dinosaur Designs
Dinosaur Designs by Louise Olsen & Stephen Ormandy create elegant light-filled resin jewellery and homewares.
Stack their resin bangles onto your arm and you are set to go!
Choose from:
Resin necklaces
Resin earrings
Resin bangles
Resin rings
They also create resin homewares including plates, platters, vases, bowls and drink wear.
Dinosaur Designs pieces are the best Australian gifts for arty fart folk.
BUY NOW: Click here for current prices on Amazon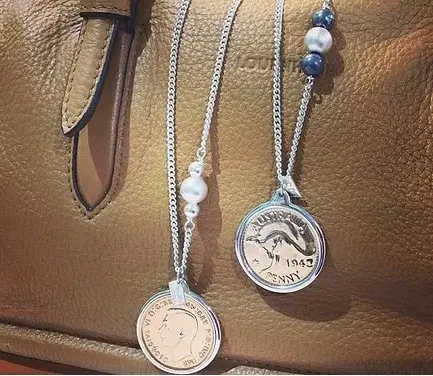 Image credit: Makers Mark Studio
No.3: Australian Coin Jewellery
Visit the Australian coin jewellery shop in the picturesque Australian town of Hahndorf in South Australia to find Jaemes and Rebecca's jewellery studio selling a special range of handmade jewellery featuring the Australian coins of yesterday.
Makers Mark Jewellery Studio is at 52 Main Street, Hahndorf.
Open 7 days.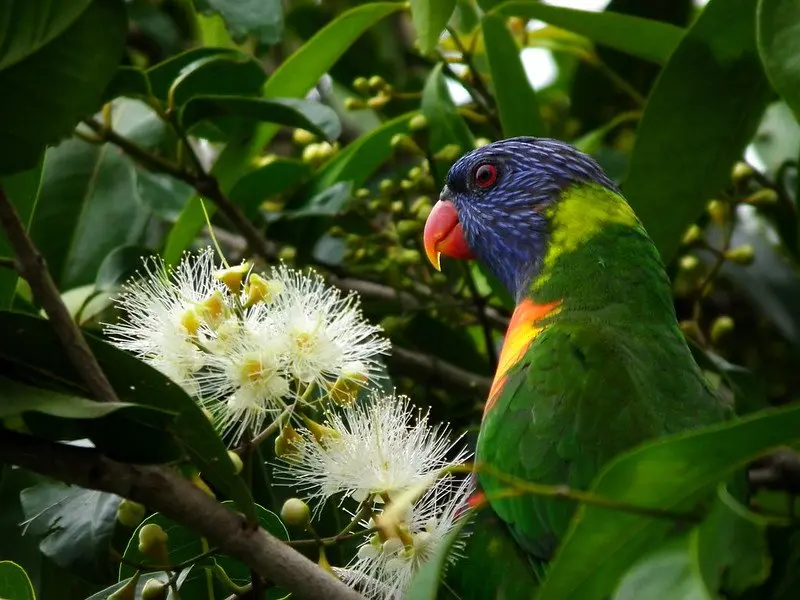 Image credit: James Niland via Flickr CC BY-2.0
BEST AUSTRALIAN SKIN CARE BRANDS
The Australian sun does great damage to Australian skin, so finding a good skincare product is as vital as breathing.
Try:
KORA organics by Miranda Kerr
Sanctum Australia organic skin care
A'kin certified organic rosehip oil, or the Australian tea tree oil detoxifying face sheet mask
Lemon Myrtle skin products from Lemon Myrtle Fragrances
ReFresh Byron Bay, formulated around pure Australian native oils + extracts
Lemon Myrtle anything is a good souvenir from Australia. This magic plant is native to sub-tropical Queensland and possesses powerful antimicrobial properties but it's the smell that we love. You will too!
No.1: Thankyou brand
Thankyou is a social enterprise giving 100% of their profits to charity.
The bottles are stylish, and the products are good.
Try their Lime and Coriander hand wash, or their Lemon Myrtle and Goat's milk handwash or soap bar.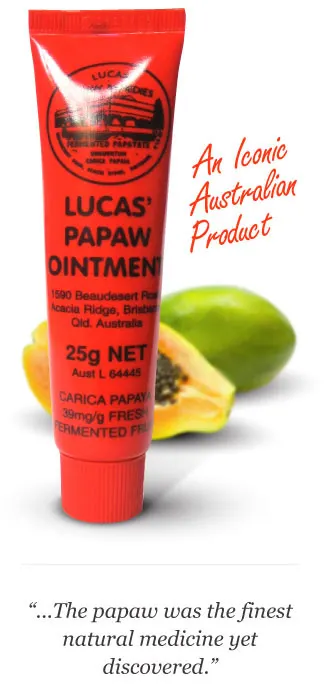 No.2: Lucas PawPaw ointment
Lucas Paw Paw ointment is in the handbag of many Australian mums.
This helpful ointment is a first-aid go-to in Oz for cuts, scrapes, chapped lips, wound care, nappy rash, sports injuries, chafing, mosquito bites, and minor burns.
BUY NOW: Check latest prices on Amazon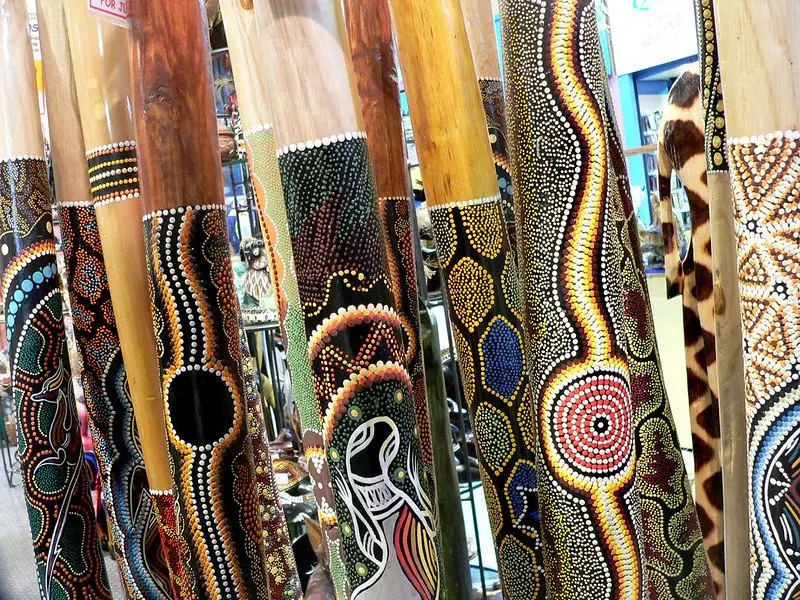 Image credit: Bernard Spragg via Flickr CC BY-1.0
AUSTRALIAN ABORIGINAL ART
No.1: Aboriginal Didgeridoo
Didgeridoos are an Aboriginal musical instrument played during ceremonial dancing and cultural celebrations.
Visitors to Australia are most likely to see the didgeridoo being played during an Aboriginal show at tourist attractions such as Currumbin Sanctuary on the Gold Coast.
Craftmanship is the key thing to pay attention to if you are thinking about buying a didgeridoo from Australia.
Authentic handmade didgeridoos are not cheap, so if you are picking one up for $100 AUD or less, think again.
A word of caution – didgeridoos by tradition are only played by men during public ceremony.
(Females are advised to seek permission first before playing the didgeridoo to show respect to the Aboriginal customs.)
Our tip: avoid the generic souvenir shops.
Buy from someone who stocks authentic Aboriginal souvenirs and gifts.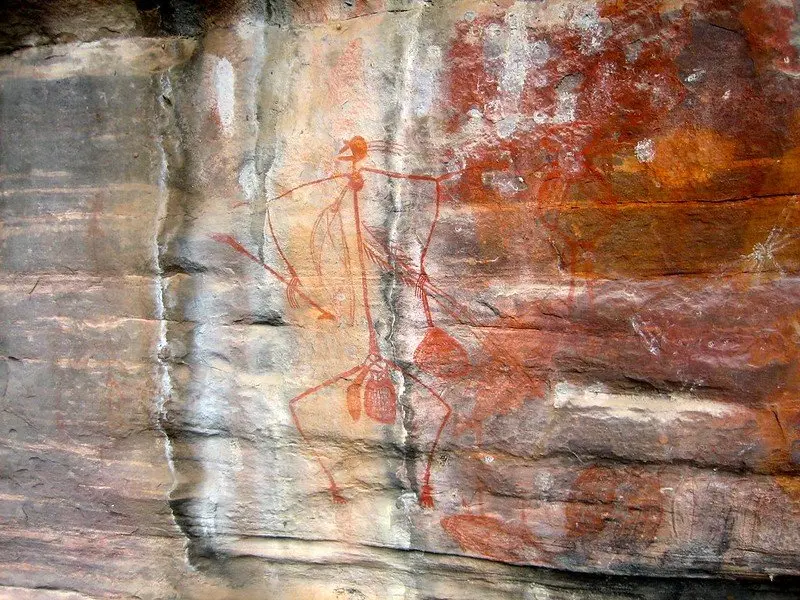 Image credit: Russo&Alo via Flickr CC BY-ND 2.0
No.2: Authentic Aboriginal Art
Our tip is to spend time exploring the motifs, themes and styles of Aboriginal Art before purchasing. Visit Australian museums and art galleries to discover the best Aboriginal artists, and the best contemporary Aboriginal art.
Authentic Aboriginal art comes in many forms including:
Aboriginal wall art paintings in acrylic paints
Weavings
Bark paintings
Didgeridoos
Screen printed fabrics
Dot painting
You'll even find authentic Aboriginal designs with Aboriginal art symbols on surfboards, jewellery, watches, clothing, underwear, 'cossies' (bathing suits) and 'budgie smugglers' (men's swimwear) .
Check for authenticity with the Aboriginal Art Association of Australia before purchase.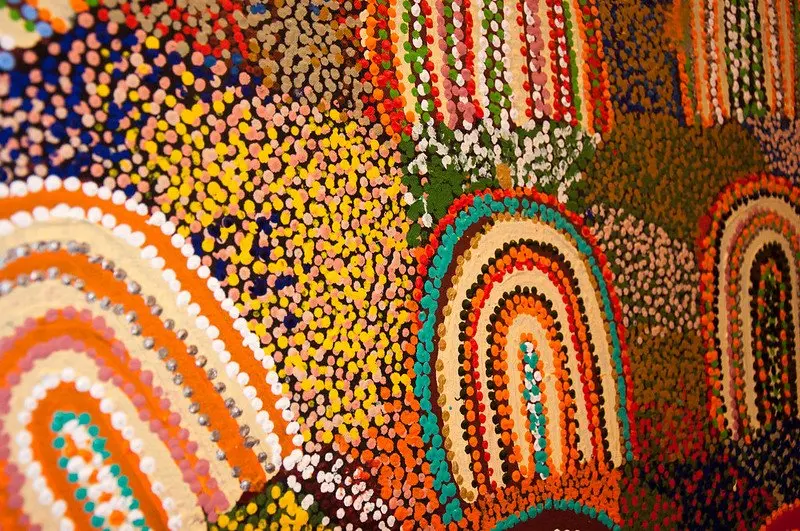 Image credit: Jeroen Moes via Flickr CC BY-SA 2.0
Where to buy Aboriginal Art?
Looking to purchase your own piece of Aboriginal Dreamtime art?
Try one of these Australian Aboriginal Art galleries.
Kate Owen Gallery in Sydney
Aboriginal owned Boomalli in Sydney
Cooee Art in Sydney
Suzanne O'Connell gallery in Brisbane
Mitchell Fine Art Gallery Brisbane
Alcaston Gallery in Melbourne
Art Mob in Hobart
Japingka Aboriginal Art in Perth
Aboriginal owned Tandanya in Adelaide
Mason Gallery in Darwin
Hot tip: Search Desart to find more Aboriginal Art and Craft centres in Australia.
They are the peak arts body for Central Australian Aboriginal Arts and Crafts, and can guide you to find the art and crafts of Indigenous Australians.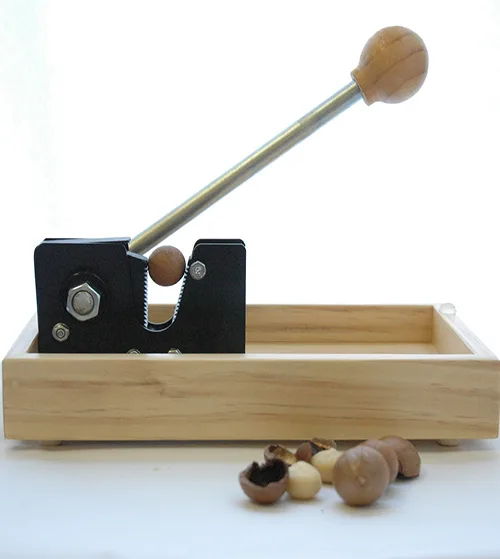 BEST AUSTRALIAN HOMEWARES
No.1: Best Australian Kitchenware
Visit any Australian craft market and look out for:
beautifully designed salad servers
wooden utensils
cheeseboards
elegantly crafted timber rolling pins
giant salt and pepper mills
hand-milled timber bowls, or
barbeque tongs made from Australian timber (ironbark, camphor laurel, or redwood).
You can also find the very handy MACADAMIA NUT CRACKER.
This piece of apparatus is a very good idea!
Travelling to Byron Bay?
Stop into the Macadamia Castle gift shop to pick up one of these Macadamia lever nutcrackers made locally from pine.
This is one of those things you can only buy in Australia.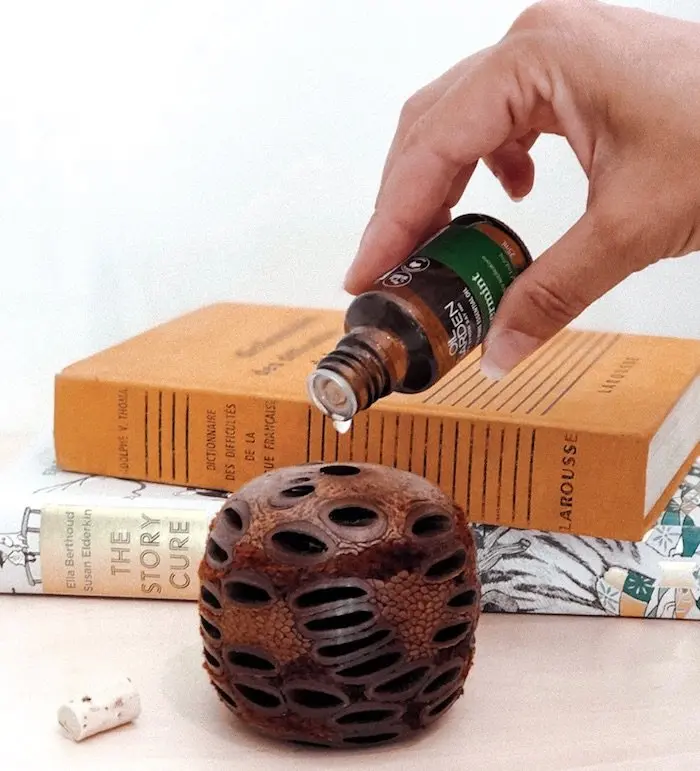 Image credit: Banksia Gifts Australia
No.2: Best Australian home decor
Fill your home with Australian Home Decor and Australian wood turned gifts.
Banksia aroma pods
Shop at Eumundi markets on the Sunshine Coast, or one of the Gold Coast craft markets to find a range of unique Banksia seedpod gifts.
Banksia pod tea light candle holders
Banksia aroma pods
Banksia drink coasters
Banksia bottle stoppers
Australian Woodwork
Pick up a serving tray made from myrtle timber to use at home for bringing out the morning coffee.
Australian wood turners also make:
trinket boxes
timber coasters
jewellery boxes
ballpoint pens
walking sticks
Redgum fruit bowls
fountain pens, and
wine bottle toppers.
You'll see beautiful examples of Australian wood turned gifts at most Australian craft markets.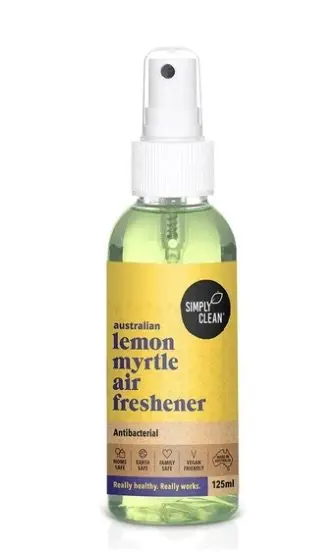 No.3: Best Australian cleaning products
I know it's a little odd to buy cleaning products as a souvenir but I must add these things to the best Australian souvenirs gift list.
The smell is divine, and it's a way to bring Australia home with you!
Simply Clean
Simply Clean is a company based in the hills of the Northern Rivers.
I'm never without:
their Lemon Myrtle Hand soap,
their Lemon Myrtle spray and wipe, or
their Lemon Myrtle air freshener.
They also make Lemon Myrtle body wash, and a peppermint body wash too.
Find a stockist here.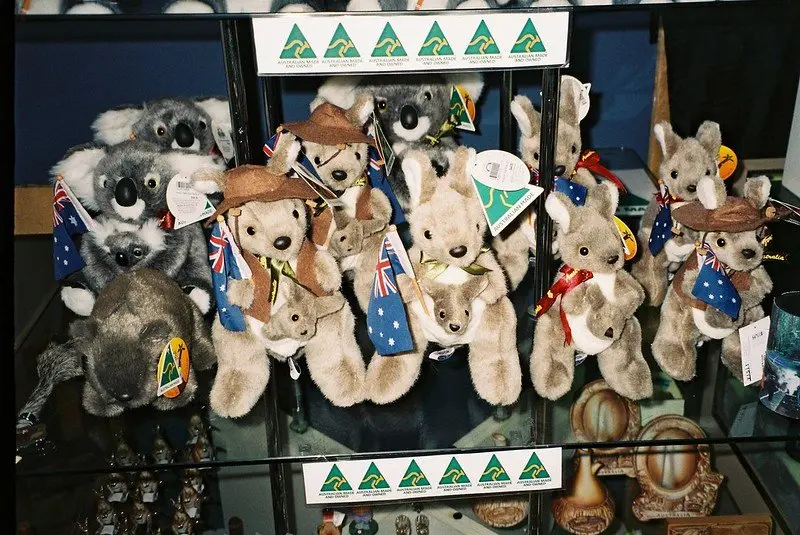 Image credit: Matthew Paul Argall via Flickr CC BY-2.0
AUSTRALIAN GIFTS AND SOUVENIRS FOR KIDS
No.1: Famous Australian Toys
Australian Monopoly Game
Monopoly Australian Edition is a winner for older kids.
As well as all the cities, and city airports in Australia, you can land on the Questacon Science Museum, the Great Ocean Road in Victoria, Australian War Memorial in Canberra, Kangaroo Island, and more.
The Community Chest and Chance Cards have been customised, so players have the chance to sell their State-of-Origin tickets or sell their lamingtons at the school fete.
Make Me Iconic
Check out Make Me Iconic's range featuring:
a Wooden Australian Post Box with letters
a Melbourne Tram or Sydney Ferry or Australian ute
Australian ice creams (Bubble-o-Bill!) and
Australian camp fire play toys.
There's even Australian Arnott's Shapes Play Food, and an Australian Arnott's Bickies set!
(They sell cool Australiana tea towels in the same vein too.)
Image credit: Australian animals
No.2: Great Australia Souvenirs for Kids
Plush Australian animal toys are typical Australian souvenirs for kids.
But there's plenty more options of kids Australian souvenirs.
Need an Australian toy gift?
Australian animal puzzles
Natural 'Australiana' Crayons
Australian Animal mobiles
Australian animal figurines (and Australian bird toys)
Australian animal finger puppets
Australian colouring in books (My first Dreamtime dot art colouring-in book series is awesome!)
Aboriginal Art animal puzzles
Tote bags with Australian animal prints to carry their toys & treasures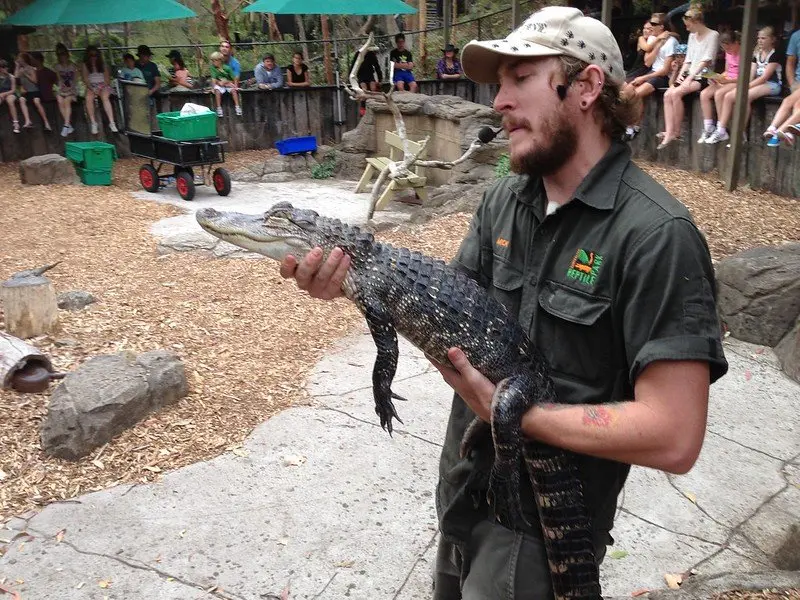 Image credit: Dushan Hanuska via Flickr CC BY-SA 2.0
Where to buy traditional Australian toys?
Australian Geographic has a great range of:
Australiana gifts
Australian books
luggage tags
Australian colouring books
Koala and Kangaroo dress up masks
Australian maps, and
Australian icon flash cards.
Hot tip: Shop the Gift Shops at all Australian zoos including Taronga Park zoo, Dubbo Zoo, Melbourne Zoo, Symbio wildlife park, and Australia Zoo gift shop.
More places to find the Best Souvenirs from Australia
Find awesome Australian gifts and souvenirs at Australian Reptile Parks too (eg, Currumbin Wildlife Sanctuary, Lone Pine Koala Sanctuary, Australian Reptile Park, Territory Wildlife Park, and David Fleays Wildlife Park on the Gold Coast).
Australian museums, Australian Science museums, and Australian art galleries in all cities also have elegant design stores, perfect for treasure hunting for Australian souvenirs for adults and kids.
Be sure to visit GOMA Gallery of Modern Art store, and the State Library of Queensland Bookshop too.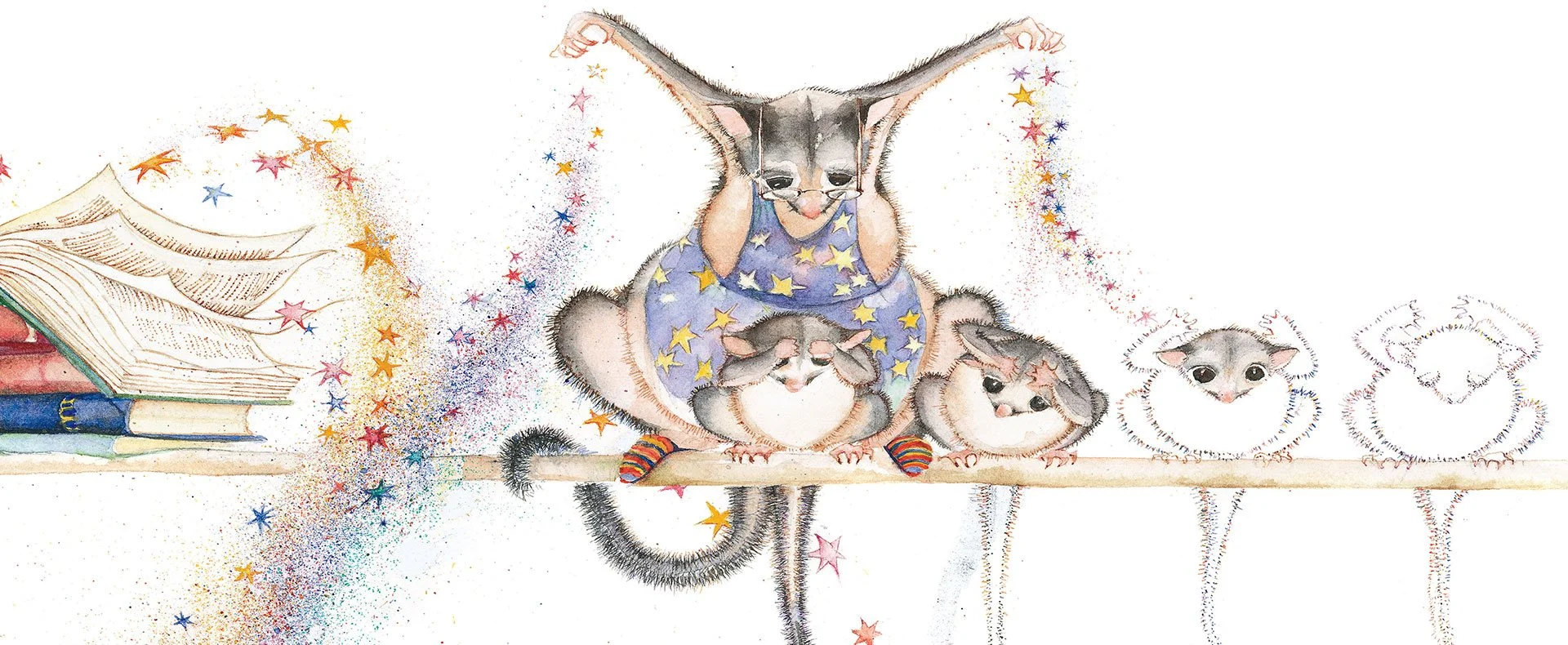 No.3: Australian Kids Books
Possum Magic by Mem Fox and illustrated by Julie Vivas has sold over 5 million copies!
This Australian tale of a possum and her quest to overcome a magic spell by eating typical Australian food is a delight.
In 2017, the Royal Australian Mint released a limited edition range of $1 and $2 coins with Possum Magic icons to commemorate 30 years since its' release.
But there's LOTS more Australian books for kids to explore.
Take a look at our big list.
Possum Magic
Snugglepot and Cuddlepie (as shown in main image)
The Magic Pudding by Norman Lindsey
Blinky Bill
Skippy the Bush Kangaroo
Numerical Street
Clever Crow by Nina Lawrence and Bronwyn Bancroft
Alphabetical Sydney by Antonia
Kookoo Kookaburra, Mad Magpie or Silly Birds by Gregg Dreisse
The Gum Family finds home
Pouches, Paws, Tails and Claws
I remember by Joanne Crawford
One Very Tired Wombat
Gumnut Babies ABC
Fluke
Give me a Home Among the Gum Trees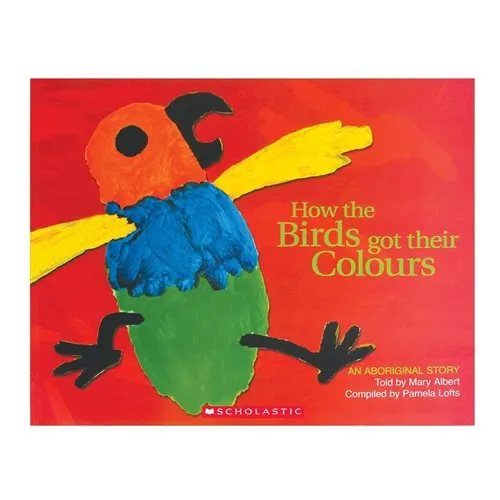 No.4: Aboriginal Books for Kids
Share Aboriginal cultural stories with your kids too.
How the Birds got their colours, an Aboriginal story told by Mary Albert
How the Kangaroos got their tails: An Aboriginal Story
When the Snake bites the Sun
The Kangaroo and the Porpoise
My Lost Mob
Tales of my Grandmother's Dreamtime by Naiura
Kick with my left foot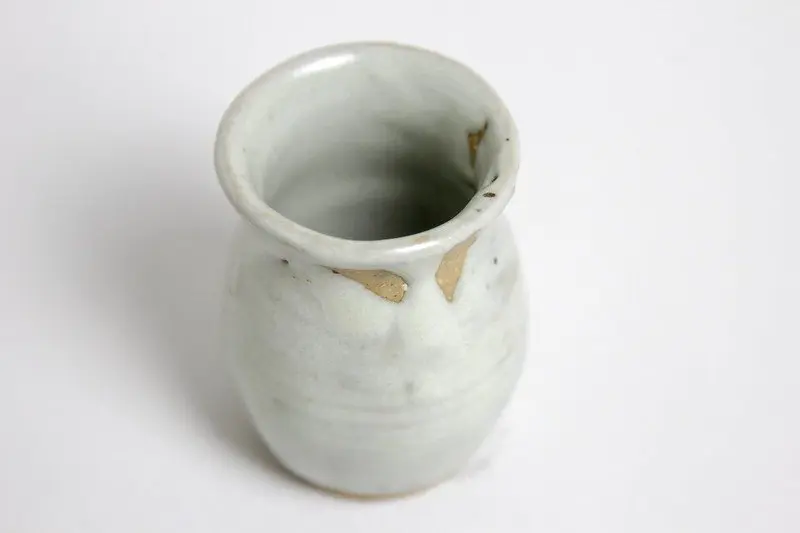 Image credit: Lucinda103 via Flickr CC BY-2.0
AUSTRALIAN HANDICRAFTS
In every Australian city and town, you'll find Australian handicrafts and handmade gifts from Australia.
Our tip is to look for weekend markets wherever you go to find locals doing their thing or visit one of the Australian art and craft cooperatives scattered around the country, or pop into a CWA shop (Country Women's Association).
Local school fetes and country fairs are good options for Australian handmade crafts too.
You'll find:
leather work including leather saddles, leather belts
handmade felt hats
turned wood products
handmade ceramics (Love ceramics? The North Coast Mud Trail happens once a year in the Northern Rivers region around Byron Bay)
handmade jewellery
tapestry, basket making
glass work
Australiana fabric & Australian Aboriginal fabric by the yard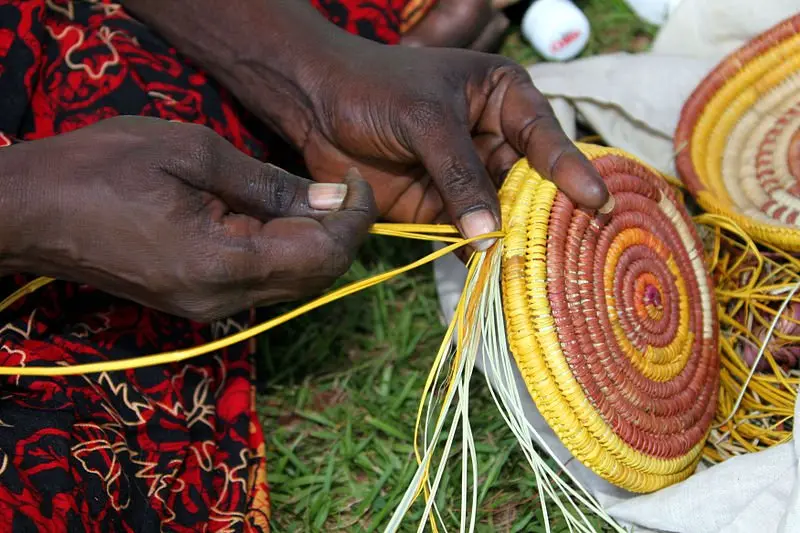 Image credit: Sgt David J. Hercher
No.1: Aboriginal Crafts
In Central Australia, Darwin and Western Australia, keep an eye out for Australian Aboriginal crafts including:
emu shell carving
fibre string figures
woven fibre baskets
woven homewares
handmade digeridoos
handmade boomerangs, and
carved shell jewellery
Remember to stop by ALL the museum shops and art gallery shops in Australia too.
In our opinion, these shops have the best range of curated Australian souvenirs and gifts with a difference.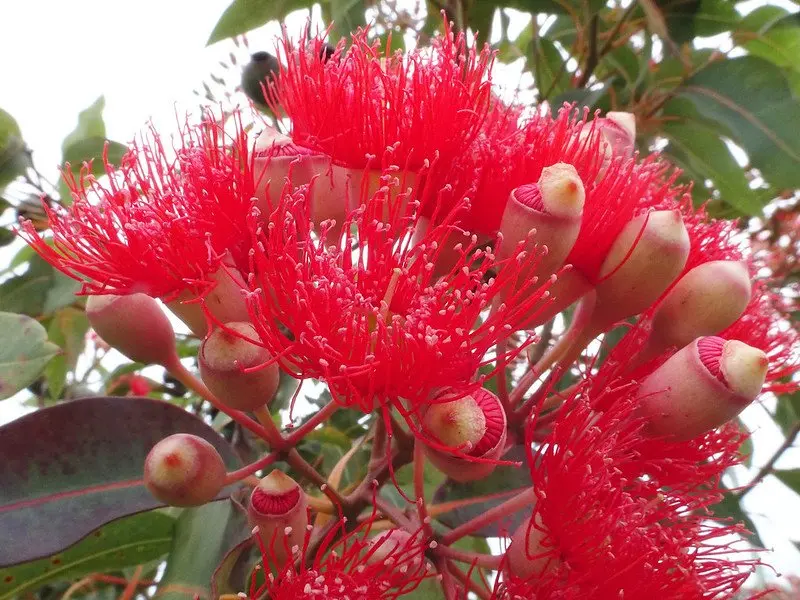 Image credit: Jo Elphick via Flickr CC BY-2.0
No.2: Australian Christmas Ornaments
Keep an eye out for Christmas decorations shaped as Australian animals made from bristlebrush, or handmade ornaments made from felt at any craft market from October to December.
Look for these:
Cockatoo hanging ornaments
Magpie hanging ornaments
Caravan hanging ornaments
Bilby wooden Christmas tree ornament
Rosella bird decoration
Wombat or Echidna decorations
Kangaroo or Koala decorations
thongs ornaments
You can also try local gift shops around Christmas time, or ETSY.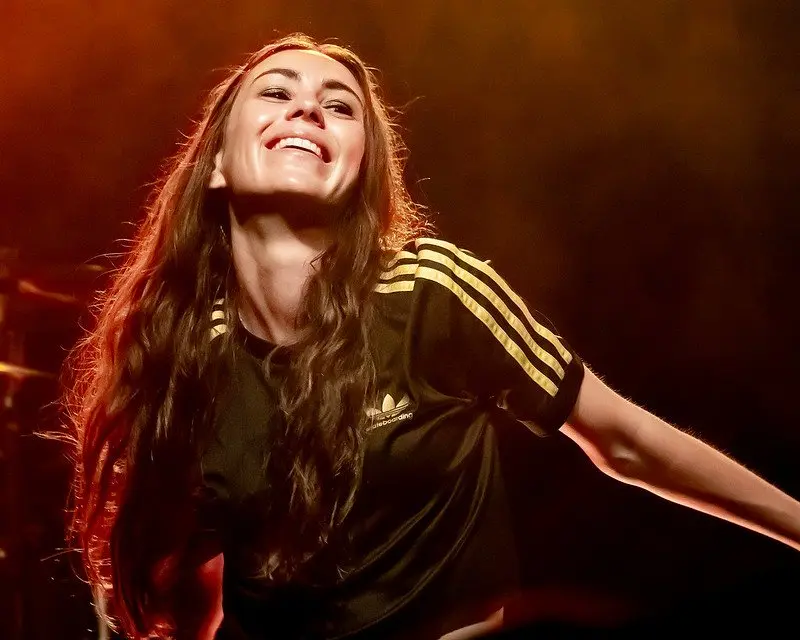 Image credit: Justin Higuchi via Flickr CC BY-2.0
POPULAR AUSTRALIAN MUSIC
Die hard music fans would love a piece of iconic Australian music history.
Pick up an album by one of these Australian stars:
INXS
John Farhman
Tina Arena
Delta Goodrum
Guy Sebastian
Jessica Mauboy
Olivia Newton John
Kylie Minogue
AC/DC
Silverchair
Men at Work
Hunters and Collectors
Amy Shark (pictured above)
These Australian singles never die!
These are the top 10 Australian singles as far as we are concerned.
Down Under by Men at Work
Horses by Darryl Braithwaite
Treaty by Yothu Yindi
I Still Call Australia Home by Peter Allen
Sadie the Cleaning Lady, and You're the Voice by John Farnham.
Sounds of Then by GANGgajang
Eagle Rock by Daddy Cool
Throw your arms around me by Mark Seymour & the Hunters and Collectors
My Island Home by Christine Aun
I am Australian by the Seekers
From Little Things Big Things grow by Paul Kelly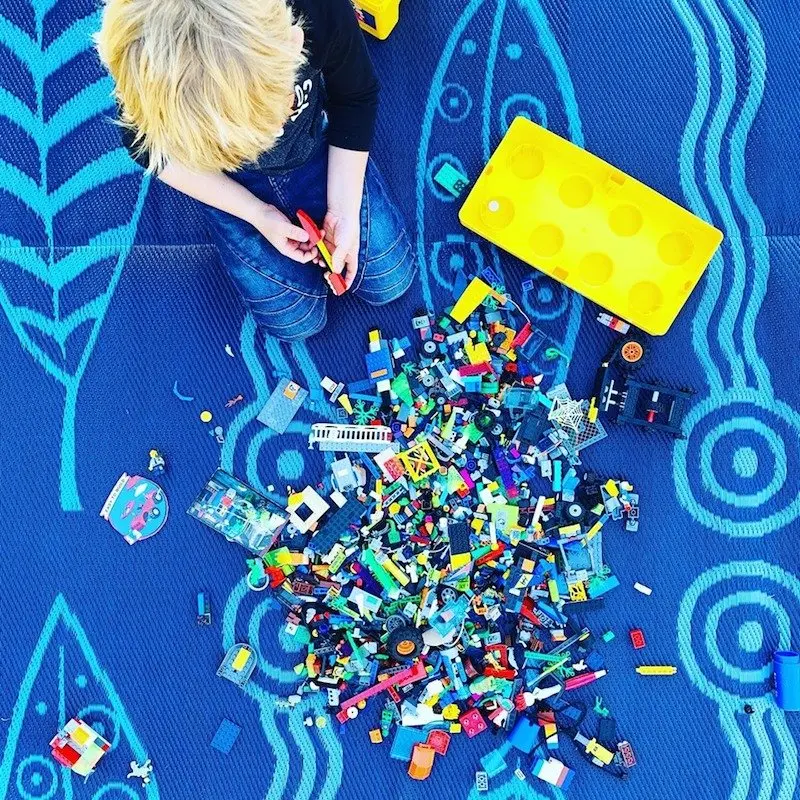 Image credit: Recycled Mats
NATIONAL SOUVENIRS FROM AUSTRALIA
The best things to buy in Australia for collectors of a country's memorabilia? Why not:
an Australian Flag
Australian posters
an Australian calendar featuring Australian flowers, Australian plants, Australia animals, or famous Australian artwork
Australian cushions
Australian decals
Australia Maps
Recycled plastic mats for picnics and adventures, and caravan/camping mats, both of which feature Aboriginal designs. Visit Recycled Mats Australia to shop the range of their Aboriginal Australian artist designed and approved mats.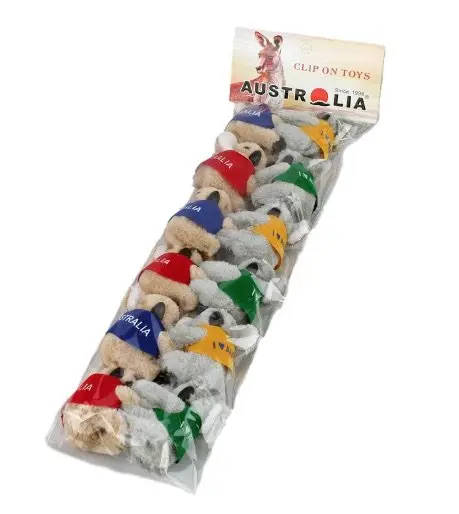 CHEAP SOUVENIRS FROM AUSTRALIA
Need to find a few cheap things to buy in Australia for the kids' school friends, and their neighbourhood mates?
Why not look for Australian made things like:
Clip on Koalas (Alt: Cling Koalas) in a set of 12
Australian souvenir coins (pressed pennies)
Australian souvenir fridge magnets
Australian iron on patches
Australian badges
Australian lapel pins
Kangaroo leather keyrings
lanolin hand cream
Australiana socks
Thongs
Teatowel with aussie slang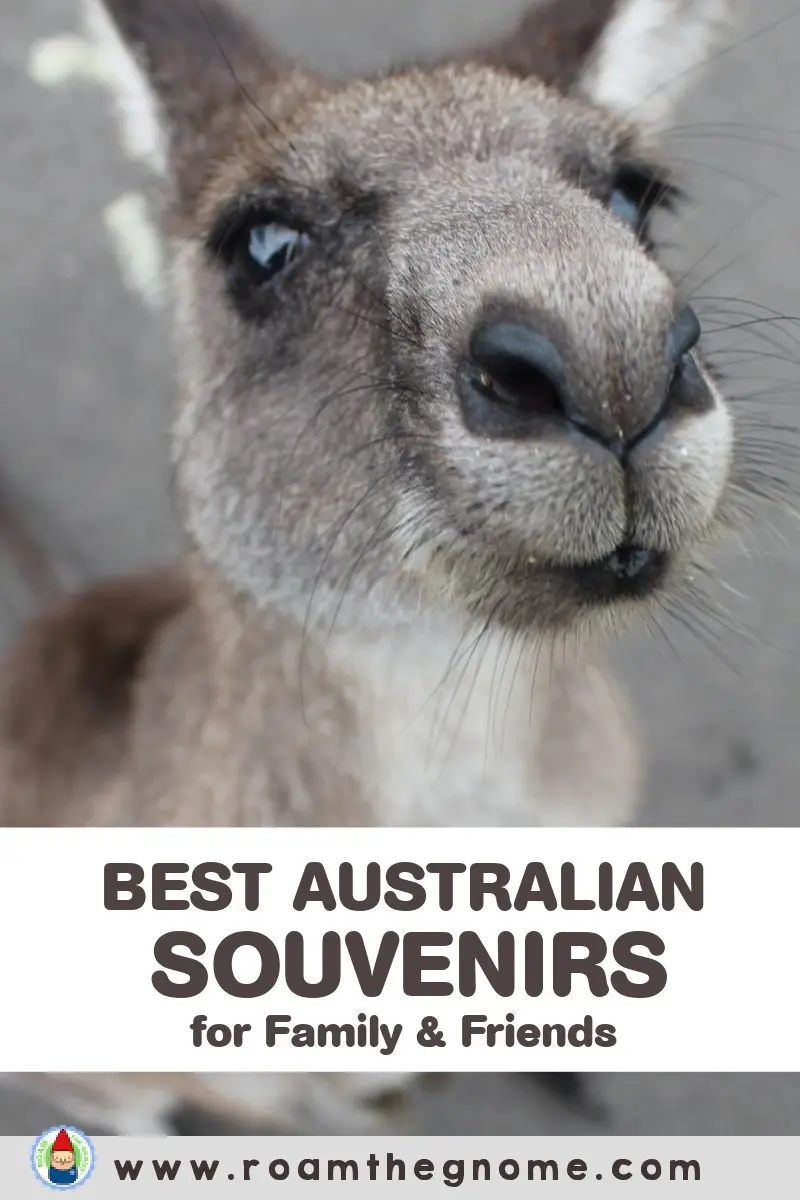 Visit any Australian gift shop or Australian souvenir shop in any Australian city or tourist town to find lots of cheap Australian souvenirs.
Don't forget to check the supermarket too!
That's it for our list of unique Australian gifts.
Let us know if you find any more to add: [email protected]
AS PROMISED – The Original Tim Tam Slam
Check out this video from Arnott's showing you how to do the Tim Tam Slam, featuring Poh Ling Yeow from Masterchef!

Looking for fun things to do in Australia with kids?
Click the blue links below for more Sydney & Australia travel tips.