INSIDE: Everything you need to know about the Santa Claus Village Post Office gift shop!
Planning to visit Lapland to see Santa?
You must pop into the OFFICIAL Santa Claus Post office to see where all the letters to Santa from around the world actually go!
While you are in there, check out the Santa Claus gift shop.
It's FULL of Santa gifts and Santa souvenirs with a difference.
Take a look below to see what you'll find!
Disclosure: This article contains affiliate links. If you make a purchase after clicking on one of these links, we may receive a small commission at NO extra cost to you.
Guide to the Santa Claus Village Post Office Gift Shop
The Santa Post Office is in the Santa Claus Holiday Village.
Want to see Santa in Lapland? You won't find Father Christmas here because he's in the MAIN Santa Claus office, 100 metres away in a separate building.
Santa Claus Reindeer are just nearby too.
But before you go there, shop at the Post Office shop.
Here's 14 different Lapland gifts you can buy for friends and family at the Rovaniemi post office in Santa Claus Village.
---
RELATED: Complete Guide to planning a Lapland Christmas Vacation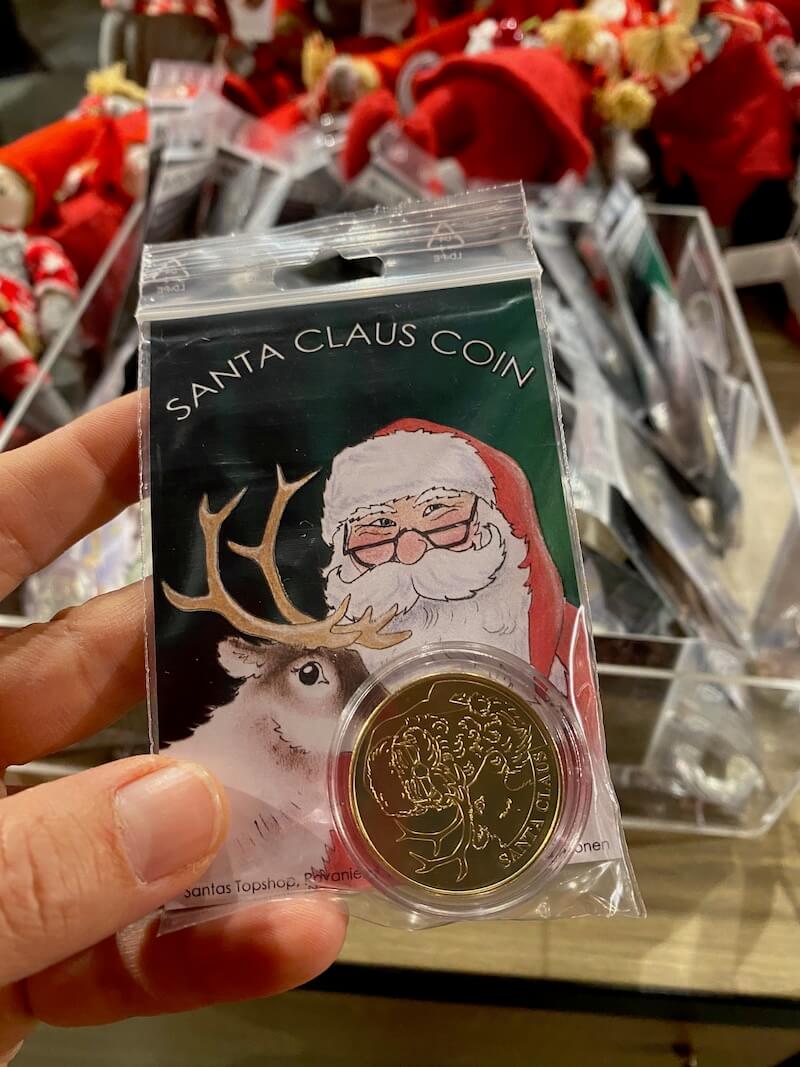 Best Santa Post Office Merchandise
Our top pick is this Santa Claus Christmas Coin.
You can't buy it in any of the other Rovaniemi shops in Santa Village.
The Santa Claus Christmas Coin is 5,50 euro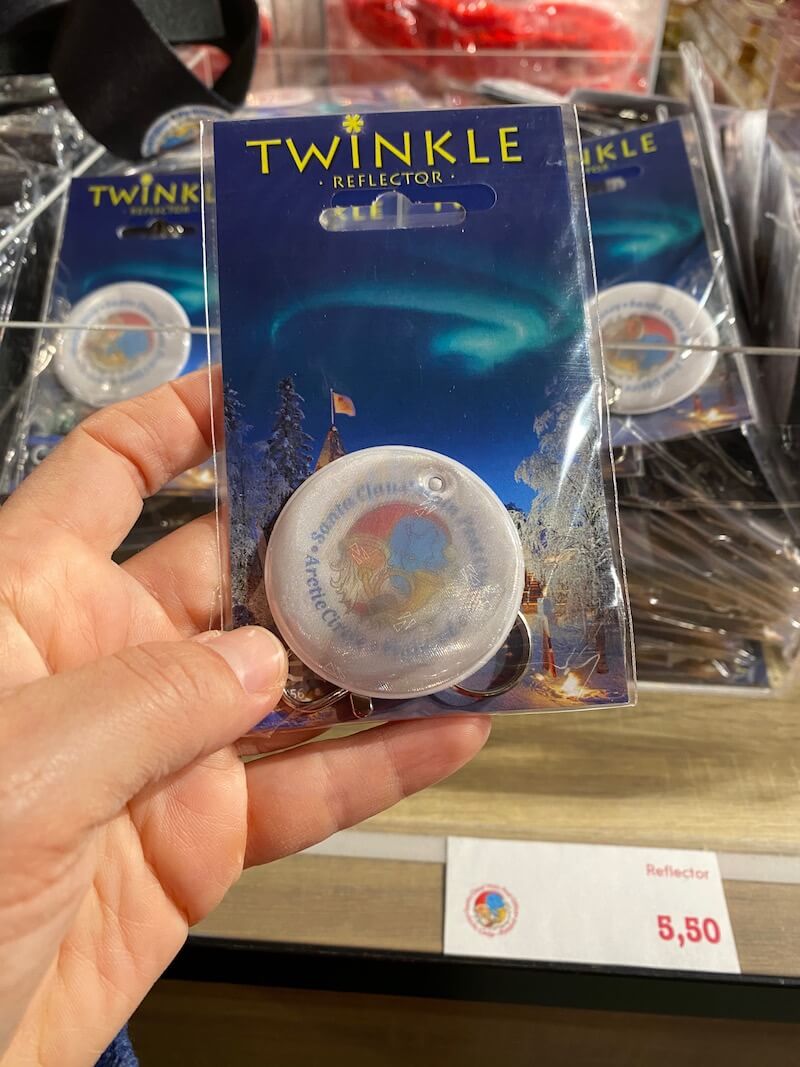 Popular Finnish Souvenirs and Gifts from Lapland
No.1: Finland reflector – 5,50 euro.
Reflectors are VERY popular in Finland.
A Finnish local told us people wear them, or attach them to clothes, to help drivers in cars and trams to see you in the darkness.
Especially in the odd half light.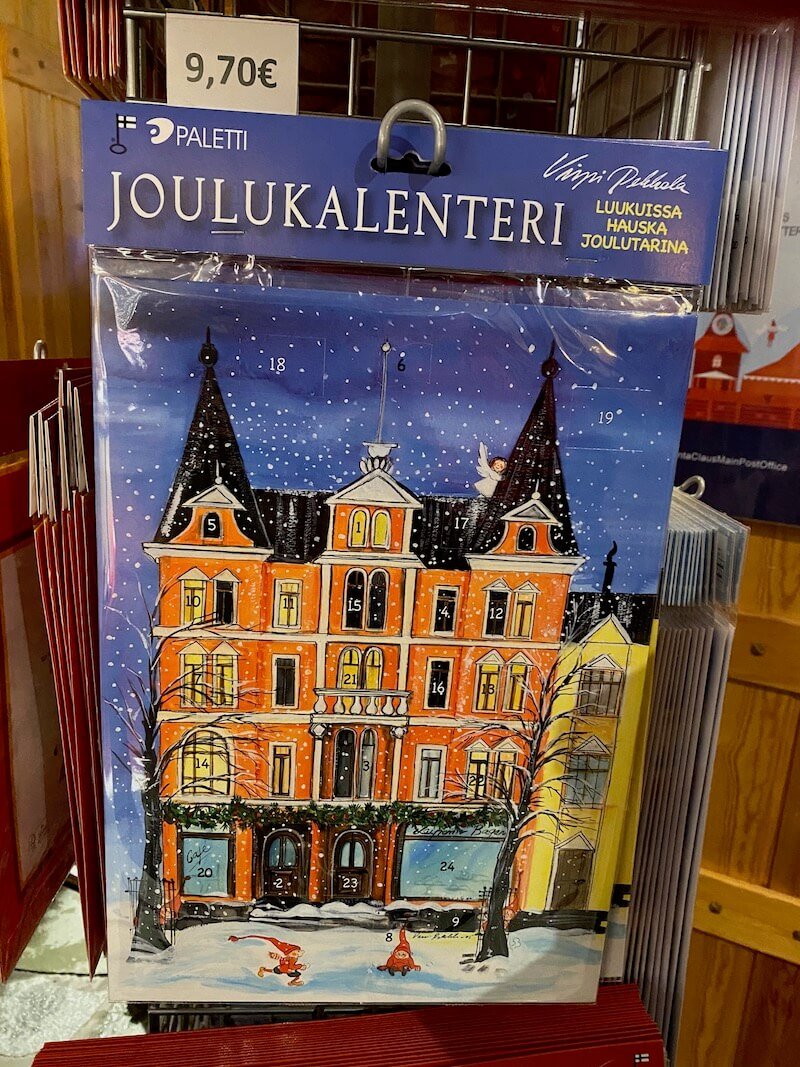 No.2: Traditional Paper Advent Calendars from Finland
Advent Calendars in Finland feature famous Finnish characters, and Tomten gnomes too.
Other ones feature Elves, and the Czech Mole character.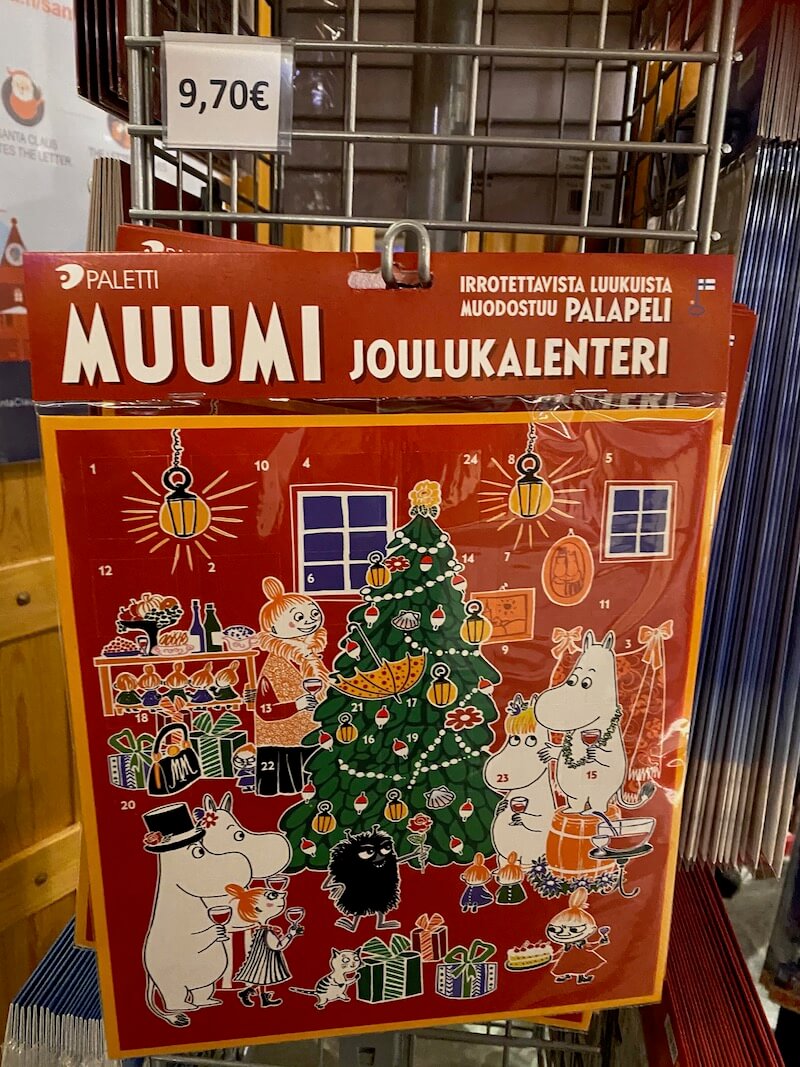 No.3: Moomin Advent Calendar
The Moomin characters are one of Finland's most popular story characters, and beloved by all.
RELATED: Visit the Moomin Shop in Santa Village (& the big list of Moomin locations around the world)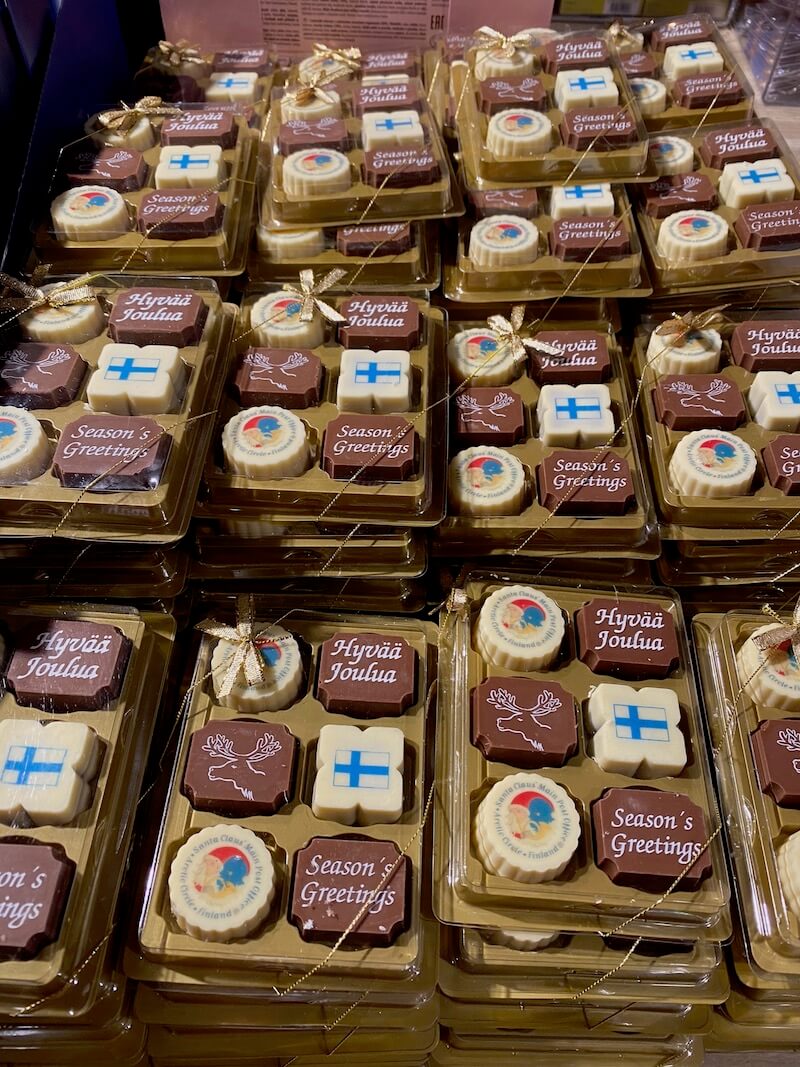 No.4: Finnish Chocolates
Finnish handmade chocolate seasons greetings are 8,95 euro
You can buy Santa Chocolate Lolly Pops on a stick too.
(Featuring the same picture as the one on the bottom left of the pack)
---
RELATED: Visit the Fazer Chocolate Shop in Santa Village – directions here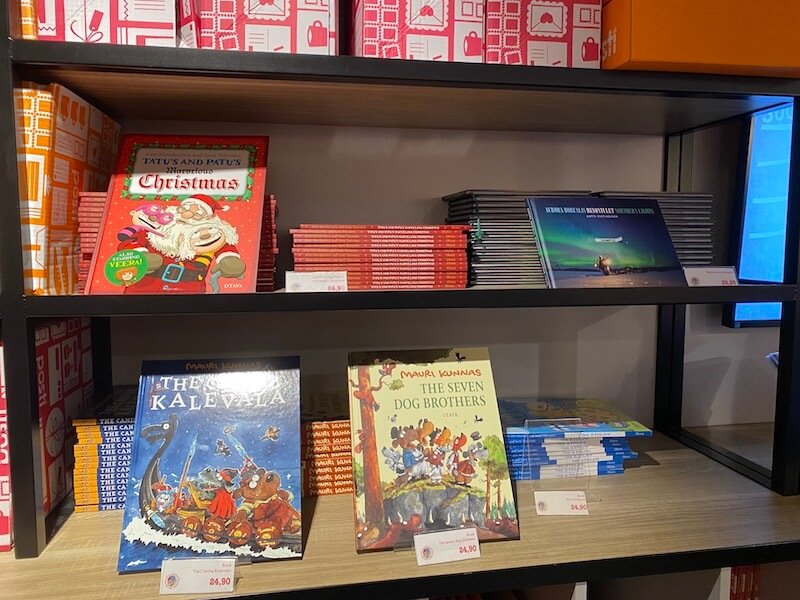 No.5: Children's Christmas Picture Books in Finnish and English
A lovely gift for children that keeps on giving is to buy a Finnish picture book.
These ones are published in both English and Finnish.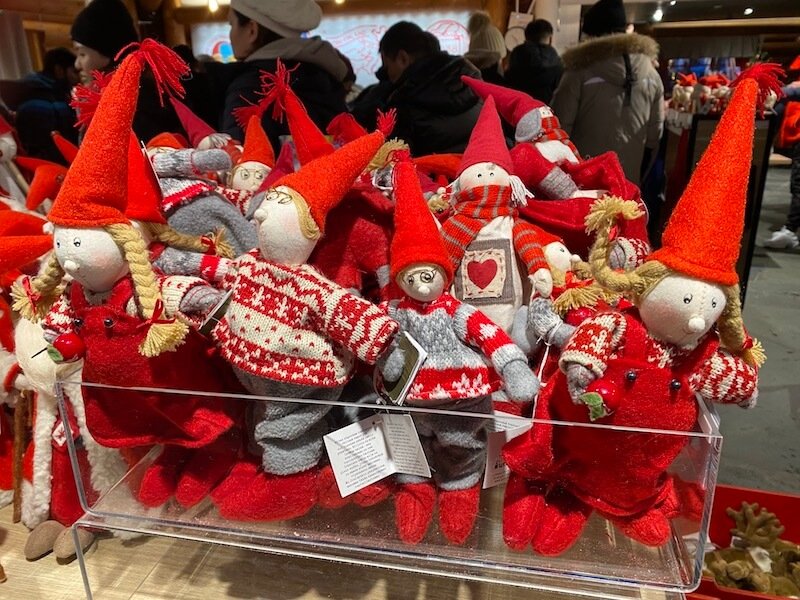 No.6: Finnish Dolls
Pic up an Elf Girl or Elf Boy toy for 13,95 euro a piece.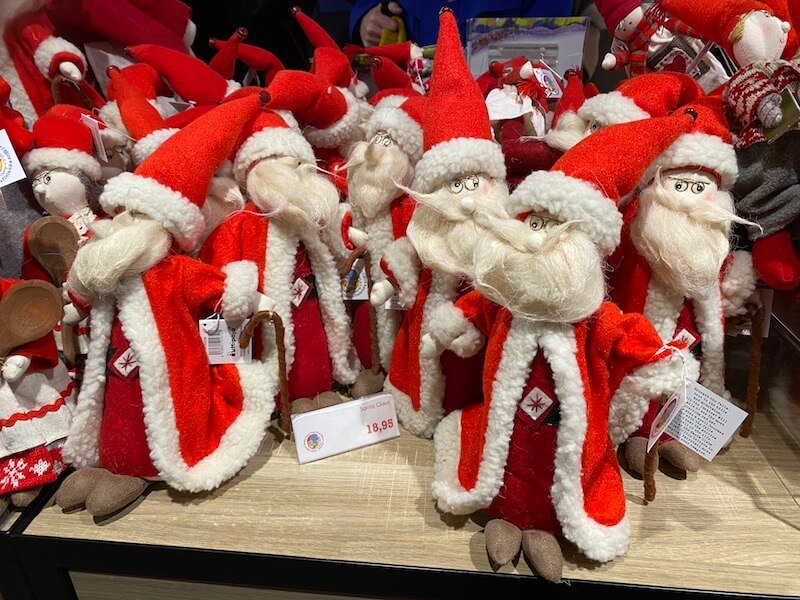 No.7: Original Santa and Mrs Claus dolls from Finland
These hand crafted Finnish Santa dolls are 18,95 euro.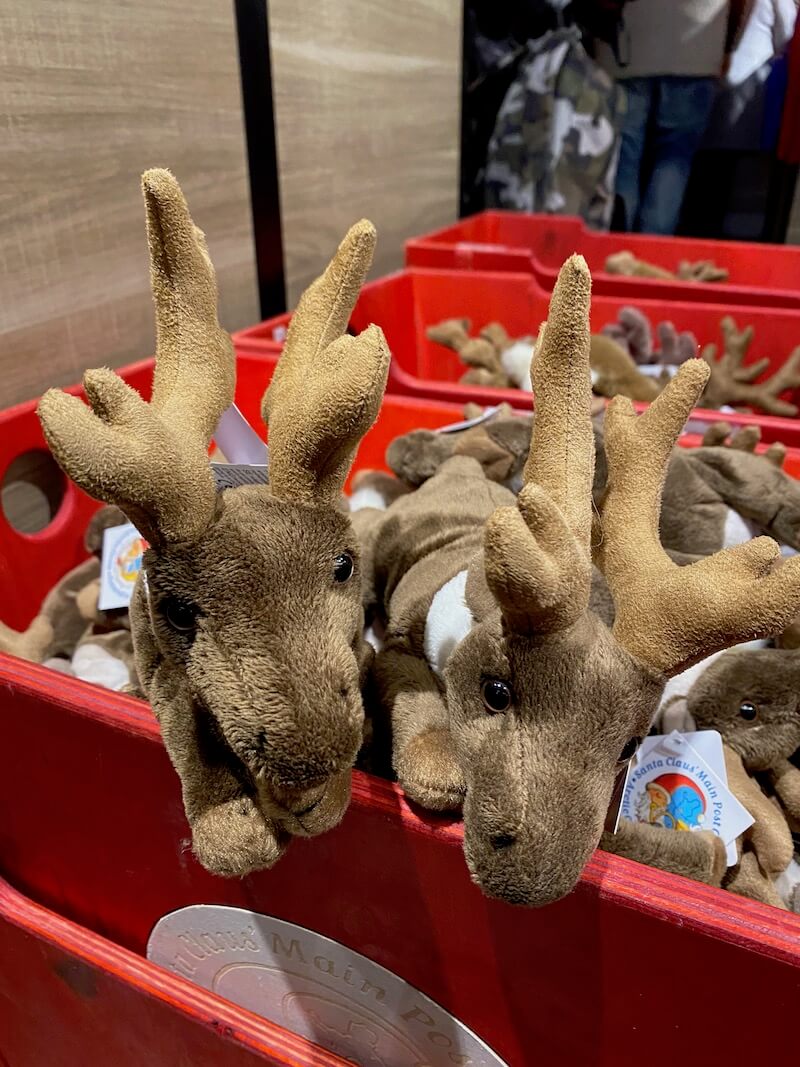 No.8: Reindeer soft toys
Everyone loves a plush reindeer toy.
No one can resist!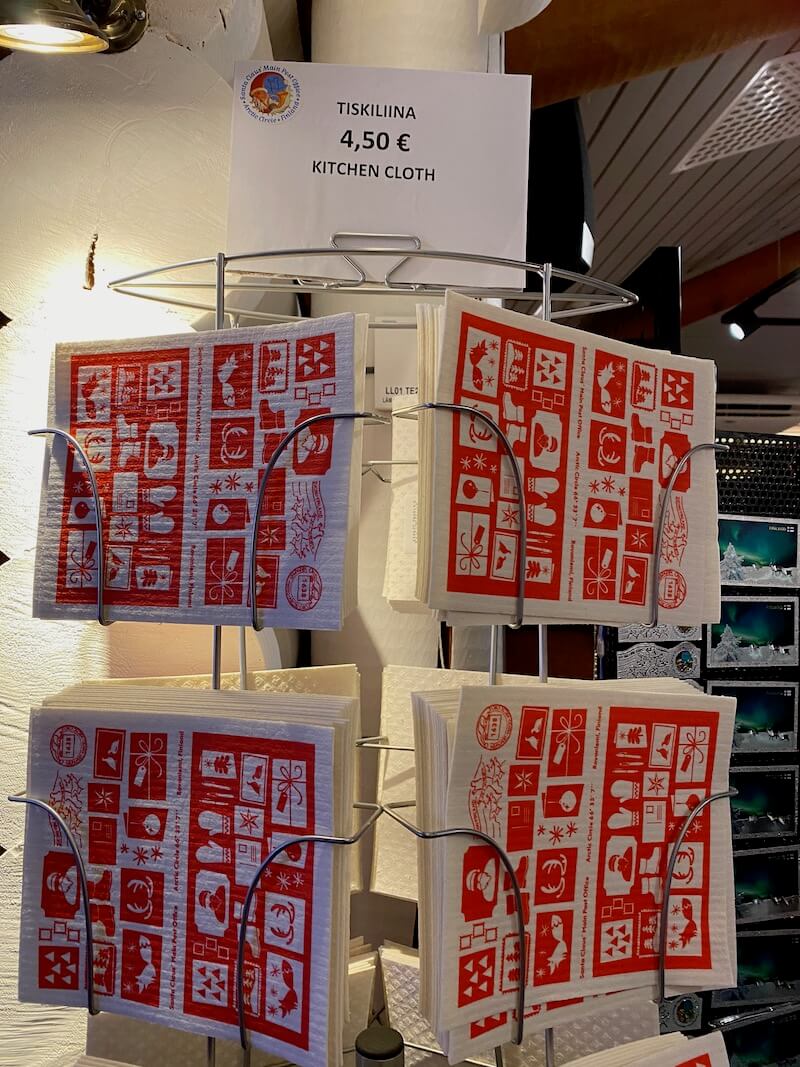 No.9: Finnish Kitchen cloths (Tiskiliina)
The most expensive dish cloth you ever did see.
4,50 euro each!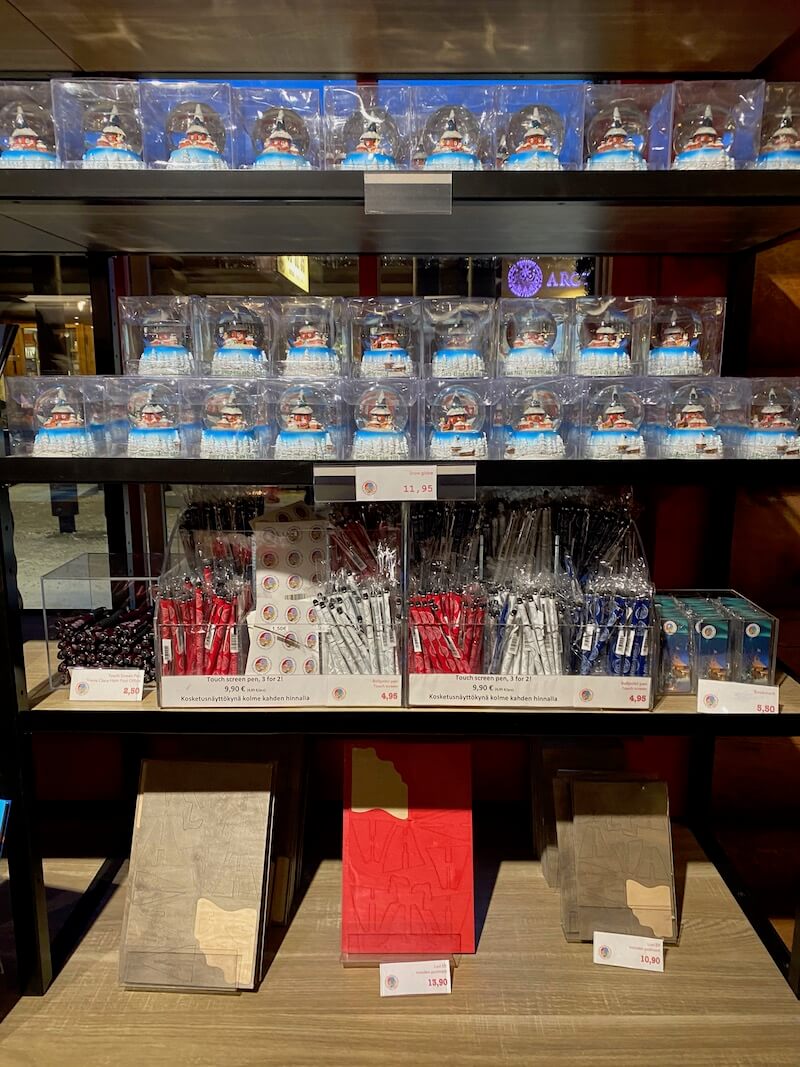 No.10: Finland Snow Globes
You can also buy Snow Globes to add to your collection.
A snow globe from Lapland costs 11.95
Or one of these post office gifts in Lapland.
Touch screen pens 4.95 each
Wooden postcards for 13.90
No.11: Leather coin purses and pouches
There's leather pocket bags, and tiny coin purses in a few different styles, all emblazoned with the Santa Post Office logo.
You can also pick up a Santa Post Office box replica too.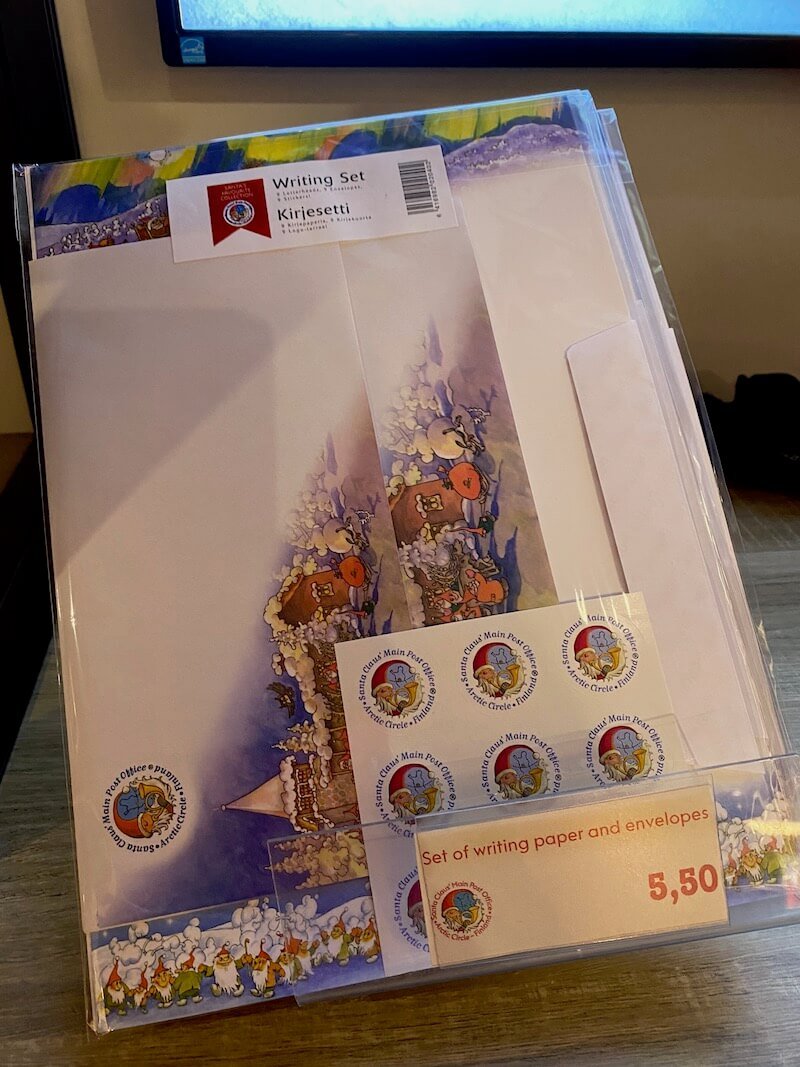 No.12: Set of Santa postmarked writing paper and envelopes
These letter writing sets for Santa cost 5.50 euro.
These make a fun gift for kids, who can use them to write their own letters next year.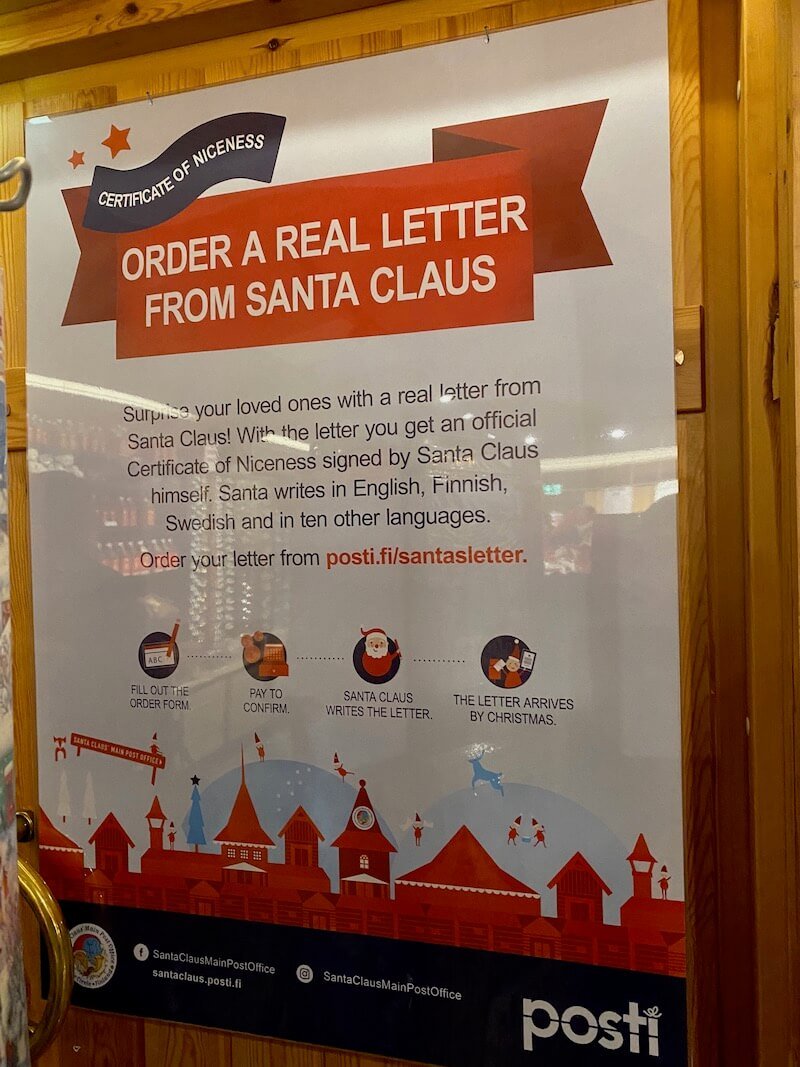 No.13: Order a letter from Santa Claus
You can do this here too.
Fill out the order form, pay to confirm, and the letter will be at your home (or someone else's home if it's a gift) in time for Christmas!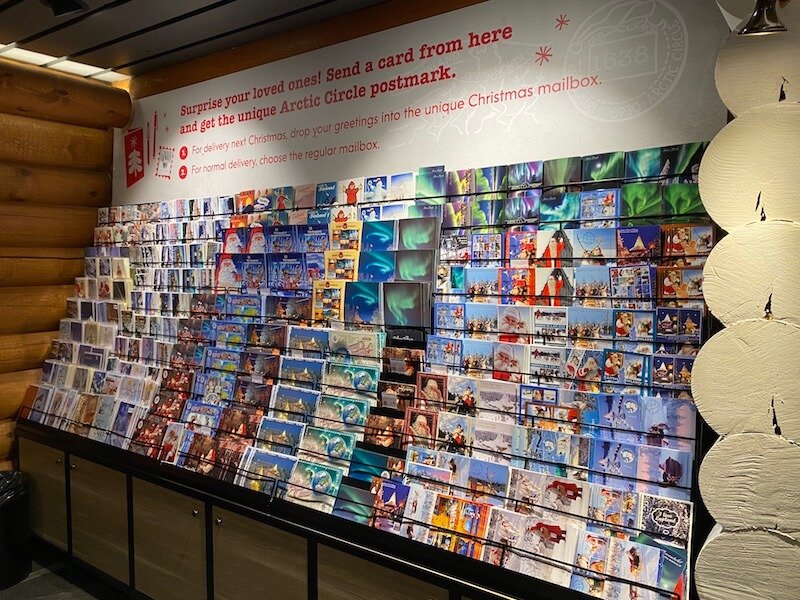 No.4: Santa Postcards & Cards
There's a wall of cards and postcards you can send to family and friends from here too.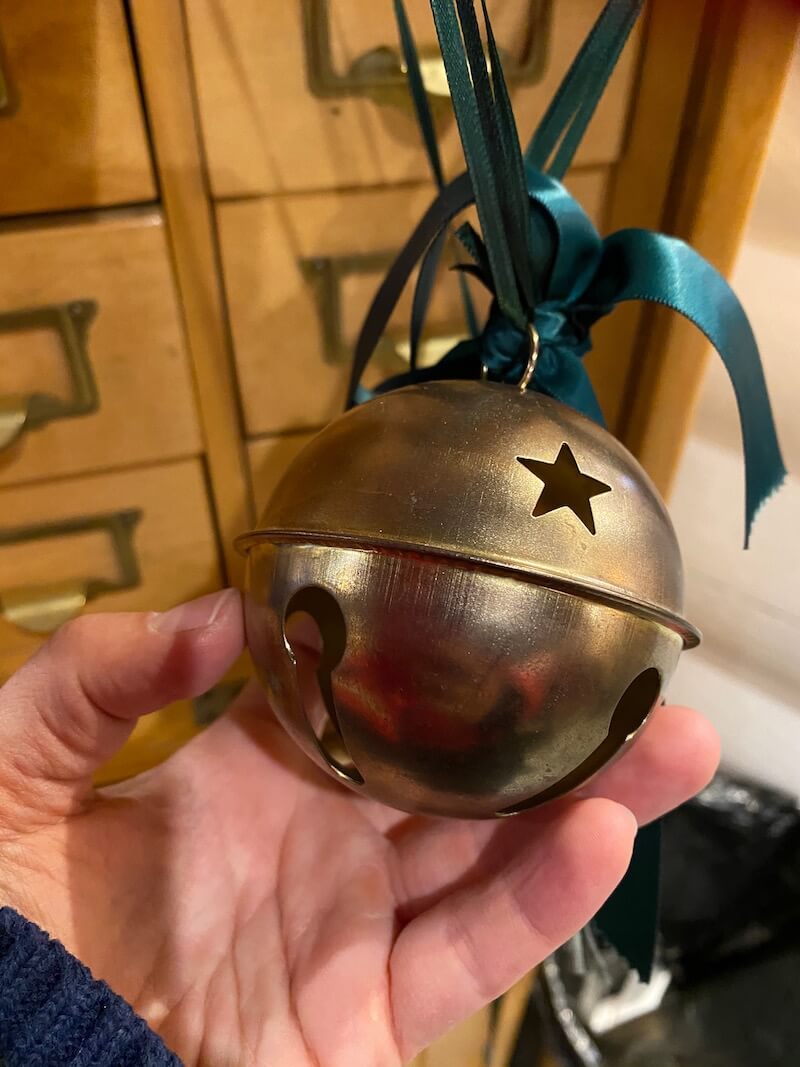 No.14: Polar Express Bell!
We found a few Christmas decorations too.
Including this Polar Express train bell, just like in the movie, but slightly larger.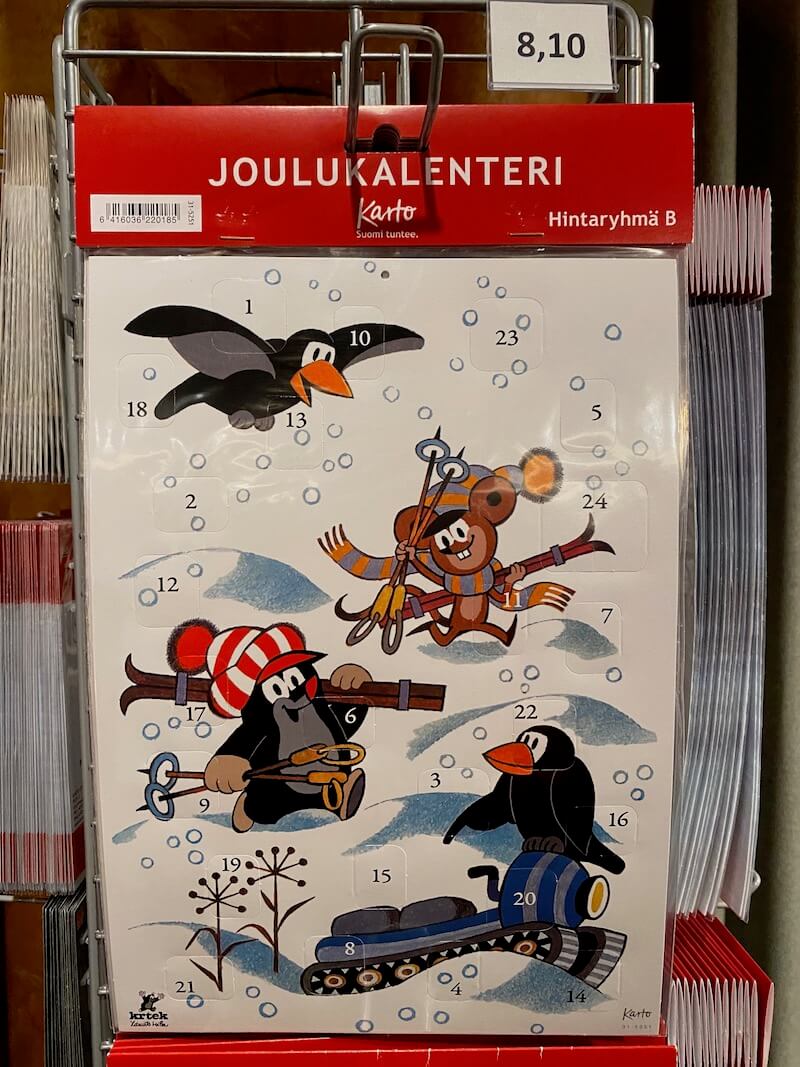 THE INSIDE SCOOP: Santa Post Office Rovaniemi
Correct at time of publication on Roam the Gnome. Please check with venue for updates. We apologise in advance if there have been any changes we are unaware of. All prices in euro, unless otherwise stated
Santa Claus Village Post office address: Santa Claus Main Post Office, Tähtikuja 1, 96930 Rovaniemi, Finland
Santa Claus Post Office Rovaniemi website: Click here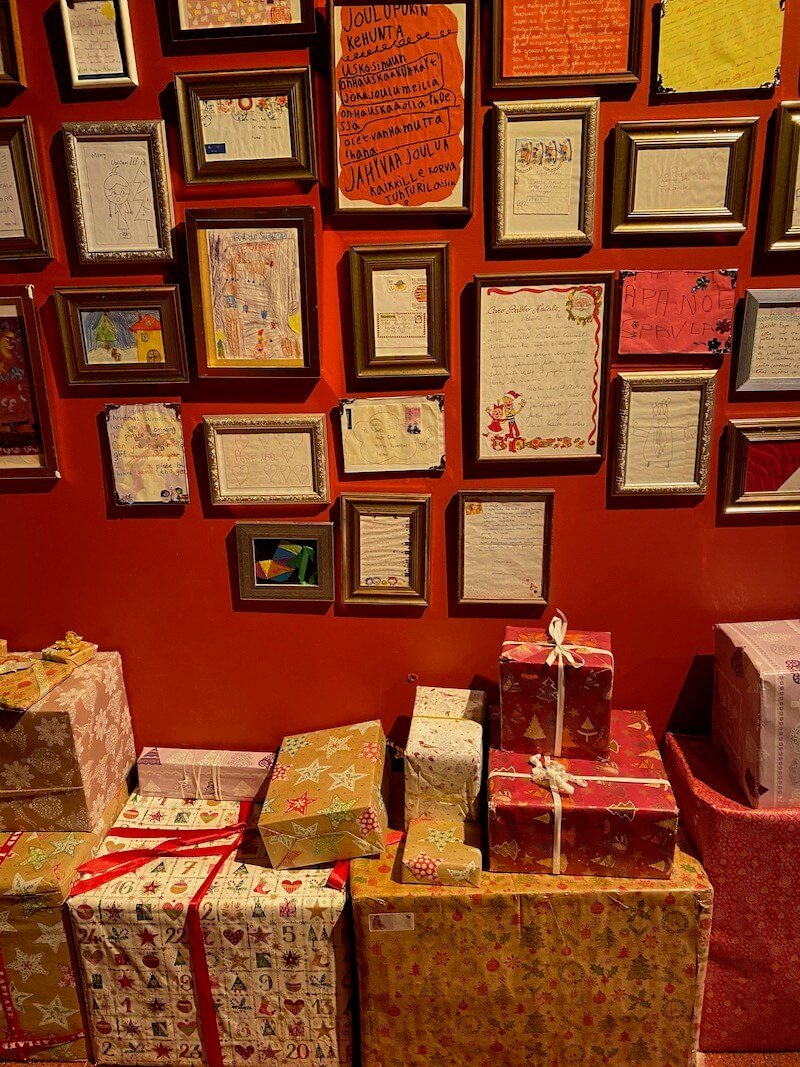 Santa Claus post office hours
From 7th January until 31st May: 10am to 5pm
From 1st June to 31st August: 9am to 6pm
From 1st September to 30th November: 10am to 5pm
From 1st December to 6th January 9am to 7pm
Open Christmas Eve, Christmas Day and New Years Eve from 9am to 5pm
Open New Years day from 12 noon to 5pm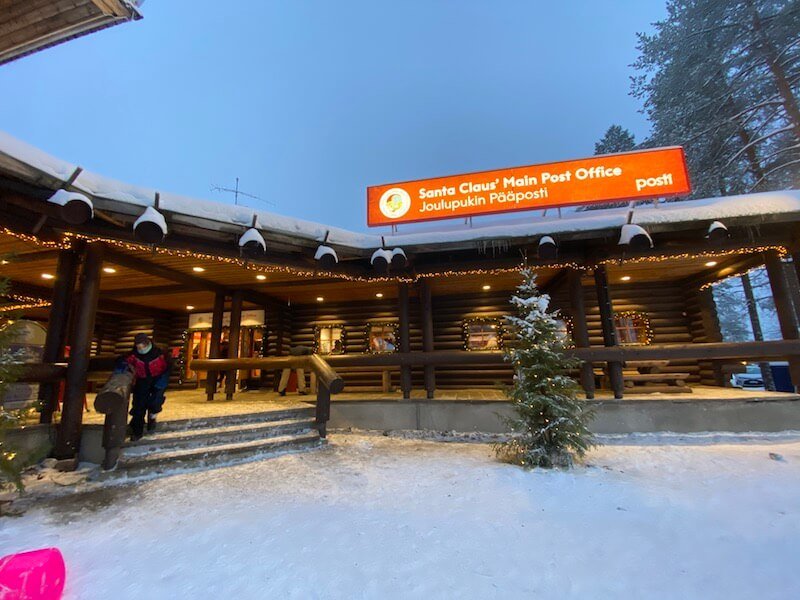 How to get to Santa Post Office Shop at Santa Claus Village
Click here for directions from Rovaniemi to Santa Claus Village.
Includes how to get to Rovaniemi from Helsinki too.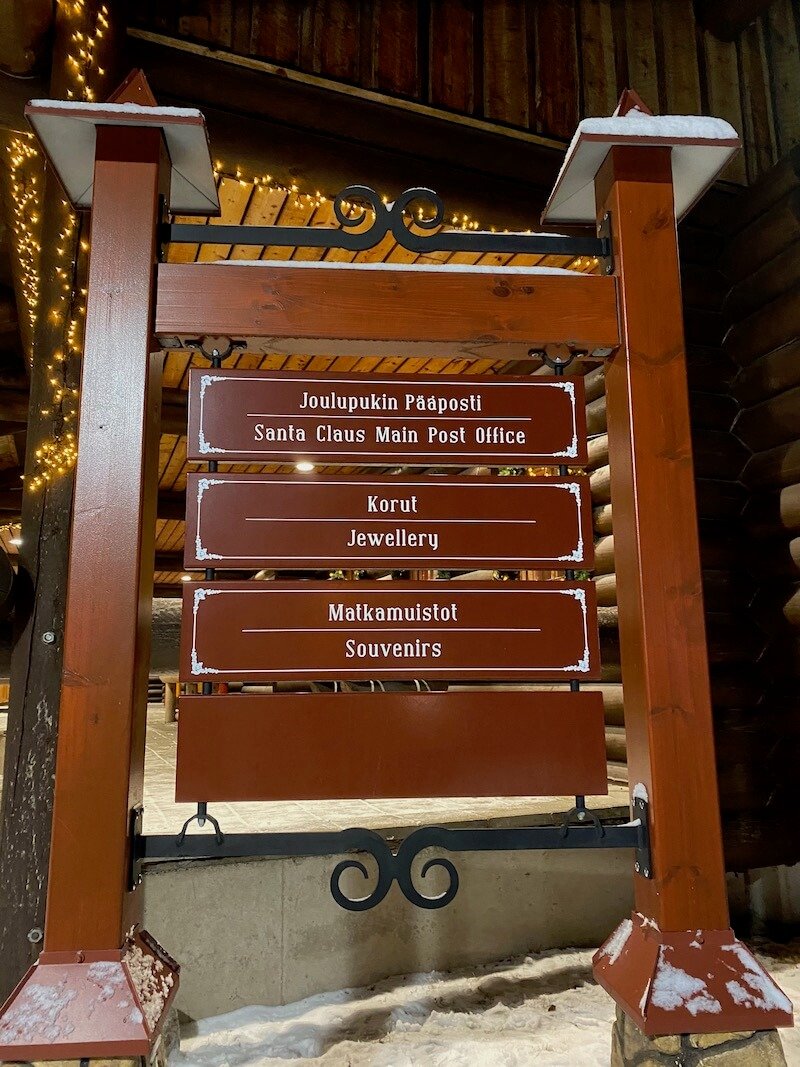 Hot tip: The most fun way is to travel on the Helsinki to Rovaniemi Train – the Santa Claus Express Lapland!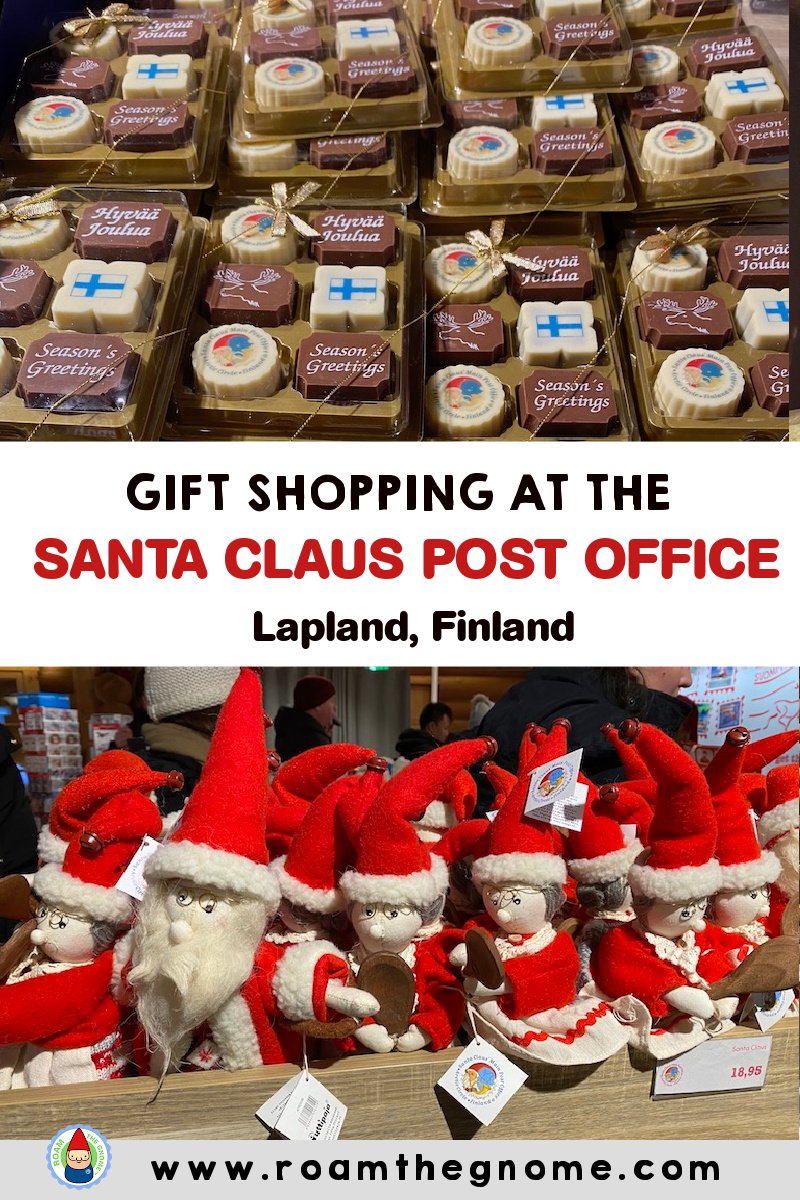 Santa Post Office Map
Toadstool Rating: Santa Claus Main Post Office Arctic Circle Finland
It's a once-in-a-lifetime experience to visit the REAL post office where all Santa's letters are delivered to.


Looking for More Things to Do at Santa Claus Holiday Village?
Click the blue links for a sneak peek at these Christmas activities in Lapland