INSIDE: Everything you need to know about things to do in Rotorua with kids in tow.
ROTORUA NEW ZEALAND.
Don't even think about missing it.
It's touristy, expensive, and smelly at times, BUT the range of New Zealand attractions you can visit and things you can do here is GIGANTIC.
There's something fun for every one of your family.
Our last visit, we stayed four days.
We needed ten.
We'll be back soon.
Take a look at some of the fun things you can do in Rotorua for families below.
Disclosure: This article contains affiliate links. If you make a purchase after clicking on one of these links, we may receive a small commission at NO extra cost to you.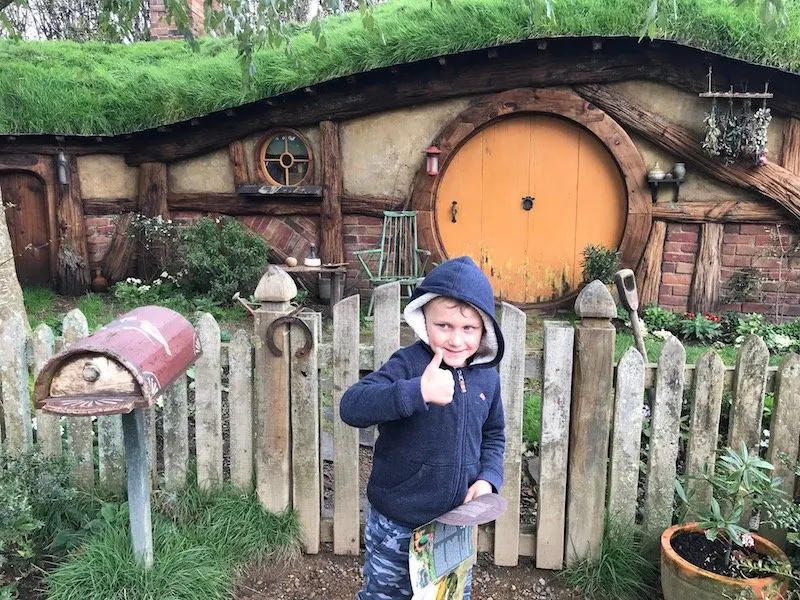 THE INSIDE SCOOP: THE BEST THINGS TO DO IN ROTORUA WITH KIDS & ADULTS
Correct at time of publication on Roam the Gnome. Please check with venue for updates. We apologise in advance if there have been any changes we are unaware of. All prices in NZ dollars, unless otherwise stated
No.1: Hobbiton in Matamata
Ok.
We know Hobbiton is not strictly in Rotorua, but it's close enough.
Visiting Hobbition is the NUMBER ONE REASON people visit New Zealand.
It IS a touristy trail, with group after group walking in each other's footsteps one after the other, and there's not much time to breathe, or limited time to soak up the atmosphere as the 'tour' runs on a tight schedule, but you are NEVER going to see anything like this adorable movie set ever again.
Don't be daft.
(We all LOVED it!)
---
RELATED: Everything you want to know about visiting Hobbiton Movie Set in Matamata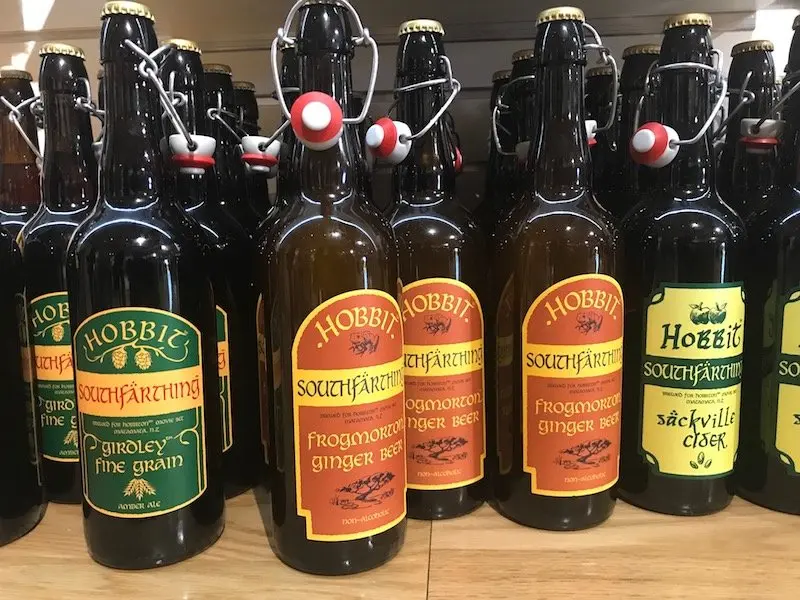 No.2: Visit the Hobbiton Shop
If you are a fan of the Hobbit, or Lord of the Rings, you will LOVE the Hobbit shop at the end of the Hobbiton Movie Tour in Matamata, New Zealand.
It's full of exclusive merchandise, AND it's the only place you can buy Hobbiton BEER!
---
RELATED: A SNEAK PEEK into the Hobbiton Gift Shop on the Tour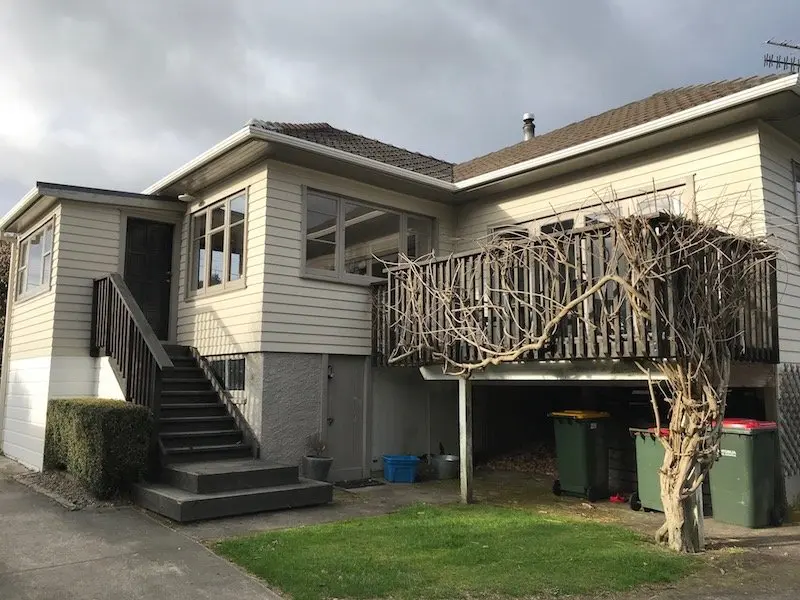 WHERE TO STAY IN ROTORUA WITH KIDS?
Need to book a family hotel in Rotorua?
Or fancy staying in a house with full kitchen instead?
Or travelling with family and want a family home where you can spread out a bit?
Hot tip: New Zealand Bach Houses
Take a look at the family bach we stayed at last trip.
It was superb.
I just need to learn the knack of lighting a fire before we go next time so we don't freeze to death!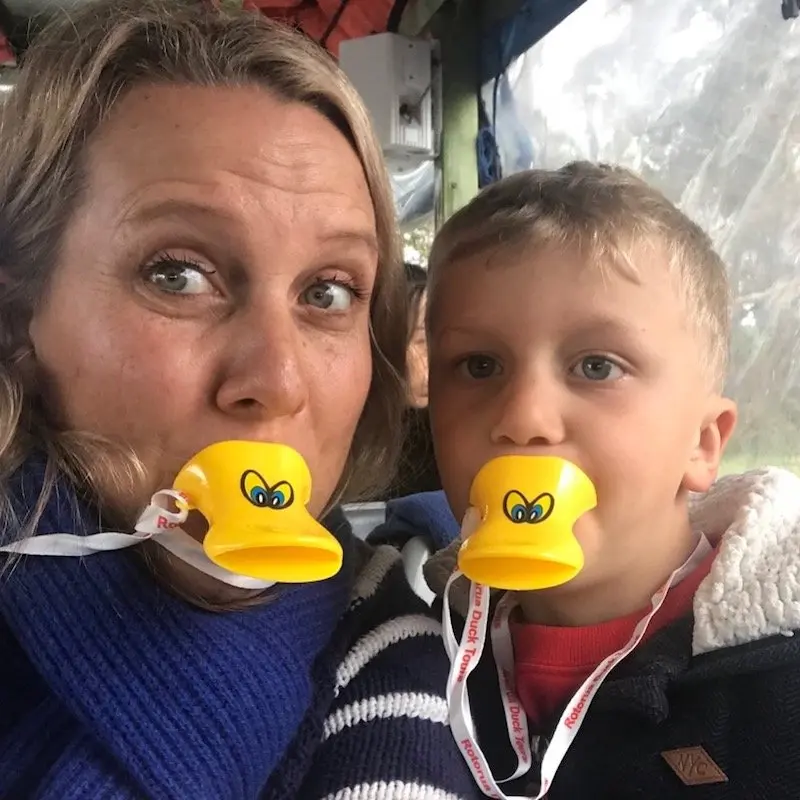 GETTING AROUND ROTORUA
No.1: Rotorua Duck Tours
The funniest way to tour the sights of this city is a DUCK TOUR Rotorua Style.
This is one Rotorua tour you must book if you have a sense of good humour, and love a laugh.
This is top of the list of the best things to do in Rotorua with toddlers!
It definitely doesn't matter how much noise they make!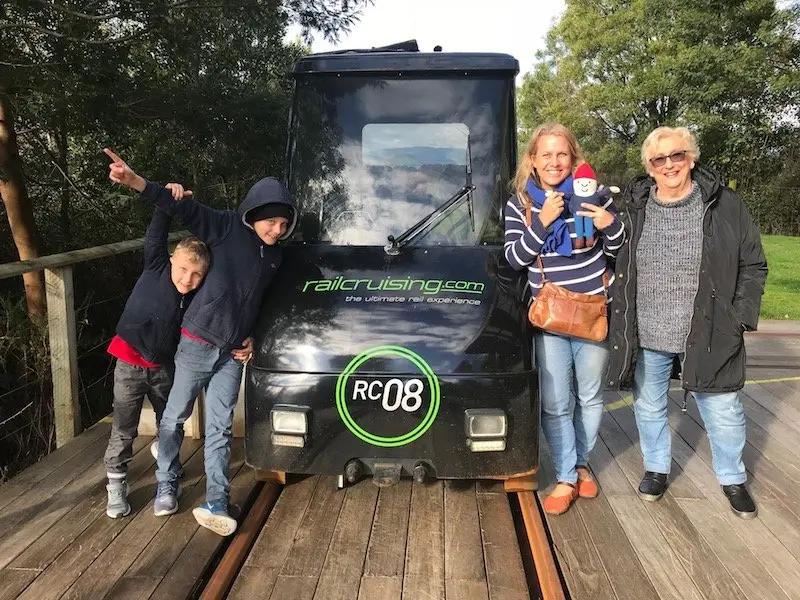 No.2: Rotorua Railcruising
The coolest form of transport in town is a once-in-a-lifetime rail cruiser ride!
Rail Cruising Rotorua is definitely the most unique travel experience you can have in New Zealand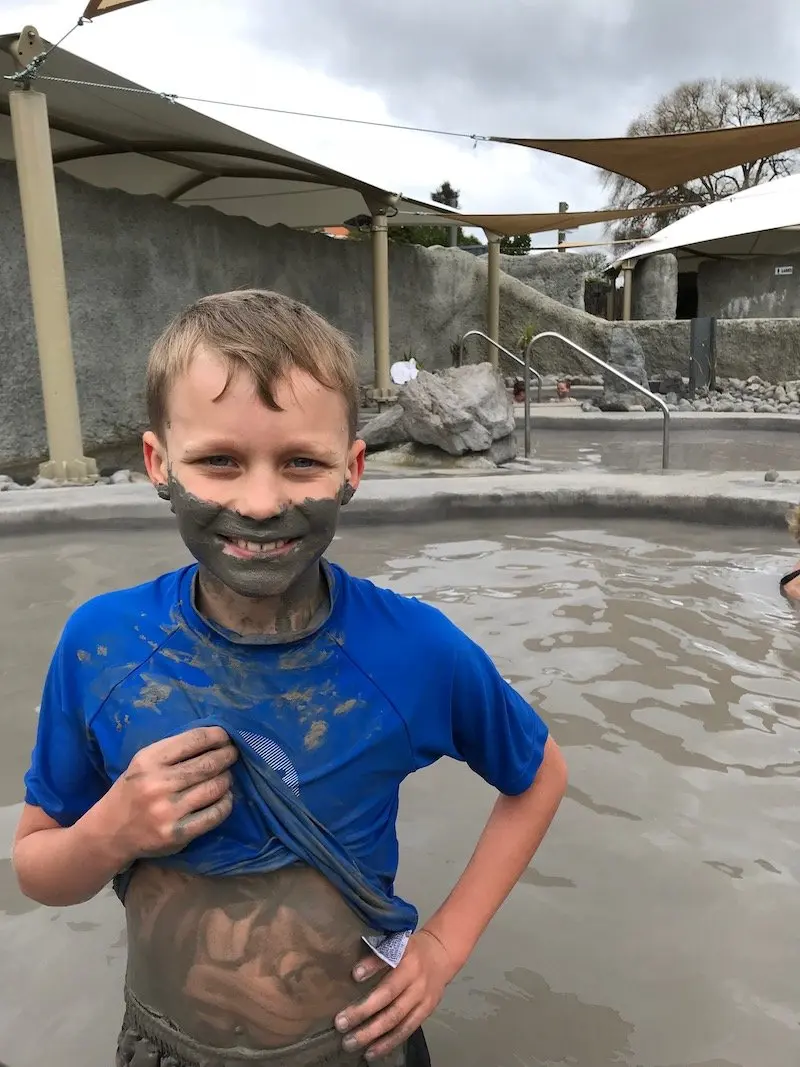 FUN THINGS TO DO IN ROTORUA FOR FAMILIES
No.1: Mud Baths Rotorua
Cover yourself in therapeutic mud in the mud pools, and laugh yourself silly with the whole family at this awesome Geothermal Mud Spa in Rotorua!
Be sure to bring some clothes you don't mind getting smelly!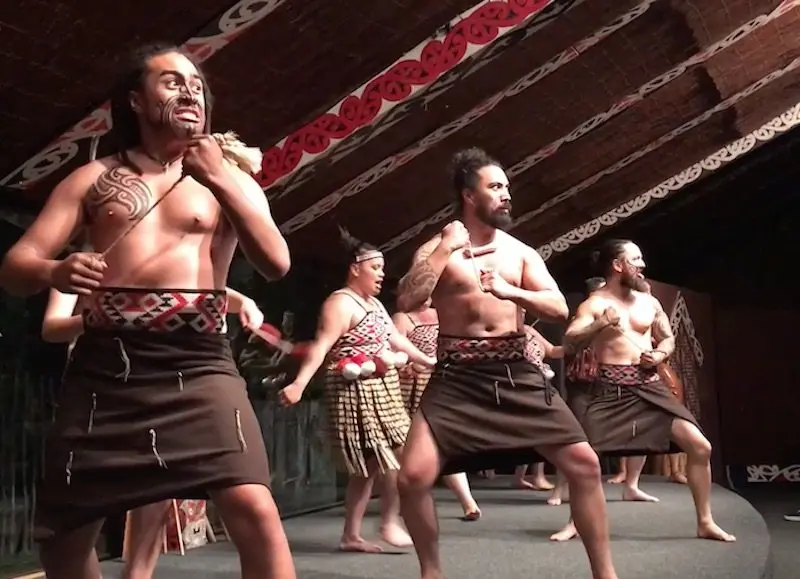 No.2: Tamaki Maori Village Cultural Tours
Do yourself a favour and book the Tamaki Maori Village Hangi Dinner and Show
We LOVED it!
The Maori hangi dinner is delicious, and the Maori cultural performances and interactive workshops are enriching, enlivening and highly entertaining.
It's a top place to learn about Maori weaving and Maori carving, as well as other art forms.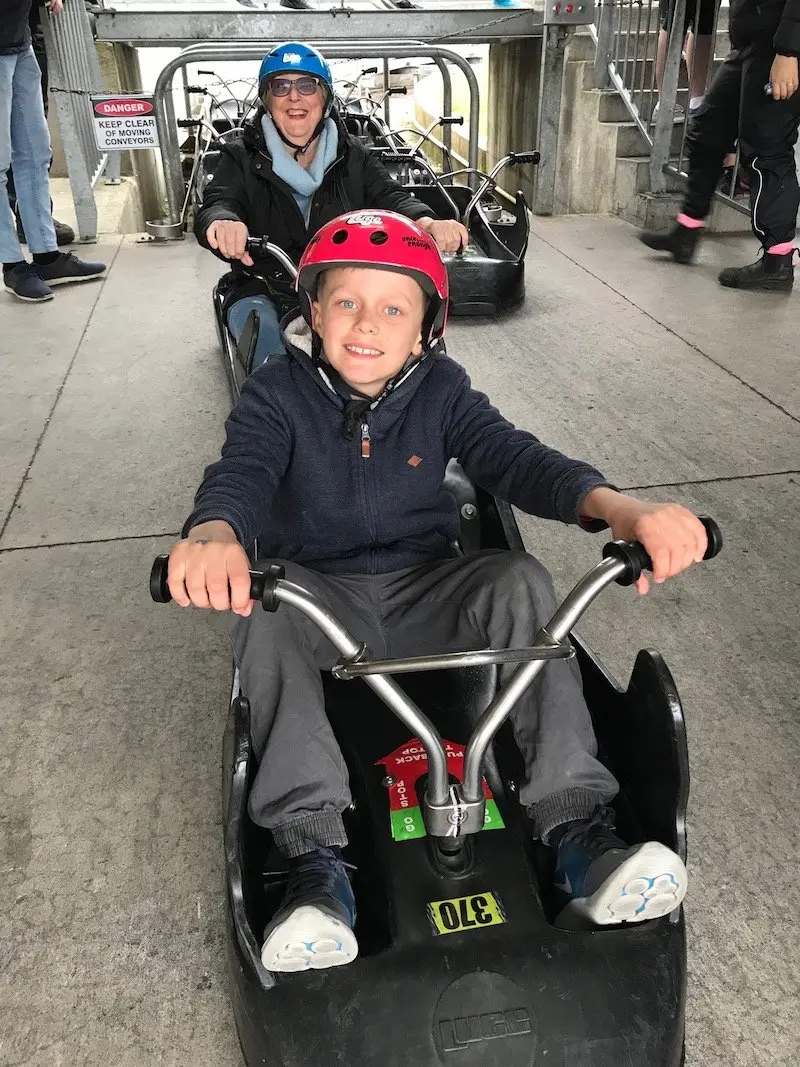 No.3: Ride the Skyline Rotorua Gondola
Ride the Skyline Gondola up a dormant volcano!
When you get to the top, there's a WHOLE bunch of day adventures you can join including the luge (see below), a zipline, mountain bike park, nature trails and more.
No.4: Don't miss the awesome Skyline Rotorua LUGE ride!
Buy a Family Pass to ride the Skyline Luge.
Don't miss this unique experience of riding a luge downhill with kids in their own luge car or on your lap!
This is an attraction that makes you feel ALIVE from head to toe.
Click here for details on everything you need to know about the luge experiences, including how to get luge discounts, and more.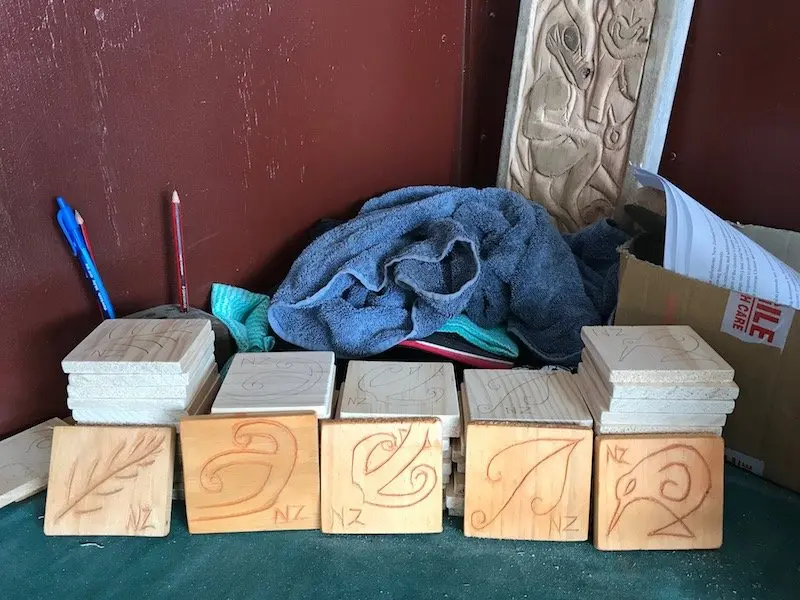 No. 5: Try Maori wood carving
Try authentic Maori carving at Hells Gate thermal park.
No. 6: Learn all about Maori Weaving
Here's a big list of places in New Zealand where you can learn weaving in New Zealand.
Also includes places you can learn about Maori carving designs and patterns, and art too.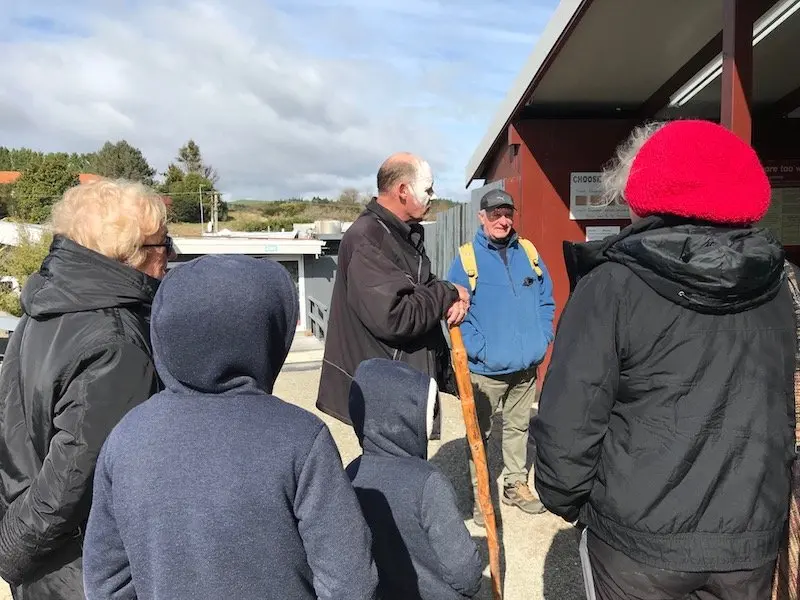 No.7: Visit the best Rotorua Thermal Park
Walk next to bubbling hot Geothermal Pools on a free guided tour at this natural wonder (entry fees for the park apply)
Ned decided he didn't need to go to school anymore after this tour, because he learned so much!
Read our epic review here (it's the longest review with pics on Roam the Gnome!)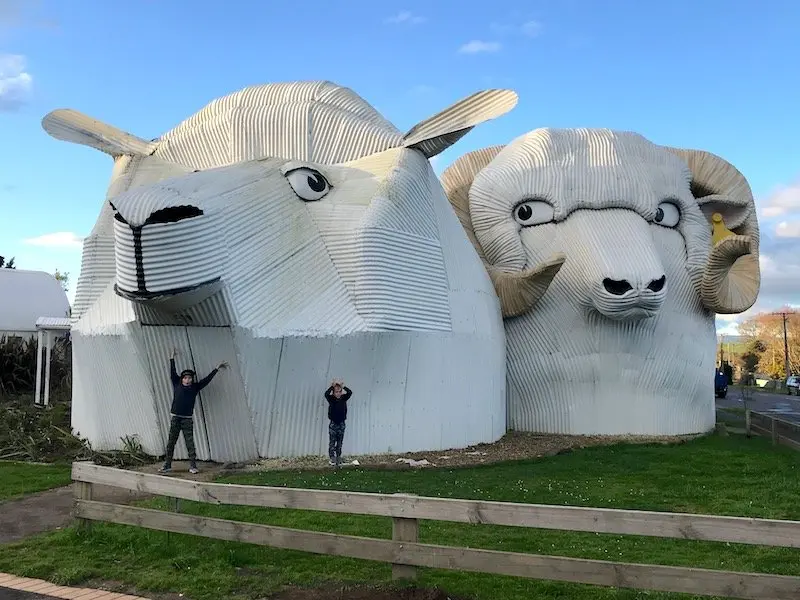 No.8: Tirau Big Sheep & Dog
See the Big Sheep and Big Dog in Tirau.
These big icons in New Zealand are at the entry point of town, and make a wonderful insta pic!
Plus our guide to Tirau lists all the best things to do in Tirau, including the best Tirau shops & cafes.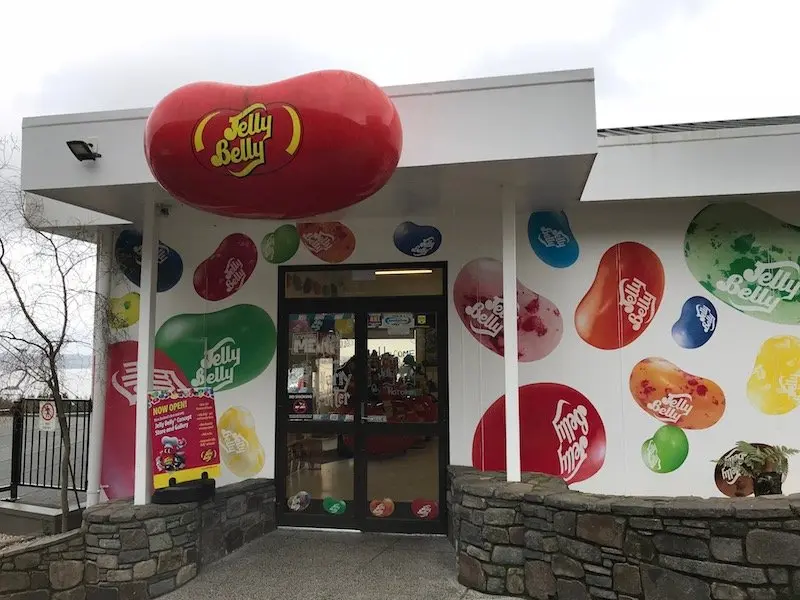 FAMILY RESTAURANTS & CAFES
No.1: Jelly Belly NZ concept store
Try ALL the different Jelly Belly flavours at the Jelly Belly store in Rotorua.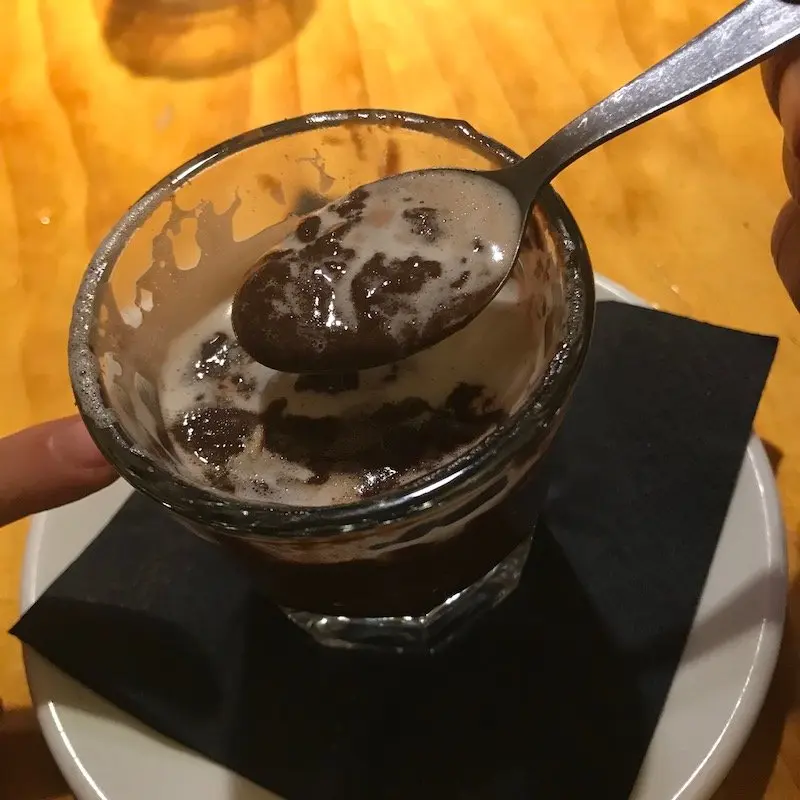 No.2: Ciccio Rotorua Italian Restaurant and Cafe
The BEST Italian Restaurant in Rotorua is definitely Ciccio Italian cafe & restaurant.
There's all your fave pasta and pizza favourites, PLUS a KETO MENU!
Ciccio cakes are much loved by locals, and so are their FREAKshakes, and their ITALIAN HOT CHOCOLATE!
No.3: Rotorua Night Market Thursday
Rotorua Night Markets are a feast of food choices!
There's food trucks and food stalls galore.
Plus, a few market stalls selling handmade craft, gourmet food souvenirs, and New Zealand gifts.
Read our guide to the Thursday Night markets in Rotorua here.
This is one of the best things to do in Rotorua at night time.
Image credit: Paradise Valley Springs Rotorua
10 MORE of the Best things to do in Rotorua for families
Here's some more Rotorua kid friendly activities and attractions in Rotorua for families.
No.1: Paradise Valley Springs Wildlife Park
This Rotorua wildlife park has trout pools, a 20-ft.-high Treetops Boardwalk, native animals, native birds, farm animals & LIONS!
Feeding of the lions at 2.30pm daily.
Find it at 467 Paradise Valley Road, Paradise Valley
Allow 15 minutes from Rotorua city.
No.2: Rainbow Springs Nature Park
Opened in 1932, this zoo and wildlife park is one of the most long standing tourist attractions in the city.
Find it at 192 Fairy Springs Road, Fairy Springs
Big Splash Ride
Big Splash is located within Rainbow Springs park.
Ride the nine minute log ride of discovery and finish with a big splash!
The National Kiwi Hatchery
This is one for the best Rotorua attractions for families who love nature, with a chance to see kiwi birds in real life.
Also located at Rainbow Springs nature reserve.
No.3: Kerosene Creek Hot Springs
Pack your swimmers and head to these Rotorua hot pools and natural hot springs area.
Walk in through the forest to find the waterfall & nature's beauty!
Find them on Old Waiotapu Road, Waikato 3073, New Zealand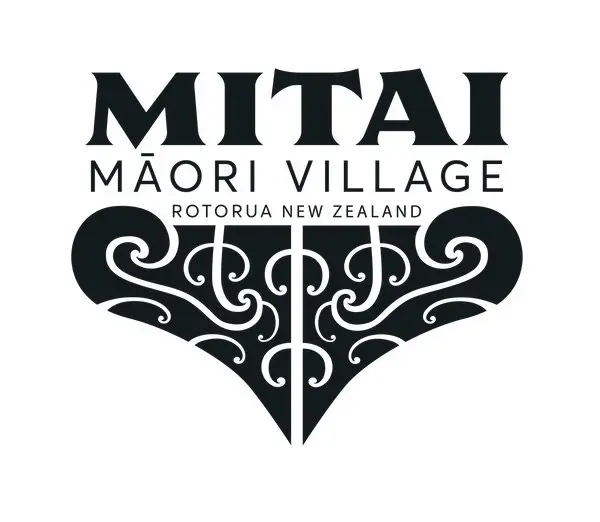 No.4: Mitai Maori Village
Another Maori culture experience in town, similar to Tamaki Maori village.
Find it at 196 Fairy Springs Road, Fairy Springs
No.5: Agrodome Rotorua
The Rotorua Agrodome is a working farm where you can:
see the Farm Show with sheep shearing demos and lots of laughter!
visit the Woollen Mill and Shearing Museum
visit the Farmyard nursery
Join the Agrodome tour by tractor where you can hand-feed and take photos with all sorts of friendly animals, including:
Romney sheep
cattle
deer
llamas
ostrich
pigs and
alpaca.
Located at 141 Western Road, Ngongotaha

Image credit: Redwoods Treewalk
No.6: Rotorua Redwoods Forest
The Redwoods Treewalk is possibly Rotorua's best kept secret.
It's 23 suspended walkways and bridges high up in the canopies of the 115 year old forest of Redwood trees.
Spectacular!
Find it at 1 Long Mile Road, access off Tarawera Road, Whakarewarewa

Image credit: Velocity Valley
No.7: Agrojet NZ (& MORE Adventure Activities in Rotorua)
Agrojet is the FASTEST jetboating ride in Rotorua.
Located opposite the Agrodome, on 1335 Paradise Valley Road
Awesome activity for teens.
Choose either two or four iconic New Zealand adrenaline activities in one location in Rotorua:
Freefall Xtreme
Agrojet, or
Shweeb.
No.8: ZORB Inflatable Ball adventure
Ride the Zorb in Rotorua, all the way down grassy hills to the bottom.
Not for the faint hearted, this one.
Located at 525 Ngongotaha Road, Fairy Springs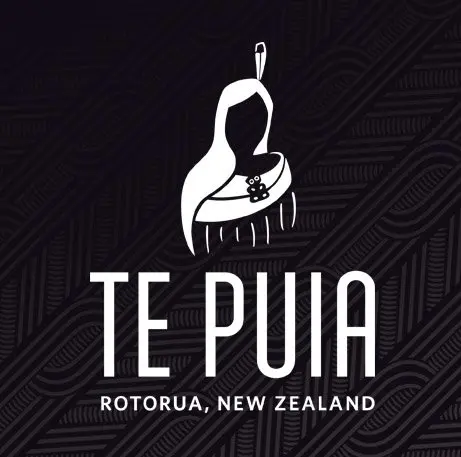 No.9: Te Puia Maori Village & Pohutu Geyser
The Te Puia Maori village is a top day out for families.
Learn about Maori history and culture at Te Puia with a day entry ticket.
Watch the Pohutu Geyser blow, see jumping mud pools, and get up close to adorable kiwi birds.
No.9: Whakarewarewa Village Tour
Last but not least, stop by Whakarewarewa Living Māori Village.
Owned and operated by local residents, this Maori culture experience lets you into the day-to-day life of Maori people.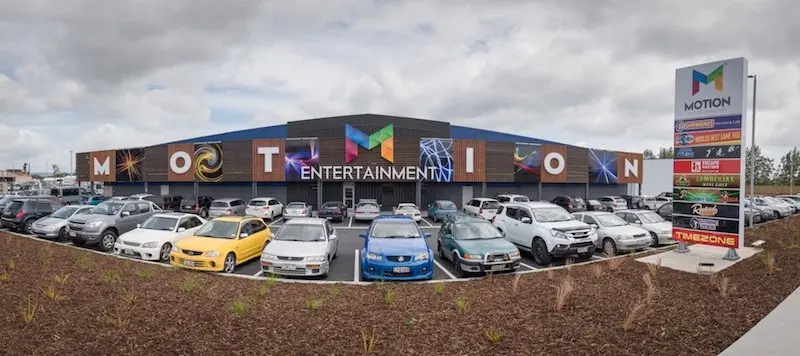 Image credit: Motion Entertainment Zone
What to do in Rotorua when it's raining?
No.1: Motion Entertainment Rotorua
Just near the Redwoods Forests in Rotorua, this is the ultimate spot when you are wondering what to do on rainy days in Rotorua.
There's:
Chipmunks indoor play centre and cafe
Megazone Laser Tag games
Xtreme Air trampoline park (90 minute sessions)
XD Dark Ride
Lumberjack mini golf
Strike Zone bowling
Timezone Arcade games
Escape Masters escape room game
Save money by creating your own multi attraction combo ticket when you buy 2 or more attraction entry tickets.
Rotorua Map
Looking for more things to do in New Zealand with kids?
Find more fun on the North Island below.