INSIDE: Everything you need to know about the best places in New Zealand to experience & learn about Maori weaving, Maori carving, & Maori art.
A visit to New Zealand is not complete without time learning about the culture of the local Indigenous people, and this includes learning about their traditional arts and crafts.
You might also like to return home with an authentic piece of Maori art for your wall or a Maori weaving of some kind, or find Maori gifts and souvenirs for family and friends.
This is our guide to where you can find genuine Maori souvenirs and artefacts, as well as see Māori weaving, Maori carving and Maori artists at work.
Read our guide to the Best Places in New Zealand to see Maori weaving, art & carving.
Disclosure: This article contains affiliate links. If you make a purchase after clicking on one of these links, we may receive a small commission at NO extra cost to you. Main image: Jane Nearing via Flickr CC BY NC 2.0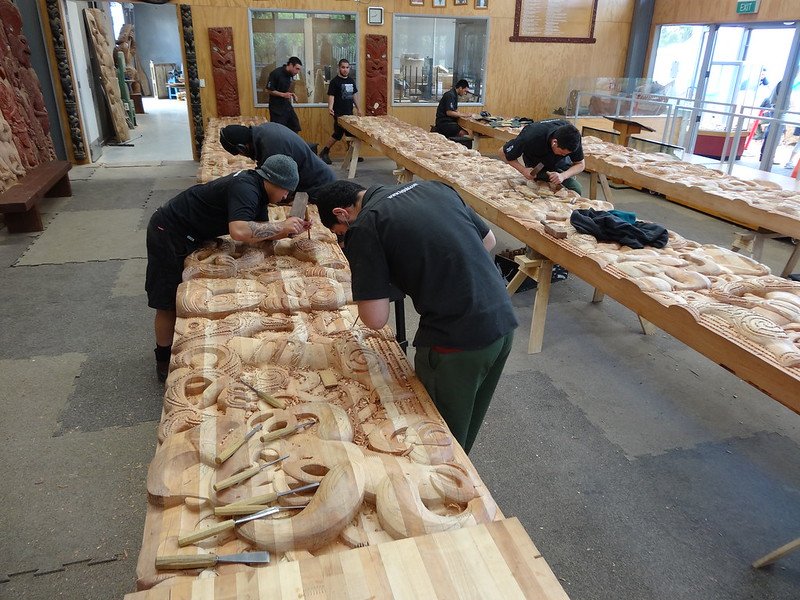 Image credit: Denisbin via Flickr CC BY ND-2.0
THE INSIDE SCOOP: WHERE TO FIND MAORI WEAVING ART & CARVING IN NEW ZEALAND
Correct at time of publication on Roam the Gnome. Please check with venue for updates. We apologise in advance if there have been any changes we are unaware of. All prices in NZ dollars, unless otherwise stated
We've gathered a list of the cultural attractions around New Zealand (Rotorua, Auckland, Taupo, Wellington, and Hokitika) where you can engage with Maori culture and traditional Maori arts and crafts.
We've also included the best art galleries and museum shops where you can purchase authentic traditional Maori art, Maori weaving and Maori carved jewellery.
Main image: Jane Nearing
---
RELATED: Big Guide to the Best Things to do in Rotorua for families & kids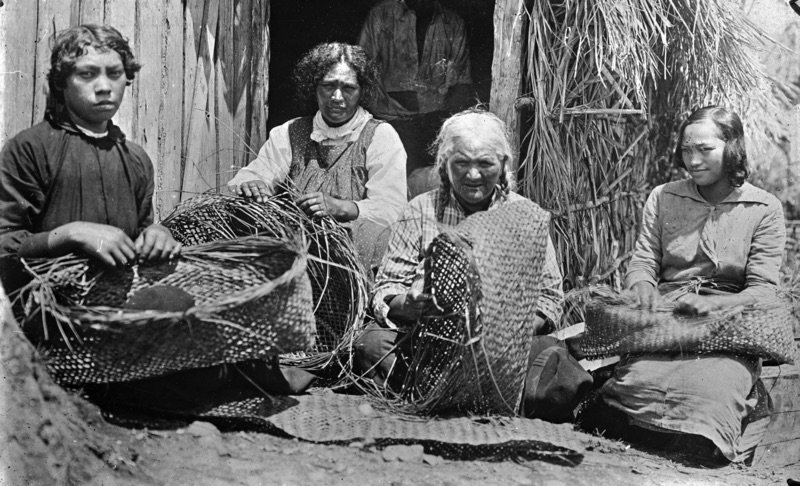 Image credit: Albert Godber via Public domain
THE BEST PLACE TO SEE MAORI ART & MAORI WEAVING ON THE NORTH ISLAND
No.1: Te Puia Rotorua (Te Rito Weaving School)
The best place to see traditional Maori weaving and learn about the originals of Maori weaving is at Te Puia in Rotorua.
At New Zealand Māori Arts and Crafts Institute (NZMACI) at Te Puia, students are taught to weave traditional taonga using New Zealand native harakeke (flax) at Te Rito, The National Weaving School.
At Te Puia, you can also watch the weavers at work and interact with them as they create garments of great beauty with their Maori weaving tools.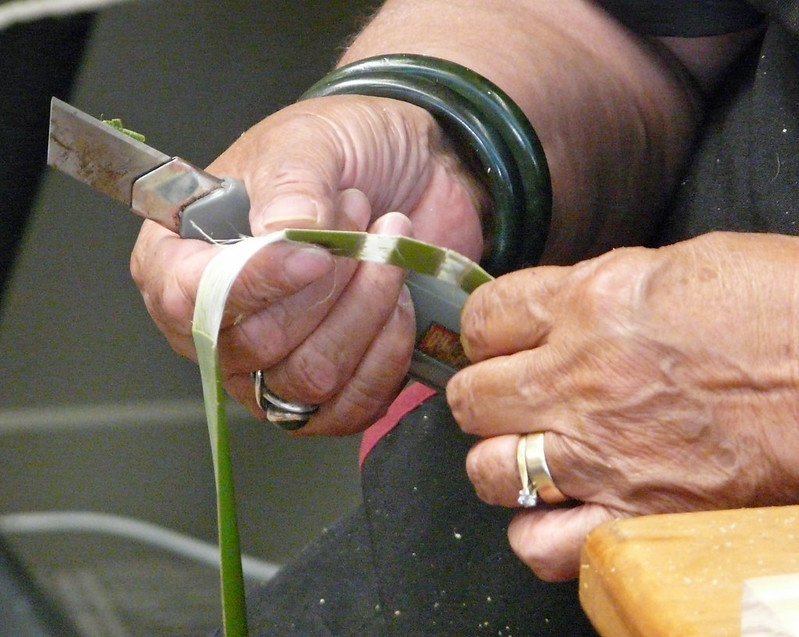 Image credit: Jane Nearing via Flickr CC BY ND-2.0
Join a weaving class at Te Puia
If you want to join in a weaving class, you can book the Te Puia Steambox Tour.
Te Puia Steambox Tour visitors are invited to weave a puitputi (flower), under the watchful guidance of their guide.
And then there's the lunch!
A steam box lunch prepared the traditional way: cooked over steam vents at the Te Whakarewarewa Geothermal Valley.
Plus, you can see Kiwi birds up close.
Now that's a great one day itinerary in New Zealand.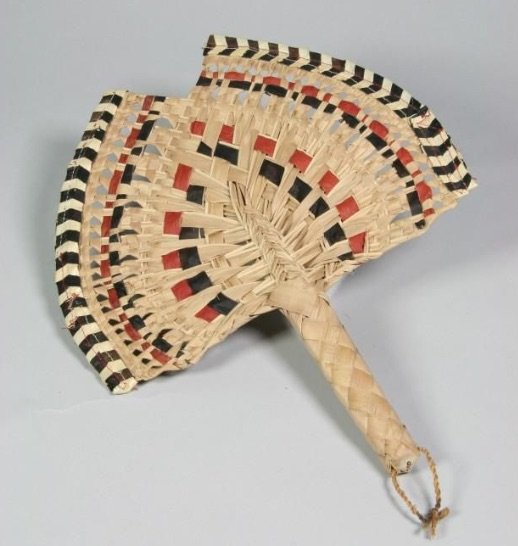 Image credit: Te Papa Tongarewa
No.2: Te Papa Museum Wellington
Te Papa showcases a collection of Maori weaving.
When there are no workshops or demonstrations available, you will be inspired and awed by the talents of Maori weavers in making:
New Zealand poi balls
kete whakairo (patterned bags)
kete pāpā (bags)
porotaka toys
'āriki kaingākai (table mat)
cloaks
clothing and
hair decorations.
The Maori weaving patterns are something else.
PS: Pop into the Te Papa Gift Store to find Maori weaving for sale.
No.3: Hetet School of Maori Art Weaving Classes
And thanks to technology, you can now take part in a weaving class online through the Hetet School of Maori Art, based in the Lower Hutt region of New Zealand, near Wellington.
The courses by Veranoa Hetet teach loom-free hand weaving, to make baskets, bags, and backpacks.
She shows the techniques for preparing flax for weaving too.
PS: You may be lucky enough to see Veranoa in action at Te Papa from time to time and learn from her knowledge.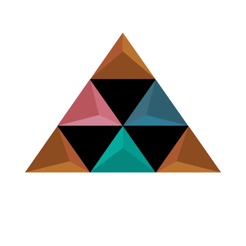 Hetet Weaving Courses
Hetet School of Weaving courses
Take a look at the Hetet courses on offer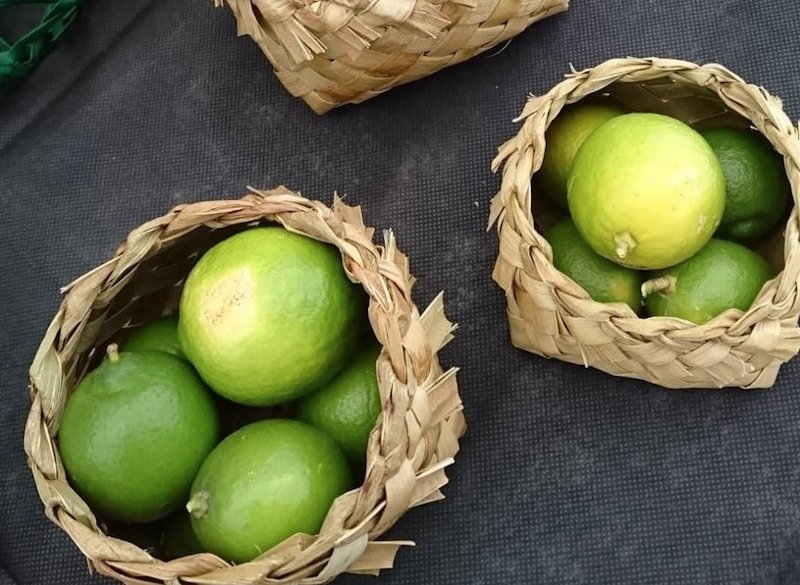 Image credit: Maori Weaving Rotorua
No.4: Rotorua Cultural Centre
You can also join a weaving workshop with Anna the the Cultural centre in Rotorua, at 1144 Hinemoa St Rotorua.
Learn the traditional Maori weaving technique, raranga, as well as the customs and traditions of working with NZ native flax.
You'll discover the importance of flax to Maori, how it relates to family, and learn a few words of Maori language.
Suitable for adults and children over 5 years.
All materials provided.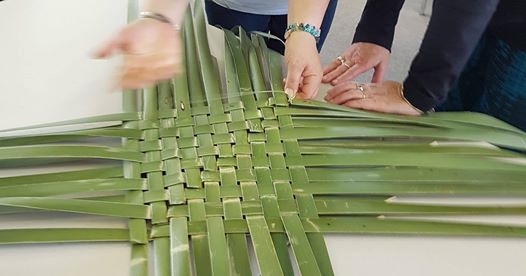 No.5: Kete Lady
You can also check in with the Kete Lady, Karen Clark, about hands-on weaving workshops to make:
kete bags
kete hoko shopping bags
konae woven bags
putiputi
pikau and more.
Located in Waitara, New Zealand.
Text Karen 0226482713 for details of Monday and Saturday workshops.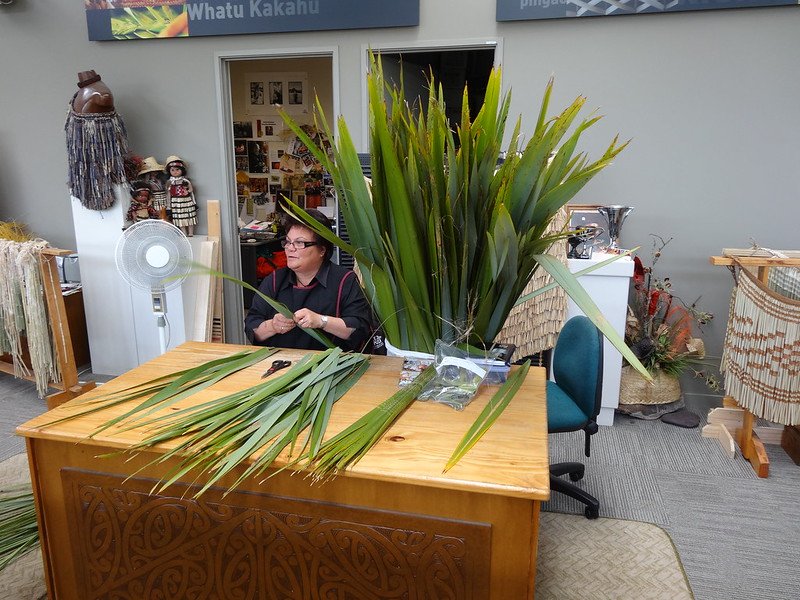 Image credit: Denisbin via Flickr CC BY ND-2.0
Maori Weaving Patterns & Types of Weaving in New Zealand
"Hineteiwaiwa is the principal goddess of te whare pora (the house of weaving), and she represents the arts pursued by women.
Ngā mahi a te whare pora (the products and processes of the house of weaving) include the following:
No.1: Tāniko
A technique used to decorate the borders of fine garments, as well as bird cages, bird traps, and eel baskets. Tāniko is similar to European twining.
These days tāniko is used to make belts, purses, bodices, armbands, headbands, and bandoliers.
No.2: Arapaki or tukutuku
Ornamental latticework, usually found adorning the walls of wharenui.
No.3: Piupiu
The art of making a flax garment worn around the waist.
No.4: Whatu
The weaving technique known as the 'cloak weave', used to produce fabric.
No.5: Whiri
Various forms of plaiting used to make poi, waist girdles, and headbands.
No.6: Raranga
One of the weaving styles used to make kete (bags and baskets)."
Source: Museum of New Zealand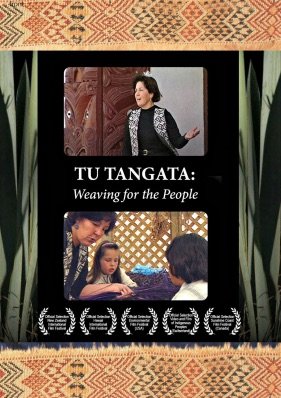 MAORI WEAVING BOOKS & RESOURCES
No.1: Tu Tangata, Weaving for the People DVD
This film festival documentary is an intimate portrait into the place of weaving in the life of Maori weaving and artist Erenora Puketapu-Hetet, her whanau and community.
Buy it through Wheelers books.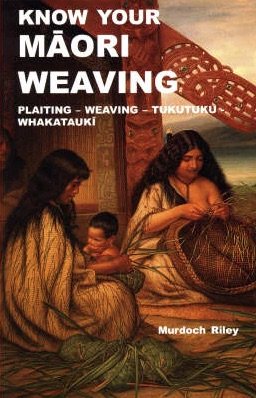 No.2: Know Your Maori Weaving book
The best book to learn Maori weaving is this one: Know Your Maori Weaving by Viking Sevenseas.
It shows you how to make simple objects such as headbands, flax mats, and baskets, and then there's more complicated projects for intermediate weavers too.
No.3: Maori Weaving guide
Another option is the book, Maori Weaving.
This is an introductory guide to Maori weaving by Erenora Puketapu-Hetet.
Maori Weaving on Youtube
How to weave a Harakheke Whetū (Star)
You can also learn how to make: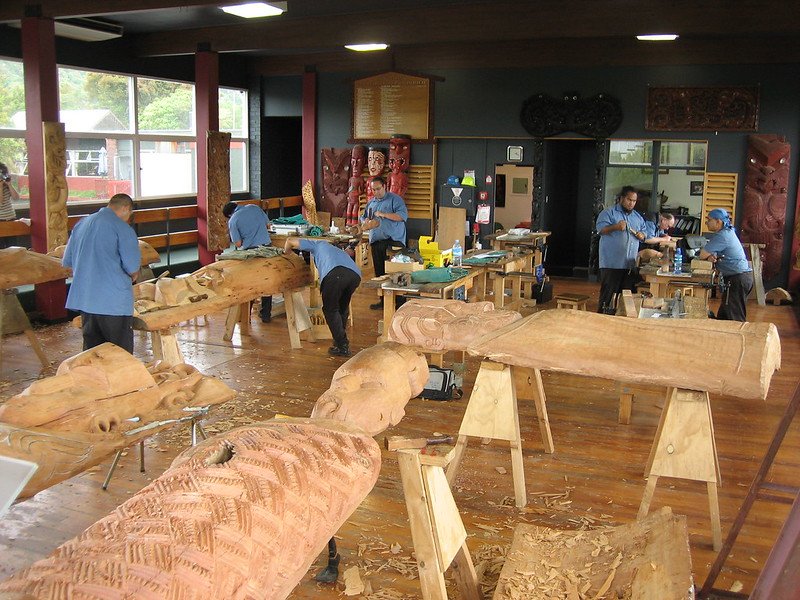 Image credit: Floyd White via Flickr CC BY SA-2.0
MAORI CARVING ON THE NORTH ISLAND
No.1: Maori Carving at Te Puia Rotorua
In Rotorua, visit Te Puia, home to the New Zealand Māori Arts and Crafts Institute.
The three faculties on site are:
The National Wood Carving School (Te Wānanga Whakairo Rākau)
the National Stone and Bone Carving School (Te Takapū o Rotowhio) and
the National Weaving school
"The schools were founded in the mid-60s, and teach traditional Maori craftsmanship to young people from across NZ who then take those skills back to their home towns."
Watch the students carve:
Maori instruments
Human figure statues
Tiki masks
Wood carving necklaces
Koru and Twist carvings
Maori walking sticks
Maori fish hook
Wakahuia treasure boxes
---
Related: Ultimate Guide of Things to do in New Zealand with kids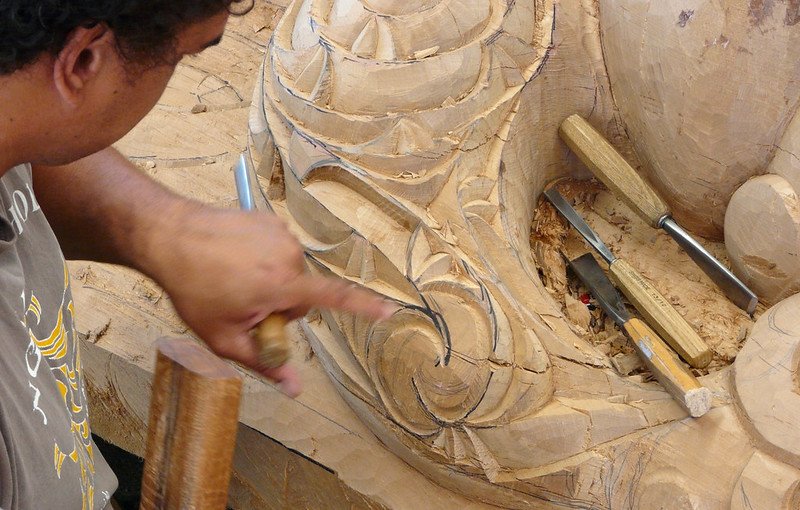 Image credit: Jane Nearing via Flickr CC BY ND-2.0
Te Puia Tour Prices (Entry to village)
The only way in to Te Puia is on a tour. Take a look at these three options:
Budget: Te Puia Maori Village Entry.
Learn Maori history and culture at Te Puia arts school with a day entry ticket.
Come face to face with the Pohutu Geyser, jumping mud pools, and live kiwi birds.
The day tour is the way to see students at the Rotorua Carving school practicing Maori carving and Maori weaving.
You can also upgrade this ticket include a 45-minute Maori cultural performance.
From $32 USD per person
Top pick: Te Puia Maori Cultural Evening Experience with Hangi Dinner
Experience a one-of-a-kind evening feast of Maori storytelling, entertainment, and Maori cuisine at Te Puia.
Watch a Maori concert, enjoy authentic traditional Maori food and drinks, and marvel at the breathtaking beauty of the geothermal valley and the Pohutu Geyser under lights.
From $136 NZ adults, and $68 NZ children
Address: Te Puia, Hemo Rd, Rotorua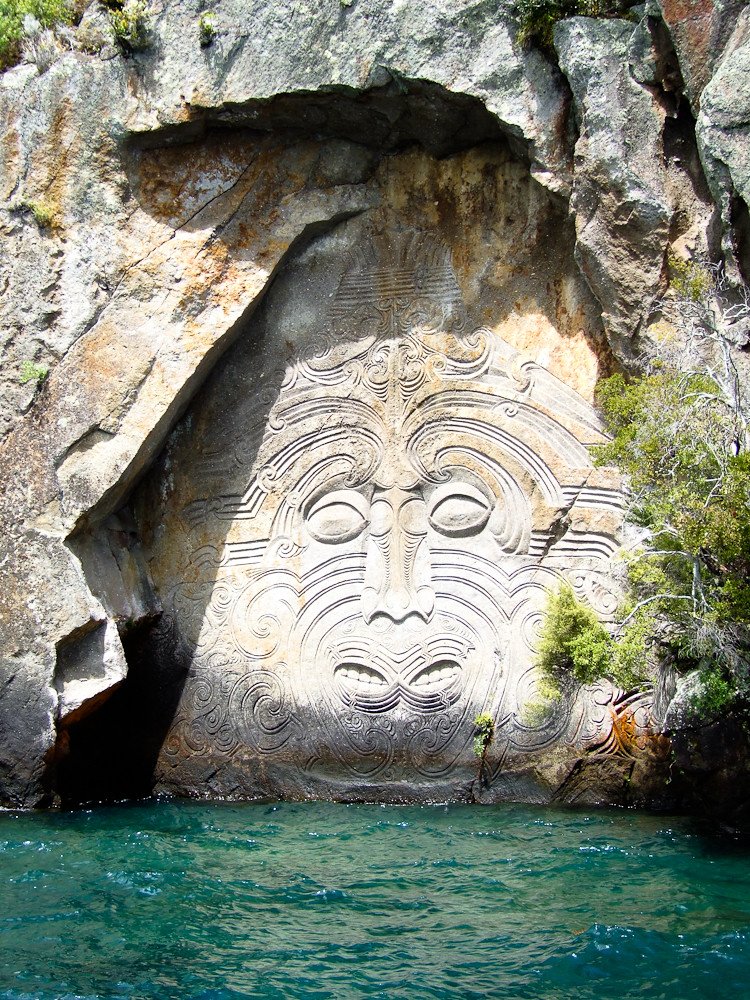 Image credit: Larry Koester via Flickr CC BY-2.0
No.2: Lake Taupo Maori Rock Carvings
At Lake Taupo, you can go on a boat tour to see the Taupo Carvings.
You'll sail to the famous Taupo Rock Carvings, and take in the spectacular views of Lake Taupo framed by Tongariro National Park's majestic mountain peaks.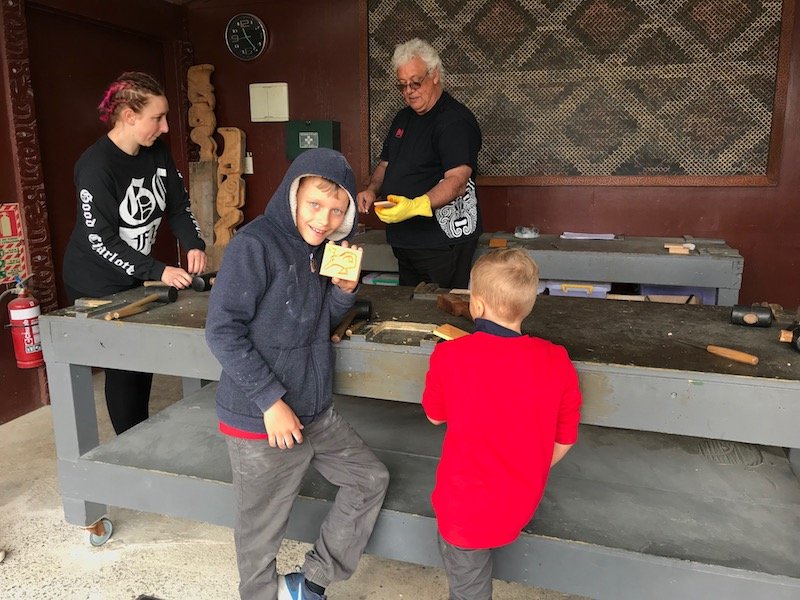 No.3: Maori Wood Carving at Hells Gate Geothermal Park
Take a tour of Hells Gate Geothermal Park
It's a MUST DO in New Zealand if you are visiting Rotorua
(Read our insider's guide to the Hells gate tour here)
At the end of the Rotorua thermal park tour, you can join in a Maori carving workshop, learn some Maori carving techniques, hear stories about famous New Zealand wood carving artists, and take home a small carved souvenir of your endeavours.
(Read our review of the Maori carving experience here)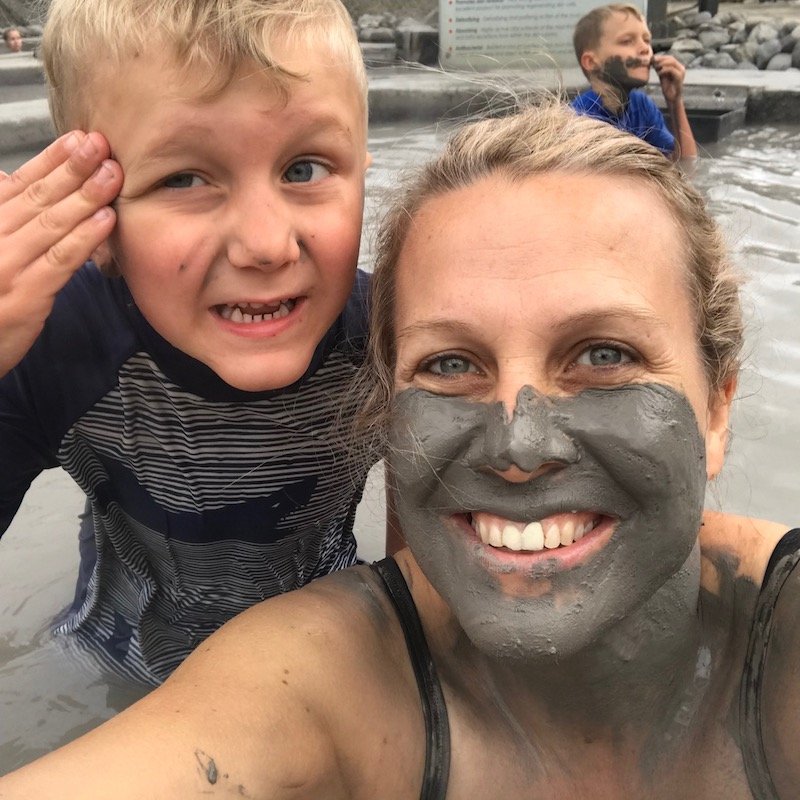 Hot tip: Rotorua Hells Gate Mud Baths
If you are going to Hells Gate in Rotorua, and have an extra hour or two, book the Hells Gate Mud Spa and Sulphur Spa experience.
We understood how the Wicked Witch of the West must have felt as we started dissolving in the boiling hot mud spa, but at the same time laughed ourselves silly as we covered our bodies with silky Rotorua mud.
This remains one of our Top 10 travel experiences around the world to date.
So Much Fun.
Address: State Highway 30 Tikitere, Rotorua 3010, New Zealand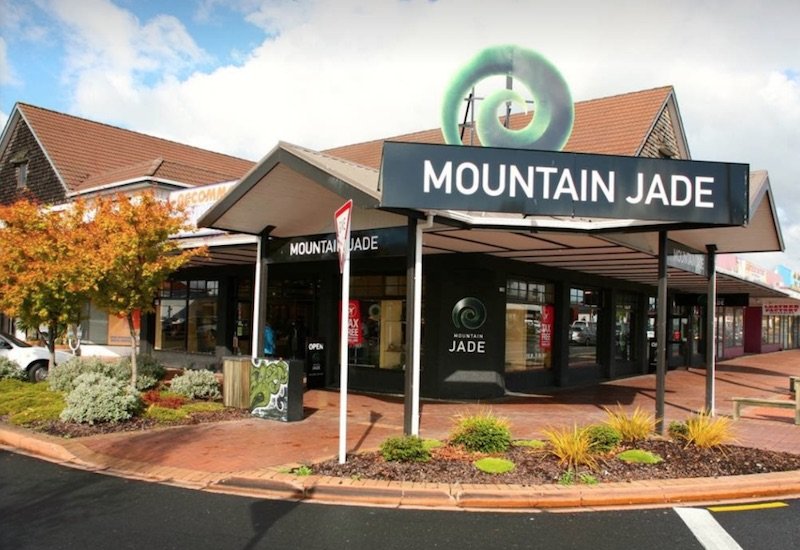 No.4: Greenstone Carving at Mountain Jade Rotorua
Join a FREE guided Jade Discovery tour of the workshop at Mountain Jade Rotorua.
Visit the long standing store on Fenton Street to learn about the carving process of jade by hand, culture, and history surrounding jade carving.
The shop also boasts a large collection of jade carvings from New Zealands best for sale.
Address: 1288 Fenton Street, Rotorua Central, Rotorua,3015, New Zealand.
Opening hours: Monday to Sunday, 9am to 6pm
Website: Click here
"Mo Te Iwi, Carving for the People" Film
A new feature length film called Mo Te Iwi was recently released about Whakairo and the life of one of the last 'Konae Aronui' carvers, trained in the 1950s, to carve wharenui.
Take a look at the trailer above, where the director Robin Greenberg discusses the project and introduces you to traditional carver, Rangi Hetet.
Interesting fact: Rangi Hetet is the father of Verenoa Hetet, mentioned above.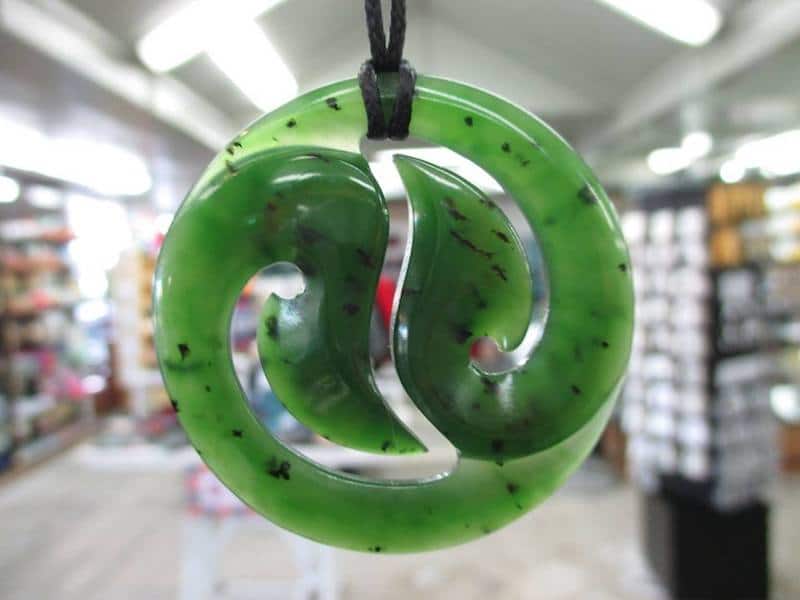 THE BEST PLACE TO SEE MAORI ART & MAORI CARVING ON THE SOUTH ISLAND
No.1: Westland Greenstone, Hokitika
Take a tour of thee Westland Greenstone Factory to see carving artists at work.
Address: 34 Tancred Street, Hokitika 7810, New Zealand.
Opening hours: 8.30am to 5pm daily
Website: Click here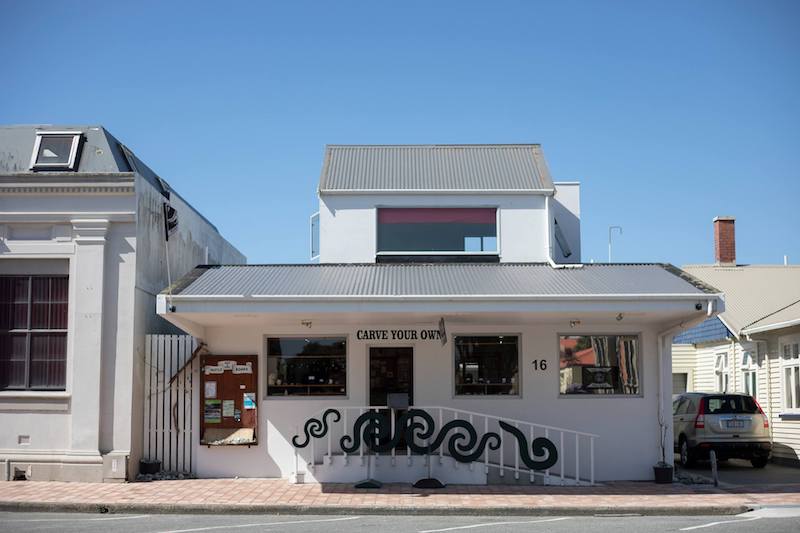 No.2: Bonz n Stonz Carving Studio and Gallery, Hokitika
Bonz 'n' Stonz carving studio & Gallery to see Maori greenstone and bone carving in Hokitika.
But the best thing is you can CARVE YOUR OWN PIECE, with the help of their master carvers.
Make a booking via email: [email protected]
Address: 16 Hamilton Street, Hokitika, 7810
Opening hours: 9am to 5pm daily
Website: Click here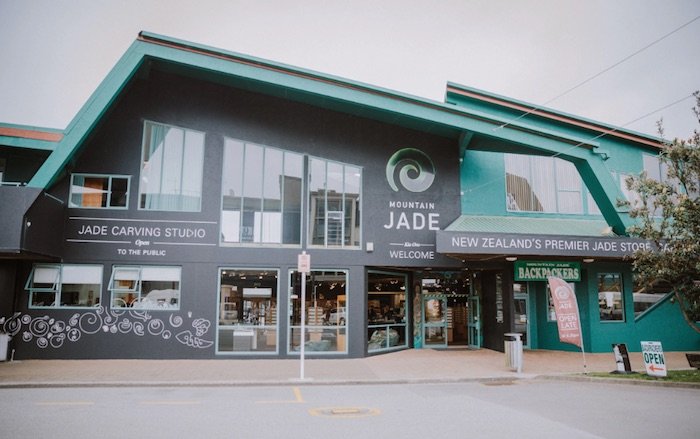 No.3: Mountain Jade Hokitika
Step into the Mountain Jade gallery workshop in Hokitika and discover the largest collection of jade art and jewellery in New Zealand.
Meet the country's finest greenstone artists and see them at work transforming raw stone into carved art.
Each piece in their exclusive collection is one of a kind and lovingly handcrafted from New Zealand pounamu and the finest quality jade from around the world.
Join the FREE Jade Discovery Tour at 9.30am & 2.30pm daily.
Address: 41 Weld St, Hokitika 7810, New Zealand
Opening hours: 8.30am to 5pm daily
Website: Click here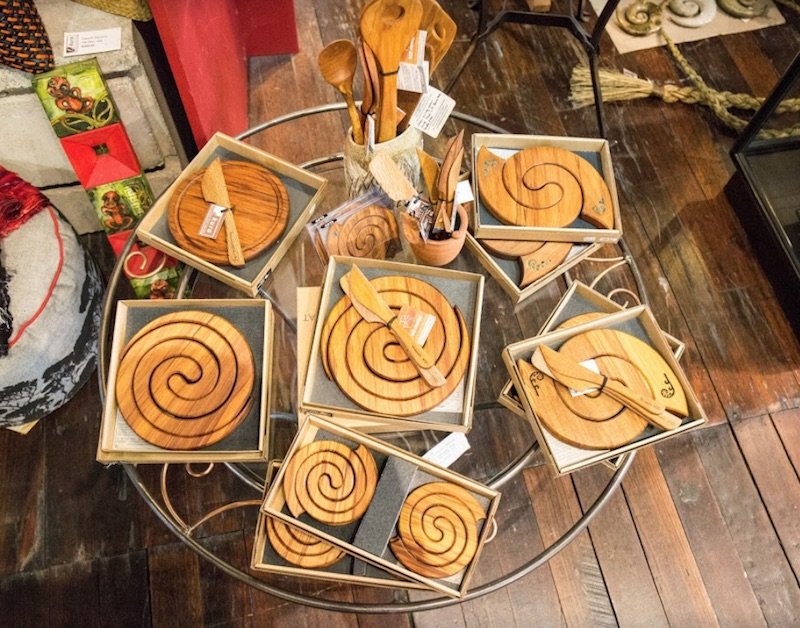 Image credit: Lucian Nistor
WHERE TO BUY MAORI NEW ZEALAND ART & CRAFTS
No.1: Kura Gallery Art Space Auckland
Kura Gallery features traditional and contemporary Maori carving, Maori art, original artworks, innovative design, homewares, unique jewellery, furniture and genuine pounamu/greenstone.
Address: 95A Customs Street West (Viaduct Basin – behind Portofino) Auckland 1010.
Opening hours:
Monday to Friday 10am – 6pm
Saturday & Sunday 11am – 4pm
Website: Click here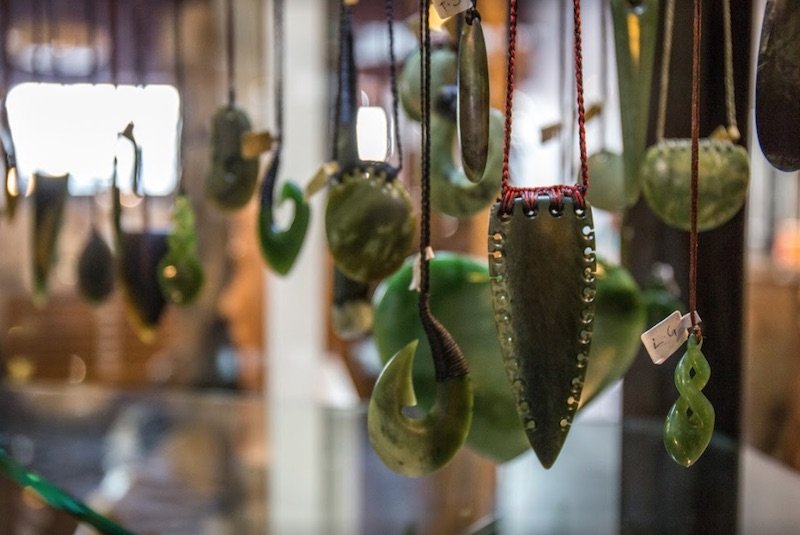 Image credit: Lucian Nistor
No.2: Kura Gallery Wellington
The second outpost for the Kura Gallery, this time in Wellington.
Don't miss this gallery shop in New Zealand if you are looking for authentic Maori souvenirs and gifts.
Address: 19 Allen Street (Courtenay Quarter) Te Aro Wellington 6011
Opening hours:
Monday to Friday 10am – 6pm
Saturday & Sunday 11am – 4pm
Website: Click here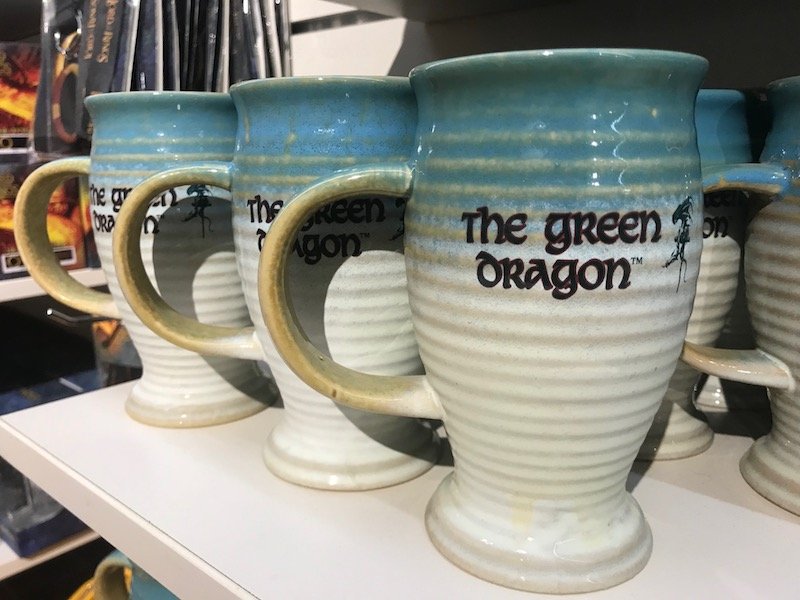 Looking for places to shop in New Zealand?
Click the links in blue for more Rotorua ideas below.