INSIDE: The Ultimate Guide to Tamaki Village Maori Cultural Experience in Rotorua.
Did you know you can enjoy a traditional Maori Hangi dinner on Tamaki Village Rotorua tours?
This Maori hangi dinner in Rotorua can't be beaten.
The flavour of the traditionally cooked meat direct from underground ovens is out of this world!
Go for the food, but enjoy traditional Maori culture, dance, arts and crafts, and singing along the way.
The Tamaki Maori Village tour is the complete (authentic) package.
Find ALL the details of the experience, and what you'll enjoy, below.
Disclosure: This article contains affiliate links. If you make a purchase after clicking on one of these links, we may receive a small commission at NO extra cost to you.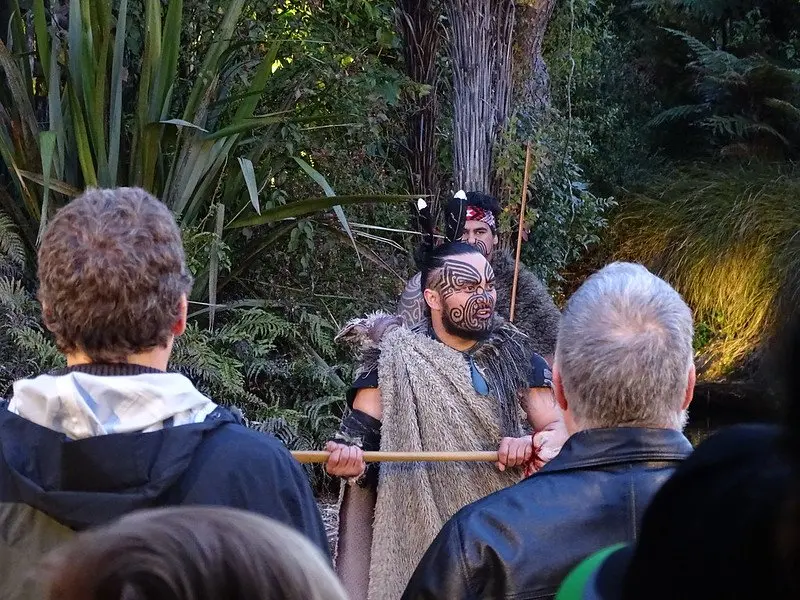 Image credit: Ev Brown via Flickr CC BY 2.0
Tonnes of Fun at Tamaki Maori Village Rotorua
This Maori experience in Rotorua begins the moment you get on the bus from the Tamaki Village office in town.
One visitor, a man, is chosen to represent the bus passengers as our Maori chief.
(The choice of man over woman is nothing personal, but an authentic reference to how Maori culture works.)
On our bus, it was a 40-something English father of two.
When the buses arrive at the "Marae" village, and the hoards have been sorted into rows, there's a traditional Maori greeting.
---
RELATED: Big Guide to the Best Things to do in Rotorua for families & kids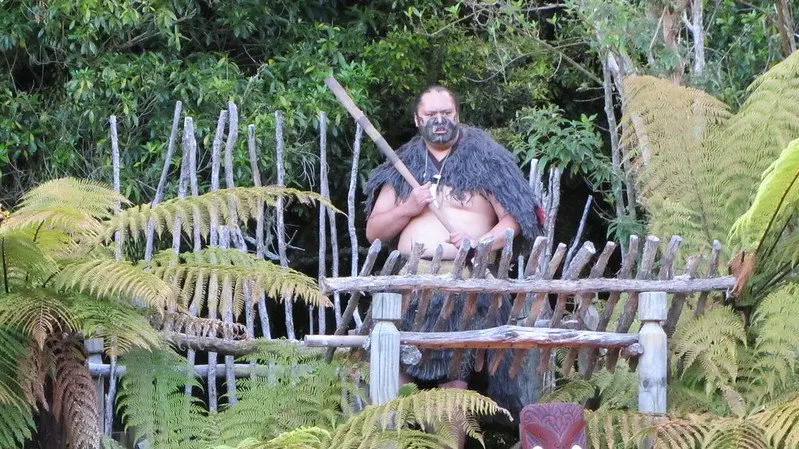 Image credit: Robert Linsell via Flickr CC BY 2.0
The Tamaki Village Rotorua Greeting Experience
The first glimpse into the experience of Tamaki is of a long boat filled with 1… 2… 3… then plenty more Maori warriors. (So many warriors!)
Everyone is pre-warned that it's vital to remain straight faced during this greeting.
It's tough, for kids especially, as it's difficult not to laugh at:
strange and awkward nose rubbings
warrior 'dance' moves
leaf dropping escapades, and
left-to-right leg hopping.
5-year-old Jack found this rule of keeping his face poker straight during the ceremony to be very confronting.
He HELD his cheeks and lips in place with his hands, so as not to risk the wrath of the warriors!
The chiefs from each bus play a part in this Powhiri formal welcome ceremony, accepting the peace offering, before everyone is invited into the village to begin the night of Maori culture, Maori dance and fun.
We then followed.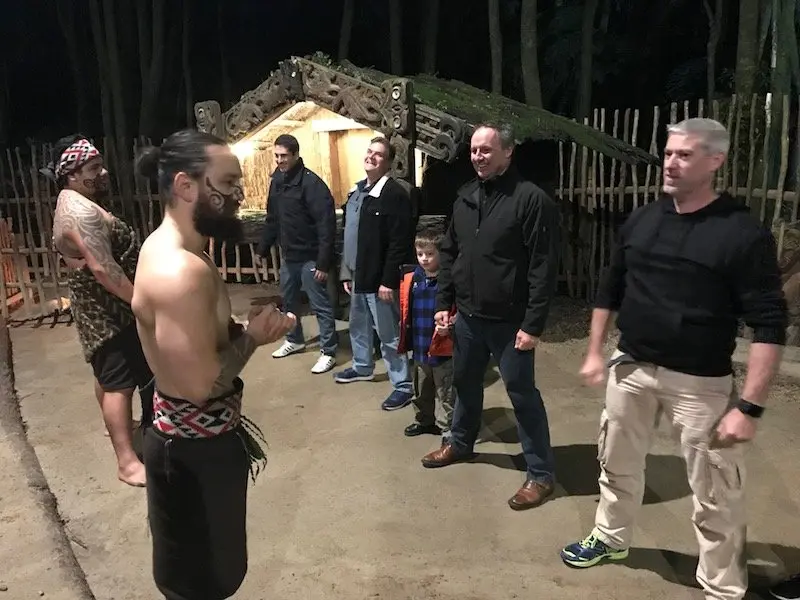 The Tamaki Village Experience
Once through the gates of the fortified village, you follow a lantern-lit path to the Tamaki village.
Here, it's time to participate in a round-robin of five hands-on activities about Maori culture, including:
Maori poi dance
Maori Haka warrior dance
Maori tribal tattoos
Maori hand games
Weaponry displays.
The warm fires in the village keep the chill away for visitors but dress warmly.
(We felt for the Maori warriors and women who were half naked on this cold wintry night!)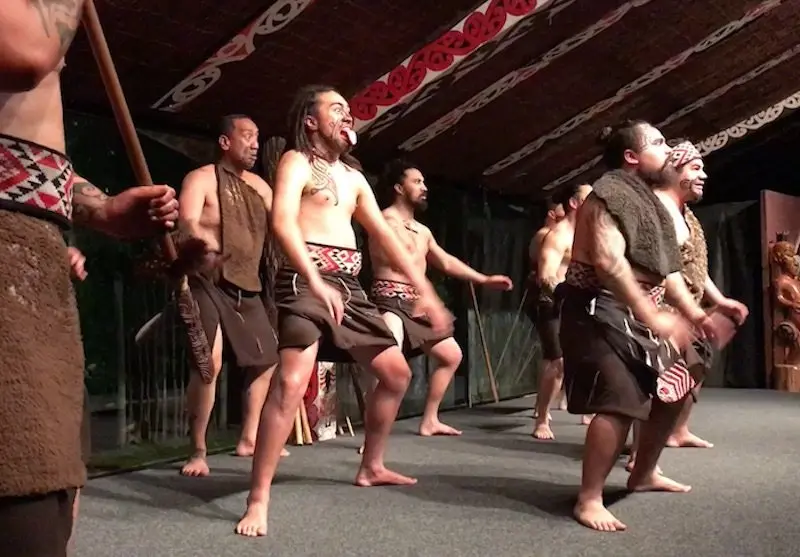 The Wharenui Big House
When the call comes, it's time to head to the Big House to watch traditional Maori dance and song.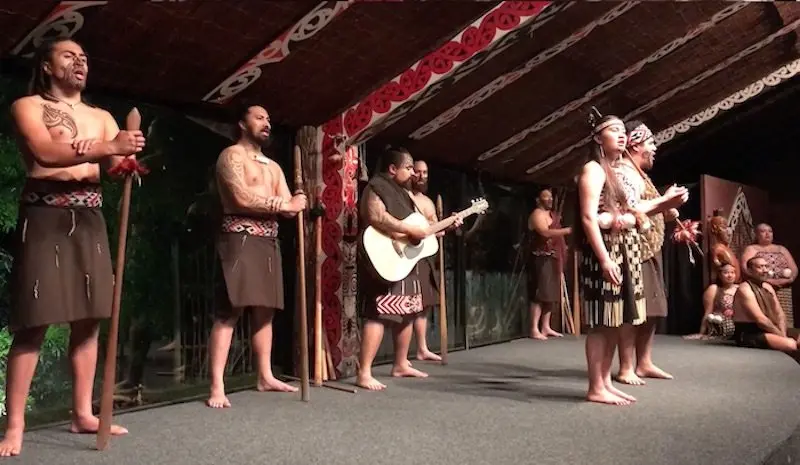 Tamaki performers
The talents of the Tamaki performers are outstanding – their voices sublime, their dance moves heavenly, and their warrior chants loud and clear.
But it was the song of love across oceans that made me shiver!
Tamaki Maori Village Activities
The Maori Haka
One for the boys and men of the group to join in.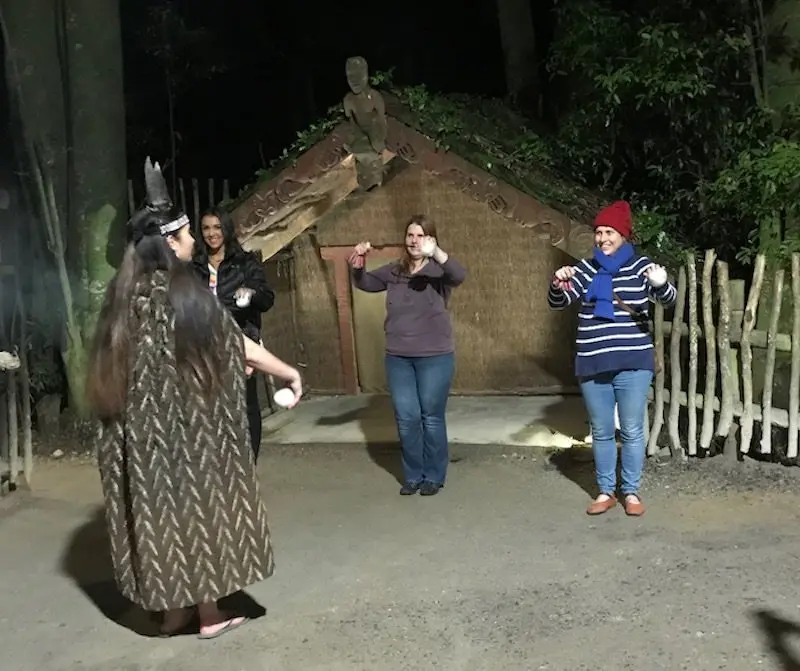 The Poi dancing
One for the women, gracefully (or more like a mad cow?) swinging handmade poi in circular patterns.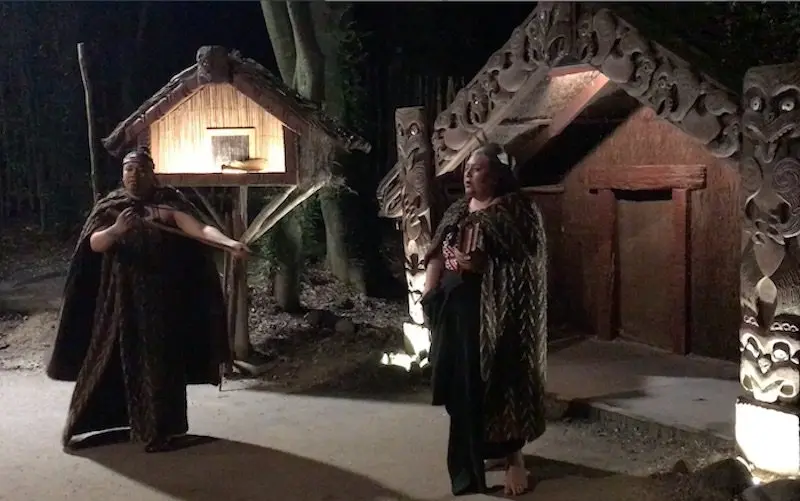 More of the Maori Cultural Show
Maori Stick Games
This game requires LOTS of skill and dexterity.
Put your hand up if this is you.
If not, hide behind the crowd.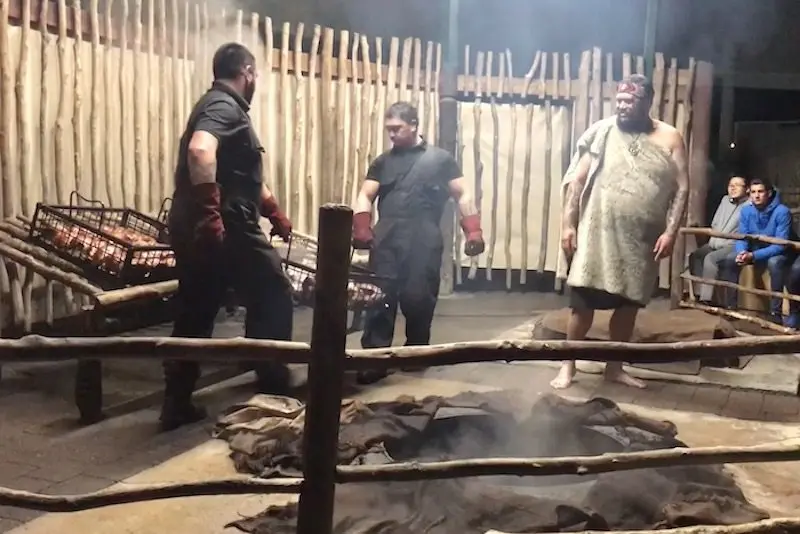 The Maori Hangi Feast at Tamaki
At the appointed time, guests are invited to watch the unveiling of the Hangi meal that has been baking underground.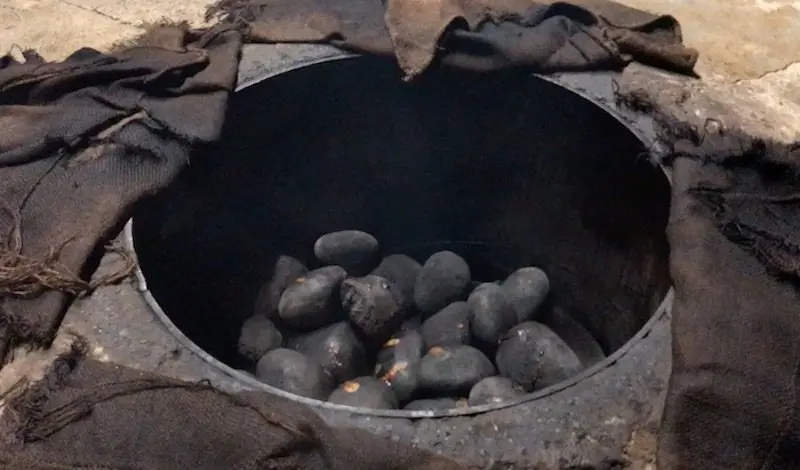 The Traditional Maori dinner
The coals are dug open, and the meat cages lifted out.
The delicious aroma from the unveiling of the Tamaki Maori Village hangi meal stayed in my clothes for days.
(Months later, the fragrance of meat and vegetables cooked underground in a hot fire pit teases my nostrils from time to time, a flashback out of nowhere. It's so real, my mouth waters!)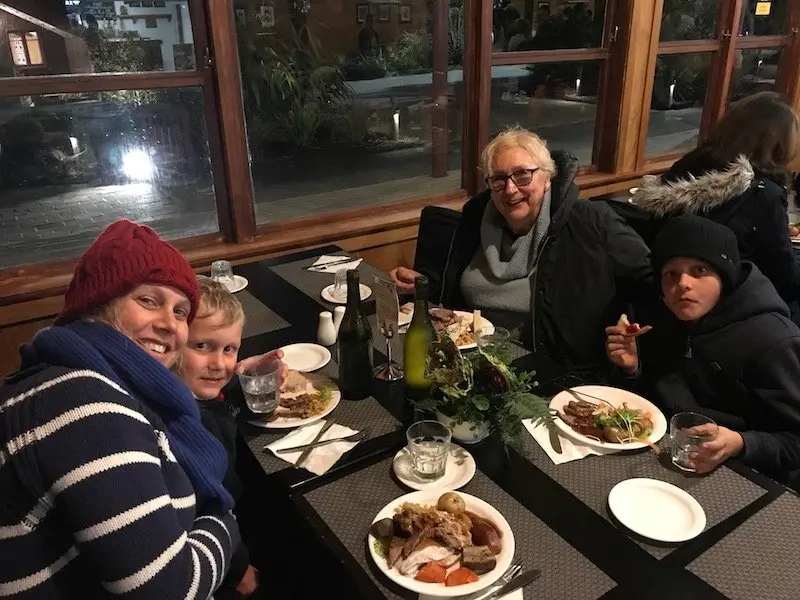 Tamaki Maori tour meal
Then it's time to head to the hall for dinner with new friends.
It's buffet style, help yourself.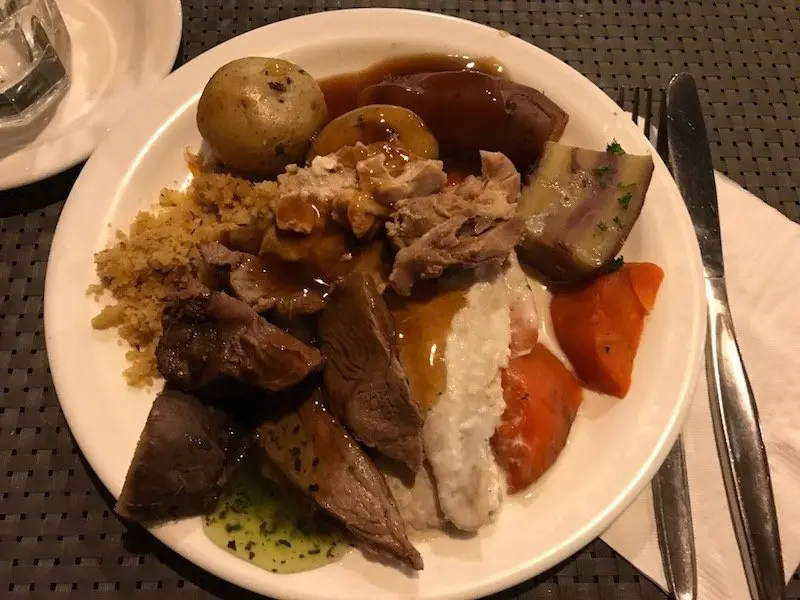 Roast meat and veggies
The roast meat is succulent, the vegetables perfectly roasted, and the stuffing tasty.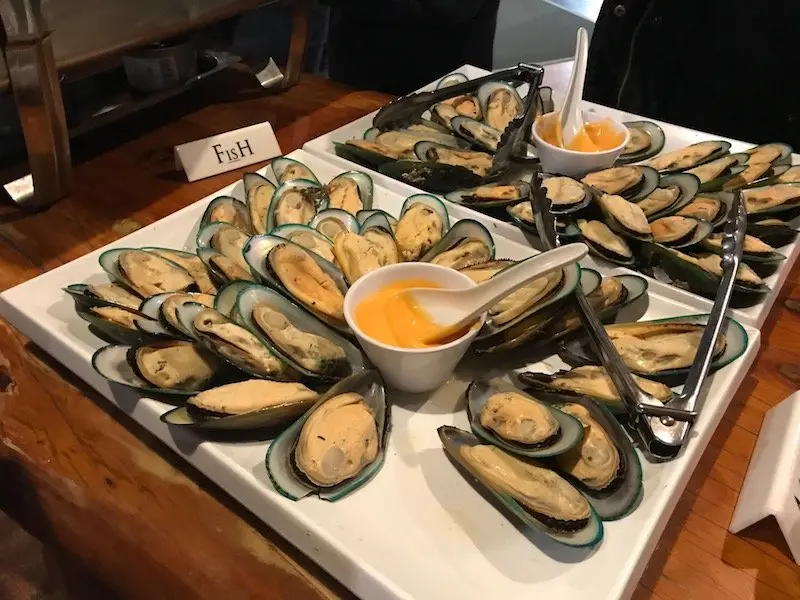 Seafood – Fish and Mussels
There's mussels and white fish too.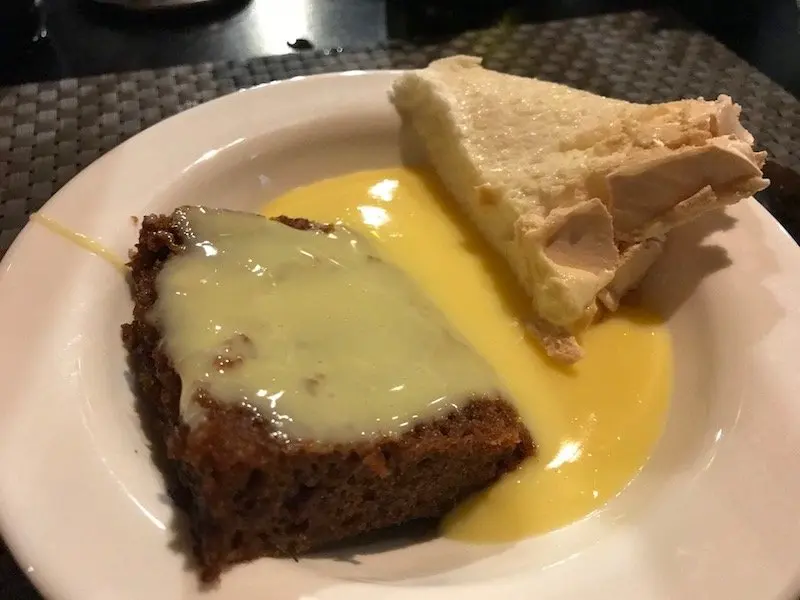 Traditional New Zealand Pavlova & Desserts
Not to forget, there's Pavlova AND traditional New Zealand Steamed Pudding & Custard for dessert.
Drinks are available for purchase at the bar separately.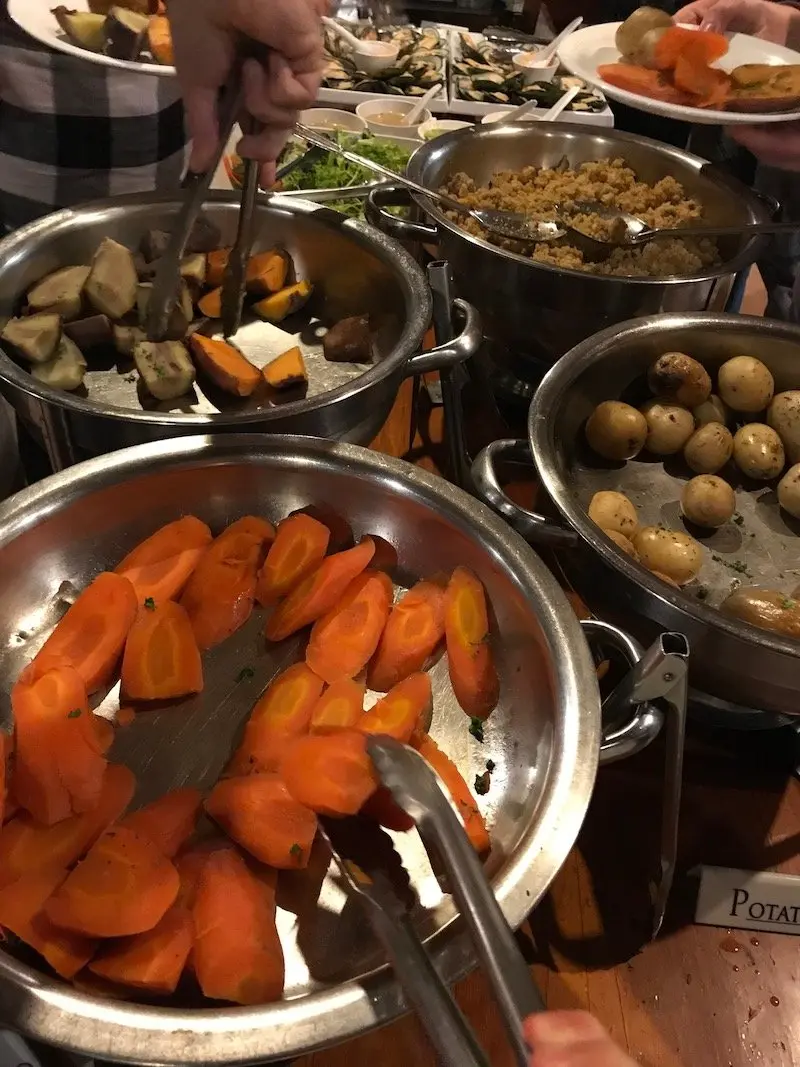 Mitai Vs Tamaki
Wondering about the differences between Tamaki vs Mitai experiences?
Tamaki Village experience begins (and ends) with that fun bus tour ride, and a big part of the experience is the activities on offer at their cultural village.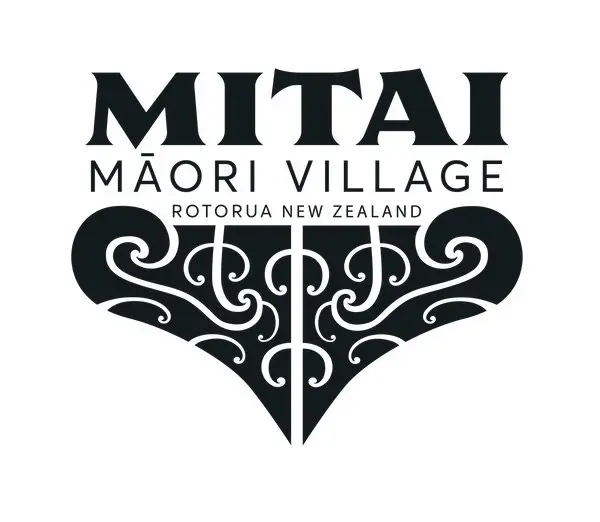 Mitai Maori village evening tour highlights
Mitai Maori Village evening tour includes a guided tour of Rainbow Springs Nature Park where you can view Kiwi birds, New Zealand's nocturnal native bird.
The cultural performances for tourists at both venues are equally as good, authentic, and of similar length.
Most performers are enthusiastic, engaging, and entertaining.
(We had only one bored guy at Tamaki who obviously did not want to be there.)
Mitai dinner
There's little difference between the Maori hangi dinner on offer now that the Tamaki dinner includes Kai Moana (seafood).
At Tamaki, it's mussels and whitefish with a sauce.
Mitai Maori show
The evening tours at Tamaki Maori Village and Mitai Maori Village are professional, reliable and consistent in delivering their Maori cultural experiences.
Prices at Mitai are a little cheaper than Tamaki, at $123 NZ per adult, $61 NZ per child (10-15), $25 NZ per child (5-9) and children under 5 free.
A family pass for 2 adults and 2 children 10-15 years is $330 NZ
Mitai then becomes the better option for families on a strict travel budget.
Kids will love both.
Toss a coin.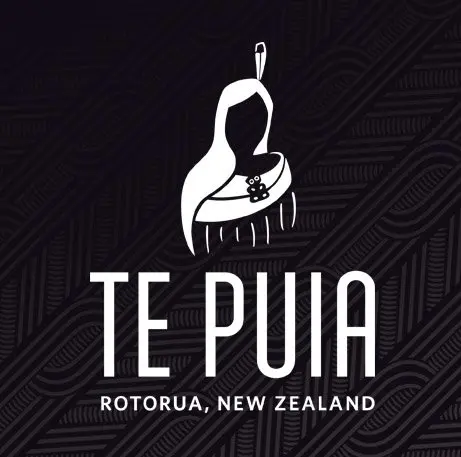 Tamaki vs Te Puia Te Po Indigenous Evening Tour in Rotorua
Te Po, the evening dinner and show at Te Puia Geothermal Park, includes a Maori hangi dinner too.
(Plus a free local drink made from kawakawa extract and manuka honey.)
There's one main difference between Tamaki Maori Village and Te Puia Te Po evening tour.
At Te Po, you enjoy a guided tour of Maori storytelling as you ride a motorised waka (people mover) through the Te Puia geothermal valley and see the famous Pohutu Geyser illuminated at night.
A cultural performance of Maori song and dance follows.
Prices are comparable to Tamaki at $136 NZ per adult and $68 NZ per child.
It's another Maori cultural experience in Rotorua, but one we can't vouch for as we haven't tried it ourselves.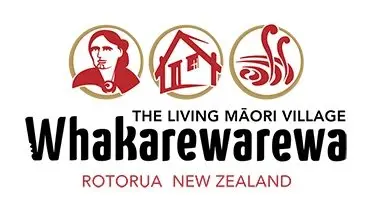 Whakarewarewa Maori Village
If you don't have the time to do a night tour, or the kids are too young to be out late, visit Whakarewarewa, the Living Maori Village.
You can see their Maori cultural performance at either 11.15am or 2pm.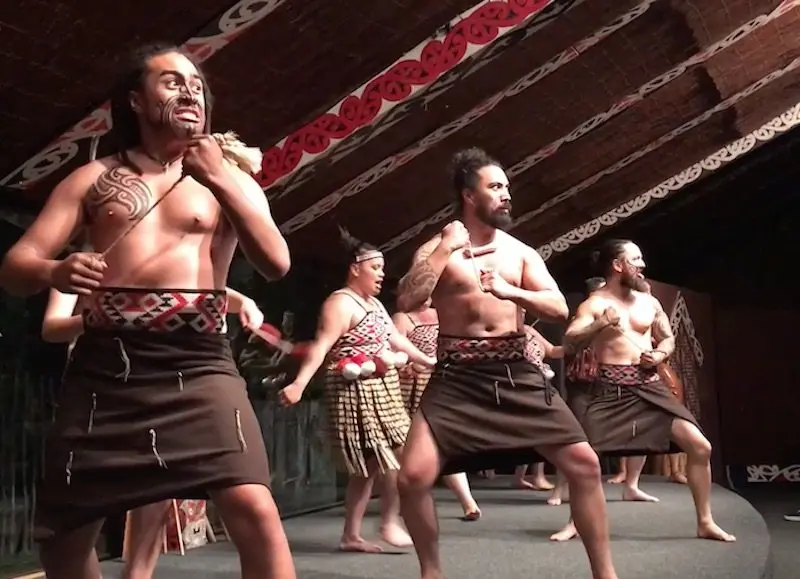 THE INSIDE SCOOP: Tamaki Rotorua Night Activities
Correct at time of publication on Roam the Gnome. Please check with venue for updates. We apologise in advance if there have been any changes we are unaware of. All prices in NZ dollars, unless otherwise stated
Address of Tamaki Maori village in Rotorua:
New Zealand's most awarded cultural tourism attraction office is located at 1220 Hinemaru Street, Rotorua, New Zealand, on the North Island
The actual Tamaki Village is located 20 minutes from town, on the Highlands Loop Road, Ngakuru, Rotorua.
Telephone:+64 (0)7 349 2999 for bookings and enquiries. Call toll free in New Zealand on 0508 826 254.
Tamaki Rotorua Maori Village Website: Book here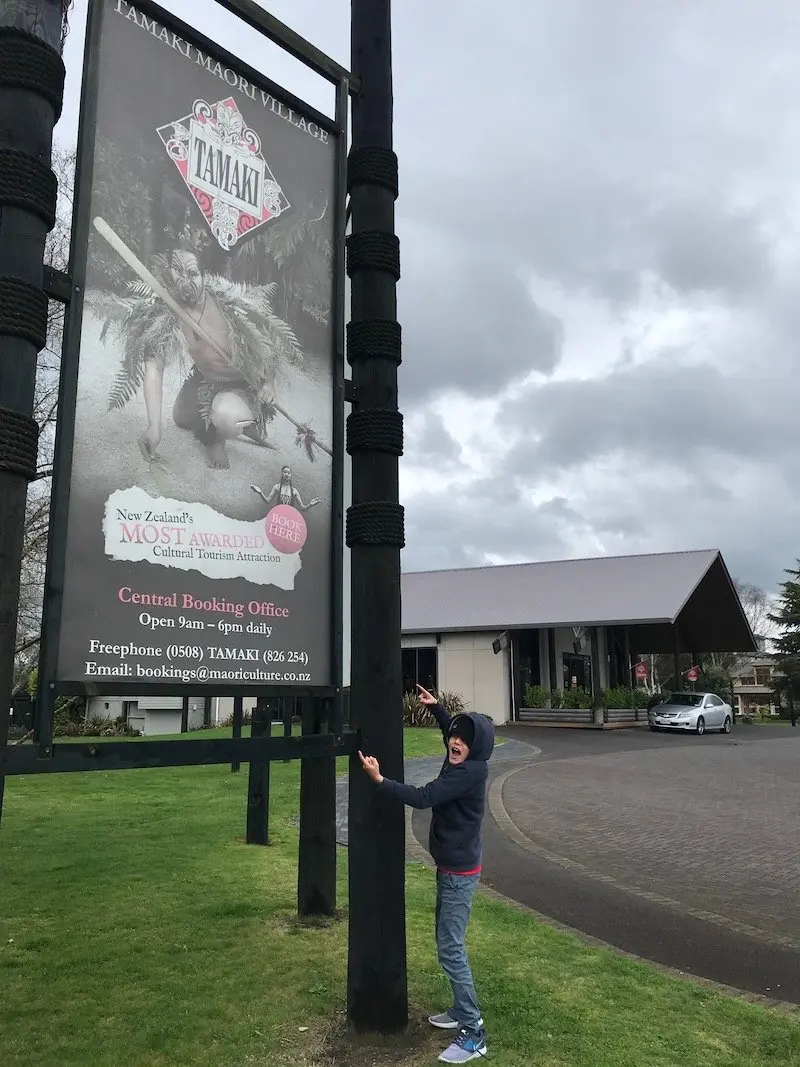 What time does Tamaki Maori village tour start?
The 3.5 hour Maori Cultural Experience starts at 6pm from the Tamaki Maori Village office headquarters on Hinemaru street.
The bus returns you back around 9.30pm.
Tamaki Village Prices 2020
Adults NZD $130.00
Children (5-9 years) NZD $35.00
Children (10-15 years) NZD $75.00
Family Group (2 adults, up to 2 children) NZD $340.00
Infants (4 years & under) FREE
Tamaki Maori Village tour price includes traditional Maori dinner and dessert buffet feast, and free transport to and from your Rotorua accommodation
Tamaki Maori Village discount tickets?
Looking to buy Tamaki Maori village tickets?
Before you do, try BookMe or GrabOne for current discount deals available in Rotorua.
Or check latest Tamaki Village Discount prices on Get Your Guide
How to get to Tamaki Maori Village Evening Experience
By Bus: Departs from the Office in town on Hinemaru street.
Please note, there is NO self-drive option or parking available on site.
Map of Rotorua Tamaki Maori Village
Facilities at Tamaki Tours
Toilets: Yes including baby change table
Tamaki Maori Village wheelchair access: Wheelchair and pram accessible
Children's amenities: High chairs available
Closest ATM: Tamaki Maori Village accepts Credit card and EFTPOS
Tamaki Maori Village Dress code: Definitely wear a warm jacket and comfortable footwear for walking. The first part is outdoors and it can be VERY cold.
Toadstool Rating- Tamaki Village Reviews
One of the best tourist attractions we have ever enjoyed around the world, with a chance to learn about Maori people and the traditional hangi feast.
Bring your camera to this Rotorua Maori show. It's the place to see New Zealand Maori culture in Rotorua.

Looking for MORE SUPER DOOPER FUN things to do in Rotorua New Zealand with Kids?
Click the links in blue for more Rotorua ideas below.