INSIDE: Everything you need to know about Hells Gate Mud Baths Rotorua
Hells Gate Mud Spa in Rotorua is the BEST mud spa in town to soothe all your muscles and iron out the kinks.
But expect new laughter lines around the eyes and fresh wrinkle-crinkles across the forehead!
It's not possible to keep a poker straight face when friends and family are covered in thick black mud.
We think it's a fair trade.
A body-shaking belly laugh will release every ounce of leftover tension.
That's why this Hells Gate Rotorua Mud Bath & Spa Retreat is better than the rest!
Hells Gate Mud Bath and Spa in Rotorua is THE place for laughter & mud hijinks!
Find all the details of how to get there, and more, below.
Disclosure: This article contains affiliate links. If you make a purchase after clicking on one of these links, we may receive a small commission at NO extra cost to you.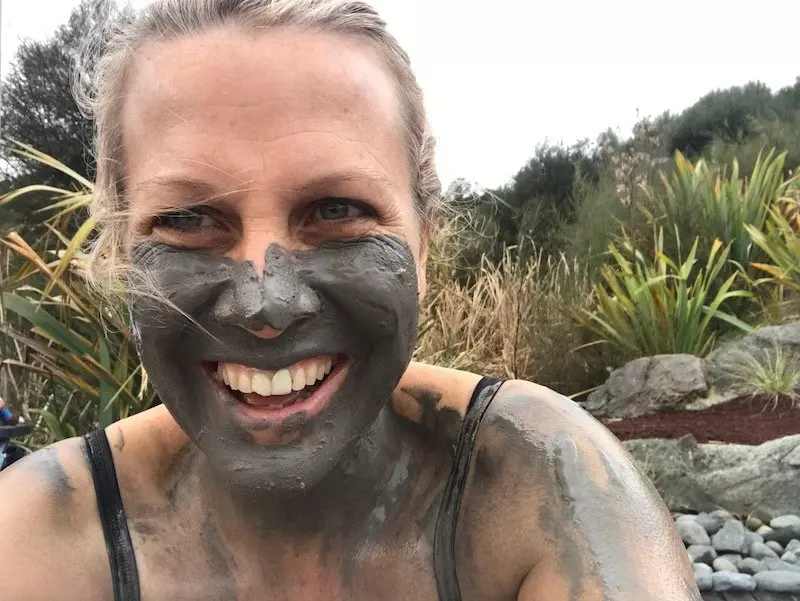 Guide to Mud Baths Rotorua
Book a visit to the Hells Gate Mud Spa in Rotorua quick smart.
You'll spend 40 minutes in the mud bath hot tub with your family and friends. (They do their best to not have you share this mud bath experience with strangers!)
---
RELATED: Big Guide to the Best Things to do in Rotorua for families & kids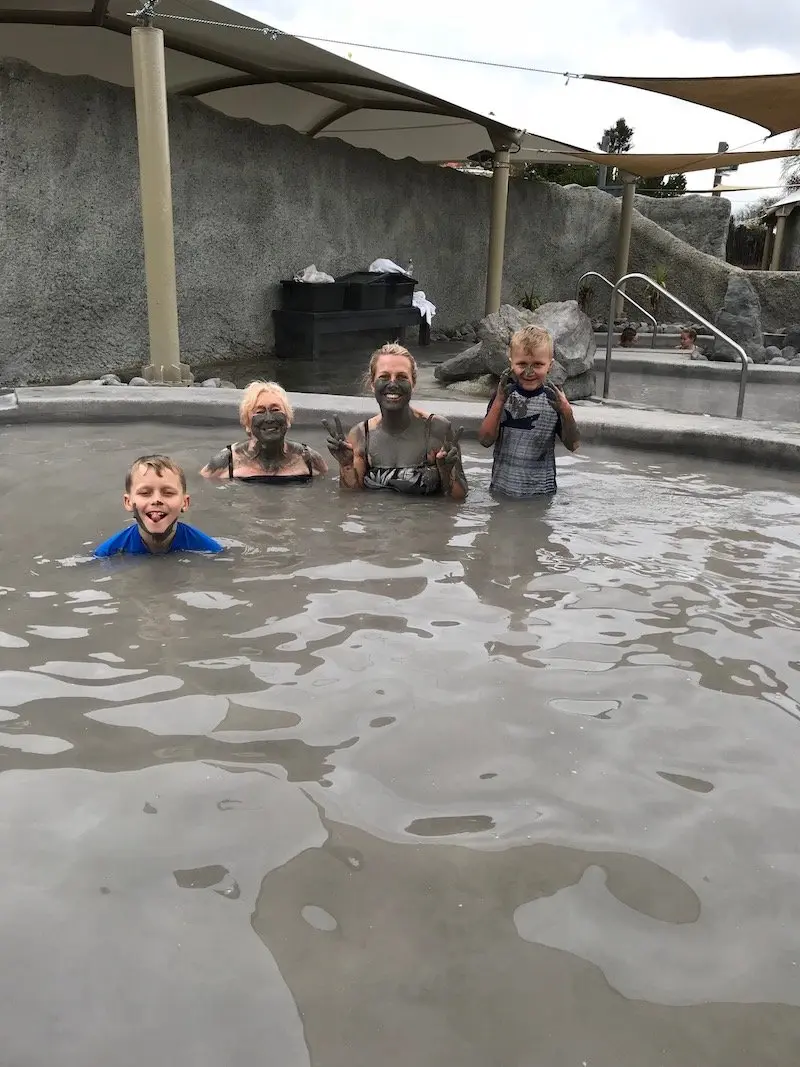 Hells Gate Geothermal Park and Mud Bath Spa
Beware.
The Hells Gate mud pools are HOT.
Very hot.
We honestly assumed the British visitors before us had caught a little too much sun on their travels in NZ, but we soon looked like red lobsters too!
40 minutes in the water is plenty.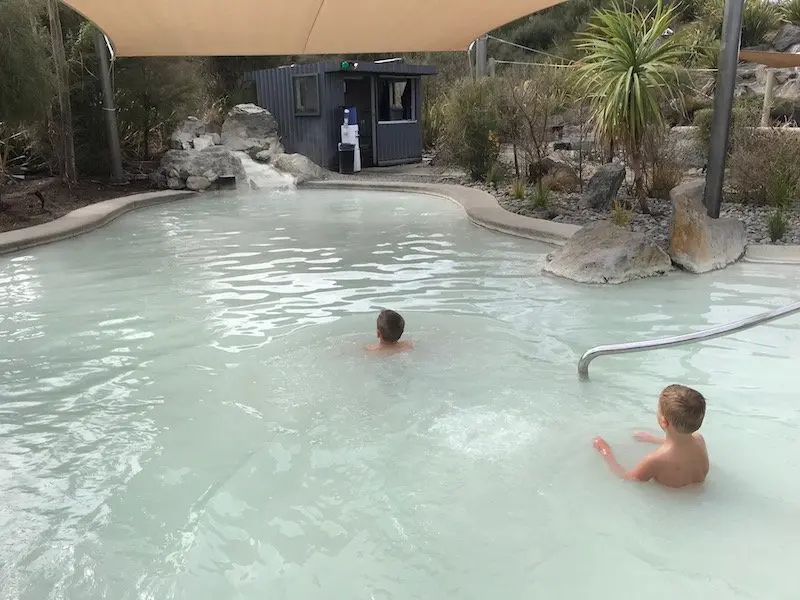 Shower off
After your mud spa soak, it's time to take a quick turn under the warm shower to wash off the mud remnants, then it's time to immerse yourselves in the therapeutic sulphur spa waters.
Stay as long as you like.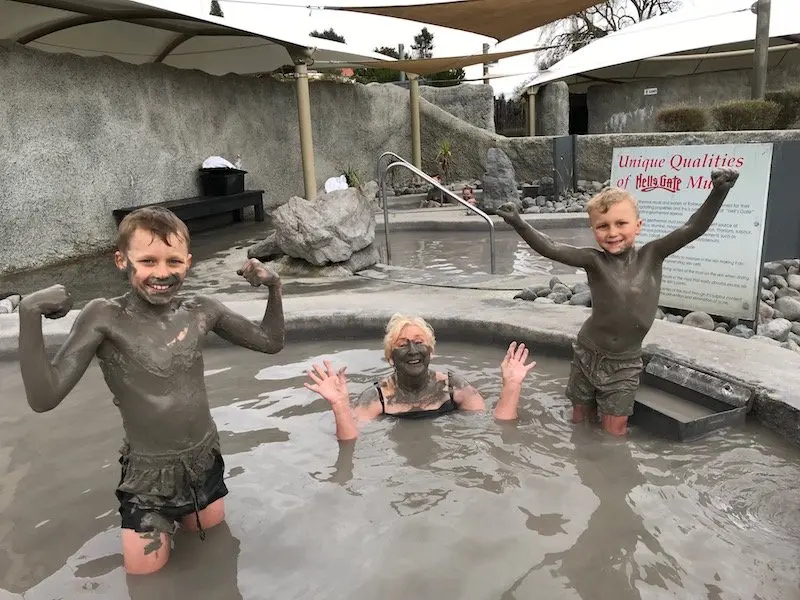 The Best Rotorua Mud Bath and Spa Retreat
Why do people get mud baths, and what are some of the benefits of mud therapy?
The combo of mud and sulphur is said to give you silky smooth skin and wash away all your worries.
The effects don't stop when you get out either.
Expect to have smooth-as-a-baby's-bottom skin for weeks afterwards!
This is why we vote Hells Gate the best mud pools in Rotorua.
(You'll smell like rotten eggs for weeks after too!)
Where does the Hells Gate mud bath mud come from?
The fine grey mud used in the spa comes from the Hells Gate Sulphur Lake.
You can see this lake on a tour of the thermal park.
(Details below)
Rotorua Mud Spa Shop
Buy Mud Masks & Mud Beauty Products for Home
Don't leave Hells Gate Thermal Park without a stop in the onsite gift shop.
Buy their Alite brand of mud masks and mud beauty products to take home.
It's the ONLY place in Rotorua where you can buy authentic Rotorua mud masks with mud from Rotorua thermal pools.
Prices start from $4.50 NZ for a 10ml mud mask sachet.
You can also buy Mud Beauty products including:
Facial mud packs
Mud body masks
Body scrub and polish
Mud, milk and honey soap
Rotorua mud soap
Body massage oil
Body lotion
Mud face scrub and polish
Mud face mask
Mud masks for men
Mud mask for dry skin
Ask the staff about Rotorua mud mask benefits for your health – they know ALL the properties!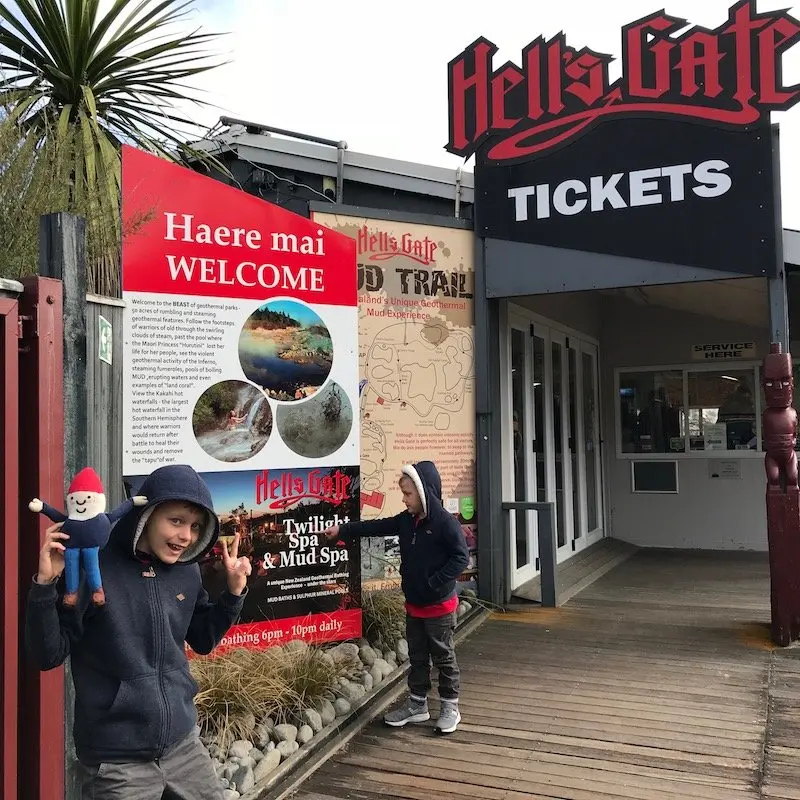 Guided Tour of the Best Thermal Park in Rotorua
If you have time, we highly recommend booking the Hells Gate Special Combo package, and starting with a guided tour of the geothermal park first.
This is one place you need the full experience.
Learning all about the history and culture of the thermal pools and geysers (guy-sers, not geezers) in Rotorua adds to the Mud Spa experience.
Read about our guided tour of the best geothermal park in Rotorua.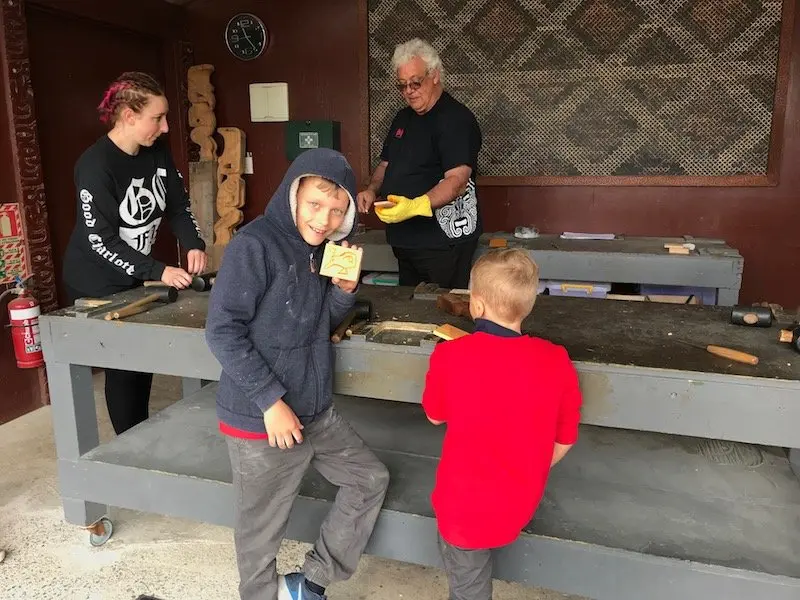 Maori Wood Carving Experience
As part of the guided tour, you can also try your hand at traditional Maori carving with a local Maori man.
This was an excellent insight into Maori culture.
The boys LOVED that.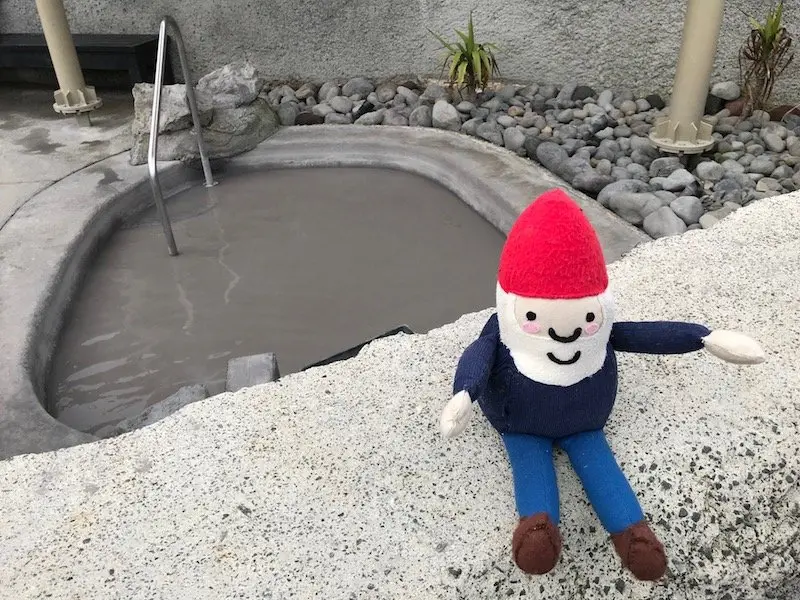 THE INSIDE SCOOP: Mud Bath Rotorua
Correct at time of publication on Roam the Gnome. Please check with venue for updates. We apologise in advance if there have been any changes we are unaware of. All prices in US dollars (or NZ dollars as stated)
Address: Hells Gate Rotorua Geothermal Park is located at State Highway 30, Tikitere, Rotorua on the North Island. It's Rotorua's most active geothermal field and the best mud bath Rotorua has in town.
Telephone: 07 345 3151
Website: Click here
Hells Gate Opening Hours
The Hells Gate Geothermal Park and Mud Spa opens 7 days a week, from:
8.30am – 10.00pm (Summer 1 Oct – 2 Apr)
8.30am – 8.30pm (Winter 3 Apr – 30 Sep)
Open daily except Christmas Day.
Bookings are essential after 6:00pm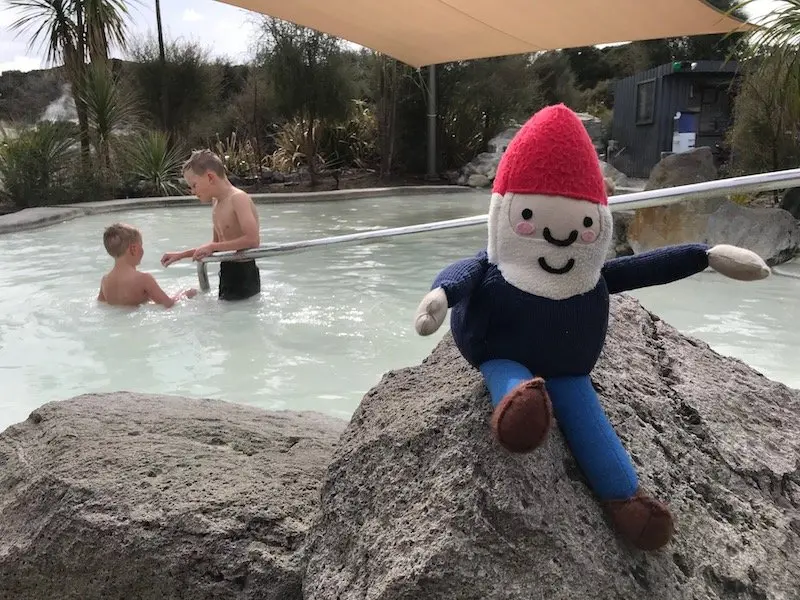 New Zealand mud baths entry fees
Hells Gate Sulphur spa entry
$20 NZ adult
$10 NZ child
$50 NZ family of four (2A, 2C 5-15 years)
Hells Gate Mud bath and Sulphur spa entry
Singular entry to the geothermal mud spa with sulphur pool only.
$75 NZ adult
$35 NZ child
$185 NZ family of four (2A, 2C 5-15 years)
You can also book a private mud bath and sulphur mineral pools spa if you choose.
Book your Hells Gate Mud Spa Retreat package with Klook here
Entry to Geothermal park extra.
Hells Gate Rotorua Deals
Hells Gate Mud Spa & Geothermal Park tickets
The Hells Gate Special Combo value package we bought includes:
entry to the park
a Geothermal Walk guided tour, and
a visit to the Mud bath plunge pool and Sulphur spa
Cost is:
$90 NZ per adult
$45 NZ per child, or
$215 NZ for family of four (2A, 2C 5-15 years)
Click here for packages to include mud bath, spa and entry to park
Entry to Twilight Spa extra.
Mud body scrub, Mud facials, Miri Miri Massage, and other therapies also available for additional fee.
Hells Gate Geothermal Reserve Entry (without mud spa access)
Adults $35 NZ
Child $17.50 NZ
Family $85 NZ (2 adults, 2 kids aged 5-15 years)
Kids 4 and under FREE
Check latest prices with Klook here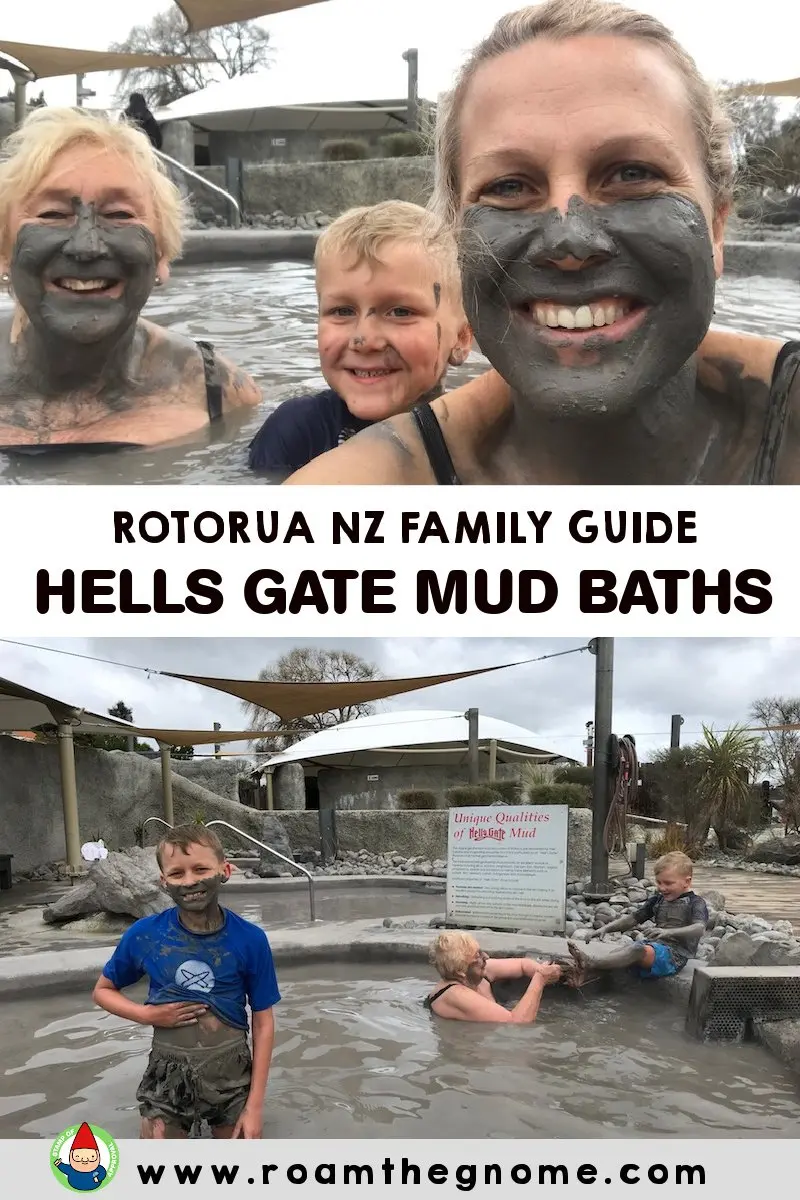 How to get to Hells Gate Thermal Park
By Car: Travel east from Rotorua on SH 30. Approximately 5 minutes past airport turn right toward Whakatane and proceed 3kms to Hells Gate.
Parking
Free parking out the front.
Map of Hells Gate Mud Spa Rotorua
Facilities at Hells Gate Spa
Nearest takeaway coffee and/or food options: Cafe on site
Toilets: Yes, including baby change table.
Disability access: Yes
Closest ATM: Hells Gate has credit card and EFTPOS facilities.
Shade: Yes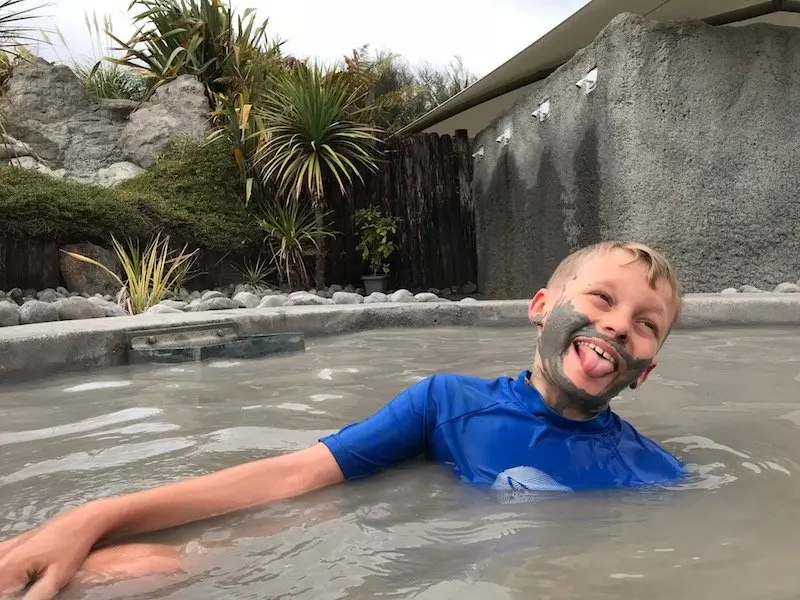 Toadstool Rating – Rotorua Mud Baths
A solid 5 toadstools for these Rotorua mud pools.
The mud spa, along with the guided tour, tops the list of experiences we've enjoyed on family holidays in New Zealand to date.

Looking for more fun Rotorua attractions
Click the links in blue for more Rotorua activities below.