INSIDE: The ULTIMATE List of Napier Attractions for Families and Kids.
Visiting Napier on holiday, and looking for the Ultimate List of Napier Attractions for Kids and Families? We have the goods.
This is our awesome collection of:
28 fun things to do in Napier, plus
7 more attractions in Hastings nearby, and
another 5 attractions in Hawkes Bay too.
We started with a list of our Top 10 Napier attractions but we couldn't stop, and then we had to add free things to do in Napier too.
The bucket list of Hawkes bay activities grew, and grew, and grew!
Napier, Hastings and the Hawke's Bay Region is full to the brim of fun stuff for kids! It's a dream New Zealand destination, with some of the warmest temperatures in New Zealand too.
This is the ULTIMATE guide to Napier attractions for families and kids.
Find all the details below.
Disclosure: This article contains affiliate links. If you make a purchase after clicking on one of these links, we may receive a small commission at NO extra cost to you.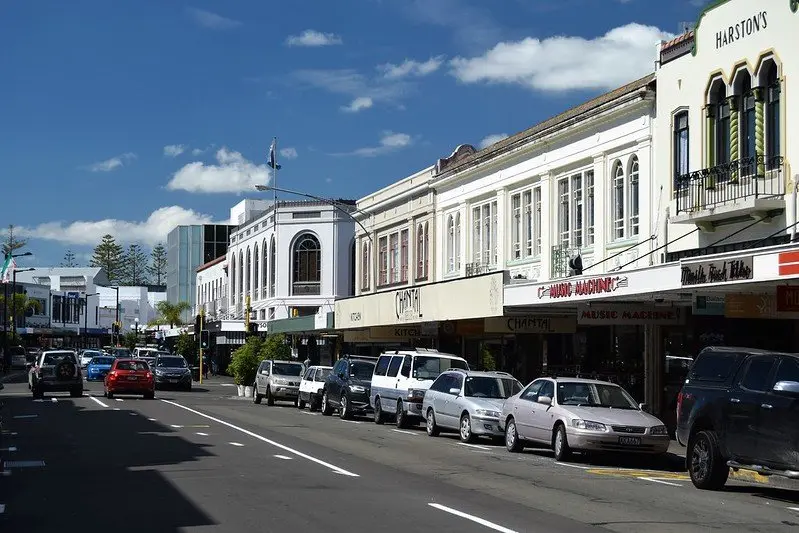 Image credit: Anne & David via Flickr CC BY-1.0
THE INSIDE SCOOP: 39 Best Things to do in Napier for Families
Correct at time of publication on Roam the Gnome. Please check with venue for updates. We apologise in advance if there have been any changes we are unaware of. All prices in AUD dollars, unless otherwise stated
Before you begin, our hot tip is to check out GrabOne or TreatMe to see if there are any current discount vouchers for any of these fun Napier attractions below.
(We also like First Table for discounts for dinner!)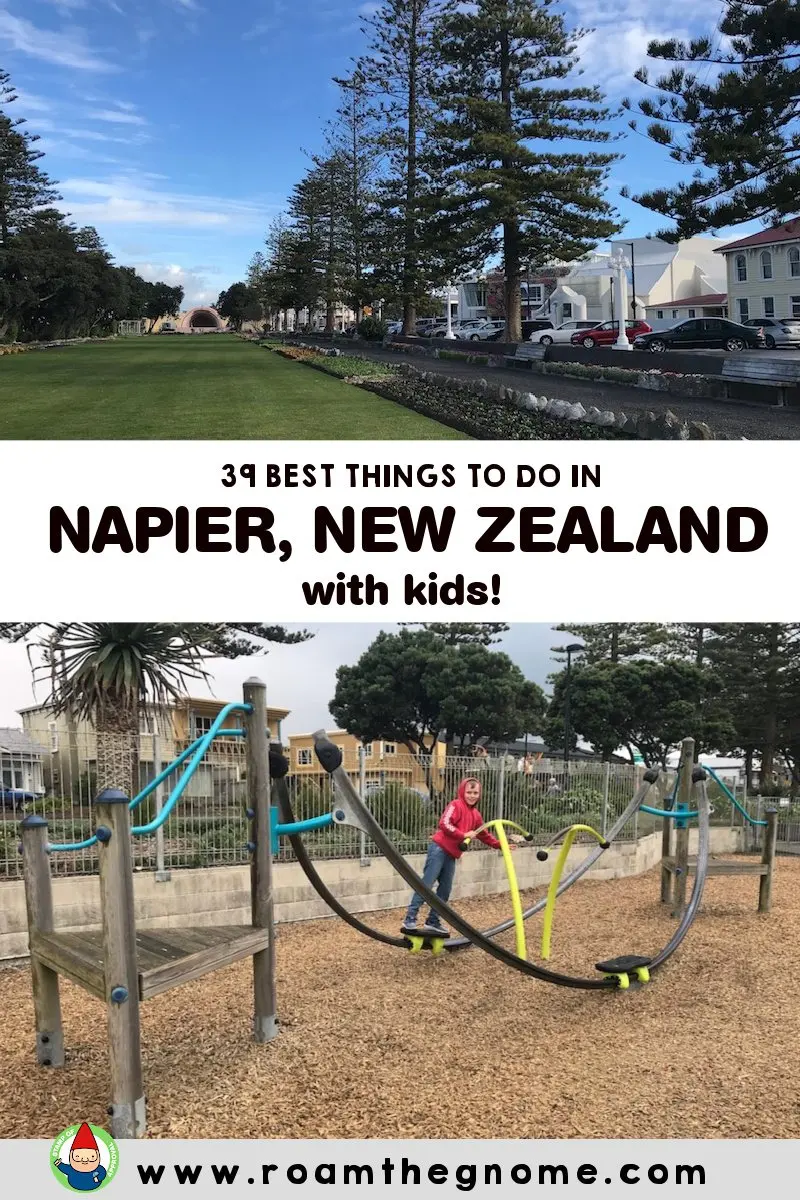 28 BEST NAPIER ATTRACTIONS
No.1: Ocean Spa Napier
This family friendly pool complex is at the south end of Marine Parade.
Take the kids for a fun dip in the hot spas.
They have a lap pool if you fancy a bit of exercise, a large heated pool for swimming, and a heated toddler pool.
The place to be is the giant spa pool, or the circular hot tub spas with views over the ocean.
There's the Bach Cafe on site for snacks and coffee, plus a complimentary steam room and sauna with admission fee.
Prices are:
$10.70 for adults
$9.50 students
$8.00 for children 14 and under
$2.50 for children 2 and under
$5.70 for seniors, or
$30 for family pass (2 A & 2 C, or 1 A & 3 C)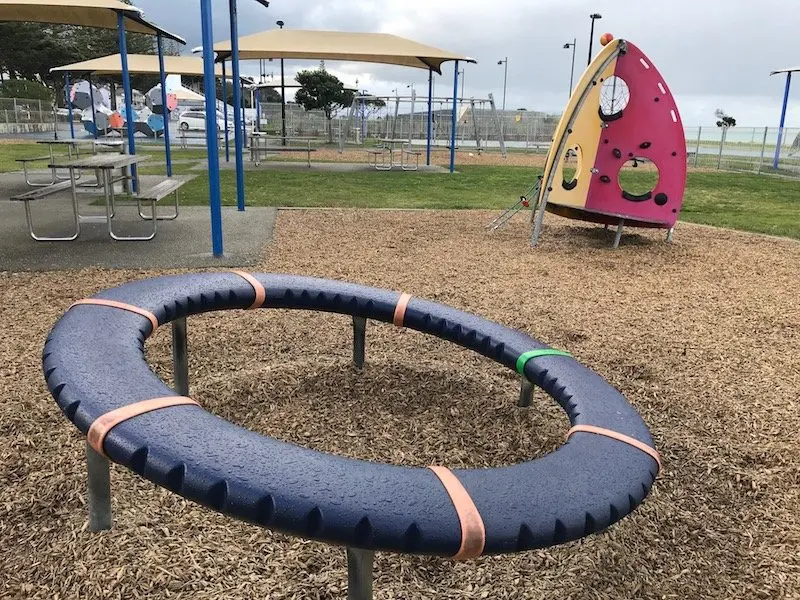 No.2: Napier Playground
This is a playground for ALL the kids, with separate areas for kids aged 2-7, and 7-12.
There's a tonne of playground equipment we've not seen elsewhere.
Read our review here for a sneak peek, and lots of photos!
Take the kids! It's one of the best Napier kids activities.
It's FREE!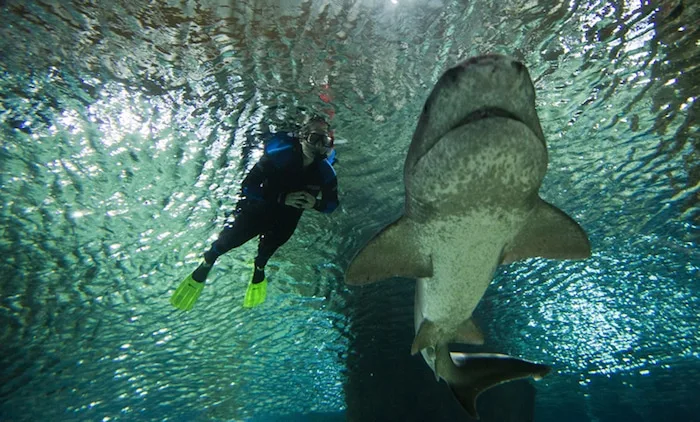 No.3: The National Aquarium of New Zealand Napier
Ride a travelator for 50 metres inside an underwater viewing tunnel that takes you through the centre of the 1.5 million litre Oceanarium.
The Napier aquarium tank measures 24m long, 30m wide, and 3 metres deep, and is filled with:
five types of sharks
exotic reef fish
catfish, and
hundreds of local fish species
Fresh seawater is pumped directly into the aquarium's tanks and enclosures so it's eco-friendly too.
See New Zealand's most precious species:
the Kiwi bird
Tuatara and
penguins too
Penguins are fed at 9.30am, 1.30pm and 3.30pm daily.
That's not all.
The National Aquarium of New Zealand showcases:
American alligators
piranhas
turtles
eels
octopus
sea anemone, and
deep sea fish.
Book in for a swim with the sharks, or an up close and personal encounter with kiwi birds, alligators or cute penguins.
Take a coffee break at the Fishbowl Cafe.
Don't leave without the obligatory soft toy from the Treasure Chest gift shop. (We can't ever!)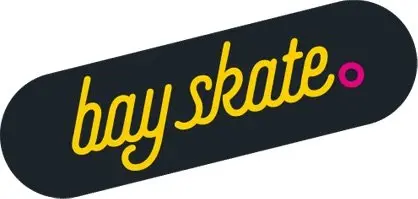 No.4: BaySkate Skate Park
Bay Skate is a multi-use, world-class roller sports park on Napier's Marine Parade.
There's a mix of skateboarding, roller derby, BMX, scootering, inline hockey, roller-skating, artistic skating, and rollerblading.
The park has a flat rink, wooden ramp section and concrete bowls.
Meet the locals at BaySkate.
Entry fee is $6 per person.
Free for kids under 3 and spectators.
Equipment hire is $10 per item but this includes free protective wear and helmet hire too.
Their motto?
If it's got wheels and you can strap them on or ride it, you're in.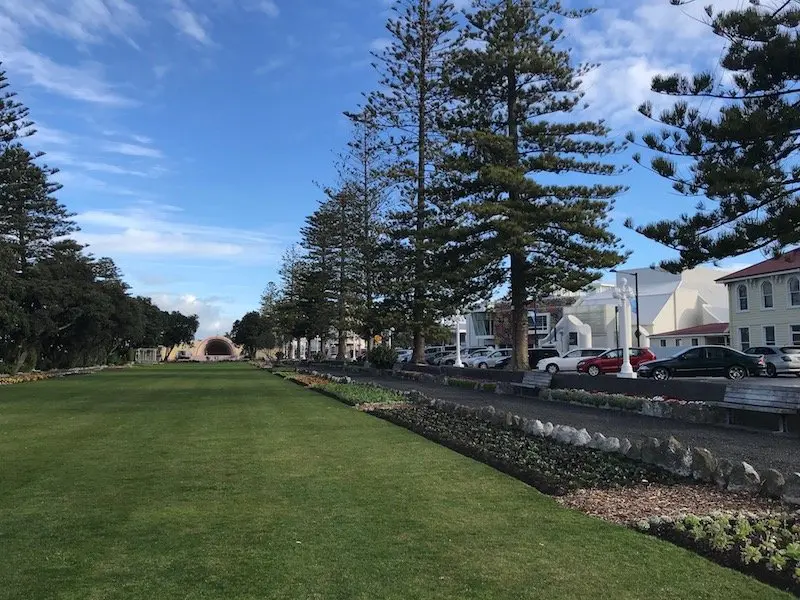 No.5: Napier Sound Shell
Napier's Sound Shell is a popular Napier entertainment venue for concerts and events, including:
Jazz and Blues summer concerts in the afternoon and evening
Christmas concerts, and
fabulous Art Deco style galas.
Located next to the Napier i-Site Visitor Centre, the stage was built in 1931 during the rebuilding of the city after the earthquake
It's yet another piece of Art Deco history in Napier, and a must visit sightseeing in Napier spot.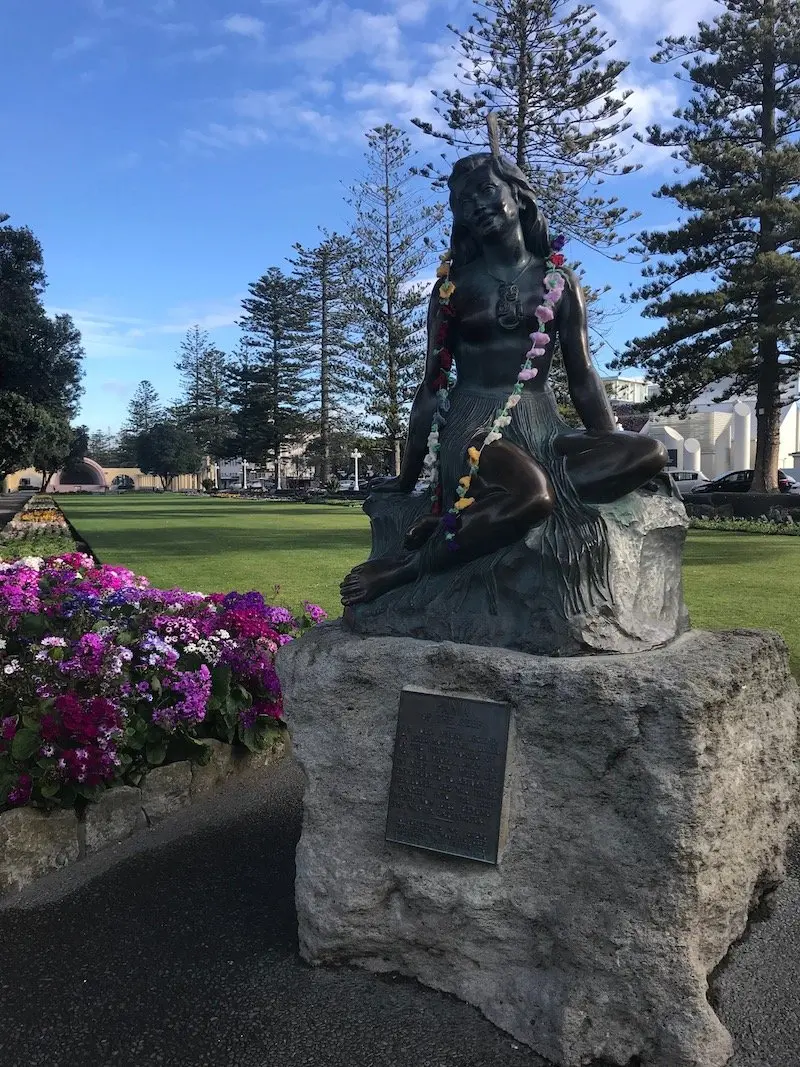 No.6: Pania of the Reef Statue
This statue is believed to be the first Maori legend made into a sculpture.
She's Napier's very own Little Mermaid.
Read all about her story here.
Entry is free.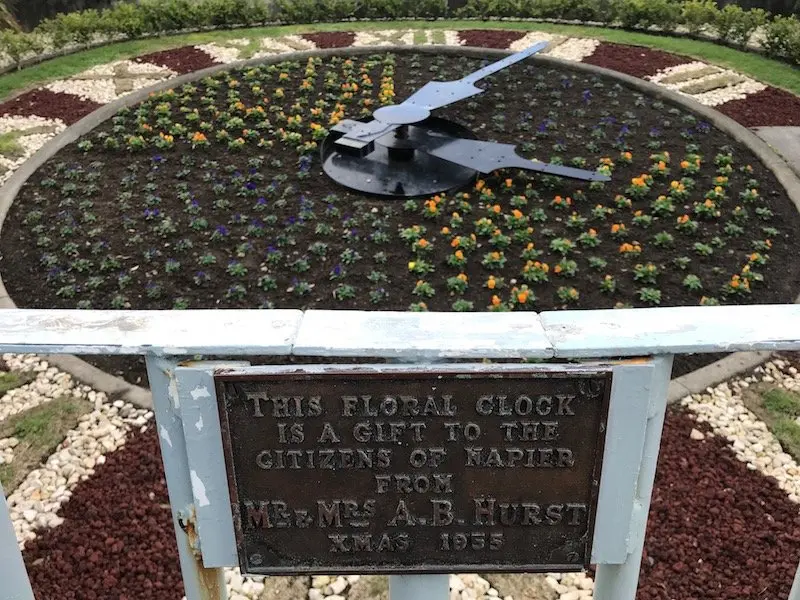 No.7: The Floral Clock and Sunken Gardens Napier
Walk along Marine Parade in Napier and you'll find the Sunken Gardens to the right of the Napier iSITE.
The sunken gardens were built in the 1960's.
Enjoy a picnic in Napier, surrounded by elegant surrounds of stone walls, flowers, shrubbery, and a pond too.
The Flower Clock is to the left of the Soundshell.
The clock operates from 6.30am to 6.30pm, then kicks off again the next morning!
It's something to show the kids.
Entry is free.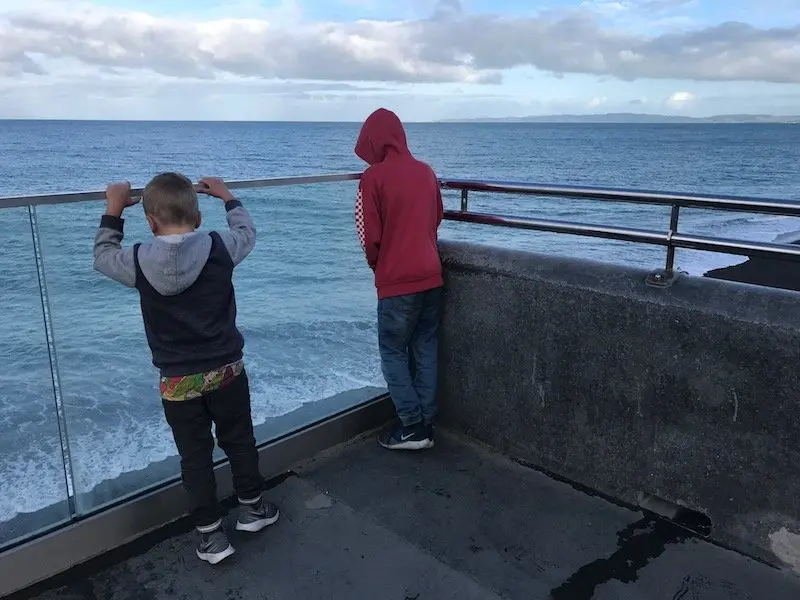 No.8: Marine Parade Ocean Viewing Platform
Take a little walk beyond the breakers on this stormwater outfall and viewing platform on the Marine Parade Reserve.
Check out views of Hawke Bay and back to the city.
No.9: Par2 Mini Golf
Choose from one of two super fun mini golf courses at Par2 Mini Golf.
Deco Drive mini golf course is all roundabout curves, long greens, art deco features, and coastal native gardens with views of Cape Kidnappers to the right, and the Pacific Ocean in front of you.
Pro Am mini golf course is coloured blue.
It's a wacky quirky course with:
right-angles
diagonals
water hazards and
tree obstacles.
The kids will love the challenge.
Prices start from $7.40 for kids up to 14, $10.50 for adults, and $29 for a family of four for one 18-hole game.
It's a bargain morning out!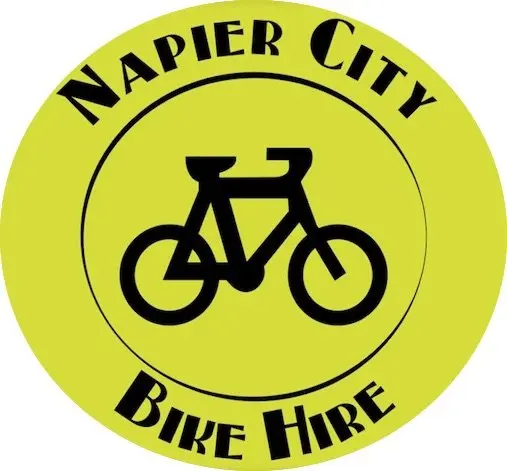 No. 10 Marine Parade Bike Path & Napier City Bike Hire
There's a wide concrete cycleway that runs for kilometres along Marine Parade in Napier from Bluff Hill to Awatoto, heading south towards Cape Kidnappers.
It's perfect for bikes, but also walkers, joggers, cyclists, baby buggies, roller bladers, wheelchairs and mobility scooters, and it's free to ride.
If you are in Napier without bikes, hire one from Napier City Bike Hire.
They have:
pretty green bikes
handsome black bikes
bicycles built for two
bikes for kids in four sizes, and
bike attachments (chariot, bike seat, trailer) to carry babies and toddlers.
There's no excuse – they even have electric bikes if you are beyond pedalling!
Napier is one of the most bike friendly towns we've come across.
It's the ultimate place to ride, with the Cycle Pump Track at one end of Marine Parade less than 10 minutes from town, and a Junior bike track for kids near the Napier Playground.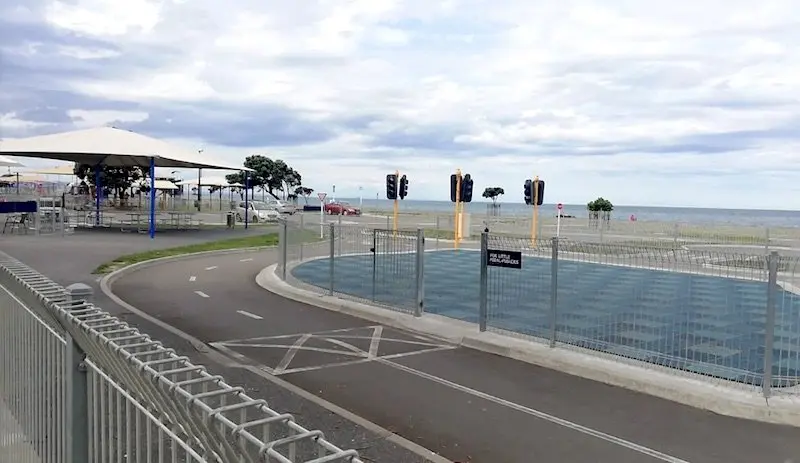 Image credit: Shamon Khan
No.11: Junior Bike Track Napier
To the right of the Napier Marine Parade Playground, you'll find this cute Junior Bike track with stop and go signs, traffic lights, give way signs and more.
It's designed to teach kids basic road safety and road rules in a fun way.
It's completely fenced, self-closing safety gates and has a separate track for toddlers under 3.
Top of the free Napier family attractions if you have access to bikes and scooters.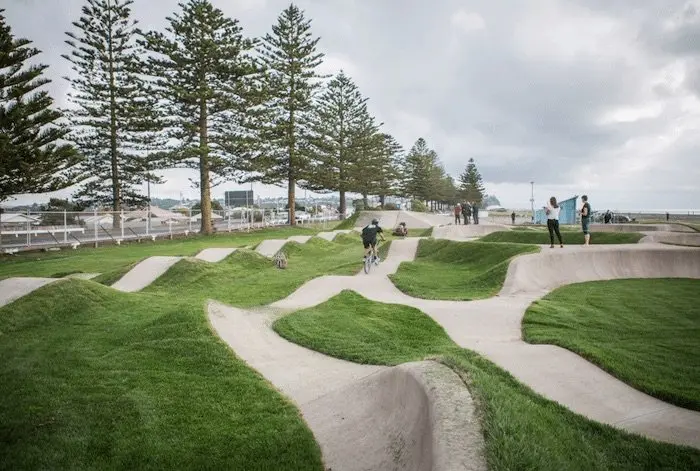 No.12: Napier City Cycle Pump Track
Napier's bike pump track, located south of the carpark, opposite the Ellison Street entrance, is the first of its kind in New Zealand.
There's 500 metres of continuous tracks, covering an area 60 metres long by 30 metres wide.
The basic goal of a pump track is for a rider to learn how to pump the terrain to maintain speed.
Pump tracks have a series of rollers and berms that allow the rider to gain and maintain speed along the track without pedalling.
This full size pump track caters for a wide range of skills, abilities, and ages, and can be used by keen skateboarders and scooter riders too.
There's covered seating and a toilet block.
One of the best things to do in Napier for FREE!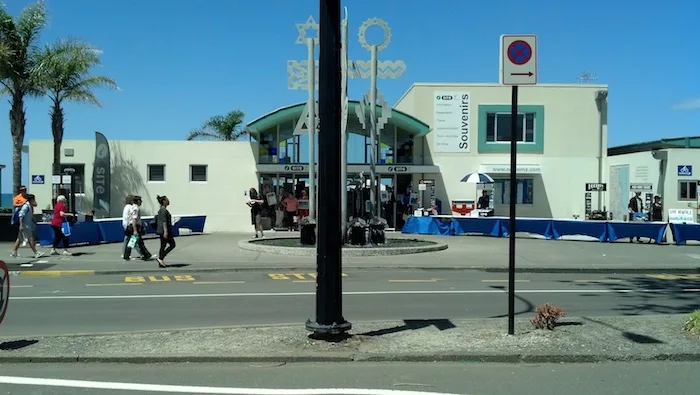 No.13: Napier i-SITE Tourist Information Centre
Call in to the Napier i-SITE tourist visitor information centre to ask locals about:
the best places to eat in Napier
best shopping in Napier
where to take the best photos in Napier, and
all the local's Napier secrets.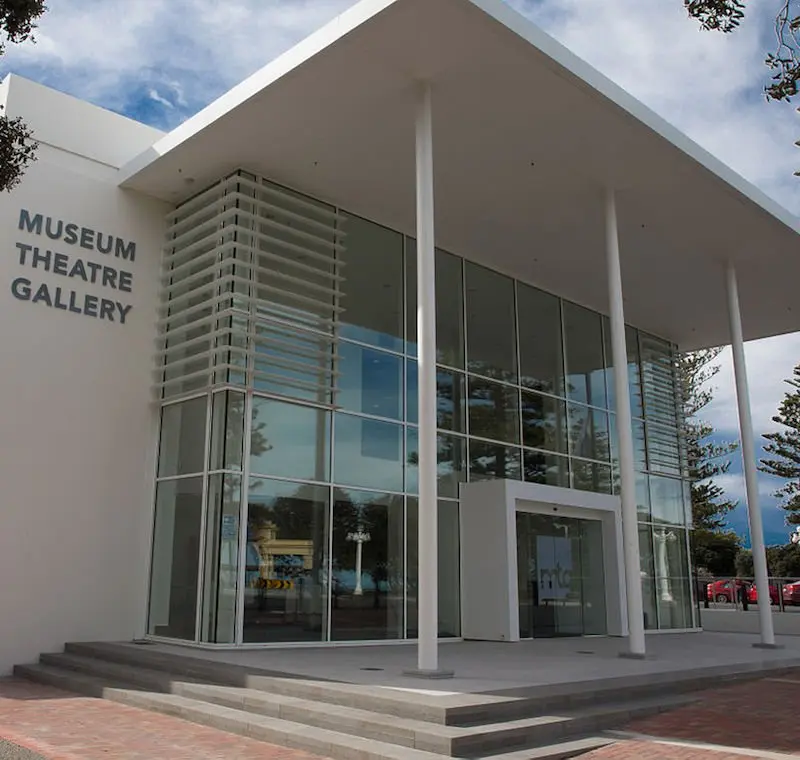 Image credit: Speggle 22 via Wikipedia CC BY SA 3.0
No.14: MTG Museum Theatre Gallery
MTG (which is short for Museum, Theatre, Gallery) is Hawke's Bay's home of arts and culture.
Plus it has the best Gallery shop in town! (Hello local jewellery, vintage posters, and unique books)
The MTG is located across the road from the Napier i-SITE at the roundabout.
There is a permanent exhibition of the history of the 1931 earthquake:
see fascinating historical objects
stroll through archives, and
watch a short documentary sharing the stories of how this disaster impacted the local town, the people and the landscape.
Visiting during school holidays?
The MTG hosts special school holiday events for children including:
print making
painting, and
technology workshops.
Check the website below for details of these Napier tourist attractions.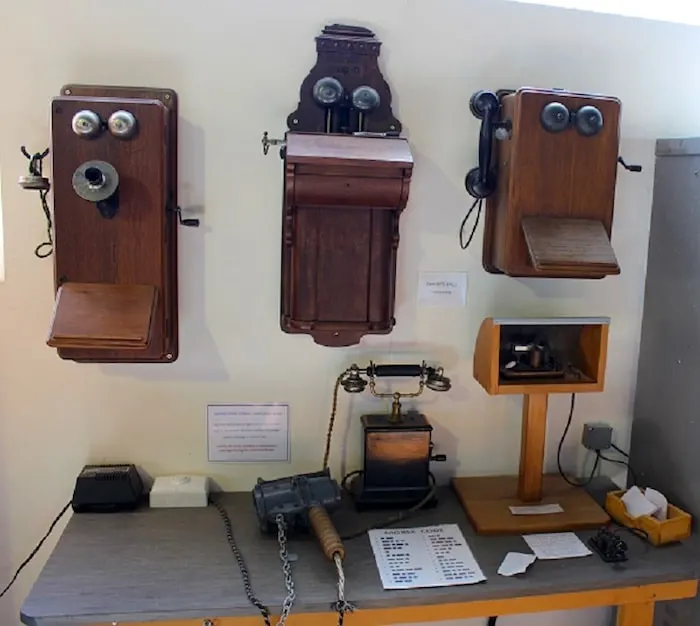 No.15: The Faraday Centre, Hawke's Bay's Museum of Technology
The Faraday Centre is Napier's very own Museum of Technology, where history comes alive over two storeys.
It's hands-on, and kids are encouraged to touch, hold items, pull levels, and interact with exhibits as they discover the world of yesteryear
Play in and amongst themed exhibitions including home applicances, transportation, communication, energy, shops and services, and motors and engines.
Hot tip: Check out the old school hair-drying salons!
One of the best Napier indoor activities for kids.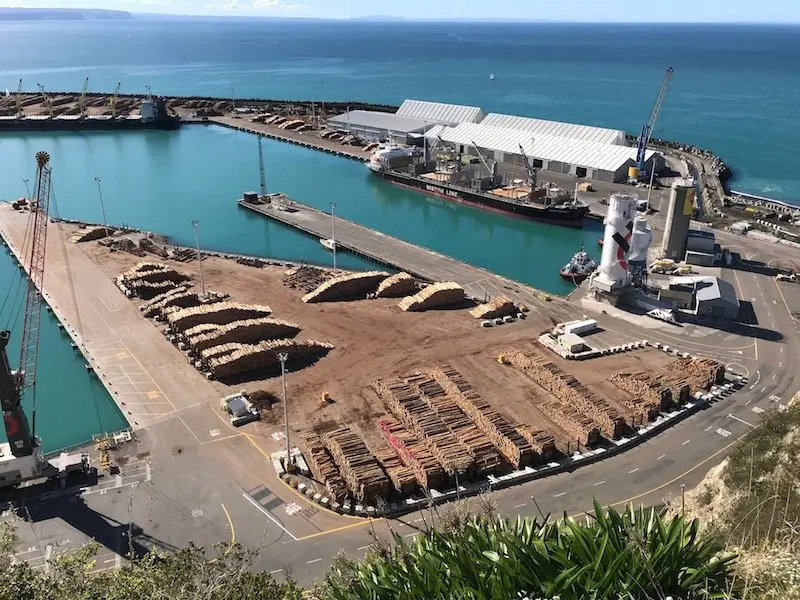 No.16: Bluff Hill Domain Lookout & View of Napier Port
The Bluff Hill Lookout is a must do in Napier on a sunny day.
As well as a prime spot for an epic view, there's war history here too. Be prepared for a windy drive up!
Click here for directions, and more information.
Hot tip: If you like walking, do make sure you do the Te Mata peak walk. It's LOVED by locals.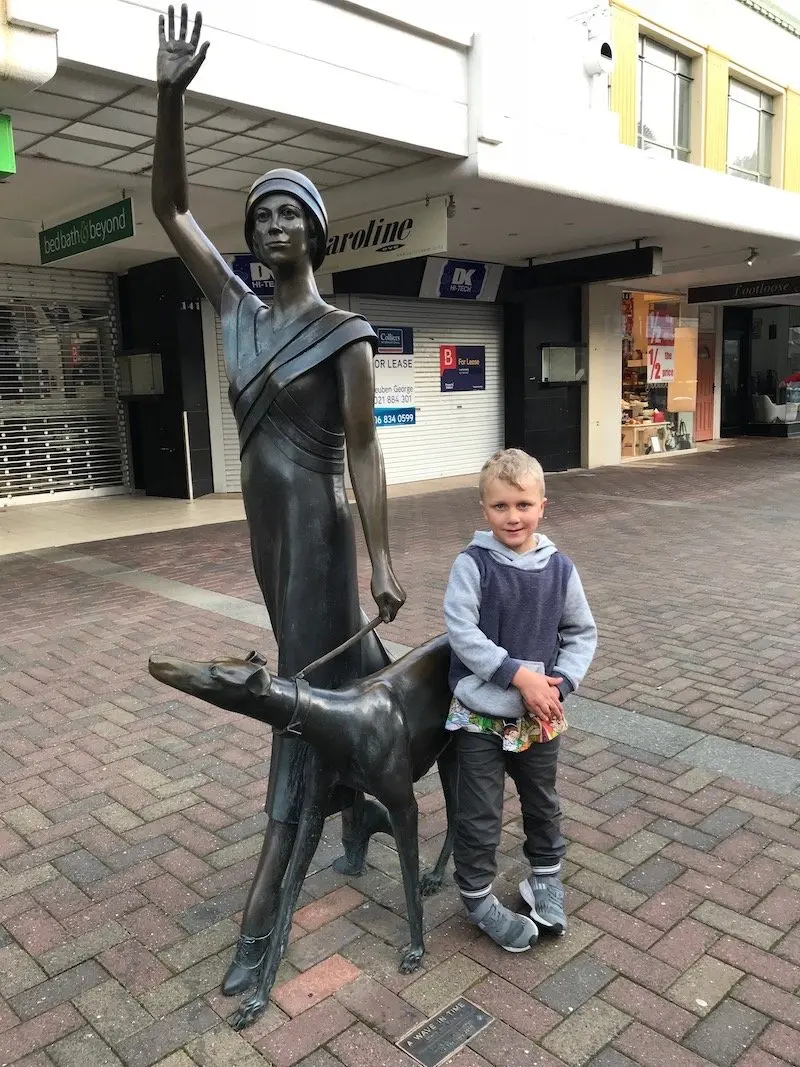 No.17: Art Deco Napier
New Zealand's Napier was destroyed by earthquake in February 1931 but the people were not deterred.
Napier was rebuilt in the Art Deco style of the time in two years flat.
These 1930s buildings include Art Deco, Spanish Mission and Stripped Classical styles.
Napier is now home to one of the best collections of Art Deco architecture in the world.
The Art Deco Trust runs a number of fun Art Deco events throughout the year, including the world famous Napier Art Deco Festival held annually in February.
Dress up and join in the fun!
Explore Napier's architecture by joining a Guided Walk – your guide might just be in costume!
Walking tour prices start from $15.70 US per person. (Click here for details)
Best Art Deco Napier Tours
Or take a two hour Vintage Car tour, or a Vintage bus tour of the sights too.
You'll see:
the National Tobacco Company Building
the Daily Telegraph Building
Napier Antique Centre
Hotel Central
the State Cinema, and
Gaiety Deluxe Cinema.
Learn more about the intricacies of the Art Deco style, and the meanings behind some of Art Deco motifs including sunbursts, fountains, geometric shapes, icons from ancient cultures, and symbols of speed and flight.
There's also a Napier Earthquake Walk if you want to learn more.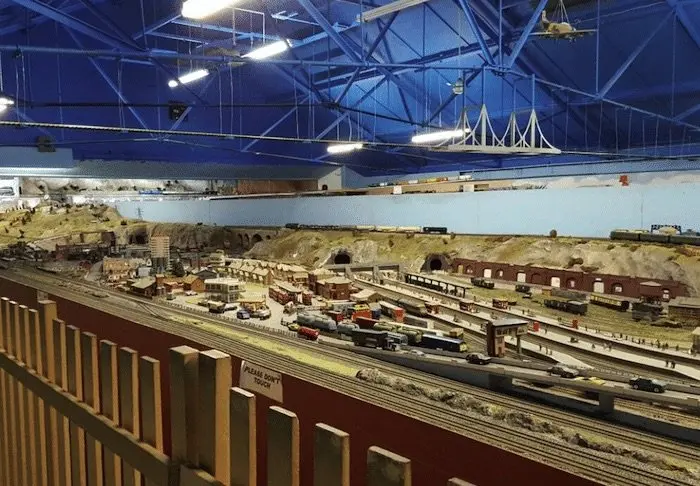 No.18: Trainworld Napier Tourist Attractions
Kids can putt once-round on BROOKIE, the indoor ride-on train, just for the little people.
Check out Lilliput, Napier's 60+yr old model railway, plus there's a bunch of model train sets to view including:
"A Journey through Britain", one of NZ's largest 'OO' scale model railways, and
Trainworld's Carnival featuring a Ferris wheel and merry-go-round.
The highlight for kids is the interactive Thomas the Tank engine and friends set up (hot tip: look up!) and another railway set up where kids can push buttons to watch trains go around.
Napier Trainworld is up there among the best things to do in Napier with toddlers.
For those who love trains, the Hobby Train shop attached is full of train-related paraphernalia and models to buy.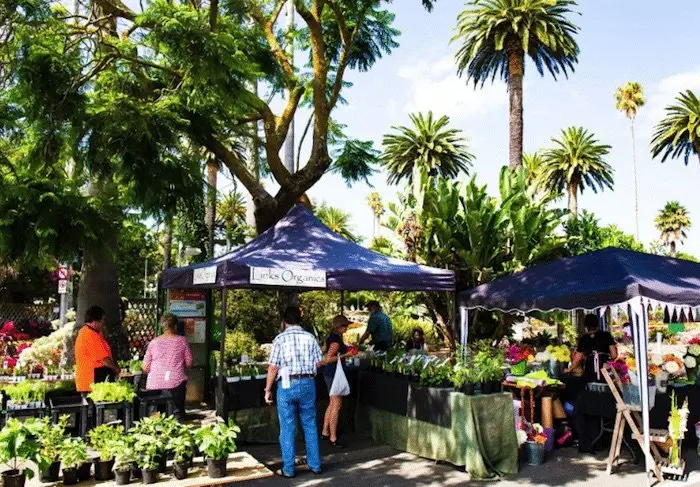 No.19: Napier Urban Farmers Market
Start your day with a freshly roasted coffee, and breakfast of pastry delights at the Napier Urban Farmers Market.
It's the place to meet the locals, and discover all the foodie treats from the Hawke's Bay region including:
fresh fruit and vegetables
meat
eggs
preserves
baked goods, and more.
Taste, touch, and smell the produce.
Talk to the growers and makers.
And pack some Kiwi treats to take home for gifts and souvenirs.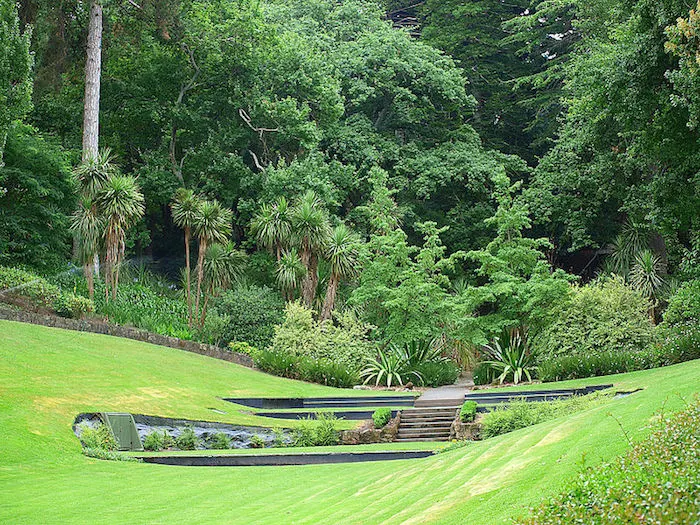 No.20: Napier Botanical Gardens
Take kids to visit the ducks at the duck ponds, see the pigeon roosts, and check out the budgie aviaries.
There's a pretty stream and a waterfall, lots of open space for a run around among the trees and flower beds, and shaded spots for a picnic.
The sweetest thing is a stone curved bridge not unlike a bridge you'd see in Anne of Green Gables!
The 18-acre Botanic gardens were established in 1855 and are next to the old cemetery. Be warned. Some of the pathways and gardens are on an incline and require puff.
The Napier Botanical Gardens hosts events too, including:
Carols by Candlelight
Botanic Beats and
Free Summer Concerts.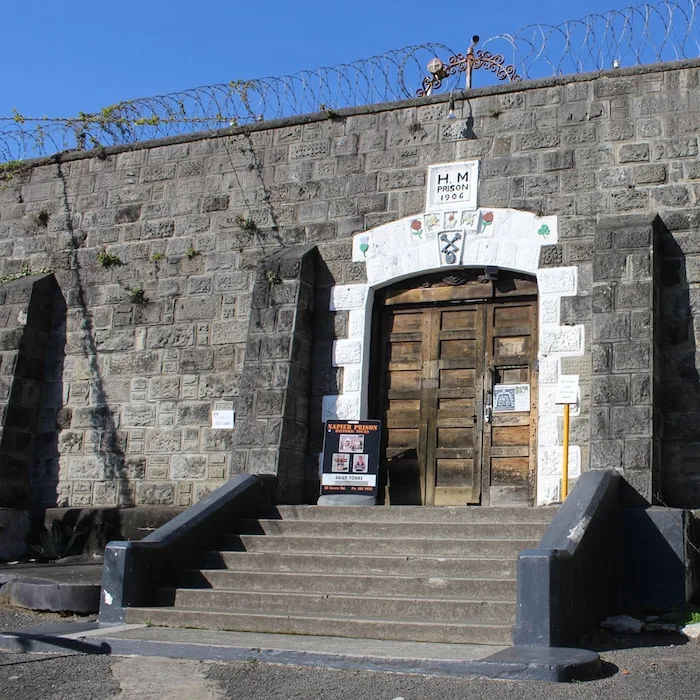 No.21: Napier Prison
Take a tour of Napier prison and wander the cells at your own pace with an audio wand and map. (It's available in 13 languages!)
This is definitely one of the best Napier tourist attractions for teens.
Napier Prison is the place in Napier to hear about the day-to-day workings of New Zealand's oldest prison (harking back to 1862!), and the stories of villains, victims and heroes.
View the old quarry where the inmates used to work their hard days' labour to build the walls that would keep them imprisoned.
Get locked up in solitary confinement or a padded cell before stepping into the hanging yard and walking past the graveyard and gallows.
Take a look at the Earthquake room.
If you are lucky, the Napier Prison resident ghost cat, Basil, may even make an appearance!
Kids will love taking their MUG SHOT! and you can have your fingerprints stamped as a souvenir to take home.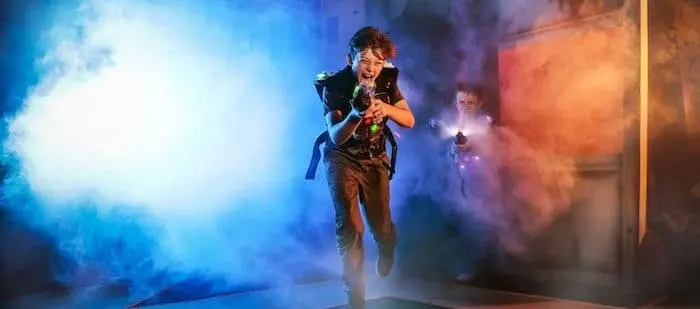 No.22: Laserforce Napier
Laserforce is Napier's fast-moving live-action laser tag game.
Players target and hide in a giant playing arena over two levels, wearing fancy hi-tech vests.
Those who tag along can enjoy coffee in the cafe.
There's free wifi too.
Visit during school holidays for great savings deals.
Directions from Napier i-Site:
Head down Marine Parade (SH2 Pacific Highway) South towards Hastings.
After about 800 metres you pass the Napier children's playground on the left.
Take the next right down Sale Street.
Laserforce is 250 metres down on the right hand side, just over the railway line.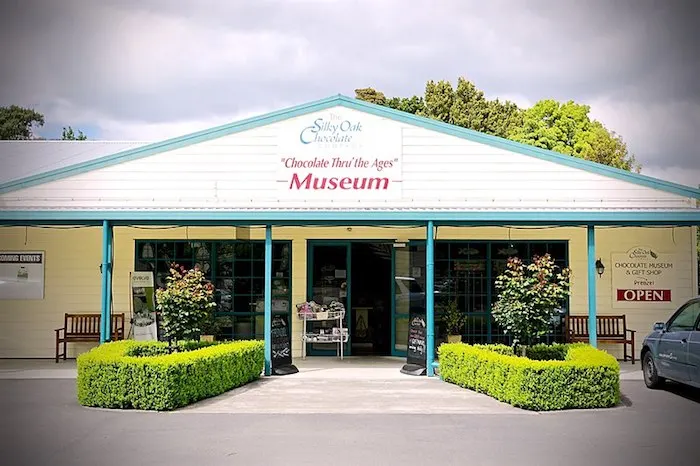 No.23: Silky Oak Chocolates Museum
Come for the handcrafted chocolates.
Stay for the chocolate museum!
Covering 3,000 years of chocolate history, the Silky Oak Chocolate Museum tells the fascinating story of chocolate with:
colourfully illustrated texts
life sized tableaux, and
a huge collection of chocolate paraphernalia, including a 2,500 year old Mayan Chocolate pot.
You can also watch chocolates being made on site.
Don't leave without trying some of the delicious chocolate treats on offer in the cafe.
Dare you to try the famous Extreme Chocolate drink, served with or without chilli.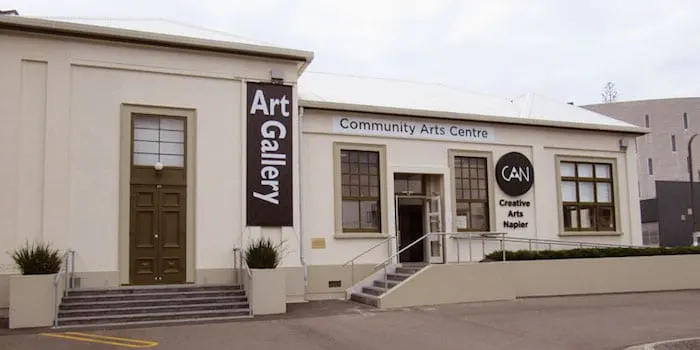 No.24: Creative Arts Napier
Visit Creative Arts Napier (CAN) in the beautifully modernised and historic former Borough Council Building.
Check out the current exhibitions here, along with family-friendly events.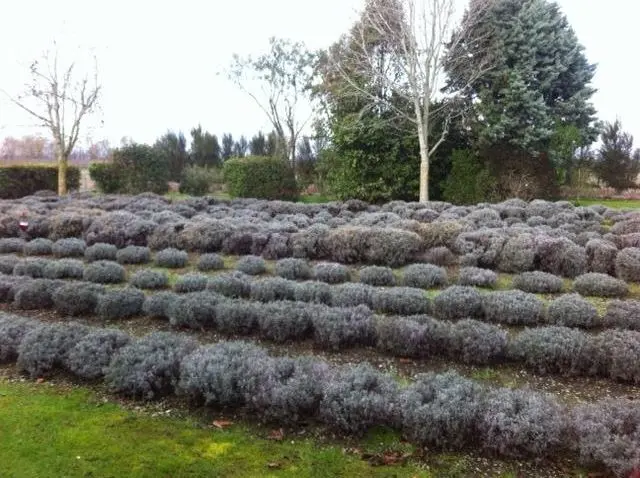 No.25: Nevaria Lavender Farm
Visit this delightful lavender farm during season and you won't want to ever leave.
The scent is divine!
Families with children are welcome.
Stop by the shop for lavender products (including soaps, shampoos & conditioner, lavender oil, room scent sprays) free range eggs, soaps and more.
Devonshire Teas available by appointment.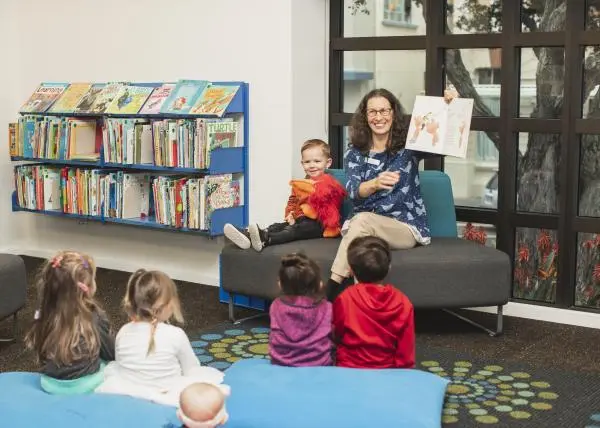 Image credit: Napier Library for kids
No.26: Visit a local library in Hawke's Bay
Local libraries are great places to visit with kids on rainy days or when they are hosting school holiday events for kids.
There's regular Baby Bounce, Story Time, Minecraft activities and LEGO sessions.
Check out Napier and Taradale Library events here.
Check out Hastings, Havelock North and Flaxmere library events here.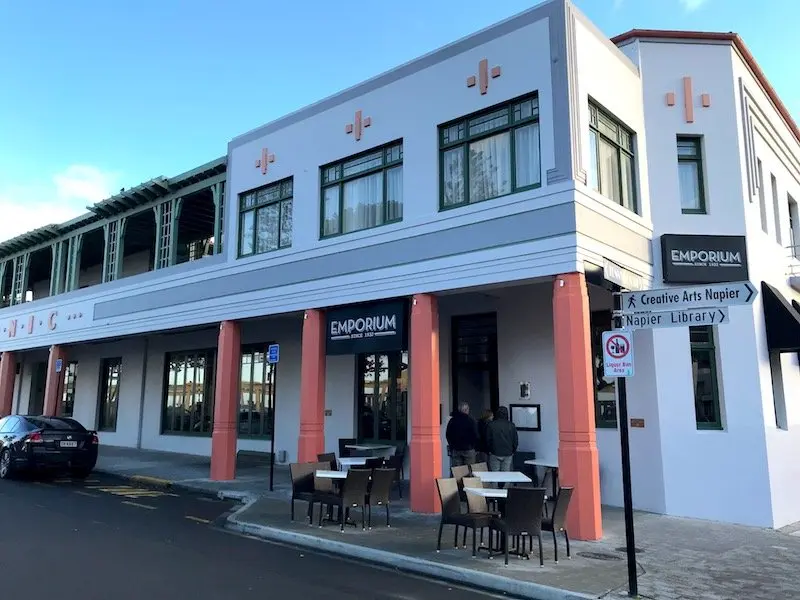 No.27: Check out Napier Events
Click here to find all the current events happening in Napier.
Click here for current events in Hawkes Bay region
No.28: Chipmunks Napier
Unfortunately, there is no Chipmunks play centre in Napier.
Click here to find North Island locations.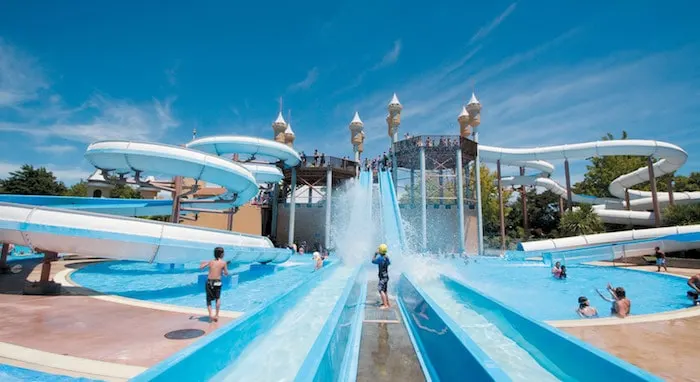 BEST THINGS TO DO IN HASTINGS FOR FAMILIES
No.1: Splash Planet Hastings
Do not visit Hawke's Bay without stopping by Splash Planet.
This waterpark/fun theme park has a unique selection of rides for kids of all ages, and adults.
There's:
waterslides
a never-ending river
bumper boats
indoor heated pools
a toddler water playground, and
an inflatables obstacle course.
If you prefer to stay dry, there's a train, fun go karts, jungle jeeps, mini golf, beach volleyball, a flying fox, and Tiny Town for the under 7's with miniature toy cars to drive around a whimsical city of buildings.
BYO picnic, hire one of their BBQ's for $25 per day, or buy food and drinks from one of their three onsite cafes – Fuel Shed, Coffee Bean Cove or The Train Kiosk.
Choose from:
yummy sandwiches
American hotdogs
rolled ice cream
pies
churro and donuts
burgers
chicken and chips
pizzas
Freshly roasted coffee served fresh daily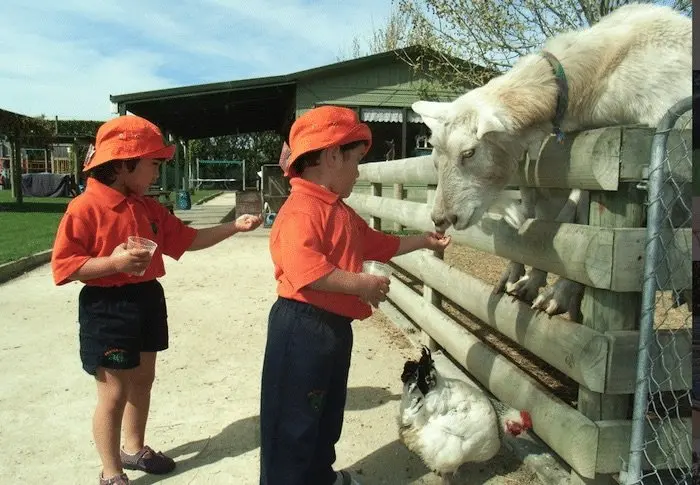 No.2: Hawkes Bay Farmyard Zoo
Hawke's Bay only attraction where kids can meet animals including pigs, sheep, calves, ostriches, alpacas, turtles, peacocks and many more.
Visit during Springtime to see baby animals being born.
Kids can hand feed baby lambs, baby pigs, guinea pigs and rabbits and feed the bigger animals with grain.
There's train rides on the Farmyard Express Train for $4.00 per person, pony rides for anyone 2 years and up, and horse rides for the big kids and adults.
Hawke's Bay Farmyard Zoo has a playground too! Stay a while – bring a BYO picnic or cook a BBQ and eat under one of the sheltered picnic tables.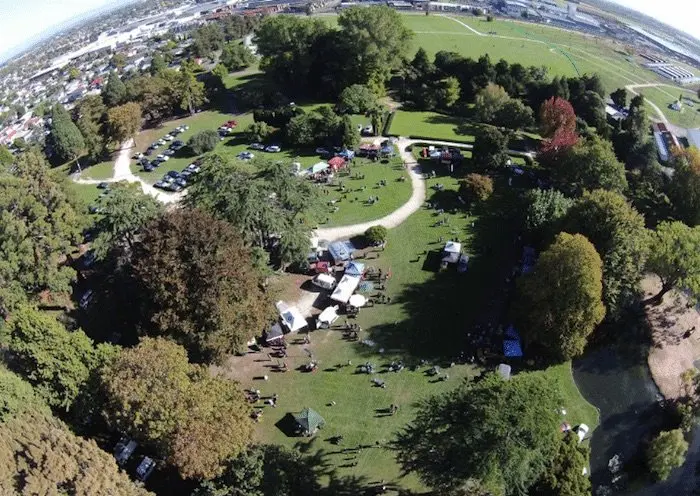 No.3: Hawkes Bay Farmers Market, Hastings (20km from Napier)
Missed the market on Saturday?
Try this one on Sunday.
The Hawkes Bay Farmers Market is filled with delicious treats for breakfast, brunch or an early lunch.
Located at the showgrounds, it's well suited to kids who need a bit of a run around in the sun away from traffic and busy streets, among the trees.
There's live music by buskers, and a dedicated kids area too!
Shop for delicious pantry items, fresh fruit and veg, cheeses, olive oils, breads, meat, fish, wine, beer and cider, sweet treats, wood-fired pizzas and so much more.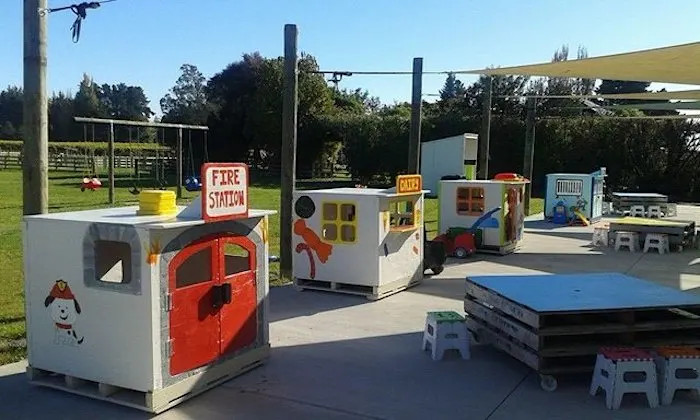 No.4: Funky Farm Hastings
Located in Hawkes Bay, the Funky Farm Napier is a petting zoo, made especially for the little ones – from the young to the young at heart.
Funky Farm has a great picnic area (away from the animals), a toy library, a fully featured playground with swings, slide and in-ground trampoline.
They have a little kiosk with fresh Barista-made coffee, tea, hot chocolates, fluffy's, snacks and juice box bar, and an inside play & lounge area.
You can BYO picnic too.
Public toilets available on site (disabled, adult and child sized toilets)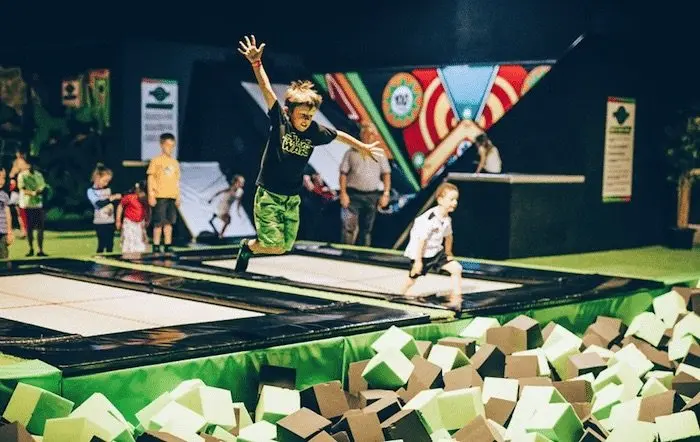 No.5: Flip Out Hawkes Bay
Rainy day while you are in town?
Grab the kids and head straight to the Flip Out Trampoline Park in Hastings.
There's wall-to-wall trampolines, foam pits and much more to explore.
Wear them out with mad trampoline time. (You'll be glad you did!)
If you are visiting out of school holiday time, Toddler Time is the perfect opportunity to let your little one bounce for one hour at a discounted price.
Mon/Fri 10am-3pm (last session starts at 2pm)
Tues/Weds/Thurs: 12pm-3pm (last session starts at 2pm)
Cost is $6 for Under 5's.
Alternatively, join in the kindy kids time in an exclusive session for yourselves and your children to let loose for two hours from 10am to 12pm each Tuesday, Wednesday, Thursday during school terms only.
Parents and caregivers free, children $7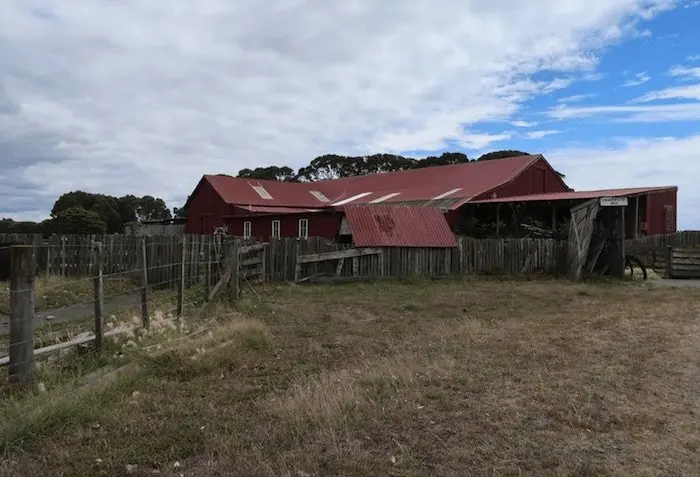 No.6: Clifton Station Wool World
Close to the end of Clifton Road on the Cape Kidnappers headland, you'll find Clifton Station Wool World.
Most often accessed as part of a Napier Port excursion tour, this is a working farm with:
demonstrations of sheep dogs in action rounding up the sheep
sheep shearing
wool classing, and
a chance to learn the history of wool in Hawke's Bay, while sitting on benches inside a big original 1890's wool shed.
The commentary is as humorous as it is enlightening, and fun for kids.
Meet the friendly pig, and check out the too shed full of century-old sheep farm implements.
Visiting Wool World at Clifton Station is a unique New Zealand experience for the family.
Stop by the Clifton Cafe on your way home for snacks and drinks.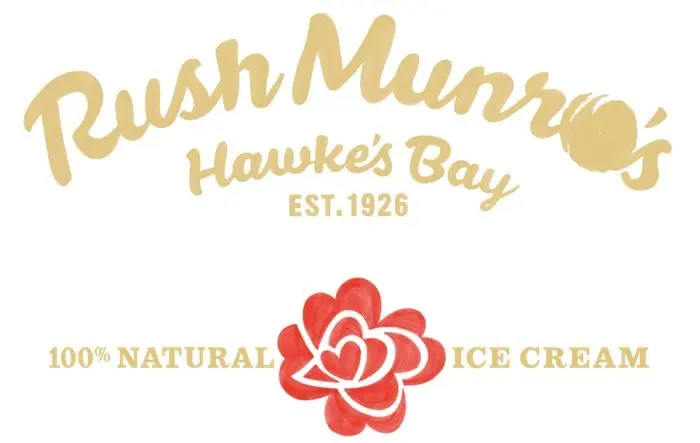 No.7: Rush Munros Ice Cream Garden in Hastings
Stop by for one of their famous ice creams!
Or try churros, or banana split, or a sundae.
The choice is endless, and so are the flavours.
Sit for a while in Rush Munro's elegant country garden with fishpond outside or head indoors to covered seating if the weather's a bit so-so.
MORE THINGS TO DO IN HAWKES BAY (just outside of Napier)
There are more things to do in Hawkes Bay with kids.
Here's a few of our favourites below.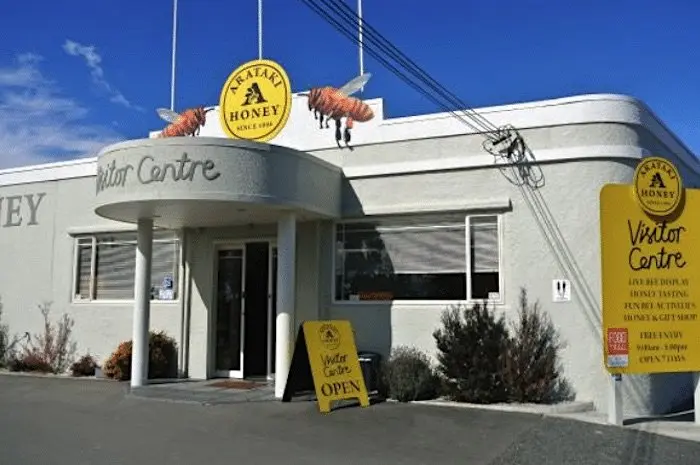 No.1: Arataki Honey Visitor Centre
Kids can dress up as a beekeeper and see the world through the eyes of a bee at Arataki Honey Visitor Centre.
It's the place to discover all there is to know about honey, and meet the bees that make it, from behind the safety of glass!
Arataki Visitor Centre teaches kids about the honey bee, how they live, their role in the food chain and the wonderful products they produce.
Take a tour, taste test 10 distinct and delicious varieties of Arataki Honey, gathered from New Zealand's unique flora and fauna honey for yourself, and find gifts and souvenirs for friends in their gift shop.
They stock honey (of course), beeswax candles, and a variety of honey-based health and beauty products including ranges from:
Wild Ferns
Apicare
The Honey Collection
Banks & Co.
The Aromatherapy Company
The Great Barrier Island Bee Company, and
Comvita.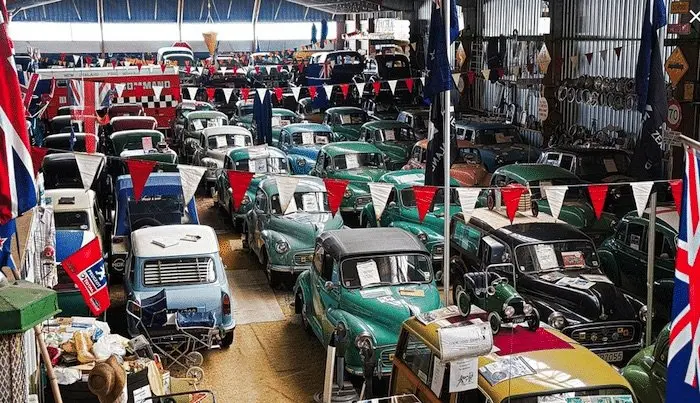 No.2: British Car Museum Napier
Believed to be the largest collection of British cars anywhere in the world, the British Car Museum in sunny Te Awanga represents a lifetime's passion.
It is the personal and eclectic collection of Ian Hope.
Ian has amassed over 450 cars and commercial vehicles (Austin, Bedford, Commer, Ford, Hillman, Jaguar, Morris, Riley, Standard, Vauxhall and many more) with over 38 Morris Minors alone!
The British Car Museum is located en route to Cape Kidnappers, just minutes from the Hawkes Bay Farmyard Zoo and Elephant Hill Winery.
Address:
Phone:
Website:
Opening hours: .
Entry fees: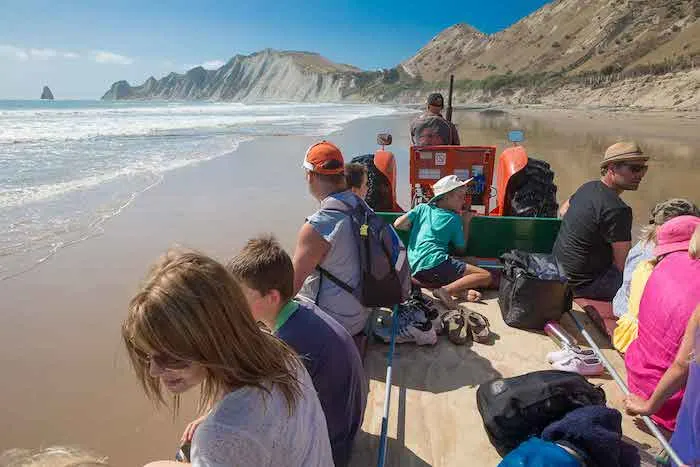 Image credit: Gannet Beach Adventures
No.3: Gannet Safaris
Gannet Beach Adventures provides a 4 hour mild eco-friendly adventure, travelling along the majestically rugged coastline from Clifton to Cape Kidnappers.
Departing on the days' low tide, visitors travel by iconic vintage tractor and trailer along the majestically rugged coastline to Cape Kidnappers' and the largest mainland nesting site of gannets in the world!
Gannet Beach adventures allow you to get up close to majestic gannets in their natural habitat.
Gannets are large sea birds, with defined markings, golden colour, and elegant flight.
A diving gannet is a sight to see – they can hit the water at speeds of over 100km/hr!
You'll also view ancient earthquake fault lines & fossils, see gullies formed by wind and water, and discover how nature has shaped and formed the towering cliffs of the Cape Kidnappers coastline.
Depending on the time of the season (September to March), visitors can witness new-born chicks (around November), through to 4-month old gannets preparing for their first ever flight, which will take them all the way to Australian waters.
Bring warm clothing, and wet weather gear if necessary, hats, sunscreen, snacks, water bottles, your camera, and wear sensible walking shoes.
Call +64 6 875 0898 to book.
Cape Kidnappers history
Cape Kidnappers gets its name from an incident in 1769 when local Maori kidnapped a crew member off Captain Cook's ship The Endeavour.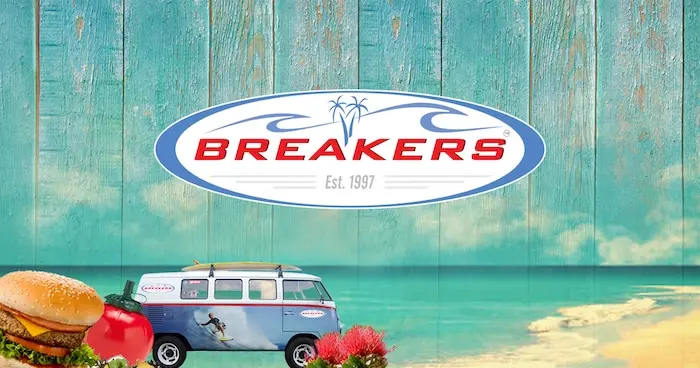 No.4: Visit these Family Restaurants in Hastings & Hawkes Bay
Looking for Family restaurants in Napier?
Check out these restaurants:
No.1: The Londoner
Try this family friendly restaurant in Napier.
The Londoner has all your English favourites including sausages and mash, steak and kidney pie, "buttie" baskets, Ploughmans, and traditional Sunday Roasts.
Click here for the dinner menu.
There's also a kids menu.
Address: Located at 246 Gloucester St, Taradale.
Telephone: 068445744
No.2: Breakers Family Restaurants
Families LOVE Breakers Family Restaurants.
There's three in Hawkes Bay:
Napier
Taradale
Hastings.
They have kids menus, and a Kids Club with colouring in books and prizes to be won.
It's not fine dining, and can be noisy, but fun for kids and tolerant parents!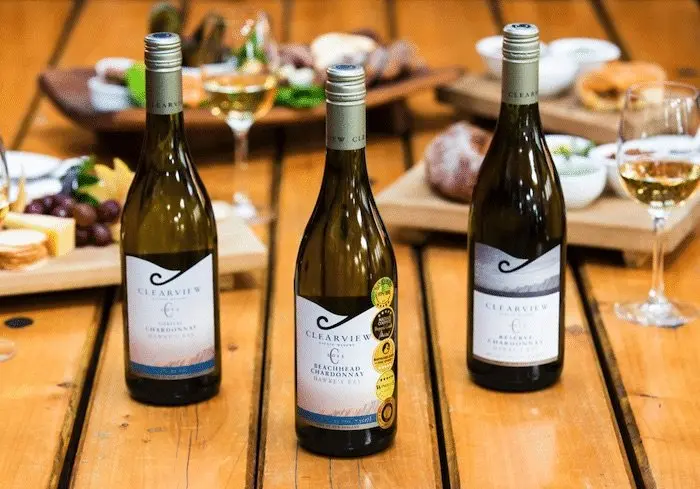 No.5: Visit a Family Friendly Winery in Hawke's Bay
Looking for a family friendly winery in Hawke's Bay where you can take the kids?
Try one of these.
Children are welcome at almost all NZ wineries.

Looking for More Things to Do in New Zealand for Kids?
Click the blue links below for more ideas.