INSIDE: Everything you need to know about the Hells Gate Maori Carving Experience.
Try your hand at authentic Maori carving on wood at Hells Gate Geothermal Park in Rotorua.
This Maori carving experience is included as part of the entry fee!
As if you needed another reason to visit the Thermal Geysers in Rotorua (or more specifically, the Hells Gate Mud Spa)!
Take a look at the Maori carving experience you can join in below.
Disclosure: This article contains affiliate links. If you make a purchase after clicking on one of these links, we may receive a small commission at NO extra cost to you.
Enter through the Waharoa carved gateway
To enter the Hells Gate thermal park, you must enter through the Maori carving of a gateway.
The gateway features the Maori carving of Rangiteaorere, the chief of the local tribe at top.
The carving on the left side of the gateway is of the Chief of his Father's tribe, and on the right is the Commander of the Mother's tribe.
Underneath, there is the face of Ruamoko, the God of Volcanic Activity.
---
RELATED: Big Guide to the Best Things to do in Rotorua for families & kids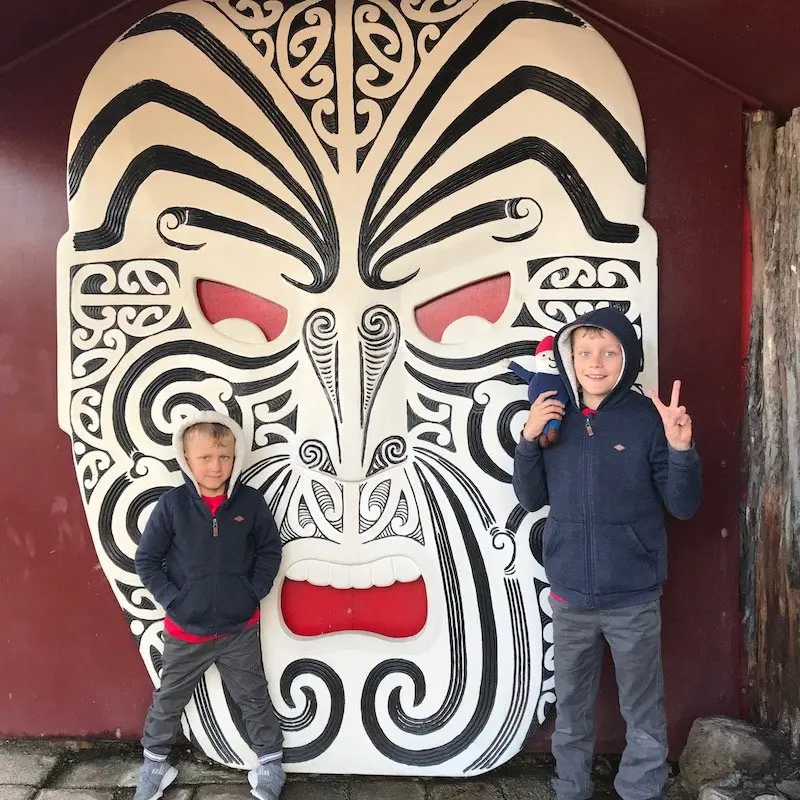 Protection from the God of Volcanic Activity
Pass through these gates (pictured above) to obtain protection from the Chief against Ruamoko's possible heated rage!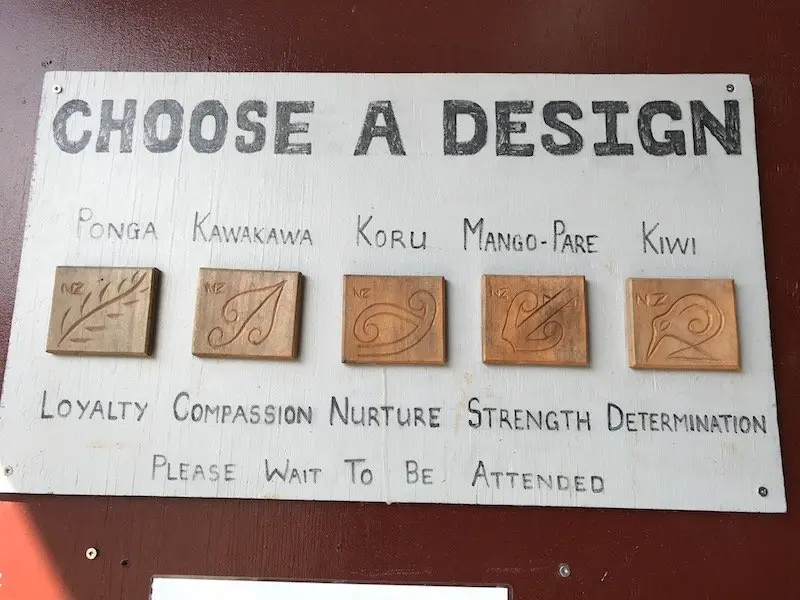 Maori Carvings Experience for Kids and Families
Everyone can join in the Maori carving experience at Hells Gate.
Even the kids!
Our Maori host was an ex-teacher and super affable with good-natured charm.
His jolly smile, and can-do attitude was just what the boys needed, as carving Maori patterns in wood is harder than it looks!
We learned about carving designs into wood, and the easiest wood to carve.
We also heard stories of famous Maori carvers.
Fun fact: Did you know the word for carving in Maori is whakairo (carving)?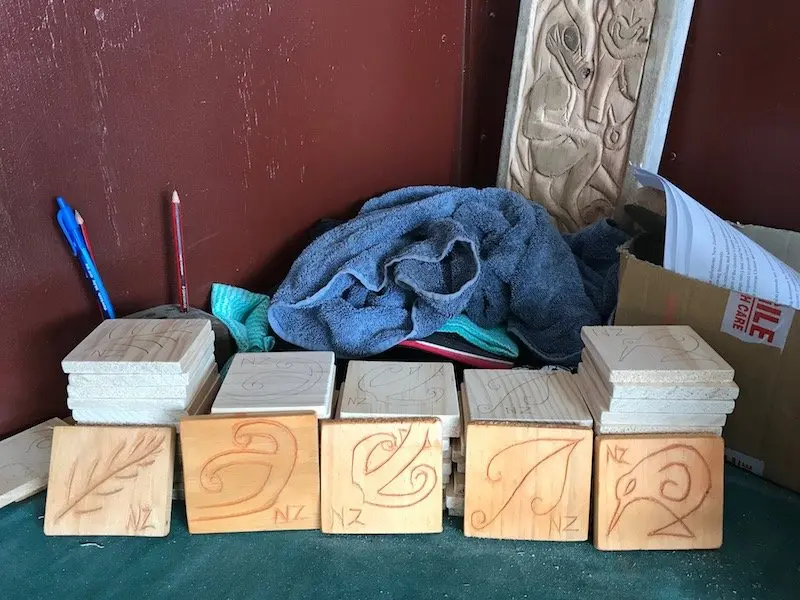 Learn Maori Carving techniques
Learn about Maori art, Maori history, Maori language, Maori sculpture, more about the island home life and Māori culture, and a few Maori words used by adults and children as you carve.
Pick up a few Maori carvings techniques as you whittle too.
This experience is a great introduction to Maori education for kids (and adults).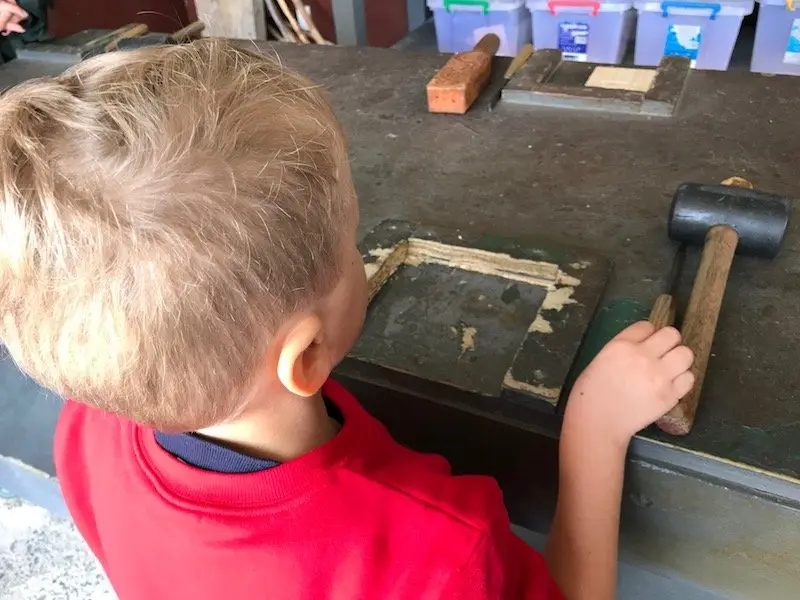 DIY Maori Carvings with kids
Kids under 12 need to be accompanied by a parent to help them with the tools.
It's a good idea.
Those wood chisels are sharp!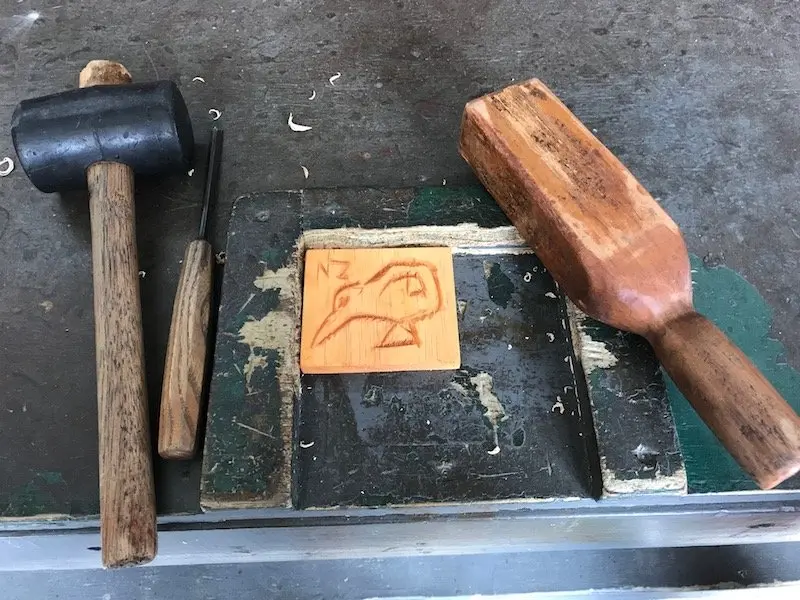 New Zealand Maori Carving Designs
Pick the simplest of the Maori carving patterns.
Our hot tip is to pick a SIMPLE pattern from one of the five Maori carving symbols on offer.
Thank me later!
We can only imagine how difficult jade, pounamu greenstone, and bone carving fish hooks is for the people of this fascinating Maori culture.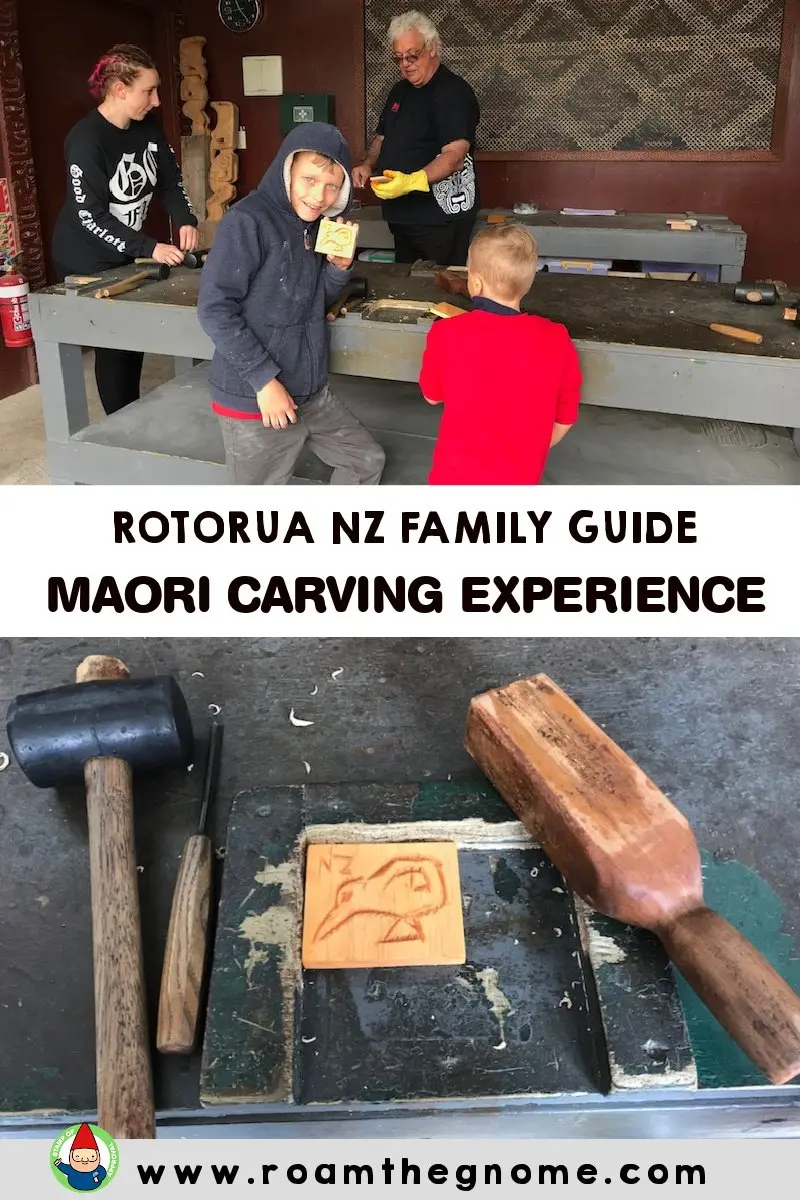 THE INSIDE SCOOP: Hells Gate Rotorua Maori Wood Carving Experience
Correct at time of publication on Roam the Gnome. Please check with venue for updates. We apologise in advance if there have been any changes we are unaware of. All prices in US dollars (or NZ dollars as stated)
Address: Hells Gate Rotorua Geothermal Park is located at State Highway 30, Tikitere, Rotorua. It's Rotorua's most active geothermal field.
Telephone: 07 345 3151
Email: [email protected]
Website: Click here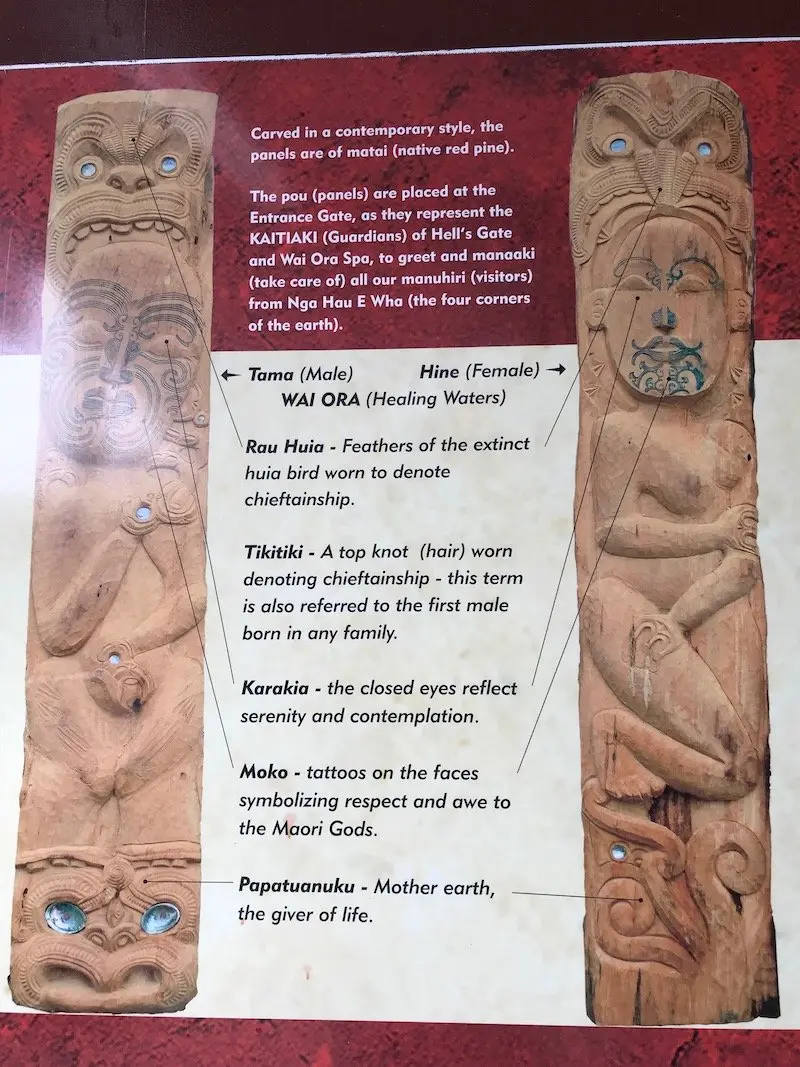 Hells Gate Opening Hours
Monday – Sunday
8.30am – 10.00pm (Summer 1 Oct – 2 Apr)
8.30am – 8.30pm (Winter 3 Apr – 30 Sep)
Open daily except Christmas Day.
Bookings are essential after 6:00pm
Entry Fees
Geothermal Park Entry, including the Maori Carving experience:
Adults $35 NZ
Child $17.50 NZ
Family $85 NZ (2 adults, 2 kids aged 5-15 years)
Kids 4 and under FREE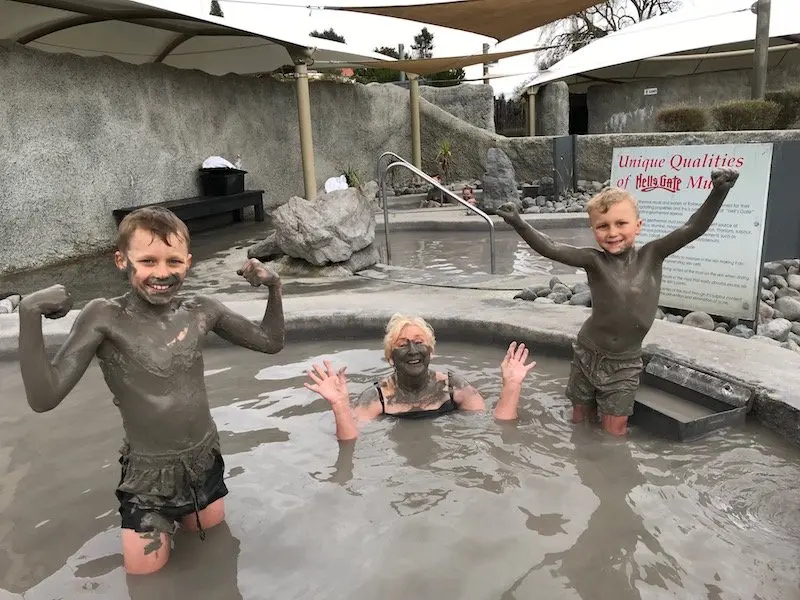 Hells Gate Mud Spa Retreat deals
Entry to the Mud Spa, Sulphur pools, and Twilight Spa is extra, and NOT included in general entry to Rotorua Hells Gate thermal park.
The Special Combo best value package is the best deal , which includes:
entry to the Thermal park
a Geothermal Walk guided tour
Maori wood carving activity, and
a visit to the Mud spa and Sulphur spa
Massage, facials and other therapies also available for additional fee.
Hells Gate Mud Spa Tickets
You can also visit the Hells Gate Mud Baths & Sulphur pool without going on a tour of the Thermal Park.
If you are limited with time, do the Mud Spa as your priority.
How to get to Hells Gate Geothermal Park and Mud Spa
By Car:
Travel east from Rotorua on SH 30.
Approximately 5 minutes past airport, turn right toward Whakatane and proceed 3kms to Hells Gate.
Click here for google map directions
Hells Gate Parking
Plenty of free parking out the front.
Map of Hells Gate Rotorua Thermal Park
Facilities at Hells Gate Rotorua
Nearest takeaway coffee and/or food options: Cafe on site at the Hell's Gate Geothermal reserve
Toilets: Yes, including baby change table. Next to the cafe, and another block of toilets at the spa.
Disability access: Yes
Closest ATM: Hells Gate Geothermal Park and mud bath spa has credit card and EFTPOS facilities.
Shade: No. BYO hat and sunscreen for the walk.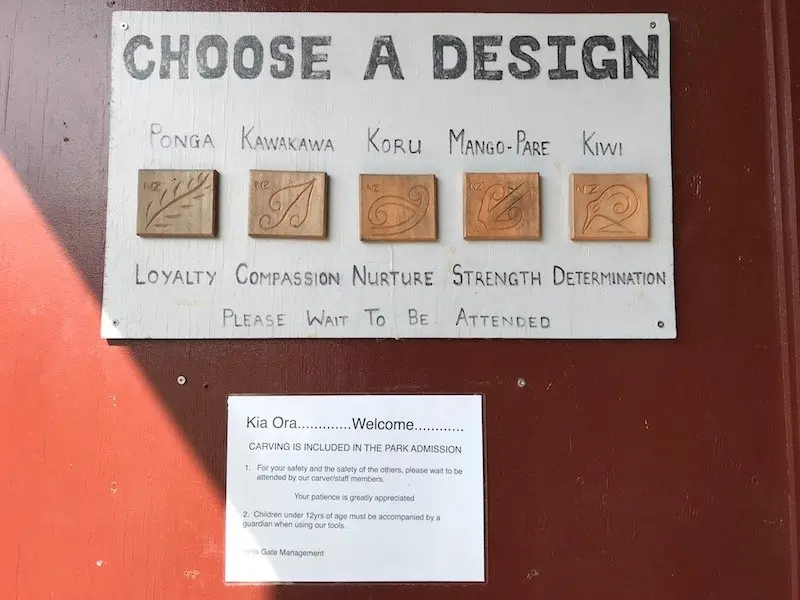 Toadstool Rating – Traditional Maori Carving Art
A visit here is an authentic, hands-on, non-touristy, Maori experience in Rotorua.
A must do in Rotorua. Make it a priority.

Looking for MORE SUPER DOOPER FUN things to do in Rotorua with Kids?
Click the links in blue for more Rotorua ideas below.