INSIDE: Everything you need to know about Rotorua Night Market for families & kids.
Eat dinner at the Rotorua Night Markets, a gathering of food stalls, market stall and live music under a sea of bright orange and blue tents.
Rotorua Night Market is held every Thursday.
Weather pending.
If you are looking for things to do in Rotorua at night, this is the place to be.
Held on Tutanekai Street in Rotorua, the Rotorua Night Market is a place to meet locals, and other family travellers too.
Take a sneak peek below for details.
Disclosure: This article contains affiliate links. If you make a purchase after clicking on one of these links, we may receive a small commission at NO extra cost to you.
Image credit: Rotorua Night Markets
Best Rotorua Night Market Food Stalls?
The food stalls sell delicious meals.
Be warned.
You will find it hard to choose.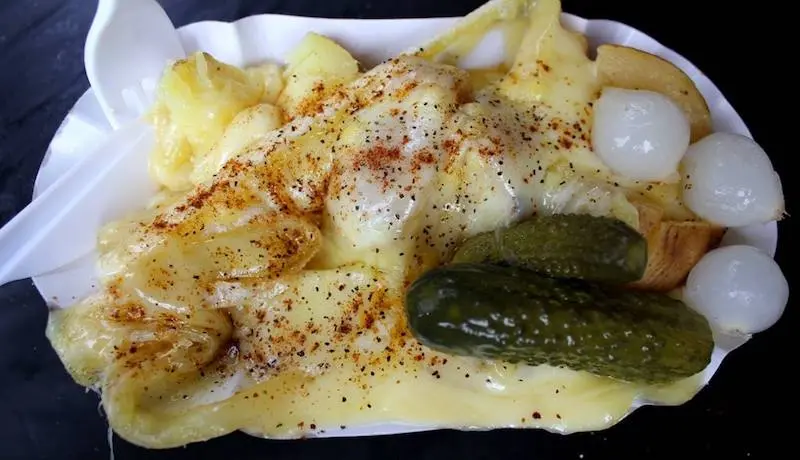 Image credit: Rotorua Night Markets
Food to try at Night Market Rotorua
Try:
Melted Swiss Raclette cheese over boiled potatoes or on delicious Ciabatta bread.
Chinese dim-sum, dumplings and pork buns
Sea food treats such as Paua and white bait fritters
German sausages
German pretzels
Cobb loaf chowder (yum) from the Homegrown Kitchen
Indian curry and samosa
Lulas Artisan Empanadas
Mexican dishes from El Cartel Mexicano
Thai pad thai noodles
Sushi from Sushi Panda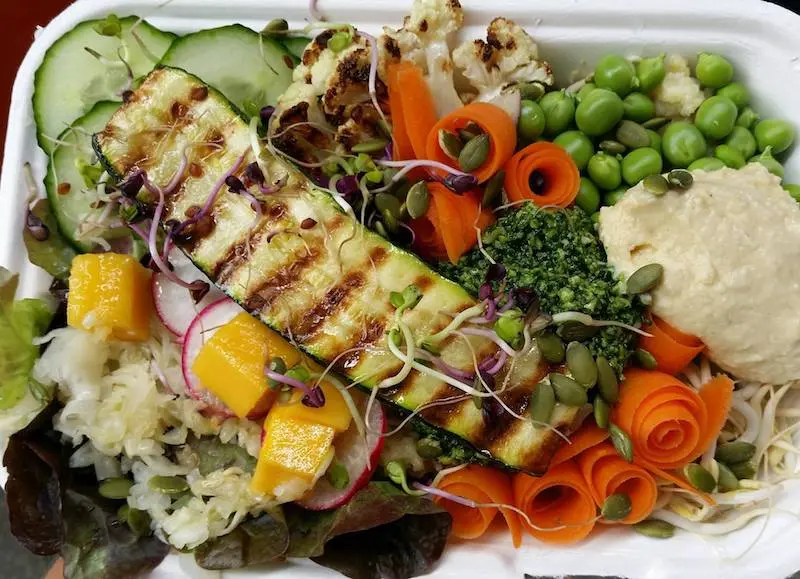 Image credit: Rotorua Night Markets
More from the Rotorua Food Truck Thursday Market
Raw vegan food dishes from Tea & Happiness
Spin Spuds – those melt-in-the-mouth twirly potatoes on a stick
Polish pastries and pretzels
Pad Thai chicken
Hot off the grill kebabs
NZ Crepes
Handmade Italian pasta
French patisseries
Ice cream from the Real Fruit Ice Cream Van
Churros
Bubble teas
Salted caramel slice, choco brownie and the delicious jaffa berry slice from Wholly Chocomole
Local New Zealand "kai" (meals) from Kai Caff Aye Rotorua
Delicious meat from a hangi and veg too
Hot tip: You can't go wrong at Johnny Dumplings!
---
RELATED: Ultimate Guide to the BEST Things to do in Rotorua with kids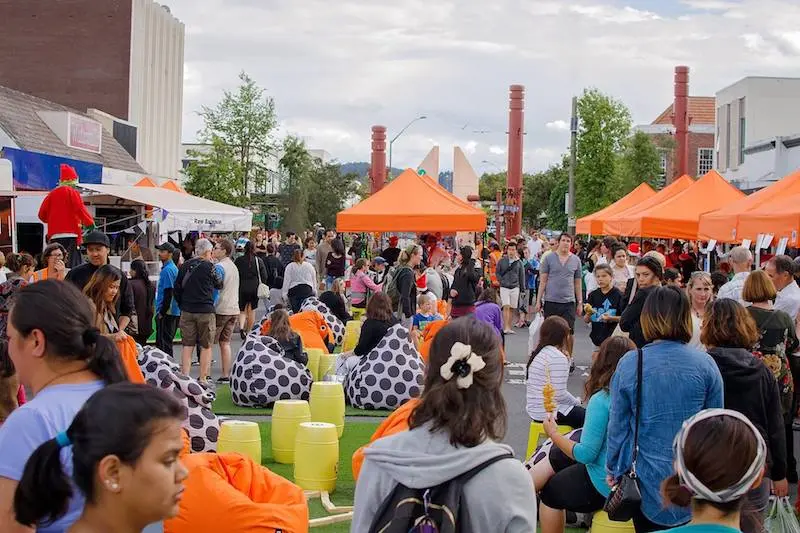 Image credit: Rotorua Night Markets
Entertainment at Night Markets Rotorua!
There is live entertainment and buskers, and plenty of beanbags and tin stools so you can pull up a spot and enjoy music while you eat.
The Rotorua Night Markets are very popular, and there LOTS of people, but there's a cool vibe and bustle.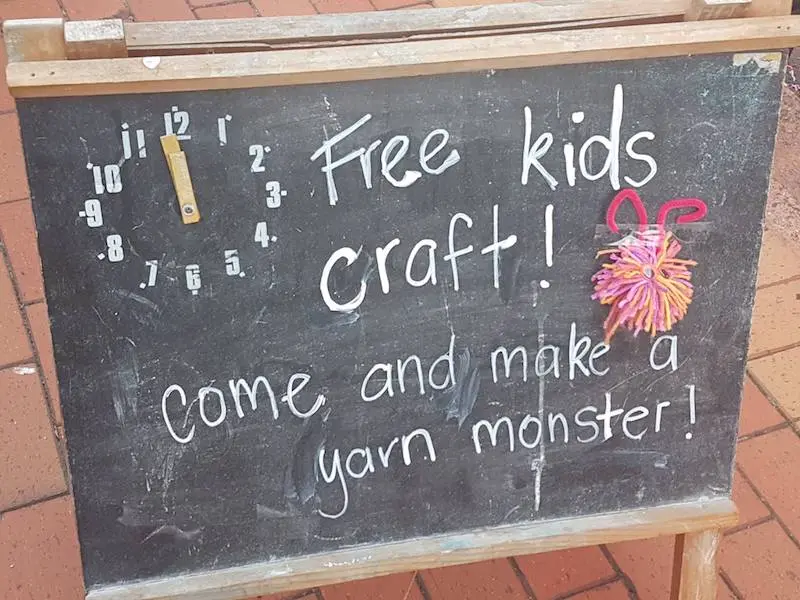 Image credit: Rotorua Night Markets
Rotorua Night Market family zone
Sometimes, there are FREE kids craft activities to join in too.
Let them join in plaster painting, or yarn crafts, or painting.
And there's always an area in the centre of the market where kids can join in hula hooping, and life size Jenga games, and watch the entertainment in front of them.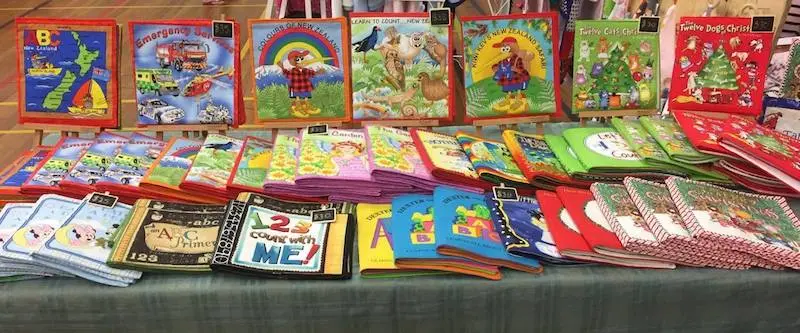 Image credit: Rotorua Night Markets
Souvenirs and Craft at Rotorua Night Market
This is a Food stall and food truck market predominately, with only a couple of craft stalls selling New Zealand wool clothing, children's toys and books, jewellery, and some fancy wooden carvings.
You may find soap, beeswax wraps, bath bombs and ceramics too.
Keep your expectations low, and you won't be disappointed if there's only two or three craft stalls open during your visit.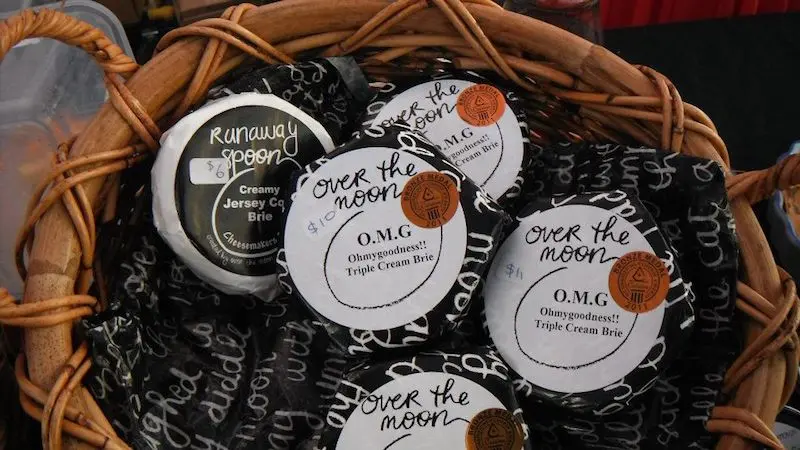 Image credit: Rotorua Night Markets
New Zealand Gourmet Food gifts
It's not the ideal place for souvenir shopping unless you want to buy gourmet food made in New Zealand such as local honey, spices,
Hot tip: Uncle Dunkles Chilli sauces. These wood fired chilli sauces are all natural, and VERY popular.
The market on Thursday nights is more about enjoying the Rotorua vibe and a good meal.
There's hope that as the market becomes more established, more and more local artisans will be encouraged to set up and share their handmade wares too.
(Fingers crossed!)
You can also pick up local fruits and vegetables while you are here.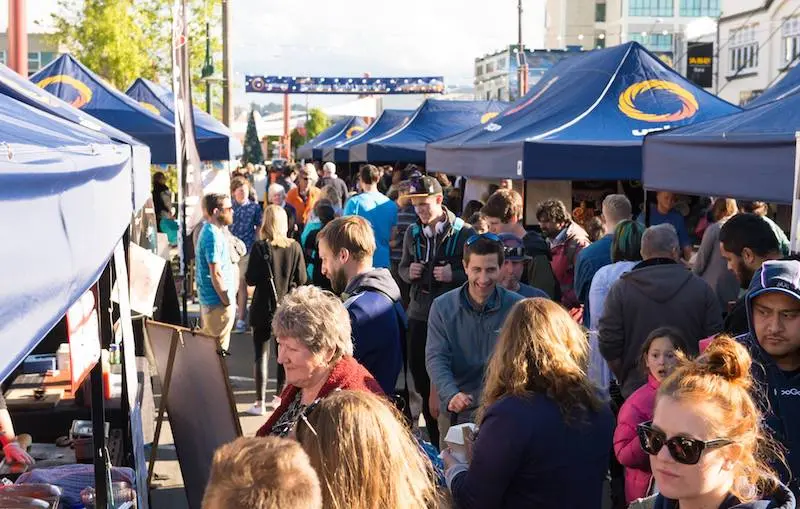 Image credit: Rotorua Night Markets
Is Rotorua Night Market on tonight?
The Rotorua Night Market is not covered, so it's weather dependent, and closed on rainy evenings.
Keep an eye on the Rotorua Night Market Facebook page for updates.
You can also visit the Rotorua Night Market Instagram page to take a sneak peek inside.
Important note: Eat Street Rotorua
Eat Street Rotorua is NOT the same thing as the Rotorua Night Markets.
Eat Streat in Rotorua is at the lake end of Tutanekai Street, an all-weather al fresco dining area with a covered central walkway.
The roof here can be closed at will to keep visitors happy, warm and dry.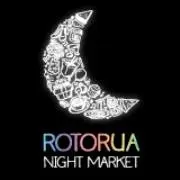 THE INSIDE SCOOP: Rotorua Thursday Night Market
Correct at time of publication on Roam the Gnome. Please check with venue for updates. We apologise in advance if there have been any changes we are unaware of. All prices in NZ dollars
Address: Find the night market at Tutanekai Street, Rotorua (between Haupapa and Hinemoa Streets).
Rotorua Night Market Thursday Opening Hours: 5-9 pm, Thursdays (weather pending)
Entry Fees: Free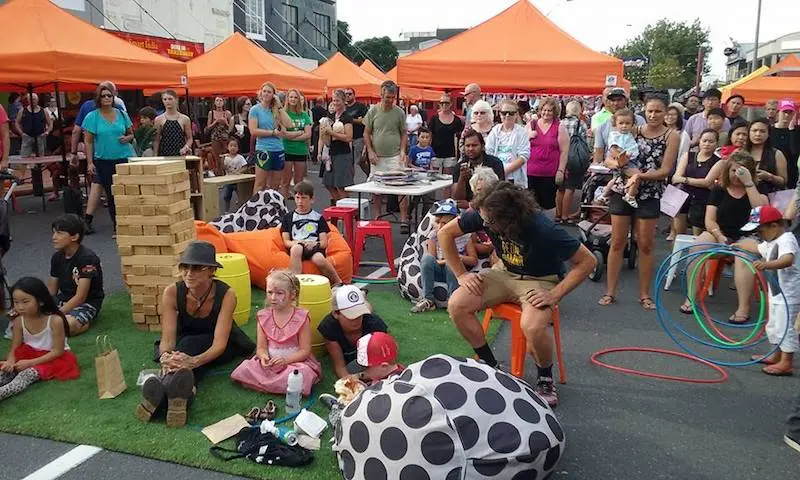 Image credit: Rotorua Night Markets
How to get to Rotorua Night Markets
By car: Click here for google map directions to the Rotorua market
Rotorua Thursday night market parking
There is plenty of free parking (after 5pm) in the streets around the market.
Click here for tips on parking in Rotorua.
Thursday Night Market Rotorua Map
Facilities
Bring cash. Queues can be long, and you don't want to be stuffing around with Eftpos.
There are ATMS in the centre of the market on Pukuata and Tutanekai streets.
Toadstool Rating – What to Do in Rotorua at Night?
Smaller than we hoped. But still something fun to do on a Thursday evening in Rotorua.

Looking for More of the Best Things to Do in Rotorua for Kids?
Click the links in blue below for more Rotorua activities