INSIDE: Everything you need to know about Rotorua Duck Tours for families.
Not every tour starts with a hands-on lesson on "How to Blow a Duck Quacker Whistle".
But the ones that do?
You know you are in for a fun ride.
Rotorua Duck Tours takes you on a FUN Tour of Town on a Truck-Boat!
Find all the details about this awesome Rotorua tour for kids below.
Disclosure: This article contains affiliate links. If you make a purchase after clicking on one of these links, we may receive a small commission at NO extra cost to you.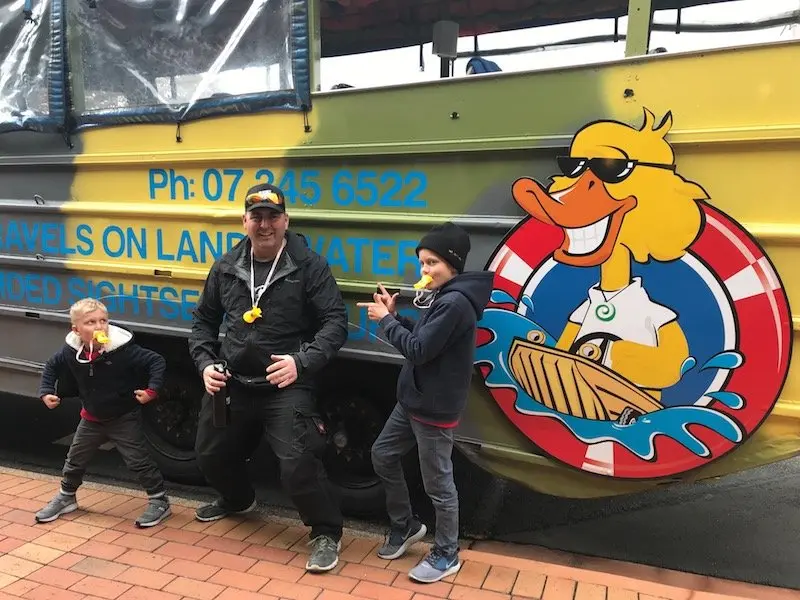 Explore Rotorua with Rotorua Duck Tours
A tour guide can make or break a tour.
Bad ones can ruin your day, but when you are lucky enough to get a good one, even their terrible, horrible, very bad, no-good jokes can be tolerated.
Our ConDucktor guide was Marcus. (See what they did there!)
We met him at the Rotorua Duck Tour office in time for the 11am departure.
The funny, running commentary started from the moment he sat down at the wheel to give us the safety demonstration.
We knew this was going to be a tour to remember!
10 year old Ned has a funny sense of humour like his dad, and he giggled and laughed out loud at Marcus's banter throughout the entire 90 minute trip.
I'm NOT exaggerating.
(Hot tip: When you book a family trip, do ask for Marcus. You can tell he's practiced this routine many, many times and he's TOP NOTCH with the kids.)
---
RELATED: Ultimate Guide to the BEST Things to do in Rotorua with kids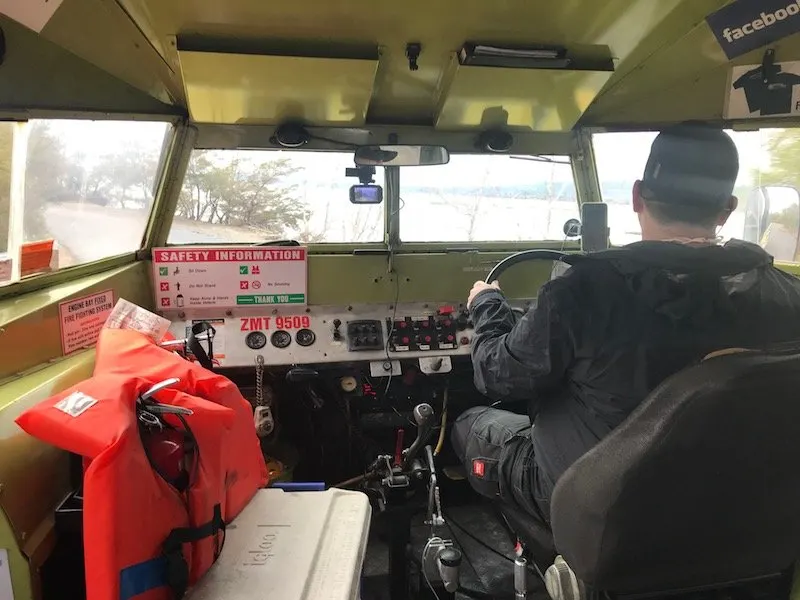 Rotorua Sightseeing Tours? Try Duck Tours Rotorua NZ!
The Duck Boat Tour journey starts when you board the strangest truck we've ever seen.
It's not anything like the Duck Boat Tours we have at home, all fancy-pants and modern and touristy.
No.
On the Duck Tour Rotorua style, you travel on an authentic World War 2 Landing Crafts Amphibious Vehicle – one of only 900 left in operation around the world, despite there being more than 20,000 of them made.
Duck is the nickname for DUKW.
This is the military equipment code used to identify the features of the vehicle – D is the year the truck was made, U for amphibian, K for front wheel drive, and W for rear wheel drive.
The kids loved the look of this old-world truck, but I was very wary of this heavy metal monstrosity.
It does not look like it should go anywhere near water, let alone try to float.
(Luckily, I was in for a welcome surprise.)
So, the first thing I did was spot the location of the life jackets!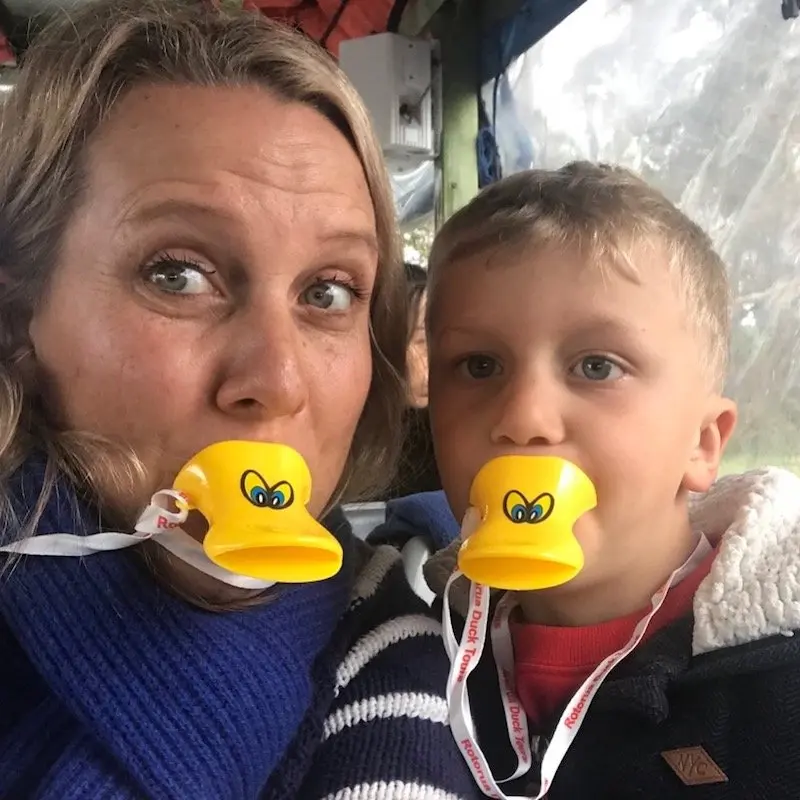 Duck Tour Rotorua City and Lakes
The Rotorua Duck Tour starts with a circle of Rotorua City and skirts the edge of Lake Rotorua, taking in the views, and the pong!
Marcus told us a bunch of age-appropriate stories (some true, others stretched a little for entertainment value) and we learned the history of the town, as we rumbled through the Government Gardens, past the Blue Baths and the Polynesian Spa.
We discovered why two of the main cross streets are named Hinemoa and Tutanekai
(Hint: It's the myth of Rotorua's star-crossed lovers)
And why New Zealand's second most-photographed building, the Rotorua Museum, is now caged in temporary fencing.
Chugging around the streets of Rotorua in this Duck Boat was fun in itself.
Spying the faces of unsuspecting and mystified tourists as we QUACKED our lungs out at them made me laugh out loud.
The boys were mesmerised watching Marcus crunch the gears and work the pedals of the Duck Boat as we gained speed too.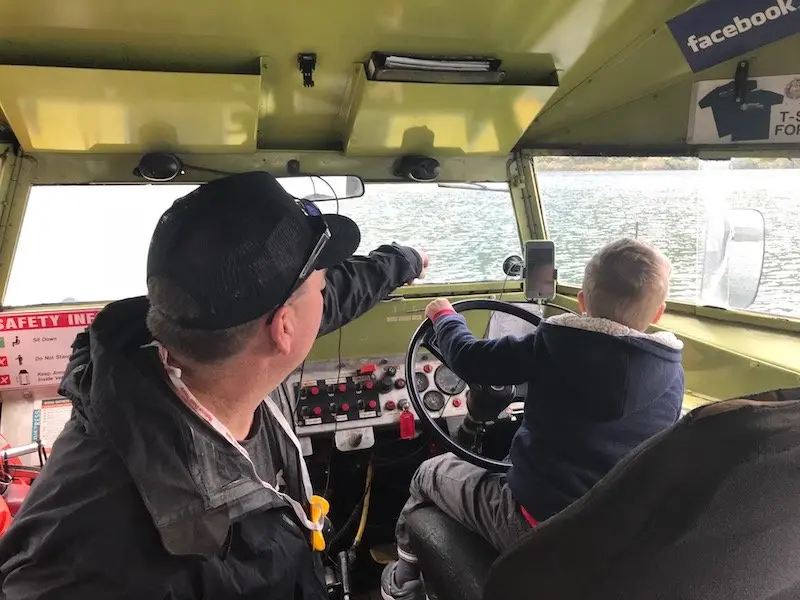 Rotorua Duck Tour Attractions – Visiting the Rotorua Lakes District
Part two of the Rotorua Duck Boat Tour begins with a climb up the steep hill next to the Redwoods Forest.
Marcus made the most of his captive audience during this slow arduous climb by scrolling his playlist and blaring epic THEMED MOTIVATION SONGS for us to sing along to.
(Yes, the Rocky theme song was in the list.)
Who could resist?
Not us!
Shortly, it was time to dive into the first of two lakes we were to explore.
This was the moment we'd all been waiting for.
The splashdown.
It didn't disappoint.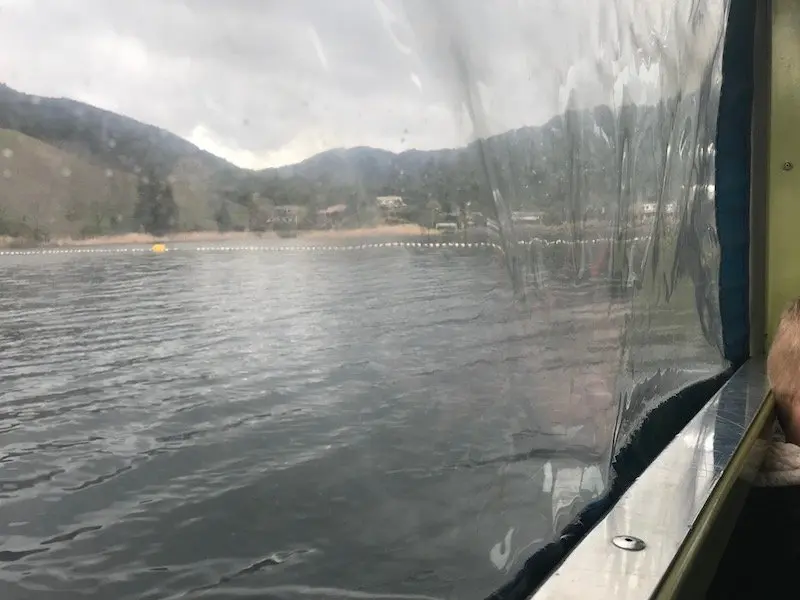 DIY Duck Boat Rotorua Driving
Once we were in the centre of the lake, and away from any potential obstacles, he invited the kids to drive the boat.
Ned drove first, followed by a very enthusiastic Jack, who did not want to give up the driving seat once he'd claimed it.
The drive out of the lake was equally fun, and we all – the Chinese family from Auckland, the two young German men, and our lot – craned our necks out of the windows to watch.
We all agree that driving in and out of lakes on a Duck Boat is something everyone should do at least once in their lives.
It's a bit odd, and not something you can do every day.
Pop it on your bucket list.
Fun Fact: This is an all-weather activity with clear roll-down sides for winter and rainy days.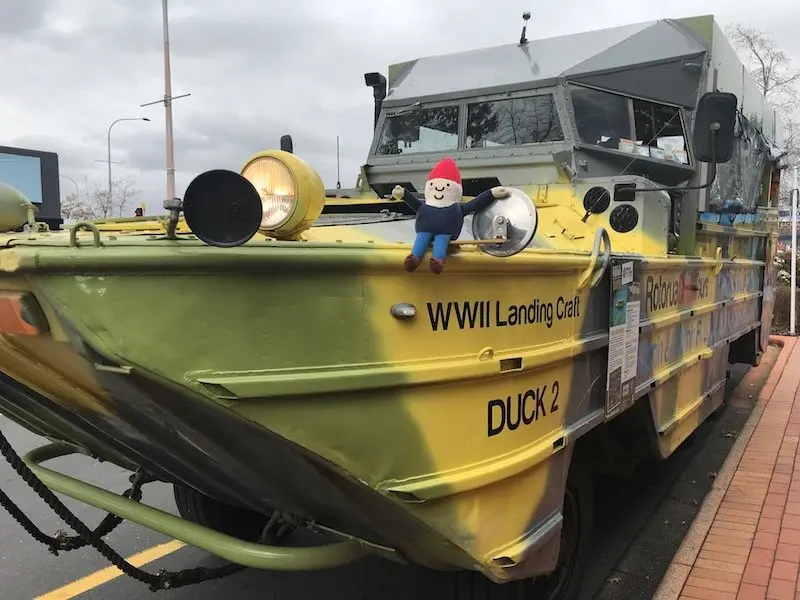 A Rotorua Lakes Tour on the WWII Landing Craft DUWK
If you are looking for a serious Rotorua Lakes tour, this might not be the tour for you.
But if you and your kids are amused by silly antics such as waving madly to passersby while quacking loudly on bright yellow duck whistles, partaking in theatrical singalongs, and being pumped for water landings with Mission Impossible tunes, then you are in the right place.
We LOVED it!
The Rotorua Duck Tours trip was without doubt the best tour we've taken in years.
We highly recommend it for families. The kids will never forget it.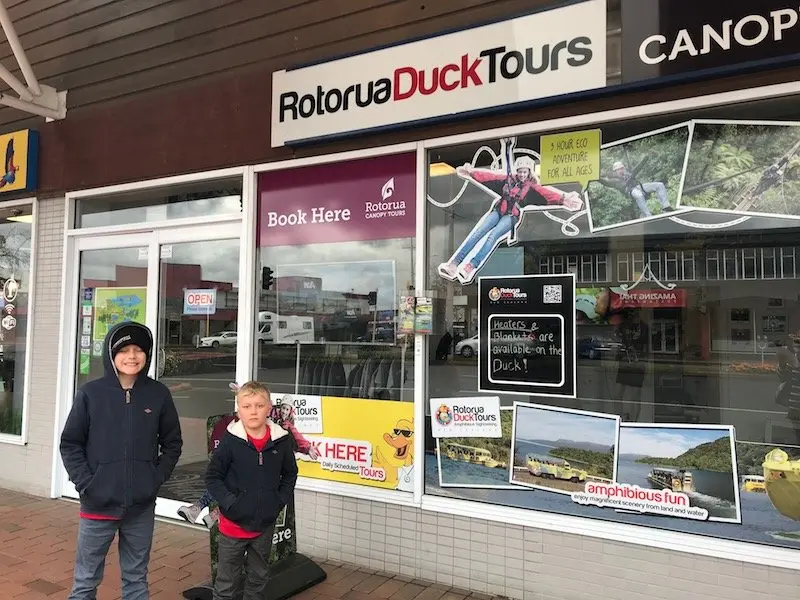 THE INSIDE SCOOP: Rotorua Duck Tour
Correct at time of publication on Roam the Gnome. Please check with venue for updates. We apologise in advance if there have been any changes we are unaware of. All tour prices in US dollars (or NZ dollars as stated)
Address: The Rotorua Duck Tours office is at 1241 Fenton Street Rotorua, New Zealand, 3040
Telephone: +64 7 345 6522
Email: [email protected]
Website: Click here
Rotorua Duck Tour Times
Rotorua City and Lakes Tour departs at:
11am, 1pm and 3.30pm during Summer (October to April) and
11am and 2.15pm in Winter.
The tour runs for 90 minutes.
The Tarawera & Lakes Tour departs at:
3.30pm in Summer (October to April) and
2.15pm in Winter.
The tour runs for 2 hours.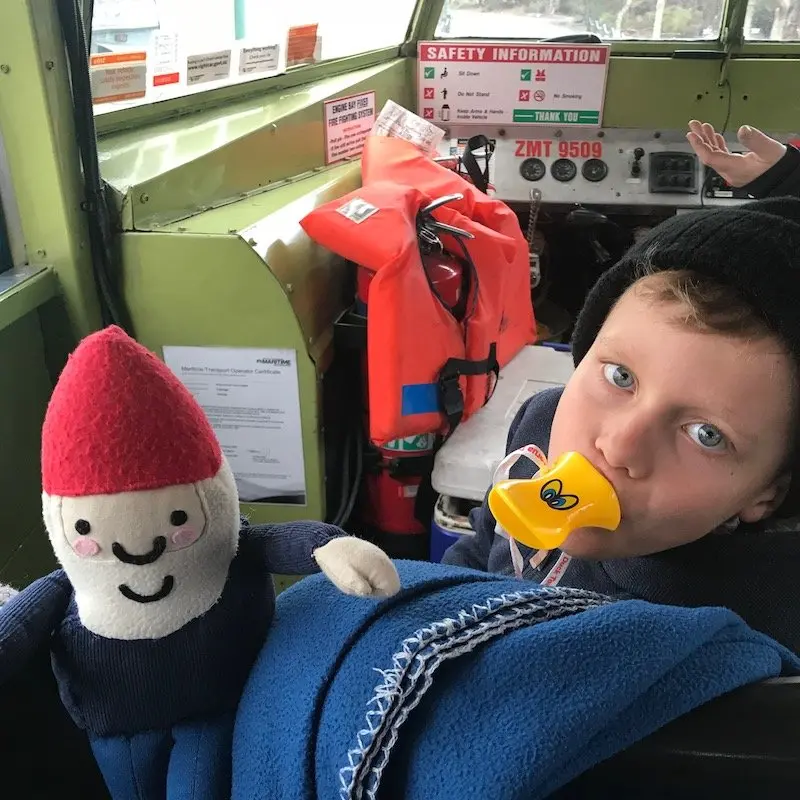 Rotorua Duck Tours Price
The Rotorua City and Lakes Tour we did costs:
Adults $75 NZ
Kids $50 NZ
Children under 2 FREE!
Family pass for 2 + 2 is $175 NZ (Save $75!)
Additional children $40 NZ
The Tarawera and Lakes Tour costs:
Adults $95
Kids $60
Family pass for 2+2 is $225 (Save $85!)
Rotorua Duck Tours Discount?
The Rotorua Superpasses DO include Rotorua Duck Tours.
Check the Rotorua Superpass discount passes out here.
Check the Rotorua Duck Tours Facebook page for seasonal discounts on offer from time to time.
How to get to Rotorua Duck Tours departure point
By Car/Taxi/Uber: Rotorua Duck Tours depart from:
the Rotorua Duck Tours office on Fenton Street, or
the Rotorua i-SITE Visitor Information Centre at 1167 Fenton Street just up the road.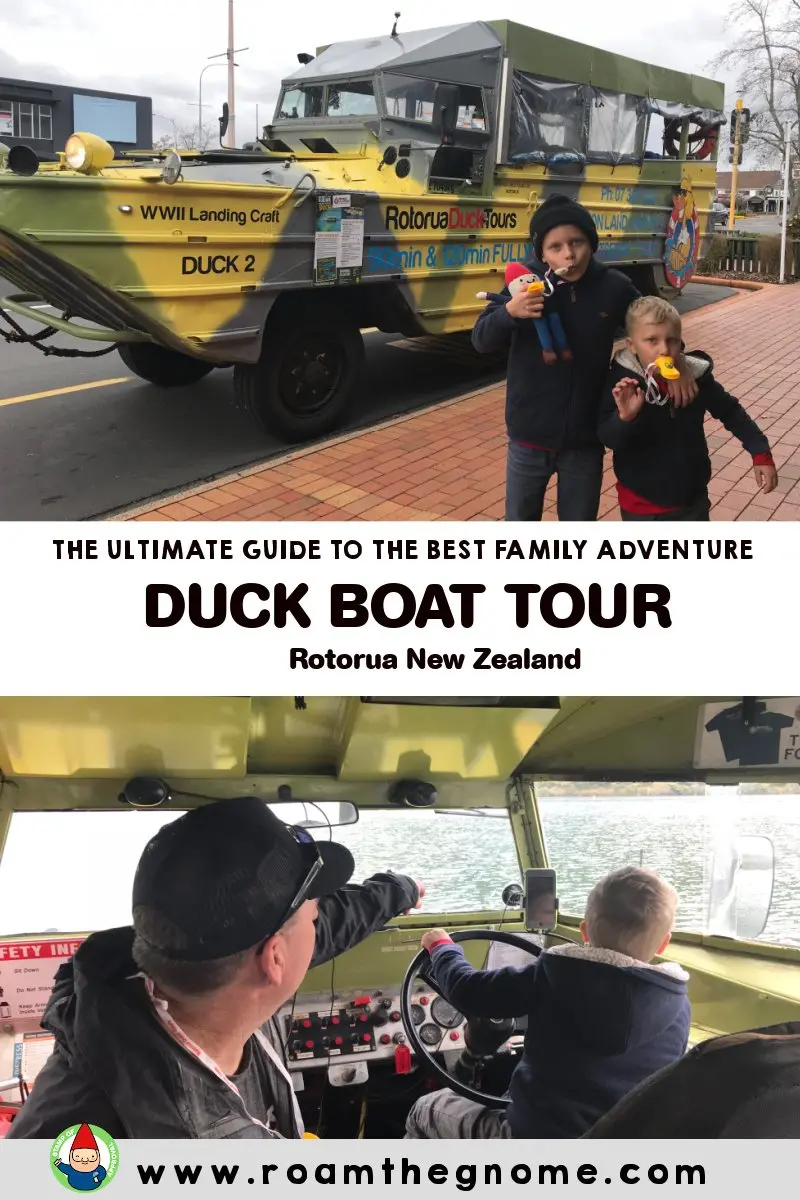 Rotorua Duck Tours Parking
There's paid parking available throughout the town.
Find free parking on the lake-side end of Hinemaru Street.
Map of Rotorua Duck Tours Office
Facilities
Nearest takeaway coffee and/or food options:
There's lots of cafes and food options around town.
BYO snacks and water bottles for the journey.
Toilets: Our tip – go before you ride. There are toilet facilities available mid-way on the tour, when the duck boat tours stop for a short break at the second lake.
Disability access: Customers need to be able to navigate the stairs on entry only.
Closest ATM: Many options in the CBD close to the office.
Closest playground: Cute playground next to the Rose Garden on Queens Drive, about 5 minutes walk from the office.
Dogs: No
Toadstool Rating- Rotorua Duck Boat Tours
Without doubt, the most fun tour we've ever taken with the kids!
Book it.

Looking for MORE SUPER DOOPER FUN Things to Do in Rotorua New Zealand?
Click the links in blue below for more Rotorua attractions