INSIDE: Everything you need to know about things to do in Tirau with Kids.
This is the strangest place you'll ever take a toilet break on a road trip in New Zealand.
It's the land of the giant sized corrugated iron Sheep and giant ram structures, who has a Giant Dog keeping an eye on them.
This is a Classic, crazy New Zealand tourist attraction but fun.
Big kids, little kids, even adult-sized kids will love the Big Dog, and the Big Sheep in New Zealand.
Dare you to drive by without taking a Big Attractions selfie.
(Taking a photo at all of the Big Icons in the world is a must-do! )
All the details of what you'll find at these big things in New Zealand, as well as MORE things to do in Tirau Waikato on the North Island below.
Disclosure: This article contains affiliate links. If you make a purchase after clicking on one of these links, we may receive a small commission at NO extra cost to you.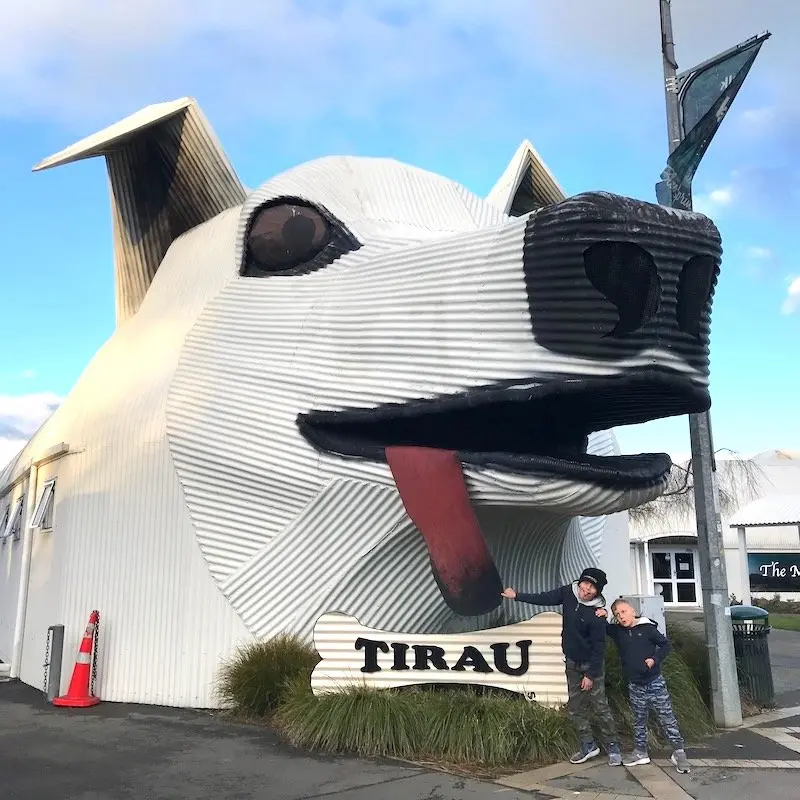 BEST THINGS TO DO IN TIRAU NEW ZEALAND
No.1: The Tirau iSITE Tourist Information Centre (alt the Tirau Dog!)
The Big Dog in Tirau is home to the Tirau iSITE Visitor Information centre.
There's a car park out back, and those toilets we were talking about earlier are in here too.
The old-school country town is the perfect place for a pitstop on your roadtrip from Auckland to Rotorua, or vice versa.
---
RELATED: Ultimate Guide to the BEST Things to do in Rotorua with kids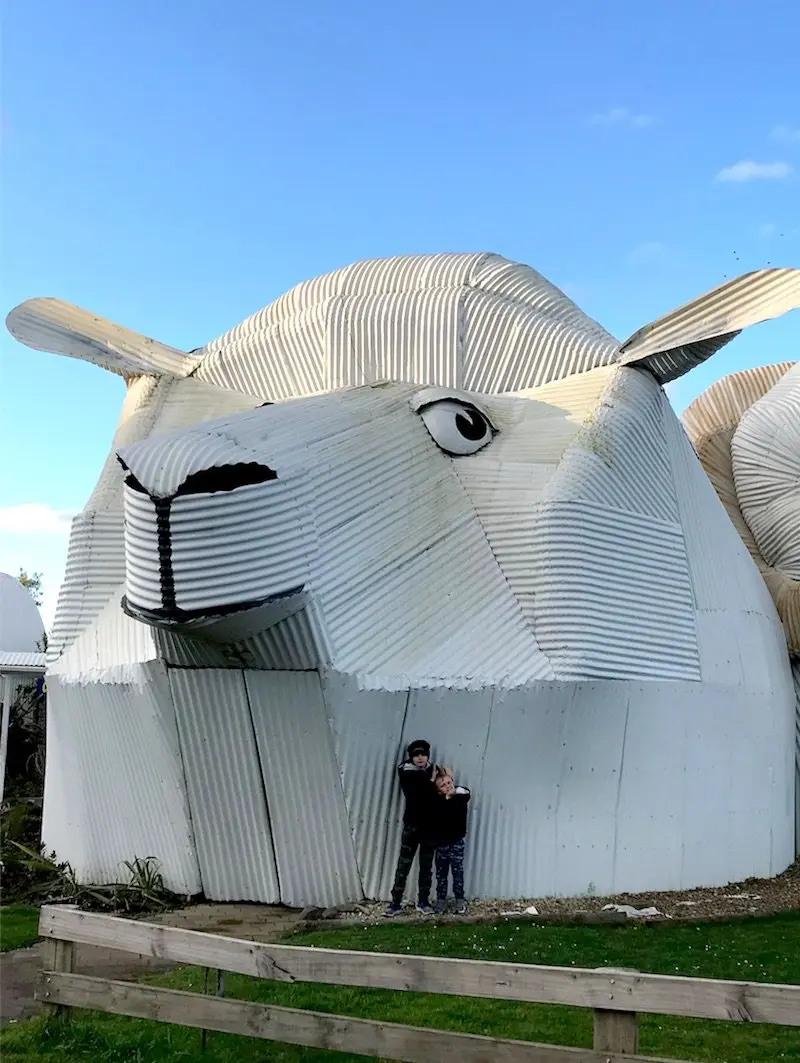 No.2: The Tirau Sheep Merino Clothes Shop
Inside the giant sheep is a shop called The Merino Story, selling the best of New Zealand woollen garments:
jumpers and jackets
ponchos
cardigans
shrugs
men's sweaters
headbands
woollen gloves
woollen beanies, and
throw rugs.
This shop is the ideal place to buy up big for authentic NZ made souvenirs to take home.
---
RELATED: Big List of the BEST New Zealand Souvenirs for Gifts & Mementos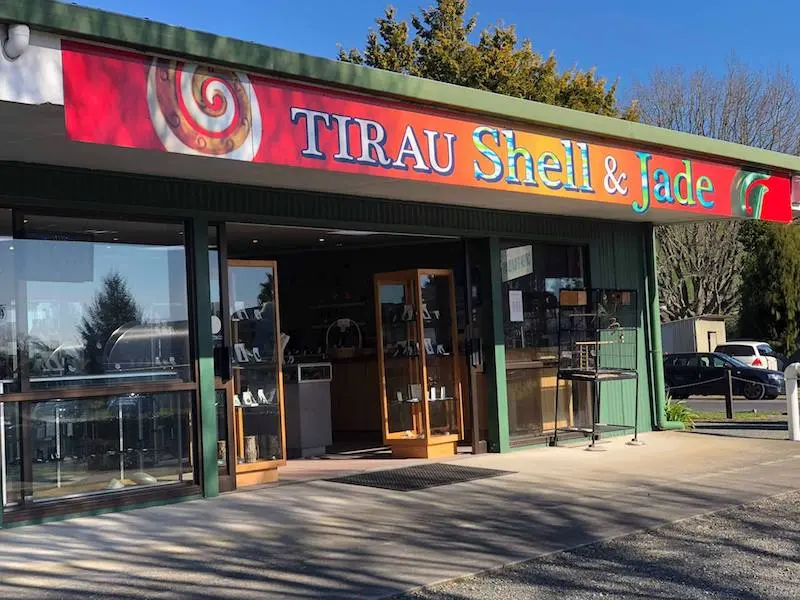 MORE Tirau Attractions in New Zealand with Kids
No.1: Tirau Shell and Jade Factory
For the kids, there's the Shell & Jade Factory for:
greenstone necklaces
Maori-carved jade pieces, and
paua shells.
No.2: The Castle Pamela (Now Closed)
Do not miss The Castle Pamela speciality museum, a marvel of New Zealand's largest doll, toy and train collection.
Yes. It's in a CASTLE!
Find it at 10 Bridge Street.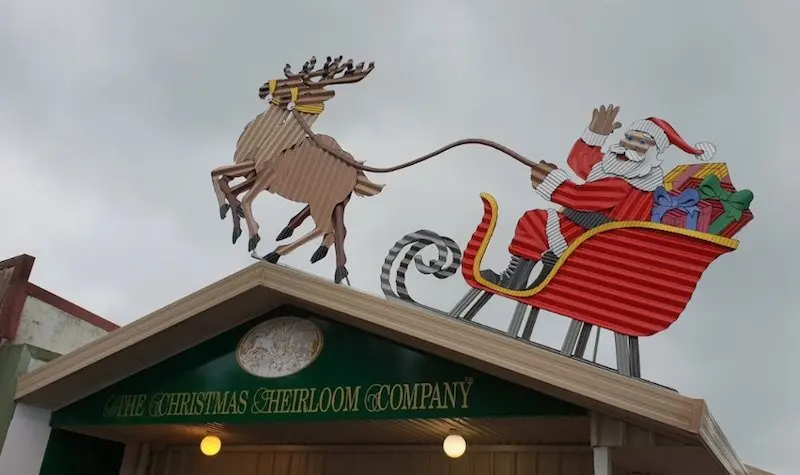 List of Tirau Shops NZ
Fashion, stylish New Zealand clothing, gifts and novelties – you'll find it all.
There's also a CHRISTMAS SHOP!
No.1: The Christmas Heirloom Company
There's no way we're walking by a Christmas store in Tirau.
This one is full of hanging decorations, lights, stockings, tree toppers, stylish Christmas trees, wreaths, garlands and flowers.
Book into a Wreath Making workshop while you are in town.
Find this one at 29 Main Road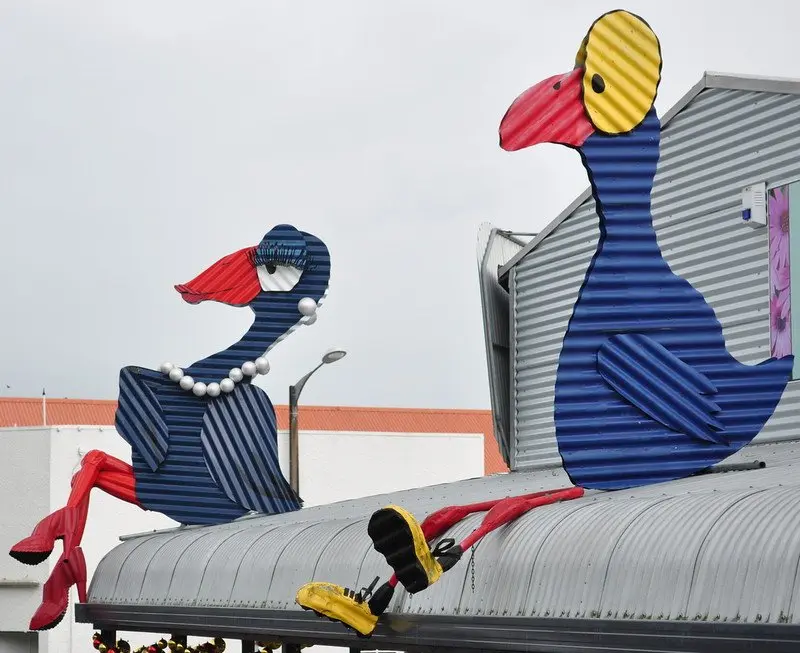 Image credit: Pukekoblue via Flickr CC BY-2.0
No.2: Trelise Cooper Designer Outlet store
Find Trelise Cooper dresses & accessories at a bargain price here.
Visit at Shop 1/1 Main Road
No.3: Ma and Pa's Second Hand Collectibles
You just never know what you'll find – fabulous shoes, funky jewellery, amazing jackets, or 70's style craft books.
Find it on Main Road
Best Tirau Homewares shops
Homeware lovers, beware.
This town has a whole bunch of shops selling gorgeous interiors, furniture, and eclectic homewares.
Notting Hill Interiors at 1 Hillcrest Street
Paisley House Tirau NZ Furniture and Home Interiors at 28 Main Road
Home Sweet Home store on Main Road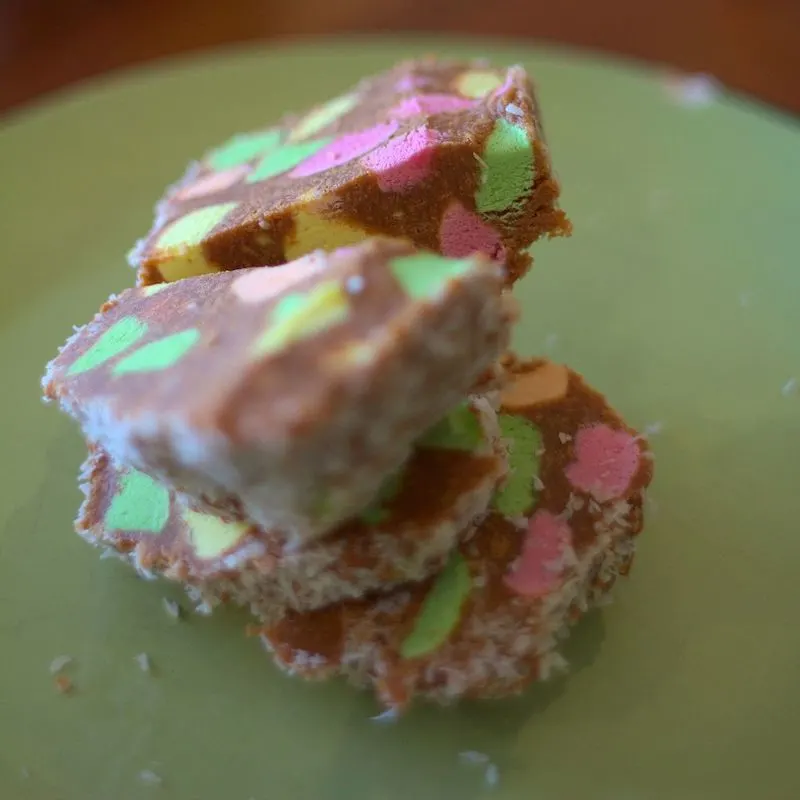 Image credit: Sean Neakums via Wikipedia CC BY-2.0
Tirau Cafes
There's a bunch of cafes along Main Road, including Poppys Cafe, Enchanted Cafe, or Cabbage Tree Cafe.
Grab a table at the one that has Lolly Cake in the cabinet!
No.1: La More Sweets and Ice cream
Stop in for a sweet treat – British or American sweets, homemade fudge, or delicious ice cream in a cone!
Hot tip: Ask to try a fudge sample before you buy, just so you know you are buying the right flavour of course!
No.2: Over the Moon cheese
If you love cheese, do not drive off from this area with visiting the Over the Moon boutique cheesemaking factory at 33 Tirau Street in Putaruru nearby.
Pick up a washed rind, a truffle brie, or the new Sheep Havarti cheese.
Or if you can't choose, grab a hamper and try them all.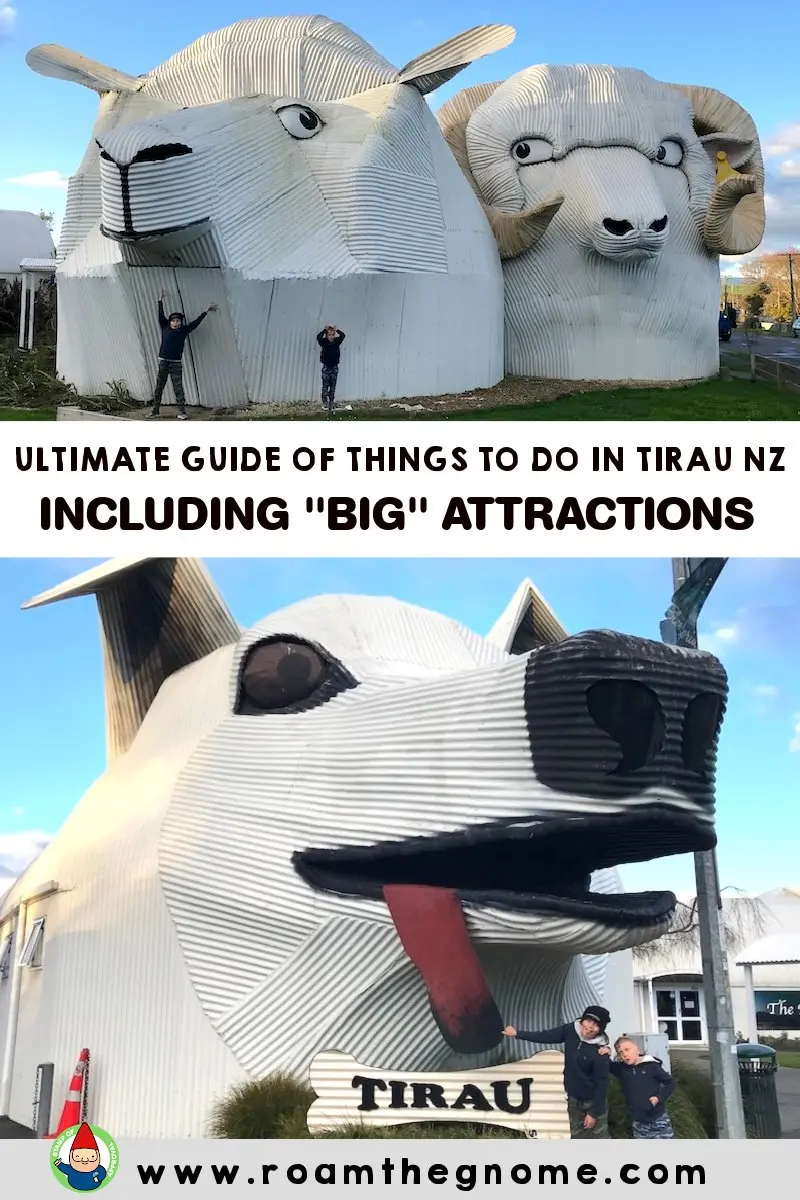 THE INSIDE SCOOP: Tirau, New Zealand
Correct at time of publication on Roam the Gnome. Please check with venue for updates. We apologise in advance if there have been any changes we are unaware of. All prices in NZ dollars (or US dollars as stated)
i-SITE Visitor Centre Address: 65 Main Rd, State Highway 1
Telephone: 07 883 1202
Where is Tirau in NZ?
Half way between Hamilton and Rotorua, on the North Island
How to get to Tirau NZ
By Car: Click here for google map directions
Tirau to Taupo
Taupo is 1 hour and 10 minutes south, via State Highway 1
Tirau to Hamilton
Hamilton is 50 minutes north west of the town, via State Hwy 1
Tirau to Rotorua
Rotorua is 40 minutes east of this quaint spot, via State Hwy 5
Tirau to Auckland
It takes 2 1/4 hours by car from Auckland to here, via State Hwy 1
Where is Tirau on map?
Frequently Asked Questions
No.1: What is the correct Tirau pronounciation?
Wondering how to pronounce Tirau? You are not alone.
Ti- Row (as in "round", not "row" the boat)
Click here to hear it sounded out.
No.2: What does Tirau mean?
It means place of many cabbage trees in Maori language.
Toadstool Rating – Things to do in Tirau
A fun New Zealand town to explore for half a day.

Looking for More Things to Do in New Zealand for Kids?
Click the links in blue below for more Rotorua attractions