INSIDE: Everything you need to know about Skyline Rotorua luge deals & discounts!
Whatever you do, DO NOT MISS riding the Luge at Skyline Rotorua.
A world-first activity, a race on a Skyline Luge down the hillside twists and turns tops our list of the best things to do in Rotorua with kids of all ages.
5 million people can't be wrong!
Hot tip: Save money with Skyline Rotorua luge & gondola family discount deals.
Find all the details of this epic adventure below.
Disclosure: This article contains affiliate links. If you make a purchase after clicking on one of these links, we may receive a small commission at NO extra cost to you.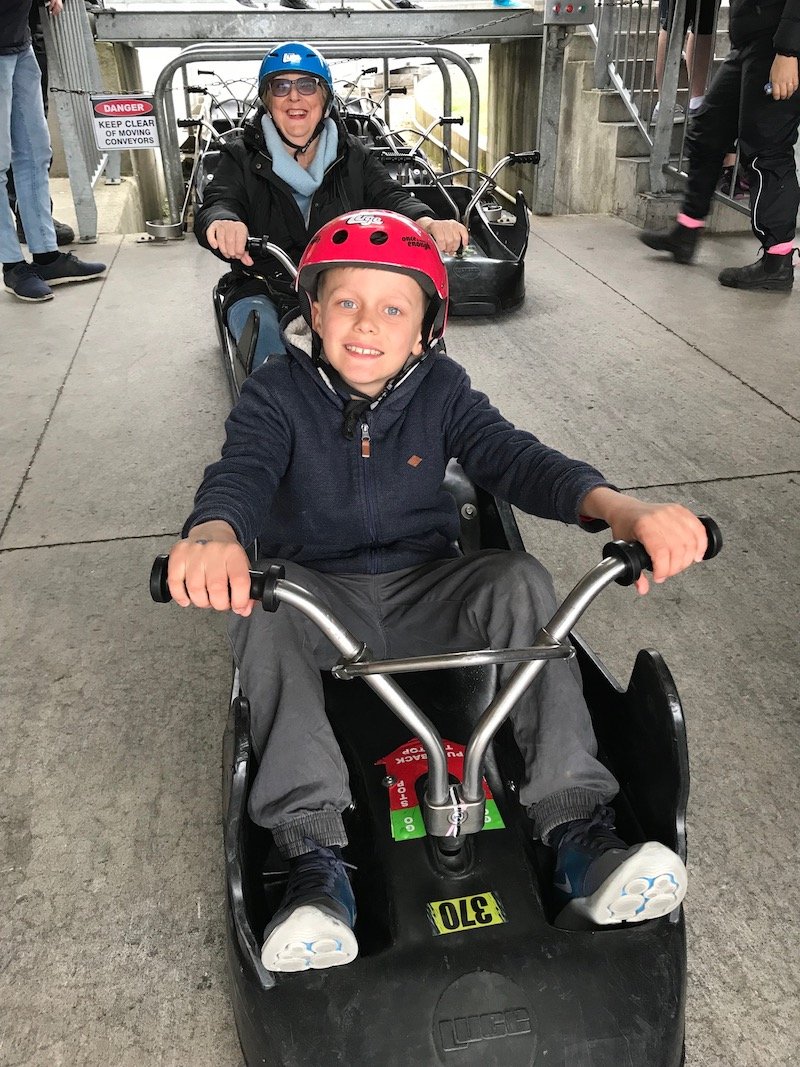 Guide to BEST Rotorua Luge Deals at Skyline
Correct at time of publication on Roam the Gnome. Please check with venue for updates. We apologise in advance if there have been any changes we are unaware of. All prices in NZ dollars (or US dollars as stated)
Did you know there's discount luge Rotorua deals for families, with a gondola ride up dormant volcano, Mount Ngongotaha included in the price.
As a guide, we bought the Family Pass – a Family Gondola ride for the whole family, plus two luge rides each, for $107 NZ for 2 adults and 2 kids.
The second go, Jack rode tandem with me.
(Holding onto the luge steering wheel and brakes was tough work for his little hands, so once down on the luge alone was enough.)
Consequently, we had one extra ticket to use up.
I queued with Ned, ready to send him down alone for one last trip, but they let both of us ride.
Thanks Skyline team!
---
RELATED: Big Guide to the Best Things to do in Rotorua for families & kids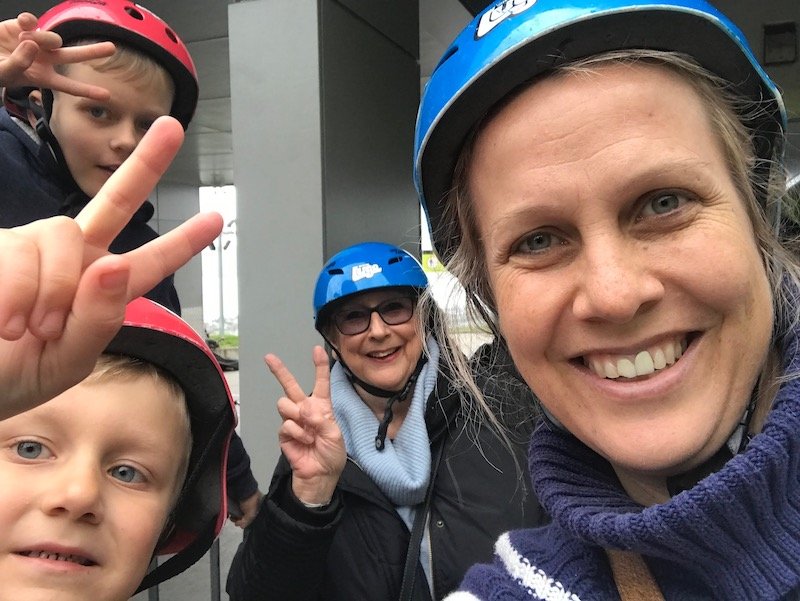 Skyline Luge Discount for families
Here's a list of the other good Rotorua Luge Deals for families.
Family Gondola tickets (gondola only)
Family of 4 $87 NZ
Family of 5 $100 NZ
You can also buy Rotorua Luge Family Tickets through Klook
Rotorua Gondola ticket and 1 luge ride
Rotorua Gondola ticket and 3 luge rides
Rotorua Gondola ticket and 5 luge rides
Please note these terms for Family Luge Deals.
A Family of 4 includes 2 adults and 2 children.
A family of 5 includes 2 adults and 3 children.
Children are 5-14 years.
Infants are under 5 and are free of charge.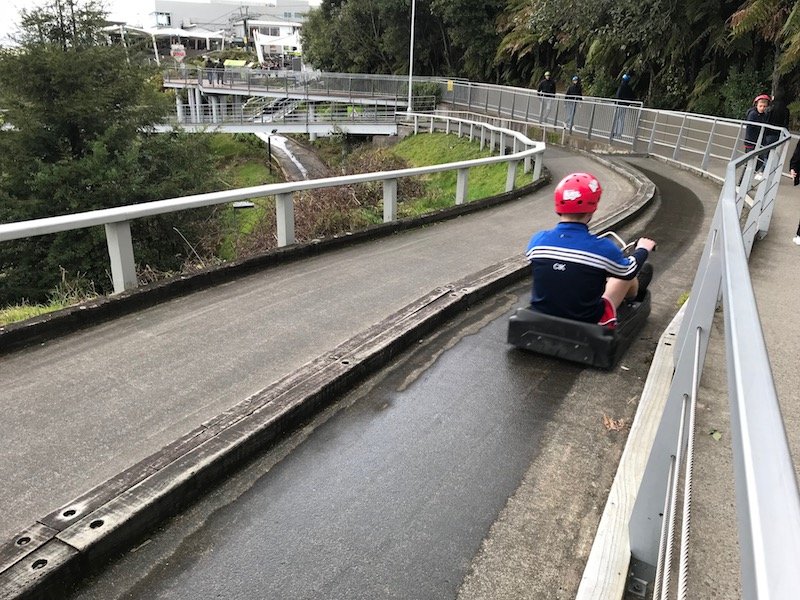 Best Luge Deals Rotorua
The more you ride, the more you SAVE!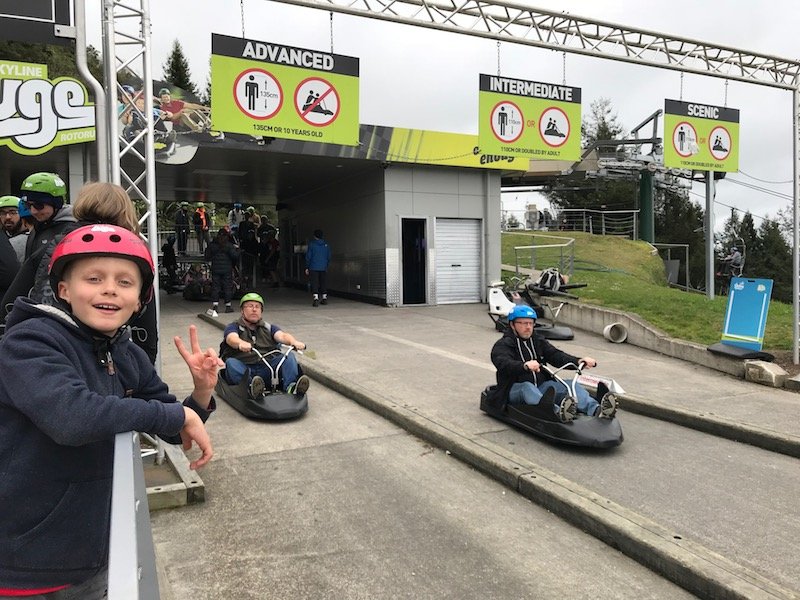 Fun at Skyline Luge Rotorua
Luge riding is a gravity-fuelled adventure for all ages.
There's three tracks – scenic, intermediate and advanced – so you can go as fast, or as slow, as you want to!
You, and your braking system, are in charge.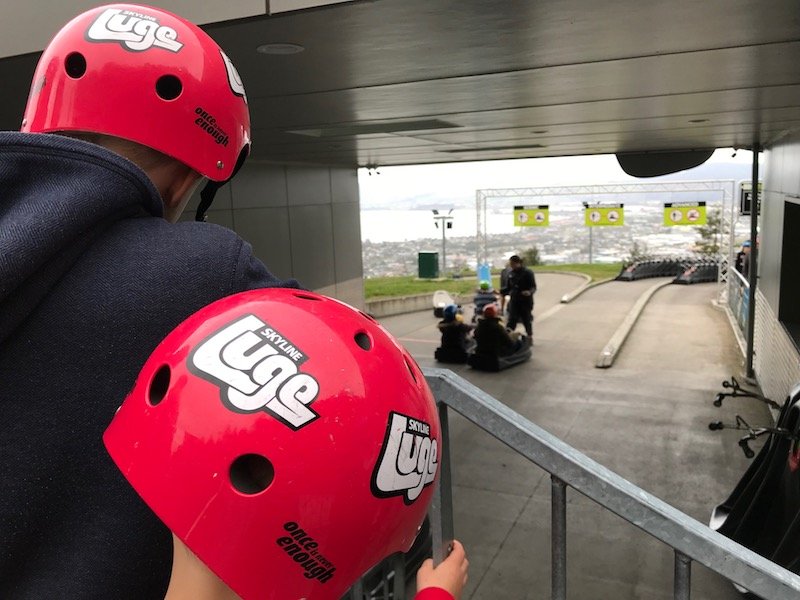 5km of Tracks
Drive, twist and turn along 5km of tracks with:
epic corners
lifts
tunnels and
dippers.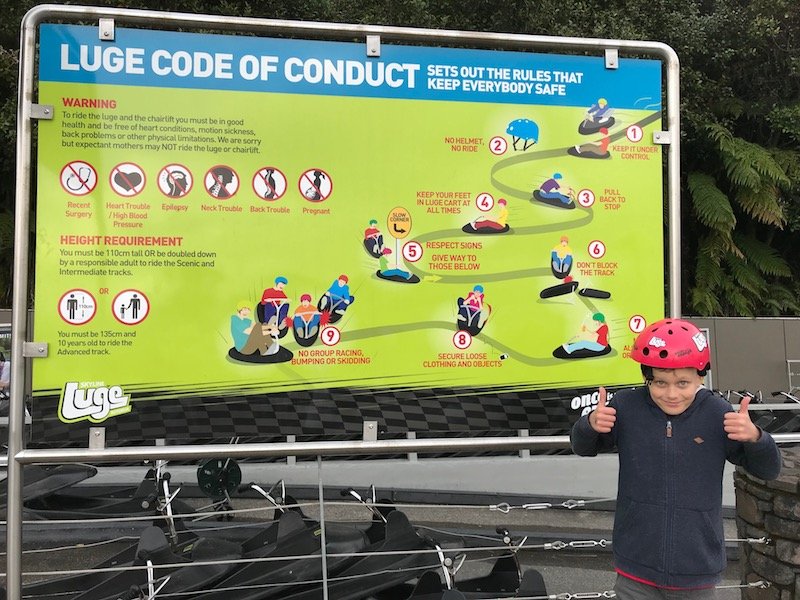 Rotorua Luge Scenic Track
I loved the Scenic track the most.
It may not be as fast, but Jack and I laughed the whole way down!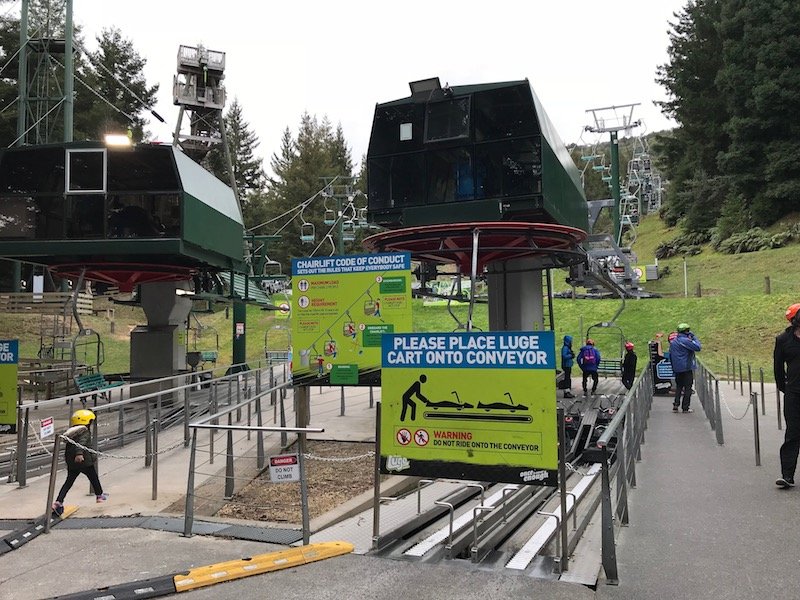 The Rotorua Luge Chairlift
The Rotorua downhill luge ride is super fun, but there's only one way back to the top, via chairlift.
Let me say this – if you are afraid of heights, hang on tight and close your eyes.
Hold tight to your wriggly little ones too.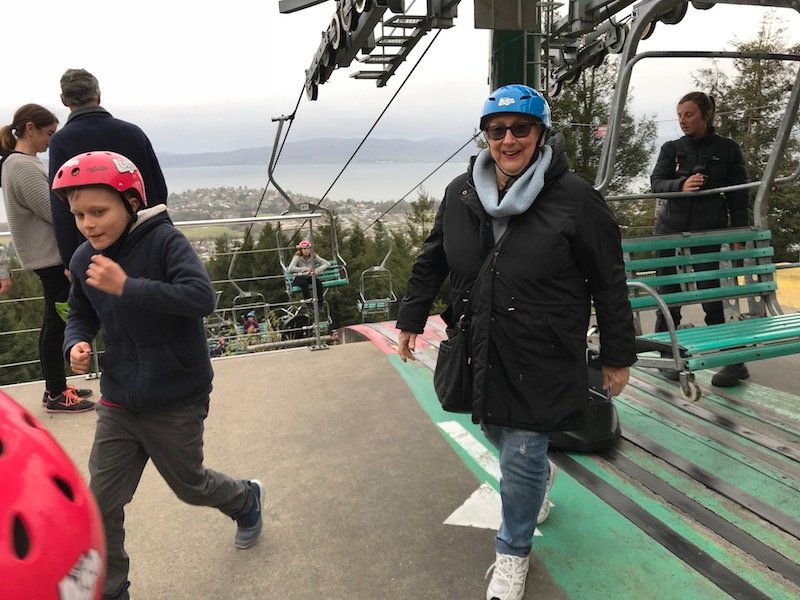 Rotorua Luge Chairlift exit
Cleverly, and thankfully, you don't see the sheer, steep drops until it's too late.
There's nothing to do but slow your breathing, and put all your effort into staying calm.
Avert your eyes from the dropped helmets along the way!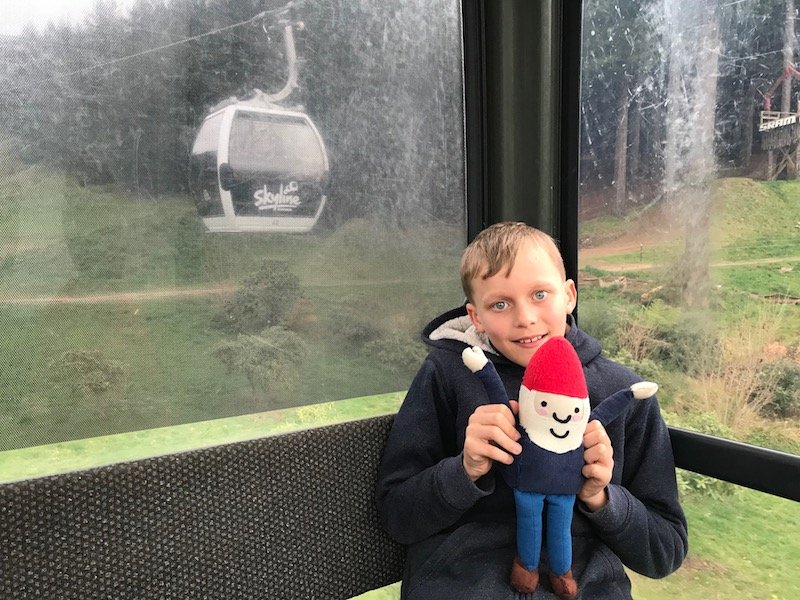 MORE Fun Things to do at Skyline Gondola and Luge
It's easy to spend half a day at Skyline Rotorua once you've taken the Skyline Gondola to the top.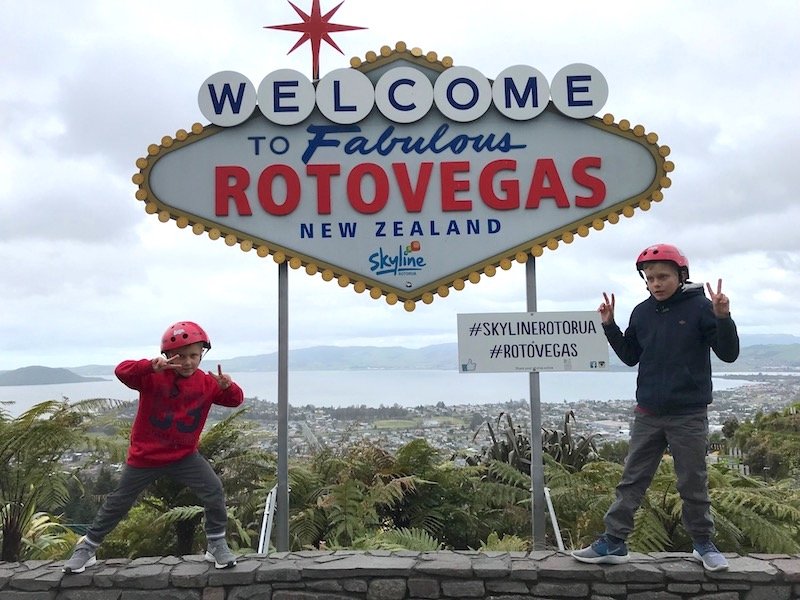 RotoVegas!
It's the entertainment capital of Rotorua.
No.1: Zipline Rotorua
Soar 400 metres along dual ziplines.
Race your friends over the canopy, and finish with a free fall jump!
No.2: SkySwing Rotorua
Ride with friends on the 50 metre high Skyswing. Take in the view.
The release button is in your hand!
No.3: Skyline Stargazing Tour
Stargaze at night.
Join the Skyline Stargazing Tour and check out all the planets through powerful telescopes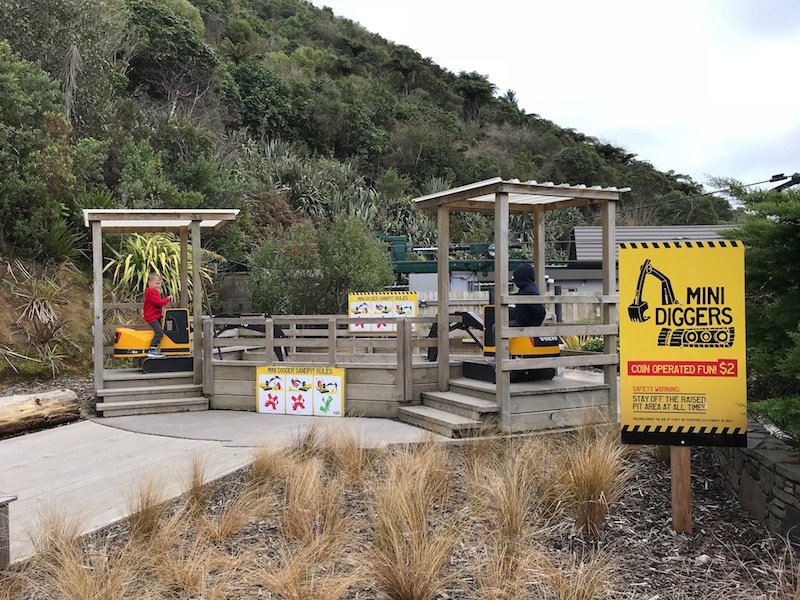 No.4: Mini Diggers
Play on the Mini Diggers.
$2 NZ a pop.
No.5: Jelly Belly Rotorua NZ Store
Check out the Mona Lisa painting made from over 18,000 jelly beans at Jelly Belly Rotorua.
(Take a sneak peek inside the shop here.)
No.6: Shop for Kiwiana gifts
Shop for Kiwiana souvenirs at iNZpired, the store.
No.7: MTB Gravity Park Rotorua
Ride mountainbikes in the MTB Gravity Park on 14 mixed grade trails for everyone from beginner to pros.
There's 10km of tracks, a 2km jumps trail, and a downhill line.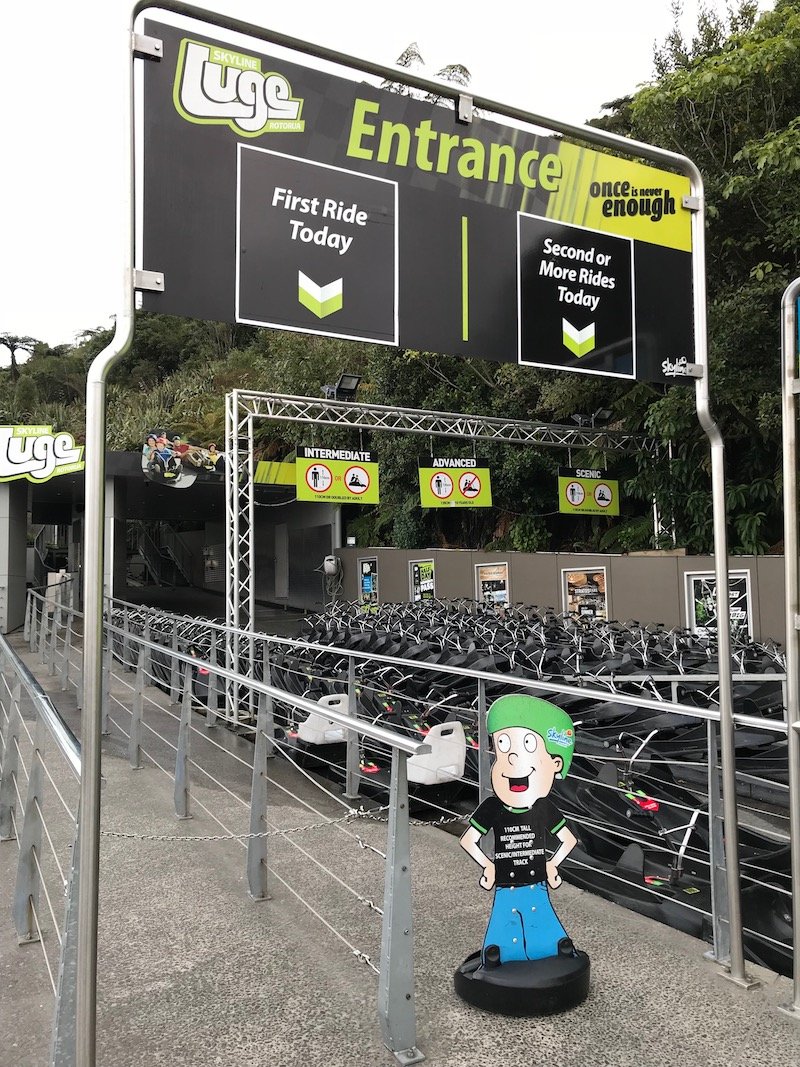 Where to eat at Skyline Gondola and Luge?
Hungry after a big day adventure?
Head to the Skyline Rotorua restaurant and cafe.
No.1: Skyline Market Kitchen Cafe
Enjoy hot chocolate, coffee, pizza, pies and pastries at Market Kitchen Cafe.
Open from 9am for breakfast.
No.2: Stratosfare restaurant
Eat a buffet lunch or dinner at the Skyline restaurant, Stratosfare.
Open for lunch from 11.30am and dinner from 5.30pm. Bookings essential.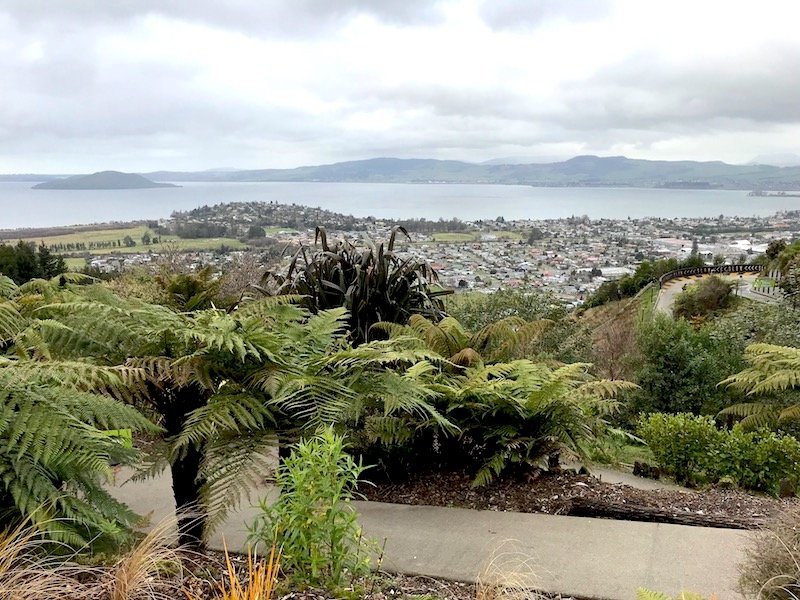 THE INSIDE SCOOP: Skyline Rotorua Luge Prices
Address: The Skyline Luge in Rotorua is located at 178 Fairy Springs Road, Rotorua New Zealand in the North Island.
Telephone: +64 7 347 0027
Email: [email protected]
Website: Click here
Luge Rotorua Opening Hours
NB: Rotorua Luge opening hours are season dependent.
9am daily – 5.30pm Sunday to Friday
9am to 8pm Saturday nights only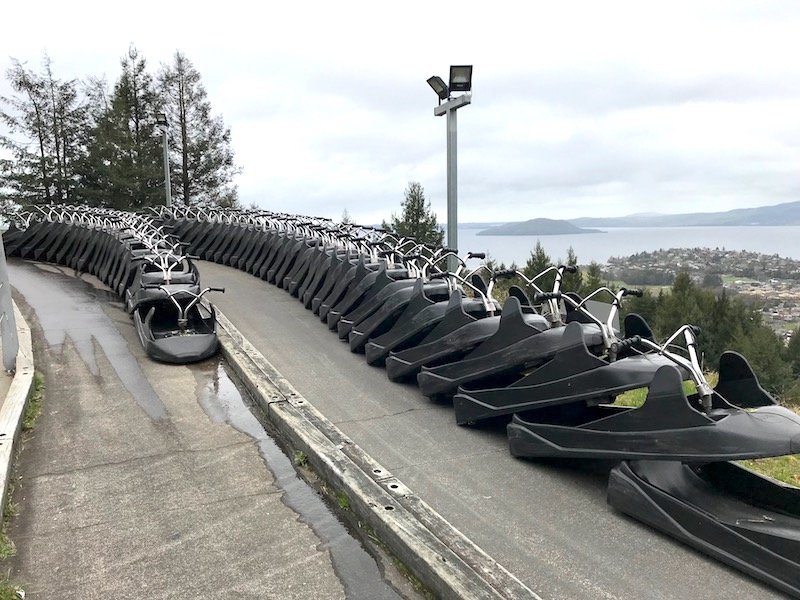 The Luge Rotorua Prices
Click here for the full list of prices for Rotorua luge, gondola, and restaurant deals.
Skyline luge rates for a gondola and one luge ride start from $50 NZ for adults, and $33 NZ for kids.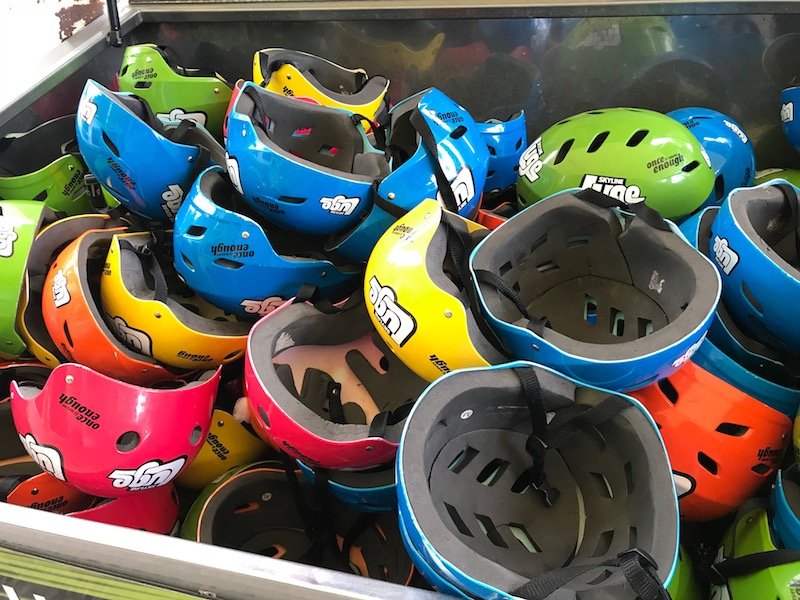 Rotorua Luge Parking
Plenty of free car parking at the entrance of Skyline Rotorua.
Facilities
Toilets: Yes, including baby change table
Disability access: Limited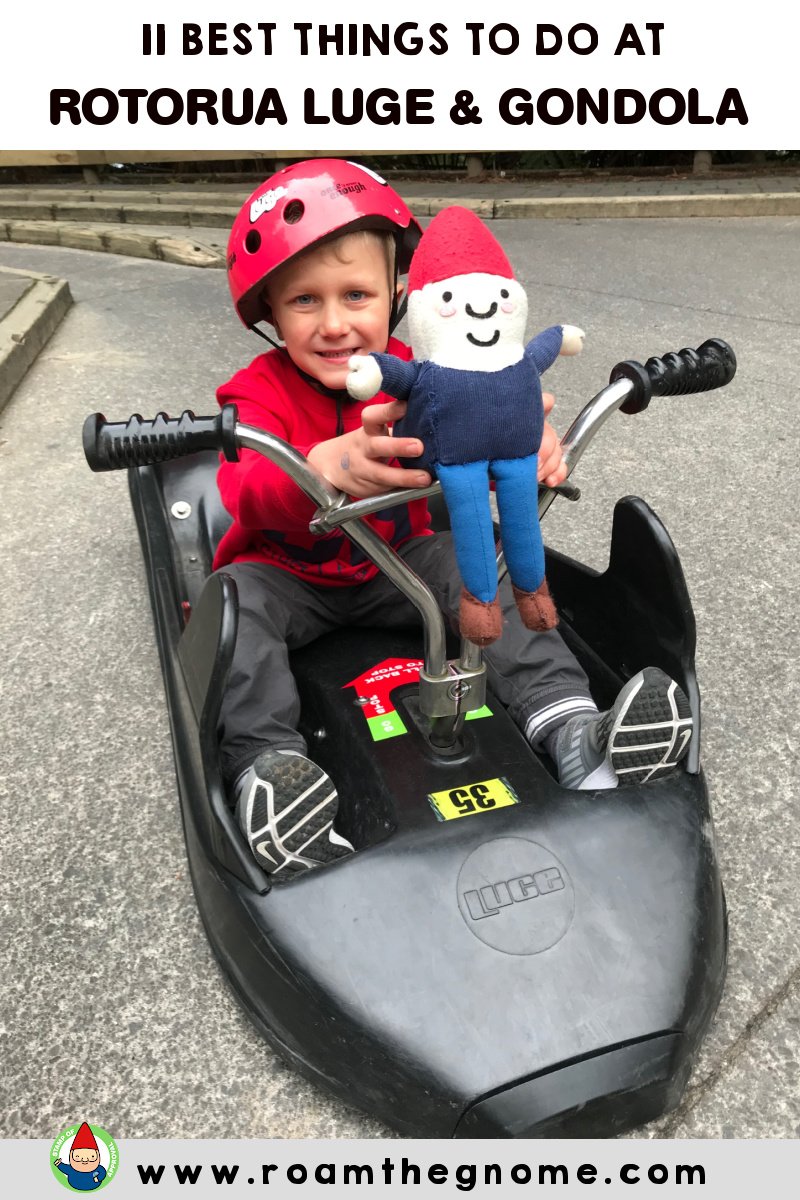 Toadstool Rating: Skyline Luge Rotorua

Looking for MORE SUPER DOOPER FUN things to do in Rotorua New Zealand with Kids?
Click the links in blue for more Rotorua ideas below.