INSIDE: Everything you need to know about Bach Style Rotorua Family Accommodation.
Have you ever wondered who wins competitions?
Me too.
So I'm now super happy to report that winning competitions is possible.
It's not just that friend-of-a-friend-of-a-friend who wins epic travel adventures.
It happens to people you know, including us.
YES!
We won TWO NIGHTS of Rotorua Family Accommodation at a cool bach house!
Plus entry to three awesome things to do in Rotorua, thanks to our fellow travel blogger friends at Travel Mad Mum via Instagram.
So what's a Girl and her Gnome to do?
Book flights, that's what.
(AUD $200 return per person from Gold Coast to Auckland, thanks to a super dooper sale at our favourite Australian low-cost airline Jetstar.)
Take a sneak peek at where we stayed below.
Disclosure: This article contains affiliate links. If you make a purchase after clicking on one of these links, we may receive a small commission at NO extra cost to you.
---
RELATED: Ultimate Guide to the BEST Things to do in Rotorua with toddlers, kids & family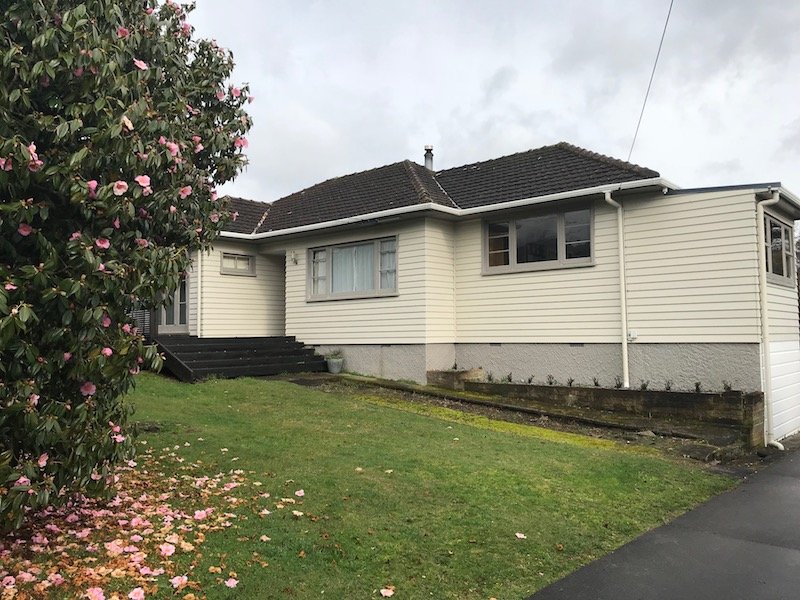 Guide to Family Accommodation Rotorua Bach Style!
Redwoods Retreat family accommodation in Rotorua can be booked through BookaBach website.
They are accommodation providers with a difference, offering a selection of what New Zealanders call 'baches' or holiday homes to families travelling to Rotorua.
A family friendly Bach rental in Rotorua is for people who want something a little more like home than what a regular hotel, motel or cabin in a caravan park can offer.
We stayed at Redwoods Retreat, metres from the Redwood Forest, but there are Bach houses to suit all kinds of families.
How to Book Bach house accommodation in Rotorua?
Take a look at the collection of bach houses available for families on Book a Bach Rotorua
The hardest decision when you want to book a bach in Rotorua is choosing which one suits best!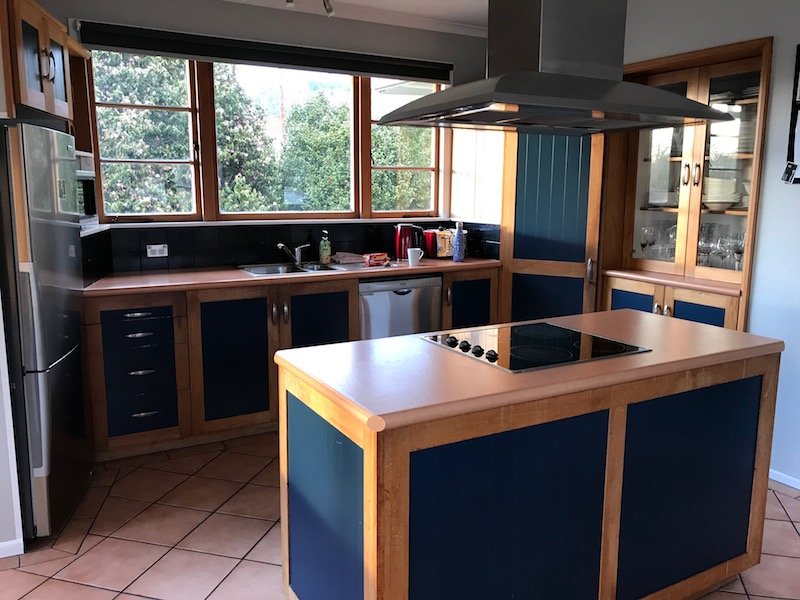 The Perfect Bach in Rotorua
Booking a Bach in Rotorua (or New Zealand in general) gives mums and dads and extended families way more flexibility than other accommodation options.
A kitchen to cook in if you want to, helping families to stay on budget and avoid expensive restaurant bills.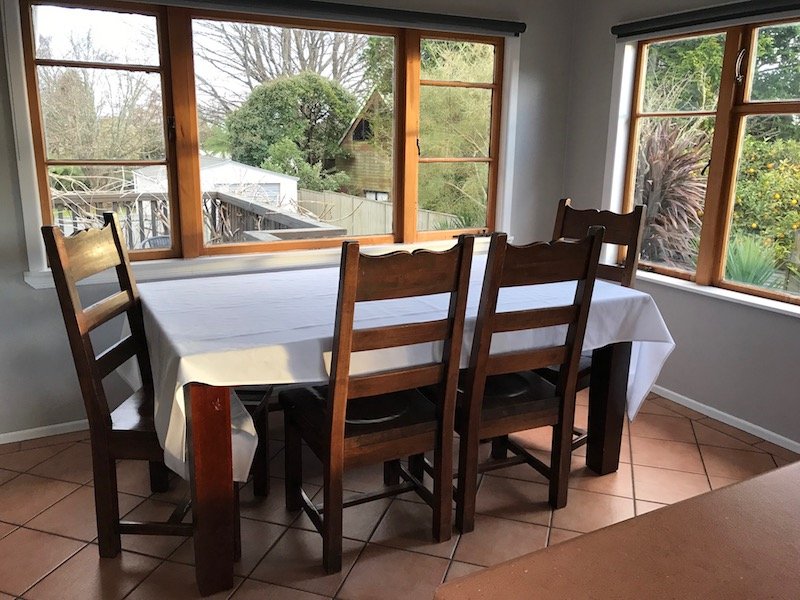 Inside Redwoods Retreat Bach Rotorua
Somewhere to eat
A dining area with table and chairs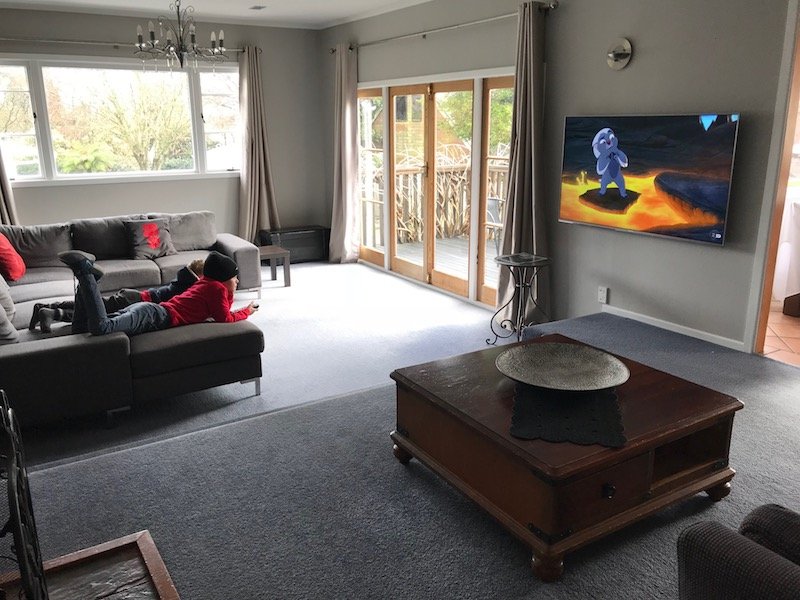 A Sunken Lounge room
Our Bach, Redwoods Retreat, had a carpeted sunken lounge (helping to keep our tootsies warm), a wood-fueled fireplace, and a vine-covered nook to eat breakfast in the morning sun.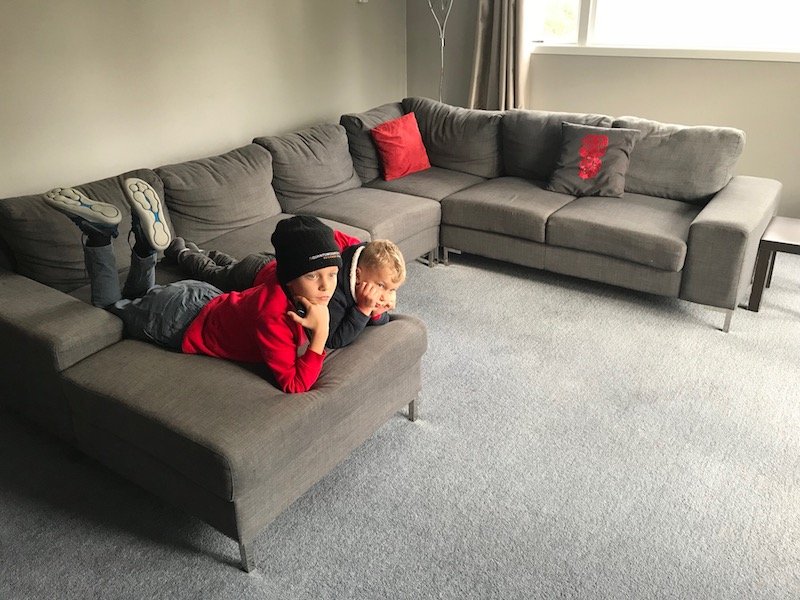 Entertainment for families
This comfy full-size lounge room was filled with entertainment for all the family, including:
books
boardgames, and
a big screen TV.
Bedrooms
Redwoods Retreat Rotorua has three bedrooms, and two bathrooms.
A bathroom, often with a bath, is ideal for families with babies and toddlers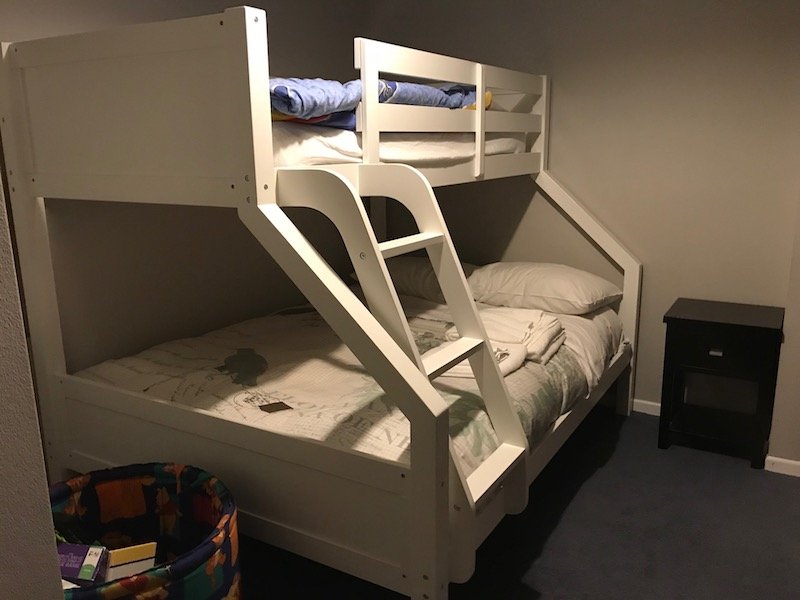 Bunk Beds
One of the rooms had a set of bunkbeds to sleep three.
The whole house sleeps seven.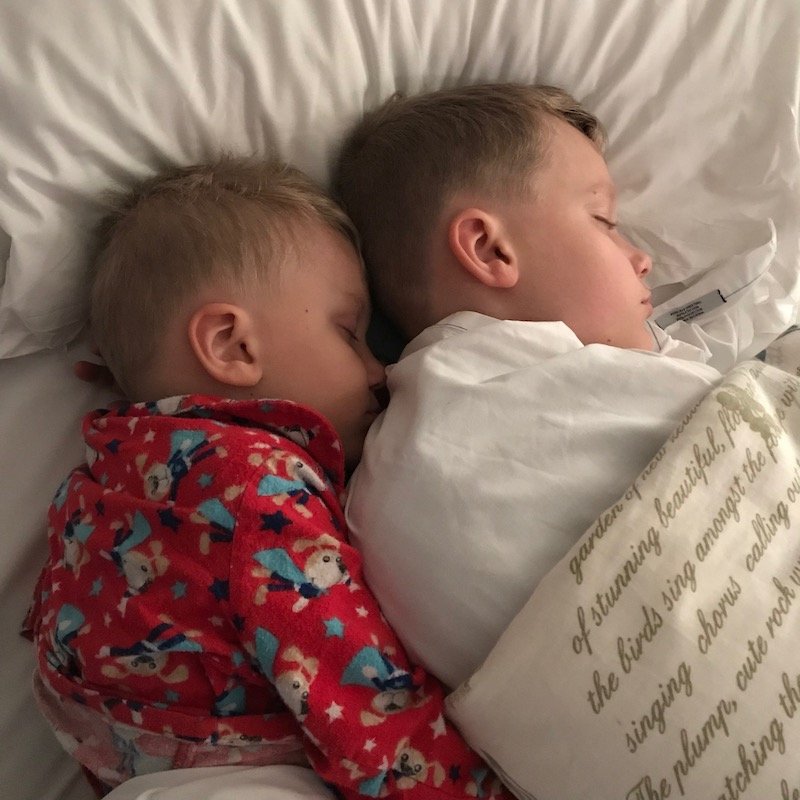 There were three in the bed!
No matter how many beds or bedrooms there are, these boys always end up together, in bed, next to me.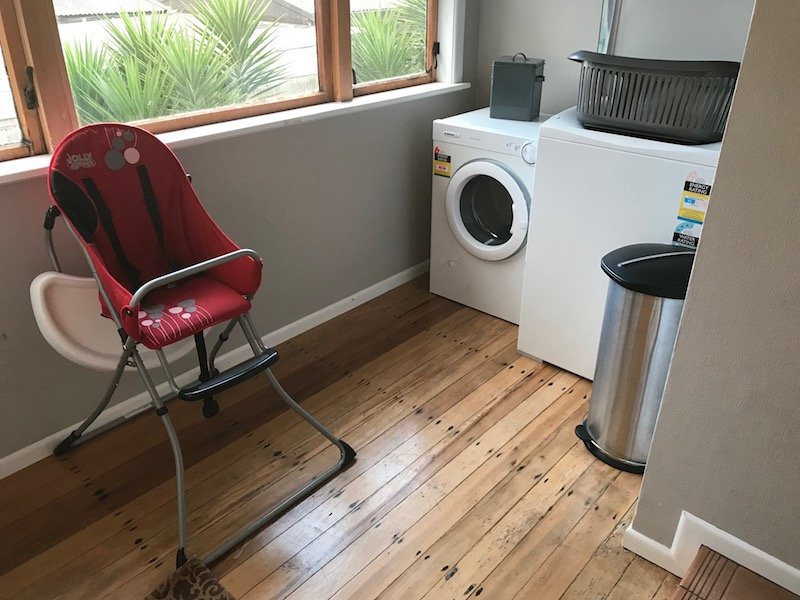 Baby Equipment
Plus, most bach houses for rent in Rotorua have baby stuff to use.
Redwoods Retreat has a high chair, and you can request a cot too.
Hot tip: There's no extra charge for the under 2's at Redwoods Retreat either. Just let them know when you book.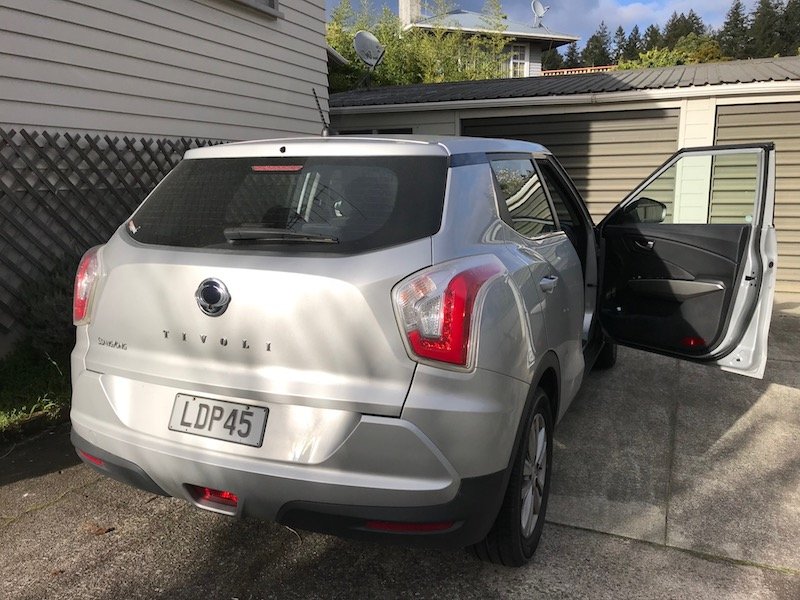 Outdoor space
There's usually somewhere to park the car for free, or take part in a game of handball with the kids at the end of a busy day.
Or a grassy spot for lazy picnics, or family wrestles.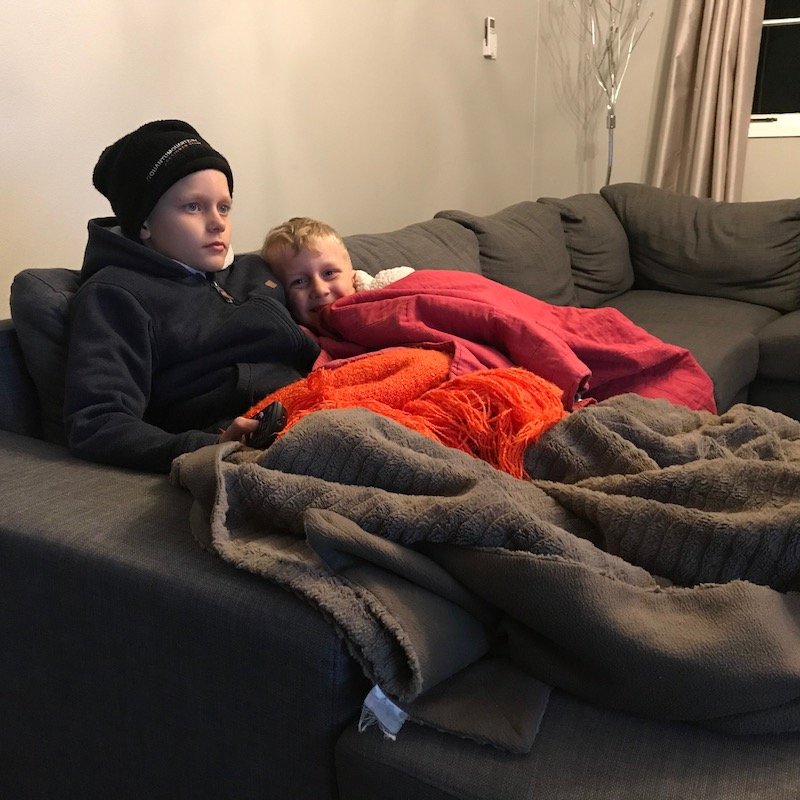 Blanket Box provided!
But it was the BLANKET BOX that sold us on this bach accommodation in Rotorua.
What hotel would ever have a blanket box?
We loved all the comforts of home in this Rotorua family accommodation, but mostly, that there was professionally-laundered hotel quality linen and towels provided in the price.
I am NOT a fan of lugging my bedding or towels on holiday.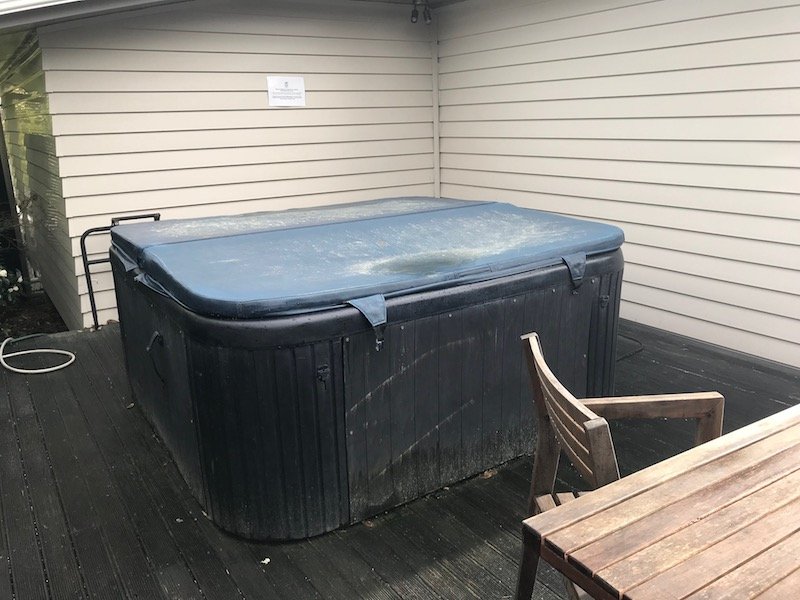 Rotorua Accommodation with Private Spa Pool!
If you are super lucky, like we were, the Bach house you book might even have a HOT TUB on the deck!
The private spa pool there is permanently heated throughout the day and night, so all you have to do is take the lid off, and jump right in.
Some bach houses have heated swimming pools too.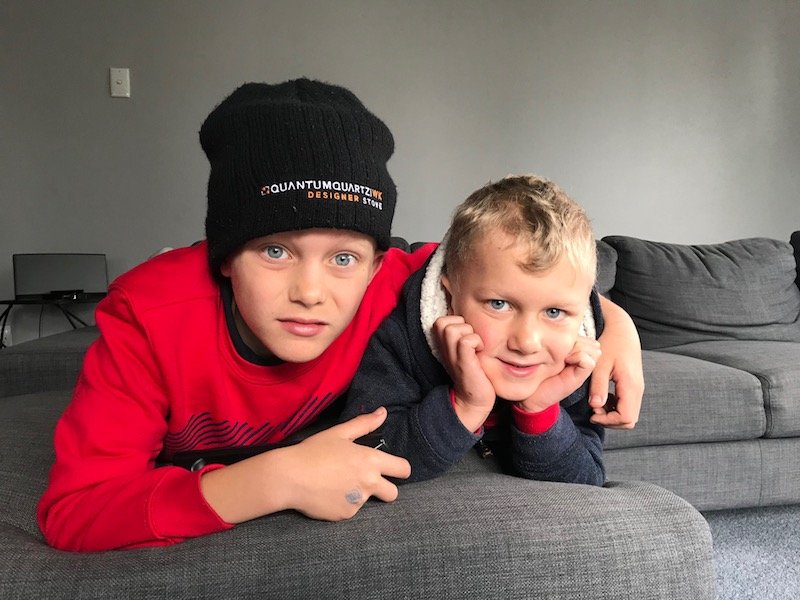 That's one tired kid on the left!
Awesome Rotorua attractions!
We ran out of time to try it this time round, because there's SO many super exciting and fun Rotorua family activities to do, as you can see by Ned's exhausted face above, but we'll be back.
Hot tip: You really need AT LEAST TEN DAYS in Rotorua to do them all. Three full days was no way near long enough.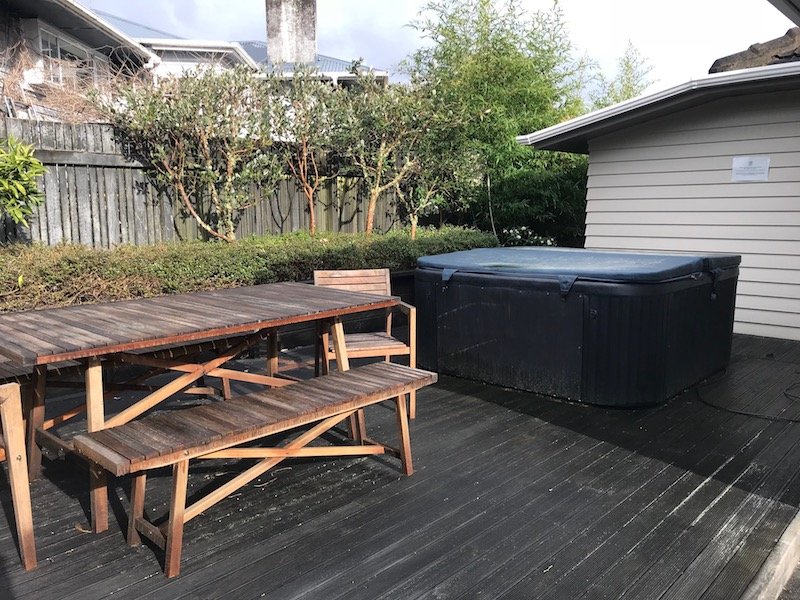 Cheap Accommodation in Rotorua for family stays?
Is hiring a Bach in Rotorua a cheaper option for families?
If you are looking for cheap accommodation in Rotorua for family stays, a bach might not be your answer.
The cost is comparable to hotel rates per night, so not necessarily a money saver, BUT the extra space means you can spread out and relax, helping to stop, or at least limit, sibling squabbles.
Plus the LOCATION, close to local supermarkets and non-touristy cafes, can save you money in the long run.
Given the choice, the chance to stay in a family-style home trumps a hotel stay most days.
(Edit for honesty: Access to kids club at one of Rotorua's family hotels might sway our decision!)
Hot tip: Be sure to bring all your NZ chocolate supplies, and wine. It's not so easy to duck out to a convenience store when you're not staying in a city hotel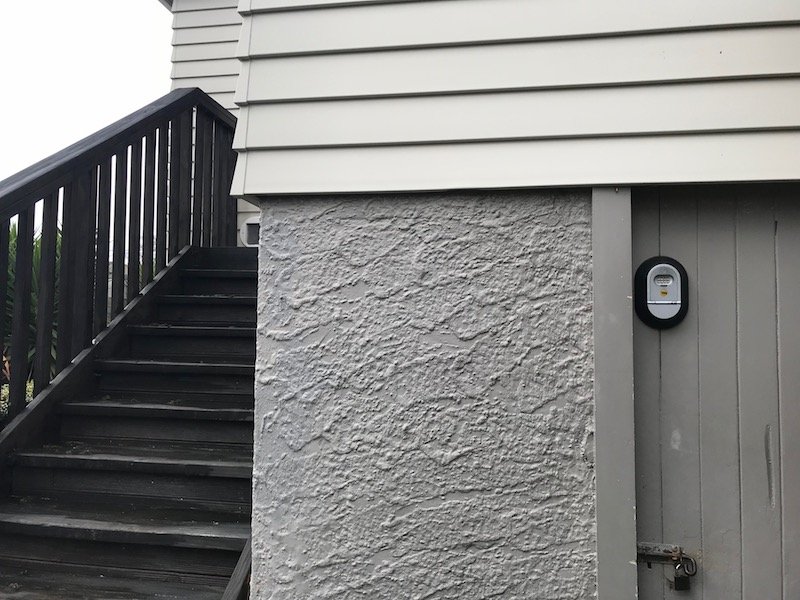 Finding the Lock Box at Bach rentals
We arrived in the dark.
Our first quest was to find the lock box near the back stairs so we could put in our magical code and retrieve the keys.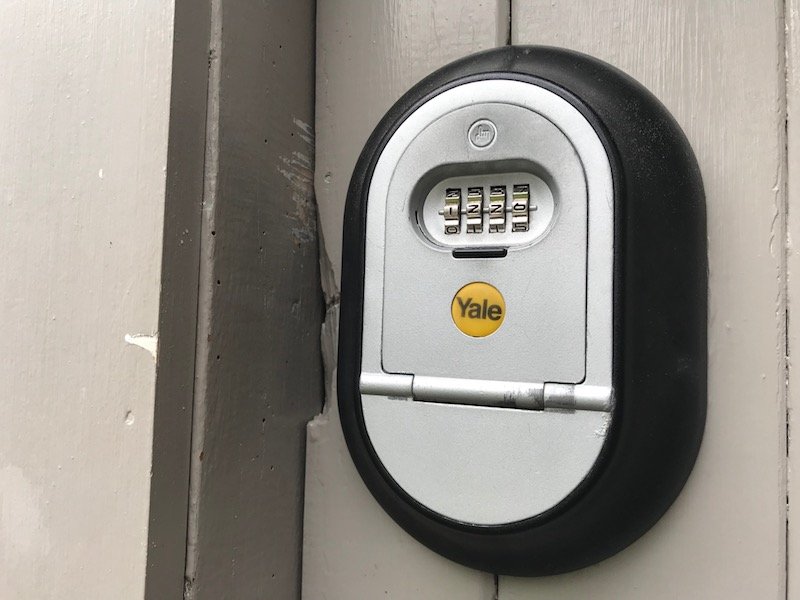 Where is the lock box?
For those of you who are as clueless as me, the lock box at Redwoods Retreat is at the top of the door that leads under the house.
This door is to the right of the base of the stairs.
You're welcome.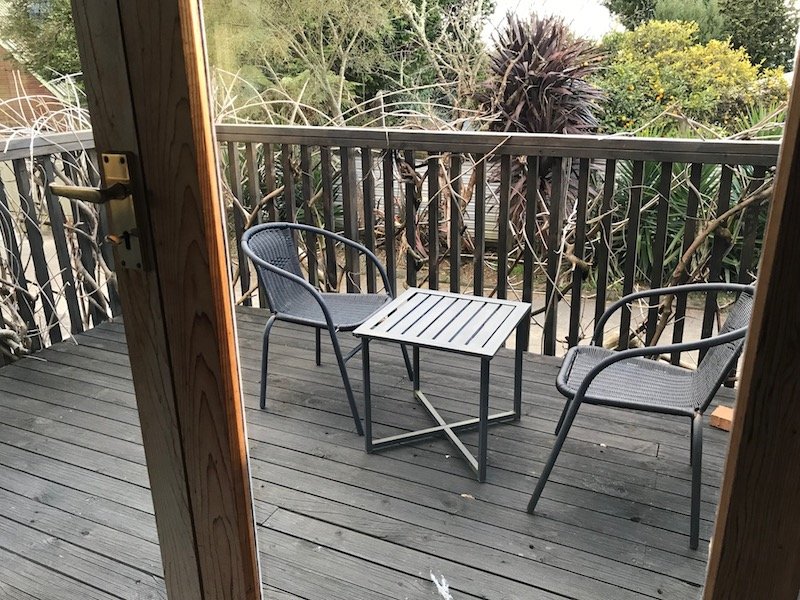 THE INSIDE SCOOP: Book a Bach Holiday Houses Rotorua
Correct at time of publication on Roam the Gnome. Please check with venue for updates. We apologise in advance if there have been any changes we are unaware of. All prices in NZ dollars (or US dollars as stated)
Address: Redwoods Retreat is on Lynmore Avenue, in Lynmore Rotorua. (About 5 minutes drive from the CBD and 200 metres from Redwoods Forest).
Cost: From approx. $220 NZ per night, depending on family size.
Website: How to book a bach in Rotorua
Book the Redwoods Retreat Rotorua Family Accommodation through Book a Bach NZ
Rotorua Family Accommodation Deals
Hot tip: Check the special deals on the website before you purchase.
You can always check Wotif, and Expedia for last minute deals too.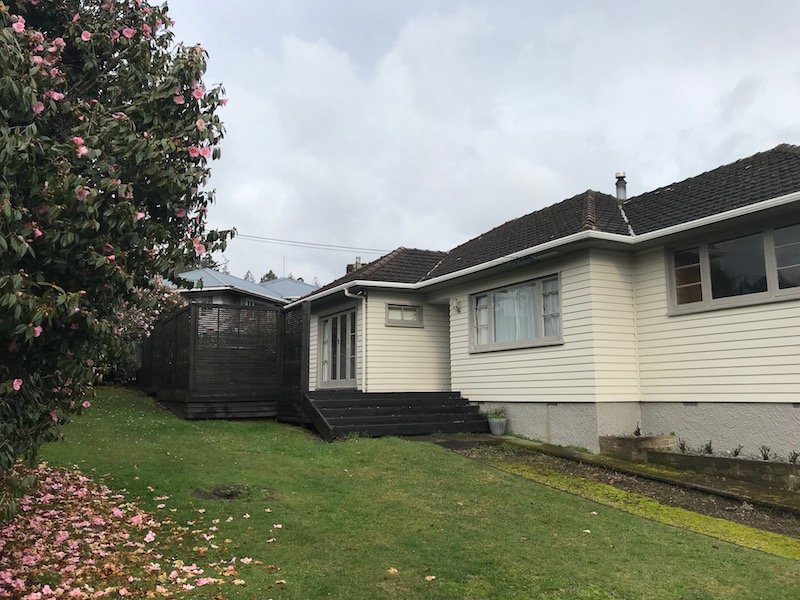 How to get to Redwoods in Rotorua
By Car/Taxi/Uber:
From the CBD, take Amohau St. This turns into Te Ngau Road (State Highway 30A.)
Follow this road for 2.5 kms.
At the roundabout, take the 3rd exit onto Tarawera Rd. Drive for 700 m.
Turn left onto Lynmore Ave. House is 200 metres along, on the left.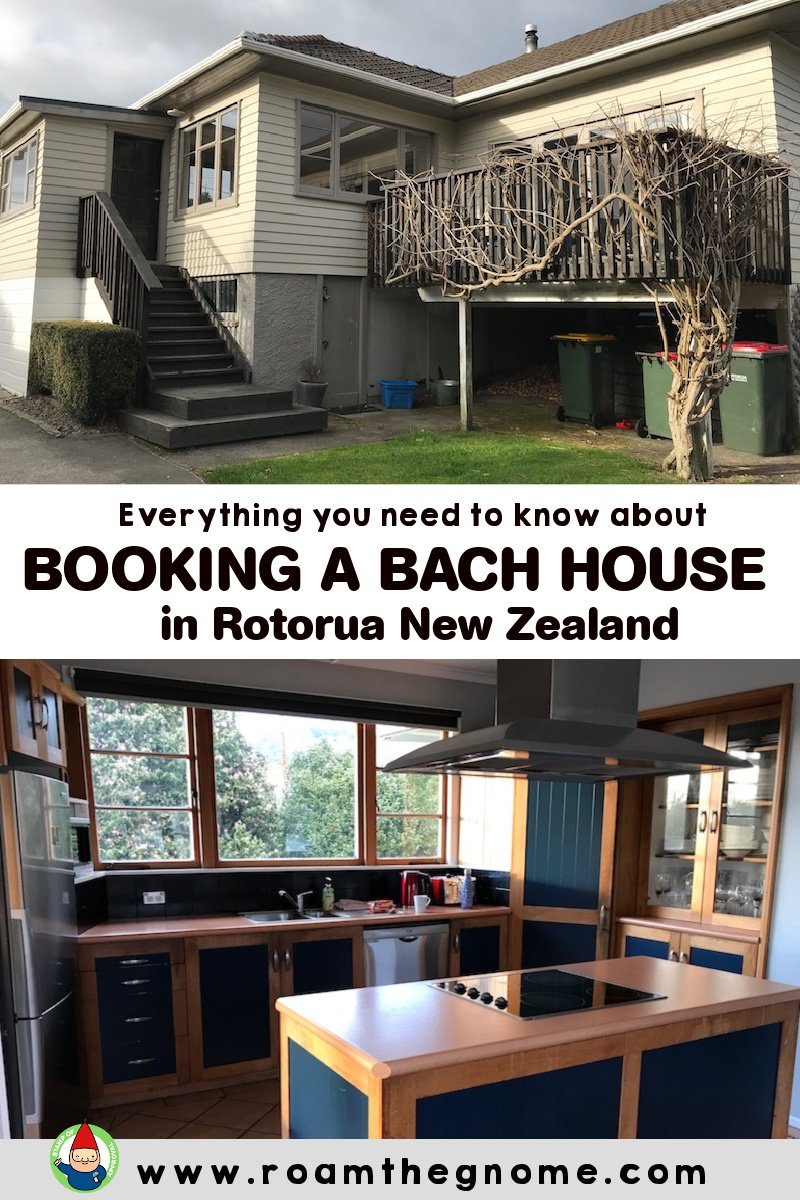 Redwoods Retreat parking
Free off-street parking available behind the house. Drive into the driveway and turn left after the stairs.
Location of Redwoods Retreat
Shops near Redwoods Retreat bach rental
The Shopping Centre at the roundabout at the end of the road has:
Burger Fuel
Coffee Club
Dominos Pizza, and
a Bakery.
Plus a Medical Centre and Pharmacy.
If your kids are like mine, and prefer Subway over burgers, you'll be happy to know Subway can be found on the opposite side of the roundabout.
Facilities at Redwoods Retreat
Disability access: Limited. Stairs to front and back door. Sunken lounge.
Closest ATM: Try the Gull Petrol station – turn right at the roundabout as you exit the street, and it's on your left, 300 metres along Te Ngae Rd.
Closest playground: Try the Chipmunks Playland and Cafe, at the Motion Entertainment complex at 346/352 Te Ngae Rd, Lynmore, 3010 Rotorua, New Zealand
Dogs & Pets: No
Notes:
Yes. There's FREE WIFI in the house
BYO tea, coffee, food supplies.
Fully equipped kitchen available.
Toadstool Rating – Redwoods Retreat, Rotorua Family Accommodation
Not everyone is a fan of living among the locals, for the fear of upsetting neighbours with the loud noise of a holidaying family.
But this doesn't bother you, then hiring a bach is the most family friendly accommodation Rotorua has to offer and is the ideal choice.
If not, try the Rotorua Family Holiday Park, the Novotel Rotorua, or the Holiday Inn Rotorua.

Wondering what to do in Rotorua New Zealand?
Click the links in blue below for more Rotorua attractions