INSIDE: Everything you need to know about Rotorua Gondola deals for families and more.
You can ride up the side of a dormant volcano – Mount Ngongotaha in Rotorua – on the Skyline Gondola!
This mountain is chockablock full of super fun things to do in Rotorua, and the only way to reach them is via the Rotorua Gondola.
Take a ride up today and join in a bunch of fun family activities in Rotorua for the whole crowd.
Read our guide below to find the best Rotorua Gondola deals for families, AND more!
Disclosure: This article contains affiliate links. If you make a purchase after clicking on one of these links, we may receive a small commission at NO extra cost to you.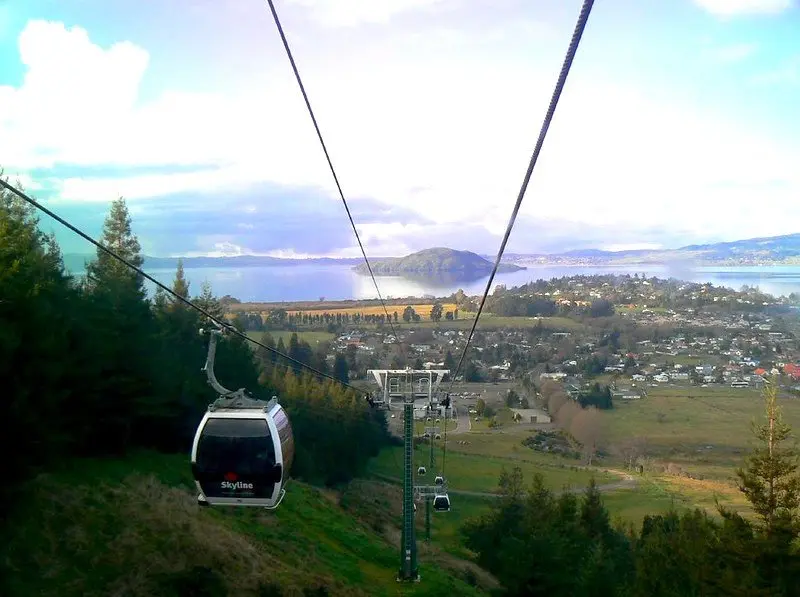 Image credit: Nick Bramhall via Flickr CC BY SA 2.0
Skyline Gondola Rotorua
The Skyline Gondola in Rotorua is an eight-seater cabin that fits the whole family.
Travel 900 metres up the mountain slope to the top of Skyline in peace and quiet.
Gaze down upon Lake Rotorua, see the city, and spy the steam from any one of the geothermal parks around town.
Keep an eye out for luge riders below!
Warning: The ride inside the gondola is the only quiet moment you'll have at Skyline.
The top is full of adrenalin-fuelled hyper experiences where you'll laugh, and cry!
No need to book. Just turn up.
The queue doesn't take long.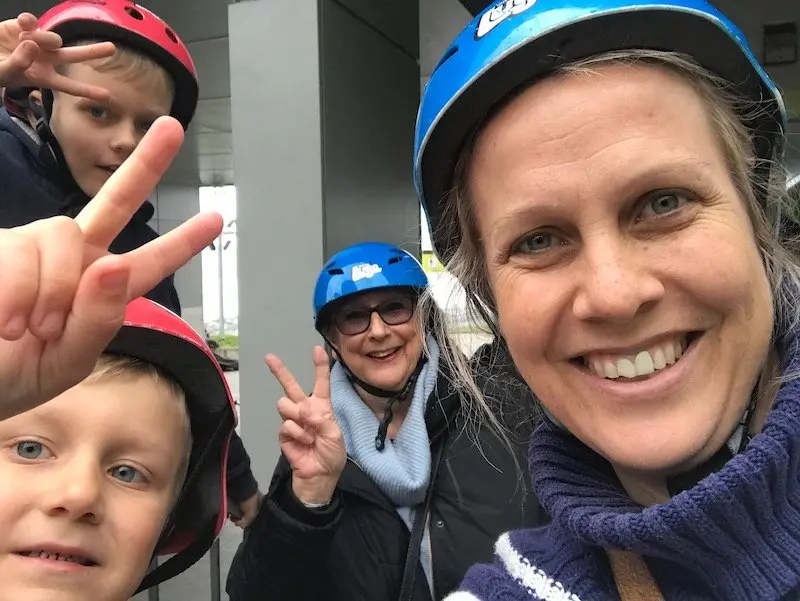 Best Rotorua Gondola Deals for Families
Correct at time of publication on Roam the Gnome. Please check with venue for updates. We apologise in advance if there have been any changes we are unaware of. All prices in NZ dollars (or US dollars as stated)
Here's the best Rotorua Luge Deals for families.
Family Gondola tickets (gondola only)
Family of 4 $87 NZ
Family of 5 $100 NZ
Skyline Gondola & Luge Rides
You can also buy Rotorua Luge Family Tickets with luge rides through Klook
Rotorua Gondola ticket and 1 luge ride
Rotorua Gondola ticket and 3 luge rides
Rotorua Gondola ticket and 5 luge rides
Please note these terms for Family Luge Deals.
A Family of four includes 2 adults and 2 children.
A family of five includes 2 adults and 3 children.
Children are 5-14 years.
Infants are under 5 and are free of charge.
---
RELATED: Big Guide to the Best Things to do in Rotorua for families & kids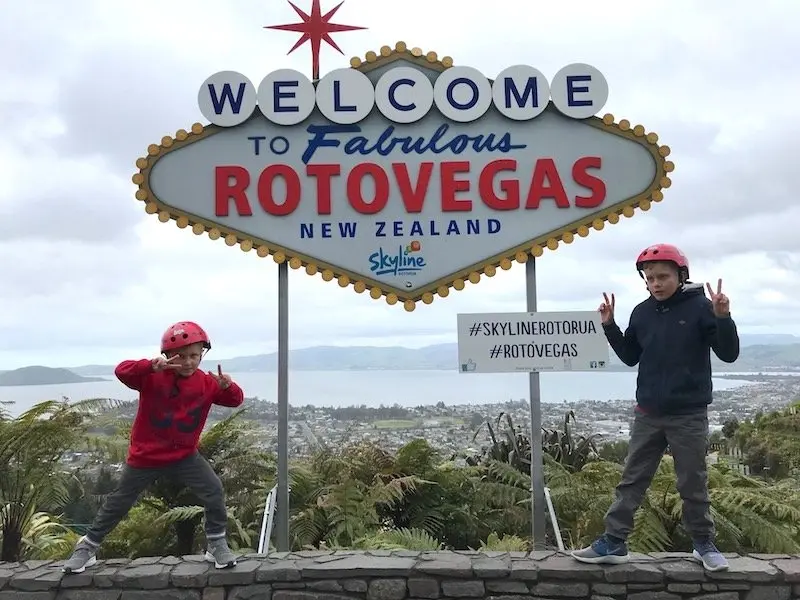 What to do after your Skyline Rotorua Gondola Ride
There's plenty of things to do at Skyline Gondola and Luge Rotorua.
Take a look at these activities.
Allow at least 3-4 hours up top, before your return Gondola ride home.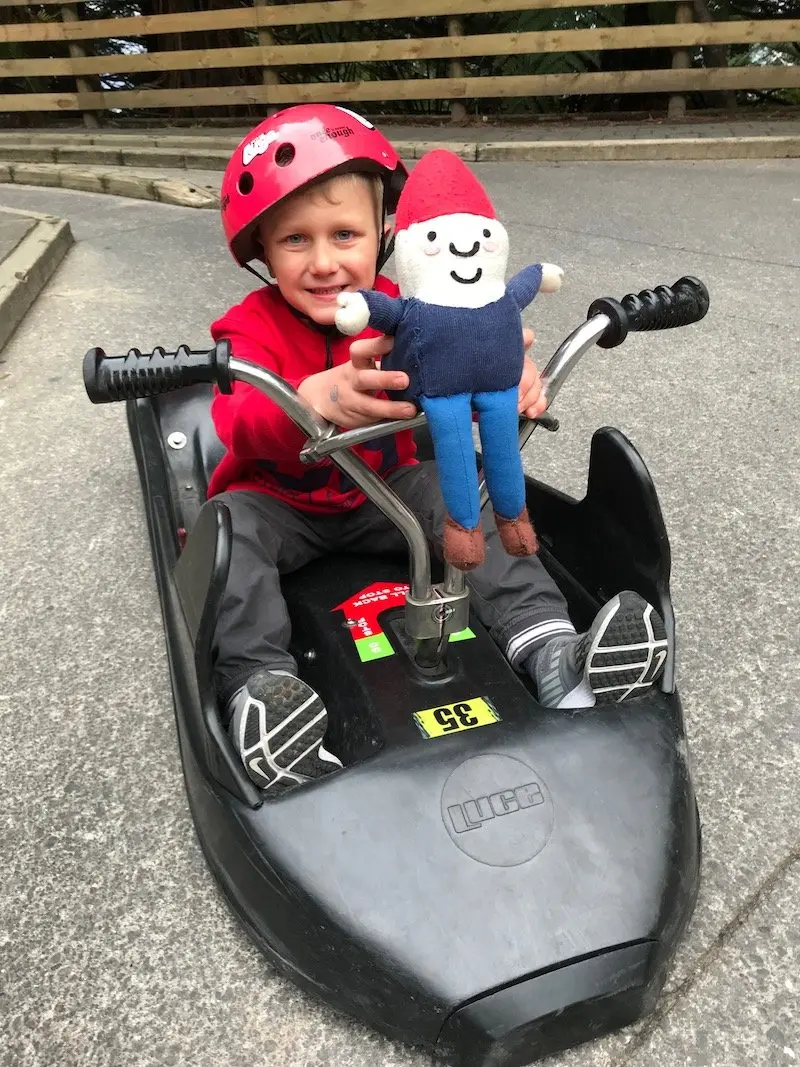 Things to do at Skyline Rotorua Gondola & Luge
No.1: Ride the Rotorua Skyline Luge
Take a self drive down 5km of winding tracks on a Skyline Luge, the first place in the world to offer this epic adventure!
Hot tip: Check our guide for info on Rotorua Luge deals & discounts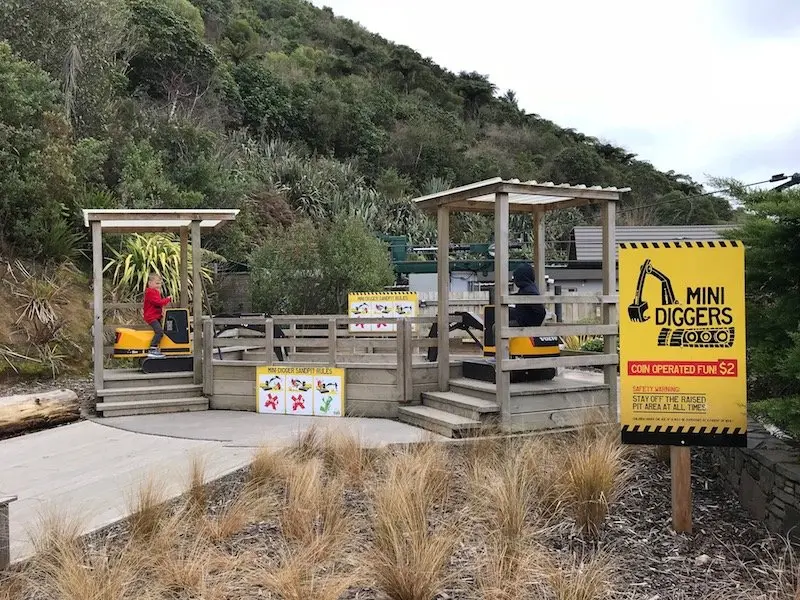 No.2: Take a turn on the Mini Diggers
Toddlers and Preschoolers can take a ride on the Mini Diggers
$2 NZ per go.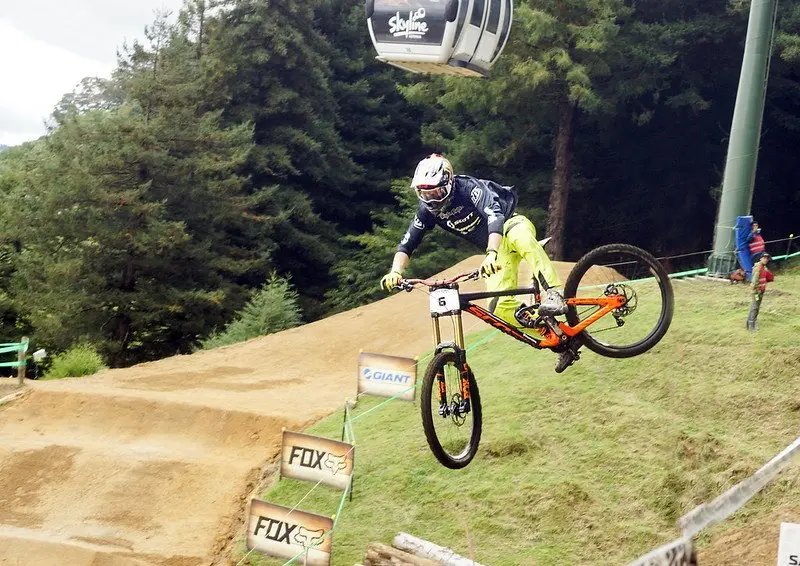 Image credit: Chris Sutton via Flickr CC BY SA 2.0
No.3: Mountain Bike the Skyline MTB Gravity Park
Head up the mountain on the gondola with your bike, and race the downhill trails back to base.
This mountain biking is not for the faint hearted, but adrenalin junkies love this place.
No.4: Race on the Zoom Zipline
Race your friends through Skyline's magnificent Redwood forest on 400 metre long dual ziplines.
This is a unique experience for the brave!
No.5: Soar above Rotorua on the Skyswing
Grab two friends and jump on the Sky Swing.
The ride takes you 50 metres into the air, then it's up to you to press go, and launch the drop.
Be prepared for your heart to end up in your mouth!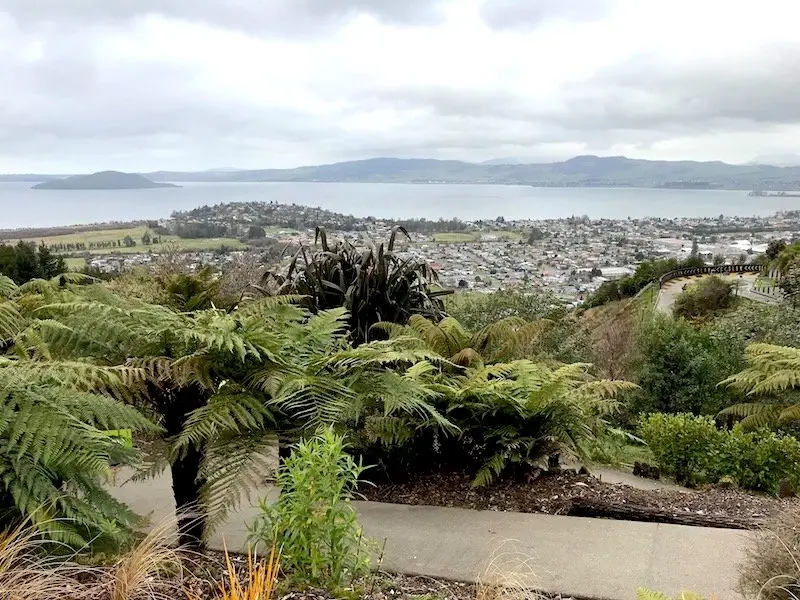 No.6: Wander the nature trails
Wander around the green trails through the forests of Skyline.
See the birds, the views and the trees.
Say hi to the friendly sheep too.
No.7: Shop for Kiwiana souvenirs at the iNZpired Store
Shop for New Zealand gifts at this carefully curated store.
Buy fashion, jewellery, merino clothing, NZ skincare brands, art, local gourmet foods, children's books, and ceramics.
You won't leave empty handed.
No.8: Visit Jelly Belly Rotorua
Snack on sweet treats at the Jelly Belly Store.
Click here for an inside look at the shop.
No.9: Rotorua Wine Tasting
Try wine tasting at Volcanic Hills winery.
The winery is open:
12pm – 6pm Friday and Saturdays
12pm – 5pm Sundays.
Book in here to savour three wines, or try the whole range of 5.
No.10: Skyline Market Kitchen Cafe feasts
Fuel up with coffee and light snacks at Market Kitchen.
Market kitchen has an atmosphere not unlike a ski resort, with bubbly noise of people milling about.
It's a good fuel stop during your big day adventure!
No.11: Dine under the stars at Stratosfare Restaurant.
Stratosfare Skyline Rotorua restaurant is open for Dinner Thursday, Friday and Saturday nights.
Booking in advance is strongly recommended, as it's VERY popular with both locals and visitors.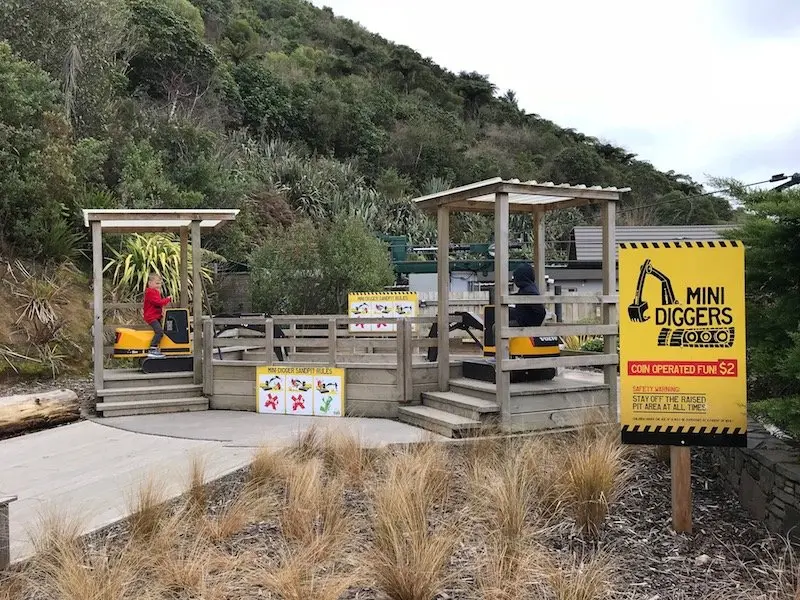 THE INSIDE SCOOP: Skyline Gondola and Luge
Address: The Skyline Gondola in Rotorua is located at 178 Fairy Springs Road, Rotorua New Zealand on the North Island.
Telephone: +64 7 347 0027
Email: [email protected]
Website: Click here
Opening Hours: (Season dependent)
9am daily – 5.30pm Sunday to Friday
9am to 8pm Saturday nights only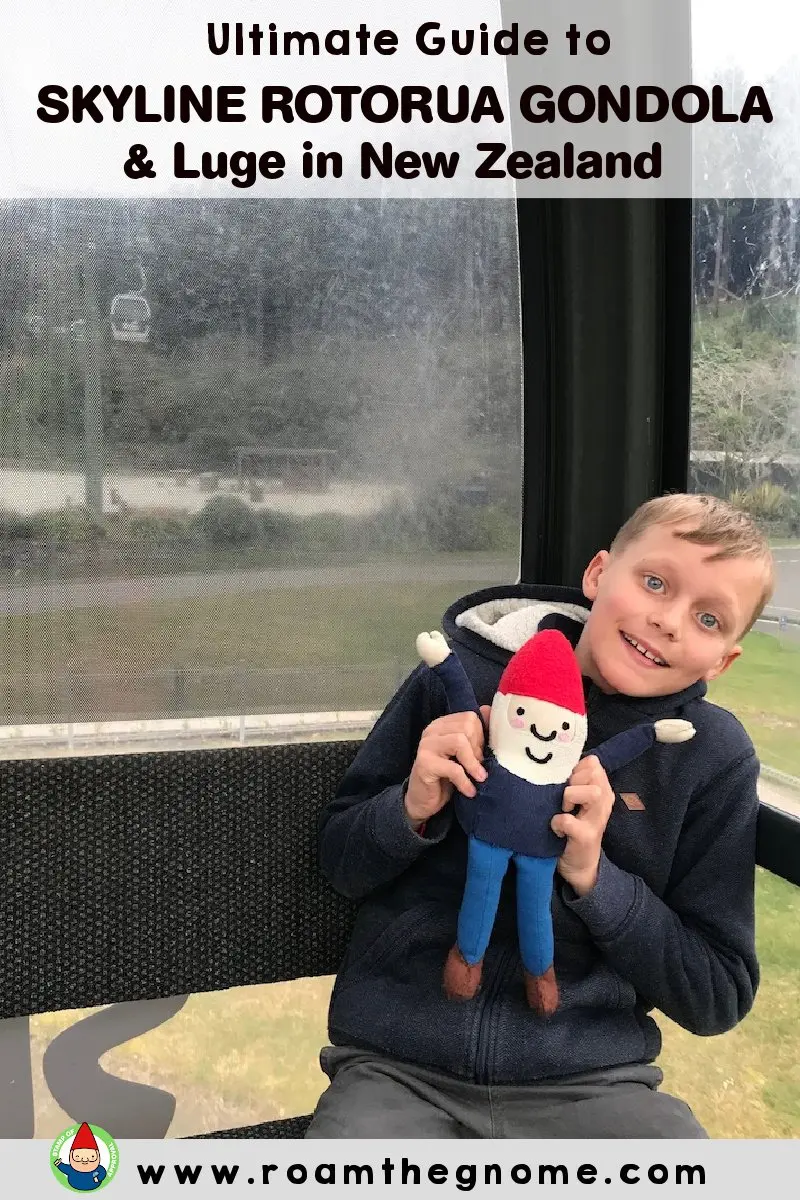 Skyline Gondola Rotorua Prices
Click here for the full list of prices for a ride on the Gondola only, or family packages combining a Gondola trip + Luge rides
(The Skyline Gondola and Luge packages are much better value)
Skyline Rotorua parking
Free car parking at the entrance of the Rotorua Gondola at Skyline
Facilities
Nearest takeaway coffee and/or food options: Skyline Restaurant & Market Kitchen on site.
Toilets: Yes, including baby change table
Disability access: Yes.
Toadstool Rating – Rotorua Adventure Activities at Skyline.
5 toadstools for the Gondola + Luge adventure! Don't miss it.

Looking for MORE SUPER DOOPER FUN things to do in Rotorua New Zealand with Kids?
Click the links in blue for more Rotorua ideas below.