INSIDE: Everything you need to know about the best DIY trampoline tent ideas to make or buy
Looking for tips on how to make a DIY Trampoline Tent for fun trampoline sleepovers?
Or perhaps buy a homemade trampoline tent for backyard camping?
Or maybe you are looking for ways to make a trampoline shade cover or trampoline canopy to keep the sun and rain off the kids when they jump?
Whatever your need, we can help.
We have all the tips on how to make a DIY trampoline shade cover or DIY trampoline tent top, plus a link to our story on the best trampoline tents to buy.
Take a look below.
Disclosure: This article contains affiliate links. If you make a purchase after clicking on one of these links, we may receive a small commission at NO extra cost to you.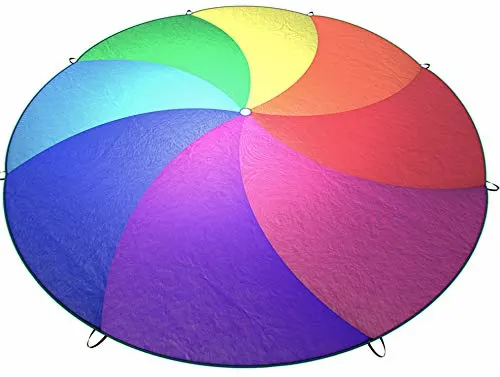 THE INSIDE SCOOP: TOP 7 DIY TRAMPOLINE TENT IDEAS
Correct at time of publication on Roam the Gnome. We apologise in advance if there have been any changes we are unaware of. All prices in US dollars, unless otherwise stated. Trampoline play may have risks involved and ideas are shared for educational purposes only. The writer does not assume any responsibility and shall not be held liable for any complications. Play at your own risk.
No.1: Trampoline Play Parachute Kids Game
One of the quickest, cheapest ways to make a trampoline tent DIY at home if you already have a trampoline with a trampoline net and side wall poles to attach it to, is to repurpose a play parachute used for kid's team building games.
They are also called gymnastics parachute, or toy parachute for group games.
You can use the handles on the kids parachute as the handles to tie it to the trampoline frame to make an instant tent cover for trampoline.
Not only are these rainbow parachutes a budget way to cover the top of the trampoline, their brightly colored material is so much more kid-friendly than a dark or black colored trampoline top, and way more fun too!
Especially if you plan on playing lots of trampoline games with kids.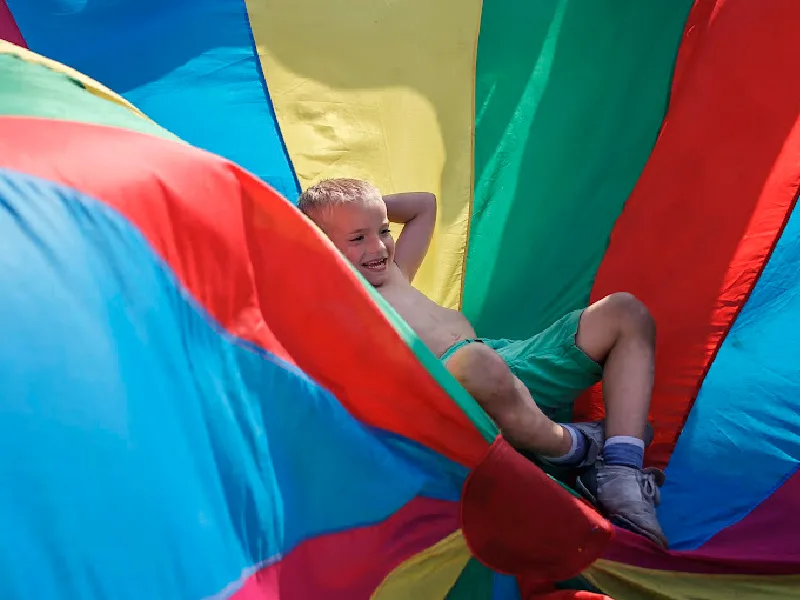 Where to buy parachute games?
Both are 12 ft in diameter, so good for smaller trampolines.
If you prefer something a little more stylish than the regular primary colored rainbow parachute by Little Dynamo, try this spiral parachute design.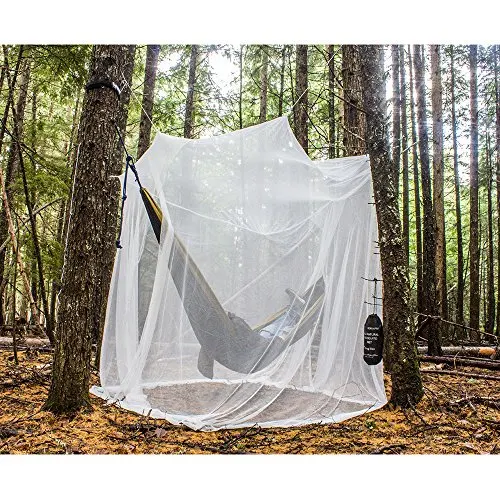 No.2: Large Mosquito Net Trampoline Cover
Another great DIY tent for trampoline option is to buy a ultra large mosquito net with an opening you can put over the net door.
This one by Mekkapro is almost 14ft in diameter, plus it comes with a free hanging kit.
That includes:
hooks/screws/plugs
extra string
carry pouch
This king size mosquito net is big enough to fit over a supreme king bed indoors, so it's pretty likely it will fit your tramp too.
(People also use this mossie net to protect their fruit trees from all the creatures that love to eat the fruit before they can!)
Bonus: Use it on the patio or deck or in the garden to hang over the hammock too.
RELATED: 96 Best Trampoline Activities for Crazy Fun People!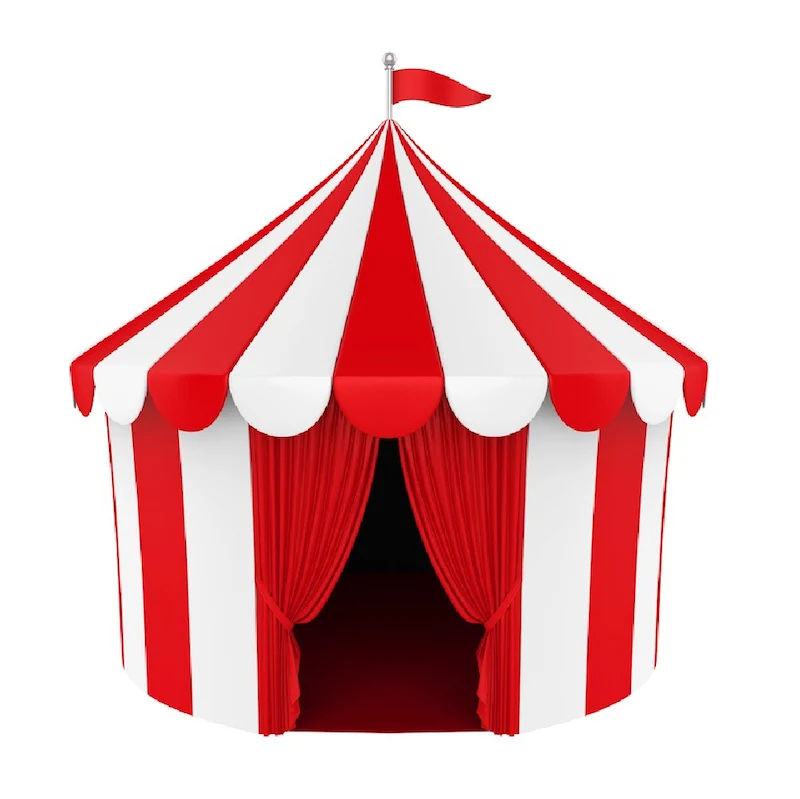 No.3: Carnival Fabric Tent cover
Wondering how to make trampoline tent covers?
Why not customize your trampoline tent cover by making a teepee using red and white fabric, a la circus sideshow alley & carnival fair.
Wide swaths of red and white striped material is an instant way to suggest fun on this circus trampoline tent roof!
Be sure to purchase some thick red ribbon as a curtain tie, so you can create an opening to get inside this circus enclosure cover.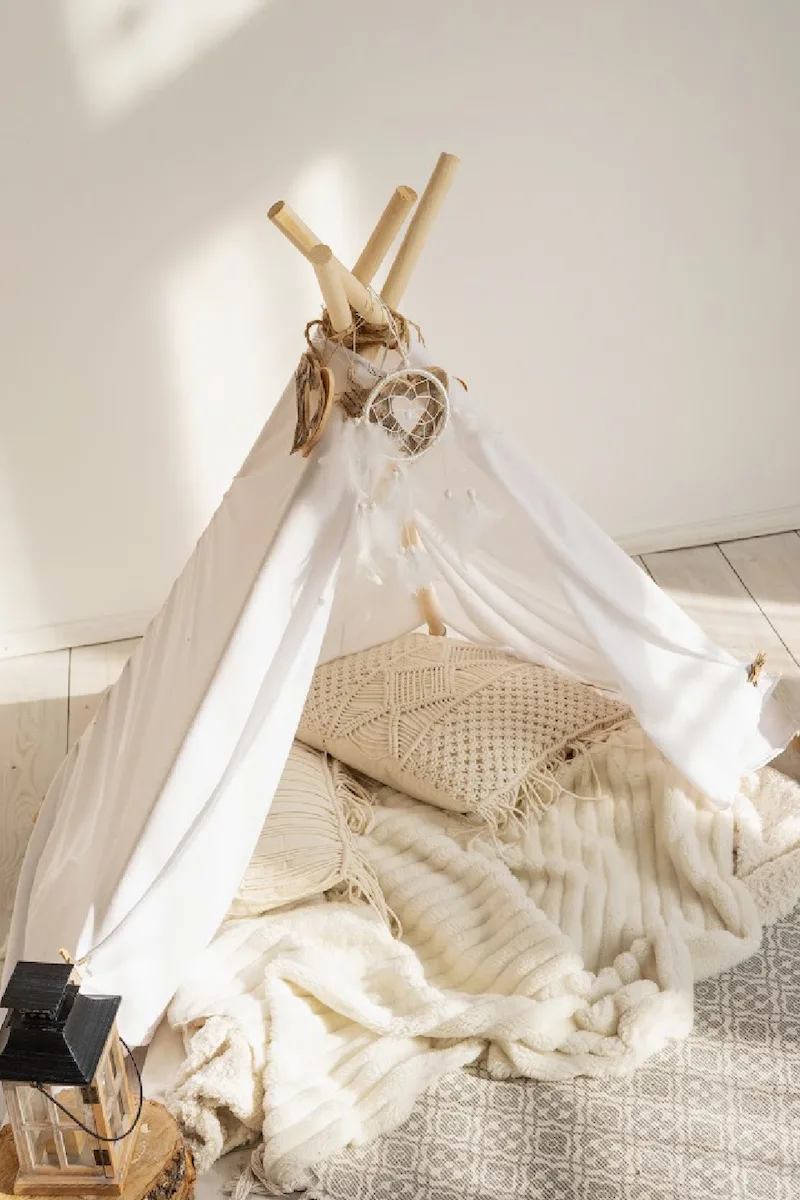 No.4: Boho Party Tent with lace tablecloths
You could also do variations on this theme for a trampoline tent sleepover by:
changing out the colors of the fabric you choose, or
by creating more of a teepee or yurt shape over the trampoline tent poles by shaping the fabric from the middle point in a diagonal, or
making a giant circular frame out of narrow plumbing pipe or hose, and hanging meters and meters of sheer white fabric or sheer fabric curtains with tabs, down over the frame in a round
To make luxe boho party tent style, use lengths of cream, white and beige fabric.
You might try repurposing some old rectangular lace tablecloths, lace runners, linen tablecloths, or crochet lace tablecloths you find in grandma's cupboard.
Then add these things under or around your trampoline roof cover:
fresh flowers
pastel balloons
feathers
artificial or real vines
cane baskets
tealight candles or twinkly lights
felt ball bunting
cosy blankets
A beautiful boho table setting inside the tent might include:
lace placemats
dried flower arrangements
lots of comfy macrame cushions
shaggy rugs
Moroccan poofs
RELATED: The Best VSCO girl sleepover ideas (lots of boho theming ideas)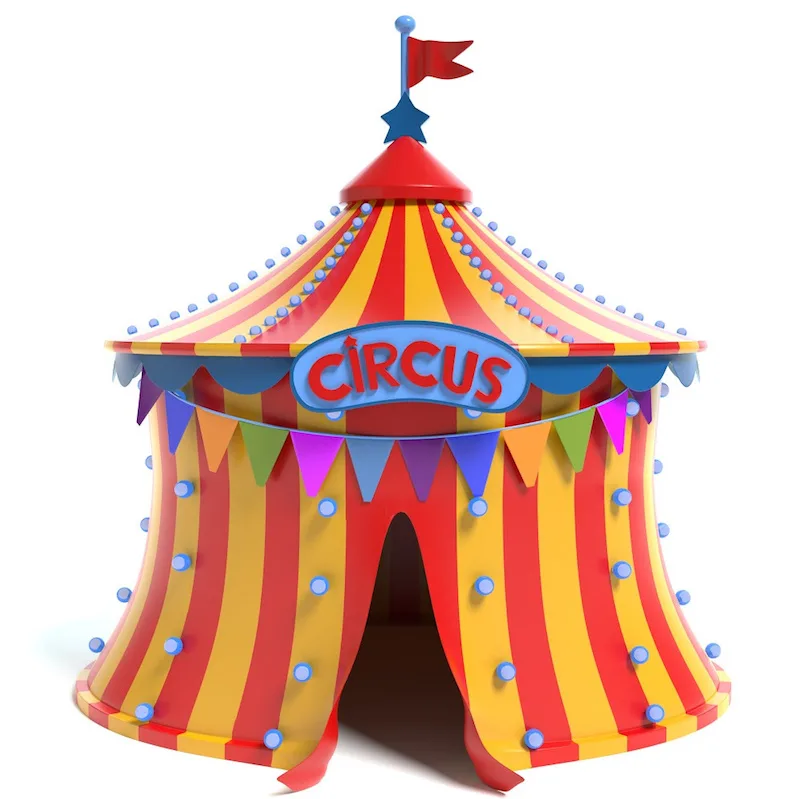 No.5: Big Top Canopy Tent with Circus Fabric
Or you could purchase a whole bunch of long 4m lengths of narrow yellow, red and blue nylon tulle (or a mix of your faves), and let these fabric lengths stream down from one central point up top, over the frame and hang loose in the air on a still day.
Or tied to the round frame of the trampoline mat on a windy one.
Then you'll have the perfect trampoline circus enclosure.
Carnival Circus party decorations
If you do decide on a traditional carnival theme for a trampoline party, you might like these additions:
Repurpose the nylon fabric when you are done by draping it under your patio in waves to create a pretty place to relax.
RELATED: Guide to the Best Trampoline for Kids 2021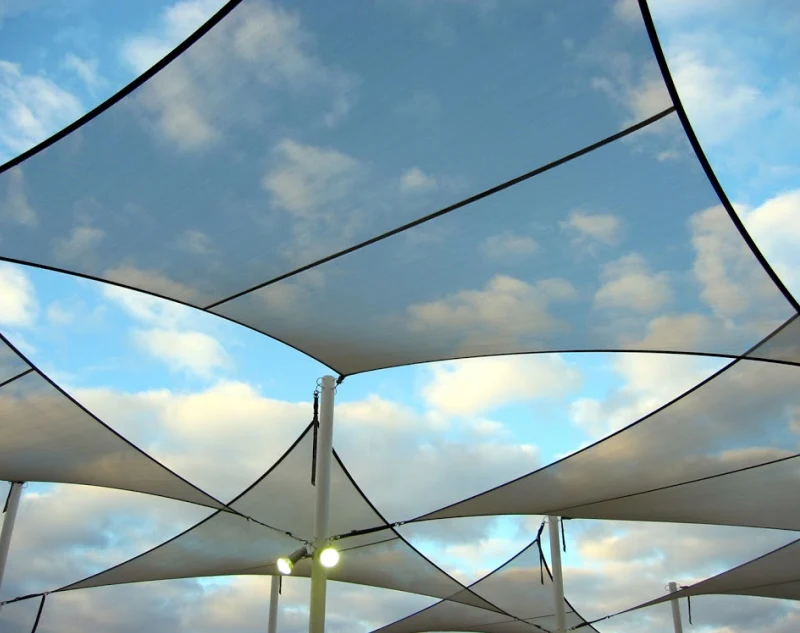 No.6: Shadehouse cloth trampoline cover
Option 1: Sun Shade Sails
Another budget way to make a home made trampoline cover is to repurpose a commercial sun shade sail.
A sunshade sail is usually either a rectangle or triangle shape, so you may need to be a little creative, and layer them up to cover the whole area.
If you have the trampoline positioned near a building, you can also affix one end to here to give you height.
Option 2: Shade Cloth trampoline cover
Or you can make one yourself.
The best way how to make a trampoline shade cover is to measure the diameter of your trampoline and buy enough shade cover material to go at least 2 inches beyond the edges of the tent, so you can create a lip.
Use cable ties, or heavy duty string and thread these through the edges of the shade cloth, then attach this to the trampoline tent poles and frame.
RELATED: Best Games to Play on a Trampoline by Yourself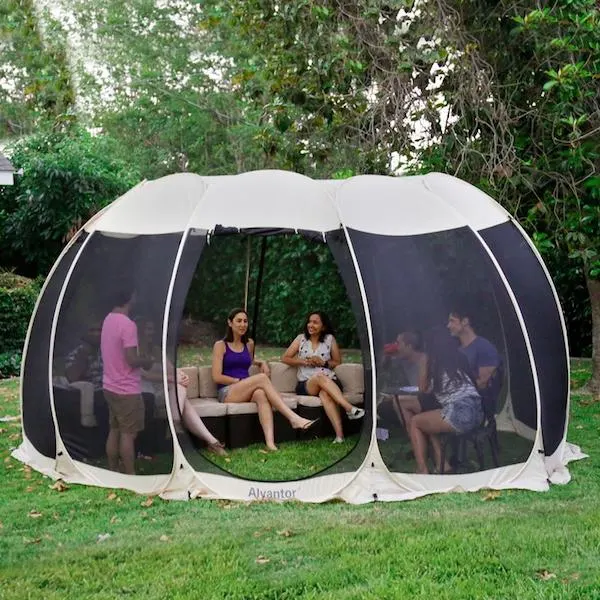 No.7: Alvantor Screen House Room
If none of these DIY covers for trampolines suit, or you'd rather know where to buy a trampoline tent, you can always look at buying the Alvantor Screen House Room outdoor canopy.
This instant pop up round canopy tent cover comes in three sizes to suit trampolines with windows and a zippered privacy entrance:
This trampoline tent cover opens automatically, and has its own fiberglass rib structure so it's also a top alternative tent for trampolines without shade covers.
This tent has all day UPF 50+ UV sun protection but isn't waterproof or rainproof, so you may need a tarp over the top if you plan to camp out and the weather looks a bit iffy.
This outdoor camping tent comes with sandbags and guide ropes you can use to tie it down and secure it.
This quality tent model enclosure suits round trampolines but probably not rectangular trampolines.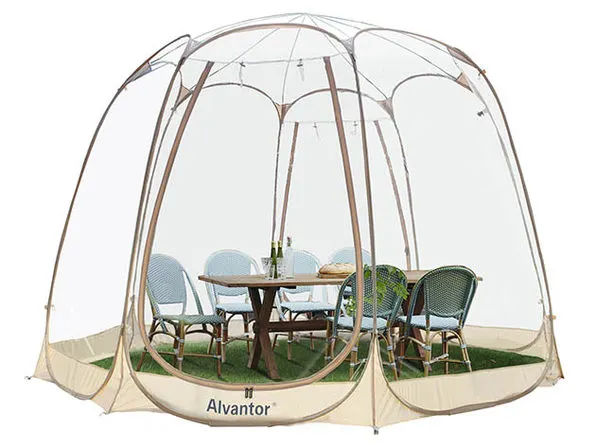 Or, The Alvantor Bubble Tent
Did you know there's also a trampoline BUBBLE TENT too?!
Imagine a big bubble like a life size snow globe sitting on top of your trampoline?
A LIFE SIZE winter snow globe bubble must be the coolest thing ever!
Alvantor Big Bubble Gazebo is made from 10 panels of transparent PVC so it's super warm.
There's also a waterproof attachment top cover you can purchase separately if you need to.
RELATED: Round Up of the Best Trampoline Brands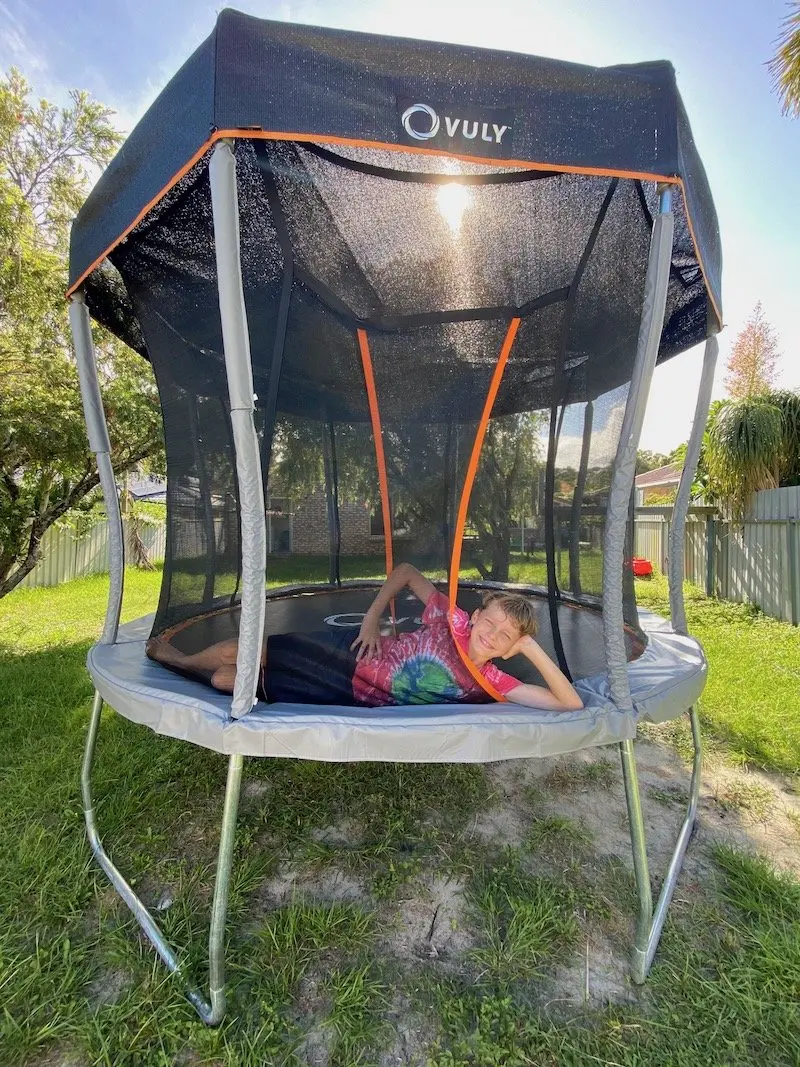 No.8: VULY Trampoline Tent Review
If you want an option to purchase a trampoline tent cover instead of making one, you can buy VULY trampolines with a tent cover.
The VULY trampoline tent cover is not waterproof but keeps off the harsh sun, and the elements.
Together with the safety net enclosure, it makes do as a trampoline tent.
But you can always screen off the tent by pegging sheets, cloths or likewise to the outside walls.
VULY also sell trampoline accessories such as a speaker, and light for trampoline fun too.
RELATED: Read our review of VULY Trampolines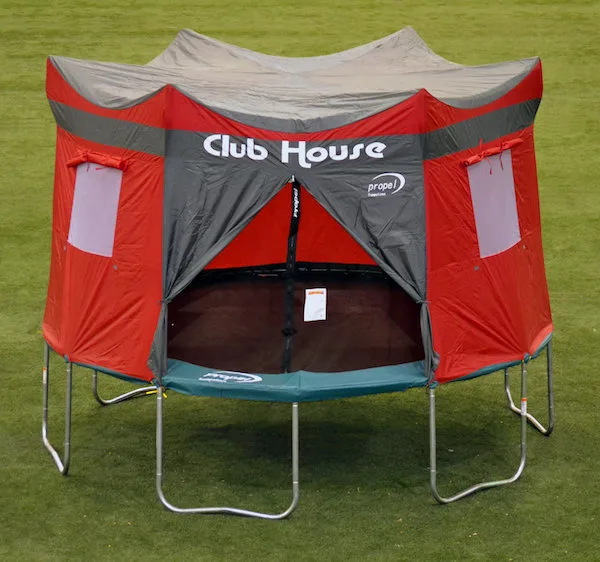 No.9: More of the Best Trampoline Tent Cover options to buy
Hot tip: Read our guide to more of the best tents for trampoline sleepovers here.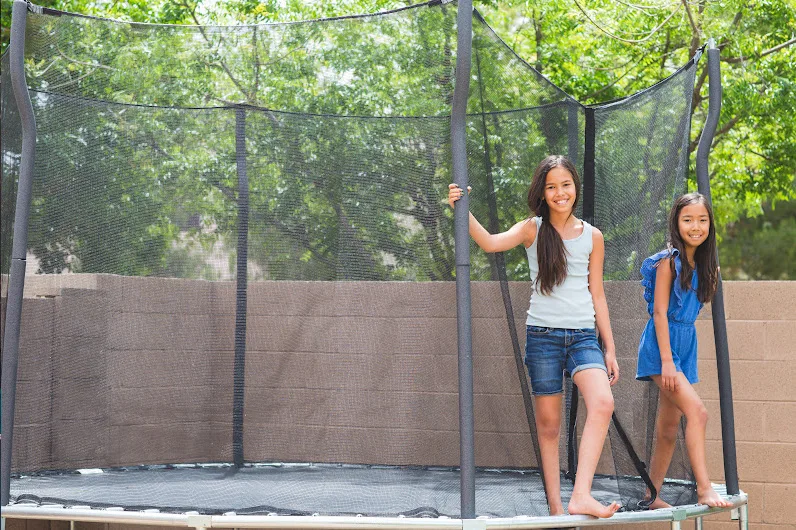 Looking for MORE Trampoline Activities?
Click the blue links below for more activities for kids and adults