INSIDE: Everything you need to know about the best trampoline brands on the market.
Want to know what is the best brand of trampoline to buy?
Looking for a round up of the best trampoline brands so you have somewhere to start?
Or wondering, how do I pick the right trampoline?
There's SO many trampoline brands to choose from!
We've come to the rescue with our review of trampolines.
Check out our comprehensive comparison guide below on good trampoline brands and details of the best trampoline manufacturers.
It lists the safest trampoline brands, the best family trampoline for backyard play, the best trampoline for adults, and the best workout trampoline too.
Take a look below for all the details.
Disclosure: This article contains affiliate links. If you make a purchase after clicking on one of these links, we may receive a small commission at NO extra cost to you.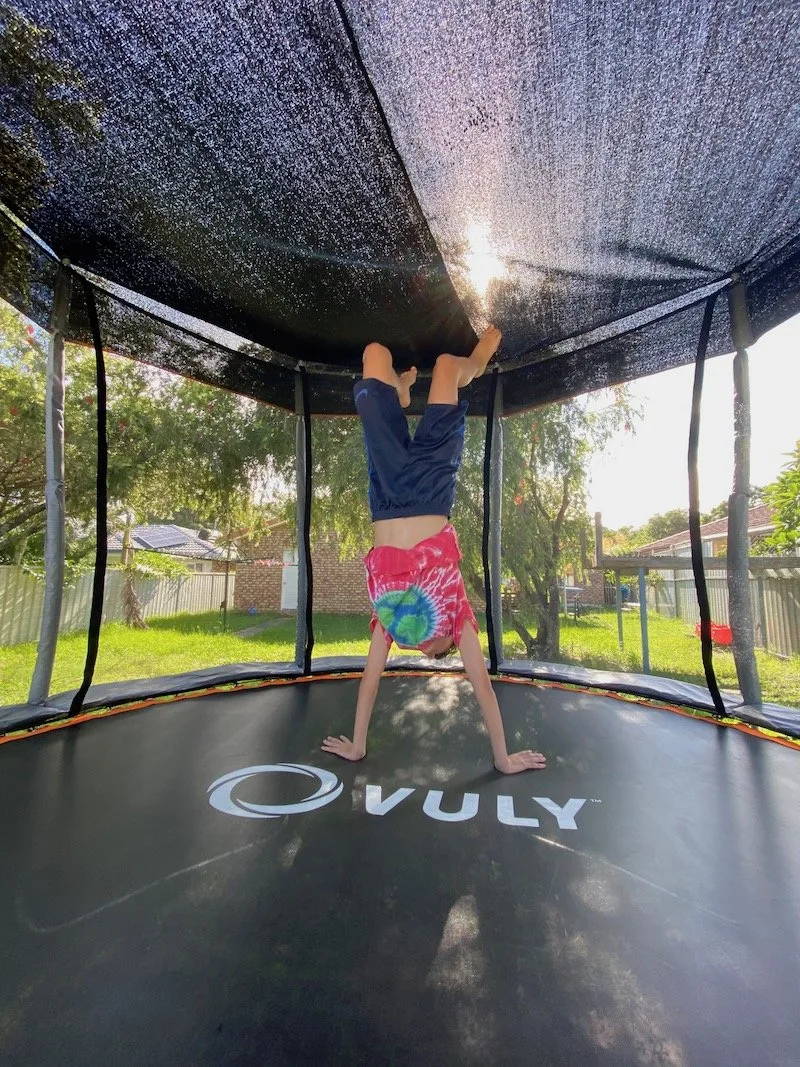 THE INSIDE SCOOP: BEST TRAMPOLINES 2021
Correct at time of publication on Roam the Gnome. We apologise in advance if there have been any changes we are unaware of. All prices in US dollars, unless otherwise stated. Trampoline play may have risks involved and ideas are shared for educational purposes only. The writer does not assume any responsibility and shall not be held liable for any complications. Play at your own risk.
We also answer these frequently asked questions:
Can adults jump on a trampoline? (yes, but some brands are safer than others)
What size trampoline is best for adults? (the bigger the better, but no smaller than 15ft)
Why are trampolines so expensive? (you get what you pay for!)
What trampolines hold the most weight? (Upper Bounce and Zupapa for the win!)
Can you lose weight jumping on a trampoline? (yes, we give you all the tips on trampoline exercises)
What is the most popular trampoline size?
What is the life expectancy of a trampoline?
What are the best trampolines for gymnasts?
RELATED: 96 Best Trampoline Activities for Crazy Fun People!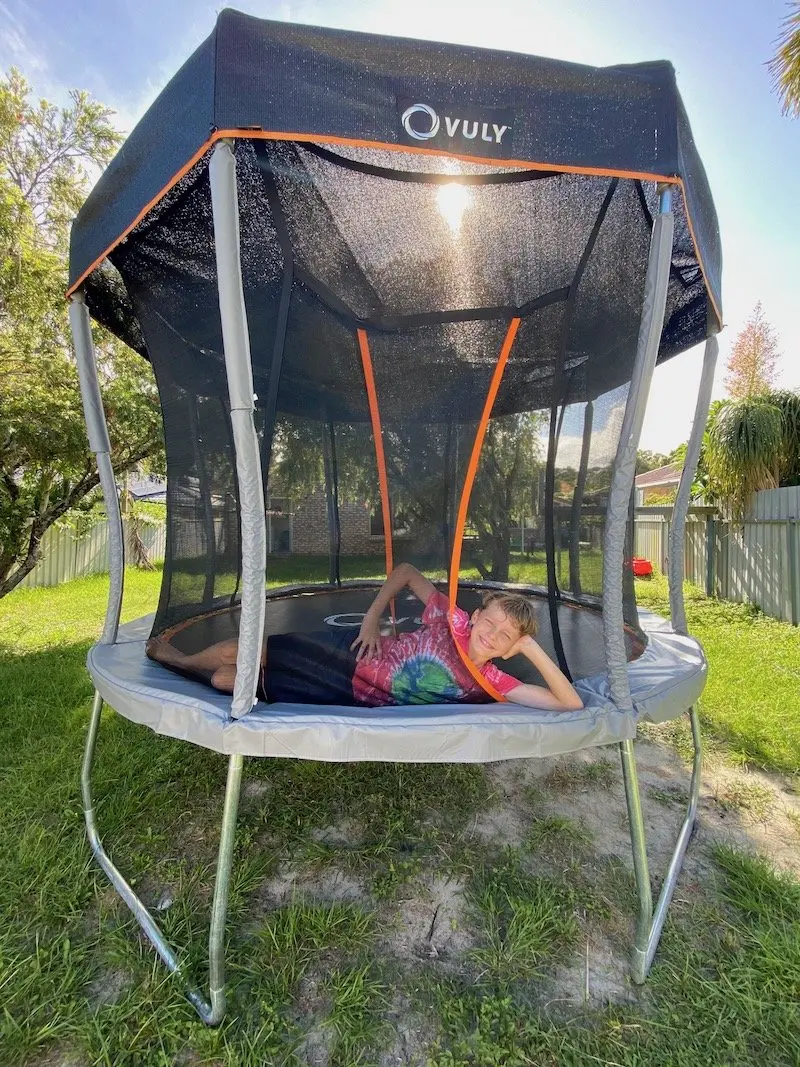 WHAT ARE THE BEST TRAMPOLINE BRANDS TO BUY?
Check out these top 9 trampoline companies.
No.1: VULY trampolines
The best trampoline to buy if you are looking to buy trampoline accessories that can transform the trampoline into a sports playground is a VULY trampoline.
REmember this name.
They are the top of the list of the best trampoline brands Australia has to offer.
VULY trampolines are rated as Australia's favourite trampoline brand because they are a premium but affordable option for those who want to invest in the safest trampoline on the market to buy.
After lots of research, this was the trampoline brand we chose for home.
Why?
One of the things that pushed us over the line was the warranty on the parts – 10 years for frames and tubes, and FIVE years warranty on the mat.
(That's unheard of – the longest our other trampoline mats have lasted between 2 and 3 years)
Read our VULY trampoline review here
You can also buy all the trampoline accessories to go with the tramp:
a trampoline water mister so you can stay cool when you jump in the hot summertime
a trampoline deck for skateboard trick practice
a trampoline basketball hoop
RELATED: 23 Arty Farty Fun Things to do on a Trampoline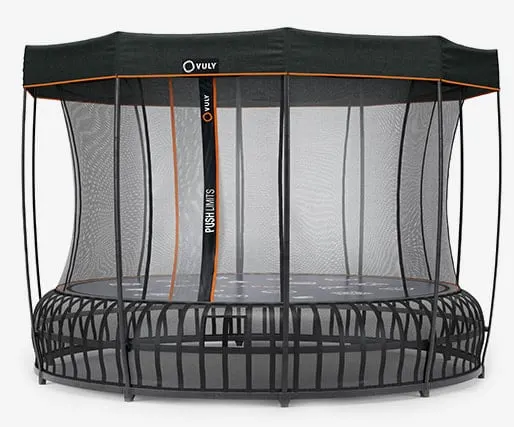 The Best Trampoline for Adults
If you are looking for the ultimate trampoline for adults, the extra large Thunder Pro trampoline should be top of your list.
Firstly it's a safe trampoline, safety certified in both Australia and the USA by one of the top recognised product certification companies (TÜV or Intertek)
The extra large VULY Thunder Pro measures almost 5 metres wide (16ft), with the mat width 377cm (that's 12 ft 3 in diameter) jumping area.
And jumpers can be up to 150kg in weight.
The VULY Thunder Pro extra large size is also 40 cm taller than the nearest competitor, and has a mesh skirt around the base to stop kids or pets getting underneath.
The trampoline net enclosure is very tightly woven too, to stop little fingers getting caught.
It's double-galvanized steel, powder-coated so it lasts under the tough Australian sun (the biggest challenge there is).
Are Springless trampolines safer?
But the big difference this trampoline has over competitors is the patented leaf spring technology.
That is the key to safe bouncing for adults and kids, as there is no compressing of coils or rods.
AND it's impossible for kids (or adults) to touch the springs, the poles or the frame while jumping.
But the best bit?
No nuts, bolts or velcro to put it together.
That means anyone can do make these springfree trampolines.
Even me.
Without needing a toolbox.
That's what makes it the best brand trampoline to buy.
PS: The VULY Thunder Pro trampoline also comes in medium and large sizes too.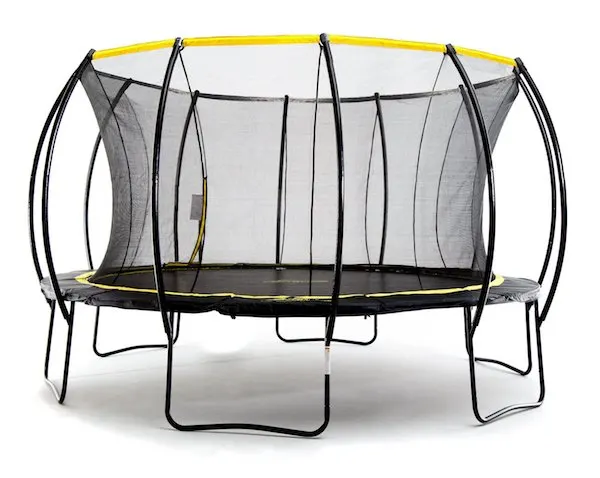 No.2: Skybound trampoline
A SkyBound USA trampoline meets U.S. ASTM safety standards and they all have a 10 year frame warranty too.
But it's the BRIGHT COLORS that make these trampolines stand out from the crowd.
Hands up if you'd love a yellow trampoline or an aqua trampoline?
This is the spot to get one.
There's a few different sizes:
Atmos 8ft trampoline in black or blue
Stratos 12 ft trampoline also comes in 14ft size and 15ft size too
Cirrus 14ft trampoline in blue
Stratos trampolines are their best seller.
The Skybound Stratos and Cirrus trampolines both have a full enclosure net system with a rigid top ring for extra strength to keep the kids safe inside, making them one of top trampoline brands to buy.
Fun Fact: The galvanised springs are gold colored, for those who like a bit of extra bling!
Sadly, you won't see them as the trampoline comes with a anti bacterial and anti fungal safety pad to cover them up to stop little fingers and toes getting squashed.
RELATED: The Best Trampoline for Adults 2021 – Comparison Buying Guide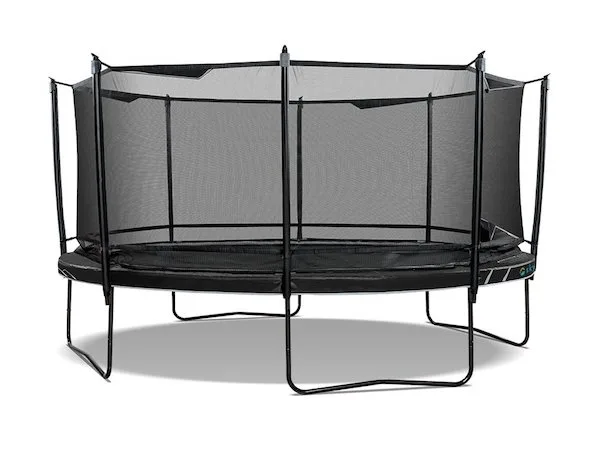 Best Trampoline for Games with Balls
Skybound trampolines also come in an oval shape, and a rectangle shape too.
The SkyBound Explorer 16ft oval trampoline is a good trampoline for games with balls
Best Trampoline for Basketball
The Skybound Horizon 11ft x 18ft rectangle trampoline is the best trampoline for basketball by far.
It's big enough to add two universal basketball hoops, one at each end.
What trampolines do pros use?
The Skybound rectangle trampoline is also one of the best trampolines for athletes and anyone wanting to try advanced trampoline tricks.
If you've ever wondered what shape trampoline is best for gymnastics, the answer is the same.
The best trampoline for gymnastics and doing trampoline tricks is a rectangle one, so you have room to move.
RELATED: The Best Trampoline Tricks List – All in one place!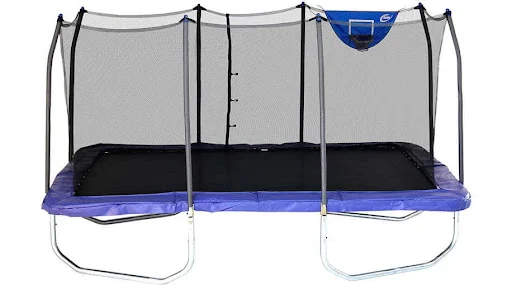 No.3: Skywalker Trampolines
Is Skywalker a good brand of trampoline?
A Skywalker trampoline is a good budget option if you are looking for a cheap rectangle trampoline for basketball play.
Their 15ft rectangle trampoline comes with an safety enclosure net and one basketball hoop.
(You can buy a second universal trampoline basketball hoop for the other side for real games!)
They also sell a 17 ft olympic sized trampoline that is made in the USA!
They lack the extra style of some of the other brands, but they made a commitment to never sell a trampoline without a safety net to keep the jumpers away from the springs.
So you know safety is key.
Their other trampoline products include:
12 foot round trampoline
15ft round trampoline with a CAMOUFLAGE spring cover mat
10ft, 12ft and 15ft round trampoline with a purple spring cover mat
a giant sized 17ft oval trampoline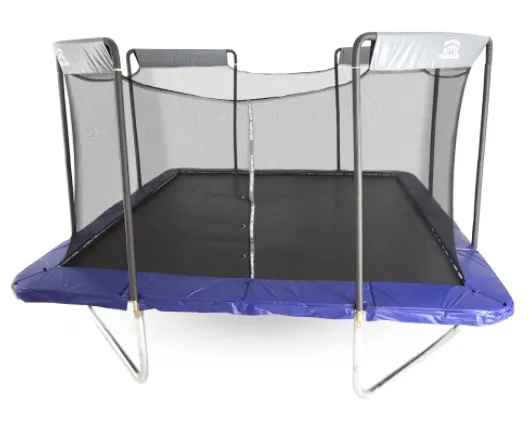 Best Square Trampoline for Sale
This is also one of the only companies selling square trampolines that are made to last.
They have a
13ft square trampoline
giant sized 16ft square trampoline
If you are looking for the best backyard trampoline, this might be it.
FAQ: Are Skywalker trampolines made in the USA?
Skywalker trampolines are the best American trampoline for backyards when you are on a budget.
But like most USA trampoline brands (and Australian and British ones too), it's likely they are designed in the USA but components are made in China or Asia.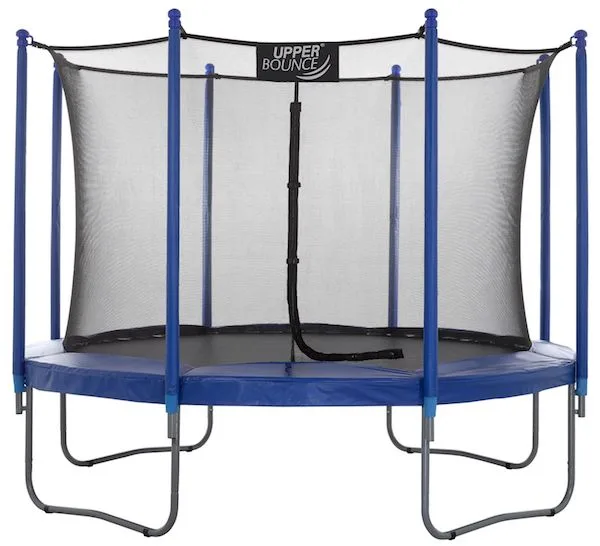 No.4: Upper Bounce Trampolines
Is Upper Bounce better than Skywalker?
If you are comparing style, an Upper Bounce trampoline definitely has the edge.
Wondering what's the bounciest trampoline brand?
Upper Bounce is said to be the bounciest trampoline on the market too, hence the name.
They have a thick safety pad to cover the springs, and an enclosure net, as well as a premium jumping mat, pole foam sleeves, pole caps, and are made with a ASTM standardized solid steel frame.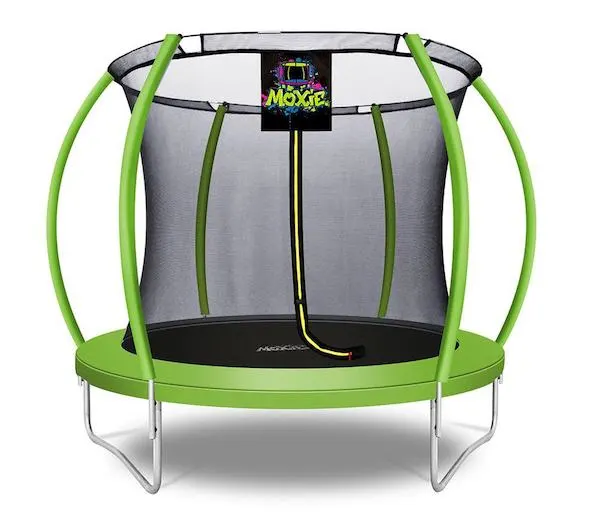 Best Trampoline for Toddlers
If you are looking for your first trampoline for toddlers, you must have a look at their 6ft or 8ft Moxie pumpkin shaped trampolines!
Adorable is not enough of a compliment for the Moxie 8ft trampoline.
Even though this is a little trampoline, it can handle the weight too, making it one of the safest trampoline for kids.
The 8ft can hold 125 kg of weight.
Not bad for a tiny trampoline for kids.
Best Trampoline Parts Replacement Service
Their trampoline parts department is one of the best around too.
So if your trampoline does take a hit for some random reason, at least you know you can have it back up for use in no time at all.
Hot tip: Trampoline Assembly service
The best thing about Upper Bounce trampolines is that they offer complete trampoline assembly services, and I don't know about you, but that's makes them a top pick for us!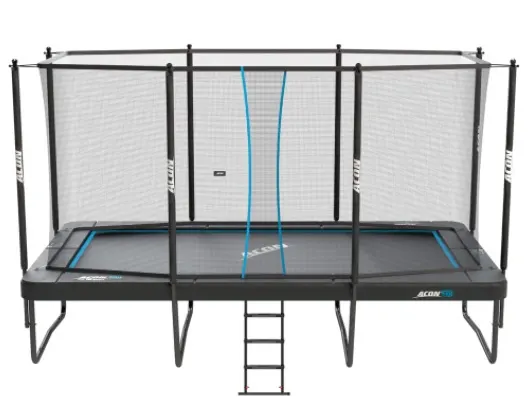 No.5: ACON Trampoline
What trampolines hold the most weight?
The ACON Air 16 Sport trampoline has NO single user weight limit!
These heavy duty trampolines, designed in Finland and first launched in 2003 after 10 years developing the prototype, also have the approval of the Finnish Gymnastics Federation.
All in all, these are the best quality trampoline on the market.
Can two adults jump on trampoline?
On this one, they can!
The quality build and materials mean it's perfectly suitable for year-round use.
In our opinion, an ACON air trampoline is also one of the most stylish trampolines on the market.
Sleek, simple but fabulous and one we'd be happy to put in our backyard.
The Acon Air 15ft trampoline is another option.
There's no information on the upper limit on the Acon Air 15ft trampoline weight limit but again, there's no single user weight limit.
Which means it's strong.
ACON trampoline service
Acon trampolines also offer features such as:
24/7 Customer Service (unheard of!)
Guaranteed trampoline parts in stock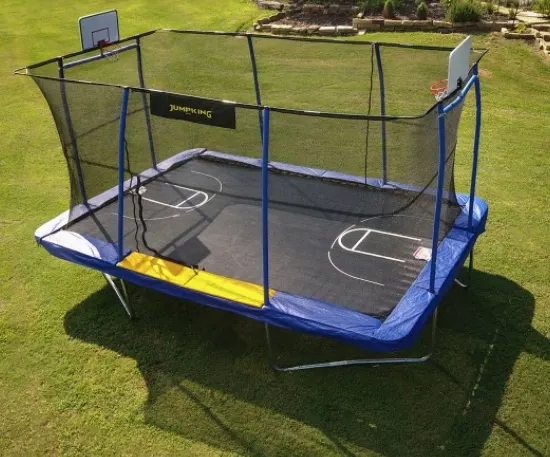 No.6: JumpKing trampolines
JumpKing trampolines is the largest trampoline manufacturer in the world, started in Dallas, Texas.
They've been around since 1948, so you know you're buying quality and a robust trampoline for family fun.
They stock both round trampolines and the best rectangle trampoline too, and are the best rated trampoline for teenagers.
The most versatile of their trampoline range is the 10 ft by 15 ft rectangular trampoline with basketball hoop, volleyball, court and foot step.
If your kids love to play ball games on a trampoline, there's also the JumpKing oval trampoline with two basketball hoops, soccer net and ball too.
A 10ft Jumpking Trampoline has the reputation for being one of the best trampolines for small backyards.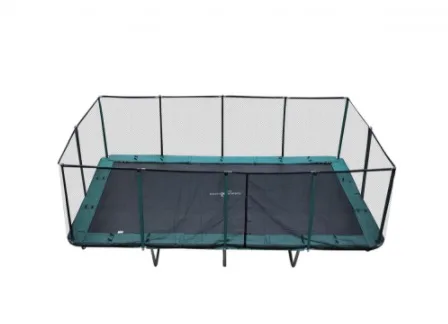 No.7: Happy Trampoline
Happy Trampolines claim to fame is that they are the World's safest trampolines.
Which is good news as Happy Trampoline makes the Galactic Xtreme Gymnastic Commercial grade trampoline.
This giant rectangle trampoline measures 13 ft by 23 ft!
It's not cheap, but if you are serious about trampoline play, then THIS is the ultimate purchase.
This trampoline has the longest springs.
33% longer than anyone else's trampoline springs, and the springs are what bring the bounce.
And, you'll be pleased to hear, 550 lbs jumping weight capacity!
That's 250 kilos.
Almost three grown men!
Imagine how many kids it could hold.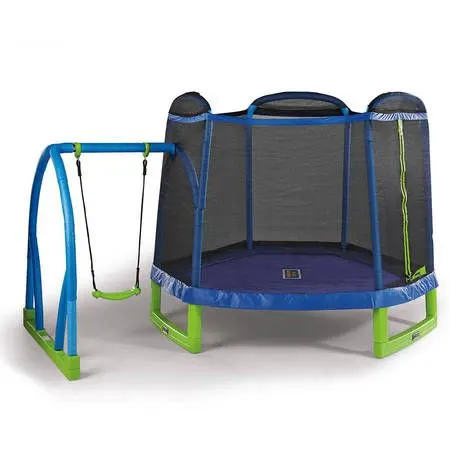 No.8: Sportspower Bounce Pro
The Sportspower Bounce Pro 7ft trampoline is a great one if you are looking to buy My First Trampoline for young kids for Christmas or a birthday.
Especially as you can buy trampoline accessories such as the swing attachment.
This is a hexagonal trampoline with unrestricted viewing, so you can see the kids no matter where you go in the yard.
It's also fully padded up, to help stop injuries for little ones.
You can purchase outdoor trampolines too in sizes:
Sportspower also makes:
swingsets
glider
teeter totter see saws
slides
saucer swings
inflatable bounce houses, and
splash pools too.
No.9: Plum Play trampolines
They've sold over 1 million trampolines worldwide, so obviously are doing something right!
A Plum Play trampoline has patented Springsafe® technology for the ultimate bounce.
Hot tip: Their junior trampolines are super cute as they come with either aqua blue or fushia pink trampoline pole covers and safety pads.
NEW! Plum Play Bowl Freebound Trampoline
Check out the awesome BOWL FREEBOUND trampoline by Plum Play in the video above.
(Cut to 30 seconds – that's where the action starts)
This first generation trampoline has a curved surface, and is the only one of it's kind in the world.
This has been designed and tested to be the most thrill seeking trampoline experience for all ages.
Nowdays, if you asked who makes the most powerful trampoline, it would be Plum Play with this new model.
MORE of the Best Trampoline Brands in America
These are two more of the best trampoline brands for family adventures in the USA.
JumpSport trampoline
Zupapa trampoline
The Best Trampoline Brands in the UK?
Looking for the top trampoline brands in England?
These are the most popular trampolines to buy in England, Ireland, Scotland and Wales.
JumpKing trampolines (premium)
PlumPlay trampolines
Sportspower trampolines
Springfree trampolines
Evostar trampolines
Jump Pro trampolines
TP trampolines
Jump Pro trampolines
The Best Trampoline Brands in Australia?
Looking to buy a trampoline in Australia?
These are your good trampoline brands in Australia.
VULY trampolines (premium)
Springfree trampolines
Plum Play trampolines
Lifespan Kids trampolines
Kahuna trampolines
Jumpflex trampolines
TP trampolines
OZ trampolines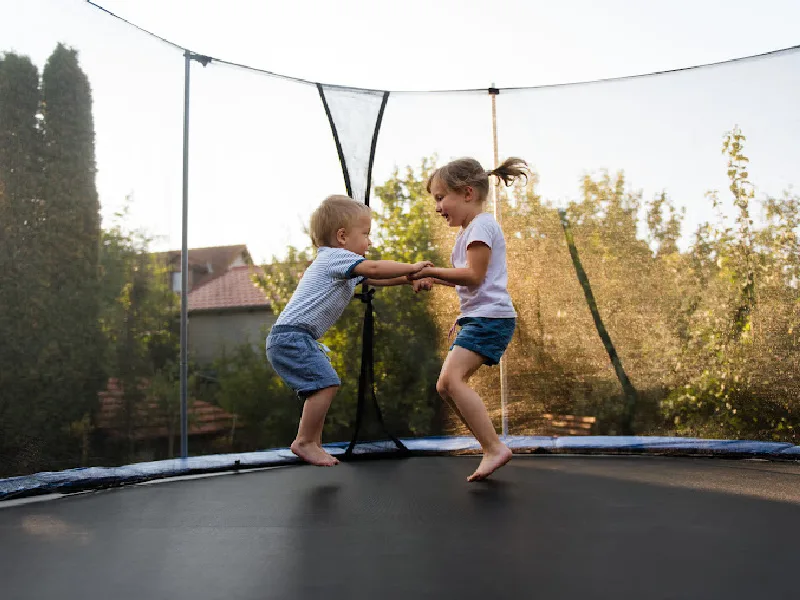 FREQUENTLY ASKED QUESTIONS: Trampoline Safety
No.1: How can you tell if a trampoline is safe?
The first clue is in the condition of the trampoline.
Are there visible tears or holes in the mat?
Are the poles rusty?
What is the condition of the trampoline enclosure net?
How well cared for is the trampoline?
What does it look like in general?
That will give you all you need to know.
A closer inspection will show you if you need to avoid it.
Look out for broken springs, wire poking out, tears or rips in the jumping surface itself or the netting.
If in doubt, don't jump.
No.2: How do you ruin a trampoline?
Most modern trampolines are well made enough to leave outside all year round, with the exception of very cold or snowy locations when a snow dump might overwhelm the trampoline mat and destroy it for good.
Snow can ruin it.
Salty sea air can make it rusty.
Too much of the harsh sun can damage the mat's sturdiness too, so it's a good idea to make use of a trampoline cover or roof if you have one so your trampoline can last as long as possible.
They are a big expense so taking care of a trampoline is crucial.
RELATED: Guide to the Best Trampoline for Kids 2021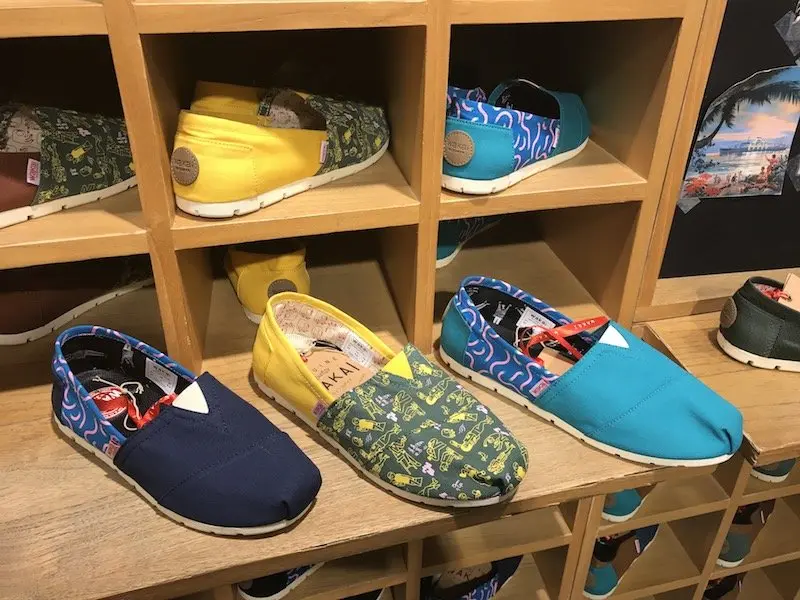 No.3: Do shoes ruin a trampoline?
Soft shoes or socks won't.
But soccer shoes, or anything with a hard sole will definitely have an impact.
Bounce shoeless.
What's another reason why don't you wear shoes on a trampoline?
Going barefoot is not only good for the mat, it's good for your balance, dexterity and, some might say, also good in preventing dementia by allowing your brain to use the flexible surface as a way to strengthen the synapses and build new connections in the brain.
No.4: Do you need socks for trampoline?
You don't on a backyard trampoline, but you can.
If you visit a trampoline park, you will need to purchase their sticky soled non slip trampoline socks or take a pair of your own.
Try these non slip socks for trampoline play.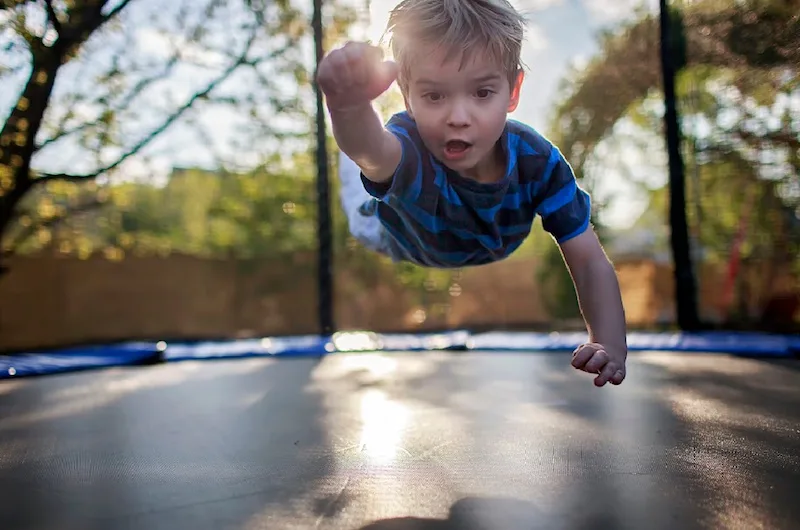 No.5: Does putting water on a trampoline ruin it?
Not if you do it for short periods, such as adding a trampoline sprinkler for water play on a hot day.
No.6: Is it OK to leave trampoline out in rain?
In most cases, yes
Although some brands of trampolines might suggest differently.
Check your purchase guide for details.
No.7: Why do trampolines rip?
Too much weight on a trampoline, over time, may lead to rips, especially if the trampoline mat quality has been compromised by sun damage or silly play like putting a bike or trike on the mat.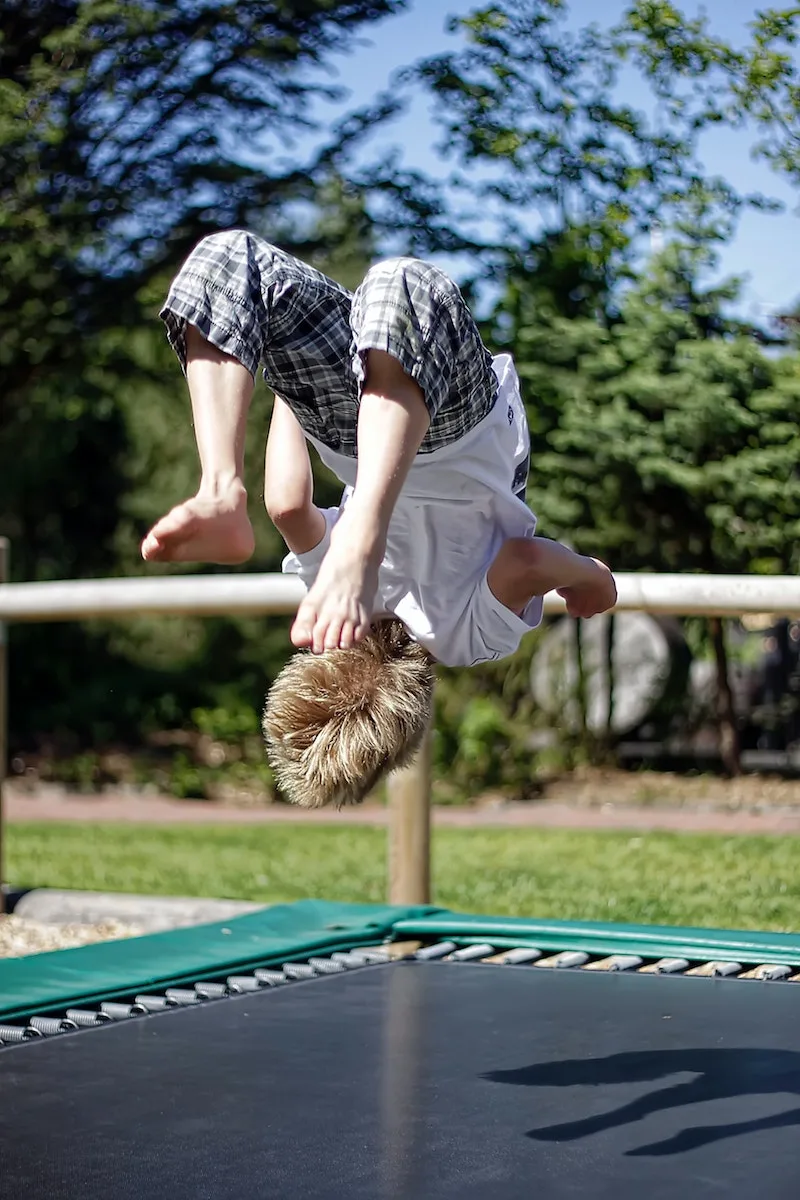 No.8: Can you fix a trampoline rip?
It's not recommended.
It's far safer to replace a trampoline mat with a new one.
No.9: What should you wear on a trampoline?
If you are dancing on a trampoline, or exercising on a trampoline, or simply playing games on a trampoline, all you need is comfortable clothes such as:
yoga or sweat pants
yoga top or exercise top
fleece tracksuit pants or shorts
t-shirt or singlet top
If you have long hair, tie it up in a pony tail or you'll be blinded!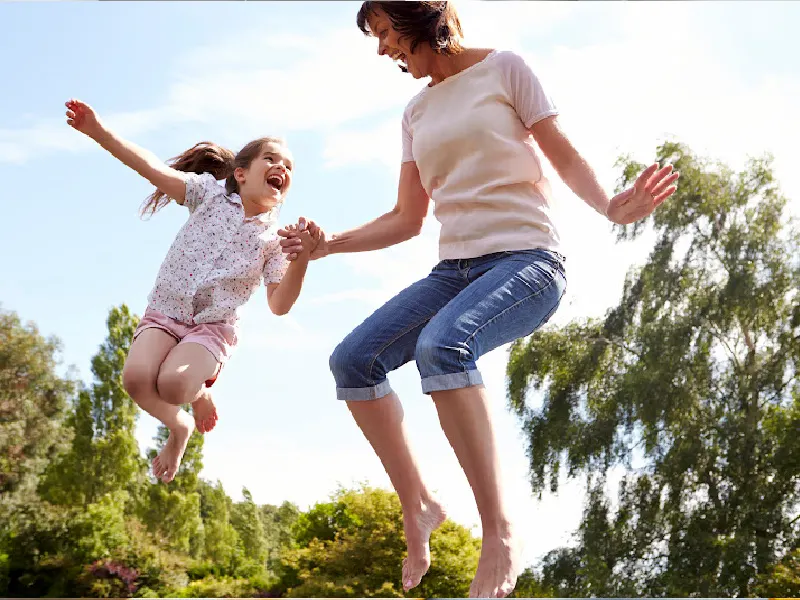 No.10: Can adults jump on 12ft trampoline?
It's not recommended.
For safety, adults should jump on trampolines that are at least 14ft or 15ft in size. But check the weight limits before you do.
No.11: Can you exceed the weight limit on a trampoline?
It's risky, but you can.
Just don't be surprised if your trampoline mat splits.
It's happened to us, when all the neighbourhood kids were having a trampoline party.
Given, the trampoline mat was very old so was already compromised by sun damage.
No.12: What are some good games to play on trampolines?
Read this guide below.
It lists the 44 best trampoline games for kids and adults.
Or this one:
Best games to play on the trampoline by yourself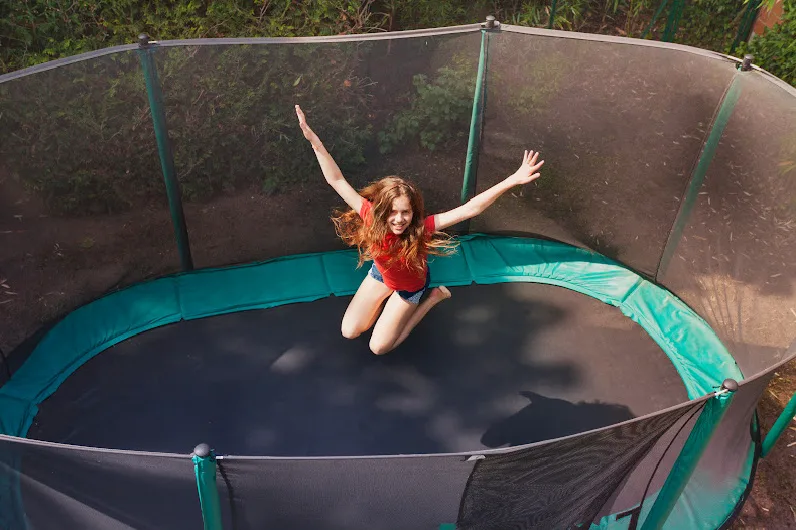 Looking for MORE Trampoline Activities?
Click the blue link below for more activities for kids and adults