INSIDE: Everything you need to know about what is the best trampoline for kids and adults?
Wondering what is the best trampoline to buy for kids?
What is the best trampoline on the market for toddlers and preschoolers, or teens?
What is better Spring or Springless trampoline?
How much should I spend on a trampoline?
Most importantly, what is the bounciest trampoline?
Let's have a look!
Read our comparison guide below to find tips on the best trampoline for kids.
Disclosure: This article contains affiliate links. If you make a purchase after clicking on one of these links, we may receive a small commission at NO extra cost to you.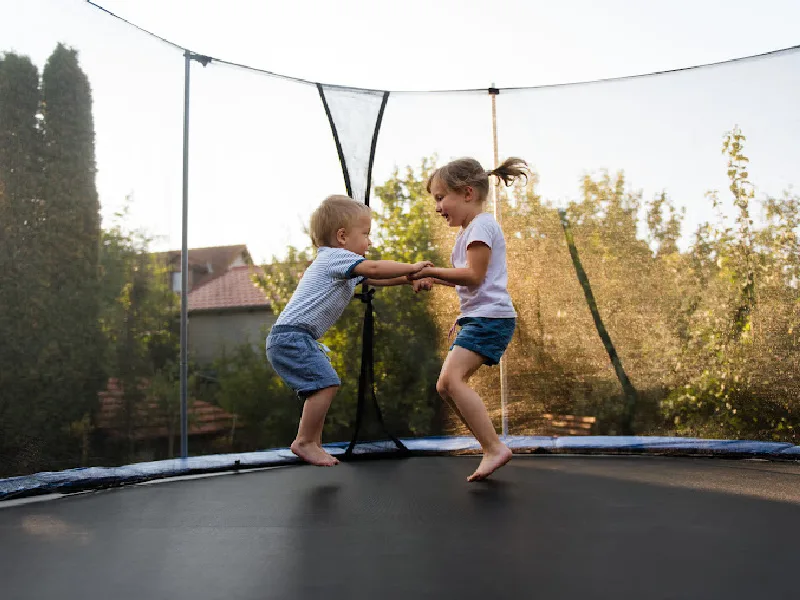 THE INSIDE SCOOP: 4 OF THE BEST TRAMPOLINE FOR KIDS UNDER 14
Correct at time of publication on Roam the Gnome. We apologise in advance if there have been any changes we are unaware of. All prices in US dollars, unless otherwise stated. Trampoline play may have risks involved and ideas are shared for educational purposes only. The writer does not assume any responsibility and shall not be held liable for any complications. Play at your own risk.
Looking for the best trampoline kids don't ever want to get off?
These are our top trampolines for kids, teens and toddlers.
RELATED: The 9 Best Trampoline Brands on the Market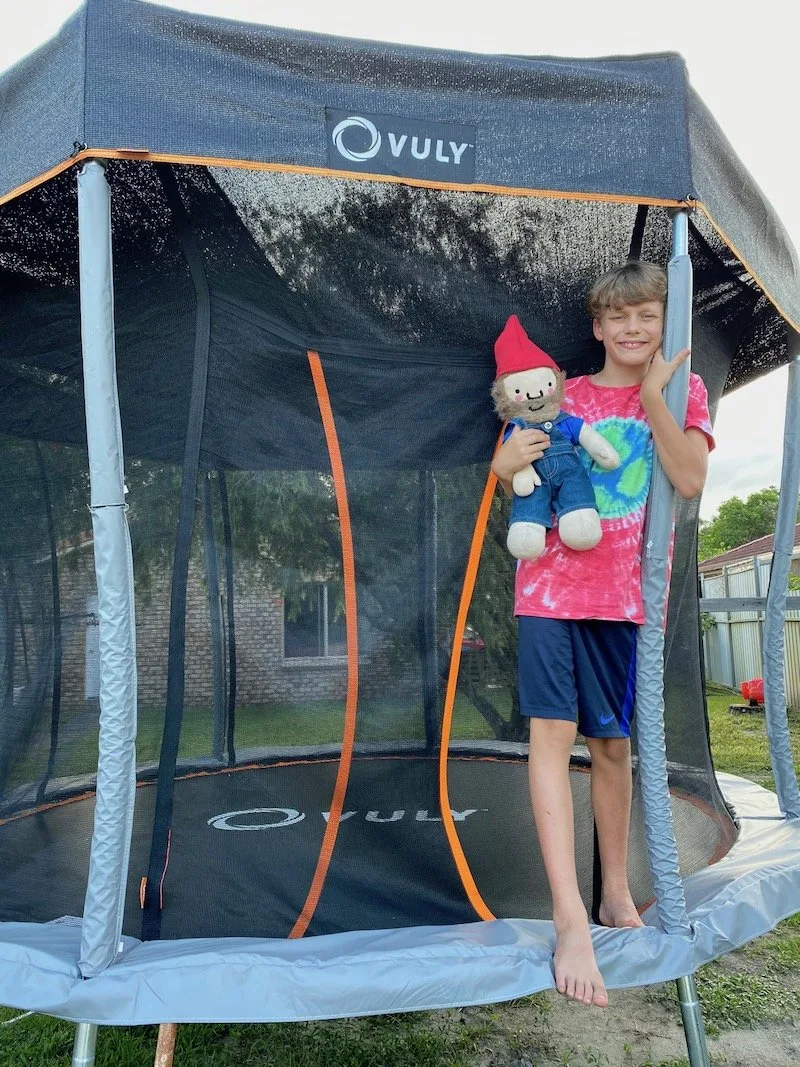 No.1: Vuly Ultra Trampoline
VULY trampolines are the best trampolines for kids who are mad keen jumpers.
They are sturdy, with a 10 year warranty on trampoline poles and frame, and a massive 5 YEARS warranty on the trampoline mat.
We've had the VULY Ultra trampoline for two years, and it looks like new, despite living in one of the sunniest, hottest climates.
The thing we like best about the VULY trampoline company is that you can buy lots of trampoline accessories to go with your tramp too:
a trampoline skateboard deck to practice tricks
a portable trampoline speaker
basketball hoop for trampoline play
trampoline water sprinkler
RELATED: 44 Best Trampoline Games for kids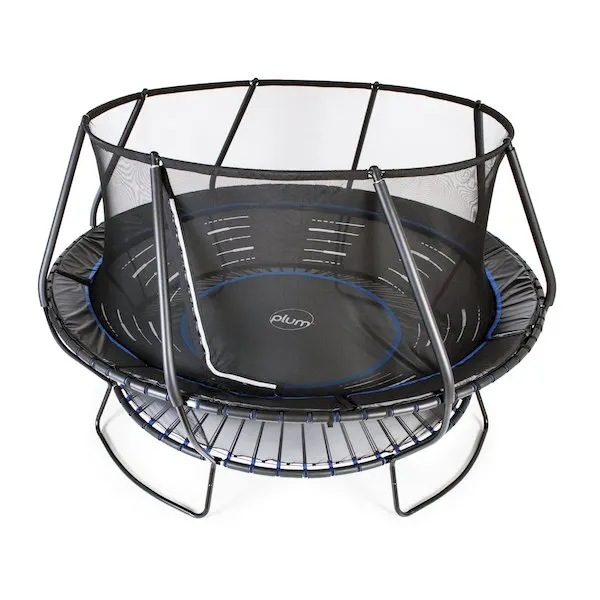 No.2: Plum Play trampolines
A Plum Play trampoline is next on our list of good trampolines for kids.
Over 1 million Plum Play trampolines have been sold around the world!
But the best of the best is THIS ONE, pictured above.
The trampoline that looks like a drinking cup!
The Plum Bowl Freebound Trampoline is said to be the safest trampoline in the world.
And our pick of the best kids trampoline for dedicated athletes and gymnasts.
The combination of the flat base and the curved tracks that run around the edge give it an extra element of fun too, as kids can bounce off the curved sides to do awesome trampoline tricks.
You can also buy regular Plum Play trampolines with their Spring Safe® technology as an:
8ft SpaceZone Spring safe trampoline
10ft SpaceZone Spring safe trampoline
14ft SpaceZone Spring safe trampoline
You can also buy a trampoline ladder, and a cool yellow-rimmed Plum Play trampoline basketball kit as additional Plum Play trampoline accessories.
RELATED: 96 Best Trampoline Activities for Crazy Fun People!
No.3: Skywalker Trampolines
Skywalker trampolines are the best cheap trampolines for those on a budget, without compromising safety.
What this round trampoline lacks in style, it makes up for in safety features for children.
This basic brand of trampoline that always include a safety net.
No if's or buts.
They also have a patented enclosure that has been designed to stop kids having their fingers or toes caught by removing the gaps between the enclosure net and the trampoline jumping surface mat.
They all have a three year limited warranty on the frame, and one year warranty on the mat and other bits,
The Skywalker trampoline company goal is to make affordable trampolines for everyone.
RELATED: 23 Arty Farty Fun Things to do on a Trampoline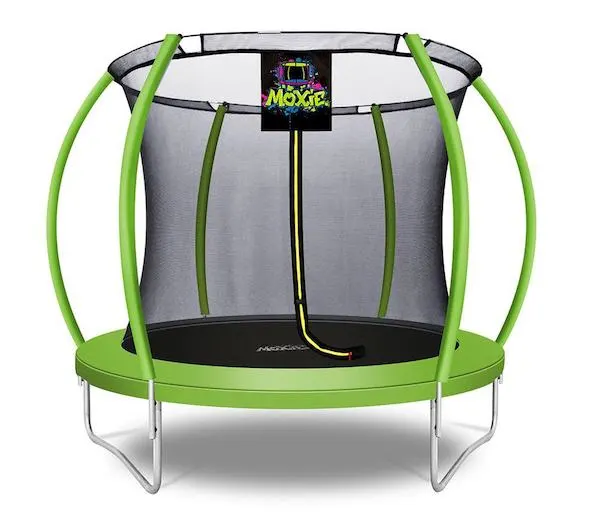 BEST TRAMPOLINE FOR TODDLERS
No.1: Upper Bounce Moxie trampoline
Wondering what is the best trampoline to buy for toddlers?
Have a look at the 6 foot or 8ft Moxie pumpkin shaped trampolines!
Adorable is not enough of a compliment for the Upper Bounce Moxie 8ft trampoline.
Even though this is a little trampoline, it can handle the weight limit too, making it one of the safest trampoline for kids.
The 8ft can hold 125 kg of weight.
That's one more reason why it's one of the best trampolines for toddlers!
RELATED: 11 Crazy Fun Trampoline Games with Balls that you'll love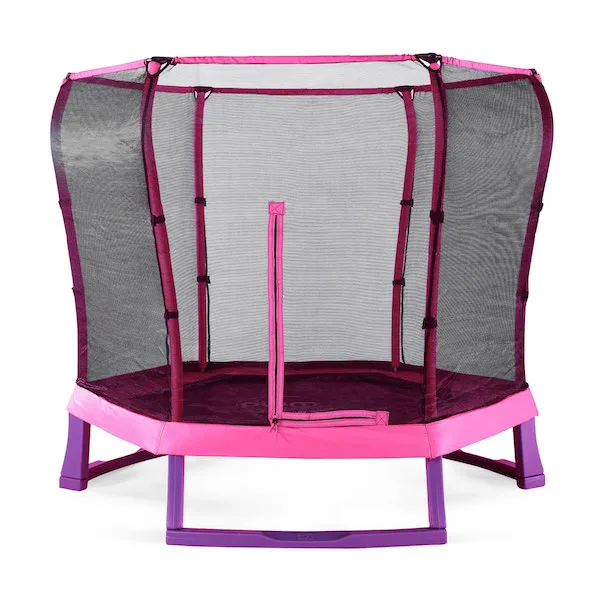 No.2: Plum Play Junior Trampolines
Still looking for toddlers trampolines?
There are two styles of a Plum Play junior trampoline.
The 4.5ft and 6ft junior trampoline from Plum Play are miniature versions of a regular outdoor trampoline with enclosure net for toddlers.
This trampoline for a toddler is available in both fushia pink or aqua blue.
But the Plum Play 7ft junior trampoline has the edge when it comes to style!
The Plum Play junior 7-foot trampoline is hexagonal shaped.
This small kids trampoline comes in both pink and blue too.
If aesthetics are important to you in a backyard trampoline, then this is the best toddler trampoline to buy!
You won't find a better kids mini trampoline for the stocking!
RELATED: MORE of the Best Games to Play on a Trampoline by Yourself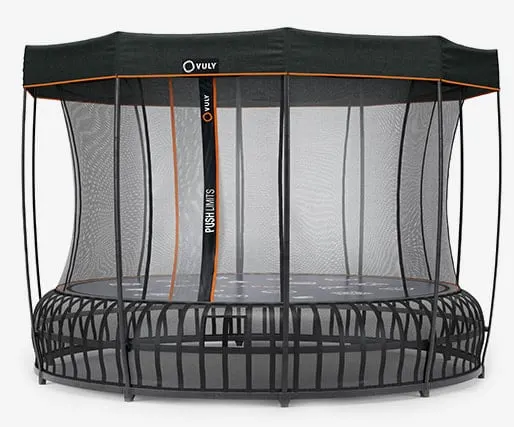 BEST TRAMPOLINE FOR TEENS?
No.1: VULY Thunder Pro Trampoline
The best trampoline for teenager fun is the EXTRA LARGE VULY Thunder Pro.
Put this trampoline at the top of your Christmas list.
The VULY Thunder Pro trampoline is one of the most modern looking trampolines, with a unique spring system that wraps around the base of the trampoline.
The VULY Thunder Pro comes in these two sizes:
medium VULY Thunder Pro
large VULY Thunder Pro
Every trampoline has 10 years warranty on the frame and poles, and five years warranty on the trampoline mat.
Plus plenty of safety features including a trampoline enclosure that stops anyone getting underneath.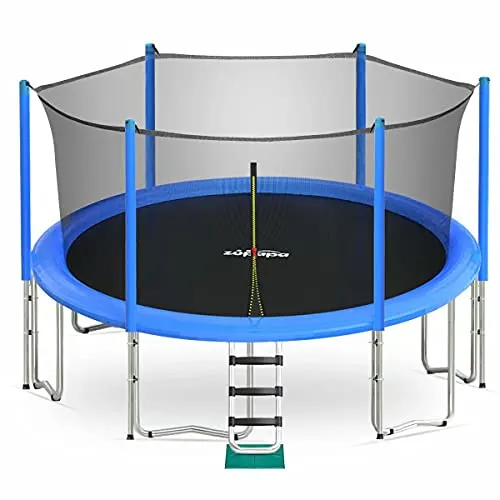 No.2: Zupapa Trampoline
Everyone knows that the most important thing for teens on trampolines is the bounce factor.
This Zupapa trampoline has 12 more springs than most other trampoline brands, because as everyone knows, springs are the thing for boosting bounce.
More of the key wins are:
a higher enclosure net to stop falls, so teens can flip and do tricks to their hearts content
a no gap mat so teens can't accidentally catch their toes in the springs
a higher weight capacity than most trampolines – 425lbs!
a heavy duty mat to last for years
It's also weather resistant and built to last with hot dip galvanized steel frame and poles – the quality is solid.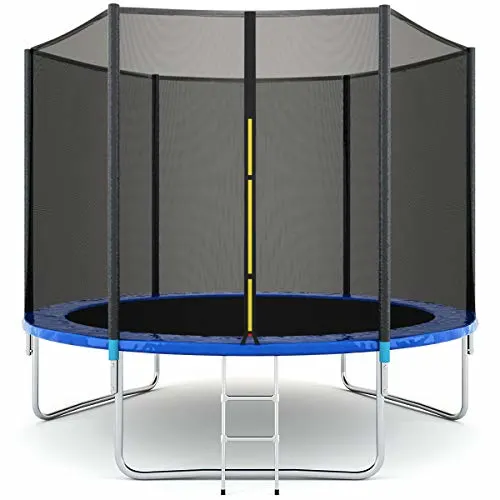 No.3: Giantex Trampolines for teens
A large Giantex trampoline has a 330 lb capacity, and a heavy duty jumping mat, so it's good for tricks and trampoline games for teens.
The U shaped legs of this trampoline help the trampoline to stay still and centred when big kids are jumping too, making it one of the best trampolines for teenagers as it's a much safer option than some trampoline brands.
It's also one of the best trampolines for teenager girls who are planning a trampoline sleepover party with friends.
The high poles of the safety enclosure net are just perfect for hanging twinkle lights and all the cute decorations you need to sleepover on a trampoline with friends.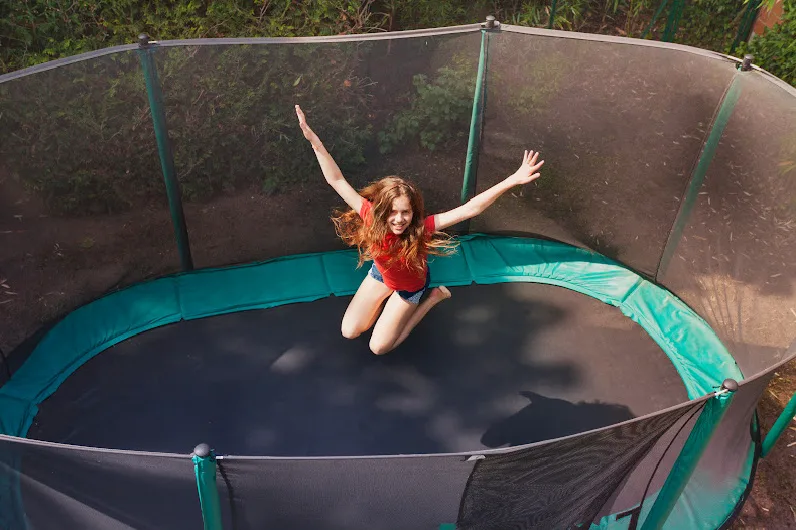 Looking for MORE Fun Trampoline Activities?
Click the blue link below for more activities for kids and adults