INSIDE: Everything you need to know about the 16 best trampoline tricks EVER.
What tricks can you do on a trampoline?
What is the easiest trick to do on a trampoline?
What is the hardest flip to do?
What are flips called in gymnastics?
You'll find answers to all these questions, and more in our guide to learning easy tricks on a trampoline, how to do trampoline tricks for beginners, plus all the trampoline trick names from the world of acrobatic gymnastics.
Read below for details.
Disclosure: This article contains affiliate links. If you make a purchase after clicking on one of these links, we may receive a small commission at NO extra cost to you.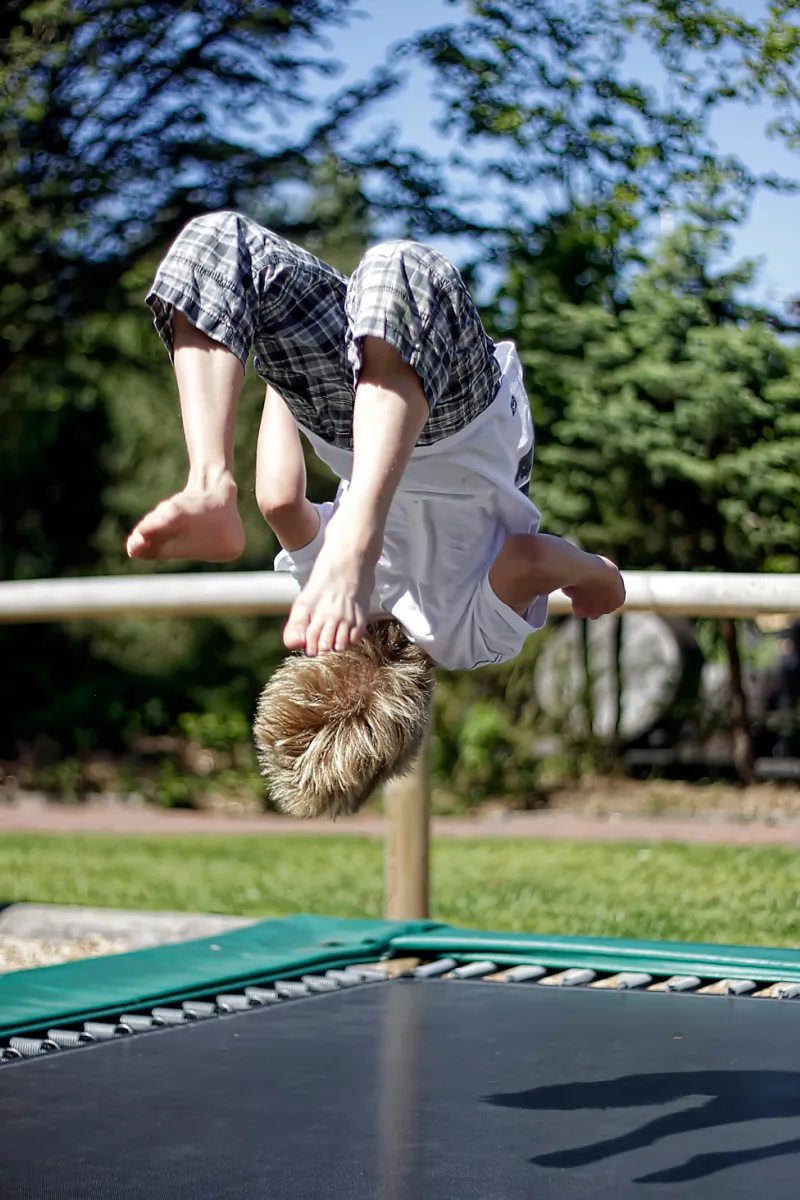 Image credit: Martin Magnemyr via Unsplash
THE INSIDE SCOOP: 16 BEST TRAMPOLINE TRICKS LIST
Correct at time of publication on Roam the Gnome. We apologise in advance if there have been any changes we are unaware of. All prices in US dollars, unless otherwise stated. The techniques covered in these videos can be dangerous and are being shown for educational purposes only. The writer does not assume any responsibility and shall not be held liable for any complications. Practice at your own risk.
Check out this big list of cool tricks on a trampoline.
It includes tips on:
cartwheels
side flips
front flips
back flips, and
handstands too.
RELATED: 96 Best Trampoline Activities for Crazy Fun People!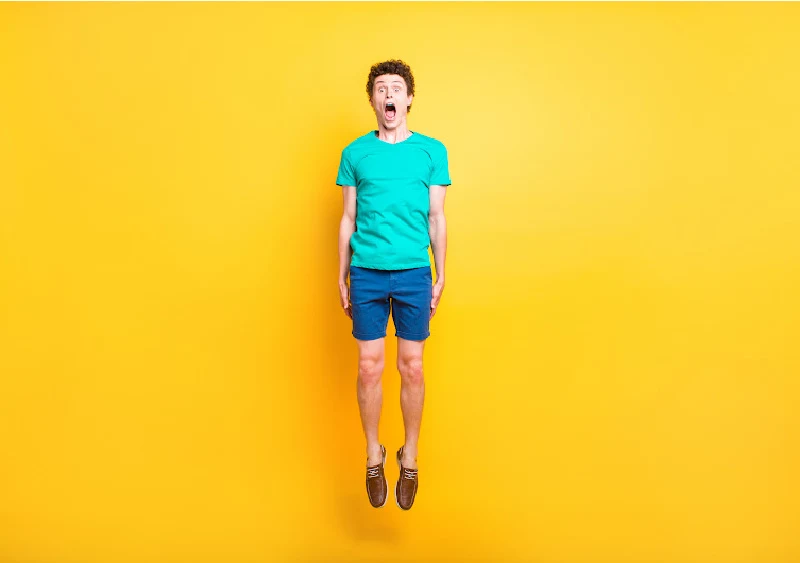 No.1: How to jump on a trampoline
Wondering how to do a straight jump, the most basic trampoline tricks.
The simplest of trampoline jumps goes like this:
bend your knees, keeping a gap of about 10cm between your legs for balance
pull your arms and elbows backwards, or with straight arms and hands in a backward wave motion.
use the power of your feet to spring upwards
sweep your arms up at the same time, reaching upwards towards the sky until your body is in a straight line
bend your knees slightly when you land
repeat and use your strength to jump higher with each bounce
RELATED: 44+ Best Trampoline Games for Kids and Adults who need to burn energy!
No.2: How to do a Tuck Jump Trampoline Trick
The tuckjump trampoline trick is the best trick for those at the very beginning their trampoline flips journey.
How do you tuck jump in trampolining?
It's the next move to master and it's easy.
Watch this video by our friends at VULY trampoline below.
RELATED: Read our honest VULY Trampoline Review (one of the best trampolines for tricks)
No.3: How to do tumbling on a trampoline
Check out this fabulous Wikihow pictorial guide on how to do a forward roll and a dive roll (or diving somersault).
These are two of the foundation skills for gymnasts and you can do both on a trampoline.
Then, watch the Male Tumbling World Championships below for some serious inspiration!
RELATED: Round Up of the Best Trampoline Brands
No.4: How to do a cartwheel on a trampoline
The next of the gymnastic trampoline tricks on the trampoline to master is the cartwheel.
This step by step tutorial on one of the easiest gymnastics trampoline tricks will help.
The most important thing is to remember to start facing forwards, NOT sidewards.
Also, keep your hands in the same spot the entire time.
No.5: How to do a seat drop on a trampoline
What are seat drops, and how do you do a seating landing?
It's important when you do seat drops on a trampoline that you:
land with feet facing forward
keep your hands facing forward, placed next to your hips
Check out this visual tutorial below by Trampoline Olympian, Dylan Schmidt.
RELATED: 11 Crazy Fun Trampoline Games with Balls that you'll love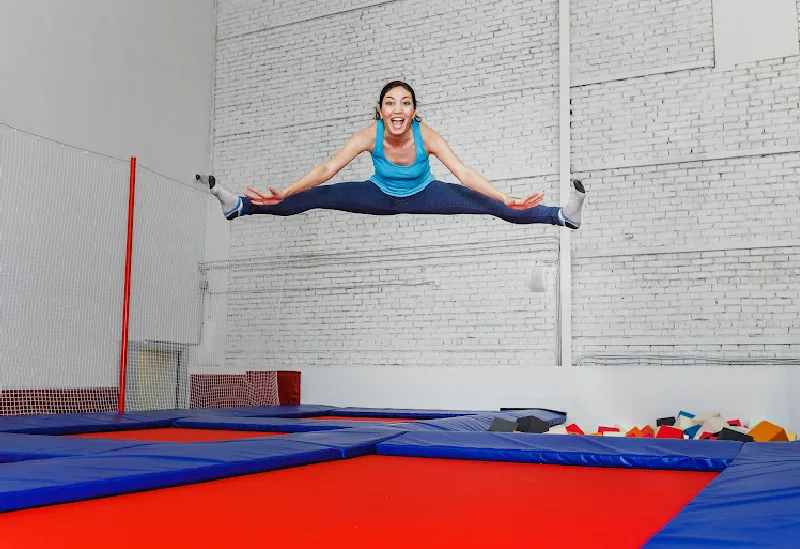 Trampoline warm up exercises
He includes warm up tips including:
how to make basic shapes on a trampoline in the air and practice a tuck jump, a toe touch, a pike jump, and a straddle jump with legs straight
half twist turns
full twist turns
These basic tricks help condition you for more advanced tricks.
Swivel hips on trampoline trick
Once you master the seat drop, you can practice a seat drop half turn, and then a seat drop swivel hip move.
The trampoline seat drop twist adds to your repertoire of cool tricks to do on a trampoline.
No.6: How do you do a front drop on a trampoline?
At the 3.15 minute mark in the video above, Dylan shows you how to do a front flip on a trampoline using a small mattress to practice.
The important things to remember in a belly drop on the trampoline are to:
put your hands under your chin
look at the end of the trampoline in front of you
land on your stomach – your belly button should land where your feet were
keep your feet off the trampoline
You can also check out the pictorial guide here.
No.7: What is a backdrop on a trampoline?
Check out Dylan's video above at the 4.15 minute mark.
This is a great one showing you how to land in different positions on the trampoline.
His unique tip is to pretend you are kicking a football!
No.8: How to do a hands and knee drop trampoline
How do you do a knee drop on a trampoline?
The hands and knee drop is also called a table drop.
(If you do the move just onto your knees, it's called a knee drop.)
The key is holding strength throughout your core.
Check out the clip below for tips.
Justin's video above also shows you how to change from different body positions on the trampoline into other ones, to do the Donkey Kick flip.
RELATED: MORE of the Best Games to Play on a Trampoline by Yourself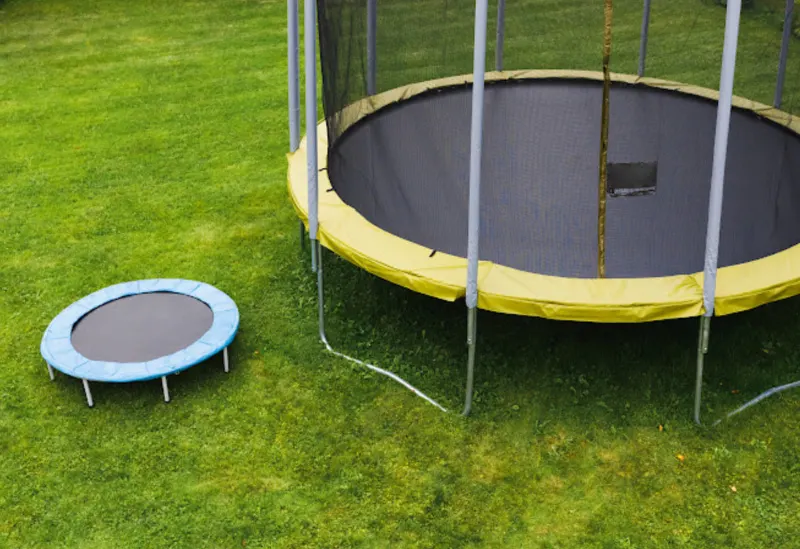 No.9: How to do a Side Flip
The side flip is the next in the sequence.
A side flip is basically a cartwheel with no hands.
What is a side flip called?
There's a few names for it in the world of trampolining acrobatics and gymnastics.
They are:
side flip
no hands
side aerials
no hands cartwheel
aerial cartwheel
aerials
Is a side flip easier than a backflip?
Yes, that's why you should learn it first.
No.10: How to do a Front Flip Trampoline Trick
How do you master frontflip on a trampoline?
The key is to start by being ok to land on your bum while you focus on making the flipping roll feel natural to your body first, and getting comfortable knowing where your body is in space.
A front flip goes like this:
start by jumping a few straight jumps in the middle of your trampoline mat
use your arms to help gain height
practice the tuck jump move, of bringing your knees up to your chest (practice this move over and over again till you master it)
the next step is to pump the arms at the same time, to propel you forward with a double bounce so you can spin over in a front flip roll, with knees tucked
The first few times can be scary, so a lesson or two at your local gymnastics or circus skills facility can be helpful in helping you over the fear factor.
Take a look at this Wikihow picture guide for all the steps.
How do you land a front flip on a trampoline?
That's another question altogether.
Lucas can help with a few helpful tips on gymnastics trampoline tricks.
Check them out below.
How to do a Knee Flip front flip
You can also do a knee flip, which is where you do a front flip from a starting position on the knees.
Check out the pictorial guide here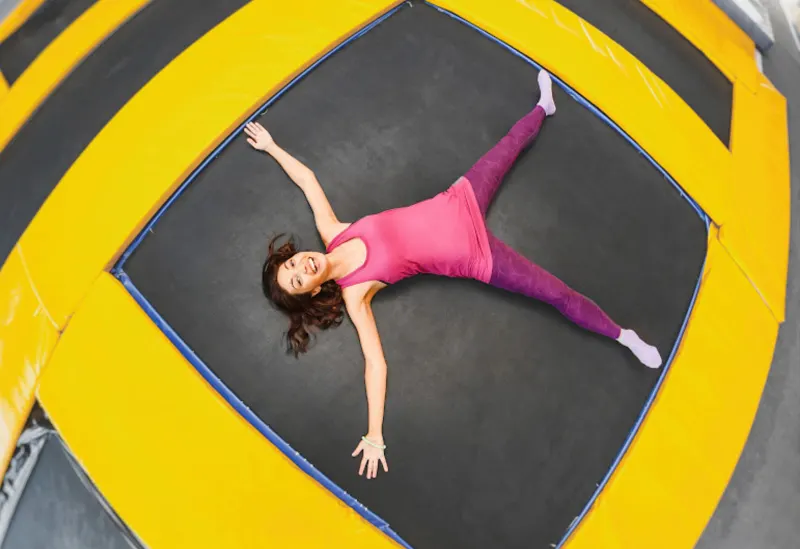 No.11: How to do a Backflip on a Trampoline
Can you teach yourself to do a backflip?
Absolutely.
Is learning a backflip hard?
A somersault with backward rotation is not the easiest of things but it's not impossible.
How long does it take to learn to backflip?
Put in the time and effort, and it's likely, you'll master the back somersault in just a few days.
Do you need to be strong to do a backflip?
Not especially.
But core strength will definitely help you do one complete backward rotation.
Note: the body can be in any of the tucked, piked or straight positions.
Yoga or pilates are two of the best ways to develop core strength in your mid section.
What is a backflip without hands called?
The shorthand term for a back handspring is a whip back.
This is the backflip move where your hands don't touch the trampoline mat.
How to do a back flip with no hands like a gymnast?
A good way to learn how do you do a backflip on the trampoline is to head to a trampoline park for professional training.
They often have giant foam pits filled with foam blocks so you can jump from the trampoline into the foam pit to reduce injury while you learn the correct sequence and help your body learn muscle memory for the move.
How do you do a backflip in one day?
Lucas will show you how to get over the fear of falling backwards, which is one of the biggest barriers, and answers the question, how do you do a backdrop backflip?
If you've been wondering how do you land a backflip, check it out too.
What is a cartwheel backflip called?
A roundoff back flip.
Check out this tutorial above to see it in action.
Are backflips dangerous?
This is one of the most frequently asked questions.
Any trampoline flip includes an element of risk, which is why it's important to know what you are doing and to learn to flip safely.
Again, professional lessons are your best bet to do all flips safely and properly and we highly recommend them.
No.12: How to do a full on a trampoline
Learn how to do a backfull on the trampoline with this simple tutorial.
According to Wikipedia, a back full (or full) is a full-twisting straight back somersault.
Lucas shows you all the tricks on how to do a backflip 360 above.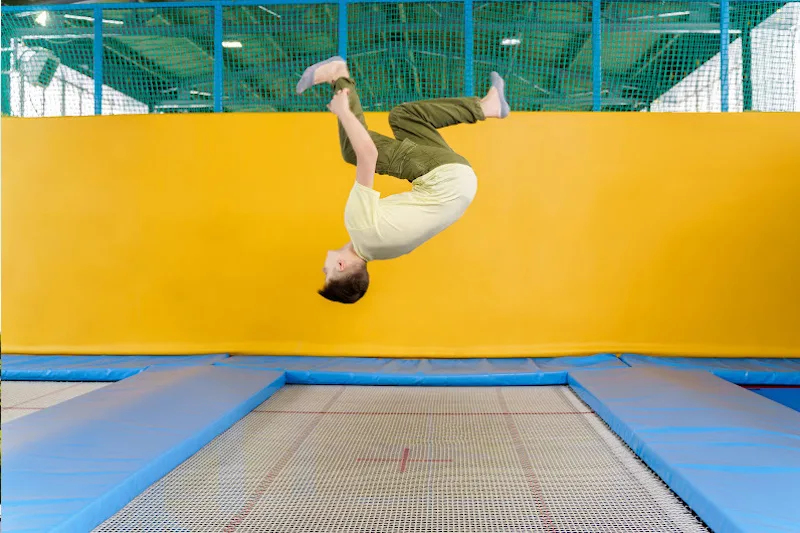 No.13: How to do a gainer on a trampoline
What is a gainer trick?
A gainer flip is the acrobatic trick of performing a backwards somersault while still moving forward.
What is the difference between a gainer and a backflip?
The forward movement is the differentiating factor.
How to do a gainer flip
Wondering how to learn a gainer flip in 5 minutes, or how do you cheat on Gainer?
This tutorial above is a great way to learn how to cheat gainer flips and master the real thing quickly too.
No.14: How do you do hand springs on a trampoline?
Can you do a back handspring on a trampoline?
Yes, you can.
This guide on how to do a back handspring has step by step pictures.
How do you do a handspring on a trampoline?
Start by bending your hips without letting your knees go in front of your toes, and swinging your arms down, and then back up with momentum.
Practice this movement on the trampoline a few times.
Then follow the steps in the video above, stretching first to make sure your wrists are warmed up.
It's helpful to know how to make a bridge, a handstand block, and to do a back walkover and a back limber too.
If you know these, you're steps ahead.
Get comfortable with these moves first.
When you are ready to try a hand spring trick, ask someone to spot you.
How do you do a back handspring on a trampoline without being scared?
Head to a trampoline park for professional tutoring.
RELATED: The best trampoline for kids 2021 (update coming soon)
No.15: How to do a double back flip?
Time for a spin?
This is one of the hardest trampoline tricks to land but it's possible if you try.
Practice a double backflip at a trampoline park first where you have LOTS of room to move about and fall over.
Fear is the biggest barrier again which is why Lucas shows you this hack.
No.16: How to do a handstand on a trampoline
One of the best ways to learn how to handstand on a trampoline is to learn both the:
knee drop handstand
back drop handstand
This video above shows you how to do these advanced trampoline tricks.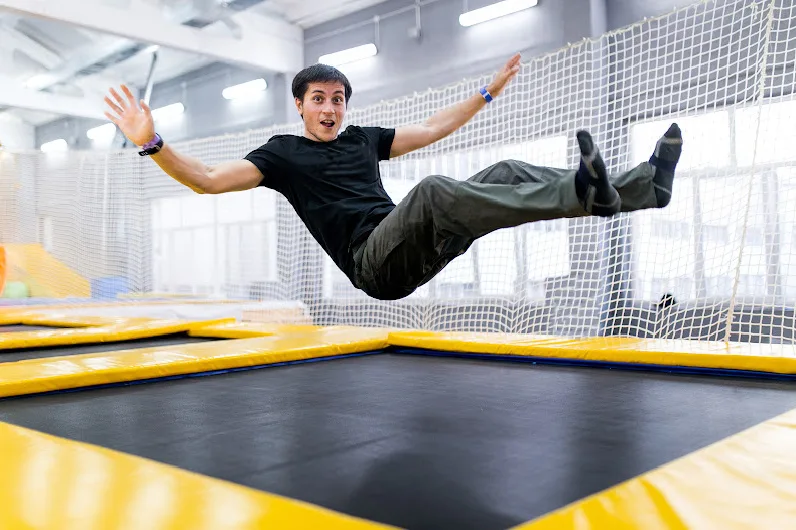 The Best Trampoline for Adults 2021
Check out our guide to the best trampolines for adults so you can do cool trampoline tricks too!
There's information on:
which are the best heavy weight capacity trampolines
trampoline weight limit guidelines, and
the best trick trampolines for trampoline moves.
Includes a trampoline sizes guide and trampoline safety tips.
RELATED: Guide to the Best Trampoline for Kids 2021
Hot tip: All the Trampolining Terms
This glossary of trampolining tricks is the best we've seen as it includes all the nicknames for easy trampoline tricks to learn, and more difficult ones such as :
the Adolf
the Dolphin
the Rudy
the Jonah, and
the Porpoise too!
As well as some two person trampoline tricks too.
RELATED: Guide to the Best VULY Trampoline Accessories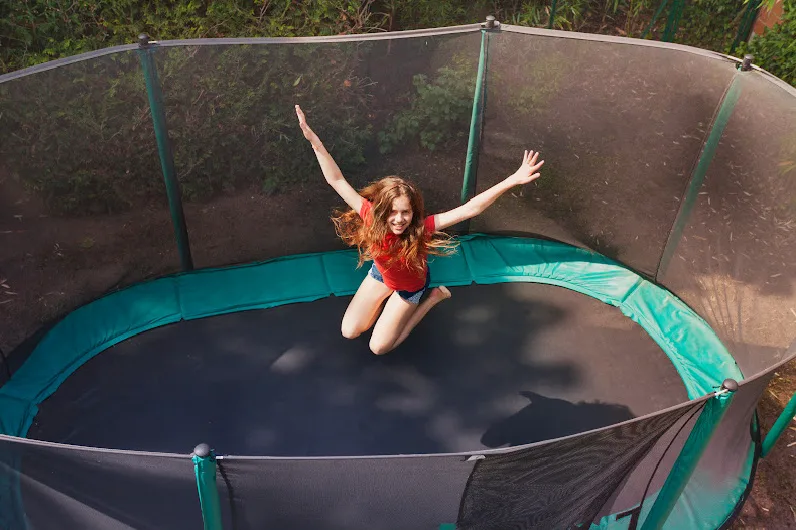 Looking for MORE Trampoline Activities?
Click the blue links below for more activities for kids and adults