INSIDE: Our tried-and-tested Vuly Trampoline Review – EVERYTHING YOU NEED TO KNOW!
Our Roam the Gnome Family Travel life is a split personality.
We're either travelling, OR we're complete homebodies, saving every cent for the next trip, never venturing far and making our own kind of FREE fun!
There's no middle ground.
We're lucky enough to live in a street FULL of BOYS, from 3 years to 15 years.
(There's barely a girl in sight!)
Scooters
Bikes
Basketballs
Soccer balls
Skateboards
Pogo Sticks
Our house is filled with them.
But the MOST IMPORTANT piece of equipment in our back garden is the trampoline.
We can't live without our VULY tramp.
Want to find out more about the safest trampoline brand in Australia, including ALL the positives and negatives before you buy?
Read on.
Disclosure: This article contains affiliate links. If you make a purchase after clicking on one of these links, we may receive a small commission at NO extra cost to you. Vuly Trampolines Australia provided the trampoline for us to review however all opinions are our own honest sentiments.
VULY Trampoline Reviews Australia
When we returned home after our trip to visit Santa (YES, the REAL Santa!) in Lapland the week before Christmas, the kids were gutted to see a big split in the trampoline mat.
YEARS of use by the crowd of kids from our street, plus constant direct exposure to the sun, had weakened the fibres and caused it to tear.
But even two weeks without a trampoline was TOO LONG in this house.
We had to remedy that loss quick smart.
Now, we have a VULY Ultra trampoline, thanks to VULY Australia, and we're suitably impressed at the quality, style & features.
Read our VULY trampoline review below to see why!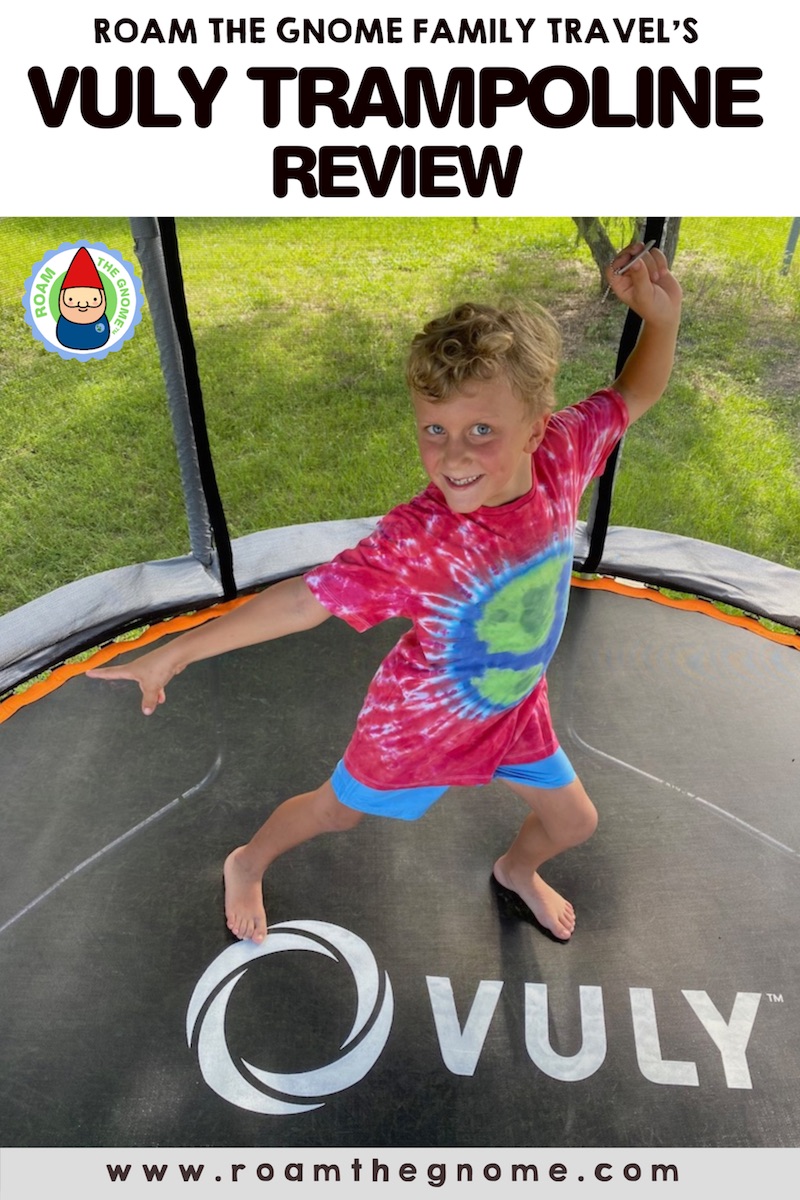 VULY ULTRA Trampoline Review of Set Up
Our new Vuly Ultra trampoline in medium size (3.2 metres or 10ft trampoline) came complete with everything we needed in the boxes. We didn't have to search for an allen key, or a screwdriver, or a wrench.
The four boxes of parts were distinctly labelled, and the parts were stored in boxes with similar parts.
The W poles, T-joiners, springs and the spring tool in one.
The curved poles and jump mat in another.
A very thoughtful consideration for the non-technical among us!
Plus, there were NO nuts or bolts, no tiny packets of miscellaneous screws, and no plastic pieces.
We recycled the lot.
The cardboard boxes the trampoline came in were used by Jack and his mates to build cubbies, until the rains came and made them all sloppy, then they were ditched into our green waste bin (sans plastic tape).
I dropped all the big plastic bags housing the jump mat, safety net, springs, and shade cover to our local Coles supermarket plastic recycling bin.
Installing the VULY trampoline at home was a waste free endeavour, which is a huge plus to us!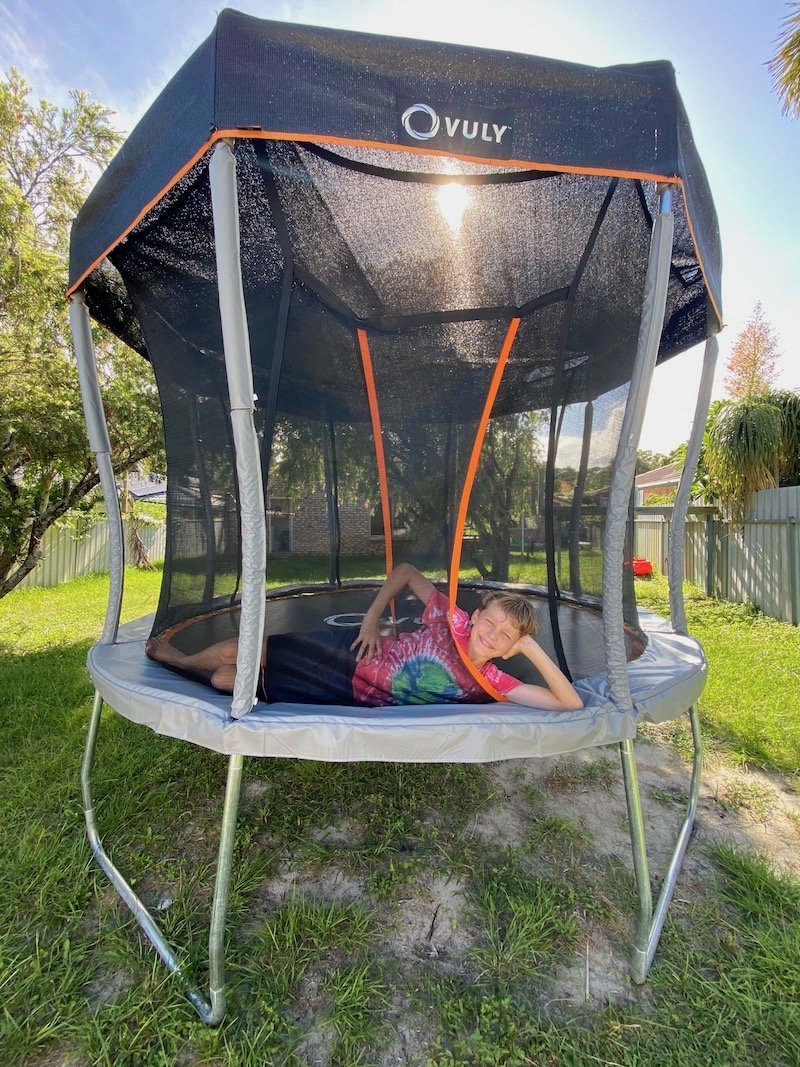 Tips for Trampoline Installation
Read the ENTIRE installation guide FIRST! I'll say it again.
Read ALL the steps before you start putting it together.
It's REALLY important to read the guide thoroughly, without the distraction of excited kids, so you don't miss a step, or lay out the poles back to front.
Make sure the curved pole on the right of the T-joiner has the spring hole on the TOP of the pole.
This is important for step 5.
The batch tag you are looking for in step 6 is UNDERNEATH the mat. Look for the warning label on the top of the mat, and flip it up to find the batch tag. It's hidden!
It is possible for one strong person to build it on their own, but it's easier with two.
Pro's of the VULY Trampoline Net
We love these details:
Getting in and out safely
The nets on the entranceway of the trampoline overlap, and snap shut, so once kids are inside, they can't fall out, or off.
Plus, there's no velcro, or zips that break!
Thank the heavens.
Keeping fingers safe
No-one is getting their fingers caught in the net because the trampoline net webbing is super tightly woven.
This is a huge plus, as our last net was broken by older kids jumping up to put their fingers in the holes of the net and pull it down as part of some random parkour trick.
Kids can't do that to this one!
Mosquito protection!
Working together, the net and shade cover are keeping out the mossies!
That's a huge bonus in our garden after this big wet season of rain, and the only place the kids can go to escape them.
The dark, tight weave of the net also helps the kids to feel like the trampoline is a cubby with solid walls, while still being transparent enough for me to see-through from a distance.
Injury minimisation
The poles that hold up the net are curved outwards and are thickly padded (with water-resistant fabric) to minimise injury to bouncing kids
The net also attaches directly to the jump mat.
This means the net is less likely to rub against the poles, risking damage or tears to the net itself.
There's also NO GAP between the mat and the net.
A huge bonus when you have small toddlers on it, so they don't fall through.
Yes, a VULY trampoline is definitely more expensive than a Big W trampoline, an Aldi trampoline or a Kmart trampoline but it's easy to see why.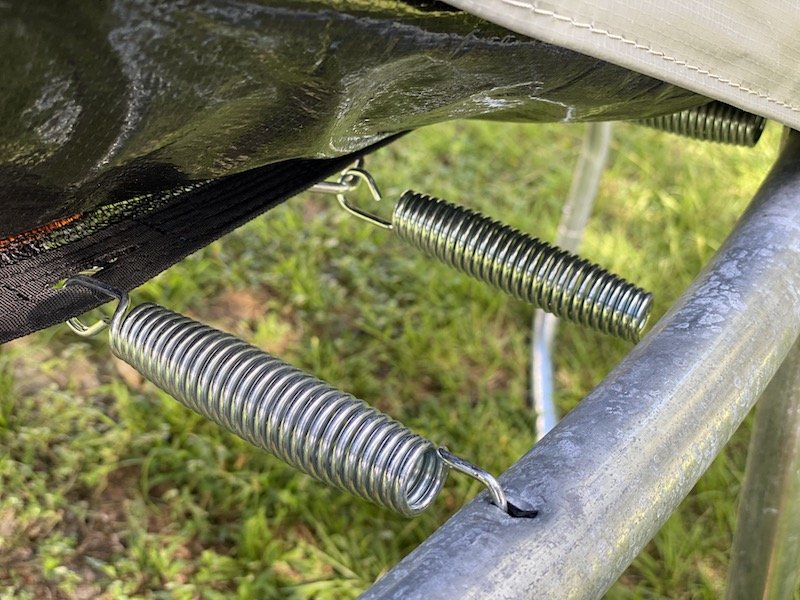 Benefits & Features of the VULY Ultra Trampoline
Here's just a few of the differences that make the monetary investment worthwhile:
Firstly, the warranty.
When I read that there is a FIVE YEAR WARRANTY on the frame, the springs AND the jumping mat, I actually couldn't believe that.
The longest lifespan of any of our last three trampolines was three years, before they hit the bin in pieces. (The spring padding and the net broke way before that.)
There's a one-year warranty on the VULY safety net, net poles and safety pads. But you can replace the safety padding, safety net and accessories, and net poles for half price at any time.
In fact, if anything on the tramp needs replacing during it's natural lifetime, you only pay half price.
That's incredible service.
Secondly, if you buy direct, there's often FREE SHIPPING, or other bonus accessories included!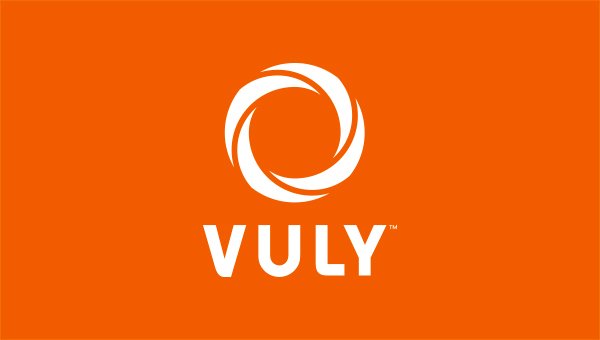 More benefits of a VULY trampoline
Double Springs
All the springs are on the outside of the mat and net.
The super dooper thick padding (another win) that goes over the springs on the outside of the net is actually attached TO the springs, so it stays in place too.
That means no more accidental spring injuries, or nips to toes.
There's two layers of springs that alternate in positioning.
The first attaches to the top of the curved pole, and the second attaches on the underside of the curved pole. The springs are wider than the ones on our old tramps too.
These simple advances in trampoline technology help with bounce!
It works.
Tallest Nets on the Market
VULY trampolines have the tallest net on the market, a bonus safety addition.
VULY Trampoline nets have been subject to relentless UV testing, over and over again, proof they are made to withstand the harsh Australian climate and unrelenting sun.
Meeting Australian Safety Standards
The VULY Ultra trampoline has a 150kg weight limit, and has the rating to prove it, unlike cheaper brands.
It's comforting as a parent to know that the Vuly trampoline weight limit is true and correct, and it won't break with a few kids on it.
Every VULY trampoline meets Australian Safety Standards, and also the safety standards set by the USA and Europe.
Hot tip: Do put on the supplied pair of gloves before you start handling the t-joiners, w-poles and curved poles or you'll end up with sticky silver paint stuff all over your hands and clothes, like I did.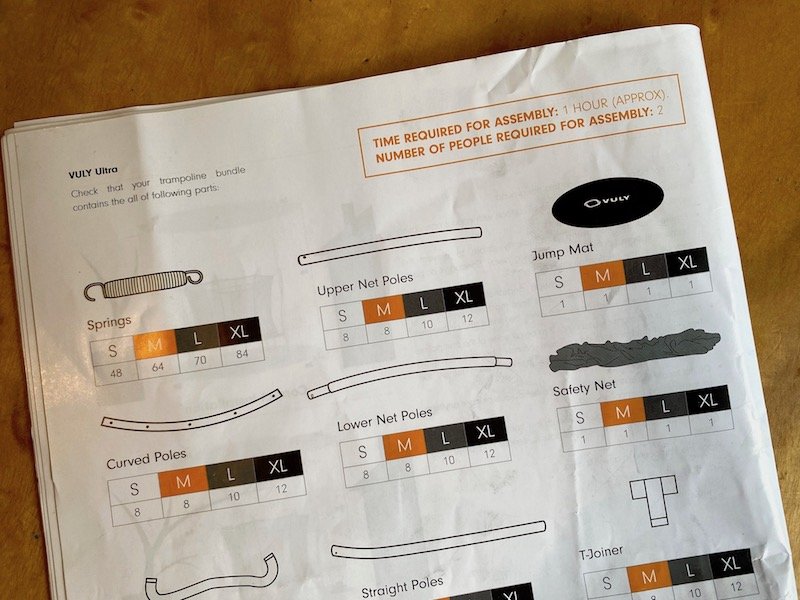 The three small downsides
One: Sadly, there's no portable ladder included in the price.
It's an extra.
Luckily we kept the old rusty set of stairs from the old tramp, and it fits.
Two: Spring tool is prone to breakages
The supplied spring tool busted before half of the springs were attached, with the metal hook splitting the plastic handle grip so it was not repairable.
We found a kitchen tool that made do to finish the job.
Three: Made in China, not Australia
Although Vuly trampolines are designed and developed in Australia, the components are made in China and shipped to Australia to be tested and packaged.
Unfortunately, VULY is not yet able to sustain the manufacturing side of the business without more industry and Government support.
One hour trampoline assembly?
There's one other important thing.
The how-to booklet says that the VULY trampoline assembly time is "approximately ONE HOUR with two people".
Seriously, how hard is it to put a trampoline together?
Well, if you are as awkward as I am when it comes to construction, be prepared for it to take quite a bit longer than that!
Or do as I did, and ask for help!
Best Trampoline Accessories Australia
Our VULY trampoline deal came with a bonus shade cover to keep the kids out of the dazzling Australian sun!
But there's lots of VULY trampoline accessories you can buy to step things up a level for the kids, including:
a VULY basketball hoop, and
a VULY trampoline tent that transforms the trampoline itself into an overnight camping zone.
Cool fun for kids!
Take a look at the whole list of fun VULY accessories for trampoline play here.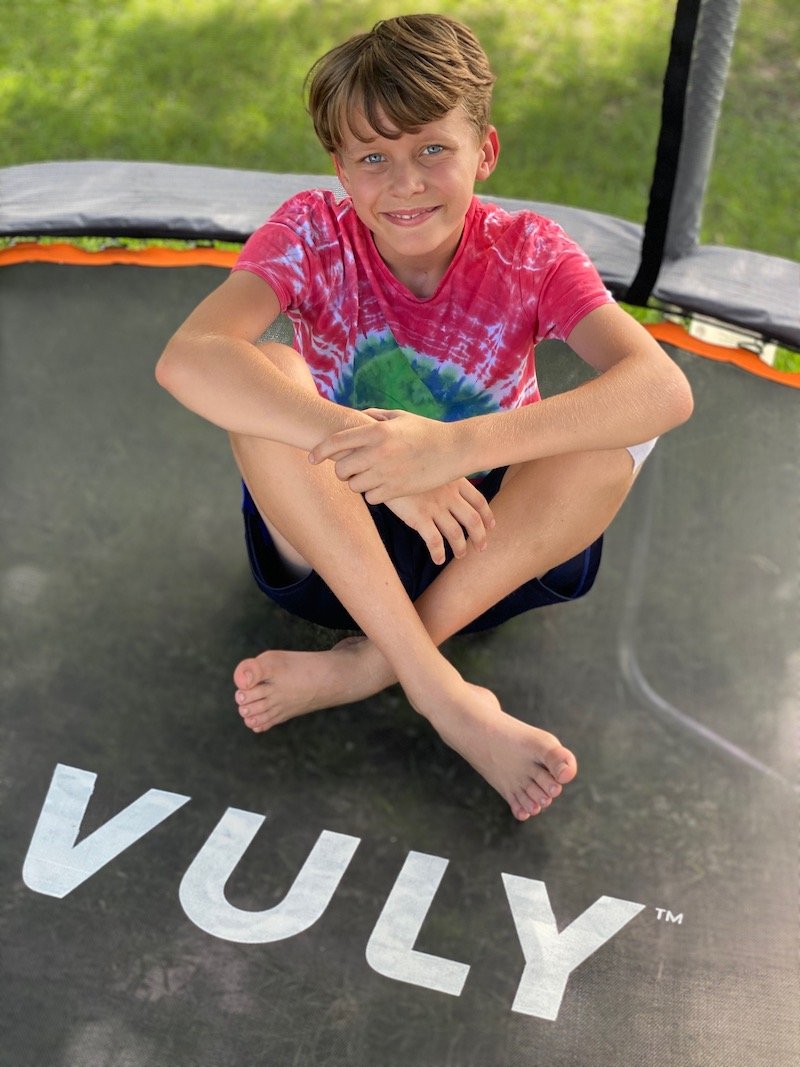 Comparisons of the Ultra VULY 10ft Trampoline Features & more
Vuly is one of Australia's best selling trampoline manufacturers, with some of the best trampolines on the market.
Their catchphrase is that they are Australia's safest trampoline too, which is why they are the best make of trampoline for kids under 12 especially.
The other VULY trampoline models are the:
VULY Ultra and VULY Lift 2 trampolines both have the traditional coil springs, much loved by kids for their bounciness.
VULY Ultra comes in four sizes:
small
medium
large
extra large
NB: The Vuly medium trampoline is the 10ft trampoline.
The biggest difference between the Ultra and the Lift 2 is the look. The Ultra we have has a more traditional trampoline design and colour.
VULY Lift 2
The VULY Lift 2 is super funky, with black powder-coated frame and a bright yellow padding accent. Plus, there's double sided safety padding on the Lift 2.
Lift 2 comes in medium, large and extra large sizes only, as do both Thunder versions.
Vuly Thunder Trampoline VS Vuly Thunder Pro Trampoline
Thunder and Thunder Pro are springless trampolines, better for older kids who love to practice gymnastics, parkour-style flips, and precision moves.
These trampolines are good for mums and dads who like a bit of trampoline exercise, as their bounce is less taxing on knees and joints.
The differences between the Thunder and Thunder pro are similar to above.
The VULY Thunder is grey galvanised steel, while the Thunder Pro is black.
Both trampolines have leaf springs but of different sizes. The Thunder Pro springs are full length, making for a bigger, better bounce.
If you want the best springfree trampoline from this Australian trampoline company, The VULY Thunder Pro IS the top of their range.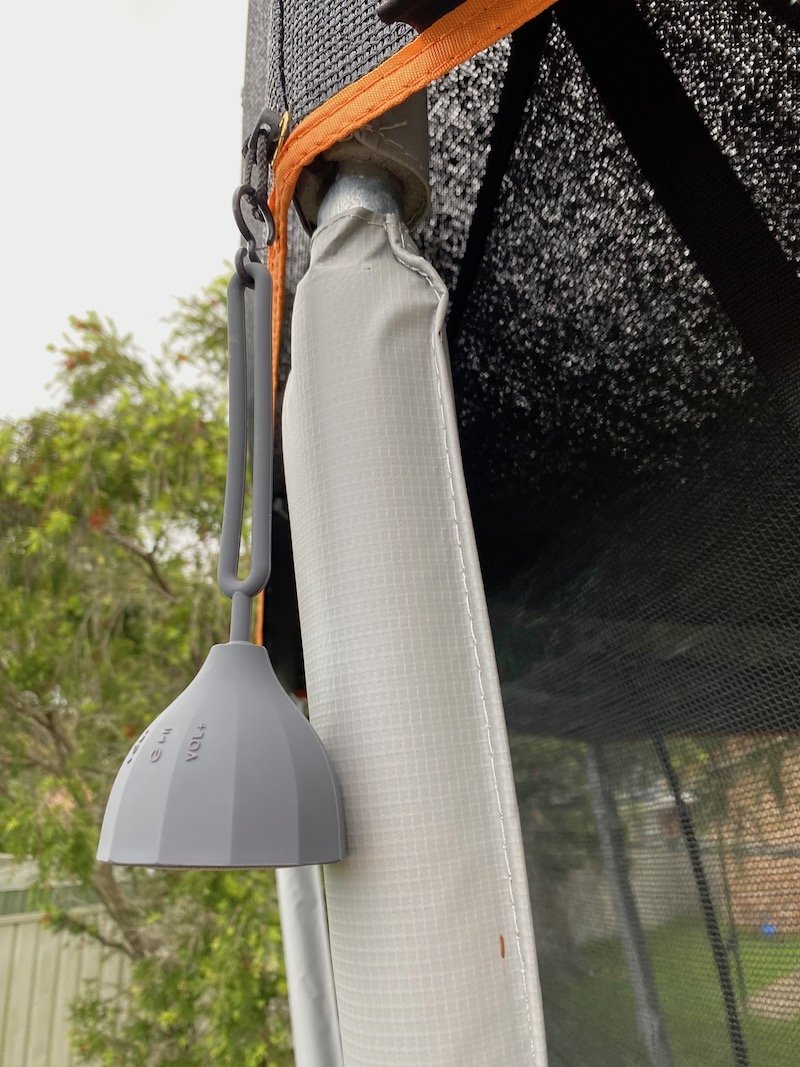 Fun Things to Do on a Trampoline
Our backyard is the meeting point for after-school rendezvous in our neighbourhood. Kids come from all around the local streets to hang out with the gang.
Boys of all ages join in to make box forts, play in the cubby, kick a ball, dig in the sandpit, play chase, climb the trees, or suit up for scooter races and bike riding championships in the cul-de-sac.
It's a bona-fide circus of activity.
But the trampoline is the one place they ALL gravitate to.
Age or size is not barrier, although I do have to limit the numbers of kids on there at one time.
If they are all fighting over it, I'm forced to make them take turns.
First, Ned and his big kid mates, followed by Jack and his crowd of younger friends.
Or vice versa.
We set a timer on the phone, or we send the younger kids across the road to the neighbours trampoline.
---
RELATED: 20 NON BORING things to do at home for free with kids!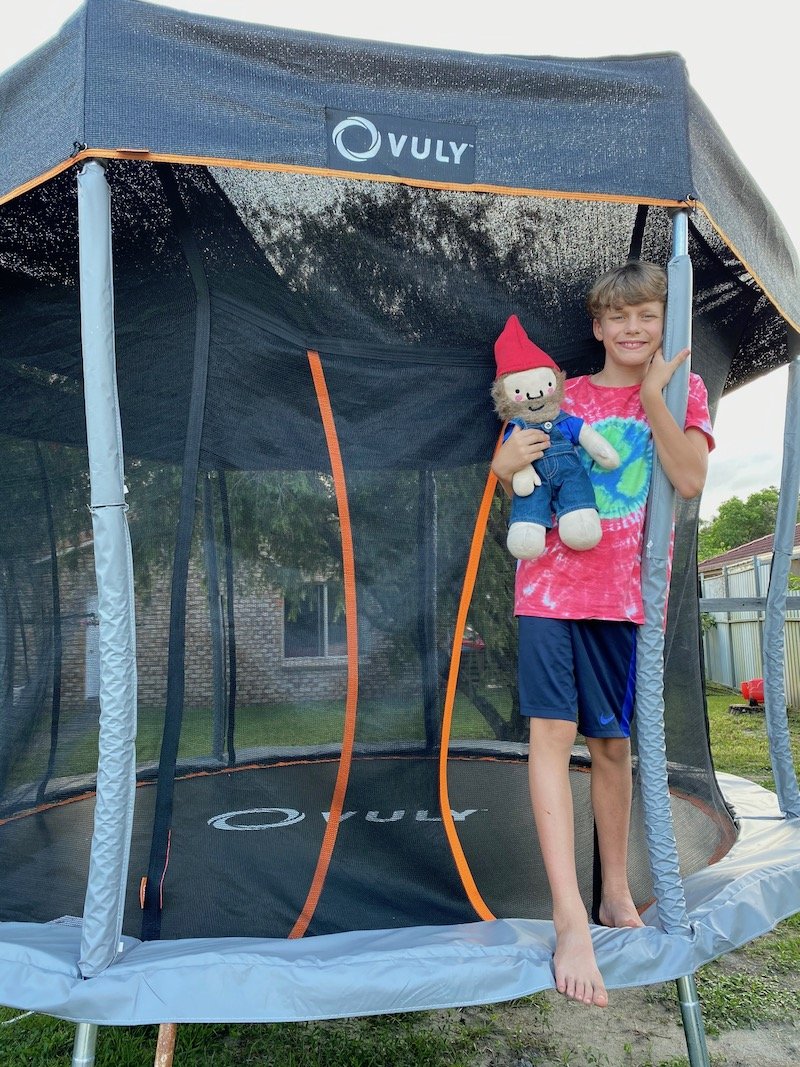 Our trampoline has been, and continues to be used for:
bouncing and exercise
practicing their parkour flips and turns
playing ball games
a cubby frame
a picnic rug
a place to chill and chat with mates while enjoying ice-blocks or watermelon chunks
as a stepping stone platform in a game of 'the floor is lava' challenge where you can't touch the ground
marble rolling games
sunbathing
cloud watching
moon gazing
dancing
listening to their favourite tunes
The trampoline plays a role in our family dynamics, helping the boys to negotiate their sibling rivalry, and burn off their extra energy when things get a bit heated or argumentative.
The final thing the boys do after dinner every day, before their bath, is to have a last minute jump together.
It's one of the only times in the day when it's just the two of them, with no friends around, and miracles of miracles, they play harmoniously and have a laugh together.
This trampoline is a miracle worker.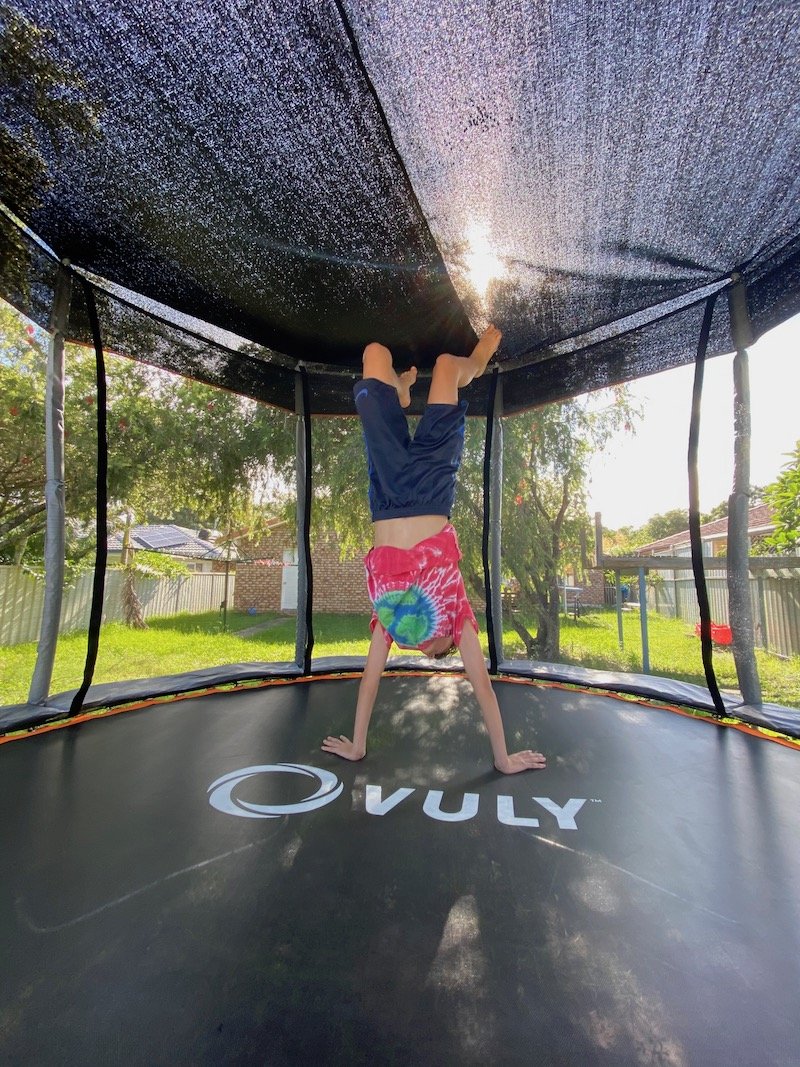 11 Best Tricks on a Trampoline VULY Ultra
These are the best tricks to do on a trampoline for beginners and intermediate jumpers.
Ned has mastered them all!
They make great trampoline exercises for kids too.
Best Trampoline Tricks for kids!
Tuck jumps, knees up as you jump
Pike jumps, with both legs coming forward
Straddle jumps, legs out wide, like you are doing the splits
Knee drops, as the name suggests
Seat drops onto your bottom
Half full twist, spinning 180 degrees
Full twist, spinning 360 degrees
Back drops, dropping flat onto your back
Front drops, same as above, but onto your front side
Doggy drops, down on all four hands and knees
Handstands, a la Ned!
Backflips and front flips – for the experienced trampoline jumper
Best Trampoline Workout
But don't let the kids have all the fun!
You can use a trampoline for trampoline cardio exercise and to get into the best shape of your life.
This 30 minute youtube trampoline workout is challenging but fun!
Improve your trampoline fitness in no time, and beat the kids at their own tricks!
Fun Trampoline Sleepover Ideas
Yes, you can also SLEEP OUT on the trampoline!
Surprisingly, it's quite comfortable to sleep out on the trampoline, as long as you take LOTS of pillows, blankets, and duvets or doonas.
Be sure to pick a cloudless, warm night, with no chance of rain!
Here's some cute ideas for making trampoline sleepovers even more fun!
No.1: Hang fairy lights around the perimeter for a magical fairy like setting
Use white or coloured chalk to write one another messages
Create a movie theatre on the trampoline by hanging velvet curtains around the perimeter, and bunching them up with a tie on both sides of the entrance, like you see on grand old cinema screens. BYO popcorn, choc tops, and jaffas!
Play Disney Family Feud on the trampoline
Add tonnes of those plastic balls and make your own DIY ball pit!
Play 'popcorn'. One person sits in the middle of the trampoline with knees tucked up, and arms wrapped around their knees, while everyone around them bounces, trying to get them to "pop" like a kernel in a saucepan!
Make a Pizza party, and take homemade pizza and garlic bread to your trampoline dining table!
No.2: Host a simple but delicious "Chocolate Fondue Party".
Chocolate is a much loved treat in this household, and hosting a chocolate fondue party on the trampoline was a winner of an idea!
If you want to do this too, check out our guide on what to dip in a chocolate fondue.
The how-to guide includes:
a BIG LIST of sweet and savory dippers for a chocolate fondue
a chocolate fondue recipe for a chocolate fountain
microwave chocolate fondue recipe
a dairy free chocolate fondue recipe, and a
KETO chocolate fondue recipe.
No.3: Have a Trampoline Birthday Party
We camped overnight on the trampoline for Jack's 7th birthday.
He spent all afternoon bringing out ALL the household comforters, blankets and pillows, and took great pride in setting up a cosy space for the three of us.
We took my computer, and set up Netflix to watch our favourite family film, "Paddington" and opened up a packet of Jack's fave lollies, Minties.
(We love Paddington, and on our last trip to London, visited both the Paddington Bear shop in Paddington station and saw the Paddington statue that resides at the spot where they filmed the 'Paddington meets the Brown family for the first time')
Plus, as it was Easter time, we made delicious cookie dough milkshakes served in chocolate Easter bunnies with straws!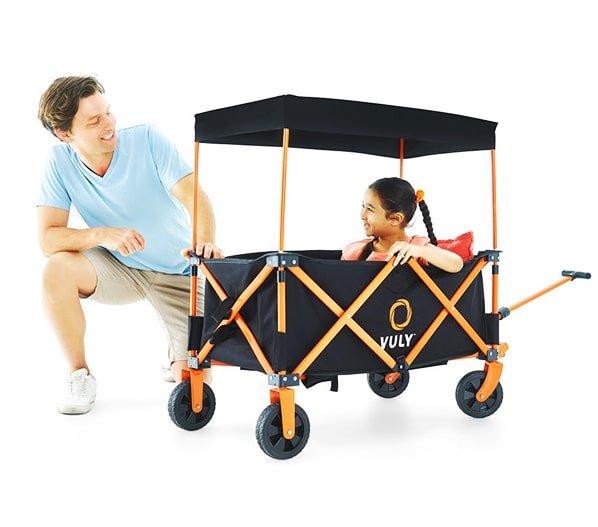 MORE VULY PRODUCTS YOU CAN BUY
No.1: VULY Rover Wagon Cart
I can't review the VULY ultra trampoline without mentioning that VULY also stocks a fabulous 5-star rated rover wagon cart with sun protective shade cover and heavy duty wheels that all travelling families will covet!
Take it to the beach, or a Byron Bay music festival, or to your next family gathering at the park.
Fill it with all your favourite healthy picnic food, balls, beach gear, towels, or whatever you lug along.
You can even pop a small child inside for a ride!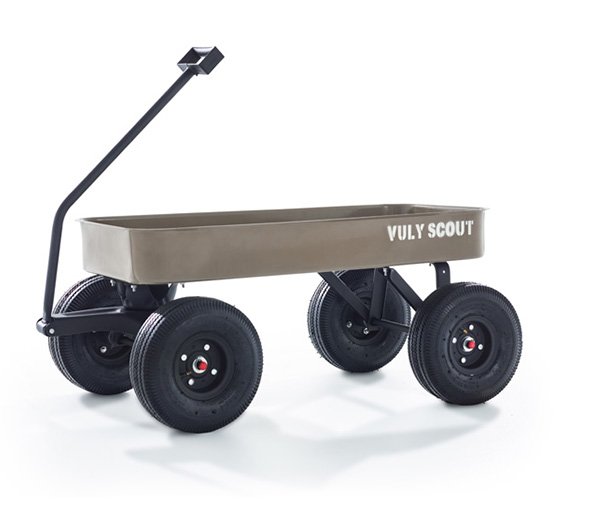 No.2: VULY Scout Wagon Cart.
The Vuly Scout Wagon cart is a metal tray on giant go-anywhere wheels that can fit two kids you can pull along on your walking adventures, or be used to transport all your gear from one place to another.
It's less cumbersome than the wagon cart, and more versatile for short day trips.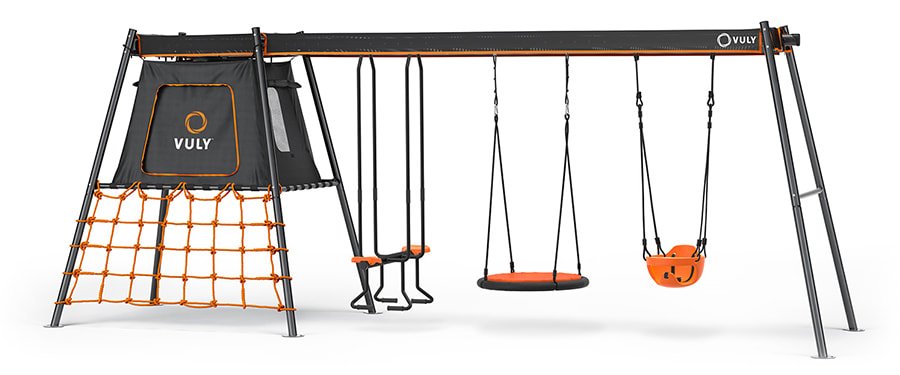 No.3: VULY Playset Equipment
Hot tip: Did you know that VULY also sell a range of play equipment for kids and families including a portable sandpit box (perfect for rental properties or small backyards with toddlers), swing sets, and cubbies with the most modern design and fabulous swing set accessories I've ever seen?
Different VULY playset combinations include:
yoga swings
spin swings
seat swings
hanging cubby swings
bounce swings
nest swings
pull up bars monkey swings
soccer ball practice
seesaw swings
It's like having your own VULY home gym in your garden.
But there's more. Find your perfect combo with these accessories:
cargo net attachments
swings
gym ropes
ninja grips
flying fox
basketball hoop
climbing ladder
punching ball
roman rings
boxing bags, and
jungle rope.
My boys have put this on their play equipment wish list now!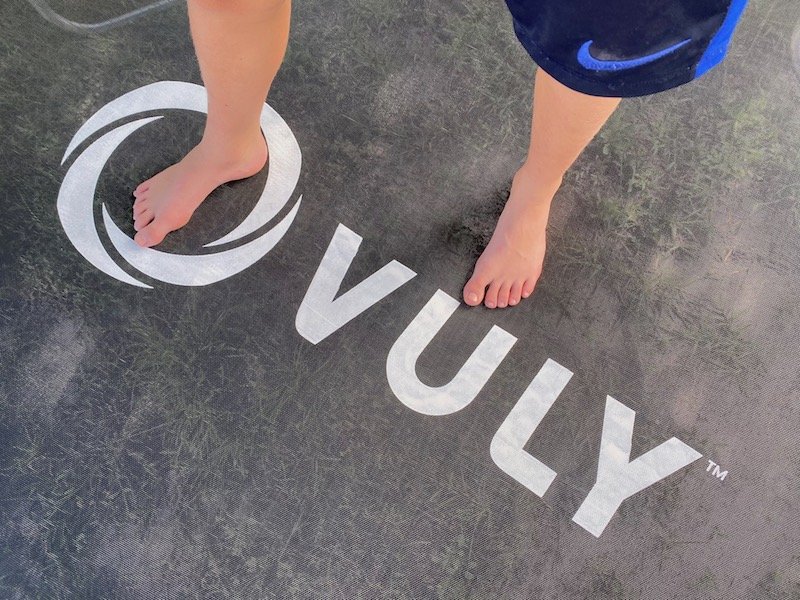 THE INSIDE SCOOP: VULY Australia
Correct at time of publication on Roam the Gnome. Please check with venue for updates. We apologise in advance if there have been any changes we are unaware of. All prices in AUD dollars, unless otherwise stated
VULY PLAY Australia is based on the Gold Coast of Australia.
Verdict: VULY Trampoline Review Australia
When I asked the boys for their thoughts to add to this VULY trampoline review, Ned said jumping on a VULY trampoline is better than travelling!
Jack's VULY trampoline review is that he LOVES the shade cover, because he's never had one before. And the light, and the sticker! (There's a cool VULY car sticker in the box.)

Looking for more Fun Things to do with Kids?
Click the blue links for more fun tips below.