INSIDE: Roam the Gnome Family Travel's Guide to the best camping food list.
Planning a camping trip?
Don't go without our popular camping food list of meals and snack ideas!
You've got to feed those hungry hoards, no matter where you go.
Take a look below.
(PS: PDF printable of a camping grocery list coming soon! )
Disclosure: This article contains affiliate links. If you make a purchase after clicking on one of these links, we may receive a small commission at NO extra cost to you. Image credit: Pxhere CC0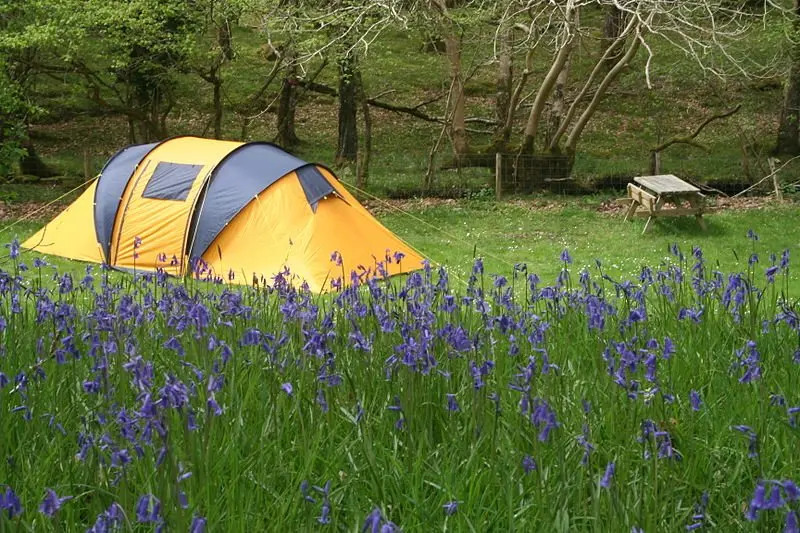 Image credit: Einir Pritchard via Flickr CC BY-SA 2.0
BEST CAMPING FOOD LIST IDEAS
Looking for a what to bring camping food list?
Our guide to the best camping food list includes ideas for:
vegetarian camping food & vegetarian camping recipes
make ahead camping food
freeze dried camping food
no cook camping food
camping food for kids
keto camping food and paleo camping food
gluten free camping food
healthy campfire desserts
tips on camping food storage, and
a few gourmet camping food ideas too!
You can use this for car camping too.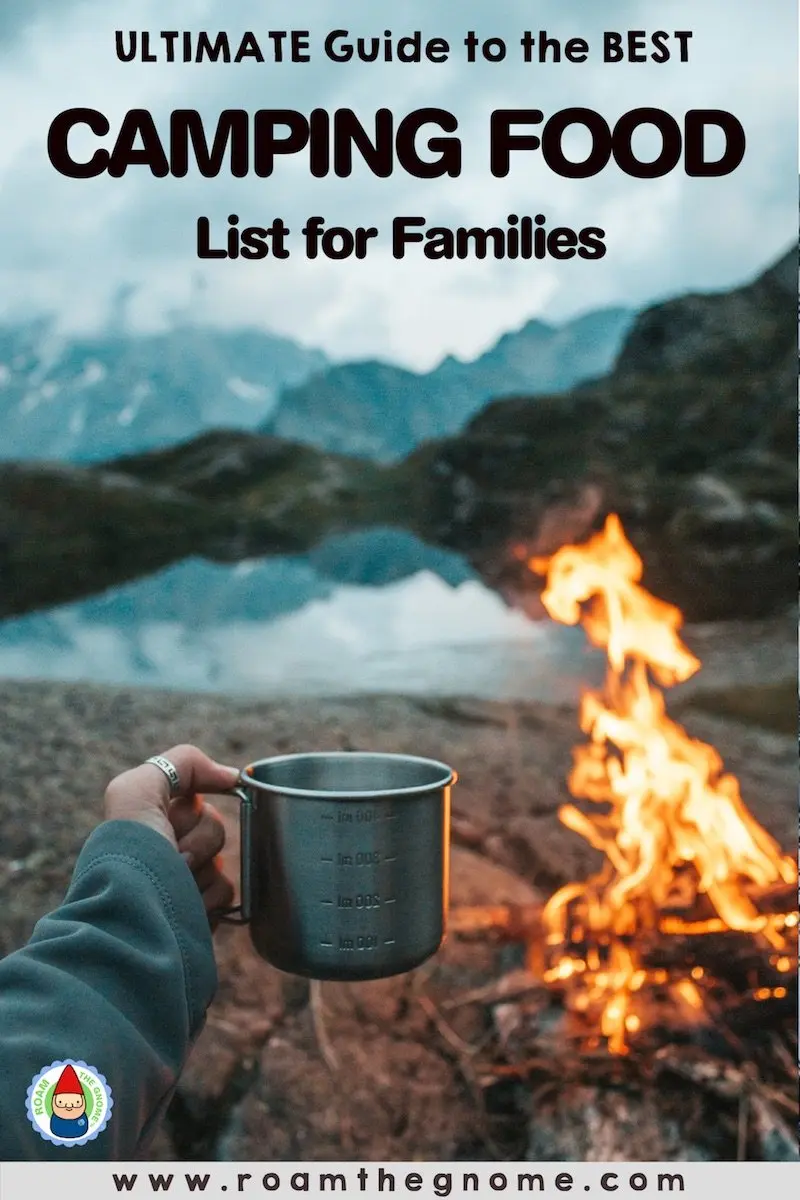 Tips on Camping Food Storage
The most important things are:
to keep food cool and refrigerated if required
to keep food safe from bugs, bears, and big hungry kids!
Check out our guide to the best coolers for camping.
Your choice of cooler is the most important decision in dealing with the food storage issue.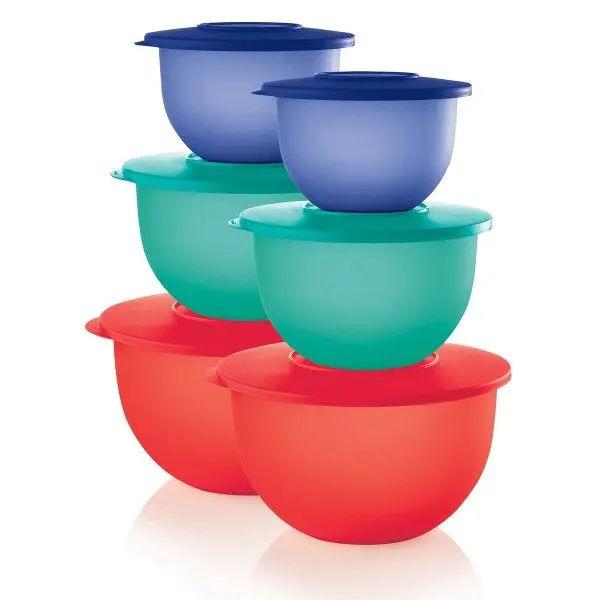 Otherwise, remember these tips:
remove all your trash from the campsite surrounds before bed, or before leaving the campsite at any point
lock your camping coolers at night, and also whenever you leave the campsite
use good quality, leak free food storage containers like Tupperware (buy a Tupperware picnic set for start your collection)
pack make ahead meals in leak free bowls or Tupperware impressions bowls (these nest for storage)
keep your fruit separate from other cold food
prepare your cooler by packing it with ice bricks or frozen bottles of water for the day or two before you leave. Empty it, then add all your frozen food and meat, with bags of ice to keep it cold for the next 3-5 days.
keep perishable food to a minimum.
Tins, and canned food will go the distance (tins of tuna, spaghetti sauces, tinned vegetables, marinades etc)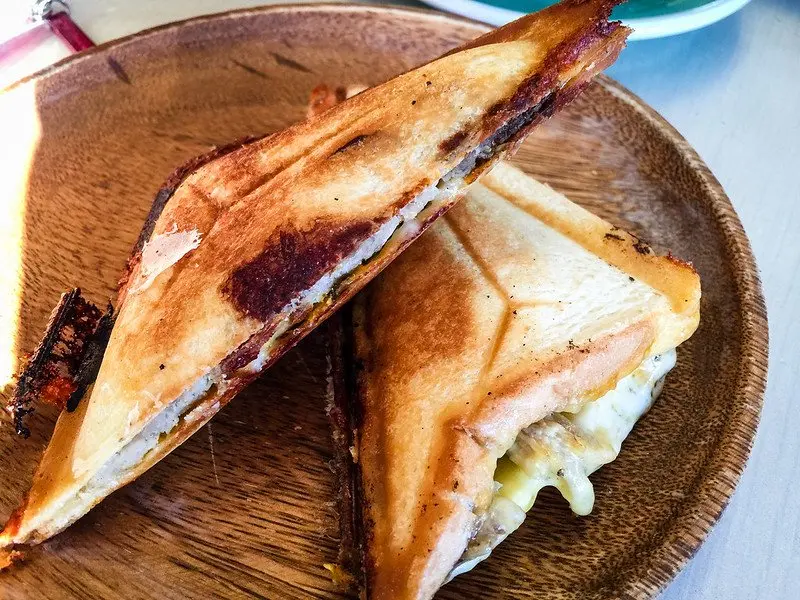 Image credit: Katherine Lim via Flickr CC BY-2.0
WHAT ARE THE BEST CAMPING FOODS?
No.1: Jaffles, Toasted Sandwiches, Toasties
Get this Australian Square Waffle Iron to make toasties (aka jaffles) over the campfire!
The best jaffle recipes for camping include:
ham, spinach, grated cheese, tomato
baked beans and cheese (Ham baked beans are the best)
pesto, cheese, salami, pepperoni (or swap pesto out for pizza sauce)
bacon, egg, tomato sauce
tuna, mayonnaise and cheese (Just like a tuna melt)
canned spaghetti and cheese (a big hit with the kids!)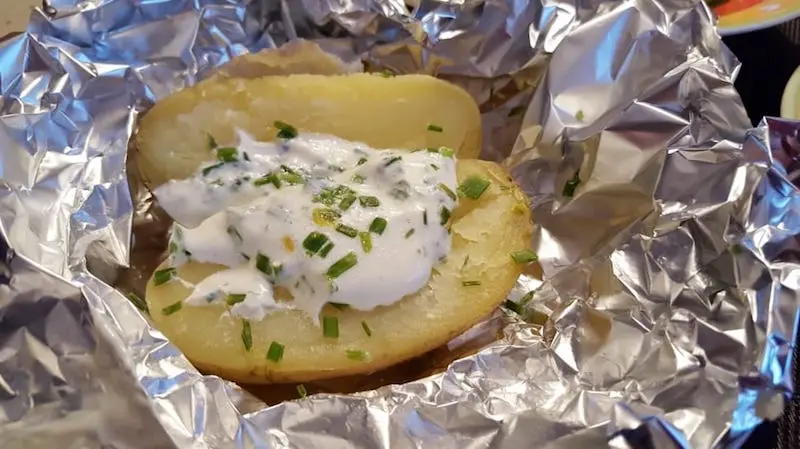 Image credit: Peakpx CC0 BY-1.0
No.2: Baked Sweet Potato or Baked Potato with foil
Wrap each baked potato in foil, and throw the lot of them in the fire for a warm camping snack.
Add butter, or sour cream and you'll be going back for seconds.
If you get sick of baked potatoes, or have leftover potato, make it into a baked potato mash, or a baked potato salad (see below) for the next day.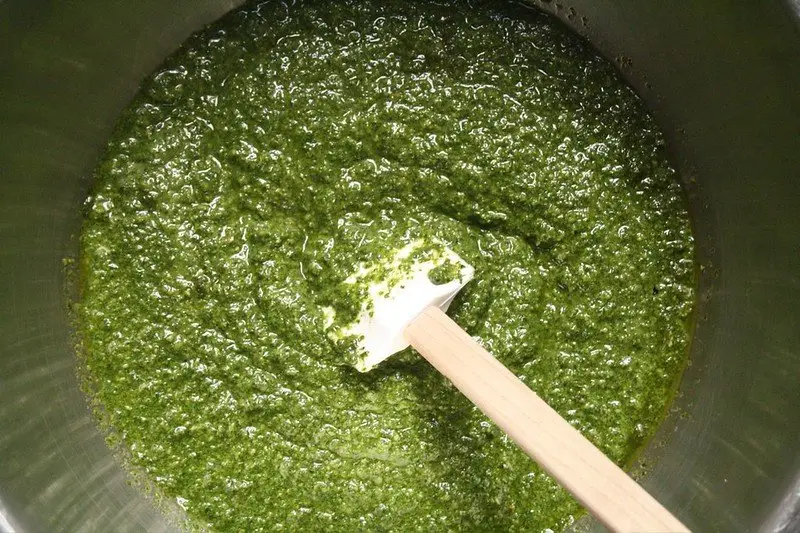 Image credit: The bitten word via Flickr CC BY-2.0
Best Potato Bar Toppings
Best toppings for baked potato
Here's some classic Baked Potato toppings you can throw on to make it into a decadent outdoor meal.
sour cream and cheese
nacho cheese sauce
chopped chicken
slow cooked, pulled beef or pork
green basil pesto and shredded parmesan cheese
coleslaw
tinned spaghetti or spaghetti-o's
baked beans (bbq baked beans, or baked beans in tomato sauce)
bacon, or bacon bits
guacamole, diced red onion, diced red bell pepper (red capsicum), cilantro (coriander) and lime juice
baked potato "raclette" with fried onion, bacon, oil, sour cream (creme fraiche) and any good melting Swiss cheese, such as Gruyere or Appenzeller
Mexican style: shredded carrot, black beans, salsa, grated cheese, sour cream, chopped tomato
Pizza style: pizza sauce, small pieces of pepperoni and salami, chopped olives, shredded ham, grated cheese
Aussie breakfast: bacon and fried egg on top
Hot tip: Use these toppings for campfire nachos too! Hot potatoes make a fabulous sustaining camping breakfast too.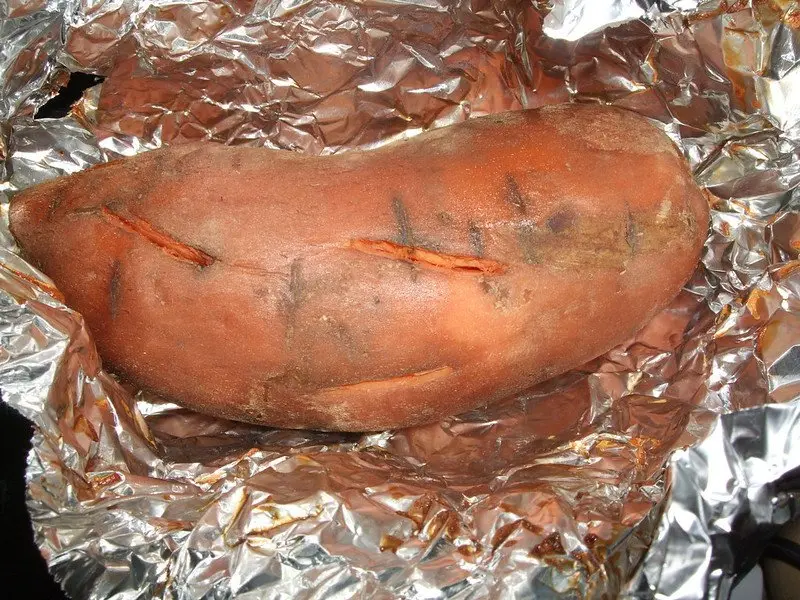 Image credit: Kim via Flickr CC BY-SA 2.0
Baked Sweet Potato toppings
Try:
chicken and mayonnaise
pulled pork and sweet barbeque sauce
sausage, salad leaves, caramelised onion, brie or camembert cheese
Baked Sweet Potato desserts
Twice baked sweet potatoes with marshmallows is the big winner here.
brown sugar and marshmallows
brown sugar, cinnamon and butter
maple syrup, butter and toasted nuts (pecans, cashews, macadamias, almonds)
blue cheese, walnut and honey
Bonus: Baked sweet potatoes with brown sugar and marshmallows recipe
Swap out the oven for the campfire.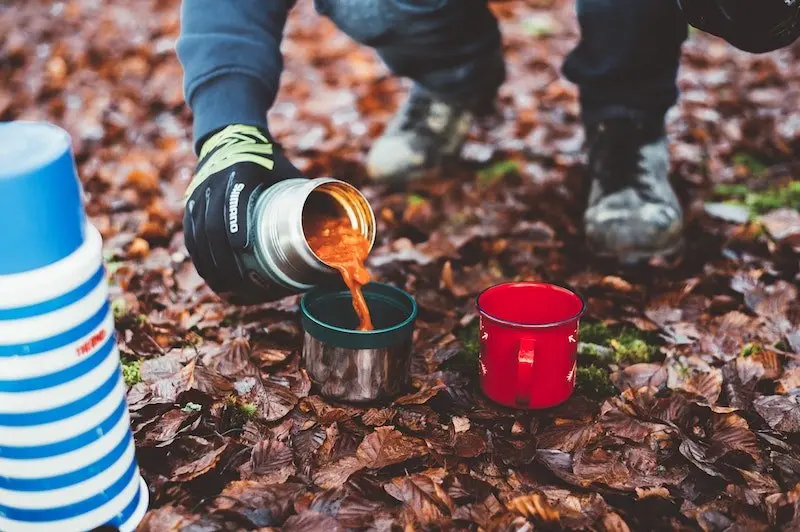 Image credit: Annie Spratt via Unsplash CC0
CAMPING ESSENTIALS FOOD
Make Ahead Camping Meals and Snacks
These are our favorites of make ahead camping food.
Soup picnics
Check out Soup Addict for the best chunky soups you can pop in a thermos and bring with you on camping trips.
Try their chicken and dumplings soup!
It's crazy good.
Or how about one of these soup recipes
chicken meatball noodle soup
Thai pumpkin soup
BBQ black bean soup
Mexican street corn soup
vegetable dumpling soup
hearty vegetable wild rice soup
These can be a main meal, or a quick lunch.
Overnight Oats
Add a cup of real whole oats, a cup of milk (any kind), a dash of cinnamon, and a teaspoon of rice malt syrup into a jar.
If you want to, you can add a teaspoon of chopped dried fruit (apricots and mango is good) and/or chia seeds to the mix too.
Screw on the lid and chill overnight.
Fancy it up a little more in the morning with LSA, chopped cashews, blueberries, sliced banana, nutmeg, strawberries, or yoghurt.
Heat it up, or eat it cold straight from the jar/container.
This is one for the delicious camping recipe book.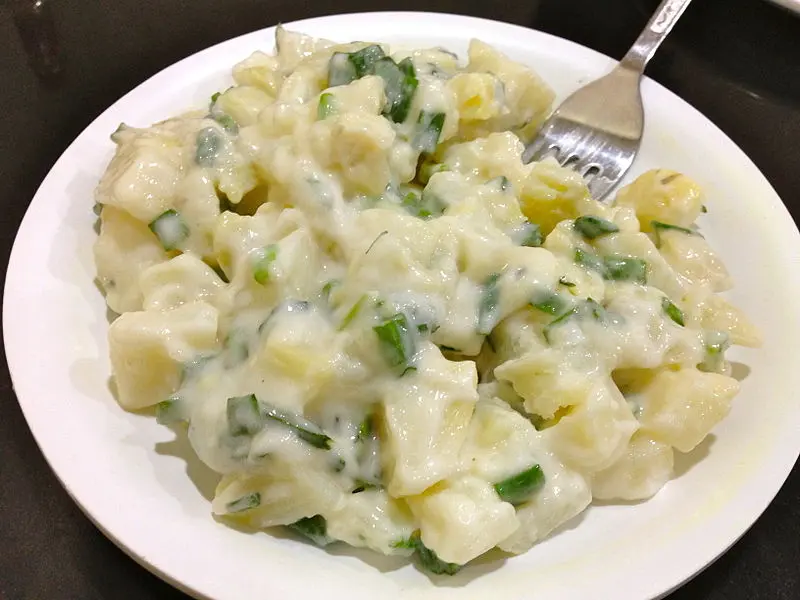 Image credit: Sajjad via Wikipedia CC BY-SA 3.0
Best German Potato Salad by Gunther! (Roam the Gnome's Grandpa)
The best German potato salad is made by mixing 1 kg of cooled, boiled potatoes with:
3/4 jar Hellmans mayonnaise, Kraft real mayo or Kewpie mayonnaise (or Praise traditional mayonnaise in Australia)
2/3 jar sweet and sour gherkins
1 onion, chopped into small pieces
6 hardboiled eggs, chopped into small pieces
Put the mayo in the bowl first before adding potatoes.
Put the onion and gherkins in next.
Add the cooled, chopped eggs.
Mix the lot together and you have the best German potato salad you've ever tasted!
You can also use leftover baked potatoes in this recipe, and make it on site.
Homemade Fruit Muffins
Make your own banana or blueberry muffins and bring them along.
Check out the video above, for one of our favorite blueberry muffin recipes.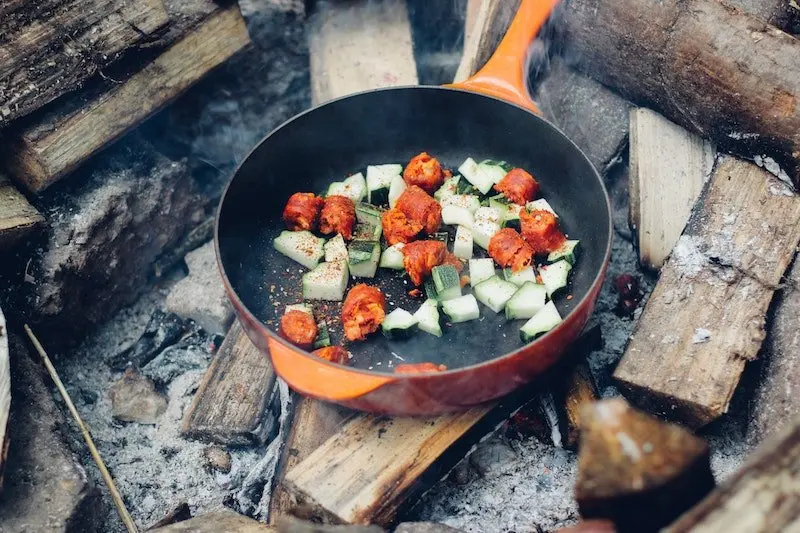 Image credit: Dan Edwards via Unsplash CC0
Best Vegetarian camping food
There's plenty more vegetarian camping food other than baked potatoes, toasties and soup.
Try:
falafel burgers
scrambled eggs with pesto, diced cherry tomato, cheese, olives and red pepper
Singapore noodles with tofu
tomato and basil pasta
one pot potato and pea curry
campfire quesadillas with cheese, black beans and corn
haloumi, carrot, red bell pepper and greens salad with mint yoghurt dressing
tofu scramble
Easy Vegetarian camping recipes
These easy vegetarian one pot meals are perfect for camping too: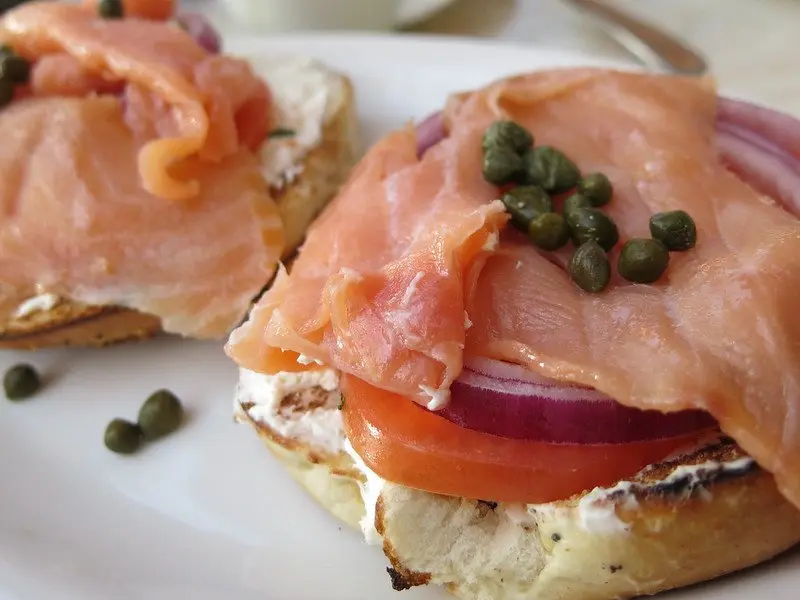 Image credit: Torbak Hopper via Flicker CC BY-ND 2.0
No cook camping food
Don't fancy cooking?
Why not make:
Avocado salad wraps with ham, turkey or roast beef, and caramelised onion spread
brie cheese wedges and salami slices from a roll, on sesame seed crackers
lox bagels with cream cheese (smoked salmon)
tuna salad sandwich
sliced carrot and cucumber with hummus dip
salad sandwiches in naan bread with salsa or pesto
rice cakes with jam, or peanut butter and banana, or tuna flakes and mayo
fresh spring green salads with edible flowers
RELATED: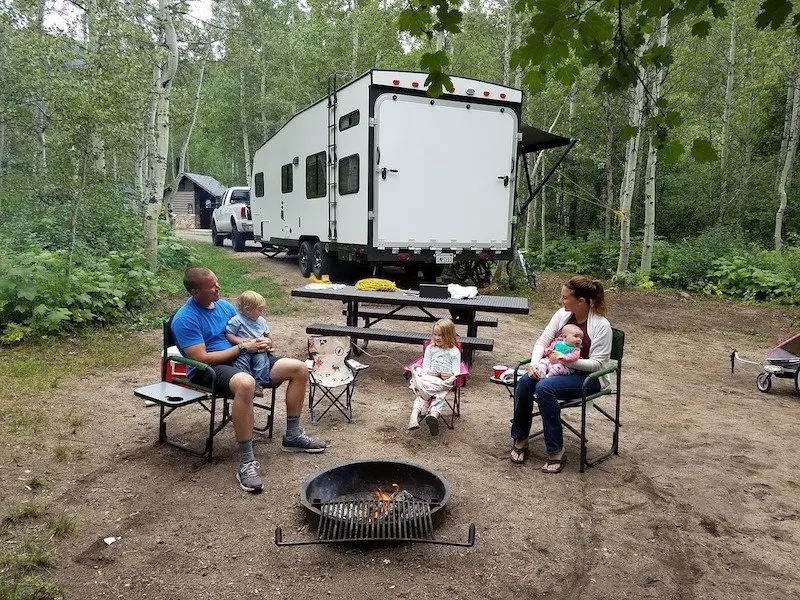 Image credit: LizRVS via Pixabay CC0
Best camping food for kids
These are simple but delicious meals you can make for kids who like to camp.
Wrap damper dough on a stick to cook over a fire. Eat it with golden syrup.
Barbequed corn
Campfire pizzas made on english muffins, with pizza sauce, and topped with your fave combo of salami, ham, pepperoni, corn kernels, red and green bell peppers, cheese, cherry tomato slices, olives and pesto (wrap in foil and warm on the campfire grill)
Hamburgers with meat patties grilled over the fire, salad and cheese
Sausages in bread with tomato ketchup (and fried onion)
Kids wraps, filled with easy chicken curry and crunchy salad
Kabobs/Kebabs cooked on a skewer stick over the fire – add zucchini, red bell pepper, onion, cherry tomato, pineapple and lamb or chicken cubes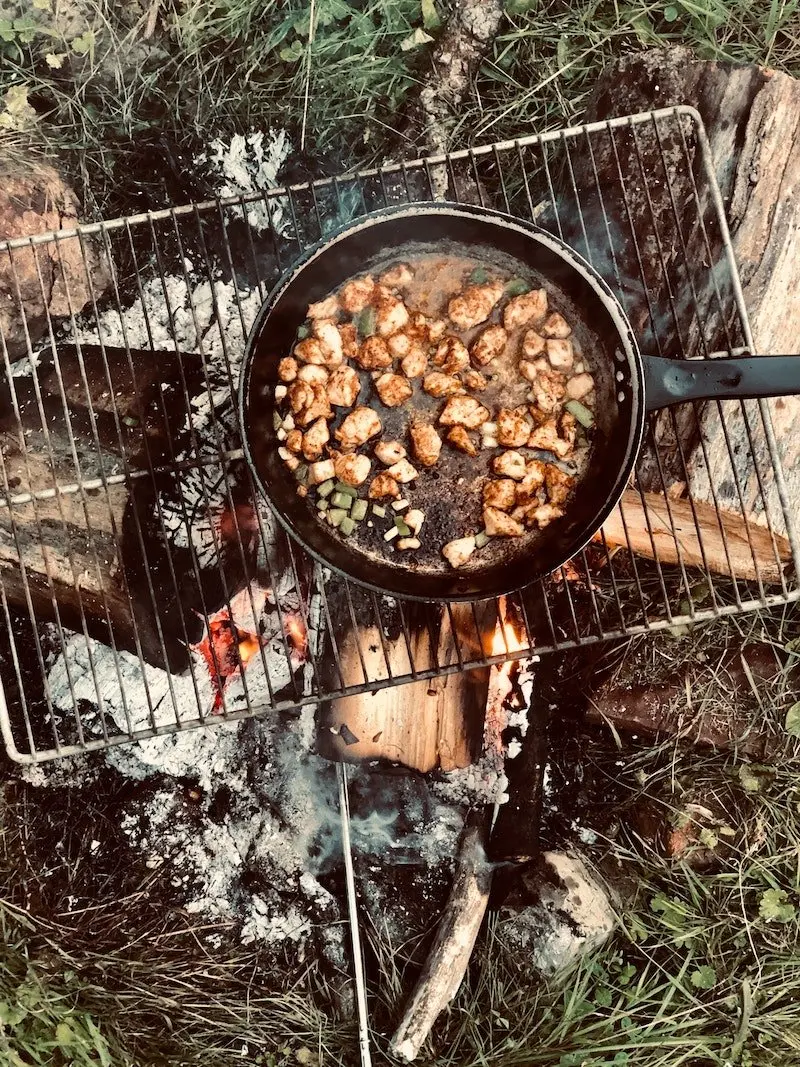 Image credit: Nick Artman via Unsplash CC0
KETO camping food & Paleo camping food
Here's a few camping ideas for KETO diets.
grilled chicken or lamb kebobs with zucchini wedges, cherry tomatoes, feta cheese and red bell peppers (red capsicum)
deconstructed tacos (taco mince, salad leaves, diced tomatoes, basil, cheddar cheese, olives, cucumber, and sour cream)
grilled haloumi wedges on the campfire grill with green salad
warm feta, onion, baby rocket salad
chicken and vegetable skillet on the campfire grill
scrambled eggs in the dutch oven with ham, cheese, onion and chives
beef jerky – did you know you can buy coffee jerky, and vegemite jerky!
KETO trail mix
ham, egg and cheese roll ups (rolled up in ham sliced). Swap ham for turkey too.
grilled vegetables in foil, served with boiled eggs
There's some great foil-grilled meals in this post.
(Scroll down the page to find them, and then download the PDF printable list to take the recipes with you.)
Don't forget the heavy whipping cream!
Gluten Free camping food
Details coming soon!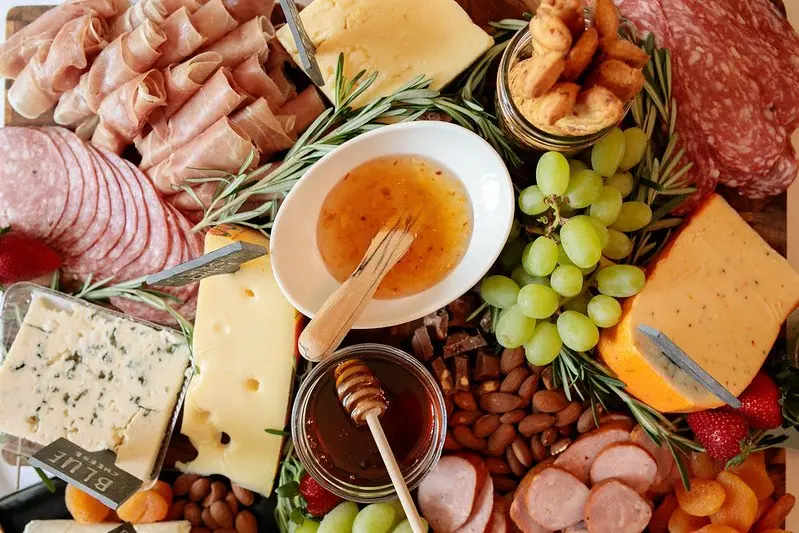 Image credit: Mon Petit Chou Photography via Flickr CC BY-2.0
Bonus: Gourmet Camping food ideas
Check out this link for lots of gourmet food ideas for picnics and camping.
There's also info on how to make a great charcuterie board, as well as a gourmet CHOCOLATE charcuterie board that would lend itself well to camping too!
RELATED: Where to buy edible rose petals for cakes and drinks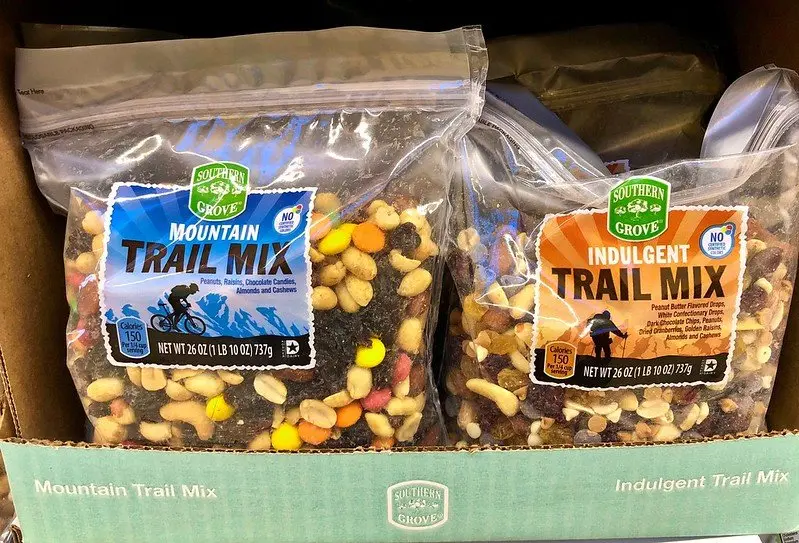 Image credit: J Delventhal via Flickr CC BY-2.0
BEST HEALTHY CAMPING SNACKS
Trail Mix
Make up a tupperware container full of your fave combination of these things and you'll have an instant go-to camping snack.
granola
dried sultanas, cranberries, raisins
dried apricot, apple, banana, pear
cacao nibs, or chocolate chips
peanuts, pistachios, cashews, walnuts, pecans, almonds
pumpkin seeds, sunflower seeds
shake of cinnamon or nutmeg
Vegetable Sticks & Dips
Don't forget the ranch dressing!
Or hummus,
Or pesto for dipping.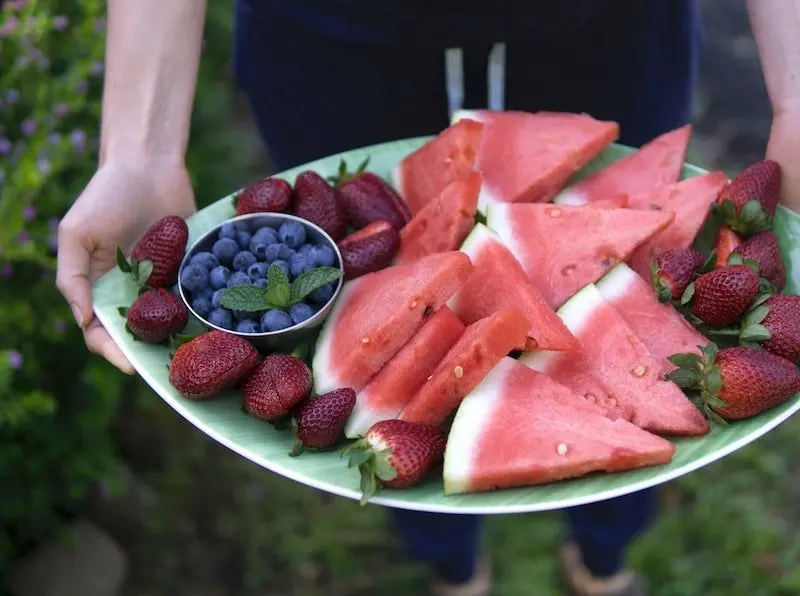 Image credit: Elle Hughes via Pexels CC0
Fresh Fruit
Fruits with a protective skins such bananas, oranges, and mandarins are portable camping snacks.
(So is a cucumber, and a red bell pepper).
Apples, pears, blueberries, strawberries, and nashi fruit are good too.
Take a whole watermelon, cantaloupe (rockmelon), honeydew melon and pineapple as well as a small knife and chopping board.
Save these fruits for later in the week when you start to run out.
Energy Bars
DIY your own energy bars to bring along, or buy your fave brand from the supermarket.
Beef Jerky
Beef jerky or biltong is a fabulous camping snack with a strong flavour.
Dried Fruits
A quick handy snack if you are hungry.
Corn Chips & Salsa
Grab a bag or three of corn chips, and jars of salsa for an instant snack.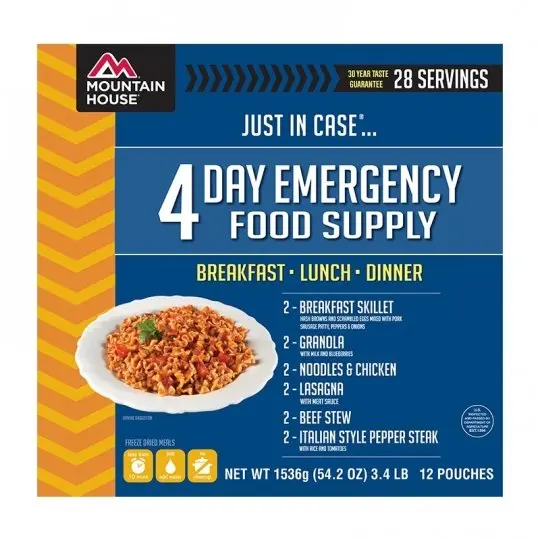 Freeze dried camping food
Mountain House makes freeze dried backpacking and camping food.
You can buy ALL the different popular freeze dried meals meals in different flavors for breakfast, lunch and dinner.
Take a look:
Freeze dried foods for breakfast
Freeze dried foods for lunch
Freeze dried foods for dinner
You can also buy a Freeze Dried Meal Kit with 13 pouches for breakfast, lunch and dinner.
Freeze dried vegetarian food
There's vegetarian options too: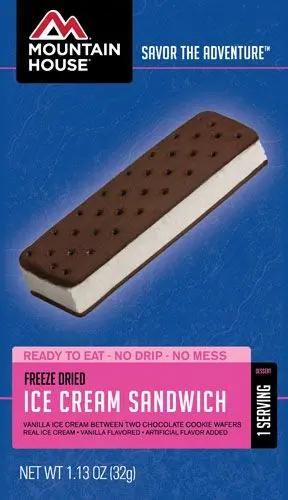 Freeze dried desserts
OMG.
How about freeze dried VANILLA ICE CREAM SANDWICH!
Take all my money!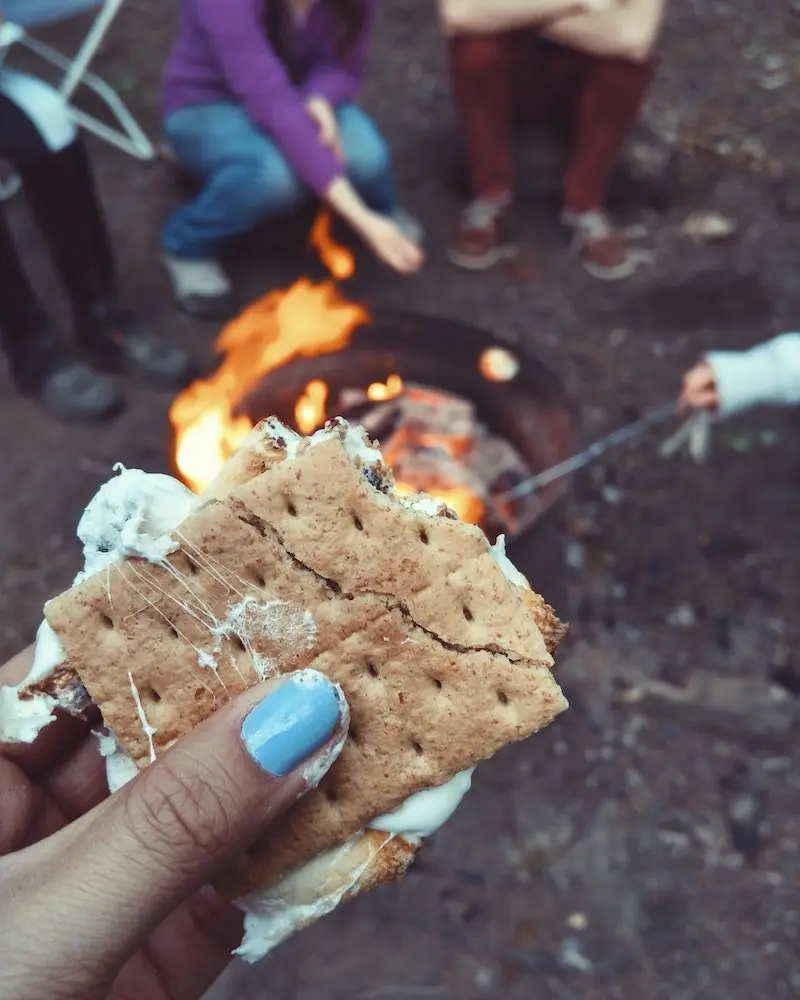 Image credit: Autumn Mott Rodeheaver via Unsplash CC0
More Fun Camping Food: Sweet & Easy Campfire Desserts
These are the best camping desserts for sweet tooths!
S'mores
Graham crackers, marshmallows and chocolate, toasted over the campfire until it's a gooey mess!.
Campfire Cones
Take ice cream cones, fill them with your fave fruits, a marshmallow or two, M&M's candy, and small pieces of chocolate then wrap in foil and pop in the fire.
It's my kids' fave.
Nutella Banana Splits
Make a slice in the banana skin from top to bottom. Cut the banana into pieces while still inside the skin. Add a teaspoon of nutella (or a piece of chocolate or marshmallow) in between each slice.
Wrap in foil, and place carefully in the coals of the fire for about 5 minutes.
Carefully unwrap the foil, then use a spoon to eat the deliciousness!
Chocolate Fondue
Melt a few big chocolate blocks in a campfire pot, and serve it with fresh strawberries, banana chunks, marshmallows and pretzels to dip. Or check out our big list of fun foods to dip in chocolate fondue.
You can also find recipes for Make Ahead camping desserts you can bring with you, such as: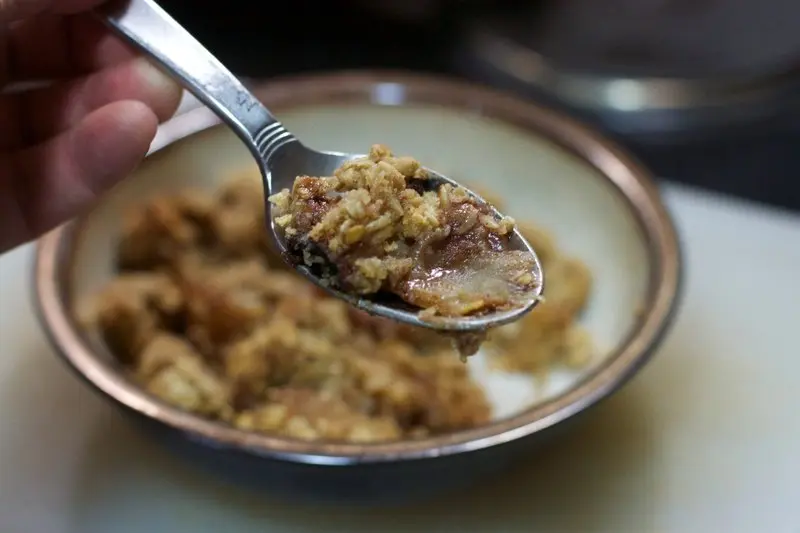 Image credit: Alan Levine Pxhere CC BY-2.0
Healthy Campfire Desserts
Apple crumble in the dutch oven
Put a big can of stewed apples in the camp oven.
Mix up a crumble of 3 cups oats, 1.5 cups brown sugar and 250 grams of butter. Put the crumble on top of the apples.
Cook for 40 minutes on the campfire.
Delicious!
Serve with cold custard.
Banana Splits
Cut a banana lengthways.
Fill it with your favorite healthy treats such as:
blueberries
strawberries
chopped nuts
shredded coconut, and
healthy cacao spread from the grocery store.
Wrap in foil and cook in the oven.
You can do the same thing inside ice cream wafer cones too.

Looking for more fun camping ideas and adventures for kids?
Correct at time of publication on Roam the Gnome. Please check with venue for updates. We apologise in advance if there have been any changes we are unaware of. All prices in US dollars, unless otherwise stated.
Click the blue links below for more travel tips