INSIDE: Everything you need to know about buying the best trampoline with tent
Looking for a trampoline with tent attachment?
It's not easy to find one.
What you will find is a trampoline with a cover.
But other than that, the best bet is to purchase one separately.
Find out all the details of the best trampoline companies with trampoline tent accessories below.
Disclosure: This article contains affiliate links. If you make a purchase after clicking on one of these links, we may receive a small commission at NO extra cost to you.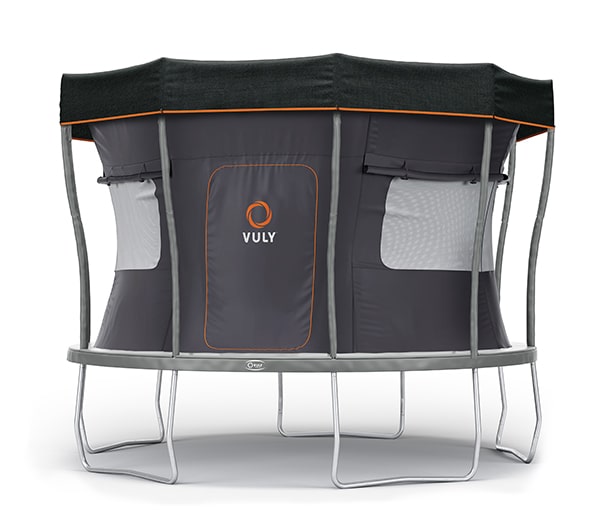 THE INSIDE SCOOP: BEST TRAMPOLINE WITH TENT ATTACHMENT
Correct at time of publication on Roam the Gnome. We apologise in advance if there have been any changes we are unaware of. All prices in US dollars, unless otherwise stated. Trampoline play may have risks involved and ideas are shared for educational purposes only. The writer does not assume any responsibility and shall not be held liable for any complications. Play at your own risk.
Check out the following list of trampoline tents to buy.
RELATED: Round Up of the Best Trampoline Brands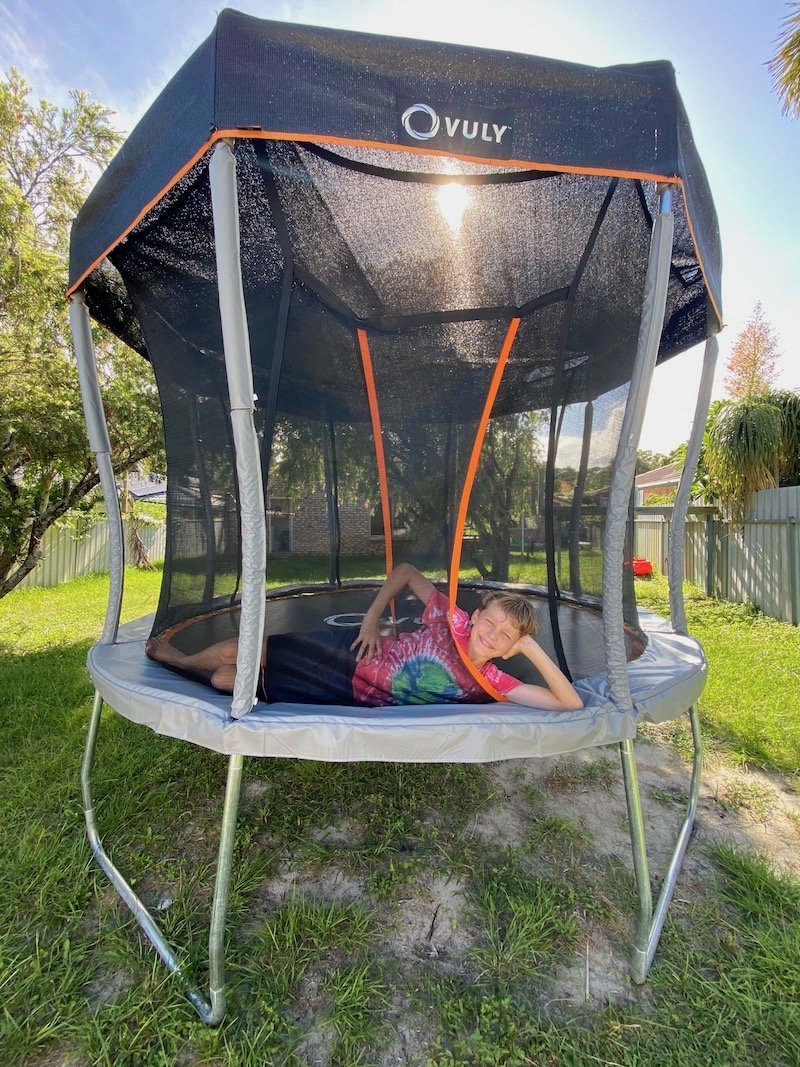 TOP RATED BRANDS OF TRAMPOLINE TENTS
No.1: Vuly Trampoline Tent for Backyard Camping & Play
VULY trampolines sell a trampoline tent top that joins up with the trampoline enclosure net to make a tent like environment, good enough to keep the mosquitos out.
This is the best trampoline with tent already included on the market for all your trampoline tricks and games.
The VULY tent cover can also be purchased separately, as shown above.
(Read our VULY Ultra trampoline review here)
Or you can make your own VULY trampoline tents by adding a mosquito net over the top of the trampoline cover roof.
RELATED: 96 BEST Trampoline Activities for Fun People!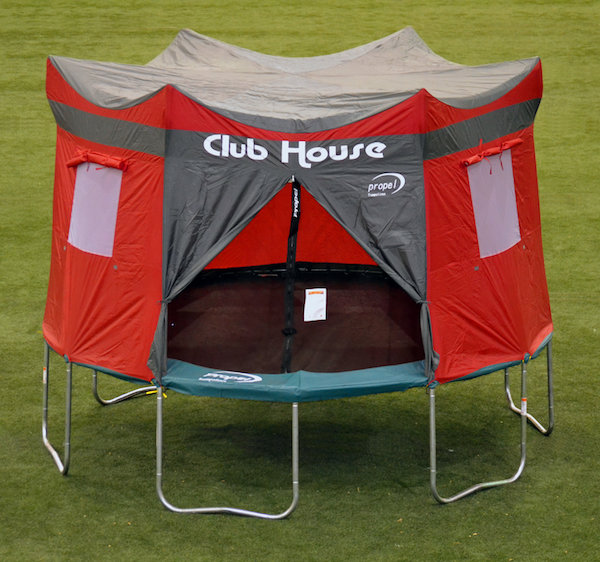 No.2: Trampoline Clubhouse Tent
The Clubhouse Trampoline Tent is a real tent cover for trampoline sleepovers and cubby house play!
It lets you transform your trampoline into a free standing play space outdoors.
Kids can bring all their toys, without worrying about a change in the weather.
Plus, it keeps them out of the hot sun too.
The Club House trampoline tent is made from water resistant material.
The Trampoline club house tent features:
a zippered entrance that also has ties to keep the entrance way open when you don't want it closed
three windows with flyscreen
weather resistant walls
Find this Propel Trampoline tent in four sizes:
7ft trampoline tent
12ft trampoline tent
14ft trampoline tent
15ft trampoline tent
They also have a Propel trampoline shade cover in 12 foot, 14 foot, and 15 foot sizes.
This covers only the top of the trampoline.
The sides of the cover overlap the trampoline enclosure so it's still contained but see-through, unlike the tent itself.
Sadly, it only fits Propel trampolines and Kinetic 15-foot trampoline model with 6 enclosure poles.
RELATED: 44+ Best Trampoline Games for Kids who need to burn energy!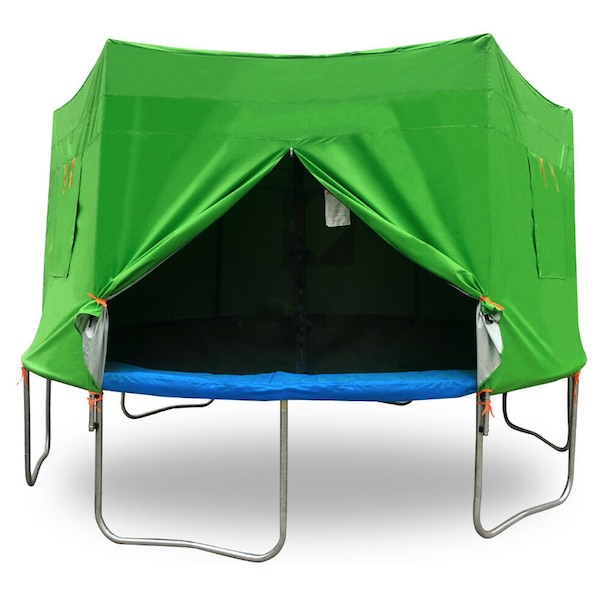 No.3: Jumptastic Trampoline Tent
This JumpTastic trampoline canopy fits all 14ft trampolines.
It's made of oxford material coated with a special sunscreen to stop it deteriorating in the weather or under the hot sun.
This tent for the trampoline has:
a skylight
three windows on each of the sides
a tent like opening at the front, with a zipper to close it up
It doesn't include the tent poles.
RELATED: Ultimate Guide to the Best Trampoline for Kids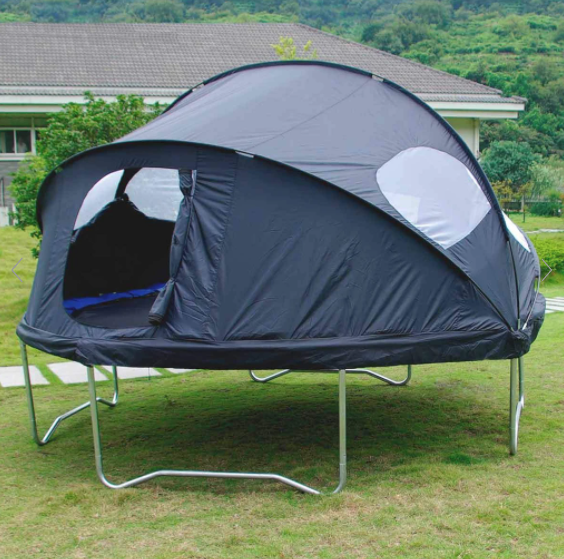 No.4: ACON trampoline tent
Yes, you can buy ACON trampoline tents for all standard size trampolines with a diameter of:
3.7 meter trampolines
4.0 meter trampolines, and
4.3 meter trampolines
They are easy to put up, sit on the trampoline mat and are secured with tabs to the edge of the tent.
The package comes with:
the tent
poles
brackets
tent store bag
NB: The trampoline enclosure net needs to be removed before you can set this up.
RELATED: The Ultimate Trampoline Sleepover Guide – All you need to know
No.5: Trampoline Tent Amazon
This Amazon trampoline tent awning by Golden Mango is another option.
This trampoline canopy protects jumpers from the elements including the rain and the hot sun, and dust too.
It comes in these sizes:
6ft tempoline canopy
8ft trampoline canopy
10ft trampoline canopy
12ft trampoline canopy
14ft trampoline canopy
15 foot trampoline canopy
16ft trampoline canopy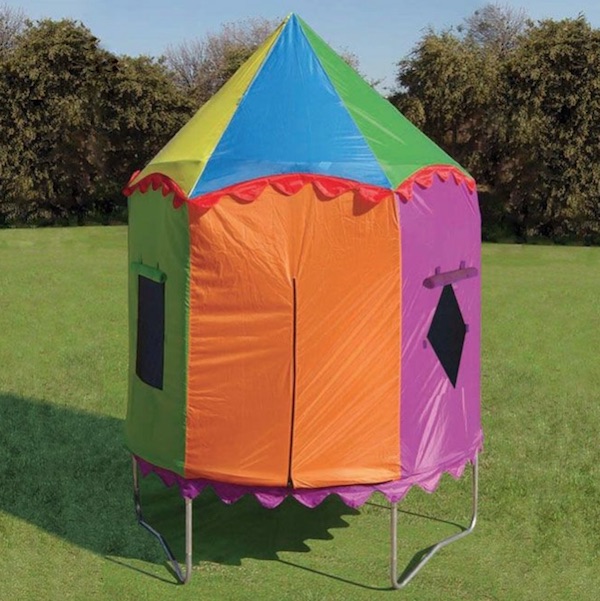 No.6: Jumpking Trampoline tent
Jumpking sells a range of tent top covers including fun trampoline tents in these styles:
No.1: Jumpking Circus Tent
The Circus Tent canopy is purple and blue, with orange and gold fluttering flags around the upper trampoline rim.
The carnival vibe is real.
The trampoline cover is sold separately, and comes in:
8ft, 12ft, 14ft round trampoline size
a 7ft x 10ft and 14ft x 17ft oval circus tent canopy, and
a 6ft x 9ft rectangular trampoline tent circus canopy
RELATED: 23 Arty Farty Fun Things to do on a Trampoline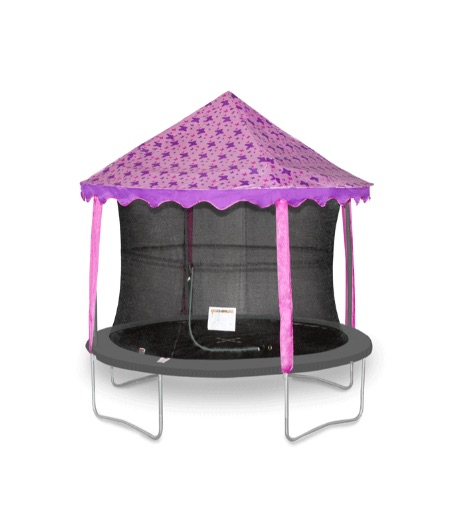 No.2: Jumpking Butterfly Canopy Tent
There's also a purple butterfly canopy tent for the trampoline too.
The Jumpking Butterfly tent one comes in:
9ft x 13ft oval trampoline shape
14ft round trampolines
7ft and 10ft oval shaped
RELATED: MORE of the Best Games to Play on a Trampoline by Yourself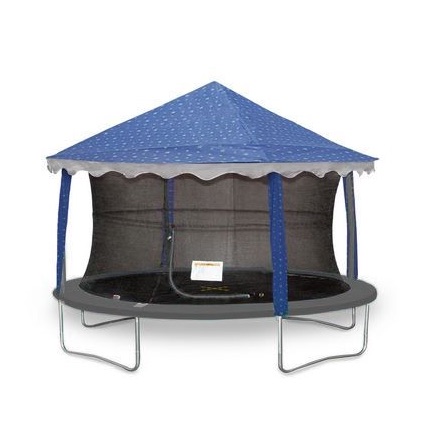 No.3: Blue Star Trampoline Tent Canopy
The Jumpking oval star canopy tent is the cutest of them all!
This quality tent is 9ft by 13ft oval shaped.
No.4: Striped trampoline tent top
There's also a striped version to fit:
14ft by 17ft oval trampoline
8ft by 11.5ft oval trampoline
9ft x 13ft trampoline tent oval shaped
No.5: Rocket Trampoline Tent
Unfortunately the trampoline tent rocket is no longer available to fit a trampoline frame.
NB: All these covers only fit Jumpking trampolines.
Hot tip: Be sure to take them off at night, as they aren't designed for permanent use.
Rain and strong winds will damage them.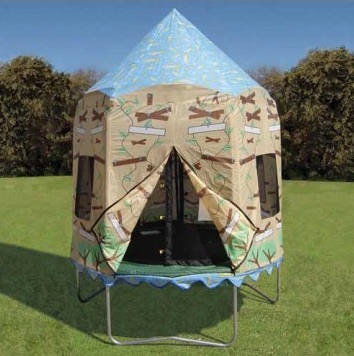 No.7: Bazoongi Tree House Trampoline Tent
This Bazoongi trampoline tent is designed to be used with the Bazoongi jump pod 7.5 ft trampoline.
It's made from polyester material, with a frame made of fiberglass poles.
If you have one of these trampolines, then the Bazoongi treehouse trampoline tent will be a big hit with the kids because of it's wilderness camping design.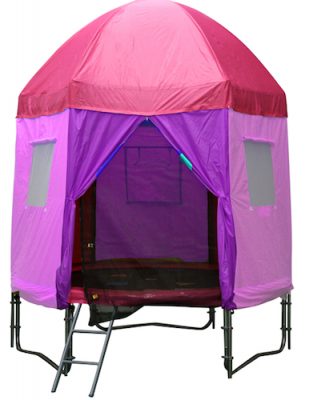 No.8: Princess trampoline tent
Oz Trampolines did sell a Princess tent cover in pink and purple.
Sadly, it's been discontinued.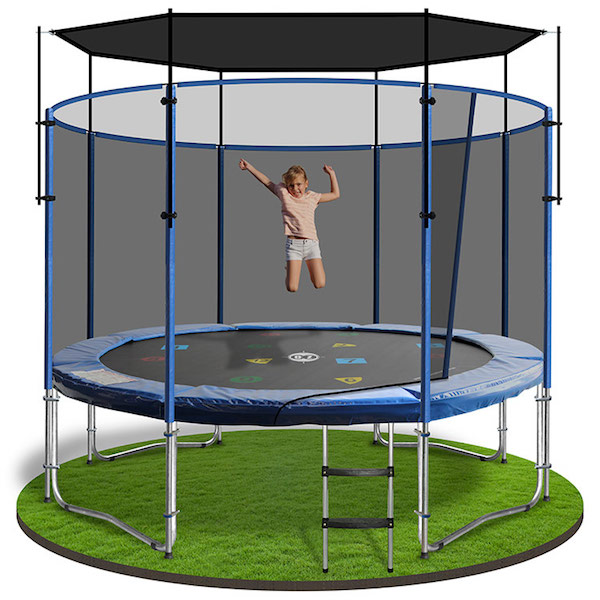 No.9: Best Trampoline Shade sails
You can buy a shade sail roof for your trampoline for all the sizes at Oz Trampolines.
A trampoline roof cover like this is quite a stylish option.
RELATED: 11 Crazy Fun Trampoline Games with Balls that you'll love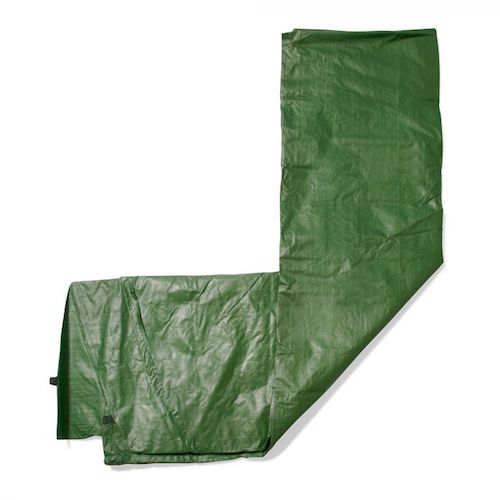 No.10: Plum Trampoline Tent covers
You can purchase a trampoline cover for Plum trampolines.
The cover fits over the safety pad and jumping mat, helping them to weather all the weather, and make them last.
Plum trampoline covers come in:
10 foot trampoline tent
12 foot trampoline tent
14 foot trampoline tent
No.11: Skywalker Trampoline Tent
Sadly, as at the time of publication, Skywalker no longer sells a rectangle tent canopy cover.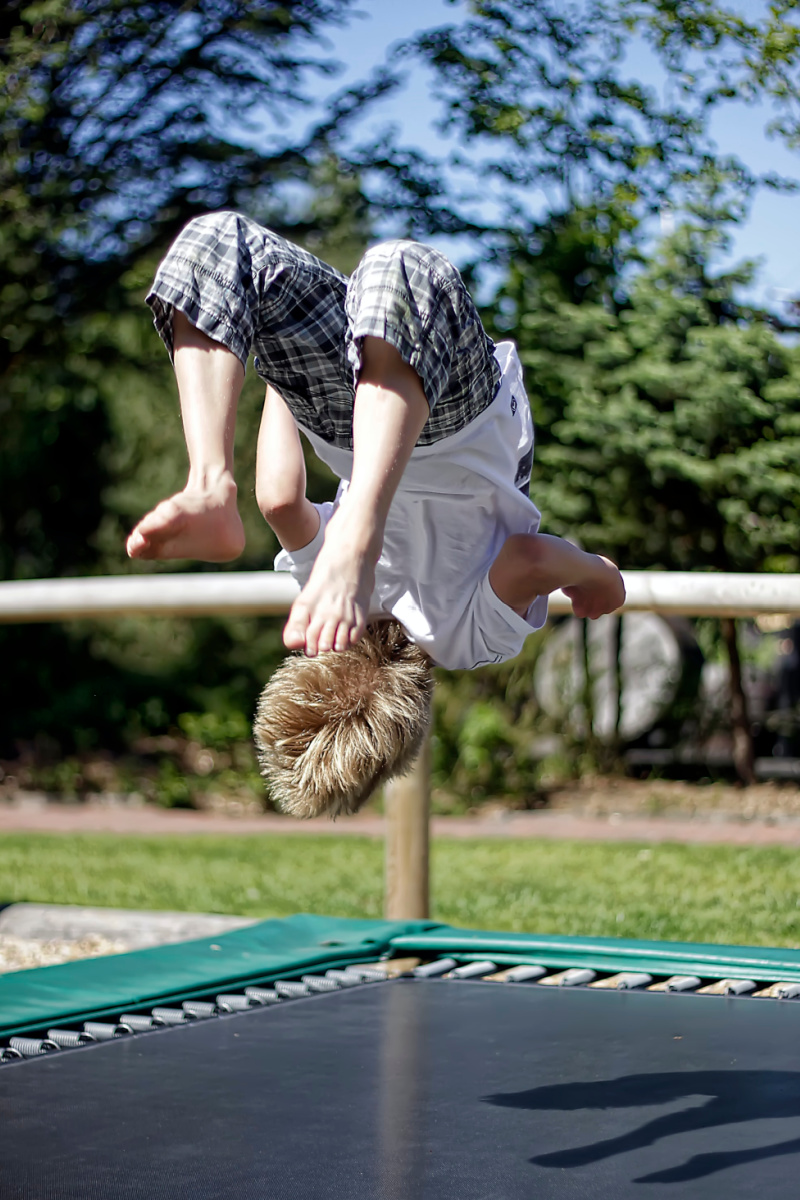 MORE Trampolines with Tent Covers?
Unfortunately, these companies no longer offer a trampoline cover option.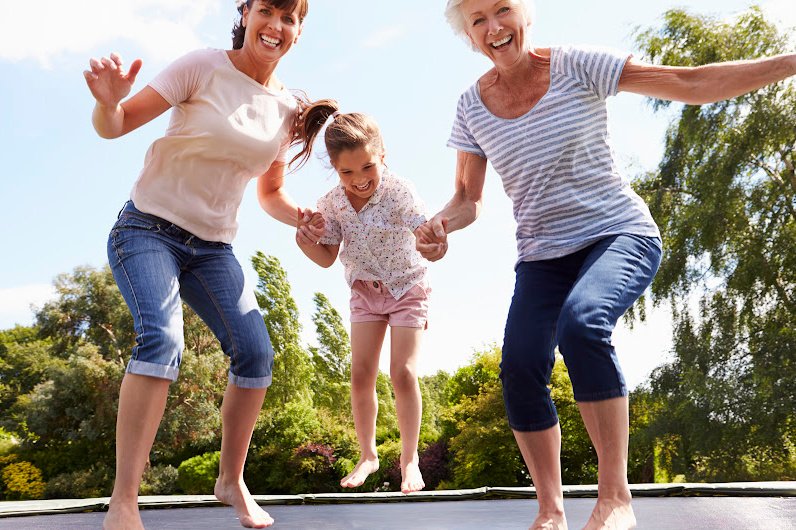 Looking for MORE Fun Trampoline Activities?
Click the blue link below for more activities for kids and adults