INSIDE: Everything you need to know about Seacircus Bali.
At RP 65,000 ($6.50 AUD), you could afford posh smashed avo on toast for breakfast every day of the week at Sea Circus.
But why would you, when you have THIS exhaustive menu to choose from.
The best breakfast in Bali is, without a doubt, the colourful Sea Circus cafe and restaurant.
Yes. SeaCircus has THE BEST Breakfast in Seminyak!
It's a family friendly Bali restaurant too, with:
fun tolerant staff
colouring in for the kids
plus brightly coloured surroundings.
You're good to go.
(Go early to grab the best family table. It's popular and just recently celebrated 10 years of being open)
Check out the Sea Circus menu and details of where to find Sea Circus Bali below.
Disclosure: This article contains affiliate links. If you make a purchase after clicking on one of these links, we may receive a small commission at NO extra cost to you.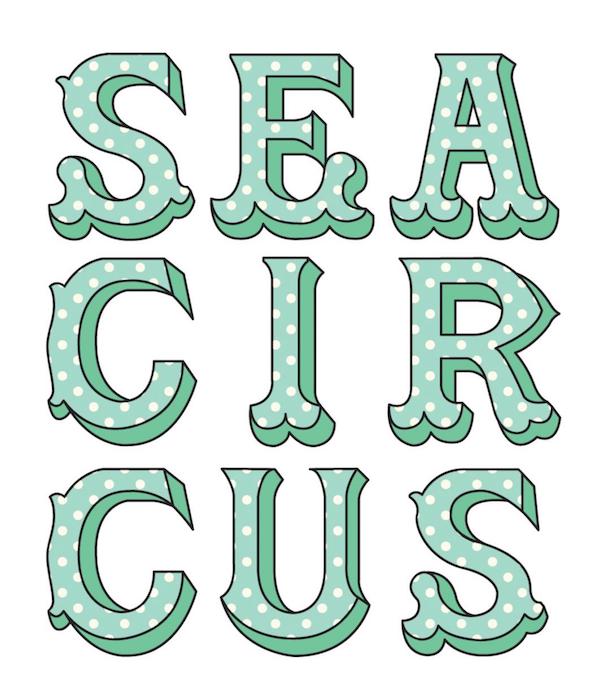 Guide to SeaCircus – the Best Best Breakfast in Seminyak
What will YOU choose?
Here's just some of the sweet dishes we've got on our 'must eat' list for our next trip.
No.1: Coconut Chia Jar
with rosella and cashew granola topped with chia pudding, coconut yoghurt, strawberries, blueberries & banana
No.2: Dirty Waffles
With vanilla ice cream, coconut cream, caramalised banana, candy hazelnuts & salted caramel
No.3: Ricotta Pancakes
Served with grilled banana, berry coulis, coconut, shredded dark chocolate, crushed pistachios & butterscotch lemon sauce
Image credit: Seacircus Cafe
Sea Circus Bali Menu
The best breakfast in Seminyak has savoury choices too.
Here's our top three.
No.1: Rosti Benedict
Potato rosti served with a poached egg, avocado & hollandaise with your choice of bacon or smoked salmon / spinach
No.2: Pulled Pork Burrito
Filled with scrambled eggs, bacon, pulled pork, corn chorizo salsa & homemade bbq sauce
and for the late risers….
No.3: Sleep in Salad
With baby spinach, quinoa, haloumi, cherry tomatoes, toasted pumpkin + sunflower seeds, spring onions, avocado, poached egg with lemon agave dressing
And I can't forget that POSH smashed avo.
No.4: Posh Smashed Avo
With feta, toasted seeds, roasted cherry tomatoes, salt flakes & pepper served on toast with red onion marmalade & lemon?
Does this tempt your tastebuds?
---
RELATED: Ultimate Guide of Best Things to do in BALI with Kids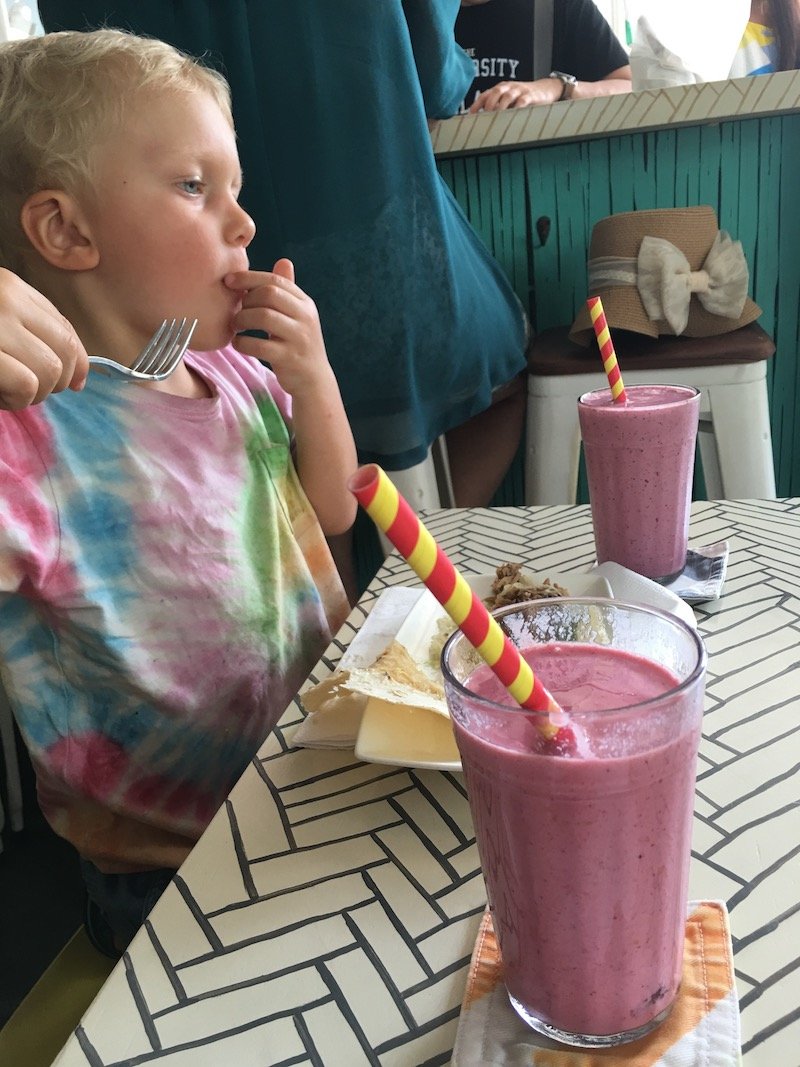 Smoothie Bowls at Sea Circus Restaurant Bali
Smoothie Bowls Galore for the Health Nuts
No.1: Acai bowl
Frozen acai berries blended with banana, blueberries, mango & coconut water topped with cinnamon & raisin granola, berries & bee pollen
No.2: Dragon Bowl
Dragon fruit blended with mango, banana & coconut water, topped with cinnamon & raisin granola & tropical fruit
No.3: Green Bowl
A delicious & healthy blend of avocado, kale, mango, lemongreass, ginger, lime leaf & granola
No.4: Hippie Lane Bowl
Banana & peanut butter blended with cinamon, chia seeds & soy milk topped with raisin granola & banana stars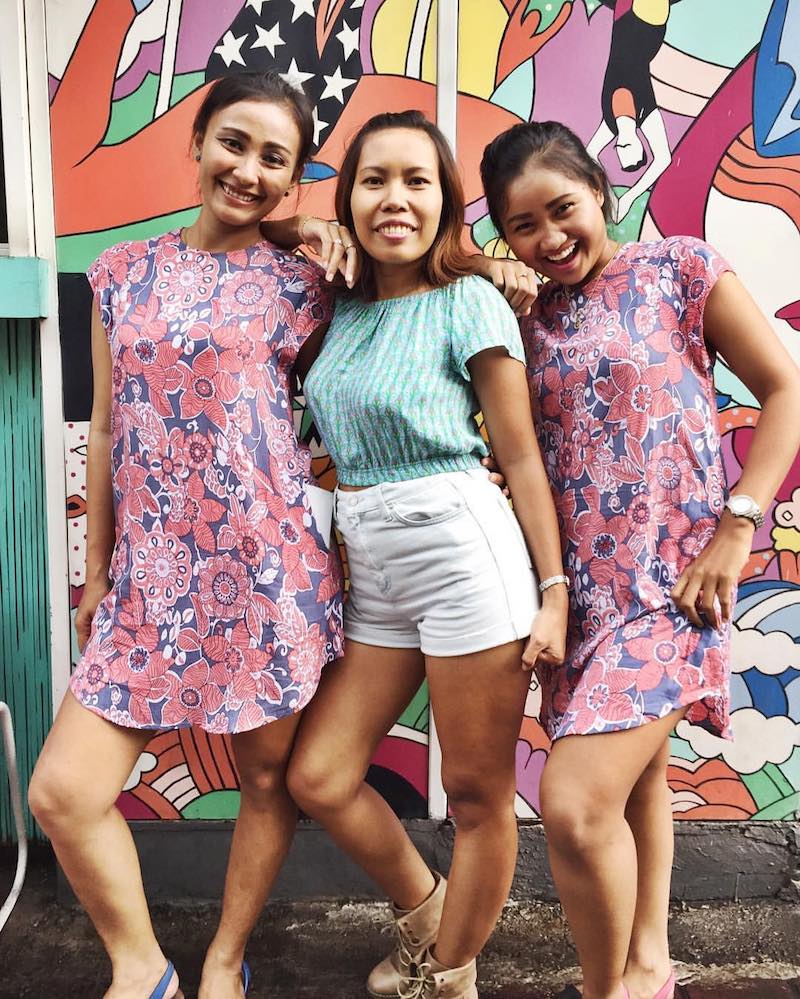 Image: Seacircus dresses by Joanna
You can also eat cake!
Or brownies.
It's holiday time, right.
So anything goes.
No.1: Hot Churros
Served with dark chocolate dipping sauce
No.2: Snickers Cheesecake
With yummy chocolate, caramel & nuts
No.3: Warm Fudgy Chocolate Brownie
With vanilla ice cream
No.4: Spiced Banana Fritters
With candy nuts, coconut ice cream & salted caramel
No.5: Party Churros!
THIS is the one to order.
5 churros, each one individually dipped in one of these combos:
white chocolate orange
chocolate and nuts
chocolate and rainbow sprinkles
raspberry and coconut
raspberry and rainbow sprinkles!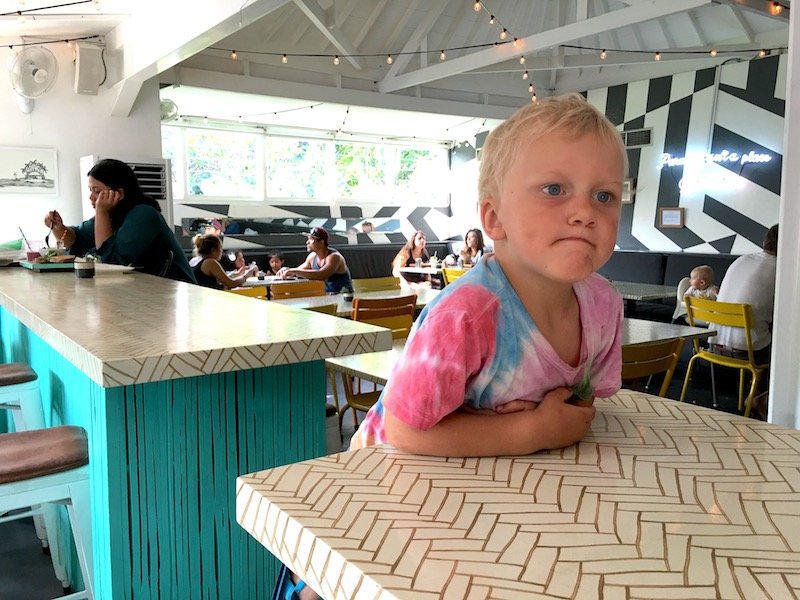 Sea Circus Seminyak Menu for Kids
All up – 16+ foodie reasons why Seacircus is the best breakfast in Seminyak!
You can also take the family for lunch and dinner.
They have a Kids menu.
All meals less than RP 50,000.
See below for options.
No.1: Mini Burger
Mini cheeseburger & fries
No.2: Fish and Chips
Mini serve perfect for the grom
No.3: Kiddies Scramble
Mini scrambled eggs on toast
No.4: Quesadilla
Plain cheese quesadilla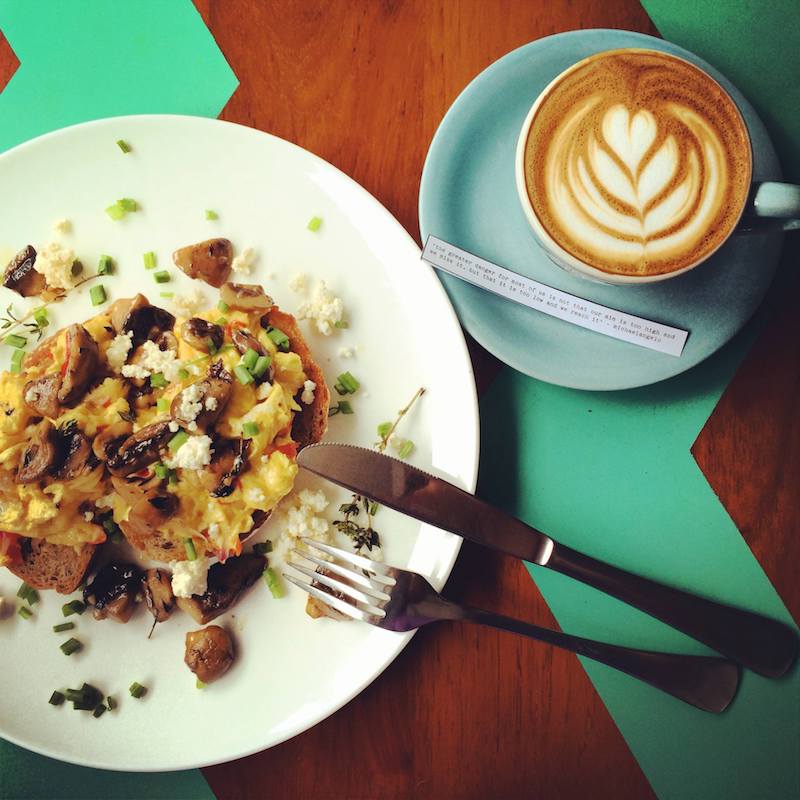 THE INSIDE SCOOP: Sea Circus Seminyak Bali
Correct at time of publication on Roam the Gnome. Please check with venue for updates. We apologise in advance if there have been any changes we are unaware of. All prices in AUD dollars, unless otherwise stated
Address: 22 Jalan Kayu Aya, Seminyak, Bali.
Telephone:+62 361 738 667
Email: [email protected]
Website: Sea Circus
Sea Circus Opening Hours
Open 7.30am till 10pm.
Breakfast menu open from 7.30am to 12 pm lunchtime.
How to get to Sea Circus Cafe Bali
By Taxi: Click here for a guide to Bluebird taxi in Bali
By Private driver: How to book a Bali driver for the day
By foot: Walk from villas and hotels in Seminyak and Petitenget
Click here for google map directions
Facilities at Sea Circus Restaurant Seminyak
Toilets: Yes
Disability access: Tricky.
Play area: No, but they do have colouring in books and pencils.
Hot tips: Sea Circus Happy Hour
Taco Tuesday – half price tacos from 5-8pm
Mad Mondays – half price margaritas and jugs from 5-8pm
Check the Seacircus Facebook page for current specials and upcoming events
Enquire instore about buying a Sea Circus dress!
Toadstool Rating – Best Breakfast in Seminyak.

Looking for MORE SUPER DOOPER FUN places to visit in BALI with Kids?
Click the links in blue for more Bali tips below.