INSIDE: Everything you need to know about booking Ibis Styles Seminyak.
We stumbled upon this gem of a hotel on Agoda for $45 AUD per night including breakfast.
$45 AUD a night!
My first thought? Must be a typo.
Surely no decent accommodation in Bali would ever be THAT cheap.
My mind started racing.
Could this be one of the best hotel deals in Bali ever known to man (or woman)?
Could we put this hotel on our "nice places to stay in Bali" list?
Or could we be heading to Cockroach Central? A crumbling hotel down the back streets somewhere?
Read on to find out more!
Disclosure: This article contains affiliate links. If you make a purchase after clicking on one of these links, we may receive a small commission at NO extra cost to you.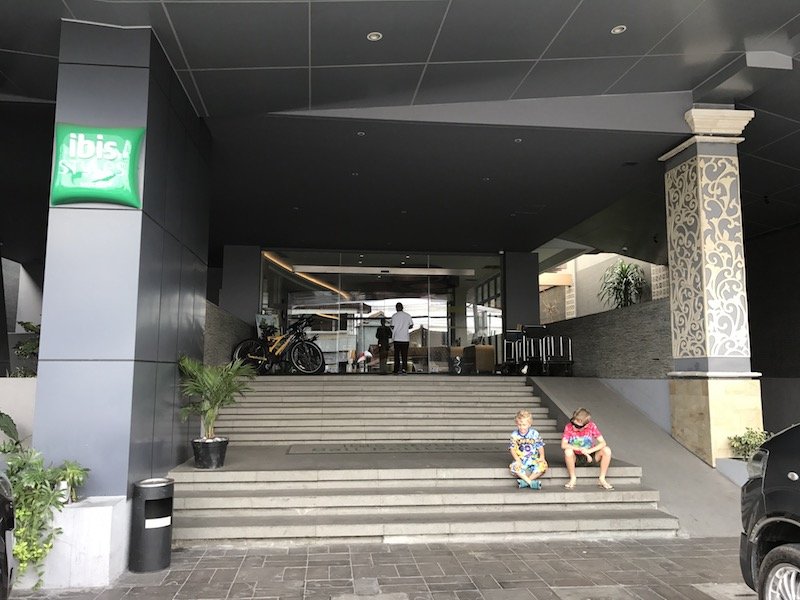 Best Hotel Deals in Bali at the Ibis Seminyak
The only reason I didn't cancel on this almost-too-good-to-be-true offer was that it was a BRAND NEW IBIS STYLES HOTEL.
We've stayed at Ibis Styles hotels before, the budget economy arm of Ibis hotels, and have loved them for family travel.
Ibis Styles hotels have a distinct quirky personality. The designers call upon their sense of humour as they create hotels that are colourful, bright and energetic.
The hotel was filled with foreigners – South Americans, and Europeans mostly – and we bumped into a couple of other families with primary-school aged children (but no babies or toddlers).
---
RELATED: Ultimate Guide of Best Things to do in Bali with kids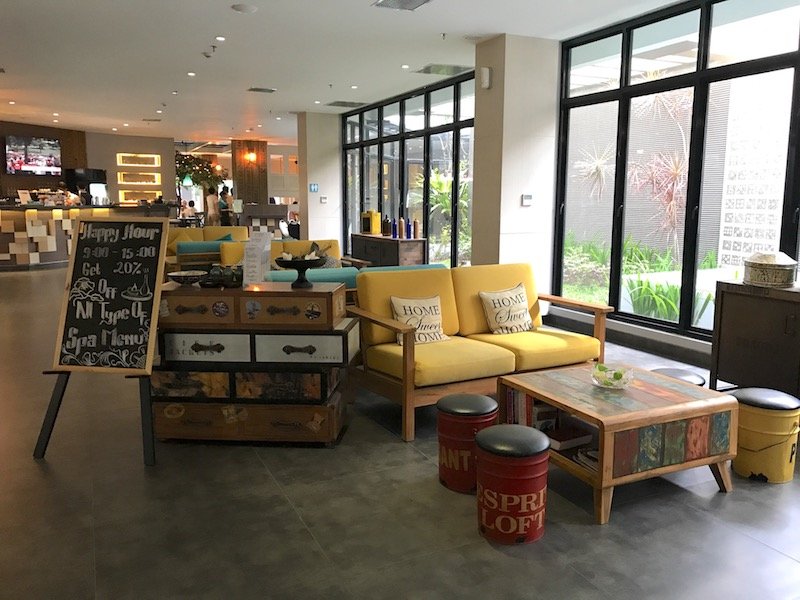 Inside the Ibis Hotel Seminyak
There's bright pops of yellow everywhere and cute furnishings to boot.
Super friendly and happy hotel staff man the desk, and are there to help. Creative posters abound and fun sculptures climb up the wall.
(Check back soon to see our video and you'll see what we are talking about).
The hotel room was a surprise too!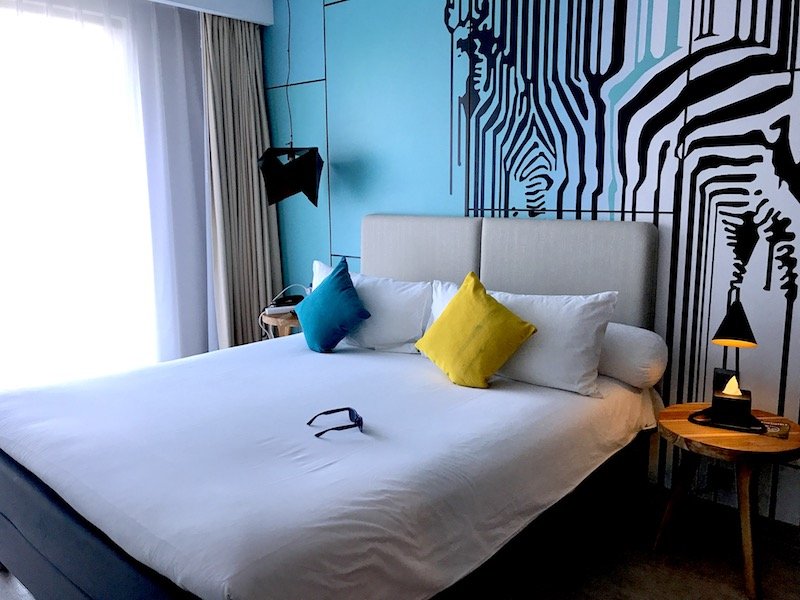 Ibis Bali Seminyak Rooms
King bed
The king size bed was big enough for the three of us.
(When we can, we save on the room by sharing a big bed. It's easy to do with only three of us).
---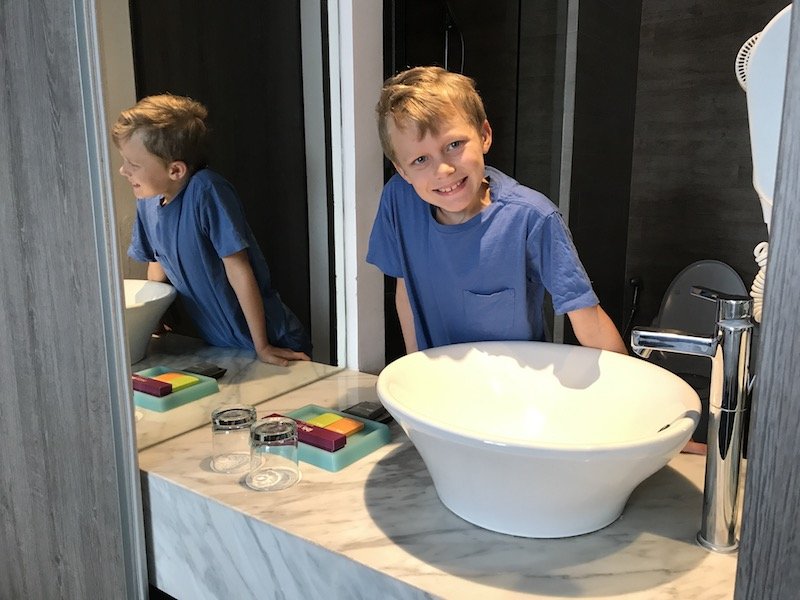 Two way bathroom sink
A fancy-pants two-way bathroom sink (the boy's favourite thing), and icy cold air conditioning were the highlights of the room.
Amenities
The view of the block of land next door was a bit ordinary, but we could see rice fields and flying kites in the distance.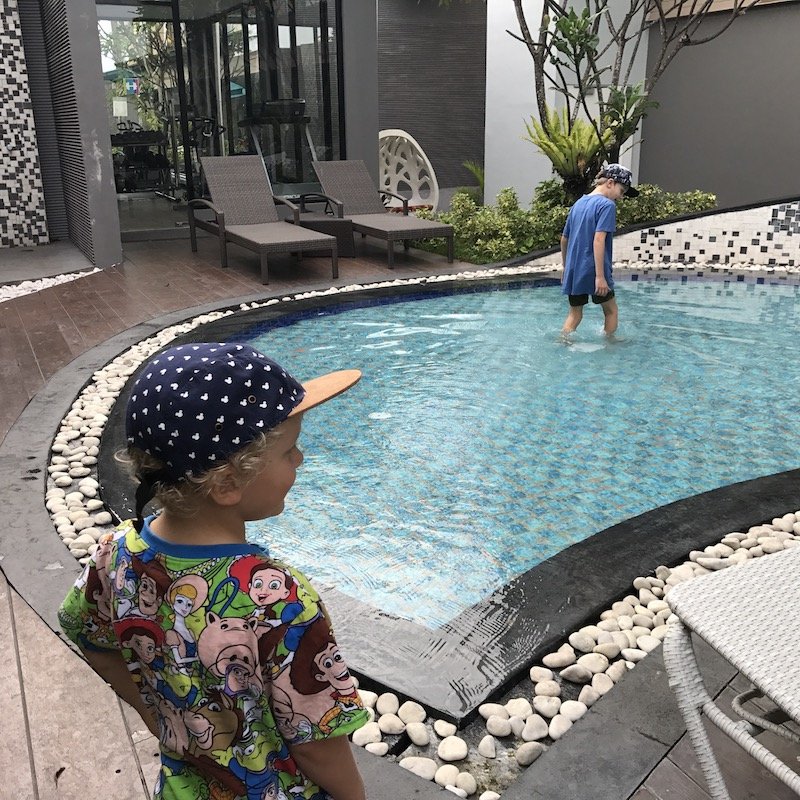 Ibis Style Petitenget Seminyak Pool
You don't stay here for the pool, and there's no water slide BUT the kids still thought the hotel was the best thing ever!
The women who positioned themselves on sun loungers near the baby pool?
Not so much.
It's mind-boggling to watch the projectile reach of water droplets when kids splash about!
Ned made friends with the floating beanbags, content to drift around the blue waters of the big pool.
Luckily, the big pool at the Ibis Seminyak has a shallow section fitted with two permanent concrete sun loungers centre stage (that no-one had claimed), so Jack splashed about in the shallows there under my watchful eye instead.
Hot tip: The sun catches the pool early in the morning, so take a dip before you head out for the day.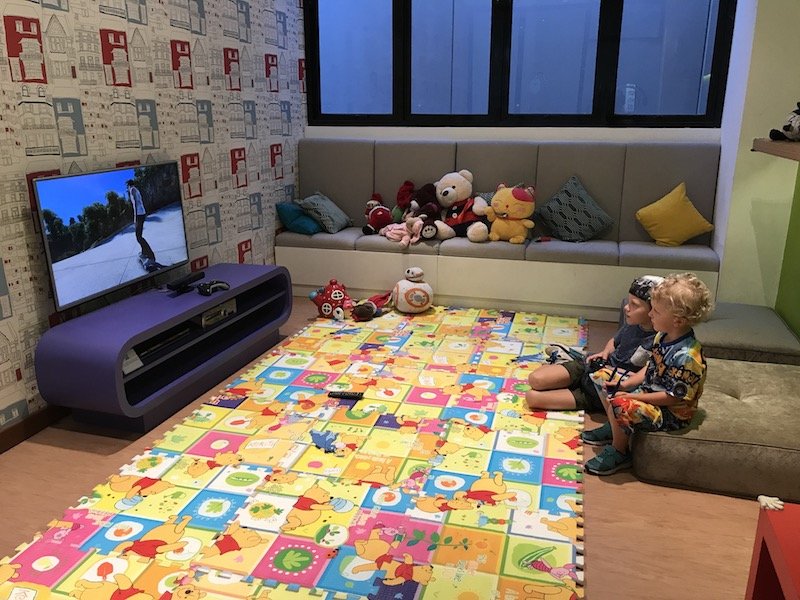 Entertainment Room for Kids at Ibis Styles Petitenget
There's a small efficient gym hidden behind the baby pool with a treadmill, exercise bike, and weights.
There's no kids club, and we wouldn't expect it for the price, but there IS a Kids Entertainment Room.
It's functional for a short visit, with floor cushions, soft toys and dolls, and a petrol pump activity station for matchbox cars, unless of course you have boys that love computer games.
The kids made a beeline for the computer game console in the play area.
This was the game changer that meant my boys could (and would) have stayed in there for hours.
Thankfully, the kids nor the staff could find the remote to work it when we stopped in, so we didn't have to hang around and could get on with our outdoor explorations of Seminyak!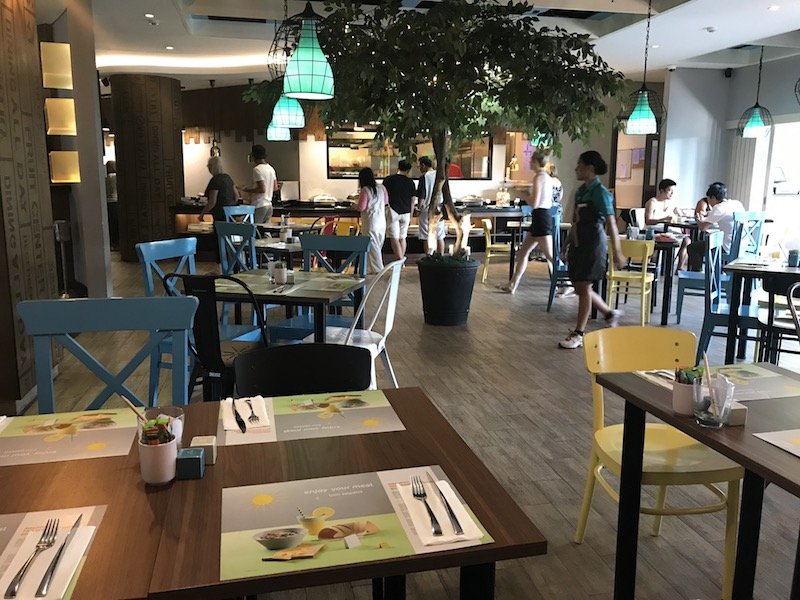 Ibis Styles Restaurant (Streats Restaurant)
The restaurant overlooks the pool, a nice touch when you are eating your complimentary buffet breakfast.
The boys wolfed down their waffles and golden syrup, and I devoured bacon and eggs.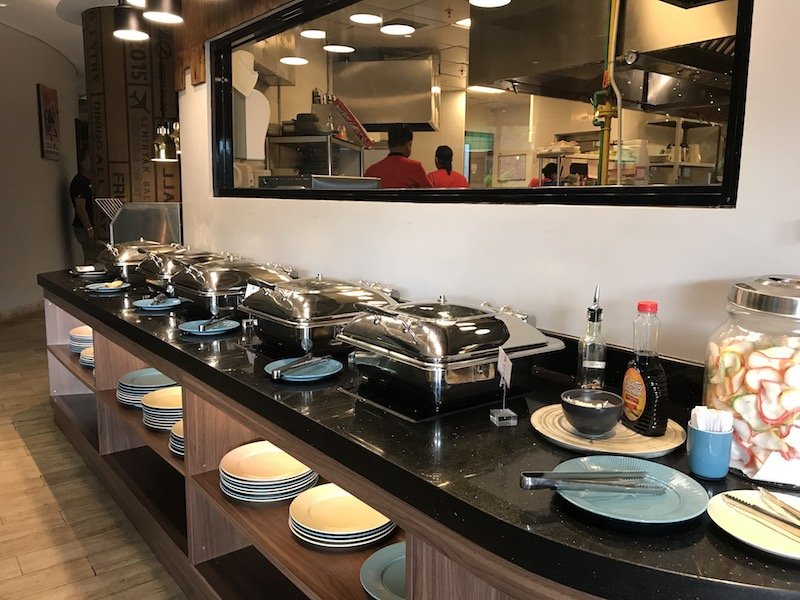 Egg Station
Head to the Egg Station for made to order eggs in Bali.
Eggs come scrambled, boiled or made into an omelette just for you.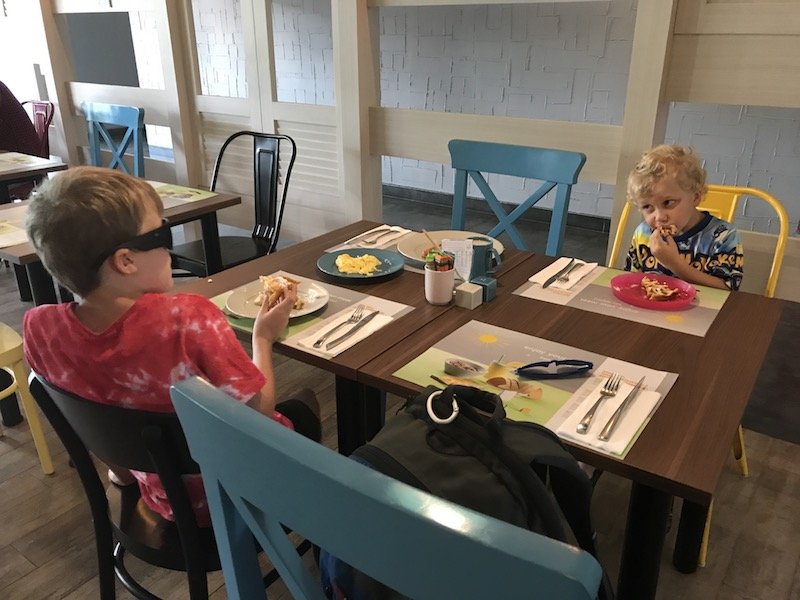 Best Buffet Breakfast in Bali?
My boys rated this buffet breakfast their number one out of the three hotel breakfasts we tried this trip.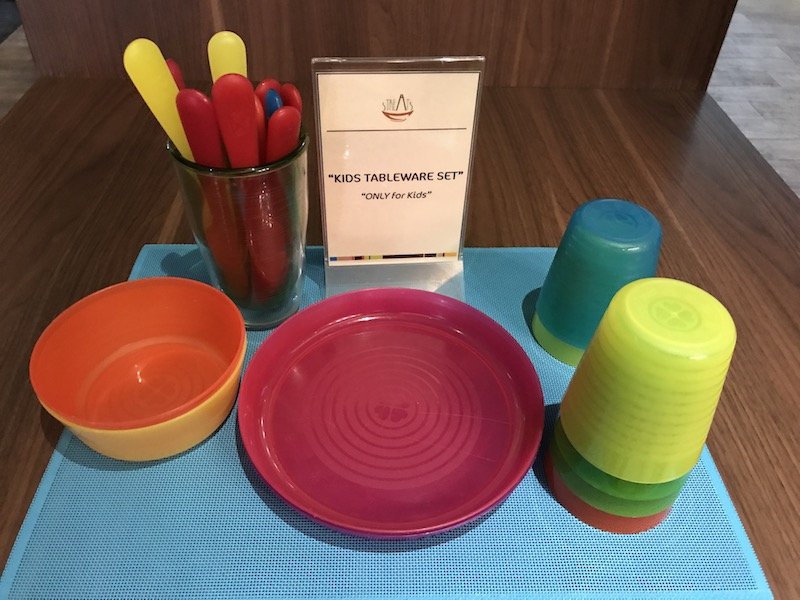 Walking distance to the best restaurants in Seminyak!
The best thing about the Ibis Bali is the location on Petitenget street, away from the hustle and bustle of Kuta.
Yet, it's within walking distance of the mouth-watering restaurants of Jl Petitenget in Seminyak and "Eat Street" Seminyak.
(Coming soon: our list of the best places to eat in Seminyak with kids and family)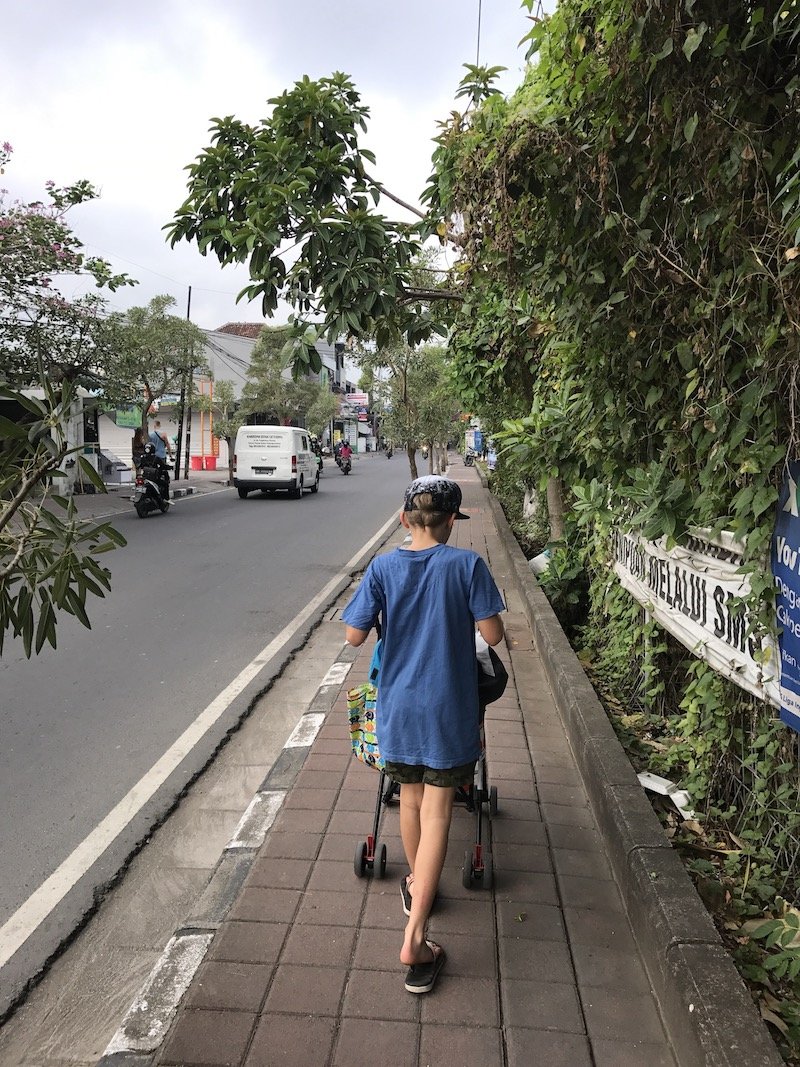 Should I take a stroller to Bali?
Read our guide to find out more.
The boys and I walked the local Seminyak streets over and over again from this Seminyak accommodation, taking a stroller for Jack as we walked long distances.
It IS bit tricky to walk around Seminyak with a stroller as one minute there's a pathway, the next minute, there's not.
A cheap umbrella stroller with a harness, or a Britax B Clever stroller (our fave travel stroller) is manoeuvrable, but I definitely wouldn't take anything bigger.
Hot tip: Umbrella strollers can double as a high chair in a restaurant when one is not available.
If you are travelling with baby in Bali, our favourite ERGO baby carrier is probably easier.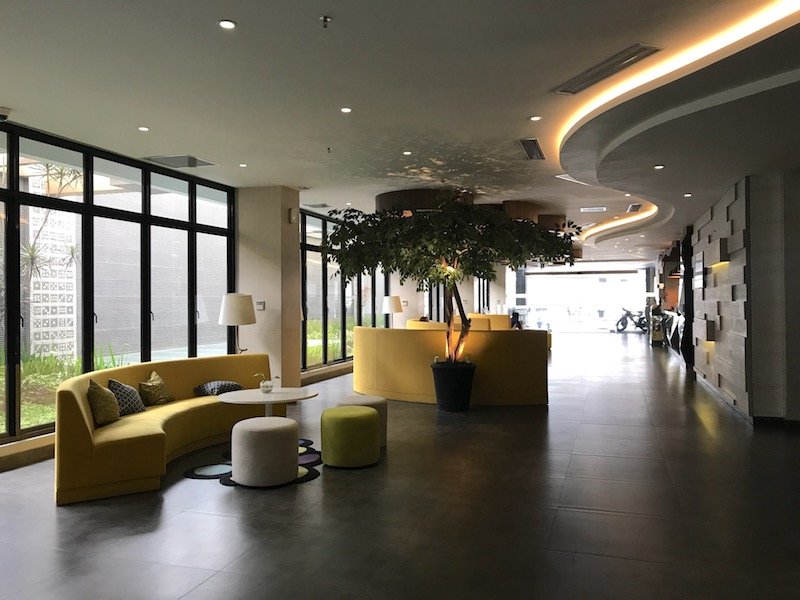 THE INSIDE SCOOP: Ibis Budget Accommodation Bali
Correct at time of publication on Roam the Gnome. Please check with venue for updates. We apologise in advance if there have been any changes we are unaware of. All prices in AUD dollars, unless otherwise stated
Address: Ibis Styles Seminyak is located at Petitenget No 19, Kerobokan Kelod, Kuta Utara, 80361
Phone number: (+62) 361/4741688
Email: [email protected]
Website: Click here
Ibis Seminyak Hotel Prices
Hot tip: Ibis Budget Bali Seminyak
There's also the Ibis Budget hotel in Seminyak.
You can check prices for the Ibis Budget Seminyak hotel too.
It's close to La Plancha beach club restaurant, and Double Six Beach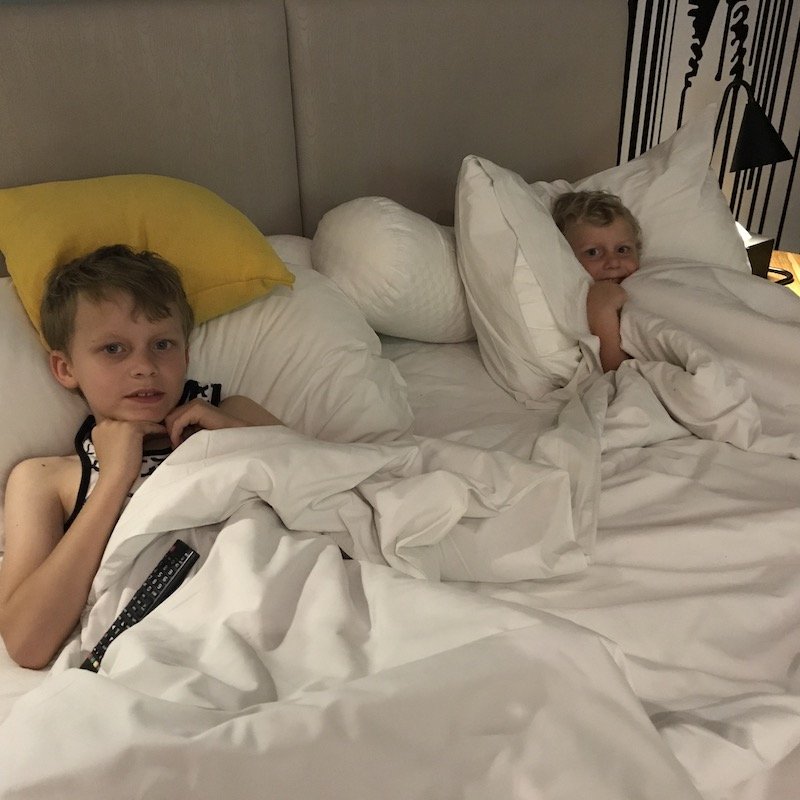 Best Ibis Deals?
If you are flexible when you travel and book on the fly, the current room rate is displayed on a board by the front reception for walk ins.
This is another great way to get discount hotel rates in Bali.
The room rate for walk ins was around $20 per night more than what we were paying on our Agoda deal.
How to get to Seminyak Ibis Hotel
By Private transfer: Book our favourite private driver, or take a taxi from the airport.
Bali airport to Seminyak cost by private driver: RP 250,000 ($25 – 30 AUD) approximately.
By Taxi: For your return journey you also have the option to book a Bluebird Taxi via their app.
Cost of taxi in Bali from airport to Seminyak: RP 250,000 ($25 – 30 AUD) approximately.
Enquire at the desk about airport shuttle to Ngurah Rai international airport too.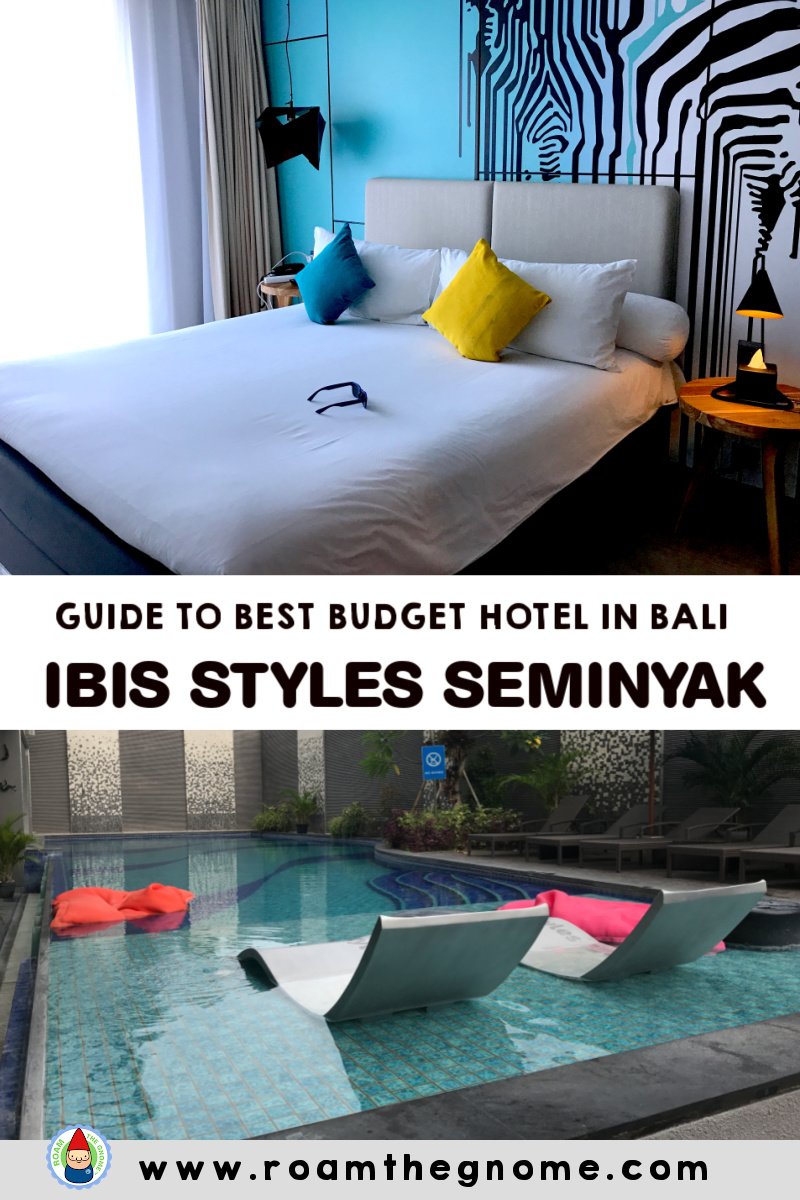 Ibis Seminyak Hotel Parking
Onsite parking available undercover.
Facilities at Ibis Styles Bali Petitenget
FREE Wifi is available throughout the hotel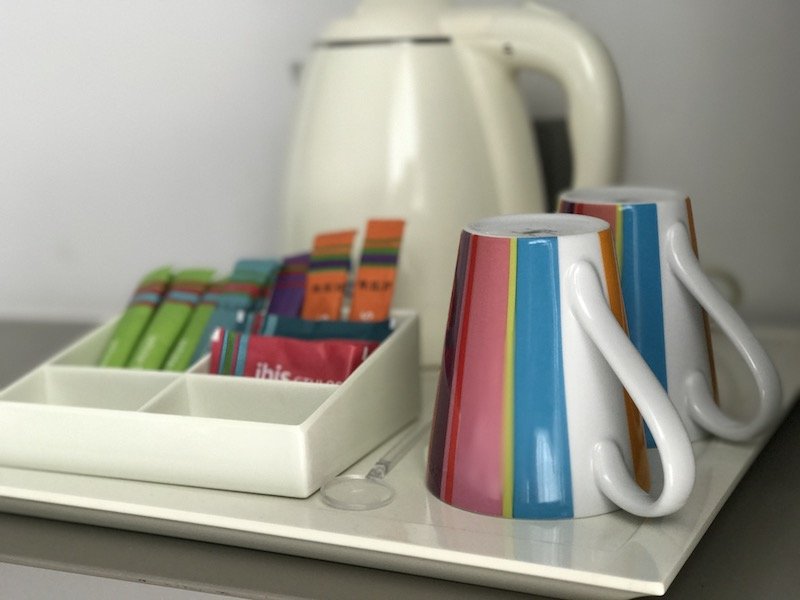 Toadstool Rating: Ibis Styles Seminyak Guest Reviews
One of the best hotels in Seminyak on a budget.

Looking for MORE things to do in Seminyak?
Click the links in blue for more Bali tips below.