INSIDE: Everything you need to know about the Kura Kura Bus Bali.
Visiting Bali on a budget?
Then this tourist bus service in Bali should be on your 'need to know' list.
The Kura Kura Bus service is the Best Way to Travel in Bali
This Bali transport option is comfortable (with air con, and FREE wifi!), convenient, super affordable (about $2 AUD per person per trip) and great fun for kids.
We've gathered EVERYTHING you need to know about this cheap bus service in Bali below.
Disclosure: This article contains affiliate links. If you make a purchase after clicking on one of these links, we may receive a small commission at NO extra cost to you.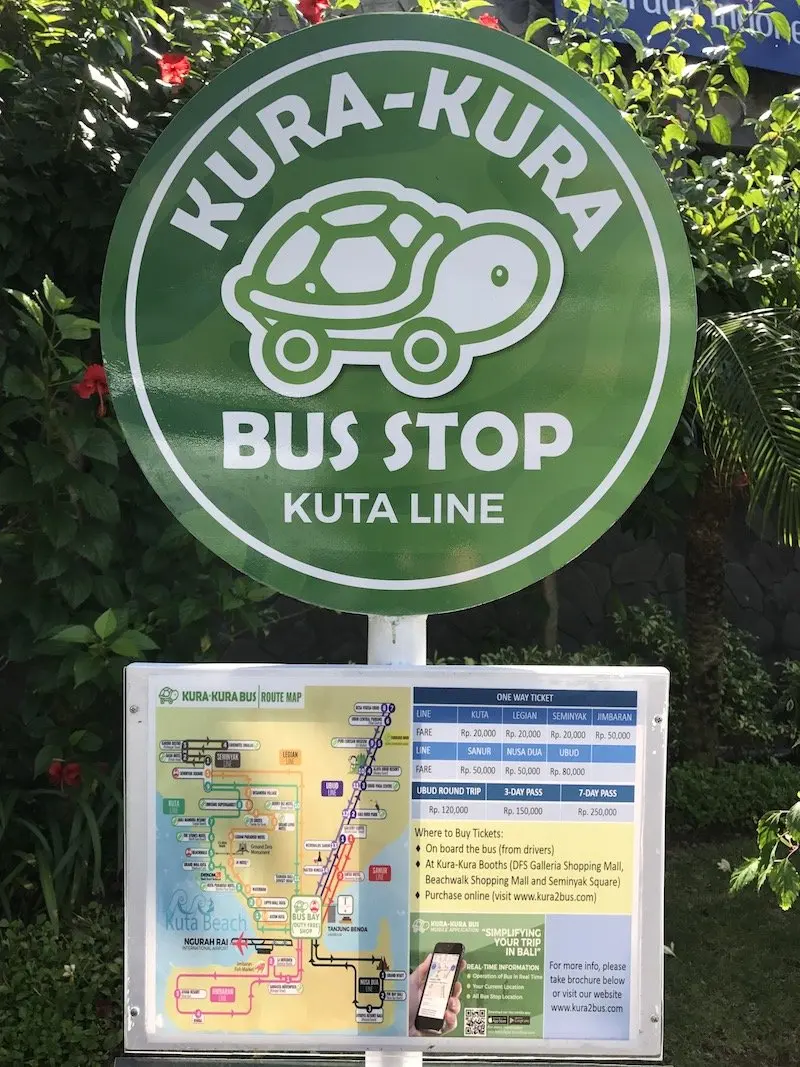 About Kura Kura Bus Bali
Kura-Kura Bus is a public shuttle bus service for local travel in Bali, connecting popular tourist areas in Bali daily from 8:30 until 22:00 (depending on the line).
Hot tip: Be sure to get onto the right bus – the most popular bus routes use the same pick up locations.
---
RELATED: Ultimate Guide of Best Things to do in Bali with kids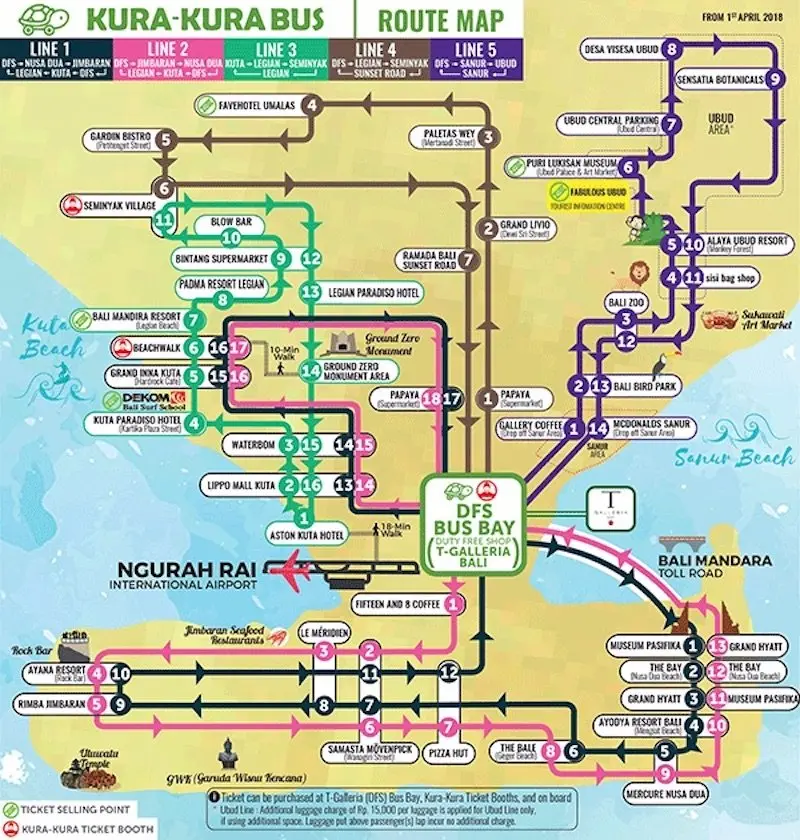 No.1: Where does the Kura Kura bus go?
Updated map and routes from April 2019.
The main hub is the DFS Bus Bay, located at Jl. Bypass Ngurah Rai, Simpang Siur Junction in Kuta.
Note: DFS stands for "Duty Free Shop" at the Galleria duty-free shopping mall.
No.2: Kura Kura Bus routes
Line 1: Connects fours areas – Nusa Dua, Jimbaran, Kuta, and Legian.
Route: DFS > NUSA DUA > JIMBARAN > DFS > KUTA > LEGIAN > DFS
Stops include:
DFS Mall Bali Galeria
The Bale
Le Meridien Hotel
Ayana Resort
Lippo Mall
Grand Hyatt Hotel and
Mercure Nusa Dua hotel.
Line 1 bus runs every 1.5 hours from 07:54 – 22:42, 10 rounds per day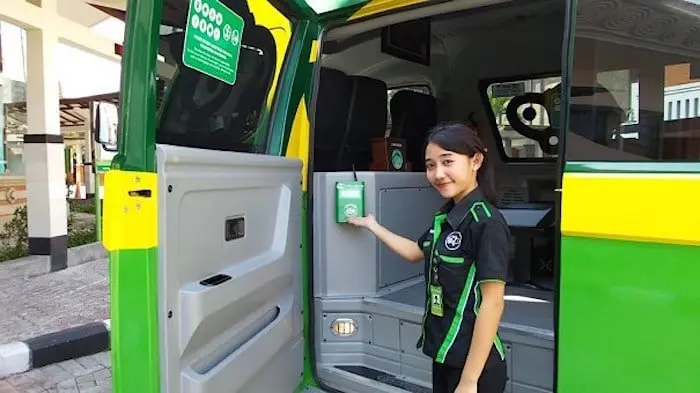 Line 2: Nusa Dua from Jimbaran or from Kuta to Jimbaran.
Route: DFS > JIMBARAN > NUSA DUA > DFS > KUTA > LEGIAN > DFS
Stops include:
Pizza Hut Jimbaran
Museum Pasifika
Lippo Mall Kuta
Rimba
The Grand Hyatt hotel and
Waterbom.
Line 2 bus runs every 1.5 hours from 08:55 – 22:00, 9 rounds per day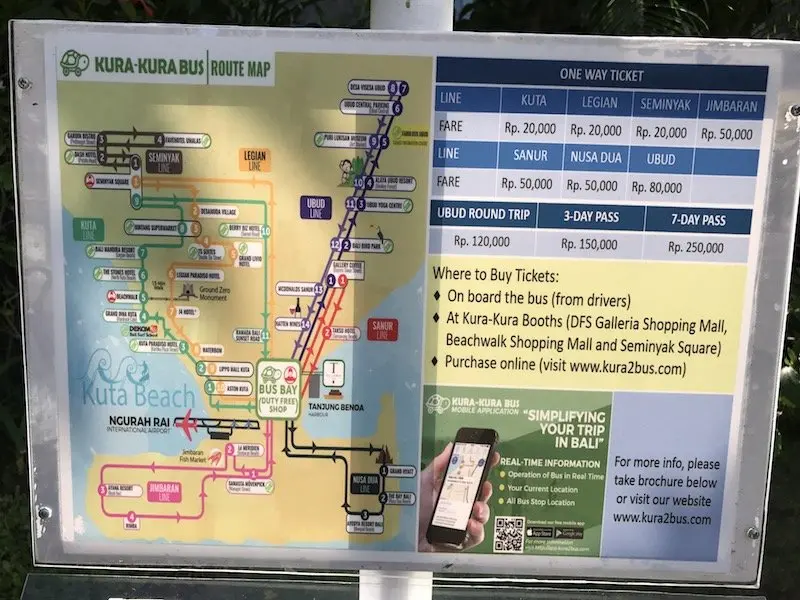 More KuraKuraBus routes
Line 3: Connects Kuta to Legian and Seminyak.
Route: KUTA > LEGIAN > SEMINYAK > LEGIAN > KUTA
Stops include:
Waterbom
Bintang supermarket
Seminyak Village shopping centre
Ground Zero monument
Lippo Mall Kuta
Beachwalk Mall
Plus popular Bali family resorts including:
Bali Mandira Resort
Kuta Paradiso Hotel, and
the Padma Resort Legian.
Line 3 bus runs every 20 minutes from 08:30 – 22:42, 38 rounds per day
Line 4: Connects Legian and Seminyak from DFS (Duty Free Shop at Mall Bali Galleria) via Jalan Sunset Road.
Route: DFS > LEGIAN > SEMINYAK > SUNSET ROAD > DFS
Stops include:
Seminyak Village shopping centre, and
Papaya supermarket.
Line 4 bus runs every 45 minutes from 09:00 – 22:12, 17 rounds per day
Line 5: Connects Sanur and Ubud from DFS (Bali Mall Galeria depot)
Route: DFS > SANUR > UBUD > SANUR > DFS
Catch this bus to:
Bali Bird Park
Bali Zoo, and
Ubud.
This is the Kuta to Ubud bus, and the bus to take you from Denpasar to Ubud.
Line 5 bus runs every 2 hours from 09:00 – 20:25, 5 rounds per day
** Tickets for the bus are available in Ubud at the Ubud Tourist Information Center located on Jl. Raya Ubud, opposite the Royal Palace and the Art Market.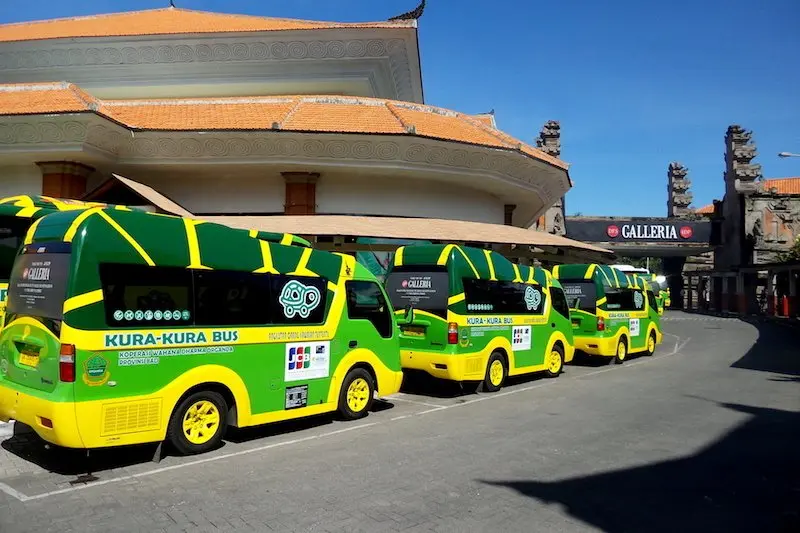 No.3: Can I catch the Kura 2 Bus to and from the airport?
FAQ: Is there a Kura-kura airport transfer?
No, unfortunately the buses don't operate in this area.
No.4: Mix & Match Kura Kura shuttle bus journeys
Hop on a Kura-Kura Bus at one of the designated bus stops located at shopping malls and major hotels in popular resort areas.
Then hop off at your next destination.
And so on.
Wash. Rinse. Repeat.
You are not limited to travelling on one route either.
You can mix and match your routes to get where you need to go.
For example, travel from Seminyak to Kuta, then from Kuta to Ubud.
It's that simple.
Check the twitter feed for all the latest info on any bus delays or disruptions to normal service.
No.5: Kura Kura Bus Timetables, Brochures and Maps
Click here for the current Kura Kura bus timetable
Pick up a brochure and bus location map at all KK bus stops, and on the buses themselves.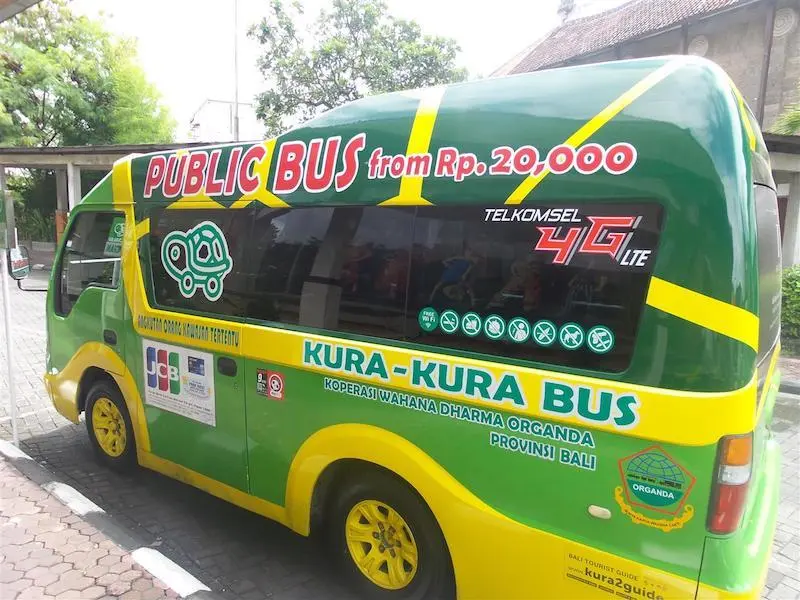 WHERE CAN I BUY KURA KURA TICKETS
No.1: How do I buy a Kura Kura Bali ticket?
Buy either a Kura-Kura Rechargeable Card, or Kura-Kura single tickets for individual journeys one way.
Purchase an unlimited travel day pass for even better savings.
All tickets must be purchased in Indonesian Rupiah only.
Tickets can be purchased at:
DFS Bali Bus Bay
Kura Kura Bali Ticket Booths
bus stop hotels, and
on board the bus on every line except the Nusa Dua one.
1-Day bus passes can also be bought on all the buses except the Nusa Dua one.
You can also buy tickets from nominated shops and Kura Kura booths, including ones at:
DFS Galleria Shopping Mall
Beachwalk shopping mall, and
Seminyak Square.
You can buy tickets and cards with your VISA, MASTER, JCB and BCA credit cards at the DFS Bus Bay, and at Kura-Kura Ticket Booths.
No.2: How much do Kura Kura bus tickets cost?
Wondering about the Kura-kura bus price?
Routes on Lines 1 to 4 are RP 20,000 for a single journey. eg hop on, travel, hop off.
The route on Line 5 costs RP 80,000 for a single journey eg DFS to Sanur, or DFS to Ubud. You can buy a round trip ticket on this route for RP 120,000.
For current fare information and locations, please see Ticket Info.
Hot tip: One child under 2 years, using the same seat as an adult, can travel for FREE!
It's the cheapest Bali transportation around.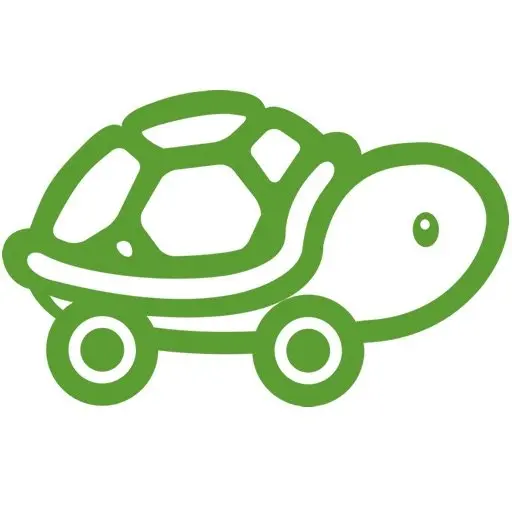 No.3: Save with a Kura Kura Bus Day Pass
A Day Pass is a pre-loaded smart card that can be used for unlimited travel on all bus lines.
1, 3, and 7-Day Passes are available and are activated from the date, and time, you first scan the QR Code once when boarding to the bus.
One day is calculated as 24 hours from the time the card is first activated when scan the QR Code Reader.
For example, if you tap a 3-Day Pass at 15:00 on 1st April, the card will be valid until 15:00 on 4nd April.
You can ride on any of the buses as much as you like during the activation period.
Another benefit of the day pass is that you don't have to carry small change, or top up credit.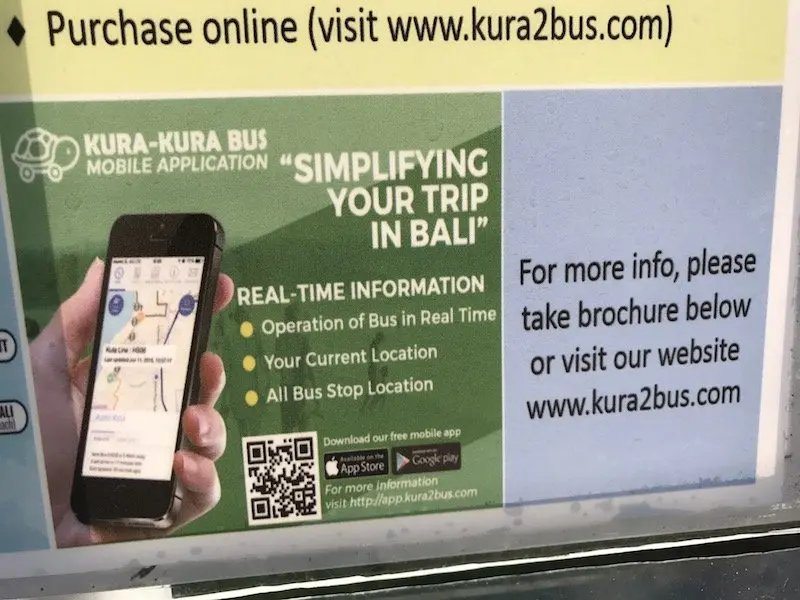 No.4: Kura Kura Day Passes price
Buy day passes at the DFS Bus Bay, Kura-Kura Ticket Booth, and at bus stop hotels.
Day passes are valid for one person only. Do not lose it, as a day pass cannot be replaced, and you will have to buy another one.
Day passes must be used on consecutive days.
A one-day pass costs RP 100,000
A three-day pass costs RP 150,000
A seven-day pass costs RP 250,000
*All prices are in Indonesian Rupiah
Hot tip: Get BIG discounts off day passes here.
No.5: How do I use the Kura Kura bus tickets when using this transport in Bali?
To use the Kura-Kura Card: Tap your card on the card machine located near the door.
To use the Kura-Kura Ticket: Drop your single or round trip ticket in the box located near the door.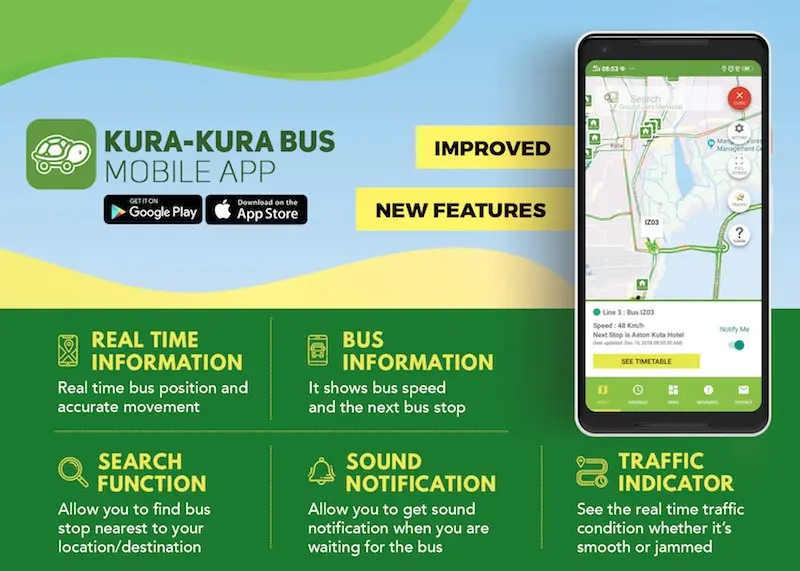 Download the Kura Kura Shuttle Bus App for Up to Date Timetable Information
Download the Kura Kura Bus app for:
real time information of when the next bus is due
the closest bus stop to you, based upon your current location
ALL bus stop locations
Click here for the app on the App store.
Click here for the app in the Google Play store – Android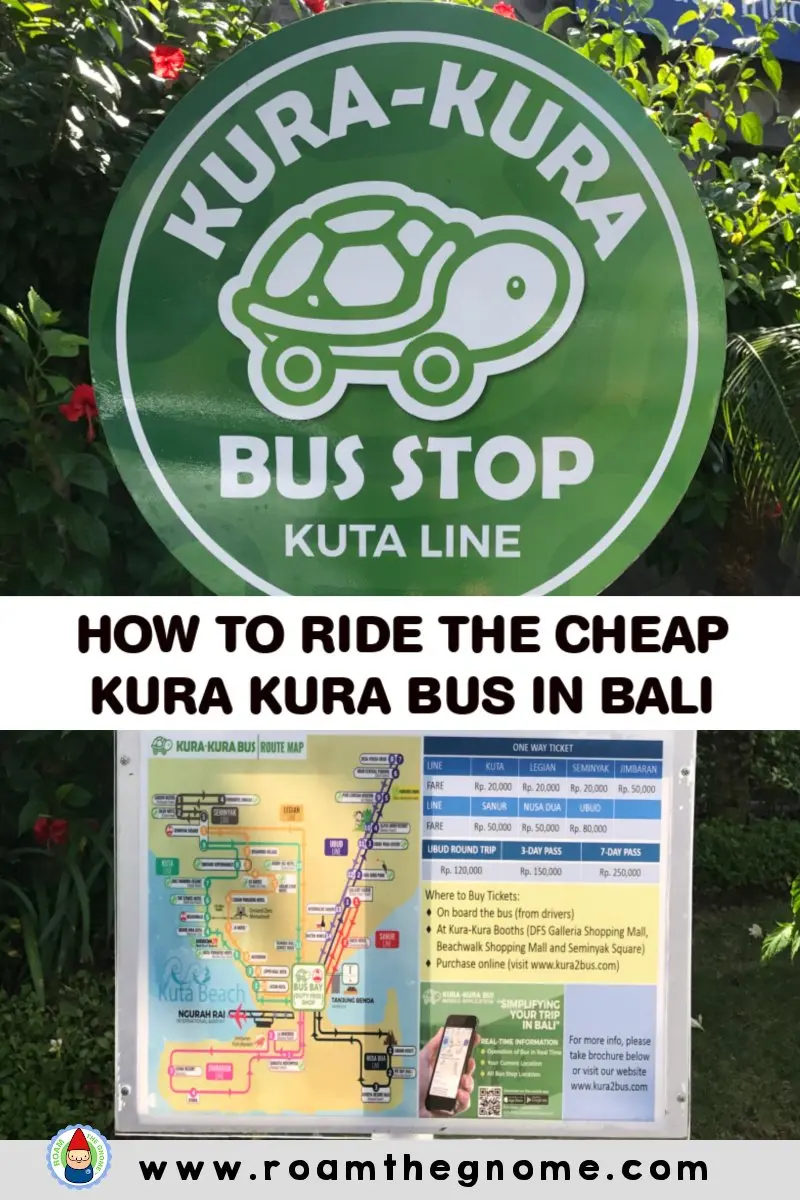 THE INSIDE SCOOP: Kura Kura Bus Bali
Correct at time of publication on Roam the Gnome. Please check with venue for updates. We apologise in advance if there have been any changes we are unaware of. All prices in AUD dollars, unless otherwise stated
Address: Head Office is at Rama Tours Building, Jl. Raya Kuta No. 100X, Kuta Badung, Bali, Indonesia 80362
Telephone: (+62) 361 757 070
Email: [email protected]
Website: Click here
Kura Kura Bus Operating Hours
Kura Kura Bus Fares
From RP 20,000 to RP 80,000 for single ticket journeys
Kura Kura Bus discount tickets
Hot Tip: Download the latest Coupon and Discount voucher booklet from Kura Kura Bus lines.
There's savings from 10 – 30% off a big variety of attractions, restaurants, and tours.
Find Kura Kura bus stops here
Facilities on buses
Toilets: No toilets on the bus.
Disability access: No. Unfortunately, KK buses do not offer wheelchair facilities at this time.
Notes:
All Kura-Kura buses are non-smoking.
Do not litter.
No food on board the buses please (definitely no smelly durian fruit!)
Unfortunately, surfboards and pets cannot travel on the buses.
Small bags and backpacks are ok, but call a Bluebird taxi for a private ride if you have larger luggage.
There are no refunds available for unused tickets or card value.
Toadstool Rating: Public Transport in Bali

Looking for Bali Travel Tips?
Click the links in blue for more Bali tips below.