INSIDE: Everything you need to know about Bintang Supermarket Bali Seminyak.
Regular travellers know the number one secret that makes it possible to travel for longer on your budget is to find the local supermarket.
A local supermarket is the place to stock up on:
snacks
cold drinks, beer and wine
picnic food
souvenirs and
gifts for friends back home.
Shopping at a local supermarket is a wallet-saver for us, and means we can afford LOTS more experiences each trip.
In Bali, one of our favourite supermarkets to visit is Bintang Supermarket in Seminyak.
Read all about it below!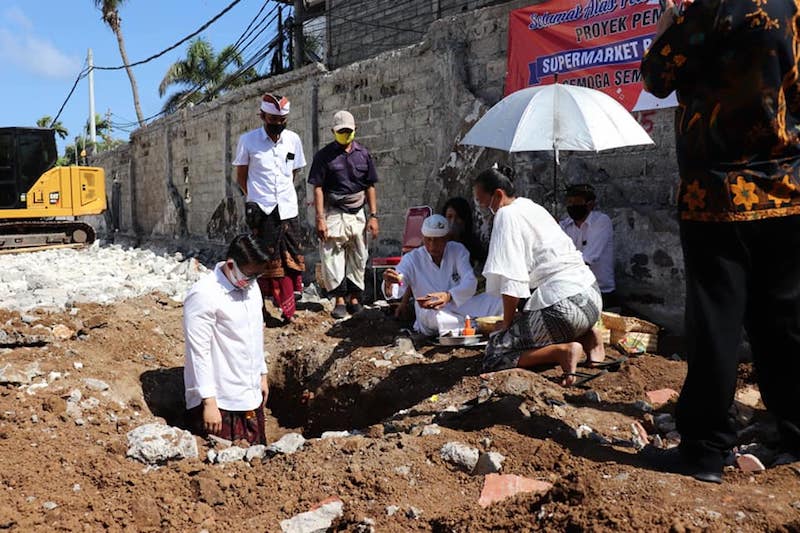 Image credit: Bintang Supermarket
UPDATE 12 Sept 2020: After the Bali Bintang Supermarket Fire in Seminyak
Sadly, Bintang market caught on fire in early January 2020, and the popular Bintang supermarket burnt down.
Is Bintang open?
Yes.
Seminyak Supermarket is currently operating a small alternative store in the Bintang carpark next to the old shop location.
On the 16th August 2020, the owners and operators of Seminyak Supermarket started preparations for the rebuild, with a blessing ceremony on the original site.
Good news for locals, AND for visitors to Bali who love shopping at this Bali supermarket in Seminyak, and can't wait for it to return.
Keep an eye here for details of the reopening.
Take a sneak peek inside to see what you can buy at Bintang, the best Bali supermarket in Seminyak & Canggu area.
---
RELATED: You can also visit Carrefour supermarket on Sunset Road for all your grocery shopping needs. It's another of the popular Bali grocery stores.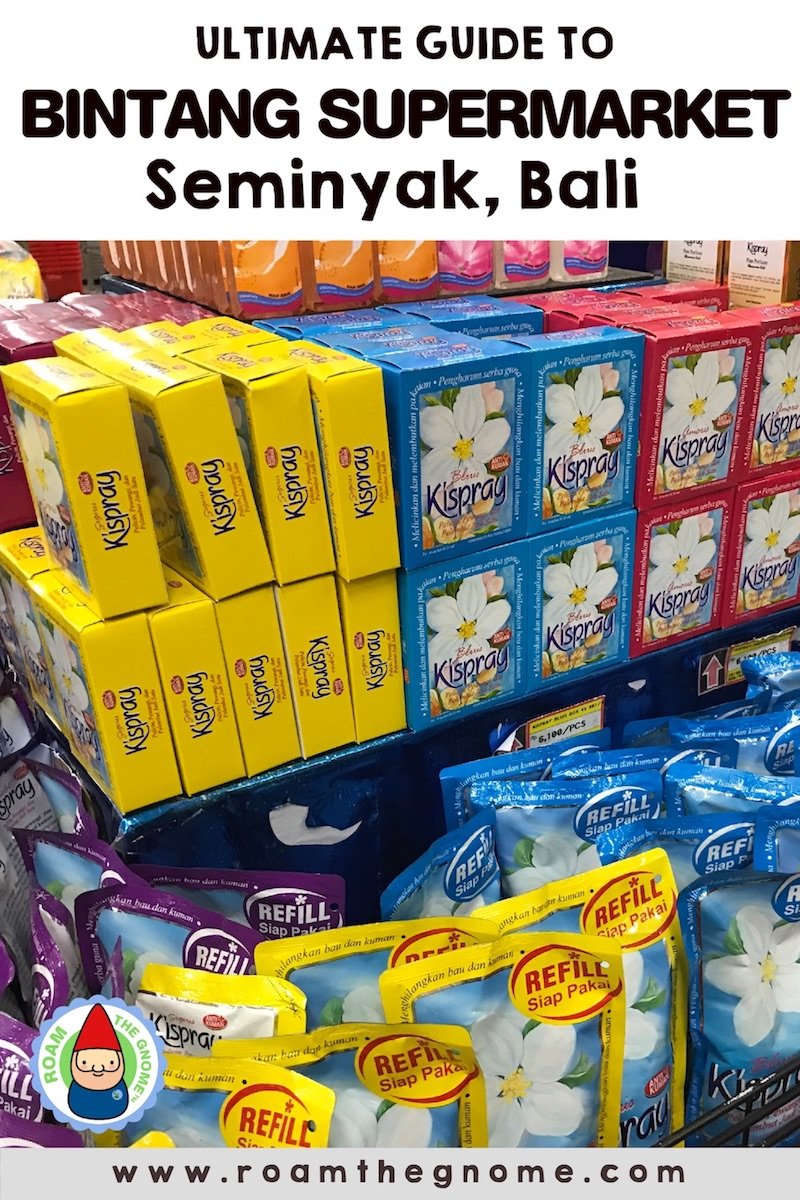 Ultimate Guide to Bintang Supermarket Bali
Saving money or not, we ALWAYS find a local supermarket to visit on our travels, just for the experience alone.
It's FUN to see what's on the shelves, and what's not.
Disclosure: This article contains affiliate links. If you make a purchase after clicking on one of these links, we may receive a small commission at NO extra cost to you.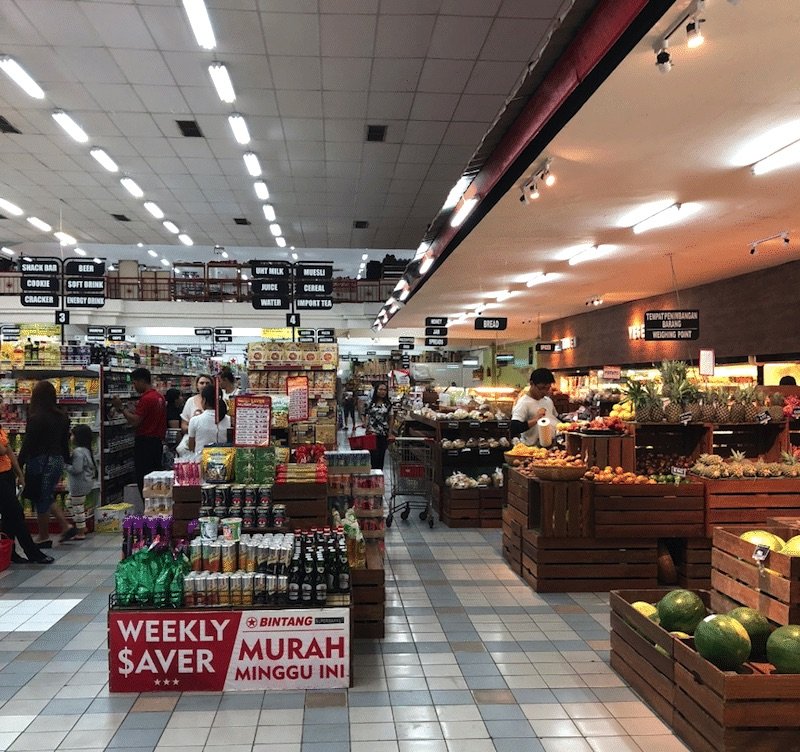 Image credit: I Nengah Suarna
3 Best Reasons to Shop at Bintang Supermarket Seminyak Bali
Take a look and see why Bintang Supermarket Bali is a top spot to buy food and gifts.
No.1: Learn about local food culture
Kids can learn so much by comparing what's on the shelves and in the fridges in a Bali supermarket to home.
Seeing the costs of things such as fresh vegetables or meat compared to home is an eye opener too. Learning about the affordability of foods in different places can help kids see how lucky they are.
PS: Buying new Balinese foods to test and try is all part of the fun.
We're making it our family mission to try all the different chocolate bars in the world.
(We bought Bali Pod chocolate to try)
You can set yourself a chocolate bar challenge too!
---
Hot Tip: See all the famous sights on this Bali Instagram tour with Get your Guide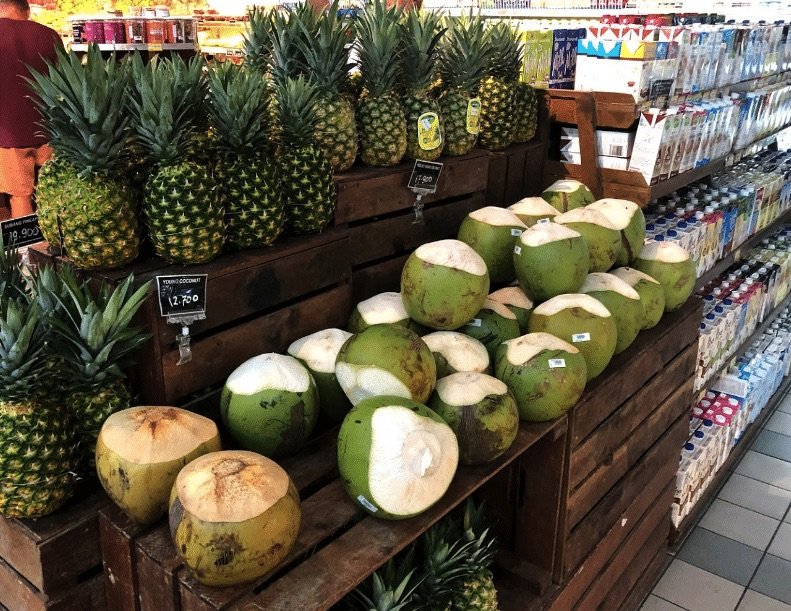 Image credit: 大原康市
No.2: Shop in Peace
But if you want to forget the haggle altogether?
The place to be in Bali is the Bintang Supermarket.
It's our Bali Travel Guide tip of the day.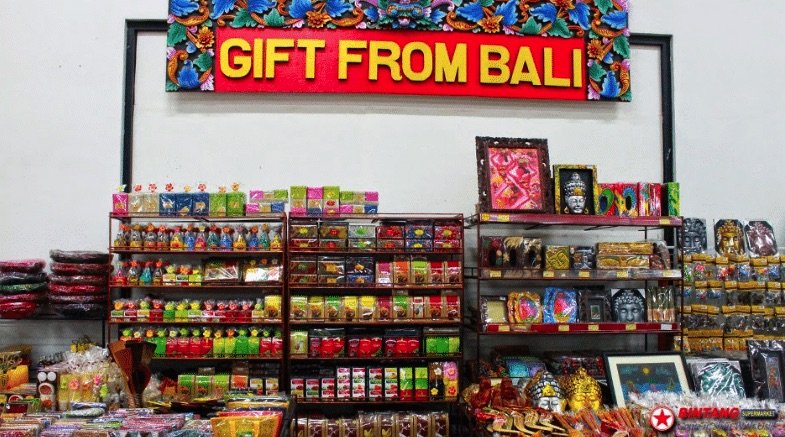 Image credit: Bintang Supermarket by owner via Google maps
No.3: Compare Bali Shopping Prices for Souvenirs & Gifts
This Bali supermarket is also a great place to do price comparisons in Bali so you can gauge the maximum amount you should be paying on the street, and at local markets.
Read our famous and very popular Bali Shopping Price Guide for more tips too.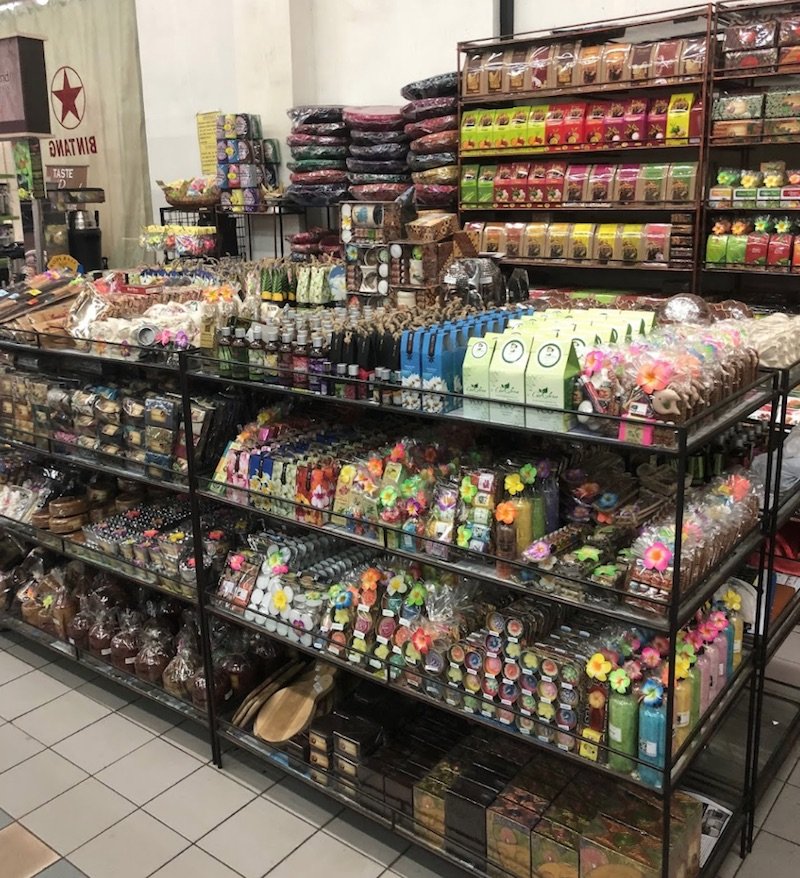 Image credit: Greg dally
Bali Supermarket Prices at Bintang for drinks, food & souvenirs
We're currently compiling a list of the prices in Bali for shopping at supermarkets. All Bali supermarket prices are average approximations and may vary depending on season and availability.
The list includes up to date Bintang supermarket prices for popular food, drink and souvenirs purchases, including the Bintang beer price in Bali.
Check back soon.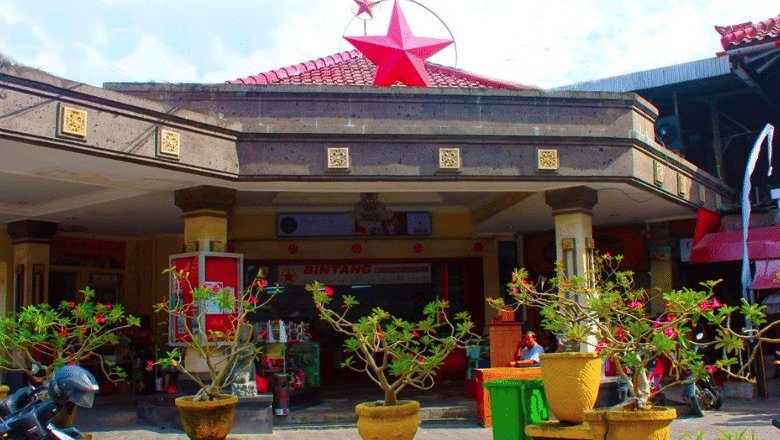 Where is Bintang Seminyak Bali Supermarket?
The supermarket Bintang Seminyak is on the corner of Jl. Raya Seminyak, and Gg. Keraton. It's not hard to spot.
Just watch for the travellers streaming through the doors.
Heads up:
The Sweet Choco Nutella Bar is in the same group of shops, just around the corner.
Pop in for a nutella-filled treat when you are done shopping.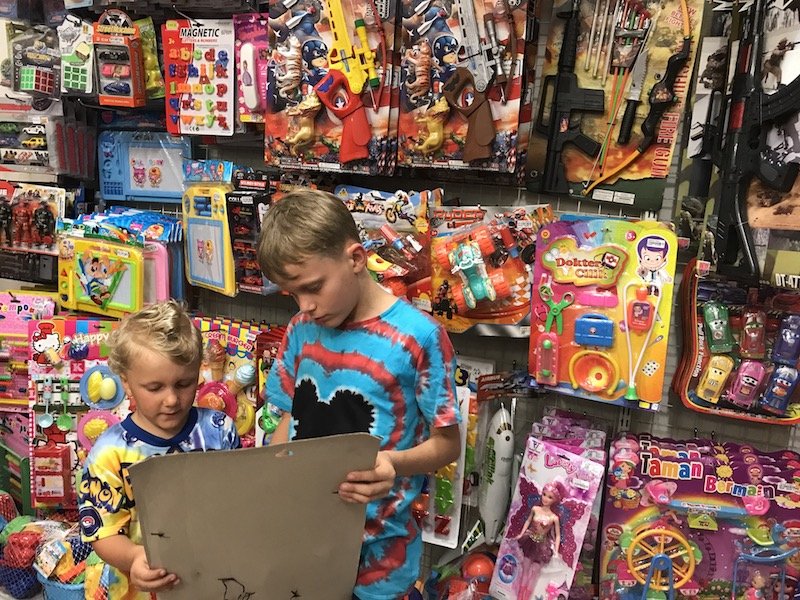 What to buy at this Supermarket in Bali?
You can buy so much at the Bintang supermarket Bali.
But these are the top 7 things we recommend.
No.1: Really Unnecessary Toys!
Ned and Jack told me to tell you that the best aisle at Bintang Supermarket is the wall FULL of toys at the back of the shop.
Bintang supermarket has a range of cheap toys to keep the kids amused when on holidays.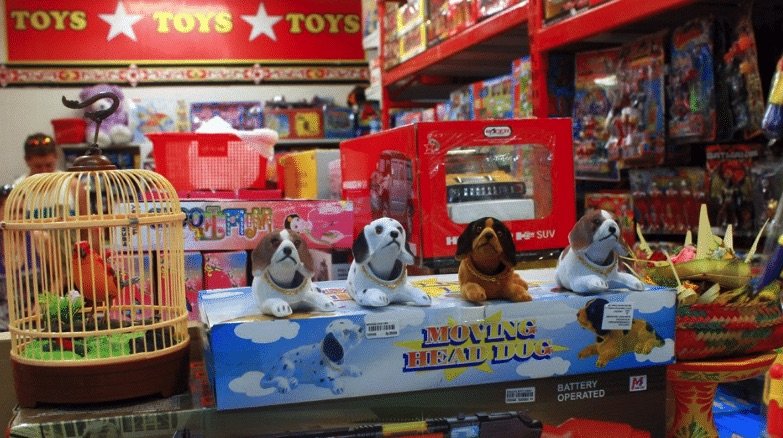 What to do on a rainy day in Bali?
If I'm ever going to give in and buy the plastic crap or the cheaply made toys, the time is when it's a rainy day in Bali.
A rainy day when all normal holiday plans are postponed, and it's time to retreat and be cooped up in the hotel room.
The kids make the most out of these toys while they play, but we make it our mission to pass them on in good condition to local kids before we leave.
Where to buy inflatable pool toys in Bali?
Bintang supermarket is also a top spot to buy cheap inflatable pool toys and floaties to use in the hotel or villa swimming pool, or at the beach, if you forget to pack them in your suitcase.
(You can also find them at Carrefour supermarket on Sunset road)
BYO pool noodle, kick boards and inflatable floaties from home if you can. They are better quality. Then pass them onto another family when you leave.
Hot tip: Want to up your Bali instagram pics? HIRE giant unicorn inflatables, flamingos, rubber ducks, pineapple lilo mats and fruit shaped floatie rings from We Float Bali.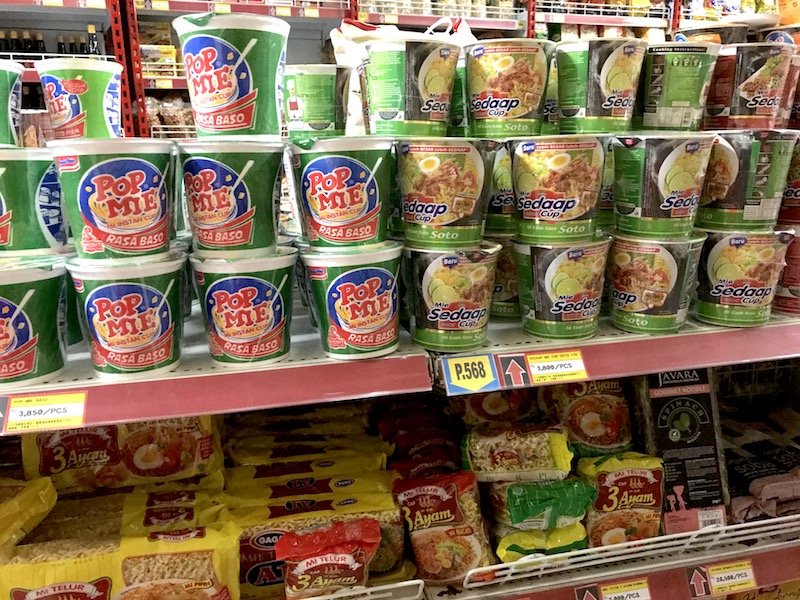 No.2: Cup of noodles.
Just add hot water, like at home.
Noodles are a cheap lunch or afternoon snack for hungry bellies, when you don't want to be paying hotel prices or calling room service for back up.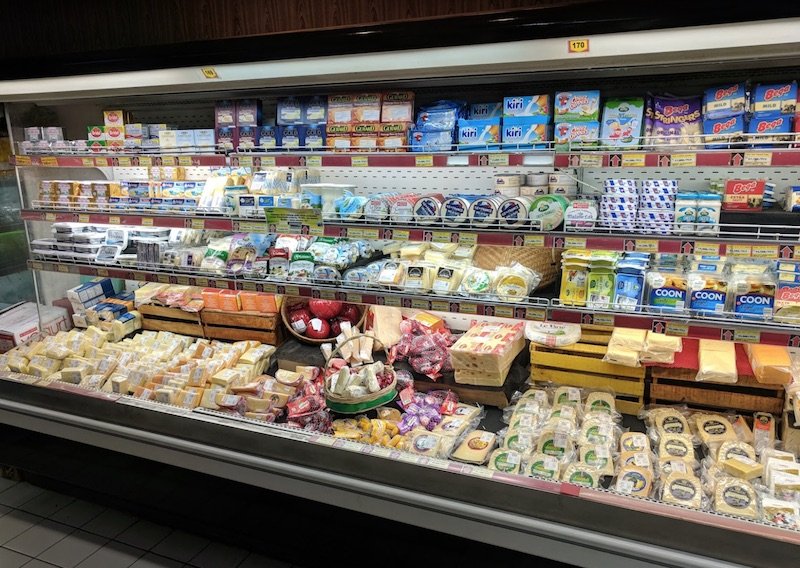 Image credit: Theo Valich via maps
No.3: Fresh Foods in Bali
For those staying in villas with a self-contained kitchen, you can buy:
fresh meat
seafood
fruit and vegetables
a huge range of cheeses
dips, and
delicatessen items at Bintang Seminyak.
Everything you need for a cheese platter and wine by the pool, mid afternoon.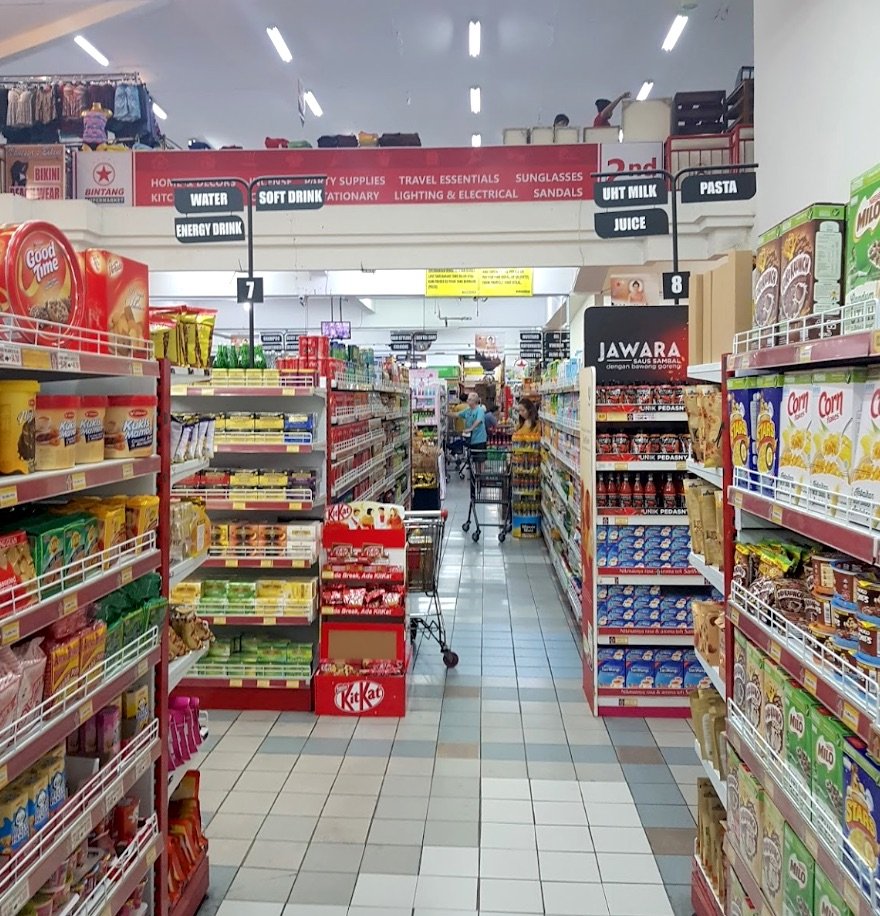 Image credit: Brother Juns via Google Maps
No.4: Balinese herbs and spices
There's an aisle full of popular Bali spices, and traditional Indonesian food packaged in sealed boxes so you can relive your Bali food experiences and play Masterchef at home.
Plus there's all your favourite:
cereals
biscuits
crackers
packaged cakes
sauces, and more too.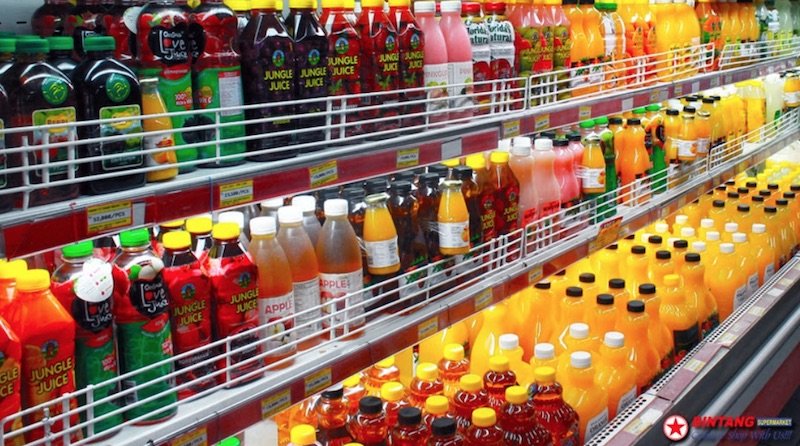 Image credit: Bintang Supermarket by owner via Google maps
No.5: Where to buy drinks in Bali?
Stock up on bottled water, drinks & Bintang beer at Bintang.
Bintang in Seminyak is also the shop to buy bottled water in bulk.
Cheap water, cold soft drinks, Bintang beer, and iced tea purchases at Bintang supermarket will save you the pain of a huge minibar bill when you check out of your Bali hotel.
If you think that the prices in the Mini marts are reasonable (cold drinks for $1.50AUD is unheard of at home), then this Bali supermarket goes one step further to stretch the budget.
You can also buy extra milk for your tea and for baby bottles, and yoghurt for snacking too.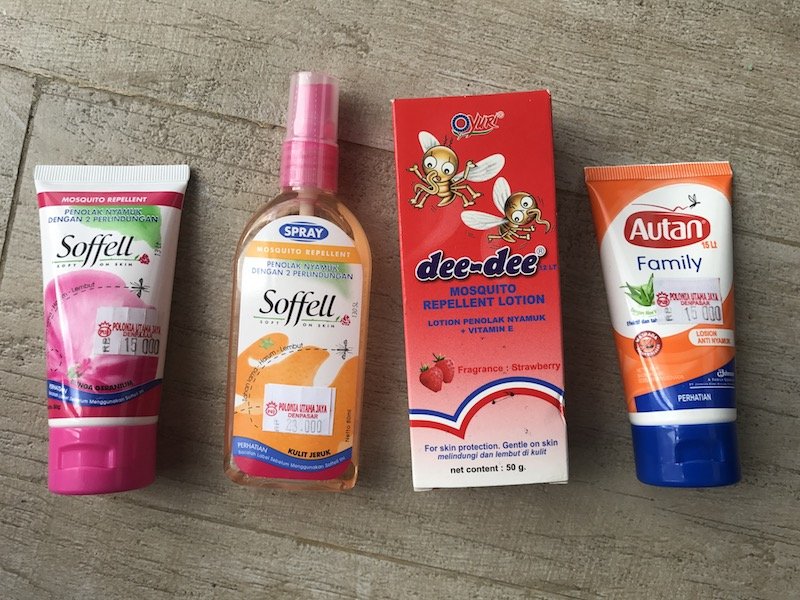 No.6: Where to buy sunscreen in Bali?
Or, wondering where to buy medicine in Bali?
Pick up all your medicinal needs at Bintang.
They stock it all:
sunscreen
aloe vera and after sun skincare
mozzie sprays (click here for our guide on avoiding mossies in Bali)
mozzie patches
headache tablets
charcoal tablets for diarrhoea
helpful drinks (eg Pocari sweat) to soothe upset stomaches
---
RELATED: Roam the Gnome's Helpful Guide to Avoid Bali Belly .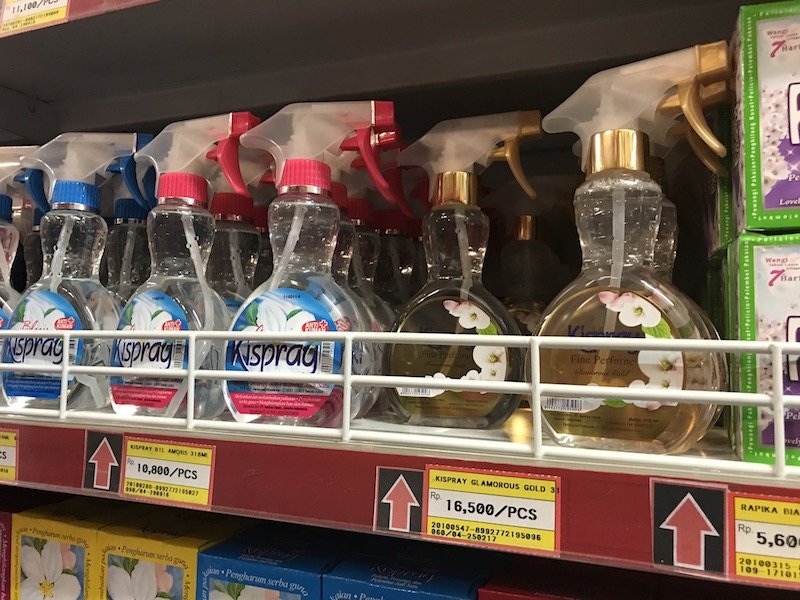 No.7: Household goods & Kispray Bali.
Don't leave without at least one bottle of this very popular laundry spray with that gorgeous aroma everyone loves and wants to take home.
Also, grab emergency supplies:
an umbrella
raincoats
a spare pair of thongs or shoes
matches
citronella candles
mosquito coils
mozzie zappers for your hotel room if they are not already supplied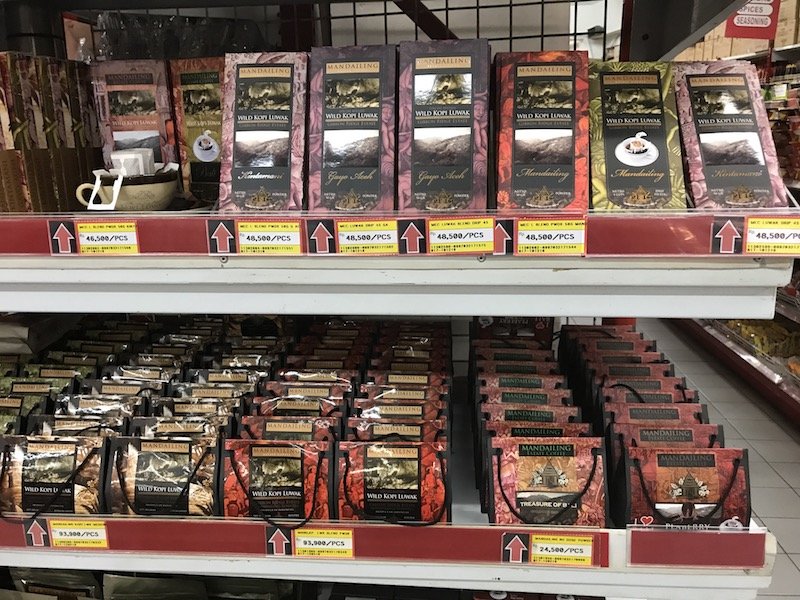 Famous Bali Souvenirs at Bintang Seminyak Supermarket
No.1: Civat Coffee Bali
As a bonus, there's also tonnes of souvenir ideas include packaged boxes of Luwak coffee.
That's the world most expensive coffee.
Made from the coffee beans that have been pre-digested and pooped out by the Civat cat, a small, lithe-bodied, mostly nocturnal mammal native to tropical Asia, it's one of Bali's signature souvenirs.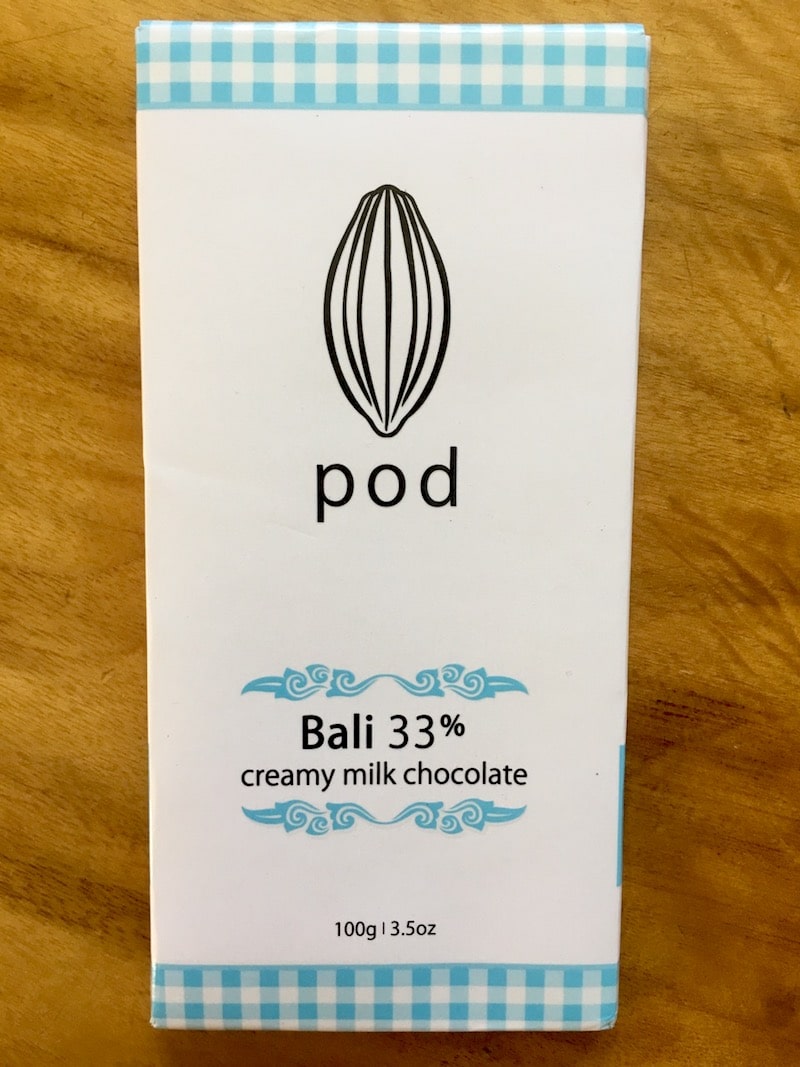 What to Buy in Bali?
Bali homewares & more
Our favourite thing to buy is Bali homewares so we can bring a little bit of Bali magic home.
Over the years, we've bought souvenirs at Bintang including:
wooden bowls and dishes
rattan bags
pretty soaps
Bali face cloths (the ones that expand when soaked in water)
rattan or jute coasters and placemats
Bali fans and wall decorations
Plus hats, t-shirts, and all the usual market stall stuff.
We always stock up on Balinese chocolate and snacks like Bali Cashews.
Wander the aisles and see what else catches your eye.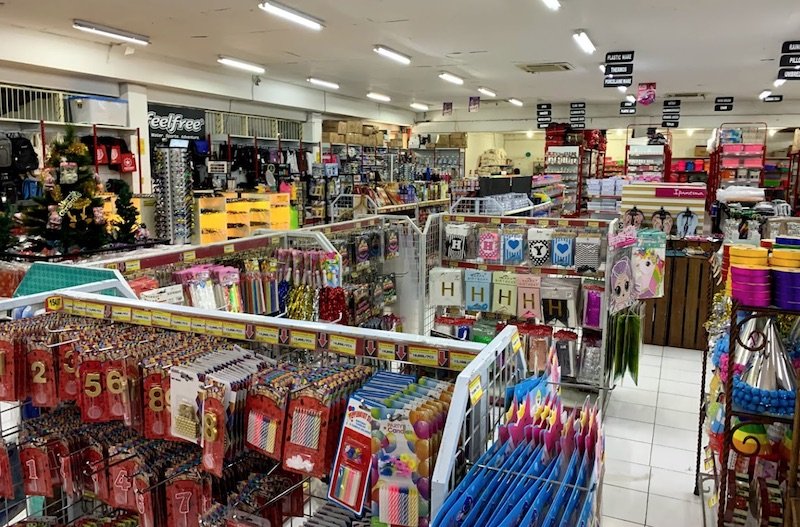 Image credit: CP via Google maps
Cheap shopping in Bali at the Bintang Supermarket
Want a general idea of Bintang supermarket prices and what you can expect before you catch a taxi there?
Unfortunately, Bintang Supermarket does not have an online junk mail brochure to browse, (unlike the other major supermarket on Sunset Road, Carrefour)
But you can pick up a brochure when you enter the door, or check out the posters and noticeboards by the door on arrival for current specials.
A trip to Bintang supermarket is worth your while if you are staying in Seminyak or Canggu, especially if you visit at the beginning of your stay and stock up.
Those in Kuta and Legian will still save, even if it costs you $5 in a taxi fare to get there.
Stocking up on drinks and snacks from Bintang will save you dipping into your wallet every five minutes when you pass a mini-mart.
It's a bargain hunters treasure box, a haven of cheap shopping in Bali.
Upstairs at Bintang Supermarket 2nd floor
Don't forget to head up to the second floor for:
sunglasses
bags and backpacks
suitcases
stationery
household goods
kitchenware
authentic mortar and pestles
birthday party goods
thongs
sarongs
ornaments, and
general paraphernalia.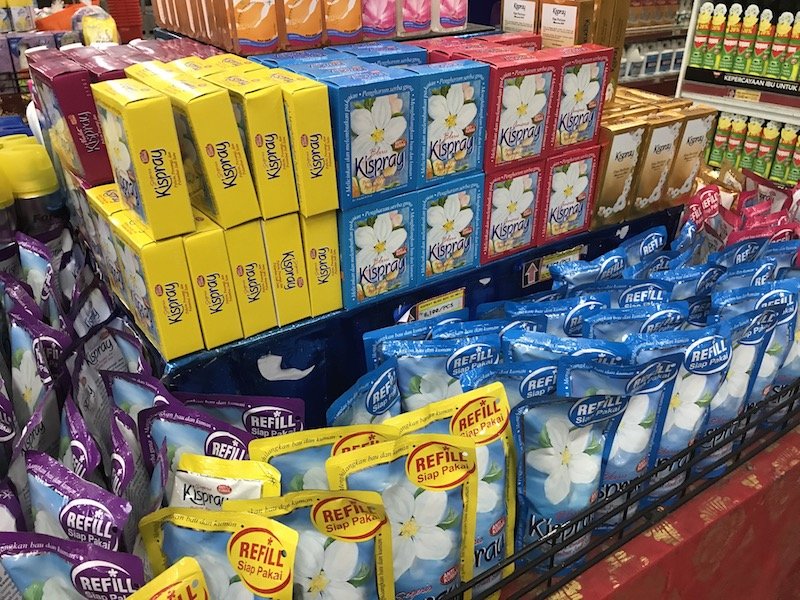 THE INSIDE SCOOP: Bintang Shop
Correct at time of publication on Roam the Gnome. Please check with venue for updates. We apologise in advance if there have been any changes we are unaware of. All prices in AUD dollars, unless otherwise stated
Address: The Bintang Supermarket main store location is Jl. Raya Seminyak No.17, Seminyak, Kuta, Kabupaten Badung, Bali 80361
Telephone: (+62) 361 730 552
Website: Click here
Bintang Opening Hours
Open 7.30am to 10.30pm everyday
Entry Fees: Free entry
How to get to Bintang Supermarket in Seminyak
By Car or Private Driver: Stop by on your way home from a day trip.
By Bus: The Kura Kura Bus, Line 3, has a stop at Bintang Supermarket shops in Seminyak.
By Taxi/Uber: Catch a Bluebird and tell the driver "Bintang Supermarket". Approx 50,000 RP from Kuta.
Parking
There is a carpark on site for short stays for Bali private drivers while you shop.
Supermarket Bintang Seminyak Map
Bintang Supermarket Ubud
There's also a second smaller Bintang Supermarket in Ubud.
Bintang Supermarket Ubud Address: Bintang Ubud is located at Jalan Raya Sanggingan, Ubud, Gianyar, Bali
Bintang Ubud Telephone: 0361 – 972972
Toadstool Rating: Bali Bintang in Seminyak

Looking for More Places to Go Shopping in Seminyak & more?
Click on the blue links for more Bali ideas below.