INSIDE: Everything you need to know guide to Seminyak Square.
I can't be the only one confused by "Seminyak Square".
I thought it was THE luxury shopping mall in the Seminyak city centre, but that's NOT Seminyak Square at all.
(That's Seminyak Village, a western-style air-conditioned escape from the humidity and happy chaos that is Bali.)
Where is Seminyak Square?
Seminyak Square is the two storey building, with shops lined up in a row on both floors, facing out.
Seminyak Square Shopping Mall has a cute outdoor flea market too!
Find all the details of what to do in Seminyak Square below.
Disclosure: This article contains affiliate links. If you make a purchase after clicking on one of these links, we may receive a small commission at NO extra cost to you.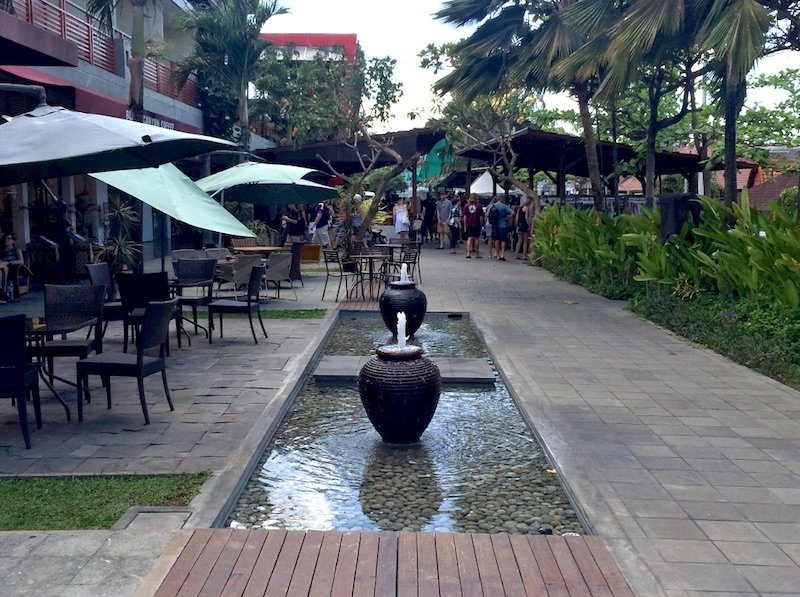 Seminyak Square Bali – The Open Air Mall
It's home to the open-air row of shops, right next door to Seminyak Village, about 25 metres away.
You can go from one to the other via both front and back doors of Seminyak Village, but they might as well be on different planets.
There's little here to warrant a SPECIAL trip, except an iconic Bali sign you can stand in front of for the quintessential instagram pic, BUT if you are in the area, wandering around looking for places to shop in Seminyak, pop in for a visit.
---
RELATED: Ultimate Guide of Best Things to do in Bali with kids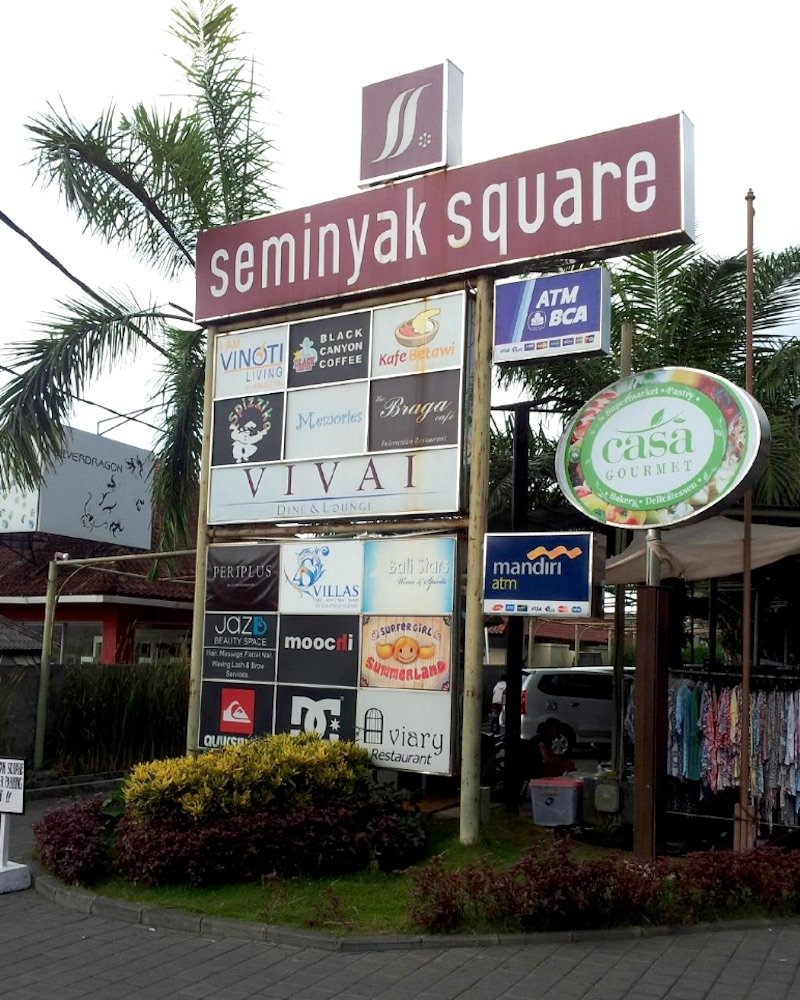 Image credit: Lynne PP
What is Seminyak Square Shops?
This two-storey shopping arcade is located in the Seminyak city centre at Jl. Laksamana Oberoi/ Kayu Aya, Bali.
You'll find boutique shopping, popular surfwear outlets, and restaurants
There's a wide undercover corridor in front of the shops on both levels (the shade is welcomed!), and a green garden area with seating and tables too.
It's the perfect spot to plan how to get to the next destination on your bucket list, and use their FREE WIFI for visitors so you can check your google maps!
These shops are on the ground floor of the shopping mall:
Periplus Book Shop
Mega Batik – traditional Indonesian batik
Quiksilver – check out the discount rack for swimwear bargains in surfwear brands such as Billabong, Roxy, and Quicksilver too
Surfer Girl
Lilla Lane
Body & Soul
Dovetail
Art Market
Vinoti Living
World Brand Shop
Guardian Chemist.
The Seminyak Square Hotel and Jaz B Beauty Salon & Spa are on the second floor.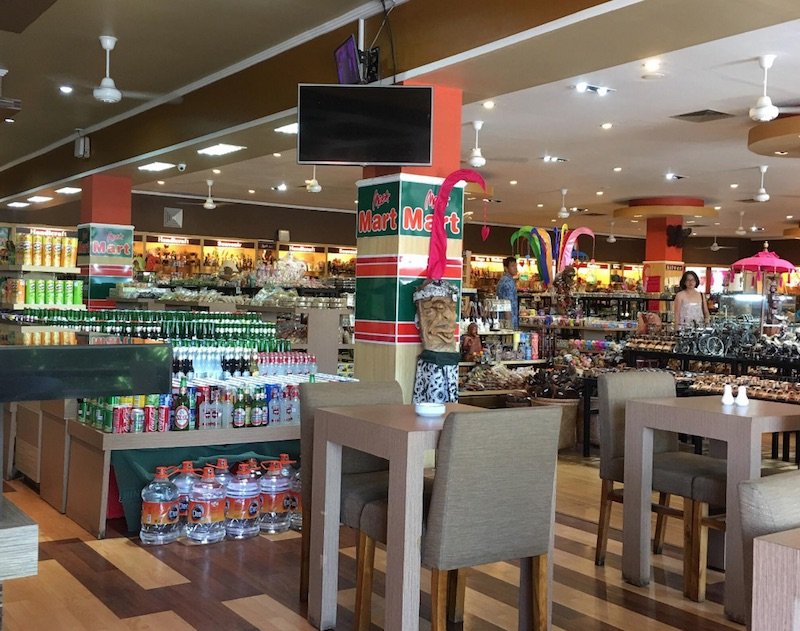 Mega Art MegaMart
The kids LOVED roaming MegaArt MegaMart.
It's a riot of colourful Balinese souvenirs and products as normal, and has aisles full of Balinese lollies and treats, chocolate milk, and cold drinks.
Pick up your supply of Balinese mosquito repellents from their giant range.
They also stock the famous Kispray ironing aid.
If you are wondering where to shop in Seminyak for souvenirs, soaps, and kitschy novelties, this is the place.
Mega Mart has a nibbly fish foot spa and a place to order photo canvases of your trip for cheap too.
Image credit: Lynne PP
What to eat in Seminyak Square Shopping Centre
Seminyak Square Mall has places to eat too.
Try:
The Braga Cafe, The Spicery Deli, and Black Canyon coffee on the first floor
Manfridays Fish & Chips, and Adrenalin Sports Bar are located upstairs.
Starbucks
Homesick?
Get your regular order at Starbucks metres away at Jl. Kayu Aya No.18B.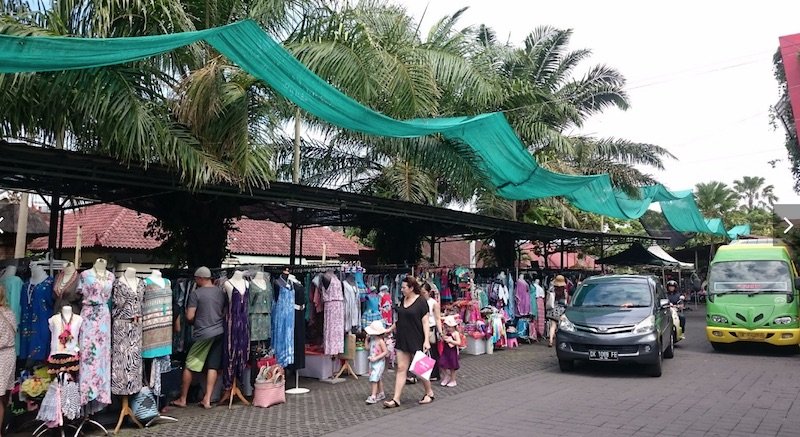 Cheap shopping in Seminyak? Visit the Seminyak Square Markets
Outdoors, in the carpark, there's a compact traditional Balinese fleamarket under marquee tents and pergolas.
There's room to move, and try things on, and we found prices comparable for tshirts, dresses and trinkets to those on the main street, with much less stress and without the worry that the kids will run off into traffic.
Big plus: the market owners are helpful, and less pushy than the norm.
You'll find:
jewellery
Bali dresses (cool cotton dresses, perfect for the Bali humidity)
handbags
Balinese art, and
a few select leather goods too.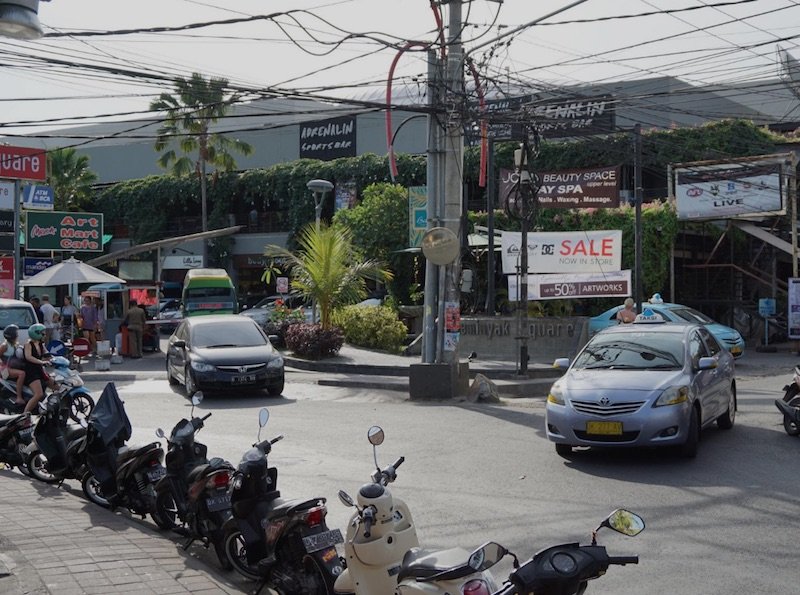 THE INSIDE SCOOP: Seminyak Square Mall
Correct at time of publication on Roam the Gnome. Please check with venue for updates. We apologise in advance if there have been any changes we are unaware of. All prices in AUD dollars, unless otherwise stated
Address: Jl. Kayu Aya, Seminyak – Bali 80361
Telephone: +62-361-732106
Email: [email protected]
Website: Click here for the Seminyak Square directory
Seminyak Square Opening Hours
What time does Seminyak Square open?
10am to 10pm generally, although the MegaMart and selected shops may open earlier.
Entry Fees
Free entry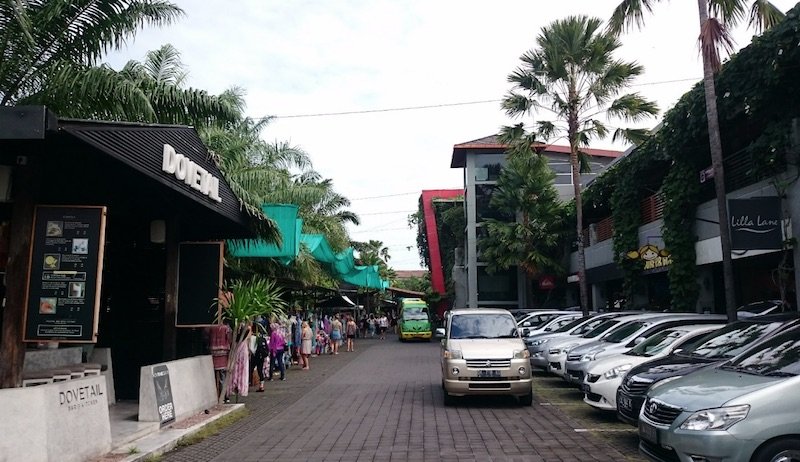 How to get to Seminyak Square Shopping Mall
By Bus: Catch a super cheap Kura Kura bus from Kuta, Legian, Canggu, Sanur, Jimbaran and Ubud. The Kura Kura bus stop is located right out front of Seminyak shopping centre.
By Private Driver: Book a Bali driver for a day. Read our recommendation for Bali drivers here.
By Taxi: Book a Bluebird Taxi.
On Foot: It's within walking distance from Ku De Ta, The Legian, The Oberoi, The Seminyak and other popular hotels, and is right on the popular Eat Street. As well as the Seminyak main shopping street.
Seminyak Square parking
There's parking for bicycles, motorbikes and cars.
There may, or may not, be a small parking fee (that seems dependent on who is manning the gate) and, how friendly your driver is, or how well he knows the guards
Where to stay in Seminyak Accommodation?
Check out Ibis Styles Seminyak for budget accommodation in Bali near the best shops in Seminyak.
Seminyak Shopping Mall Bali Map
Facilities when shopping in Seminyak Bali
Toilets: Yes, clean toilets including baby change table
Disability access: Yes
Closest playground: Level One, Seminyak Village mall
Enclosed: No, but off street.
Dogs: No
Toadstool Rating: Shopping Mall in Seminyak

What to do around Seminyak Square & more shops in Kuta
Click the links in blue for more Bali tips below.