INSIDE: The secret Bali Laundry smell? Is it Kispray or not?
What is that "Bali" smell that wafts its way up into your nostrils when you open up a parcel of clean clothing?
That divine fragrance that you just can't get enough of?
That scent you want to capture and take home?
The one that is almost good enough to eat?
That Bali smell is the number one reason we have our clothes laundered in Bali.
Learn the secrets below!
Disclosure: This article contains affiliate links. If you make a purchase after clicking on one of these links, we may receive a small commission at NO extra cost to you.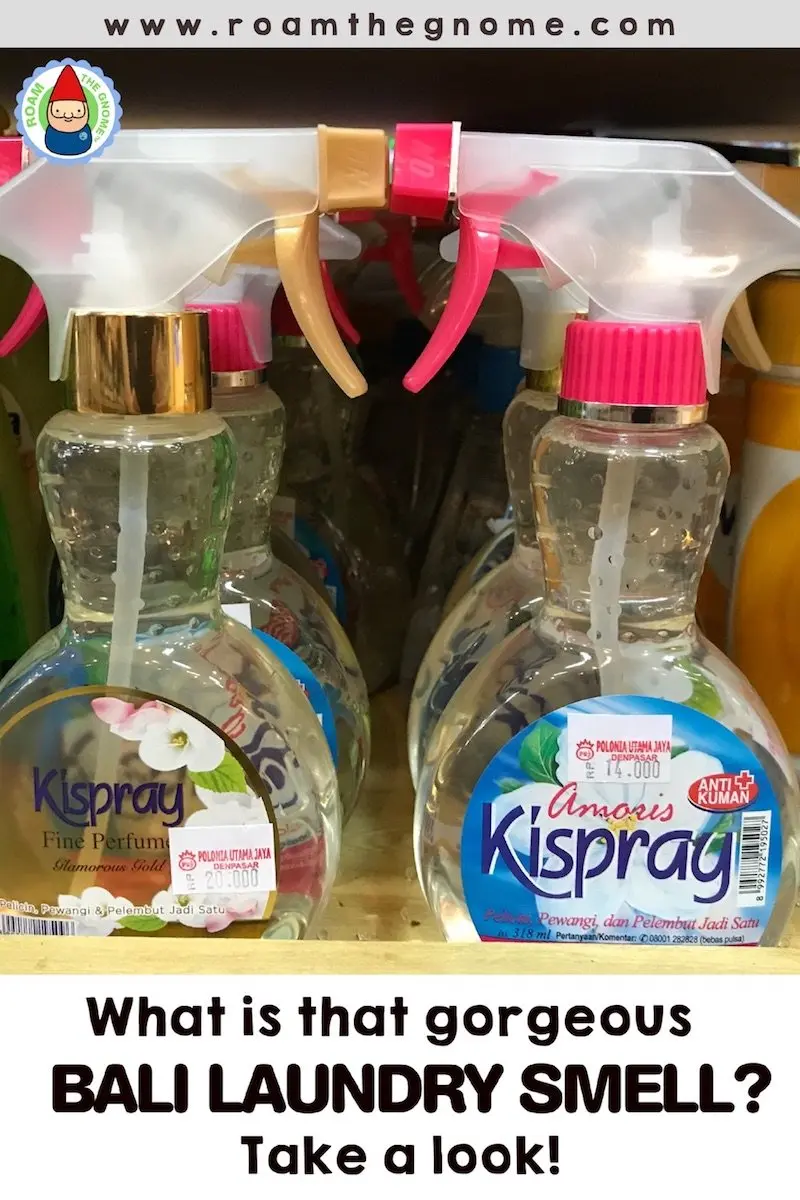 Find that Bali Laundry Smell
Correct at time of publication on Roam the Gnome. Please check with venue for updates. We apologise in advance if there have been any changes we are unaware of. All prices in Indonesian Rupiah, unless otherwise stated
What do they use in Bali to make the clothes smell so good?
The sweet aroma is so enchanting that everyone wants to know what it is.
Some people swear on their life that the scent you smell is the Kispray ironing aid.
What is Kispray used for?
Kispray is a Balinese laundry product used to smoothe, soften and freshen your clothes, like a "Wrinkle Relaxer"!
Could it be?
Let's find out.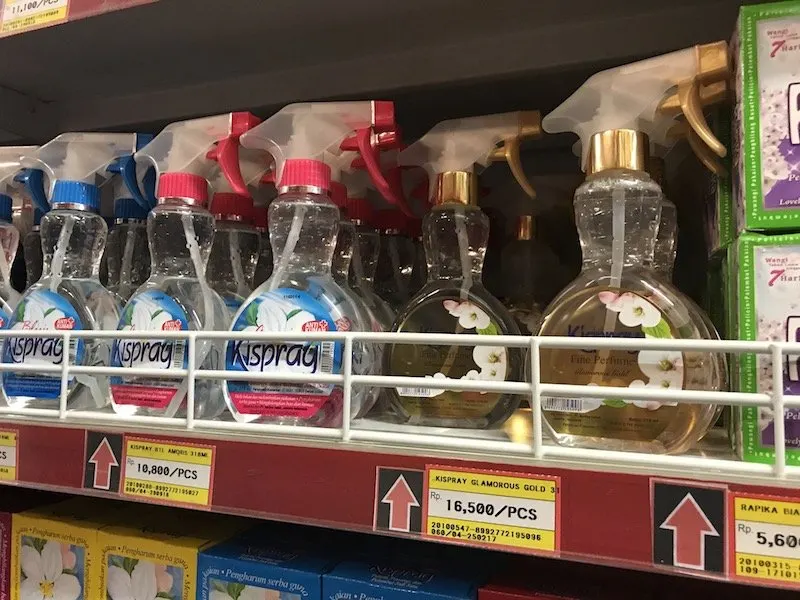 KISPRAY ingredients
Kispray is a laundry spray used as an ironing aid.
One of the main Kispray ingredients is an antiseptic called alkyl dimethyl benzyl ammonium chloride. It's added to help kill germs on fabrics and clothing.
Kispray Pink? or Kispray Gold?
Kispray comes in four lasting fragrance scents:
Amoris (powdery floral scent)
Bluis (a springtime refreshing scent)
Violet (a sweet floral scent)
Segeris (which smells like jasmine)
plus, the super-fancy Kispray Gold.
You can buy Kispray fabric conditioner in a spray bottle for about one dollar AUD.
Or stock up on Kispray sachet packs you can pop in your suitcase to keep you in supply for months to come.
(Just add water).
---
BOOK NOW: Show off all your best freshly laundered outfits on THIS Best Selling Instagram Tour of Bali!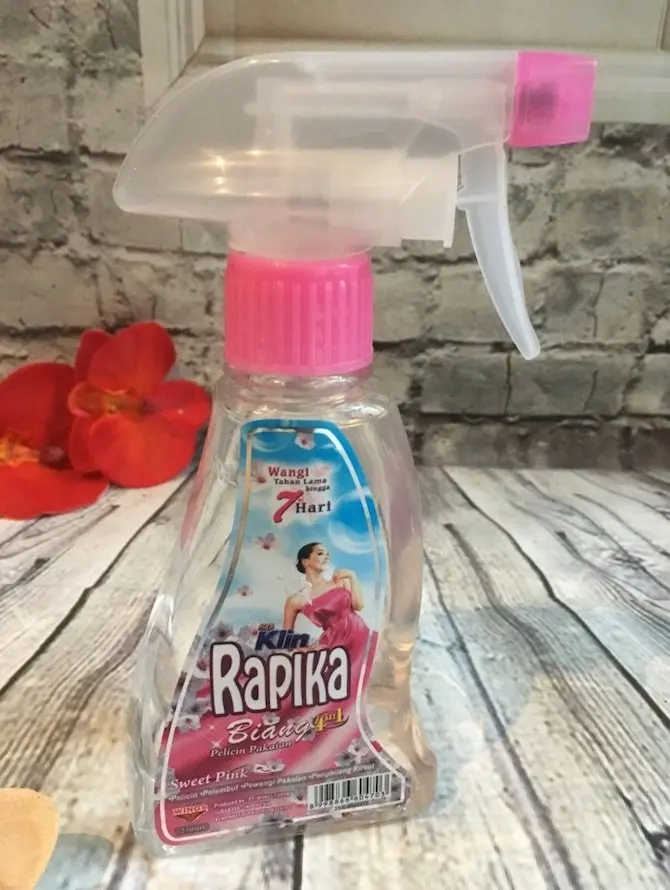 Kispray vs Rapika
For those addicted to the fresh Bali smell, there's also other Bali laundry products you can try too.
Some Bali regulars swear the smell is not Kispray at all, and say it's either the Rapika ironing spray in the pink bottle with the fragrance 'Sweet Pink'.
Rapika is an alternative to Kispray that can be used as a deodoriser on soft furnishings such as:
lounge suites
bedding
clothing
curtains, and
as a room spray if you are so inclined.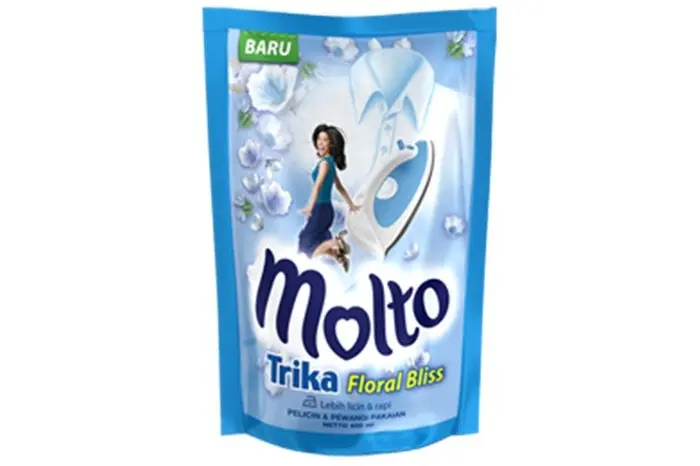 Bali Washing Powder and Fabric Softener for Laundry in Bali
Yet others claim the Bali laundry smell is because they use the Molto Trika blue fabric softener in Floral Bliss.
This ironing aid is very popular in Bali laundries in Kuta and Legian.
The Molto Trika Pink fabric softener smells similar too.
If you do use Molto, add a small amount of this fabric softener to the final soak of your washing cycle.
You can also try the:
Molto all-in-one pink washing liquid or
the Molto blue washing liquid too.
Molto is available in single use sachets or 300ml soft packs.
Hot tip:
Pelembut means "softener" in Indonesian.
Washing powder is "deterjen" or "sabun serbuk"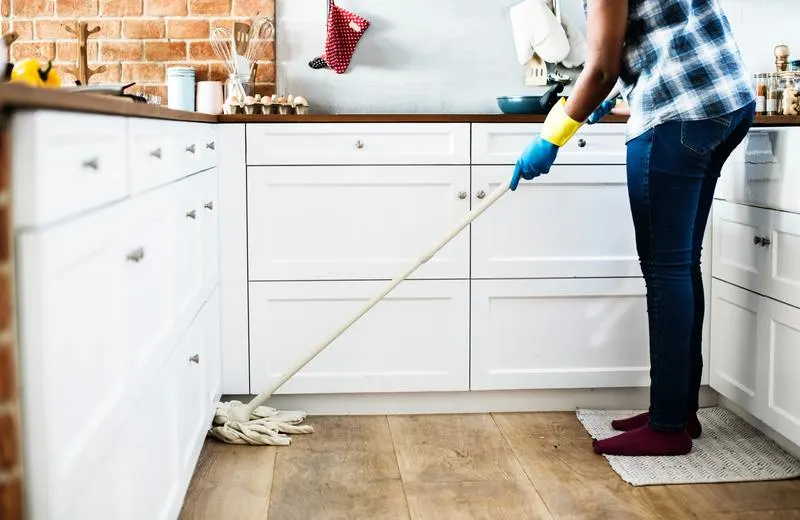 Image credit: rawpixel.com via PxHere
How to use Kispray Laundry Liquid
There's plenty of uses for Kispray.
How to use Kispray sachet liquid:
spray a watered down version onto furniture, carpets, and curtains to bring the scent into your home everyday
spray onto a cloth and wipe down the seats, upholstery, and interior of your car
use a small amount in your floor mopping water – use clean towels to dry your floor to prevent slips
empty a sachet into the softener container inside your washing machine for an extra smelly boost of Kispray scent
you can also spray a diluted solution of it on the washing just after you hang it on the line, and let it fragrance set in.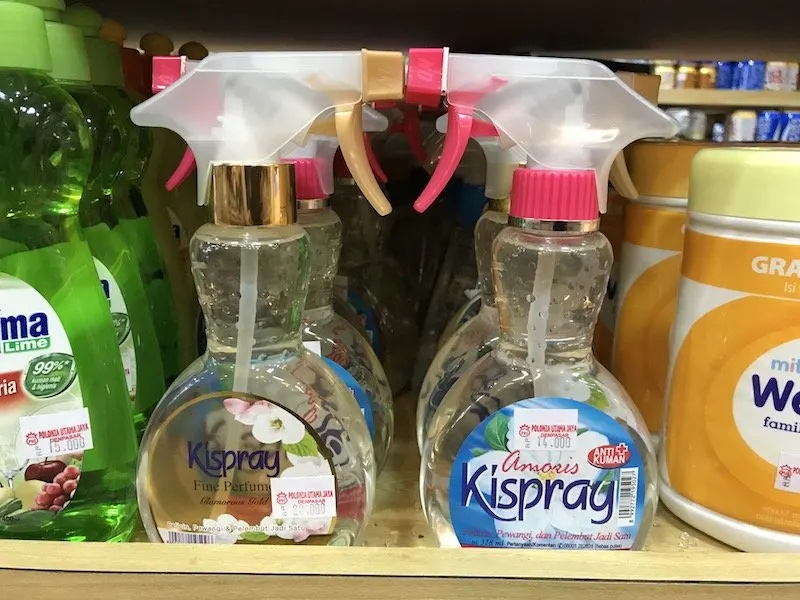 THE INSIDE SCOOP: Where to buy Kispray in Bali?
All of the big Bali supermarkets stock Kispray Laundry products.
Buy both Kispray, Molto and Rapika products at:

Where to Buy Kispray Online?
Run out of Kispray or Molto?
Need to stock up and want to know can you buy Kispray in Australia?
Yes, from one of these three places below.
No.1: Bali Fresh Kispray Australia
Visit Bali Fresh.
Jaz, who is originally from Bali, but who now studies and lives in Sydney, will be more than happy to help you.
Coles supermarkets now stock Molto but it's around $12 AUD a bottle, compared to around $4.50 AUD in Bali.

No.2: Kispray Kreative
You can also buy direct from Fiona who sells ALL the favourite Bali products from her shop, Kispray Kreative.
She stocks:
Bali laundry products
Bali haircare products including Ellips hair oil
Bokashi oil
Autan insect repellent
Bali incense
Bali skincare
NO.3: Where to buy Kispray in Australia?
Some of the larger Coles supermarkets and speciality IGA supermarkets stock Kispray & Molto from time to time.
Keep an eye out!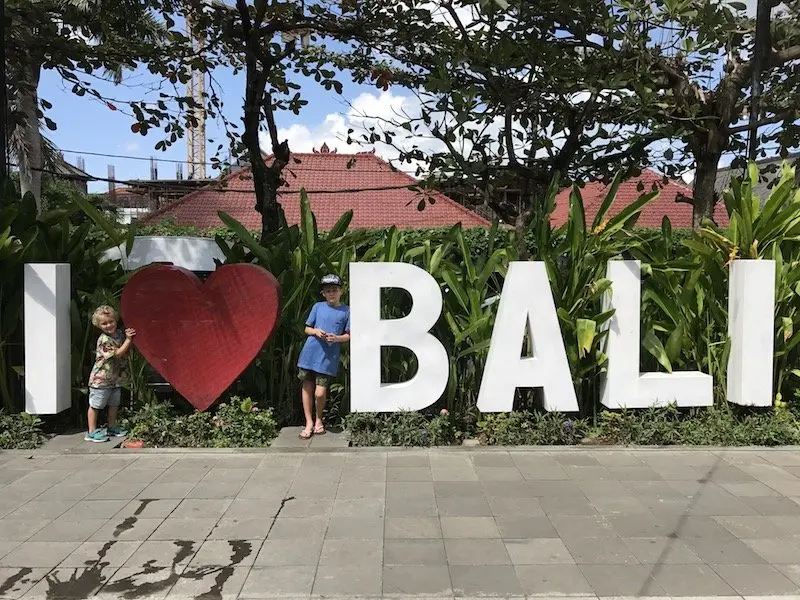 The verdict on Kispray Bali ?
I think the jury is out on this one.
That means it's up to you to buy a few of these ironing aid products (they are cheap – less than a few dollars each) and see which one takes YOU back to lovely Bali, the Island of the Gods.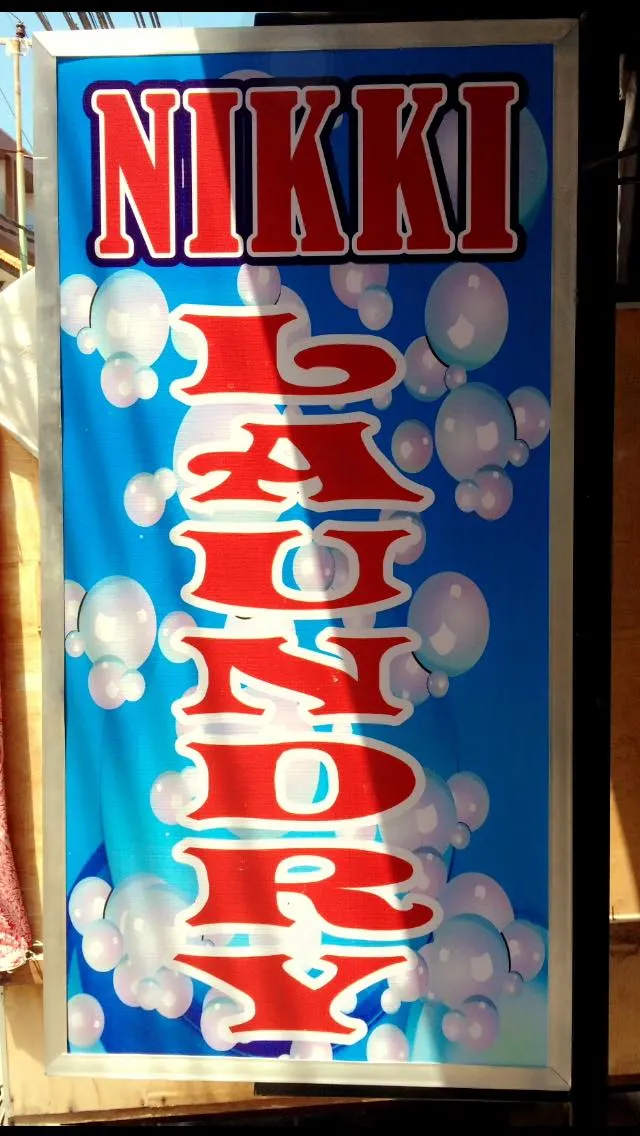 Image credit: Nikki Laundry via Facebook
Hot Tip: A Final Wash at the Best Bali Laundry
Here's a hot tip for family travel in Bali.
Find laundry services in Bali and organise a last wash and dry.
Laundering all the clothes one last time before leaving Bali is the key to making that relaxed holiday feeling last longer.
It's a thrill to simply unpack your suitcases and put the clean clothes away in their rightful place.
Having no huge laundry pile to battle when you get home is the ultimate bonus after a trip to Bali.
Nikki Spa and Laundry
Nikki Spa & Laundry will collect your clothes and return them to your hotel all neatly washed and folded.
Nikki comes highly recommended.
Current prices for laundry in Bali here depends on your location:
Legian 25000 per kilo. Minimum 2.5kg
Kuta is 30000 per kilo. Minimum 3kg
Seminyak is 30000 per kilo. Minimum 4kg
---
Book Now: Bali Airport Private Transfer back to Ngurah Rai Airport (competitive price with Get Your Guide)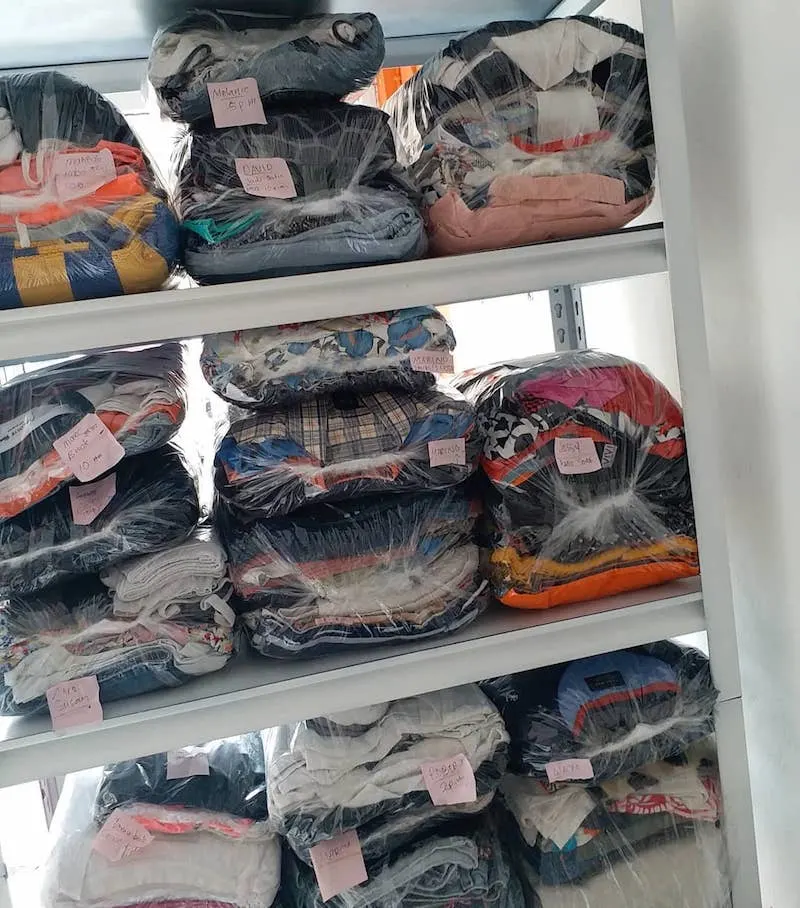 Image credit: Family Laundry in Seminyak
More Laundries in Bali
Also try these laundries in Bali.
Family Laundry Seminyak on Jl. Drupadi. What's App +62 89 685 569 840
King Laundry
Laundry Bali in Nusa Dua
Bali Laundry (Aryas laundry)
Cost is per kilo.
(Approximately $10-15 AUD for 5 kilos, or around $1.50 to $2.50 per kilo, depending on where you go and the travel distance from your location. )
Ask for line dry if you don't want your clothes to go into the dryer and risk shrinking.
Toadstool Review: Kispray Australia
Best to buy a bulk lot when you are in Bali and bring it home!

Looking for More Fun Things to Do in BALI with Kids?
Click on the blue links for more Bali tips below.