INSIDE: Everything you need to know about The Seminyak Village Bali
Wondering what to do in Seminyak?
Shop till you drop at the Seminyak Village shopping mall.
Smack bang in the centre of Seminyak's busy streets, the Seminyak mall is an oasis of calm in the chaos of Bali.
It's NOT the Real Bali, but it's a lovely escape from the humidity and the chaos of busy Bali life just outside the front doors.
Read our guide below for details of the best shopping in Seminyak, and what you'll find there.
Disclosure: This article contains affiliate links. If you make a purchase after clicking on one of these links, we may receive a small commission at NO extra cost to you.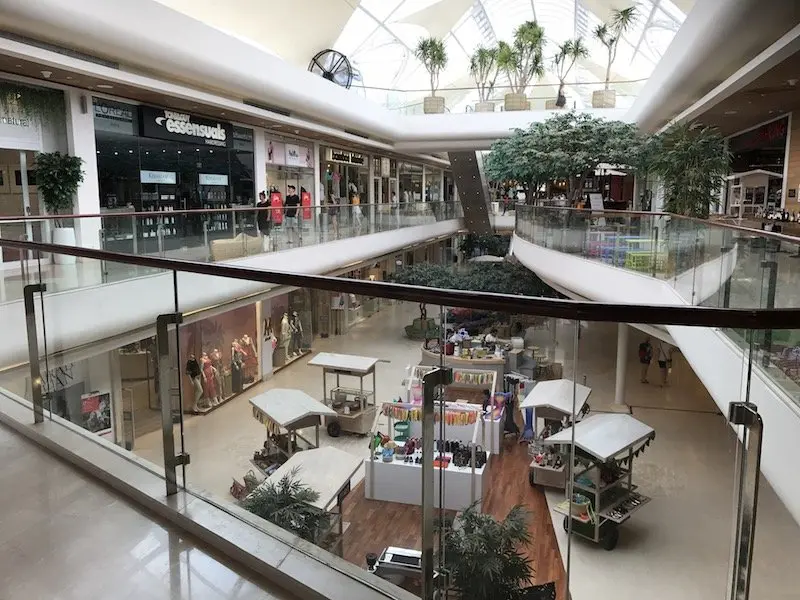 Guide to The Seminyak Village Mall
This elegant shopping mall in Bali is our favourite place to catch our breath in Seminyak, and use the air-conditioned building to rejuvenate our stamina to face the humid temperatures outside.
Pull up a comfy chair and do the same.
Or….shop.
It's not the place for cheap shopping in Bali, but you'll find the odd bargain here or there.
---
RELATED: Ultimate Guide of Best Things to do in Bali with kids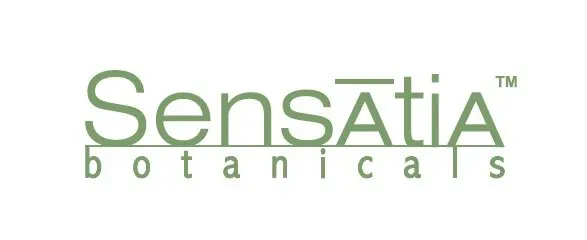 The Seminyak Village Bali Shop List
Wondering what shops are at Seminyak Village?
You'll find these stores at Seminyak Village Mall.
This is the spot if you are looking to go clothes shopping in Bali.
No.1: Sensatia Botanicals
One of the most loved beauty and skincare brands in Bali. Don't leave Bali without these products in your suitcase.
No.2: Birkenstock
The much loved German footwear brand has an outlet here. Birkenstock shoes are THE ideal comfy walking shoe for Seminyak.
No.3: Optik Tunggal
Indonesia's best known optometrist, with over 80 stores nationwide, and over 40 international eyewear and sunglass brands to choose from
No.4: Lily Jean
Comfortable, fashionable day and evening wear for the modern woman
No.5: Aldo
Fabulous fashionable shoes and accessories for men and women
No.6: Buddha Wear
Laidback, feminine fashion for women with an ethical conscience.
Fabrics sourced in Indonesia.
It's the best shopping in Seminyak if you want clothes for the Bali lifestyle.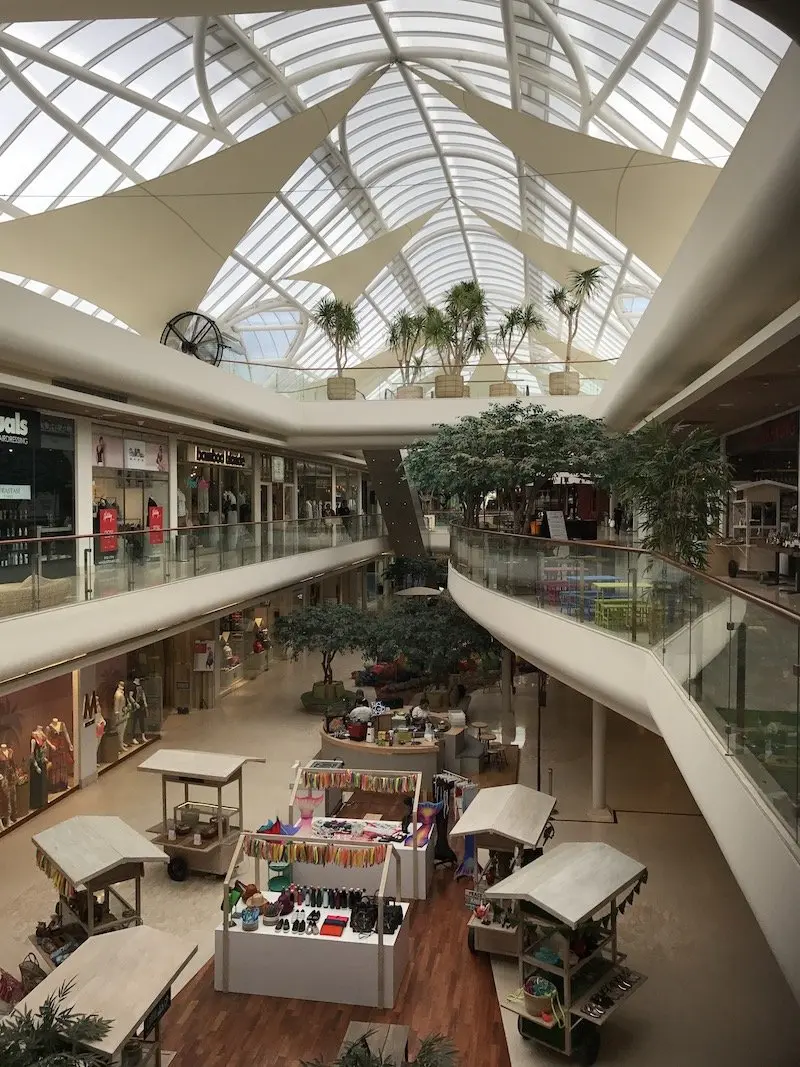 MORE Seminyak Village Resort and Spa shops
No.7: Bamboo Blonde
An island institution – flirty, floaty and on-trend dresses, accessories, and body products for women who love life, and adore fashion.
Hot tip: Look out for a Bali Pocket guide book – there's decent discounts on purchases at a Bamboo Blonde store, and HEAPS of other discounts for local restaurants, coffee shops, and activities too.
These are the best discounts in Bali we've found.
No.8: H&M Seminyak Village
The international leading fashion brand is the trusted go-to brand for trendsetters and globetrotters seeking fun, flirty fashion and style.
No.9 Bonheur
A collection of the world's best beauty brands in a giant make up hall.
Find Shiseido, Dior, L'Occitane, Guerlain and more.
No.10: Candylicious Indonesia
This shop offers a curated selection of delicious lollies and candy from around the world.
The kids LOVE it.
No.11: The Marketplace at Seminyak Shopping Mall
A family-oriented mini-market of 20 stores selling everything from:
Bali towels
Bali handicrafts and souvenirs
quality silver jewellery
baskets
textiles
embroideries
cushions
fashion, and
knick knacks.
No.12: MORE Bali Seminyak Shopping
There's a boutique pantry (a bite-size take on a Department store food hall).
Indonesian Emporium Seminyak Village has all your souvenir and gift needs, and the Spring Spa for that little bit of time out!
Pick up a Seminyak Village brochure and directory map at the Guest Relations desk just inside the front door.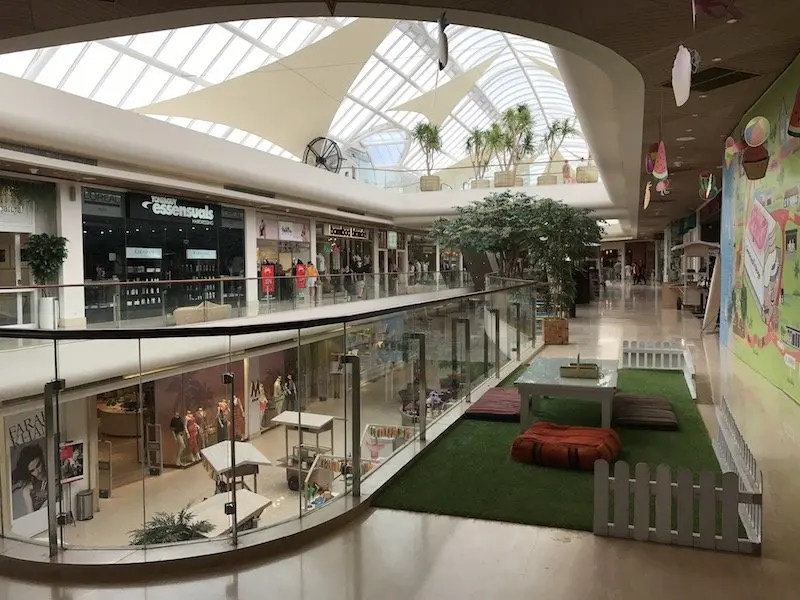 Where to eat at Seminyak Village Shopping Mall
Eat at The Pantry Cafe
A modern light and bright cafe, full of greenery and calm vibes.
There's sandwiches, pastries and desserts, tea and delicious coffee on the menu.
It's the perfect spot to refuel for more shopping expeditions in Seminyak.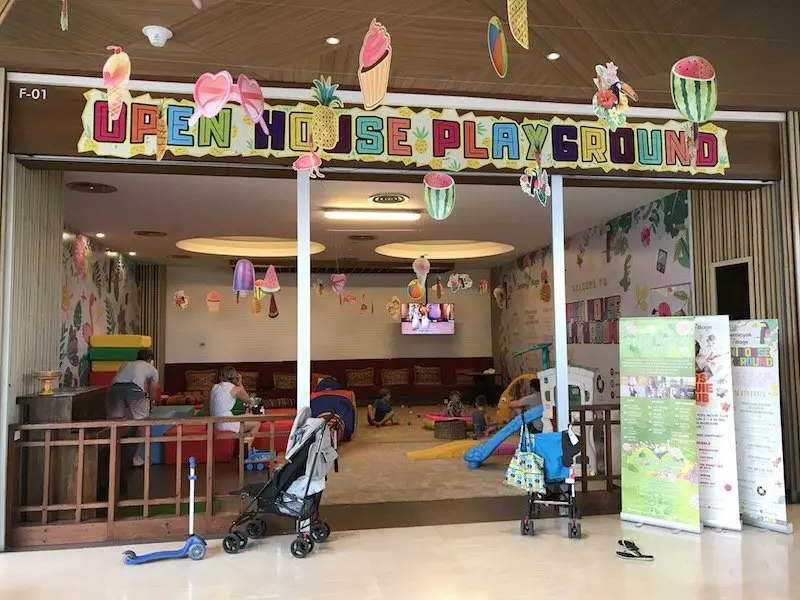 What to do in Seminyak Village with kids?
Icecream!
Order hand rolled ice-cream at XOXO icecream (under the escalator at the back of the mall).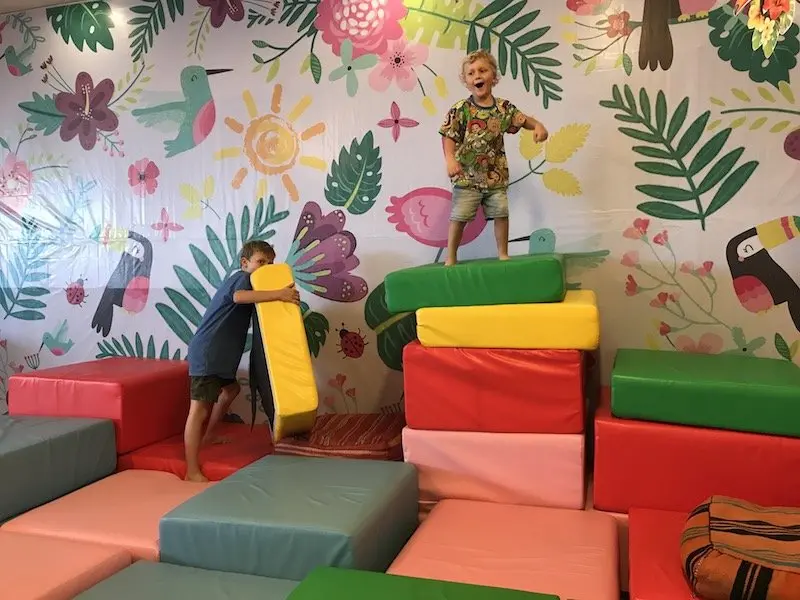 Indoor Playground Bali
Upstairs on the first floor, there's a designated kids play zone, where they can run about under your watchful eye while you sip on your morning coffee.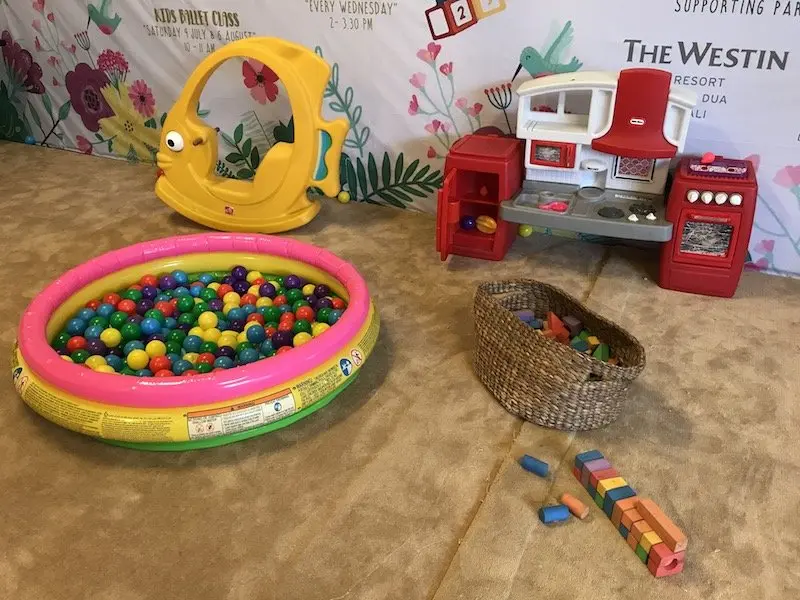 Toddler playground in Bali
There's a ball pit, blocks, rockers, and a play kitchen.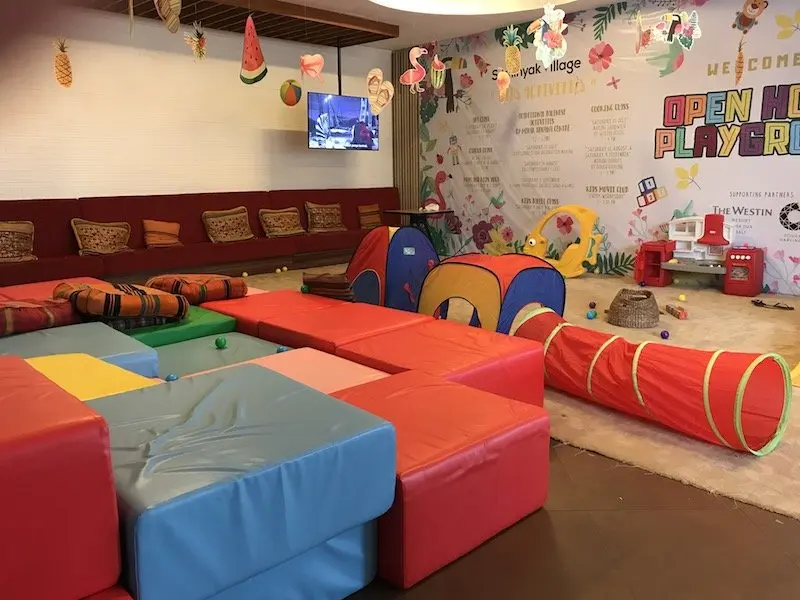 Tunnel hideouts
Plus, tunnels to climb through, and giant blocks to jump on.
Find comfy seating for parents and grandparents all along one side of the room.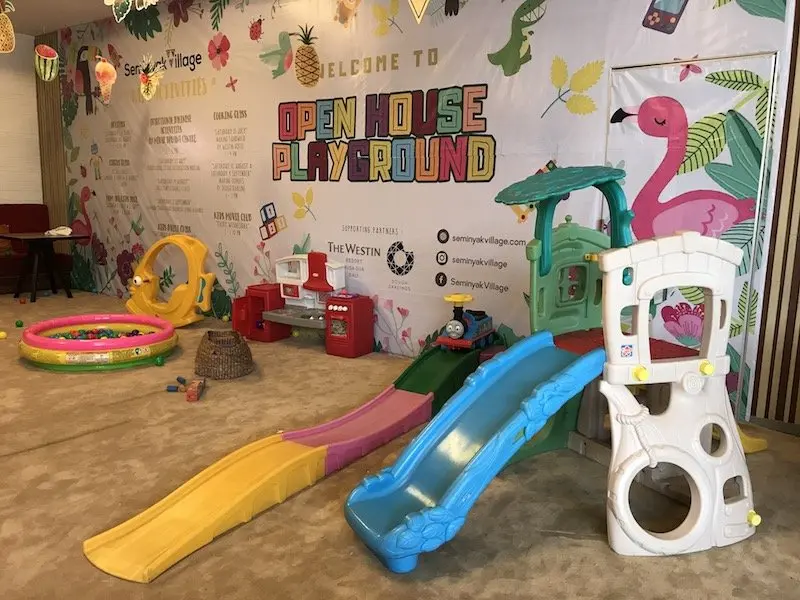 Miniature Forts
And a miniature fort, and car slide too.
There's no more wondering what to do in Seminyak with kids!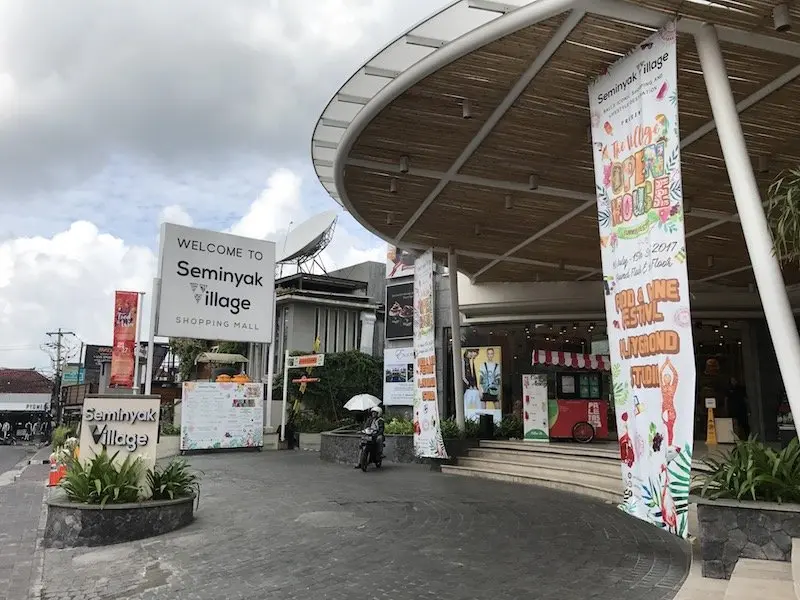 THE INSIDE SCOOP: What to do in Seminyak Village Resort
Correct at time of publication on Roam the Gnome. Please check with venue for updates. We apologise in advance if there have been any changes we are unaware of. All prices in AUD dollars, unless otherwise stated
Where is Seminyak Village?
It's a 3 minute walk from Seacircus Bali, along JL Kayu Jati and turn right at Jl. Kaya Aya.
It's opposite Sisterfields Cafe and Starbucks Seminyak.
Address: Jalan Kayu Jati No. 8, Kuta Badung, Bali 80361
Telephone: (0361) 738097
Website: Click here
Seminyak Village Opening Hours
10am to 10pm daily
Entry Fees
Free entry to the mall.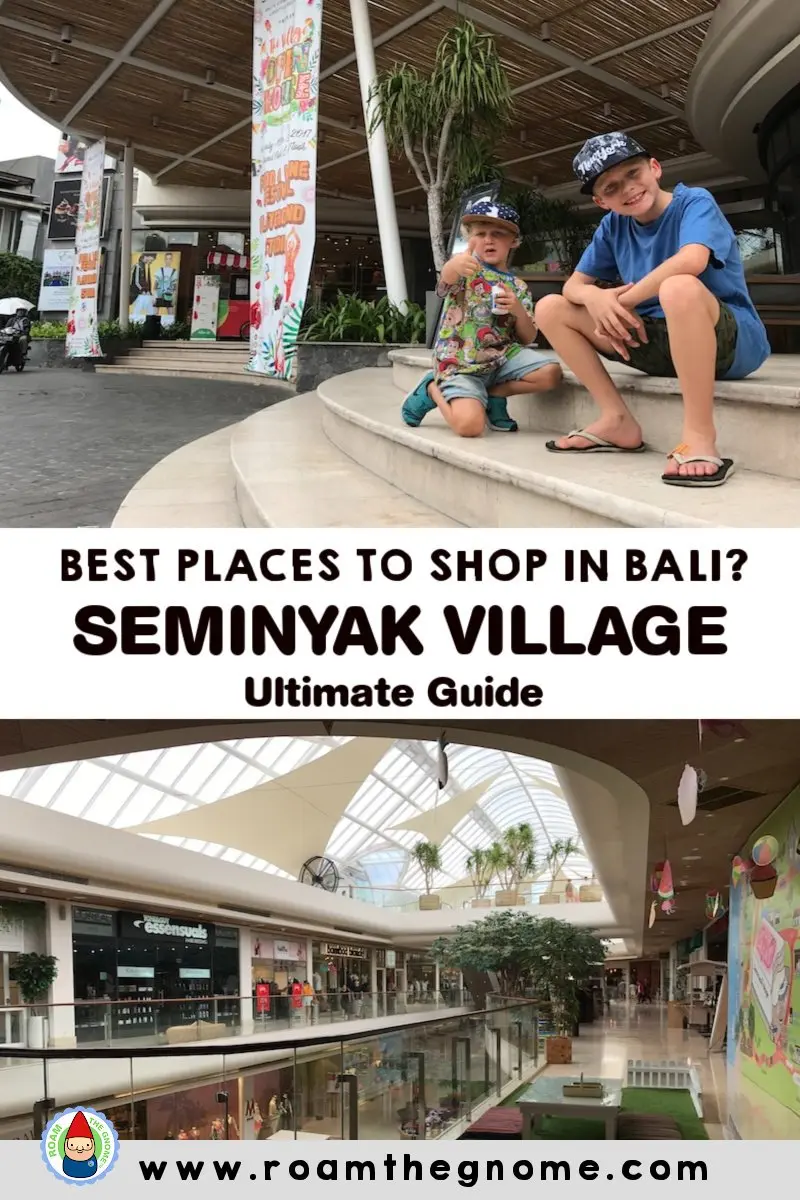 How to get to Seminyak Village Bali
By Bus:
On Foot:
Seminyak Village has newly built sidewalks connecting us to Jl Kayu Aya, which is the most popular pedestrian road in Seminyak city centre.
Seminyak Village is within walking distance from Ku De Ta, The Legian, The Oberoi, The Seminyak and other popular hotels.
By Taxi:
Concierge can assist in booking a return taxi for you after your visit to the mall.
By Uber: Uber and GrabTaxi are two apps that can be used in Bali for ordering transportation to and from Seminyak Village
By Private transfer: Click here to organise a Bali driver for the day
Seminyak Village parking
This shopping centre in Seminyak has excellent parking facilities on Basement Level with a direct lift up to the different shopping floors of the mall.
With minimum purchase IDR. 100,000, customers get 2 hours free parking.
Seminyak Village Map
Facilities at Seminyak Village Shops
Toilets: Yes, including baby change table
Disability access: Yes
Closest ATM: RARA Money Changer has been in operation since 2003 and provides the best authorized exchange service that is always secure and reliable.
Shade: Indoors
Enclosed: Yes, security clearance also at entrance
Dogs: No
Toadstool Rating – Seminyak Shops.
Head to this shopping mall in Seminyak for high end shops & air conditioning.

Looking for shopping in Bali Seminyak?
Click the links in blue for more Bali travel tips below.