INSIDE: Everything you need to know about Seminyak Flea Market.
Looking for super cute, embroidered leather handbags, shoulder bags, clutch purses, pocketbooks and butter-soft leather bags in Bali?
Don't want to spend a fortune?
Don't want to be ripped off?
Then don't walk all over town.
The best leather purses in Bali are at the Seminyak Flea Market.
Read below for all the details.
Disclosure: This article contains affiliate links. If you make a purchase after clicking on one of these links, we may receive a small commission at NO extra cost to you.
Guide to Seminyak Flea Market.
We found THE cutest leather shop right here in the centre of the market stalls, with the exact bright and bold embroidered leather purses I'd been hunting.
Along with a rack of the hottest ticket in town – the Bali Circle Rattan Ata bags.
And SO MUCH MORE!
We LOVE the Seminyak Shopping here.
It's definitely the best market shopping in Seminyak.
It's clean, organised, shaded under tarps, and sells everything you could ever need or want in Bali, in around 40 stalls, although we found it to be more expensive than Kuta or Ubud markets.
The Flea Market is still one of the better locations for cheap shopping in Seminyak.
It's definitely not a traditional 'flea' market either.
There's NO second hand junk in sight.
Shop for:
sarongs, dresses, kaftans
embroidered bags, handbags
tshirts,
kids harem pants, pom-pom shorts & sun dresses
kids TOYS!
hats and jewellery, beaded bracelets
all your regular souvenirs and trinkets – wooden puppets, painted surfboard ornaments, wind chimes, motivational quotes, dreamcatchers
baskets, baskets and more baskets
paintings and ornaments
---
RELATED: Ultimate Guide of Best Things to do in Bali with kids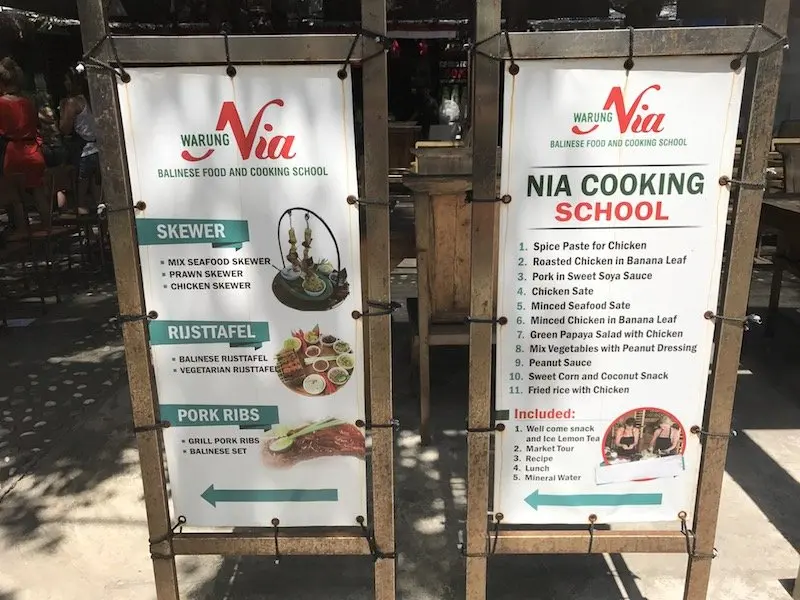 Things to do at these Street Markets in Seminyak
There is a row of restaurants just metres away, and air-conditioned shops along one side when you can't bear the heat any longer.
Plus, there's Warung Nia cooking school, and the aromas are mouth watering!
Hot tip: Go early before it gets too hot. It can be sweaty under those tarps!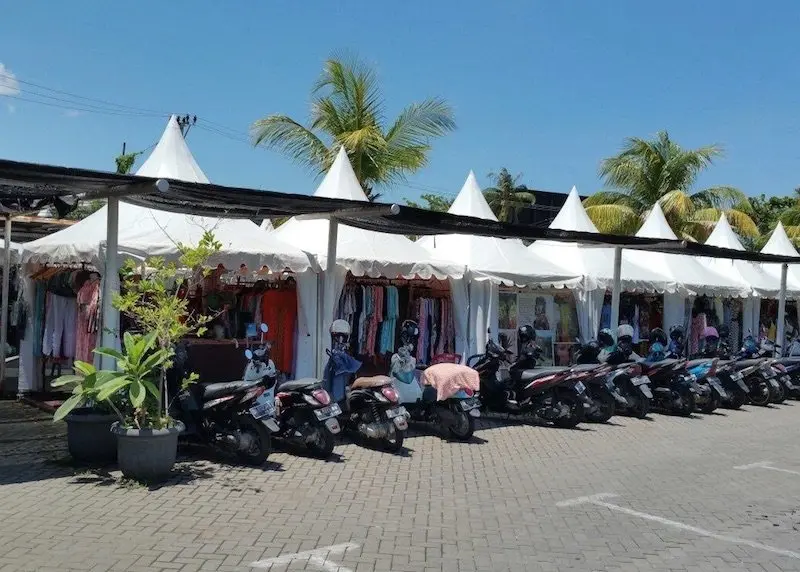 The Seminyak Markets are your one-stop shop
(If you want them to be!)
If you want to avoid the push and shove in Kuta or Ubud, head straight to Seminyak markets.
This place rates as our most pleasant shopping experience in Bali outside of the shopping malls.
The market stall holders are smiley and friendly, and there's way less push.
Do barter though – they expect it, and every price is negotiable.
Or don't.
Sometimes, I'm happy to pay the asking price, such as $10 for the emergency Pokemon outfit we bought Jack when he got saturated in an unexpected downpour.
He wore that garish tacky outfit for the rest of the trip, and a hundred times since.
Worth every cent.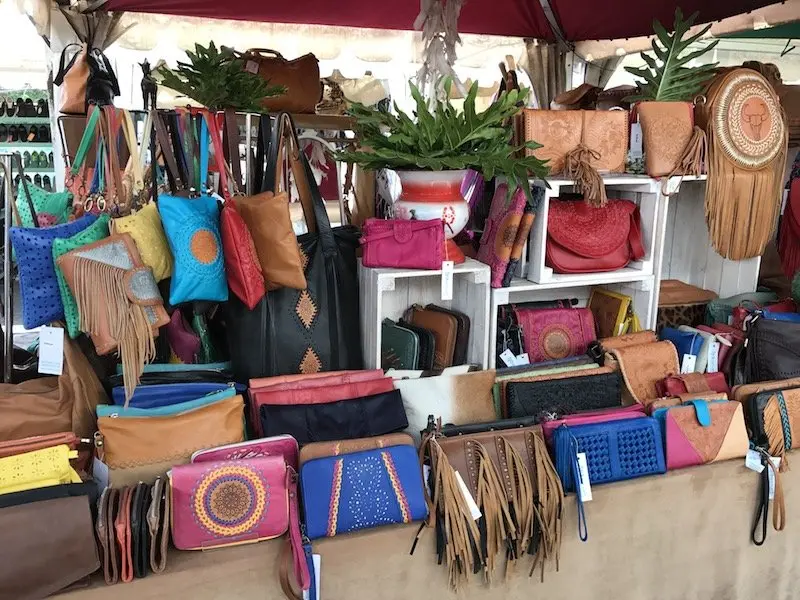 How fo find the Flea Market Seminyak Bali
Where is Seminyak Flea market?
This Bali market is on Jalan Kaya Ayu, not far from the entrance to the Oberoi Hotel.
10 minutes walk from Petitenget Beach and
10 minutes walk south of Seminyak Square
The Flea Market in Seminyak tops our list of the best markets in Bali for kids and families, especially if you have a stroller in tow.
If you are looking for things to do in Seminyak, pop a visit on your list.
Hot tip: The Pink Embroidered Purse (bottom left) is the style I was looking for. Evidently, these are hard to find in Bali. Snap one up when you see it.
FAQ: Is this the Seminyak night market Bali?
We can't confirm or deny this question, as we last visited the Seminyak market during the day.
The night market in Seminyak is said to sell all kinds of street food such as:
Nasi Goreng
Mi Goreng
satay sticks
fried rice
seafood
Balinese snacks
barbequed fish, and
the odd souvenir
My research suggests that the Seminyak night market is either here at this market location, or over in the same location as the Seminyak Square market.
If you can confirm, please let us know by emailing [email protected] and we'll update this info for readers.
Thanks in advance.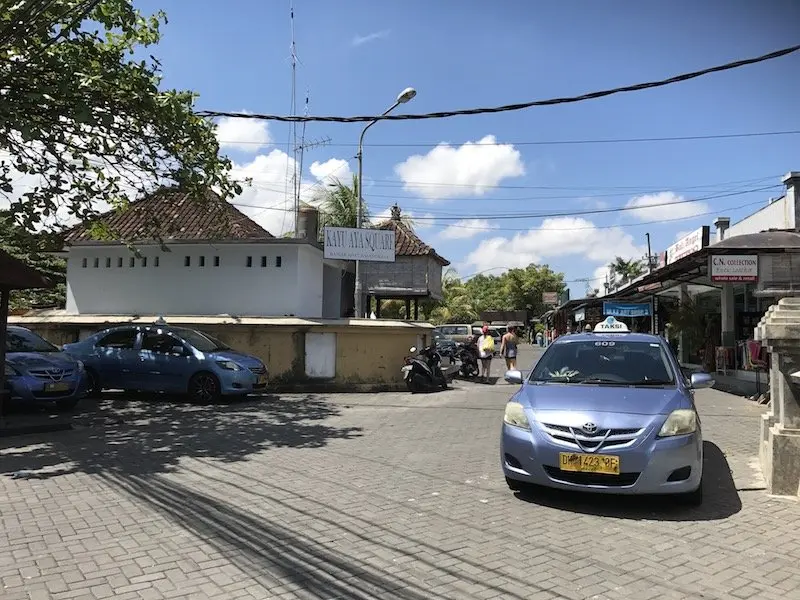 THE INSIDE SCOOP: Flea Market Bali
Correct at time of publication on Roam the Gnome. Please check with venue for updates. We apologise in advance if there have been any changes we are unaware of. All prices in AUD dollars, unless otherwise stated
Seminyak Market Location: Kayu Aya Square Oberoi, Jalan Kayu Aya, Seminyak, Kuta, Badung, Bali
Telephone: +62 878-8880-1144
Email: [email protected]
Website: Click here
Opening Hours:
9.30 – 6pm approximately
Entry Fees: Free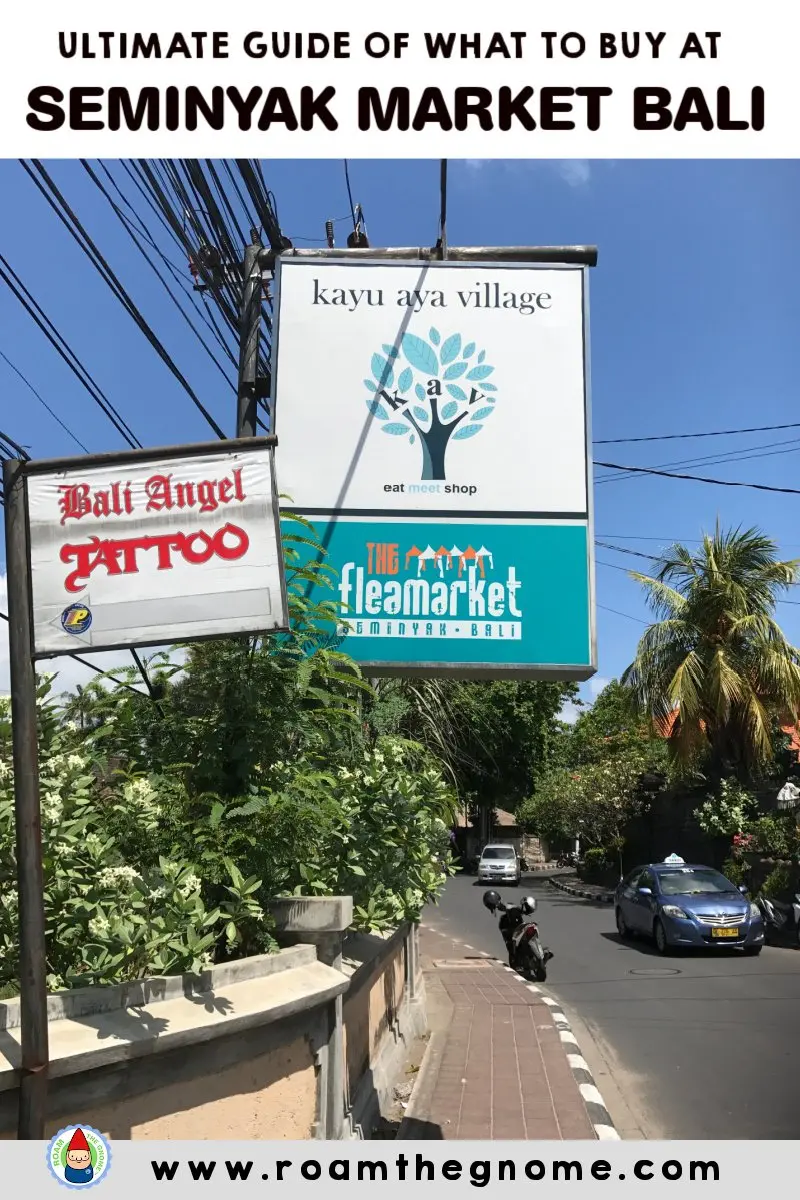 How to get to Seminyak Flea Market Bali
By Bus: Here's a helpful guide to catching Kura Kura buses
By Taxi: Book a Bluebird taxi
By Bali tour driver: Book a private car with Bali driver for the day
By Foot: Walk from local villas and hotels (including the Ibis Seminyak where we stayed last trip)
Seminyak market car parking
Taxis park out front.
There's also designated parking for scooters and a few spots reserved for private drivers.
Facilities at The Oberoi Market Seminyak
Toilets: Yes
Disability access: Yes. Paved walking areas throughout market.
Closest playground: There's a small play area near the cooking school. Wasn't in good repair when we visited, but better than nothing.
Shade: Yes
Enclosed: Yes, there are brick walls around the flea market so it's a good one for kids.
Toadstool Rating: Seminyak Bali markets

Looking for MORE Shopping in Bali?
Click the links in blue for more Bali tips below.