INSIDE: Everything you need to know about what to pack for Bali for families & kids
Here's the most important question of the day.
When you are packing for Bali, have you remembered to pop in a First Aid Kit?
Believe us when we say, this little afterthought might just become the most important thing in your suitcase.
There's no telling if, or when you'll need it, but if you do, you'll thank us.
But that's just one item for your suitcase.
Check out our FULL guide on what to pack when travelling to Bali on holiday below.
Disclosure: This article contains affiliate links. If you make a purchase after clicking on one of these links, we may receive a small commission at NO extra cost to you. Main image: Raissa Lara Lutolf via unsplash
THE INSIDE SCOOP: What to Pack for Bali
Correct at time of publication on Roam the Gnome. Please check with venue for updates. We apologise in advance if there have been any changes we are unaware of. All prices in AUD dollars, unless otherwise stated
Packing for Bali – the Essentials
Best of our packing tips?
When packing for Bali, these eight items are non-negotiable.
They've saved the day so many times, we don't even need to question their inclusion.
They are your basic must-carry-at-all-times items.
Handy pack of Wet Wipes
Handy pack of Tissues
Portable bottles of Eco Hand Sanitiser
Rescue Remedy. Bach Flower Remedy for anxiety, fear of flying, trauma, after an unexpected bite, shock, and nerves. It's our go-to remedy for when the going gets tough.
A small bottle of Magnesium Spray or Mag Phos cell salts to help aching legs and prevent/reduce muscle cramps (humid weather, dehydration and long flights can aggravate restless legs)
Sunscreen (and hats)
1/2 roll of Toilet Paper
We've learned from an experience of Bali Belly to NEVER to go anywhere in Bali without this last essential item in our backpack.
NB: Come back soon for a printable Bali packing list PDF.
---
RELATED: The Big List of Best Things to do in BALI with Kids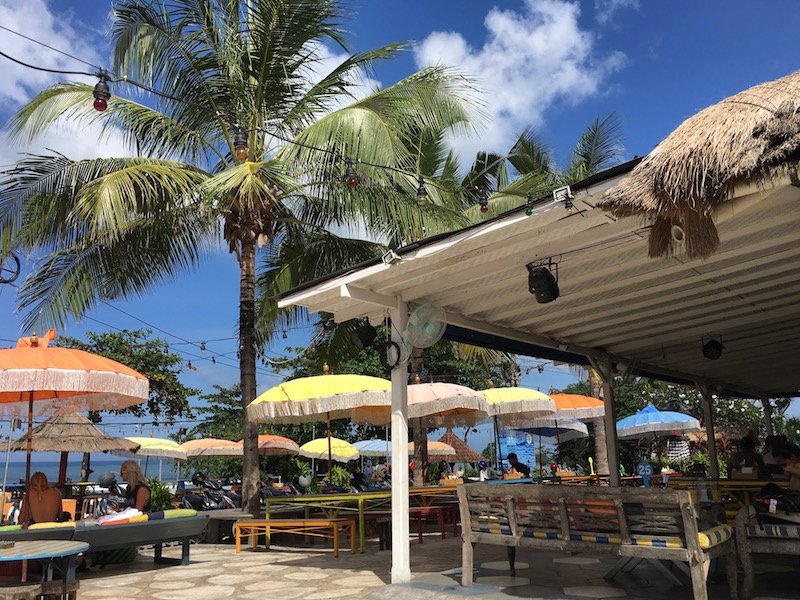 The Essential Packing List for Bali
Disclaimer

:
I am not a doctor and I do not have a degree or expertise in medicine. I am providing the aforementioned and forthcoming information based on:
our extensive travel experience, AND
discussions with local doctors for our own purposes.
Please do your own due diligence when making your own small first aid bag, and seek medical advice as required before you leave.
---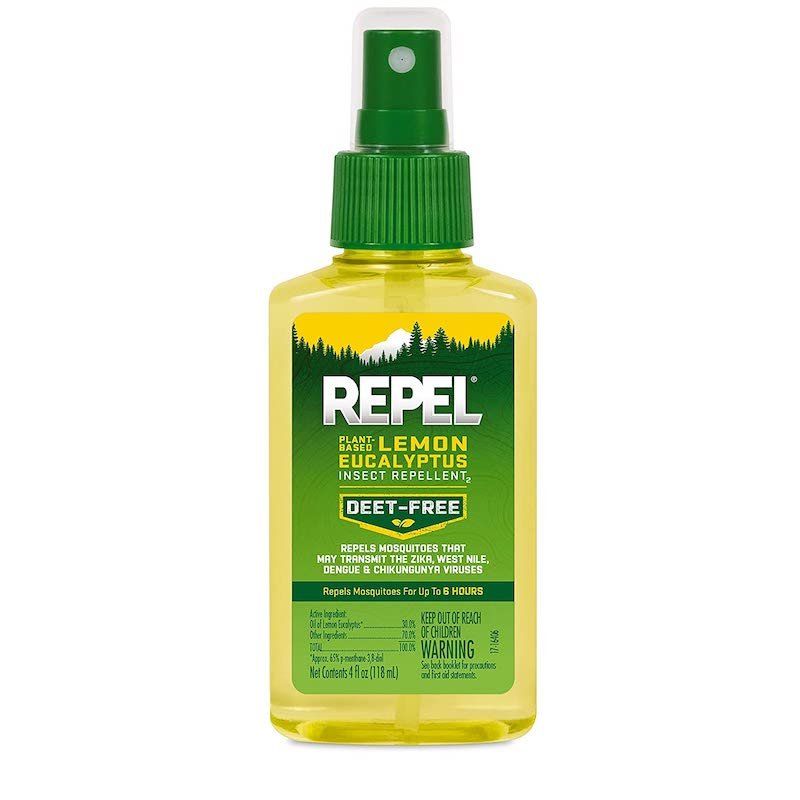 Stuff for Itchies, Scratchies and "Owies"
We pack all medical supplies into one medium size 'packing cell' from Kathmandu Australia camping shop.
This first aid bag goes everywhere with us at the bottom of our day pack.
No.1: Mosquito repellent
Our favourite insect repellent to bring from Australia for short trips is the Bushman's Insect Repellent in the 80% DEET gel.
(This is particularly important for the wet season or anytime there is a mozzie plague as it's super strong.)
We also take along Repel repellent spray (the plant based lemon eucalyptus one) or OFF repellent spray (botanicals) for everyday mozzie deterrence.
Plus at least one pack of:
We pick up mozzie coils when we get there, and ask the hotel for a plug in mosquito
No.2: Calamine lotion.
This stuff never fails to soothe.
No.3: Aloe Vera lotion
For after sun relief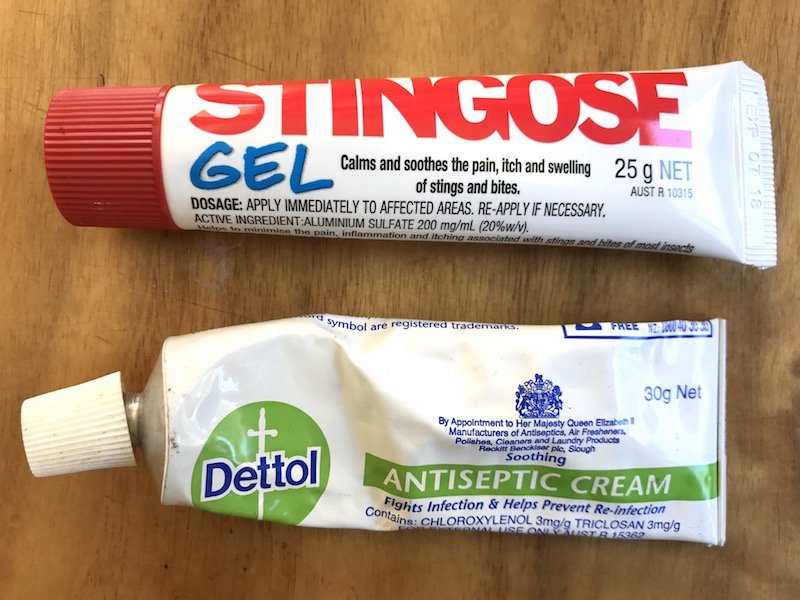 No.4: Stingose.
For instant relief from ant bites and stings.
Either in a spray bottle (our choice), or gel
No.5: Antiseptic cream
eg Dettol or Betadine for scraps and falls.
No.6: Pain relief
Panadol or Nurofen for kids, and a small medicine cup
Adult painkillers for headaches, sprains, falls etc (eg Panadol, Ibuprofen)
No.7: Antihistamine
Tablets for adults and liquid for kids.
Try Little Allergies, or Phenergan
No.8: Fabric and waterproof bandaids
Because bandaids are one of those things that someone always needs.
NB: While you may be able to buy a lot of this in Bali, it's safer to have the essentials for emergencies when you travel with kids and can't find a Bali chemist quickly.
---
RELATED: The complete DIY First Aid Bag for Family Travel
Image credit: Superkitina via Unsplash
Best Bali Packing Checklist
Tickets, passports and local currency should be top of the list.
Hot tip: Scan a copy of your passports, itinerary, travel insurance, emergency contacts, and tickets and send it to your regular email address so in the event something goes missing, is lost or stolen, you can access the copies for the consulate or airline.
No.1: Grooming
toothpaste
toothbrush
hairbrush or comb
basic daily makeup (mascara, lipstick, blush)
skincare regime products
sanitary products – tampons or pads
shaving tools (remember to pack your razor in your checked luggage)
personal medication as required (be sure to get a doctor's certificate if you are worried about any of the ingredients being unlawful in Bali)
Pop it all into a cool toiletry bag that you can hang.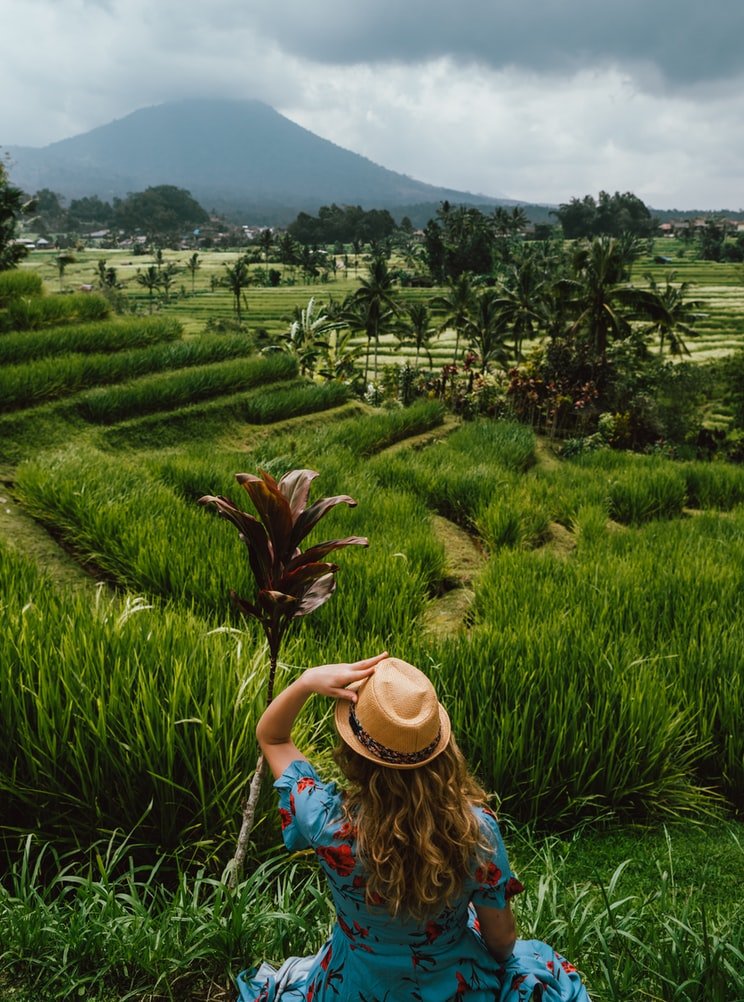 Image credit: MaidMilinkich via Unsplash
No.2: What to wear in Bali?
The best thing about packing for a holiday to Bali is that it's a tropical island, so bulky winter clothes are unnecessary.
That leaves MORE space for souvenirs.
A basic guideline is to pack 3 casual dresses, AND three tops and pants combos.
One active wear set for yoga, hiking, general exercise and lounging.
Plus, one sweater or jacket that can be either dressed up or down.
You may need it if you head for the hills, or on a chilly overcast day, but not often.
Pop in one pair of good walking shoes and one pair of sandals/thongs per person.
What to wear in Bali at night?
Make sure you have one set of clothing that is lightweight with long sleeves for early evenings when the mosquitoes come out.
Add one good 'going out' outfit and shoes too.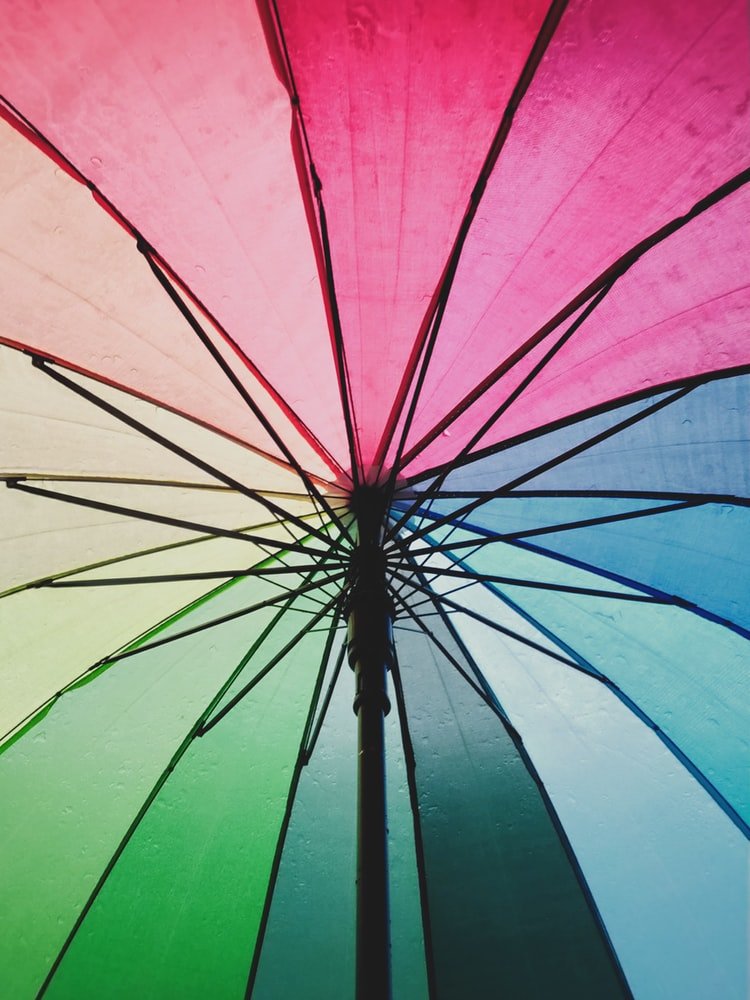 Image credit: Deeksha Gupta via Unsplash
What to pack for Bali rainy season?
Add a waterproof jacket, and a portable travel umbrella.
A portable travel washing line is not a bad idea either.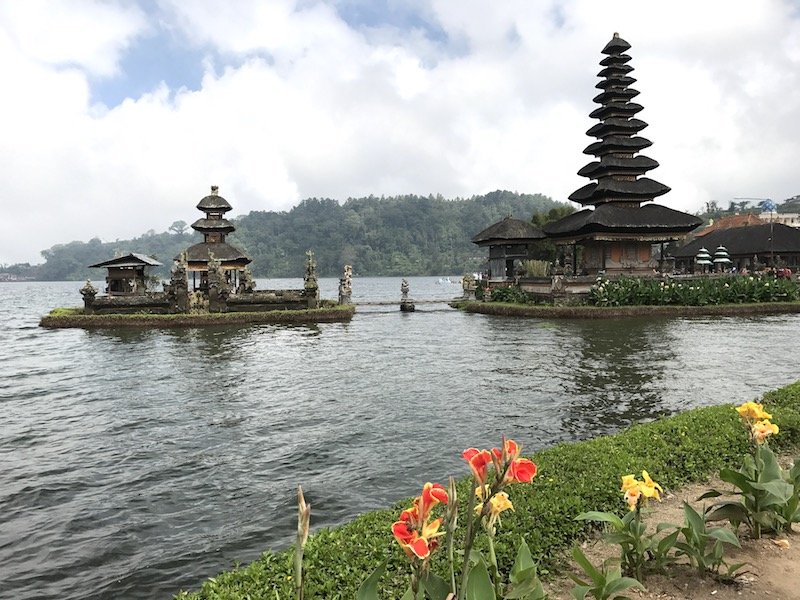 No.3: Bali Essentials
Four good bras.
Seven pairs of underpants.
So you can head out on all your Bali day tours with a driver, and don't need to waste time on laundry too often.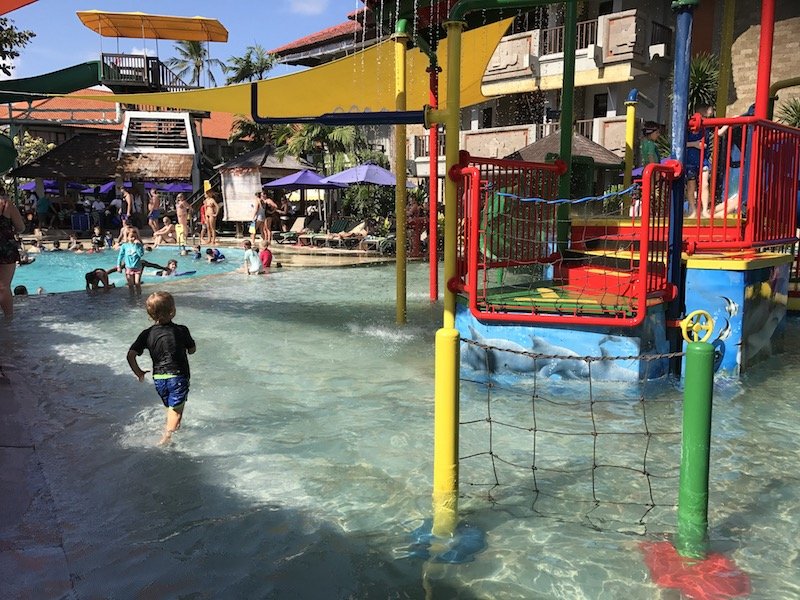 No.4: Swimming gear
Swimming costume
Quick dry towel
Sarong or beach cover up – can be used in Balinese temples when covering up is necessary
For kids – a life jacket, or floaties
No.5: Accessories for Bali
Sunhat of some description (or a sports cap)
Paksafe handbag or shoulder bag (big enough to fit your daily tech eg camera, phone etc)
decorative earrings ( 2 pairs – if required)
sunglasses
reading glasses if necessary
water shoes – if you are planning on water sports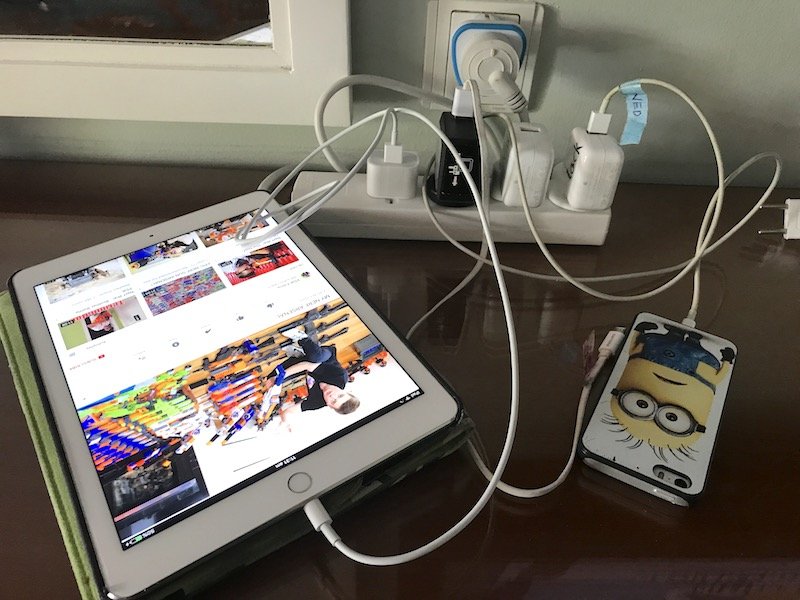 No.6: Tech
iphone/samsung phone (ie: the all important camera!)
ipad/laptop
chargers and cords
Universal travel plug (travel adapter)
Portable battery chargers (powerbank) and charging cords – we carry three in our carry on luggage, to charge all our devices on the plane, and so we never run out of power on the phone on our Bali day trips, and miss crucial photo opportunities
waterproof pack to store all your gear in
a day bag or backpack for daily adventures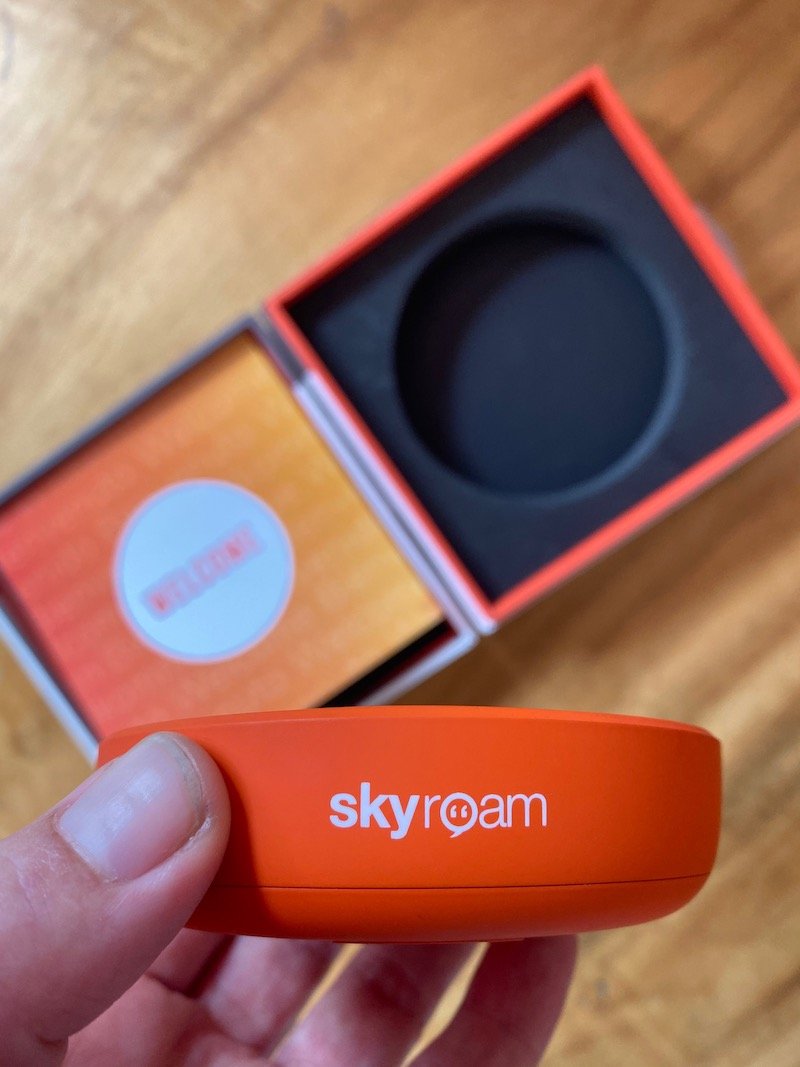 Skyroam Solis Lite portable wifi modem
This is the one we have – a LIFESAVER too many times to count!
We never leave home without it now.
It's the only worldwide travel pocket wifi we trust, and it's affordable.
Packing Cells
Hot tip: Use packing cubes to separate and organise your things. These things have completely changed the way we pack. Keeping like-with-like together means our things are less likely to go astray.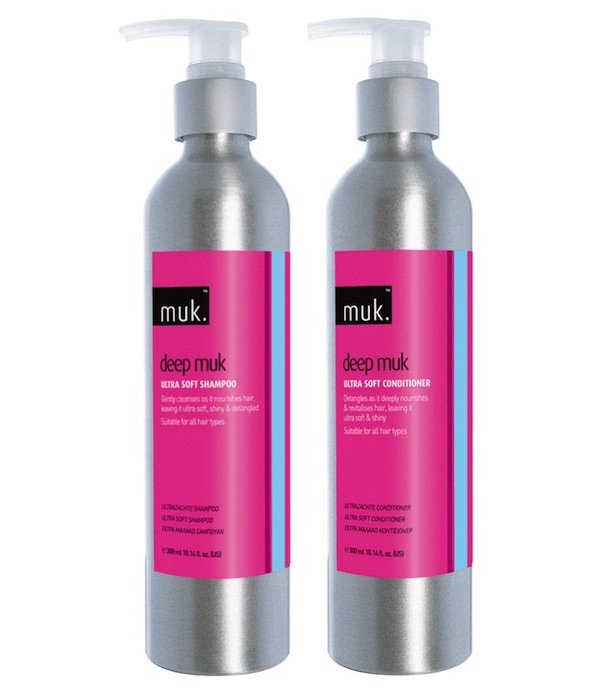 What not to pack for Bali?
Depending on where you are staying in Southeast Asia, bathroom amenities may be provided.
In this case, you may be able to leave these things behind, leaving you more room for shopping purchases!
shampoo & conditioner (unless you use a specific brand and can't bear to be without it)
shower gel
soap
hair dryer
If you do want to take shampoo, conditioner and other essentials, but don't want to lug full bottles, decant them into GoToobs travel bottles. These silicon travel bottles are leak proof, with a locking cap.
And of course, NO drugs of any kind. Goes without saying.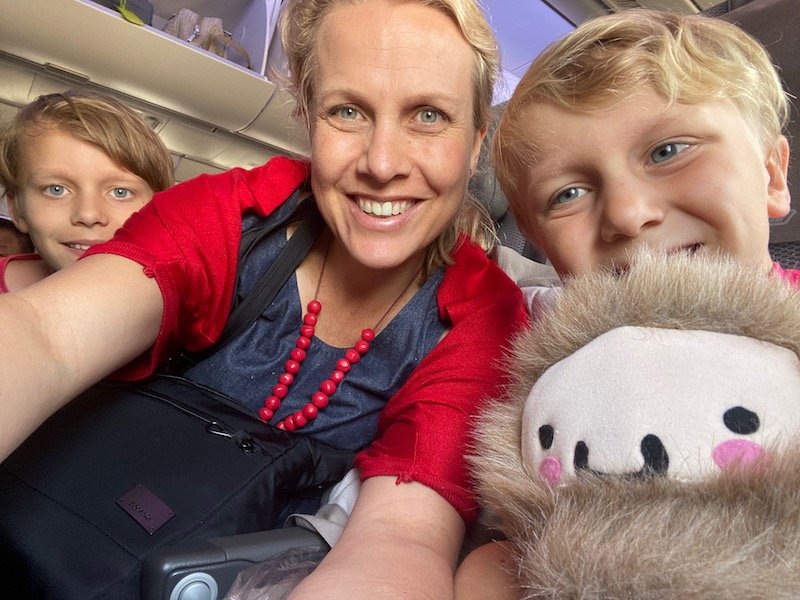 What to wear on plane to Bali?
The best travel outfit on a plane is either active wear with runners, or a pair of loose cuffed jeans and a sweater and runners.
Or a ready to wear short sleeve dress for humid countries like Bali.
We've made it our practice to WEAR our bulkiest shoes, and carry a jumper with us into the cabin for when they turn the air con up to arctic levels.
A pashima or shawl never goes astray, especially when you travel with kids.
It can:
become a blanket
roll up into a pillow, or
act as a darkness cover for someone who is desperate to sleep.
What to pack for Bali Carry-on
Unless this is your first time on a plane, you'll know how important these items are for a comfortable flight.
earplugs and an eye pillow
compression socks (I never travel on a plane without these)
small stainless steel water bottle (save the planet by not buying bottled water)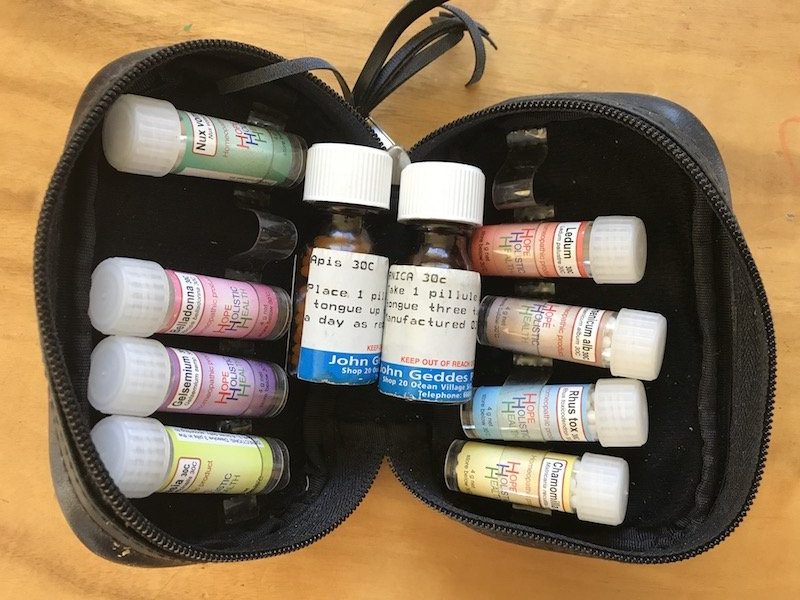 OTHER HANDY ITEMS TO PACK FOR BALI
Homeopathics First Aid Kit.
We take either our Homeopathic First Aid Kit in full, which includes all the remedies below, or we take individual bottles of our most-used remedies (Apis, Arnica, Nux Vomica).
Homeopathic remedies can be purchased over the counter in Australian chemists and pharmacies.
Seek advice from your doctor or pharmacist before use.
Apis – bee or wasp stings, ant or insect bites, sore throat, allergies (itchy eyes), fever
Arnica – strains, sprains, cramps, twisted angles, brusising, eczema, boils
Belladonna- headaches, fever, redness and heat, earache, sore throat, sunburn, burns, teething, mild urinary complaints
Chamomilla – digestive and stomach upsets, diarrhoea, colic, teething in infants, irritability, insomnia
Euprhasia – conjunctivitis, hayfever, eye injuries, colds and flu
Gelsemium – colds and flu, headaches, sore throat, jet lag, exhaustion
Ledum – grazes, cuts, slow healing wounds, stiff painful joints
Nux vomica – nausea, vomiting, travel sickness
Dosage according to Homeopathic Products Australia.
A dosage is 3 pillules, taken 3 to 4 times per day.
In acute cases, the dosage can be given every 10 minutes until obvious improvement.
Dosage for children is the same as adults.
Avoid touching the pillules with your hands.
Avoid drinking coffee when taking homeopathics.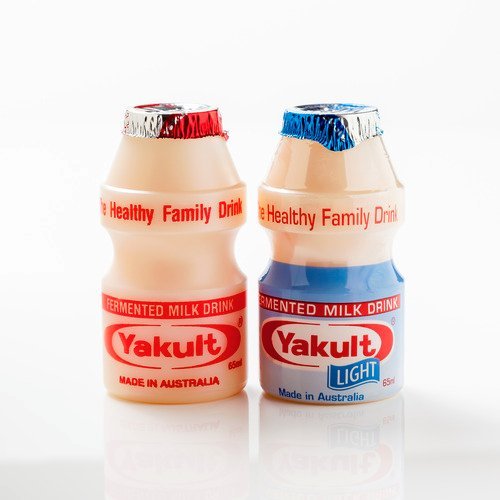 What should I pack for Bali Belly Prevention
We use the wet wipes or hand sanitiser:
before and after every meal
after every toilet stop, and
when visiting any place where there are animals, native or otherwise.
At times, we've prepped our tummies in readiness with probiotics, or a natural medicine that can help reduce the chances of an upset stomach due to a bug, rich food, or sensitivities to change.
Our favourites are:
Travelan or Travel Bug natural medicine for gut health
Yakult probiotic drinks – you can buy these in most convenience stores in Bali itself too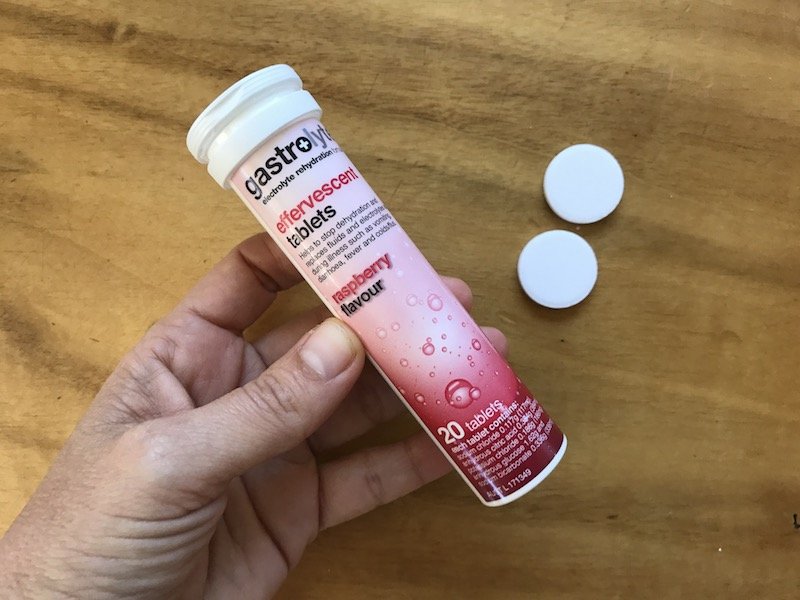 Things to pack for Bali Belly Treatment
When packing for Bali, we advise stocking your first aid kit comprehensively.
Yes, you can find some of these things in Bali if you need them, but who wants to be searching for a chemist late at night, or hunting down a particular medicine when all you want to do is lay down and close your eyes to avoid the cramping or nausea?
If you are travelling with kids, then it's all the more important to ensure your packing for Bali includes ALL the remedies.
We always err on the side of 'better to be safe than sorry', even when it makes our bags a bit heavier, or more cumbersome.
Kids Panadol/Nurofen
Buscopan for relief from cramping pain – for adults and children over 6 only. Read the safety leaflet before use.
Imodium or Lomotil – for diarrhoea in adults and children over 12 years
Chamomilla homeopathic pistules for digestive and stomach upsets and diarrhoea. Safe for adults and children.
Nux vomica homeopathic pistules for nausea, vomiting, and travel sickness. Safe for adults and children.
Mintec Peppermint Oil Capsules for natural relief from cramping pains – for adults only. Not recommended for children
A few peppermint or camomile herbal teabags
Antacid tablets eg Quick-eze for those times when your belly can't cope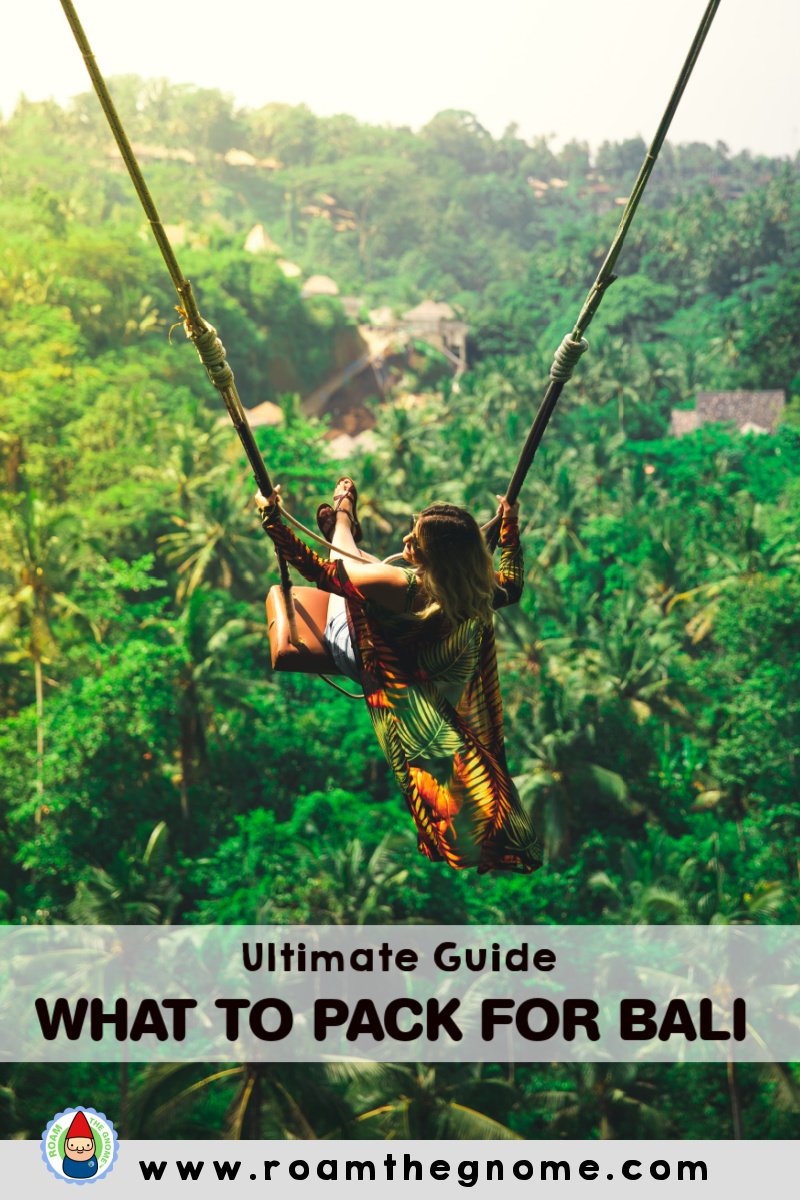 Hot tip: How to avoid Bali Belly
Here's a very useful bit of essential reading for anyone wanting to prevent and avoid Bali Belly.
This guide also has a comprehensive section on treatment, including what to eat and drink in Bali while you are recovering.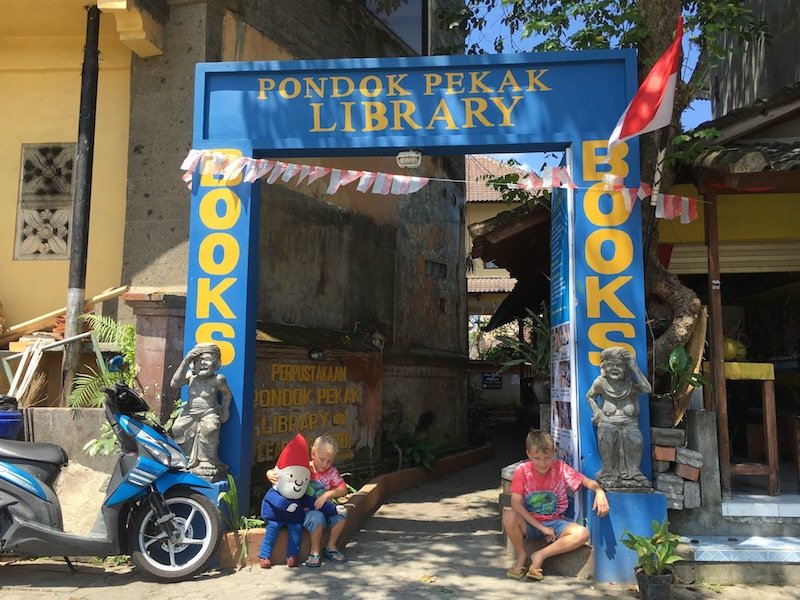 Looking for More Things to Do in Bali with Kids?
Click the links in blue below for more Bali travel tips