INSIDE: Everything you need to know about MOTAT Aviation Hall & the MOTAT aircraft display you'll find there.
There's MONSTER SIZED PLANES at the MOTAT Aviation Hall in Auckland!
Be wowed by the giant planes inside the MOTAT Aviation Hall – the MONSTER SIZED SHORT SUNDERLAND aircraft is the biggest one of all.
It's truly a sight to be seen!
It's one of four left in the world, and the only complete example in New Zealand.
The Sunderland served with the British and New Zealand Air Forces, in Maritime Search, Reconnaissance, and Mercy missions.
The Sunderland played a central role in medical evacuations, childbirth emergencies, search for missing vessels, medical supply drops, and surveys of hurricane damage.
Read the guide below for details of this MOTAT plane, & what other treasures you'll find here.
Disclosure: This article contains affiliate links. If you make a purchase after clicking on one of these links, we may receive a small commission at NO extra cost to you.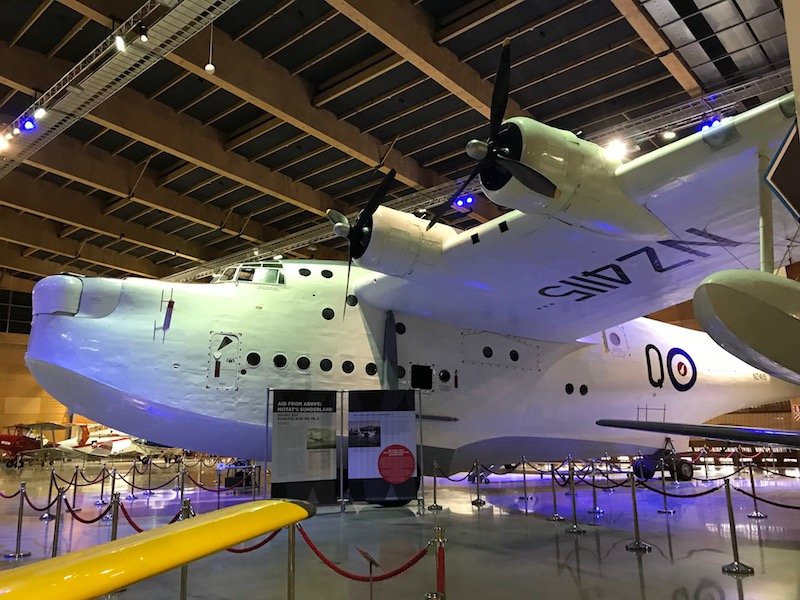 Guide to MOTAT Aviation Hall Auckland
Short Sunderland V NZ 4115
This mammoth aeroplane was gifted to MOTAT when it was retired from military service.
MOTAT are currently raising funds to complete the full restoration project.
To date, the Sunderland has been:
cleaned
stripped and sanded
repainted with a new coating over the body.
The interior lighting and the keel has been repaired, and they are currently cleaning the interior, and restoring the gun turrets.
The tail of the Sunderland has been removed for repair work on the tail planes, fin and rudder.
The entire tail will be reattached to the body of the aircraft when the work is complete.
The whole project is estimated to cost in excess of $120,000.
If you'd like to contribute to the project, give a little here
---
RELATED: Everything you need to know about MOTAT NZ – entry fees, opening hours, activities, cafe & more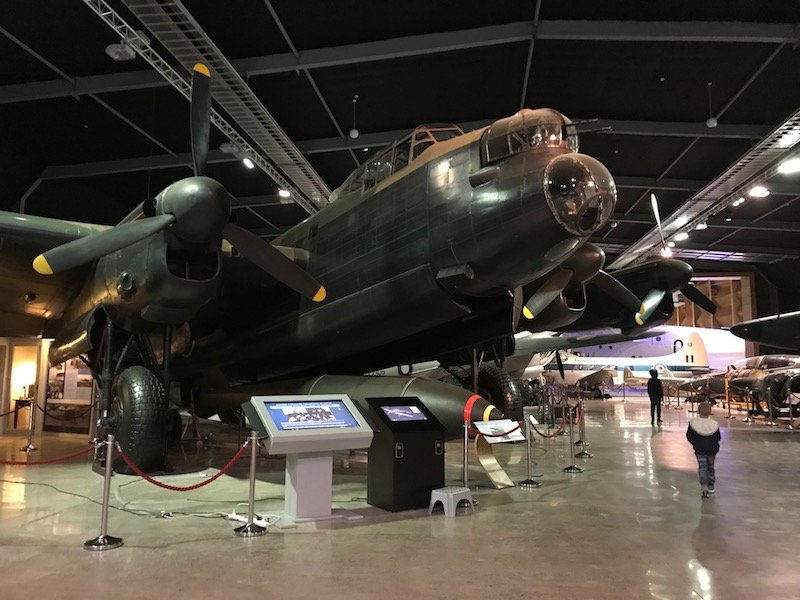 Inside the MOTAT Aircraft Display
Sir Keith Park Memorial Aviation Display is located in the multi-award winning Aviation Museum at MOTAT Meola Road.
Motat Exhibitions
There's exhibitions by Jean Batten, and the Walsh Brothers, other collections & engine displays too.
Plus, historical displays of old posters, travel documents, aircraft log books, statues of notable figures, displays of uniforms, Bomber command medal displays, and more.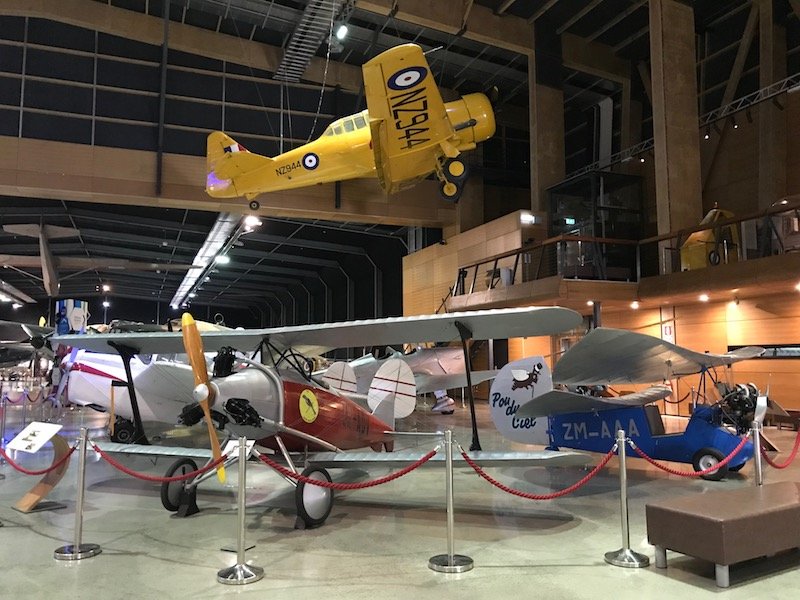 Best MOTAT Planes
The aircraft inside this hall include recreational, top dressing, commercial and military aircraft including:
planes that were part of the Royal New Zealand Airforce
the de Havilland Mosquito
Lancaster bomber
flying boats
the modern Skyhawk, and
Aermacchi.
The exhibition celebrates the evolution of New Zealand aviation since February 1911.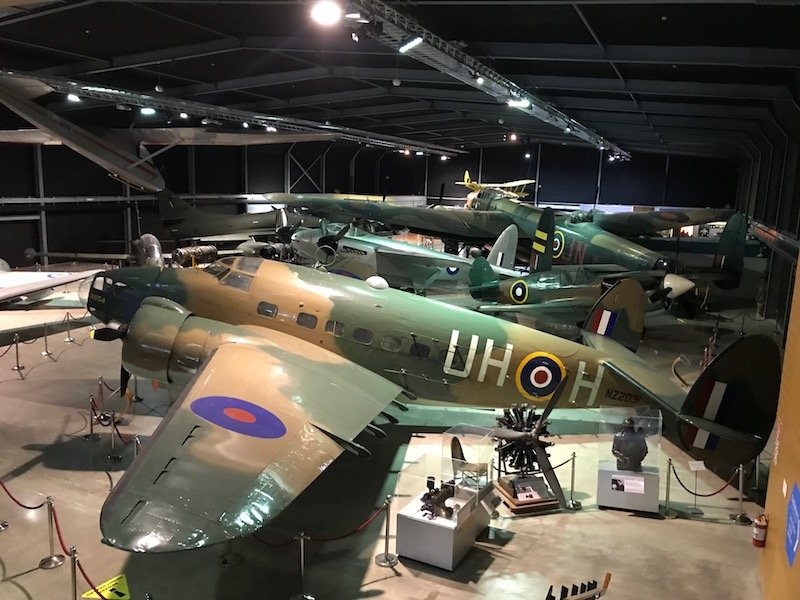 Size of the MOTAT Plane Display
One thing is for sure, there is NO WAY that photos can do these airplanes justice.
You will GASP OUT LOUD at their size, just like we did.
Don't miss the large aircraft outdoor display too.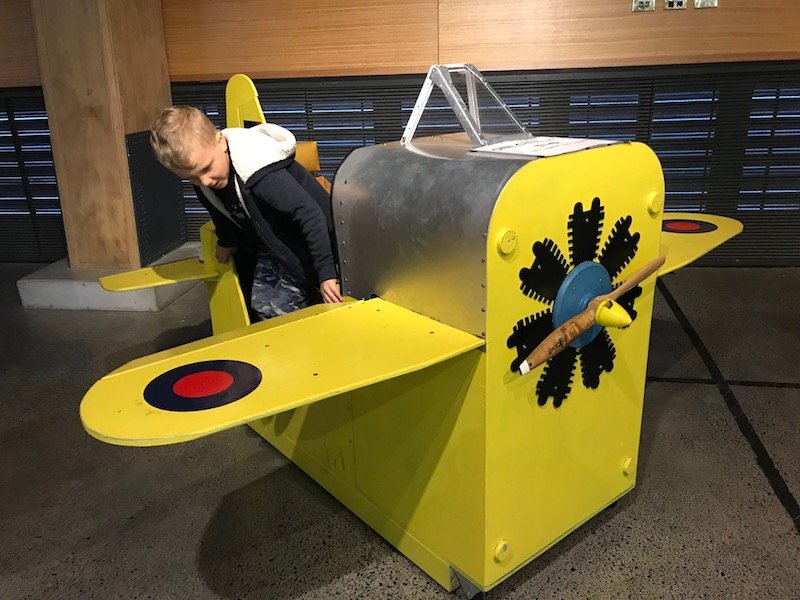 Things for Kids to Do at MOTAT Sir Keith Park Memorial Aviation Display
There's a couple of fun hands-on activities for kids at the far end, left hand side of the hall.
---
RELATED: Monster List of Things to Do in Auckland with kids!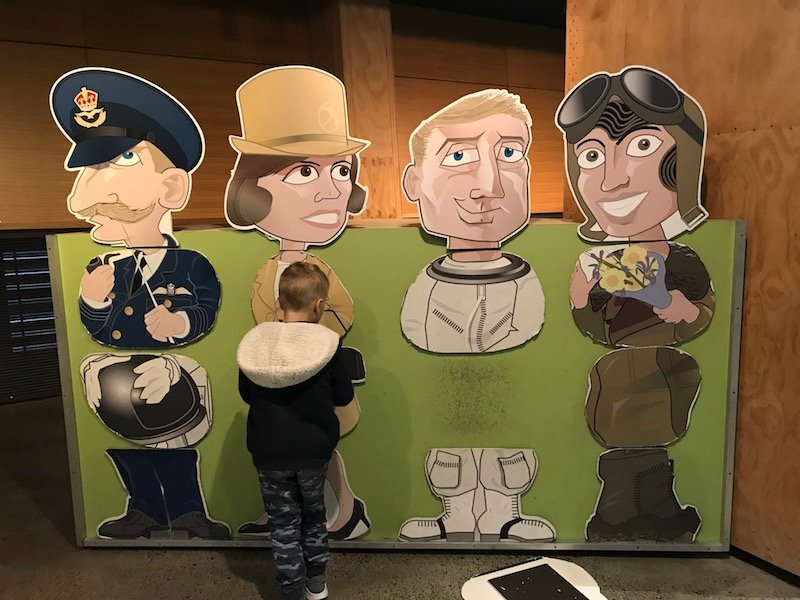 Best MOTAT Activities for Kids
Kids can:
play with a giant puzzle of people dressed in Aviation Gear
play with the controls on the miniature aeroplane
dress up in Aviation costumes
Hot tip:
Go upstairs and in front of the lift, there's a button.
Push it, and you'll hear the roars of an aircraft taking off! It reverberates throughout the entire shed.
MOTAT Events
Book in for an aviation workshops by arrangement.
Other special events include:
steam train rides from Keith Park and Waititiko rail stations on live days
military vehicle experience, and
rail workshops throughout the year too.
Keep an eye on the MOTAT website for details of MOTAT school holidays activities too.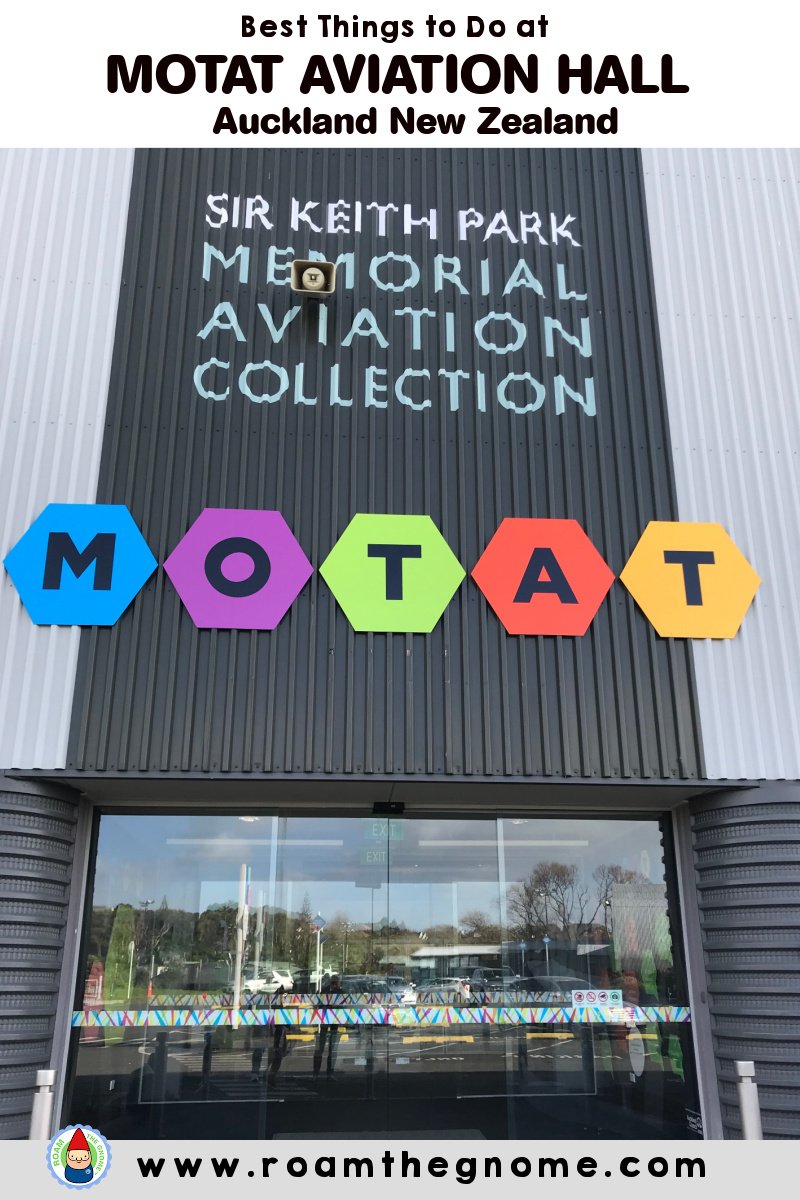 MOTAT Shop at the Aviation Museum
The main MOTAT gift shop is in the main site M1.
But there's a second place to buy your MOTAT souvenirs, and it's just as you enter the MOTAT Aviation building entrance at M2.
Shop for:
books on aviation
history books
maps and compasses
model aircraft kits
aircraft toys for kids
mugs and cups, with logos and insignia
model vehicles
books by local authors, and more.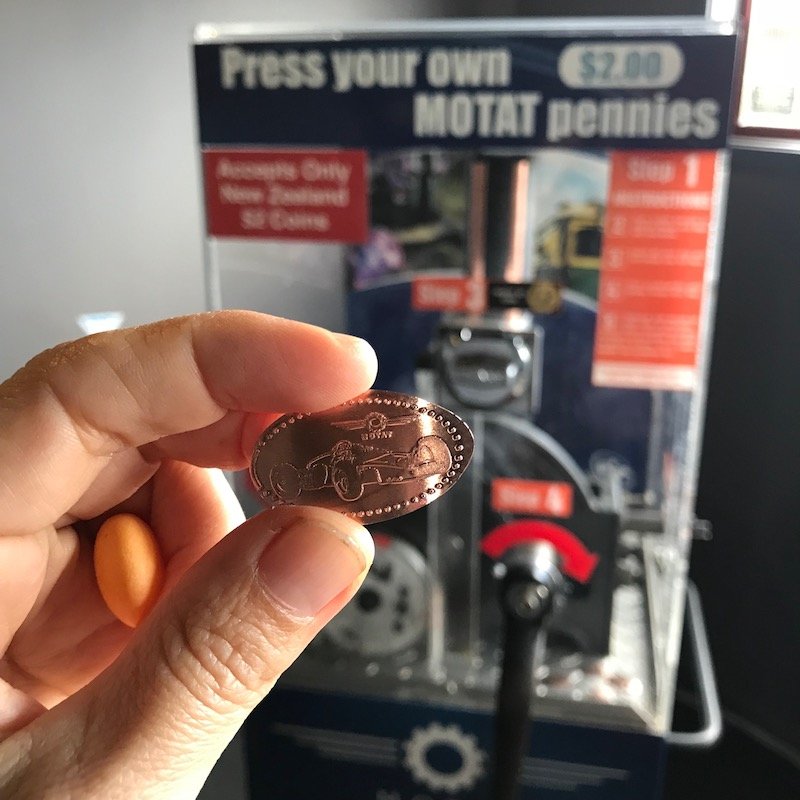 MOTAT Souvenir Penny Machine
Add a MOTAT pressed penny to your collection.
There's a few different planes, trains and automobiles to choose from at the MOTAT Museum Auckland.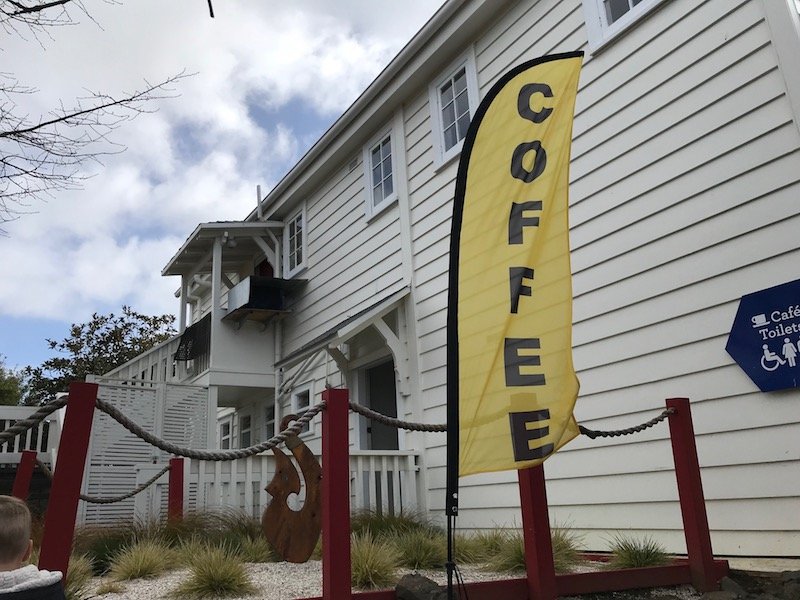 The MOTAT Cafe Araroa Tearooms
The only food on offer at the Aviation Hall is a snack machine, and a hot drinks machine.
We recommend heading back to eat at the MOTAT cafe in the historic Cropper House building.
Find details of the menu, opening hours and more here.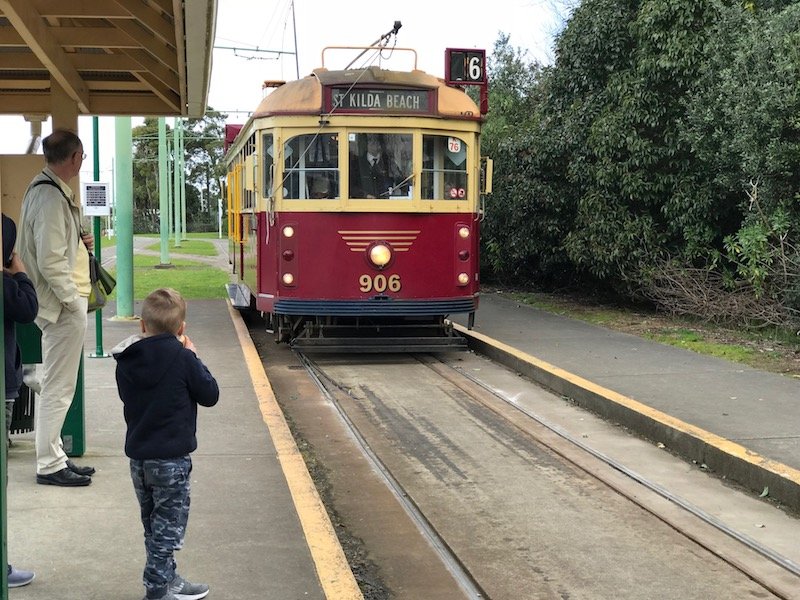 THE INSIDE SCOOP: MOTAT 2 Meola Road Auckland
Correct at time of publication on Roam the Gnome. Please check with venue for updates. We apologise in advance if there have been any changes we are unaware of. All prices in NZ dollars, unless otherwise stated
MOTAT, Auckland's Museum of Transport and Technology, is New Zealand's largest transport, technology and social history museum.
Spread across 40 acres, MOTAT is an interactive journey to explore and discover the achievements that have helped shape New Zealand.
Address: The Motat address is Building 1 MOTAT 2 – Aviation Display Hall. 190/200-208 Meola Rd, Western Springs, Auckland 1022, New Zealand
Telephone: +64 9 815 5800. Freecall 0800 668 2869
Website: Click here
Motat Hours
10am to 5pm
Tuesday to Sunday
Closed Mondays
Motat Prices
MOTAT Auckland prices are:
Adults $19 NZ
Children (5-16 years) $10 NZ
Children under 5 – FREE
MOTAT Family Pass (2 adults & up to 4 children) $45 NZ
Overseas Seniors (Non NZ, 65 years +) $10 NZ
Students with NZ student ID card – $10
The MOTAT entry fee includes admission to the Motat Aviation Hall
A return tram ticket is included in the price.
MOTAT Discount Entry
Check for a MOTAT discount entry in these places:
GrabOne
Hello Auckland (you do need to give your email to get the code)
Book Me (search Auckland discounts for all kinds of attractions)
AA Members save 20% on full priced MOTAT general admission
MORE MOTAT Deals
Annual passes start from $45 NZ for an individual and $95 for a family. So if you want to visit more than once, this is a good deal.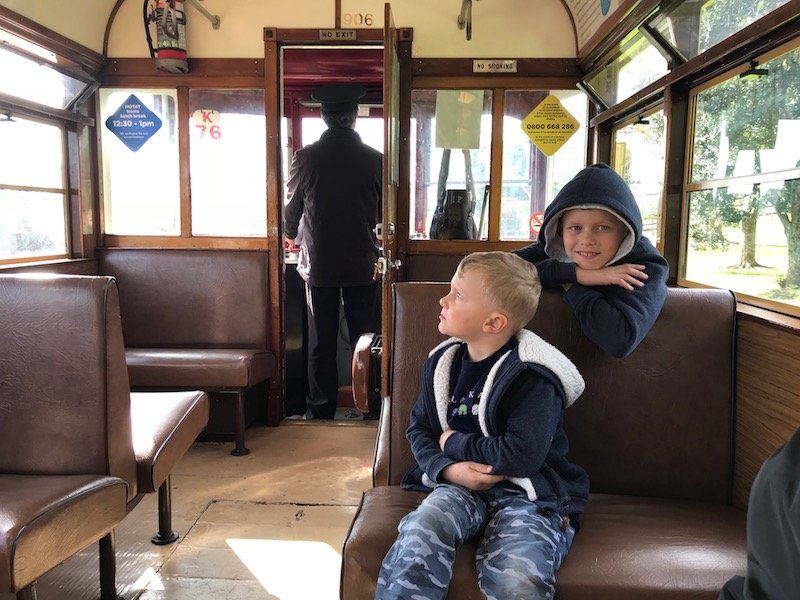 How to get to MOTAT Auckland Aircraft Hanger
By Car, Bus & Bike: Click here for details
Motat Parking
Park for free at MOTAT Aviation Display Hall. Entrance via Meola Road.
Purchase your MOTAT entry ticket here and catch the MOTAT vintage tram to and fro between the two sites for FREE.
Find limited parking at M1 on Stadium Road and along Great North Road.
MOTAT tram timetable
Trams run every 30 minutes, or more frequently at peak times
Please check the Tram Schedule for the day at the Meola Road tram station if you've parked at M2, or the M1 tram station (Great North Road entrance) if you've parked on Stadium road.
MOTAT trams run between M1 and M2, through Western Springs Park, and past Auckland Zoo, The Auckland Performing Arts Centre and Western Springs College.
The tram ride journey takes approximately 10 mins each way.
MOTAT Map
Facilities at MOTAT NZ
Public Toilets: Yes, including baby change table.
Toadstool Rating – MOTAT Auckland
Do not miss it.

Looking for More Things to Do in Auckland New Zealand for Kids?
Click the blue links for more Auckland activities below.