INSIDE: Roam the Gnome's Guide to the Best New Zealand Candy and Lollies!
If you are wanting to try delicious candy from New Zealand, you've come to the right place.
There's not so many New Zealand brands of candy because it's a small place, but the ones they do have are pretty awesome.
We've written a guide to the best New Zealand candy.
Take a look below for details.
Disclosure: This article contains affiliate links. If you make a purchase after clicking on one of these links, we may receive a small commission at NO extra cost to you.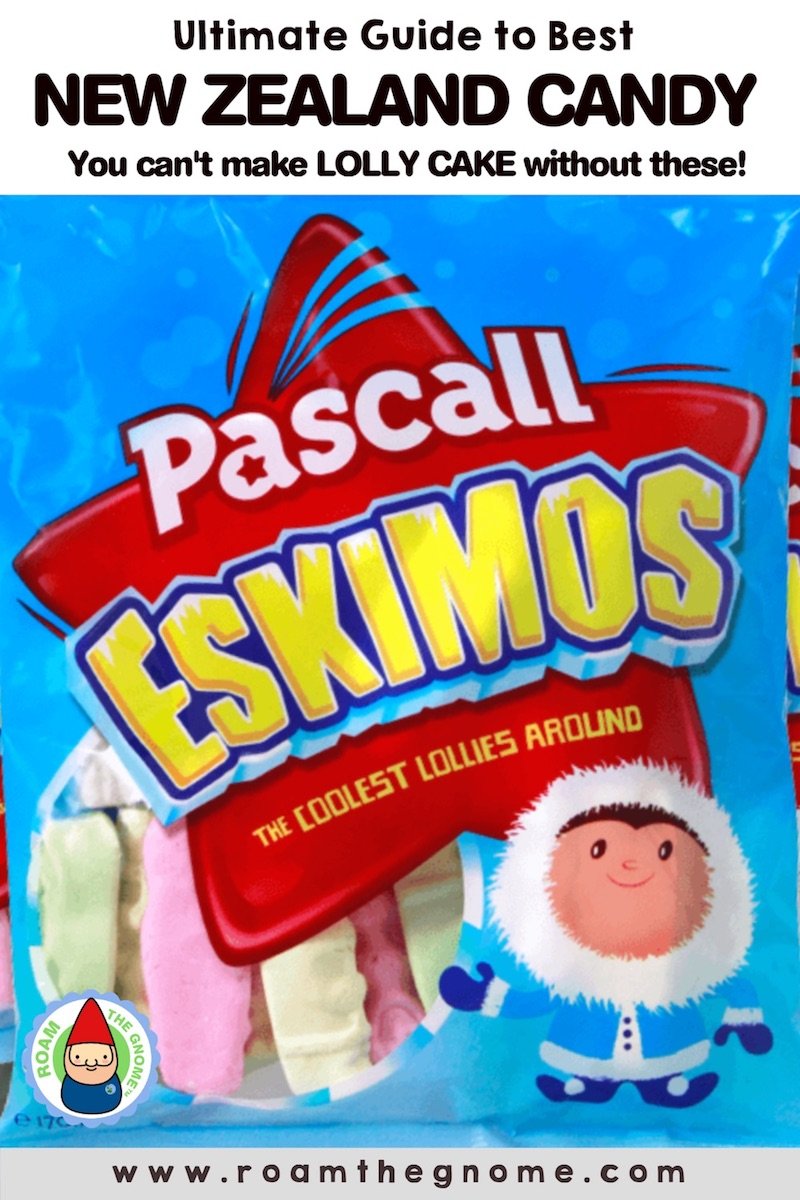 BEST NEW ZEALAND CANDY BARS
Correct at time of publication on Roam the Gnome. Please check with venue for updates. We apologise in advance if there have been any changes we are unaware of. All prices in NZ or US dollars as stated, unless otherwise advised
If trying New Zealand candy is on your bucket list, head straight to one of the New Zealand supermarkets.
Stock up on these delicious traditional New Zealand lollies and try them all.
RELATED: 34 Best Candies from Japan to buy in 2021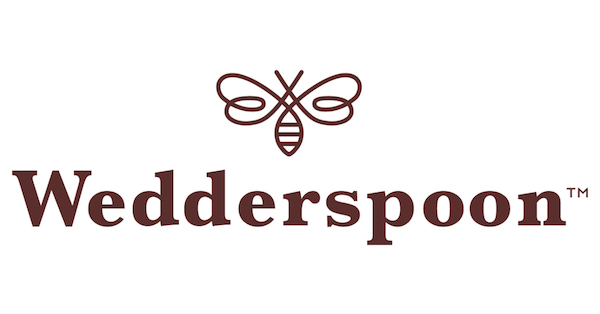 Most Popular NZ Candy Brands
The main NZ Candy companies manufacturing NZ made lollies are:
Pascalls
Allens Lollies NZ
Black Night
Cadbury NZ
Candyman
Kiwiland
Mayceys
Rainbow
RJ's
Wedderspoon
Best Wedderspoon lollies
Throat a little scratchy?
Try these: Organic Manuka Honey Drops by Wedderspoon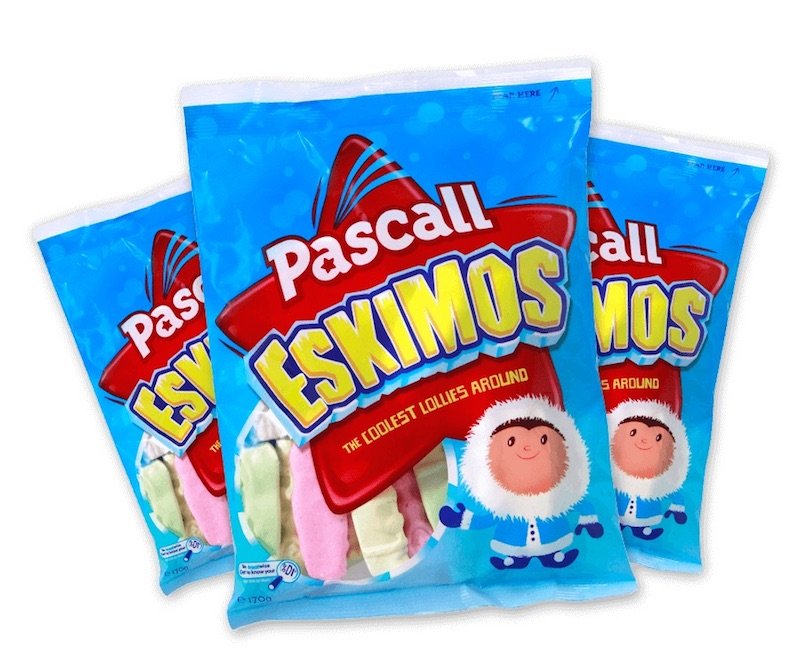 MOST ICONIC NZ LOLLIES
Pascall Eskimos & Bonus Lolly Cake Recipe!
Pascall Eskimo lollies are New Zealand's No.1 old school lollies NZ has ever made because…
LOLLY CAKE.
You can't make New Zealand Lolly Cake without this popular New Zealand candy.
Lolly Cake is a biscuit batter with tri-coloured musk pieces throughout, rolled in coconut, and cut into slices.
Thankfully for those who are not yet initiated into the sweet goodness that is Lolly Cake, the famous Lolly cake recipe is on the bag.
It's also on the Griffin's Malt Biscuits packet.
Find the Lolly Log recipe, in full, below.
Bookmark this page so you don't lose it.
Wondering where to buy Eskimo lollies NZ? Try any of the big supermarkets to buy at the cheapest price. (See our guide to NZ grocery stores below)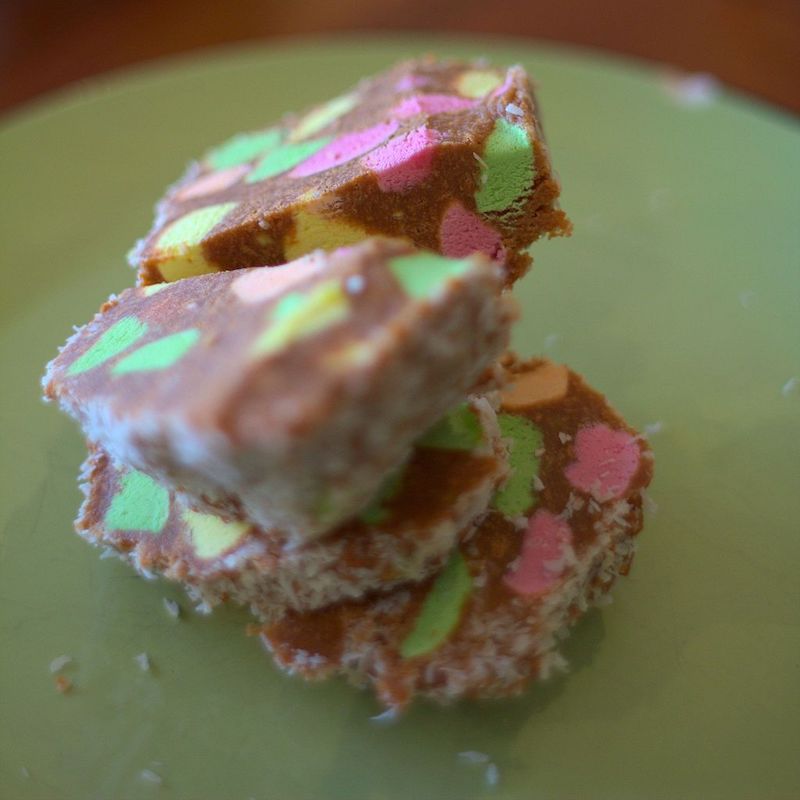 Image credit: Sean Neakums via Wikipedia CC BY-SA 2.0
Lolly Cake Recipe (with Eskimo Lollies NZ style!)
120g Butter
½ tin of sweetened condensed milk
1 packet of Eskimo lollies
1 packet of Griffin's Malt biscuits
1/2 cup Desiccated coconut
Lolly Cake method
First step is to crush those malt biscuits. My tip is to put the biscuits into a zip lock bag, place the bag on a chopping board, and whack the bag with a rolling pin to break the biscuits up, then finish crushing them with the normal rolling pin action. You can use a thermomix or food processor if you have one as it's less messy and noisy!
Cut the eskimos into small pieces. Use the whole bag.
Warm the butter and the condensed milk in a small saucepan or in the microwave.
Add the biscuits and the eskimos to the mix and stir well.
Form into a log shape.
Roll the log in coconut and wrap the whole thing in cling wrap.
Pop it in the fridge for a three hours to set, then cut into 2cm thick slices to serve.
---
RELATED: The Ultimate Guide to NEW ZEALAND SNACKS, BISCUITS, SLICES, & DRINKS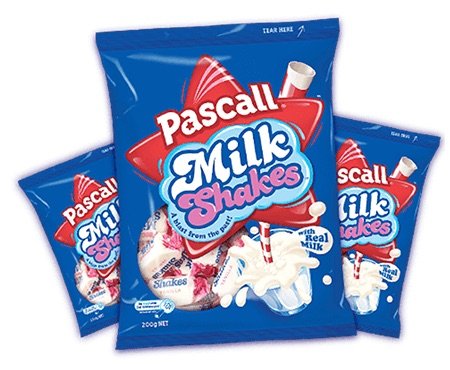 BEST NEW ZEALAND LOLLIES IN A BAG
Sweet tooth?
Buy any of these New Zealand confectionery and you'll be a happy chappie.
No.1: Pascalls Lollies NZ
The maker of the Original Pineapple Lumps (I also categorise these under Chocolate.)
Pascall Milk Shakes Milk Toffees
Fruit Burst
Minties
Wine Gums
Jaffa Lumps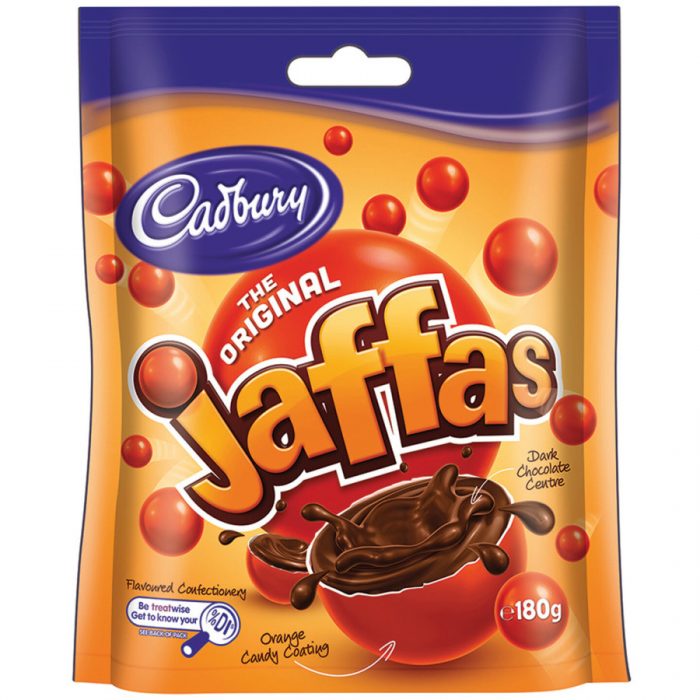 No.2: Cadbury Kiwi Lollies
Choc Orange Jaffas are an old school favourite.
The crunchy candy coating covers a ball of dark chocolate.
There's an knack to eating these and we always used to challenge ourselves to get the candy coating off without making a mark on the chocolate ball itself!
You can't eat just one.
No.3: RJ's Kiwi Candy
RJ's sells lots of different types of licorice lollies.
Raspberry Twister
Licorice Allsorts
Licorice Chocolate Log
Licorice Raspberry Choc Log
Licorice Choc Twists
Raspberry Choc Twists
Mackintosh Toffee de luxe
Tallsorts Bars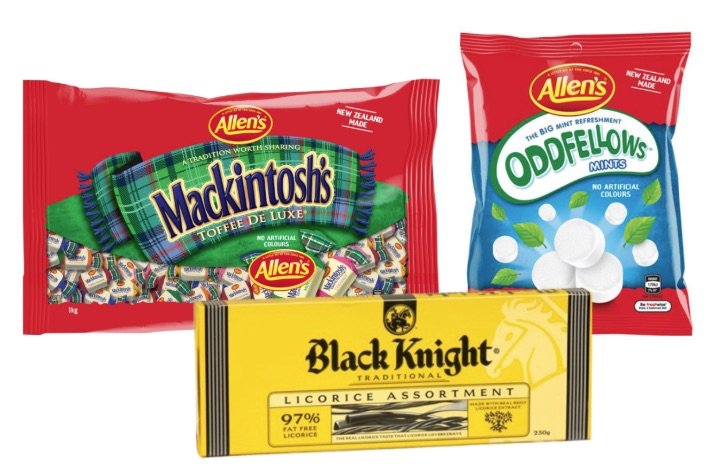 No.4: Allens Confectionery
Allens Oddfellows
Allens Mackintosh Toffees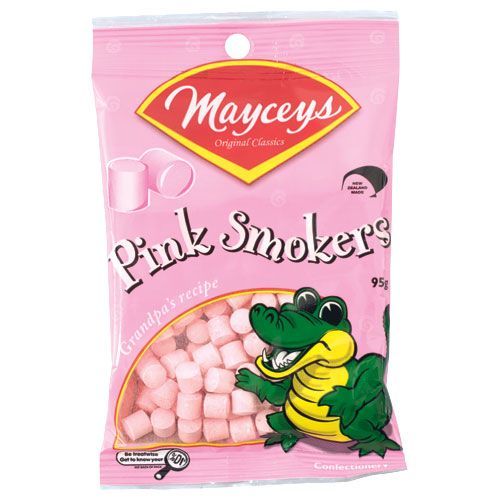 No.5: Mayceys
Pink Lollies NZ style
The Pink Smokers are musk candy pellets that remind me of childhood.
I'm kind of glad that the makers of these classic NZ lollies in New Zealand haven't given into political correctness and changed the 'smokers' name.
More Popular Mayceys Lollies
Banana dots
Black balls
Classic Mints
Crocodile Lollies NZ
GloHearts
Jersey Creme Caramels
Pink Smokers (musk lollies)
Raspberry Drops
Sour Feijoa lollies (soft)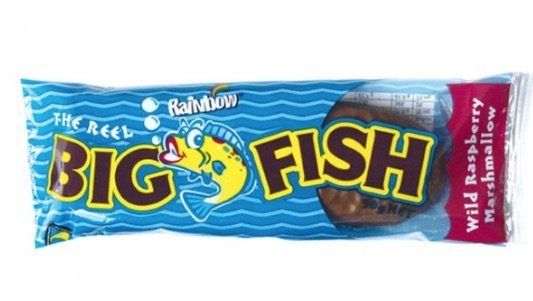 No.6: Rainbow Kiwi Sweets BIG FISH
If you want to buy NZ candy in bulk, Rainbow Candy sells their NZ lollies in 1 kg bags.
They have:
Peaches n Cream
Blackberries n Raspberries,
Airplanes
Assorted Puffs
Emos
Spearmint Leaves, and
Winegums.
Rainbow also make a packet of Baby Fish in a bag, and the BIG FISH – ONE huge marshmallow fish dipped in chocolate.
No.7: Empire New Zealand Sweets
Empire Feijoa Rocks (rock candy) is their main product.
No.8: Kiwiland Kiwi Confectionery
Try Kiwiland Barley Sugars and Orchard fruits hard candy NZ style.
NEW ZEALAND LICORICE
Black Knight licorice is another popular licorice brand in New Zealand.
Black Knight Licorice Assortment
Black Knight Licorice Medley (bag)

POPULAR NZ SWEETS
The best New Zealand candy bars, as far as we are concerned as committed lolly lovers, are:
Nestle Pixie Caramel Bars – chewy caramel flavoured bar, covered in dark choc.
Moro Bars – caramel and nougat layered chocolate bar
Perky Nana bars – Banana flavoured chewy bar, covered in milk chocolate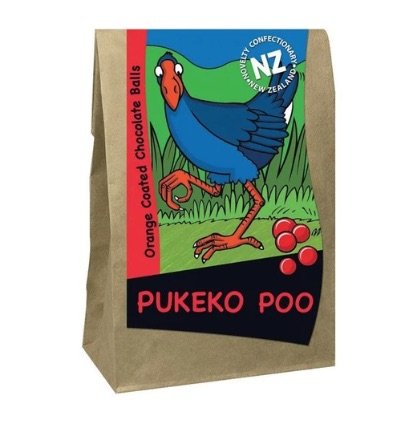 The Best New Zealand Lollies with a difference?
Pukeko Poo!
Thankfully, the poo is NOT collected from the Pukeko droppings.
(Pukeko is one of New Zealand's well-known bird species.)
It's a poo-shaped candy gimmick, perfect for a NZ souvenir.
The Kiwi snacks Poo Candy series includes:
Kiwi Poo
Squashed Possums
Cow Poo and Flies
Candy Kiwi Worms
Candy Penguin Poo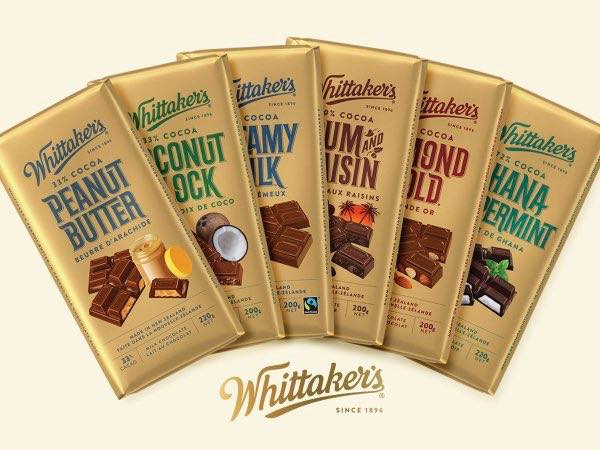 BEST NEW ZEALAND CHOCOLATE SNACKS & BARS
Two foods in New Zealand you must try are:
Cadbury Chocolate Fish AND
But there's MORE Kiwi chocolate brands to get your hands on.
No.1: Whittakers NZ chocolate
Whittakers choc is the everyday kind of chocolate in New Zealand that you can buy in the supermarket or grocery store.
You don't need to wait for a special occasion to eat Whittakers bars like the Whittaker's Peanut Chocolate Block.
Try one of these – they are the most popular chocolates in NZ.
No.2: Whittaker's Artisan Chocolate
Then there's the artisan versions of the everyday chocolate.
Whittakers Chocolates have a huge range of artisan chocolate stocked in supermarkets throughout NZ.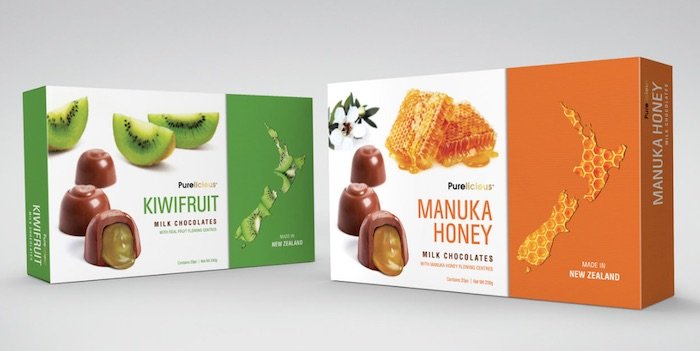 Image credit: Purelicious
No.3: NZ Souvenir Shop Chocolate
Thirdly, try the Purelicious chocolates by Mantell, New Zealand's leading souvenir company.
Strangely, that's not as bad as it sounds.
The Purelicious brand chocolate features iconic NZ flavours not found anywhere else.
The Purelicious soft centre Feijoa chocolates never last long.
They also stock:
Soft centred Kiwi Fruit flavoured chocolate
Golden Fruit flavoured chocolates, and
Soft centred chocolates with Manuka honey centres.
Their Milk chocolate with hokey pokey pieces, and the one with feijoa and almond are two more NZ chocolates worthy of your friends and family.
---
RELATED: Click here for the ULTIMATE GUIDE TO NZ CHOCOLATE & the best NZ Chocolate Factories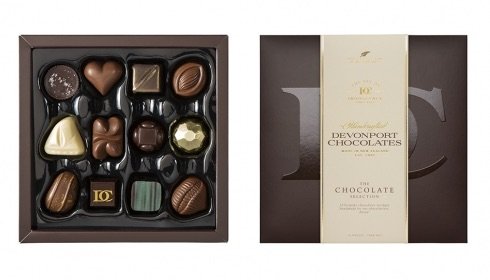 Image credit: Devonport Chocolates
No.4: Handmade NZ Chocolate
Looking for real authentic handmade chocolate in New Zealand?
These purveyors of Bespoke Chocolate in New Zealand are not large producers.
They lovingly create their chocolate offerings in small or medium size batches, so you have to look harder to find it.
Handmade chocolate from New Zealand is best found at regional farmers markets, and gourmet food purveyors collectives.
Some bigger chocolatiers in New Zealand have their own flagship store.
Keep an eye out, or search for:
Devonport Chocolates
House of Chocolate, Auckland
Makana Confections Boutique Chocolate Factory, Blenheim and Kerikeri
Kako Chocolate, Auckland
Schoc Chocolates, Greytown
Special Mention: DQ & Co
This company makes:
delicious Kiwifruit Dark Chocolate Drops
Cranberry Chocolate drops, and
Blueberry Chocolate drops chocolate.
These make a gorgeous gift as the packaging is superb.
Their Sweet Memories Chocolate Hokey Pokey is another elegant chocolate souvenir from NZ.
---
RELATED: Click here for the Ultimate Guide to New Zealand Markets and Farmers Markets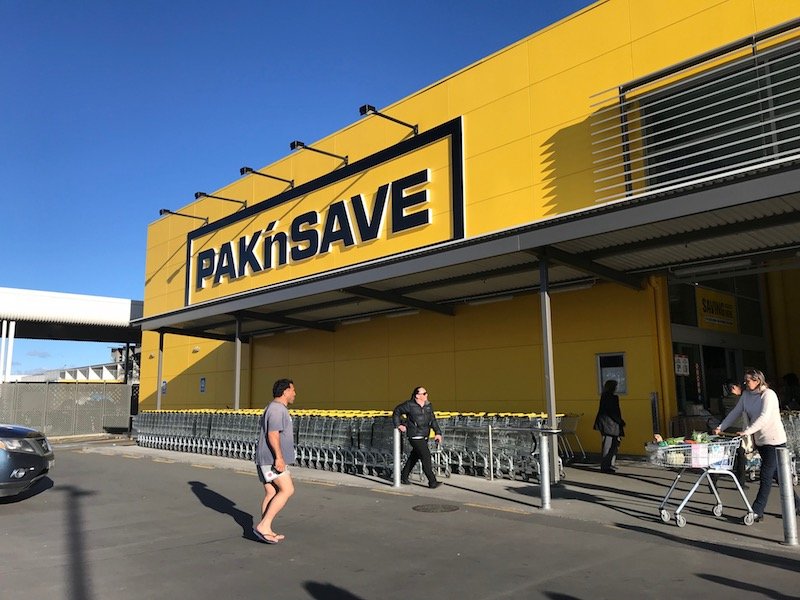 WHERE TO BUY SWEETS IN NEW ZEALAND
You can buy all these New Zealand lollies and sweets at any New Zealand supermarket.
The main New Zealand grocery stores include:
New World
PAKn'SAVE
Fresh Choice
SuperValue, and
Countdown shopping
This is definitely the best place to buy New Zealand candy on a budget.
You can also find these NZ lollies for sale in:
NZ souvenir shops
i-SITE visitor information centres
local corner dairies (New Zealand milk bars)
newsagents
NZ Department stores, and
at the airports.
Don't waste your money buying chocolate gifts from New Zealand at the airport – you'll pay a premium if you buy chocolate there.
Instead, visit PAKn'SAVE supermarket before you leave to stock up on New Zealand chocolate.
Hot tip: Buy twice as many NZ lolly bags and chocolate bars as you planned to.
Lollies from New Zealand are lightweight, and only a few dollars per packet, and I've learned it's always wise to have extra 'gifts' in your suitcase for when Aunty Nora pops around unexpectedly.
I also always grab a couple of extra bags to make up for the ones I know I'll eat before I've even left the country!
---
RELATED: Monster Guide to New Zealand Grocery Stores and Supermarkets (and what Kiwi food to buy there)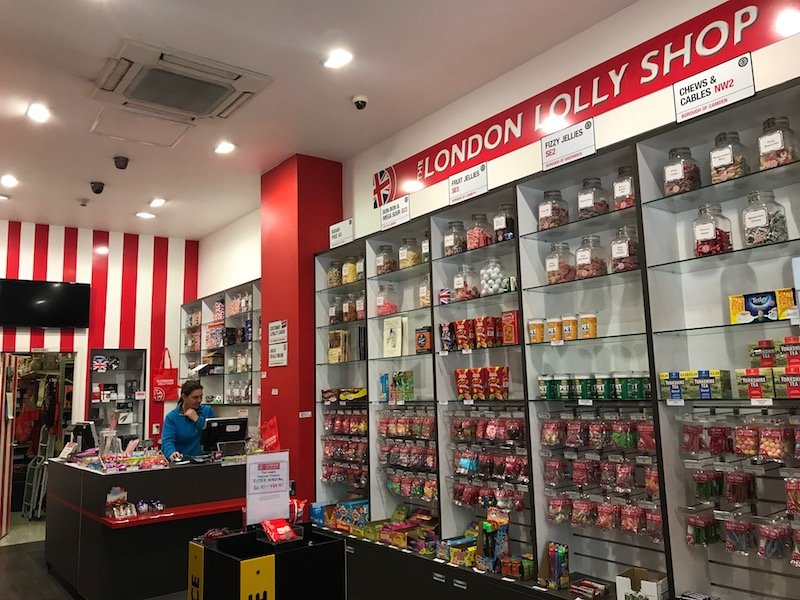 Best NZ Candy Store?
Want to find somewhere to check out all the best NZ candy in one spot.
A Lolly Shop is the answer.
Try:
The Old Lolly shop in Auckland
The LollyShop in Christchurch
Crazy Candies in New Plymouth
The Remarkable Sweet Shop in Queenstown
Granny Annie's Sweet Shop in Dunedin
Kapiti Candy Co in Otaki
Bev's Candy Store in Wellington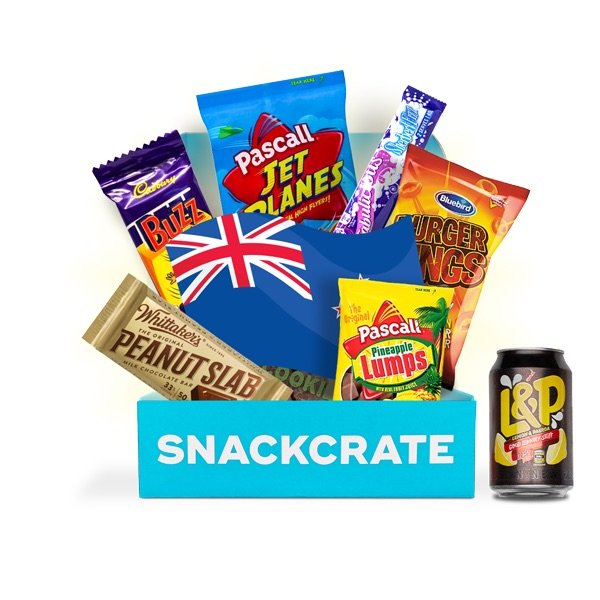 New Zealand Candy Box Company
Interested in ordering New Zealand candy boxes so you can eat New Zealand candy in USA at home?
Try Snack Crate bundles to buy your candy box NZ style.
Or try these bulk buys of NZ lollies:

Looking for MORE places to shop in New Zealand?
Taking a trip to New Zealand anytime soon? Bookmark these fun things to do in New Zealand with kids.