INSIDE: Roam the Gnome's guide to the best fabric stores Auckland, Wellington, and the rest of NZ.
When we travel around, I make a beeline to visit the best fabric stores, the cute craft supplies stores, and the art supplies stores so I can add to my collection of art and craft supplies.
I like to experiment with all kinds of craft, and am always on the lookout for a new craft to learn.
I love to sew too, and cannot resist any opportunity to add to my fabric stash, especially when I find beautiful linens, wool, Marimekko designs, and heavy duty Japanese fabrics.
(My bank account always takes a hit in these shops.)
Take a look below at the best fabric shops in Auckland and throughout New Zealand!
Disclosure: This article contains affiliate links. If you make a purchase after clicking on one of these links, we may receive a small commission at NO extra cost to you. Main image credit: Thomas Timlin via Flickr CC BY-2.0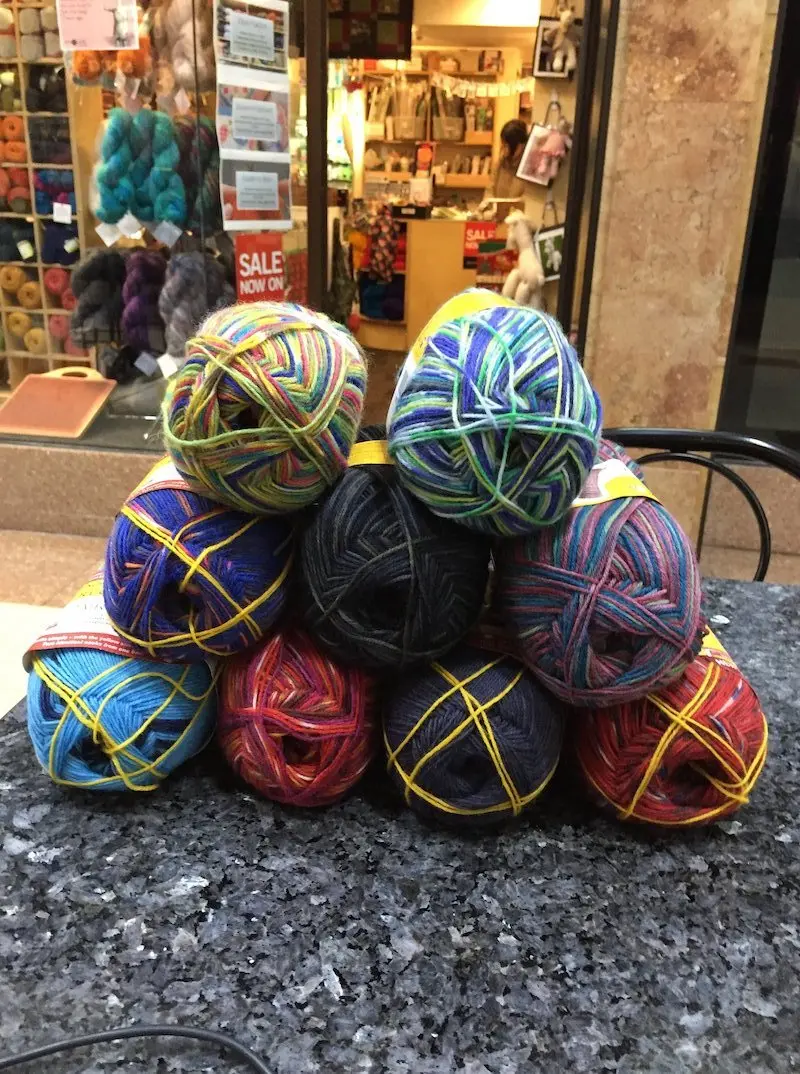 Image credit: New Zealand Fabrics and Yarn
GUIDE TO FABRIC STORES AUCKLAND NZ
Correct at time of publication on Roam the Gnome. Please check with venue for updates. We apologise in advance if there have been any changes we are unaware of. All prices in AUD dollars, unless otherwise stated
I'll be hosting Crafty Travels tours in the next few years, and can't wait to take fellow crafty enthusiasts to the best shops and crafts workshops from around the world, including some of these FUN fabric stores NZ has to offer!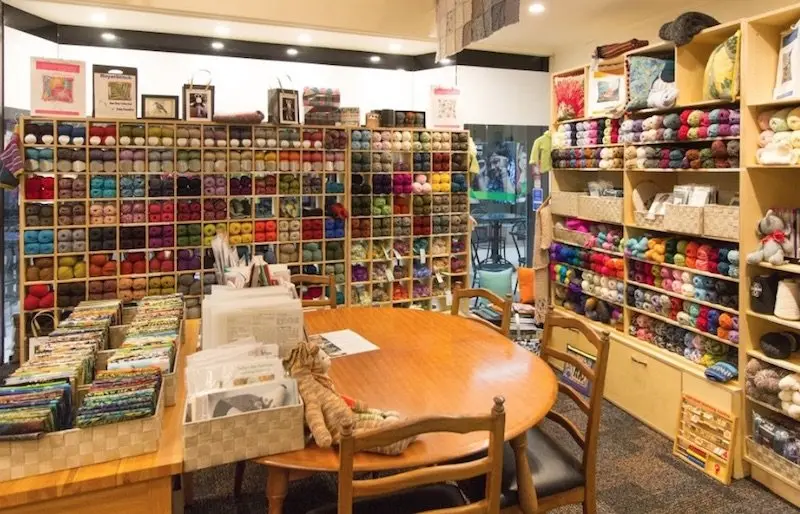 Image credit: New Zealand Fabrics and Yarn
THE BEST FABRIC STORE AUCKLAND?
This is a BIG list of the 9 best fabric and haberdashery stores you'll find in New Zealand.
NZ has a huge community of handcraft enthusiasts, sewing:
handmade clothes
adorable toys
aprons
homewares
souvenirs and gifts
There's lots of places for where these sewing enthusiasts find their supplies in person.
You can too.
Happy shopping!
---
RELATED: The Best New Zealand WOOL SHOPS Auckland & New Zealand
No.1: New Zealand Fabrics and Yarn
New Zealand Fabrics and yarn in Auckland have the ultimate range of high quality quilting calico, fat quarters and panels with New Zealand (and Australian) themes.
In fact, over 200 bolts of New Zealand-themed fabric!
Some visitors think this shop has the best selection of New Zealand fabric in the whole country.
You can also find yarn from NZ heritage sheep, and a large selection of New Zealand yarns including those from boutique producers.
Their wool and yarns come in a range of luscious colours, so good you want to eat them!
---
RELATED: Ultimate Guide to the BEST New Zealand Chocolate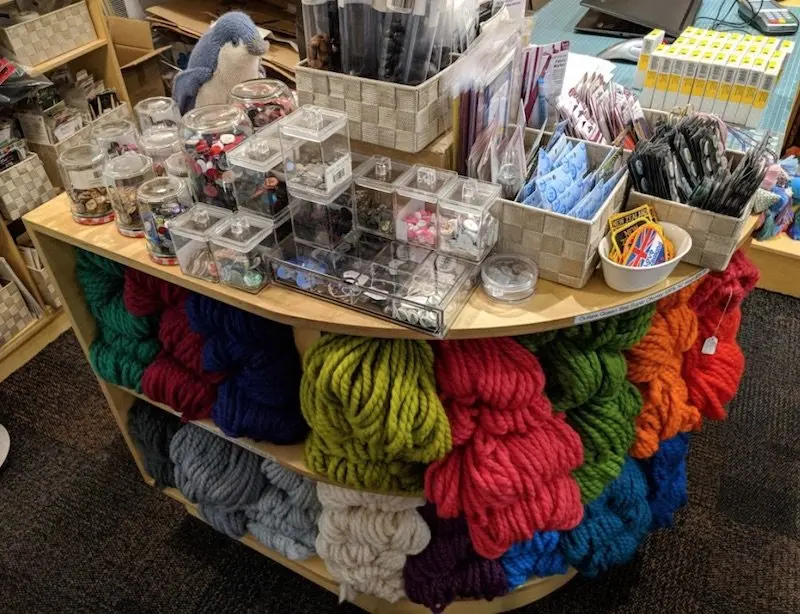 Image credit: Marc Thayer
NZ Fabrics and Yarn sell:
New Zealand designed and produced cross-stitch, embroidery and tapestry kits
Supplies for scrap-booking, sewing, spinning and weaving
A select collection of Australian fabrics and yarns
Circular knitting needles
The shop staff here are welcoming and friendly too, and if you feel so inclined, you can jump into one of the embroidery, knitting, and sewing classes held weekly or Learn to Knit, Learn to Crochet, and Learn to Spin classes each month.
Visit the shop in downtown Auckland.
It's close to cruise, ferry, train and bus terminals, and an easy walk from Sky City and most major hotels.
THE INSIDE SCOOP: NZ Fabrics & Yarn
Address: New Zealand Fabrics & Yarn, Shop 28, Queens Arcade, 34 Queen St Auckland Central 1010 New Zealand
Opening hours:
10 am – 5 pm Monday – Saturday
11 am – 4 pm on Sundays.
Website: Click here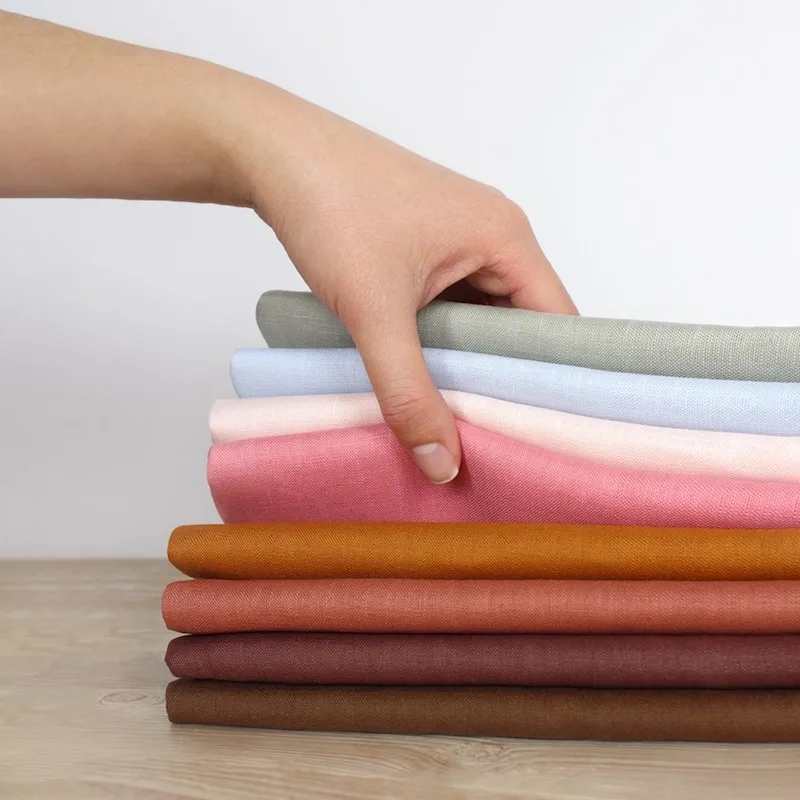 No.2: The Fabric Store Auckland (Wellington, Christchurch, Dunedin too)
I love The Fabric Store NZ because it's orderly and organised, not the usual kind of mess.
The beauty of this store is mesmerising.
Fabrics are stored on tidy rolls, colour coded, and it's easy to see at a glance what you need. Most of their range is made from natural fibres so it's a pleasure to touch and study them before purchase.
Look out for the beautiful New Zealand merino fabric, linens, and their range of leather.
Hot tip: Don't miss the remnants bin.
There's a small haberdashery section near the front counter selling buttons, zippers and threads.
It's definitely not a budget fabric store, but I'm happy to pay a little more for the quality fabric and the elegant experience.
THE INSIDE SCOOP: The Fabric Store NZ
Address: The Fabric Store, 139 Newton Rd, Eden Terrace, Auckland 1010
Opening hours:
Monday – Friday: 9am – 5pm
Saturday – Sunday: 10am – 4pm
Website: Click here
Find the Fabric Store in Wellington, Christchurch and Dunedin here.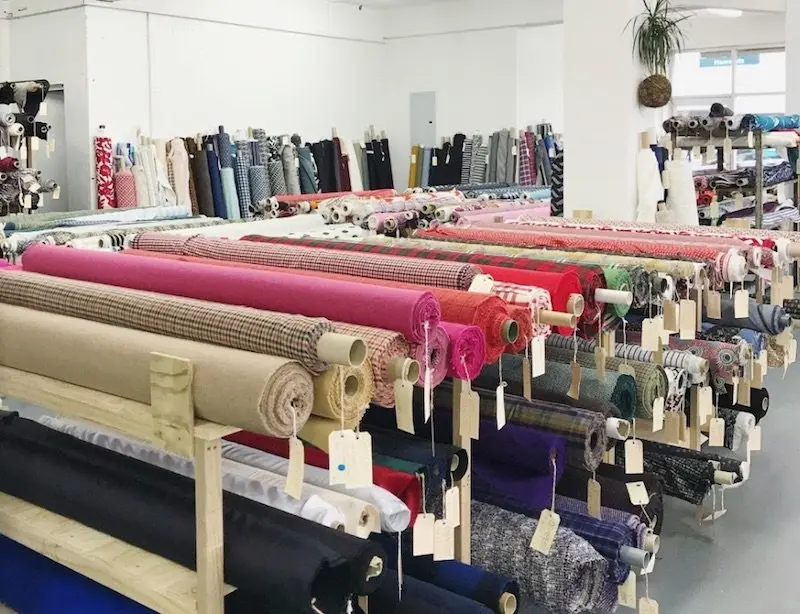 Image credit: Drapers
No.3: Drapers Fabrics Auckland
Beautiful dressmaking fabrics from all over the world, including Italy, France, Japan and Spain.
You'll find natural fibre fabrics in silk, cotton, and linen.
Plus:
rayon and silk
a small range of leather
denim
shirtings
vintage wool suitings
coating
active wear fabrics
Their small haberdashery has buttons, zippers, and thread.
THE INSIDE SCOOP: Draper Fabrics in Auckland
Address: 394 Khyber Pass Road, Newmarket Auckland, 1023 New Zealand
Opening hours:
Monday to Saturday 10 – 5
Sunday 10 – 4
Website: Click here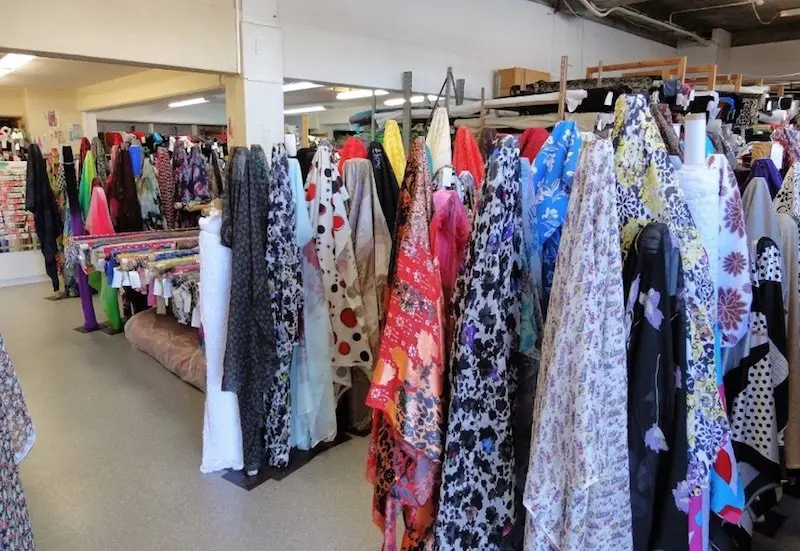 Image credit: Fabric Warehouse
No.4: The Fabric Warehouse Auckland
Find 3000+ varieties of quality fabrics. You will be blown away by the colours, patterns and designs!
The Fabric Warehouse is a one-stop shop for both hobby sewing enthusiasts and professional sewers.
It's a smaller warehouse but filled from top to bottom.
They don't waste space here.
Find fabrics including:
Woollen
Silk
Linen
Cotton
Viscose
Polyester
Nylon
Coat fabric
THE INSIDE SCOOP: Fabric Warehouse Shop Mt Eden
Address: Fabric Warehouse is at 5 Harold St, Mt Eden, Auckland 1024
Opening hours:
Monday to Friday: 09:30 am – 05:00 pm
Saturday to Sunday: 10:00 am – 04:00 pm
Website: Click here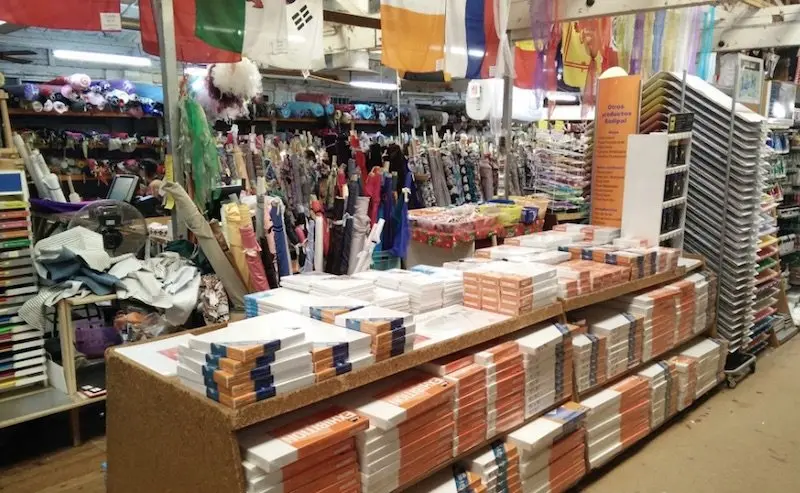 Image credit: Geoff's Emporium by Wesley Johnson
MORE FABRIC SHOPS AUCKLAND
No.5: Geoff's Emporium
This is a sewing lover's dream shop, a veritable treasure chest with bolts of fabric in every colour imaginable, at bargain prices.
It's a tight squeeze at times if there are lots of other customers there at the same time, but when you are with like-minded kin, that's ok.
Put on your overalls and go hunt for the good stuff.
There's fabric, haberdashery assortments and a good button selection.
Plus art canvases, paint, paper, scrapbooking materials, dress up costumes, party goods, and more.
A TREASURE CHEST! Who knows what else you'll find.
THE INSIDE SCOOP: Geoff and Ike's Emporium
Address: 274 Dominion Rd, Mount Eden, Auckland 1024
Website: Click here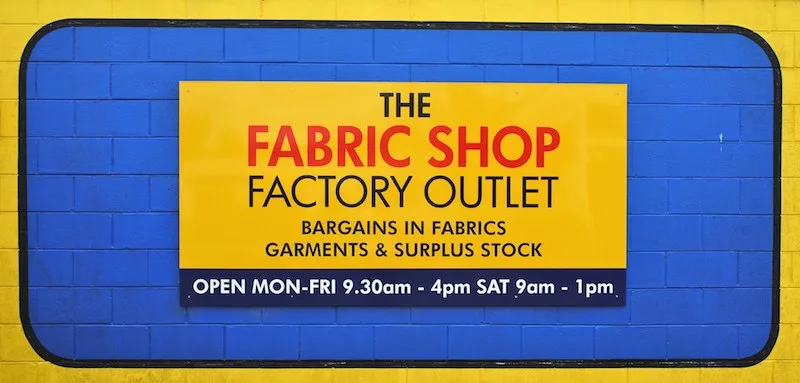 No.6: The Fabric Shop Otara
The Otara Fabric Shop is a huge factory outlet full of fabric in every colour, material, style, and size, at a price everyone can afford.
Find:
dressmaking fabrics – stretch satins, rayon, polyester jacquards, printed cotton lycra, and polyester twill. You might even snake skin printed rayons!
swimwear, and active wear fabrics
fashion knits
cotton embroidered fabrics
natural fibres including merino fabric, cotton knits, and sand washed linens (and linen/polyester combination in beautiful plain pastels)
dancewear, netting
curtain fabrics and limited upholstery
sweat shirt fabrics
fabrics for formal dress making, including sequinned fabric
stretch laces
trims
Their haberdashery stocks elastic, zippers, feathers, threads, buttons, and more .
THE INSIDE SCOOP: The Fabric Store Otara
Address: 21 Lovegrove Cres, Otara, Auckland
Opening hours: 9.30am to 4pm, Monday to Friday
Website: Click here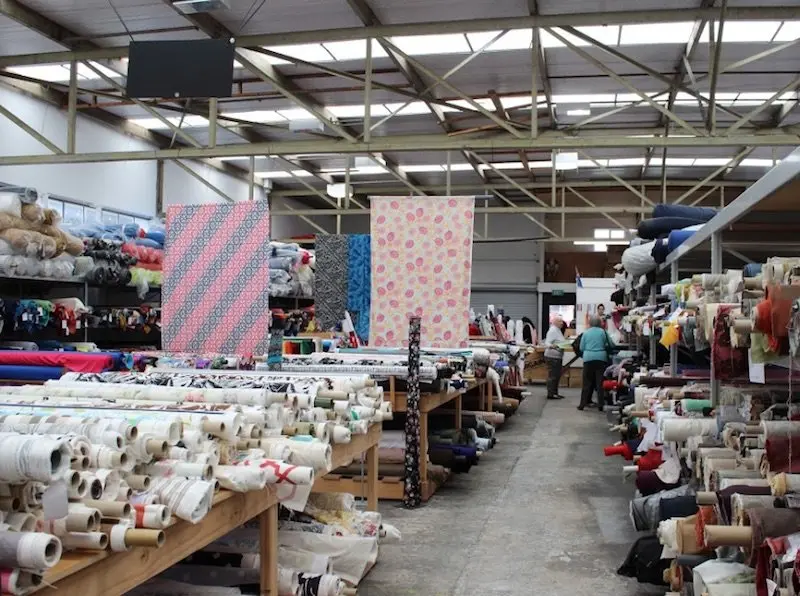 Image credit: Daisy Braid
No.7: Nick's Fabrics Auckland
If you are visiting the Fabric Shop Otara, pop into Nick's fabrics too. This huge space is a fabric supplier and outlet store filled with rolls and rolls of every kind of fabric known to woman. (or man).
Their claim to fame is that they are the cheapest fabrics in town!
The range is eclectic and there's a bit of everything in all colours, designs and prints.
They stock:
All furnishing fabrics
Upholstery, drapery, and taffetas.
Dress fabrics including polyester georgette and wool blends. (Too many to list.) Prices start from $4 per metre
Find the merinos, silks, and cotton flannels hiding in amongst the rest!
THE INSIDE SCOOP:
Address: 5 Lovegrove Cres, Otara, Auckland 2023
Opening hours:
9am to 4pm, Monday to Friday
9am to 3pm Saturday
Website: Click here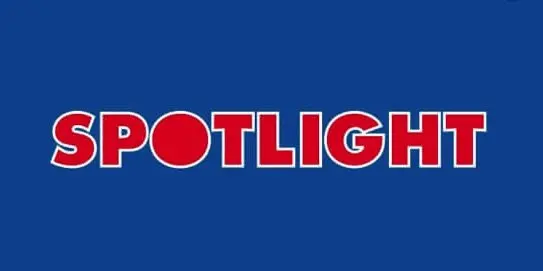 No.8: Spotlight Auckland
This is your back up fabric shop if everything else fails.
THE INSIDE SCOOP: Spotlight NZ
Address:Find the Spotlight store in Auckland at 67 Cavendish Drive, Manukau City, AUK 2104 New Zealand.
No.9: Bolt of Cloth Auckland Newmarket (CLOSED)
Unfortunately, Bolt of Cloth at 2-8 Osborne St, Newmarket, Auckland 1023 has closed for good.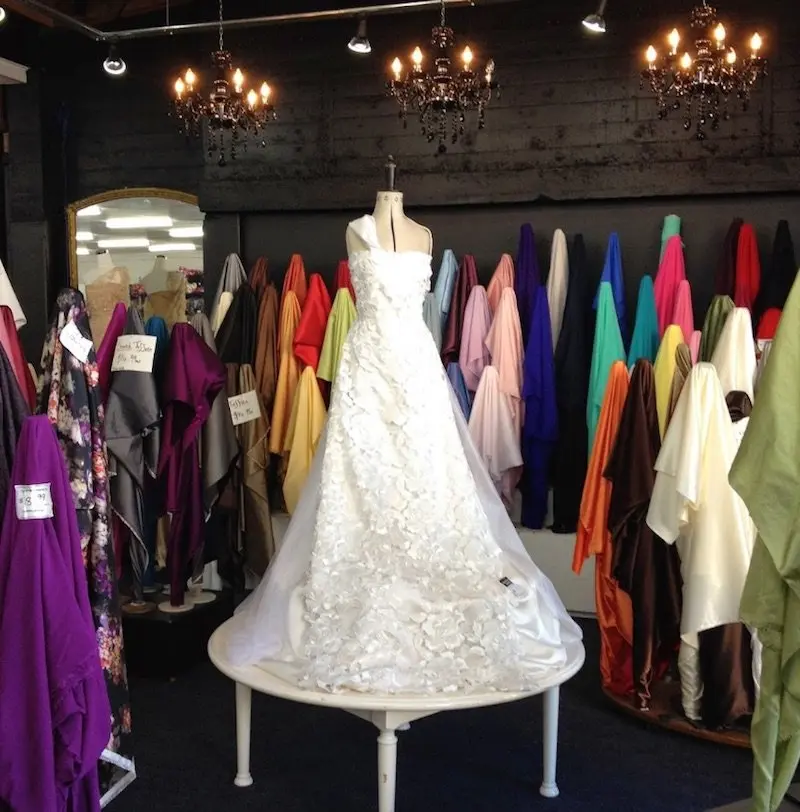 GUIDE TO FABRIC STORES HAMILTON
No.1: Moreland Fabrics
Moreland Fabrics is the largest fashion fabric retail chain store in New Zealand, with five stores in the North Island.
Family owned and operated, they have been in business for over 40 years, and because of that, have access to fabulous fabric suppliers from around the world in 20 countries, including an exclusive range.
If you are looking for Bridal fabrics, this is your go-to fabric shop as they stock Bridal lace, chiffons, silks and accessories, Mother of the Bride and evening fabric for all occasions.
Find:
dress fabrics
crepe, cotton, chiffon, calico, body mesh, polyester, poplin, organza, viscose, rayon
felt and wool fabrics
denim
vinyl
furnishings, curtain and upholstery fabrics
Christmas fabrics
safety gear fabric
lace
stretch fabrics
dance fabrics, taffeta, netting, tulle,
quilting fabrics and fat quarters
trims
THE INSIDE SCOOP: Moreland Fabrics in Hamilton
Address: 56 Rostrevor Street, Hamilton
Opening hours:
Monday to Friday 9:00 – 5:30
Saturday 9:00 – 5:00
Sunday 10:00 – 4:00
Website: Click here
They also have fabric stores in Tauranga, New Lynn, Palmerston North, and Lower Hutt near Wellington.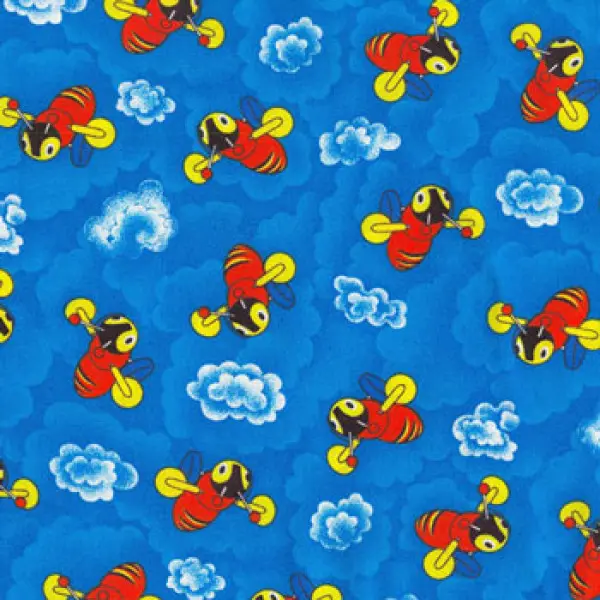 No.2: Backstreet Bargains Factory
New Zealand's biggest selection of fabric rolls, remnants, and fabric by the metre.
My favourite is their range of New Zealand themed fabric and Kiwiana, including Buzzy Bee fabric, New Zealand flowers, New Zealand birds including Fantails and pukekos, New Zealand flowers, sheep prints, funny Kiwi prints, and Maori designs.
Plus a giant haberdashery selection.
Find:
cotton fabrics
lace material
linen
curtain fabric
satins
wool materials and silks
dancewear
lycra
THE INSIDE SCOOP: Backstreet Bargains
Address: Unit 9, 43 – 45 The Boulevard, Te Rapa, Hamilton. New Zealand
Opening hours:
Monday to Friday 10am – 4.30pm
Saturday 10am – 4pm
Website: Click here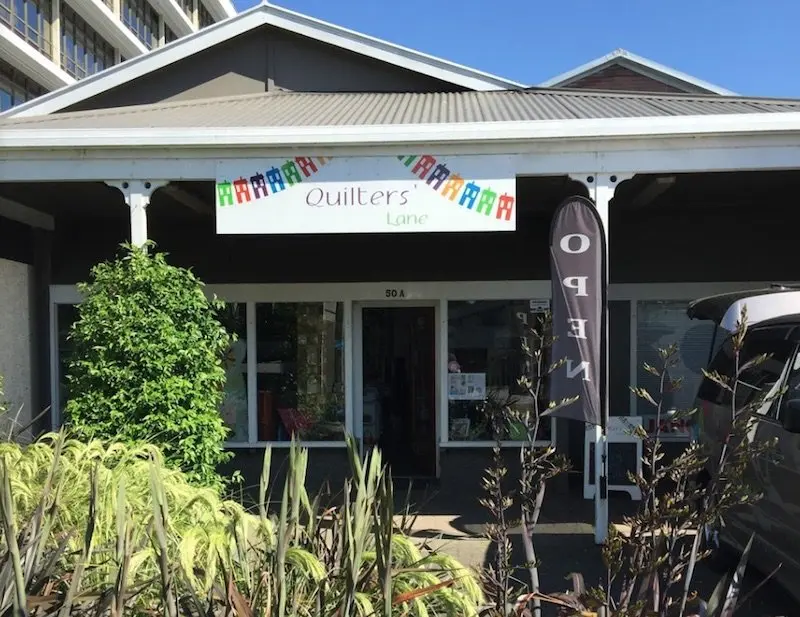 GUIDE TO FABRIC STORES WELLINGTON
No.1: Quilters Lane, Masterton
This is the shop to visit if you want to make a beautiful quilt from New Zealand textiles.
There's the full range of quilting fabric, plus classes from beginner to advanced levels.
Stocking:
all the colours and patterns of fabrics including Christmas fabric, fabric bundles and pre-cuts, and blocks of the month
quilt batting
Limited edition patterns and fabrics by well known designers including Anna Maria Horner
threads
quilting and sewing books
tools
sewing machines, and more.
They are also the accredited Janome and Brother Sewing Machine Dealers for Sales, Repairs and Parts in the area.
THE INSIDE SCOOP: Quilter's Lane Shop
Address: 50a Queen St, Masterton 5810 New Zealand
Opening hours:
Tuesday to Friday 9.30am to 4.30pm
Saturday 9.30-3pm
Closed Sundays and public holidays
Website: Click here
No.2: Other Fabric Stores in Wellington
Spotlight
Moreland Fabrics in Lower Hutt
The Fabric Store Wellington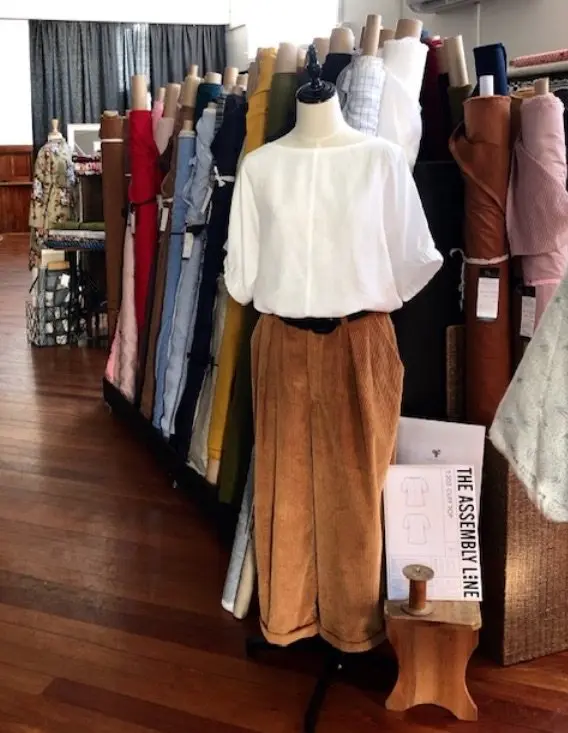 Image credit: Miss Maude Sewing
GUIDE TO FABRIC STORES GREYTOWN
No.1: Miss Maude Sewing
This is a delightful shop that will thrill handcraft lovers and sewers with a passion for good design too.
They sell divine fabric in all the colours, as well as beautiful simple patterns, and pattern books.
corduroy (my favourite winter fabric ever)
cashmere
tweed
merino
tencel
stretch woven cottons
oilskins
silk
gauze
wool
denim
linen
cotton
knits
Plus a range of organic cotton canvas, cotton poplin and organic cotton knits.
Their haberdashery range includes piping, buttons, labels, scissors, ribbon and trim, elastic, zips, bag making equipment and a range of vintage notions too.
If you are wondering what to buy in New Zealand for a crafty friend, check out their range of stationery, including the divine MAKING Magazine.
THE INSIDE SCOOP: Miss Maude Greytown
Address: 11 Hastwell St, Greytown 5712 Wairarapa, New Zealand
Opening hours:
Thursday – Saturday 10am – 3pm
​Monday 10am – 3pm
Website: Click here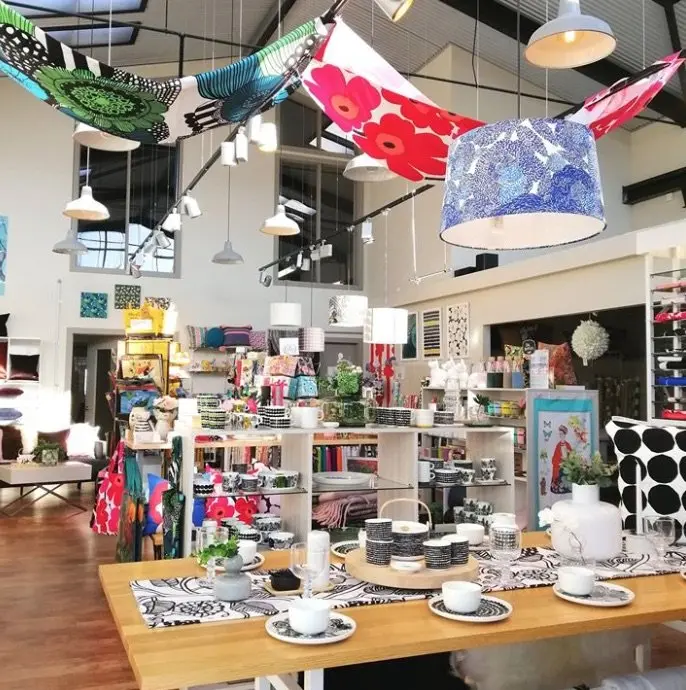 Image credit: Bolt of Cloth
GUIDE TO FABRIC STORES CHRISTCHURCH
No.1: Bolt of Cloth Christchurch for Marimekko Fabric
If you love Marimekko, you will adore this fabric store filled to the brim with Marimekko fabric, and topped up with Marimekko homewares and home decor items including bags, aprons, totes, pillows, cards, small handcrafts and more.
Most of the fabric is thick, heavy duty cottons, quilting fabric, and canvas ideal for homewares, curtains, quilts and pillow covers.
There is a smaller range of light cotton and linen fabrics for aprons and clothing.
PS: The Tui and Puhutukawa flower fabric at the top of the page is from Bolt of Cloth here.
Fun Fact: You can visit the Marimekko outlet store when you visit the real Santa in Lapland, like we did!
Take a look inside the Marimekko fabric outlet store in Finland here.
THE INSIDE SCOOP: Bolt of Cloth Shop
Address: The Tannery, 3 Garlands Road, Woolston, Christchurch
Opening hours: Monday – Sunday 10am – 5pm
Website: Click here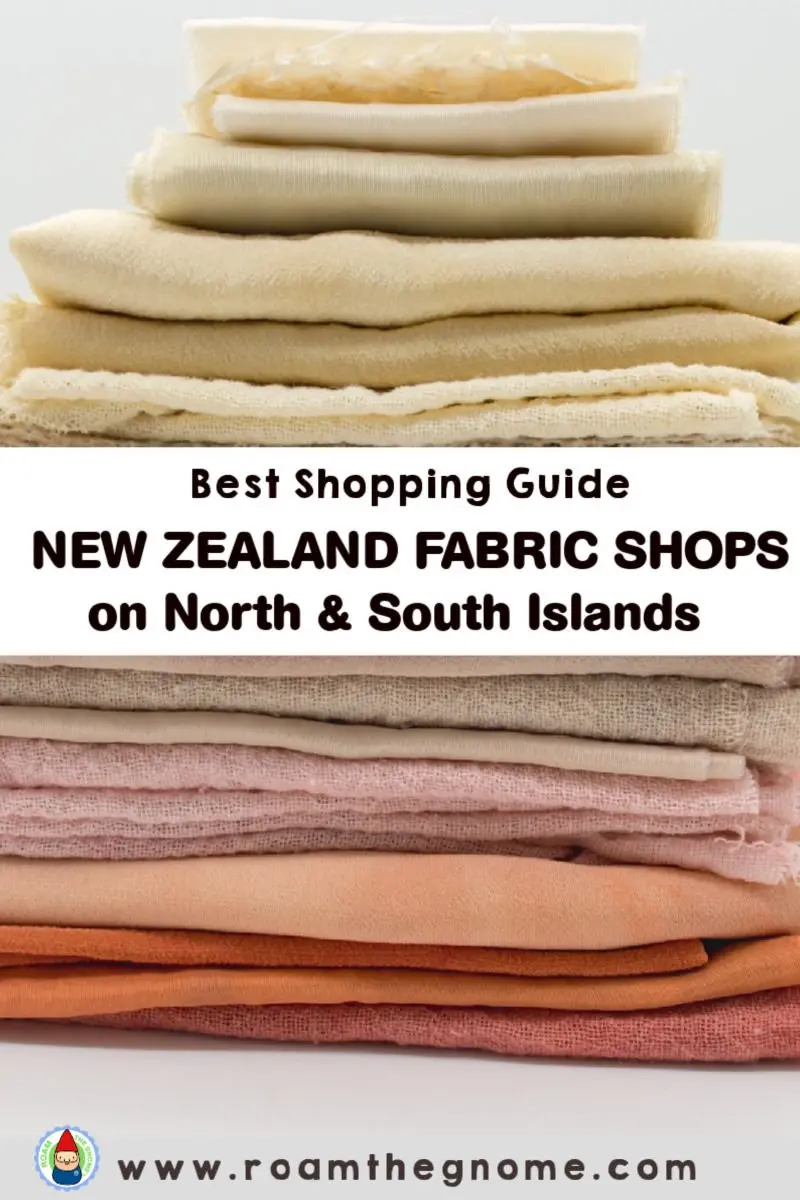 No.2: The Fabric Store Christchurch
There's also an outlet of the Fabric Store in Christchurch too.
They stock a curated range of designer ends, mill overruns & exclusive fabrics for the creative community.
THE INSIDE SCOOP: Fabric Shop Christchurch
Address:Shop 46/3 Garlands Rd, Woolston, Christchurch 8023, New Zealand
Image credit: Chris via Flickr CC BY-SA 2.0
MORE FABRIC STORES IN NEW ZEALAND
No.1: Spotlight Stores
You can find the list of Spotlight stores in New Zealand, and their address, opening hours etc, here.
There are 19 Spotlight stores in New Zealand altogether in:
Albany
Christchurch
Dunedin
Hamilton
Hastings
Henderson
Invercargill
Kapiti
Nelson
New Plymouth
Palmerston North
Queenstown
Rotorua
Sylvia Park
Tauranga
Wairau Park
Wellington
Whangarei

Looking for MORE places to shop in New Zealand?
Taking a trip to New Zealand anytime soon? Bookmark these fun things to do in New Zealand with kids.