INSIDE: Roam the Gnome's Guide to the BEST New Zealand Grocery Stores and Supermarkets.
This is the ultimate list of New Zealand grocery stores chains and where to find them.
Plus a guide on what to buy at a NZ supermarket to make traditional New Zealand food that locals eat. (See below)
The best New Zealand grocery stores to buy New Zealand food products are:
New World New Zealand
PAKn'SAVE
Fresh Choice New Zealand
SuperValue foodtown, and
Countdown New Zealand
Countdown is the largest full service supermarket chains in New Zealand. There are more than 180 stores nationwide.
Four Square has more than 280 smaller supermarkets for groceries across New Zealand, mostly in smaller towns and country destinations.
These New Zealand supermarket chains have all the food you need to make NZ specialities!
See the INSIDE SCOOP below for details on their locations.
Disclosure: This article contains affiliate links. If you make a purchase after clicking on one of these links, we may receive a small commission at NO extra cost to you. Main Image: Russell Street via Flickr CC BY-SA 2.0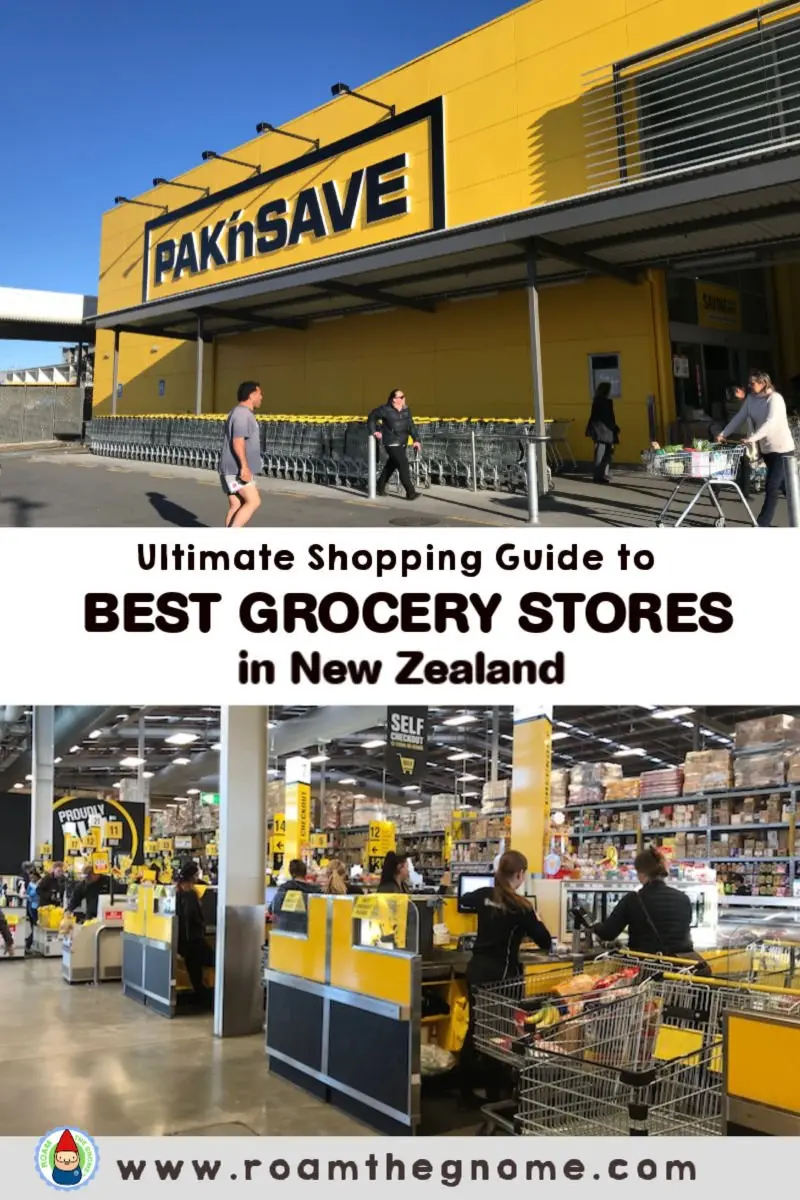 Guide to the Best Supermarkets in New Zealand on a Budget
Correct at time of publication on Roam the Gnome. Please check with venue for updates. We apologise in advance if there have been any changes we are unaware of. All prices in NZ dollars, unless otherwise stated
Where to find the Best New Zealand Supermarket for saving money?
Pak N Save has a great fuel discount system.
Fuel is so expensive in New Zealand, and food prices are not much better.
Shopping at Pak nSave helps us to save money on food and fuel. It's why we love to shop there.
Supermarket vouchers for fuel discounts are vital in New Zealand for budget travellers, so take advantage of the discount.
It makes a big difference at the bowser.
Find them at Countdown and New World Supermarket New Zealand too.
Best New Zealand Grocery Stores for Travelers
Hot Tips: You can also ask for a Tourist Card at Countdown and New World, and get discounts on food at these supermarkets in NZ too.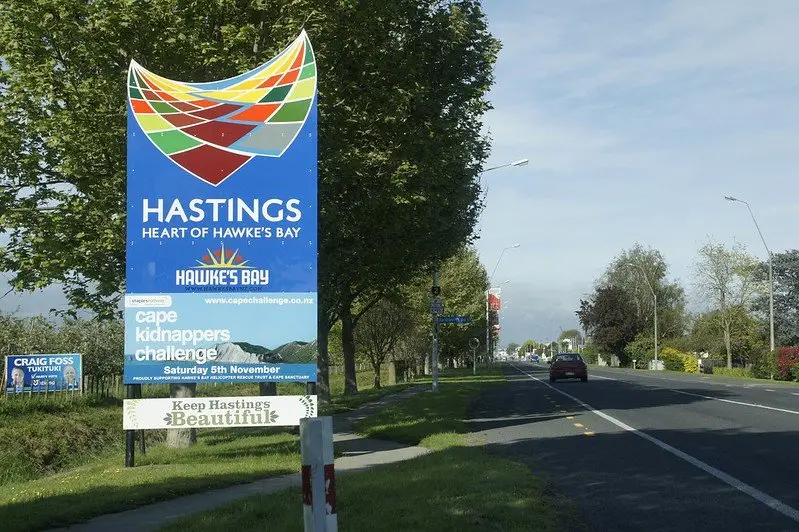 Image credit: ItravelNZ via Flickr CC BY-2.0
More Places to go Food Shopping in New Zealand
No.1: Local Dairy Convenience Stores in New Zealand
You can also find a local 'dairy', which is the term in New Zealand for a convenience store. Four Square is the dairy you are most likely to see as you travel around New Zealand.
There's also Night n' Day convenience stores.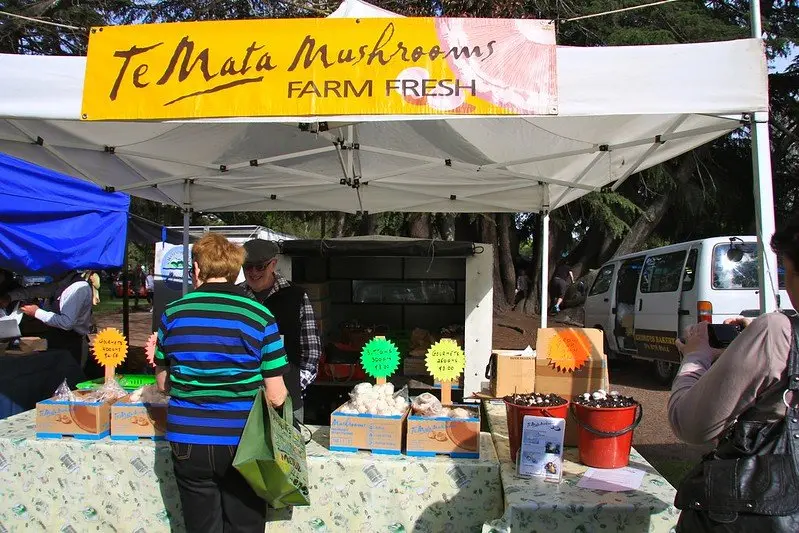 Image credit: ItravelNZ via Flickr CC BY-2.0
No.2: Farmers Markets in New Zealand
Farmers markets in New Zealand are another place to buy fruit and vegetables, ready to eat food, and regional food souvenirs from the local producers.
Check out our list of New Zealand farmer's markets, in our New Zealand Markets Guide.
Now you know where to buy food in New Zealand, here's a list of the best things to buy in a New Zealand grocery store.
This is the FUN part.
SHOPPING!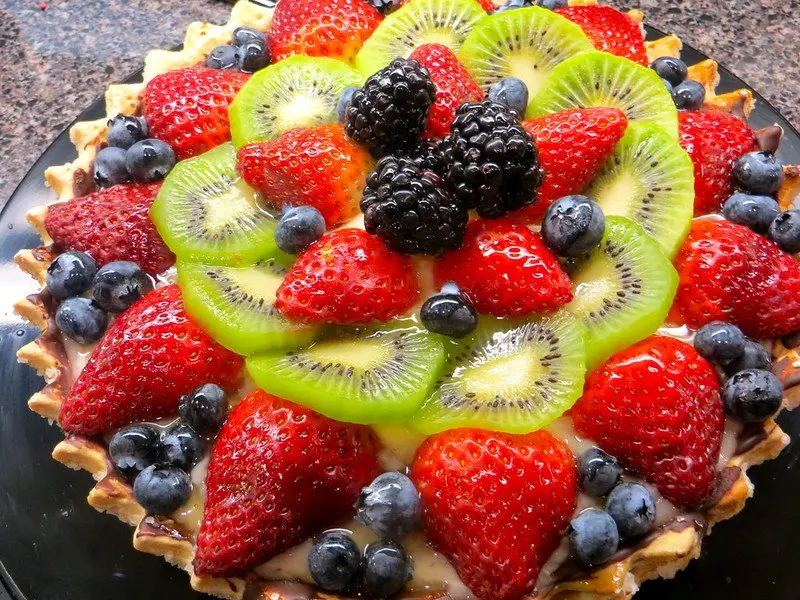 Image credit: Torbak Hopper via Flickr CC BY-2.0
New Zealand Traditional Food
We head to a local supermarket on all our travels.
It's where you can learn the National Food secrets.
The supermarket is the place to discover the traditional New Zealand food that the locals are cooking from everyday kiwis doing their regular New Zealand food shop.
Without being "stalkerish", watch what the locals put into their trolleys.
Then copy!
Be sure to READ the tins, bottles, boxes and packets too.
There's great authentic kiwi recipes on many of them.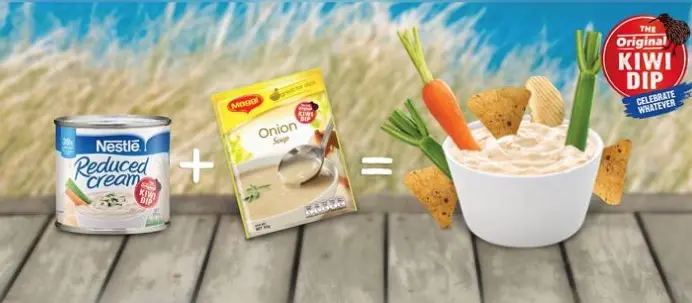 Popular NZ Food to make – Savoury Foods
The most popular New Zealand dinners include Bacon and Egg Pie, Fried Maori Bread, Leg of Lamb, and Whitebait Fritters.
The most popular snack is onion dip! (And something to dip in it – carrot sticks, celery sticks, or potato crisps)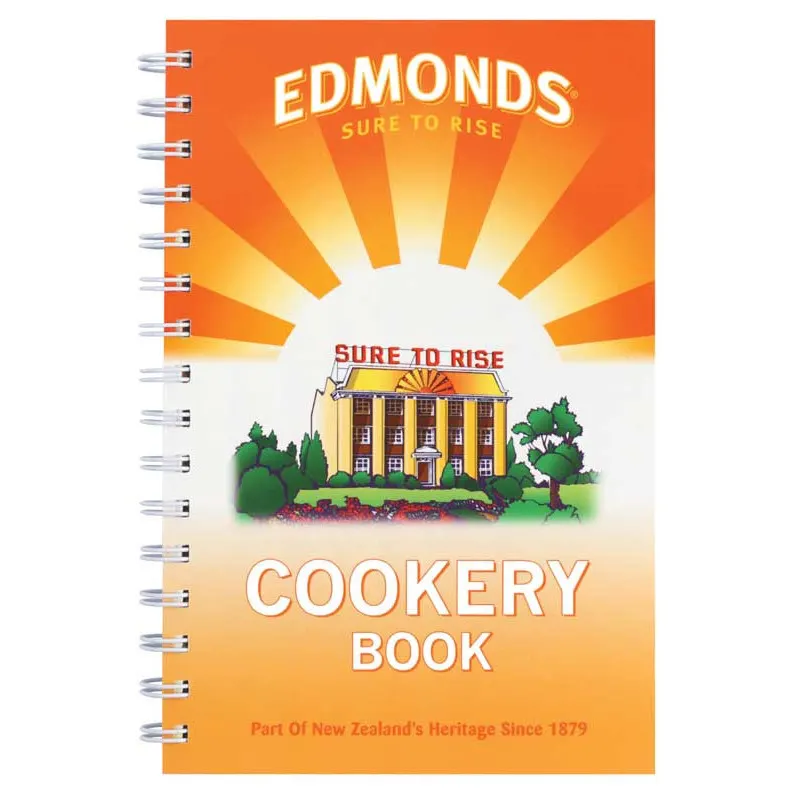 New Zealand Cookbook Suggestions for Savoury Dishes
The Great New Zealand Cookbook collection features over 200 New Zealand cuisine recipes from eighty of New Zealand's finest cooks, chefs and bakers.
The other go-to New Zealand cook book is The Edmonds Cookery book, originally released as Sure to Rise, is a household mainstay in NZ. The Edmonds cookery book has sold over 3 million copies since it was first published in 1908, making it the best-selling New Zealand book by far.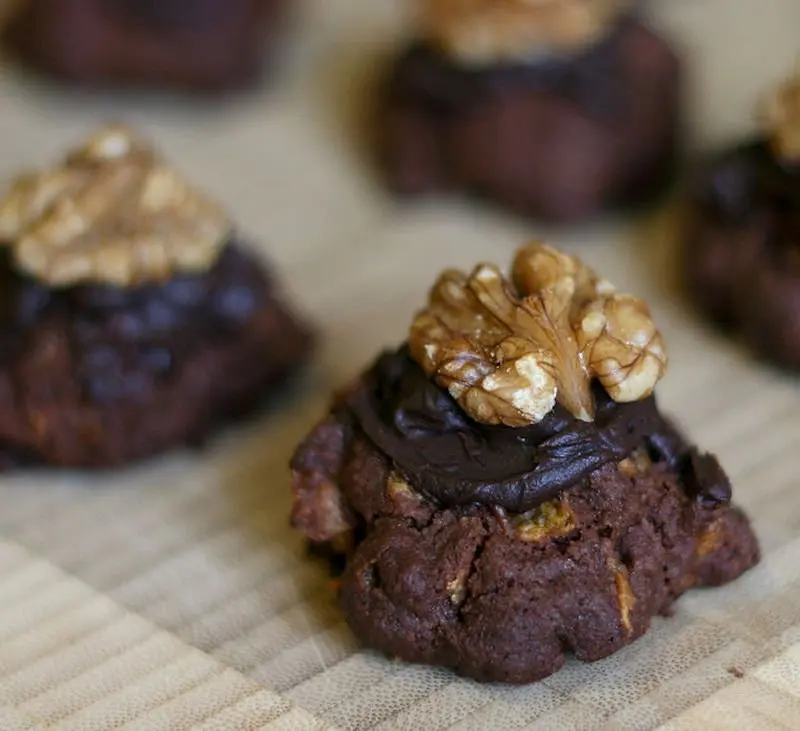 Image credit: Monica Shaw via Flickr CC BY-4.0
Popular Sweet Treats in New Zealand
Try out a few traditional Kiwi recipes such as Anzac biscuits, Afghan biscuits (pictured above), and jelly slice, but the best food in New Zealand in my opinion is my favourite LOLLY CAKE.
I highly recommend The Great New Zealand Cook The Great New Zealand Baking Book – it has ALL the favourite New Zealand baking recipes for the popular NZ slices including Lolly Cake.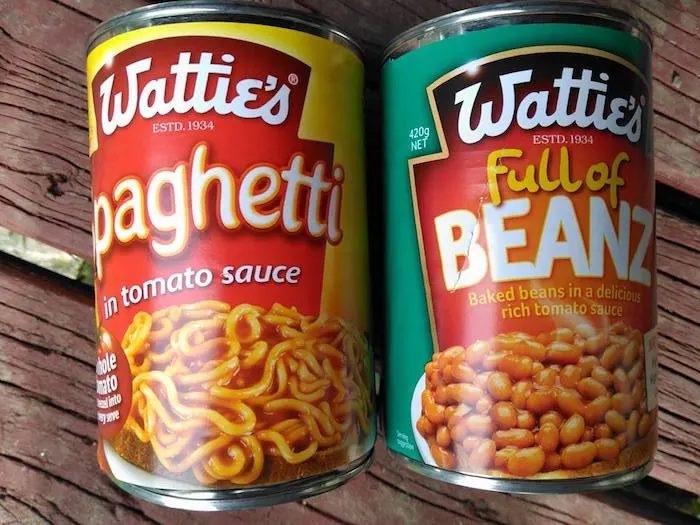 Image credit: Source unknown
BEST FOOD SOUVENIRS FROM NEW ZEALAND
What to buy in a New Zealand Grocery Store?
The best things to buy in New Zealand for foodies at one of the NZ grocery stores is a selection of popular New Zealand brands of food they can use in their own recipes back home.
You can also buy new food products, condiments, sauces and pantry staples they haven't tried or used before.
Here's a tip: Some of the best New Zealand recipes are on the box or bag of the food products you use in the recipe!
Take a look at our sample of well known Kiwi food you might buy for a fun NZ souvenir gift.
Image credit: Source unknown
No.1: New Zealand Breakfast Foods
New Zealand products you should buy in a New Zealand grocery store for breakfast.
Skippy cornflakes
Sanitarium Weeties
Vogels muesli
Marmite (as pictured above. Which one are you?)
Weetbix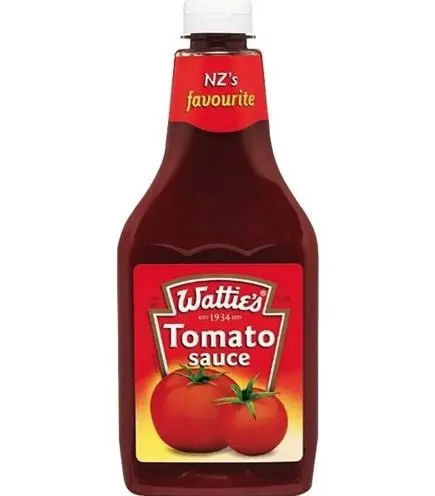 No.2: Pantry Staples for savoury dishes
Watties tomato sauce is a pantry staple Kiwis buy from their local grocery store in New Zealand.
So are Watties baked beans and Watties spaghetti in a tin.
Nestle Reduced Cream and Maggi Onion Soup Mix – to make the famous Kiwi Onion Dip!
New Zealand Golden Churn butter in a can
Cerebos brand: Sweet fruit chutney, piccalilli or tomato relish
Whitlocks brand: Thick mint sauce or Worcester sauce
Speights Old Dark BBQ sauce
Watties baked beans, Watties spaghetti, Watties condensed soups
Watties Bit on the Side sauces, Watties Tomato sauce
New Zealand's famous Kaitaia Fire Chilli Pepper Hot Sauce, made with organically grown cayenne chillis
Waha Wera green hot sauce (Kiwifruit, Habanero and Manuka honey) sauce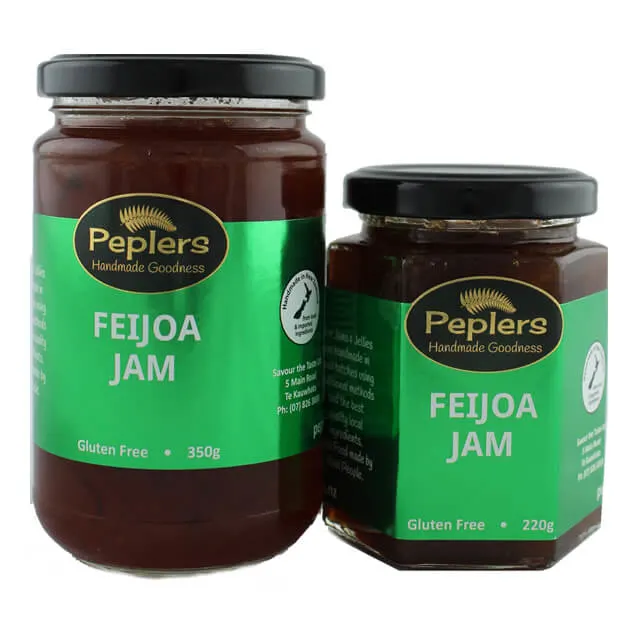 No.3: What to buy in New Zealand for friends
You can't go wrong with any of these kiwi staples.
Chelsea Golden Syrup
Feijoa jam
Golden kiwifruit jam
Edmonds Brand: Custard Powder, biscuit and cupcake mixes, baking soda, baking powder
Pavlova egg (never risk that egg white flop again!)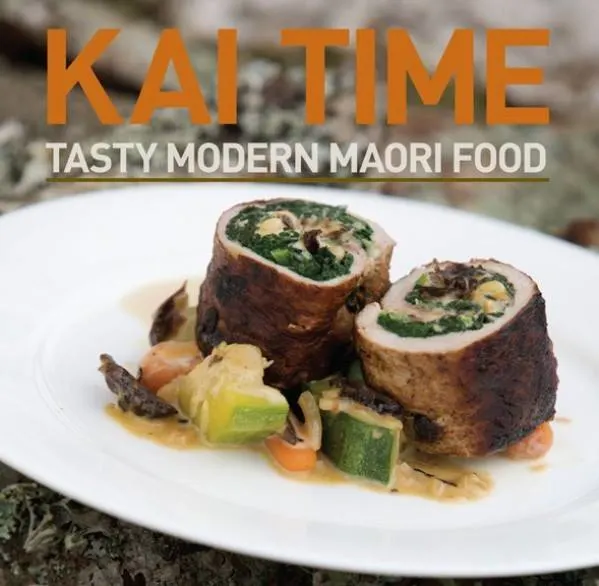 No.4: Traditional Maori Food
Find Charles Royal Maori Food (Kinaki Wild Herbs):
Dried Kawakawa (Maori bush basil)
Dried Horopito (Maori pepper)
If you want to experiment with these herbs, take a look at Kai Time, the cookery book of tasty modern Maori food.
There's recipes including:
Eel and Whitebait Omelette
Venison with Blackberry Jus
Kumara and Potato Rosti and Pikopiko; and
Roast Garlic and Thyme Prawns on Coconut Jasmine Rice.
Kai Time redefines Maori cuisine by blending traditional Maori ingredients and practices with the many modern culinary styles of New Zealand.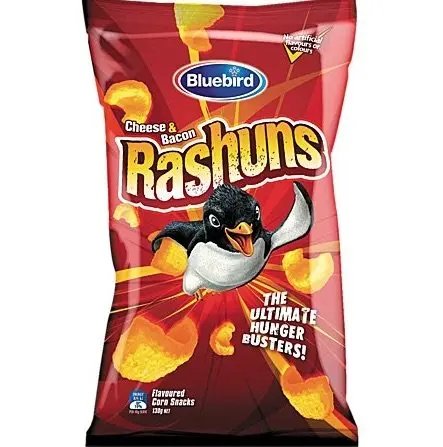 MORE NEW ZEALAND FOOD PRODUCTS
No.5: The Best New Zealand Snacks
New Zealand supermarkets are filled with Kiwi Souvenir options for friends, family, and kids (of all ages!)
Check out the chip aisle, the biscuit aisle, and the drinks aisle to find delicious treats you won't find anywhere else in the world.
Want to know more about the best NZ souvenirs you can eat? Check our guide to NZ snacks.
---
RELATED: The Ultimate Guide to New Zealand Snacks and Drinks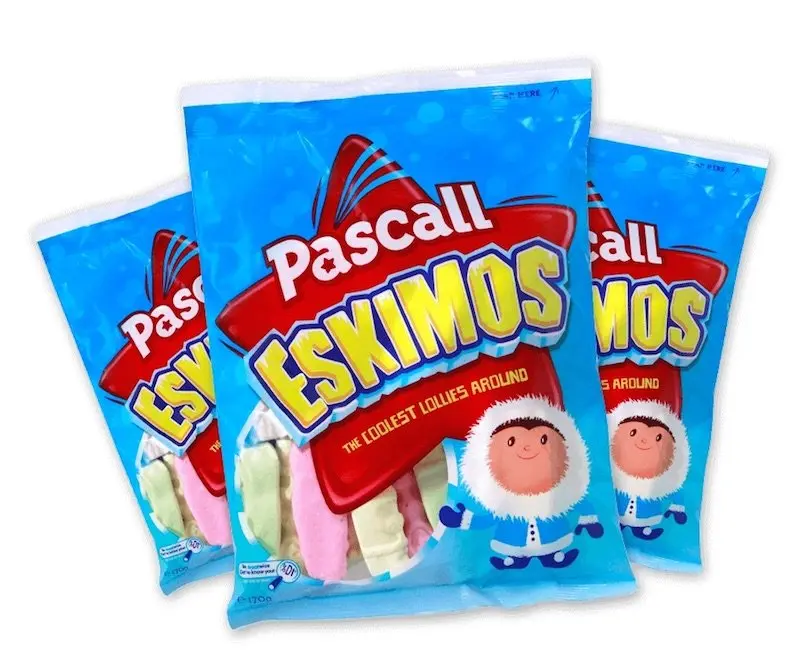 No.6: The Best New Zealand Lollies
NZ sweets rule. There sweet as, bro.
Eskimo lollies in New Zealand are our favourite.
Similar to musk sticks in flavour, these eskimo shaped candy bars are super cute too.
We love Kiwi candy so much, we wrote a guide to it. Take a look.
---
RELATED: The Ultimate Guide to the Best New Zealand Candy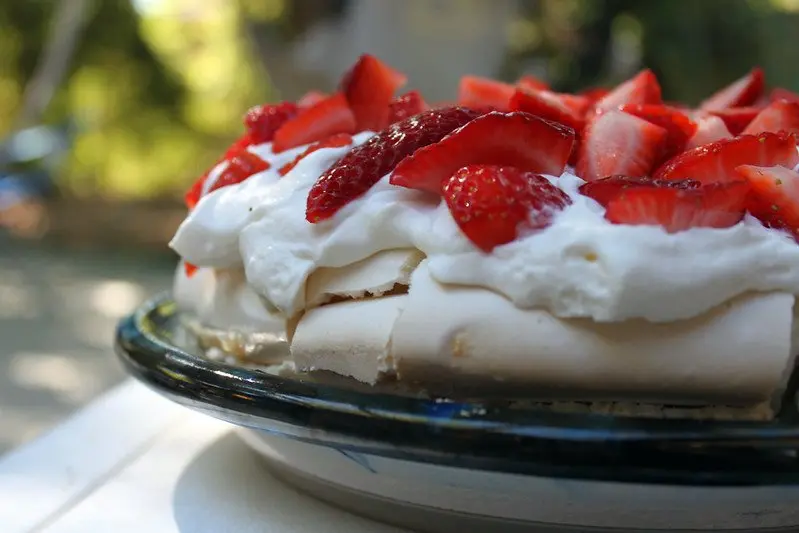 Image credit: Molly via Flickr CC BY-ND 2.0
No.7: The Best New Zealand Desserts
Hokey Pokey icecream is the go-to after dinner dessert in New Zealand.
But it's not my favourite.
That would be Banoffee Pie, a concoction of:
crushed malt biscuits and butter base
topped with gooey caramel
layers of fresh banana, and
finished with a thick layer of whipped cream and a sprinkling of cinnamon.
This dessert is not originally from New Zealand, (it's British) but they've adopted it, like most things!
New Zealand treats at a gathering
At any barbeque or Kiwi gathering you are likely to find:
Pavlova (the jury is still out on whether this dessert originated in New Zealand or Australia. Who cares? It's good!)
Pineapple Lump Slice
Chocolate Log
Strawberry Lamingtons, stuffed with jam and fresh cream
Chocolate Eclairs, bursting with fresh cream
Louise Cake Slice – shortcake crust with raspberry jam and coconut meringue
Vanilla Slice
There's one dessert my kids always ask their Nana for when we are in NZ.
"Spiders"
A scoop of vanilla ice cream covered with Coke.
This fizz bomb is LOVED by kids all over NZ, so much so you can find the recipe on PAK'nSAVE's website!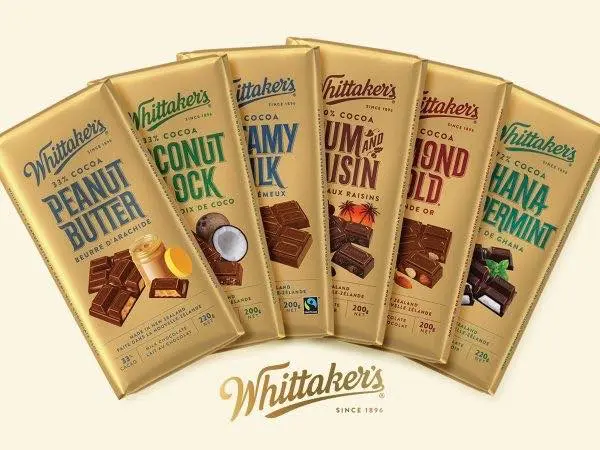 No.8: The Best NZ Chocolate
You'll be surprised by the range of chocolate available in New Zealand.
While there are only a few major producers of chocolate, there is an abundance of boutique handmade chocolate makers.
The best known and loved is the Whittakers Chocolate brand.
Do yourself a favour and look at their Artisan range.
SO good!
---
RELATED: Click here for the ultimate list of the best New Zealand chocolate, including Artisan chocolates & the best Chocolate Factories.
THE INSIDE SCOOP: WHERE TO FIND NEW ZEALAND SUPERMARKETS
Here's a list of the main New Zealand grocery stores in Auckland.
Most of the bigger Auckland grocery stores are outside of the inner city, so if you want to do a real family shop in grocery stores in New Zealand, you'll need a car.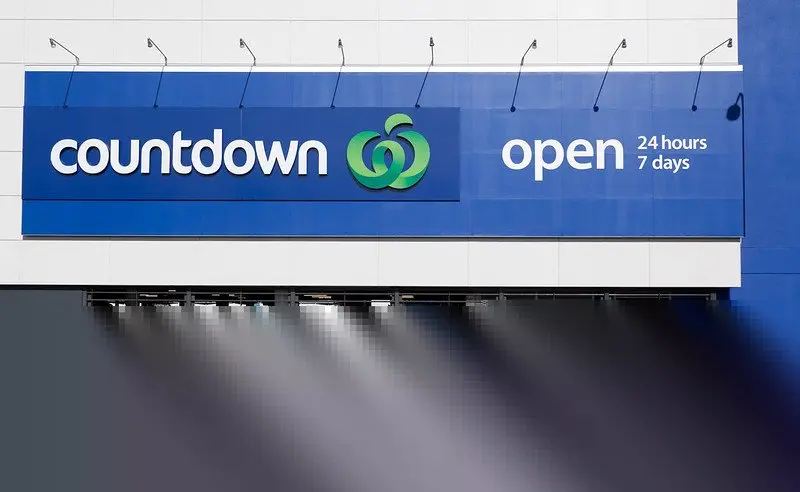 Well known Supermarkets in Auckland
Countdown grocery store Auckland:
Countdown Auckland Metro, 19-25 Victoria St W, Auckland CBD
Countdown Auckland City, 76 Quay St, Auckland CBD
Countdown Ponsonby, 4 Williamson Ave, Ponsonby, Auckland
Countdown Greenlane, 326 Great South Rd, Greenlane, Auckland
Countdown Mt Eden, Cnr Valley & Dominion Roads, Mount Eden, Auckland
Countdown Grey Lynn Central, 144 Williamson Ave, Grey Lynn, Auckland
New World Supermarket Auckland:
New World Metro, 125 Queen St, Auckland CBD, Auckland
New World Victoria Park, 2 College Hill, Freemans Bay, Auckland
New World Remuera, 10 Clonbern Rd, Remuera, Auckland
New World Stonefields, 100 Lunn Ave, Mount Wellington, Auckland
PAK'nSAVE supermarket Auckland
(The cheapest grocery store New Zealand has to offer)
Lincoln Road, Shopping Centre, Henderson, Auckland
More Grocery Stores in New Zealand
Lim Chhour Asian Supermarkets NZ
Lim Chhour, 184 Karangahape Rd, Auckland CBD
Lim Chhour Manukau, 6 Lakewood Ct, Manukau, Auckland
Japan Mart Asian supermarket
26-28 Wyndham St, Auckland CBD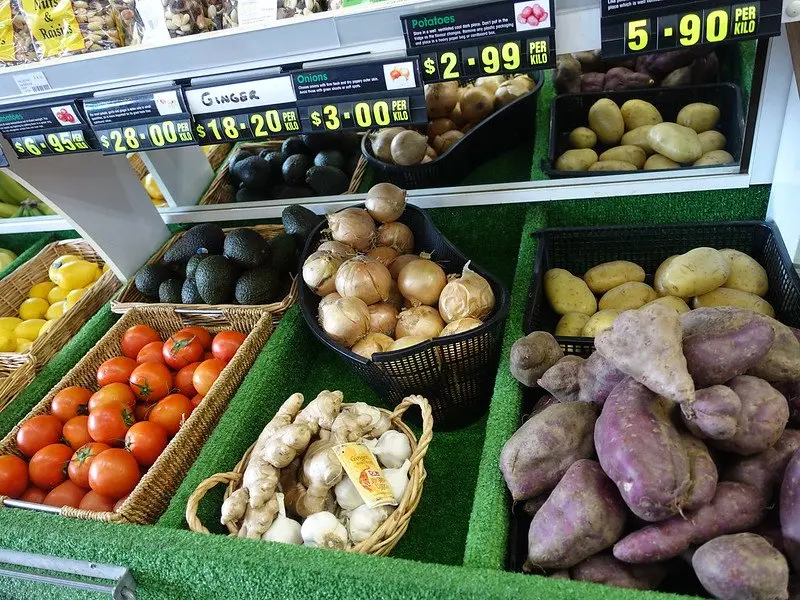 Image credit: IxMatex Wu via Flickr CC BY- 2.0
MORE North Island Supermarkets
Here's a list of more Grocery Stores New Zealand style!
Supermarket Hamilton
Click here for Hamilton supermarkets
Supermarket Tauranga
Click here for Tauranga supermarkets
Supermarket Matamata
Click here for Matamata supermarkets
Supermarket Taupo
Click here for Taupo supermarkets
Supermarket Hawke's Bay
Click here for Hawkes Bay supermarkets (Napier, Havelock North, Hastings, Wairoa, Taradale)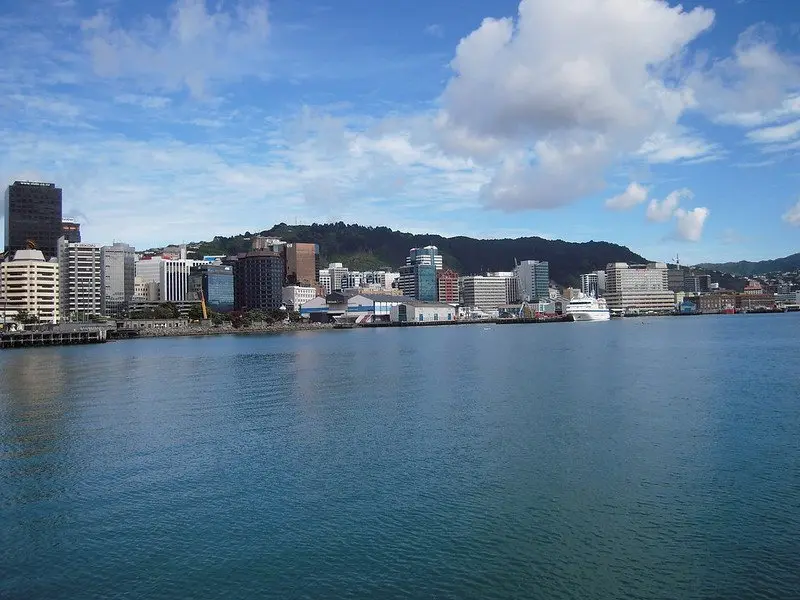 Image credit: Mark via Flickr CC BY- 2.0
Supermarkets in Wellington
Looking for a Wellington supermarket in New Zealand?
New World Supermarket Wellington
New World Wellington City, 279 Wakefield St, Te Aro, Wellington
New World Willis Street Metro, 68-70 Willis St, Wellington
New World Railway Metro, 2 Bunny St, Pipitea, Wellington
New World Newtown, 195 Riddiford St, Newtown, Wellington
New World Miramar, 48 Miramar Ave, Miramar, Wellington
New World Thorndon, 150 Molesworth St, Thorndon, Wellington
Countdown supermarkets in Wellington
Countdown Cable Car Lane, 280-284 Lambton Quay, Wellington
Countdown Kilbirnie, 47 Bay Rd, Kilbirnie, Wellington
Countdown Tawa, 5 William Earp Pl, Tawa, Wellington
Countdown Crofton Downs, 124 Churchill Dr, Crofton Downs, Wellington
PAK'nSAVE supermarket in Wellington
PAK'nSAVE Kilbirnie, 78 Rongotai Rd, Kilbirnie, Wellington
PAK'nSAVE Porirua, 12 Parumoana St, Porirua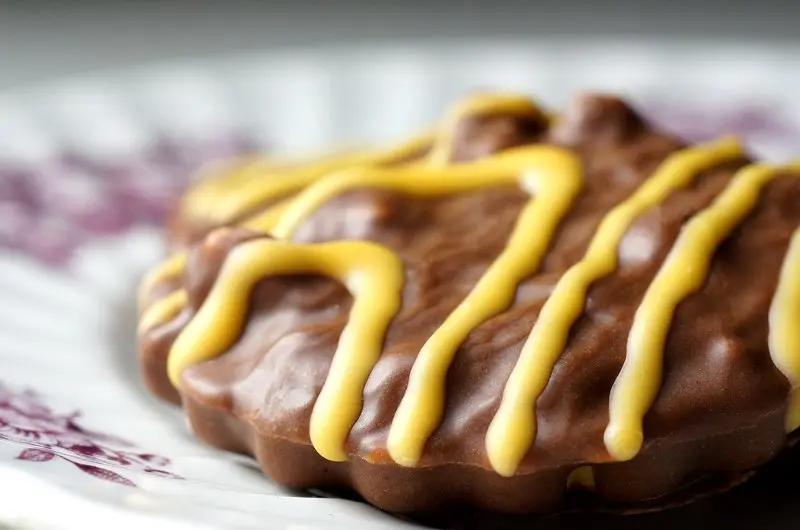 Image credit: Judy via Flickr CC BY- 2.0
MORE South Island Supermarkets
Supermarket Blenheim
Click here for Blenheim supermarkets
Supermarket Nelson
Click here for Nelson supermarkets
Supermarket Christchurch
Click here for Christchurch supermarkets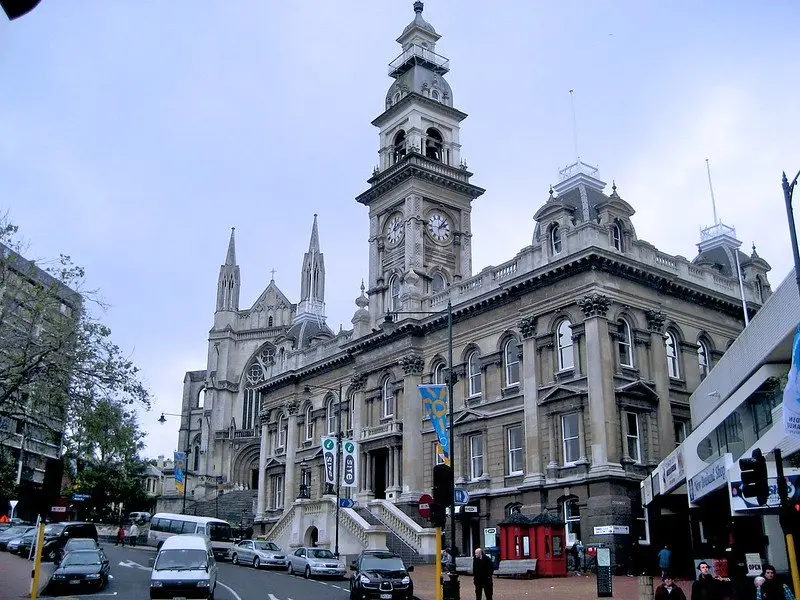 Image credit: ITravelNZ via Flickr CC BY- 2.0
Supermarket Dunedin
Click here for Dunedin supermarkets
Supermarket Queenstown
Click here for Queenstown supermarkets
Supermarket Invercargill
Click here for Invercargill supermarkets
Toadstool Rating: NZ Supermarkets
Visit PaknSave New Zealand supermarket at least once, just for the experience!

Looking for MORE Things to Do in New Zealand with Kids?
Taking a trip to New Zealand anytime soon? Bookmark these fun things to do in New Zealand with kids.