INSIDE: Everything you need to know about the best New Zealand Souvenirs for family and friends.
Are you searching for a comprehensive list of the best souvenirs from New Zealand, AND the best places to buy New Zealand souvenirs?
You've found IT.
We've gathered a list of authentic traditional Kiwi gifts, plus the best souvenirs from New Zealand, for men, women and children.
There's:
NEW ZEALAND FASHION
NEW ZEALAND FOOD
MAORI CULTURE
NEW ZEALAND ART & CRAFT
NZ CHILDREN'S GIFTS
KIWI TOYS, and plenty more!
The Guide will help you find where to buy New Zealand souvenirs, and answer the question, what are the best things to buy when visiting New Zealand?
Grab your pen or pencil, or keypad, and take note.
PS: Check back for the PDF printable list (Coming soon)
Disclosure: This article contains affiliate links. If you make a purchase after clicking on one of these links, we may receive a small commission at NO extra cost to you. Main image: Hikosaemon via Flickr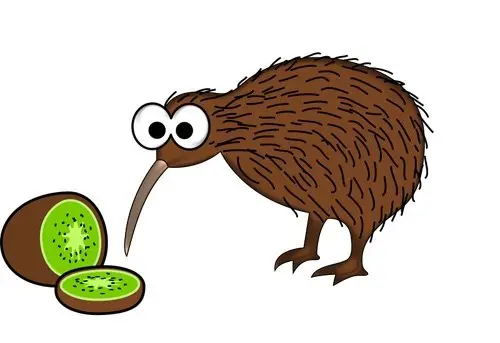 THE INSIDE SCOOP: 100+ Best New Zealand Souvenirs & Gifts for Family and Friends
Correct at time of publication on Roam the Gnome. Please check with venue for updates. We apologise in advance if there have been any changes we are unaware of. All prices in NZ dollars, unless otherwise stated
Our list is full of stylish, well made, affordable NZ souvenirs that won't break the bank.
Plus famous products made in New Zealand.
Avoid tacky, mass produced, made-in-China Kiwi souvenirs as much as possible.
Stick to NZ made gifts, or at least ones designed in New Zealand by New Zealanders.
We've organised the list of souvenirs to buy in New Zealand by category.
Click the headings in the contents box above, to go straight to a particular topic, or scroll the entire list from top to bottom.
It's BIG!
Check our shop suggestions under each category too.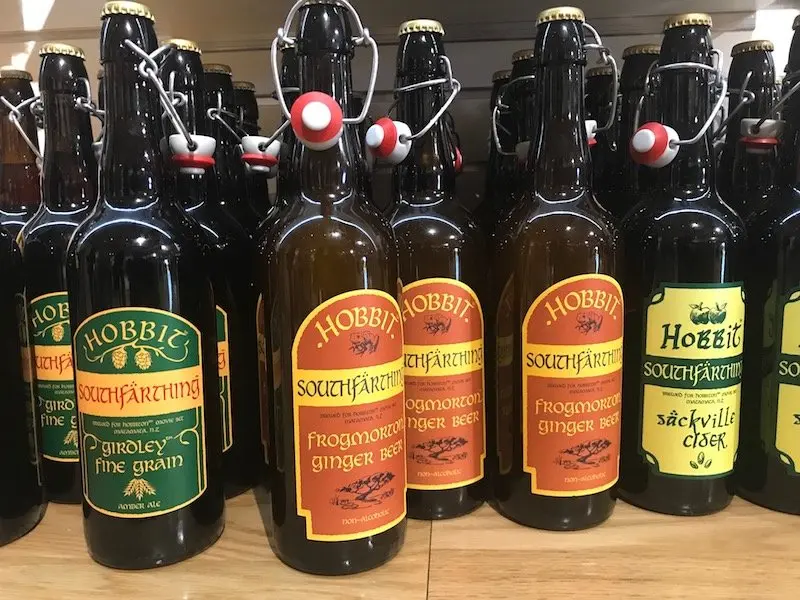 FAMOUS THINGS TO BUY IN NEW ZEALAND & KIWIANA
No.1: Hobbiton Souvenirs
The most popular thing to buy in New Zealand is arguably something from the Hobbiton Shop in Matamata.
This Hobbiton Souvenir shop sells their own range of Hobbit branded beer and cider, plus:
Lord of the Rings paraphernalia including mugs and pottery cups from the famous Green Dragon Inn
Hobbiton elf ears
LOTR satchels & bags
Hobbiton postcards
Lord of the Rings books, and
ornamental Lord of the Rings sculptures & Pop Funko toys.
No.2: WETA Cave Wellington
You can also visit the WETA Cave in Wellington for more Hobbiton souvenirs and Lord of the Rings Memorabilia such as:
LOTR vinyl figures
weapons & Gandalf pipes
themed board games
Hobbiton prop replicas
LOTR costume replicas
Hobbiton kids toys
Hobbiton decals & stationery
model kits
books
trading pins
jewellery
artwork, and more.
---
BOOKMARK THIS PAGE: Roam the Gnome's Ultimate Guide to New Zealand for Kids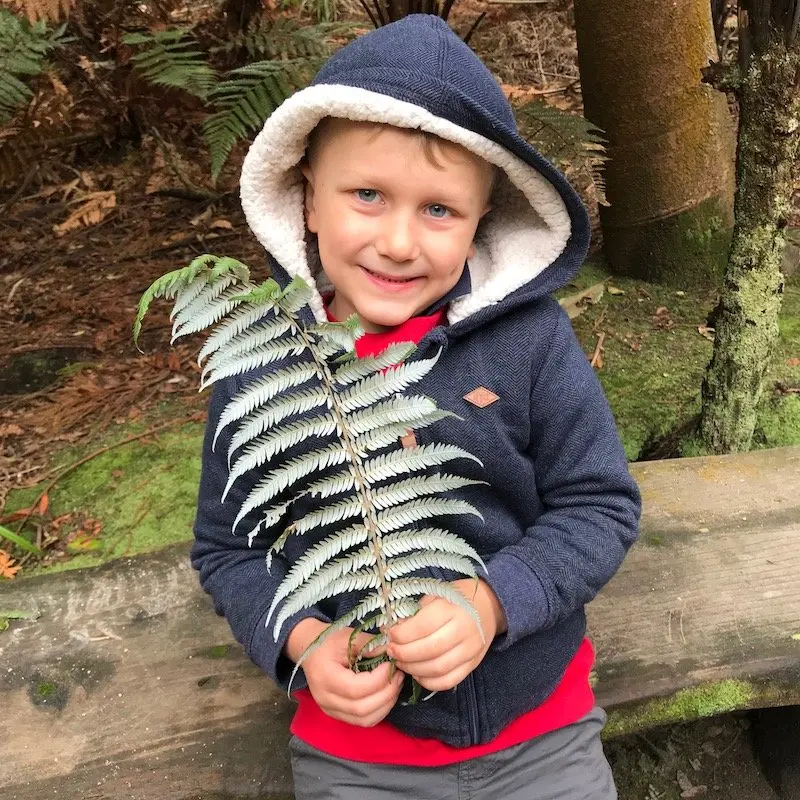 COOL THINGS TO BUY IN NEW ZEALAND? KIWIANA SOUVENIRS!
Kiwiana souvenirs are things that pay homage to the quirky icons that make up New Zealand's cultural identity.
These are the things that New-Zealand born or raised people immediately identify with, even when they cringe!
Kiwiana symbols include, but are not limited to, images of:
Pavlova
Hokey pokey ice cream
Black singlets with gumboots
Jandals
L&P cans
New Zealand jade/greenstone jewellery and Maori tikis
the motif of the Silver Fern (in Jack's hands above!)
The Kiwi bird
Eskimo lollies
Footrot Flats
Lamingtons (also considered Australiana – we fight over who made these first!)
Watties Baked Bean cans
These reimagined New Zealand images grace many a Kiwi souvenir.
---
RELATED: Ultimate Guide of Awesome Kiwiana Souvenirs (& where to buy them!)
Image credit:Kristoferb via Wikipedia CC BY-SA 3.0
No.1: Kiwiana Kitchenware
Here's a few gifts you might find with these iconic Kiwi images.
BBQ aprons with hand illustrated symbols of New Zealand (Tractors, Sheep, Sheep dogs, Jandals, Buzzy Bees, L&P bottles, or "Kiwi" sayings)
Retro style Pavlova themed apron
Kiwiana Teatowel with famous New Zealand sayings (Sweet as, You Beauty, Good as Gold, Bro, Nek minnut, Chur, Massive) or famous places in New Zealand
Kiwi bird shaped bottle opener
Weighted food covers with New Zealand themed fabric edges (Tui bird, Marmite jars, Pavlova, Paua shells)
NZ cookie cutters in silver fern or Kiwi bird shapes
Rimu timber cheeseboards or chopping boards
Kauri wood bowls, Kauri wood coasters
Kiwiana salt and pepper shakers
NZ bird coasters or New Zealand Rimu wood coasters
Flax table runner
Fridge magnets with NZ icons
New Zealand tramping enamel mugs
The Longest Drink in Town plastic milkshake cups, a recreation of the paper ones from your local dairy
Kiwiana shopping bags and cotton totes
These famous New Zealand products capture the hearts of every kiwi, both at home and abroad.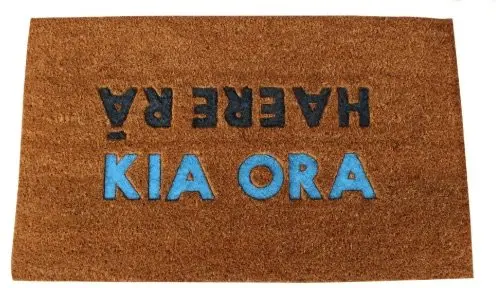 No.2: Kiwiana Homewares
"Kia Ora" door mat (Welcome!)
NZ sheepskin rugs
Merino wool throws and blankets
Rimu Timber Clocks
NZ Rimu photo frames and albums
Kiwi word art signs with Aroha, Whanau, or Kiwiana sayings
Maori-made flax pipi baskets for storage
Natural chamois cloth to polish the car, made from New Zealand sheepskin
Polished paua shells for ornamental display
Polished paua shell house numbers
Tofutree Luggage tags in Kiwi designs like the Tui bird

Best Kiwiana Shops for Souvenirs
Global Culture Souvenir shops
Global Culture stores can be found:
in the Auckland Ferry Building
on Queen Street Auckland
in Wellington, and
in Nelson.
Global Culture has more stores:
at the Christchurch Domestic and International Airport
in Christchurch CBD
in Queenstown mall, and more.
Click here for shop locations.
MORE North Island souvenir shops
Souvenir Factory Shop, 32 Tauhinu Road, Miramar, Wellington
OK Gift Shop at 139 Quay St, Princes Wharf, Auckland
MORE South Island souvenir shops
New Zealand The Gift at Christchurch airport
Shopology, The Arts Centre, 28 Worcester Blvd, Christchurch Central
The Red Dog Gift shop, 232 High St, Motueka, Nelson 7120
Aotea Gifts, 19 George St, Dunedin, Dunedin – Coastal Otago
Aotea Gifts, The Mall, 30 Ballarat St, The Mall, Central Queenstown
New Zealand homewares stores
It's worth a visit to a New Zealand homewares shop to see if you can pick up sheepskin rugs, greenstone jewellery, and Kiwiana home decor gifts on a budget.
Try: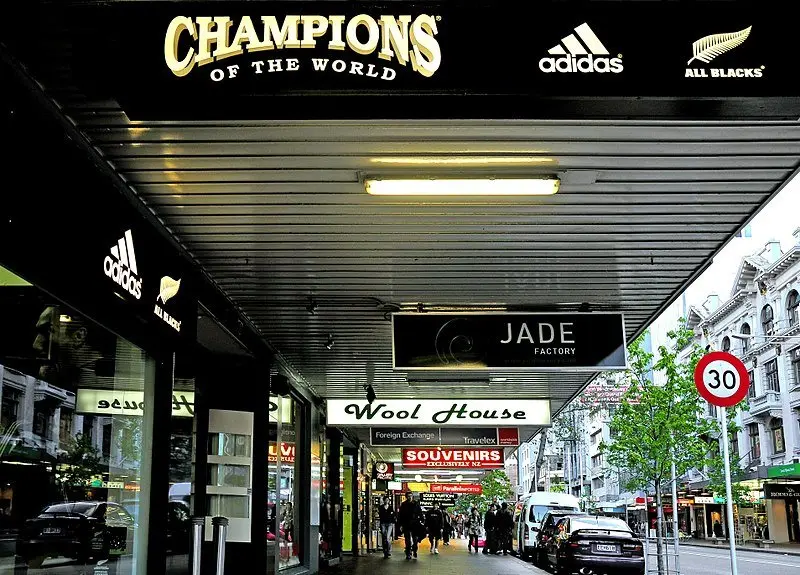 Image credit: LBM1948 via Wikipedia CC BY-SA 4.0
WHERE TO BUY THE BEST SOUVENIRS FROM NEW ZEALAND
No.1: High Street Souvenir Shops
Visit any tourist town in New Zealand North or South Island, and you'll find generic souvenir shops selling Kiwiana and New Zealand souvenirs.
Don't dismiss these souvenir shops.
While there is lots of tacky, rubbishy souvenirs made in China, you WILL find unique New Zealand gifts, toys, games, food, snacks, and souvenirs too.
Look out for NZ souvenir shops on the main shopping streets of the North Island:
Auckland's Queen Street Mall
Rotorua
Matamata main street
Napier in Hawkes Bay
Taupo
Tauranga
Whangarei, and
Wellington CBD.
Also try Christchurch, Queenstown, Dunedin, Nelson, Invercargill, and Blenheim on the South Island.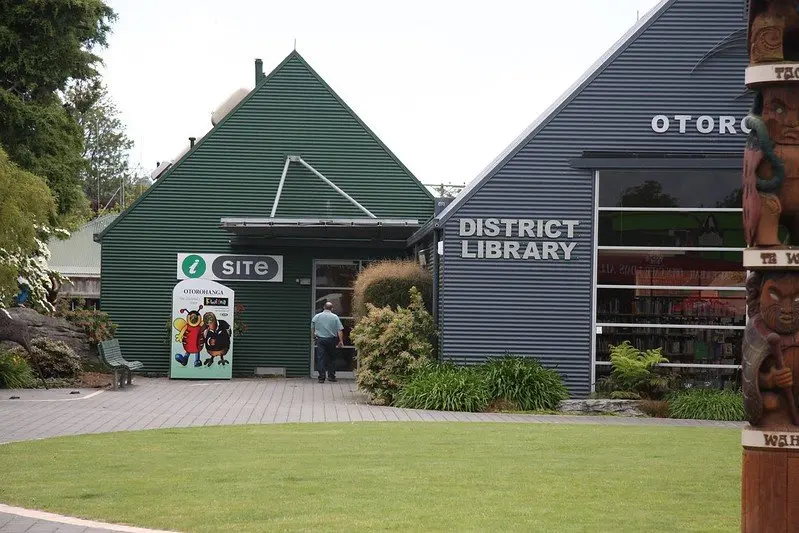 Image credit: itravelNZ via Flickr CC BY-2.0
No.2: i-Site Visitor Information Centres (Tourist Information Centres)
Tourist Information Centres also stock a small range of Kiwi gifts and souvenirs, including a small range of locally made goods, handmade crafts, art pieces, and locally sourced food products. Worth a look.
No.3: Airport Shops
Airport shops are your last bet before leaving the country, but expect to pay more.
---
READ MORE: The Best New Zealand Food Snacks to Buy before you leave the country!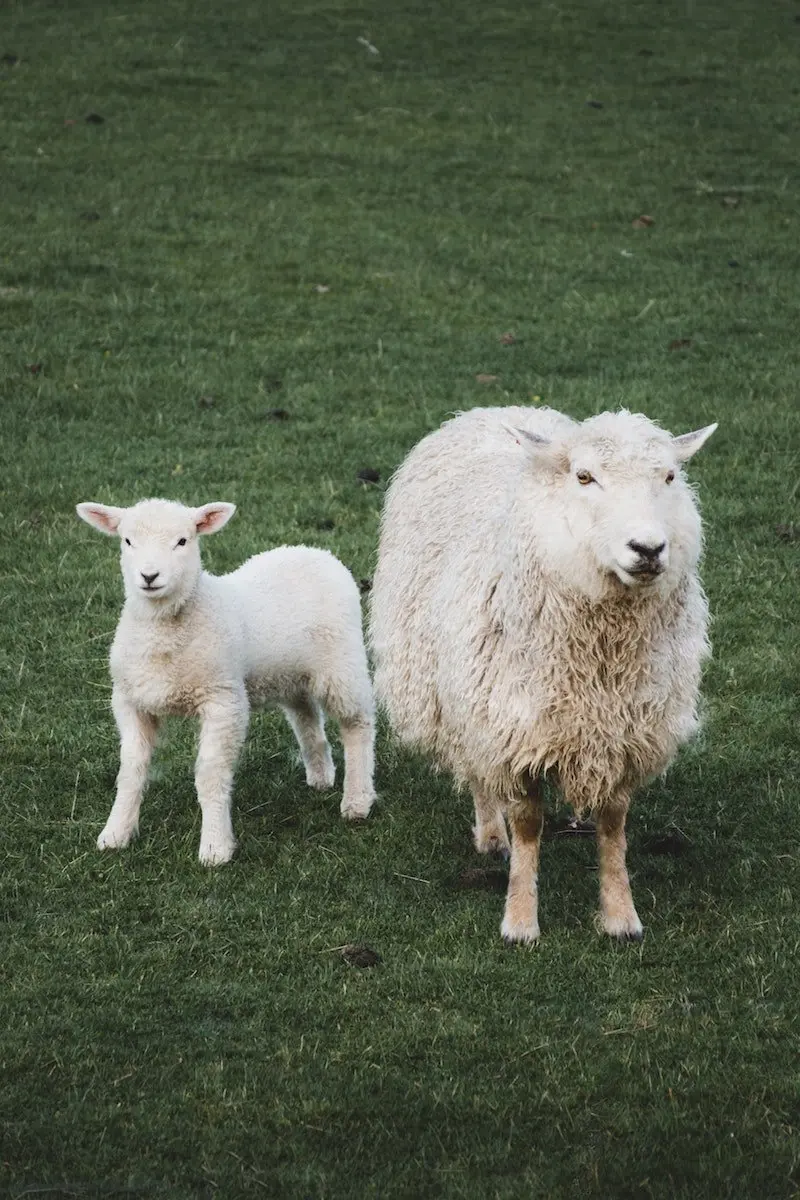 Image credit: Fergus So via Unsplash
NEW ZEALAND FASHION
No.1: New Zealand Wool Gifts
New Zealand is well known for its' quality wool clothing and accessories such as:
Merino wool ponchos
wool scarves
pure wool beanies and hats
knitted woollen socks
wool gloves
wool blankets and throws.
BUY UP BIG.
The quality of 100% wool products and woollen clothing in New Zealand is outstanding, and like no where else.
Wyld Organic, and Bowron Sheepskins (since 1879) are two well known New Zealand brands you can trust.
Possum merino hats, scarves and gloves are also popular gifts with visitors to NZ.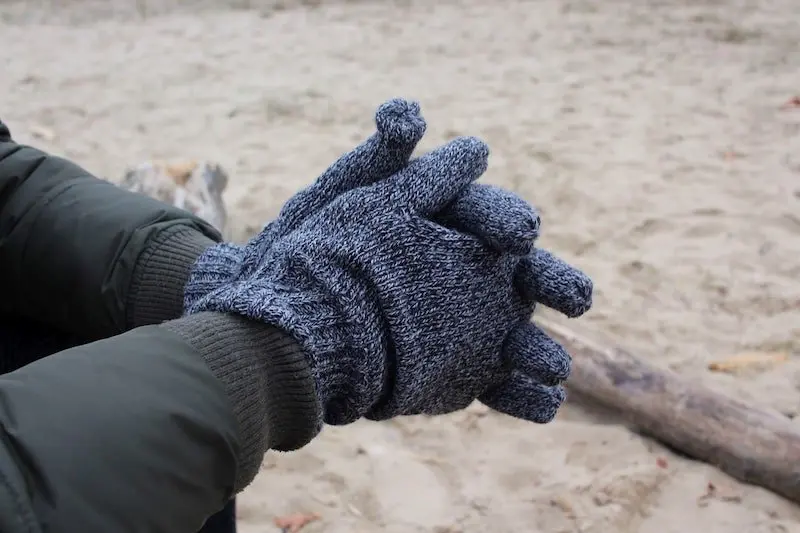 Image credit: Source unknown
Best New Zealand Wool shops
North Island wool stockists
Find stockists of Wyld Organic Wool Clothing and Accessories throughout New Zealand here.
Sheepskins n Stuff, State Highway 1, Putaruru Ph. 07 883 6898
Nelson Sheepskin Shop, 48 Bridge Street, Nelson Ph. 03 539 4939
Classic Sheepskins factory shop in Napier Hawkes Bay (They provide a free factory tour at 11am and 2pm daily to show visitors how sheepskins are made. ). 22 Thames Street, Pandora, Napier.
NZ Wild and Woolly Shop near Tauranga
The Sheepskin Warehouse in Evans Bay in Wellington
Untouched World store in Auckland or Wellington
Sheepworld Auckland
Sheepworld in Auckland at 324 State Highway One, Warkworth, Auckland 0981, New Zealand sells:
sheep skin jackets
gloves
Merino Wool socks and rugs, as well as
kiwiana souvenirs.
It's a real life sheep station with shows, entertainment, and education too.
South Island Wool stockists
Sheepskin & Footwear Factory Shop, 12 Symes Road, Sockburn Christchurch Ph. 03 389 1038
Dunedin Sheepskin Shop, 64 George Street (Octagon end) Dunedin Ph. 03 477 7147
Untouched World stores in Christchurch (Flagship and Outlet stores) and Wanaka.
Stashh at 38 Windsor Street, Invercargill 9810
Encounter Kaikoura at 96 Esplanade Kaikoura
Te huia in Queenstown and Arrowtown
Seriously Twisted at 7 The Octagon, Dunedin 9016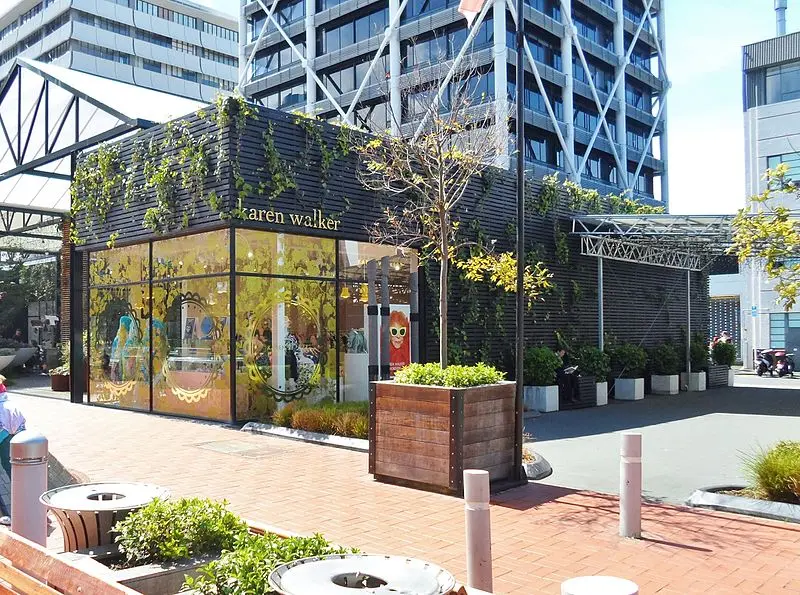 Image credit: Pear285 via Wikipedia CC BY 1.0
No.2: Best New Zealand Clothing Brands
A piece of clothing or a covetable accessory tops the list of the best souvenirs from New Zealand for fashion lovers.
For Kiwi fashion labels, visit Britomart fashion square in Auckland.
New Zealand fashion labels at Britomart include:
Trelise Cooper, one of NZ's most successful fashion exports
Karen Walker
Kate Sylvester
Juliette Hogan
Huffer for casual style
Deadly Ponies luxury New Zealand accessories label
Zambesi
Taylor
Kathryn Wilson shoes (this is the first ever store for the leading shoe designer)
You can also look for these NZ labels throughout the country:
WORLD
NOM*d
Annah Stretton
Ruby
Fashion lovers also buy traditional flax backpacks, handmade flax bags, and handwoven flax hats.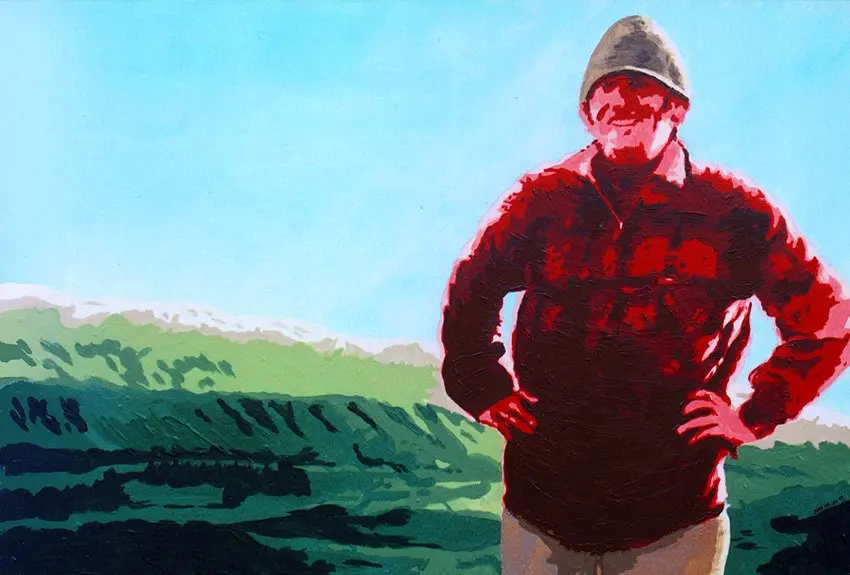 Image credit: Grutness (James Dignan) via Wikipedia CC BY-SA 4.0
No.3: Swanndri NZ
The only other clothing piece to mention are the popular Swanndri jackets from New Zealand.
A 100% waterproof woollen overcoat, usually found in a red and black tartan pattern.
This made in New Zealand coat is favoured by anyone who lives on the land, or in the country, or an urban type who loves camping or 'tramping' in the New Zealand countryside.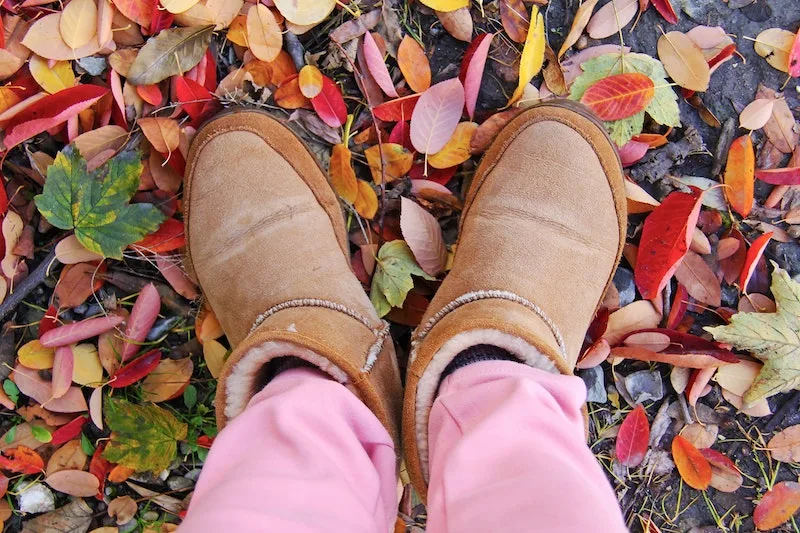 Image credit: Source CC BY-1.0
No.4: Best New Zealand Made Shoes
If you are looking for things to buy from New Zealand for someone who doesn't want gifts, buy a pair of uggs. They won't be able to resist!
Buy a pair of New Zealand UGG boots in one of these styles:
NZ sheepskin slippers, moccasins or scuffs
NZ sheepskin boots
Jandals (known as flip flops in the USA, or thongs in Australia) are a favoured footwear throughout NZ.
Kiwi Boot Polish is a unique gift for men from New Zealand.
---
BUY NOW ON AMAZON: UGG Women's Classic Mini Winter Boot in Chestnut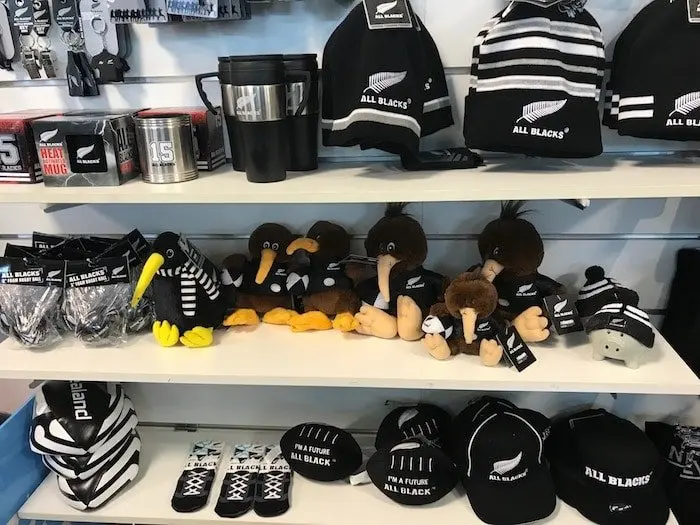 No.5: Sport & All Blacks Rugby Union Souvenirs
All Blacks Souvenirs for Rugby Union Fans
Wondering what souvenirs to buy in New Zealand for All Blacks fans?
Rugby Union Fans will be overjoyed with an All Blacks themed gift, especially an item of All Blacks clothing or All Blacks New Zealand memorabilia.
In most New Zealand souvenir shops, you'll find a range of All Blacks souvenirs including:
Official All Blacks shirts, t-shirts, rugby jerseys from all the teams (mens and womens)
All Blacks beach rugby balls, and regular footballs
Hats, caps, woollen beanies with All Blacks insignia
All Blacks mens rugby shirts and socks
All Blacks travel mugs, coffee cups,
Keyrings, car stickers, hats
All Blacks beer stubbie coolers and bottle coolers
All Blacks money boxes, beach towels
the mascot Kiwi Bird soft toys.
All Blacks souvenirs feature the Silver Fern motif.
There's also miniature All Blacks soft rugby balls for babies, All Blacks t-shirts for kids, and more All Blacks gear for babies, depending on where you shop.
We received an All Blacks baby onesie when Ned was born, a stir-the-pot gift from his Kiwi uncle Reg.
Ned and Jack are half-Australian/half-Kiwi child, but born in Australia, so there's constant bantering as the dads try to prove New Zealand's superiority as a nation.
(Especially in the football!)

Where to find the All Blacks Shop?
Wondering where to buy All Blacks jerseys & clothing?
First stop – try Adidas or Rebel Sport in New Zealand.
On the North Island, you can try:
Champions of the World Sportswear Store in Auckland's Queen Street
Official All Blacks Store at Auckland International Airport
On the South island, visit the Champions of the World Sportswear Store in Christchurch and Queenstown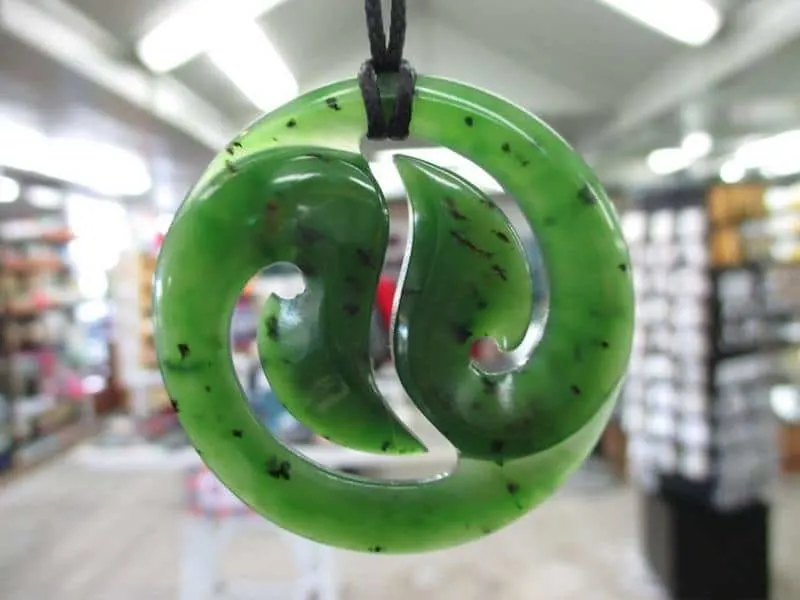 Image credit: Westland Greenstone
No.6: New Zealand Jewellery & Greenstone
New Zealand Jewellery is a much loved gift for women and men of all ages.
These pieces are things you can only buy in New Zealand.
Fun Fact: When Ned was a baby, a friend gifted me a Greenstone drop necklace as it is said to soothes sore gums when mouthed by a baby who is teething.
New Zealand Greenstone Jewellery (Also called New Zealand Jade jewellery)
Greenstone is also called New Zealand jade or by the Maori word, Pounamu. You'll hear people talk about jade carving as often as you'll hear the word 'greenstone' carving. It's all very confusing in the beginning.
Look for the authenticity mark on jewellery to ensure your piece is made from real genuine Pounamu sourced from the rivers of the South Island, and not a fake.
NZ Greenstone necklaces and earrings come in a variety of shapes including:
Greenstone Circle of Life necklace
Greenstone Double Twist or Twist necklace
Greenstone Hook Hei Matau necklace
Greenstone Koru new life necklace
Greenstone Maori Tiki necklace
New Zealand silver jewellery
Or pick up a piece of silver.
Kiwi charm beads
Maori charms
traditional NZ charms (Kauri tree, silver fern, paua shell, maori friendship silver twist charm, Maori tiki charm)
More ideas for inspired gifts
New Zealand jewellery boxes made from Rimu timber
New Zealand cufflinks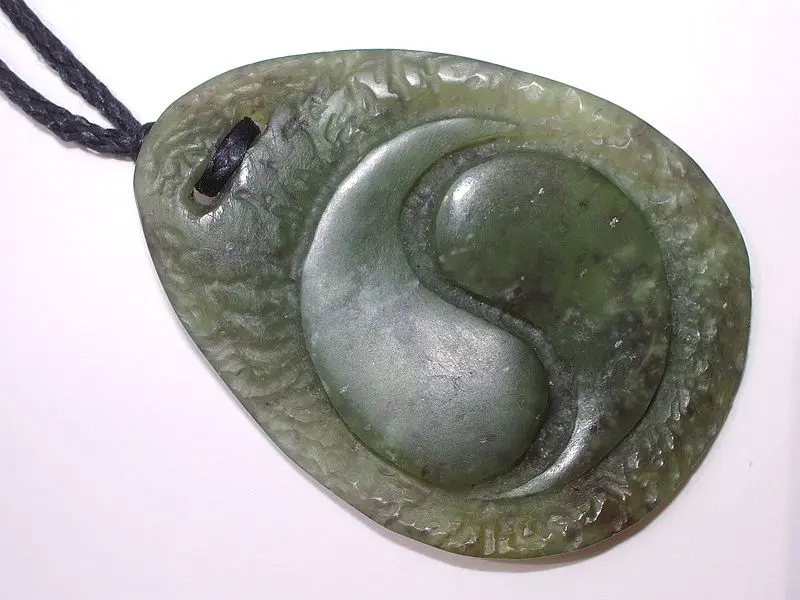 Image credit: Sarang via Wikipedia CC BY 1.0
Where to buy Greenstone jewellery in New Zealand?
Try these shops:
No.1 Mountain Jade Auckland Airport
Mountain Jade at Auckland International Airport, Hokitika (main store is next to the Clock tower) and Rotorua on 1288 Fenton street.
No.2: The Jade and Opal Factory Arrowtown
Visit the Jade and Opal Factory at 30 Buckingham Street, Arrowtown, New Zealand.
The Arrowtown Jade & Opal Factory has been operating in the same location for over 25 years and retains a local flavour with most of their craftmen being trained right here in Arrowtown, north of Queenstown.
No.3: Puawai Jade Rotorua
Puawai Jade at 1174 Whakaue St, Rotorua, New Zealand.
Manufacturer of Greenstone and high end jewellery products.
No.4: Jade Studio Street Cart Nelson
The Jade Studio Street Cart in Nelson.
Terry and Ruth are a laid back, older couple, carving New Zealand Greenstone pendants in a studio from their home.
No.5: Westland Greenstone Factory
Westland Greenstone Factory at 34 Tancred Street, Hokitika 7810, New Zealand.
Take a tour of their factory to see carving artists at work.
No.6: Global Culture
Once again, we recommend Global Culture souvenir shop.
Find details of the shop locations above.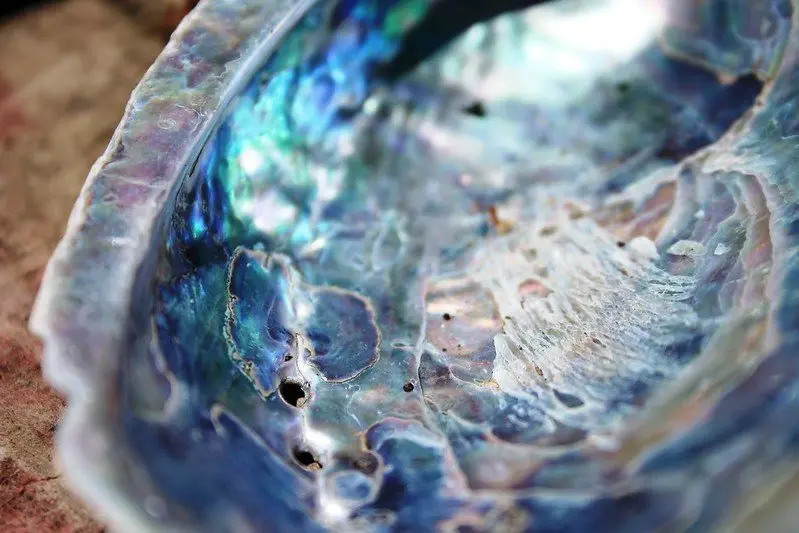 Image credit: Sarah Rose
No.7: Paua shell jewellery
Pāua is the Māori name for a a large edible abalone (mollusc).
The Paua shell is prized for it's glittery, shiny patterned shell, used to make jewellery and in craft.
Paua shell hair barrette
Pau shell necklace
Paua shell stud earrings and dangly earrings
No.8: Maori Heru combs for hair
A Heru comb is a traditional Maori hair ornament may be part of a costume for Kapa Haka performances.
In daily life, they are used to pin up the hair.
Made from both timber and bone, these hand-carved hair combs are an authentic souvenir for fashion enthusiasts.
Maori Rimu Manaia Heru comb
Maori Bone Heru combs
No.9: New Zealand Bone Carving
Bone carved necklaces are another traditional gift from New Zealand.
They usually come in these traditional shapes:
Maori bone hook necklace
Maori bone twist necklace
Maori bone carved koru necklace
---
RELATED: The Best Places in New Zealand to see (and shop for) MAORI Weaving, Art & Carving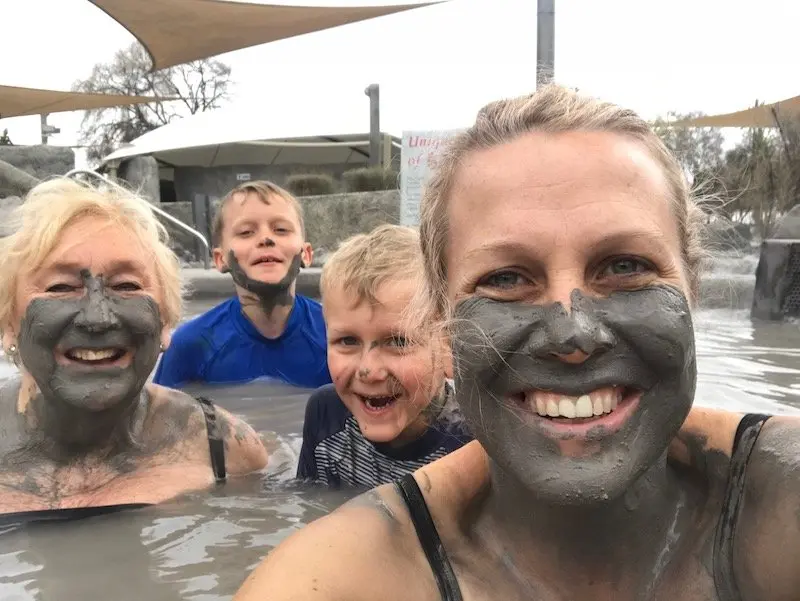 NEW ZEALAND SKINCARE & MAKEUP BRANDS
No.1: Alite Mud Masks
The actual best skincare product is New Zealand doesn't come in a bottle.
You soak in it! (Like we did here.)
Spend an hour in the boiling hot Hells Gate Mud Bath in Rotorua, followed by a dip in the Sulphur baths, and your skin will glow.
(You'll also smell like rotten egg, but it's part of the fun.)
Hells Gate Geothermal Park also sells the Alite brand of mud masks and mud beauty products to take home.
It's the ONLY place in Rotorua where you can buy authentic Rotorua mud masks with mud from Rotorua thermal pools.
Prices start from $4.50 NZ for a 10ml mud mask sachet.
Hells Gate Mud Baths Tour
Want to jump in a mud bath and sulphur spa at Hells Gate Geothermal Park too?
Hells Gate Geothermal Park Tour
While you are there, take a tour of the Hells Gate thermal park to see where the silky mud comes from, and try your hand at Maori carving too.
Book Hells gate entry tickets here through Klook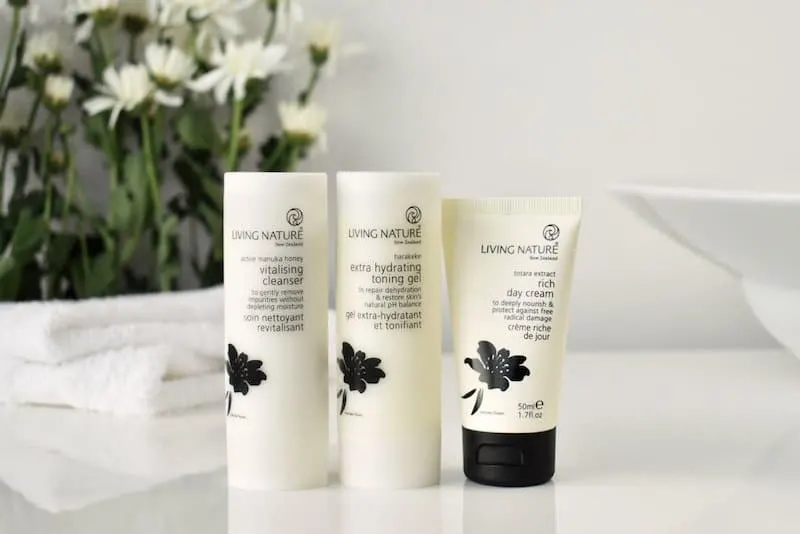 Image credit: Living Nature
No.2: MORE New Zealand skin care products
You can also look for these New Zealand skincare products:
Living Nature, since 1987 . Proudly New Zealand's original certified natural skincare company.
Wild Ferns brand New Zealand lanolin cream
Manuka Honey skincare
NZ Lanolin skincare
All Blacks Rugby Skincare – after sport skincare kit, rugby shaving gel, body wash, skincare travel kit
Millstream Gardens New Zealand natural balms
Frankie Apothecary Kawakawa balm (for eczema)
Skinfood
Antipodes Nature
Trilogy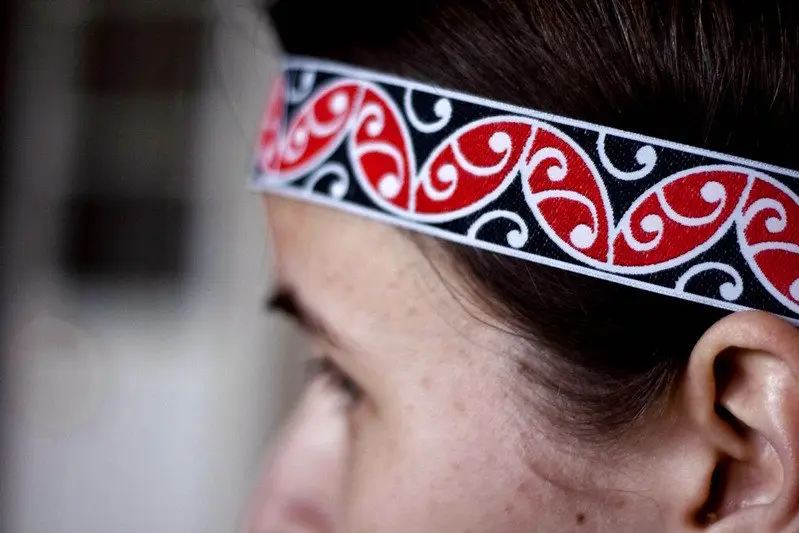 Image credit: Judit Klein via Flickr CC BY ND-2.0
MAORI CULTURAL SOUVENIRS
No.1: Maori Gifts and Souvenirs
Here's a list of authentic New Zealand souvenir ideas for those who want to purchase Maori carvings, Maori art and Maori souvenirs from the local Indigenous people of the land.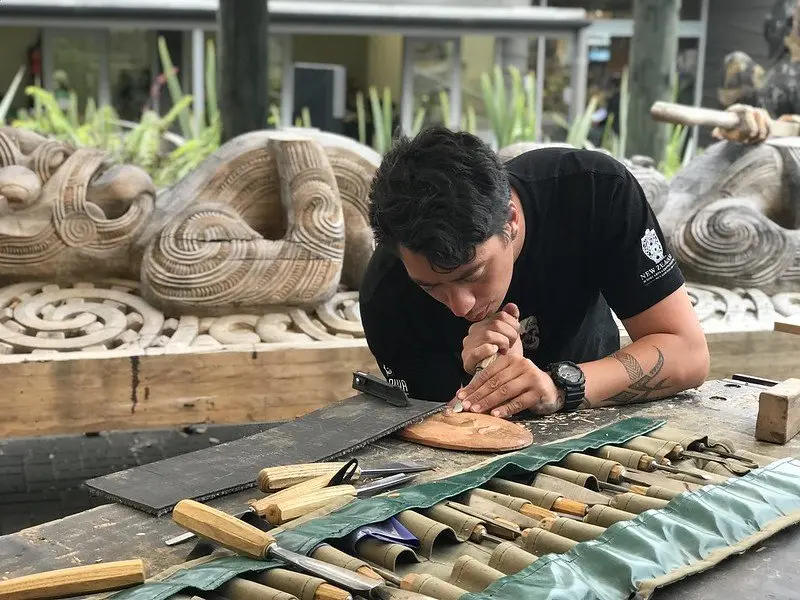 Image credit: Shiny Things via Flickr CC BY-2.0
No.2: Maori Carvings
Look for these Maori Souvenirs and Maori Gifts.
Maori instruments
Human figure statues
Maori Tiki masks
Wood carved necklaces
Koru and Twist carvings made from NZ greenstone
Maori fish hook
Wakahuia treasure boxes
Maori walking sticks with carved handles.
No.3: Maori Art
You can also find Maori art adorning everything from wall art, and t-shirts, to trucker caps.
Find:
Maori jewellery
Maori temporary tattoos
Maori art design cap or hat
Maori design clothing
Maori wall art
Maori design name plaques
Maori art playing cards
Maori art wall friezes
Maori art children's books and ABC flashcards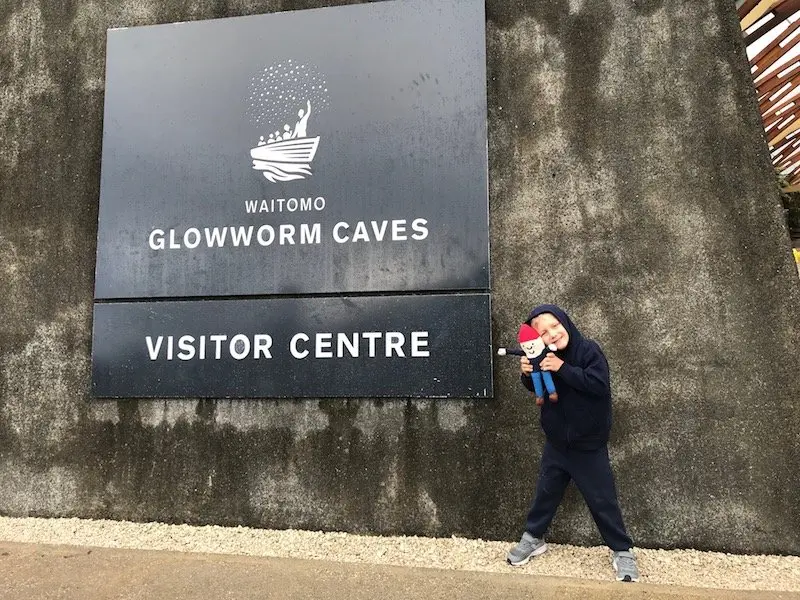 Maori Souvenir Shops
Find Maori designed gifts and souvenirs in most New Zealand Museum shops and New Zealand art galleries.
Visit the souvenir shop at major New Zealand attractions or places such as:
Waitomo Caves
Rotorua Gondola and Luge
Tamaki Maori Village
Auckland MOTAT museum
Auckland Maritime Museum
Te Papa
the Auckland Museum, and
Lake Taupo attractions
The authentic Maori souvenirs shop is usually found at the exit of the attraction.
Local Tourist Information Offices in places like Rotorua, Auckland and Waiheke island, Waitangi and the Bay of Islands, Hokianga, Taupo, Whanganui, Wellington, Kaikora, Christchurch, Waikato and the Bay of Plenty are another good source for Maori art and craft souvenirs.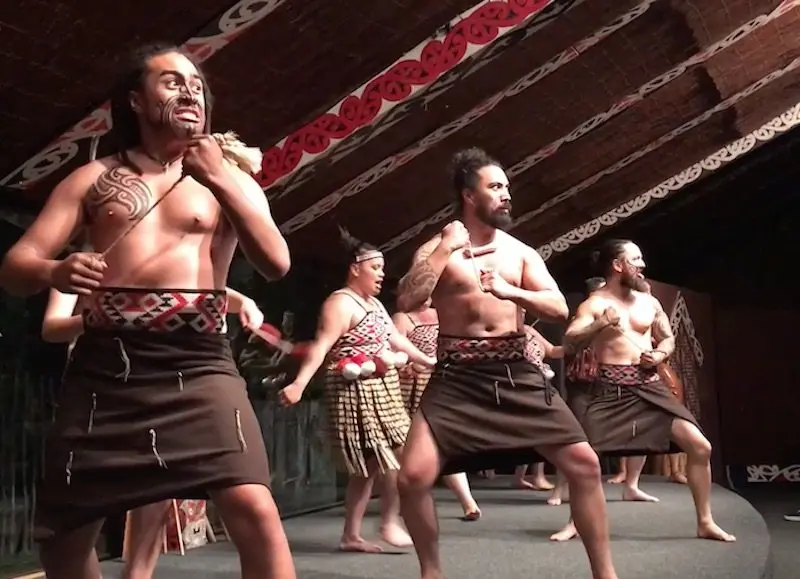 GIFT SHOPS AT MAORI CULTURAL ATTRACTIONS IN NEW ZEALAND
You can also visit the gift shops at these Maori tourism locations in New Zealand
North Island – Rotorua
Rotorua Tamaki Village Maori Cultural Experience
Hells Gate Geothermal Park
Mitai Maori Village
Te Puia geothermal park & famous Pohutu geyser
Whakarewarewa, the Living Maori Village
Mountain Jade, Rotorua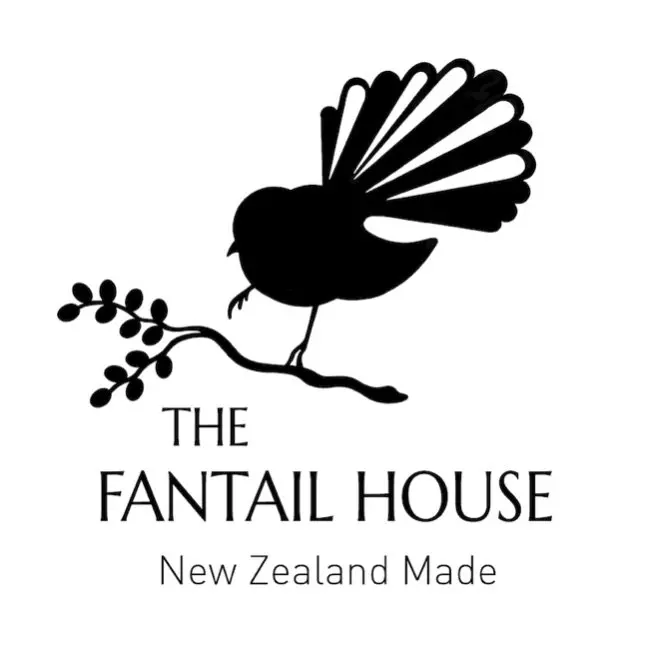 Image credit: The Fantail House Auckland
North Island – Auckland and Waiheke island
The Fantail House (formerly the Elephant House) craft cooperative in Auckland
Kura Gallery, 95A Customs Street West (Viaduct Basin – behind Portofino) Auckland 1010.
Auckland Museum
Te Hana Te Ao Marama Maori Cultural Centre
North Island – Waitangi and Bay of Islands
Image credit: Orion via Flickr CC BY-SA 2.0
North Island – Wellington
Te Papa Museum shop
Kura Gallery, 19 Allen Street (Courtenay Quarter) Te Aro Wellington 6011
South Island – Christchurch
Willowbank Wildlife Reserve gift shop (Home to the only place you can see Kiwi birds in the wild without glass interference, and Ko Tane Maori cultural experience)
South Island – Queenstown
Silver Fern Gallery
Kapa Design Gallery at the Queenstown airport
South Island – Hokitika
Bonz n' Stonz Carving Studio & Gallery to see Maori greenstone and bone carving in Hokitika
Westland Greenstone Factory at 34 Tancred Street, Hokitika 7810, New Zealand. Take a tour of their factory to see carving artists at work.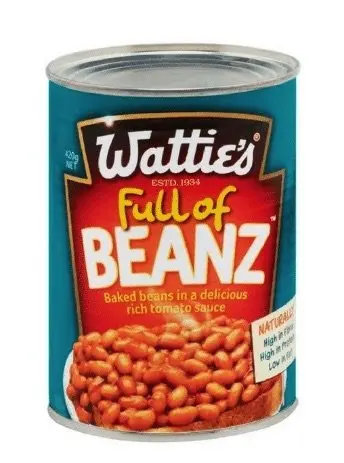 BEST NEW ZEALAND FOOD & DRINK FOR GIFTS
No.1: New Zealand Food Souvenirs
The best things to buy in New Zealand for foodies is popular New Zealand brands of food they can use in their own recipes back home, or taste new foods they haven't tried before.
Take a look at our guide to New Zealand Grocery Stores, and what New Zealand food products to buy there as souvenirs and gifts for foodie friends back home.
It's full of the New Zealand supermarket must buy items to take home!
---
RELATED: Ultimate Guide to NEW ZEALAND Grocery Stores & Traditional Kiwi Food to Buy there!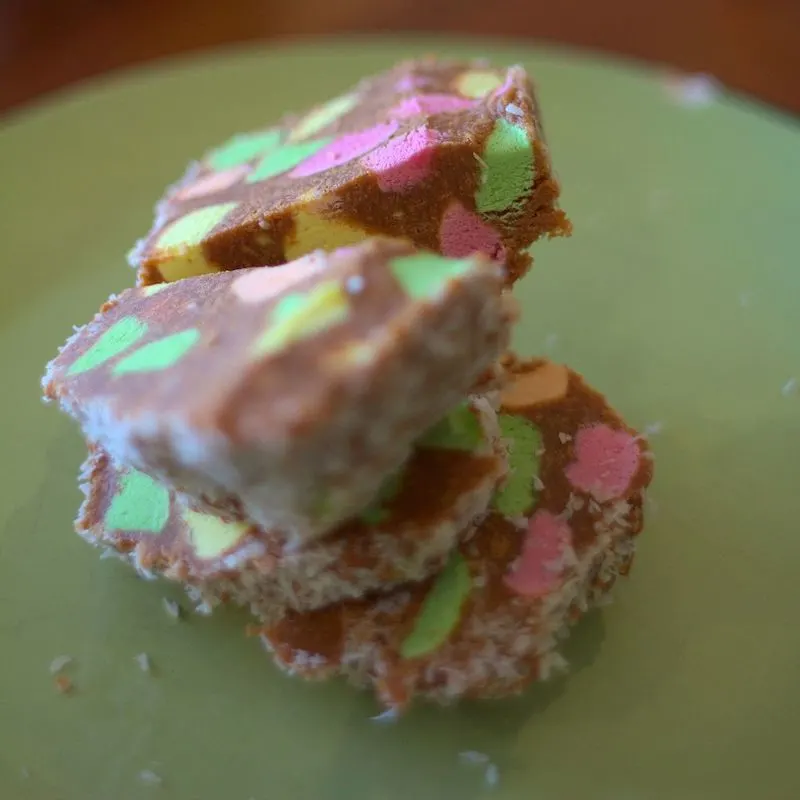 Image credit: Sean Neakums via Wikipedia CC BY-SA 2.0
No.2: New Zealand Snacks, Biscuits, and Slices
We wrote a HUGE list of all the best New Zealand snacks, New Zealand slices and biscuits, popular New Zealand drinks and more to take home as souvenirs.
Take a look at our guide below.
---
RELATED: The Best New Zealand Snacks to Buy and Eat!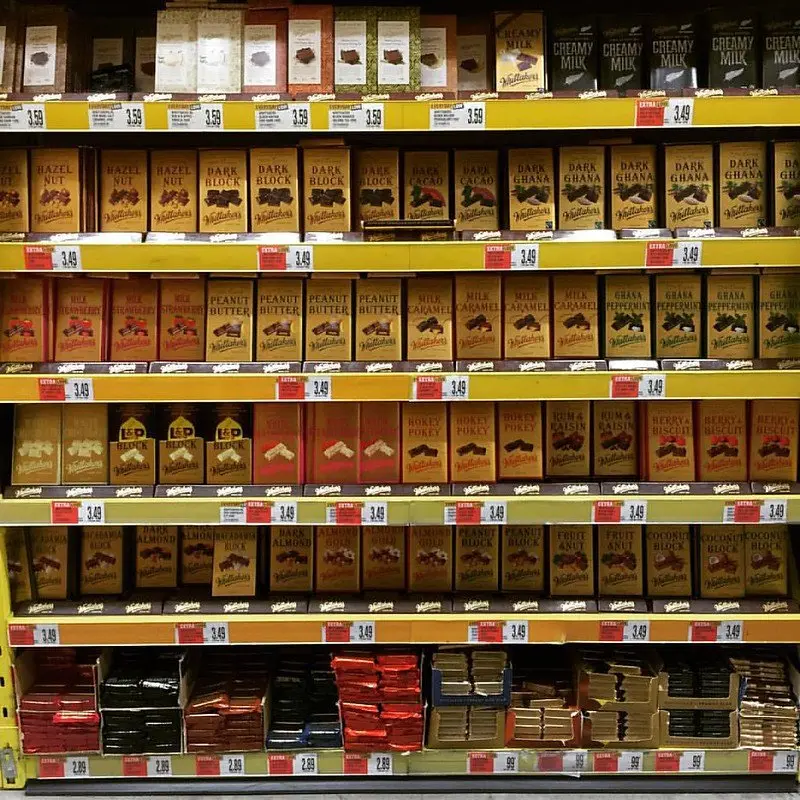 Image credit: Irwandy Mazwir via Flickr CC BY-2.0
No.3: Best New Zealand Chocolate Gifts
You can't go wrong if you take home a block, or ten, of Whittakers milk chocolate.
It's the best chocolate in New Zealand as far as we are concerned, and the fact the family operated company has been making chocolate for over 120 years proves it.
Whittakers Almond comes in a close second.
Oh, and then there's the original Whittakers Peanut Slab. (There's a Hokey Pokey slab too!)
Whittakers products include:
Whittakers Coconut chocolate
Whittakers Kiwi Fruit chocolate
Whittakers Creamy Caramel and Dark Salted Caramel
Dark Ghana 72% cocoa chocolate
Almond Gold
Berry and Biscuit
More recently, the Whittakers chocolate company created two ranges of Artisan chocolate. Warning: Once you start exploring these flavours, you can't stop.
There's quite a few other New Zealand chocolates you should try too.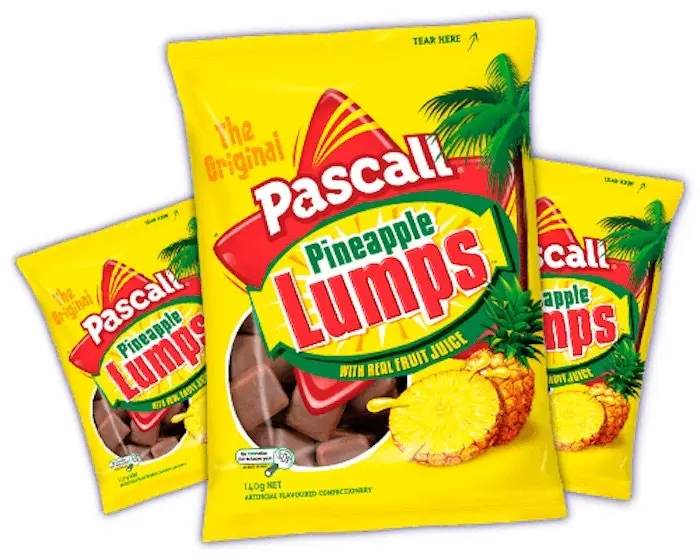 No.4: Best New Zealand Candy
New Zealand lollies don't take up much room in the suitcase, but their enjoyment lasts long after a New Zealand vacation.
Try Black Knight licorice, Allen's Mackintosh's Toffees, and Mayceys Jersey Creme Caramels.
It also wouldn't be right to visit New Zealand without purchasing a bag of New Zealand Chocolate Fish, or original Pineapple Lumps by Pascall sweets.
Beware the cheap imitations made with compound chocolate.
Uggh!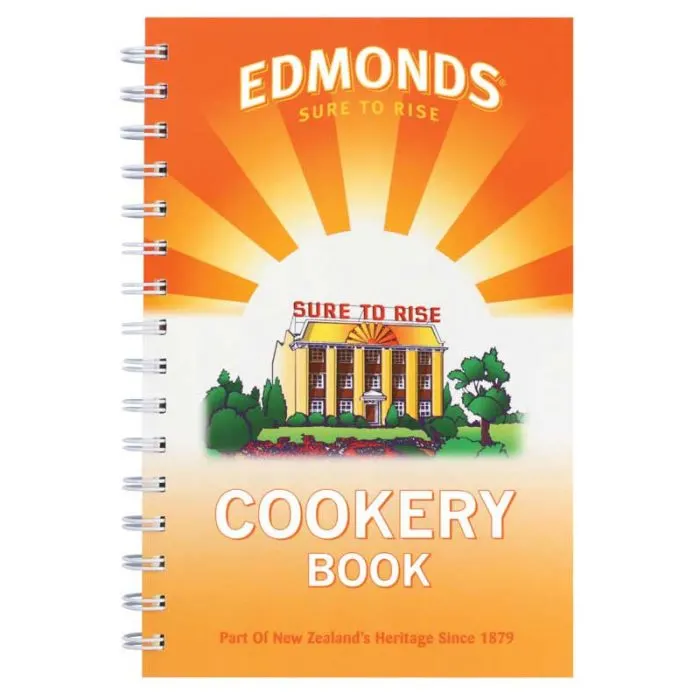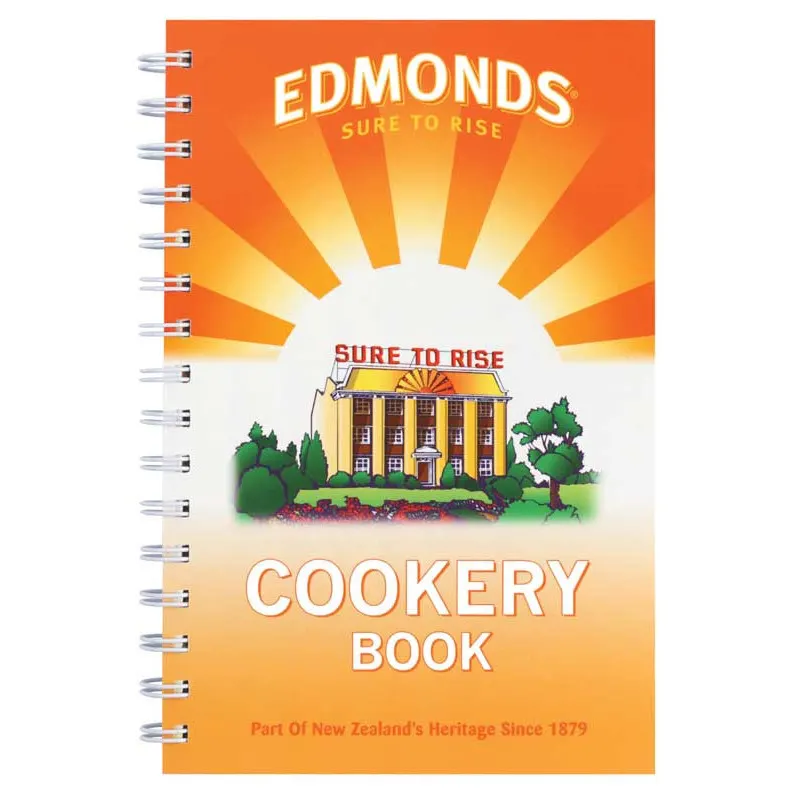 BEST NEW ZEALAND COOKBOOKS
No.1: Edmonds Cookery Book
The Edmonds Cookery book, originally released as Sure to Rise, is a household mainstay in NZ.
The Edmonds cookery book has sold over 3 million copies since it was first published in 1908, making it the best-selling New Zealand book by far.
Click here to buy now on Amazon.
Click here to buy now on Fishpond.
Click here to buy now on Mighty Ape. (coming soon)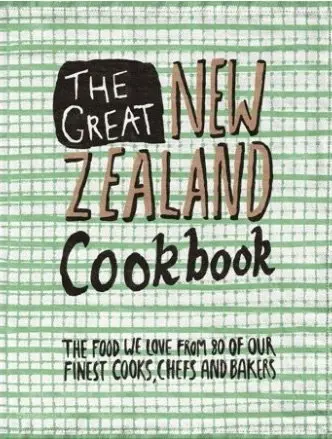 No.2: The Great New Zealand Cookbook Series
No.1: The Great New Zealand Cookbook
The Great New Zealand Cookbook is a more recent best seller, curated by Murray Thom & co.
The collection features over 200 recipes from eighty of New Zealand's finest cooks, chefs and bakers.
Click here to buy now on Amazon.
Click here to buy now on Fishpond.
Click here to buy now on Mighty Ape.
No.2: The Great New Zealand Birthday Cake Book
You can also purchase a copy of The Great New Zealand BIRTHDAY CAKE Book
This New Zealand recipe book has recipes by Celebrity baker, Dean Brettschneider, Jazmine Nixon & more.
Featuring all the most loved kids birthday cakes from over the years including Shaun the Sheep.
There's even a KIWI bird cake to try!
No.3: The Great New Zealand Baking Book
The Great New Zealand BAKING Book with over 60 of NZ's finest bakers contributing to this tome
The Great New Zealand Baking Book is divided into seven sections:
Muffins & Scones
Baked Desserts
Sweet Treats
Cakes & Loaves
Savoury Snacks
Biscuits & Slices
Not-so-naughty healthy treats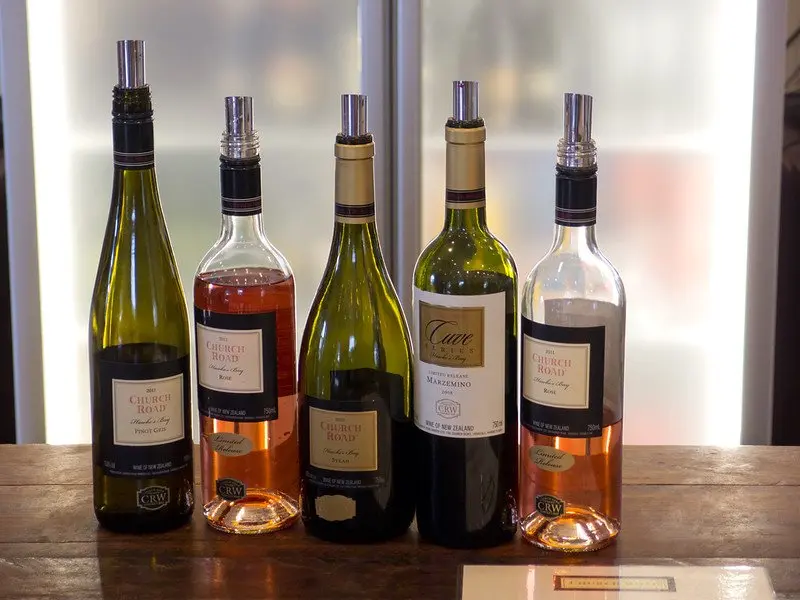 Image credit: Salman Javed via Flickr CC BY-SA 2.0
NEW ZEALAND WINE GIFTS
Why not take home some New Zealand wine?
You'll obviously need to try before you buy, so it's a good excuse to visit one of the many New Zealand wineries in Hawkes Bay, Waiheke Island, Malborough, Nelson, Waipara, Waitaki Valley, Canterbury, Central Otago, and Gisborne.
Or you could ask the Wine Experts in person.
In Auckland, try:
Wine Direct – 69 St Georges Bay Rd, Parnell, Auckland 1052, New Zealand
Caro's Wines – 14 Mackelvie St, Grey Lynn, Auckland
Wineseeker – 86-96 Victoria St, Wellington, 6001, New Zealand
In Wellington, try:
Regional Wines – 15 Ellice St, Mount Victoria, Wellington
Glengarry Wines – 53 Hutt Rd, Pipitea, Wellington
More wine shops in New Zealand
Martinborough Wine Merchants, 6 Kitchener St, Martinborough
Decant Wine Store – 61a Mandeville St, Riccarton, Christchurch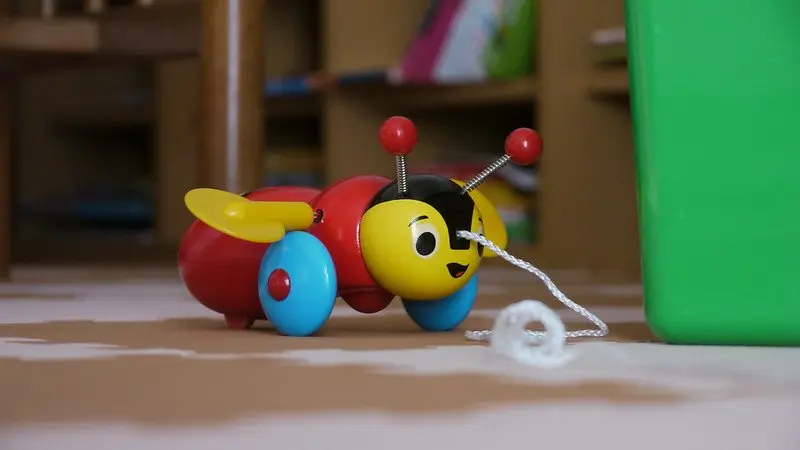 Image credit: Hikosaemon via Flickr CC BY-2.0
NEW ZEALAND GIFTS FOR CHILDREN
No.1: Kiwi Toys
Buy a New Zealand Buzzy Bee pull along toy, a very popular toy for New Zealand kids, and you are done!
The Buzzy Bee toy was created by Auckland brothers, Hector and John Ramsey in the 1940's and remains one of New Zealand's most well known characters.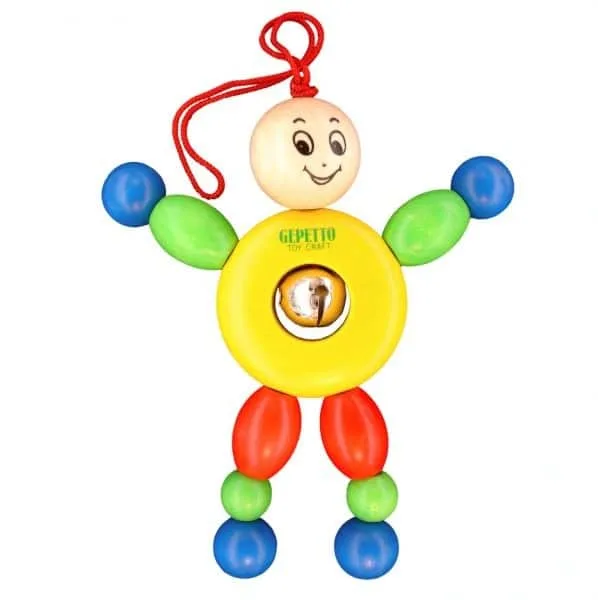 No.2: New Zealand Made Toys Brands
No.1: Gepetto Toy Crafts
Gepetto Toy Crafts are made in Alexandra, Central Otago, New Zealand.
They create a range of rattles, dolls (Clowns, Bo jangles, Pinocchio, Worm), cot toys and pram rattles toys.
The wood used in Gepetto's toys is the locally grown sycamore maple, a readily regenerating species we harvest for toy production.
Find them at Gepetto's Wooden Toy Shop, 5 Ngapara Street Alexandra, New Zealand
No2: Kiwi Made Toys
Kiwi Made Toys stocks their own handcrafted wooden puzzles featuring native New Zealand birds, quarry trucks, koru to kowhaiwhai.
Their high quality, affordable range offers something for every child.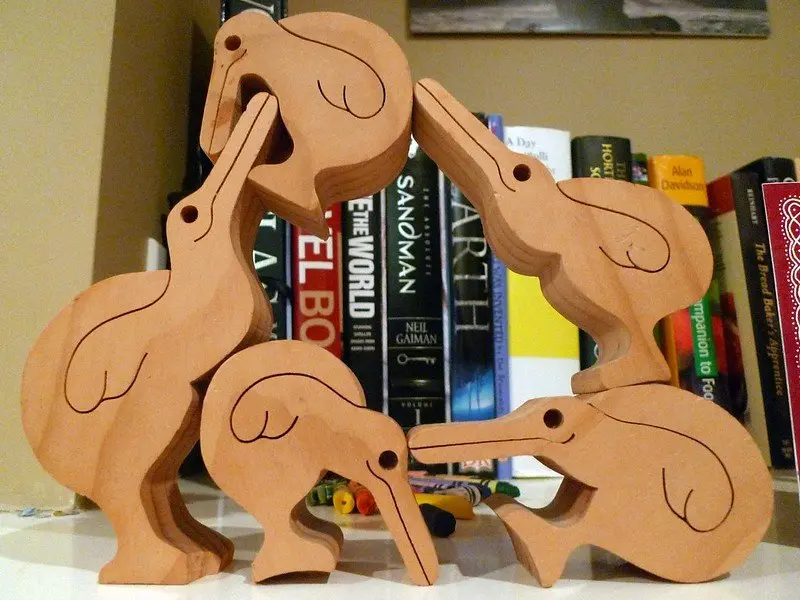 Image credit: Ruth Hartnup via Flickr CC BY-2.0
No.3: Tarata Toys
Tarata is New Zealand's Best Puzzle Maker since 1983!
For over 35 years, they've hand-crafted:
puzzles
NZ Souvenirs
toys
games including world famous Balancing Animals, like Balancing Kiwis (pictured above) for over 35 years.
The HappyKiwi brand is super cute too!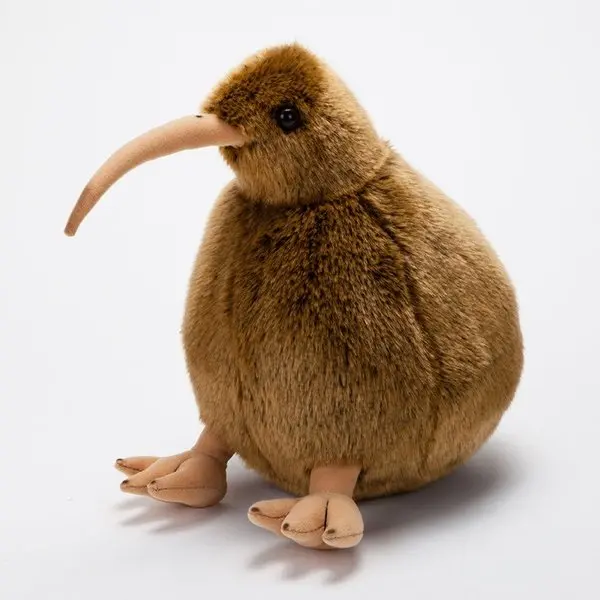 No.3: More New Zealand Toys & Souvenirs
Here's some more New Zealand made toys to look for.
Maori Wooden Peg Dolls Family Set
Soft NZ Maori doll (boy or girl)
Kapa Haka Maori girls or boys costume
Maori doll in full Kapa Haka costume
Maori Poi spinners
Kiwi Bird plush toys
Kiwiana puzzles
Happy Sheep board game
Ti Rakau Maori Stick Game
Busy Bags
Wooden Kiwi Money Box
Big Cuddly Kiwi soft toy
Hairy Maclary soft toys
Kiwi rattle
New Zealand Nesting Dolls in Tiki design
Magnetic Play Scene Marae and Landscape
Kiwiana Tiles Playing Cards by DQ & CO
New Zealand Heads and Tails Matching Game
New Zealand magnetic tic tac toe
Crayons in Maori (with Maori names for colours)
Soft Lamb or Cuddly Sheep toy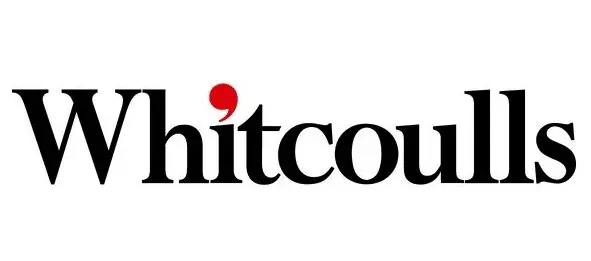 Where to buy toys in New Zealand?
The Warehouse sells a range of Buzzy Bee toys and accessories.
Whitcoulls, and Paper Plus, Take Note, and Toyworld nationwide also stock Kiwi toys made in New Zealand.
North Island Toy shops
Auckland Museum
Auckland Zoo
Jumping Jacks Toys, Hamilton East
Wee Willee Winkee, Huntly
The Story Teller, Matamata
Taupo Puzzle World
Rona Gallery, Lower Hutt
Magpie at Paremata, Porirua
Te Papa's Treasure Store, Te Papa Museum in the Wellington CBD
South Island Toy shops
Kidstuff Timaru, 170 Strafford Street Timaru
Toyzone Nelson
Crackerjack Toys, Nelson
Canterbury Playcentre Shop
Nature Discoveries, Riccarton
National Transport and Toy Museum Shop, Wanaka – 891 Wanaka, Luggate Highway, Wanaka, New Zealand (Next to Wanaka Airport)
Puzzling World, Wanaka
The Toy Collector – the only South Island distributors of Regal Soldiers – proudly NZ made. 90 Falsgrave Street, Waltham, Christchurch, NZ
You'll also find a range of New Zealand made toys in all Museum shops, Art Gallery shops, & in the Gift Shop at cultural attractions.
Check the labels to make sure they are made in New Zealand before you buy.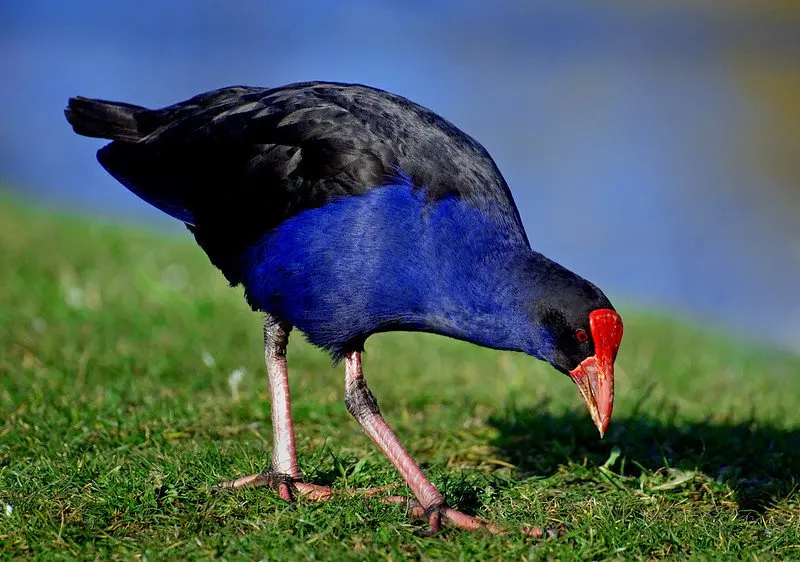 Image credit: Bernard Spragg NZ via Flickr CC BY-1.0
No.4: NZ Kids Books
These are our favourite New Zealand kids books to buy as souvenirs and gifts for friends.
No.1: Perky the Pukeko by Michelle Osment
The Perky the Pukeko book is my number one kids book ever.
The musical rhyming of the text makes me feel like I sing the book, not read it. It's pure joy, and one of the only children's books I can read over, and over, and over again.
Our copy is trashed by love.
No.2: Big List of Best New Zealand Children's Book
Grandma joins the All Blacks
A Pukeko in a Ponga Tree
Kuwis Rowdy Crowd
I think I saw a Pukeko by Katrina Ward
Ed Climbs a Big Hill by Dreydon Sobanja
Buzzy Bee, the Clutter Clean Up (and other books in the Buzzy Bee series)
ABC's for Kiwis and 123's for Kiwis by Jahri Jah Jah
Kuwi the Kiwi series of books by Author/Illustrator Kat Merewether have raised over $10,000 for Kiwi conservation through sales
Famous New Zealand Children's Authors
No.1: Dame Lynley Stuart Dodd
The Hairy Maclary series was written by New Zealand author, Dame Lynley Stuart Dodd
No.2: Pamela Kay Allen
New Zealand children's book author Pamela Kay Allen has sold more than 5 million copies of her titles including the Mr McGee series, and Who Sank the Boat?
No.3: Margaret Mahy
New Zealand author, Margaret Mahy wrote more than 100 picture books, 40 novels and 20 collections of short stories.
A Lion in the Meadow, The Three Legged Cat, the Witch in the Cherry Tree, The Great White Man Eating Shark, and The Changeover are included in her list of titles published.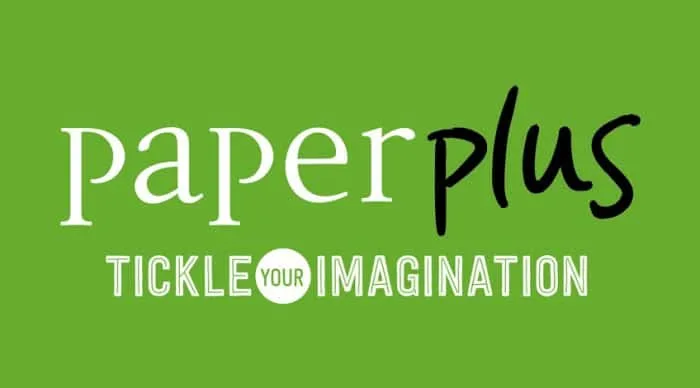 Shop at these bookshops in New Zealand
The Warehouse, Whitcouls, and Paper Plus stock quality Kiwi books for kids.
North Island Bookshops
Dorothy Butler Children's Bookshop in Ponsonby Auckland
Storytime Whangarei
The Story Teller Matamata
The Children's Bookshop in Kilbernie, Wellington Region
Bookmark, Auckland
South Island Bookshops
Children's Bookshop, Christchurch
University Bookshop (Otago) Dunedin
Book Haven, Wellington
Scorpio Books, Christchurch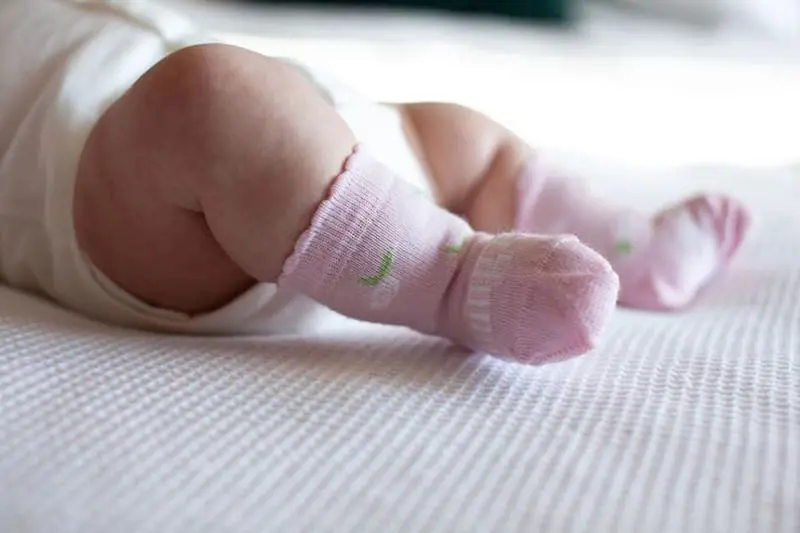 Image credit: Lamington socks
No.5: New Zealand Children's Clothing
There are a number of small emerging New Zealand clothing designers making children's clothes and accessories. Take a look.
Lamington merino socks for kids.
Intro, a street size brand by Federation for little kids
Radicool Kids, street and surf clothing for kids
Freedom Kids, ethically made in New Zealand. Gender neutral.
Band of Boys, a NZ clothing brand just for kids
Postie, one of New Zealand's leading brands for kids' clothing
Babu, organic baby clothes, merino wool baby clothing, clothing for 1-5 year olds and organic cotton bedding
Nature Baby organic clothing for kids
Where to buy New Zealand made children's clothes?
North Island
Baby on the Move – Find stores in Auckland, North Shore, Pukekohe, Napier, Hamilton, Wellington north, Wellington south
Nature Baby Auckland at 433 Richmond Road, Grey Lynn, Auckland
Merino Kids at Ecostore, 2 Scotland Street, Freemans Bay, Auckland
Childhood Shop at 4 St Heliers Mall, 33 St Heliers Bay Road
Kid Republic at 59 Nuffield St, Newmarket
Bambini at 24 Gateway Lane Upper Level Capital Gateway, 34-56 Thorndon Quay, Thorndon, Wellington
Organic Baby, Lower Hutt
Magnolia, Wellington
Flourish at 325 SH16 Huapai
South Island
Cherub Childrenswear in Blenheim
Baby on the Move – Canterbury, Port Nelson, Kaikorai
Kidtuff Timaru
The Barn, Frankton
Moi Design, Dunedin
You can also try Amcal Pharmacy in smaller towns.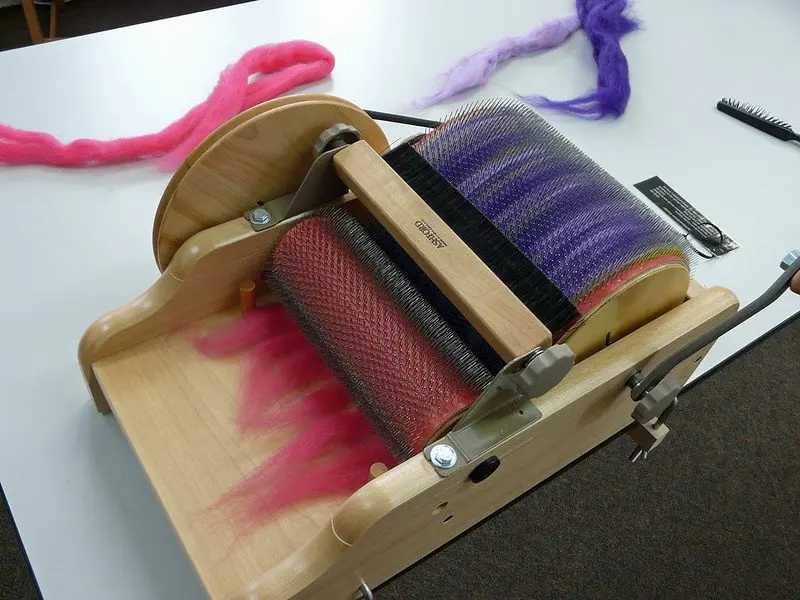 Image credit: Jane Nearing via Flickr CC BY-ND 2.0
HOBBIES & HOMEWARES IN NEW ZEALAND
No.1: New Zealand Arts and Crafts
New Zealand is FULL of artists, painters, knitters, crochet creators, sculptors, felters, potters, & people making their living through creative arts.
That means there's a HUGE resource of shops selling amazing art and craft supplies, including:
hand dyed wools and knitting yarns
plant dyed fabrics
unique tools such as wool carding machines and hand carders,
and so much more.
The list is long.
Find lots of ideas for buying souvenirs for artistic friends and family in these FOUR New Zealand shopping guides below.
Click here for the Ultimate List of the Best New Zealand Crafts Shops & Artist Cooperatives.
---
READ MORE: The Best Wool Shops in Auckland and New Zealand for yarn and knitting supplies.
READ MORE: The Best Craft Markets in New Zealand
READ MORE: The Guide to Where to buy Fabric in New Zealand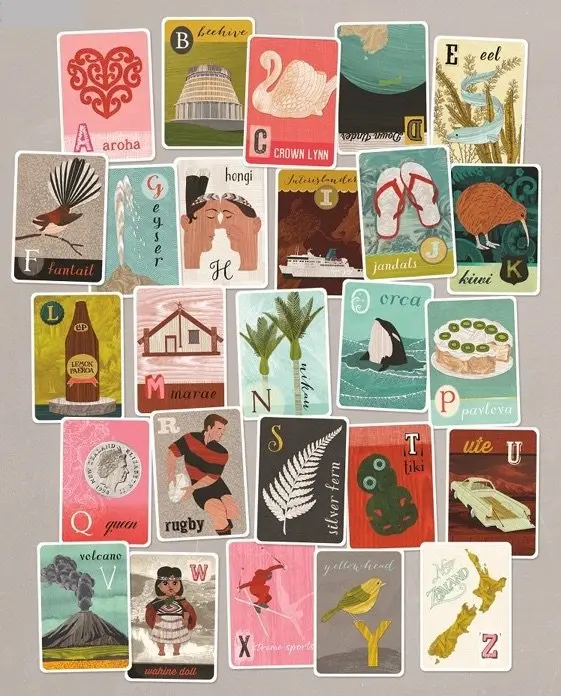 No.2: New Zealand Stationery and Paper Goods
If you love paper and stationery, keep a look out for these stationery gifts in New Zealand.
New Zealand cards and postcards
Contemporary Kiwi Alphabet Card Set (or Wall Frieze) featuring NZ icons, designed by Tanya Wolfkamp.
Post a Pop Out Hanging Decorations by Ian Blackwell – Kiwi, Caravan, Kamper, Reindeer, Tree
Playing Cards with NZ icons
A special mention to Ian Blackwell products.
While they don't have a shop front, take a browse of their website to see the range of handmade Christmas gifts and Keeper keyrings and magnets featuring Kiwiana icons such as:
sheep
Marmite
Kiwi kampers
Tui birds
bach houses
black ferns, and
Swanni shirts.

Where to buy stationery in New Zealand?
Whitcoulls, The Warehouse, Warehouse Stationery (similar to Officeworks), and Paper Plus.
Auckland stationery shops
Passion for Paper, the first fine stationery store to open in New Zealand. 217 Parnell Road, Auckland.
Flo and Frankie, Auckland
Smith and Caugheys, Auckland
Daiso
Iko Iko Auckland at (Iko Iko sells Maori stamp pads!)
Cravehome
Stationery shops Wellington
Check out these Wellington stationery shops if you are in town
Iko IkoWellington
Tea Pea, Wellington
Matchbox Studios 166 Cuba Street, Wellington
Stationery Shops Christchurch
These two stationery shops in Christchurch sell gorgeous designs
Shut the Front Door, Christchurch
Hapa, Christchurch
MORE stationery shops in New Zealand South Island
The Design Library, Greytown
Cerise, Blenheim
Moi design, Dunedin
Fallow and Fox, Dunedin
William Bee General Merchants, Oamaru
Design federation, Oamaru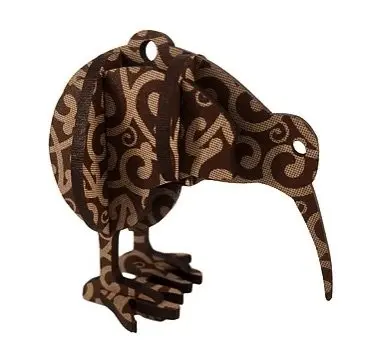 No.3: New Zealand Holiday Ornaments
No.1: Abstract Designs
My friend gifted me an adorable 3D Kiwi bird Christmas decoration in a flatpack kit set from New Zealand Abstract Designs.
We made it ourselves in five minutes and can't wait to hang it on the Christmas tree this year.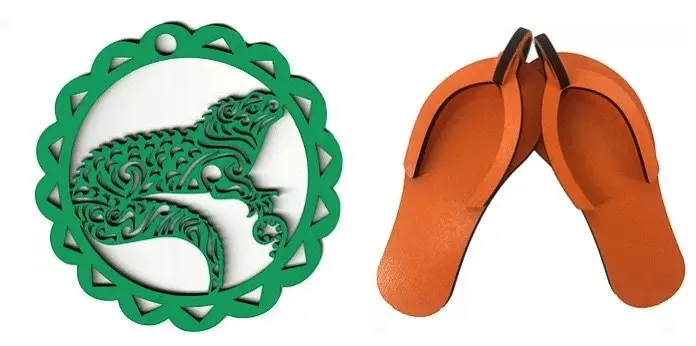 The NZ memorabilia 3D designs include:
bees
Pokutukawa flower
fantail birds
kowhai flowers
tractors
caravans
jandals (thongs)
tui and pukeko birds
sheep, and
Haka decorations.
They stock a wide variety of flat circular lasercut designs featuring Kiwiana imagery too, including Pokutukawa flower, Kiwi, tui and Kereru birds, and Tuatara lizards.
No.2: Ian Blackwell Designs New Zealand Gift shop
Check out the Ian Blackwell range of Christmas tree decorations too.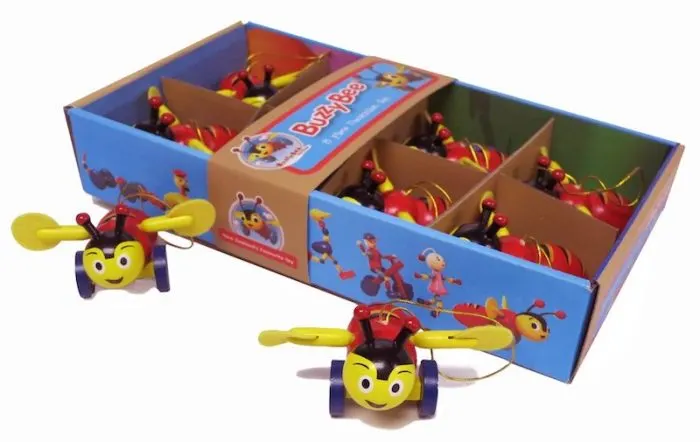 No.3: Buzzy Bee Christmas Decorations
But the best find is right here.
Buy a set of 8 BUZZY BEE Christmas decorations for the tree!
Who can resist this National Kiwiana icon on the tree?
BUY NOW ON AMAZON: Buzzy Bee set of 8 Christmas ornaments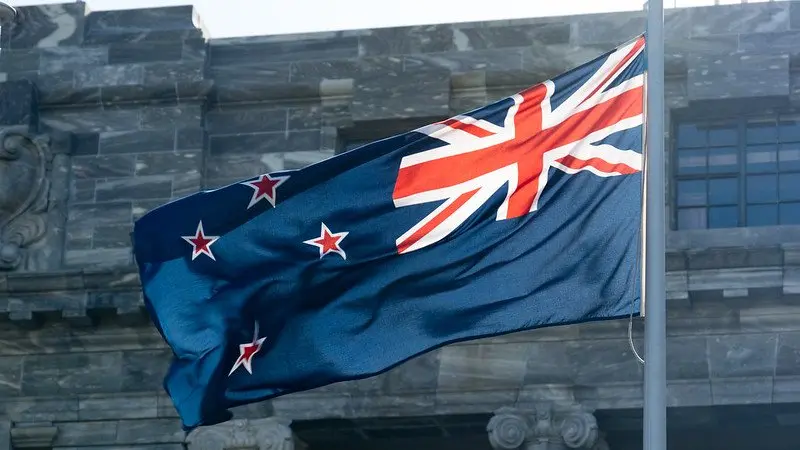 Image credit: Christoph Strassler via Flickr CC BY-SA 2.0
NATIONAL SOUVENIRS FROM NEW ZEALAND
How about these New Zealand products as a unique gift?
New Zealand Flag
New Zealand flag bunting
New Zealand Maps and vintage maps
Regional Souvenir Spoons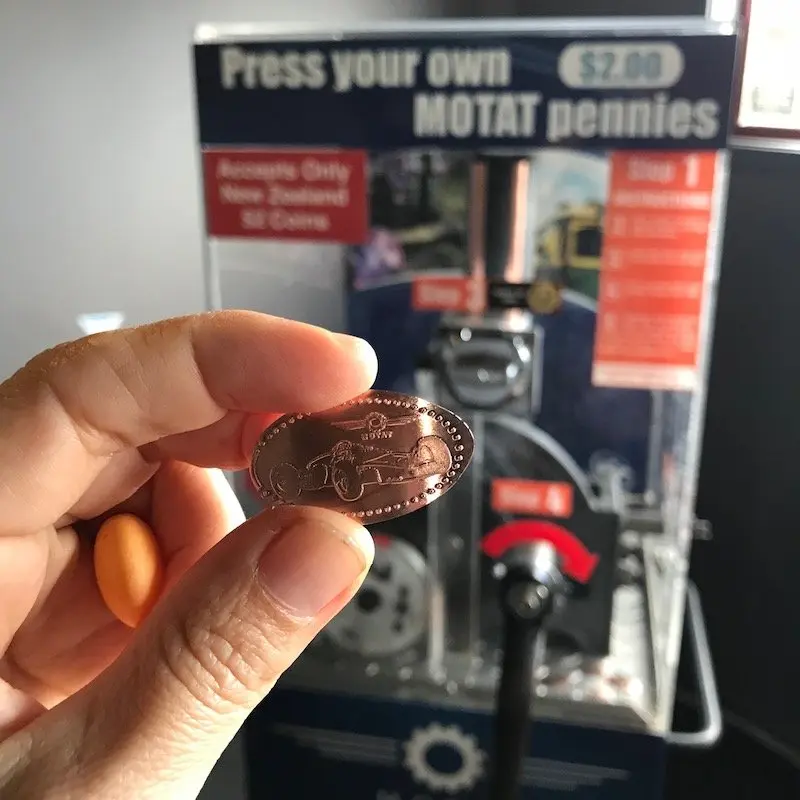 BUDGET SOUVENIRS NZ
Best Cheap Souvenirs from New Zealand?
Looking for cheap things to buy in New Zealand for the kids' school friends and neighbourhood kids.
Or perhaps you want to bring back kiwi gift ideas from New Zealand for your workmates without spending a fortune.
Here's some more ideas for you.
New Zealand Souvenir Coins (pressed pennies).
Find pressed penny machines in New Zealand at:
Sky Tower Auckland
Sea Life Kelly Tarlton's Auckland
Rainbow Springs in Fairy Springs Rotorua
Cable Car Museum Wellington
TePapa Wellington Museum.
Dunedin i-SITE Visitor Centre
Skyline Gondola and Luge Queenstown
Puzzling World Wanaka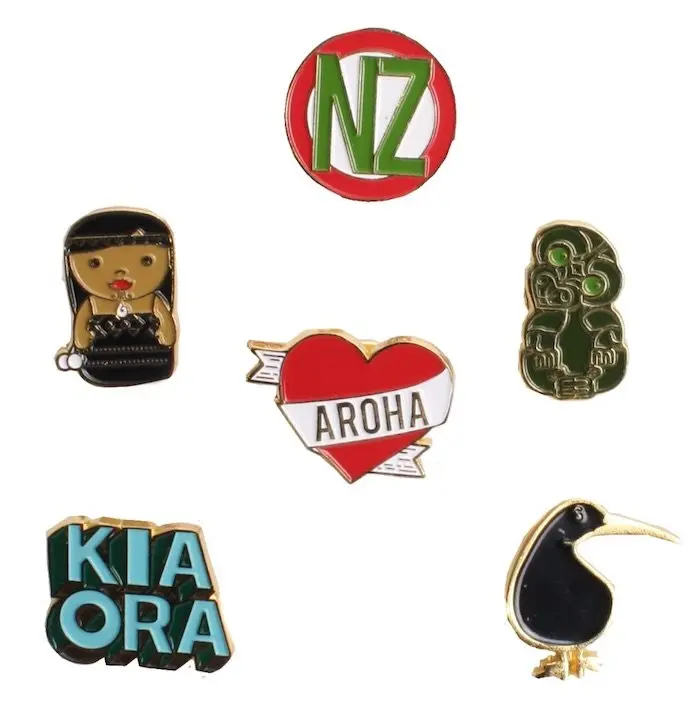 You can also buy these cheap souvenirs in New Zealand:
Still wondering what to buy in New Zealand?
New Zealand souvenir fridge magnets
New Zealand iron on patches, or badges
New Zealand enamel pins (like these ones pictured above, from Iko Iko.)
NZ souvenir t shirts
NZ souvenir hats featuring the Silver Fern
NZ icons neck pillow for travel
Silver fern pins and badges
New Zealand map tea towels
Funny New Zealand t-shirts featuring Flight of the Concorde, Footrot Flats, or Kiwi birds with strange hobbies
If you are on the South Island, visit DF Souvenirs in Queenstown – it's by far one of the best value souvenirs shops in New Zealand.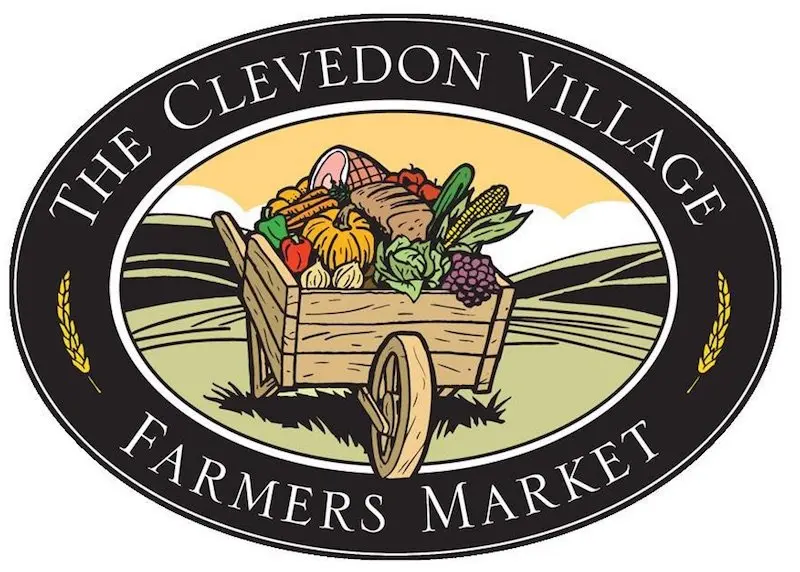 NEW ZEALAND FARMERS MARKETS
Here's our tips on the best New Zealand shopping destinations to find gourmet food producers & people making soaps, perfumes, growing flowers, beeswax wraps, candles and more.
These fresh food markets in New Zealand are delightful!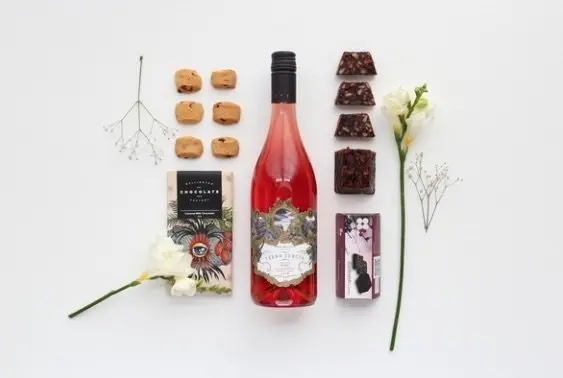 Image credit: Willow and Wolfe
BEST NEW ZEALAND GIFT BOXES
If you aren't heading to New Zealand anytime soon, but want to purchase New Zealand gifts and souvenirs, why not organise a gift hamper? This way, you can buy NZ gifts to send overseas, to yourself, or someone else.
No.1: Willow and Wolfe gift boxes
Our pick of the bunch is to use Willow & Wolfe.
Their gift boxes and hampers are filled with New Zealand made gourmet treats.
No.2: Giftbox Boutique NZ
Giftbox Boutique creates popular gift baskets and hampers with LOTS of artisan food and wine products from New Zealand to choose from.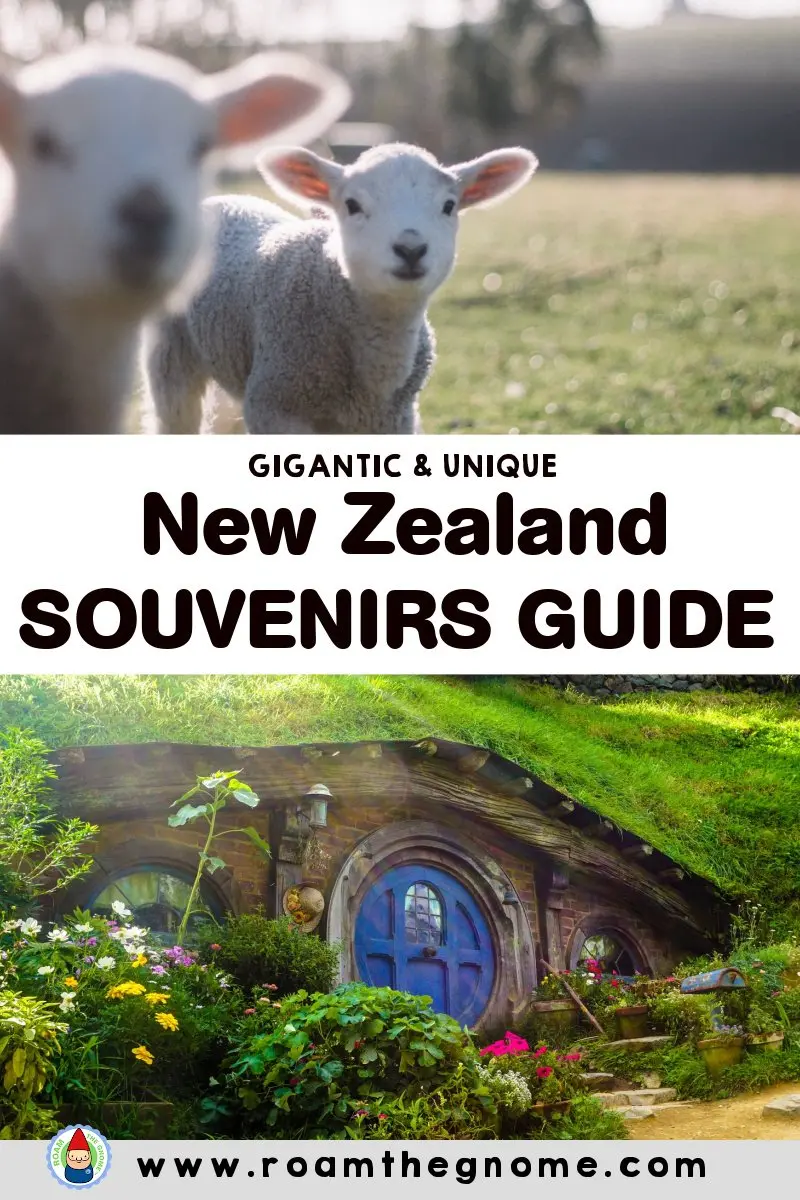 No.3: New Zealand Snack Boxes
You can also buy a range of the most popular New Zealand food products on Amazon, including giant bags of Minties, Pineapple lumps, and Manuka honey.
Any NZ Gift Ideas we're missing?
Do you have a Kiwi product we should know about?
Email us with details to be considered for the list.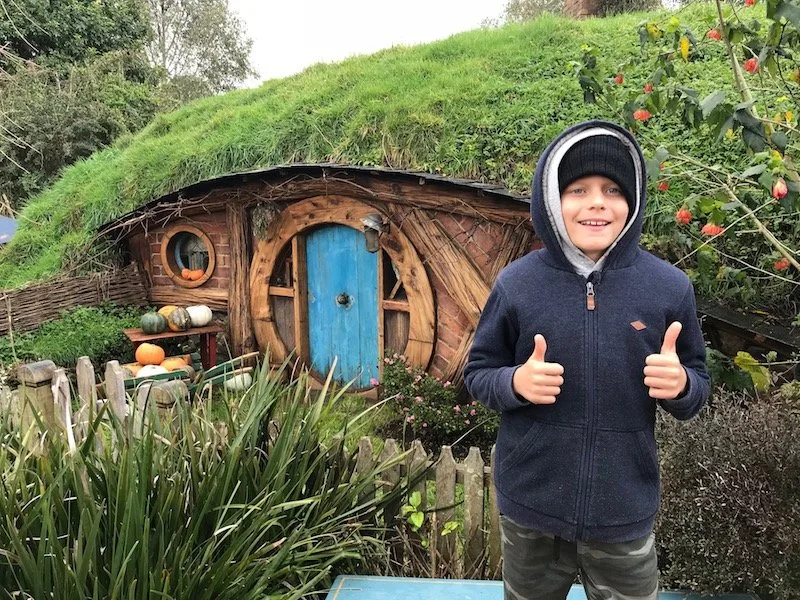 Looking for More Things to Do in New Zealand for Kids?
Click the blue links below.