INSIDE: Everything you need to know about Taco Casa Bali – the Best Mexican Seminyak restaurant.
Looking for the best Mexican restaurant in Seminyak?
This Seminyak Mexican restaurant was heaving when we wandered by on our hunt for a family friendly restaurant in Seminyak.
We took this as a good sign, and joined the crowd.
We weren't disappointed.
Check out all the details of Taco Casa Mexican in Seminyak below.
Disclosure: This article contains affiliate links. If you make a purchase after clicking on one of these links, we may receive a small commission at NO extra cost to you.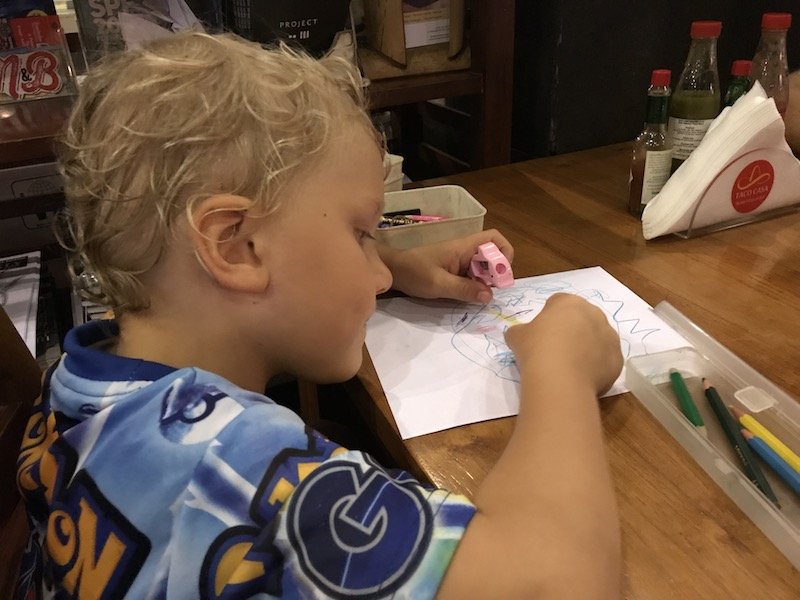 Guide to Taco Casa Bali Restaurants
While not mind-blowing food, Taco Casa's menu of wholesome, simple, familiar and tasty food such as tacos, enchiladas, burritos, and quesadillas keeps the kids happy.
There's colouring in pencils and paper, AND the wait wasn't long too.
All the essentials for a good family restaurant right there.
Taco Casa Mexican Seminyak is just steps from the Ibis Styles hotel on Jl. Petitenget, Kerobokan.
Head out the door and to your left.
Taco Casa is sandwiched between Mozzarella to the left, and Smokehouse BBQ and Pison Coffee to the right.
---
RELATED: The Big List of Best Things to do in BALI with Kids
The Best Mexican Seminyak restaurant for families
Taco Casa is one of the best places to eat in Seminyak with kids
Taco Casa has all the goods.
I couldn't resist a cheesy enchilada flooded in their homemade enchilada sauce with enough stringy cheese to rival the muddle of power lines outside.
The bowl of black beans and sour cream was a bonus.
I skipped the avo – the tummy complains.
It was not quite the same as my favourite enchilada from Montezumas in Burleigh on the Gold Coast, but good enough.
Ned and Jack shared a platter of crispy tacos – two tacos for the big boy, one for the little one.
They devoured them, which is always a good sign.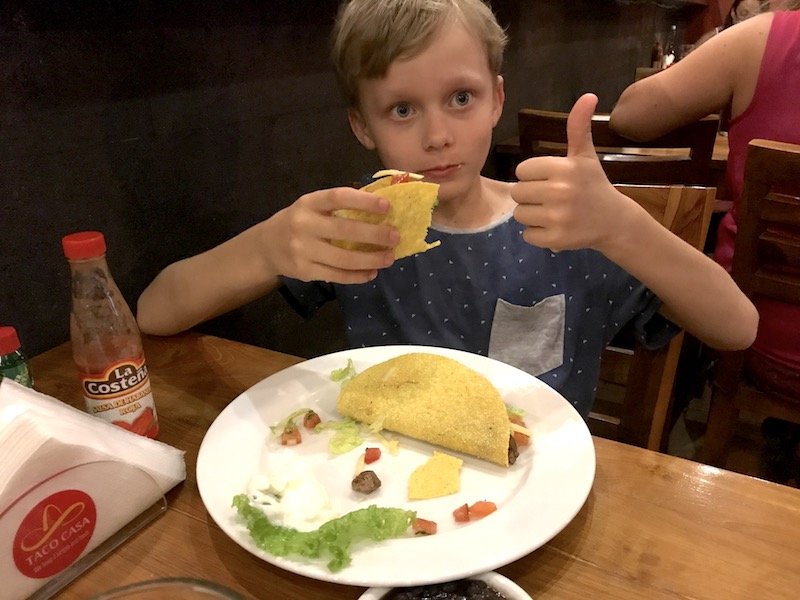 Mexican Restaurant Seminyak for kids
Taco Casa restaurant is on a "homemade" crusade.
Yep.
Their flour tortillas, guacamole, pico de gallo salsa, enchilada and hot sauces, beans, taco shells, corn chips, taco salad bowls and dressings are all made from scratch and contain no lard, MSG or preservatives.
You can see it. You can taste it.
The sauces and sour cream are served separately, as are the pickles and black beans, so fussy kids can add them at the right time.
The staff are also highly accommodating and friendly.
You can see the staff working behind the counters to prepare your meals, so special requests for fussy eaters are fairly doable and possible.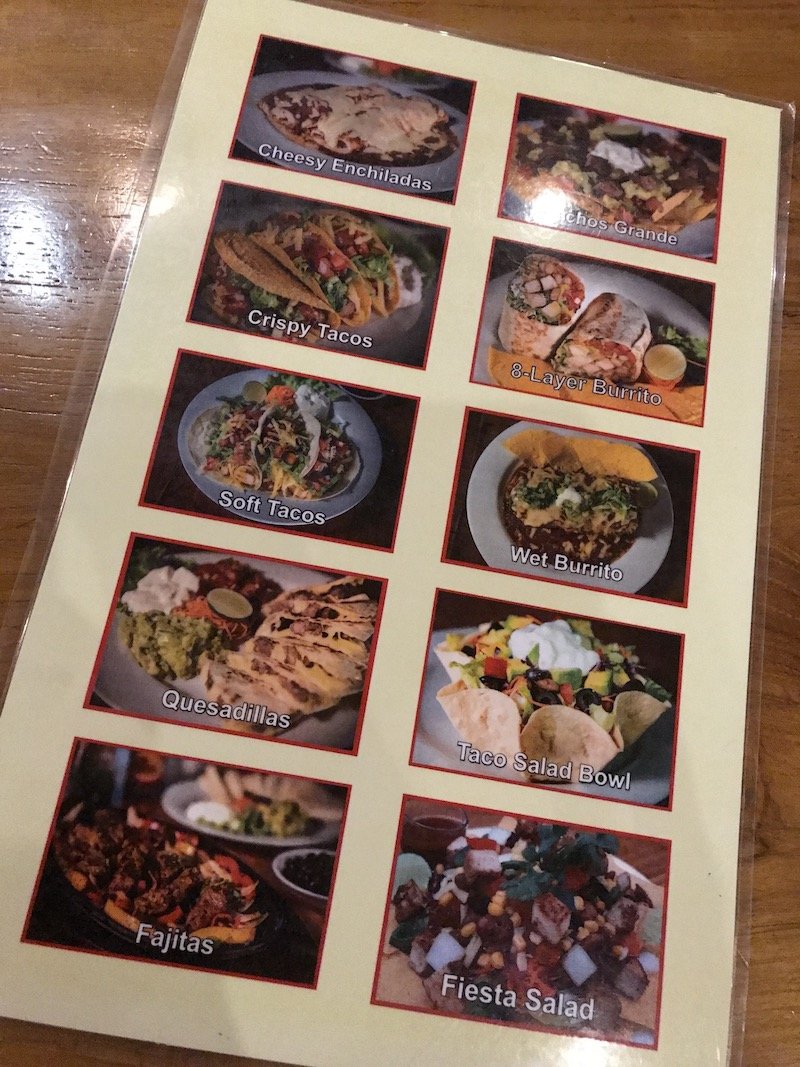 Taco Casa Menu
While Cheesy Enchiladas are top of menu, there's a whole page of deliciousness up for grabs.
For a change, try:
a Naked Burrito Bowl (Chicken bowl costs 68,000 rupiah – $7 AUD) or
Make Your Own Tacos.
Starting at 14,000 RP for three homemade crispy or soft tacos, you then add your own choices from a list of:
veggies
chicken
prawns
avo
diced tomatoes
pinto or black beans
rice
cheese
sour cream and
jalapenos.
Lettuce and chopped chilli is FREE.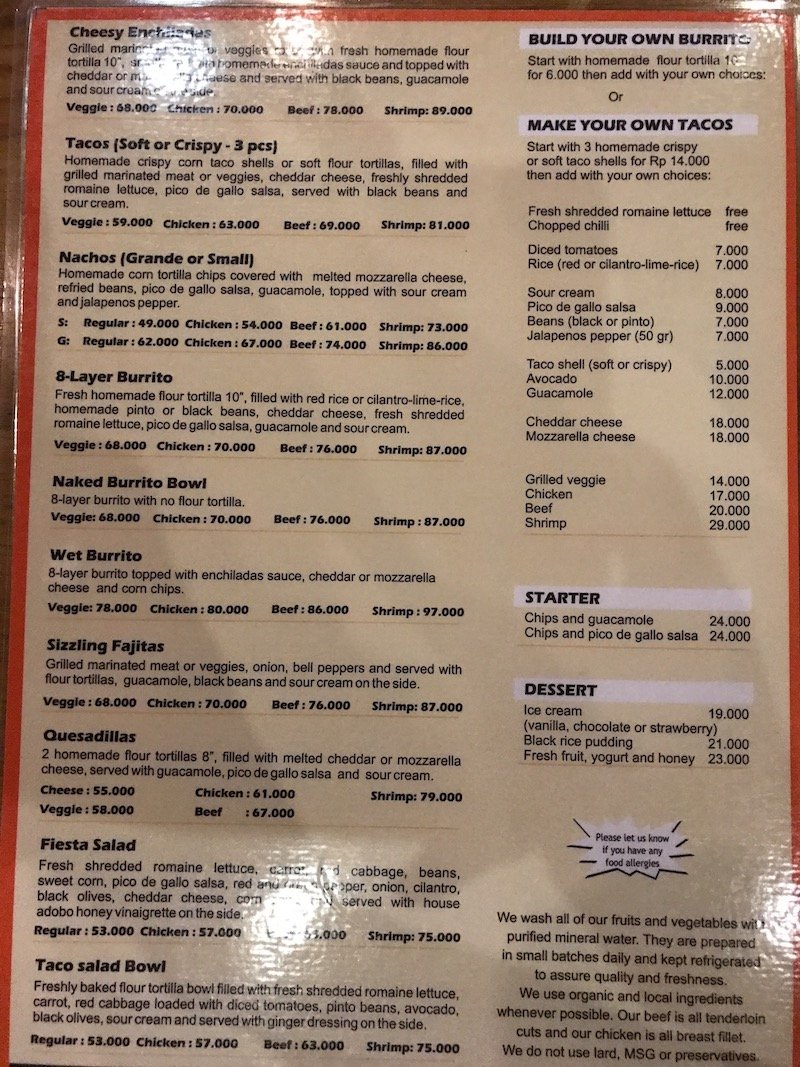 MORE Meals at Taco Casa Mexican Bali Seminyak
There's also:
Soft tacos
Crispy tacos
Nachos Grande (or small size)
8 Layer Burritos
Sizzling Fajitas
Quesadillas
Fiesta salads
Taco Salad bowl
Find the Taco Casa menu on the website – details below.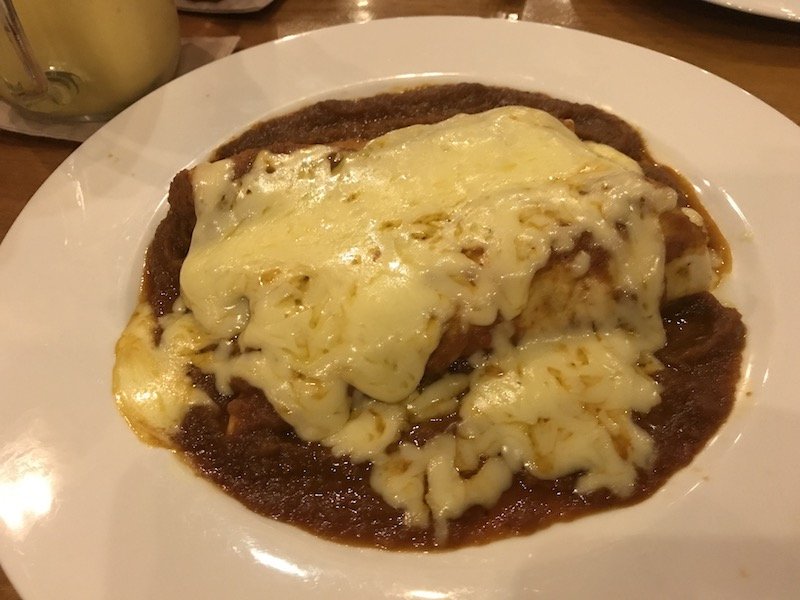 Best Mexican in Bali for Gluten Free eating?
For those who don't eat gluten or flour, the Fiesta Salad will suit.
Ditch the corn chips, and add your choice of meat if you like.
Next time, we're going to order the quesadillas like the fellow next door to us did.
Ned and I agreed – those bite-size pockets looked like cheesy melt heaven.
Taco Casa Menu Prices
Prices at Taco Casa Mexican Seminyak start from 47000 rupiah for a small regular nachos and top out at 90,000 rupiah for a wet shrimp burrito.
The majority of mains cost between 60,000 and 75,000 rupiah, with desserts around 20,000 each ($2.20 AUD).
Try one of their pure fruit juices for 31,000 ($3.30 AUD) or one of their blended fresh tropical juices.
Ned has a strawberry milkshake smoothie (& whipped cream topping!), while I had a sublime Mango Lassie.
They do serve margaritas, mojitos, tequila, sangria and beer too.
A note of reassurance – the salad ingredients here are washed in purified water and stored in the fridge so you're pretty safe eating here.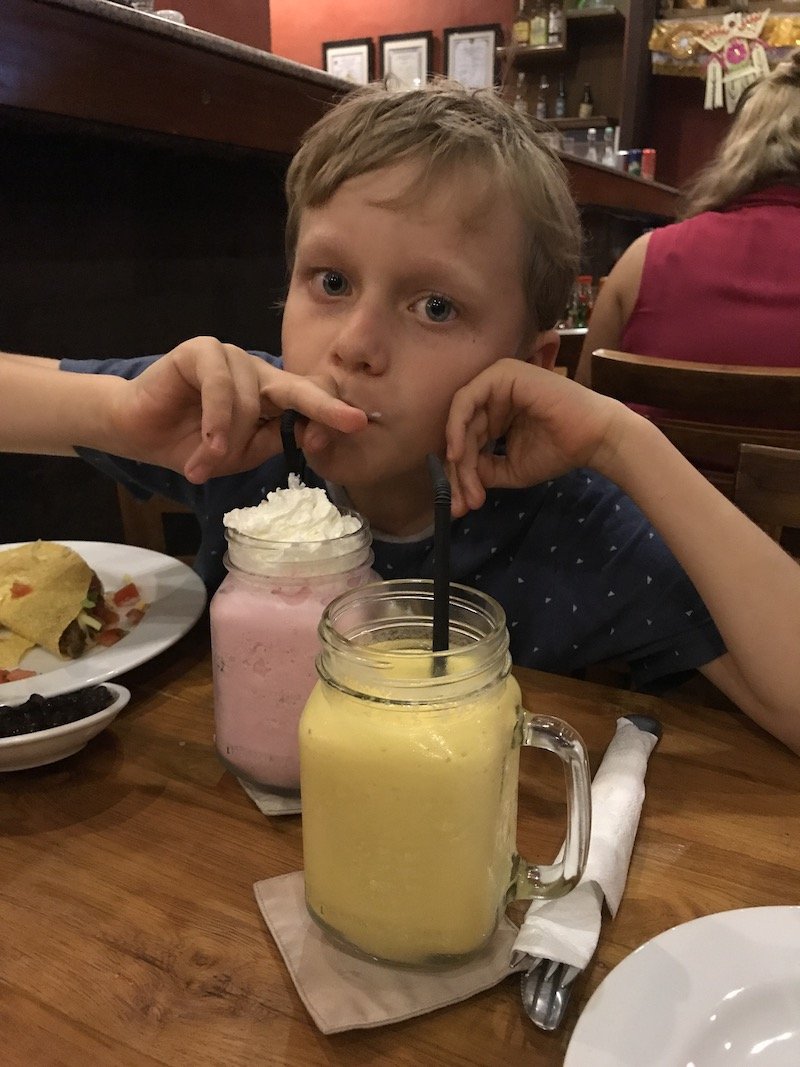 THE INSIDE SCOOP: Taco Casa Mexican Restaurant Bali Seminyak
Correct at time of publication on Roam the Gnome. Please check with venue for updates. We apologise in advance if there have been any changes we are unaware of. All prices in AUD dollars, unless otherwise stated
Taco Casa Website: Click here
Taco Casa opening hours
10am – 10pm (Please check with restaurant for changes)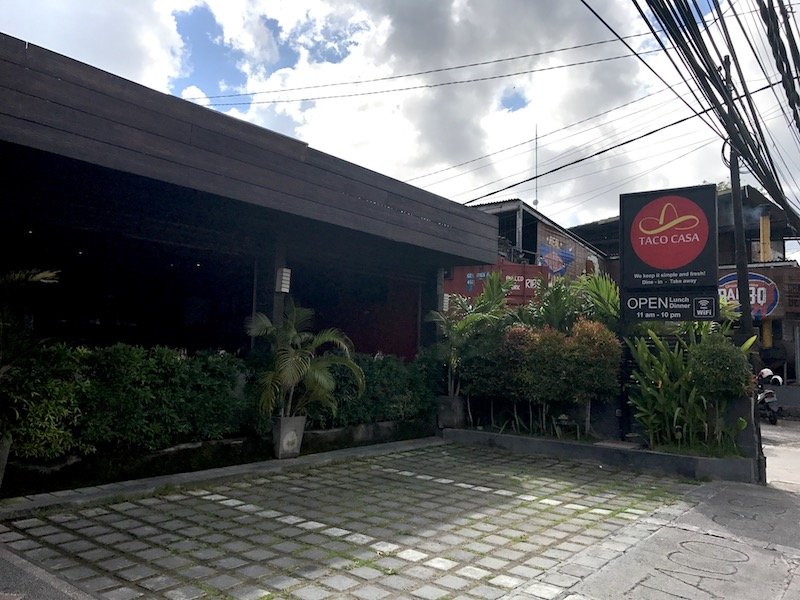 TACO CASA MEXICAN RESTAURANTS
No.1: Taco Casa Seminyak
Address: Jl. Petitenget (North End of Seminyak) Kerobokan, Kuta Utara, Badung, Bali 80361
Telephone: +62 812 2422 2358
Click here for directions
No.2: Taco Casa Canggu
Address: Jl. Batu Mejan (Echo Beach), Canggu, Kuta Utara, Badung, Bali 80361
Telephone: +62 812 2422 2359
Click here for directions
No.3: Taco Casa Ubud
Address: Jl. Pengosekan (South end of Ubud), Ubud, Gianyar, Bali 80571
Telephone: +62 812 2422 2357
The Taco Casa Ubud menu is the same as the others.
Click here for directions
Taco Casa Delivery
Taco Casa delivers orders from the Ubud Taco Casa within Ubud area only.
A Rp 5.000 delivery charge will be added to the bill.
For reservations and information, please call:
Ubud: +62 812 2422 2357
Seminyak: +62 812 2422 2358
Canggu: +62 812 2422 2359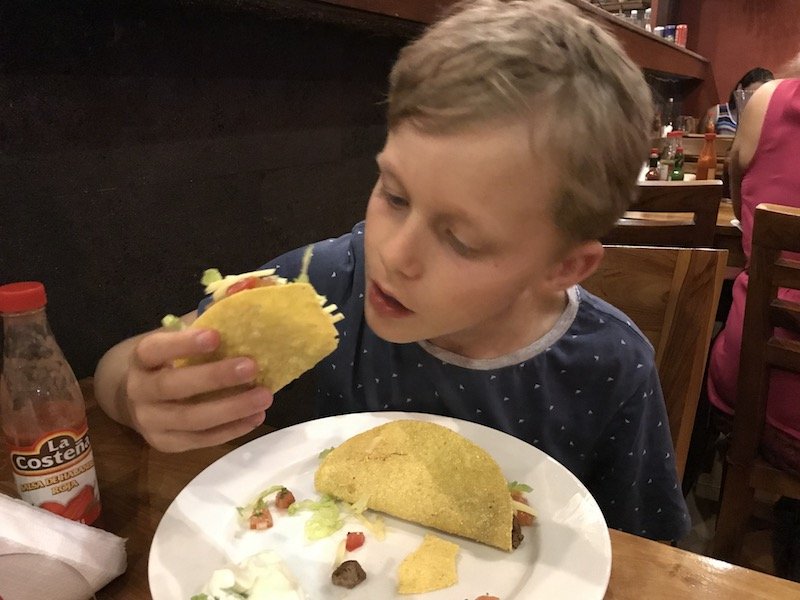 Toadstool Rating: Taco Casa Mexican Food
We'd put Taco Casa on our list of "Good restaurants in Seminyak for kids".
Definitely try it.
I never felt out of place, having kids in tow (unlike some other Seminyak restaurants), or rushed.
In fact, the staff couldn't have been more friendly or good natured.

Looking for MORE best restaurants in Seminyak for families?
Click the links in blue below for more Bali tips