INSIDE: Everything you need to know about La Plancha Bali.
What if you could watch a magical sunset, with a mango lassi or a mai tai in hand, lazing amongst a field of rainbow beanbags on the beach?
You can!
Enjoy a Bali sunset in a beanbag chair at LA PLANCHA Bali.
Find all the details of this top spot below.
Disclosure: This article contains affiliate links. If you make a purchase after clicking on one of these links, we may receive a small commission at NO extra cost to you.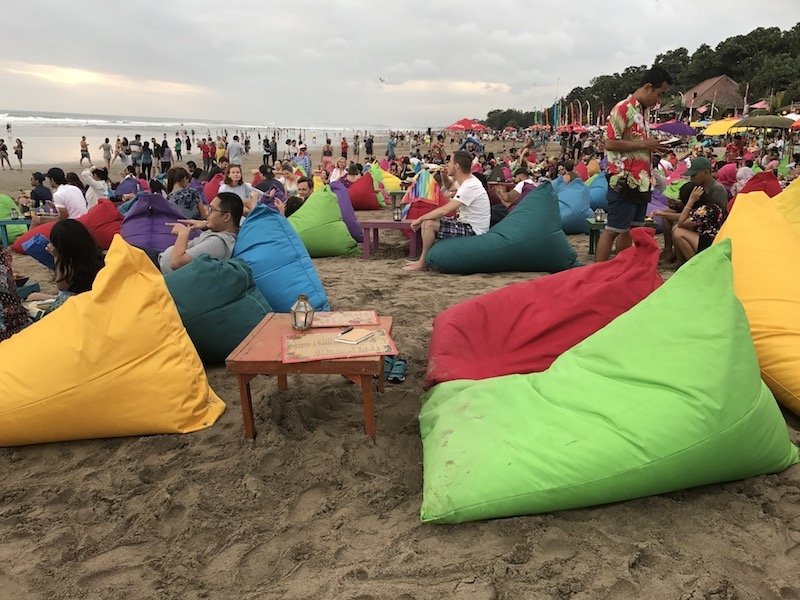 Guide to La Plancha Bali Seminyak
Add this to your Bali itinerary – watching a La Plancha sunset on the beach in Seminyak.
This bright beachside restaurant and bar is a local institution for the hip (and not so hip) set.
Head on down late afternoon to grab the best spots.
Hot tip if you are travelling with kids: request a spot in an end-row, so the kids can dig in the sand on the other side of the rope, and run towards the waves. This location, on the edge of the crowd, is a win win win.
You get to enjoy a La Plancha sunset and a drink or two, while nibbling on delicious food.
The kids can play.
And no-one else is bothered.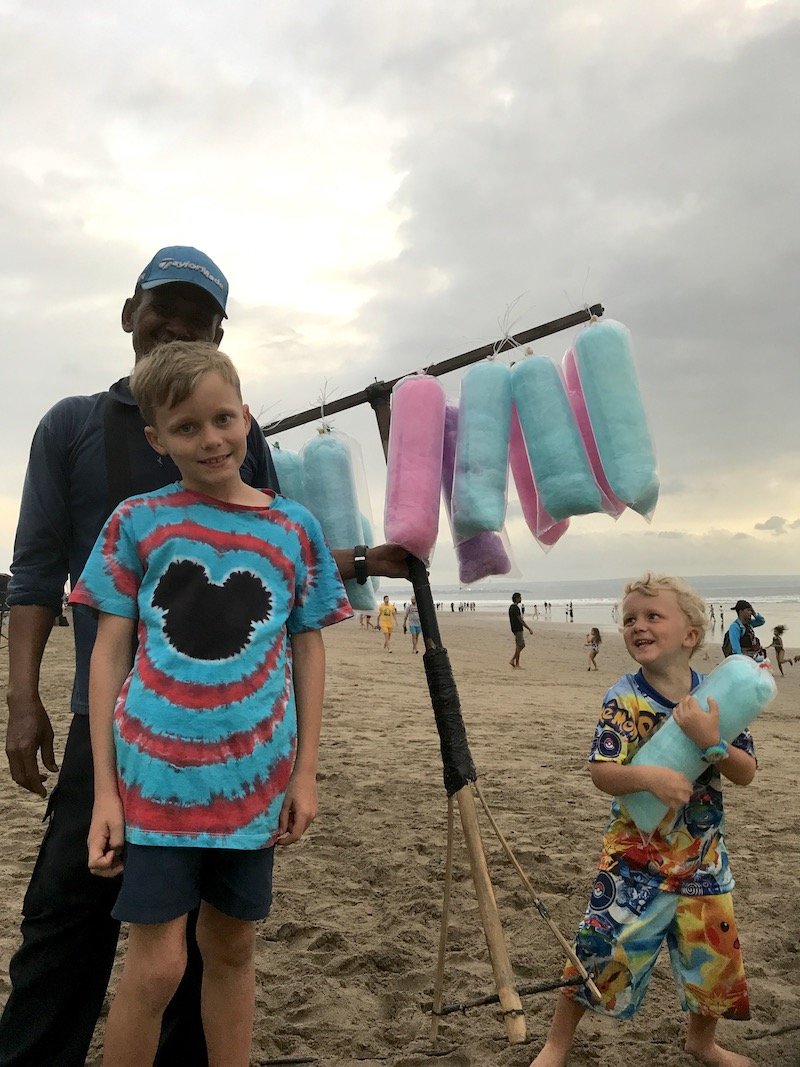 La Plancha Beach Vendors
It's also prime position for beach sellers to showcase their wares to your kids – everything from enormous helium balloons, to Balinese toys, to FAIRY FLOSS!
(Good luck saying NO to that one.)
The La Plancha beanbags on the beach experiences makes the best sunset spot in Bali.
---
RELATED: Ultimate Guide of Best Things to do in Bali with kids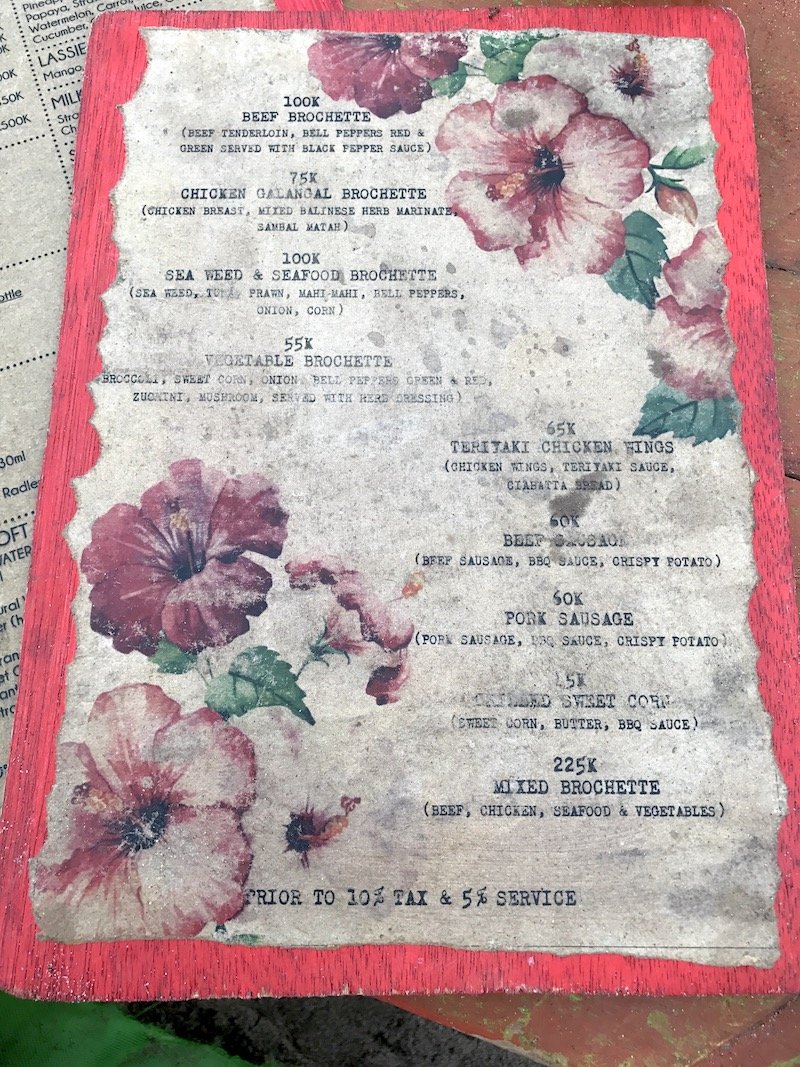 Check out the La Plancha Menu Bali
The La Plancha Bali menu has tonnes of finger food options (Tapas), and that's the way to go.
Quick bites of mouthwatering La Plancha food is our tip for getting the most out of a visit if you've got kids in tow.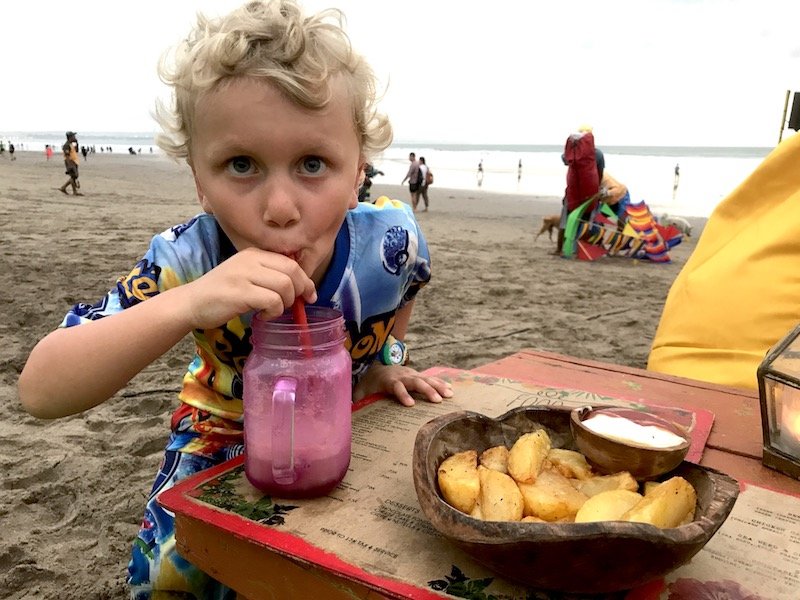 Best La Plancha Food for kids
Try:
Chicharron – deep fried tun, mahi-mahi, and calamari with a tomato salsa
Gambas a La Plancha – grilled prawns
Patatas Bravas – potato cuts with spicy Spanish sauce
Batatas fritas – sweet potato wedges
Pollo a la Plancha – grilled chicken
Tuna tataki – check it out above!
Best of the Menu La Plancha Bali?
Our beanbag neighbours snacked on raw beef and tuna carpaccio, and we were jealous!
Next time.
La Plancha Bali Prices
Tapas dishes start at RP 46,000 for chips, with most dishes around RP 80,000.
Not the cheapest beach bar in Bali, BUT one of the most fun for sure.
There's also sandwiches and burger options for those wanting something a bit bigger, but not as big as a proper main.
These come in at under $10 each.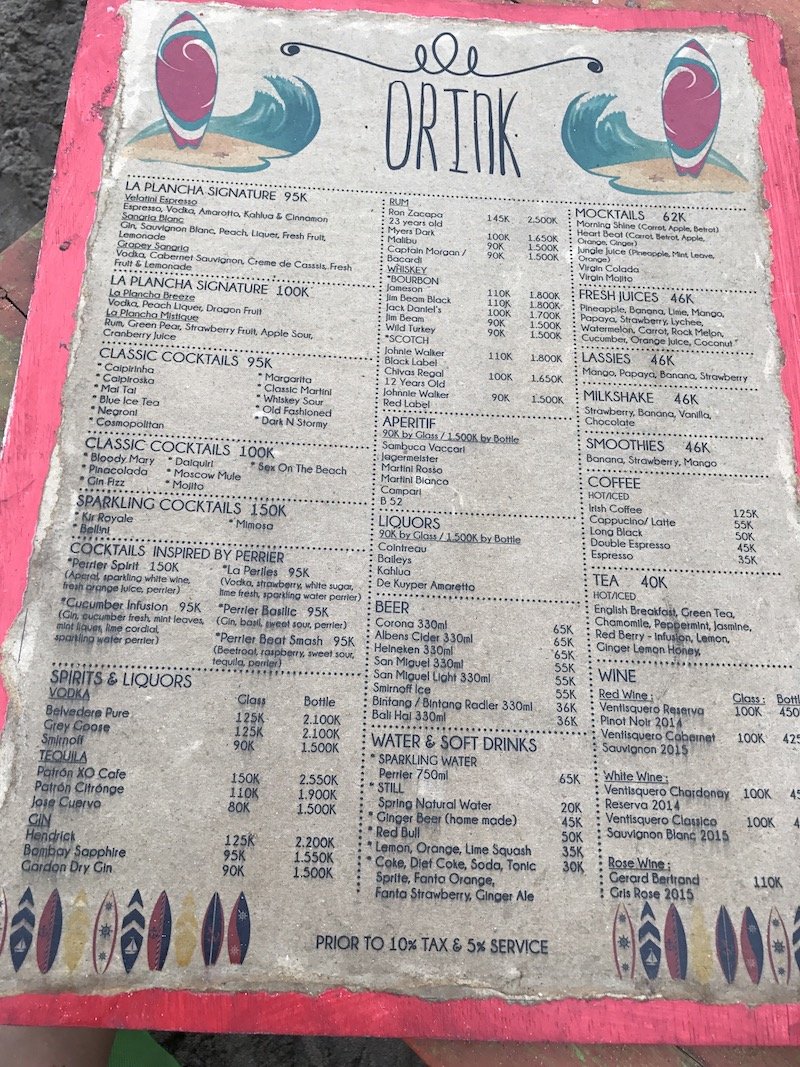 Drinks Menu at La Plancha Beach Bar & Restaurant
Fancy a fabulous glass of something spectacular?
There are FIVE signature cocktails at La Planca, and I bet you won't find it easy to choose.
You'll also find:
classic cocktails
sparkling cocktails
spirits and liquors
wine by the glass (or bottle)
beer
soft drinks, and
water of course.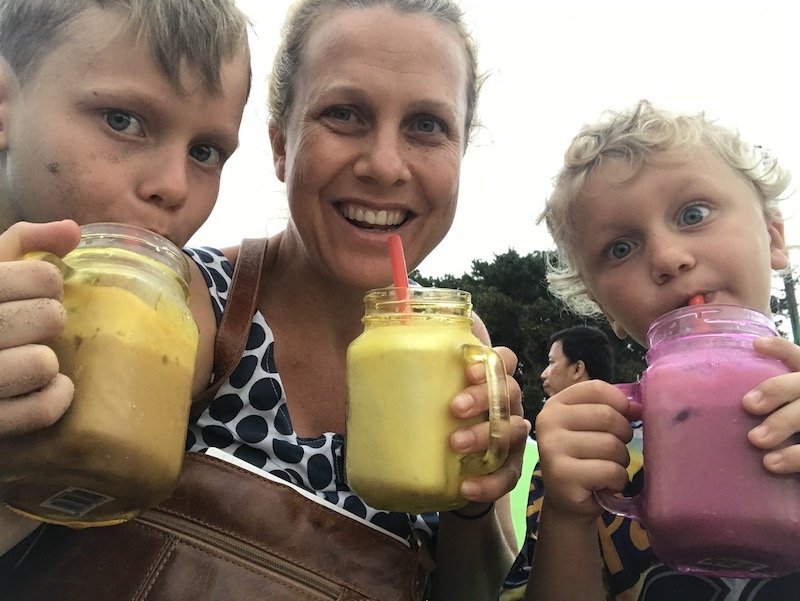 La Plancha Smoothies
I'm more of a mocktail girl when travelling with the kids, and I've never met a strawberry smoothie I don't like.
For the kids, choose from fresh juices, fruit lassies, milkshakes, and smoothies.
These kid-friendly options cost RP 46,000 each. (About $5 AUD)
Beware: There's a 10% tax and 5% service charge added to every bill.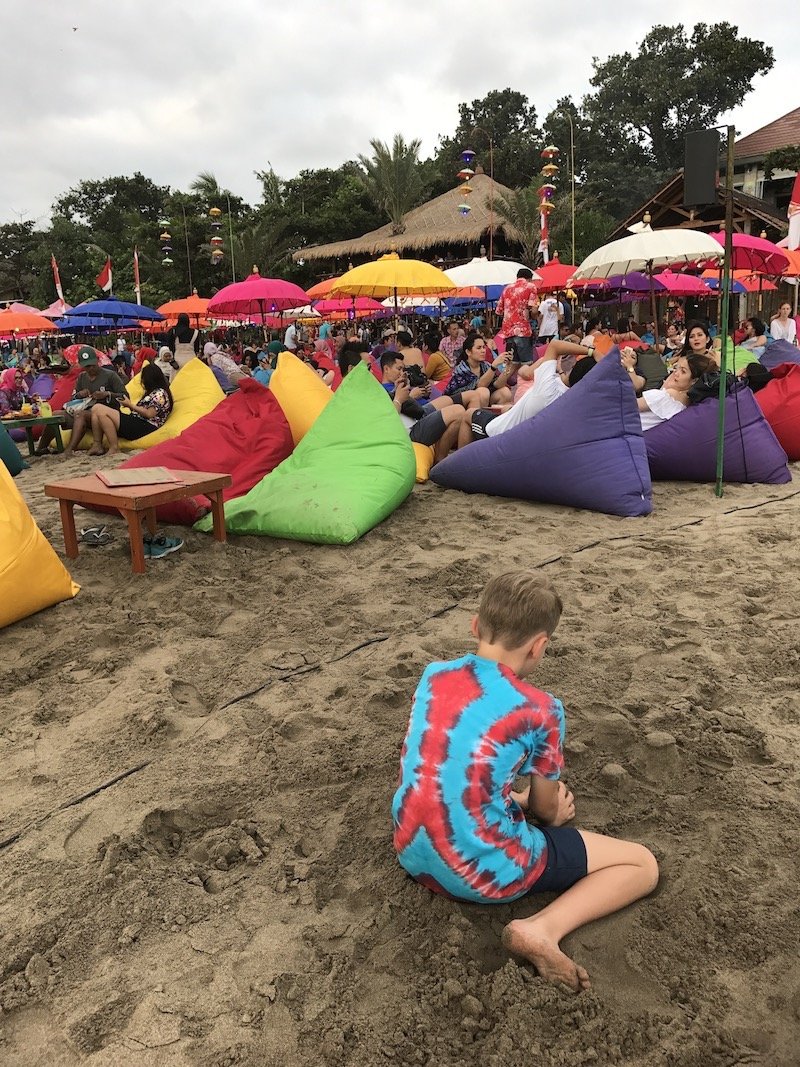 Dessert Options at La Plancha Beach Bali
What will it be?
Chocolate Fondant cake
Cheesecake and strawberry coulis, or
decadent nutella crepes with cream.
We put our money on Nutella every time.
RP 45,000 – RP 55,000. ($5 – $6 AUD)
Finish up with your usual coffee or tea menu before heading home.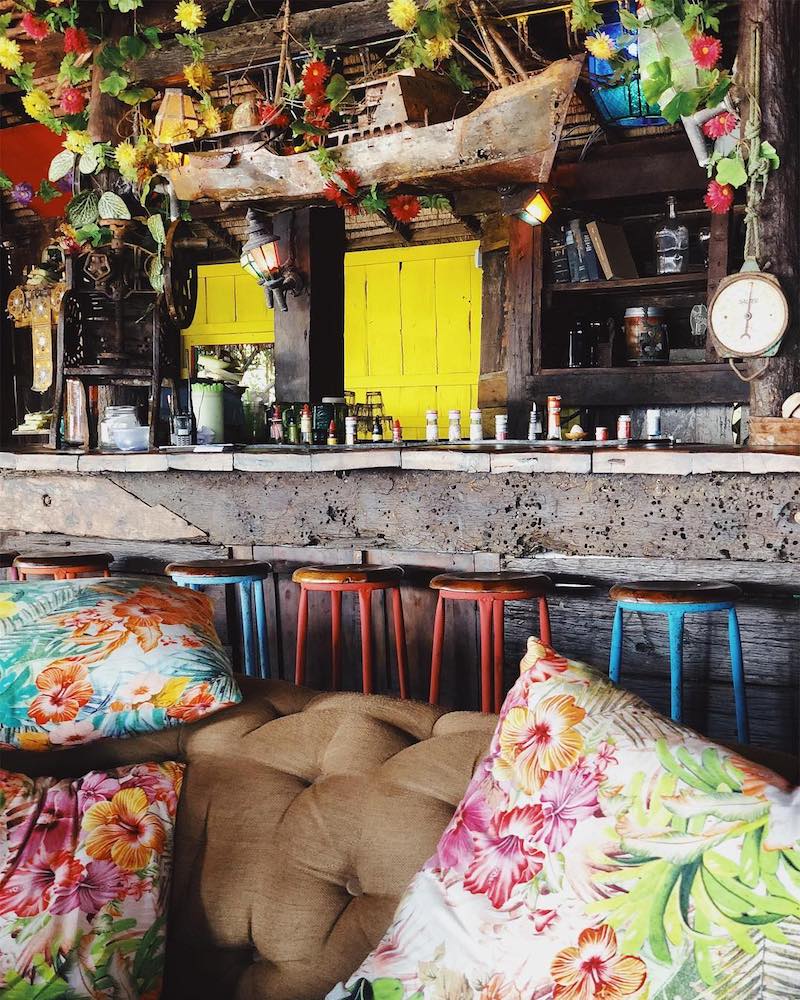 Image credit: La Plancha
4 More Reasons to head to La Plancha Beach Club
No.1: La Plancha is not all about the beanbags (although it's our favourite thing about the place.)
Close second is the upstairs seating, and the comfy and colourful lounge area.
I mean, this place couldn't get any cuter.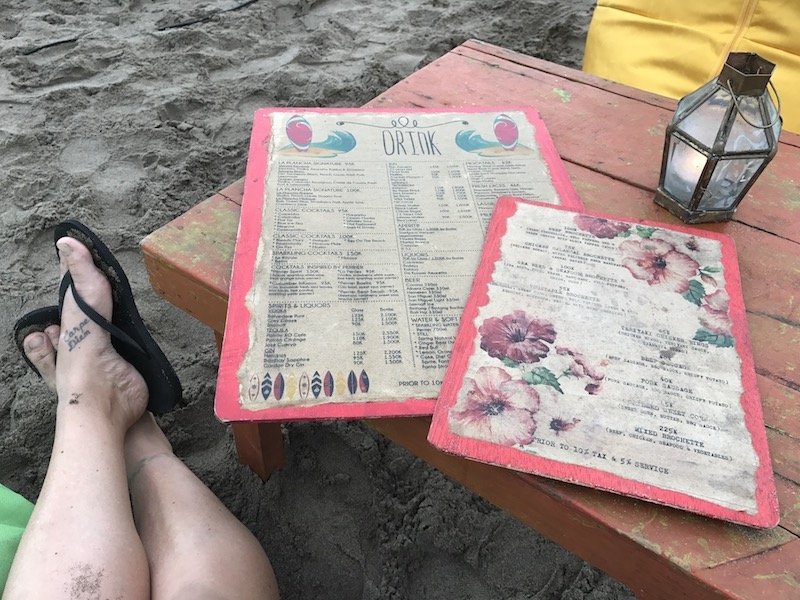 No.2: Divine styling
Take note of the Bali beanbags on the beach set up at La Plancha's Mesari Beach, so you can style the same scene at home.
(Check our favourite homewares store – this place has cute Bali home furnishings to help you recreate it)
No.3: Croquetas de Pollo
Order the Croquetas de Pollo (chicken croquettes) balls.
My mouth waters at the sound of them.
SO good.
No.4: Everyone is welcome at La Plancha, which is why it's so good to visit with kids.
Good food for the parents, and good fun for everyone.
Do grab that Instagram selfie. You know you want to!
Hot tip: Go early for sunset, around 4.30 – 5pm if you have the kids with you. The queue for a beanbag set up gets crazy long.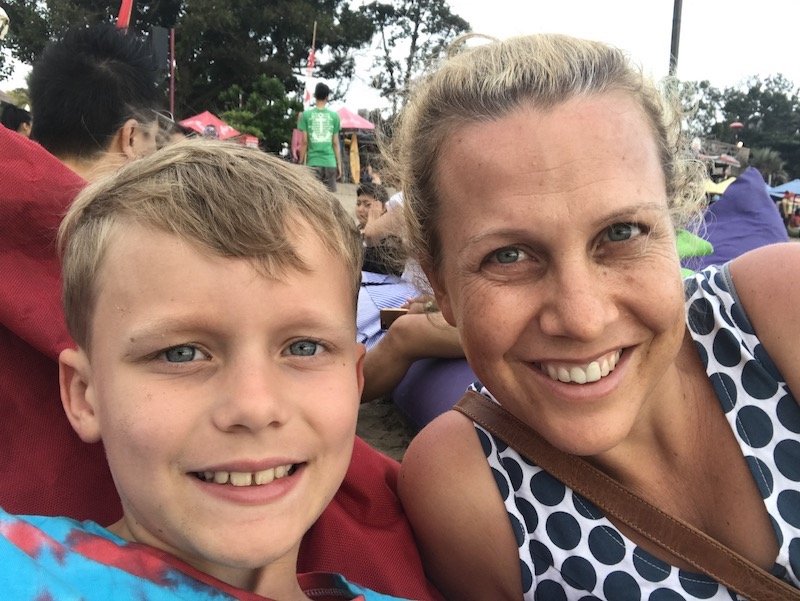 FAQ about Bali La Plancha Restaurant
No.1: What is La Plancha?
La Plancha restaurant and bar pays homage to the gorgeous laidback lifestyles and culture of both Spain and Bali.
La Plancha was the first of the Seminyak beach restaurants to fuse brightly coloured beanbags together with Balinese umbrellas, and this funky style was an instant hit with people from all around the world.
No.2: What does La Plancha mean?
The meaning of the words La Plancha is "grilled on a metal plate"
Originating in Spain, this type of cooking is like a flat top grill.
This method of cooking Spanish-style food is the key to the unique La Plancha menu.
No.3: What's the story behind the colourful paint?
The team behind La Plancha hand-painted the up-cycled wood of the building in all colours of the rainbow to reflect the original Spanish Chiringuito.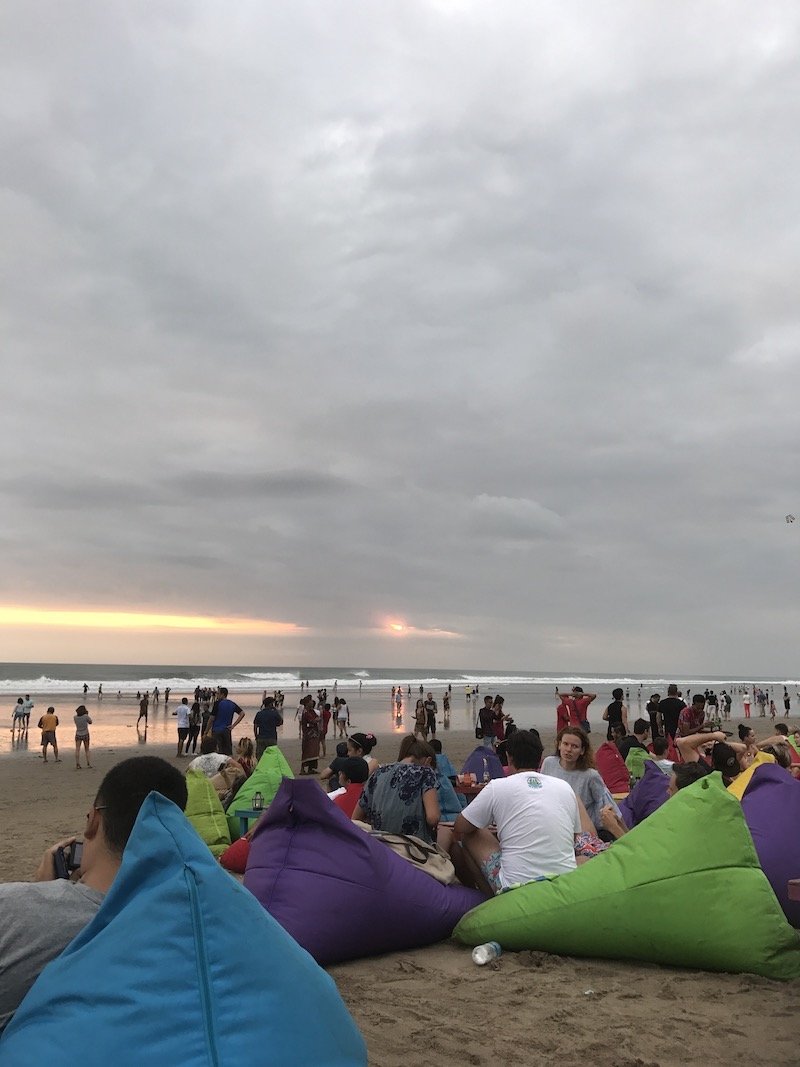 La Plancha Sunset Bali
Unfortunately, the only thing you can't control is the sunset.
Sometimes, the sky is simply drab.
Better luck next time!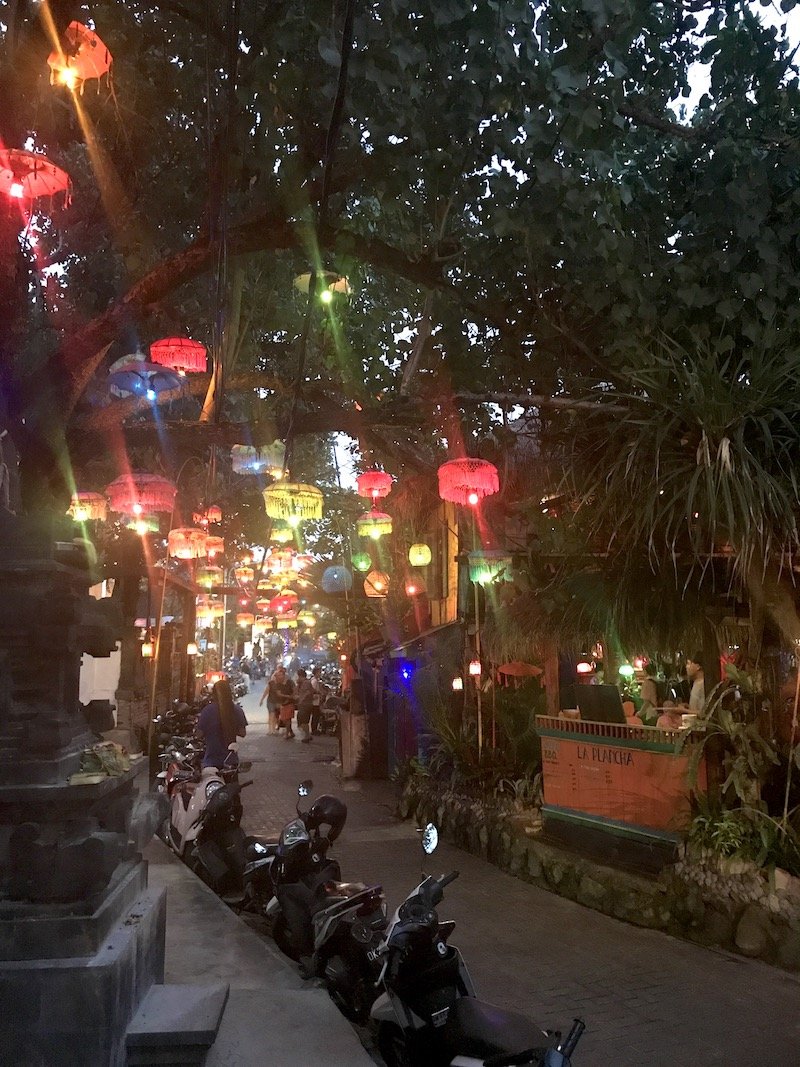 THE INSIDE SCOOP: La Plancha Seminyak Bali
Correct at time of publication on Roam the Gnome. Please check with venue for updates. We apologise in advance if there have been any changes we are unaware of. All prices in AUD dollars, unless otherwise stated
Where is La Plancha Bali?
It's on Double Six Beach
La Plancha Bali address: Jalan Mesari Beach, Seminyak, Kuta, Seminyak, Kuta, Kabupaten Badung, Bali 80361
Telephone:+62 878-6141-6310
La Plancha Opening Hours
8:30 am – 12:00 pm midnight.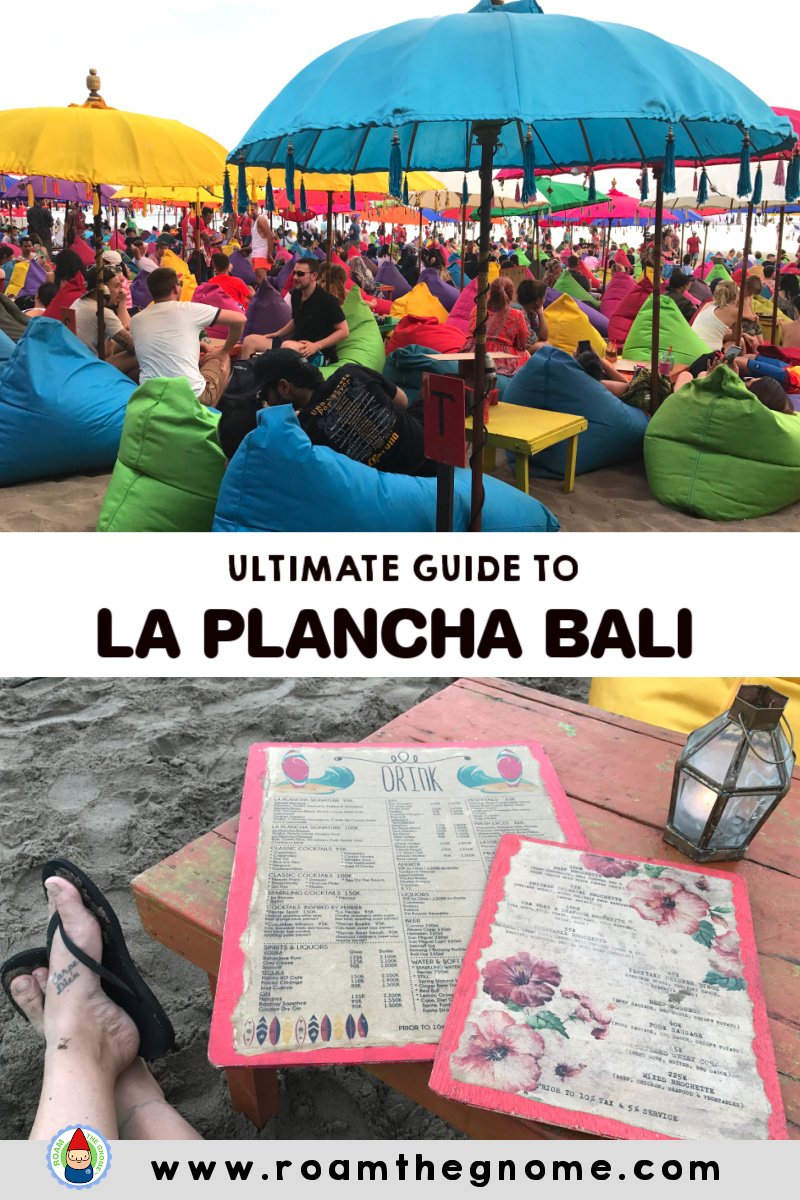 La Plancha booking
Book a restaurant table indoors here.
Please Note:
Beachfront beanbag reservations can only be made from 4pm – 5 pm.
Outside of these times beanbags are allocated on a first come basis.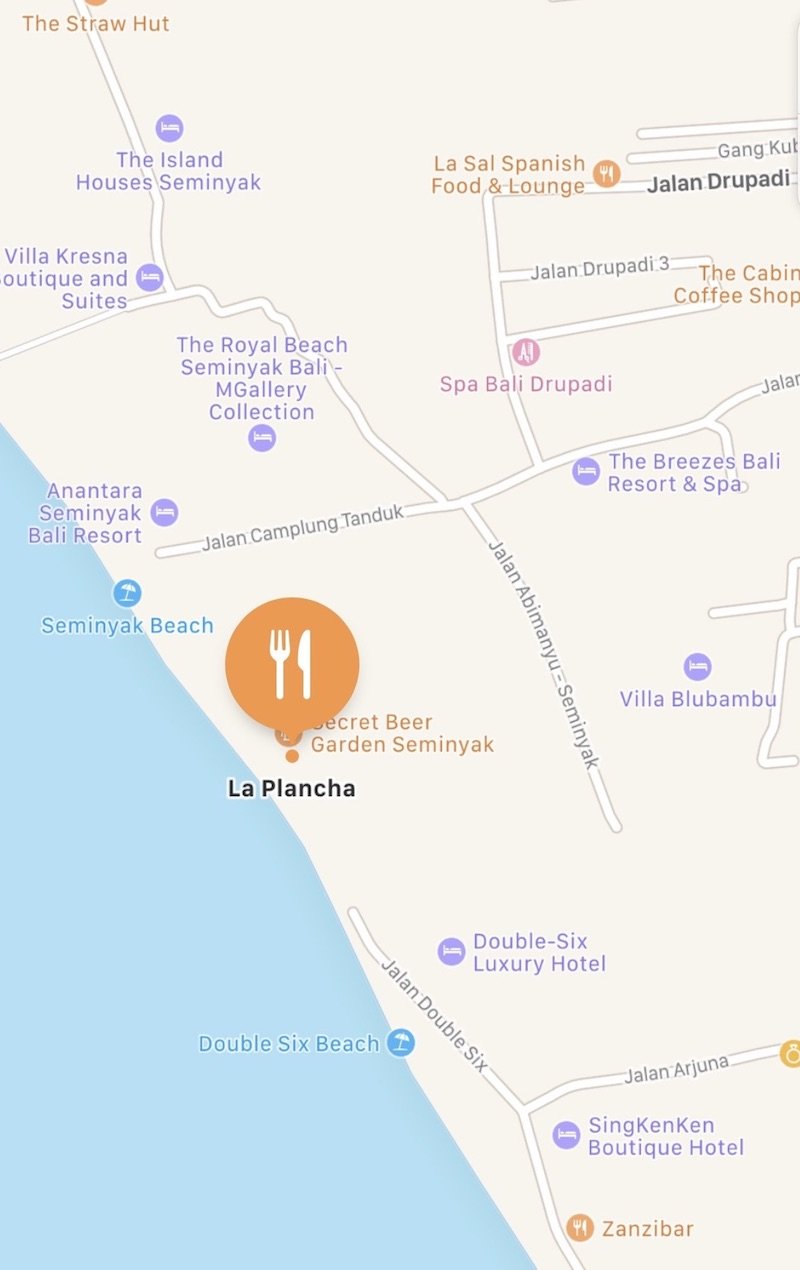 How to get to La Plancha Sunset Viewing
By Bus: Read our guide to catching a Kura Kura bus in Bali
By Taxi: Read our guide to booking a Bluebird taxi
By Private Driver: Hire a Bali driver for the day
By Foot: walk from local Bali villas and hotels (Our favourite is the Ibis Styles Seminyak – it's the best budget hotel in Seminyak!)
Get directions: Click here
La Plancha parking
Limited parking nearby. Arrange to call your driver when you are finished.
La Plancha Bar and Restaurant facilities
Toilets: Yes.
Disability access: Difficult.
Dogs: No
Toadstool Rating: La Plancha Bali Review

Looking for MORE Bali restaurants for kids?
Click the links in blue for more Bali tips below.