INSIDE: Ultimate Guide to Febris Spa Bali.
I do love a posh day spa.
That rarefied world of potions, and lotions, and magical spells that cast away those wrinkles, and smooth out the lumps and bumps.
In Bali, most of these inner sanctums are hidden away within the upmarket resorts and the towering hotels, and the cost of massage in Bali at these spas starts from around $50 to $90 for an hour-long scented reprieve.
The prices are not that different from home.
But, heads up!
You CAN book a cheap massage in Bali at Febris Spa – the AFFORDABLE posh spa in Kuta!
Read on for all the details.
Disclosure: This article contains affiliate links. If you make a purchase after clicking on one of these links, we may receive a small commission at NO extra cost to you.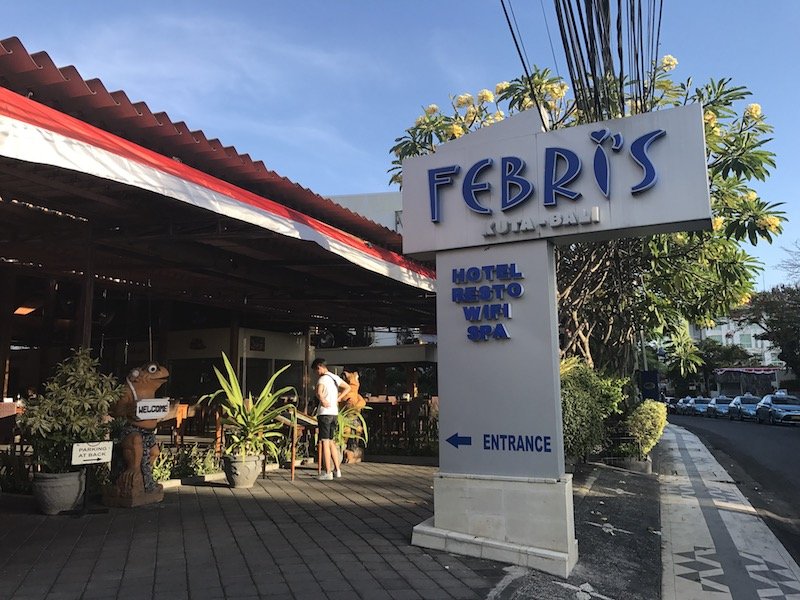 Best Cheap Massage in Bali?
The SUPER cheap massages everyone tells you about are found in the day spas on the main roads:
The Carla spas
the Marsya spas
the Anggita spas, and
the Inner Glow spas of Bali.
For less than $10, (and depending on where you go, as low as $5 AUD) you can try an hour-long back massage, foot and leg massage, or a head massage.
You may, or may not lie on a bed.
Sometimes, you'll stay in the chair, surrounded by the gregarious girls and fellows who staff the spa.
It's a bargain and because it's so cheap, the kids can enjoy a Bali massage too.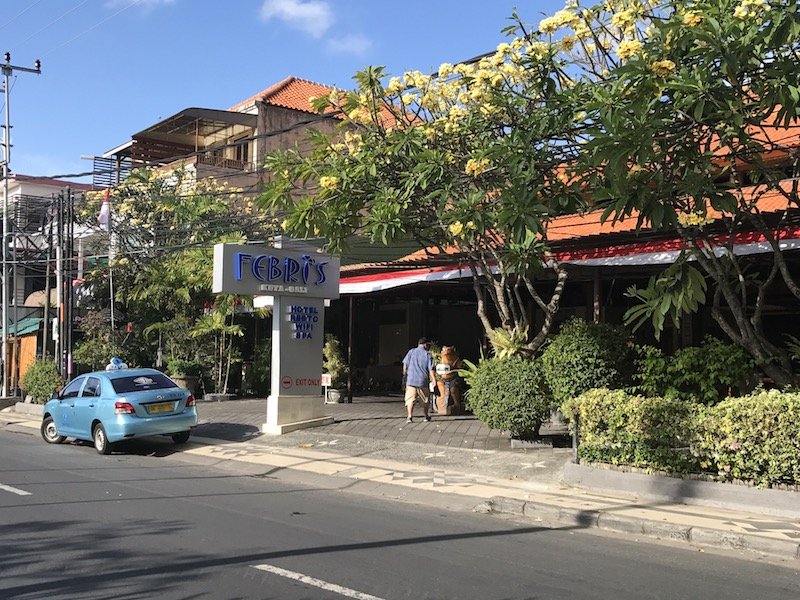 OR, the Best Bali Massage on a Budget at Febris Bali
BUT there's a middle road, and a way to try a posh spa experience that won't break the bank.
Three different friends had raved about their joyful experience of having an affordable posh massage at Febris Spa in Kuta (alt: Febri's Spa)
I took it as a sign.
This last trip, I signed the kids into kids club, and booked a massage at the Febris Spa and Hotel.
I joined the Febris appreciation club that day too.
Febris Spa massage is the perfect massage Bali style, at the right price.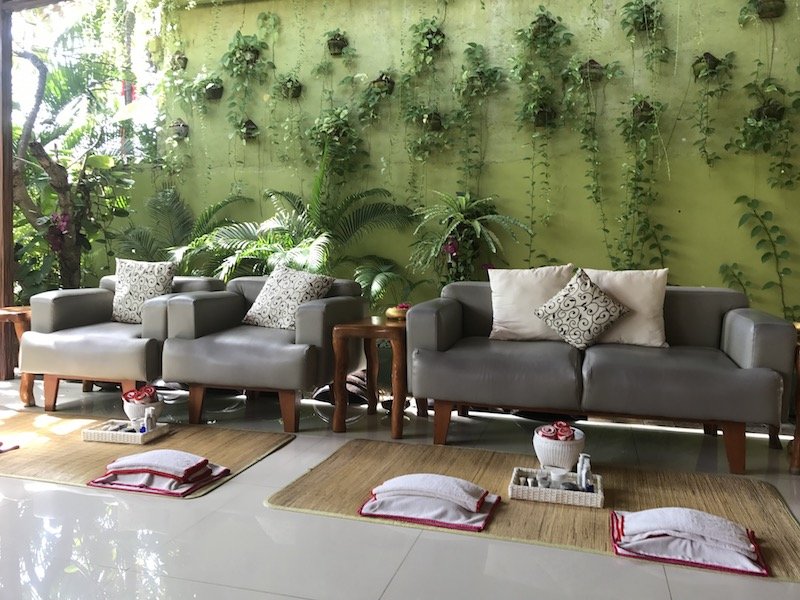 The Febris Hotel and Spa Bali
The Febris Bali is arguable the closest day spa hotel to the Ngurai airport, and it's a popular stop for people waiting for their late night flight home.
The Febris Hotel and Spa is located directly across from the entrance to the Bali Dynasty.
It's neat, spotless, and a little bit old-school, reminding me of the Bakungsari Cottages I stayed in for my first Bali visit back in 1991.
It's simply charming.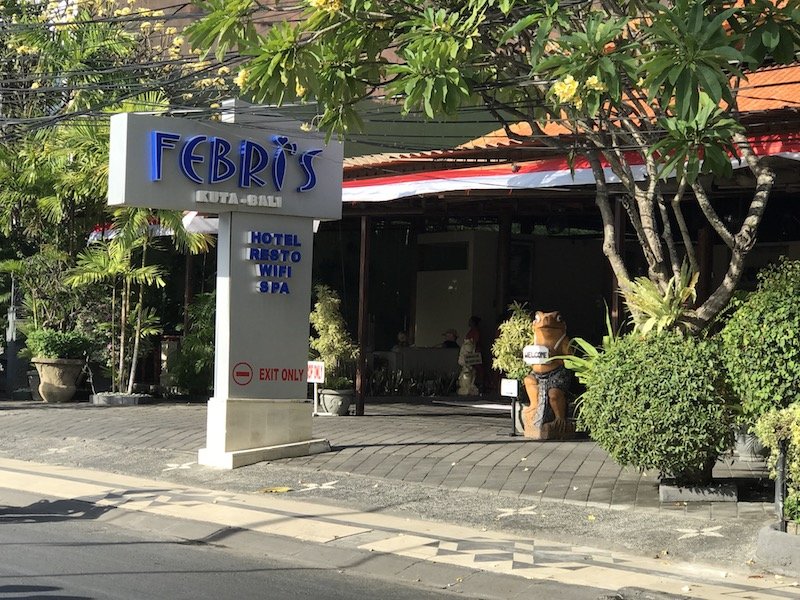 Febris Day Spa arrival
The Febris day spa desk and reception is at the front of the hotel foyer on your left.
You'll be greeted by a gaggle of therapists in traditional dress who wait ever so patiently for you to choose your treatment from their extensive full menu.
I booked a traditional hour-long Balinese massage at the cost of 230,000 rupiah (about $24 AUD) and paid up front.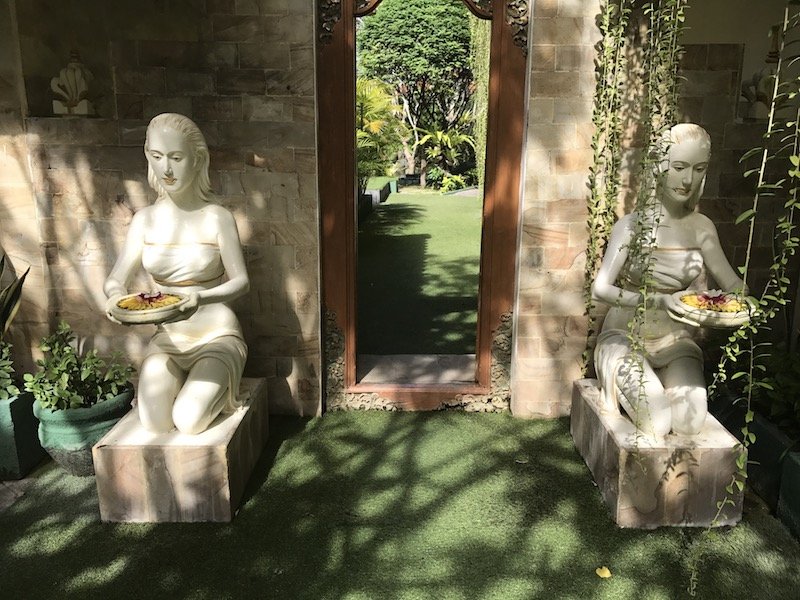 Febris Spa Bali Treatments
The massage began with a foot bath.
A much needed treatment for feet that were road-weary, and a time to sip on the cool fruity drink they provide upon arrival too.
Just to sit down for five minutes without my boys battling each other was a blissful interlude from the minor daily challenges of family travel.
Best Spa treatments in Bali
I then followed my massage therapist:
past the pool
past the hotel bungalow-style rooms
all the way to the Spa Cottages at the rear of Febri's, surrounded by lush greenery and sculpture gardens.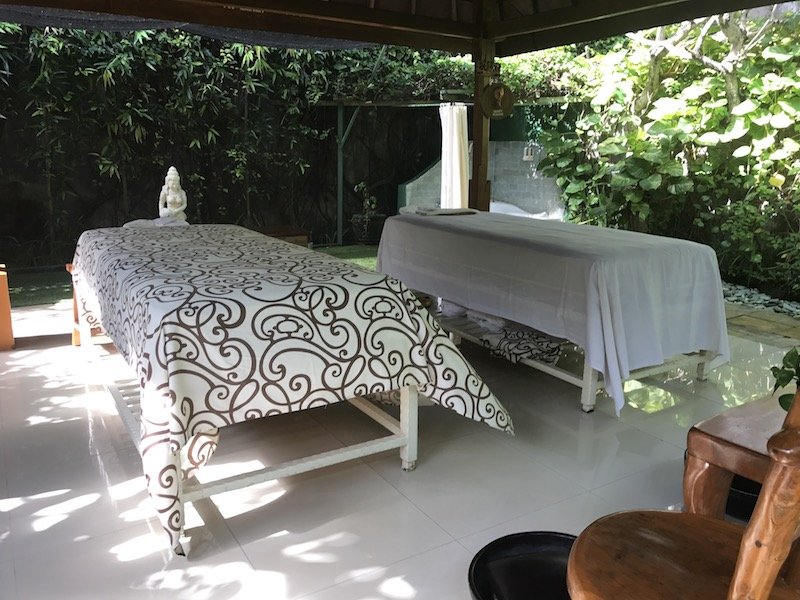 Febris Spa packages treatment rooms
Turns out the normal massage rooms were all full, so I lucked in with my massage to take place in the VIP treatment rooms normally reserved for spa packages.
Bali Massage Price? Check Febri's Spa price list
Febris Bali spa menu lists their Bali massage cost prices.
230,000 rupiah was the going rate for the range of standard body massages on offer on the Febri's Spa menu.
But the package deals aren't much more, and it's worth the outlay just for the spectacular spa cottage environment.
Little Prince spa package!
Next trip, I'm going to take the boys (and maybe Roam the Gnome too) for the Little Prince package.
This package includes:
massages on the feet, arms, neck and shoulders
a foot bath and
hair treatments all in one
Complimentary lunch included!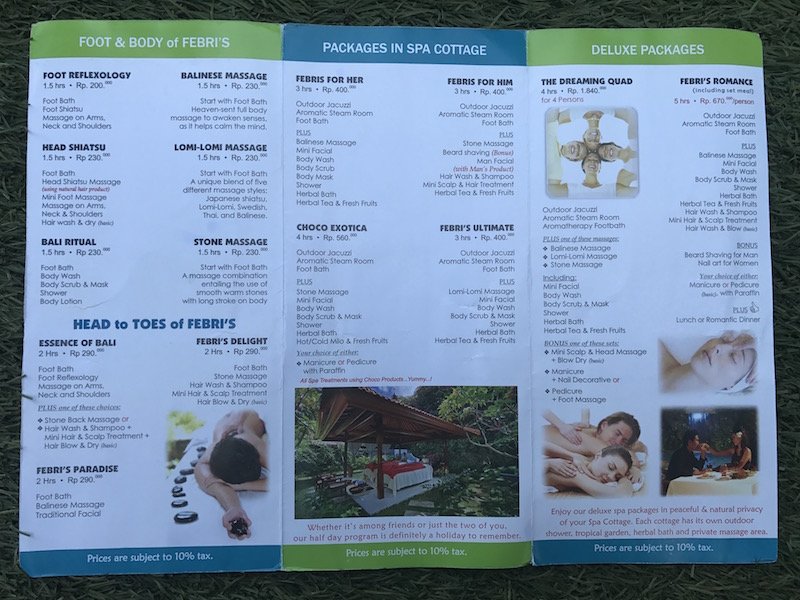 Febris Day Spa Menu
Download a PDF of the Febris spa menu here.
It includes all the prices of massage in Bali at this popular spa hotel.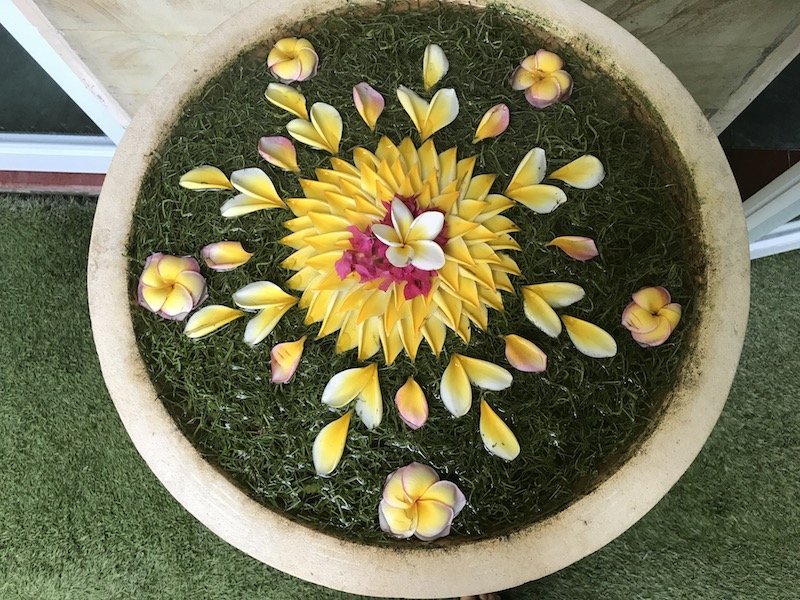 Best massage in Bali?
Febris Hotel Spa is top of my places to visit in Bali on my next trip list.
It's the best massage in Bali for families with kids.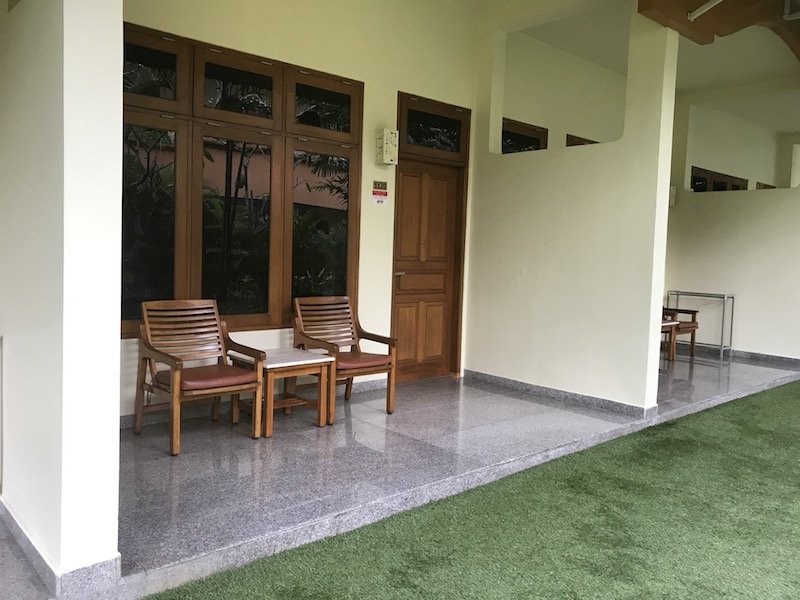 Book the Febris Hotel in Bali
If you are thinking about STAYING at the three-star Febri's Hotel and Spa Kuta too, here's a few more pictures for you.
I took a sneak peek into a few of the rooms and loved the cool tile floors, the simple minimalist look, and the bright sunlight streaming in.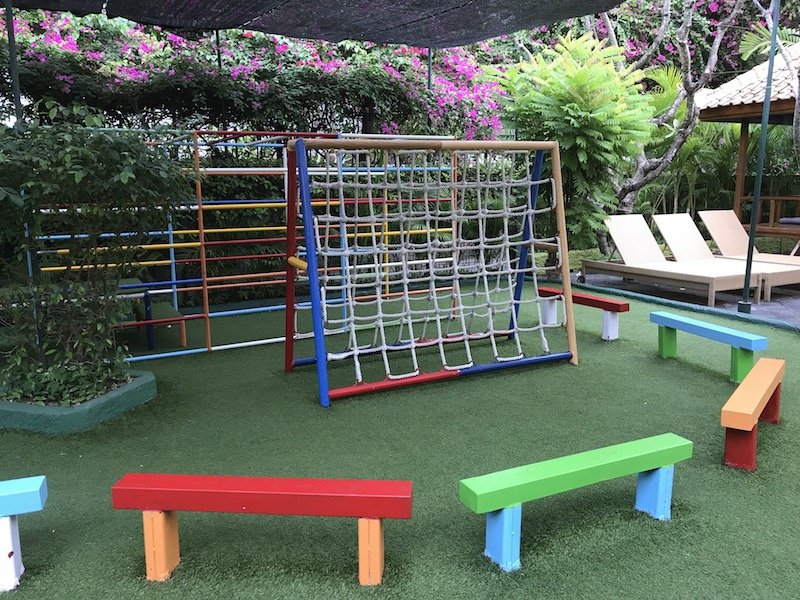 The Febris Hotel Bali Playground
There's a cute brightly coloured playground for the kids (one of the best we've seen in Bali).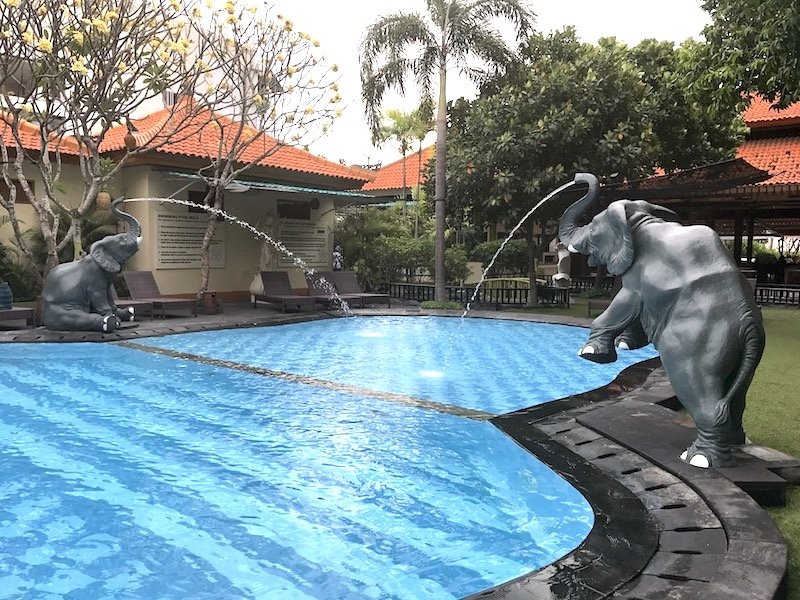 The Febris Hotel Pool
Plus, a swimming pool centre-stage, complete with a shallow end for the kids too.
AND Elephant Fountains!
Who wouldn't love this quirky place?
It IS a little strange seeing all the artificial grass in the central courtyard, but there's enough natural greenery and flowers to counteract it.
The hotel is neat and tidy, and has the same quaint vibe of the first ever hotel I stayed at in Bali as an 18 year old.
We plan to book a stay next trip.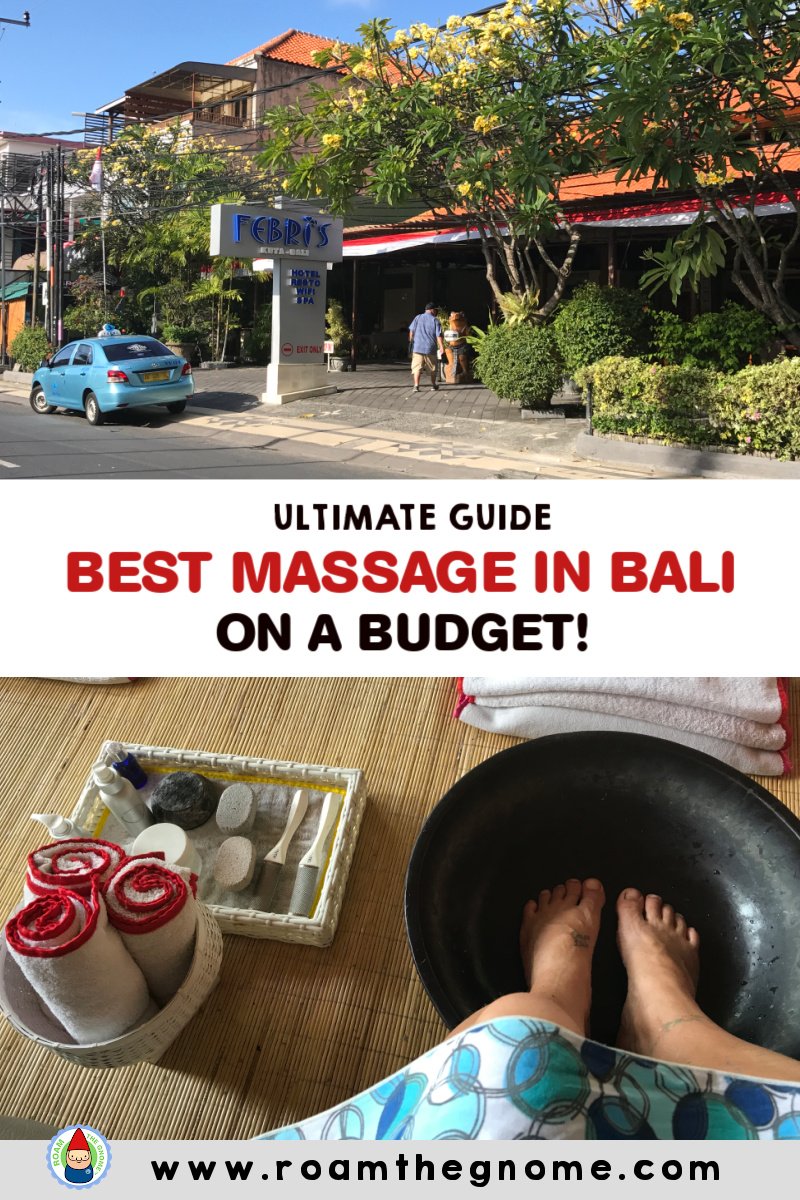 THE INSIDE SCOOP: Febris Hotel in Bali
Correct at time of publication on Roam the Gnome. Please check with venue for updates. We apologise in advance if there have been any changes we are unaware of. All prices in AUD dollars, unless otherwise stated
Febri's Hotel & Spa is centrally located at Jalan Kartika Plaza, South Kuta Beach
Febri Hotel Kuta is within a short walking distance to Lippo Mall to the left, and Discovery Mall, Waterbom Park, Kuta Square, and the main shopping streets of Kuta to the right.
Febris Kuta Beach hotel address: Jalan Kartika Plaza, Kuta, Kabupaten Badung, Bali 80361, Indonesia
Telephone: +62 361 754575
Febris Hotel Email: [email protected]
Website: Click here
How to get to Febris Spa in Bali
By Private Transfer:
The best way to get from Bali Ngurah Rai International Airport is by hiring a Bali driver.
Cost is around $20 Australian dollars for the one way trip of 3.3 km.
The drive takes less than 10 minutes.
Hot tip: Learn more about our favourite Bali drivers here. (Tell Dewa we said hi!)
The Febris Hotel Map
Toadstool Rating: Bali Febris Spa

Looking for MORE SUPER DOOPER FUN things to do and places to eat in Bali?
Click the links in blue for more Bali tips below.