INSIDE: The best of the Disneyland Paris at Christmas Reviews – Events, Attractions, Shows & Parades!
Christmas in Paris Disneyland is a surefire way to get into the spirit!
Held during the Winter season between November and January each year, a Disney Christmas at Disneyland Paris has all the goods – Disney Christmas decorations, Disney shows, Disney Christmas fare, and all the best Disney magic.
Wondering what's Disneyland Paris like at Christmas?
Read our guide to find out what's on in Disneyland Paris Christmas season, and what not to miss.
This is one of the best Christmas destinations around!
Disclosure: This article contains affiliate links. If you make a purchase after clicking on one of these links, we may receive a small commission at NO extra cost to you.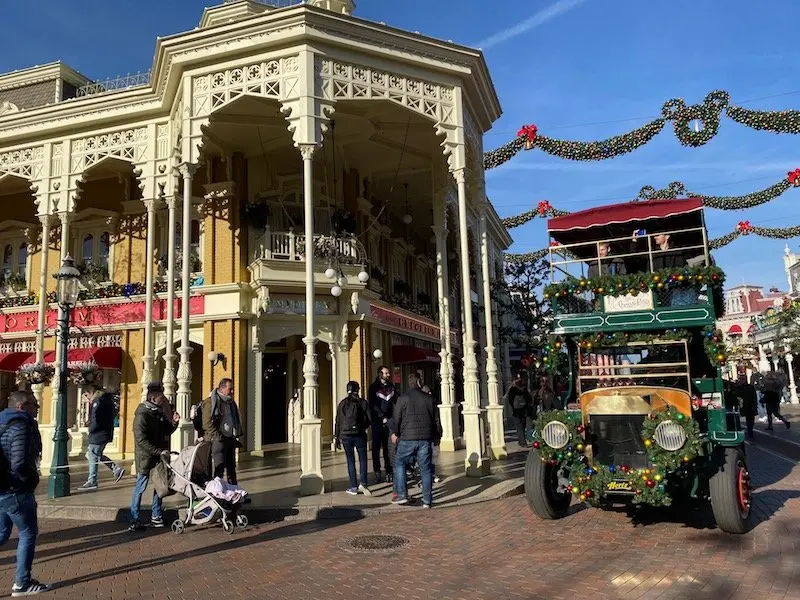 Planning on a Disneyland Paris Christmas trip?
A Disney Christmas at Euro Disney has it's own special enchantment, and we highly recommend a Disneyland trip during the Christmas season.
Disneyland Paris Christmas holidays are a totally different type of Disneyland vacation, made all the more special with:
fun festive lights
Mickey wreaths and garlands across Main Street
a giant Disney tree
Very Merry Encounters with Santa and Disney characters
dancing and singing, and
a spectacular Disney Christmas Parade.
What's not to love about a Disney Paris Christmas?
If you love Disneyland, you'll love it more after a Christmas visit.
Magic is in the air.
READ MORE: The Ultimate Guide to DISNEYLAND PARIS with Kids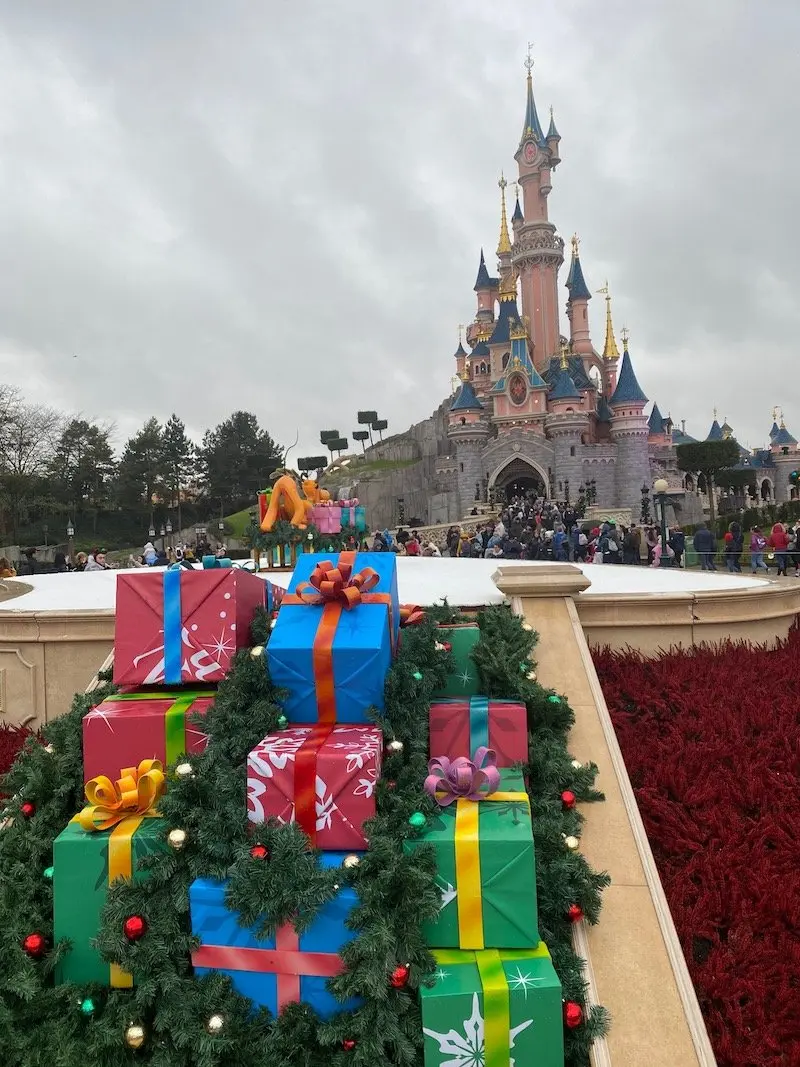 BEST THINGS TO DO AT DISNEYLAND PARIS AT CHRISTMAS TIME
Correct at time of publication on Roam the Gnome. Please check with venue for updates. We apologise in advance if there have been any changes we are unaware of. All prices in euro, unless otherwise stated
No.1: See the Disneyland Paris Castle at Christmas!
While the Disneyland Castle itself remains a decoration free zone, the Central Plaza surrounding the Paris Disney castle is chockablock full of green garlands and bright shiny baubles.
Even the lampposts on the walkway bridge are wrapped with greenery!
Hot tip: Head inside the castle and turn right to find the Christmas shop Disneyland Paris style.
(Details in No. 8 below. )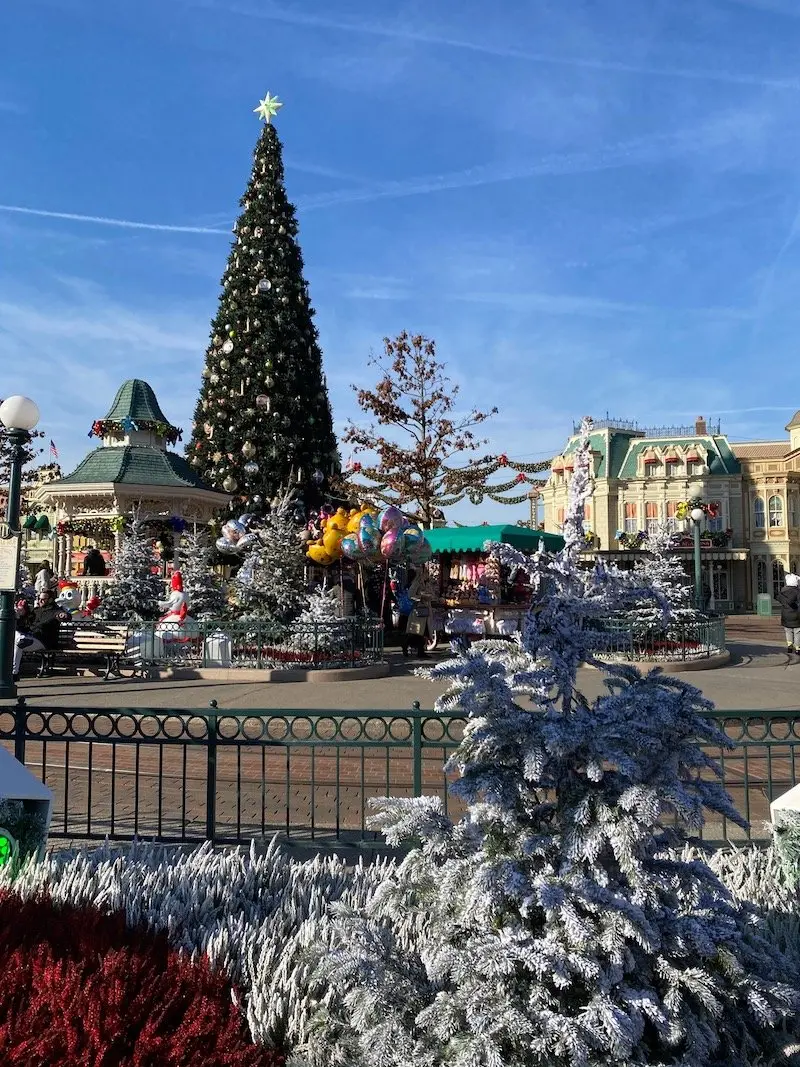 No.2: The Euro Disney Christmas Tree
Mickey's Magical Christmas Light Show at Paris Disneyland
The Christmas Tree at Disneyland Paris goes up and is lit for the first time on November 9th.
The elegantly decorated Disneyland Paris Christmas Tree makes my heart swoon.
Topped with a star, it's placed centerstage as you walk towards Main Street.
Head here in the early evening to see the ceremony of lighting up this extraordinary tree.
Can you see Santa at Disneyland Paris?
Yes!
Disneyland Paris Magical Christmas Light Show in the Main Street Town Square features:
Mickey Mouse
Minnie Mouse, AND
Santa and friends!
Shows start at 7.45pm and 8.20pm on weekends, and 6.30pm on weekdays.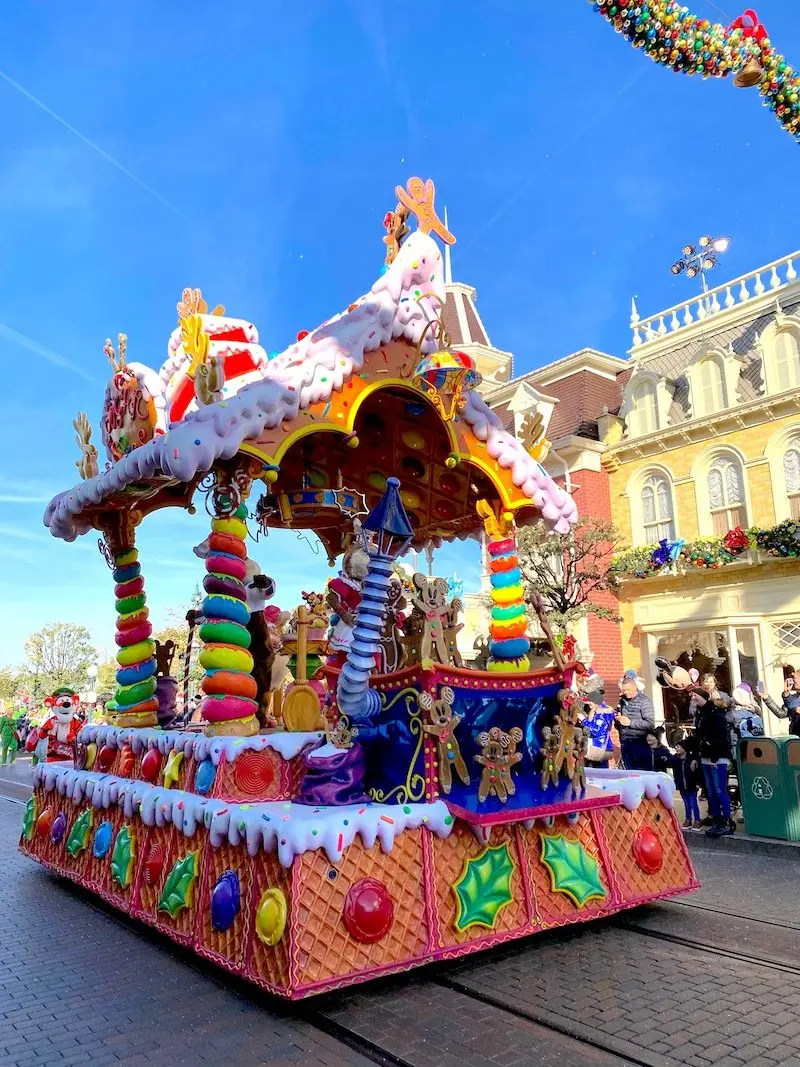 No.3: Disneyland Paris Christmas Parade
Find yourself a good viewing spot on Main Street to watch Disney's Christmas Parade.
It's bright, and colourful, and full of good cheer.
What time is Disneyland Paris Christmas parade?
La Parade de Noël Disney happens twice a day:
at 12 midday, and
again at 1.20pm.
You can also see the Disney Stars on Parade at 5pm along the parade route.
Head to the Castle and find yourself a perch there to see all the action)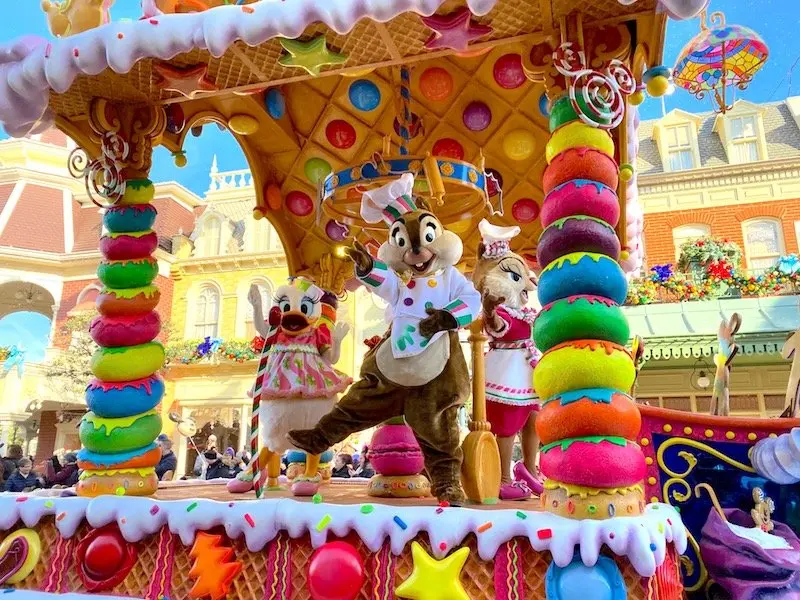 Paris Disney's Christmas Parade
You'll see all your fave characters including Woody, Buzz, the Disney Princesses, …. twirl, dance, and sing along to all the traditional Christmas tunes.
The Disney Christmas floats they travel on are more colourful than a candy shoppe!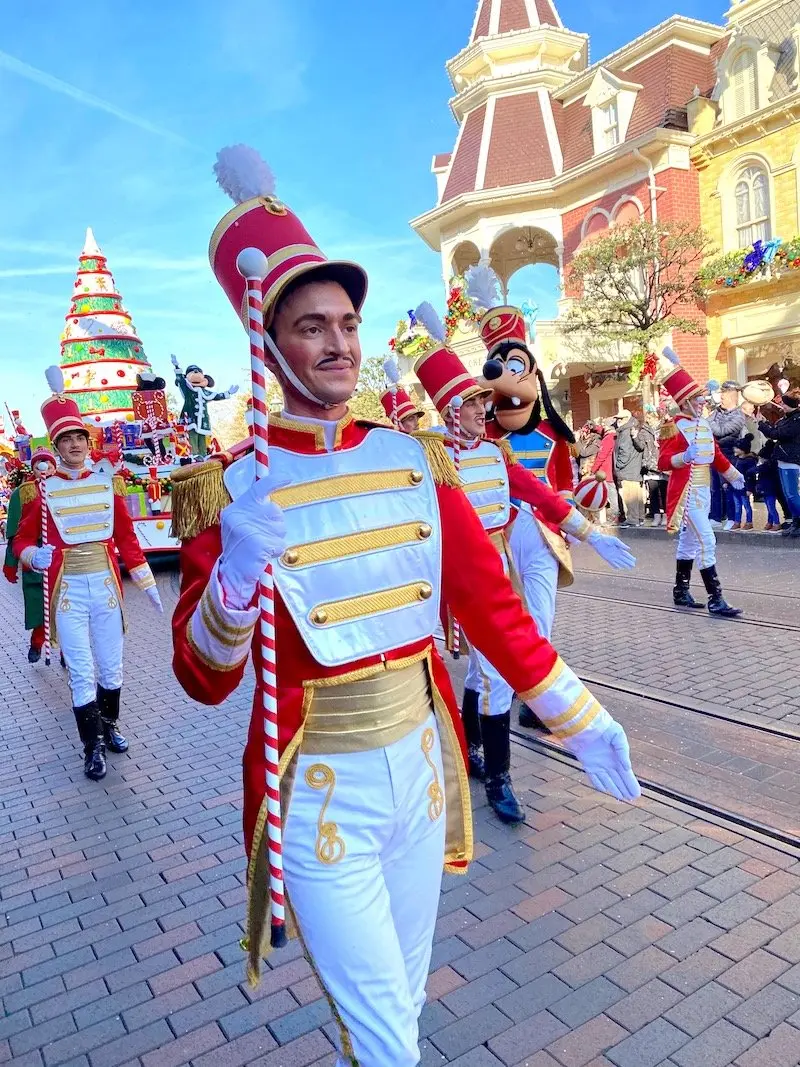 Disney Nutcracker Soldiers
I adore seeing the dancing sugar canes, the gingerbread men, but most of all the marching Nutcracker soldiers.
The costumes at Disney never fail to make my heart swoon, and my eyes mist up!
Hot tip: Lots of visitors want to get a copy of the Disneyland Paris Christmas parade music. Some years, they put it on a CD that you can buy for home. Enquire at City Hall.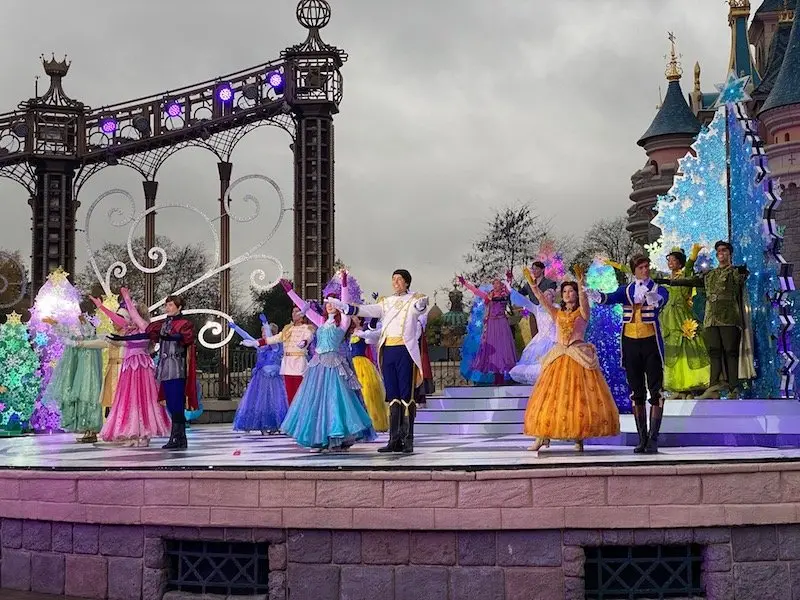 No.4: Disneyland Paris Christmas Show
These are an example of the special Paris Disney Christmas Shows you might find.
A Fairy Tale Waltz with Disney Princesses
This is the biggest ever gathering of the Disney Royal Couples.
If you have a little one who loves the princesses, grab a seat quick smart.
Princess Aurora invites all the guests to her Royal Ball, in a shimmering and sparkling setting.
The Royal Sparkling Winter Waltz is on at the Royal Castle stage in Disneyland Park.
Hot tip: Arrive a little early and stand close to the rope and your little one might be asked to come onstage and deliver a rose to all the Disney Princesses as they depart the stage.
Jack was the lucky chosen one, but sadly, his nerves got the better of him and he made a last minute change of mind, too scared to go on the stage up close to the Disney characters.
I wanted to go in his place!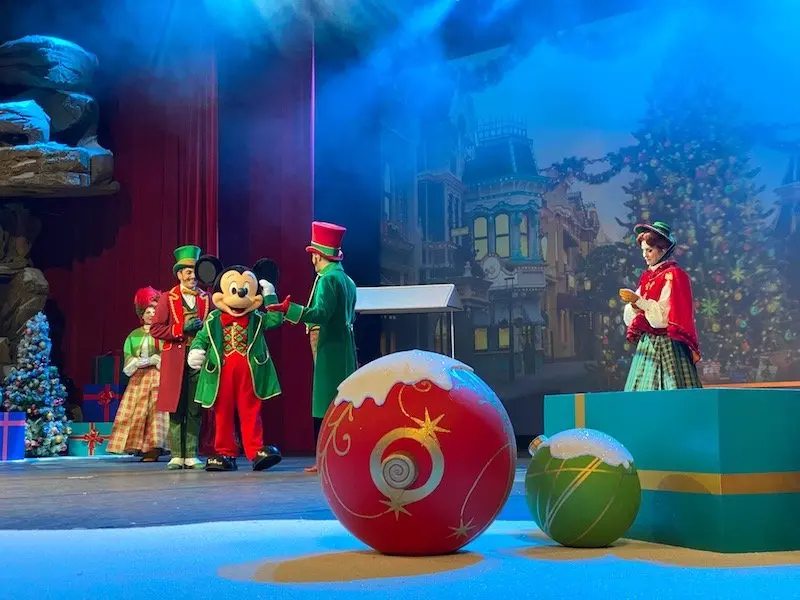 Surprise Mickey Show – "Let's Sing Christmas" Chantons Noël!
There's another Yuletide Christmas show, this time featuring all the Disney classic characters including:
Minnie
Donald
Pluto, and
Goofy.
Who can resist watching the Disney characters dance and do their thing, along with a cast of singers wearing the most adorable of vintage style Disney Christmas fashion!
Not me.
(PS: I'd wear every one of those cute Disney outfits!)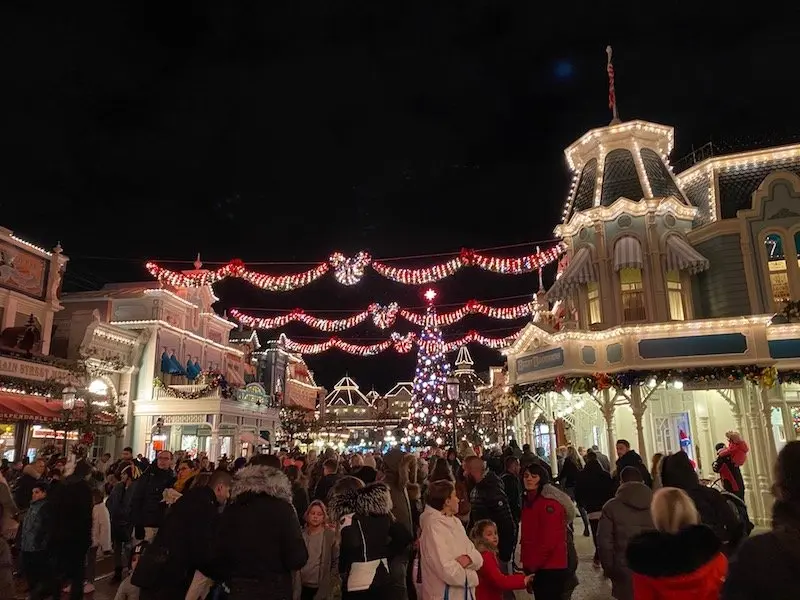 Magical Disney Illuminations Show
Plus there's the magical Disney Illuminations show that lights up the Disneyland Paris castle under the dark sky at closing time every night, weather permitting.
(Disney Illuminations is the replacement to the much loved Disney Dreams show)
Head to the Central Plaza directly in front of the Castle at least 30 minutes before closing. This is a much loved event, and is packed full of guests, so hold on tight to the kids!
The illumination features characters and scenery from many of the best Disney movies, led by a Peter Pan and Tinkerbell storyline :
The Lion King
Frozen
Pirates of the Caribbean
Beauty and the Beast
The Little Mermaid
Finding Nemo
Star Wars
Listen out for the Christmas tunes too.
Paris Disneyland at Night
This entire experience – the light show, dancing water fountains, wintery mist, and heart-exploding Disney music – is one that makes your skin prickle with goosebumps.
(The show includes THIS song – A Dream is a Wish your Heart Makes – from Cinderella)
Plus, seeing Disneyland Paris at night with all the Christmas decorations lit up, as picture above, and throngs of people in winter coats, is the most Christmassy thing you can do in Paris!
Is there a Firework Display every night at Disneyland Paris?
Weather permitting, there a Christmas in Disneyland Paris fireworks display after the Illuminations show comes to an end.
Watching Disneyland Paris Christmas fireworks is the perfect ending to a perfect Disney Day!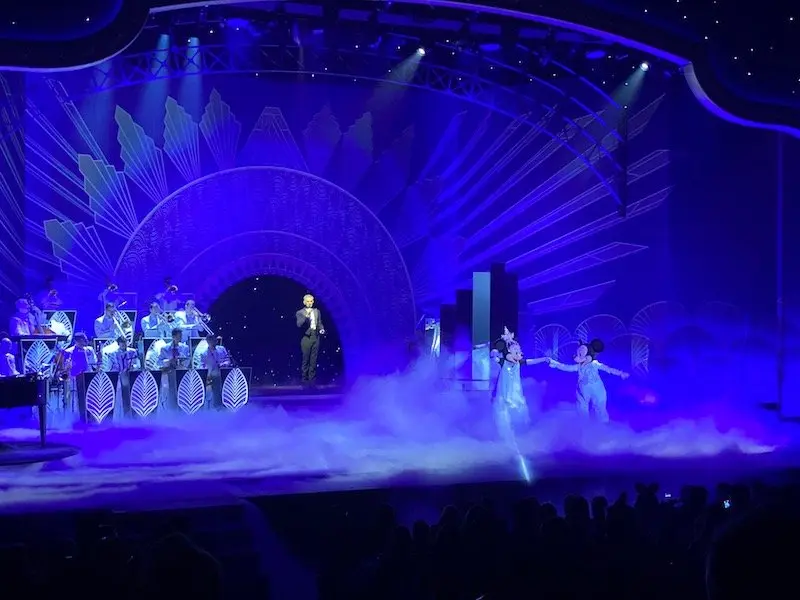 Mickey's Christmas Big Band Show at Walt Disney Studios Park
Don't miss Mickey's Christmas Big Band Show in the Animagique Theatre in Walt Disney Studios park.
Sing along to all your fave Christmas carols and feel the Christmas magic start.
Watching Mickey play the drums was one of the best things I've ever seen at Disneyland anywhere!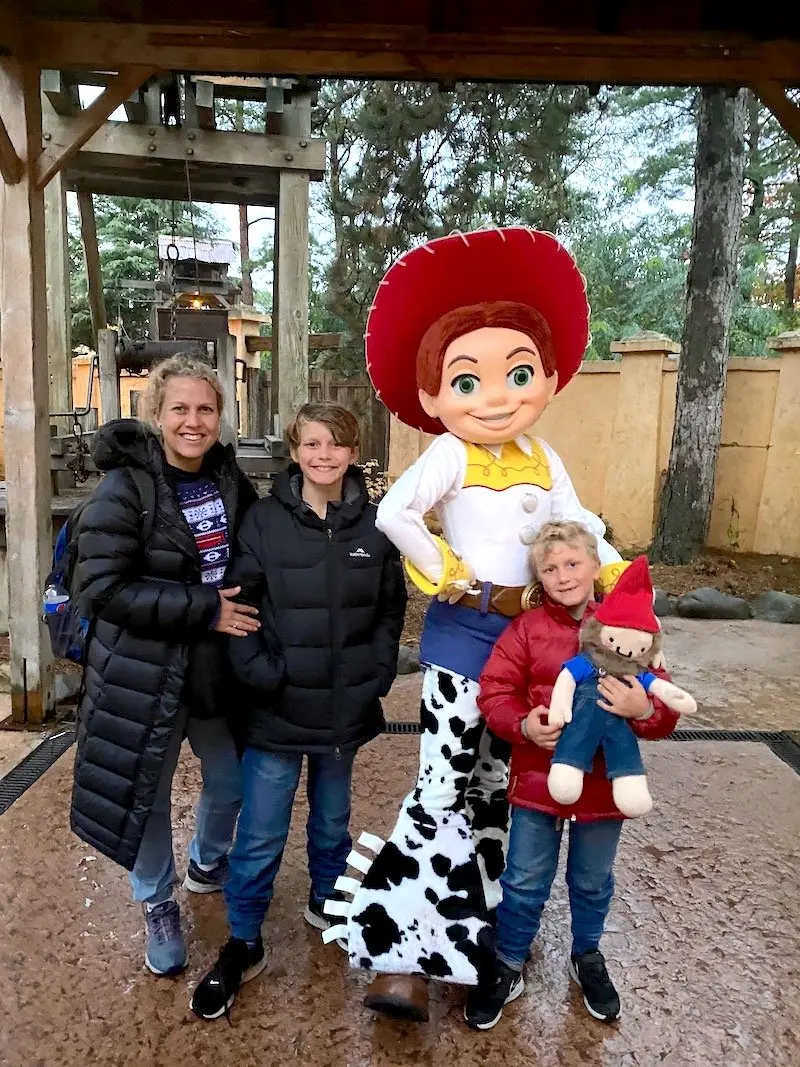 No.5: Meet Disney Characters
During the Christmas Disneyland Paris season, there seems to be more Meet and Greets on offer.
Best of all, you can meet Mickey in his Christmas attire AND Santa Claus!
Other Disney Christmas characters may include:
Disney Princesses
Alice in Wonderland or friends
Winnie the Pooh or friends
Darth Vader
Donald or friends
Thumper and Miss Bunny, or friends
Stitch or friends
Jessie or friends
Baloo or friends
Peter Pan or friends
Aladdin or friends
RELATED: Big Guide to Disneyland Paris characters (& how to meet them without queuing)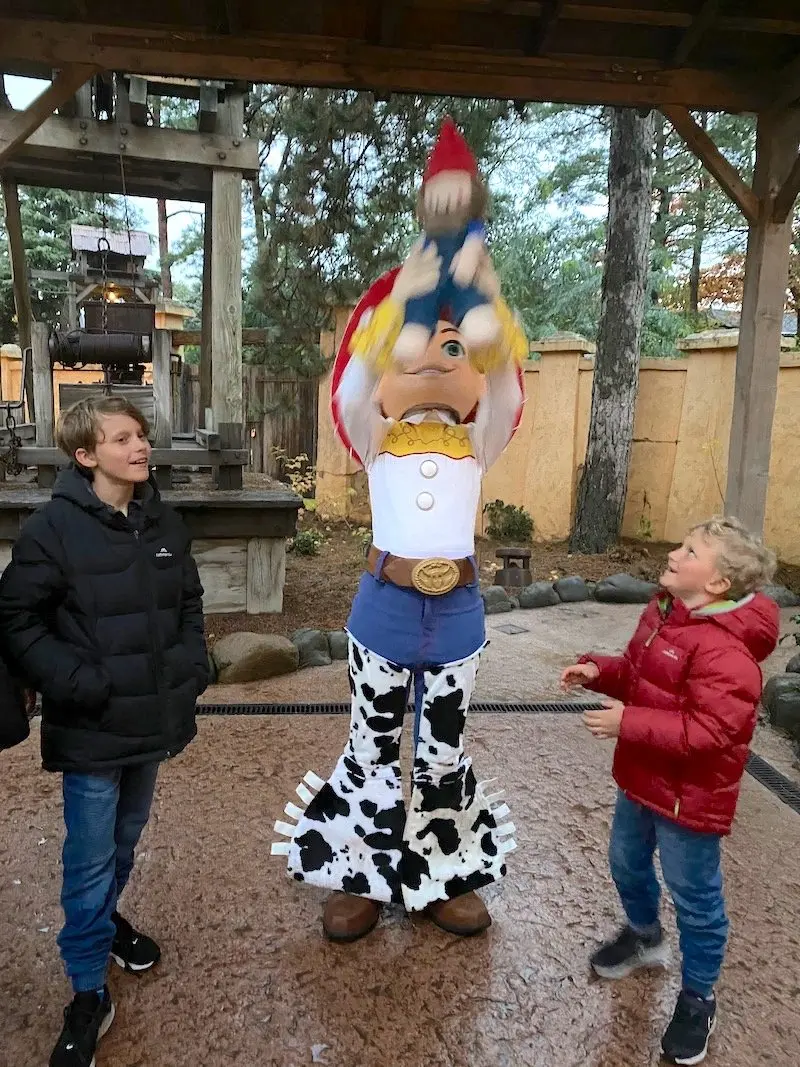 Toy Story Jessie meets Roam the Gnome!
This is the moment Jessie met Roam the Gnome.
She greeted our travelling Gnome with glee, gave him a BIG squishy cuddle, and then threw him up into the air!
Jack especially was THRILLED with this fun, unexpected interaction with our Gnomie, and gave Jessie a HUGE hug to say thanks!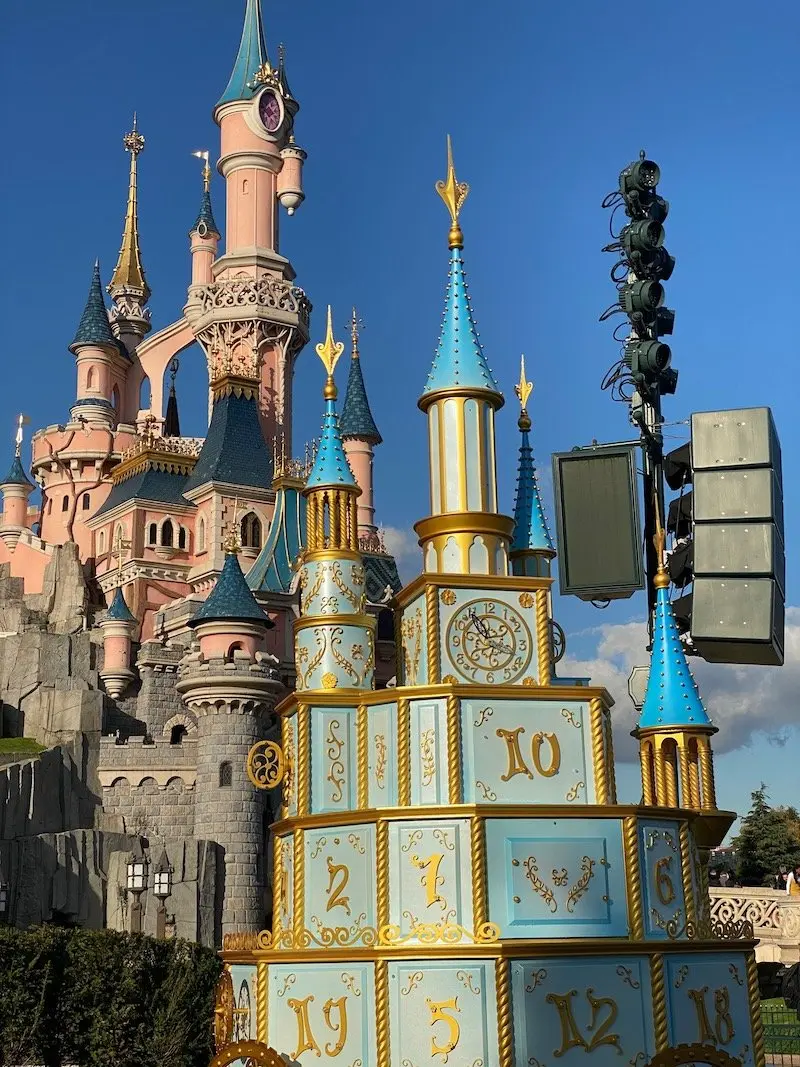 No.6: Disneyland Paris Advent Calendar
The Disney Enchanted Advent Calendar is FULL of surprises.
Head towards the Sleeping Beauty Castle in Disneyland Paris first thing, and you'll likely see a bunch of classically dressed characters with top hats AND Goofy, ready to invite one child to open one of the Advent windows to find a treasure inside.
Check out the Enchanted Advent Show at Disneyland Paris above.
This Disney magic happens every day from December 1st to December 24th.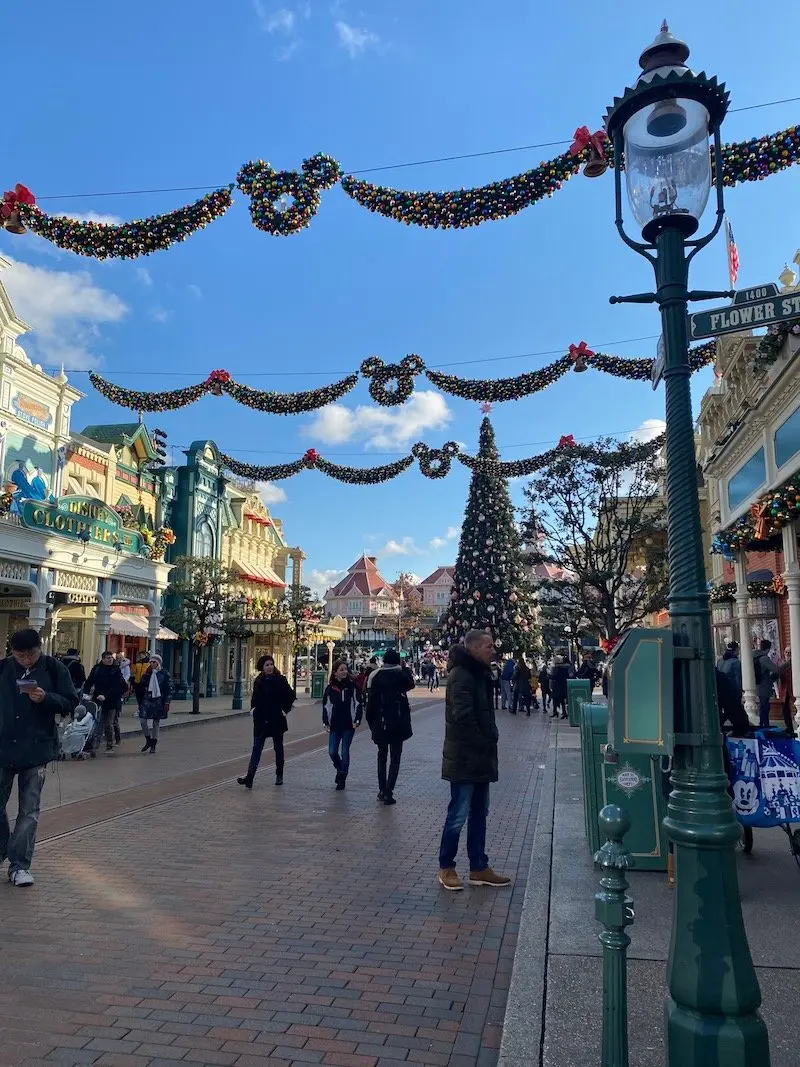 No.7: Disneyland Paris Main Street Christmas decorations
Disneyland Paris Christmas Decorations transform Main Street into a Victorian style Christmas feast for the eyes.
Everywhere you look, there are garlands, glittery baubles, and those oh-so-delightful Mickey wreaths strung way above.
If you want to 'feel' Christmassy, you can't go wrong here.
Main Street Disneyland Paris has a Christmas atmosphere I'd expect at a German Christmas market, but better.
Does it snow at Disneyland Paris in December?
On a very special occasion, you may be lucky enough to experience snow at Disneyland Paris!
The week after we visited, Paris had a HUGE dump and Disneyland Paris was covered in magical white icicles.
But it's a rare event.
Does it snow on Main Street at Disneyland?
What is special though, is to experience the Christmas snow on Main street.
Listen out for the loud music suddenly buffeting Main Street a couple of times a day, as it signals that the snow is on it's way!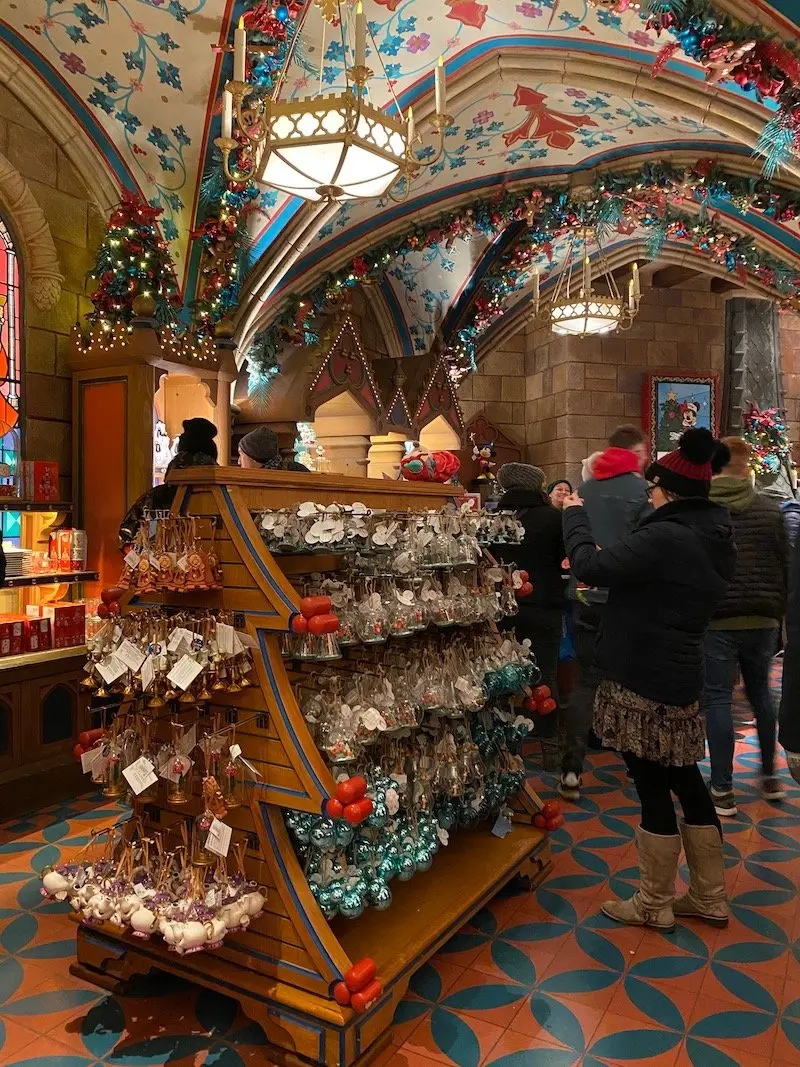 No.8: Disneyland Paris Christmas Shop
Does Disneyland Paris have a Christmas shop?
YES!
The Paris Disneyland Christmas store is my favourite place to shop in the park because I LOVE Christmas ornaments, and this place is chockablock full of them.
Take a sneak peek inside Euro Disney at Christmas here
Best Disneyland Paris Christmas Ornaments
In the Paris Disneyland Christmas shop, you'll find every Disney character, in all shapes, sizes and colours, including Chip and Mrs Potts from Beauty and the Beast.
AND Mickey Christmas Baubles in all hues of the pastel rainbow.
The range of Disney Paris Christmas decorations is spectacular.
If collecting Disney Christmas ornaments is top of your list of things to collect, don't miss it.
The only difficulty will be choosing which one (or ones) to add to your collection this year!
(Or, in our case, how to carry the precious Disney glass globes home safely without them breaking).
The Ultimate Disneyland Paris Christmas Train Set
This is the spot to hunt for the famous Paris Disneyland Christmas train set.
The Paris Disneyland Christmas Train set has:
30 pieces
20 feet of track
a host of Disney characters including Mickey, Minnie, Pluto, Daisy, Donald, and Chip 'n' Dale, and
a locomotive to pull them all along
But the best bit is the Christmas artwork with the Disneyland Paris logo.
Friends and family will love it too.
The Disney train set is one of those iconic keepsake souvenirs you will never regret purchasing!
PS: If you can't find it for sale here, ask at City Hall.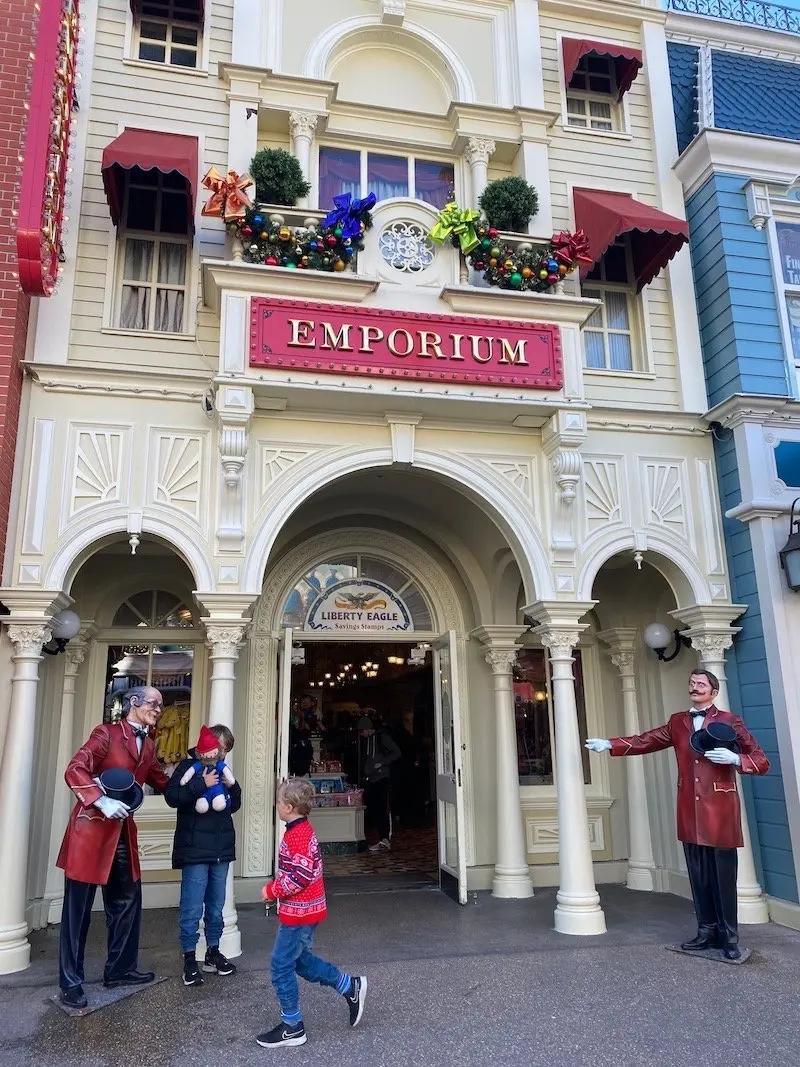 No.9: MORE Disneyland Paris Souvenirs shopping
If you are visiting Disneyland Paris during Christmas, be sure to save time to visit lots of the shops along Main Street Paris Disneyland.
Luckily, many of them link up inside, so you can wander from store to store without even realising.
Keep your kids close – it's a maze of wondrous things & edible goodies too, but if they get ahead of you, and out of sight, it could be a little stressful.
La Chaumiere des sept nains is near the Snow White ride in Fantasyland, and it's a TREASURE TROVE of Disneyland Paris dress up costumes.
RELATED: Ultimate Guide to Disneyland Paris souvenirs and gifts for family and friends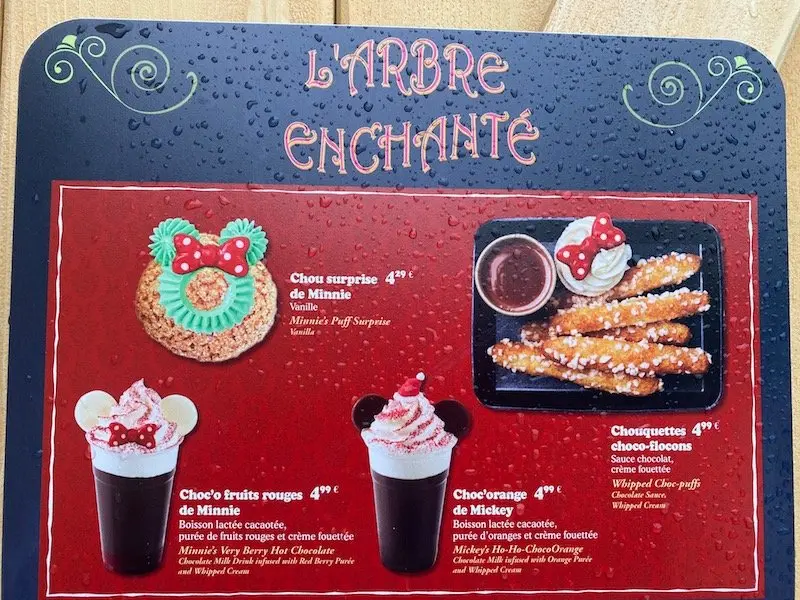 No.10: Disneyland Paris Christmas Food!
The Disneyland Paris restaurants serve up unique and fun Disney Christmas fare including:
Minnie's Chou Puff Surprise
Minne's Very Berry Hot Chocolate
Mickey's Ho-Ho-ChocoOrange
Iced cookies on a stick (Christmas tree, Santa, Mickey ears)
Snacks are NOT cheap at Disneyland Paris, unlike Tokyo Disneyland where every snack is around $3 USD.
But it's Disneyland.
Calories don't count, and you can't visit without trying at least one Disney snack, no matter how much you have to pull out of your back pocket.
No.1: Disneyland Paris Chouquettes
These whipped choc puffs with chocolate sauce and whipped cream are a winner.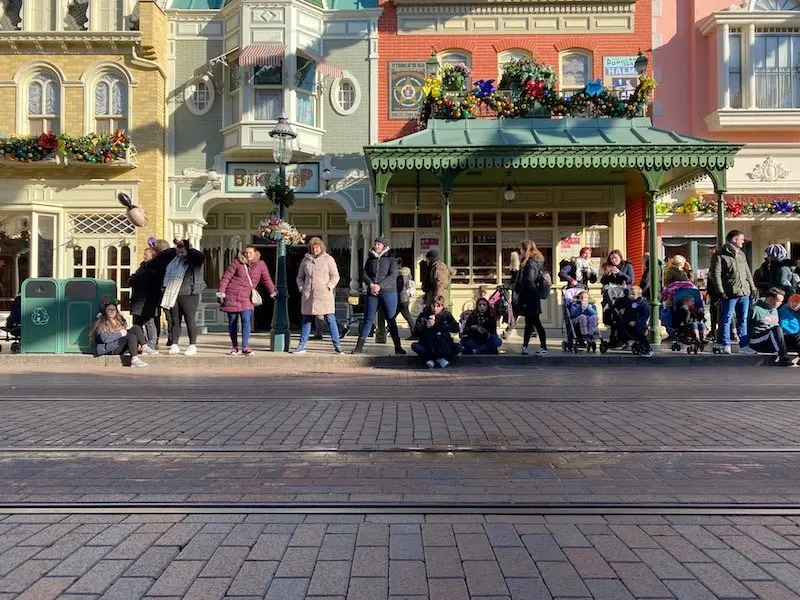 No.2: Cable Car Bake Shop
Head to Cable Car Bake Shop on Main Street.
It's modelled on an old time bakery in San Francisco with wire backed chairs, round tables and hues of apricot, pink and brown.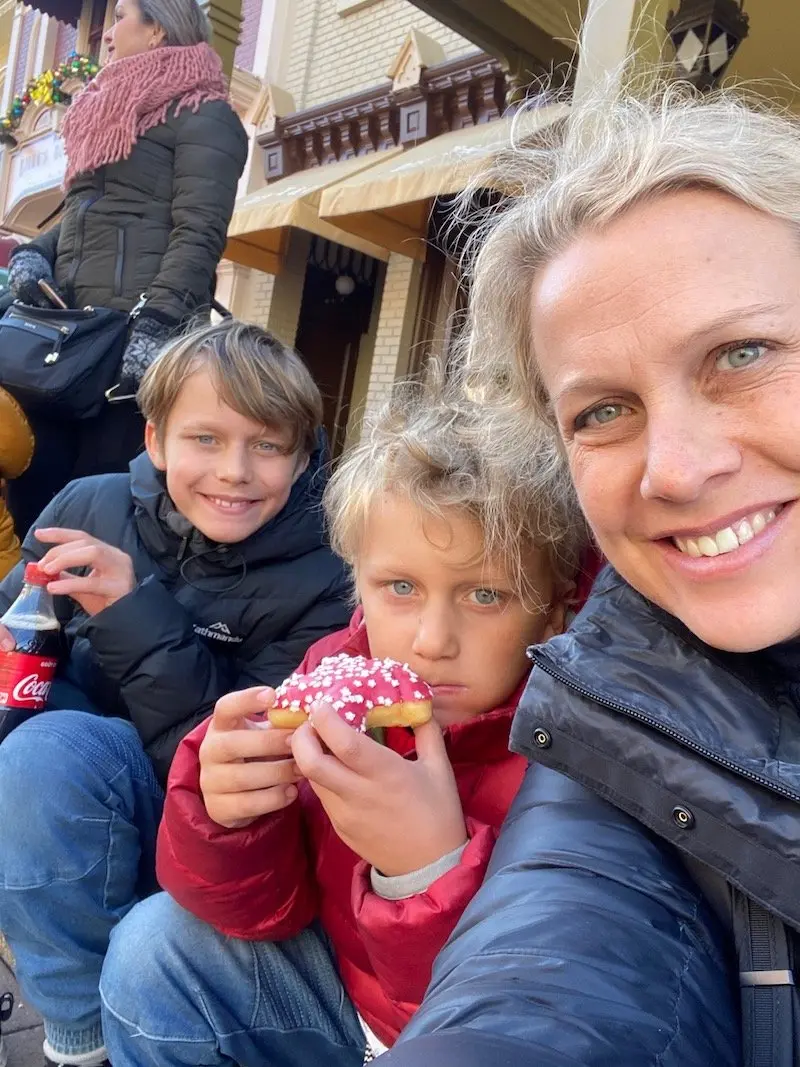 Hot tip: Disneyland Paris Beignets
Pick up a serving tray for counter service, and fill it with your choice of Disney Christmas snacks including:
Sparkling Star donuts (€3.99 for two) – these are the traditional Disneyland Paris beignets shaped for the Christmas season
Gingerbread tree snacks (€3.99 for two)
You'll also find Mickey Toffee apples here.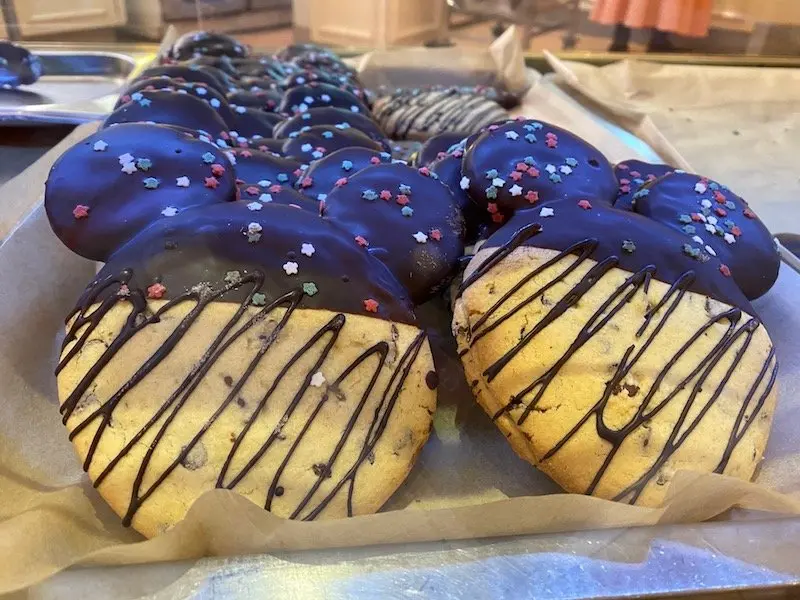 No.3: Boardwalk Candy Palace Disneyland Paris Main Street
Cookie Kitchen is THE spot in Disneyland for foodies, AND kids!
There's tonnes of freshly baked cookie options, but it's also an old fashioned candy store with all the goods.
Take a look at all the yummy Disney treats and food you can buy inside here.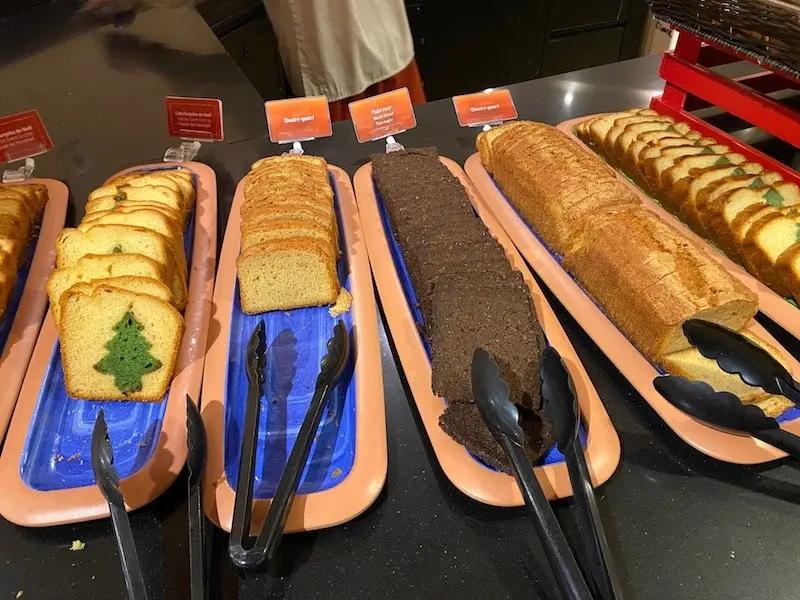 No.4: Other Disneyland Paris Restaurants for Christmas
Some of the best Christmas decorations in Disneyland Paris can be found at the Disney hotel restaurants and Disney park restaurants.
Coupled with festive fare, eating at a table service restaurant or a Disneyland Paris buffet will definitely put you in the Christmas mood.
Try these for starters: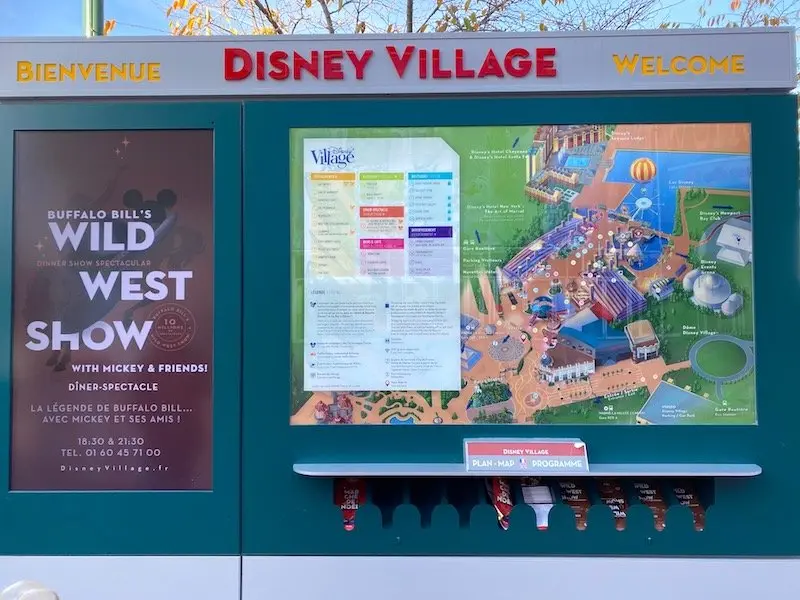 No.11: Disney Village Christmas Market
Experience Christmas at Disney Village
Disney Village turns into a fun Christmas destination, with:
traditional Christmas market stalls decorated in gingerbread house style
special Christmas entertainment
exclusive Disney Christmas souvenirs
The Disneyland Paris Christmas market the place to:
try eggnog
scoff giant dough pretzels, and
spy and pick up a Mickey Christmas decoration or two.
READ MORE: The Ultimate Guide to DISNEY VILLAGE PARIS with Kids (update coming soon)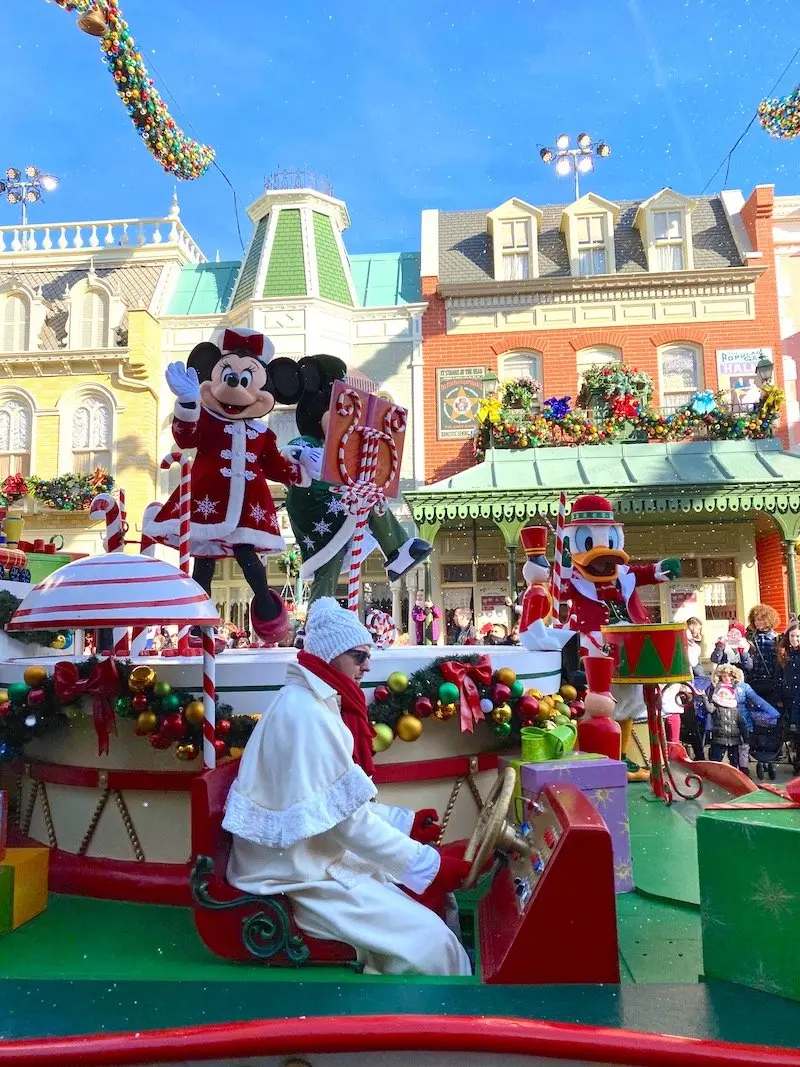 Disneyland Paris Tips and Secrets for a Very Merry Paris Disneyland Christmas!
No.1: See Mickey and Minnie in the Christmas Parade
All dressed up in their snowflake covered winter coats.
No.2: Snap a Selfie with Santa and Disney Friends
In Walt Disney Studios Park, look out for Remy and Emile all dressed up in their special Christmas outfits.
At Disneyland® Paris theme park during holiday season, you'll find Stitch, Thumper and Miss Bunny with Santa.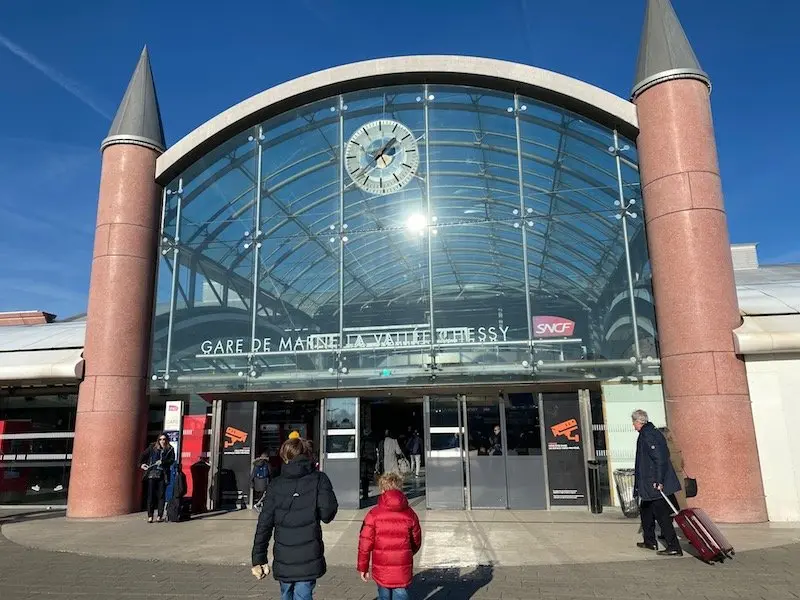 THE INSIDE SCOOP: Disneyland Paris Christmas reviews
How to get to Disneyland Paris
Disneyland Paris By Eurostar:
Click here for details if you are heading to Disneyland Paris in Christmas season
Disneyland Paris By Train from Paris:
The easiest way to get to Disneyland Paris from Paris city centre is via the RER (Regional Express Network).
RER Line A train terminates at Marne-la-Vallee/Chessy station.
The train station is two minutes walk from Disney Village, Disneyland Paris gates, and Walt Disney Studios Parc.
If you are staying at a Disney Hotel, book the Magical Express option so you can leave your luggage at the Magical Express counter at the station and start your fun!
Your luggage will be delivered to your hotel room and will be there when you arrive.
Disneyland Paris by shuttle:
Click here for a airport transfer shuttle service from Paris airport to Disneyland Paris
Click here for details and price of the Offical Disneyland Paris Express shuttle bus transfer to Euro Disney with entrance tickets included
Disneyland Paris by Coach:
Click here for details of Disneyland day tours, and mini breaks
Disneyland Paris By Car:
Click here to add your current location and get GPS directions to Disneyland Paris from Google maps
Disneyland Paris Car Park price:
Click here for all the details of parking at Disneyland Paris
Best Disneyland Paris Christmas Deals
Our hot tip would be to choose one of these Disneyland Paris hotels for your Disneyland Christmas holiday.
Superior Rooms at Disneyland Hotel
Superior Rooms at Disney's Newport Bay Club
Pioneer Tribe Cabins at Disney's Davy Crockett Ranch.
Why?
Disneyland Paris Christmas Rooms!
If you stay at one of these hotels, you can add extra Christmas cheer by ordering a Very Merry Room option.
Cast members decorate your room with festive garlands and trim, a beautiful twinkling tree, AND exclusive Disney gifts!
To book these Disneyland Paris Christmas breaks, call + 33 1 60 30 60 53
Or check out more Disneyland Paris package deals below.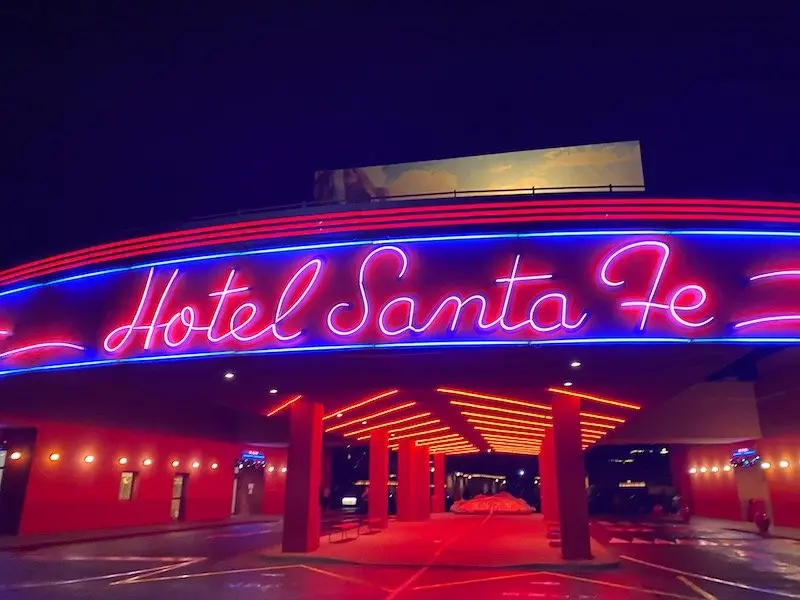 Where to stay in Disneyland Paris with Kids at Christmas?
The best place to stay at Disneyland Paris is one of the official Disney hotels in Paris, as they are within the ring road and within walking distance of both Euro Disney parks.
No.1: Santa Fe Hotel Disneyland Paris review
If you have kids who love the Disney CARS movie, book Santa Fe Hotel.
With a setting straight out of the Arizona desert, and quirky touches everywhere you look, it's like stepping into the film set.
Read our complete review here.
Hot tip: If you stay on a Disney Property, you get access to Disney Extra Magic Time. That is, early entry to the parks before they open to the public. THIS is worth every penny of the price.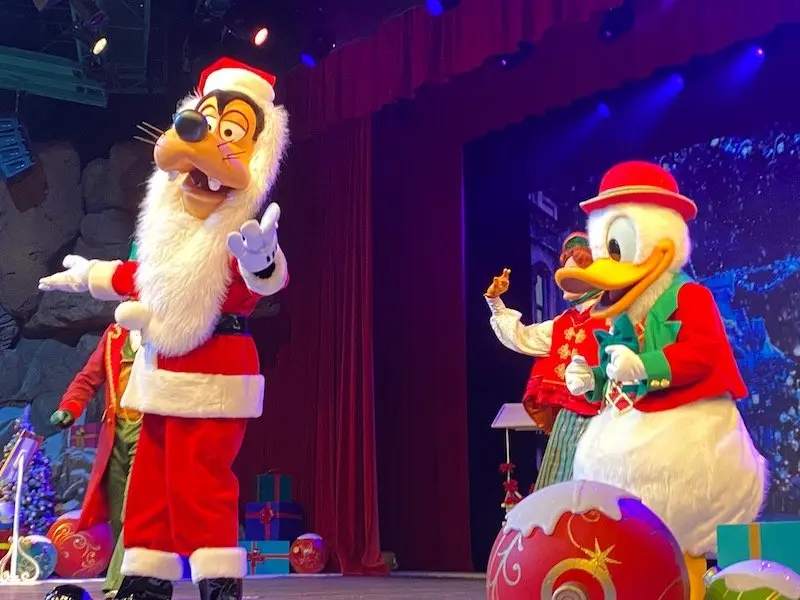 Disneyland Christmas opening hours
As it's winter in Paris, be prepared that Disneyland Paris opening times are shorter than normal.
For example, opening hours during Disneyland Paris Christmas time tends to be around 10am until 7pm.
But Disneyland Paris Christmas opening times are unpredictable, due to weather, snow, and sudden closures.
Our tip is to stuff your day full with activities and rides and snacks, and hold out for dinner until after the parks close, then head to Disney Village where things stay open a little later than the Paris Disney parks.
Disneyland Paris closures?
Check in with the official Disneyland Paris website to find up to date information on Paris Disneyland closures.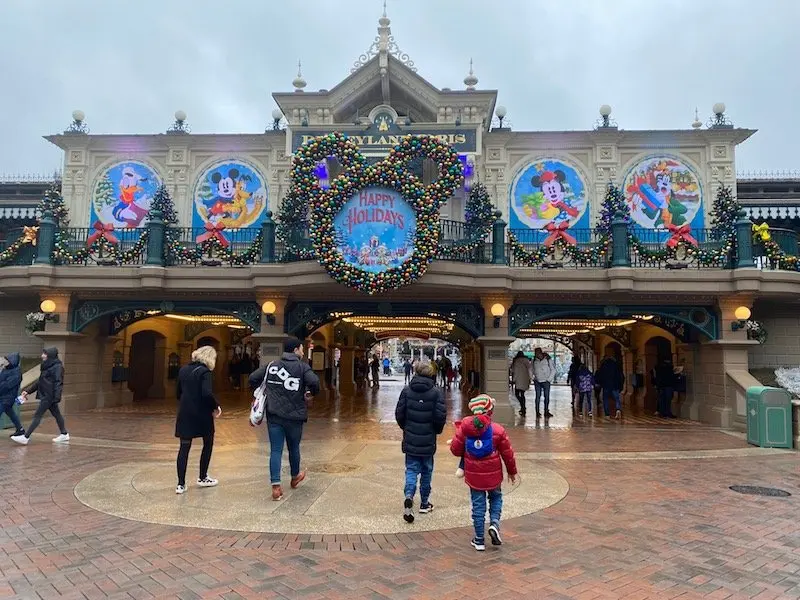 Disneyland Paris Christmas Day opening?
Is Disneyland Paris open on Christmas Day?
The answer to is Disneyland Paris open on Xmas day is YES.
The only downside to this is that some of the restaurants may not be open, so plan ahead.
Is Disneyland Paris busy on Christmas Day?
Ever wondered what the crowds are like on Christmas Day at Disneyland Paris?
Park attendance records show that there are typically less visitors at Disneyland Paris on Christmas day than other days in the Disneyland Paris Christmas season.
Parisian locals tend to be at home with their families rather than experiencing Christmas Day Disneyland Paris style.
That's left to the out of towners!
Is Disneyland Paris open on christmas eve?
That's a yes too!
Is Disneyland Paris open during Christmas week?
Check the Disneyland Paris Christmas Schedule on the offical website.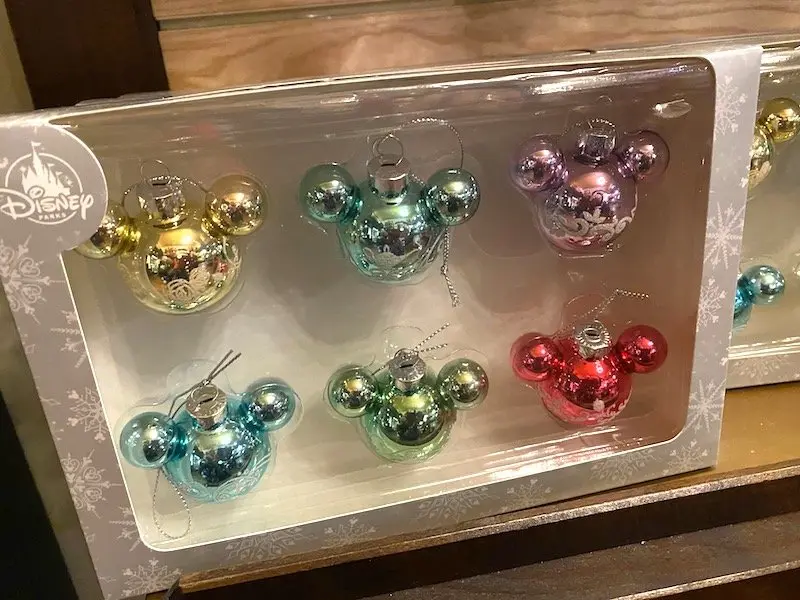 Disneyland Paris Christmas 2021?
When does Christmas start at Disneyland Paris 2021?
Disneyland Paris Christmas 2021 dates won't be released until early next year.
There's NEVER a clear answer to the question, when does Disneyland Paris Christmas start?
But to give you some idea, in 2020, the changeover from Halloween to Christmas at Disneyland Paris started on 9th November with festive cheer in place until 6th January.
Hot tip: Don't book your stay before the 15th November to be sure.
When do Disneyland Paris Christmas decorations go up?
Again, it depends on the year, but usually around the 6th to 9th November.
Does Disneyland Paris have a Christmas Party like Mickey's Very Merry Christmas Party?
Unfortunately, no.
There's nothing like that at Eurodisney at Christmas.
Not yet at least.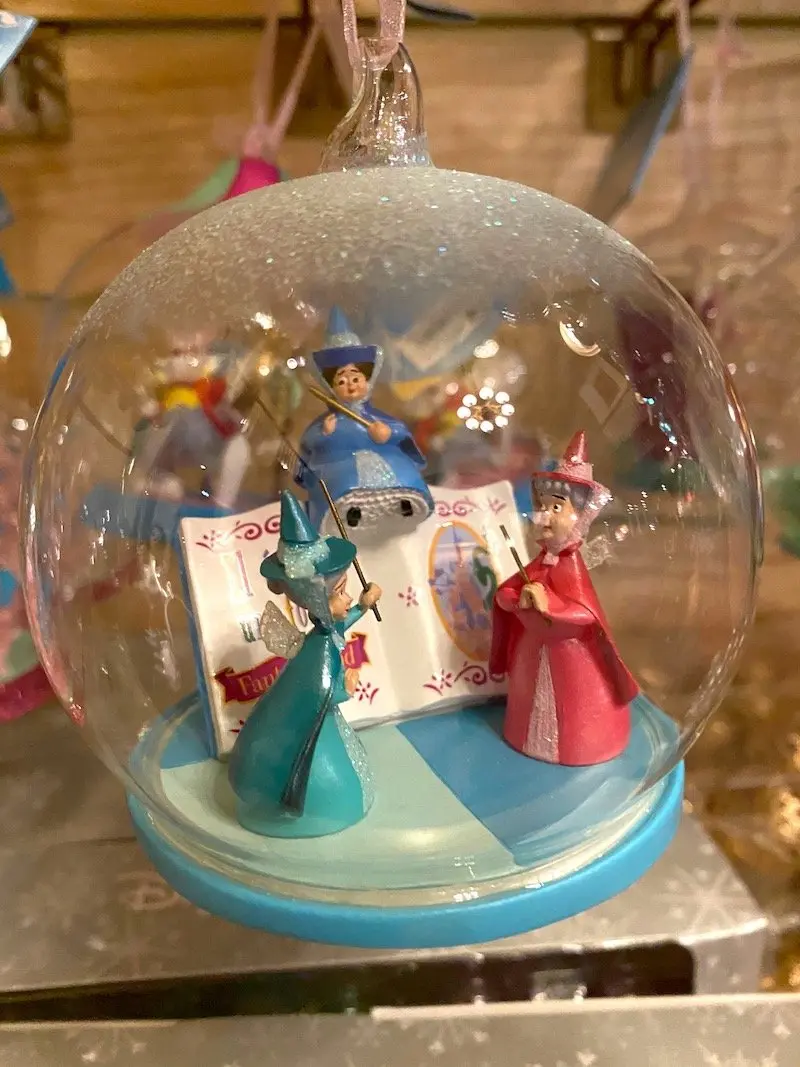 Disneyland Paris Park Tickets
Check out Get your Guide for the best value Disneyland Paris tickets.
Compare prices here:
Disneyland Paris multi day tickets are a winner, saving big bucks for the family budget.
Best Disneyland Paris tickets offers?
Wondering where can you buy cheap tickets to Disneyland Paris?
The best bet is to check the official website for hotel and ticket packages.
This is where you'll find the best discount Disneyland Paris tickets across the year.
Specials tend to include:
free dining packages such as half board for free
seasonal specials eg for winter, or low season when demand is smaller
If you are somewhat local, or can get to Disneyland in Paris with relative ease, eg from London, it's worth considering if you should buy an Disneyland Paris annual pass.
READ MORE: Complete Guide to Disneyland Paris Fastpass System (coming soon)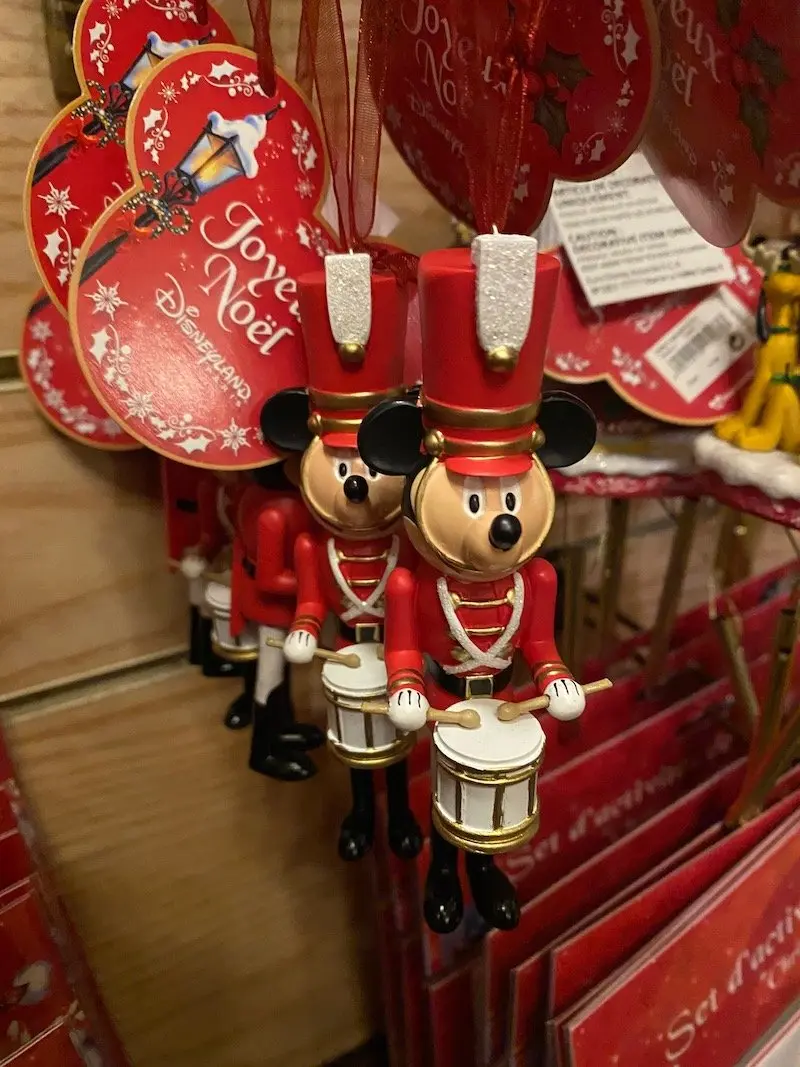 BEST DISNEYLAND PARIS CHRISTMAS TIPS
Disneyland Paris Map
Plan your trip with the help of these Disneyland Paris maps.
Click here for an interactive Disneyland Paris map
Click here for an interactive Walt Disney Studios Park map
Disneyland Paris brochure
Click here to download a copy of the Disneyland Paris e-brochure and prices for Disneyland Paris package deals including transport.
Or you can ask your local travel agent.
New Paris Disney brochures are released in April each year.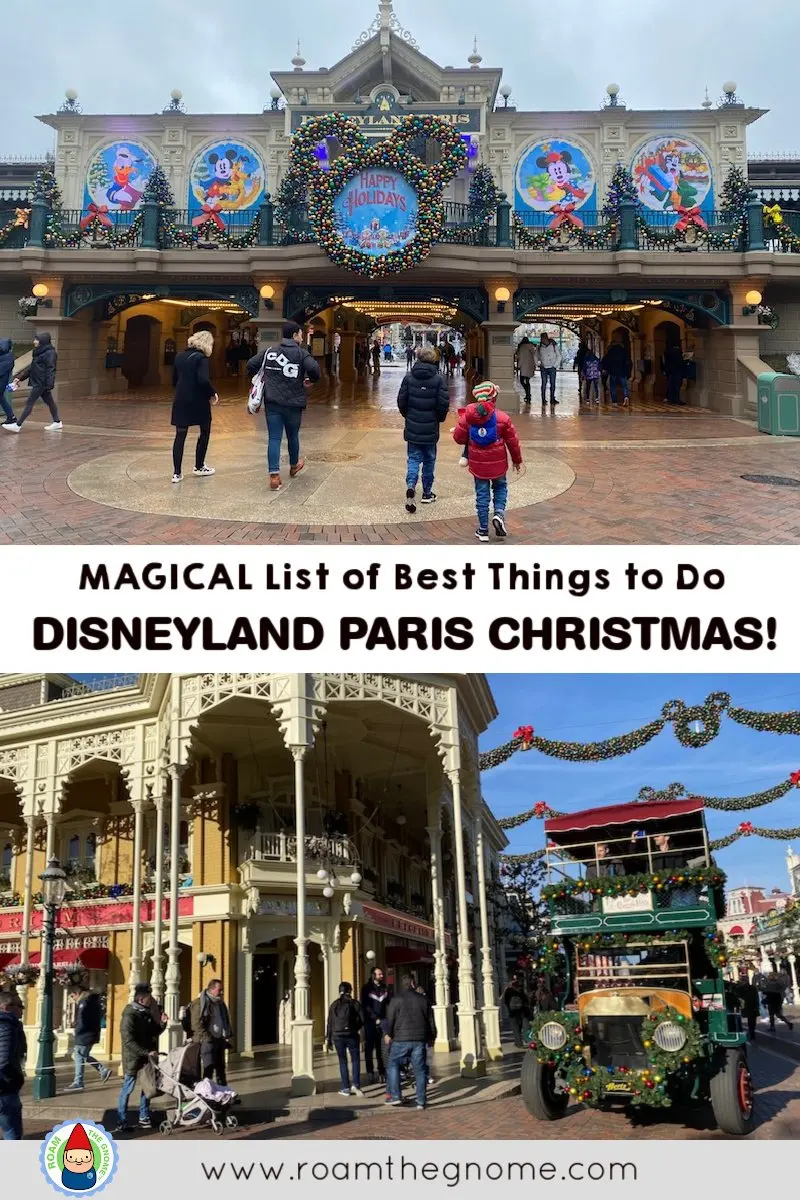 What to wear to Disneyland Paris in December?
Take a puffer jacket of some kind, and that will keep out the cold.
Layer up with thermal underwear, or at the very least a couple of warm cotton layers.
Pack your hats & beanies, gloves and insulated boots.
And a raincoat or umbrella.
Paris weather is unpredictable, but it's likely you'll have at least one day of rainy showers.
Toadstool Rating: Disneyland Paris Christmas review
A Disneyland Paris December trip is a memory you'll never forget!
Book it now.

Looking for more fun things to do at EuroDisney?
Click on the blue links below for more Paris Disneyland tips
Guide to the Best Walt Disney Studios Park rides and attractions for kids