INSIDE: Everything you need to know about the best collectible Disneyland Paris Merchandise!
Head into Harrington's Fine China & Porcelains on Main Street in Disneyland Paris to find limited edition Disneyland Paris souvenirs and gifts for Disney fans.
Fall in love with all the exclusive Disney gifts you can buy here.
Dare say, the purse will be lightened after a visit.
Take a look below for all the best collectible Disney gifts to buy inside.
Disclosure: This article contains affiliate links. If you make a purchase after clicking on one of these links, we may receive a small commission at NO extra cost to you.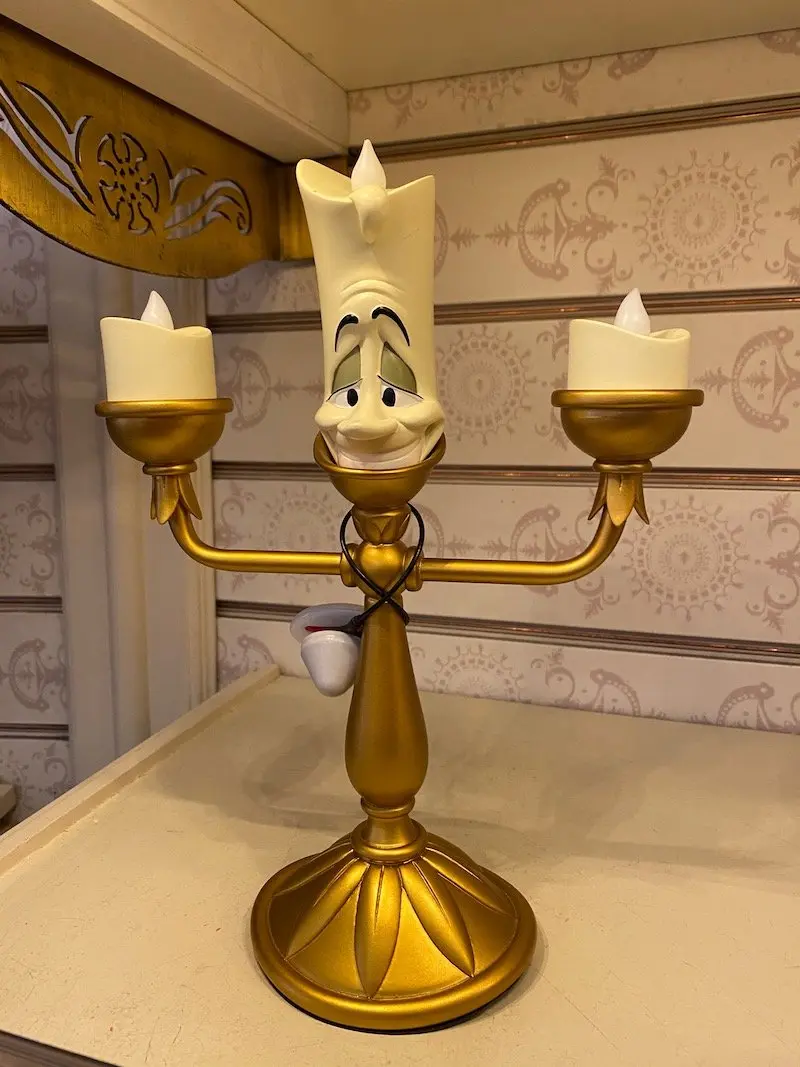 THE INSIDE SCOOP: Collectible Disneyland Paris Merchandise
Correct at time of publication on Roam the Gnome. Please check with venue for updates. We apologise in advance if there have been any changes we are unaware of. All prices in euro, unless otherwise stated
No.1: Disney Beauty and the Beast Lumiere Figurine (Light up candelabra)
Search for unique Disney Paris merchandise here.
Beauty and the Beast fans will have trouble walking past this light up Lumiere candlestick figurine.
But at €59, you won't have to!
It's a collectible Disney souvenir that will make visitors to your home smile.
RELATED: Monster guide to Disneyland Paris souvenirs and gifts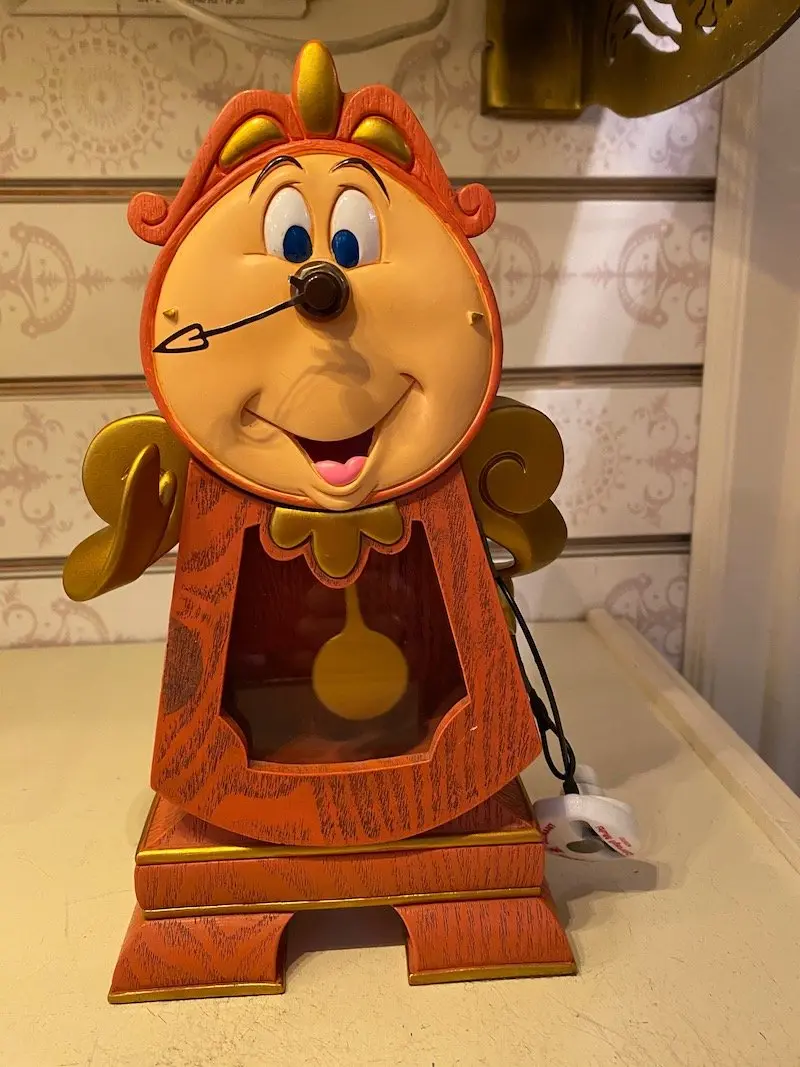 No.2: Disney Beauty and the Beast Cogsworth Clock
Fans of Belle and Beauty and the Beast may also adore this Cogsworth working clock figurine.
Standing around 20cm tall, he's a Disneyland souvenir purchase you'll never regret.
€69 each.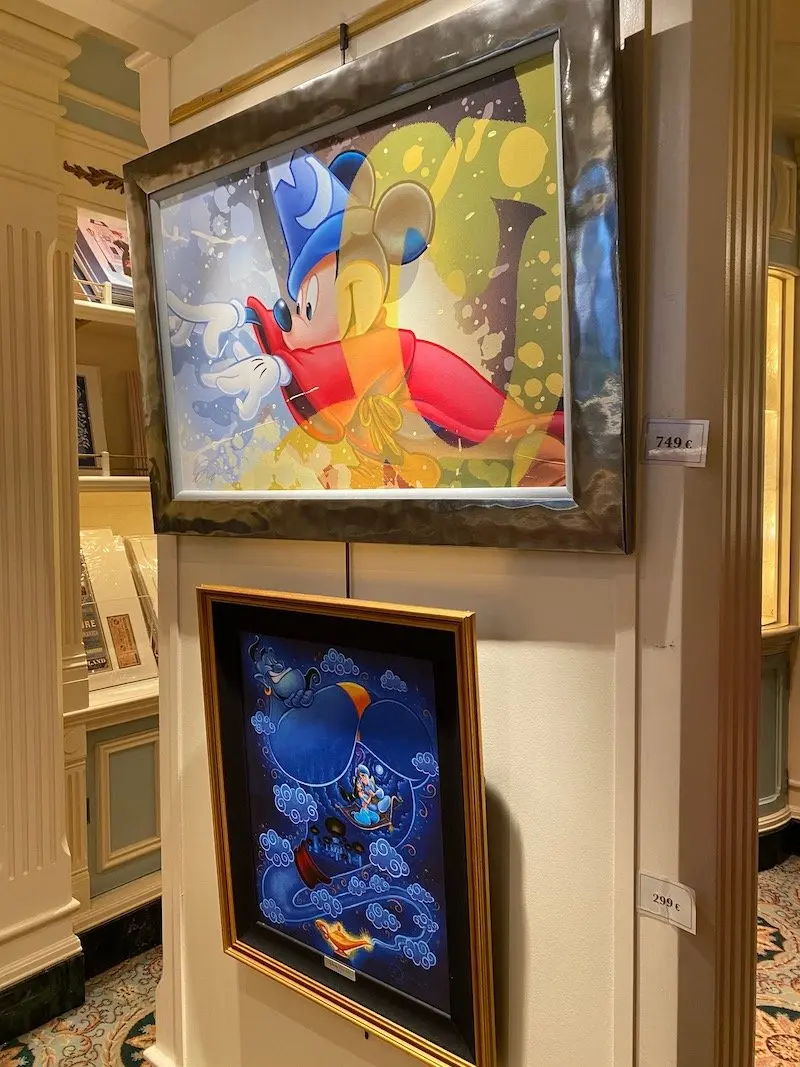 No.3: Disneyland Paris Disney Art Cells
For those who love to collect limited edition Disney art, there's not much that beats a framed Disney animation cell.
One of these classic Mickey Mouse Fantasia pictures, where Mickey wears his magicians cape and hat, is the ideal Disney Art cell for the living room in your home.
At €749, it's an investment piece you'll pass down your family line.
For those with a smaller budget, the framed Aladdin magic carpet art cell is a more affordable €299.
Hot tip: Disneyana Collectibles
Disneyana Collectibles, inside Harrington's Fine China & Porcelains, also stocks a range of Disney art cells wall art in a matt frame board that can be framed when you return home.
Prices start from €25.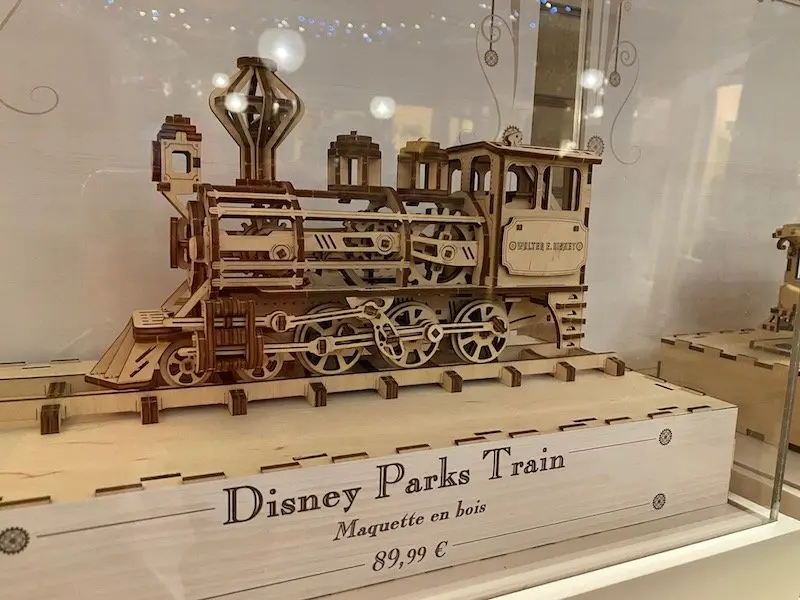 No.4: Disney Parks Train
If you love Disney puzzles, take your passion one step further by building one of these 316 piece Disney Parks trains by UGears, a 3D wooden model of the Walter E. Disney steam train.
This Disney train is a working mechanical model.
Wind it up to move it forward and backwards.
The best bit? No glueing or cutting necessary.
There's a number of different puzzle options including:
a Disney it's a small world wooden puzzle
a Minnie Mouse Wooden Puzzle keychain
Priced from €89.99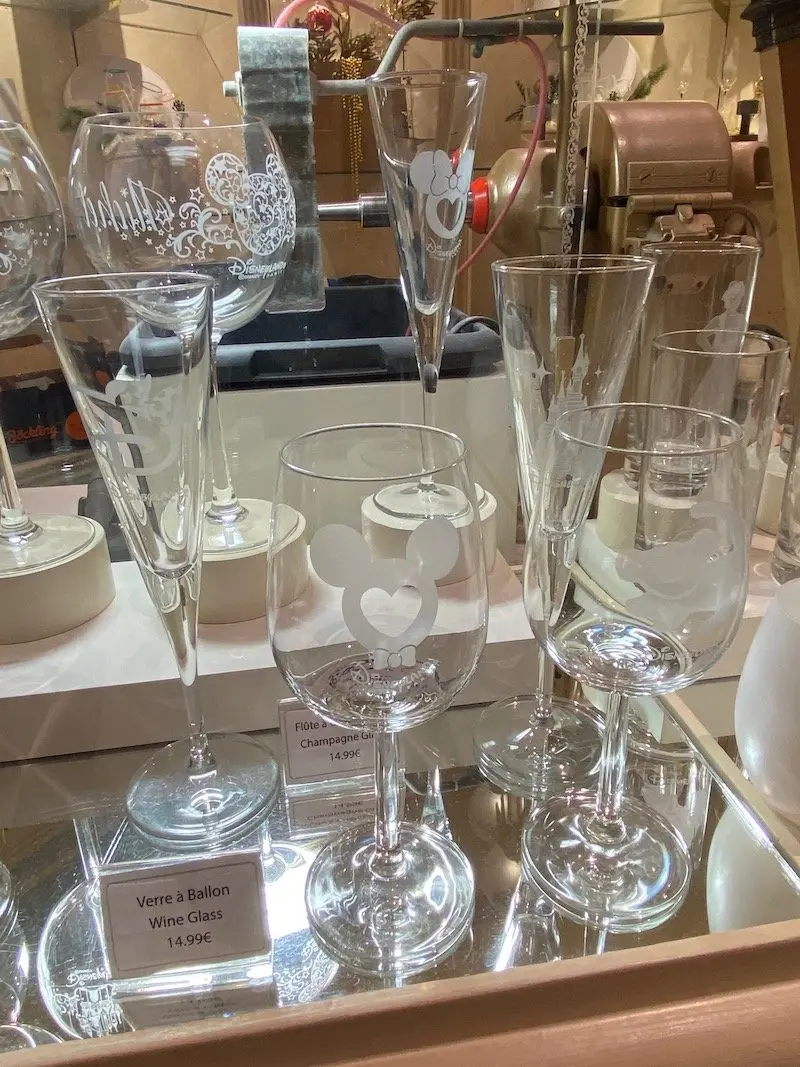 No.5: Mickey Mouse Champagne Glasses
Looking for a special Disney gift for a celebration – a big birthday, an anniversary or a significant event?
Why not look at these Mickey Mouse engraved glasses?
Starting from €14.99 each, this Disneyland Paris exclusive merchandise is a popular choice for marking important family events.
No.6: Disneyland Paris Minnie Mouse figurines
This classic Minnie Mouse ornaments capture that iconic Minnie stance – hands behind her back, charm oozing.
€14.99 is a small price to pay for one of the most popular Disneyland Paris mementoes.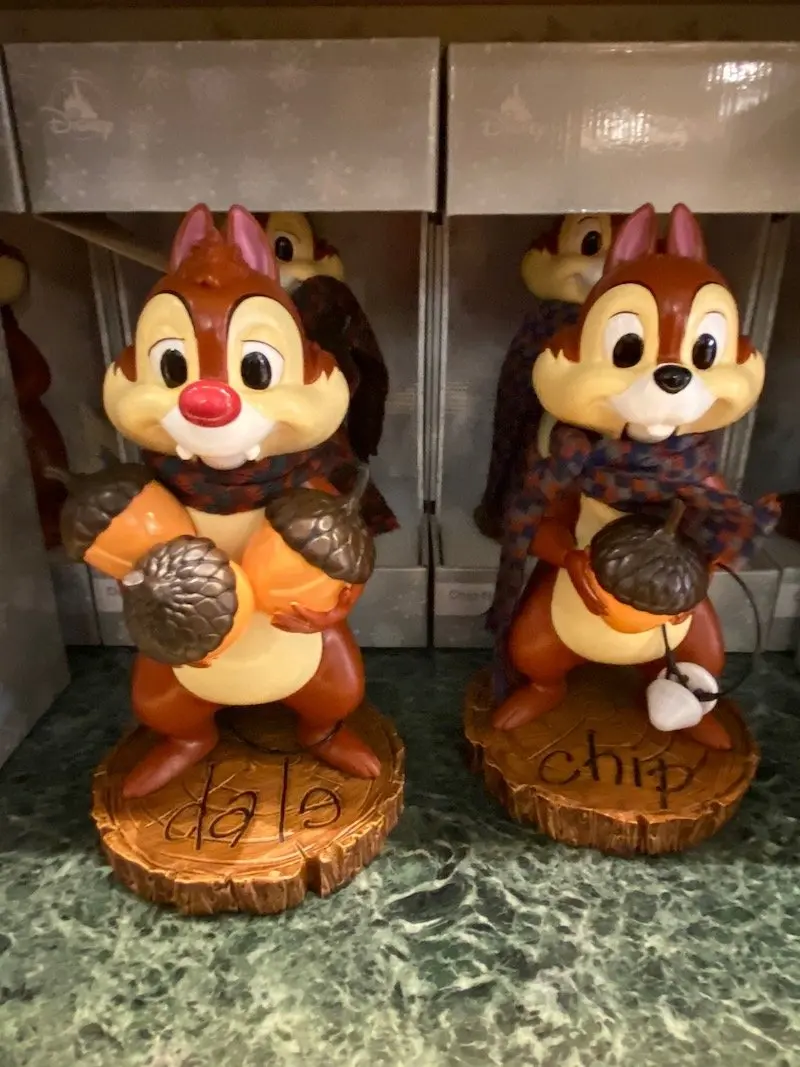 No.7: Disneyland Paris Chip and Dale figurines
Be sure to buy the pair – don't even think about separating these adorable chipmunks!
The mischievous Chip and Dale need no introduction.
Everyone loves them.
Hot tip: Next time you visit Disney World Florida, be sure to visit the FREE Chip and Dale Campfire Singalong and Marshmallow roasting fun. Operates daily.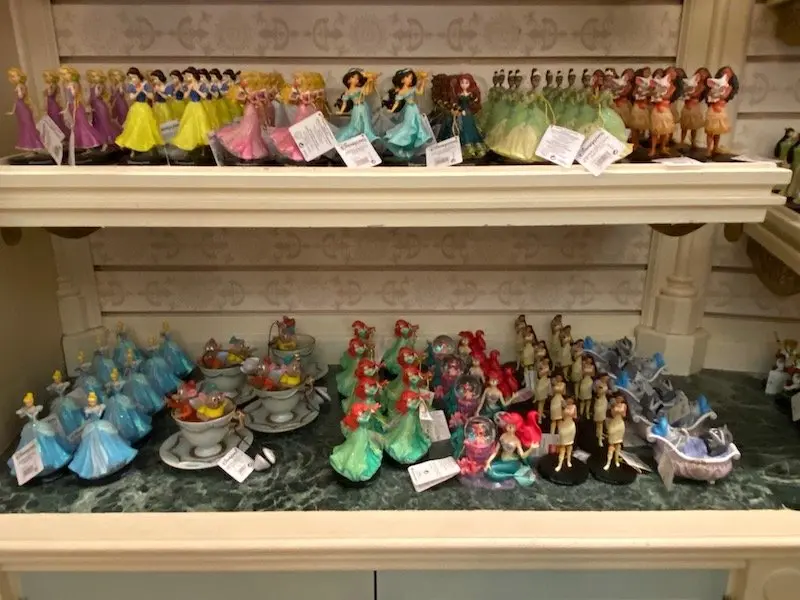 No.8: Disney Princess figurines
Check out the range of Disney characters, Star Wars and Marvel figurines, and Disney Princess collectibles in the Disneyland Paris Disneyana store.
Find these figurines available:
Ariel figurine
Snow White figurine
Princess Jasmine figurine
Disney Belle figurine
Princess Aurora figurine
Merida figurine
Princess Tiana figurine
Moana figurine
Pocahontas figurine
Porcelain Disney dolls like this make a delightful keepsake for children, godchildren, and favourite friends.
You could start your own Disney Princess figurines set.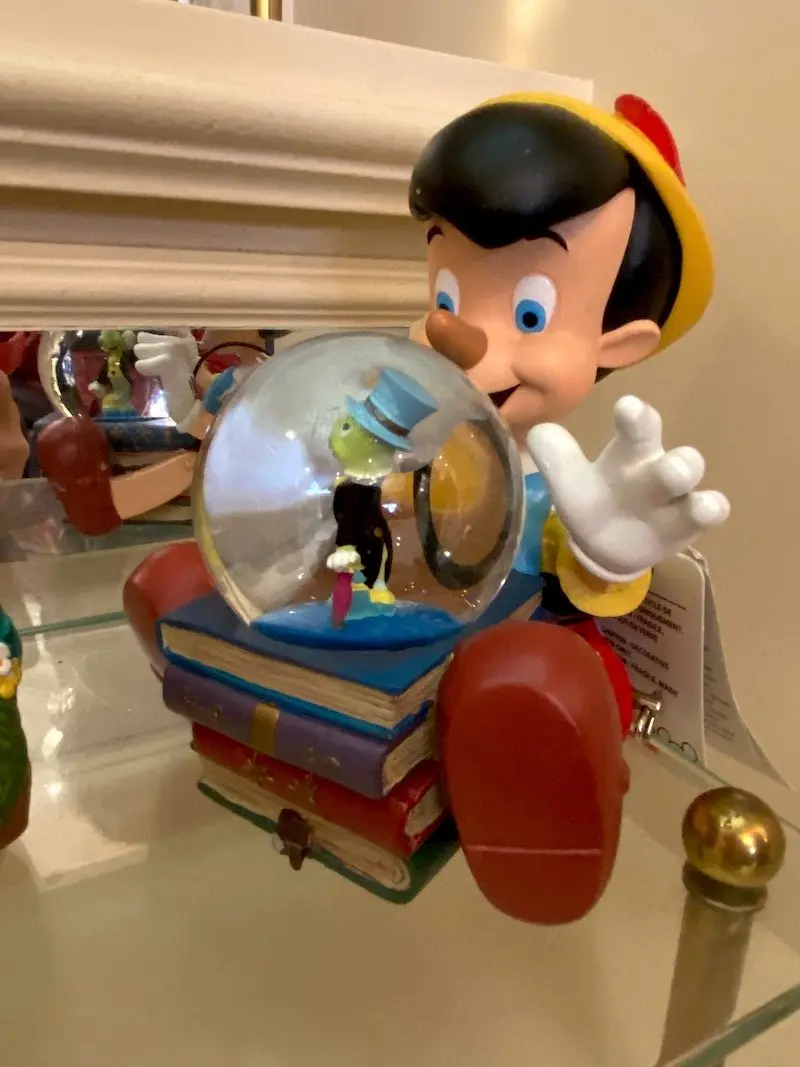 MORE THINGS TO BUY AT THE BEST DISNEYLAND PARIS GIFT SHOP!
No.1: Disney Pinocchio snowglobe
Check out the range of Disney Snowglobes at Harrington's Fine China & Porcelains.
This Disney Paris snow globe featuring the featherbrained Pinocchio puppet makes my heart flutter with delight.
The story of Pinocchio and his friend Jiminy Cricket is a treasured memory from childhood and anyone with a fond memory of the story would adore this too.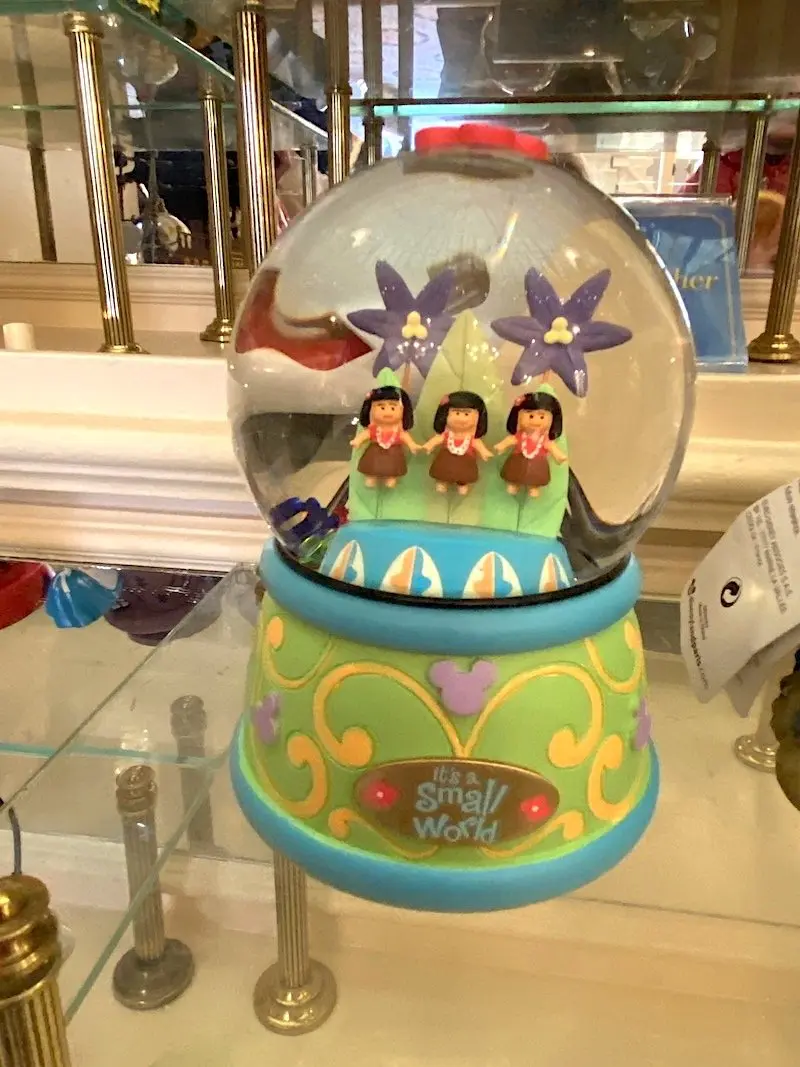 MORE DISNEYLAND PARIS SNOWGLOBES
No.2: it's a small world snowglobe
The small world snow globe is one of the rare Disney snowglobes, and much coveted by collectors.
Featuring the distinctive art of artist Mary Blair, it's one way to bring the charm of this popular family ride into your home for good.
Buy the same on Amazon: Click here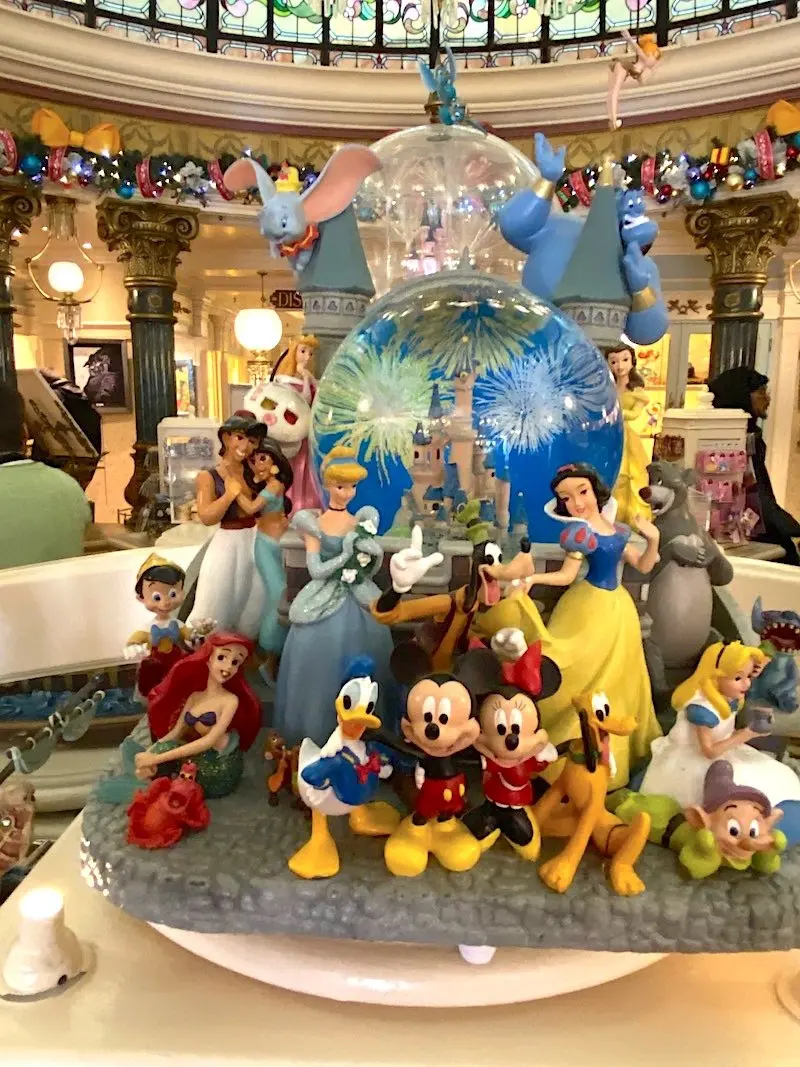 No.3: Disney Characters Snowglobes
Take one of these large Disney snowglobes home to a Disney fan in your family and you'll never have to buy a gift again!
Buy Disney snowglobes similar to this one here on Amazon: Click here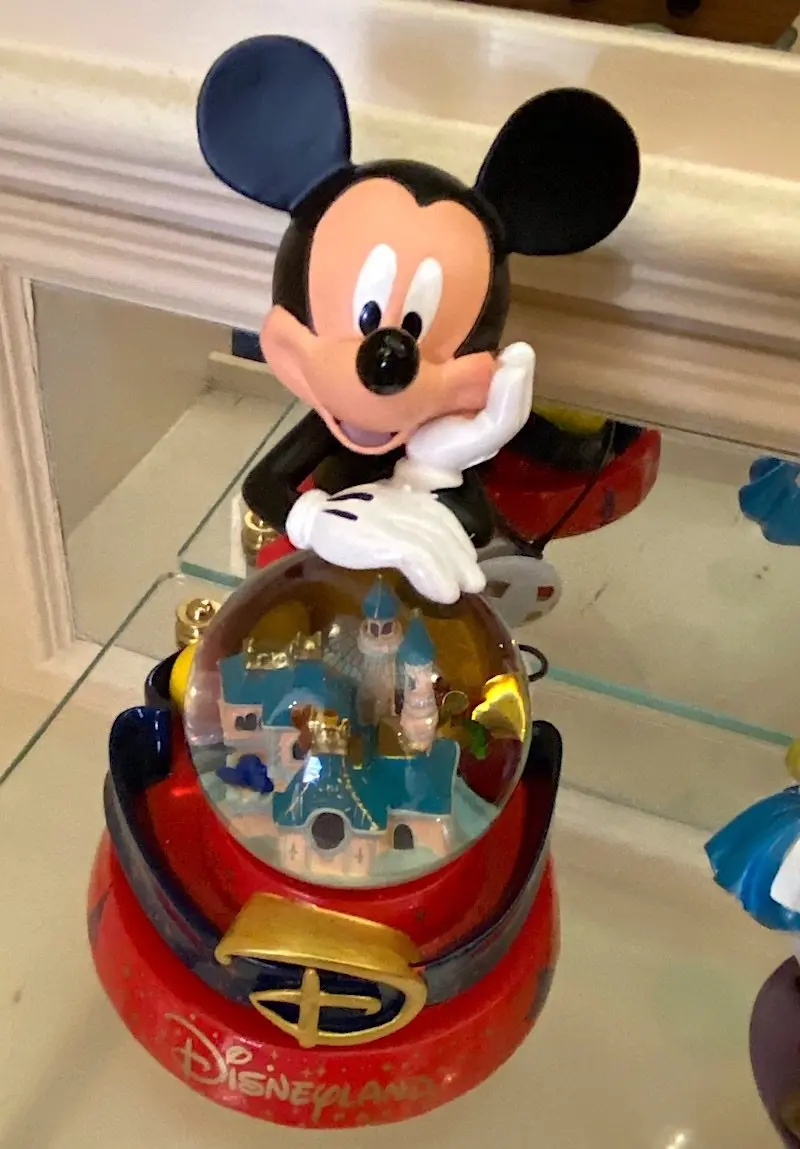 No.4: Mickey Mouse snowglobe
Love to add to your Mickey Mouse collection of treasures?
Then a Mickey Mouse snow globe fits the bill.
FAQ: Where can i buy Disneyland paris merchandise online?
Amazon is our go-to shop when we can't visit Disneyland Paris in person.
But if at all possible, book a trip!
Disneyland Paris with kids is a memorable vacation you won't forget!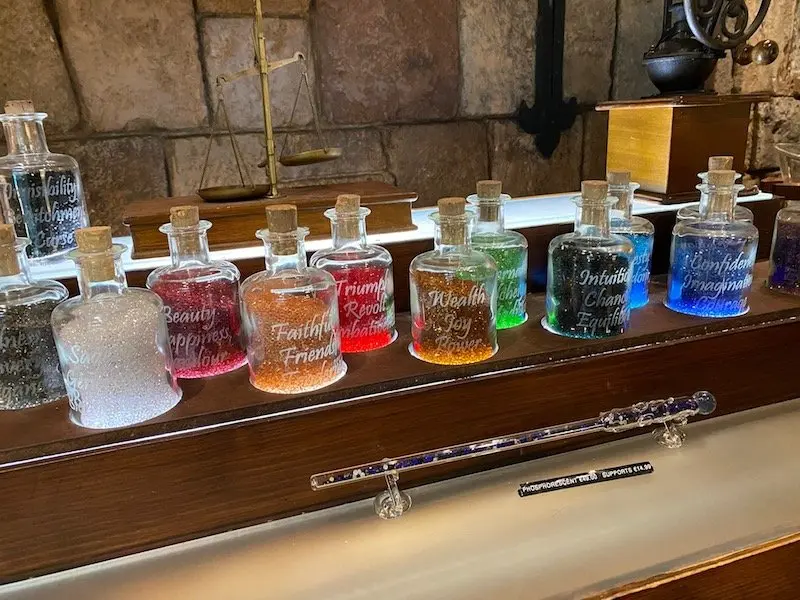 LOOKING FOR MORE DISNEYLAND PARIS SHOPPING?
Click on the blue links below for more Disneyland Paris blog tips