INSIDE: Everything you need to know about the Disneyland Paris Christmas shop.
Inside the Disneyland Paris Sleeping Beauty Castle, on the Fantasyland side, there's a special set of heavy wooden doors.
When the ornate doors to the La Boutique du Château open wide, head on in.
If you've been wondering does Disneyland Paris HAVE a Christmas shop?
The answer is yes.
Boutique le Chateau is the official Paris Disneyland Christmas Shop.
Find every kind of Mickey Mouse Christmas decoration, and lots more too.
Take a sneak peek inside below.
Disclosure: This article contains affiliate links. If you make a purchase after clicking on one of these links, we may receive a small commission at NO extra cost to you.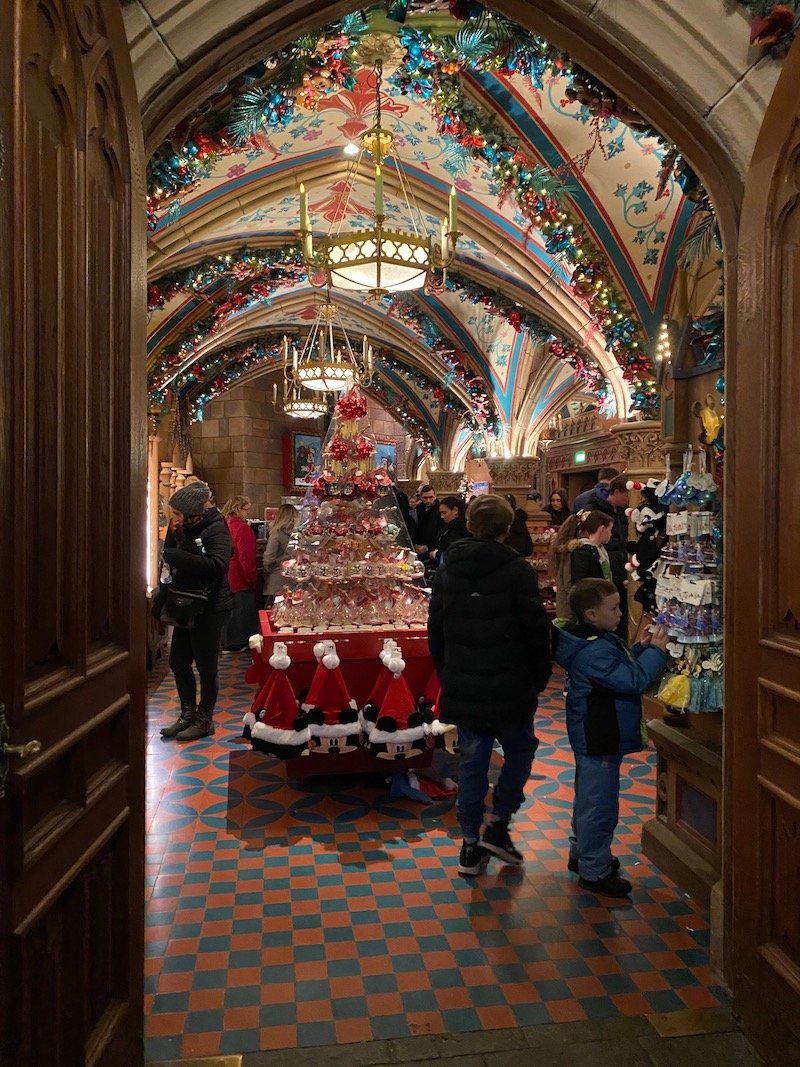 THE INSIDE SCOOP: Complete Guide to Disneyland Paris Christmas Shop
Correct at time of publication on Roam the Gnome. Please check with venue for updates. We apologise in advance if there have been any changes we are unaware of. All prices in euro, unless otherwise stated
Wondering where to buy Disneyland Paris Christmas Ornaments?
This shop at Disneyland Paris is not the only place in Euro Disney or Walt Disney Studios park to buy Mickey Mouse Christmas decorations or Disney Christmas ornaments.
But it IS the main official Christmas in Disneyland Paris shop, so you better stop on in to see the:
exclusive Disney Christmas baubles
Disney Paris Christmas decorations
Disneyland Paris merchandise, and
gifts you won't find elsewhere.
If you love the stories of Disney Princesses and the idea of living in a castle, the styling of this Paris Disneyland store – with the adorned ceilings, candleabras, and grandiose trimming – will make your heart swoon.
RELATED: Round up of the Best Disneyland Paris Souvenirs for all seasons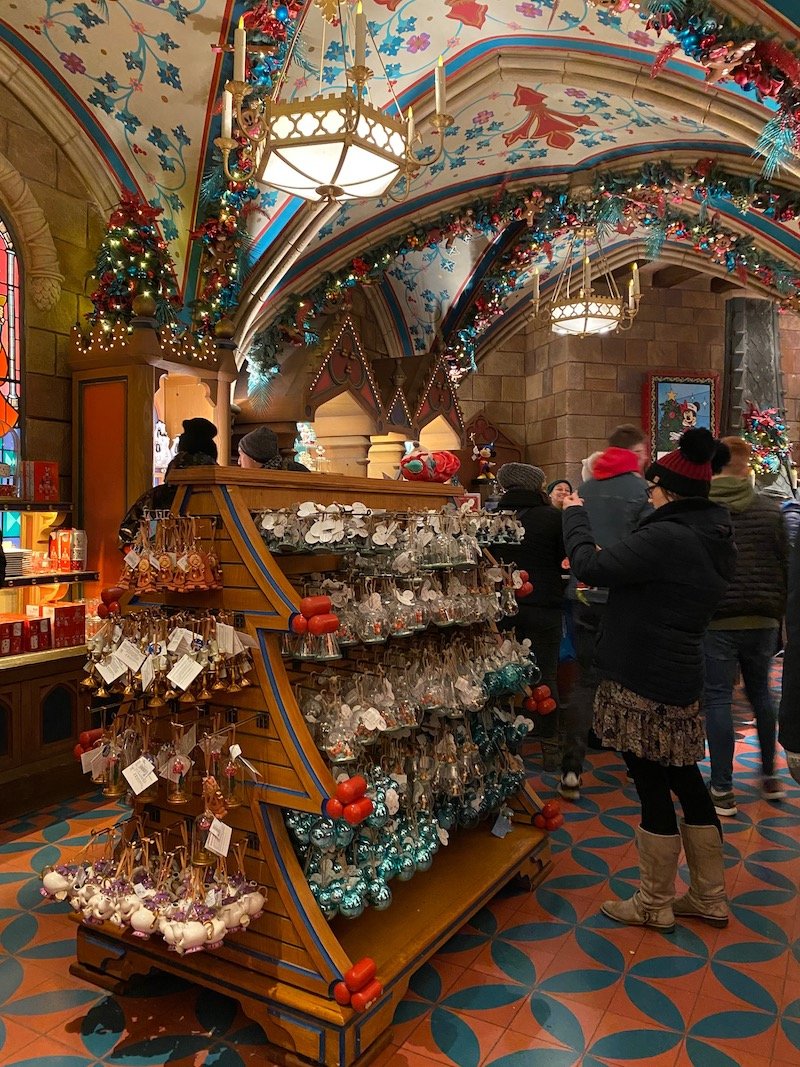 La Boutique du Château Disneyland Paris Christmas Shop
Guests flock to the Disneyland Paris Christmas Decorations Shop in the castle to purchase Disney Christmas ornaments in droves.
You can find Disney Films Christmas ornaments from many of the most popular Disney movies including:
Beauty and the Beast
Cinderella
Frozen I & II
Finding Nemo
The Lion King
Aladdin
Plus a range of popular Disney Princesses including:
Jasmine
Belle
Aurora
Ariel and
Cinderella.
Keep your eyes open to find the Disneyland Paris Sleeping Beauty Castle glass bauble!
Magical!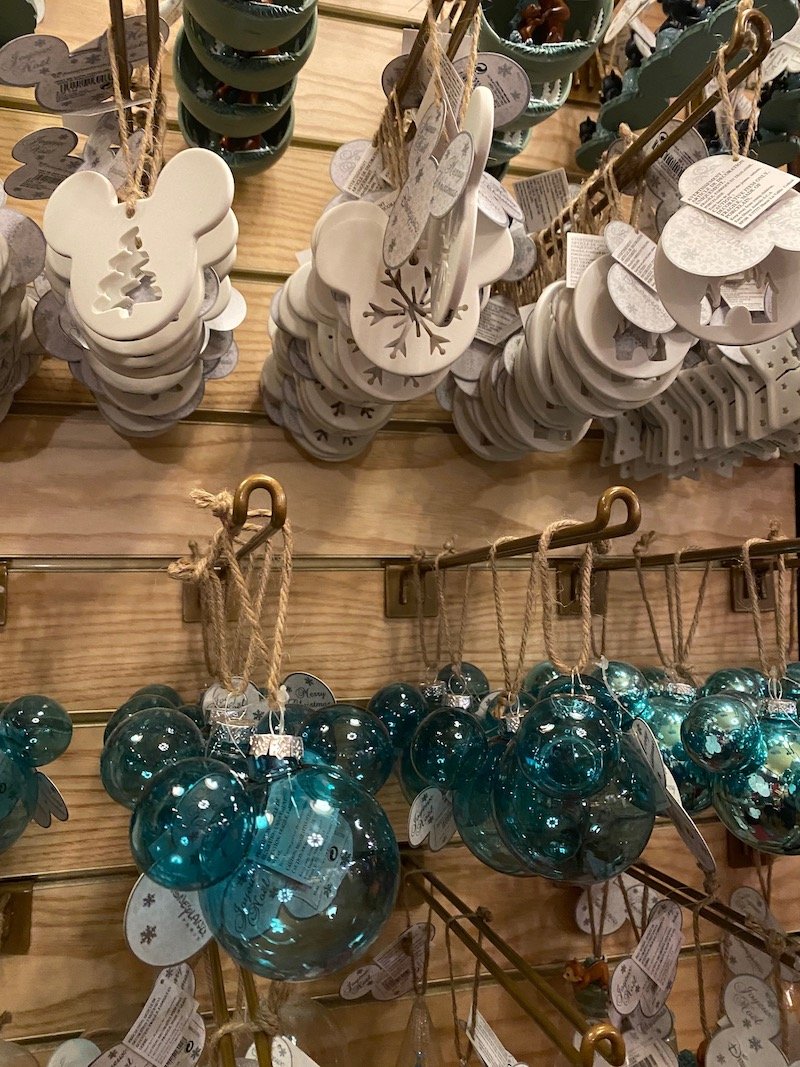 BEST DISNEY CHRISTMAS ORNAMENTS FOR THE TREE
Here's a selection of the best Disney Christmas decorations in store during a Paris Disney Christmas.
No.1: Mickey Mouse Ears bauble sets
True Disney fans will be on the lookout for Mickey Mouse Ears Christmas ornaments.
There's plenty of variety in those too, including:
ceramic Mickey Mouse ears ornaments, and
glass blown Mickey Mouse ears (pictured above).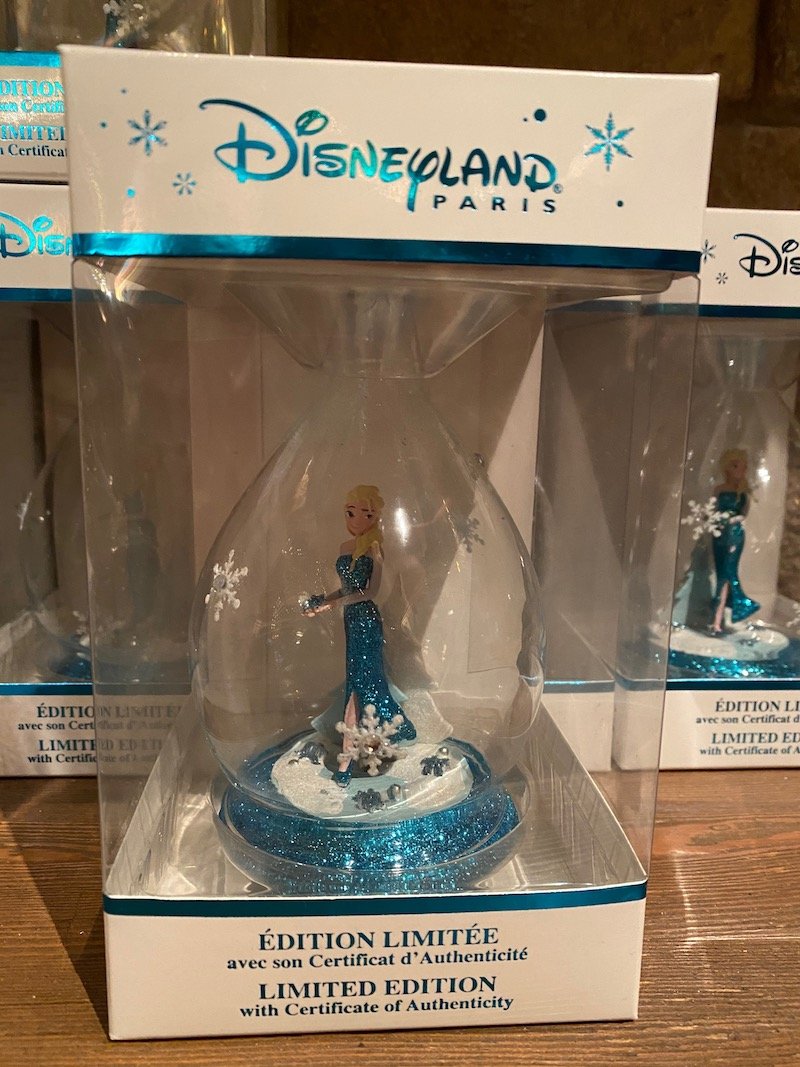 No.2: Limited edition Frozen Elsa Christmas baubles
Look out for the exclusive Disney Elsa Christmas bauble in store.
Disney Collectible Christmas ornaments and Disney Holiday Decorative ornaments are one of the best things to buy at Disneyland Paris for anyone who refers to themselves as:
a committed Disneyphile
a Disney fanatic
Mouseketeers
Mouseheads
Disney-ites
Disney fans
a Disney Freak
a DisNerd
a Disney Maniac
Or simply, "one of those Disney people".
We're in that last club.
Happy for anyone and everyone to know it too.
Disney Magic is REAL. Join the fun!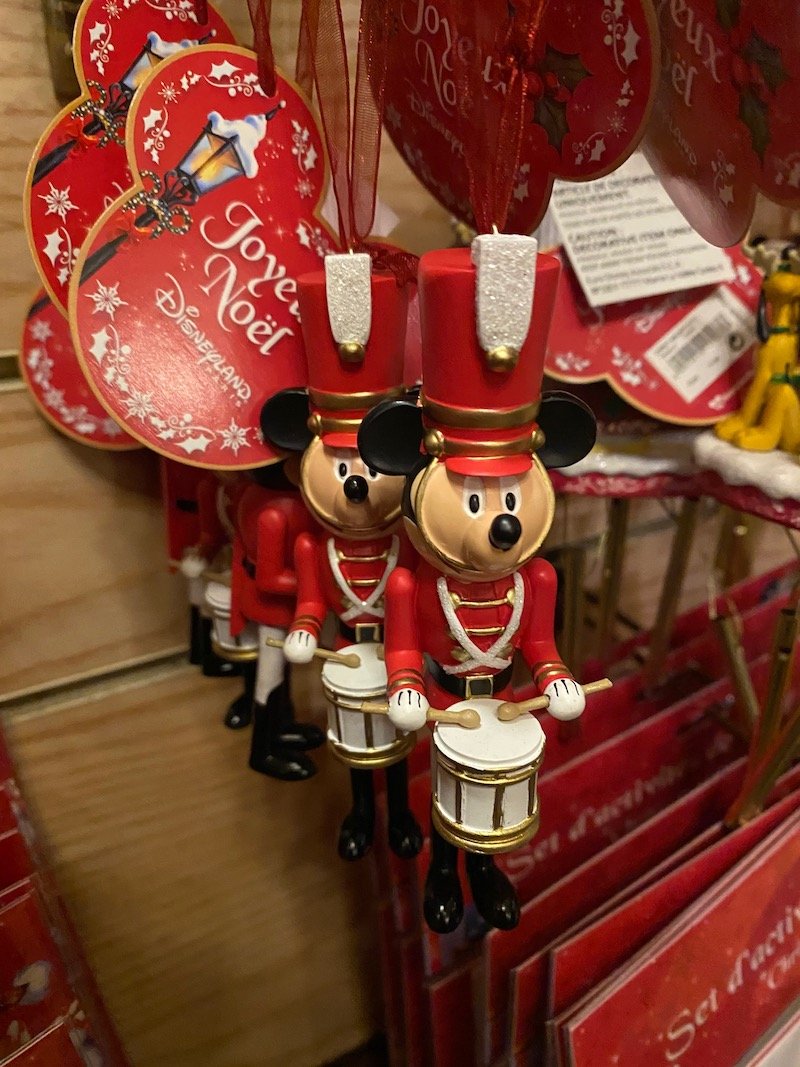 No.3: Mickey Mouse Christmas ornaments
Look out for more Mickey Mouse decorations for the tree.
This Disney Soldier decoration was a fab find during our Disney Paris Christmas visit.
Hot tip: Lucky enough to be visiting the Euro Disney parks at Christmas?
RELATED: Looking for the best Disneyland Paris Christmas reviews? Read our round up of the best things to do at Disneyland Paris Christmas time including the Disneyland Paris Christmas market.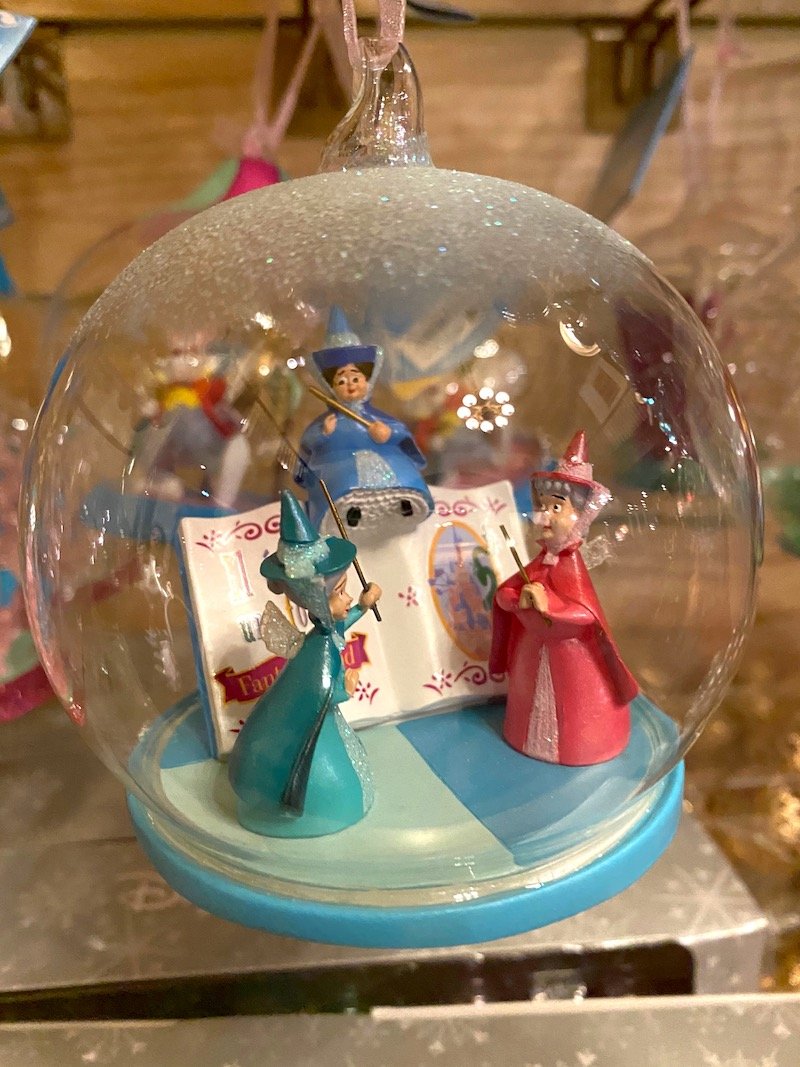 No.4: Cinderella Christmas ornaments
Of all the Disneyland Paris ornaments for sale, THIS ONE is my favorite.
We all need a little bit of magic from the trio collectively known as the Three Good Fairies
Flora, Fauna, and Merryweather are cute, clumsy, and simply adorable.
This Christmas Disney ornament sits at the top of the tree!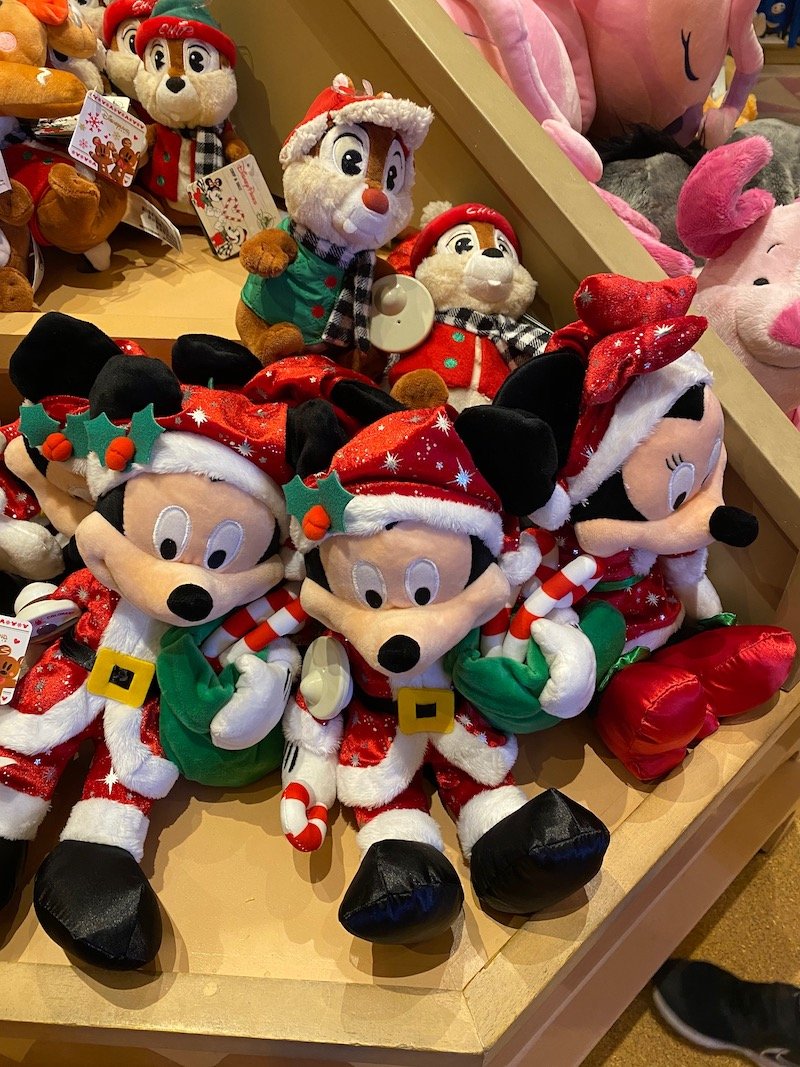 No.5: Mickey Mouse Christmas Toys
Mickey Mouse dressed as Santa is a bit adorable.
Don't you think?
He'll be coming out each year to sit on our mantlepiece, along with all the other Christmas plushies.
There's a bunch of other Disney characters in Christmas clothing or Gingerbread outfits too.
Which one will you choose?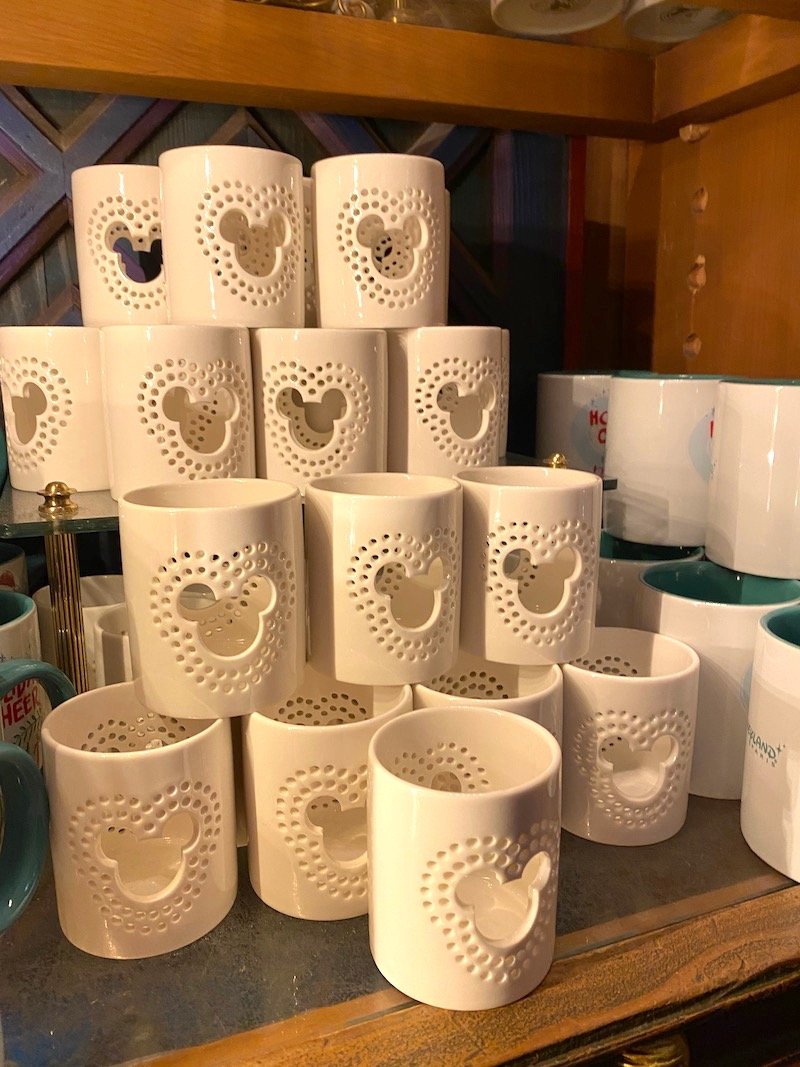 No.6: Disney Christmas Candle Holder
Those who prefer a monochrome Christmas style will adore this white Mickey Mouse tealight candle holder.
Imagine three or four of these lined up on the mantle above the fireplace.
Simple but sweet.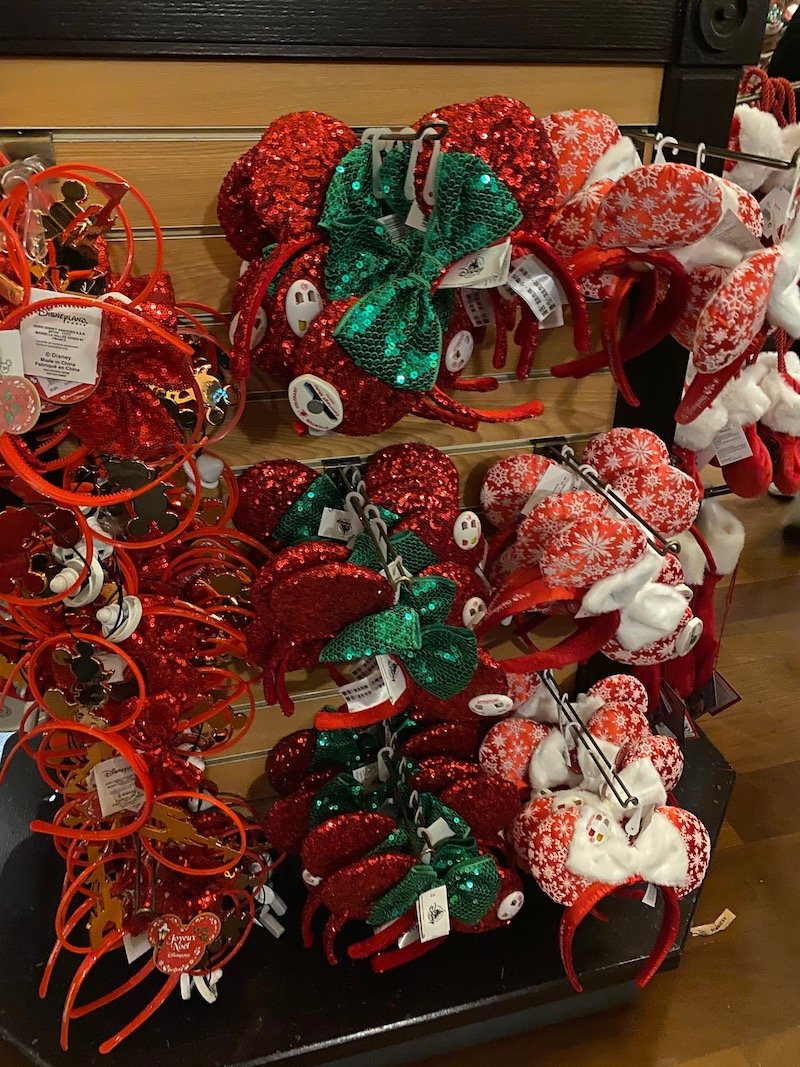 No.7: Christmas Mickey Ears Headbands
Search the range of Disney Christmas Ear headbands including:
Snowflake Mickey ear headband
Minnie ears headband with green sequin bow
Simple Christmas Disney Bow headband
If you are lucky, you might even score one of the limited edition Gingerbread Minnie Mouse ear headband to wear at Disneyland Paris during Christmas.
Prices start from around €12.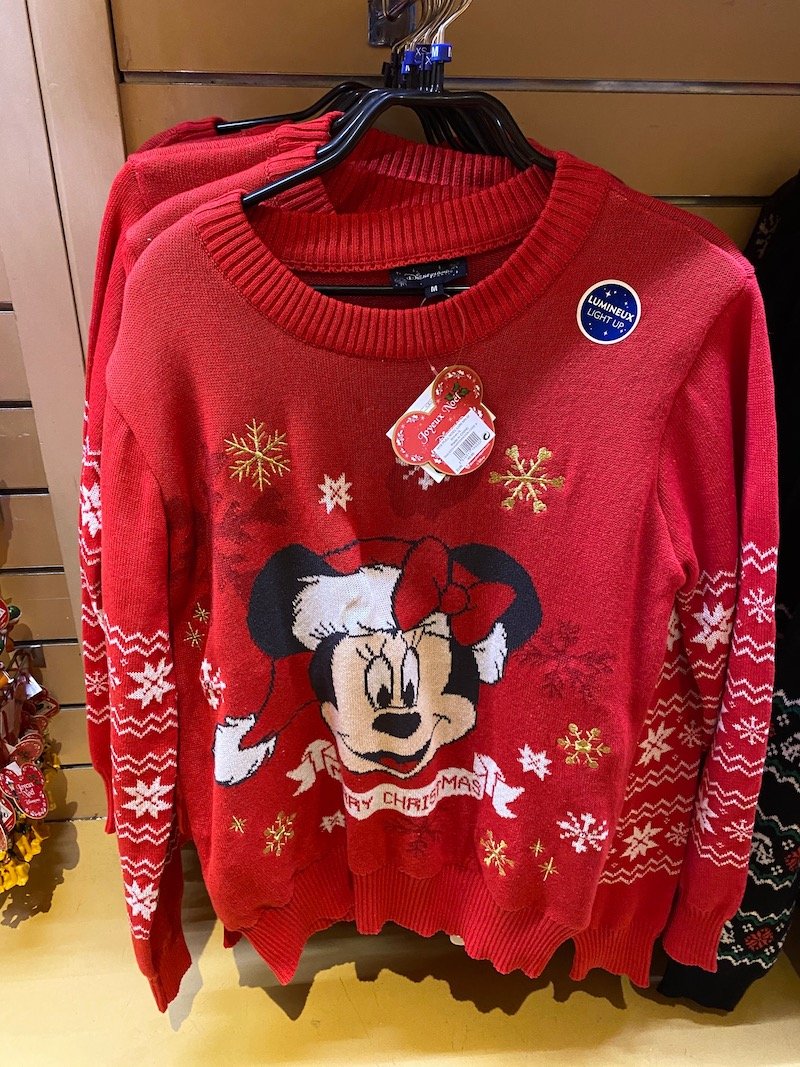 No.8: Minnie Mouse Christmas sweaters
Last but not least, pick up a Minnie Mouse light up Christmas sweater at the Paris Disneyland Christmas store
This one, found at Euro Disney at Christmas is so sweet, I'd be tempted to wear it all season.
But definitely to Disneyland Paris on Christmas Day!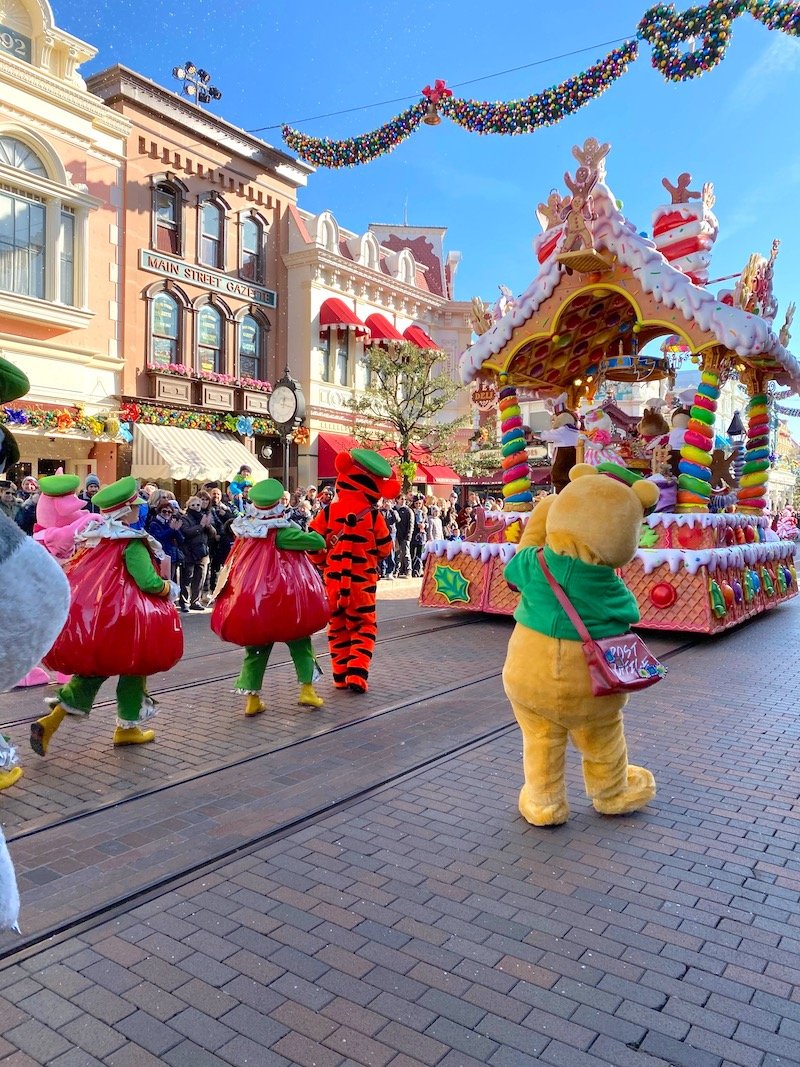 Best Value Disneyland Paris Park Tickets?
Check out Get your Guide for the best value Disneyland Paris tickets.
Compare prices to get to these Christmas destinations here.
Disneyland Paris multi day tickets are a winner, saving big bucks for the family budget on Christmas at Disneyland.
Best Disneyland Paris tickets offers?
Wondering where can you buy cheap tickets to Disneyland Paris during Christmas?
The best bet is to check the official website for hotel and ticket packages.
This is where you'll find the best discount Disneyland Paris tickets across the year.
Specials tend to include:
free dining packages such as half board for free
seasonal specials eg for winter, or low season when demand is smaller
If you are somewhat local, or can get to Disneyland in Paris with relative ease, eg from London, it's worth considering if you should buy an Disneyland Paris annual pass.
READ MORE: Complete Guide to Disneyland Paris Fastpass System (coming soon)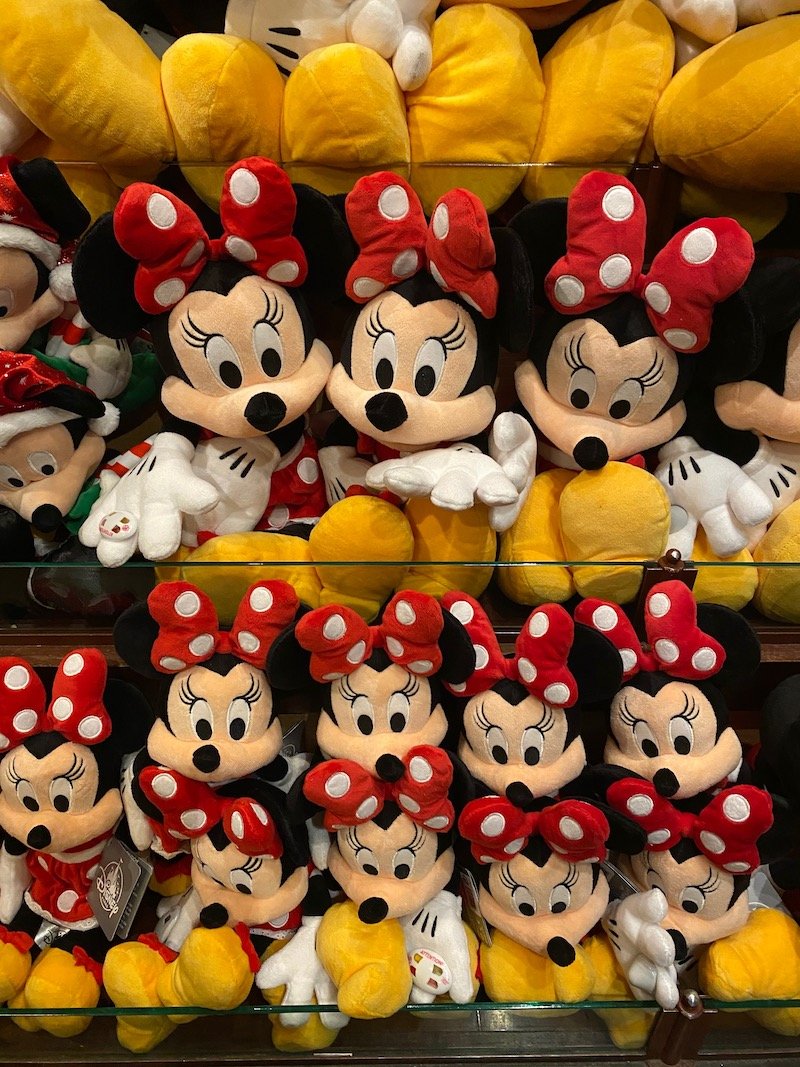 How to get to Disneyland Paris
Disneyland Paris By Eurostar: Click here for details
Disneyland Paris By Train from Paris:
The fastest way to get to Disneyland Paris from Paris city centre is via the Regional Express Network RER.
RER Line A train terminates at Marne-la-Vallee/Chessy station.
Walk to Disney Village, Disneyland Paris gates, and Walt Disney Studios Parc from the Train Station in about 2 minutes.
Hot tip: If you are staying at a Disney Hotel, book the Magical Express option.
This allows you to leave your luggage at the Magical Express counter at the station and not waste a minute of your precious time stuffing around. Your bags will be delivered to your hotel room directly.
Disneyland Paris by shuttle:
Click here for a airport transfer shuttle service from Paris airport to Disneyland Paris
Click here for details and price of the Offical Disneyland Paris Express shuttle bus transfer to Euro Disney with entrance tickets included
Disneyland Paris by Coach: Click here for details of Disneyland day tours, and mini breaks
Disneyland Paris By Car: Click here for directions to Disneyland Paris from Google maps
Disneyland Paris Car Park price: Click here for all the details of parking at Disneyland Paris
Disneyland Paris brochure PDF
Click here to download a copy of the Disneyland Paris e-brochure.
Disneyland Paris Christmas opening hours
Generally 10am to 7pm.
But subject to change due to the weather at Eurodisney at Christmas.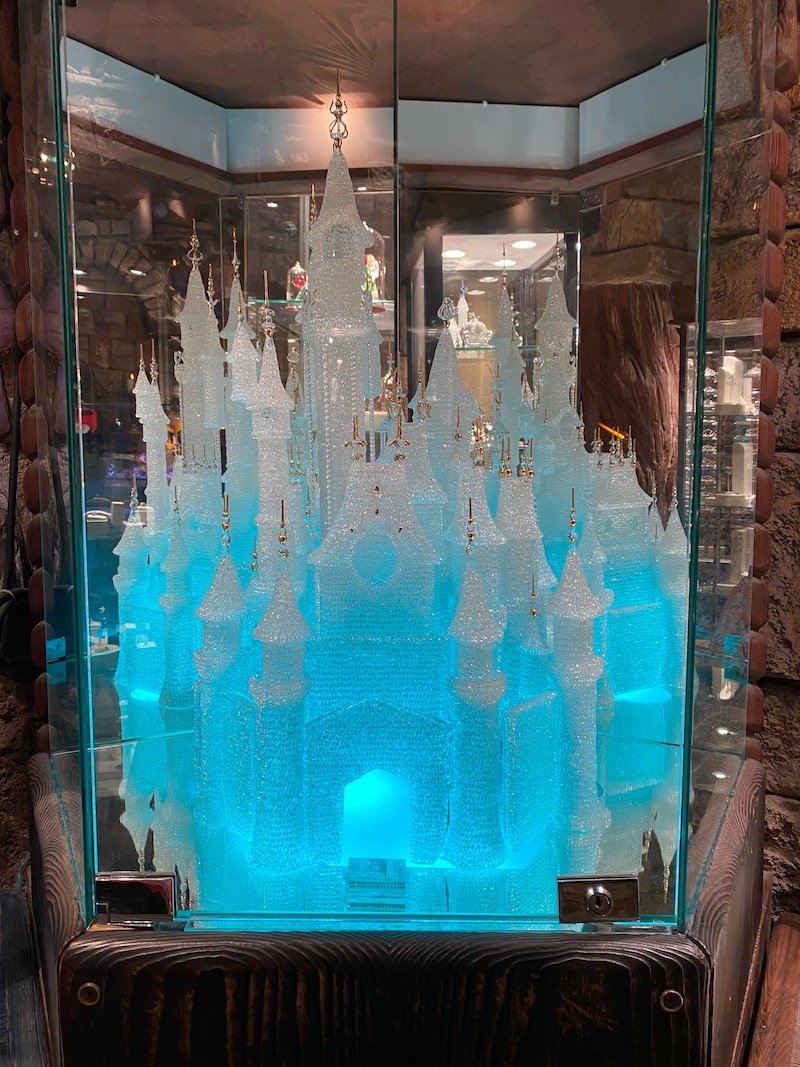 Looking for more fun things to do at Euro Disney?
Click on the blue links below for more Paris Disneyland tips