INSIDE: Roam the Gnome's List of the Best Special Things to Do at Disney World.
Travelling to Disney World with your kids?
We are super fans of the place, and keep up to date with what's happening at the Disney World parks from afar.
We've collected lots of Disney World tips and helpful info over the years (including the best things to buy at Disney World, fun things to do in Walt Disney World resort with kids, and a comprehensive list of Disney World resorts).
Here it is, in one spot, so you can learn the secrets of Disney World too.
Enjoy this giant collection of Disneyworld tips below.
Disclosure: This article contains affiliate links. If you make a purchase after clicking on one of these links, we may receive a small commission at NO extra cost to you.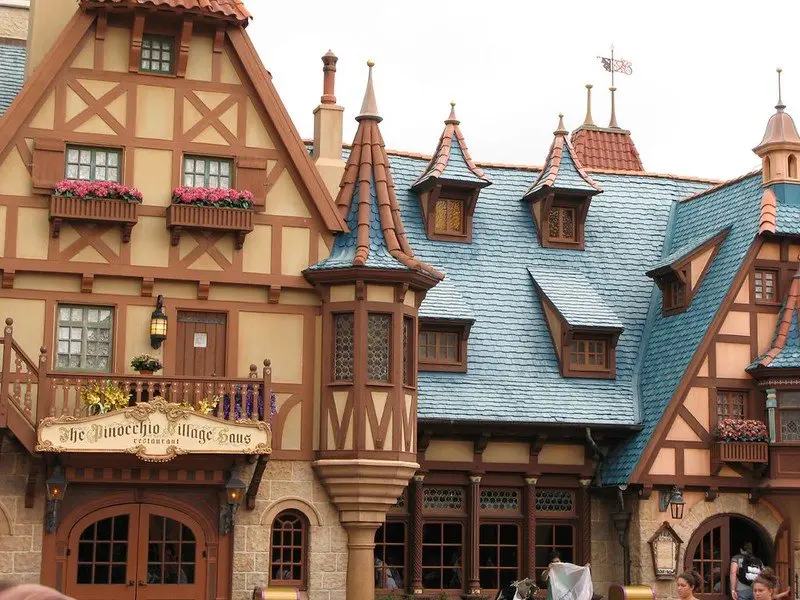 Image credit: Janey Henning via Flickr CC BY-2.0
SPECIAL THINGS TO DO AT DISNEY WORLD WITH KIDS
Correct at time of publication on Roam the Gnome. Please check with venue for updates. We apologise in advance if there have been any changes we are unaware of. All prices in US dollars, unless otherwise stated
ROAM THE GNOME Family Travel Website is a one-stop shop for SUPER DOOPER FUN ideas & activities for family travel in America with Kids, including tonnes of tips for DW with kids!
We are mad keen Disney World fanatics, constantly researching to find the newest and shiniest events, attractions, Disney food snacks, Disney restaurant menus, and more.
Before you go:
check our Disney World packing guide here (coming soon)
pick up the best backpack for Disney World
organise the best stroller to take to Disney World
grab a stack of disposable rain ponchos (we love the Darth Vader ones!) and
make sure you have the best shoes for Disney World.
You will walk for days!
Now, it's time for our top unique Disney World tips below.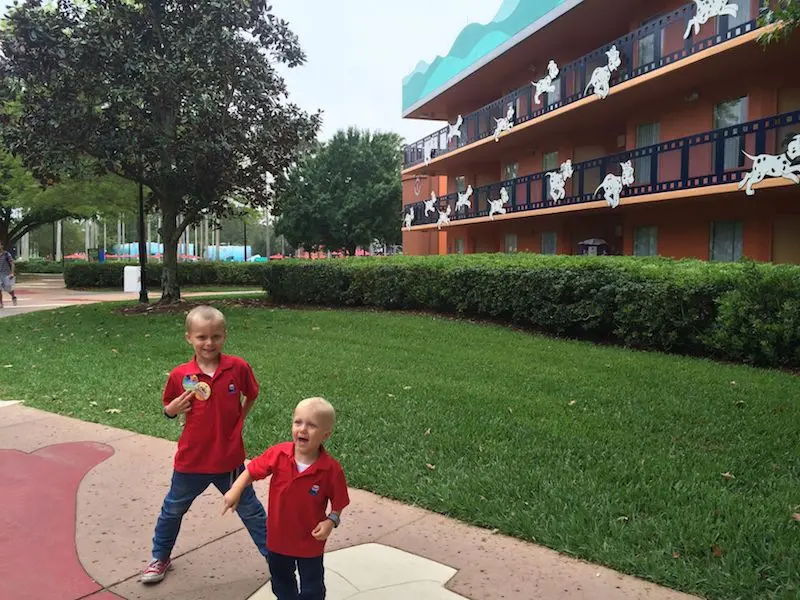 LIST OF DISNEY WORLD HOTELS
No.1: STAY at a Disney World Resort Hotel
Book a stay at one of the Disney Hotels on property.
You won't regret it.
A Disney hotel stay is worth every cent, even if you are only coming back to the hotel to sleep after big days at the four theme parks at Disney World.
You can book a fancy luxury deluxe Disney World hotel such as:
Disney's Grand Floridian
Disney's Yacht Club resort, or
Disney's Polynesian Village.
Or you can book a deluxe villa with kitchen facilities, washer and dryer so you have a bit more freedom with meals and cooking if you prefer.
Or you can arrange a stay at a Disney value hotel.
They are the BEST hotels for families with young kids, because of their awesome atmosphere and relaxed feel.
Here's the full list of Disney World hotels to choose from.
You can also read our in-depth guide to the best DW hotels for families below.
---
READ MORE: ULTIMATE GUIDE TO THE BEST DISNEY HOTELS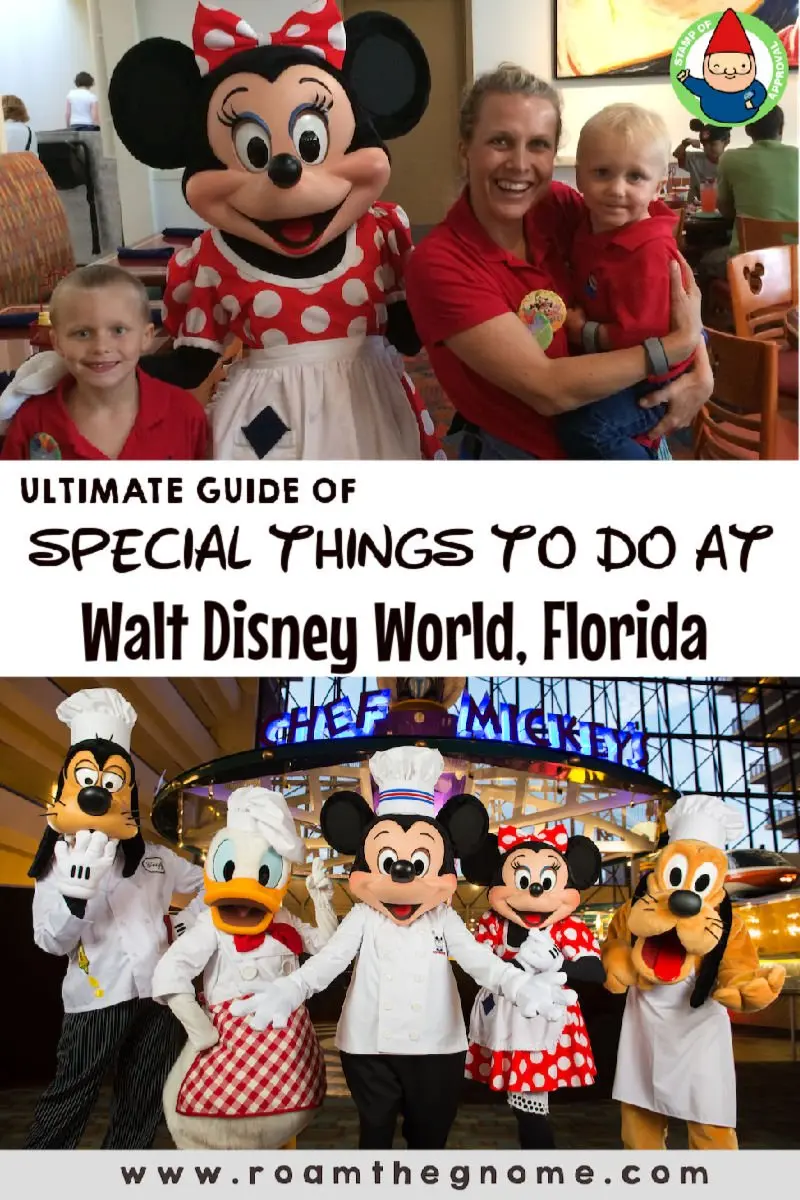 DISNEY DINING & RESTAURANTS
No.2: Book Disney Character Meals
Disney World has the BEST character meals.
All of them feature appearances by different Disney characters, and at some of the Disney character meal events, the kids can get up and dance along with the characters too.
Who will appear at Disney Character Meals?
Tusker House Restaurant at Animal Kingdom features Safari Donald Duck and friends.
The Garden Grill at Epcot has Chip and Dale, and other favourites.
The Crystal Palace is the place to eat if you love Winnie the Pooh, Tigger, Eeyore, and Piglet.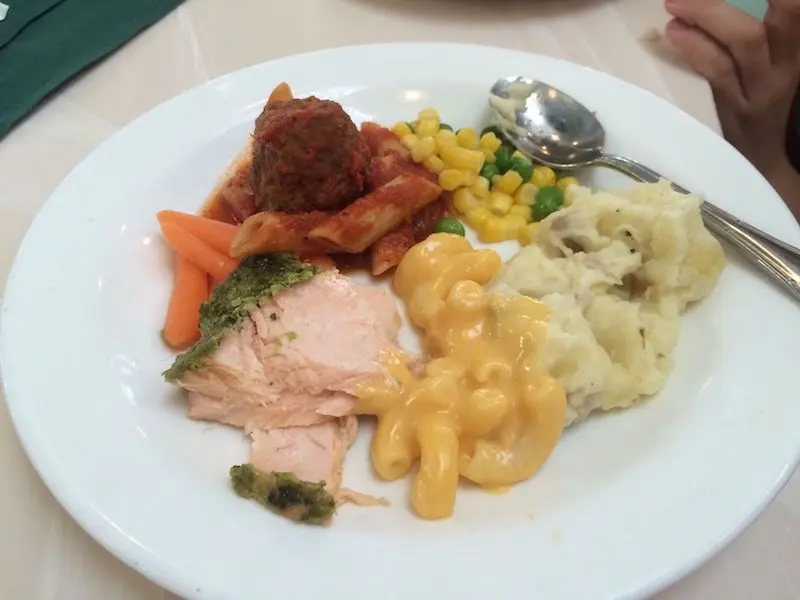 Character Meal food options
The food at Character meals is good quality, with LOTS of choices on the buffet.
No one is going hungry, that's for sure.
There's often a separate kids buffet station, with food made especially for them. Things they know and love, like macaroni cheese, pasta, and mashed potato.
But kids are free to eat from the main buffet too.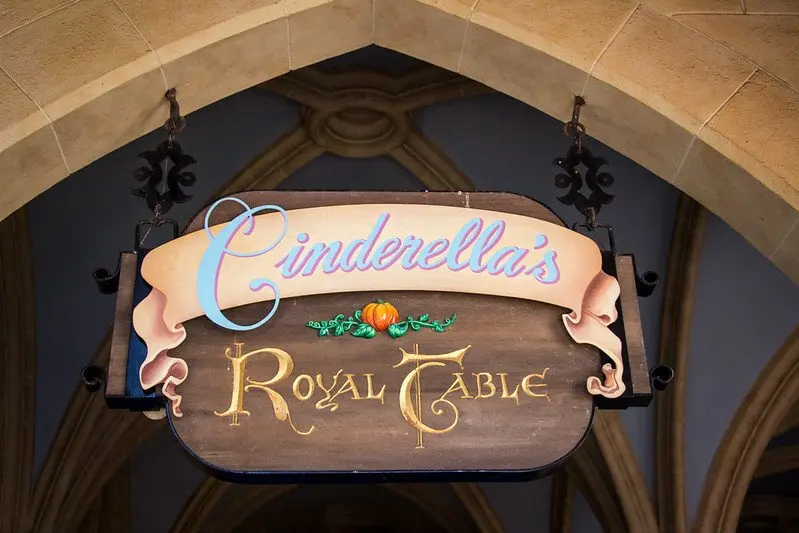 Image credit: Harshlight via Flickr CC BY-2.0
Character Meal with Disney Princesses?
Get in early to book Cinderella's Royal Table, a feast inside the majestic banquet hall inside Cinderella castle!
This storybook setting is the ultimate dream destination, with all the castle decor you'd expect, including
elegant stained glass windows
stone archways
fluttering flags
timber banquet tables
chandeliers
hand written signage with flowery fonts
shiny silver coats of armour
(Staying on property gives you the chance to book advance reservations up to 180 days prior to your visit.)
Kids are encouraged to dress up for the occasion in their finest Royal outfits and tiaras.
You should!
It's not everyday you meet all your favorite princesses in real life!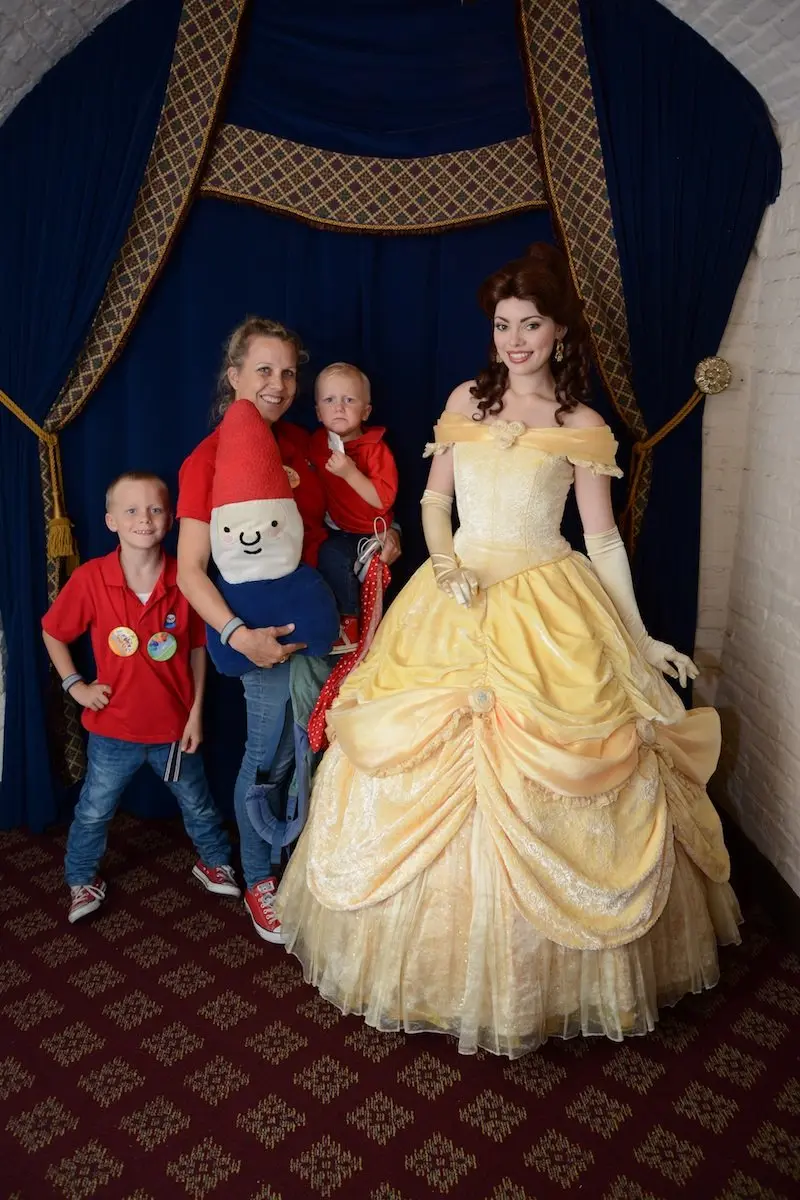 Alternative to Cinderella's Royal Table is Akershus Royal Banquet Hall Epcot
Can't get a booking for the Royal Table, no matter how hard you try?
Reserve a table at the Akershus Royal Banquet Hall in Epcot Sweden instead.
You'll dine (and dance) in a medieval castle with:
Snow White
Cinderella
Belle, from Beauty and the Beast
Princess Aurora, and
Ariel too.
It's fabulous fun, with yummy Swedish food and desserts to boot.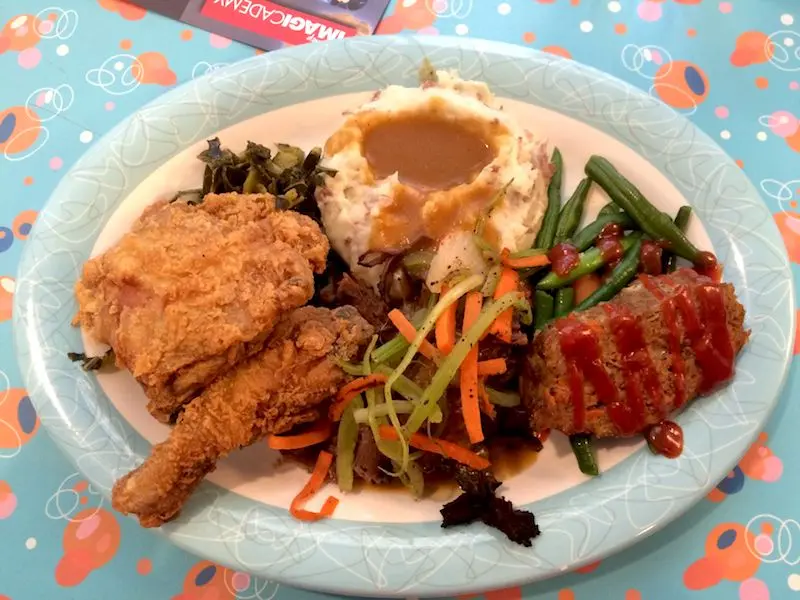 No.3: Eat the Traditional American Sampler at Prime Time Cafe Disney's Hollywood Studios
THIS is the best meal at Disney if you hunger for some home-cooked deliciousness.
The fact you eat it while sitting at a 50's style dinner table, complete with old school television set showing black and white cartoons makes it even more fun.
Hot tip: Don't put your elbows on the table at Prime Time Cafe!
If you do, you may risk evoking the wrath of your server (in good jest of course!)
Eat everything on your plate, and you'll become an official member of the Clean Plate Club, complete with sticker and all.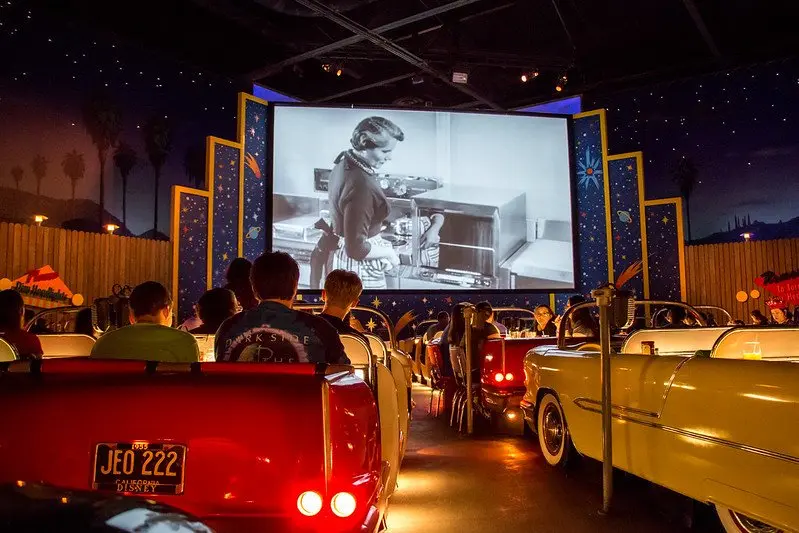 Image credit: Harshlight via Flickr CC BY-2.0
No.4: Eat at MORE Fabulous Restaurants at Walt Disney World
Disney's themed restaurants cannot be beat.
Take a look at two more fun restaurants at Disney World!
Sci Fi Dine In Theater Restaurant at Disney's Hollywood Studios
Sci-Fi Dine-In Theater Restaurant is a 50's style immersive experience, where you are invited to sit in a faux American classic roadster at the drive-in, complete with flicks playing on the big screen.
It's a SUPER FUN experience for kids and anyone who loves the movie GREASE.
Our tip: Visit outside of the busy times of lunch and dinner. It's very busy, so try popping in for an afternoon tea of dessert, or supper.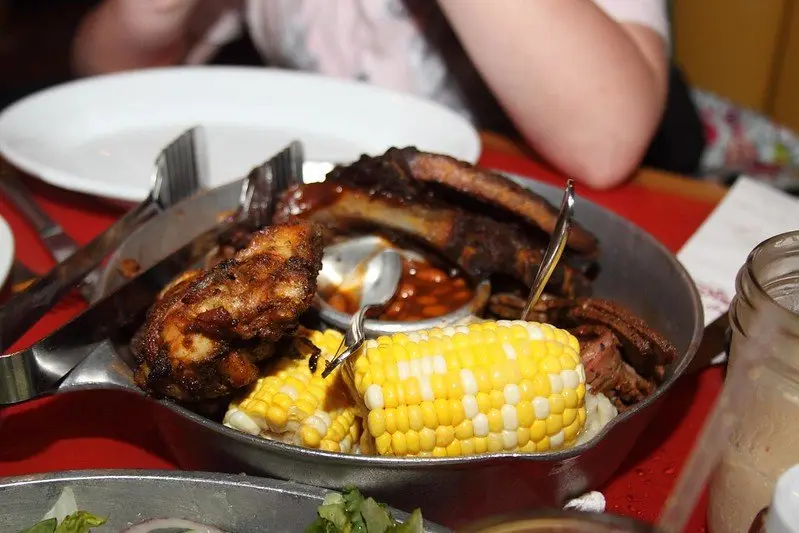 Image credit: Thomas Jung via Flickr CC BY-ND 2.0
Special mention: Whispering Canyon at Wilderness Lodge.
This is the place to order their signature skillet, a mammoth meal at any time of the day. There's one thing you need to do here too. Call for the ketchup.
Want to know what happens when you ask for ketchup at whispering canyon?
You need to visit to find out!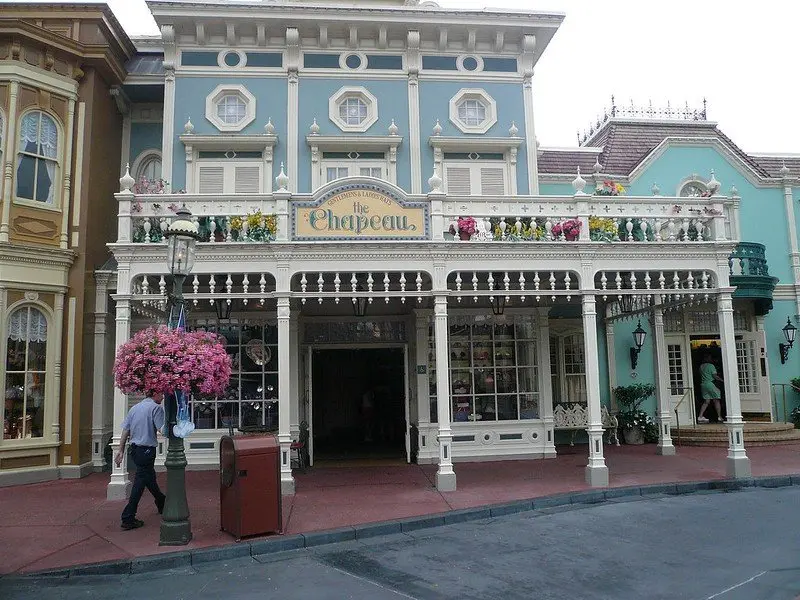 Image credit: Michael Gray via Flickr CC BY-SA 2.0
MICKEY EARS
No.5: Buy a Personalised Mickey Ears Hat
Your first task on Main Street USA is to purchase PERSONALIZED Mickey Mouse Ears Hats for everyone in the family.
These are the top of the list of unique Disney World gifts, and you can't buy them anywhere else.
Head to:
The Chapeau in Magic Kingdom
Adrian & Edith's Head to Toe at Disney's Hollywood Studios
Wonderful World of Memories at Disney Springs
Mouse Gear in Epcot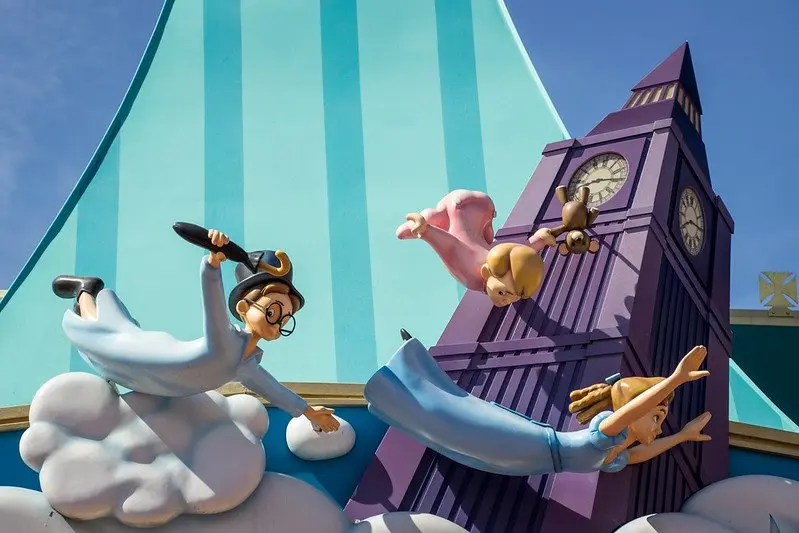 Image credit: Harshlight via Flickr CC BY-2.0
DISNEY WORLD FOR KIDS
No.6: Take your Toddler to Disney World
Here's a special list of extra tips for taking toddlers to Disney World.
You'll find:
the best Disney World rides for toddlers and kids at all four parks
the best Disney World shows for toddlers and kids
tips to help you manage your mindset, so a toddler tantrum doesn't ruin all your plans!
READ MORE: 30 of the BEST Disney Tips with Toddlers & Kids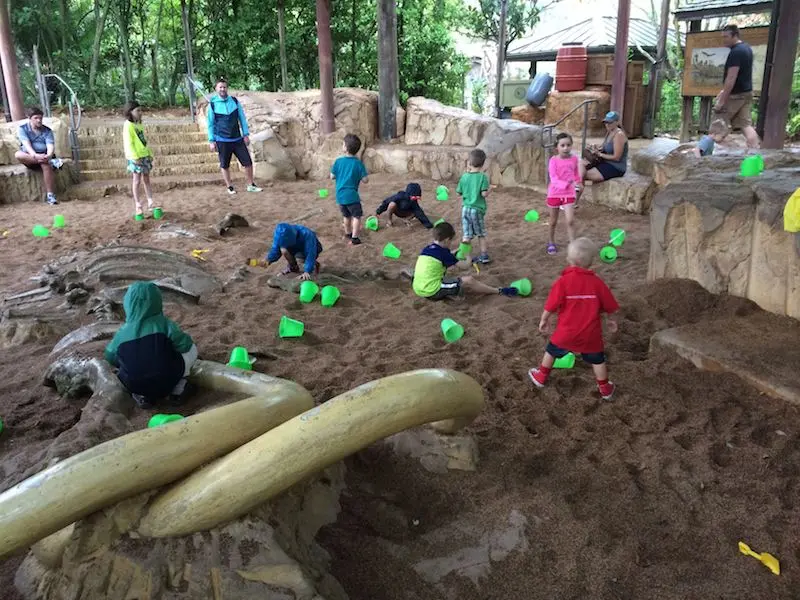 No. 7: Find all the Disney World playgrounds
Our best tip is to know, ahead of time, where the kids can enjoy some downtime, and play without fear of upsetting anyone or making noise.
We know all the best spots.
Take a look below!
READ MORE: Our guide to the best play areas & playgrounds in Disney World for toddlers & kids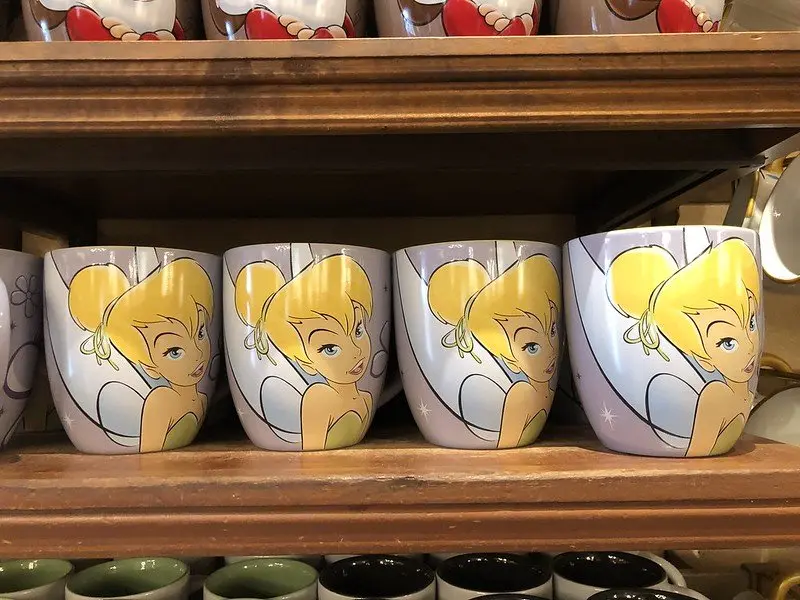 Image credit: I am R. via Flickr CC BY-2.0
BEST DISNEY WORLD SOUVENIRS
No.8: Unique Souvenir Shopping at Disney World
If you love to shop for Disney World souvenirs and gifts, this is the place to gather some ideas of the best Disney World souvenirs to buy.
There are exclusive souvenirs that you can't buy anywhere else.
Head to City Hall Guest Relations lobby and ask a cast member for details about the most recent releases.
Failing that, ask the same question in all the shops.
Disneyworld Souvenirs change regularly, and some things are only available for a short time, so get on it!
Wondering what to buy at Disney World on a budget?
Do remember to buy the Mickey Mouse Ears balloon inside a clear balloon!
It's our number #1 of the Disney parks balloons.
READ MORE: The Best Disney Souvenirs to Buy for Gifts & Keepsakes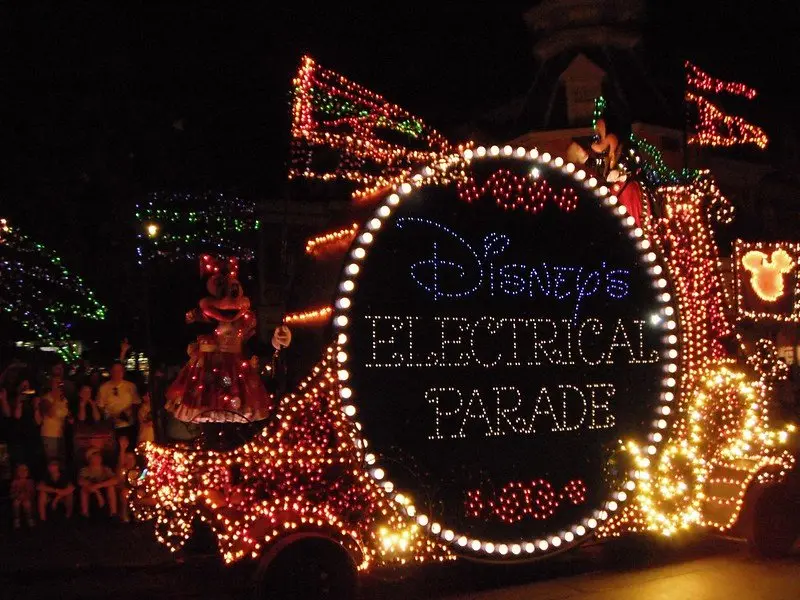 Image credit: Derek Hatfield via Flickr CC BY-2.0
AWESOME EVENTS
No.9: See Disney's Electrical Parade
This is our favourite Disney parade of all time.
The lights, the music, the melody… it's magical.
But it's gone.
For now.
We're keeping all our fingers and toes crossed that it comes back again soon.
Tokyo Disneyland Electrical Parade Dream Lights
In the meantime, you can check out Dream Lights, the Tokyo Disneyland Electrical Parade!
The melody is so beautiful, it gives me the shivers!
Take a peek above.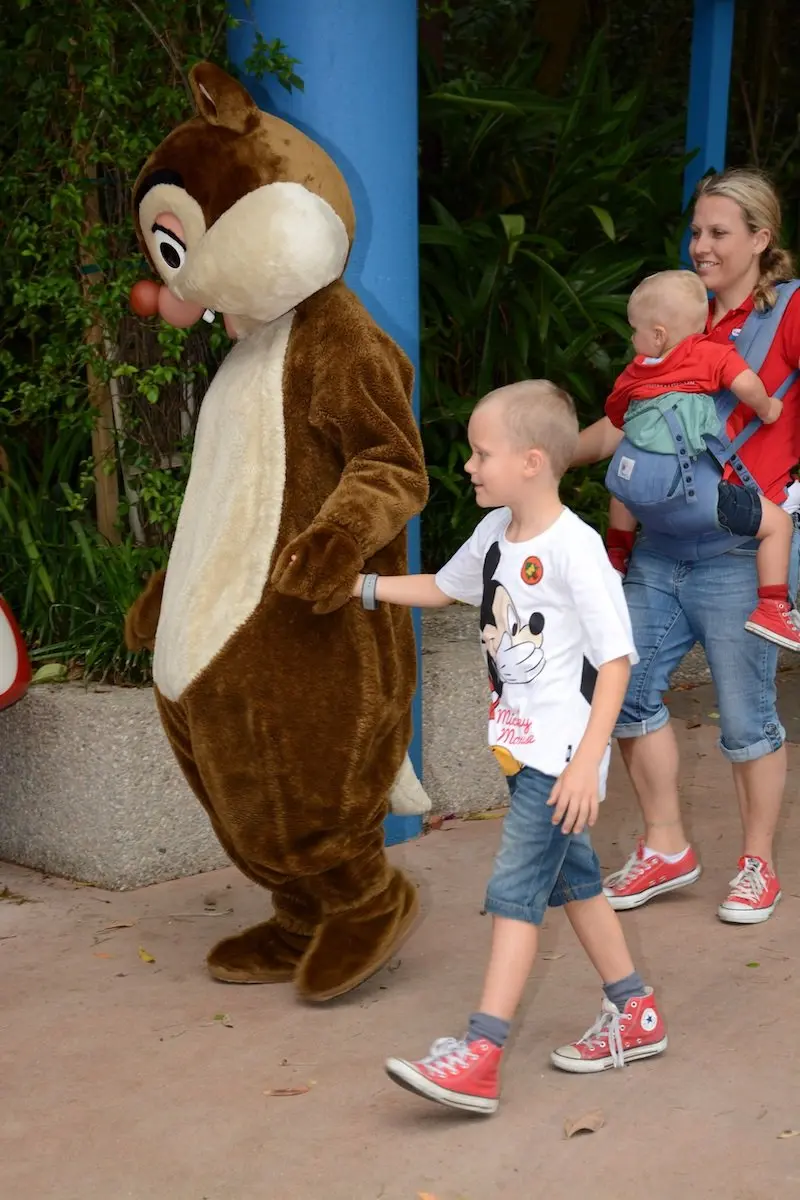 No.10: Free Things to do at Disney World
Here's three of the best FREE things you'll find to do.
Roast Marshmallows at the Chip and Dale Campfire Singalong at Disney's Fort Wilderness Resort.
Watch the Green Army Drum Corps perform their super dooper drum routine in Toy Story Land at Disney's Hollywood Studios. (Happens randomly throughout the day. Ask a cast member for tips)
Meet a Disney character at Magic Kingdom park, and ask them to sign an autograph for you.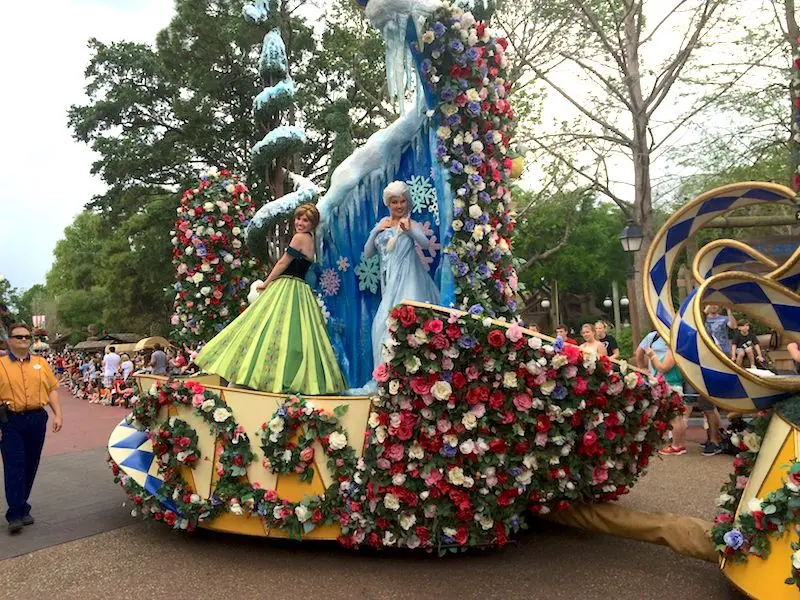 No.11: VIP EXPERIENCES!
Need MORE extra special things to do at Disney World Orlando for a birthday or celebration?
Try these:
Book a Fireworks Dessert Party to watch the fireworks without the hustle and bustle of crowds
Book a Taste of Magic Kingdom Park VIP tour to try ALL the best Disney snacks and treats, or the Ultimate Disney Classics VIP tour (perfect for kids) or any one of THESE VIP tours at Magic Kingdom?
Stop by the Harmony Barber shop to be serenaded while you have your hair cut at Disney!
Check out all the best DISNEY WORKSHOPS at Disney World (and Disneyland, online, & more!)
These are all little known Disney World activities.
Some call them secret things to do at Disney World.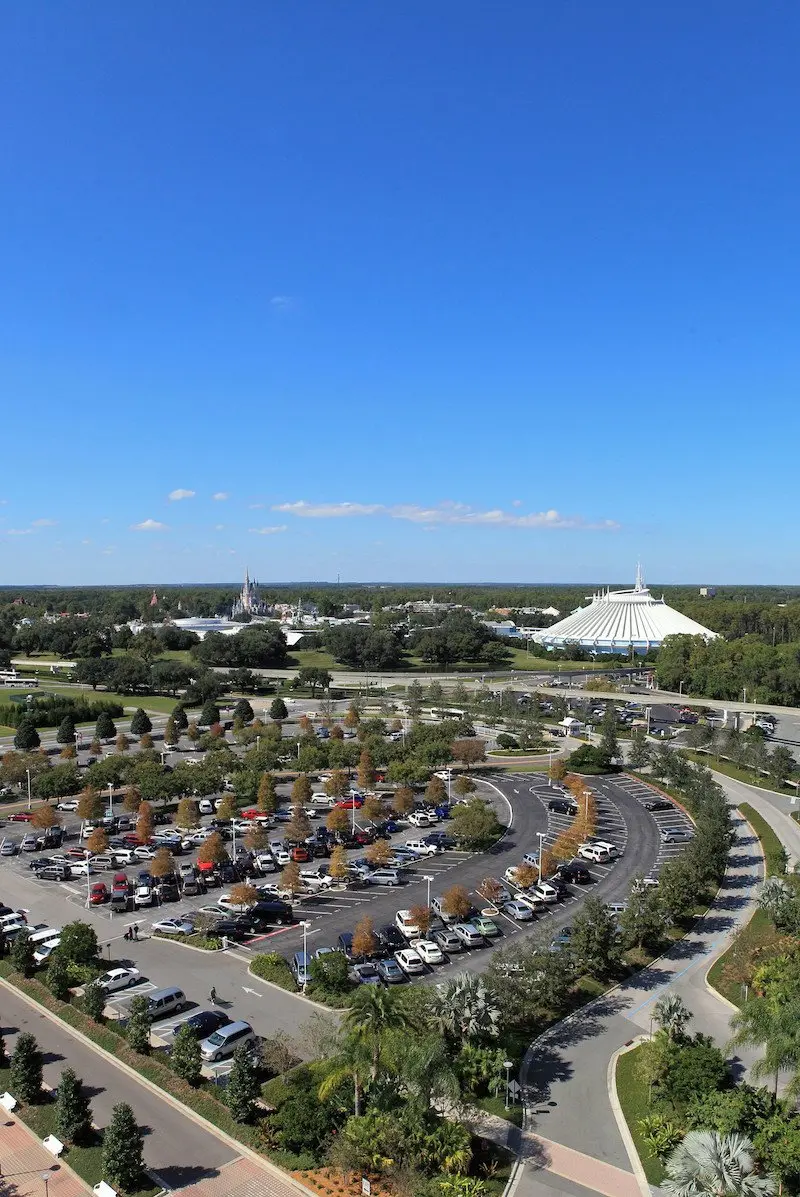 Image credit: Steven Miller via Flickr CC BY-2.0
No.12 MORE Disney Tips and Tricks
Here's a bonus tip.
If you are parking at Disney World, take a photo of your Magic Kingdom parking lot location on your phone.
At the end of the day, ask a cast member to point you in the right direction of your car.
This will be a godsend when you return to the parking lot after a big day, and can't find your car anywhere.
It's no wonder, and you are not alone! .
The Disney World parking lot is the largest open air car park in the world.
Click here for an overview of the best Disney Tips and Tricks for your Disney World Vacation.
Did you know you can search the site for ALL of our Mickey stories and tips in our Disney tips category too?
Image credit: Michael Saechang via Flickr CC BY-ND 2.0
DISNEY AROUND THE WORLD
Disneyland
Visit Disneyland, the place where it all started, at least once in your life.
Disney's California Adventure Park is right next door, a separate theme park that plays host to CARS LAND.
And Pixar Pier.
Two of the best kid-friendly spots in any Disney park around the world.
Take a look at our DL tips below.
READ MORE: The Best Disneyland Travel Tips for families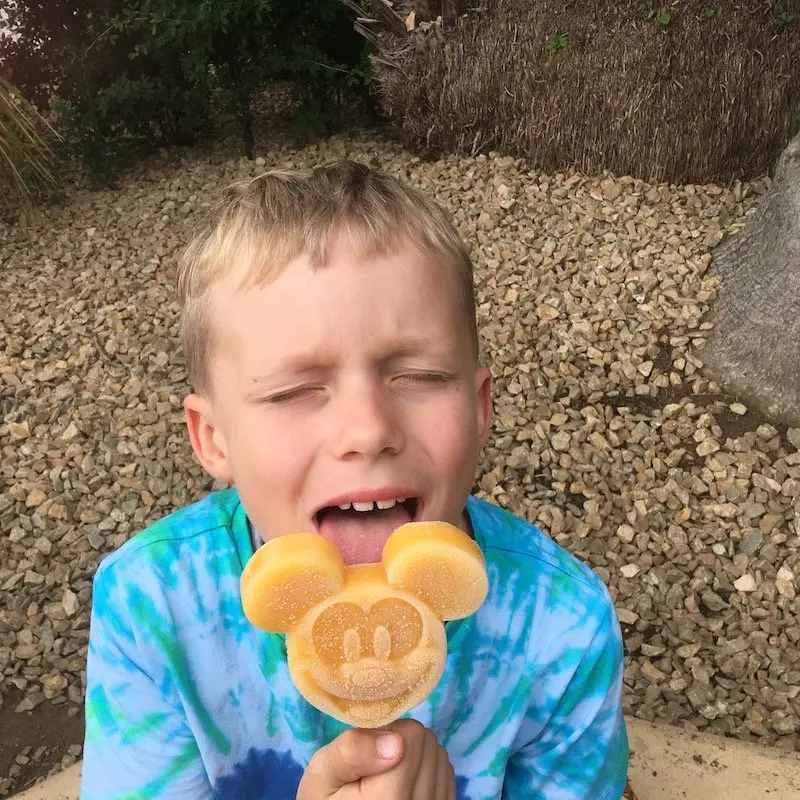 Tokyo Disneyland & Tokyo DisneySea
Don't miss our favourite Disney theme parks in Japan.
This park is similar to the original Disneyland in California, but Tokyo Disney SEA is unlike any theme park on the planet.
It's not just for teenagers either, although it's the most popular park for Japanese teenagers without a doubt.
Take the little kids.
Ariels lagoon is the most beautiful place on earth.
READ MORE: The Best Tokyo DisneySea rides for the under 7's!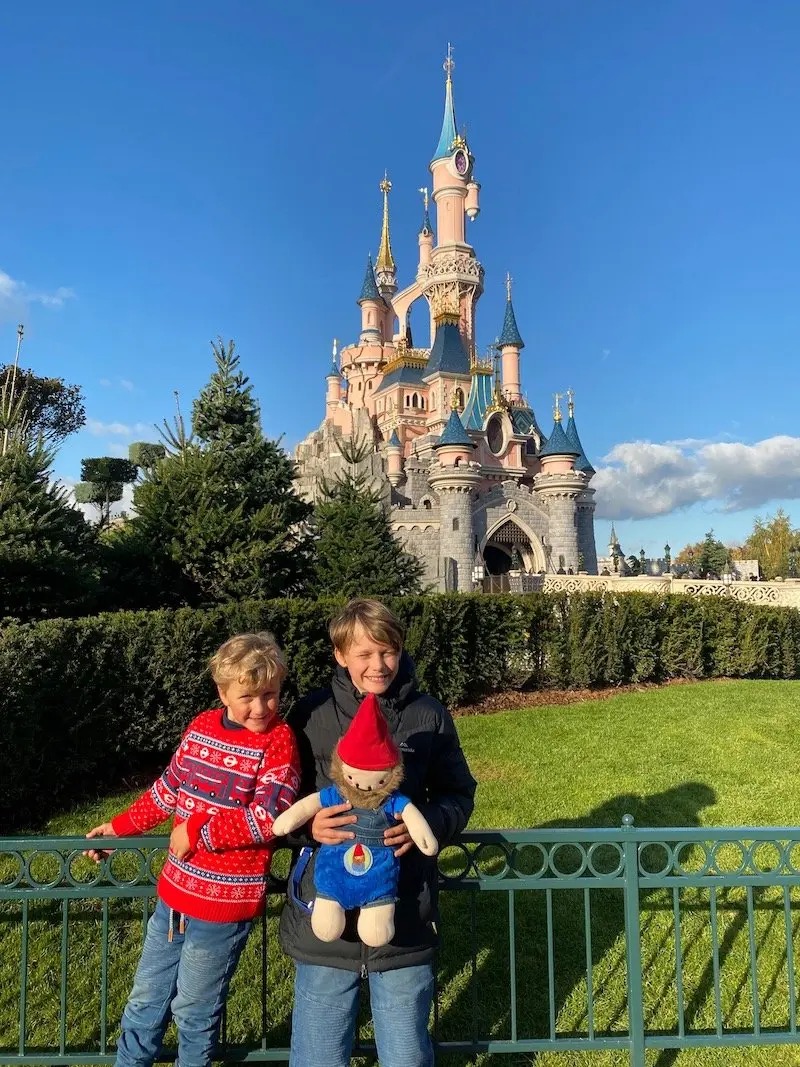 Disneyland Paris
There's two parks at Euro Disney:
Paris Disneyland, and
Walt Disney Park Studios.
Though it's strange to hear people speaking French, there's plenty of English translations.
There's a certain charm of Disneyland in Paris that we haven't found anywhere else. Don't miss it.
READ MORE: Ultimate Guide to Paris Disneyland for Kids (Update coming soon)

Looking for more fun stories?
Click the links in blue below for more tips.