INSIDE: Everything you need to know about Disneyland Paris Christmas Ornaments.
Need more inspiration of how to add more Disney Christmas Magic to your Christmas tree?
These delightful Disneyland Paris Christmas ornaments are sure to do just that.
Read our guide below to see our top picks of the best Disney Christmas ornaments you can buy, and what Disneyland Paris shops to find them in.
Plus, just in case you can't get to Paris this winter, and Christmas at Disneyland is a no go, we'll give you tips on where to find them online too.
Take a look below for details.
Disclosure: This article contains affiliate links. If you make a purchase after clicking on one of these links, we may receive a small commission at NO extra cost to you.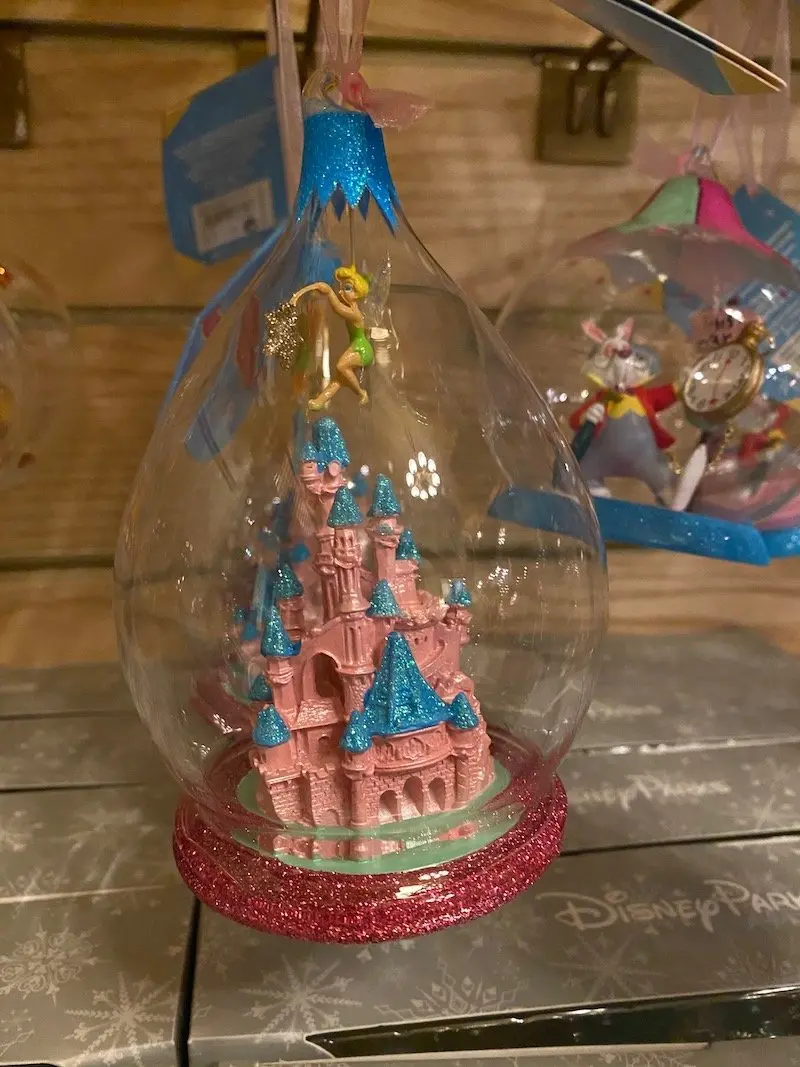 THE INSIDE SCOOP: 5 Best Disneyland Paris Christmas Ornaments
Correct at time of publication on Roam the Gnome. Please check with venue for updates. We apologise in advance if there have been any changes we are unaware of. All prices in euro, unless otherwise stated
Hot tip: Looking for the best of Disneyland Paris Christmas reviews?
Read our complete guide to Disneyland Paris Christmas Time Events, Activities, Shows and Parades
You'll find answers in our guide to all your important questions about Euro Disney at Christmas, such as
When do Disneyland Paris Christmas decorations go up?
Is Disneyland Paris open on Christmas day
What to do at Disneyland Paris on Christmas day, and so many more.
No.1: Disneyland Paris Sleeping Beauty Castle glass bauble
Imagine capturing the beauty of the Disneyland Paris castle in miniature, and placing it inside a glass bauble ornament ready to hang on the Christmas tree!
Some clever person did.
With Tinkerbell sprinkling Disney pixie dust on top to boot.
These Disney Paris Christmas decorations are exclusive to Paris Disneyland, so you'll need to shop in person to get your hands on one.
That's a good enough excuse to plan a trip to Disneyland Paris.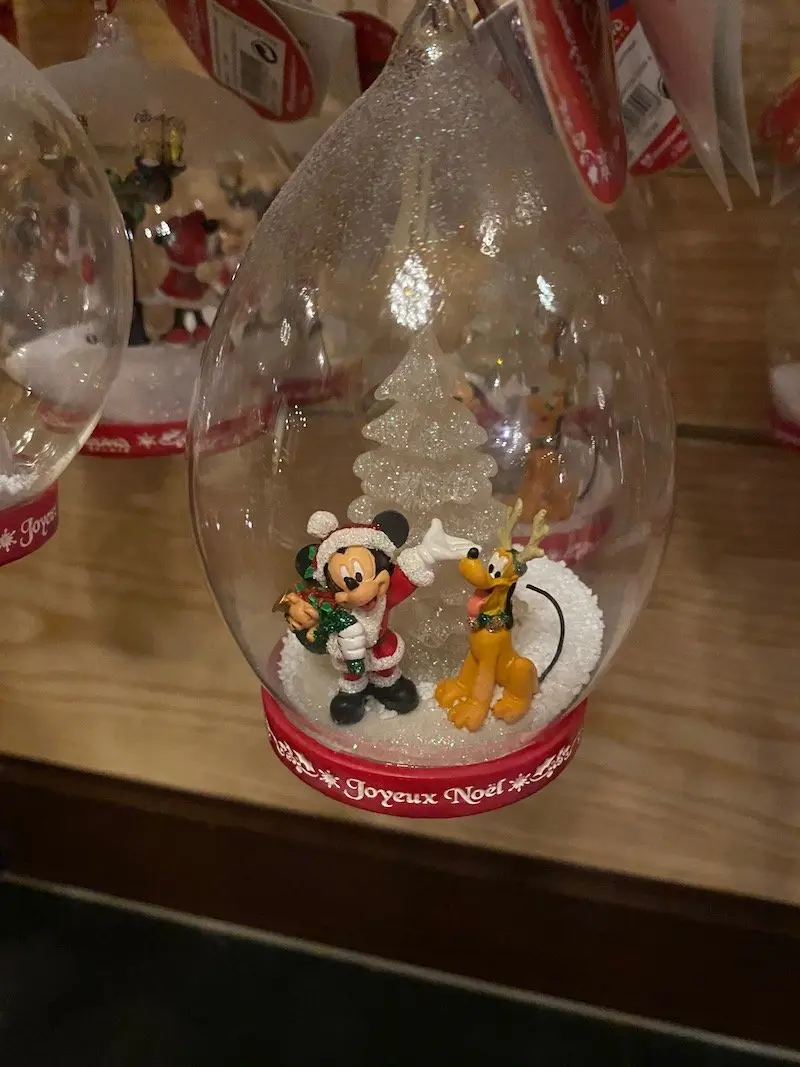 No.2: Mickey Mouse Christmas Glass Bauble ornament
Mickey Mouse fans who add a new Mickey Mouse ornament to the tree each year need this style of Disney Christmas bauble too.
These Disney glass drop ornaments are delicate but their fragility is part of the charm.
These Mickey Mouse glass baubles need extra care, and as such, become precious family heirlooms from Eurodisney at Christmas to pass on down the generations.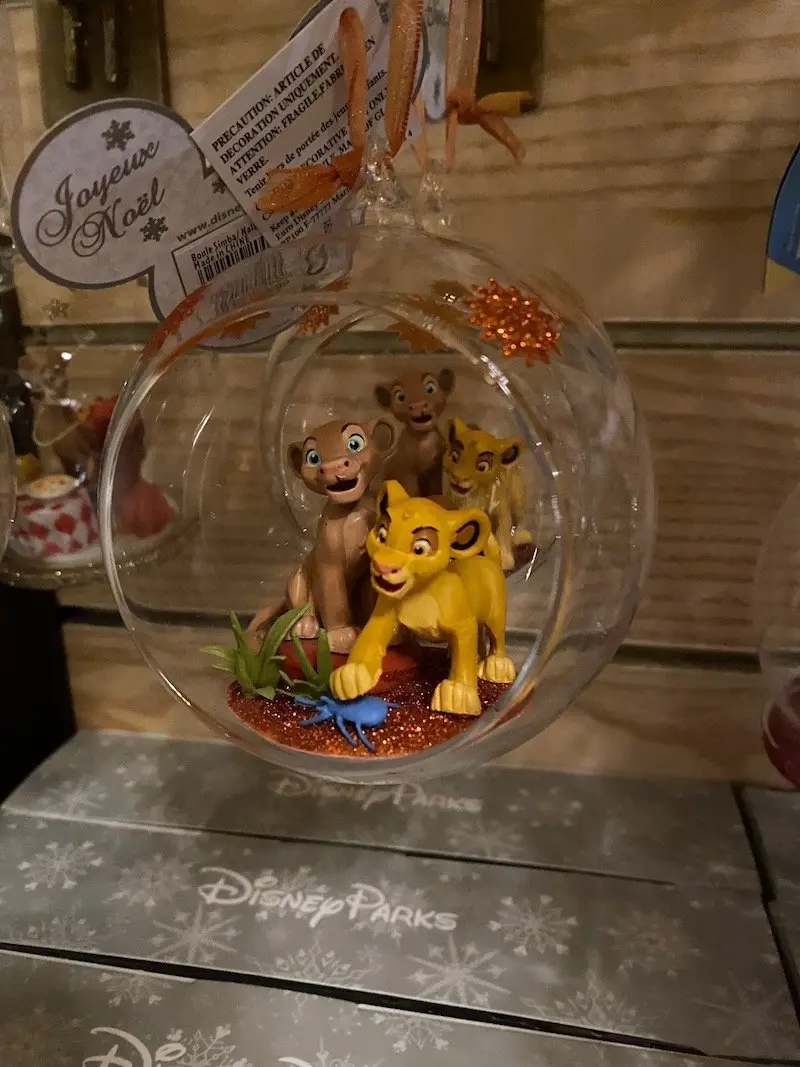 No.3: Lion King Christmas Glass bauble
Disneyland Paris Glass baubles come in a few different character styles too.
Another winner is this Disney Lion King glass bauble with Simba and Nala.
No Lion King fan could resist their loveliness.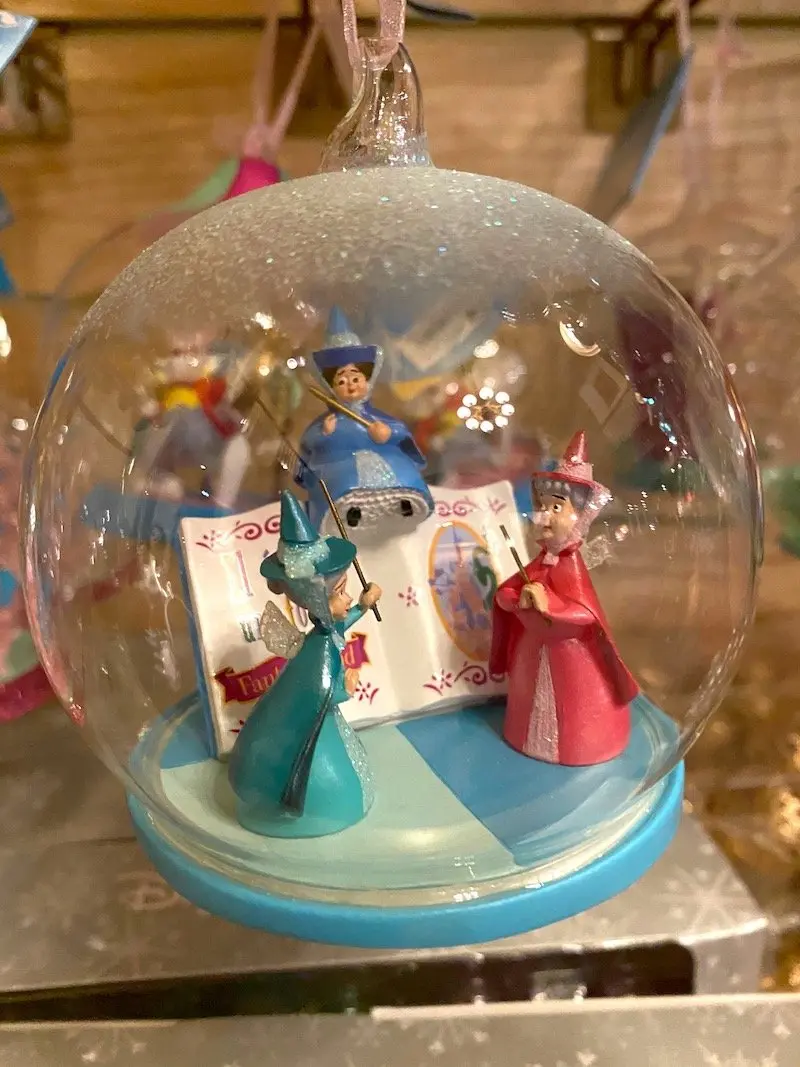 No.4: Sleeping Beauty Fairy Godmothers Christmas Tree Bauble ornament
But perhaps the best of all is THIS Sleeping Beauty Christmas bauble.
These Sleeping Beauty Fairy Godmothers – Flora, Fauna, and Merryweather – are a reminder of all that is good in the world.
Plus, this one has all my favourite colours – raspberry, blue and teal – so I'll never get bored of it.
This Disney Christmas ornament is now a permanent addition to our tree.
Here's the link to it on Amazon (currently unavailable)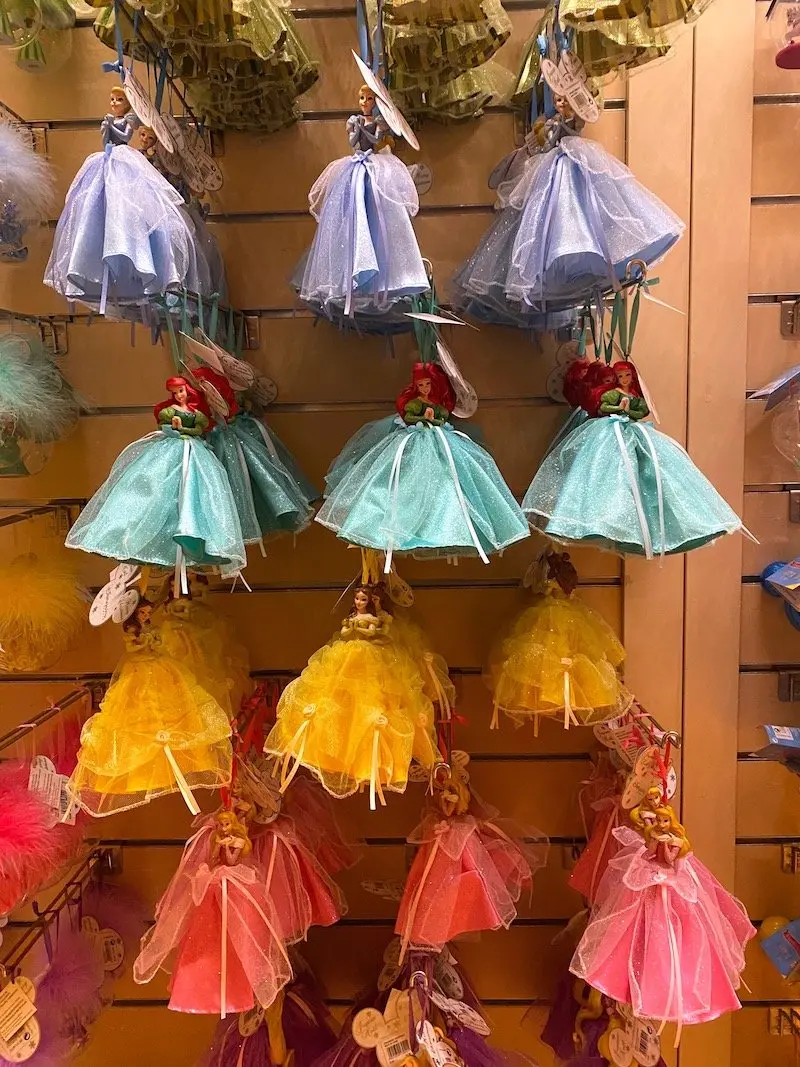 No.5: Disney Princess Christmas Ornaments
Fall in love with these Disney Princess Christmas tree ornaments at Paris Disneyland.
These gorgeous genuine Disney Christmas decorations have a fully sculpted body, with a satin fabric gown and glittering tulle skirt with ribbon flowers to boot.
It's not always easy to find Disney Princesses ornaments with dresses made of material, so these are quite unique.
Buy similar on Amazon:
Disney Princess Aurora
Disney Princess Ariel
If you want to buy more than one of these Paris Disney Christmas ornaments, take a look at this set of 12 Disney Princess Christmas tree decorations .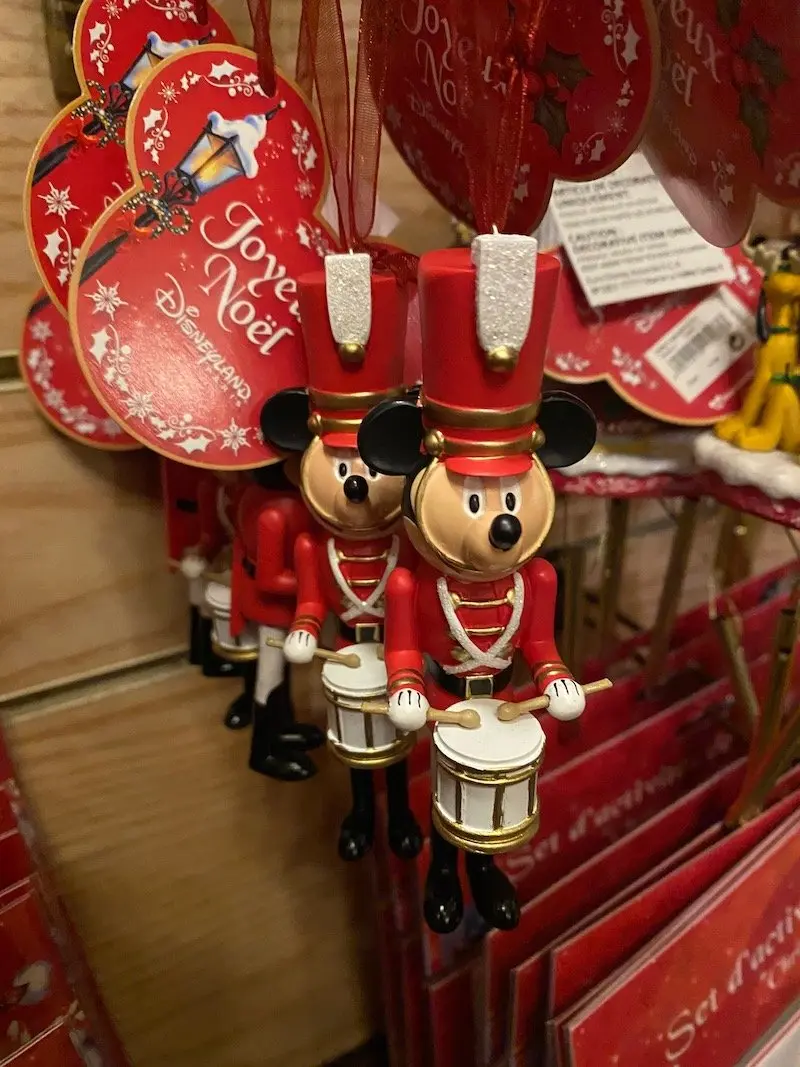 Where to buy Disneyland Paris Christmas Ornaments?
The BEST and most obvious place to buy Disneyland Paris Christmas decorations is the Disneyland Paris Christmas shop.
The Paris Disneyland Christmas shop is a one-stop place to go.
The Disneyland Christmas store only sells Christmas goods of all kinds.
Don't miss it.
(You don't even have to visit Disneyland Paris during Christmas. It's open year round)
MORE Magical Christmas Ornaments
But during Disneyland Paris Christmas season, our tip is to pop into as many of the Main Street Disneyland Paris gift shops, and the gift shops at the Paris Disneyland hotels.
You'll find lots more Disney Characters Christmas baubles and Star Wars Christmas ornaments in stores throughout the festive Euro Disney parks area during the Disney Paris Christmas celebrations.
Walt Disney Studios Park and Disney Village shops have more unique Disneyland Paris ornament finds and exclusive Disneyland Paris Christmas merchandise to take home too.
You may find more at the Disneyland Paris Christmas market.
Shopping should be your number one reason to book a stay during Christmas in Disneyland Paris.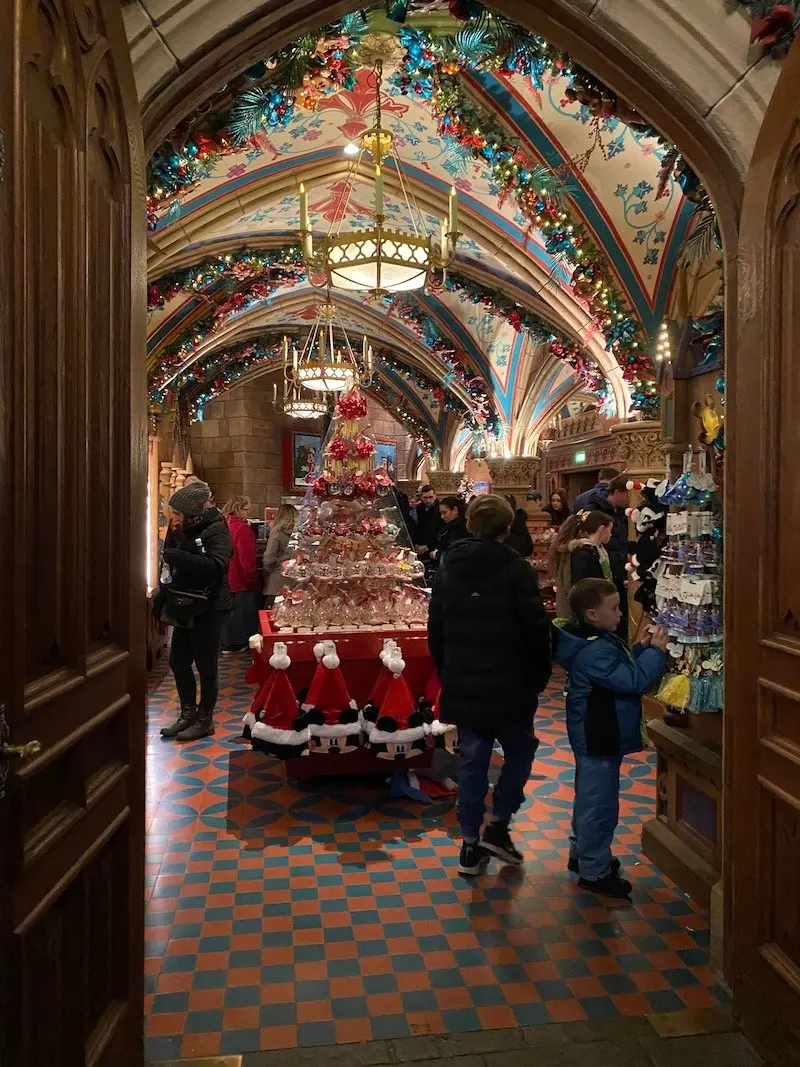 Guide to La Boutique du Château Disneyland Paris Christmas Shop
Disneyland Paris Christmas Decorations Shop is in the castle, on the Fantasyland side.
Take a sneak peek inside the Disneyland Paris Xmas shop here.
Do not miss this wonder of a Disney store, especially if you are a lover of Christmas cheer.
The Disneyland Paris Christmas opening hours tend to be from 10am to 7pm, but be sure to check so you don't miss this shop.
It's one of the best Christmas destinations around.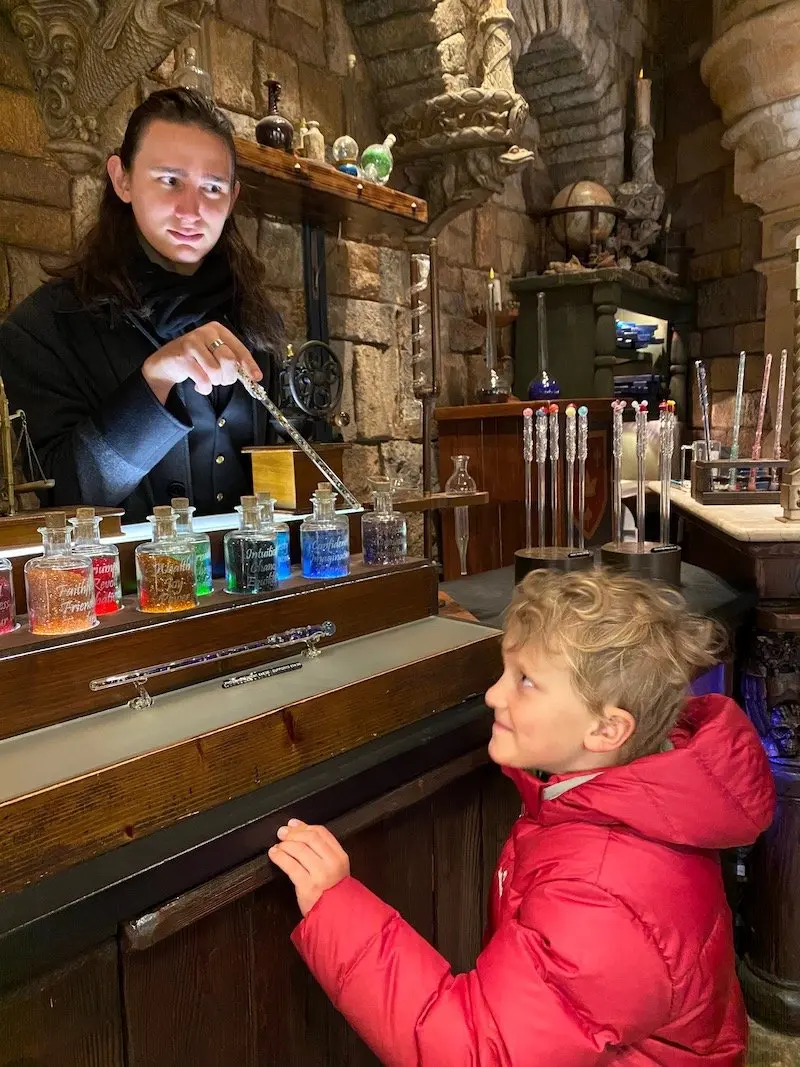 Hot tip: When you finish shopping, be sure to check out:
the La Galerie de la Belle au Bois Dormant – Sleeping Beauty Castle Walkthrough – and
the Merlin L'Enchanteur shop full of glass ornaments, glass slipper ornaments, and magical glass wands too.
You may even MEET a magician in person!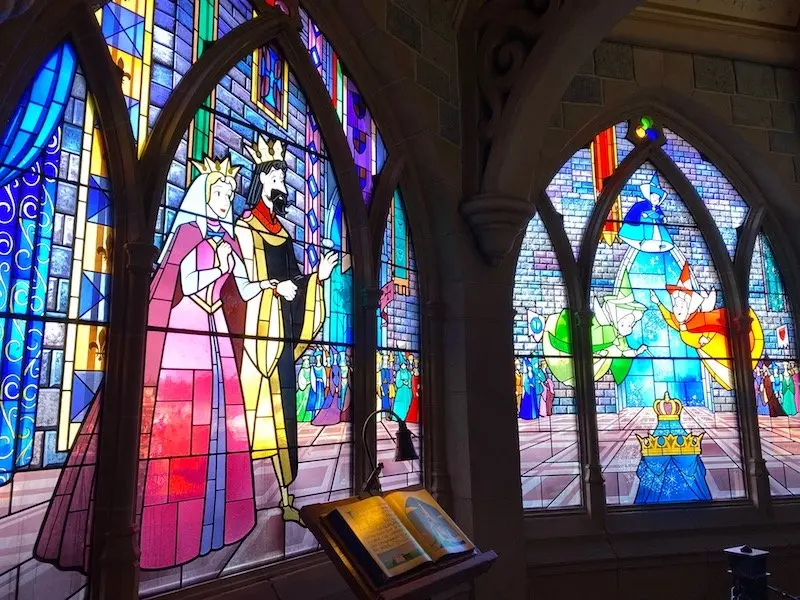 Looking for more fun things to do at Euro Disney?
Click on the blue links below for more Paris Disneyland tips
Complete Guide to Best Disneyland Paris souvenirs and gifts

Everything you need to know about visiting Disneyland Paris with kids