INSIDE: Everything you need to know about eating at La Cantina Disneyland Paris
Wondering where to eat at Paris Disneyland?
There's LOTS of choice but it pays to book ahead to reserve your spot.
One of the restaurants we love at Disneyland Paris is La Cantina restaurant, serving up Mexican fare.
The La Cantina buffet is pretty spectacular.
Take a sneak peek at what you may find on the menu when you visit below.
Disclosure: This article contains affiliate links. If you make a purchase after clicking on one of these links, we may receive a small commission at NO extra cost to you.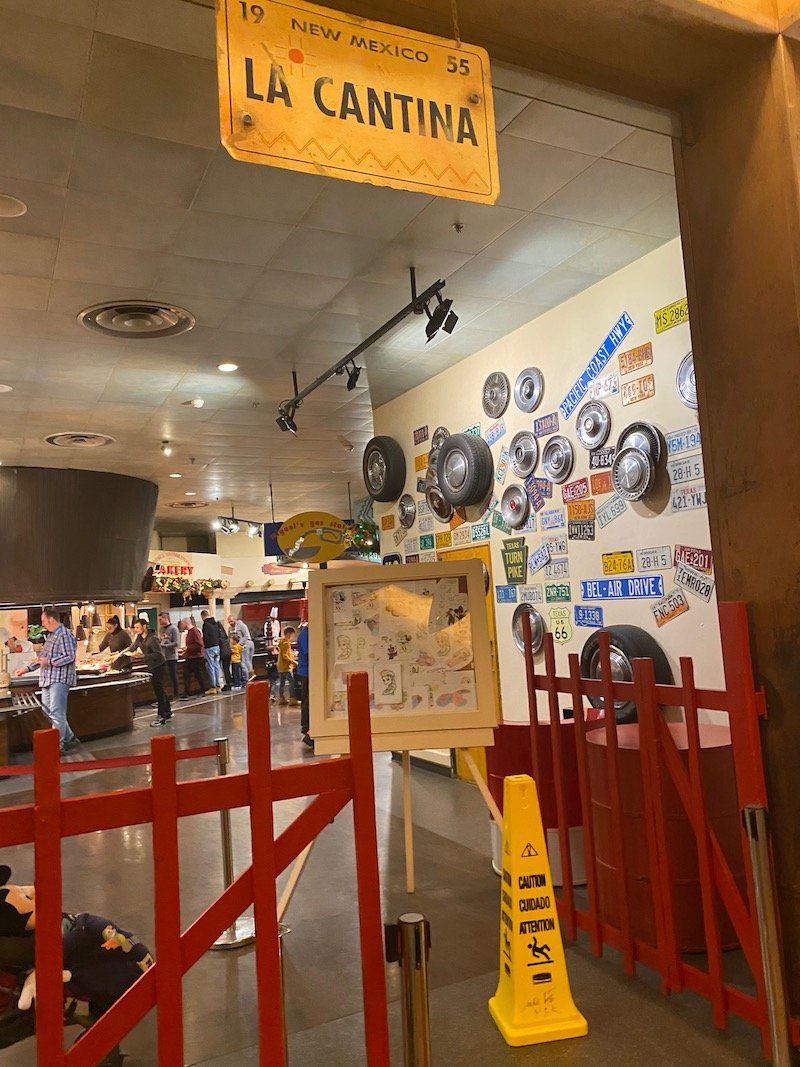 Guide to La Cantina Disneyland Paris Restaurant
Correct at time of publication on Roam the Gnome. Please check with venue for updates. We apologise in advance if there have been any changes we are unaware of. All prices in Euro unless otherwise stated
The restaurant itself is HUGE.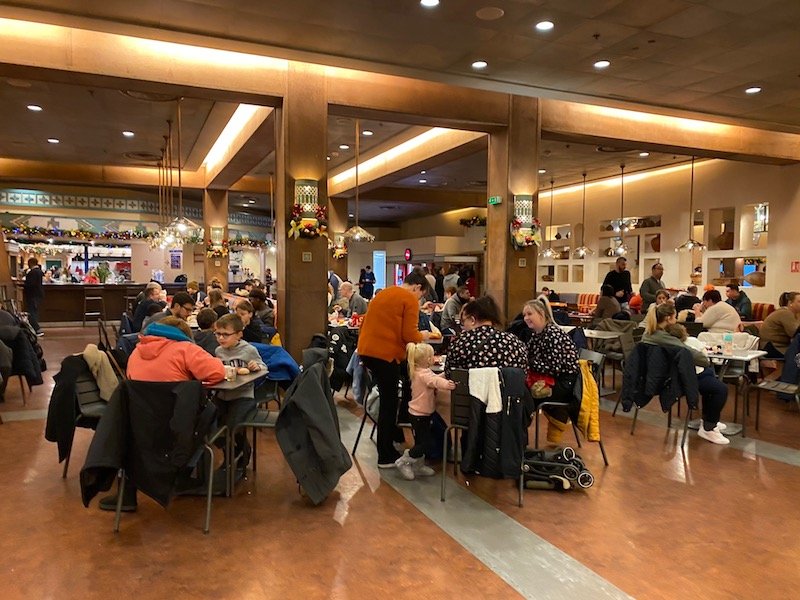 Inside La Cantina restaurant at Paris Disneyland
There are multiple seating areas around the hall.
The food buffet is to the left of the entrance, through a turnstile.
There's a bar onsite, and drinks machines serving soda and juice too.
But the joy is in the fun atmosphere, with hundreds of happy hungry Disney-loving families enjoying the feast.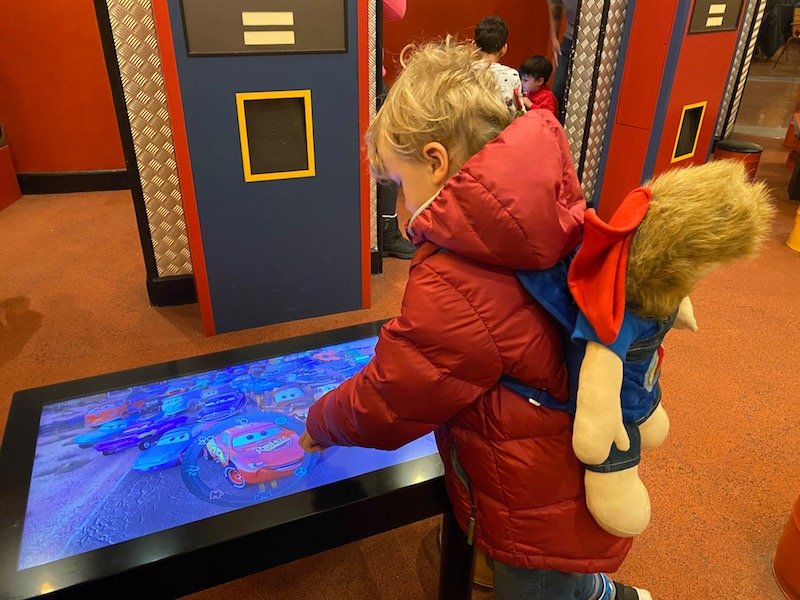 La Cantina kids play area
Ask to be seated near the kids play area if you have young ones in tow, so you can keep them in view while you finish up your dinner.
Kids can play CARS video games on the interactive tables.
There's also Disney CARS coloring in pages for kids to do.
This kept Ned and Jack busy while I finished my dinner and breakfast in peace.
READ MORE: The Ultimate Guide to DISNEYLAND PARIS with kids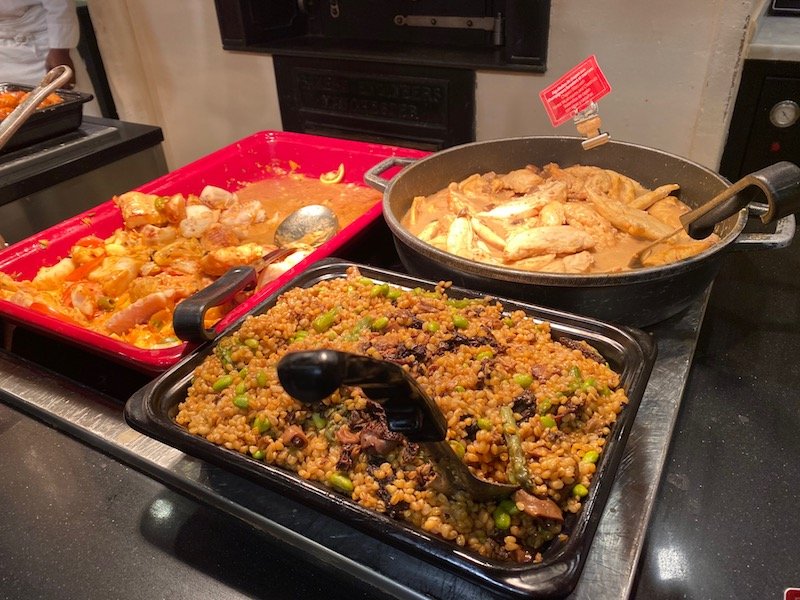 The La Cantina Disneyland Paris Menu at Santa Fe Hotel
Take a look at some of the things you might find to eat for dinner.
The menu is wide, and varied.
Try it all.
(Even the things you can't quite pronounce!)
Chapon (aka cockerel or rooster) fillets – similar to chicken or turkey – with forest mushrooms and chestnuts
Jambalaya
Eggplant Mousaaka
Asparagus and morel mushroom sautéed spelt
Freshly cooked pasta with choice of chilli vegan sauce or juicy red tomato sauce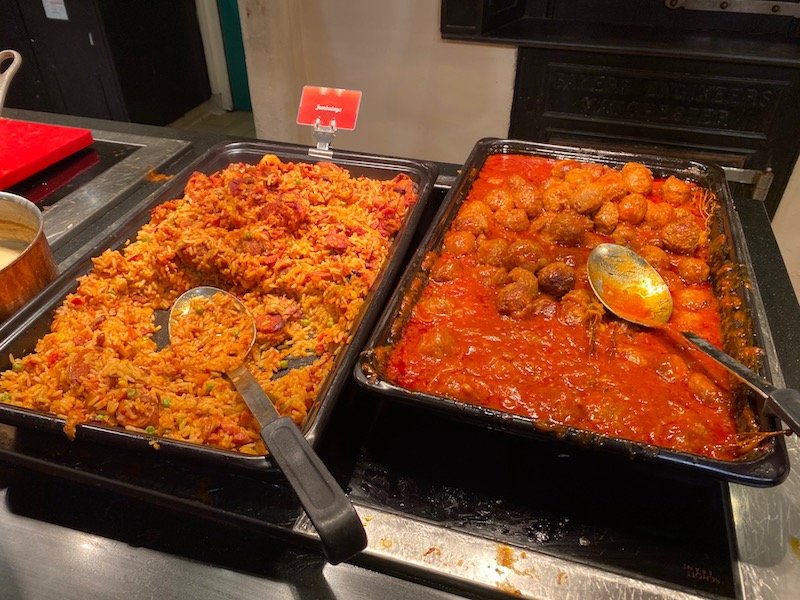 Meatballs & more at La Cantina Santa Fe Disneyland Paris
Don't miss the meatballs.
I repeat. Don't miss the meatballs.
Meatballs baked in rich tomato sauce
Tomato and Mozzarella cheese empanadas
Cod in Herb Cream Sauce
Moussaka
Pilaf rice
Mexican rice
Courgette gratin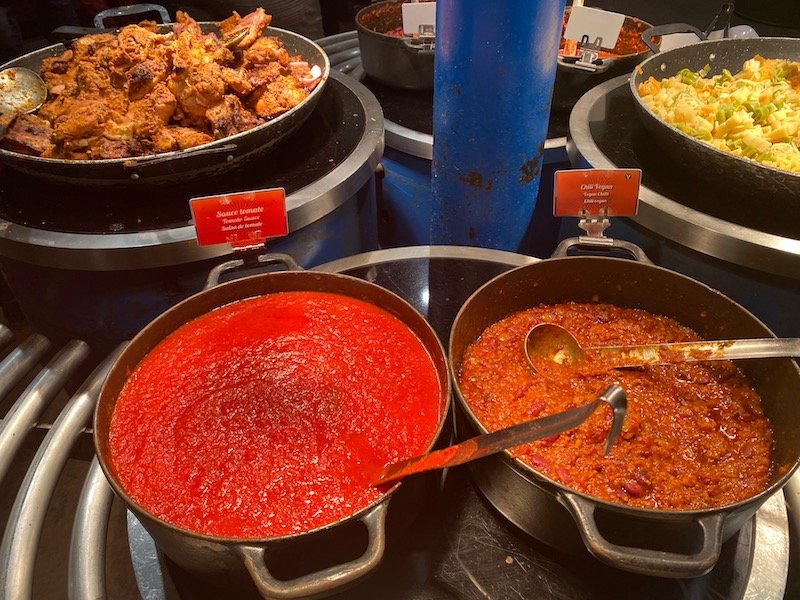 Kids LOVE the pasta bar with cute Disney pasta and the child-friendly pasta sauce, plus a big pile of grated cheese!
There's also DIY NACHOS, and…
Macaroni cheese
Corn on the cob
Mashed potatoes
Thick cut steak fries
What kid could resist?
RELATED: The Ultimate Guide to Chuck Wagon Cafe at Paris Disneyland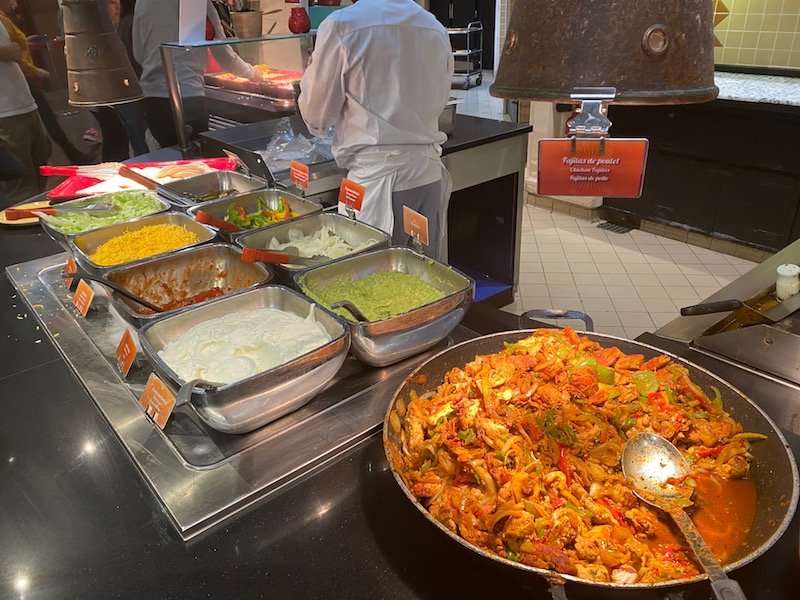 Build your own Chicken Fajitas bar at Restaurant La Cantina Disneyland Paris
Use soft wraps, or fill your plate with crispy tortilla chips to enjoy this typical Mexican dinner treat.
Add all the goods!
avocado
sour cream
onions
tomato salsa
cheese
red and green bell peppers
lettuce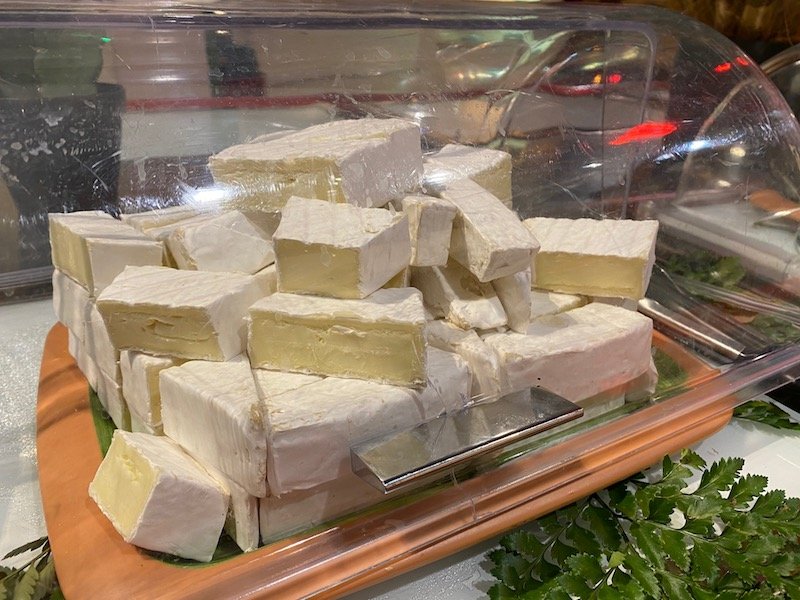 MORE of the La Cantina Menu
Disney Cheese bar
Stop by the cheese bar and pick up big chunks of brie, camembert, and blue cheese with rind.
The chunks are giant sized!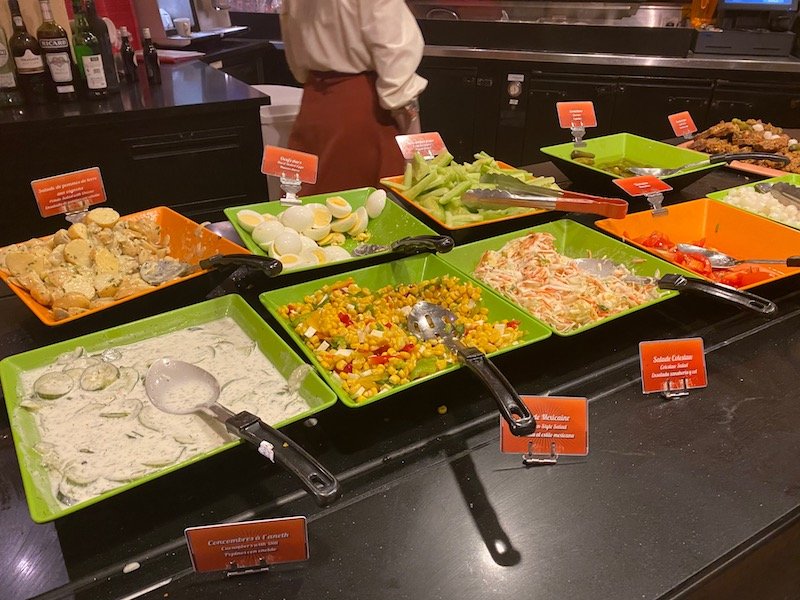 Disney Salad Bar
Love your salads?
You're in luck.
Find:
Coleslaw salad
hard boiled eggs
gherkins/pickles
cucumbers with dill salad
fresh cucumber
MORE of the Paris Disneyland salad bar
Creamy potato salad with onions
Grated carrots
Marinated olives
Mexican style salad
Tuna and confit tomatoes with puntalette pasta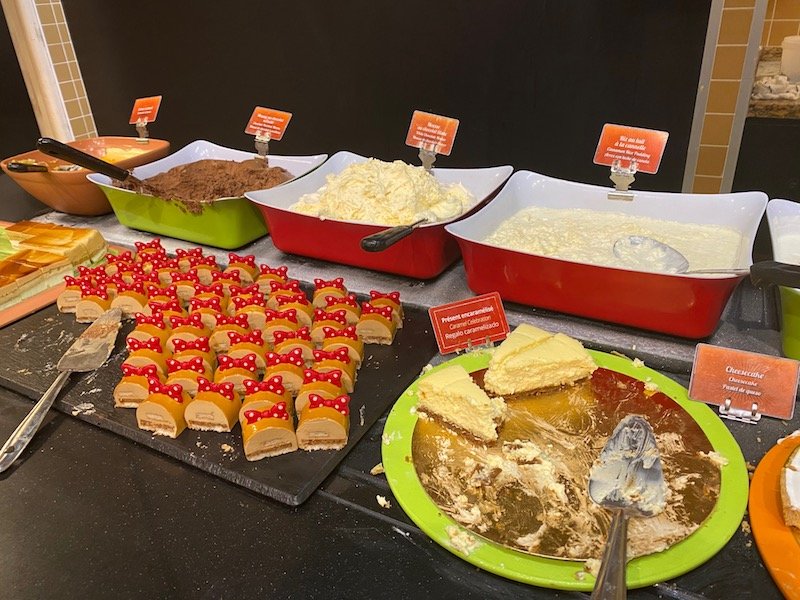 The La Cantina Restaurant Dessert Menu!
For those who love cute Minnie Mouse desserts, try the delicious sponge roll with Minnie ears on top!
But don't think you can stop there.
There's:
Cheesecake
Lemon Meringue pie
Mousse au Chocolat noisette – Chocolate Hazelnut mousse and/or white chocolate mousse
DIY Fruit salad with blood orange, pineapple, melon, and whipped cream
Warm crepes with chocolate sauce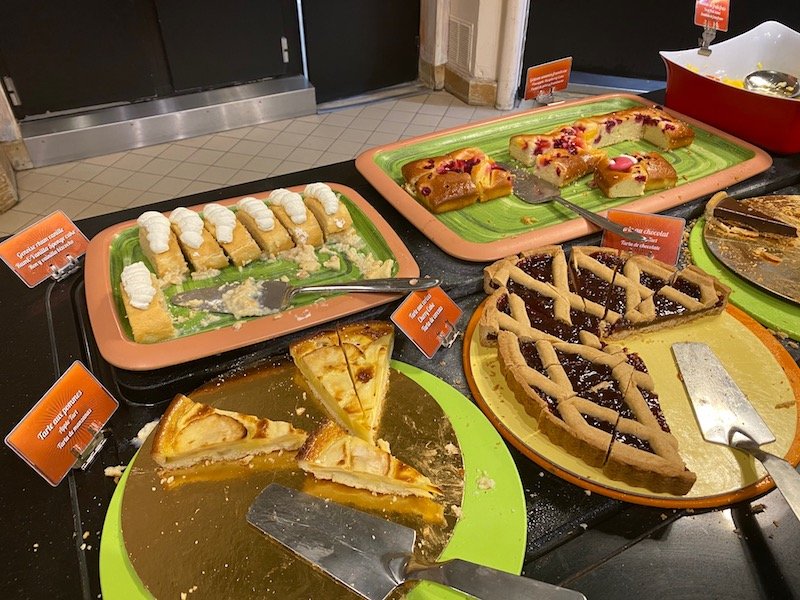 MORE of the Disney dessert buffet at La Cantina
Or….
Rum and Vanilla sponge cake
Chocolate tart
Apple tart
Cherry cake
Pineapple raspberry cake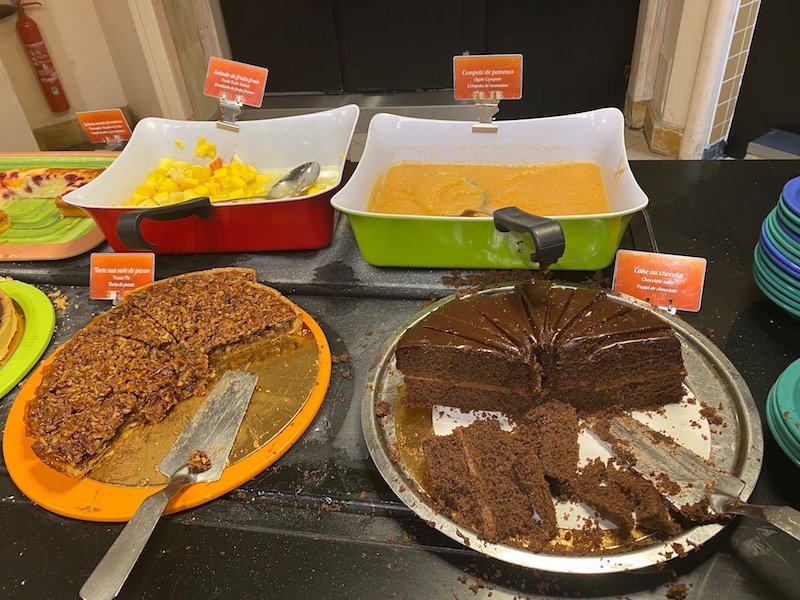 & Yet MORE Disney desserts to try!
Chocolate cake with chocolate creme filling
Cinnamon rice pudding
Pecan pie
Apple compote & fromage blanc
Creme caramel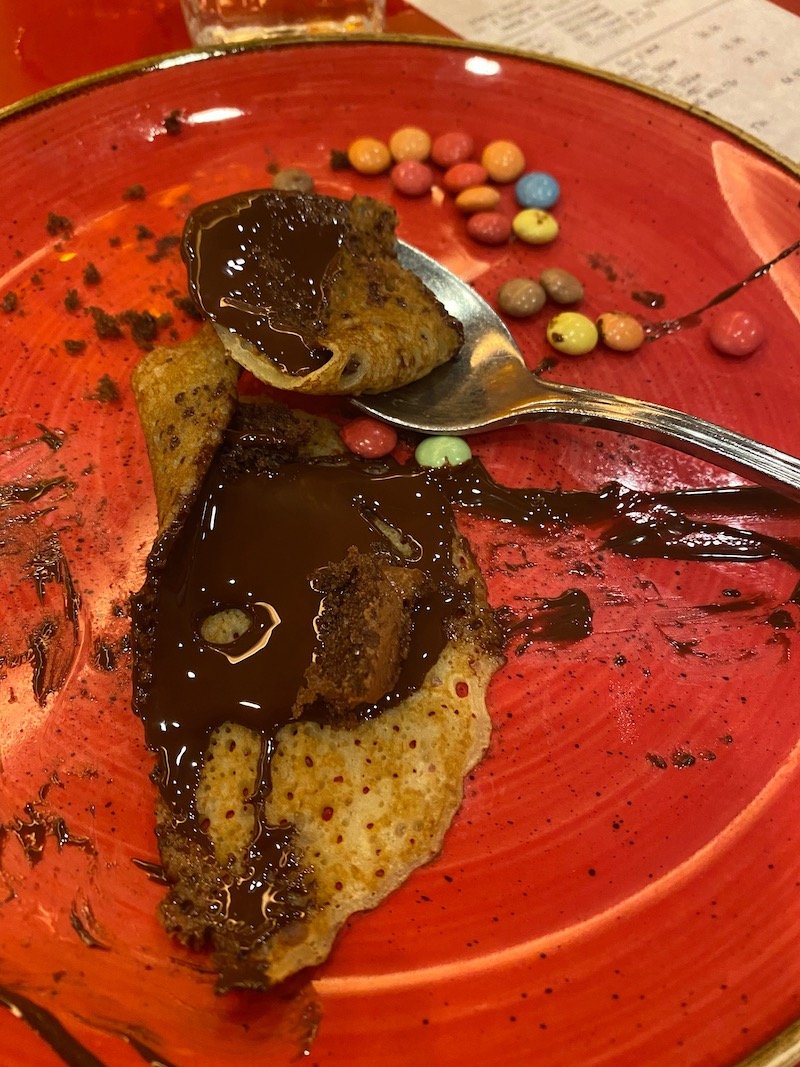 Bonus: Disneyland Crepes
AND warm crepes with chocolate sauce!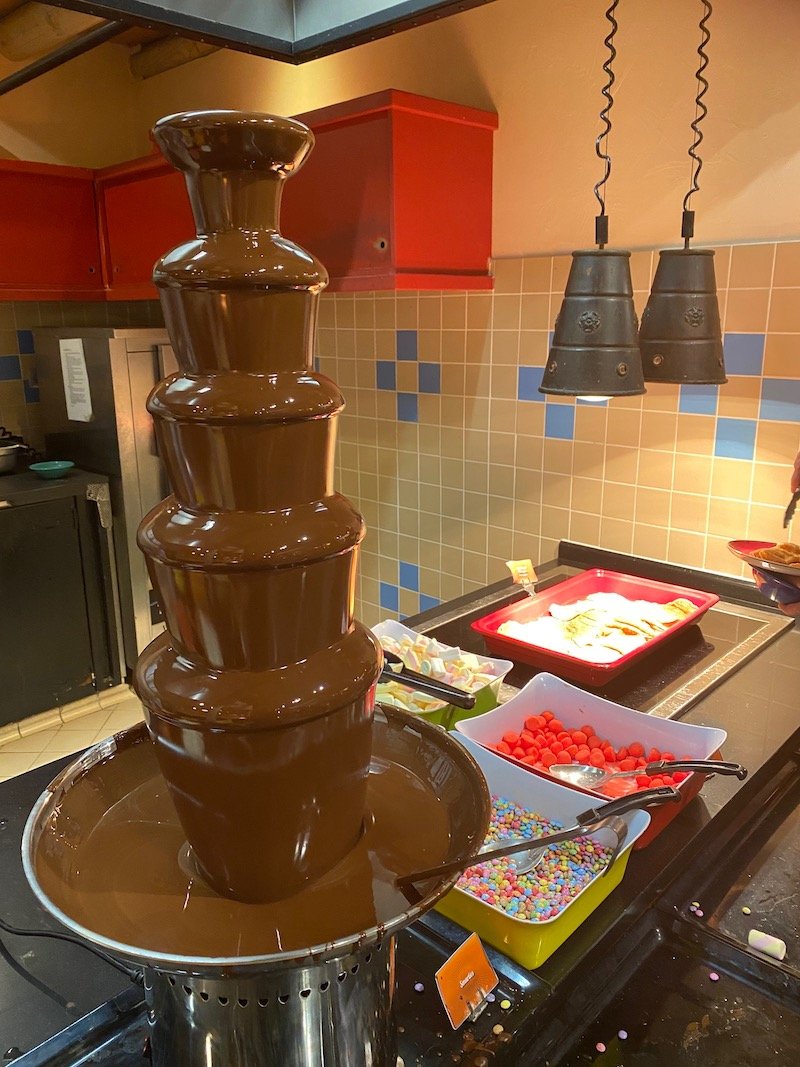 The Ultimate Disneyland Paris Chocolate Fountain!
But the highlight of the Disneyland dessert buffet is the CHOCOLATE FOUNTAIN, complete with chocolate fountain toppers such as:
Chocolate buttons (smarties)
Marshmallows
soft chewy gummies
Mickey Mouse chocolates
Hot tip: Recreate a Disney Chocolate Fountain at home with these ideas of what to dip in chocolate fountain!
The dessert bar makes this one of the best restaurants in Disneyland Paris!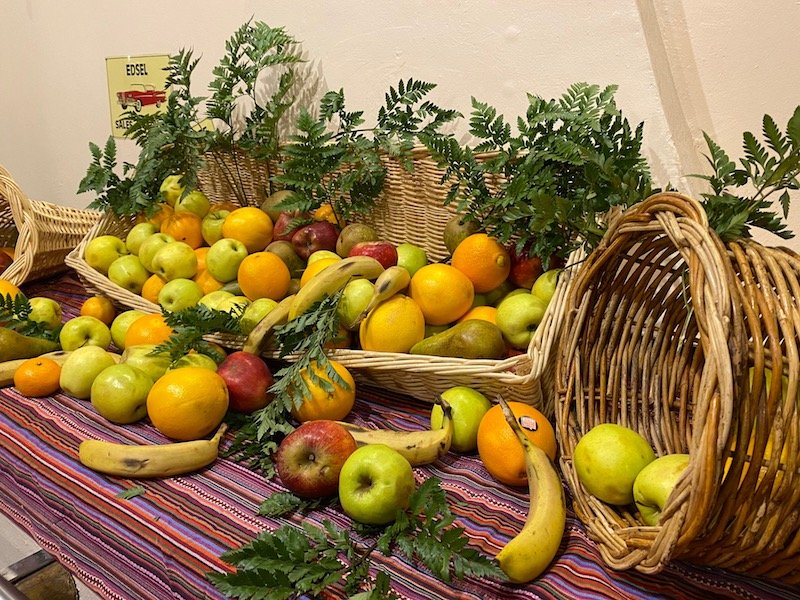 Fresh Fruit stand at the Buffet Santa Fe
For anyone not partaking in dessert, there is also fresh fruit on offer.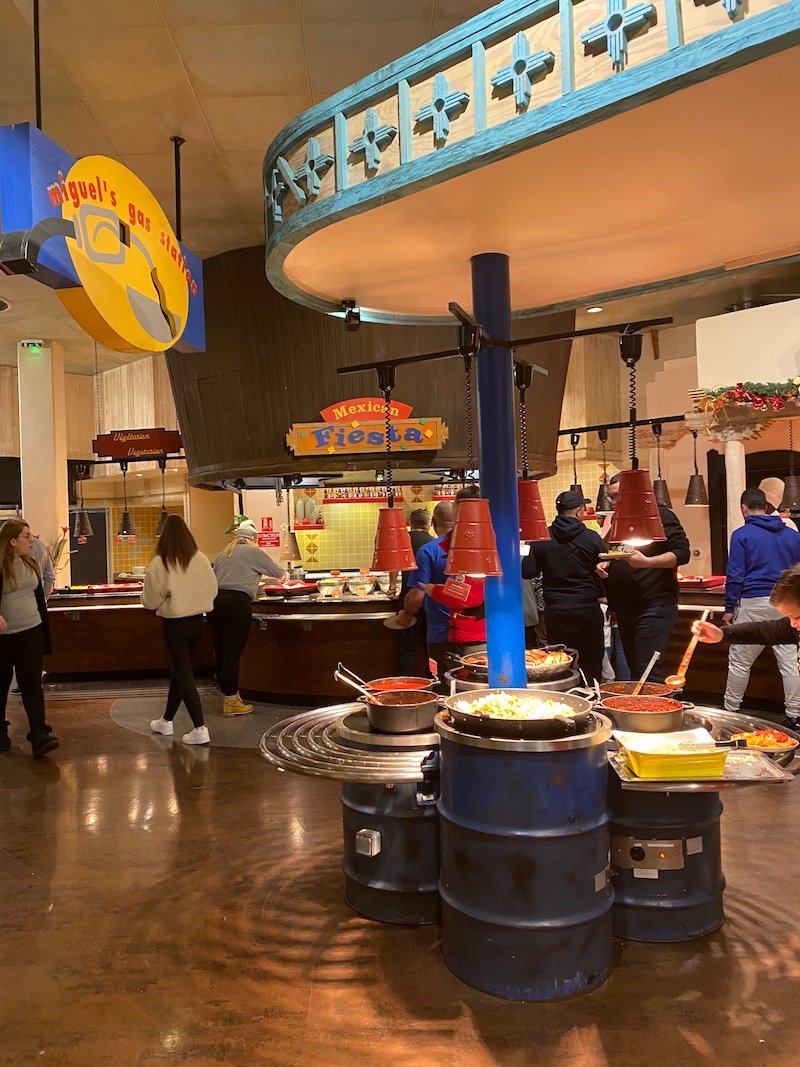 Restaurant La Cantina Buffet Price
Disneyland Paris food prices comparison
The buffet price is on par to normal Disney buffet prices – when you compare it to buying food on the go inside the parks, the price of the all-you-can-eat buffet – including a drink and dessert – is great value.
Adults – €30.99 (includes a cold drink or mineral water)
Children – €16.99 for children 3-11 years (includes Vittel bottled water, or a Minute Maid orange or apple drink, or milk)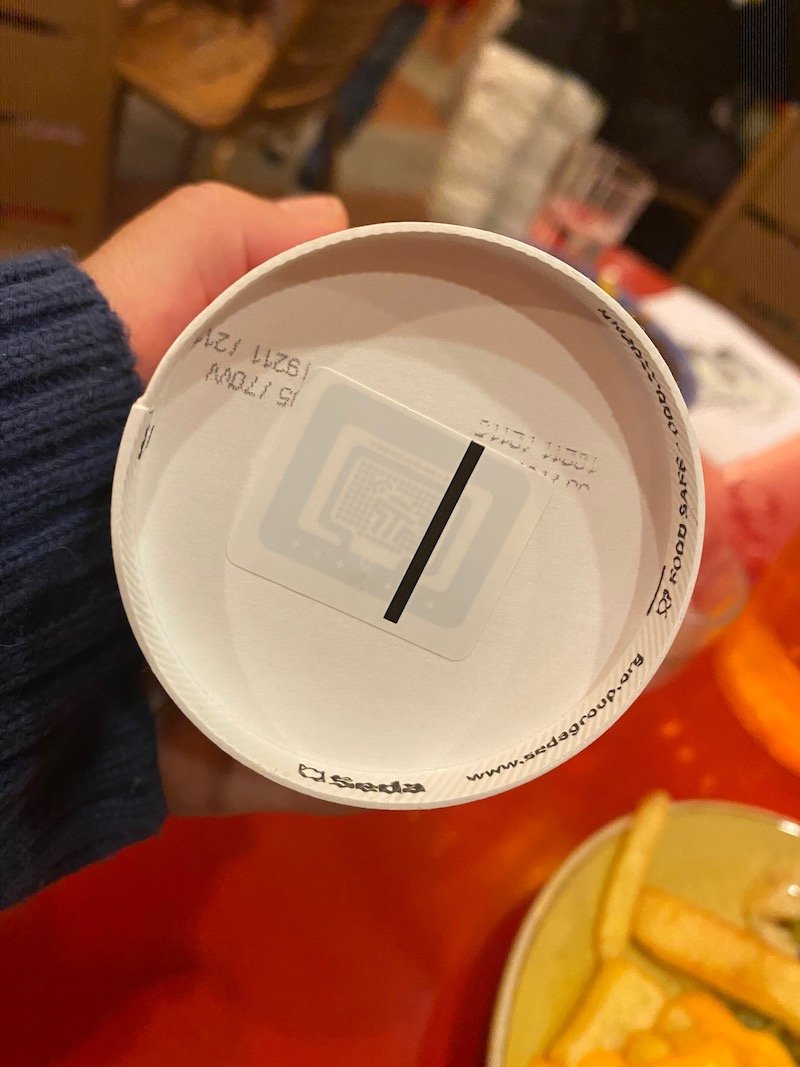 Note: Disney drink fountains
The drinks machines are automatic, and unfortunately the fill tap shuts off well before the cup is filled.
If you try and press the go button again, it flashes a sign telling you that your allocation is up.
We figured out why – there's a barcode on the bottom of the cup that connects to your account.
This is what controls your access.
Sadly, there's no free refills around here.
**You can also buy more drinks if you need.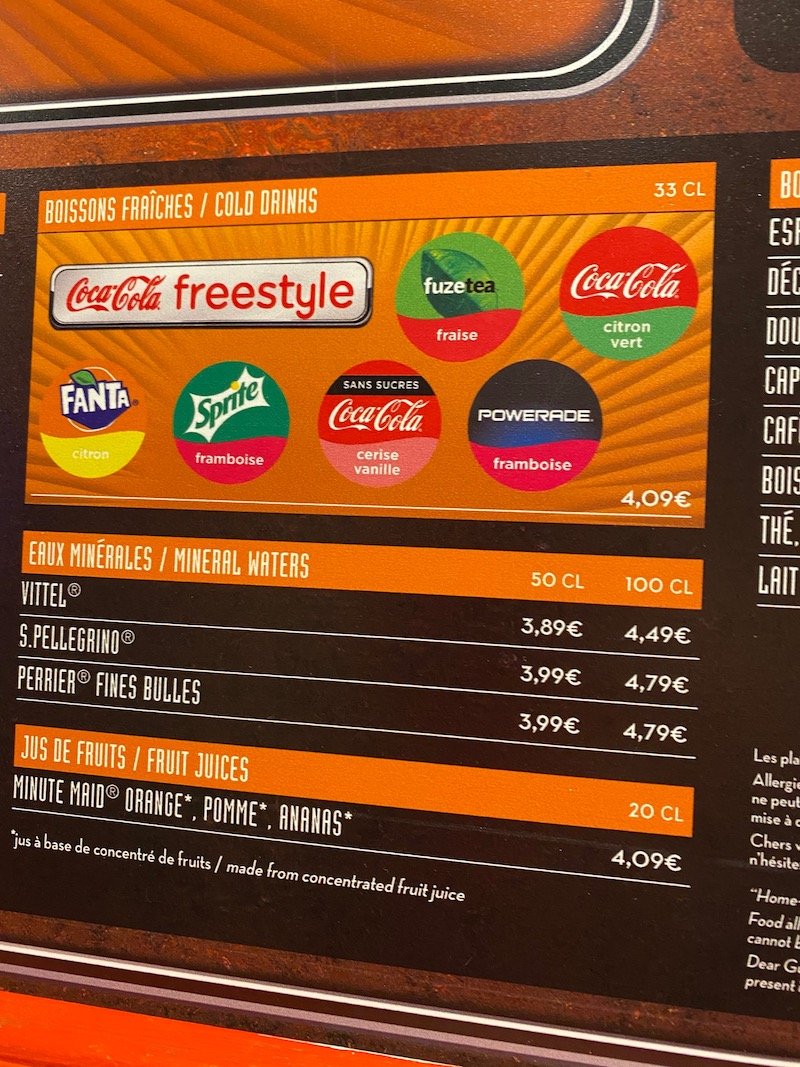 Disney Drink prices
Soft drink/ soda costs €4.09 – try Coca Cola, Vanilla coke, Coca Cola with lemon or lime, Sprite, raspberry Powerade, Fuze tea.
There's water or mineral water – small for €3.99 or large for €4.79
And Minute Maid fruit juices in orange, pineapple or apple flavors for €4.09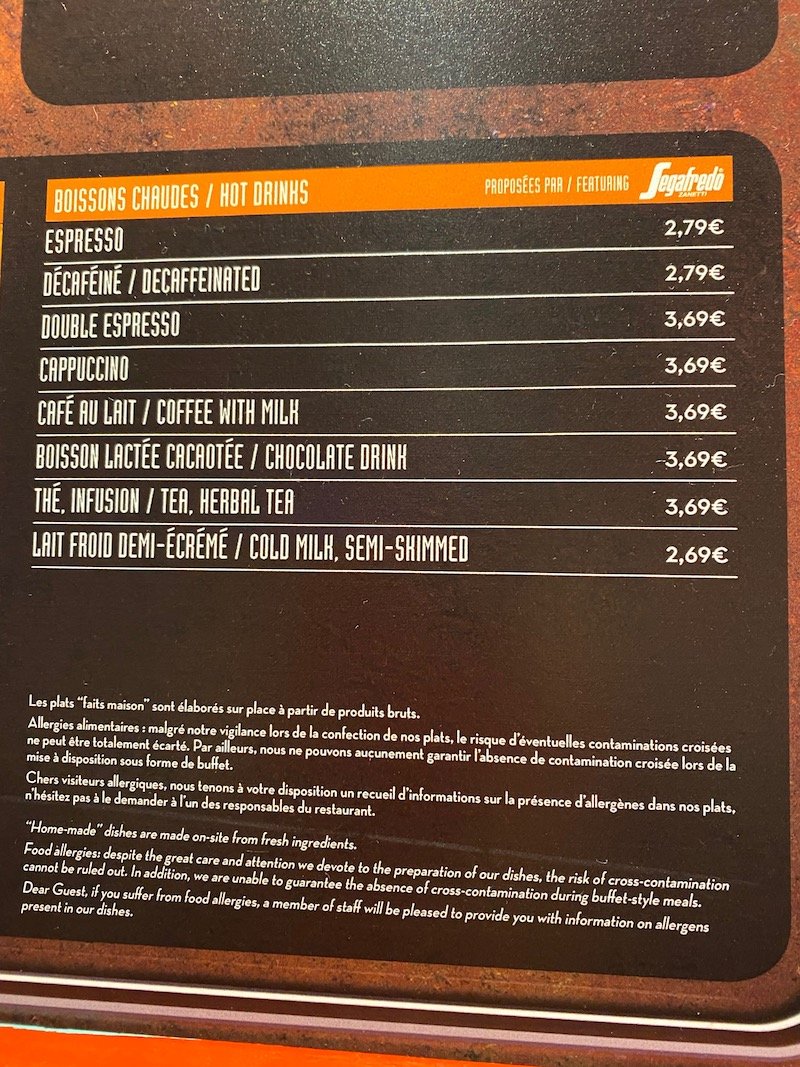 Hot drinks at the Hotel Restaurant Santa Fe
There's hot drinks available too, including:
coffee
decaf coffee
cappuccino
hot chocolate
tea, and
cold milk too.
Sadly, Chai Latte is not a thing yet!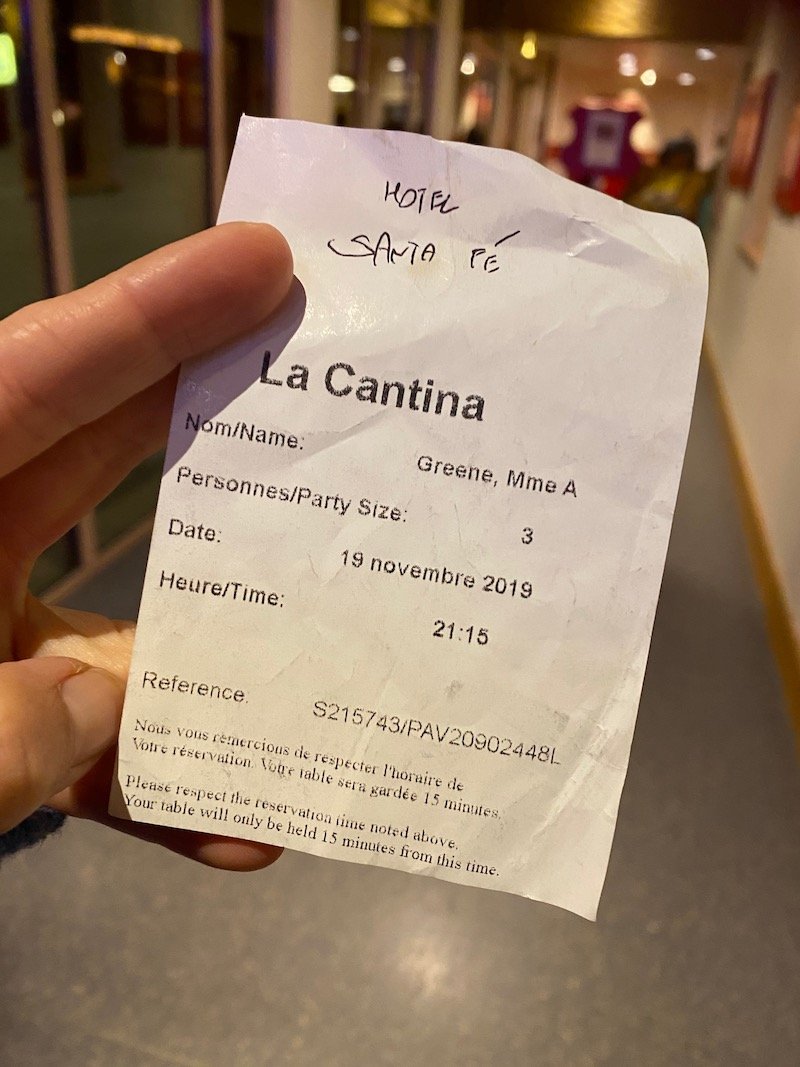 THE INSIDE SCOOP: La Cantina Restaurant Paris Disneyland
Address: Avenue Robert Schuman, 77700 Coupvray, France
La Cantina Restaurant opening hours
Try the Santa Fe Disneyland Paris menu from:
6pm to 10.30pm
7 days a week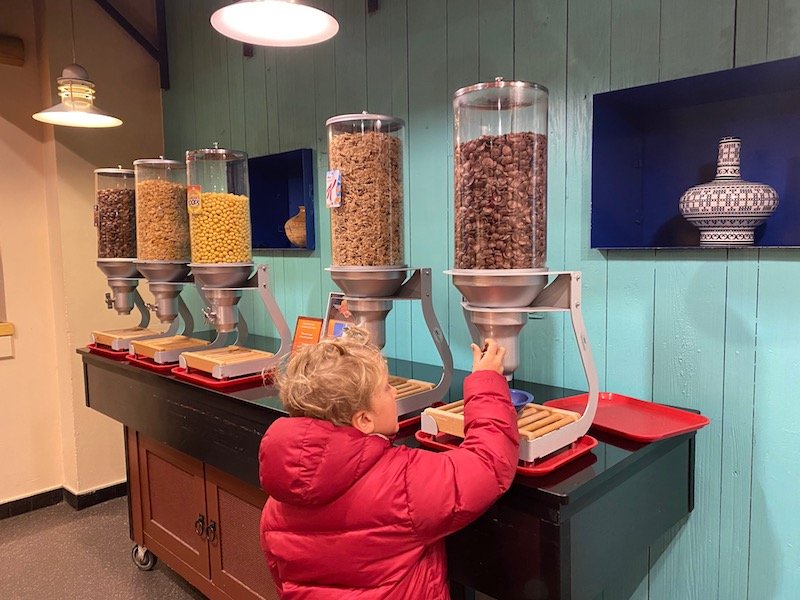 Santa Fe Disneyland Paris Breakfast at La Cantina
Breakfast costs €19 for adults, and €14 for kids. (subject to change)
It's open from 7am to 11am.
Reservations are needed – book at the hotel reception.
The Disney Hotel Santa Fe restaurant menu for breakfast includes all the best stuff including:
fun cereals
fresh pastries
bread rolls
cured meats
fruit salad
yoghurt
hot options including eggs, bacon and more, plus
DIY hot chocolate!
Map of Santa Fe Hotel Disneyland Paris
FAQ – Disneyland Paris Meal Plans
Disneyland Paris Half Board Plus (including breakfast)
Lots of readers ask us for Disneyland Paris meal plans advice.
Is the disney dining plan worth it Paris?
But the most popular question is: Is the Paris Disney dining plan worth it?
The answer is YES.
A Disney Dining plan is always worth it.
(And trust us. As committed budget travelers, we do the math).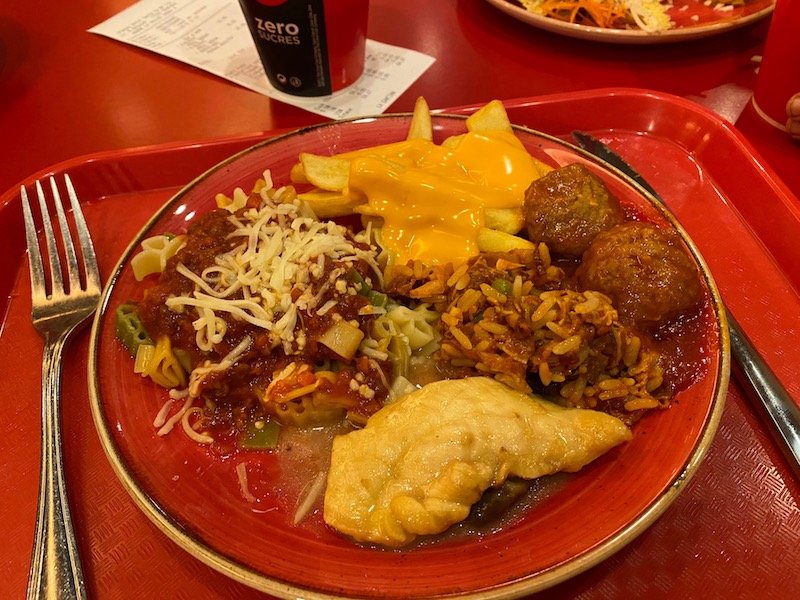 Disney Dining Plan advantages
Buying a Paris Disneyland dining plan means you don't have to think about spending money on food once you arrive, so it's a great idea for those visiting Paris Disneyland on a budget.
Plus, the kids can eat what THEY want, so there's no waste – like Jack above.
If you can, book a special package deal stay and save money.
The Disneyland Paris half board plan is the best one – it includes:

the Hotel Buffet breakfast, plus
either dinner OR lunch per day.
That's all you need.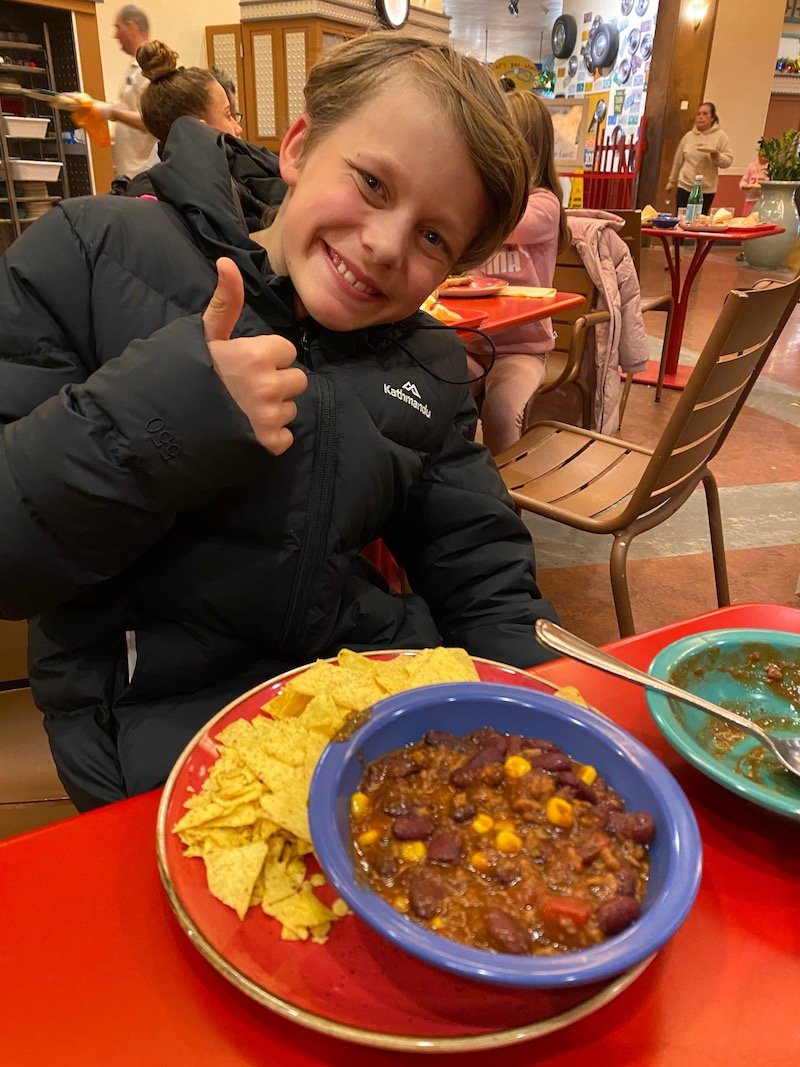 Tip for Disney Paris hotel meals
Eating a BIG breakfast at the Disneyland hotel buffet will keep you and the kids going for hours.
Depending on the ages of the kids in tow, we either do a late lunch around 3pm (and take some snacks such as fruit, or muesli bars with us to keep us going), or book an early dinner around 5pm.
We find eating two big meals a day at Disney, with a few snack breaks, is perfect and means we don't waste precious time that would be better spent on Paris Disneyland rides or in shops.
Hot tip: The MagicPass card entitles you to one buffet breakfast at YOUR hotel but it can also be used to deduct the value of this breakfast from the price of a breakfast at one of the Disneyland Paris restaurants at Disney Parks. or the New York style sandwiches in Disney Village for breakfast only.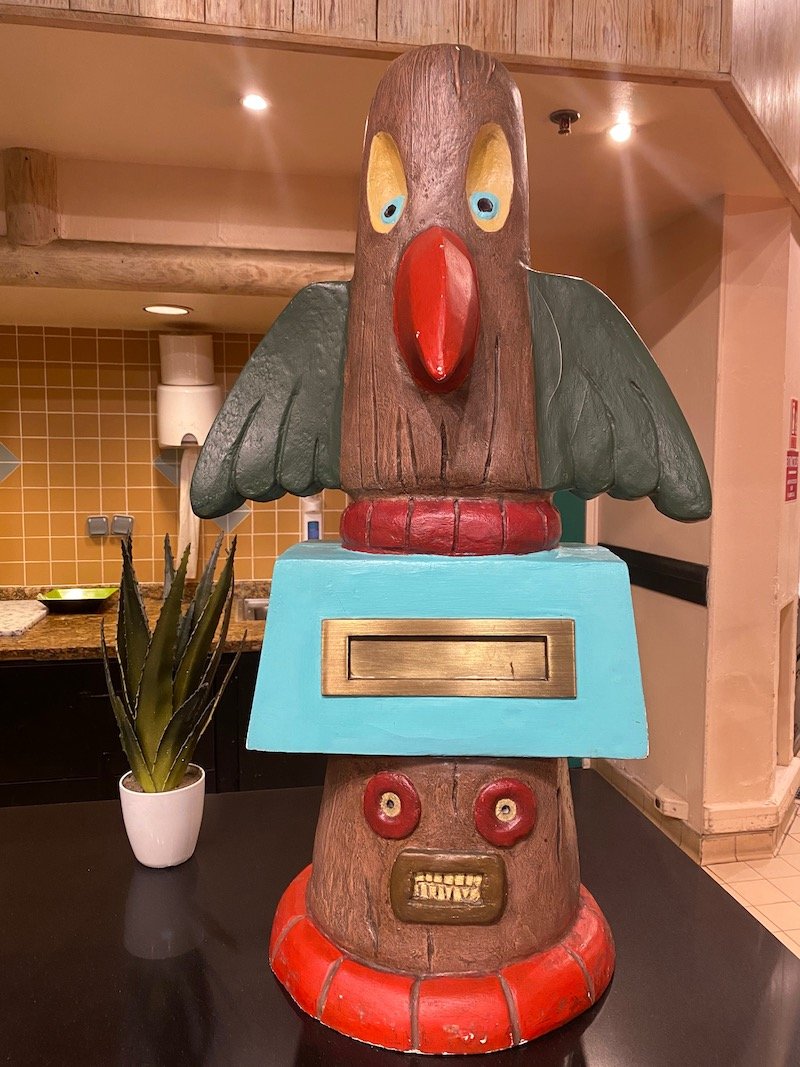 What are the Disneyland Paris standard meal plan restaurants?
The Standard Meal plan at Disneyland Paris gives you a choice of restaurants including:
Restaurant Agrabah cafe at Disneyland Park
Plaza Gardens restaurant at Disneyland Park
Restaurant des Stars at Walt Disney Studios park
Disney Blockbuster cafe at Walt Disney Studios park
Billy Bob's La Grange restaurant in Disney Village
Or one of these restaurants at one of the Disneyland Paris Hotels
Chuck Wagon Cafe at
La Cantina at Santa Fe Disneyland Paris Hotel
Crockett's Tavern
The all you can eat buffet includes one non-alcoholic cold beverage.
You can also swap and try other Disneyland Paris restaurant menus at Disney Paris restaurants other than the ones listed above, by taking your Magic Pass card along with you – they'll deduct the value of your standard buffet meal from the price of the meal you choose at this new location, and you pay the difference.
Note: Any changes or additions to the menu must be paid for separately.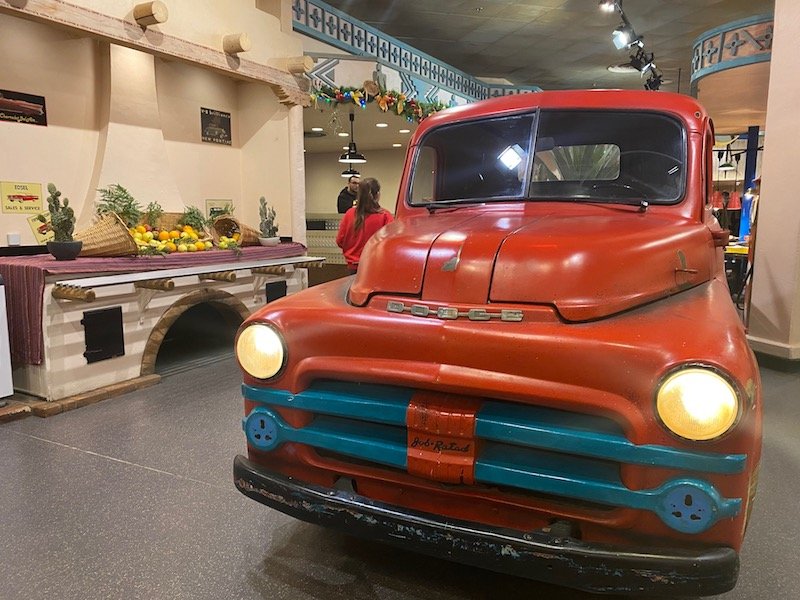 How to book a Paris Disneyland restaurant?
This is the trickiest part of planning your Disneyland Paris itinerary.
There's NO online booking service, so when you are planning your itinerary, the only way to book is to call the Disney Dining Reservation Service.
If you like to live on the edge, and don't want to make reservations for your meal plans before you arrive, you need to book your table in advance when you arrive:
at your Hotel Concierge service
at City Hall in the Disneyland parks
or call the Dining Reservation service by pressing the Red Mickey button on the phone in your room or by calling from your mobile on +33 (0) 1 60 30 40 50.
Guests with MagicPass or meal vouchers still need to book.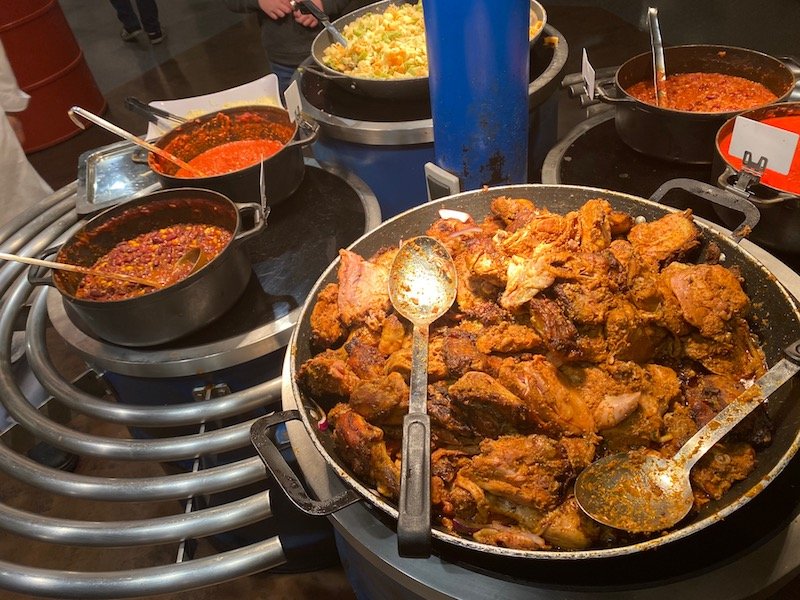 Toadstool Rating: La Cantina Disneyland Paris Review
It's not 5 star dining, BUT it's perfect for families with kids.

About Disney Hotel Santa Fe Disneyland Paris
Looking for the best Disneyland Paris hotel for kids?
Hotel Santa Fe Paris is a top choice for families.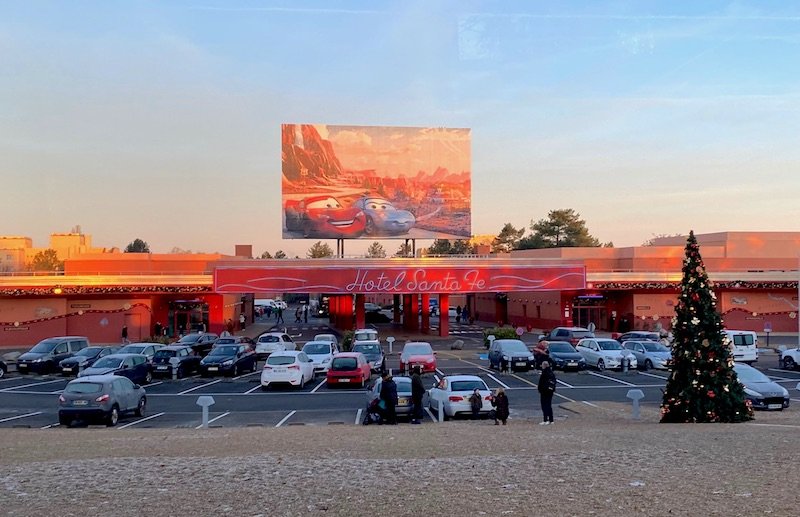 Why stay at Santa Fe Hotel Disneyland Paris?
Hotel Santa Fe Disney Paris hotel is good for location – it's easy to get to from the train station via the shuttle bus.
The yellow shuttle buses depart the hotel every 12 minutes, so you don't have to wait too long to get to the parks, or around to other Disney hotel restaurants nearby.
Plus, there's some cool shopping for exclusive Disney souvenirs in the hotel gift shop.
Santa Fe Disneyland Paris hotel is themed around the Cars film and characters, so if your kids are big CARS fans, it's the one to book.
READ MORE: Roam the Gnome's Disneyland Paris Cars Hotel review (coming soon)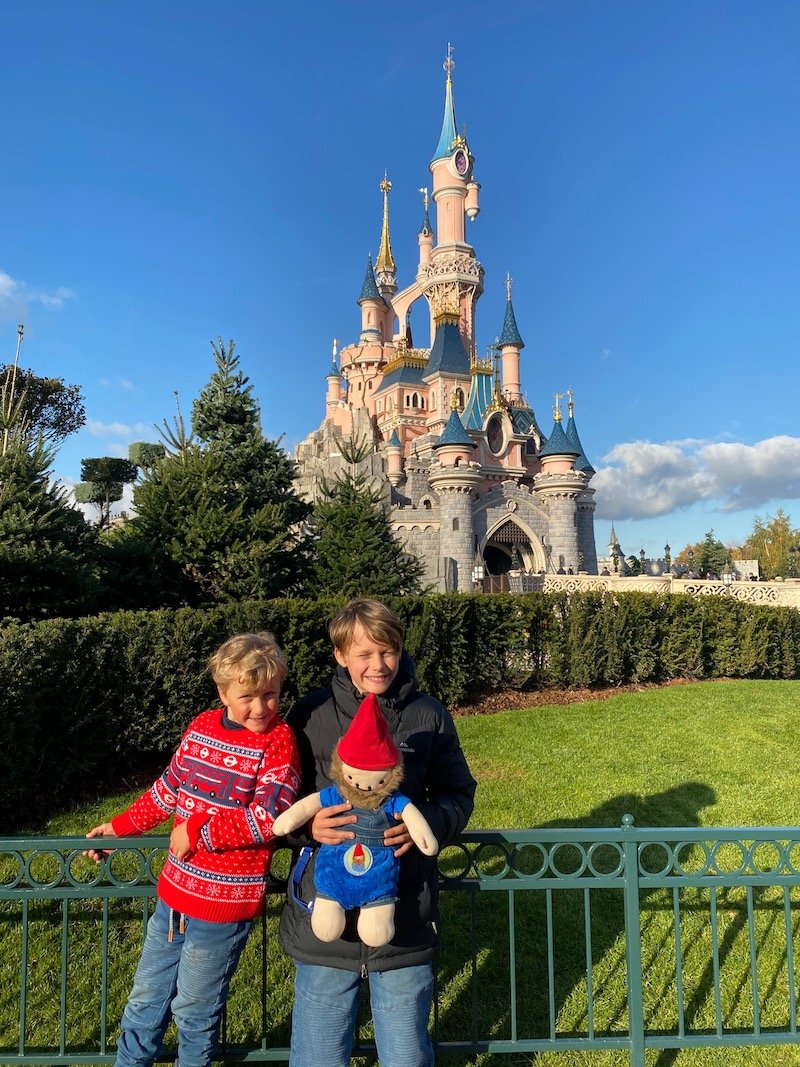 Looking for more Paris Disneyland tips?
Click on the blue links below for more Disneyland Paris ideas.
Coming soon!
The Complete Guide to Disney Paris Village

All you need to know about Paris Disneyland Christmas

The Best Walt Disney Studios Paris Rides & Attractions

Catching the Eurostar to Paris Disneyland