INSIDE: Everything you need to know about the Cars Hotel Disneyland Paris.
The Cars Hotel at Disneyland Paris is one of the best Disneyland Paris Hotels for kids because it's Disney CARS themed!
Just like the movie of the same name.
Love Mater, Lightning McQueen, Doc Hudson, & Sally Carrera?
You'll love this place.
Read all about the hotel in our ULTIMATE guide to the DISNEYLAND PARIS CARS HOTEL below!
Disclosure: This article contains affiliate links. If you make a purchase after clicking on one of these links, we may receive a small commission at NO extra cost to you.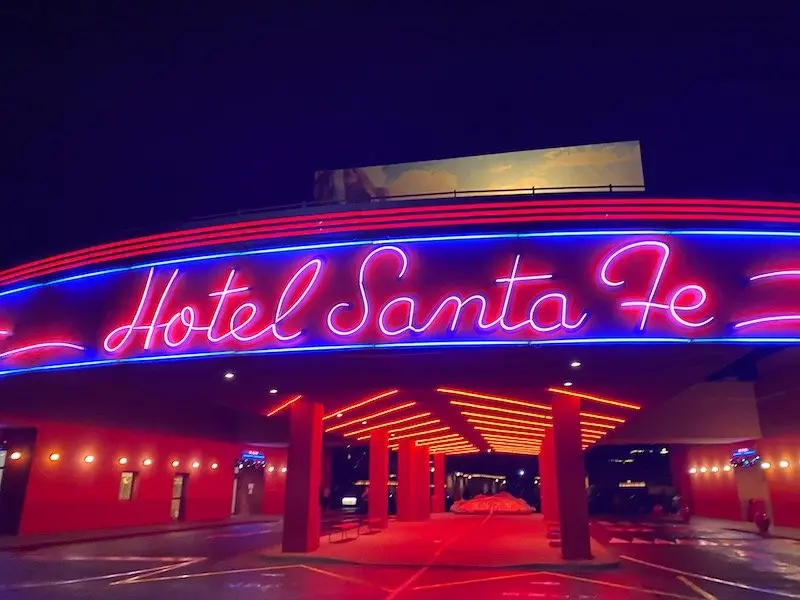 Guide to CARS HOTEL Disneyland Paris
Staying at a Disney property is the ONLY way to go.
There's definitely a double dose of Disney magic in the air when you stay on site and are immersed in Disney pixie dust and theming from breakfast until bed time.
The hotel buildings are a replica of the terracotta colored adobe houses made from clay and organic materials you see in the desert region of the American Southwest in Santa Fe, New Mexico.
(Adobe is Spanish for 'mudbrick')
It's quite an unexpected sight in Paris!
RELATED: Everything you need to know about Disneyland Paris for kids (update coming soon)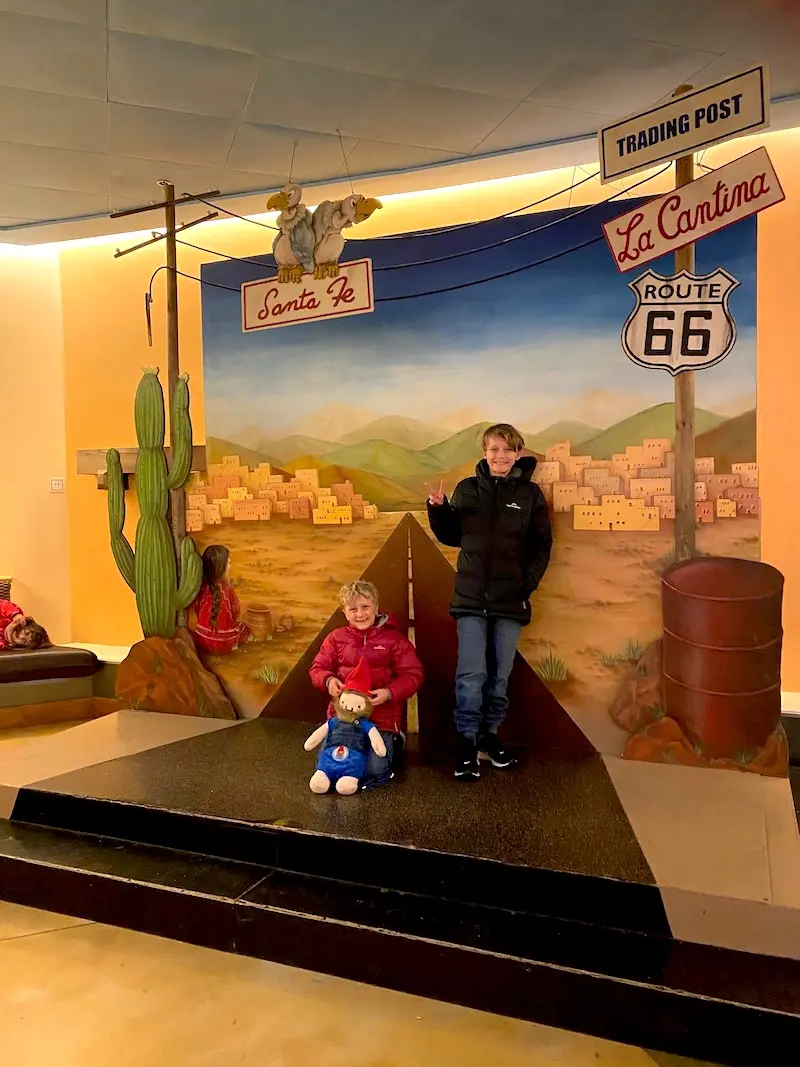 Disneyland Paris Budget Hotel?
The Disney Cars Hotel in Paris is one of the cheap Disneyland Paris hotels – more affordable for those travelling on a budget.
That said, it's not "cheap" to stay at a Paris Disney hotel, but the benefits of staying on Disney property outweigh any savings you might make by booking a cheaper, but more distant, hotel in Paris.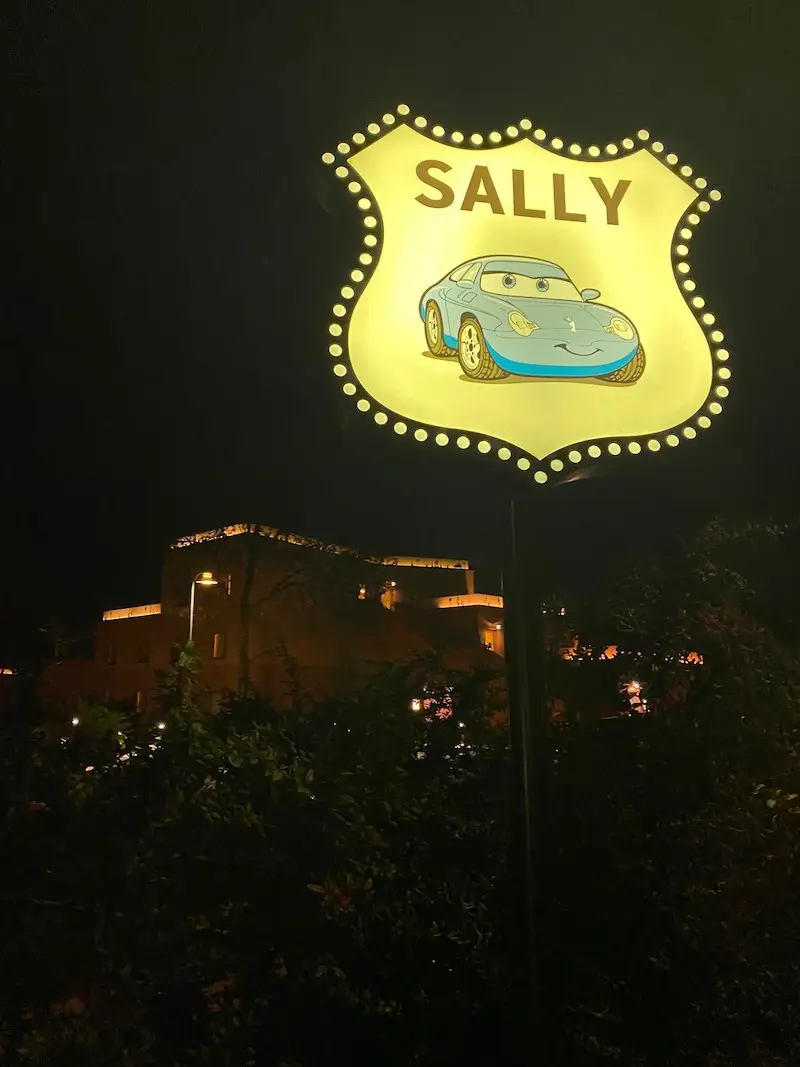 Stay in Santa Fe Hotel Disneyland Paris style!
But where else can you stay in an American Southwest style hotel themed around the unparalleled feature movie CARS, in a building named after one of your favorite film characters?
(There are four – Luigi, Mater, McQueen and Sally, set amongst New Mexico style greenery and shrubs).
NOWHERE!
The decision to book was easy.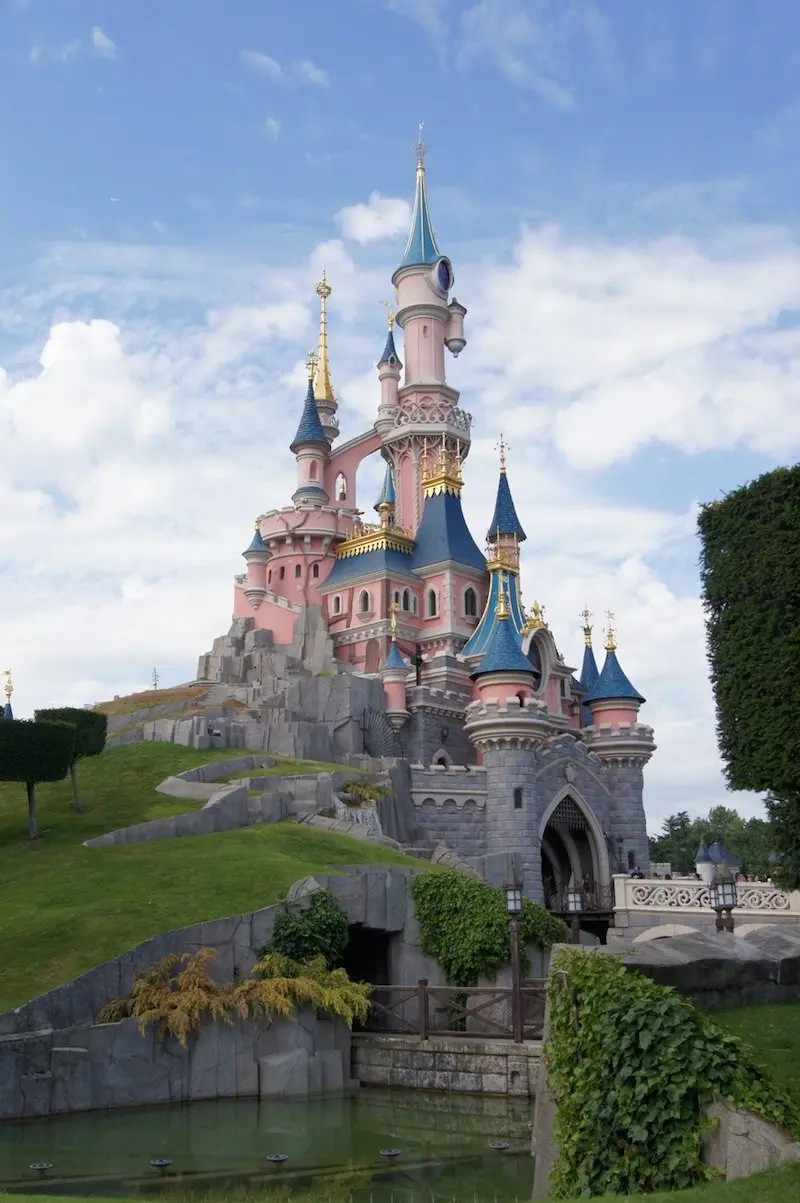 No.1: Disneyland Paris hotel near Parks
The number one reason to book Santa Fe Hotel in Disney is proximity to the Paris Disneyland parks – not one, but TWO.
Disneyland Paris AND Walt Disney Studios Park.
Disneyland Paris is found on the outskirts of Paris, in a purpose built landscape to the east of the city near Chessy.
The main hub of EuroDisney is built within a ring road, inside of which you'll find:
Disneyland Paris theme park
Parc Walt Disney Studios
the Disney Village shopping area
Disney's Newport Bay Club
Disney's Hotel Santa Fe
Disney's Sequoia Lodge
Disney's Hotel New York
Disney's Hotel Cheyenne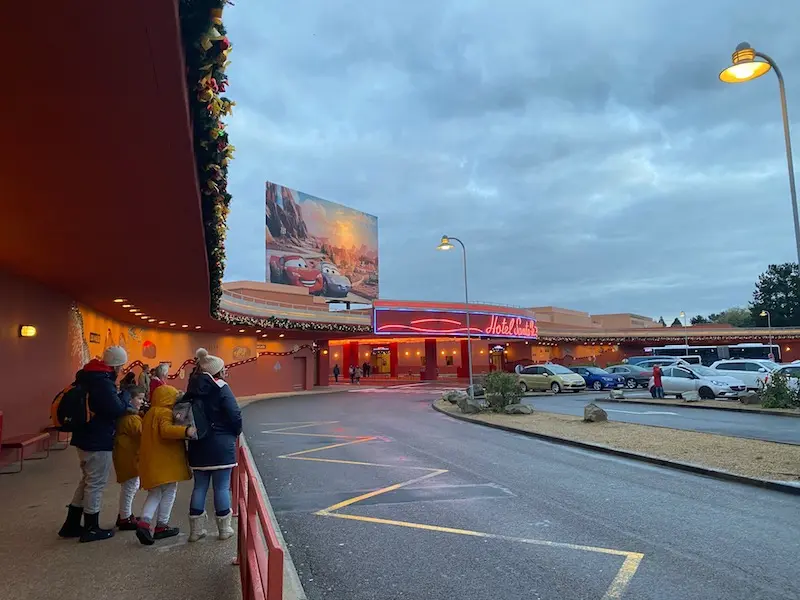 Free Disney shuttle buses to Disneyland Paris
The best thing about staying in one of these Disneyland Paris hotels is that you are within walking distance to the Disney parks, and Disney Village.
Or you can catch the free shuttle bus just outside your hotel and be at the parks in minutes.
Staying outside of the Disney ring road is a pain in the butt if you don't have your own transport in France.
The time wasting of getting to and from your budget hotel is NOT worth the savings, no matter how big.
The easiest way to get to Disneyland Paris is by train from Paris to the Gare de Marne-la-Vallée/Chessy station.
The Disney Parks are just a couple of minutes walk from outside the station – The Walt Disney Studios park to the left, and Paris Disneyland to the right.
Disney Village is right there too – take a sharp left and walk the pathway around.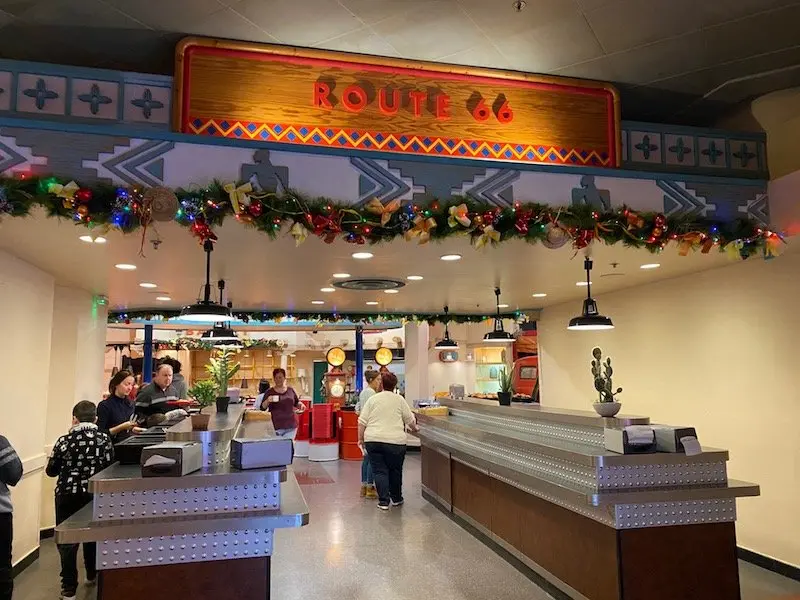 No.2: How much to stay in the Disney CARS Hotel in Paris?
We paid US$ 967.11 for half board stays for 1 adult and two kids including:
two nights accommodation in a Cars Standard Room with two double beds
three days entry to both parks, and
FREE parks shuttle service, so we could get around from the hotel to the parks, or other Disney hotel restaurants we'd pre-booked for meals.
our package included FREE Santa Fe Hotel Disneyland Paris Half Board Plus. This half board meal plan included dinner and breakfast. (Read all about the Disney meal plans at Disneyland Paris below)
the inclusion of "Disney Express" Luggage service so we could leave our suitcases at the Disney Express counter at the train station on day one, and go straight to the parks.
Our luggage was tagged and delivered to the Santa Fe hotel and placed in our room, ready for our arrival.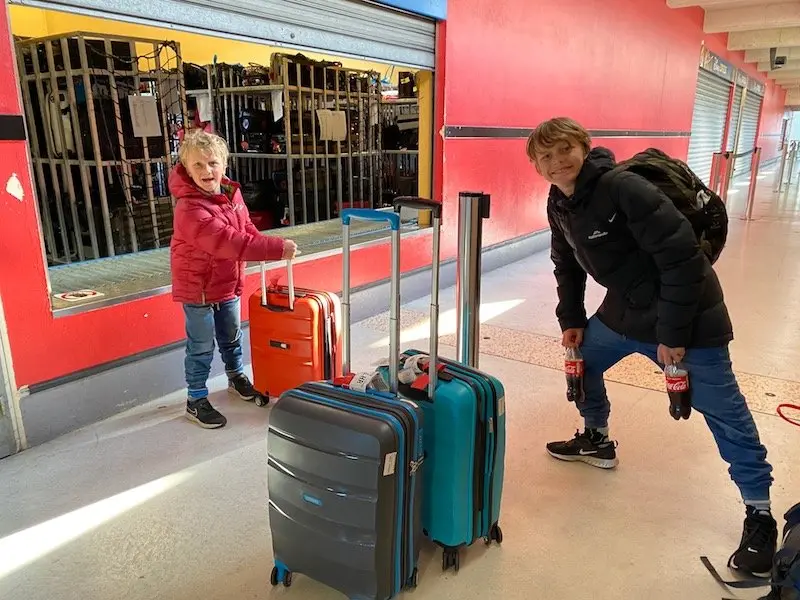 Disney Express luggage delivery
The hot tip is to book and pay for the Disney Express luggage delivery when you book your stay, like we did.
(Be sure to hang on to your Disney Express tag tickets so you can pick up your luggage from the Disney express counter when you leave.)
It's a game changer, giving you tonnes of extra time in the parks on arrival and departure day.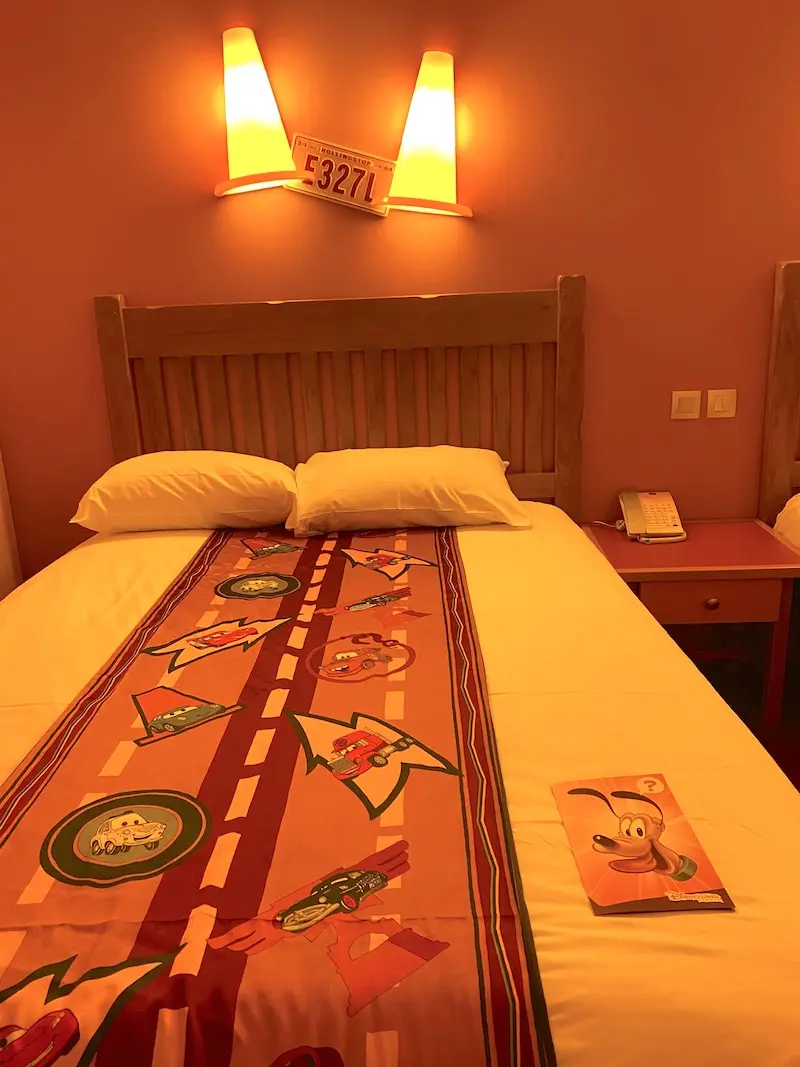 No.3: Extra Magic Hours
Another bonus of staying in a Disney hotel in Paris is that it's the only way to access DISNEY EXTRA MAGIC HOURS.
That is, Disney Magic time equals early entry to the parks. A plus of staying at a Disney hotel.
Take advantage of an hour in the parks without the huge crowds.
It's the best thing ever to smash out a whole bunch of rides before the gates officially open, with NO queues!
And here's a whole bunch of more reasons why you should book a stay at the Disney Hotel Santa Fe Disneyland Paris.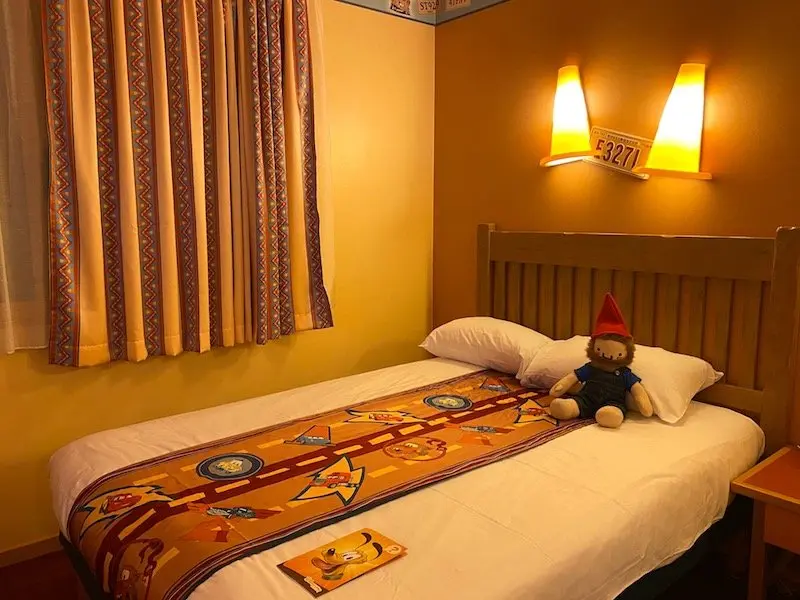 No.4: Route 66 American Southwest theming
Fans of the DISNEY Cars movie will be thrilled to find this hotel has rooms inspired by CARS theming!
There's not much but it's enough to make it feel a little bit special.
Bedspread
Themed cozy cone lighting
Desert colors for the walls and curtains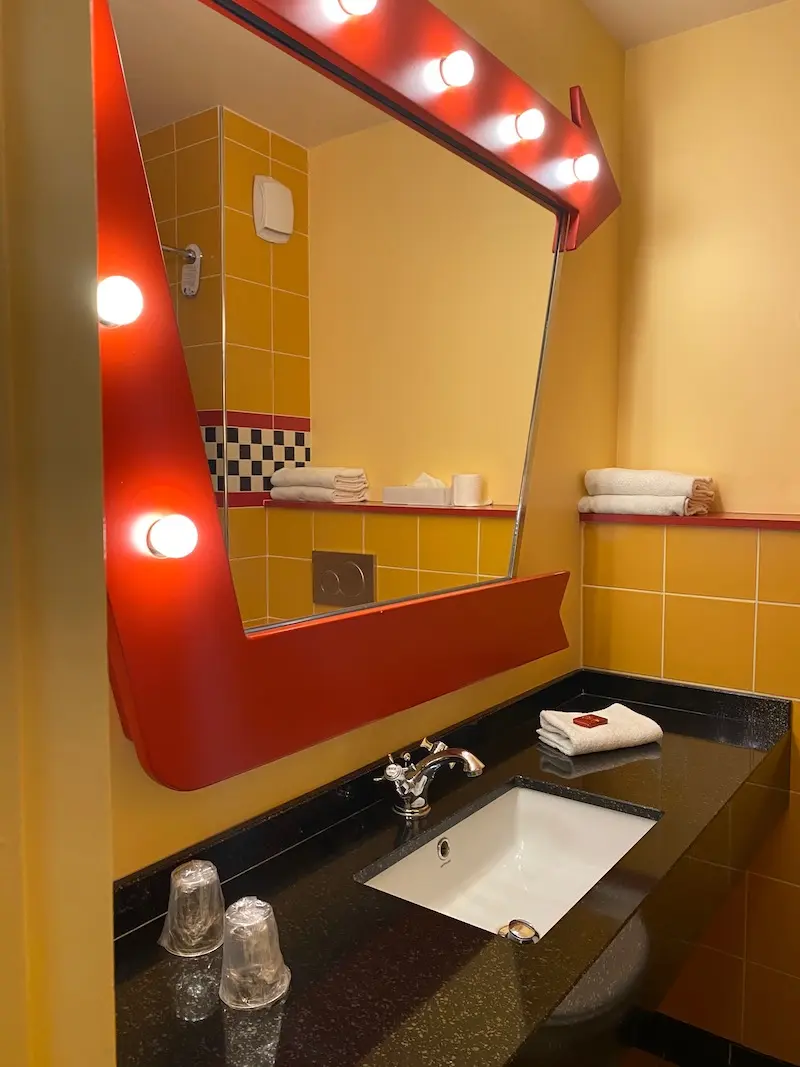 And racetrack lighting and tiling in the bathroom!
My boys loved it.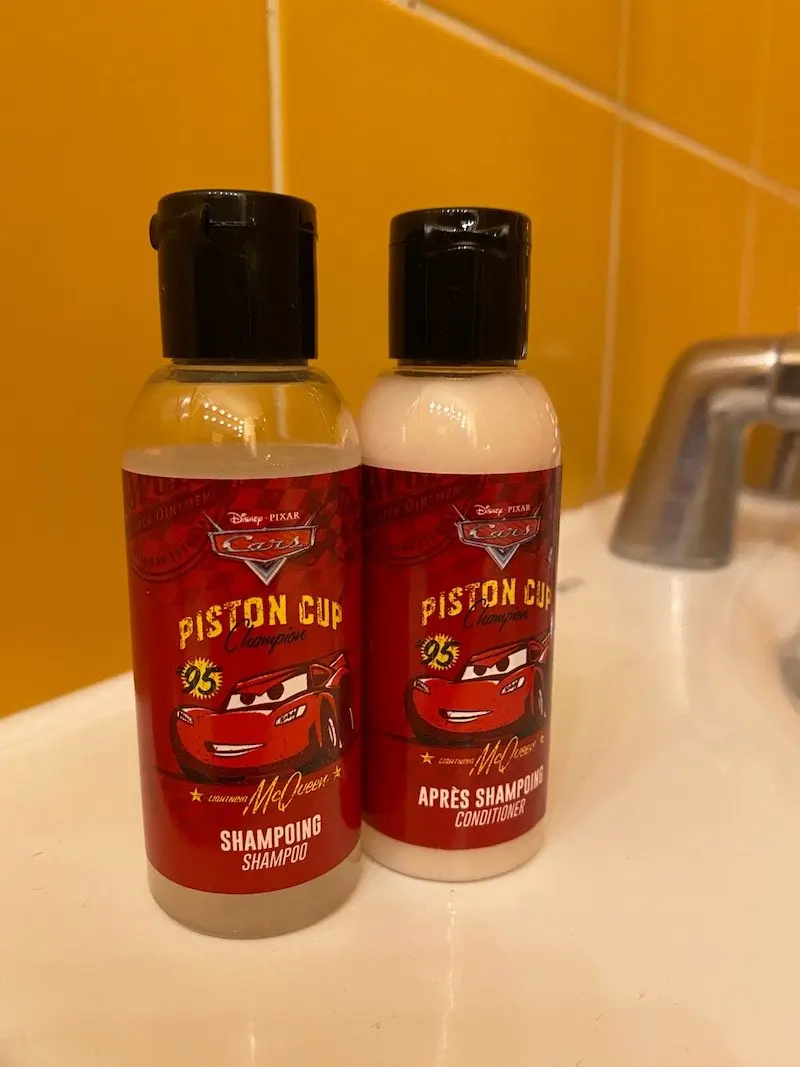 No.5: Paris Disney CARS shampoo and conditioner
The Disney amenities in the rooms feature CARS shampoo and conditioner too!
That's cool.
So cool, we couldn't use it, but took it home as a memento.
And nabbed the replacements on the second day too, so the boys had a set each.
Because… sibling rivalry!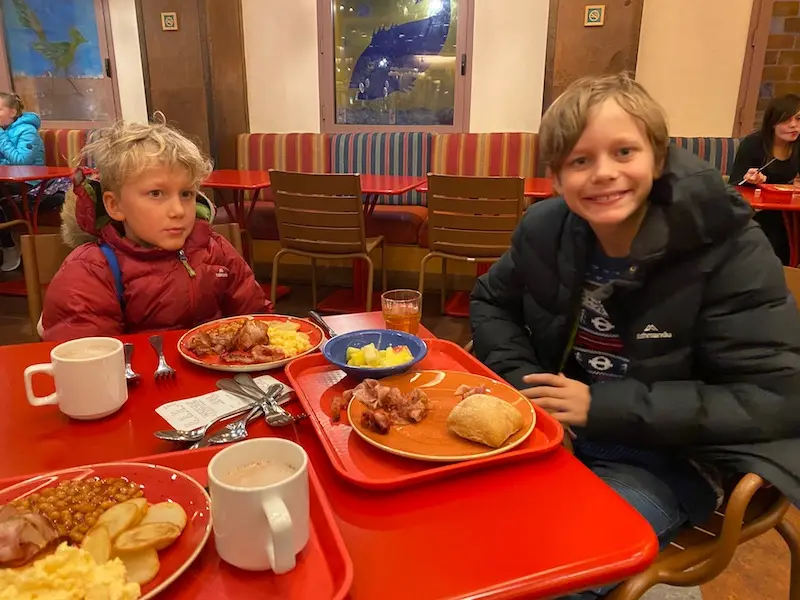 No.6: Disney Santa Fe Hotel Breakfast at La Cantina
The MagicPass card entitles you to one buffet breakfast at YOUR hotel.
(It can also be used to deduct the value of this breakfast from the price of a breakfast at one of the Disneyland Paris restaurants at Disney Parks, or the New York style sandwiches in Disney Village for breakfast only.)
You can also book Breakfast with Disney Characters at the Plaza Gardens restaurant or enjoy a Royal Breakfast with Disney Princesses in Auberge de Cendrillon in Disneyland Park. (Extra charges apply)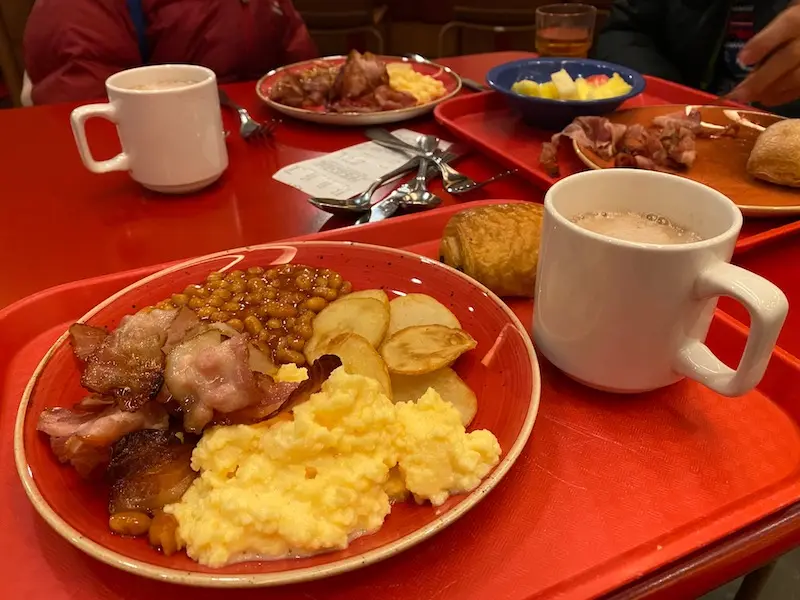 Hot English breakfast
We ate in the hotel both mornings.
Seriously, is there anything better than Disney scrambled eggs?
La Cantina Breakfast Menu
La Cantina Disneyland Paris Breakfast Menu features hot and cold dishes including:
Continental style breakfasts of cold cuts and deli meats
bread rolls and croissants
cheese including cheddar, gouda, boursin and beurre
scrambled eggs, bacon
potatoes
toast
cereals
pancakes and maple syrup
yoghurts
The Santa Fe hotel Disneyland Paris breakfast is up there in our top 20 hotel breakfasts!
DIY Hot Chocolate!
And drinks.
Juice and milk.
Coffee and tea.
And DIY hot chocolate!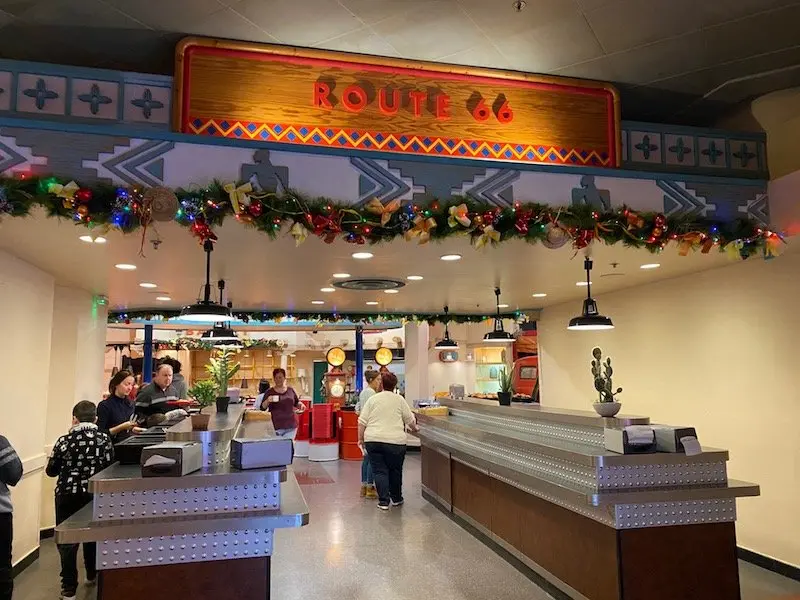 No. 7: Disneyland Paris meal plans
The standard Paris Disneyland meal plan gives you a choice of restaurants including:
Restaurant Agrabah cafe at Disneyland Park
Plaza Gardens restaurant at Disneyland Park
Restaurant des Stars at Walt Disney Studios park
Disney Blockbuster cafe at Walt Disney Studios park
Billy Bob's La Grange restaurant in Disney Village
Or one of these restaurants at one of the Disneyland Paris Hotels
Chuck Wagon Cafe at
La Cantina at Santa Fe Disneyland Paris Hotel
Crockett's Tavern
The Disney Paris meal plan all you can eat buffet includes one non-alcoholic cold beverage.
If you are looking for Disneyland Paris meal plans advice, our tip is to book it.
We wouldn't visit Disney without it, because:
1. it removes the stress of having to pay as you go, and
2. it's so much fun to rock up and eat without the worry of going over budget during your trip.
The Disneyland Paris meal plans are worth every cent, and definitely save you money.
Book your reservation in one of the Disneyland Park restaurants by calling +33 (0) 1 60 30 40 50 or press the Mickey button on the phone in your room.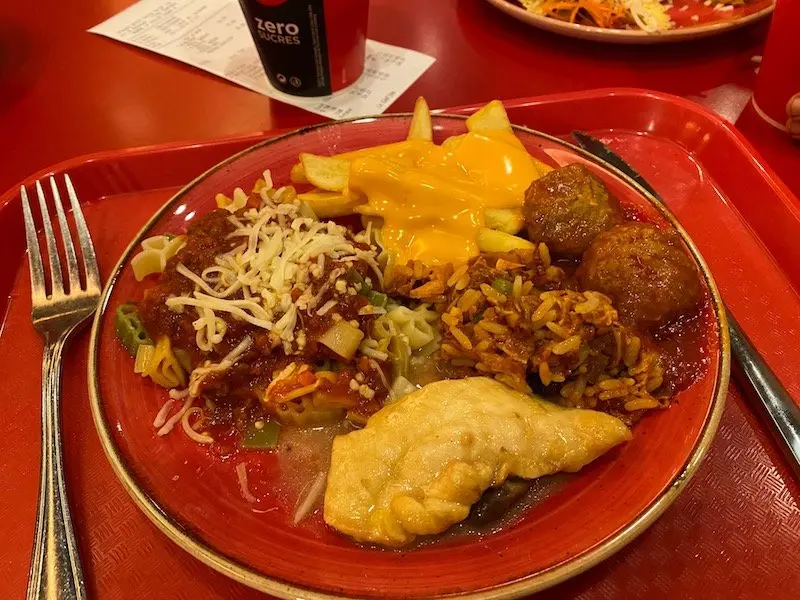 Santa Fe Disneyland Paris menu
We ate at La Cantina Mexican buffet for one dinner.
It's full of delicious Tex Mex Mexican food including:
chicken fajitas
Mexican rice
New Mexico beef stew
potato gratin with peppers
Fillet of Salmon with chimichurri sauce and ratatouille
Vegan chilli
And a whole LOT of delicious Disney desserts.
Disneyland Paris food prices if you choose to buy as you go are
Read all about La Cantina at Paris Disneyland here including the Disneyland Paris restaurant menus
Hot tip: There is also the Rio Grande bar on site for cocktails and snacks should you be interested in this on your holiday.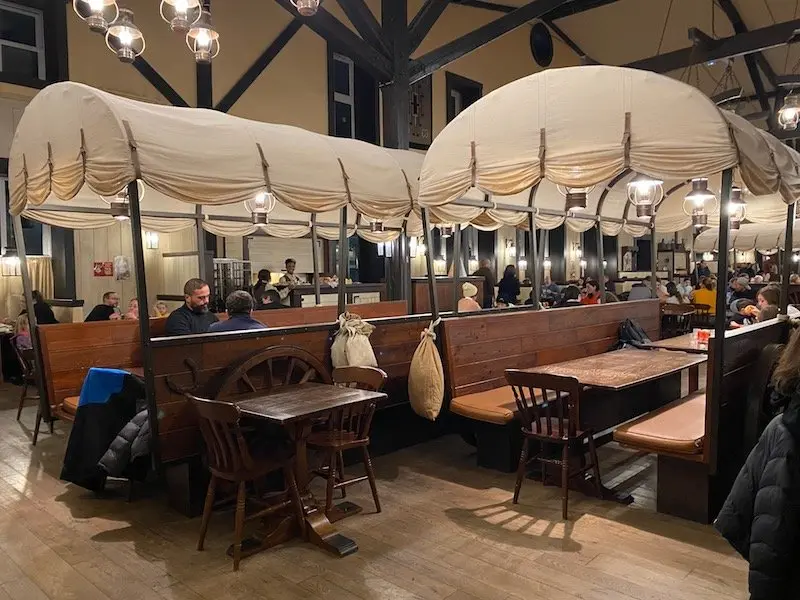 Chuck Wagon Cafe Paris Disneyland menu
On day two, we booked the Chuck Wagon Cafe at Hotel Cheyenne Disneyland Paris for the other dinner.
Read all about it here, including ALL the details of the Chuck Wagon Disneyland Paris menu.
Hot tip: You can also swap and try other Disneyland Paris restaurant menus at Disney Paris restaurants other than the ones listed above, by taking your Magic Pass card along with you.
They'll deduct the value of your standard buffet meal from the price of the meal you choose at this new location, and you pay the difference.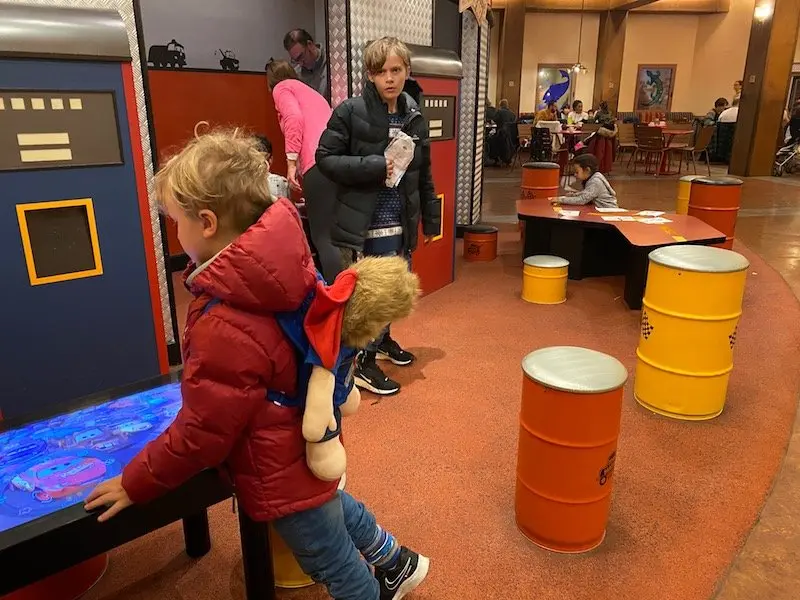 No.8: La Cantina Disneyland Paris kids play areas
Inside La Cantina, there's a FREE kids play area, themed in the same CARS style.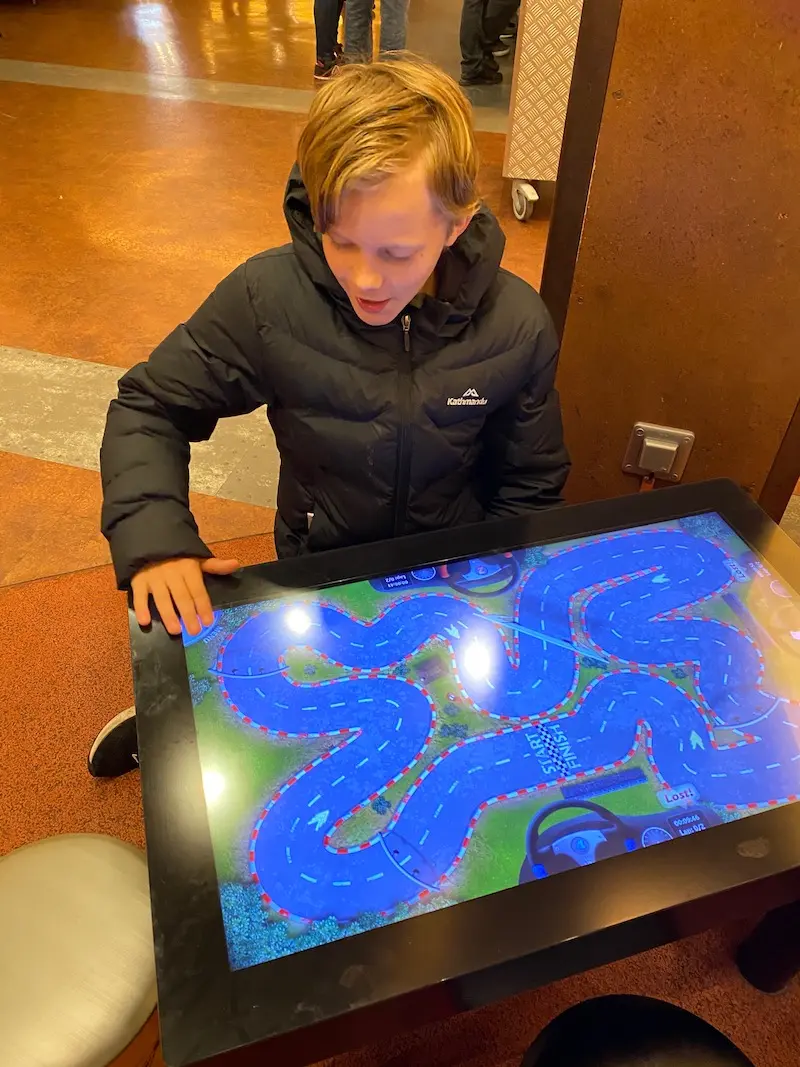 Children's Corner at Disneyland Paris Santa fe hotel
With video games…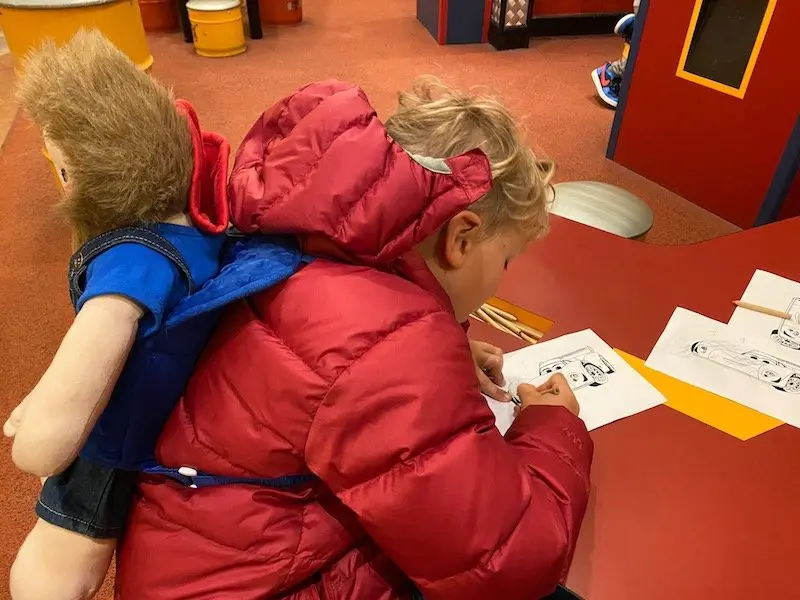 Disney coloring in
And Disney CARS coloring in too.
You can also find Children's Corner showing the Disney Channel in French and English too at the Disneyland Paris Hotel Santa Fe.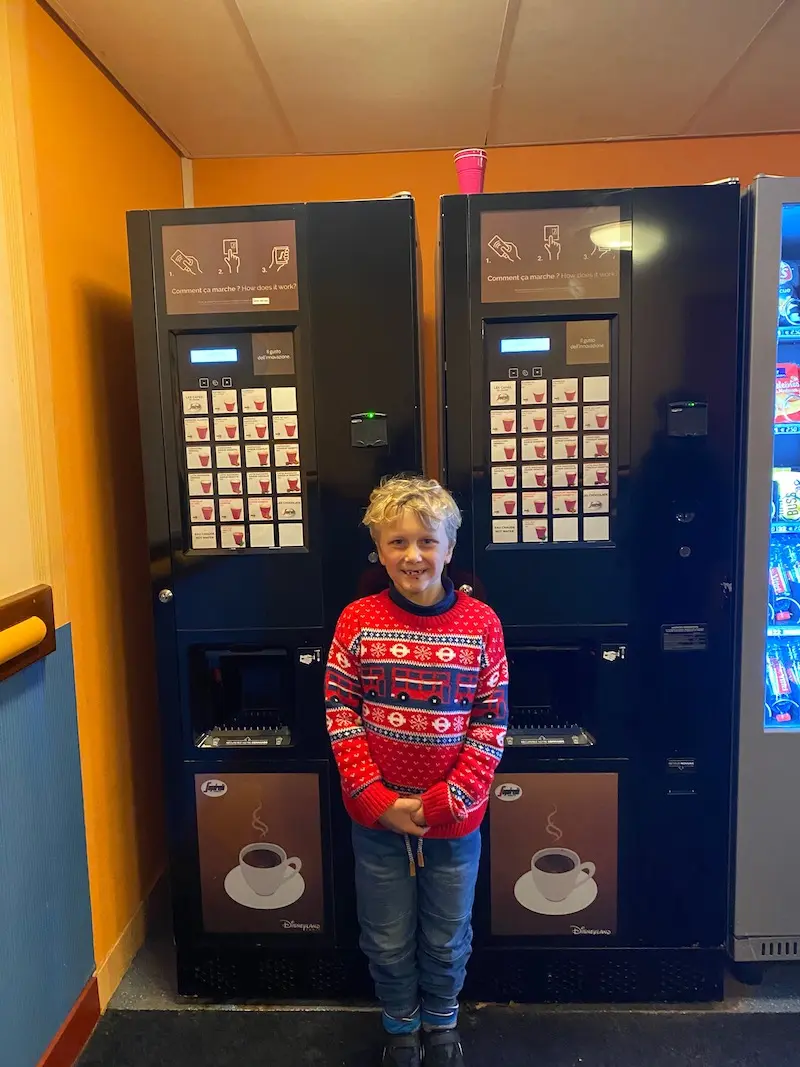 No. 9: Disney snacks machines
Find snack vending machines and hot beverage dispensers in buildings 14, 33, 46 and 54.
Just the thing when you can't go far but need a little chocolate something.
Extra charges apply.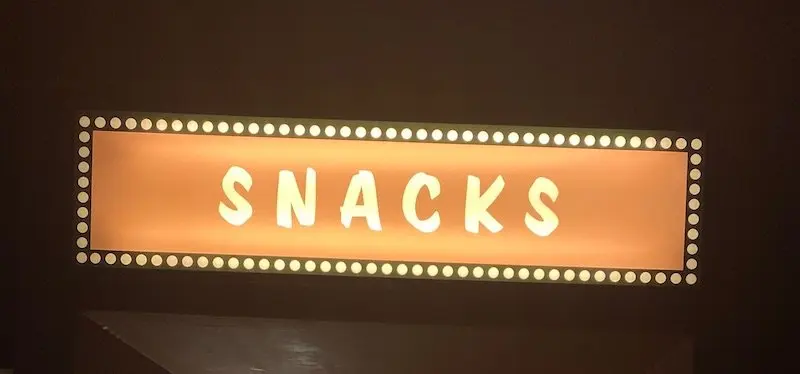 Snacks galore
Look out for the SNACKS signs to find the treasure trove of deliciousness.
(Pictured above)
Hot tip: There are no tea or coffee facilities in your room, but you DO receive one hot drink per person per day from the hot drink vending machine.
Take your Magic Card room key with you to redeem.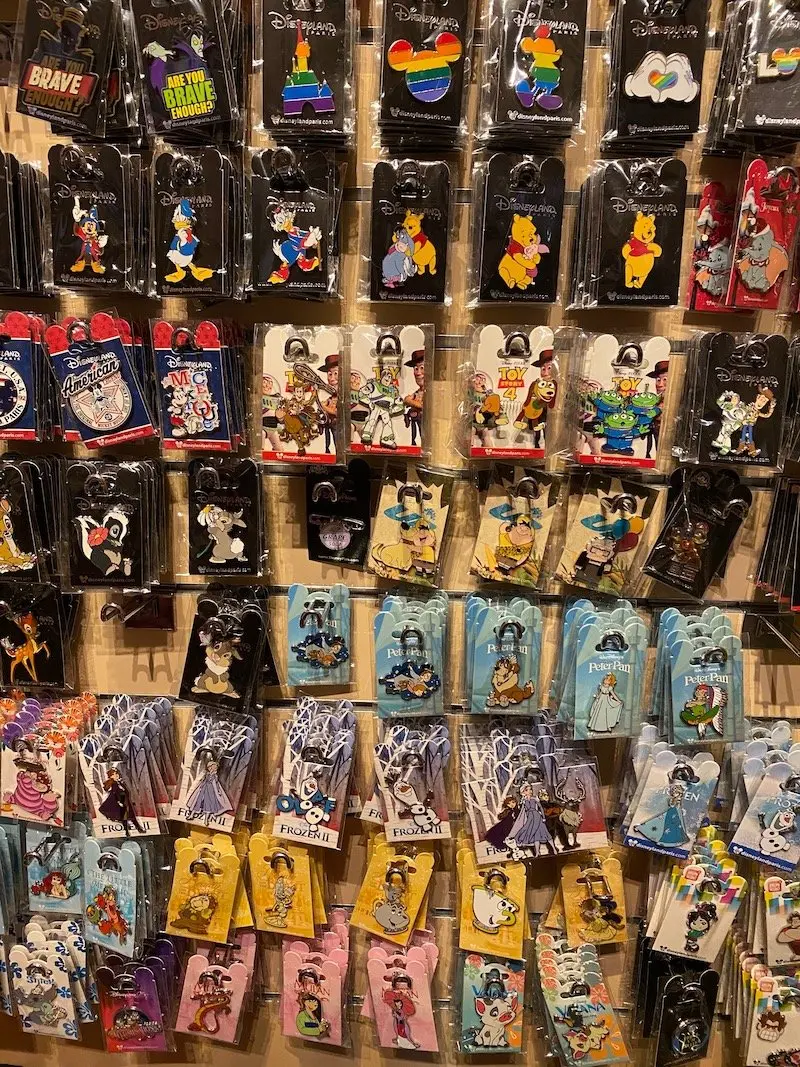 No.10: Souvenir Shopping at Santa Fe Hotel Paris Disneyland
Visit Trading Post Boutique at Santa Fe Hotel to find a big range of Disney souvenirs.
My boys LOVED seeing all the different Disney pins on offer.
Plus all the Disneyland Paris plush toys.
You can also buy stamps, baby goods and toiletries.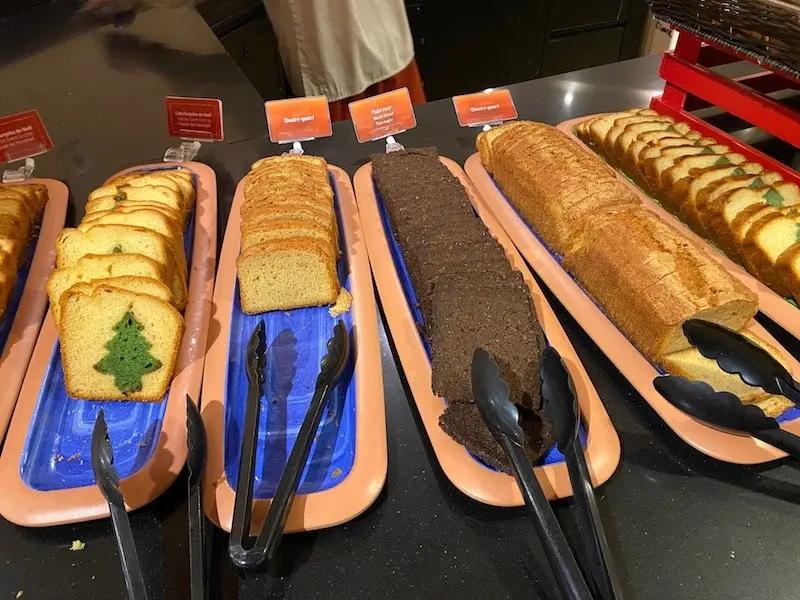 No.11: Disneyland Paris Christmas!
Is there anything better than visiting Disneyland when it's Disney Christmas time?
It's the BEST time of the year and Disney is known for it's attention to detail and super fun Christmas styling.
There's all kinds of pop up surprises when you stay in a Disney hotel too, like THIS ONE.
Christmas tree bread!
Related: Ultimate Guide to Disneyland Paris Christmas Events & Shows!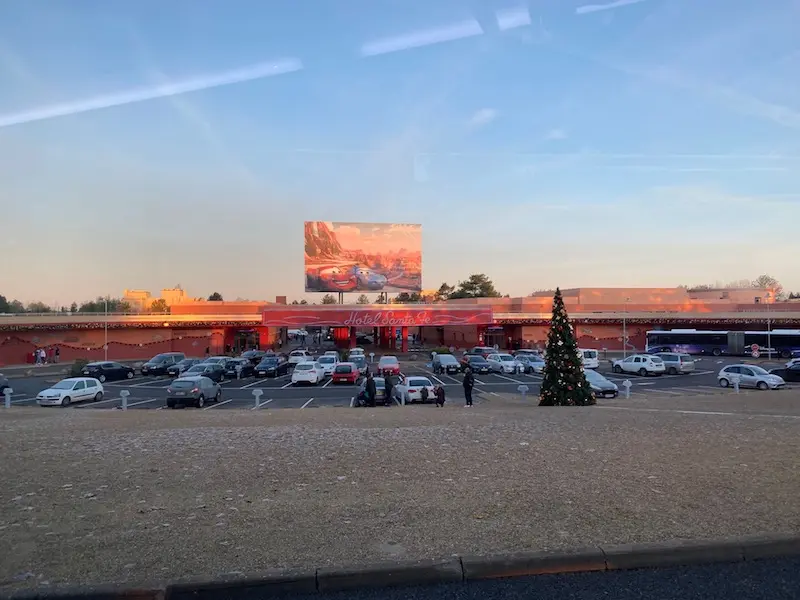 THE INSIDE SCOOP: Disneyland Paris Hotel Cars
Correct at time of publication on Roam the Gnome. Please check with venue for updates. We apologise in advance if there have been any changes we are unaware of. All prices in euro, unless otherwise stated
Address: Disney's Hotel Santa Fe Avenue Robert Schuman – Coupvray,77700
Website: Click here
Luggage room: There's a free 24 hours luggage room available. Staff there were wonderful and super helpful!
There's a 24 hour reception
Visit the information desk to book tickets for shows and excursions
Plug adaptors, bottle warmers, baby's cots, bed barriers, and extra linen are all available by request
There's a safe in every room
FREE WIFI is in every room
Check out time is 11am.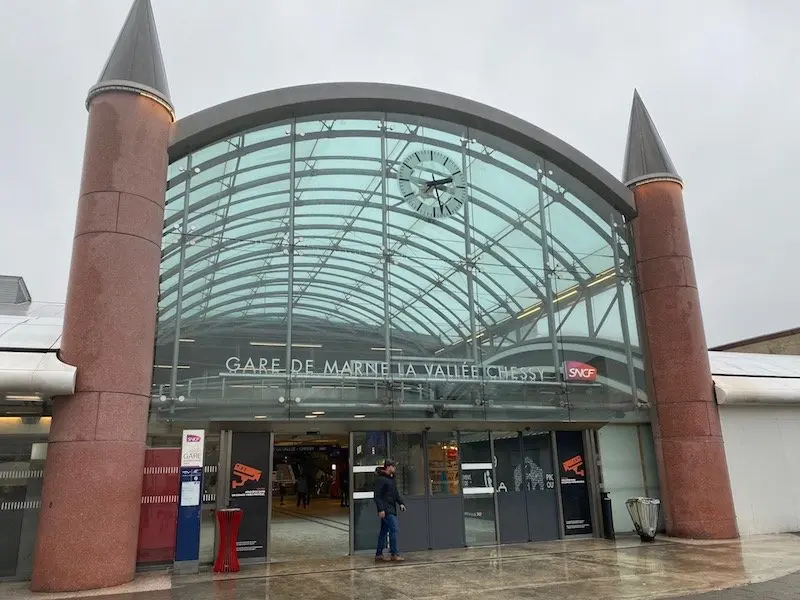 How to get to Santa Fe Hotel Paris Disneyland
By Train and Shuttle:
The shuttle bus for the Disneyland Hotel is available after the Eurostar arrival and before Eurostar departures for the Direct Service only from London.
If you are making your way from Paris independently, catch the train to Marne la Vallee Chessy train station and walk to the shuttle bus depot, and catch the shuttle bus to the hotel from there.
By foot:
It is possible to walk from the train station to the Santa Fe hotel if you prefer.
It takes around 15-20 minutes.
By Car: Click here for directions with google maps
Disneyland Paris parking
There's free 24 hour parking available at the hotel.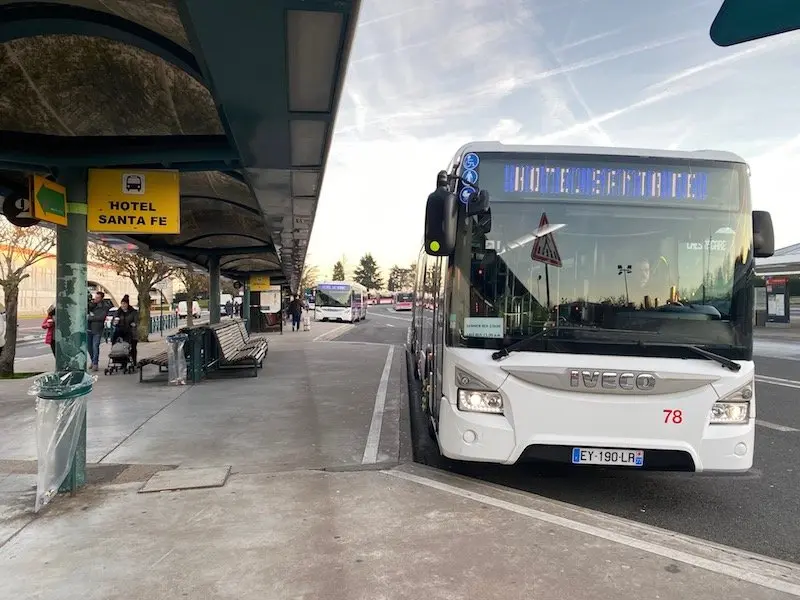 How to get to Disneyland Paris from Santa Fe Hotel (and back)
By shuttle bus from Disneyland Paris hotels: Catch the free shuttle bus from outside the hotel
By foot: It's a 15-20 minute walk
Disney Santa Fe Hotel Map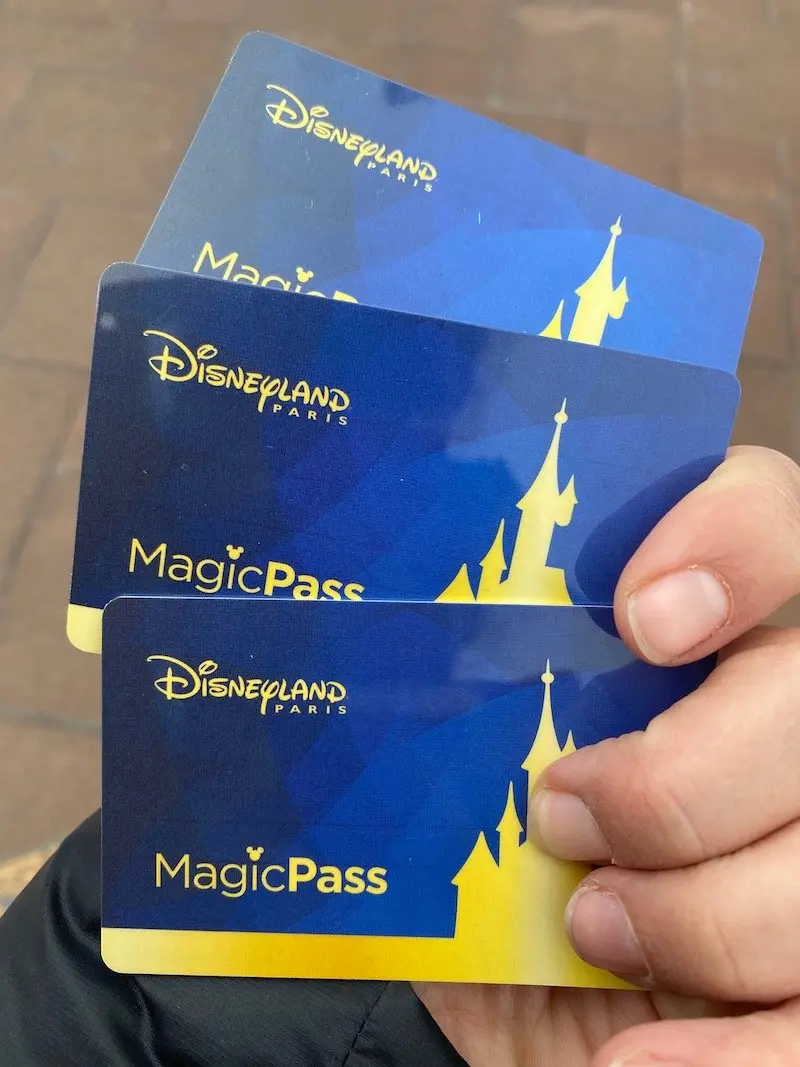 Toadstool Rating: Fun Disneyland Paris Hotel
There are other hotels beside Disneyland Paris that are better suited to the budget, but for a fully immersive Disney experience, book this one.

More hotels near Paris Disneyland
If you can't book a stay here, shuttle buses also travel to these hotels just outside the ring road:
Hotel Explorers Hotel Algongquin
Magic Circus Hotel Paris
Dream Castle Hotel Paris
Hotel l'Elysee Val d'Europe
Aparthotel Adagio Paris val d'Europe
Radisson Blu Hotel Paris Marne-la-Vallee
Note: Disney's Rank Davy Crockett doesn't have a shuttle bus service. Access is by car only.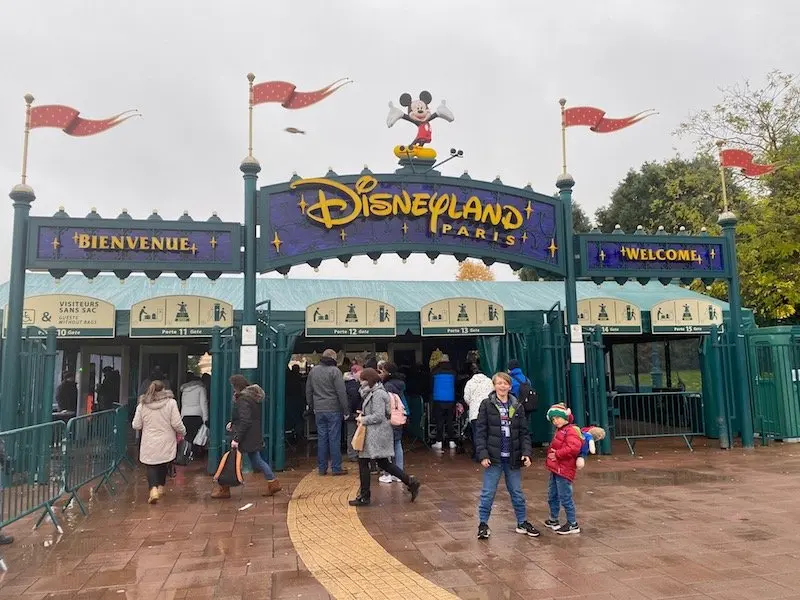 Looking for more Disneyland Paris tips?
Click the blue links below for more Paris Disneyland tips. (coming soon)
The Best Walt Disney Studios Paris Rides & Attractions

Catching the Eurostar to Paris Disneyland