INSIDE: Everything you need to know about the Disney Princess Fancy Dress shop "La Chaumiere des Sept Nains" Disneyland Paris
DON'T MISS this divine Disneyland Paris shop full of magic, intrigue and new Disney Princess Dress up costumes!
If your children are begging to dress up as a princess, you MUST visit this dress up costume shop in Disneyland Paris, and pick out an outfit.
We have NEVER seen such a divine enchanting collection of Disney dresses & dress up outfits.
In the most enchanting of shops.
Take a look inside La Chaumiere des Sept Nains at Disneyland Paris below!
Disclosure: This article contains affiliate links. If you make a purchase after clicking on one of these links, we may receive a small commission at NO extra cost to you.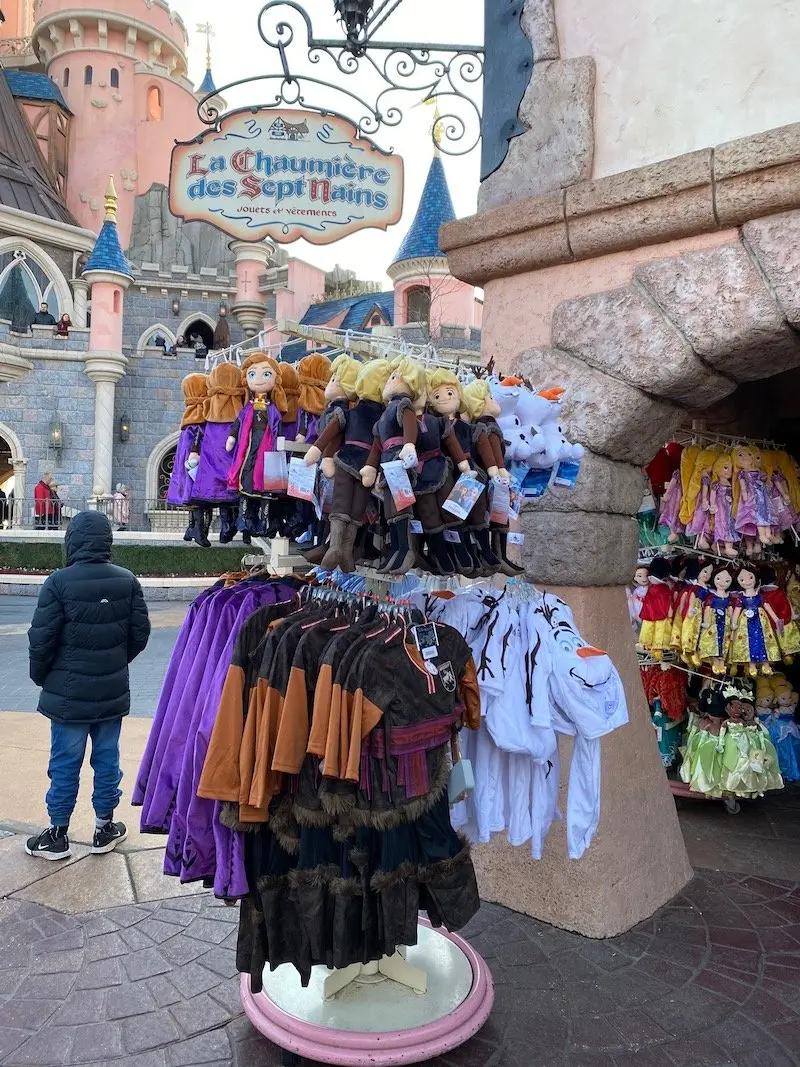 Guide to La Chaumiere des Sept Nains Disney Princess dress up costume store
The interior of the shop is named after the home of the Seven Dwarfs.
And there's magic to be found inside.
This Paris Disneyland shop is one of the best places to buy Disneyland Paris souvenirs for family and friends, especially those who LOVE to dress up in magnificent outfits.
Hot tip: Click here for our complete guide to Disneyland Paris gifts & souvenirs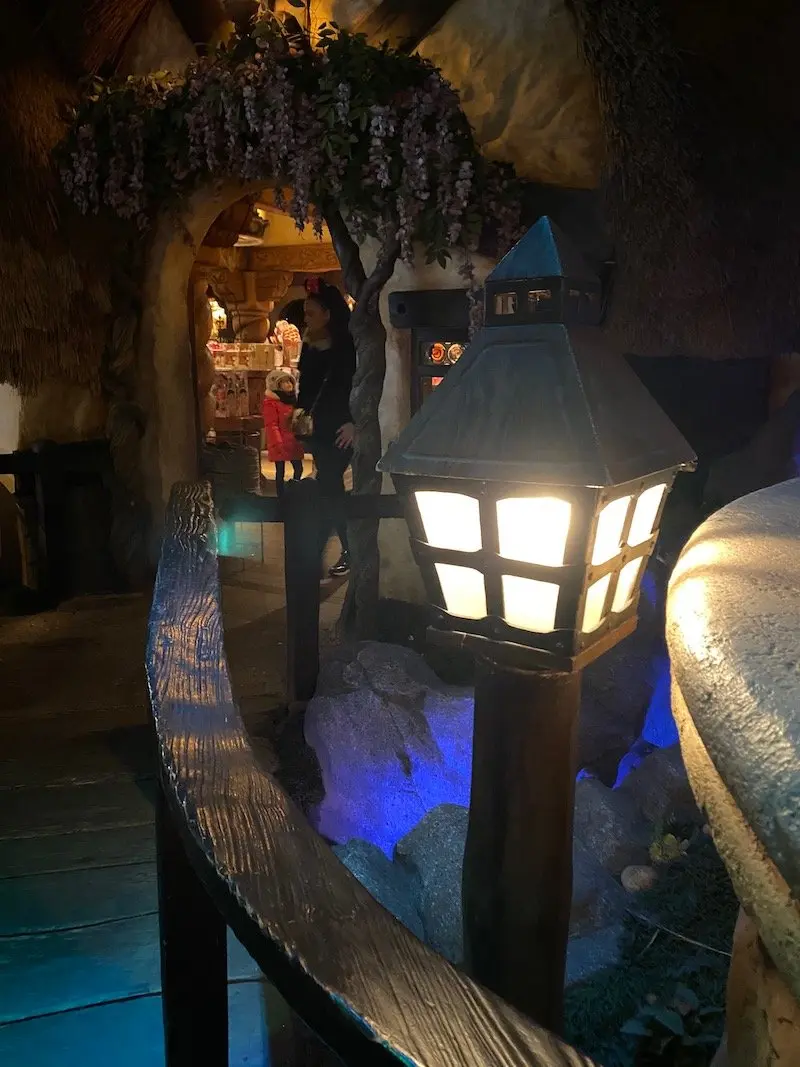 Seven Dwarfs cottage is dark and mysterious, with lanterns lighting the way.
Hot tip: Follow the pathway along until you reach the hidden reaches of the store to find ALL kinds of Disney Princess gifts, and MORE Disney costumes for kids too.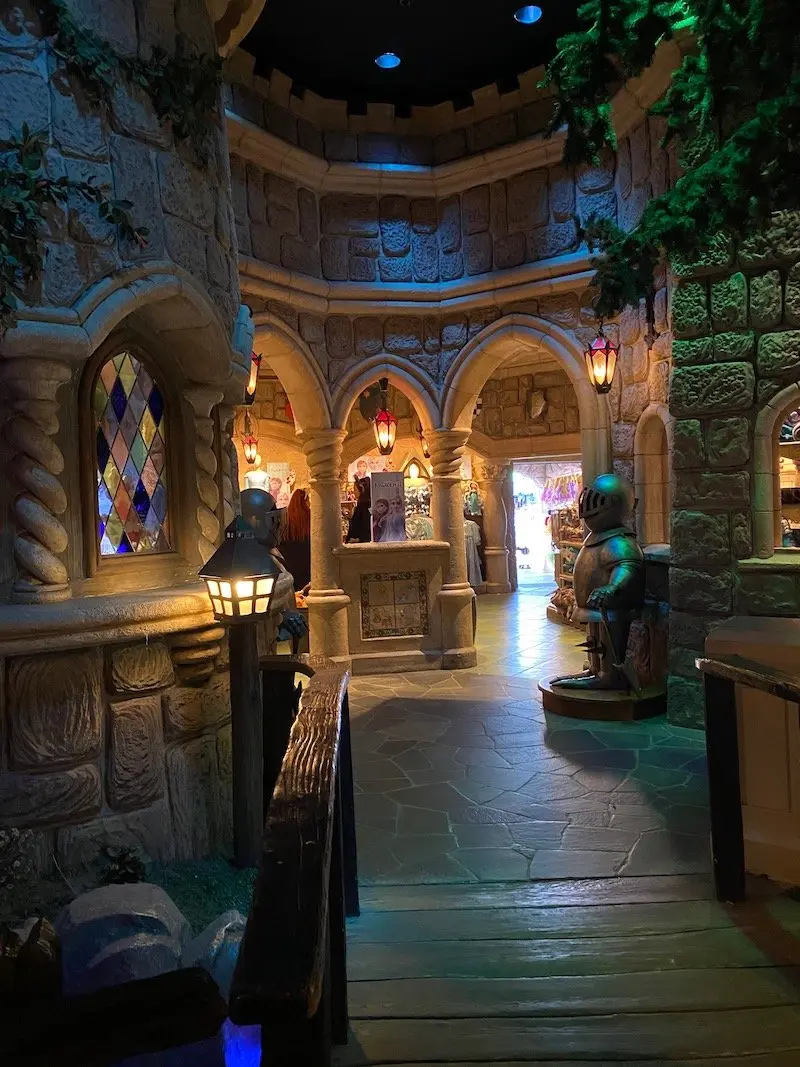 The Cottage of Seven Dwarfs shop at Paris Disneyland
Strangely, it seems like the designers were influenced by the interior of Beast's Castle too.
With stone building blocks, and archways, and stained glass….
(Look out for the Suit of Armour too!)
---
RELATED: The Complete Guide to Disneyland Paris for kids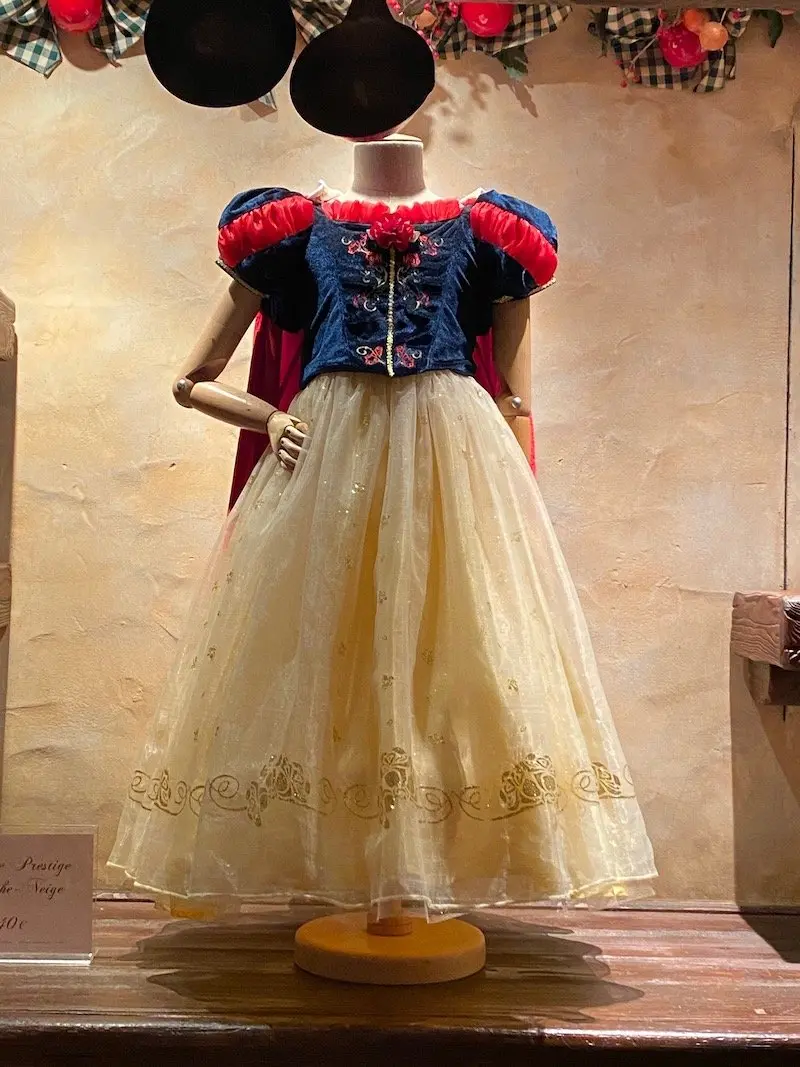 THE INSIDE SCOOP: Where to buy Disney Costumes for Kids?
Correct at time of publication on Roam the Gnome. Please check with venue for updates. We apologise in advance if there have been any changes we are unaware of. All prices in euro, unless otherwise stated
This elegant styling is the perfect backdrop to the gorgeous displays of classic Disney Princess dresses, including this vintage style Snow White dress up dress.
Hot tip: DO NOT FALL IN LOVE with the first Disney Princess dress you see.
You will find numerous variations of a number of Disney Princess outfits to wear throughout the Paris Disney dress store, at a range of different price points.
Take them all in before making any purchasing decisions!
Keep reading below to see some of them.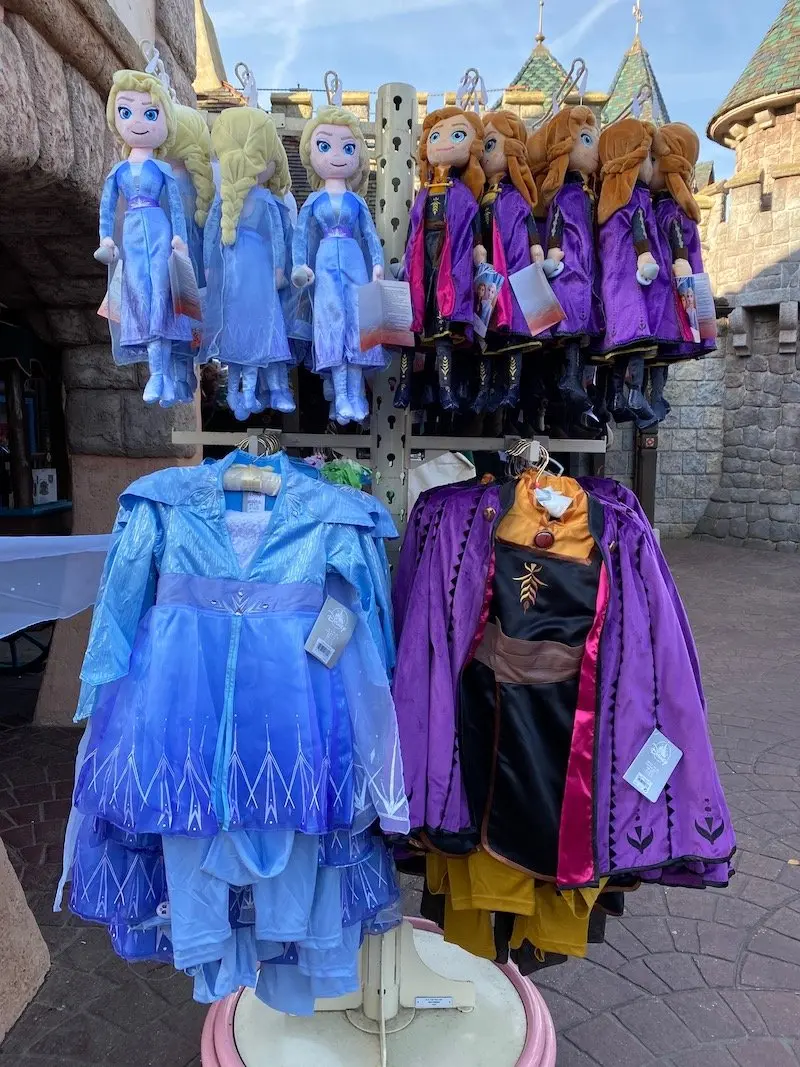 No.1: Elsa Dress Up Dress
Elsa and Anna dress up clothes are some of the most popular Disney Princess dress up costumes, and you won't be disappointed by the selection here.
These deluxe Frozen Princess dress up costumes for Elsa and Anna cost €79.99 ($USD 97.00 or £73 pounds)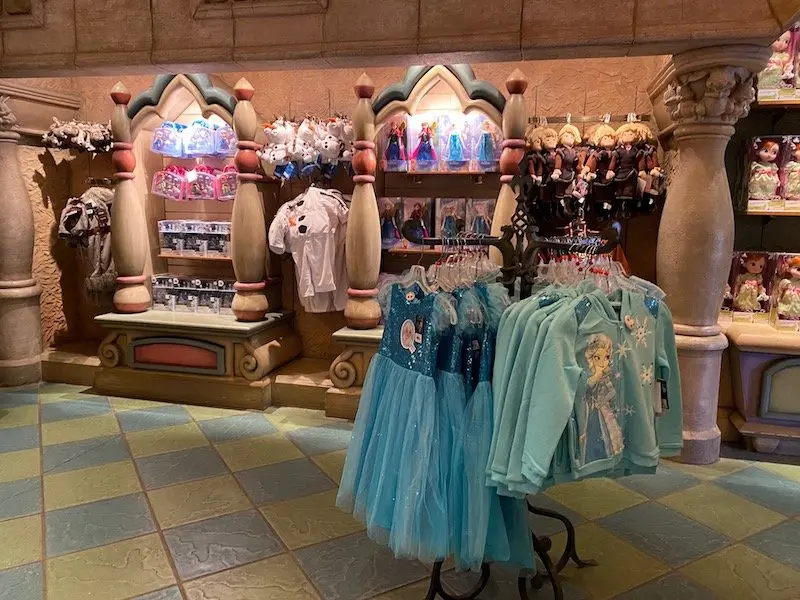 Frozen Princess dresses & clothing
There's options to suit every budget, and an exclusive range of Frozen clothing for those who might not want a dress up but who want the Frozen magic in their life too.
Elsa Boots Disney Store
Don't leave the Disney Paris store without Elsa boots or you don't have the complete outfit!
There wasn't any golden-haired wigs visible in the store, so you might have to buy that separately.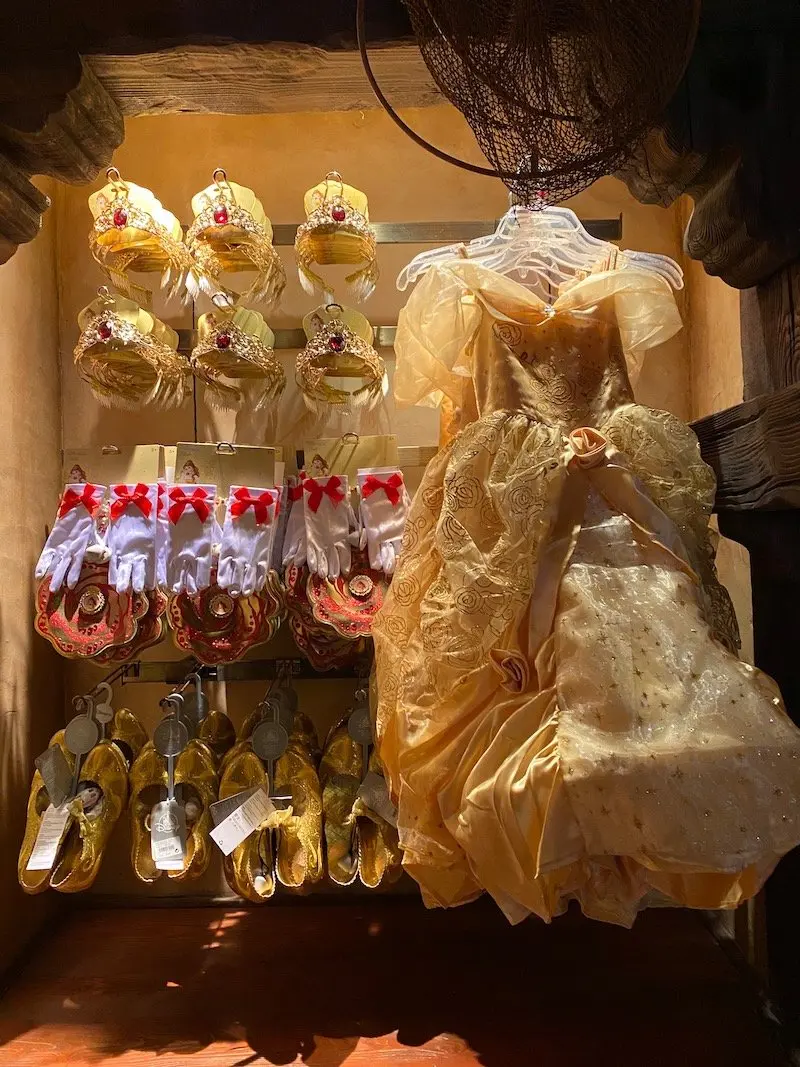 No.2: Disney Princess Belle dress up
Another spectacular dress is one of the Disneyland Paris Belle costumes.
This golden number can be paired with:
a golden tiara
a glove and cameo brooch set, and
golden slipper shoes.
Dress alone is priced at €79.99 ($USD 97.00 or £73 pounds)
Accessories extra.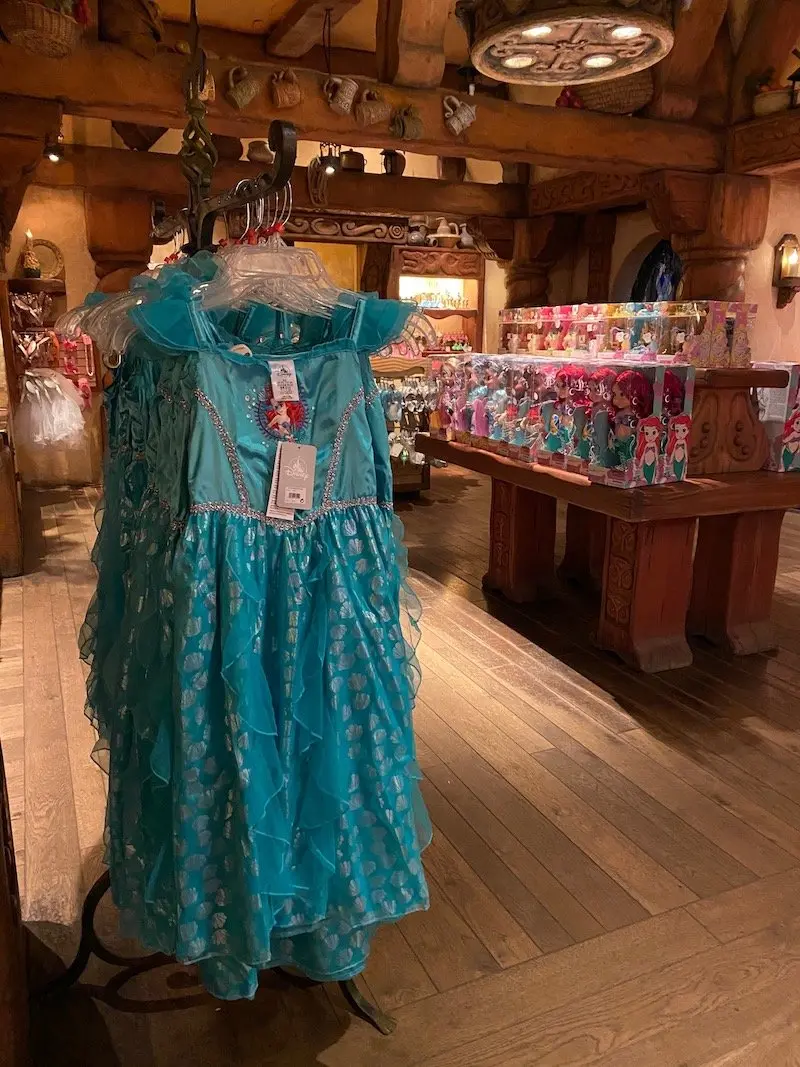 No.3: Disney Princess Ariel dress up costume
My favourite Disney Princess Ariel costume features waves of tulle attached to a simple bodice, with an Ariel motif front and center.
This pretty underwater dress costs €35.99 ($USD 44.00 or £33.00)
Once again, you'll need to purchase the curly red Ariel wig separately – find it online here.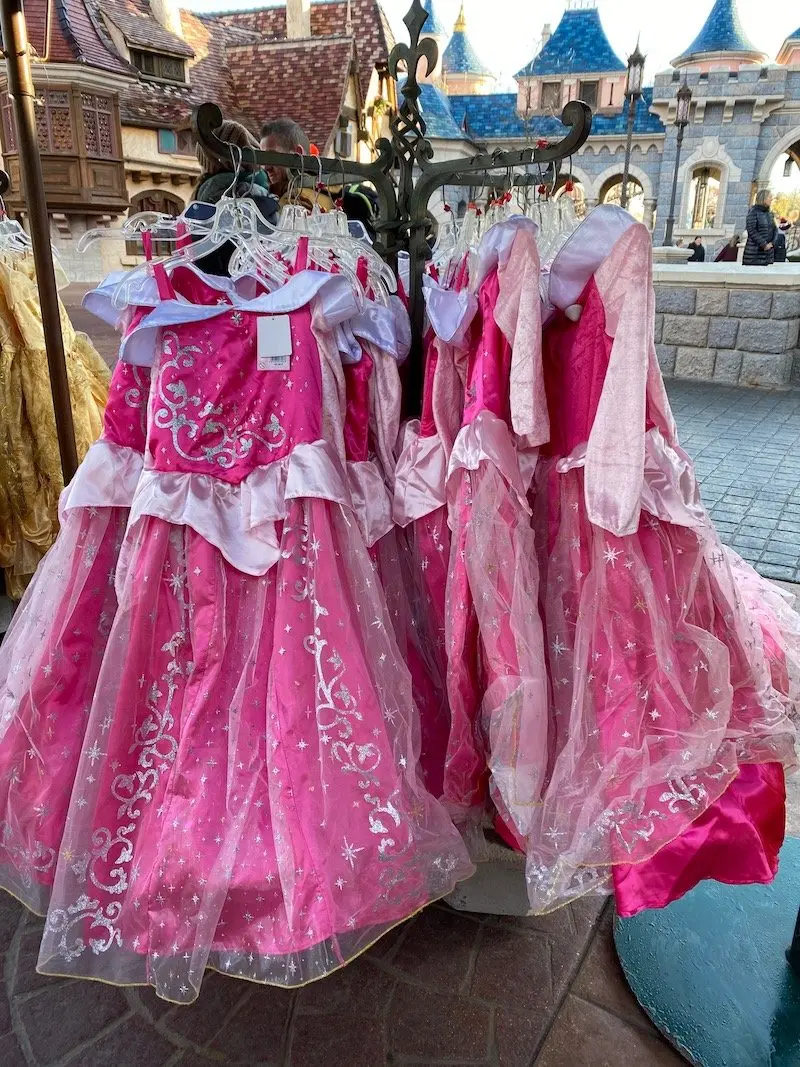 No.4: Disney Princess Aurora dress up
This Disney Aurora costume dress is up there with the most divine outfit in the store.
Which little child could resist this pink hued number that flounces in all the right places?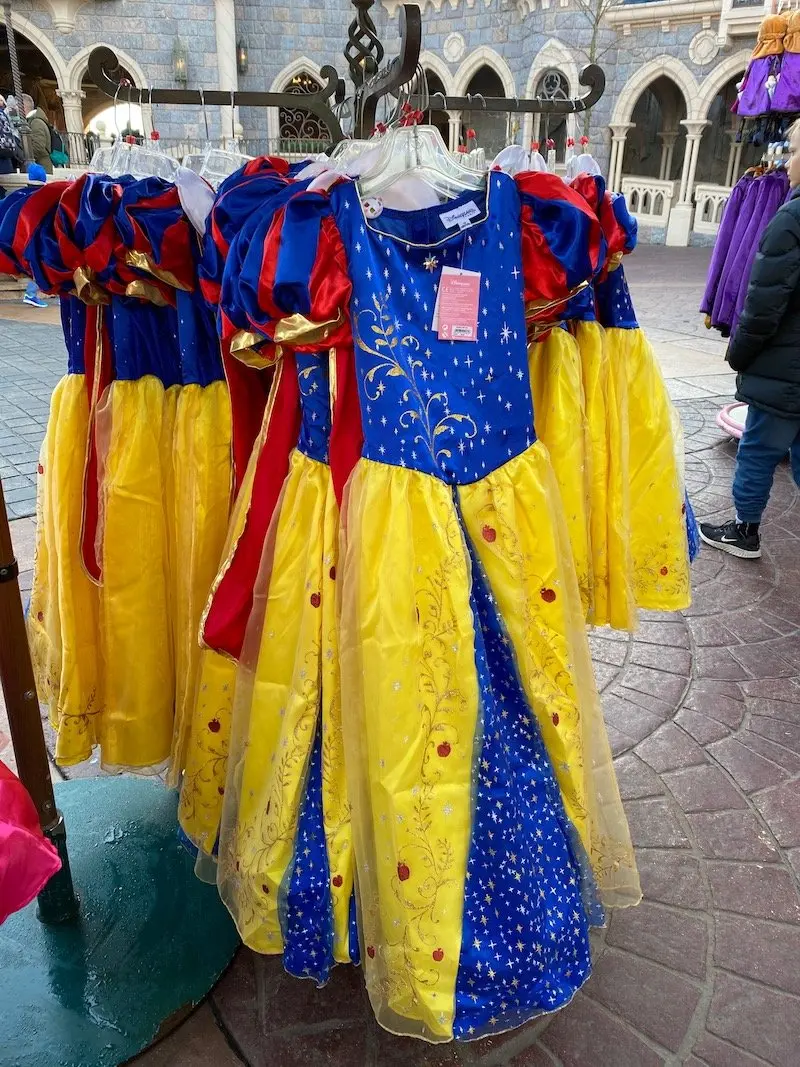 No.5: Snow White Dress Up
If there was ever a Disney Princess Snow White costume for adults that I'd snap up in a second, it would be Snow White.
The delicate golden embroidery with the tiny apples, the starry blue material, and those puffy sleeves!
Oh my.
At €69.99, it's a deluxe Disney Princess costume but worth every penny.
(That's $USD 85.00 or £64.00)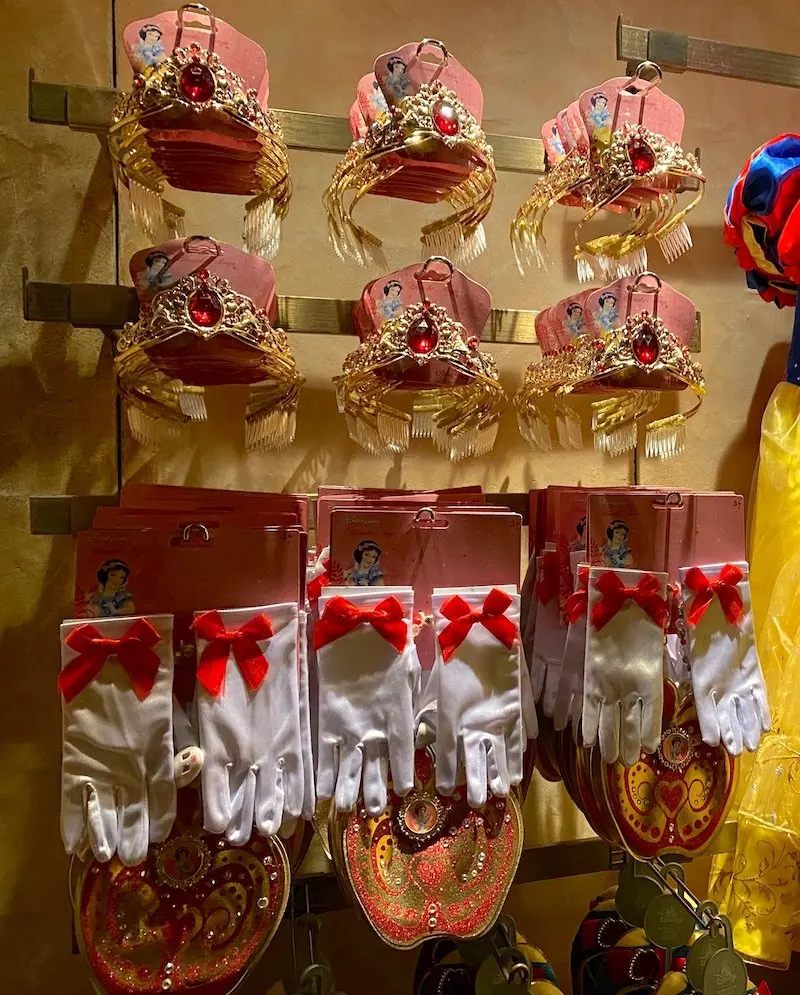 Snow White Accessories
In store, you can also buy Snow White accessories including:
Snow White tiara with jewel
Snow White gloves with a Snow White cameo brooch
Snow White shoes
But you'll have more luck with the Snow White wig here.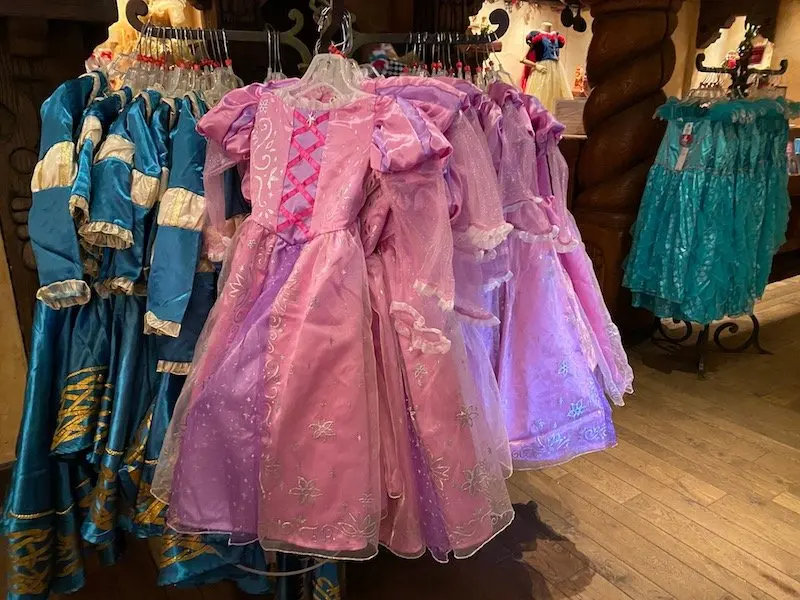 More Unique Disney Prince and Princess Dress Up costumes
Tucked around the outskirts and in the corners of the store were MORE Disney Princess dress costumes and outfits.
No.6: Disney Princess Rapunzel Outfit
The ribbon crossover on the front of this dress, along with the tulle for the arms, makes this one a winner.
Shimmering pinks and purple hues sparkle like a star too.
Divine.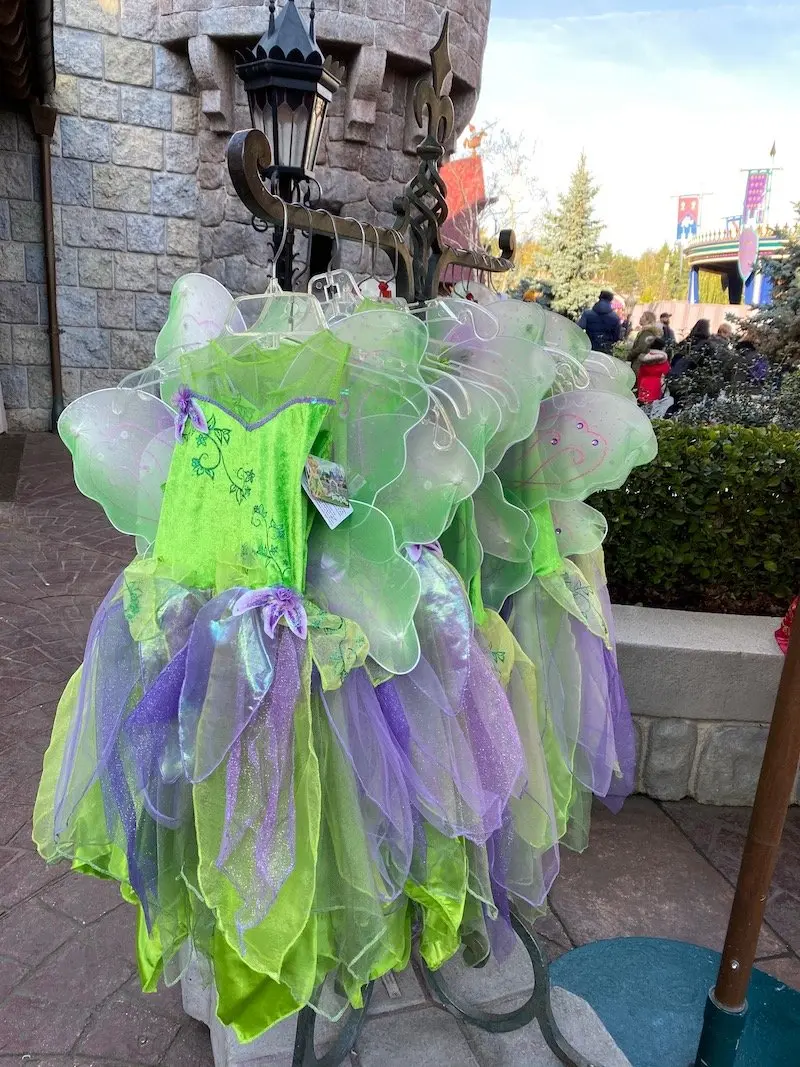 No.7: Tinkerbelle dress up costumes
Adorable, sweet Tinkerbelle costume with multicolored wings of purple and green.
It's a sight to see!
Don't forget to pick up a one-size-fits-all Tinkerbelle wig too.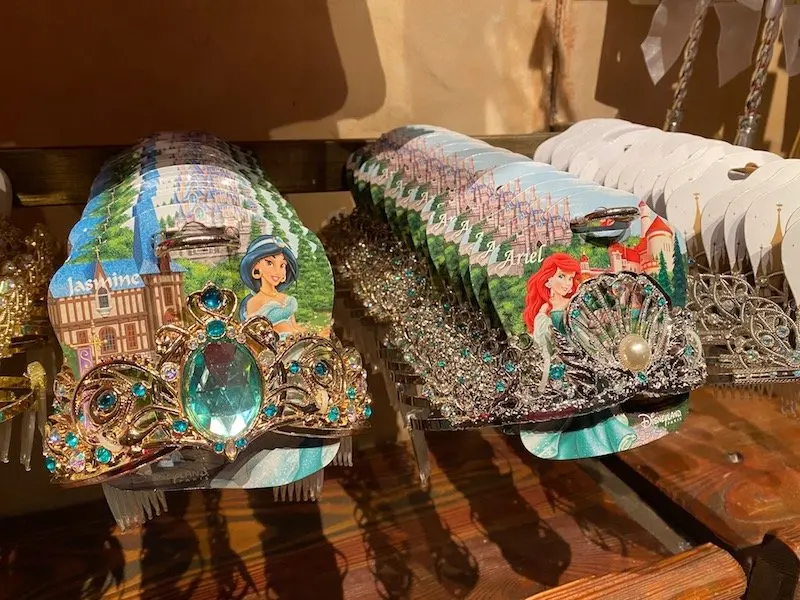 No.8: Princess Jasmine dress up
Disney Princess Jasmine has one of the best outfits of all – a two piece pants suit in the cool colors of teal and gold!
To finish the look, pick up a deluxe Jasmine wig featuring a long shiny black-hued plait and add a Princess Jasmine Tiara on top.
The Jasmines tiara's cost €24.99 in-store ($USD 30 or £22.00)
Of course, no Arabian princess dress up costume would be complete without all the bling:
gold shoes
a golden wrist cuff
fabulous drop earrings in teal and gold, and
a headdress to boot.
Hot tip: The Ariel tiara to go with the Little Mermaid Dress pictured above costs €17.99
( That's $USD 22.00 or £16.50)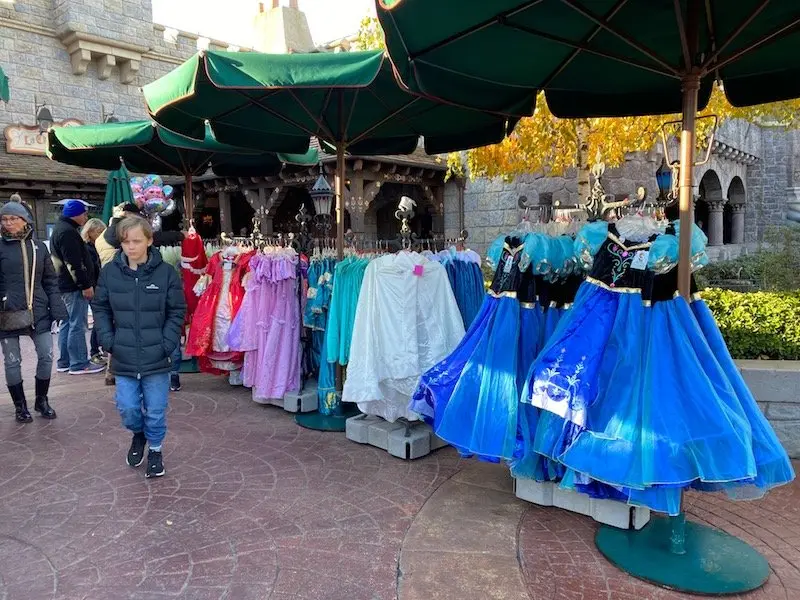 MORE Disney Princess Dress Up Dresses?
You may, or may not, find these Disney dress ups too.
Merida Dress Up
Sleeping Beauty Dress Up
Mulan Dress Up
Disney Princess Tiana Dress Up
Disney Princess Cinderella Dress Up Costume for kids
There must be a Cinderella costume for kids somewhere, but we missed it.
Look out for Disney Princess costumes for babies and Disney princess costumes for teens.
While most dresses are for children aged 3-12, some costumes are suitable for younger teens too, including the brocade capes.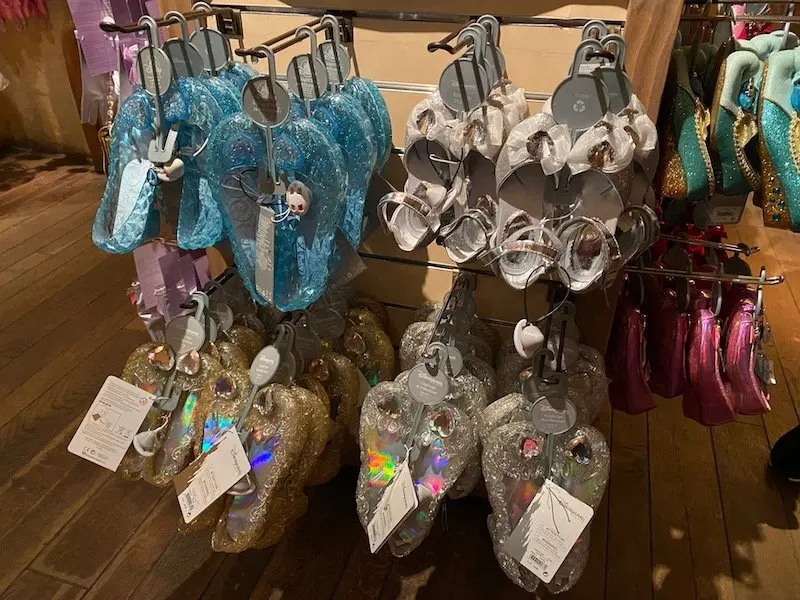 Best Disney Princess Dress Up Shoes
Looking for Disney Princess shoes to match?
Head to the Shoe section and find a big Disney Princess shoe selection, many of which feature GLITTER!
We are won over.
Disney Princess Snow White shoes
Snow White dress up shoes in store cost €24.99 ($USD 30.00 or £23.00)
Worth every penny to a Snow White fan!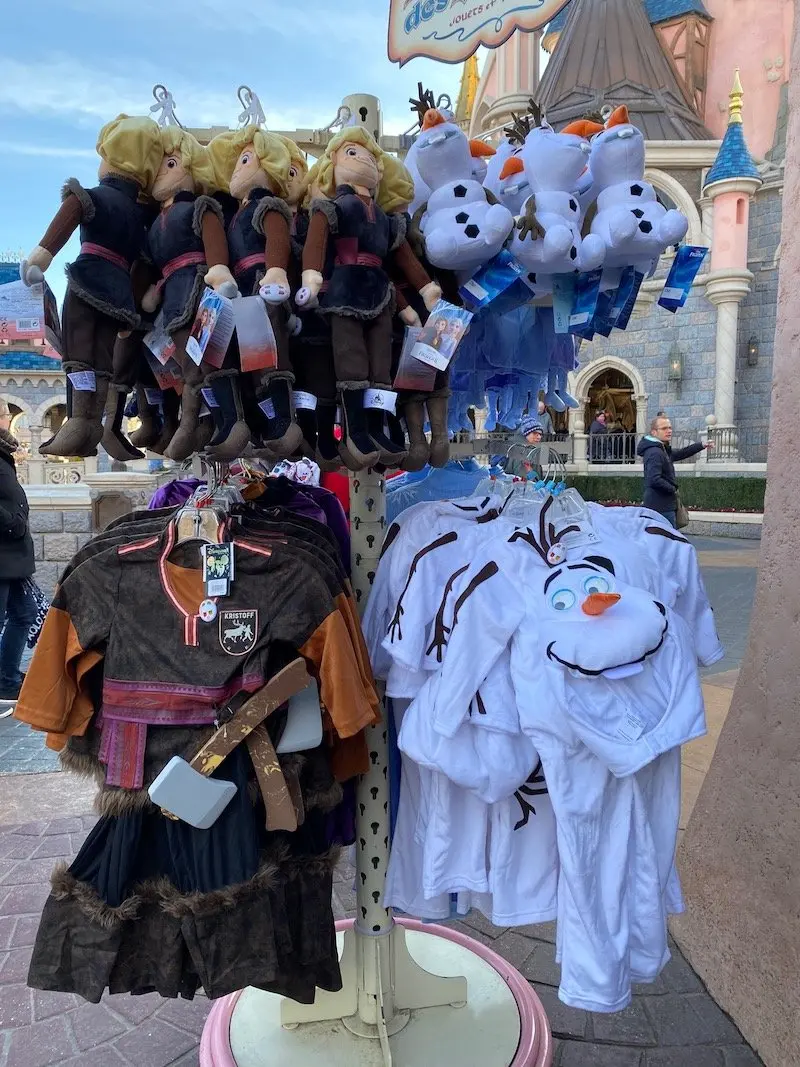 BEST BOYS DISNEY DRESS UP COSTUMES
Looking for Disney Costumes for boys?
There's a couple of options, including this one on the left above.
No.1: Kristoff dress up costume
Kristoff, from Frozen.
Complete with axe.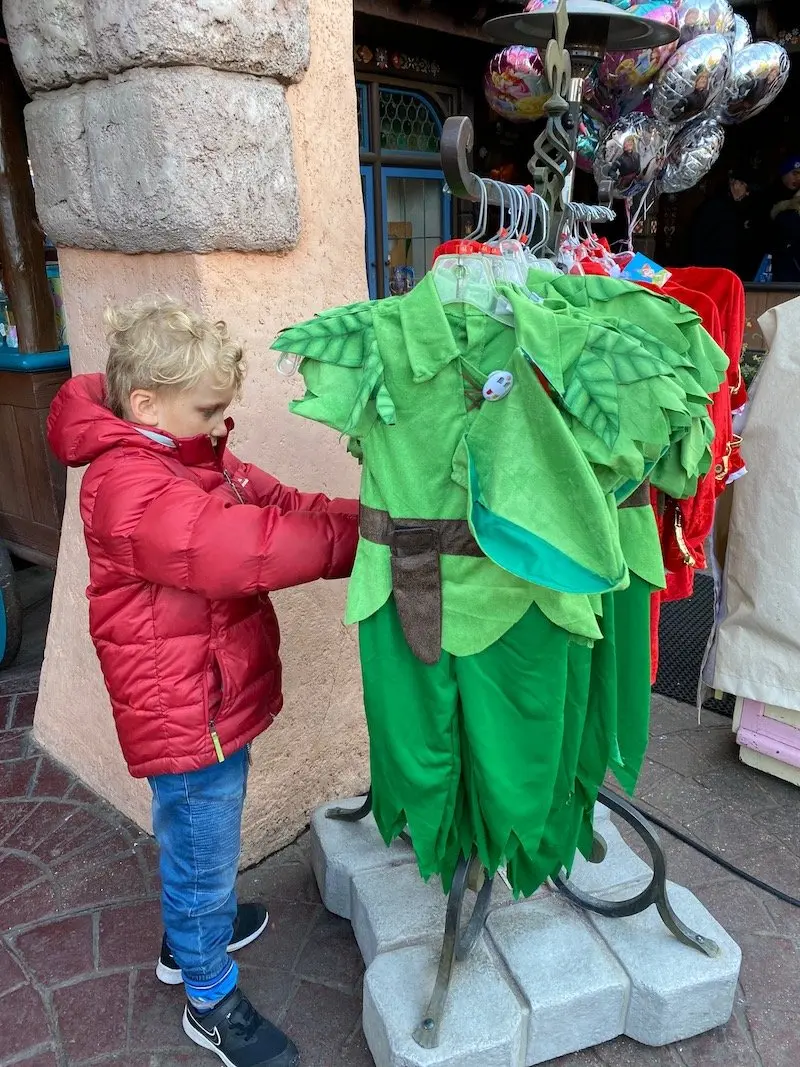 No.2: Peter Pan dress up costume
And our favourite of all the Disney Prince costumes for boys – PETER PAN.
We have a couple of different Disney Peter Pan dress ups at home, but couldn't resist adding THIS version to Jack's collection of fun Disney dress ups!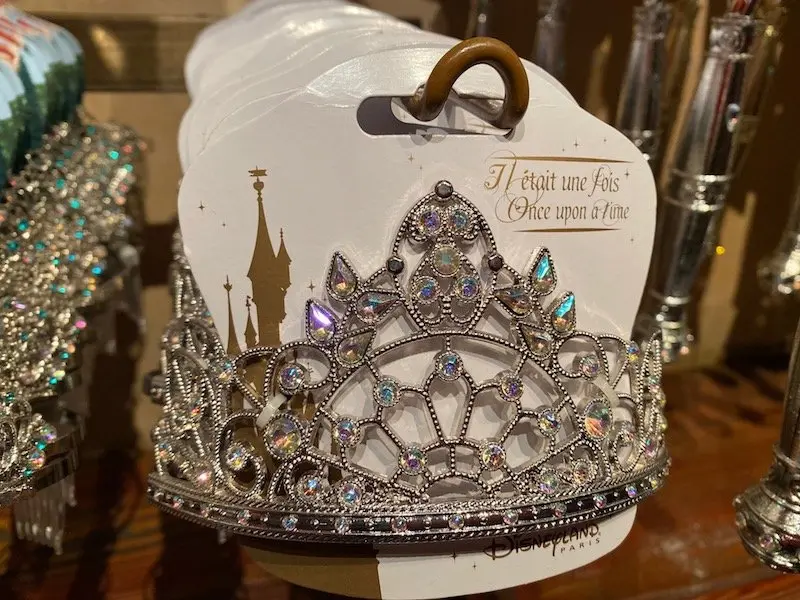 BEST DISNEY PRINCESS FANCY DRESS ACCESSORIES
No.1: Disney Princess Tiaras
A Disney Princess outfit is not complete without one of the Disney Princess tiaras.
This shop has the biggest range of bejewelled Disney tiaras this side of America!
Prices start from €17.99 ($USD 22.00 or £16.50)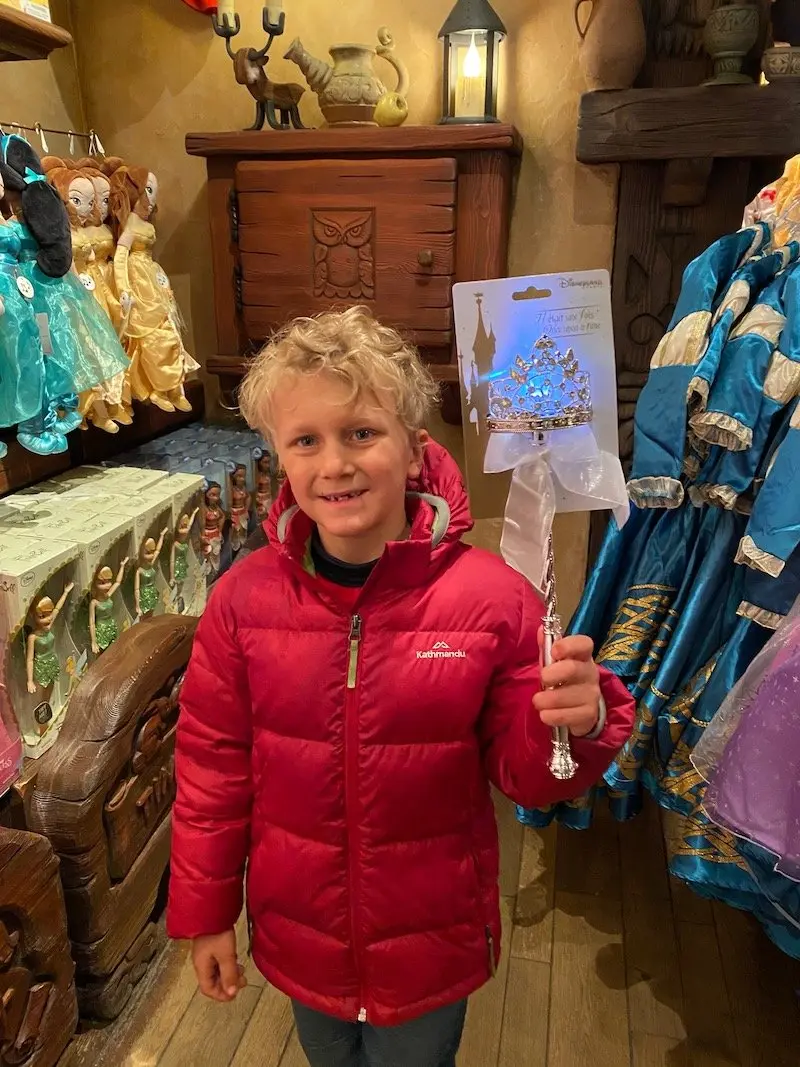 No.2: Disney Princess wands
Need a light up wand to go with your outfit?
They're all here.
In silver, gold, and rose gold.
Find similar on Amazon: Snow White Keys to the Kingdom wand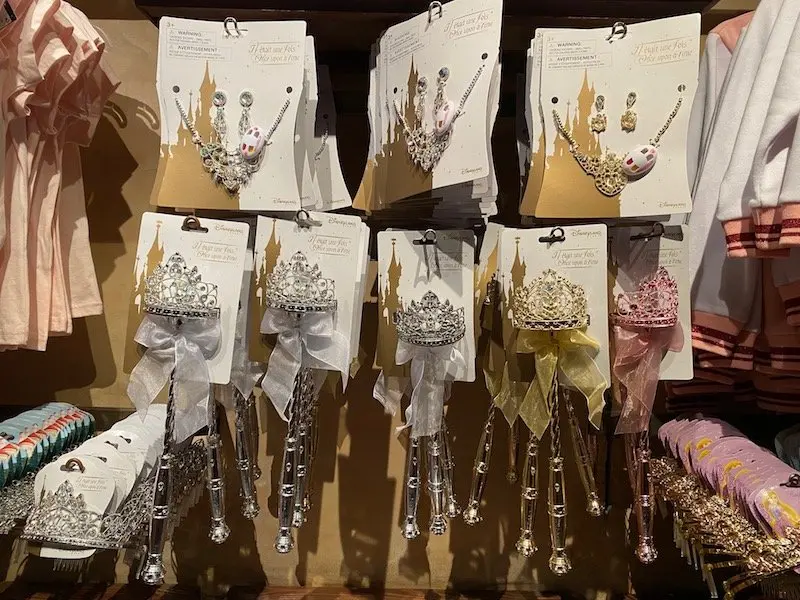 No.3: Disney Princess jewelry
There's also a range of:
matching Disney Princess jewellery, and
Disney Princess Bag options.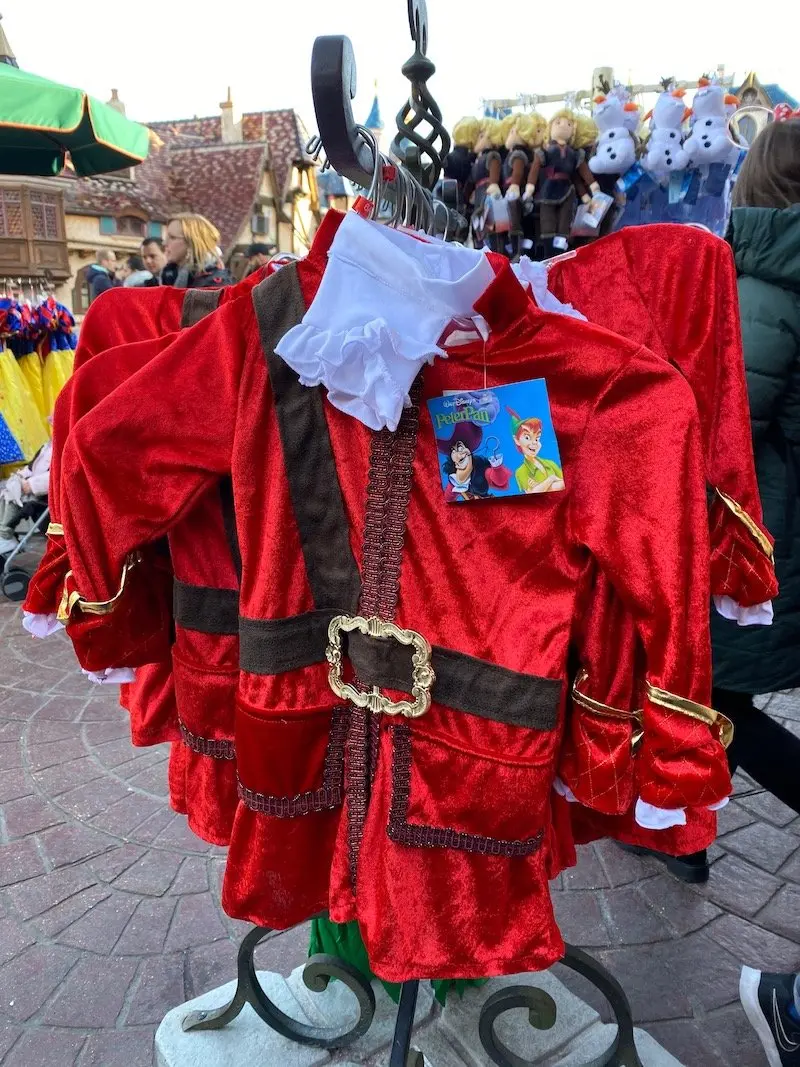 DISNEY CHARACTER COSTUMES
It can be hard to find dress up Disney characters for boys, but there's a couple of options here.
The Captain Hook dress up costume is a one-of-a-kind.
A costume that any Disney loving child would love!
The other obvious option is the Olaf dress up costume.
Sadly, there's no Winnie the Pooh dress up, or Mickey, or Minnie or any of the famous Disney characters here either.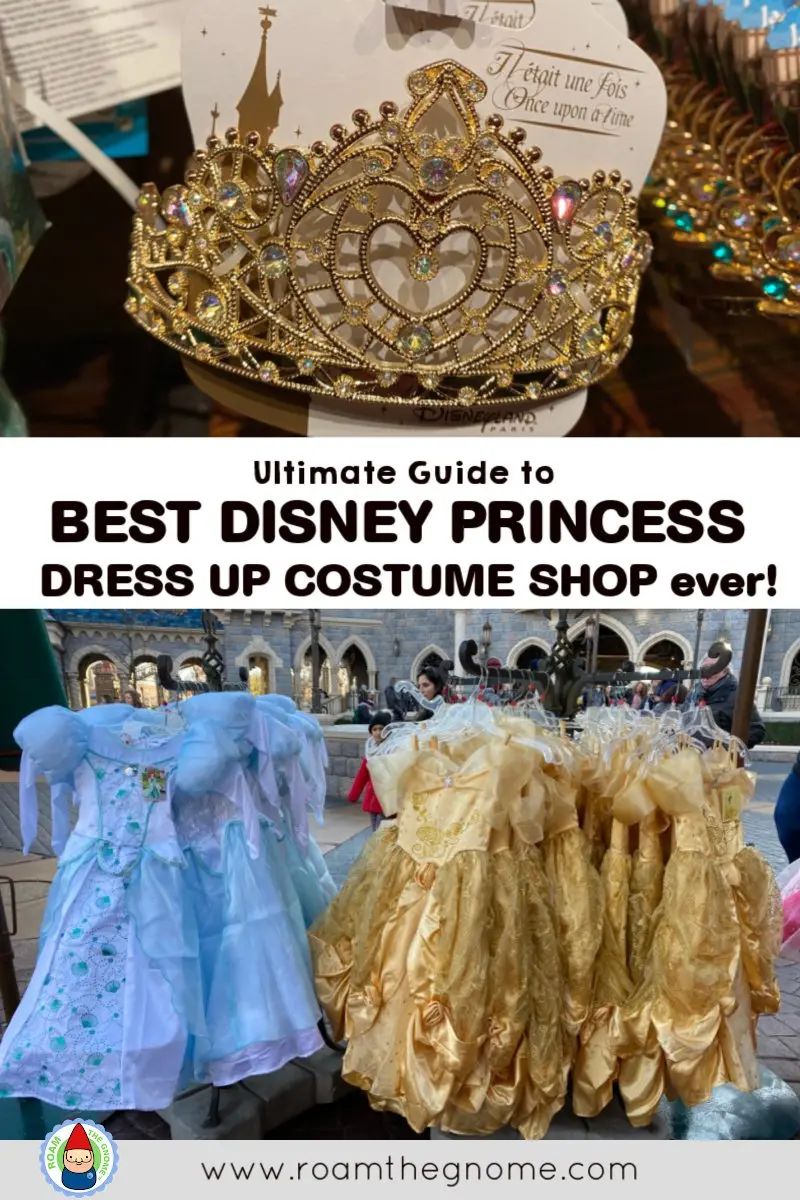 DISNEY DRESS UP ADULTS?
One of the most common questions we are asked is if there are Disney Costumes for adults in this shop?
Sadly, the answer is no.
Check out the best places to buy Disney dress up costumes for adults here. (Update coming soon)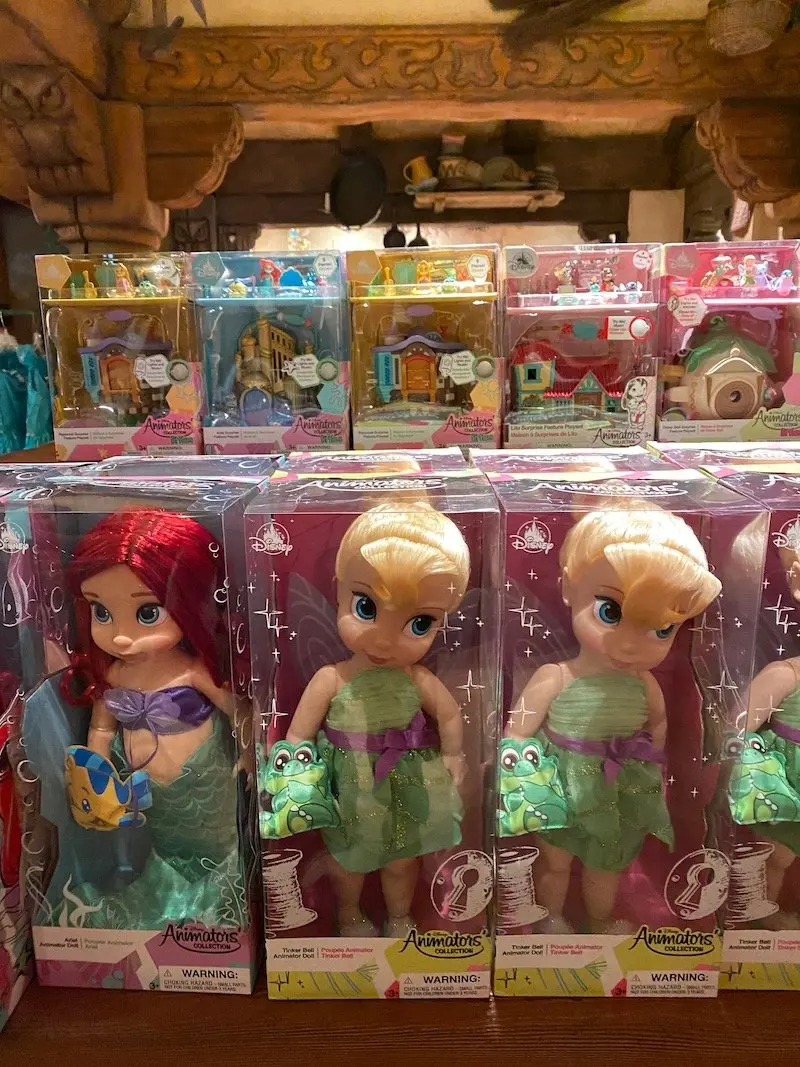 MORE of the Best Disneyland Paris souvenirs
Stop by this Disneyland Paris souvenirs shop for a squizz, even if you AREN'T interested in buying Disney dress up clothing.
This treasure trove is home to LOTS of other Disney Princesses gifts and souvenirs.
No.1: Disney Animators Collection
Add to your Disney Animators dolls collection with one of these beauties.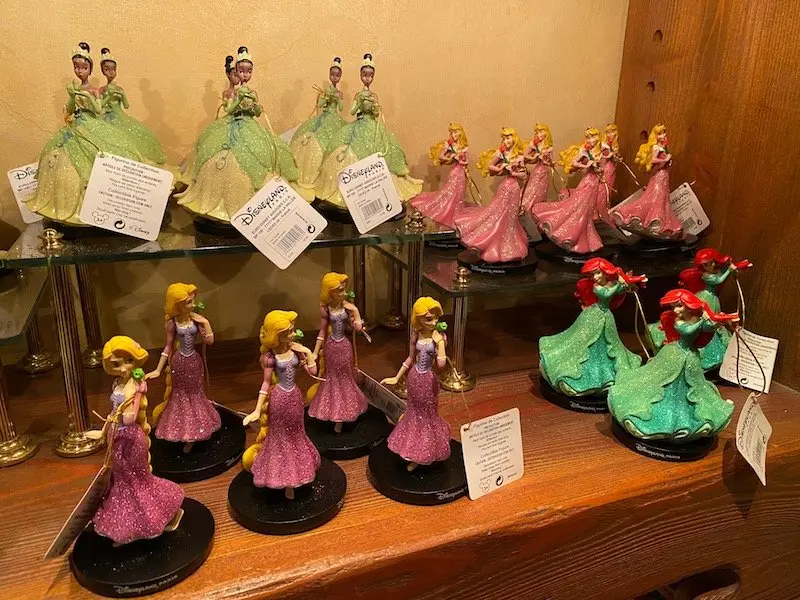 No.2: Disneyland Paris Disney Princesses ornaments
Sometimes, all you need is a little bit of Disney magic at home to make you smile.
These Disney Princesses statues will do just that.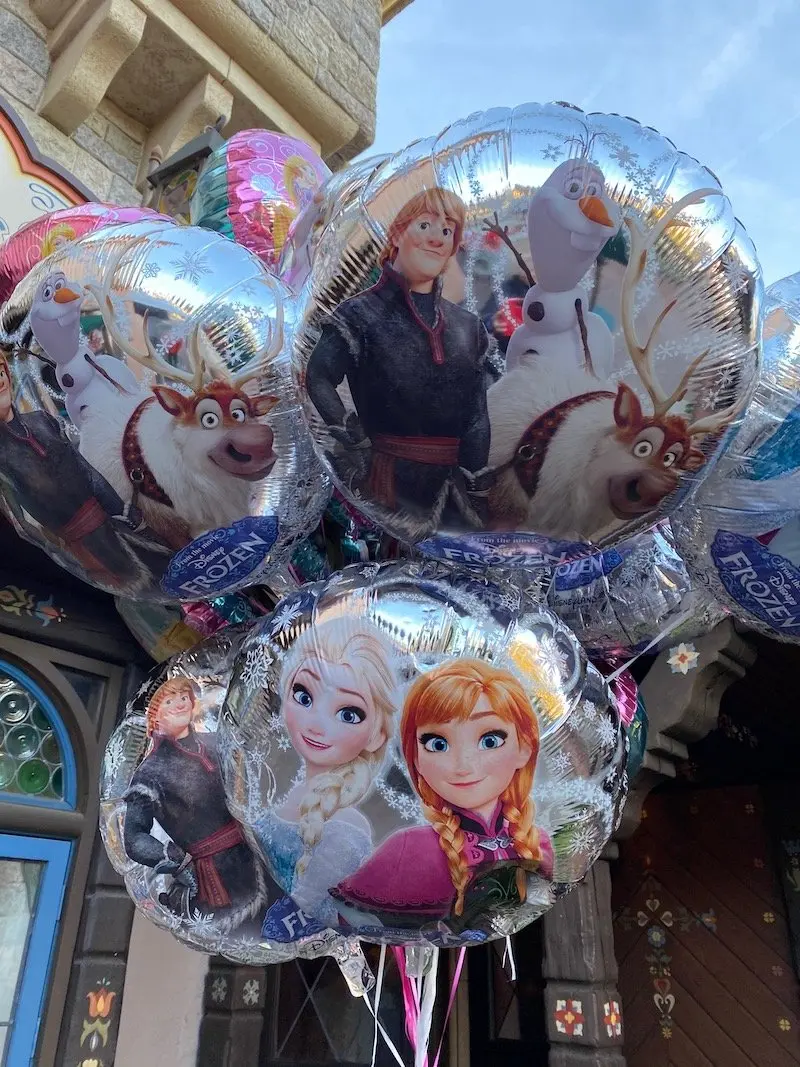 No.3: Disneyland Paris balloons
Buying a balloon at Disneyland Paris is a must-do.
Check out the range on offer outside of the store.
The Anna and Elsa balloon is a delight!
But Olaf and Kristoff are kind of cute too.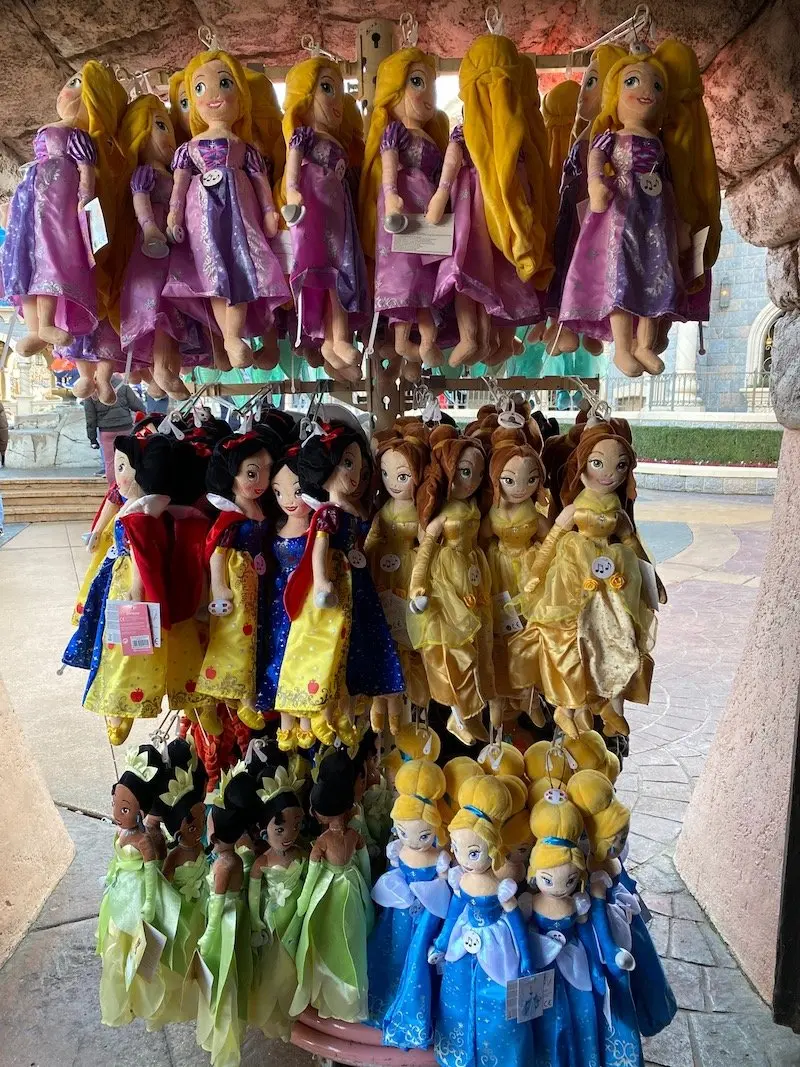 No.4: Disney Princess Plush dolls
Need something to cuddle at night?
Kids love these adorable Disney Princess plushies.
How can you pick just one?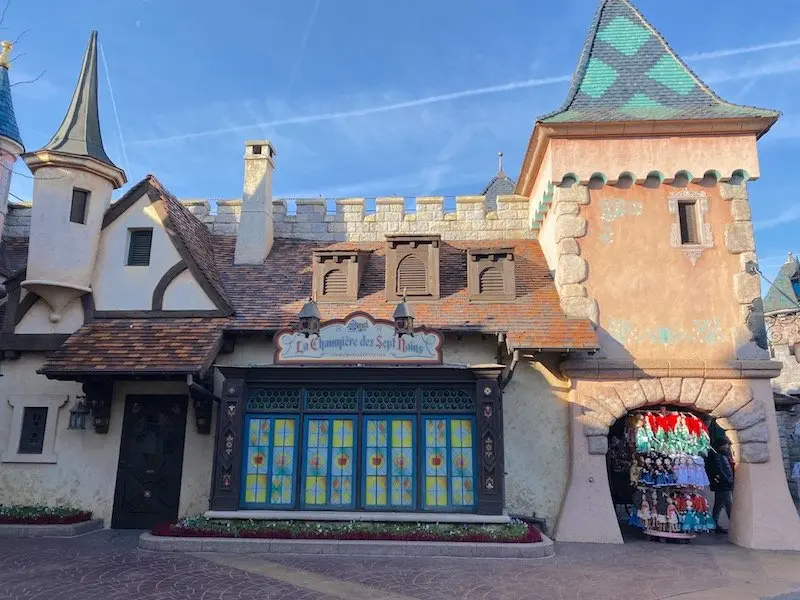 How to get to Disneyland Paris LA CHAUMIERE DES SEPT NAINS
The La Chaumière des Sept Nains store is next to the Snow White ride (Blanche Neige et les Sept Nains), on the Fantasyland side of the Castle at Disneyland Park.
Look for the signs, or if it's fine, the rows of dress ups out front.
RELATED: Everything you need to know about the best Disneyland Paris rides for kids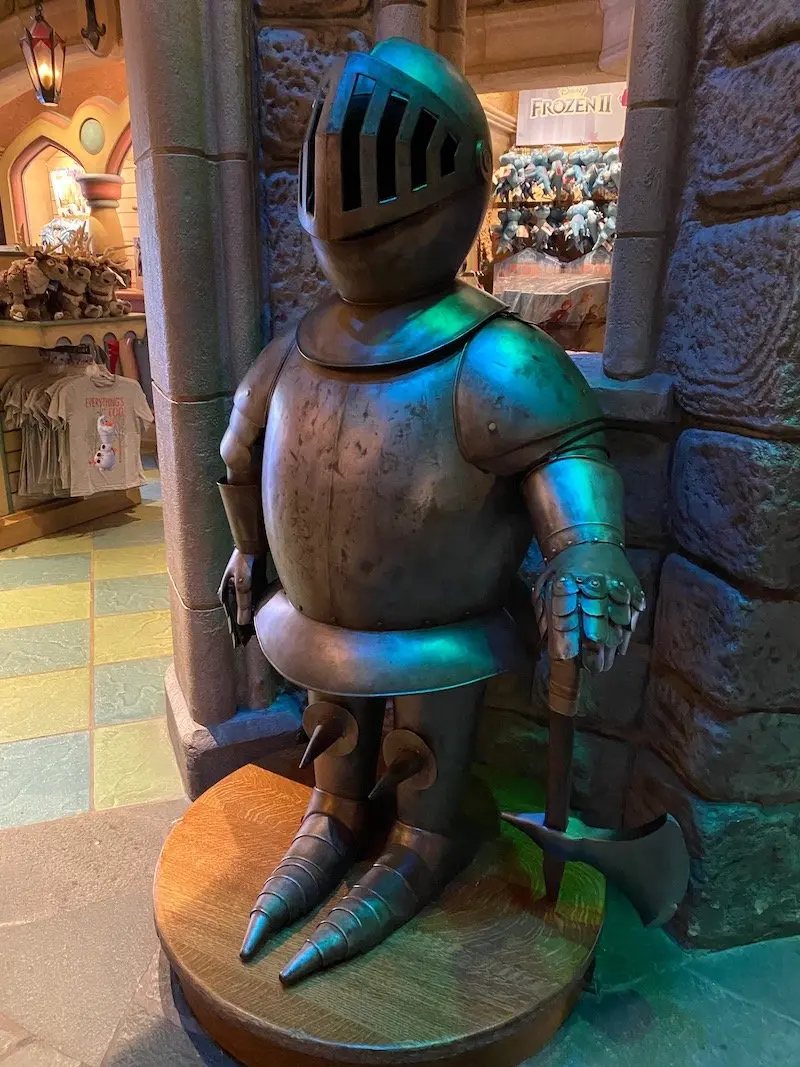 Disneyland Paris Map of the Disney Princess Dress Ups Shop
Toadstool Rating: Disneyland Paris Gift Shop

Looking for MORE Disneyland Paris tips?
Click the blue links below for more things to do at Paris Disneyland
The Complete Guide to a Disneyland Paris Christmas

Everything you need to know about Disney Village

Guide to Walt Disney Studios Park for kids