INSIDE: Everything you need to know about Disneyland Paris souvenirs and gifts for your fave people!
If you are looking for unique Paris souvenirs from EuroDisney, this is the spot to find a GIANT collection of things to buy at Disneyland Paris.
Oh my!
The choices of Paris Disneyland souvenirs and gifts will blow your mind.
There's everything from dress up costumes, to jewellery, toys and snowglobes, plus a tonne of sweet treats to take home.
Ready to take a sneak peek?
Start your search below!
Disclosure: This article contains affiliate links. If you make a purchase after clicking on one of these links, we may receive a small commission at NO extra cost to you.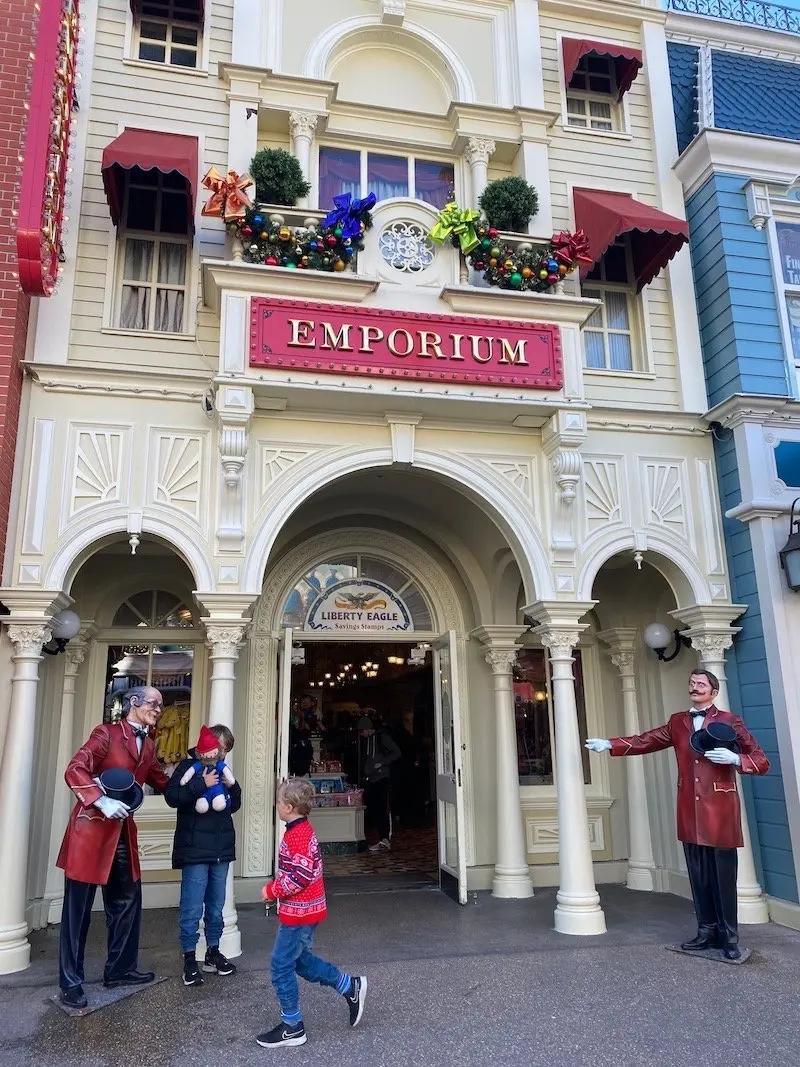 Ultimate Guide to Disneyland Paris Souvenirs!
Correct at time of publication on Roam the Gnome. Please check with venue for updates. We apologise in advance if there have been any changes we are unaware of. All prices in euro, unless otherwise stated.
The only question is where to start.
So let's start with the must buy Disneyland Paris merchandise.
These are the things no one should leave without.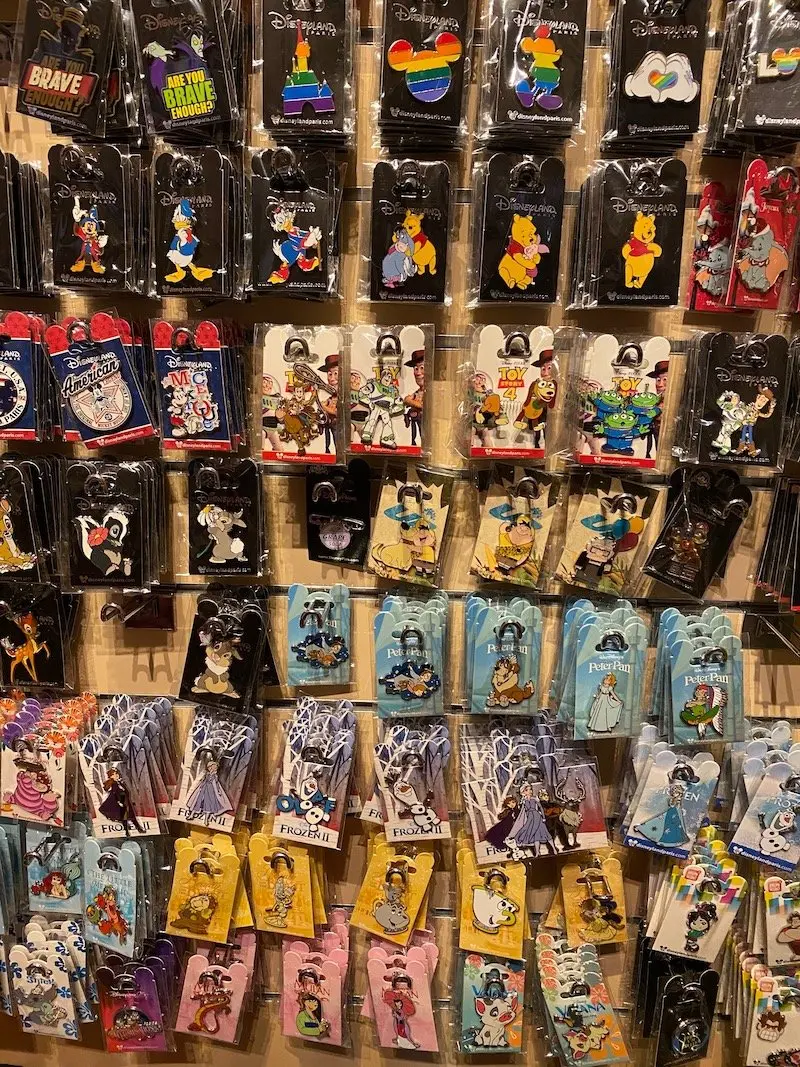 Must Buy Disney Paris Souvenirs
No.1: Disneyland Paris pins
If you haven't yet started your collection of Disney pins, check out the range at Disneyland Paris.
Disney pins are a portable and adorable souvenir, especially if you buy the four packs of pins.
Pop the pins on a collectible Disney lanyard, on your hat, on your coat, or on your backpack, and they can travel with you too!
Check out this Disneyland Paris Minnie Mouse pin for starters.
Hot tip: Start a Travel Souvenirs collection
Want to start some kind of travel collection but don't know what things to collect.
Check out our guide to starting a travel collection here.
There's also a:
Most importantly, part of our guide to the Best Disney souvenirs has a section on the best Disney souvenirs to collect too.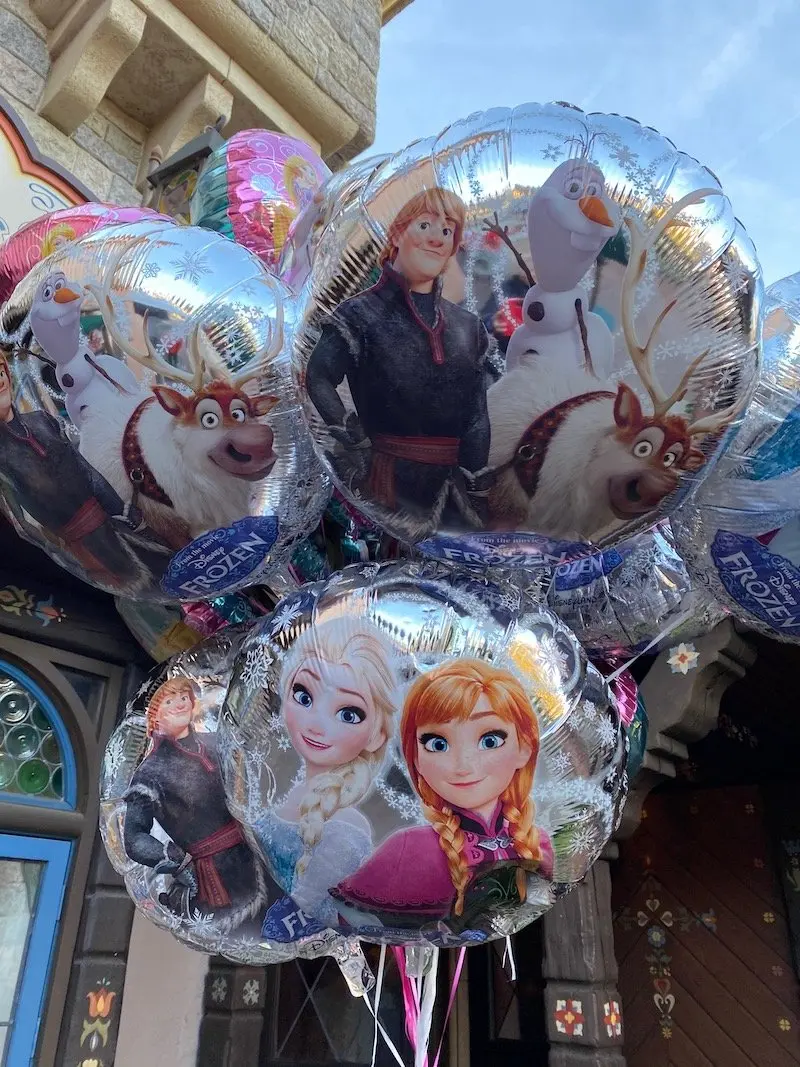 No.2: Disneyland Paris Balloon
This is not a long-lasting souvenir BUT you must buy a Disney ballooon at least once in your lifetime.
Why not a Disney Elsa and Anna balloon?
Or Kristoff and Olaf?
Or look out for the delightful Mickey Ears Balloon.
Find a balloon seller on Main Street Disneyland Paris, or look up.
You'll find bundles of Disney Paris balloons outside many a Disney Paris gift store.
Hot tip: When the helium fades, and the balloon starts to whimper, expel all the air out, and take it home as a souvenir decoration for the wall.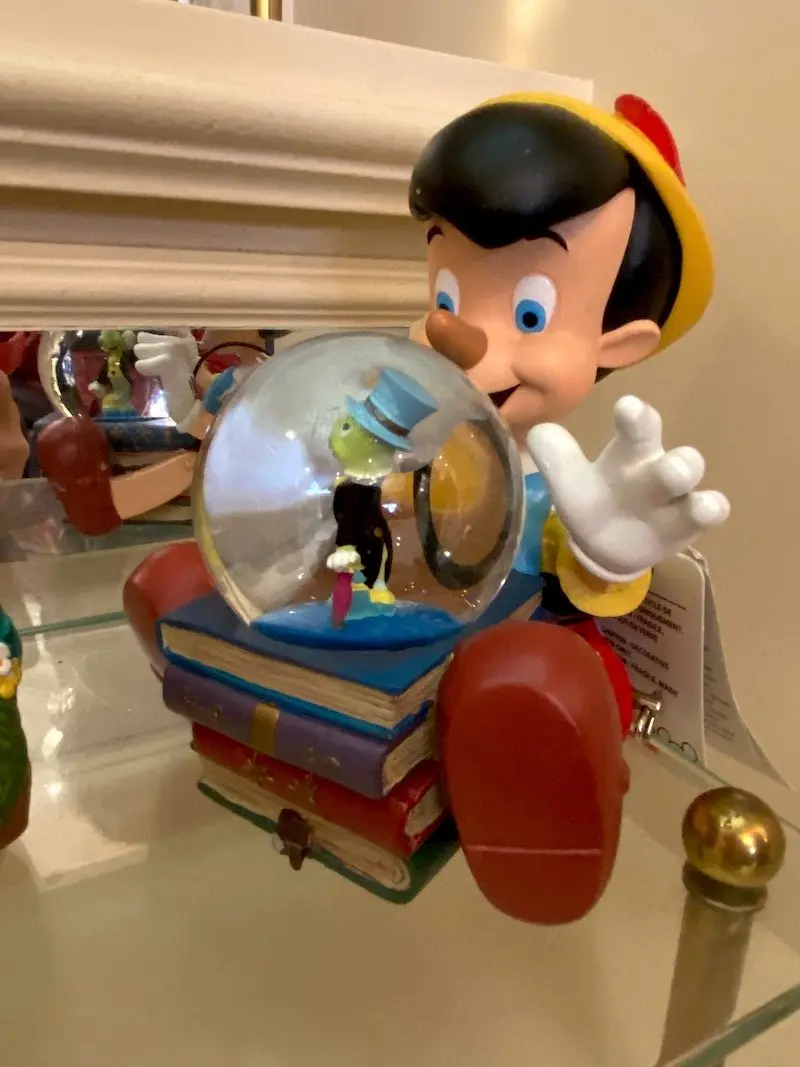 No.3: Disneyana Collectibles Disneyland Paris
Disneyand Collectibles is INSIDE Harrington's Fine China & Porcelains on Main Street Disneyland Paris
It's home to a selection of unique Disneyland Paris snowglobes, Disney art cells, and Disney figurines.
Plus, Disney keepsakes that can be personalised with engraving.
Check out this guide to see ALL the best collectible Disneyland Paris souvenirs and gifts from Disneyana Collectibles.
Hot tip: Look out for the budget friendly Disneyland Paris Christmas Snowglobes made from plastic.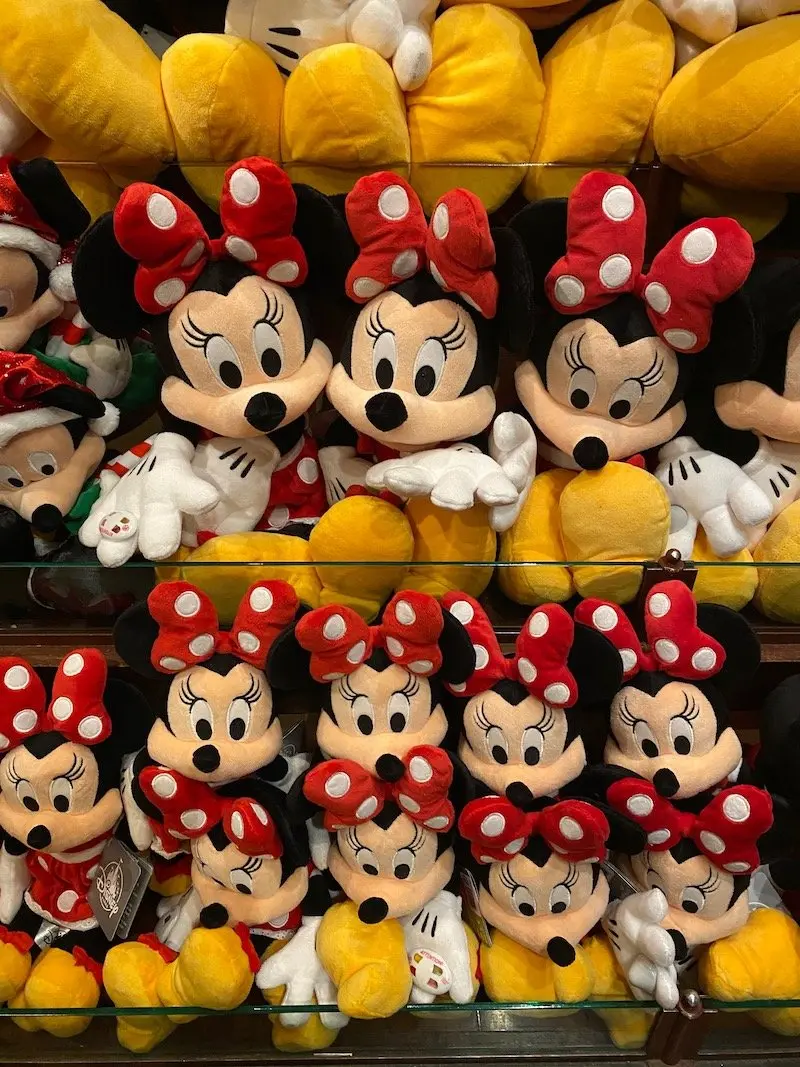 No.4: Minnie Mouse Plush toys
Don't ever think it's possible to visit a Disney Park and walk out without Minnie.
(Or Mickey.)
You'll find Minnie in all different sizes at Paris Disneyland:
teeny tiny – small enough for your handbag
small
medium
large
gigantic – big enough to take over your room!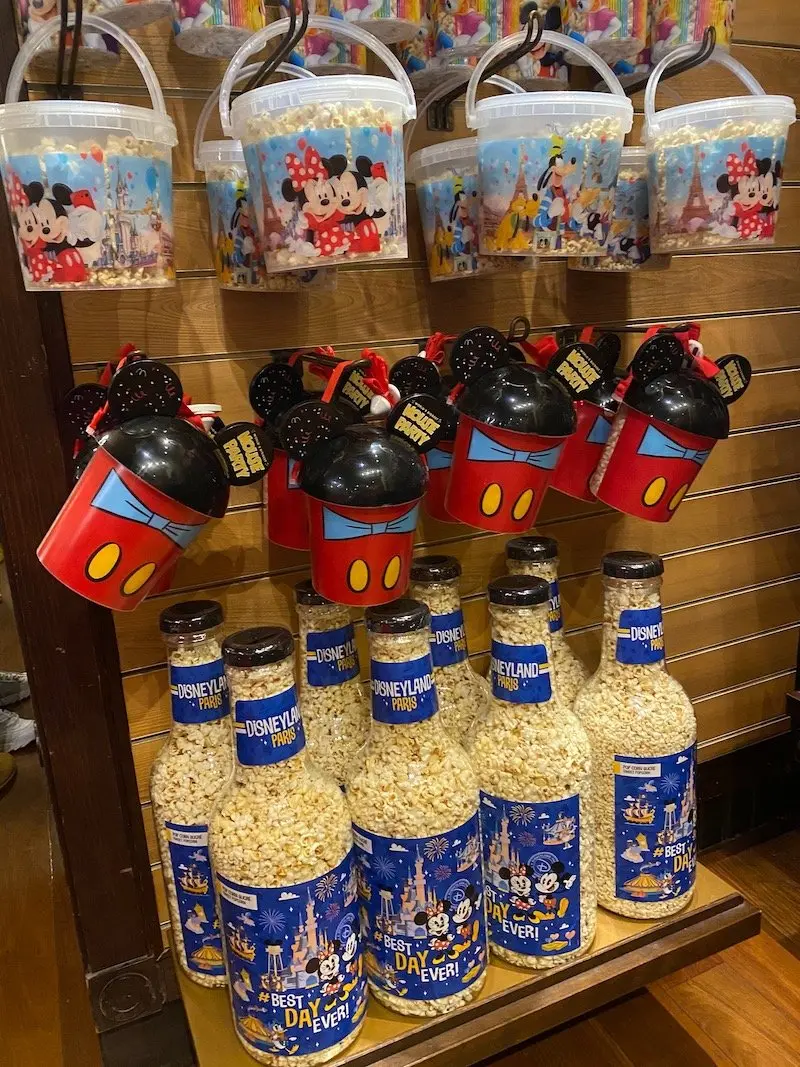 No.5 Disneyland Paris Popcorn Bucket
Look out for Paris Disneyland popcorn buckets.
Once you've found one, take it with you to the DLP popcorn stands and try all the different flavours on offer.
Eat it all up, then take the Disneyland popcorn bucket home as a memento – likely, the first of many!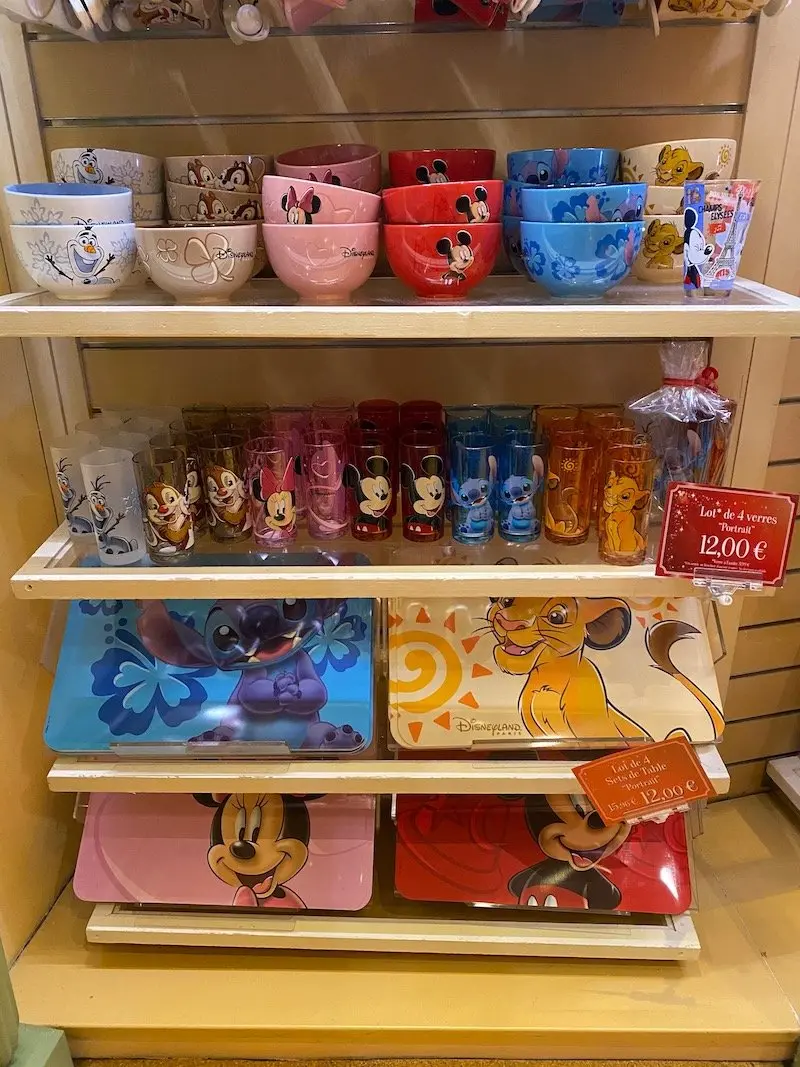 FAQ: Disneyland Paris Souvenirs Prices?
Before we go any further, let's chat Disneyland Paris shop prices.
The great thing about visiting Disney Parks around the world is that you will ALWAYS find souvenirs and gifts for EVERY budget.
Prices for Disneyland Paris commemorative chocolate bars or Disneyland Paris lollipops start at around €1.50 each.
Pick up a Disneyland Paris pressed penny or commemorative coin for around €2.
Disneyland Paris pins retail starting from around €3 or €4 up to €12 for exclusive finds. Disneyland Paris magnets start cheap but go up in price, depending on the size.
Disney Socks and Disney hair accessories are good on the budget too.
Disneyland Paris Mickey Mouse ears or headbands start at around €15 euro, and top out around €30.
Disney Kitchenware and Disney tableware are somewhere in the middle – you can buy four Disney glasses or four Disney placemats for €12.
Disney toys are in that middle bracket too.
There's plastic Disney dolls and plush Disney toys from around £10 euro for a small or medium size toy, right up to the hundreds for giant collectibles.
Disney Princess costumes are on the higher end – starting from around €50, with the simpler dresses coming in a little under that, and the flamboyant real-life princess style dresses costing upwards of €80 to €90 each.
At the top of the scale, you'll find the one-off Disney souvenirs such as a Disneyland Paris Beauty and the Beast champagne glass with rose by Arribas Brother, a Disneyland Princesses picture frame, a Cinderella Glass Slipper ornament (see Merlin L'Enchanteur shop details below), or a limited edition Disneyland Animation cell for the living room wall.
Rest assured, there's something for everyone of every budget, big and small!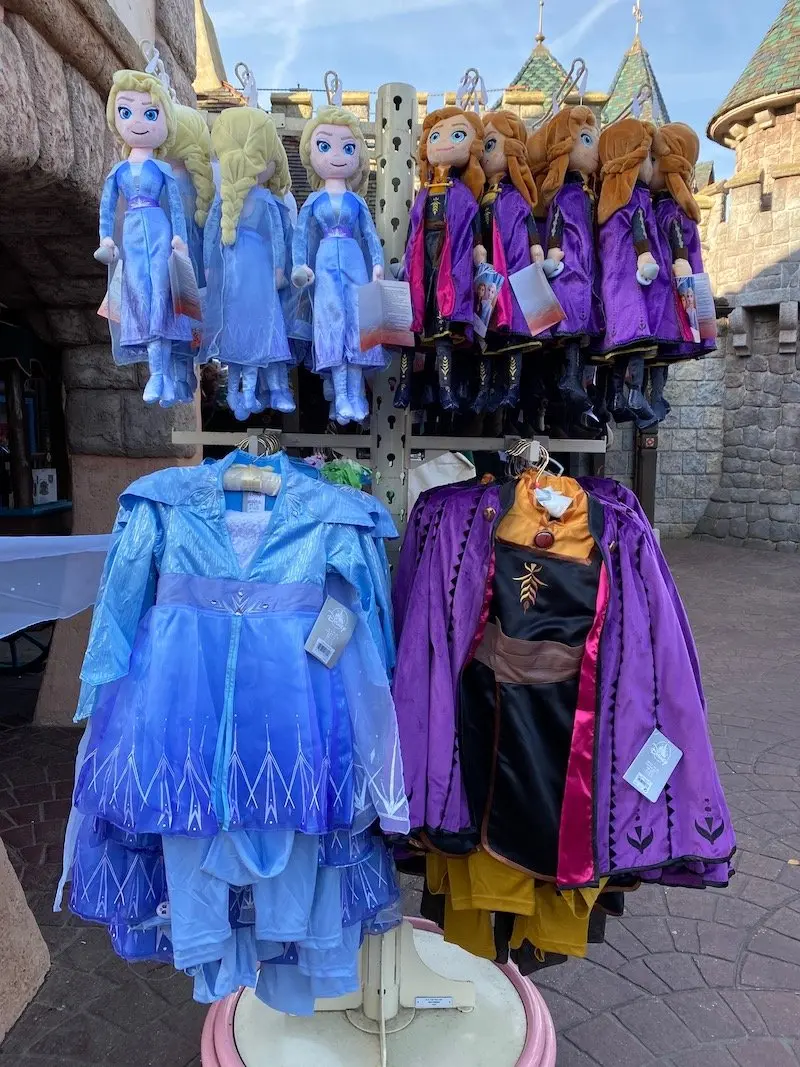 Hot tip: Disneyland Paris Shopping Service
Did you know that you can have your Disneyland Paris souvenir purchases held for you, so you don't have to lug them around all day?
You can.
All you have to do is ask the store assistant to hold them for you.
Your purchases will be either sent to:
Disney Village, so you can pick them up there after 6pm when you leave, or
if you are staying in one of the Disneyland Paris hotels, they'll send your purchase to your Disneyland hotel boutique shop for you to collect there.
RELATED: Read our Review of the Santa Fe Cars Hotel Disneyland Paris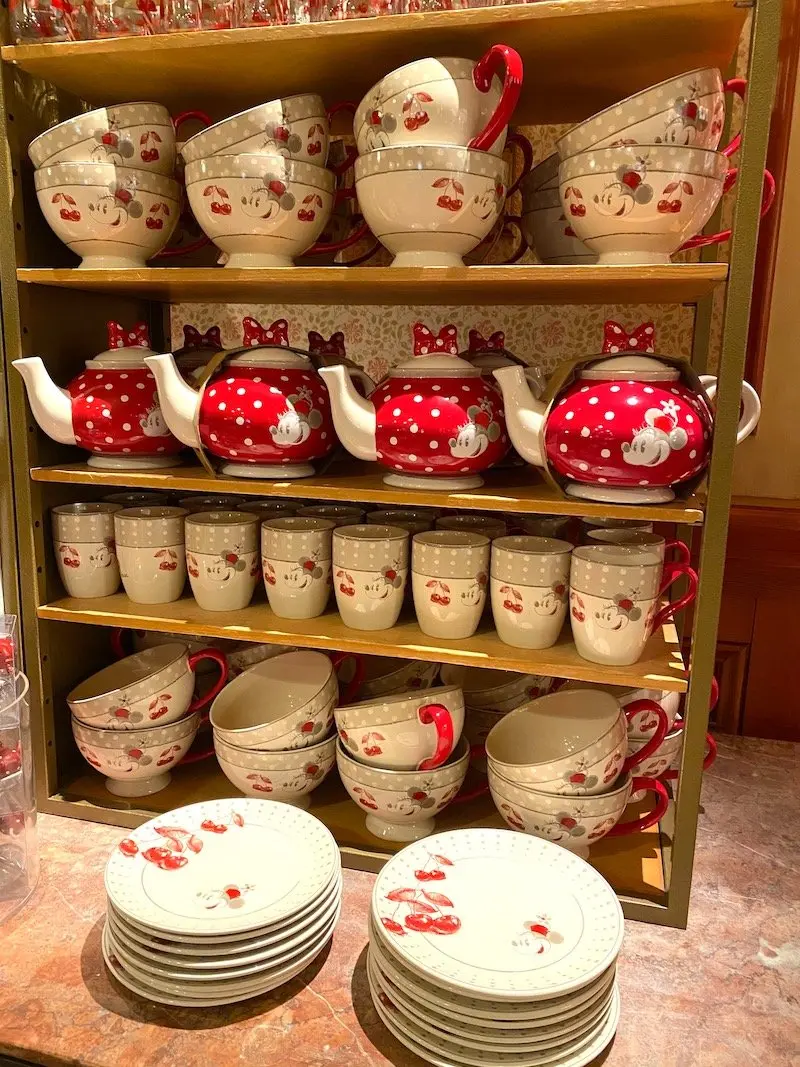 BEST DISNEYLAND PARIS GIFTS FOR ADULTS
Here's a list of the best things to buy at Disneyland Paris for adults.
No.1: Disneyland Paris Kitchenware
Pick up a package of Disneyland Paris teacups, saucers and matching Minnie Mouse teapot.
What a sweet addition to any home this would be.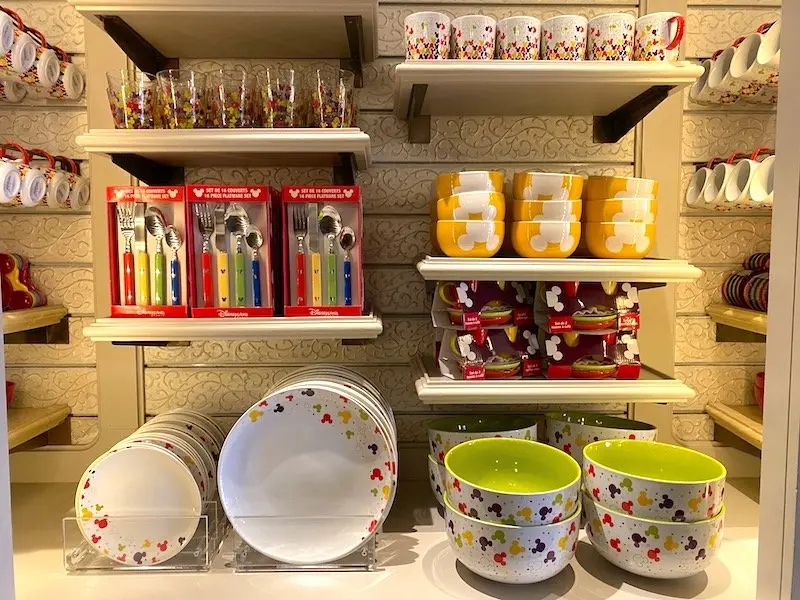 No.2: Disneyland Paris bowls and cups
There's never a dull moment shopping in Disneyland Paris, as they keep bringing out new designs on their tableware, glasses and mugs.
And dedicated Disney fans need to check them out.
Don't you adore the Disneyland Paris cutlery sets too?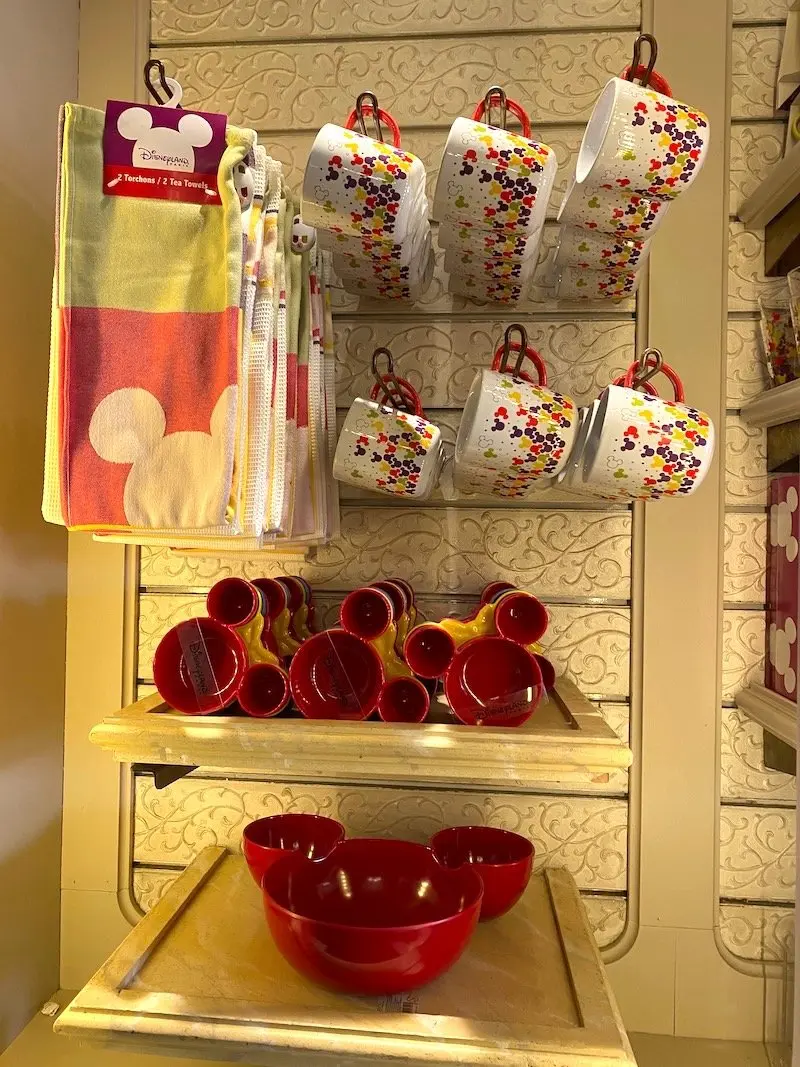 No.3: Mickey Mouse serving dish & Mickey Mouse kitchen towels
Every Disney loving household needs a Mickey Mouse dish for candy and treats.
But if you are travelling light, pick up a set of two Disney teatowels to dry up the dishes.
These make a great present for the Disney fan who has it all.
No.4: Disneyland Paris glasses
Of the drinking kind, not the reading kind.
Super cute to boot.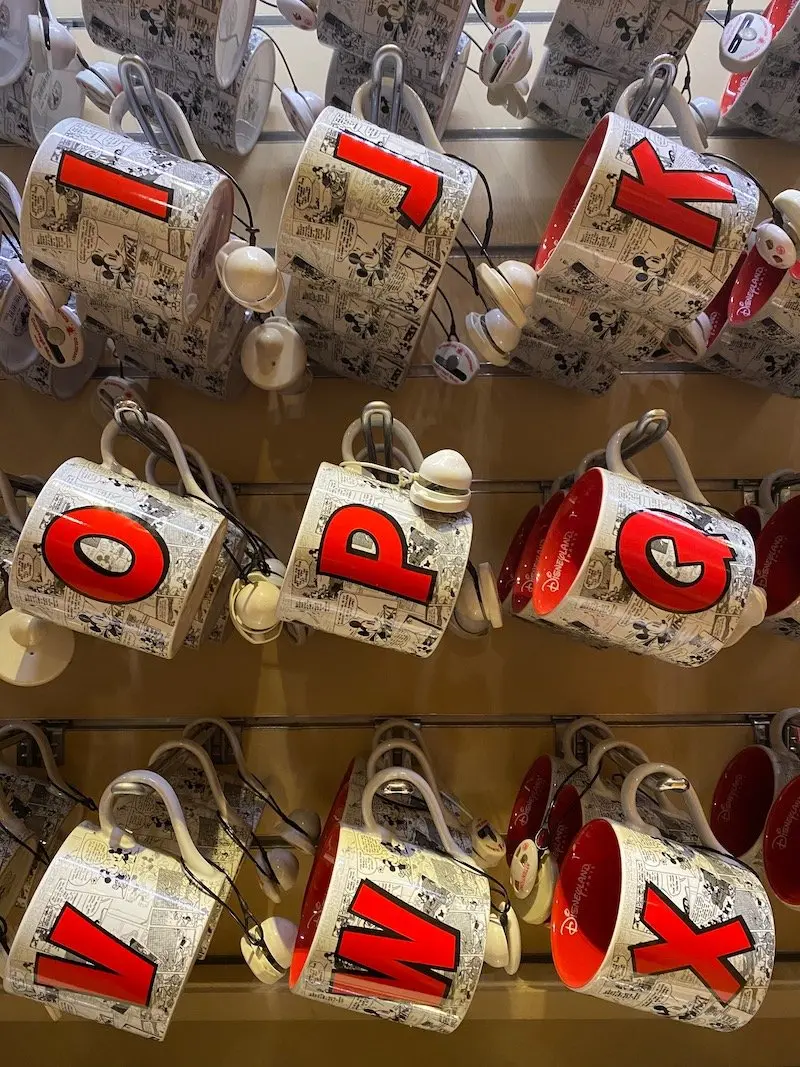 No.5: Disneyland Paris mugs
Every single Disney trip, I come home with a new Disney mug, like this Disney letter mug.
It's only right.
Because drinking your morning coffee or chai from a Disneyland Paris souvenir mug takes you straight back.
So when you can't be there, you can be there.
At least in spirit!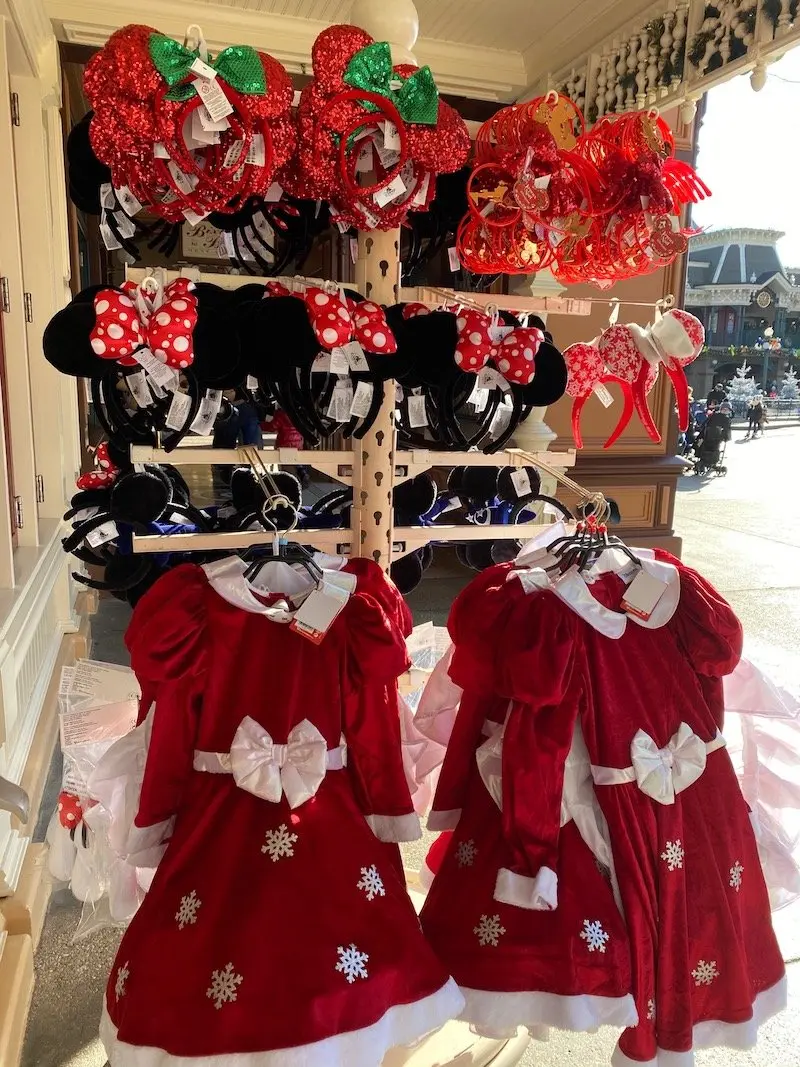 DISNEYLAND PARIS CLOTHING
No.1: Disneyland Paris Ears
Add to your collection with a pair of original Disneyland Paris Mickey Ears, or Minnie ears.
Will you go for the originals, or sparkly sequins, or Christmas snowflakes?
Look out for Disneyland Paris exclusive ears too.
If it's near Christmas, you might also spy adorable Minnie Mouse style dresses like this one.
Oh to be six again!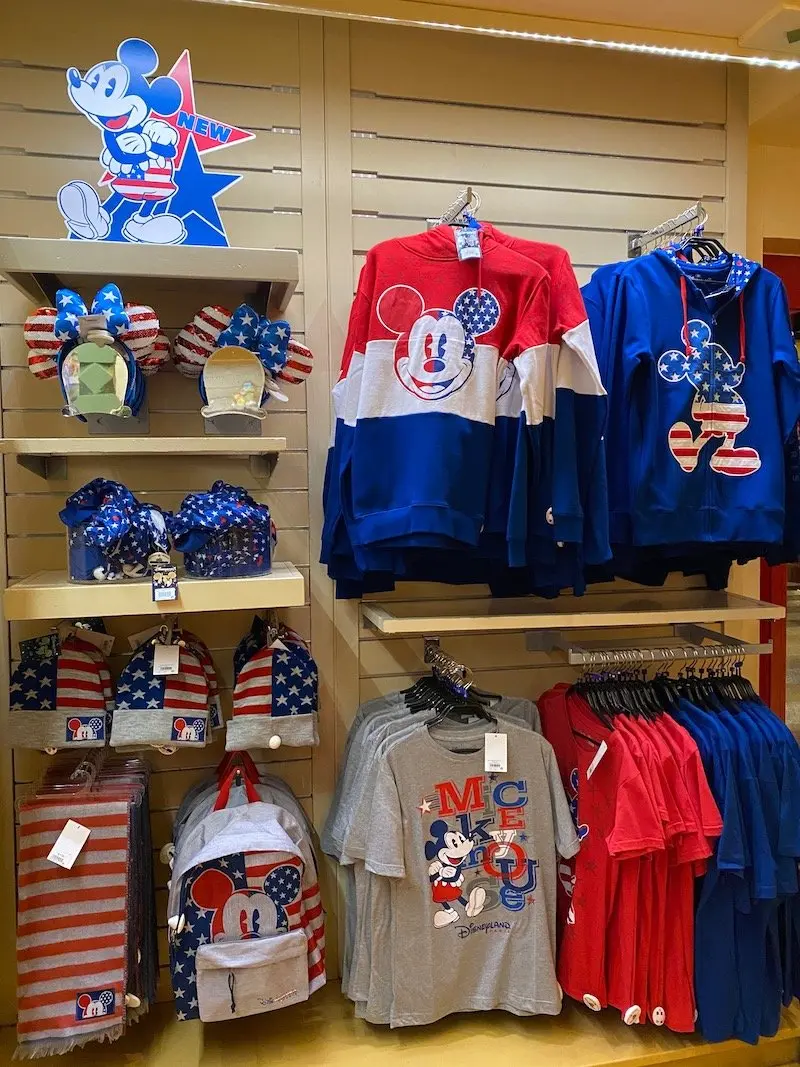 No.2: Disneyland Paris Jumper & Disneyland Paris Hoodie
Check out the Disneyland Paris clothing stores to find a range of current DLP clothes including:
Disneyland Paris t-shirts
Disneyland Paris sweaters, and
Disneyland Paris children's clothing
Don't stop at one shop.
Pop your head into all just in case YOUR new Disneyland Paris sweater is hiding inside!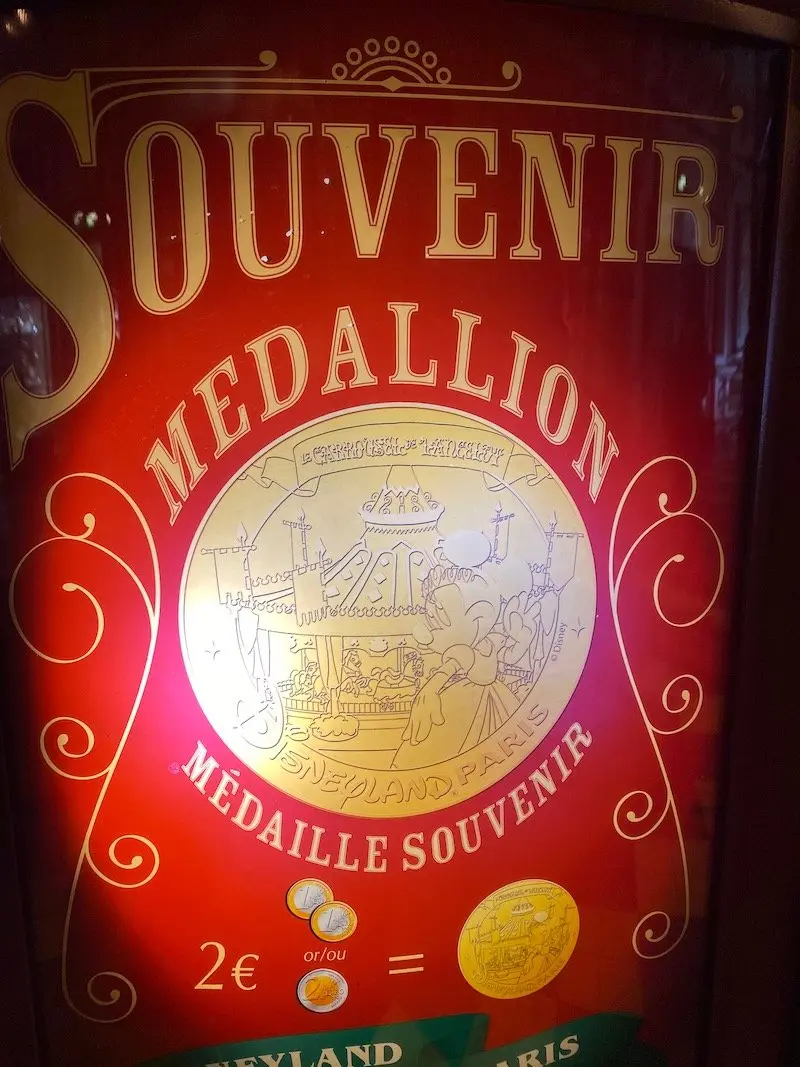 UNIQUE DISNEYLAND PARIS SOUVENIRS FOR TODDLERS & KIDS
No.1: Disneyland Paris souvenir medallion
Look out for these Disneyland Paris souvenir coin machines.
For €2 euro, take home your very own Disney coin to keep.
Kids love these!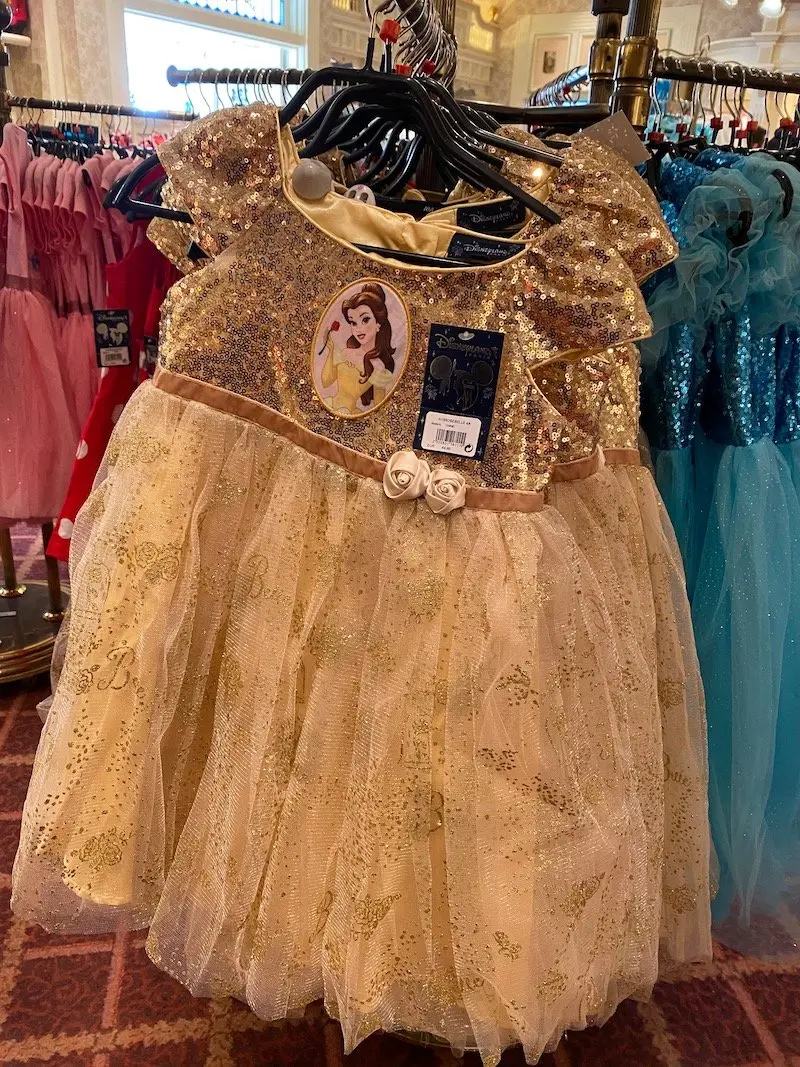 No.2: Disneyland Paris Princess dress up costume
This one, from the same Casey's Corner shop mentioned above, above costs €44.99
The combo of golden sequins and tulle will captivate any little girl and some boys too.
Find similar on Amazon: Disney Princess Belle costume for kids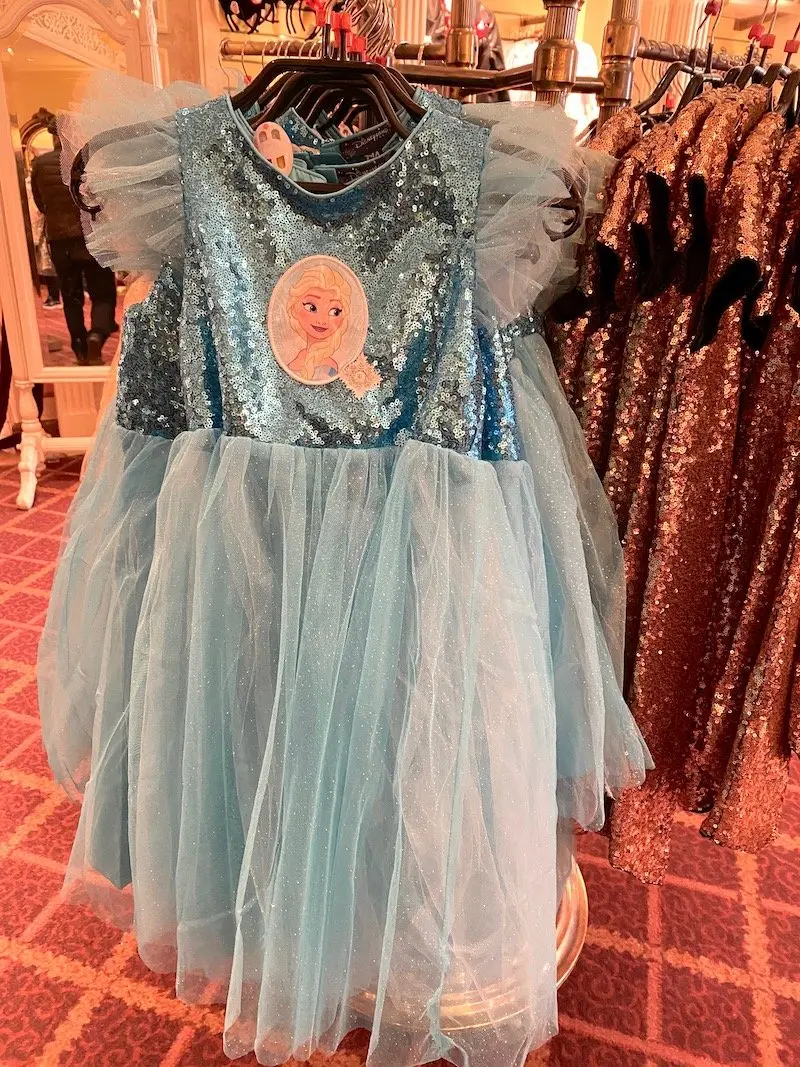 Frozen Elsa Dress Up Costume
There's more options too.
I love this magical Elsa dress in ice blue, with the floaty tulle skirt. (€44.99)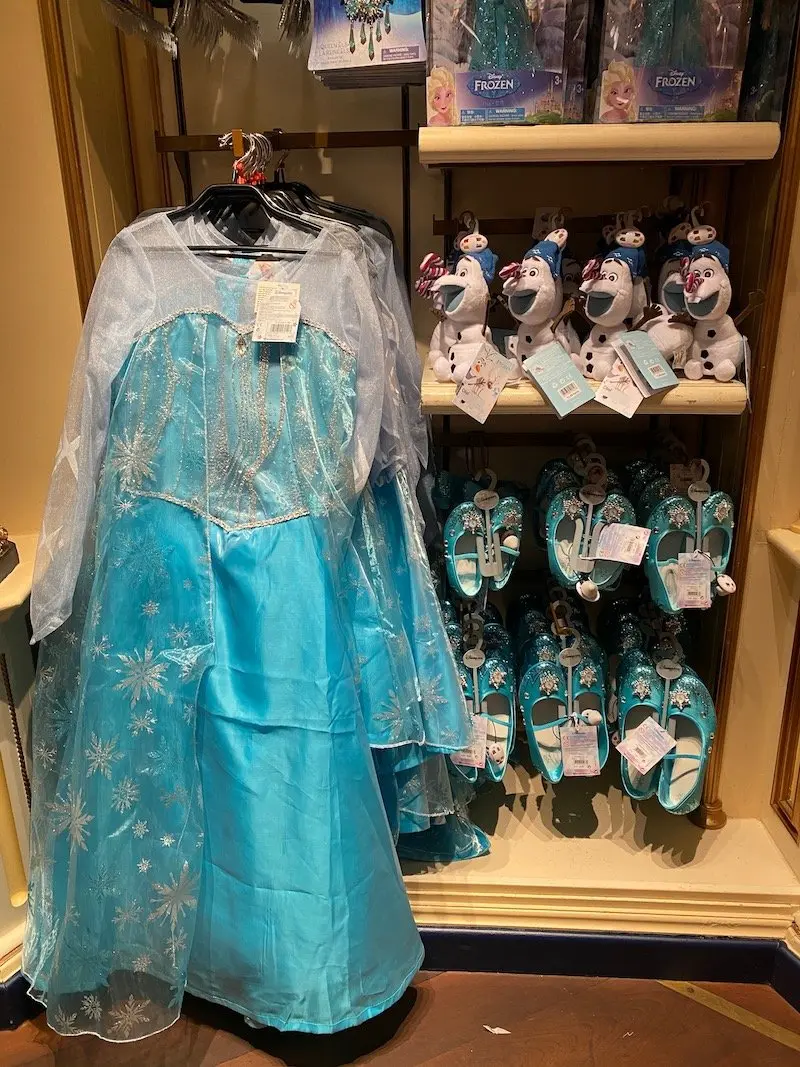 Or, Frozen dress up costume
Or kids might opt for the more formal Elsa dress, complete with matching shoes.
Pick up an Olaf Plush toy while you are there!
Looking for more dress up costumes in Disneyland Paris?
See below for details of the La Chaumiere des Sept Nains boutique – your one stop shop.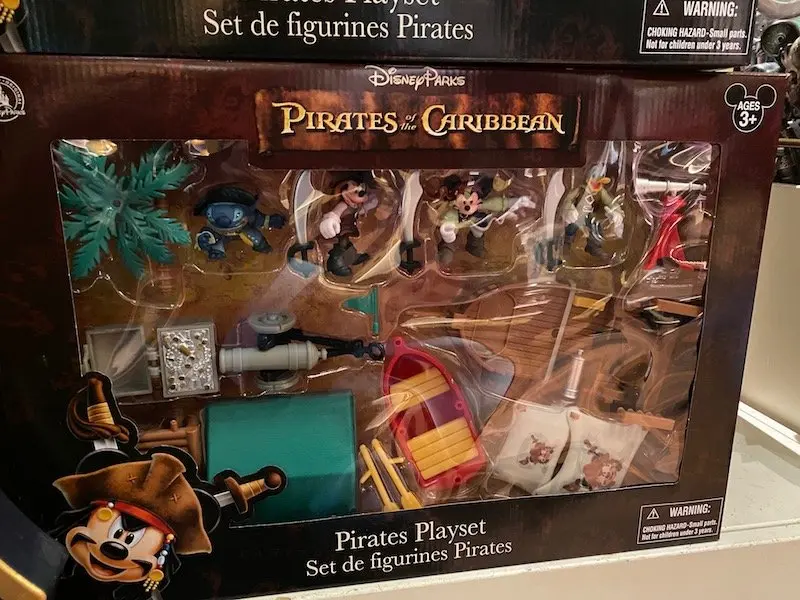 No.4: Pirates of the Caribbean playset
Fans of the Disneyland Paris Pirates of the Caribbean ride will adore this Mickey Mouse play set of the same name.
Find similar on Amazon: Pirates of the Caribbean playset theme park edition
No.5: Disneyland Paris backpack or carry bag
A Disneyland Paris bag of some sort is a unique souvenir that tells a story.
Go store to store on Main Street to check out the full range of exclusive Disneyland Paris bags.
Buy similar on Amazon: Disneyland Paris foldable travel storage bag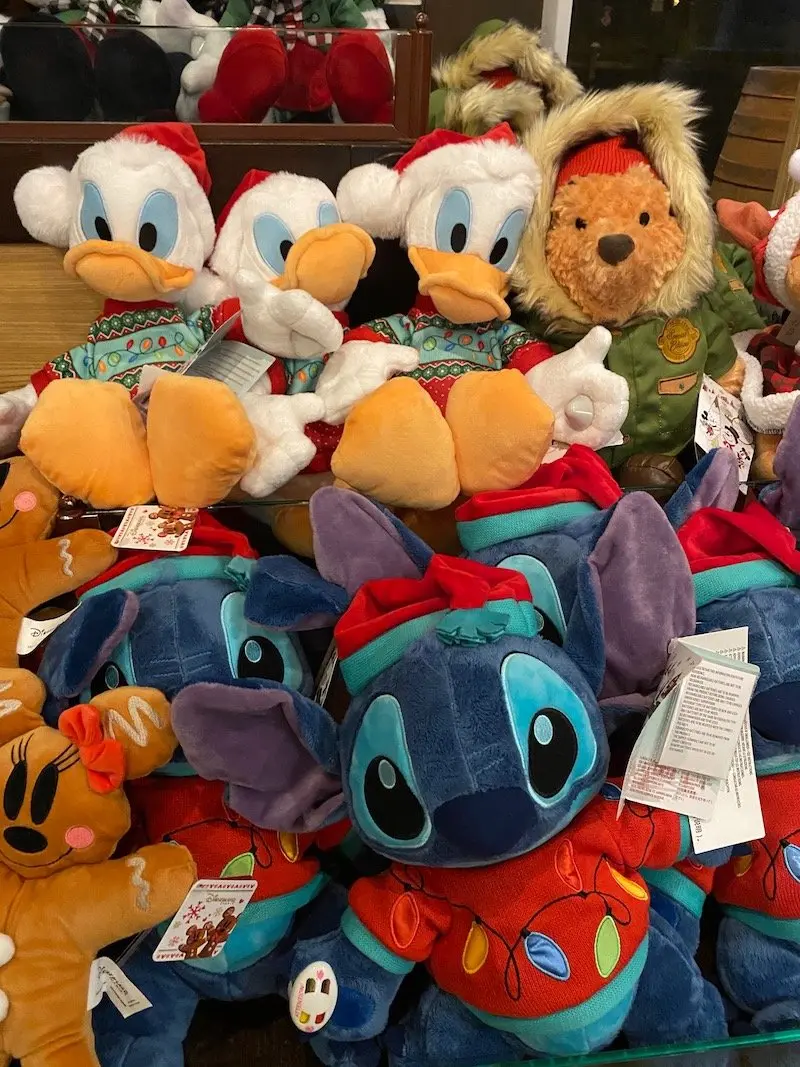 DISNEYLAND PARIS SEASONAL EVENTS
No.1: Best Disneyland Christmas Souvenirs
Hot tip: The Official Disneyland Paris Christmas Shop
Head to the Paris Disneyland Christmas shop for the biggest range of Disney decorations you've ever seen.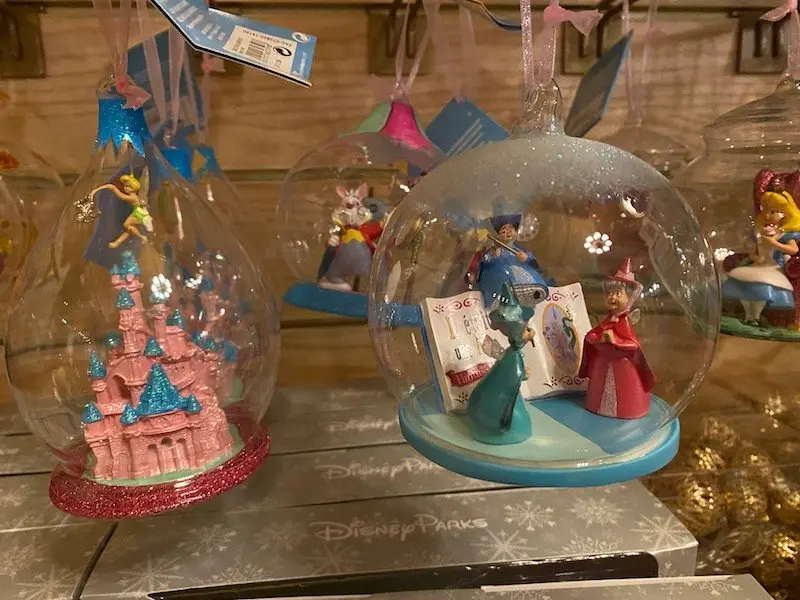 Best Disneyland Paris Christmas Ornaments
Click here for a round up of the best Disneyland Paris Christmas decorations
The Disneyland Paris glass baubles are quite a sight when there's lots of them hanging together.
(There's a 101 Dalmations glass bauble that is perfection!)
Plus, online shops where you can find similar.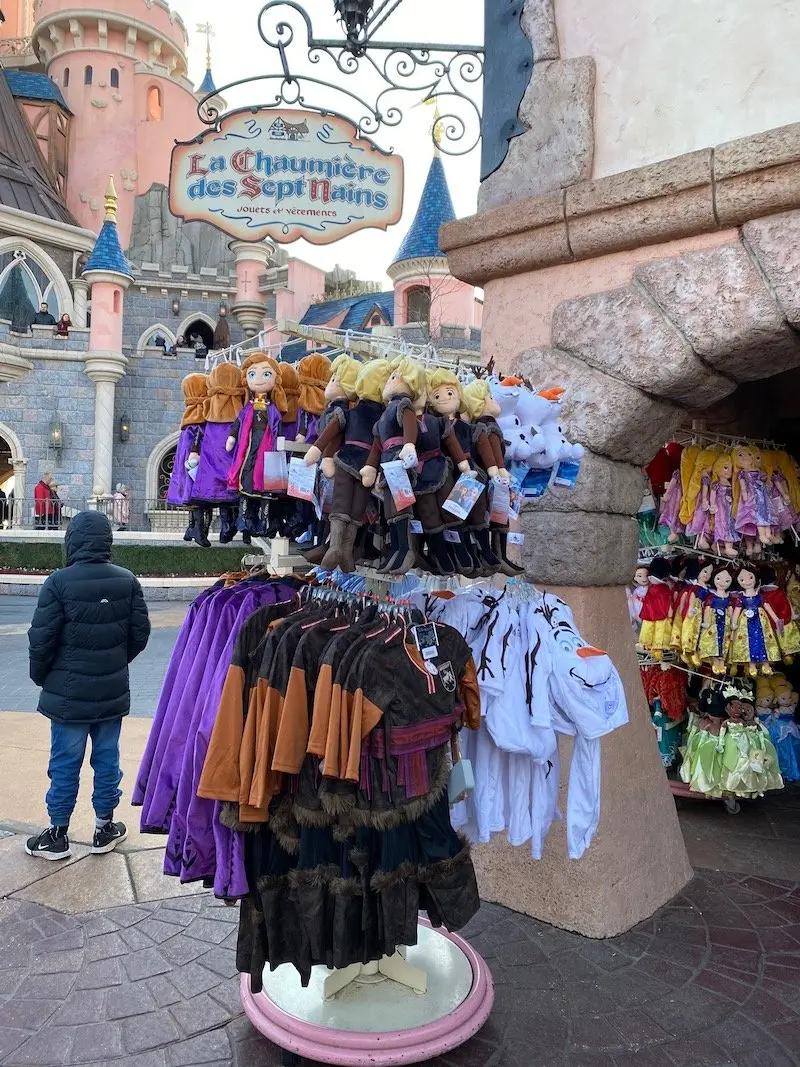 BEST UNIQUE DISNEYLAND PARIS SHOPS
There is not one Best Disneyland Souvenirs store in Paris, but two.
Take a look below for details of these shops in Disneyland Paris.
No.1: La Chaumiere des Sept Nains Disneyland Paris
Boutique for Disney Princess Dresses
The Cottage of Seven Dwarfs in Disneyland Paris is home to the most amazing collection of Disney Princess dresses and Disney Princess dress up costumes we have EVER seen.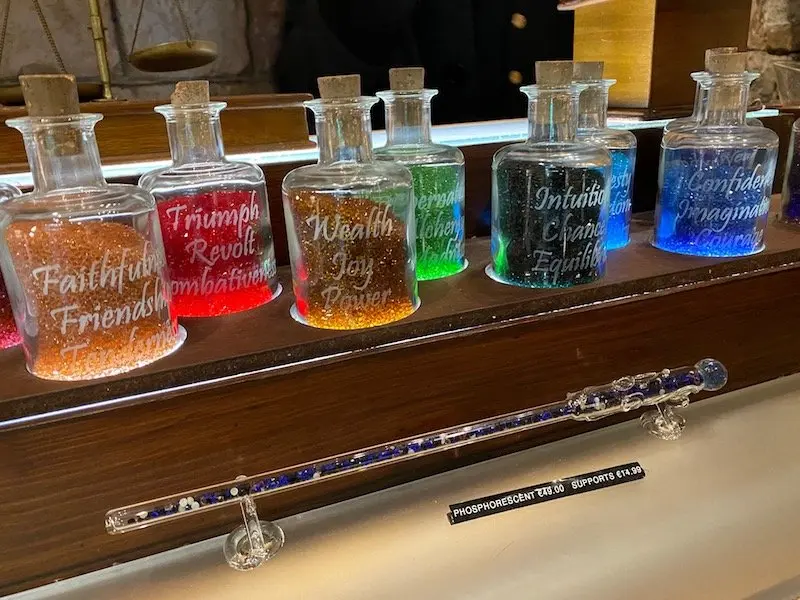 No.2: Merlin L'Enchanteur Disneyland Paris
Miss this enchanted shop at your own peril.
It's full of:
magical crystal wands
crystal treasures
dazzling jewellery
Disney Princess Tiaras
But there's something even more special.
(Merlin LEnchanteur is inside the Disneyland Castle, on the Fantasyland side. )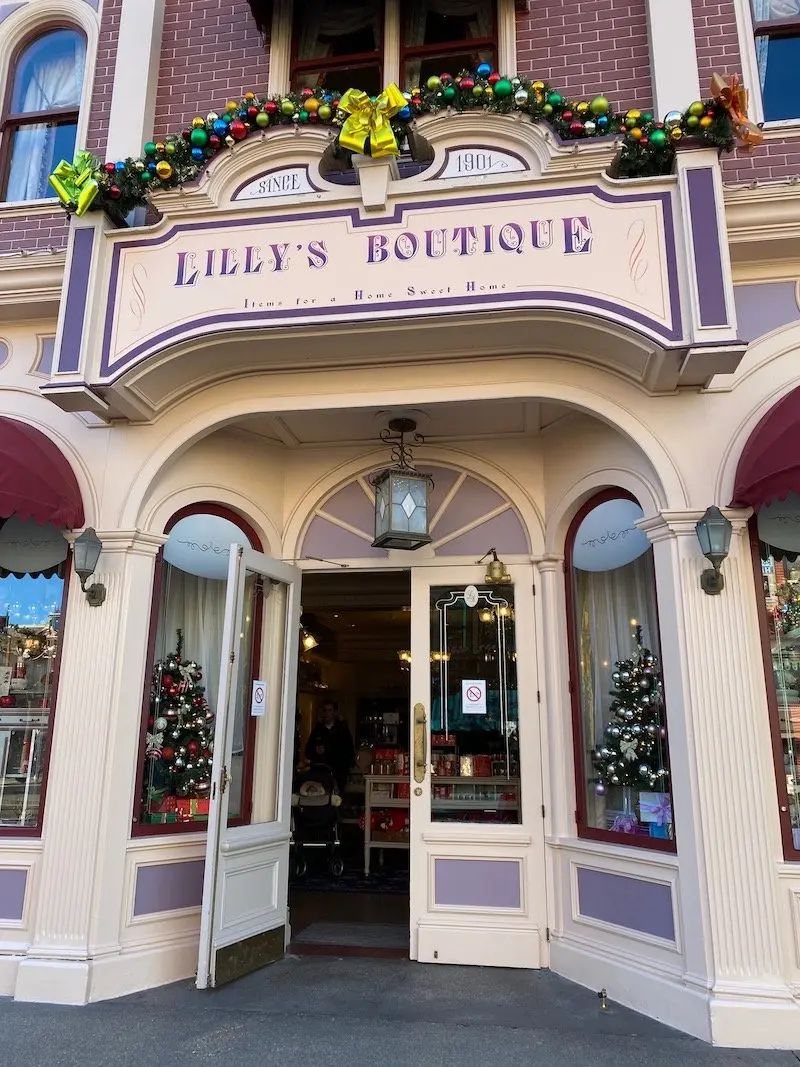 No.3: Lilly's Boutique Main Street Disneyland Paris
The number one reason to visit this unique Disneyland Paris shop is to see the collection of Walt Disney's family photos on the mantlepiece.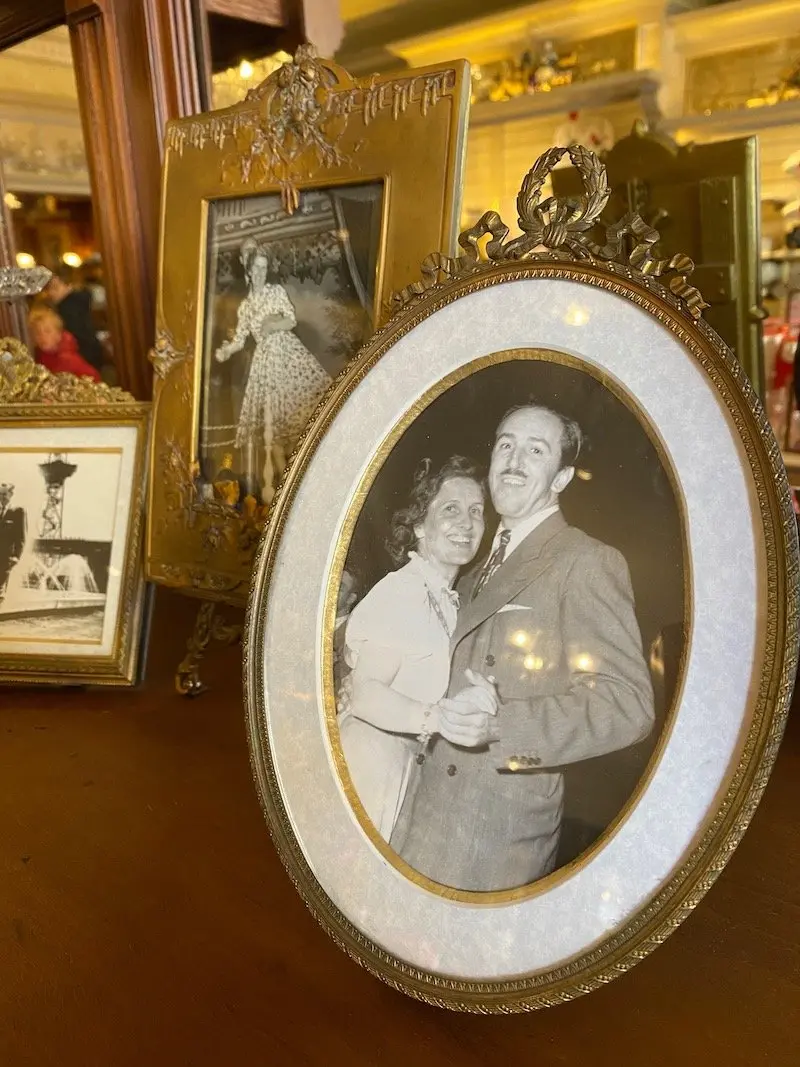 Walt Disney family photos at Paris Disneyland
They are gorgeous, and a must see for any true Disney fan.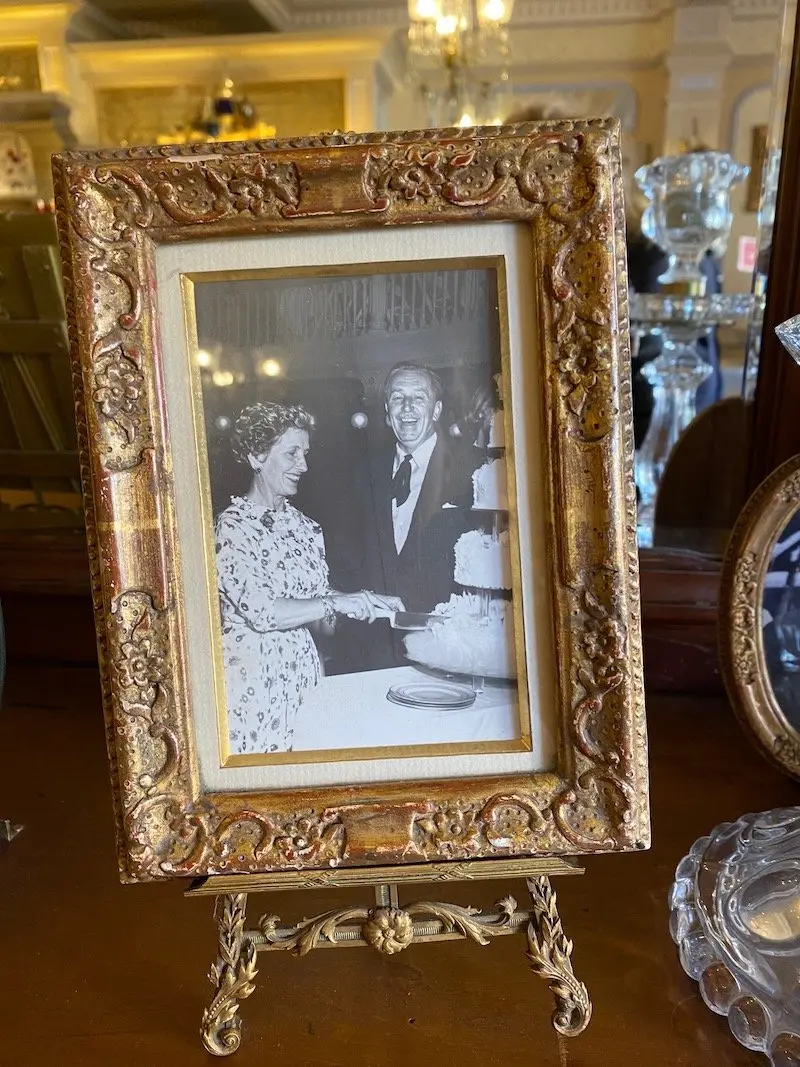 Lilly and Walt photos
Lilly's Boutique is also home to an eclectic range of Disney homewares & kitchenware, including very cute Disney teapots!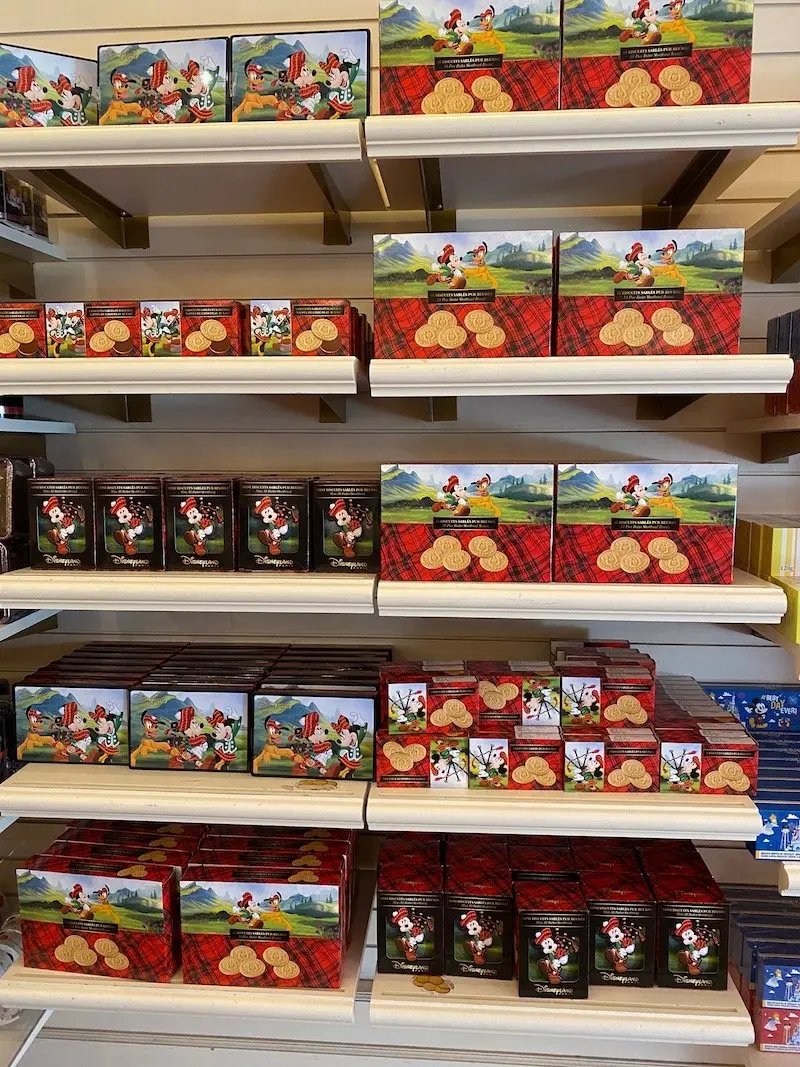 BEST DISNEYLAND PARIS FOOD GIFTS FOR ADULTS AND KIDS
No.1: Boardwalk Candy Palace Disneyland Paris
Stop by the Boardwalk Candy Palace on Main Street for a HUGE selection of yummy Disney sweets and treats, both to eat now and to take home for souvenirs for family and friends.
Find:
Disneyland Paris popcorn buckets
Disneyland Paris lollipops & sweets
Disneyland Paris shortbread biscuits (pictured above)
A WALL full of Disneyland Paris penny candy
Disneyland Paris chocolate gifts
Disneyland Paris fudge
Disneyland Paris kitchenware, aprons, & cake tins
Disney Ratatouille merchandise (These things are Disneyland Paris must have souvenirs!)
No.2: La Confiserie des Trois Fées
Visit this sweet shop in Fantasyland where you can shop in amongst an enchanted forest of knobbly trees, enchanting stained glass windows and vintage wooden beams.
Dare you to leave empty handed!
FAQ: When do Disneyland Paris shops close?
Some shops close 30 minutes before close of park so be sure to have all your shopping done by at least an hour before close.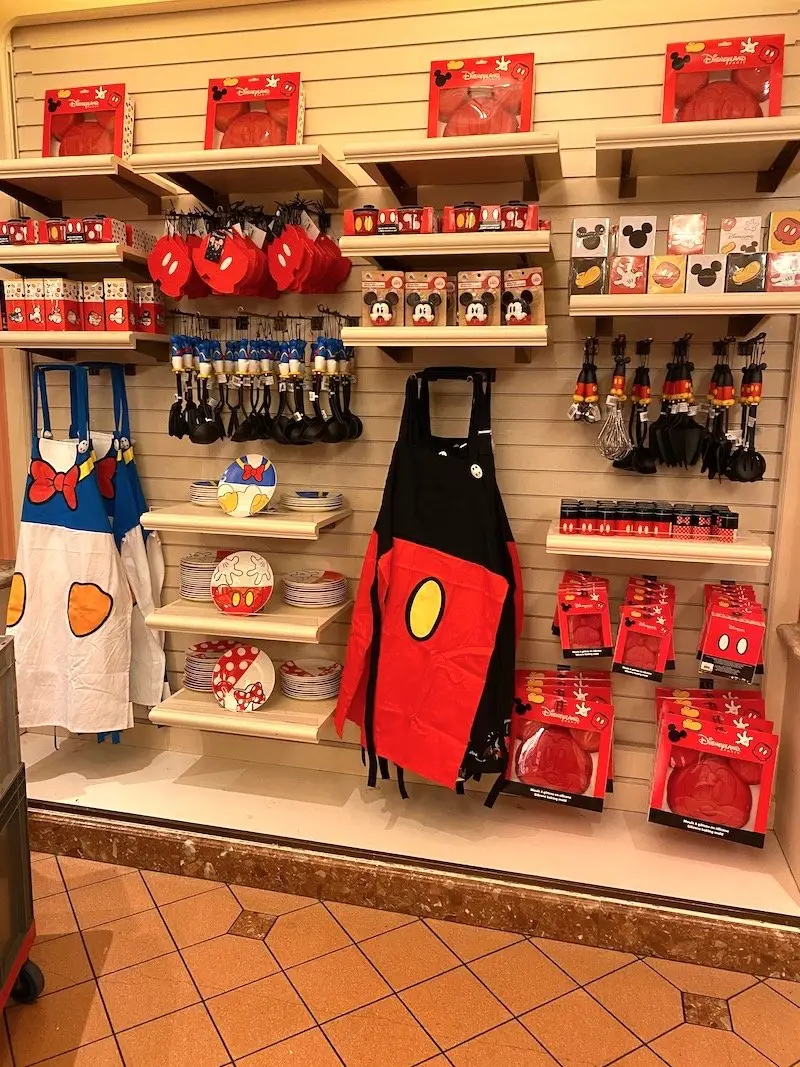 THE INSIDE SCOOP: Unique Paris Souvenirs from Disneyland Paris
Address: Boulevard de Parc, 77700 Coupvray, France
Disneyland Paris Park Tickets
This is where to buy the best value Disneyland Paris tickets.
Disneyland Paris multi day tickets are a winner, saving big bucks for the family budget.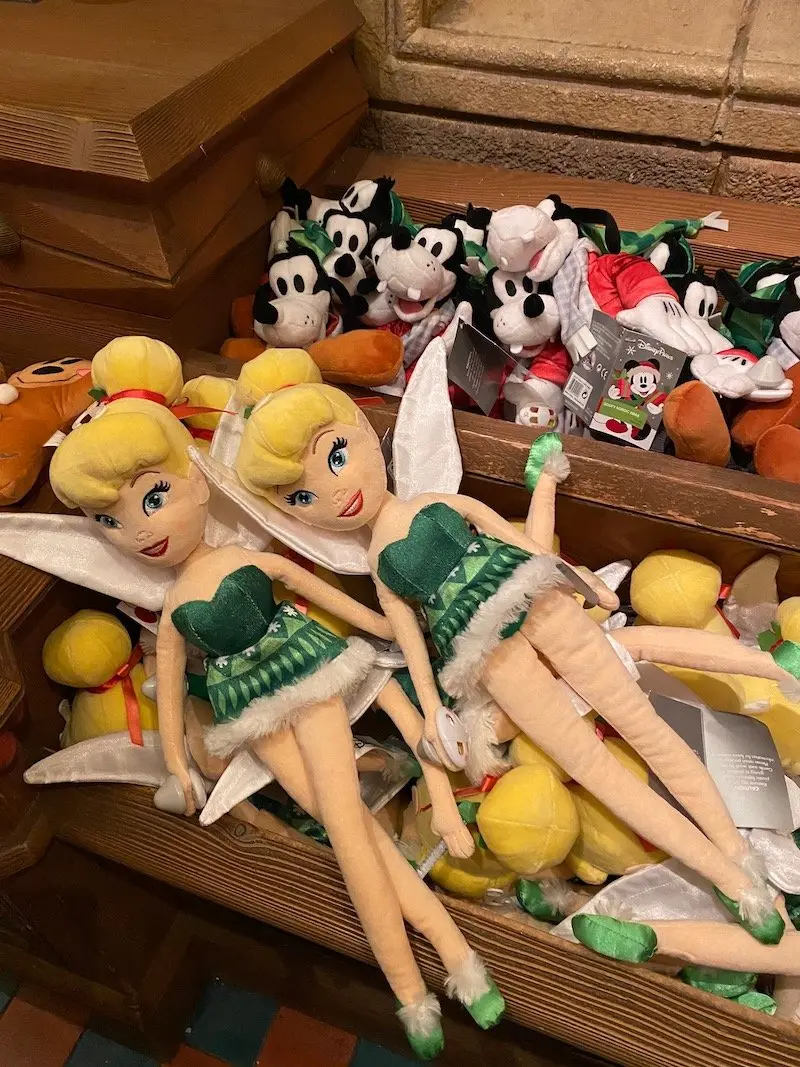 How to get to Disneyland Paris
Disneyland Paris By Eurostar: Click here for details
Disneyland Paris By Train from Paris:
The easiest way to get to Disneyland Paris from Paris city centre is via the RER (Regional Express Network). RER Line A train terminates at Marne-la-Vallee/Chessy station.
The train station is two minutes walk from Disney Village, Disneyland Paris gates, and Walt Disney Studios Parc.
Disneyland Paris by shuttle:
Click here for a airport transfer shuttle service from Paris airport to Disneyland Paris
Click here for details and price of the Offical Disneyland Paris Express shuttle bus transfer to Euro Disney with entrance tickets included
Disneyland Paris by Coach: Click here for details of Disneyland day tours, and mini breaks
Disneyland Paris By Car:
Click here for directions to Disneyland Paris with Google maps
Click here for all the details of parking at Disneyland Paris, including the Disneyland Paris Car Park price:
Disneyland Paris brochure PDF
Click here to download a copy of the Disneyland Paris e-brochure book and prices for Disneyland Paris package deals including transport.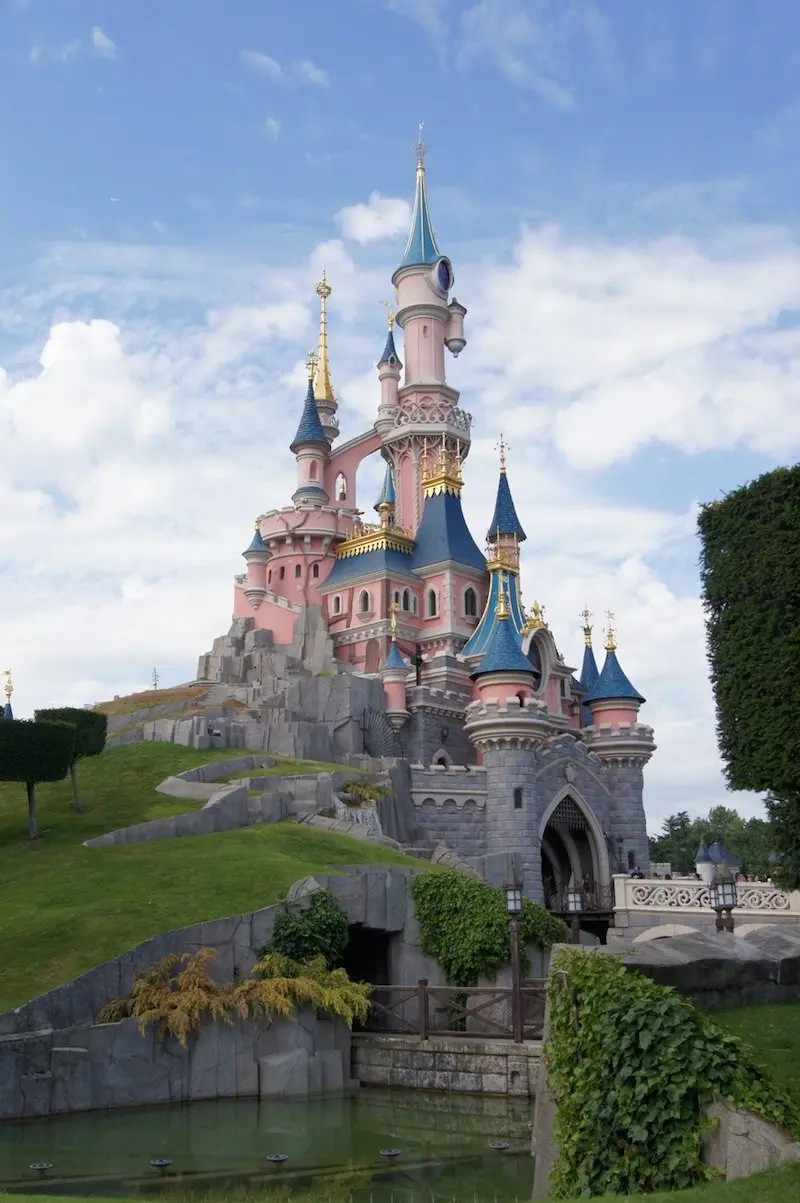 Looking for more fun things to do at Euro Disney?
Click on the blue links below for more Disneyland Paris Disneyland blog tips
The Best Walt Disney Studios Paris Rides & Attractions for kids

The Ultimate Guide to DISNEY VILLAGE PARIS with Kids