INSIDE: Everything you need to know about the Chuck Wagon Cafe Disneyland Paris restaurant.
Planning your meals at Disneyland Paris?
Don't miss the Chuck Wagon Disneyland Paris restaurant!
It's a fun themed restaurant, based on American Chuck Wagon history – the days of wagon trails, cookouts, and cattle drives.
And the Chuck Wagon food is some of the best flavorsome food in Paris Disneyland!
Don't miss it.
Take a look below for details.
Disclosure: This article contains affiliate links. If you make a purchase after clicking on one of these links, we may receive a small commission at NO extra cost to you.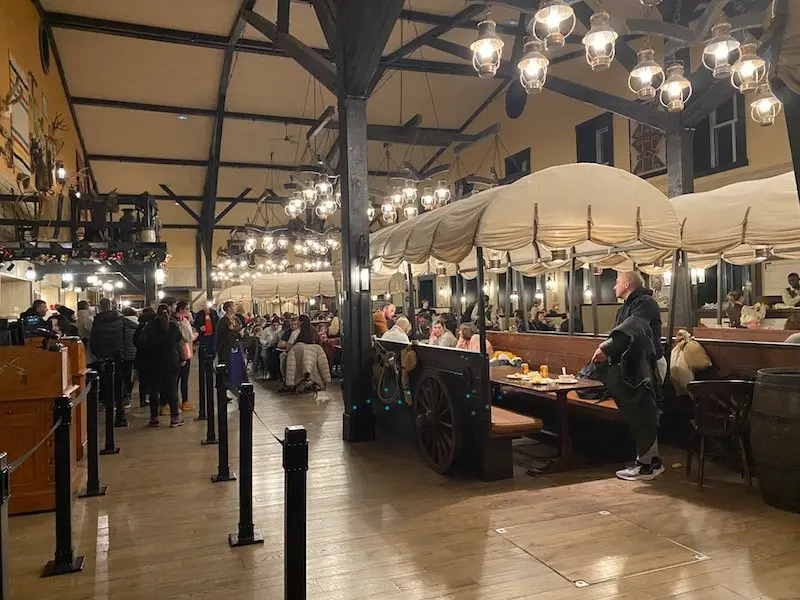 Guide to Chuck Wagon Cafe Disneyland Paris Menu
What is a Chuck Wagon dinner?
It's dinner served from the back of a field kitchen covered wagon.
Most commonly seen in the prairie days of exploration in America, these wagon kitchens were set up to feed the workers such as cowboys and loggers who travelled in groups across the nation as part of a wagon train to do the necessary work.
The dinners were named after the "Chuck Wagon box" – the timber crate that held all the robust rations for the arduous journey.
Common items included:
things that could be cured, smoked and preserved, such as salted pork and beef, and
long lasting foods such as beans, coffee, and sourdough biscuits, and
hardy vegetables like potatoes that could cope with being rolled and tumbled around from day to day.
Of course, these staples were then added to with fresh fruit, eggs, and vegetables they found along the way.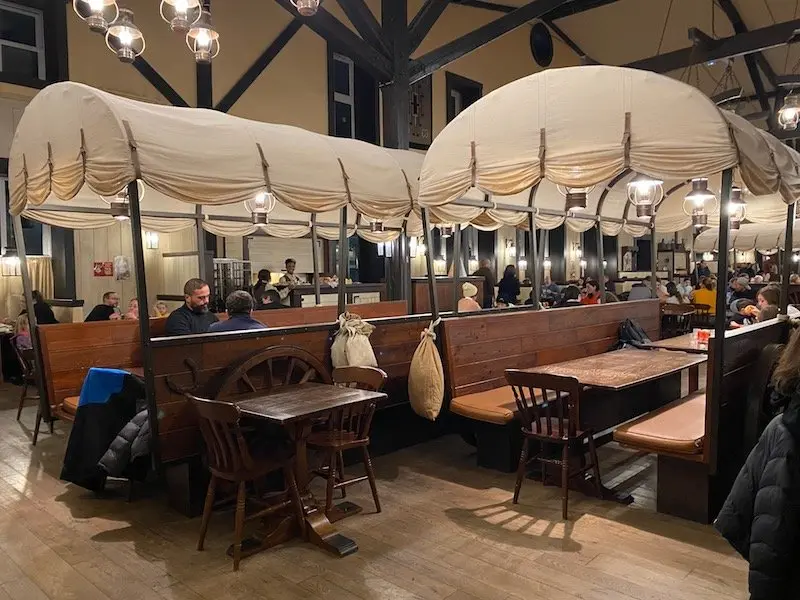 The Best Disney Chuck Wagon dinner
A modern day chuck wagon dinner is likely to include:
some kind of slow-cooked meat
bean dishes
potato dishes, and
smoked ribs.
That's the kind of food you'll find in the Disney Chuck Wagon restaurant too.
READ MORE: The Ultimate Guide to DISNEYLAND PARIS with kids (coming soon)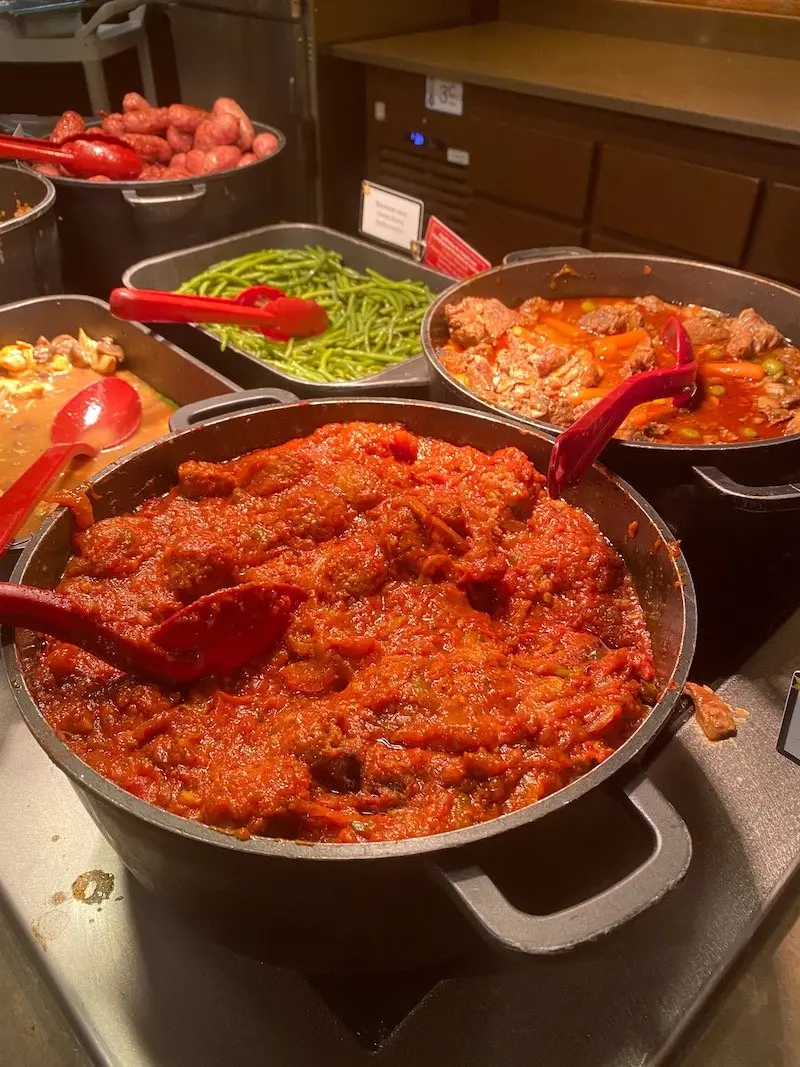 The Chuck Wagon menu
The Disney Chuck Wagon restaurant serves up a delicious Chuck Wagon dinner menu.
Look for dishes such as:
Chuck Wagon chilli
Chuck Wagon beans
Chuck Wagon patties
smoked herb sausage
mashed potato
smoked chicken drumsticks
potato gems
herb omelette
baked ham
Chuck Wagon BBQ pork ribs
RELATED: Ultimate Guide to the La Cantina Disneyland Paris Menu (Santa Fe hotel)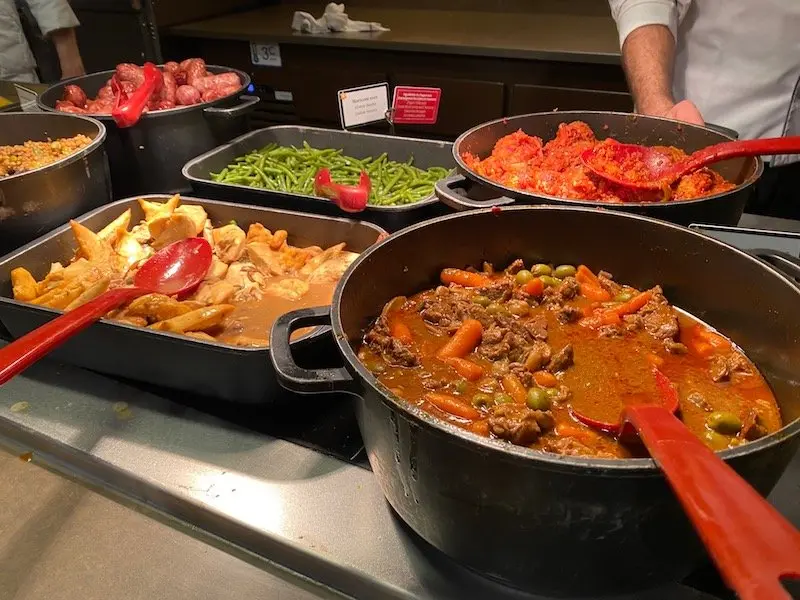 Chuck Wagon stew!
Chuck Wagon stew is the highlight. (DO NOT MISS THIS)
There's also:
meatballs
beef stir fry
boiled potatoes
green beans
chicken thighs
vegan chilli and rice
salmon and cod
And soup (Cream of Mushroom was on the menu when we visited), plus cornbread and croutons.
On the salad bar, there's also Pate, and if you are game, pickled Rollmops fish!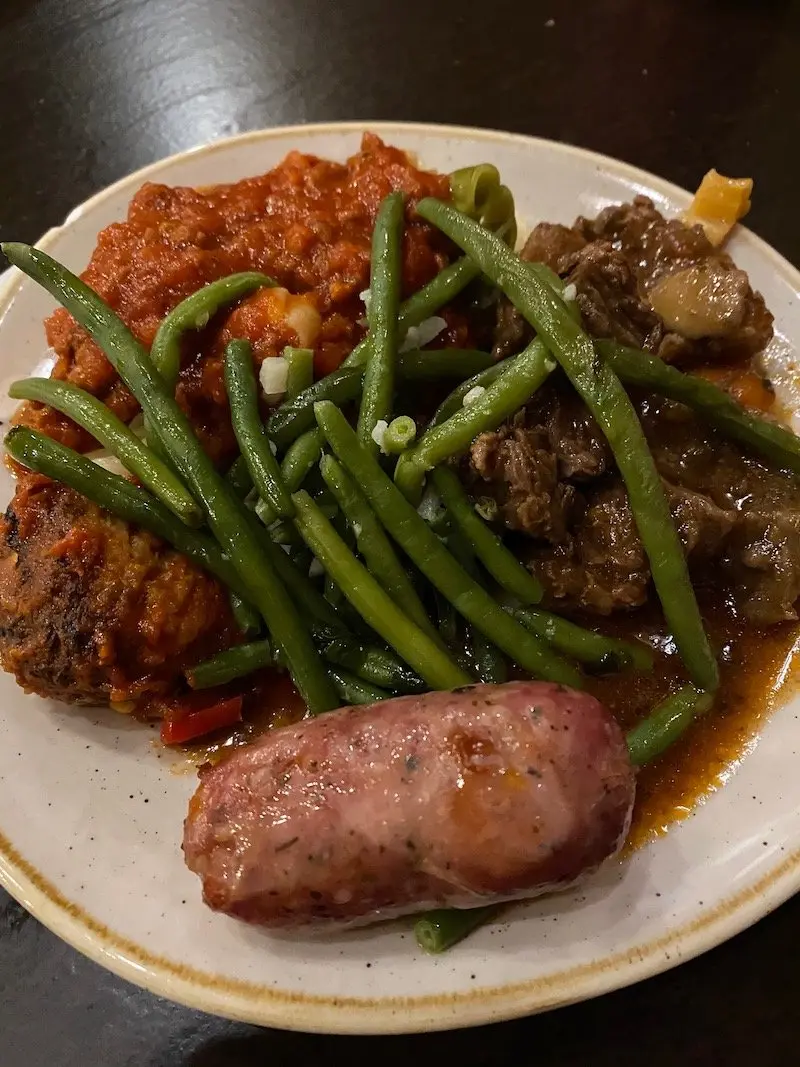 Best Disneyland Paris food!
This was my BEST dinner in Paris Disneyland – complete with herb sausage and beans to boot.
Don't miss out. Reserve your table today.
Hot tip: Check out the Asian Beef and Sauteed noodles on the Wok station.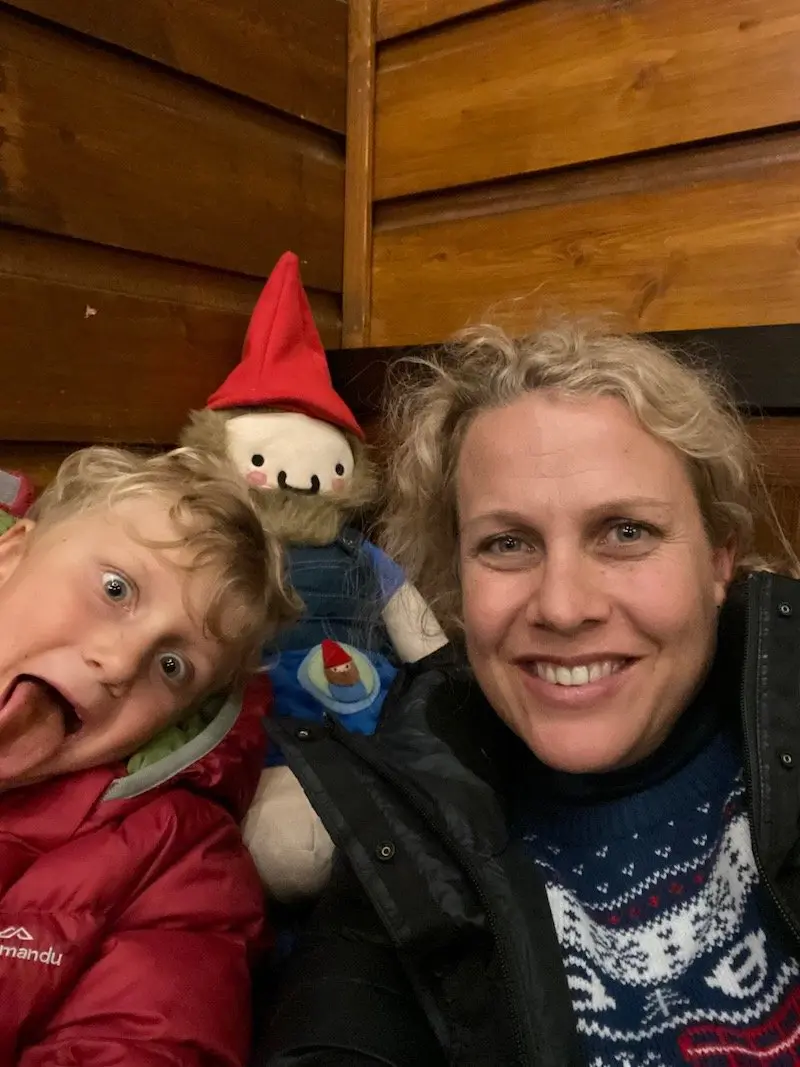 Fun Chuck Wagon food for kids!
There's something for everyone on the Chuck Wagon buffet.
The big surprise at Chuck Wagon Cafe Disney Paris was the Christmas Party Pasta!
That is – pasta shaped as Christmas trees and baubles.
The boys couldn't wait to ladle a scoop of pasta and sauce onto their plates.
For fussy eaters, you can't go past:
the thick-cut hot chips
chicken wings
crispy fish, and
the tomato and cheese empanadas.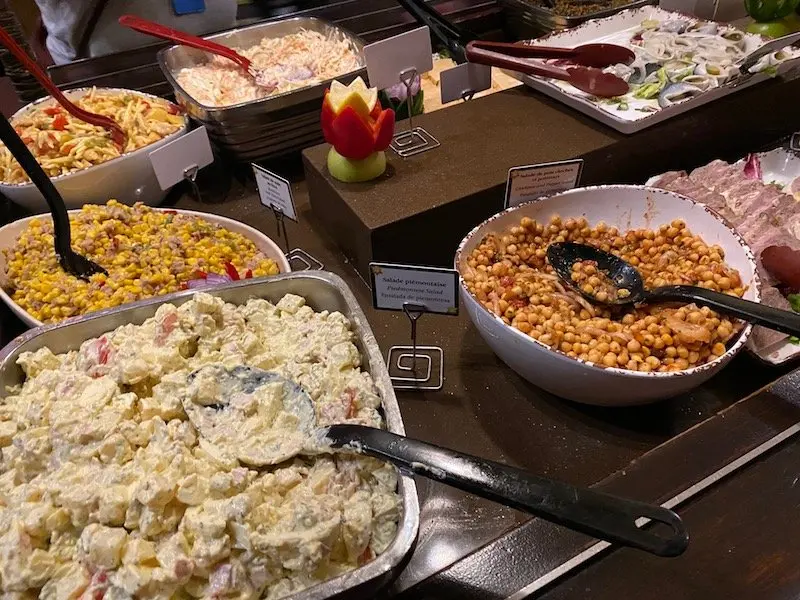 The Chuck Wagon Disneyland Paris Menu for Vegetarians & Vegans
The Chuck Wagon café salad bar is splendid, with LOTS of choice for vegetarians and some for vegans.
Piedmontese salad
Chickpea and pepper salad
Tuna and corn salad
Creamy pasta salad
Coleslaw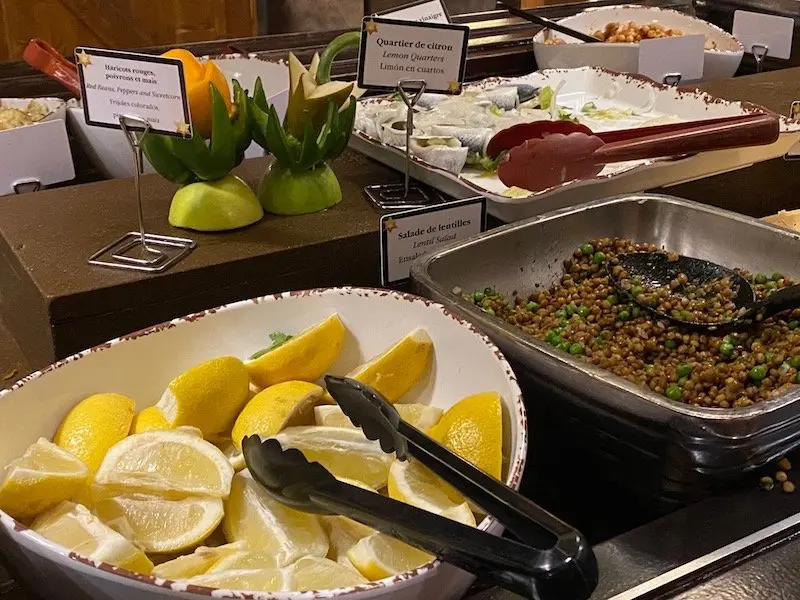 MORE Disney salads
Lentil salad
Red bean, peppers and sweetcorn salad
Potatoes salad with onion
Red cabbage salad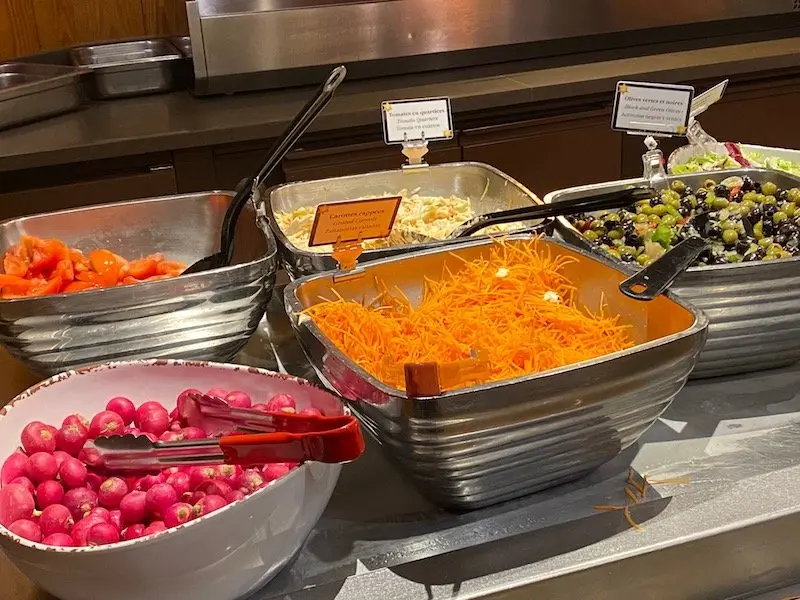 The DIY Paris Disney hotel restaurant salad bar
Or build your own salad with:
radishes
grated carrot
tomato wedges
black and green olives
boiled eggs
side salad lettuce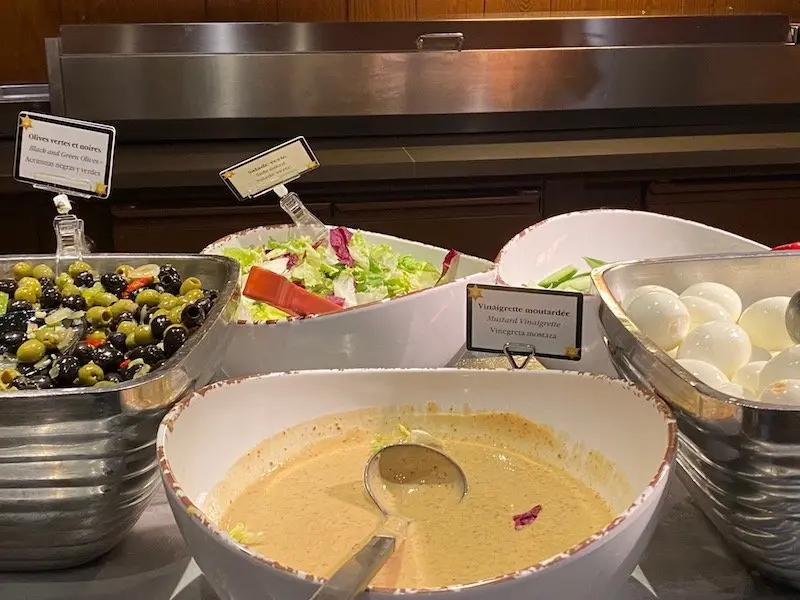 And all the sauces:
tomato sauce
sour cream, and
thick gooey cheddar sauce (BRIGHT yellow!)
Mustard vinaigrette dressing and lemon quarters are there for the taking.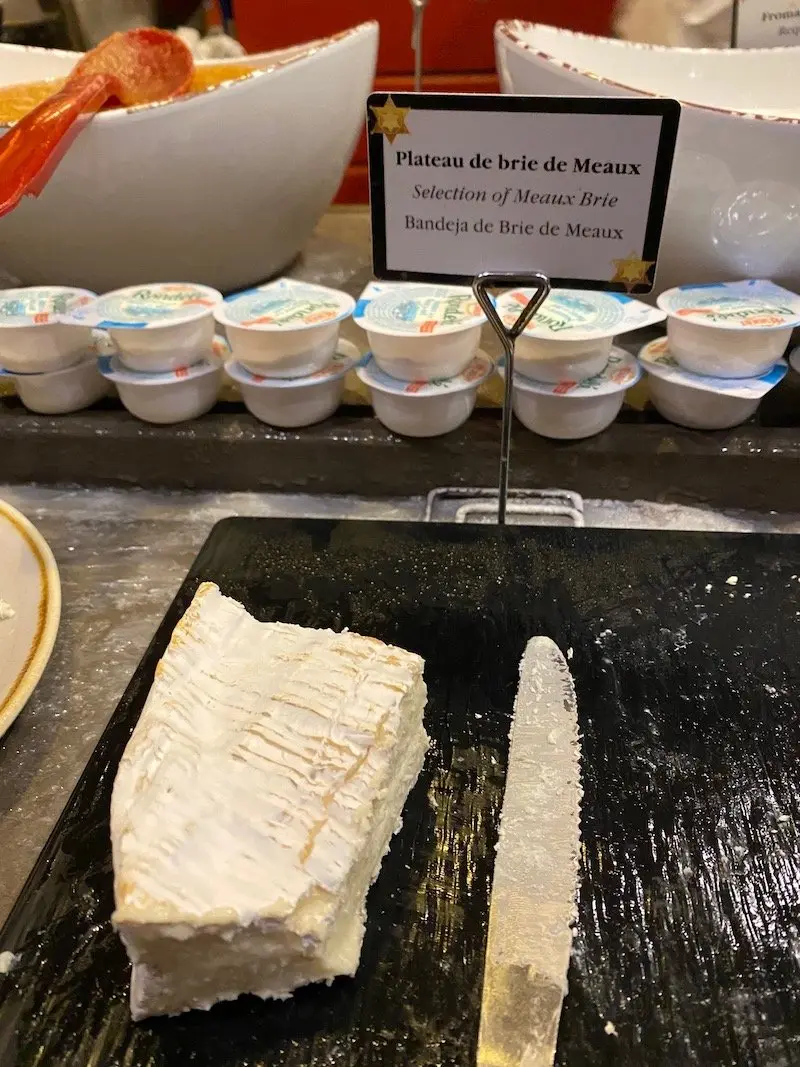 Disneyland Paris cheeseboard!
There's also a fabulous cheese platter, with:
brie
Fourme D'Ambert cheese
a selection of goat cheese
grated Emmental cheese, and
soft spreadable cheese too.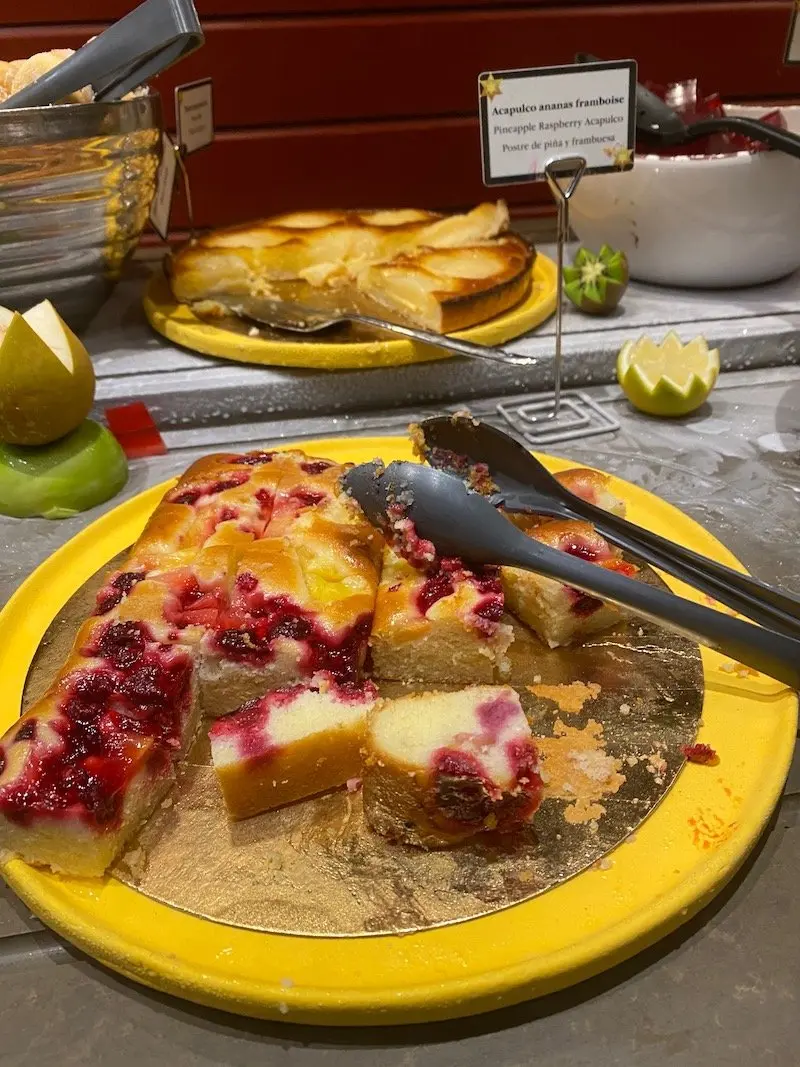 Dessert on the Chuck Wagon Disneyland Paris Menu
Sweet tooth's will also love:
Baked Flan
Strawberry Gateau
Pineapple Raspberry Acapulco (pictured above)
Pear Pie
Plain mini doughnuts
Coconut pie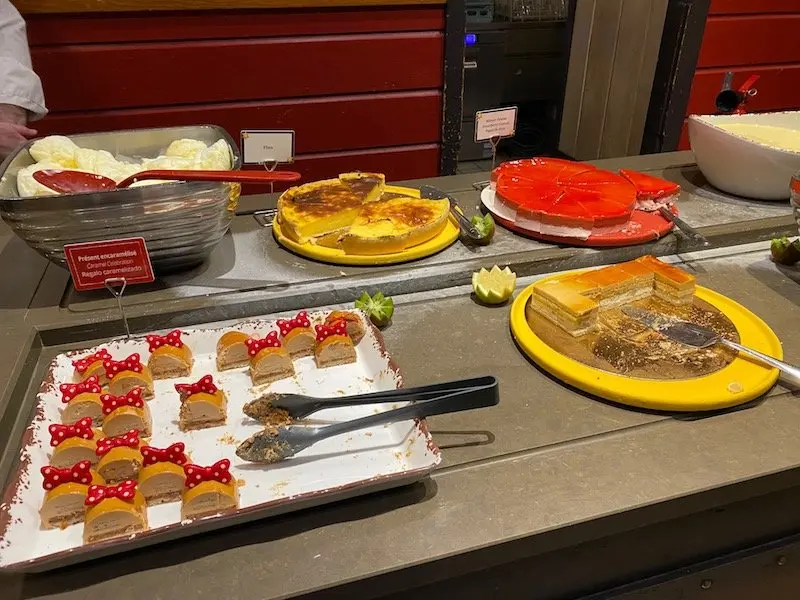 Cute Disney Minnie Cakes!
Look for the very cute Caramel Celebration cake, featuring a seriously cute Minnie Mouse bow!
Creme caramel
Peach jelly slice
Lemon meringue pie
Chocolate hazelnut mousse
Apple tart
Homemade red berries tart
For the kids, there's also their fave, Lemon jelly and strawberry jelly, and custard!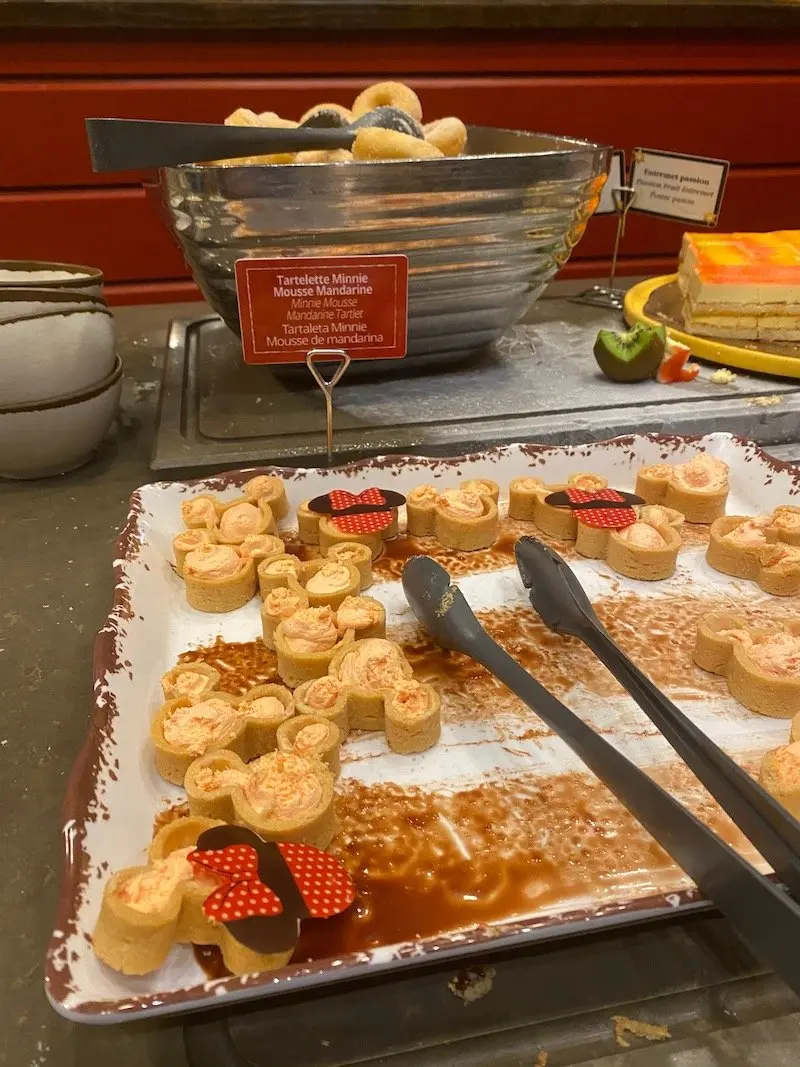 Minnie Mousse Mandarine Tartlets
My fave was the tiny Minnie Mouse pastries, filled with a sweet Mandarine mousse, and a chocolate Minnie on top!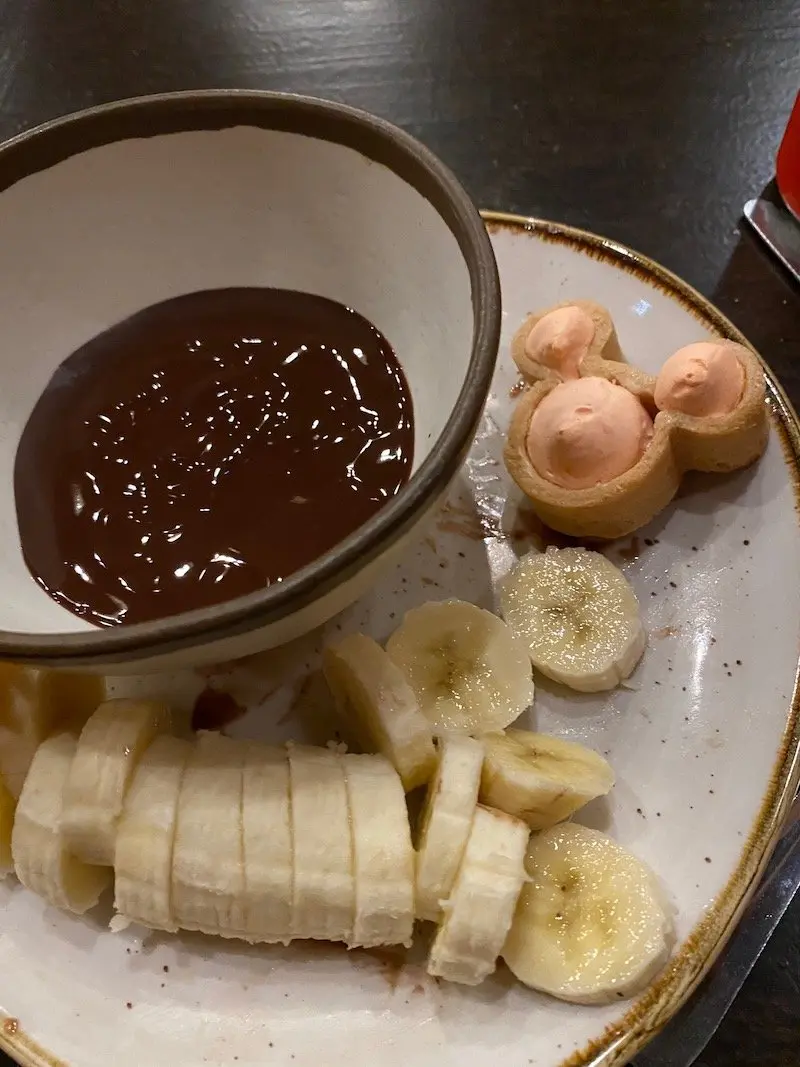 Chocolate Dip!
I also sliced up a banana for the chocolate dip – beware.
That stuff is sickly sweet, but lethal!
Hot tip: Bring a little Paris Disney home by making your own chocolate dipping sauce and a selection of treats for it. Here's a list of what to dip in chocolate fountain.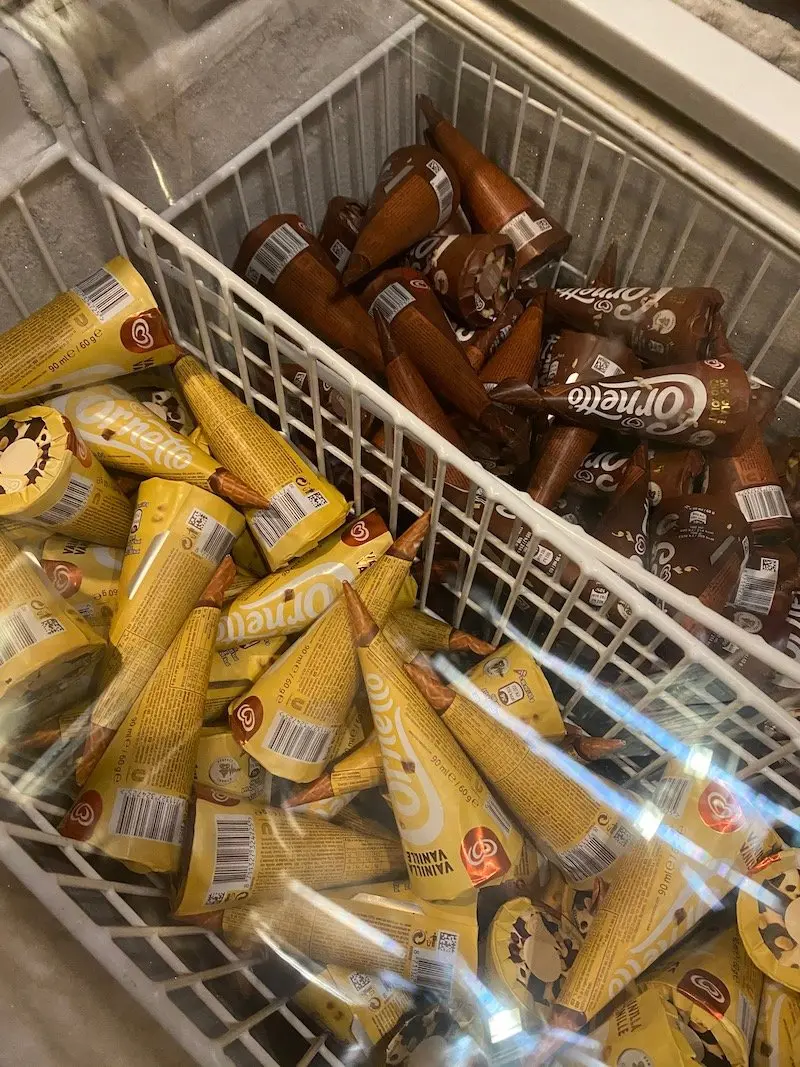 Disney ice creams
If the desserts at the Chuck Wagon Cafe Disney Paris aren't to the kids liking, they can grab a vanilla or chocolate Cornetto ice-cream from the ice cream freezer instead!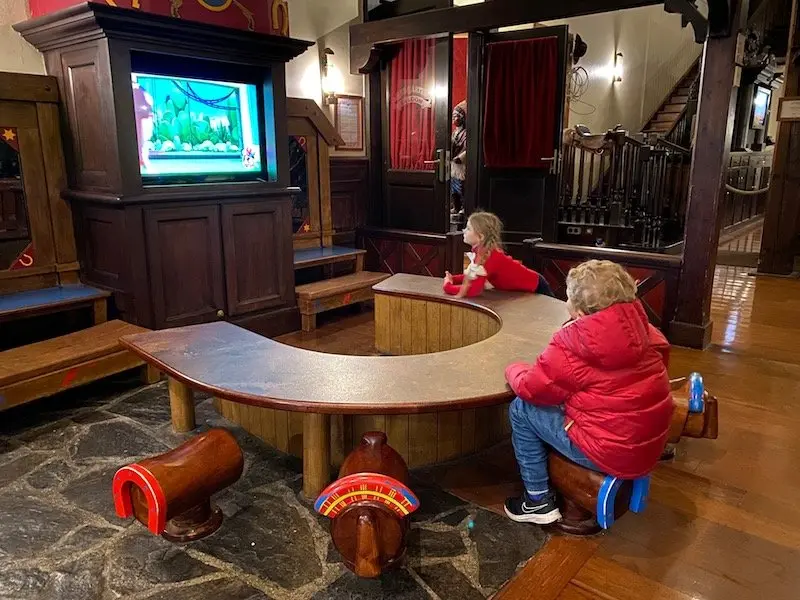 Things to do at the Chuck Wagon Cafe for kids
Hot tip: While you are waiting for your table, the kids can sit at this adorable child-sized Saddle Bar, and watch Disney cartoons!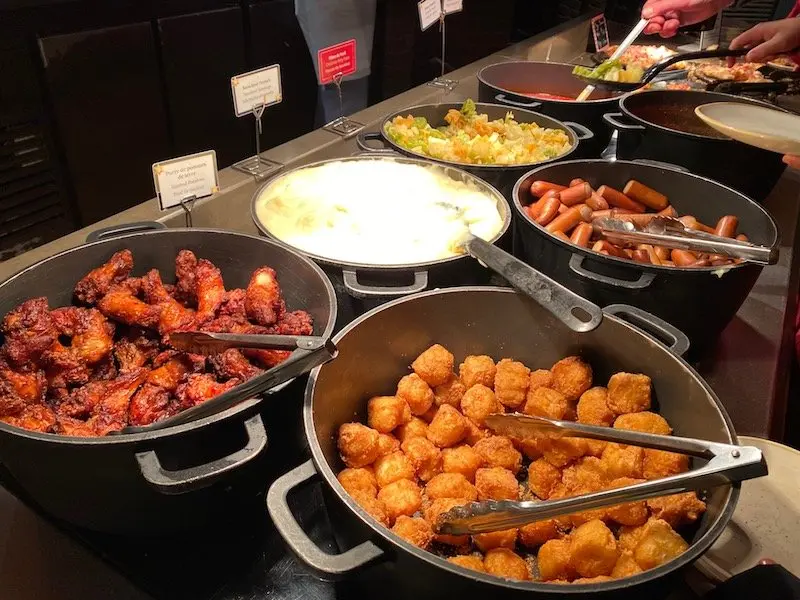 THE INSIDE SCOOP: The Chuck Wagon Café Disneyland Paris
Correct at time of publication on Roam the Gnome. Please check with venue for updates. We apologise in advance if there have been any changes we are unaware of. All prices in euro, unless otherwise stated
Where is Chuck Wagon Cafe Disneyland Paris?
Address: Rue du Bœuf Agile, 77700 Coupvray, France. Located in Disney's Hotel Cheyenne.
Telephone: +33 160304050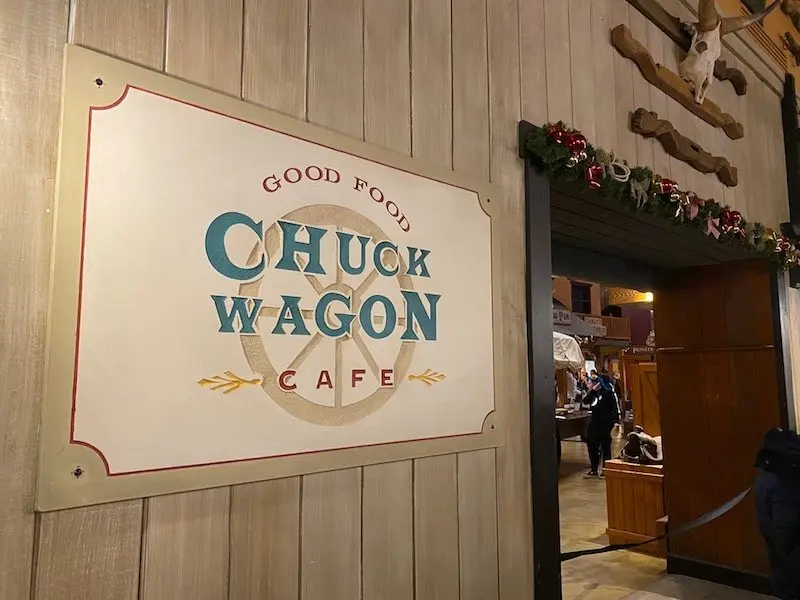 The Chuck Wagon Cafe Disneyland Paris Opening Hours
The Chuck Wagon opening hours are:
6pm to 10.30pm
7 days a week
Book at the concierge desk, or your hotel reception so you don't miss out.
Disneyland Paris restaurant Chuckwagon cafe is popular with repeat visitors, so get in early, otherwise you'll end up with the very late night reservations, once the kids are too tired to cope!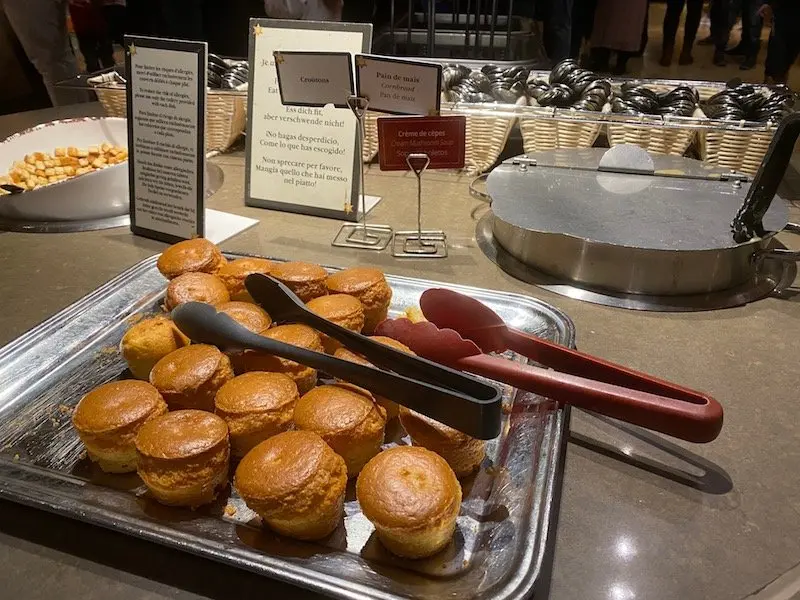 The Chuck Wagon Disneyland Paris prices
The All You Can Eat Menu at Chuck Wagon Cafe costs:
€31.99 for adults – includes one cold drink or mineral water
€17.99 for children aged 3 to 11 – includes one Vittel water, or a Minute Maid orange or apple juice, or a milk.
Children under 3 years are FREE!
Hot tip: You can order a Disney birthday cake that feeds up to 8 people!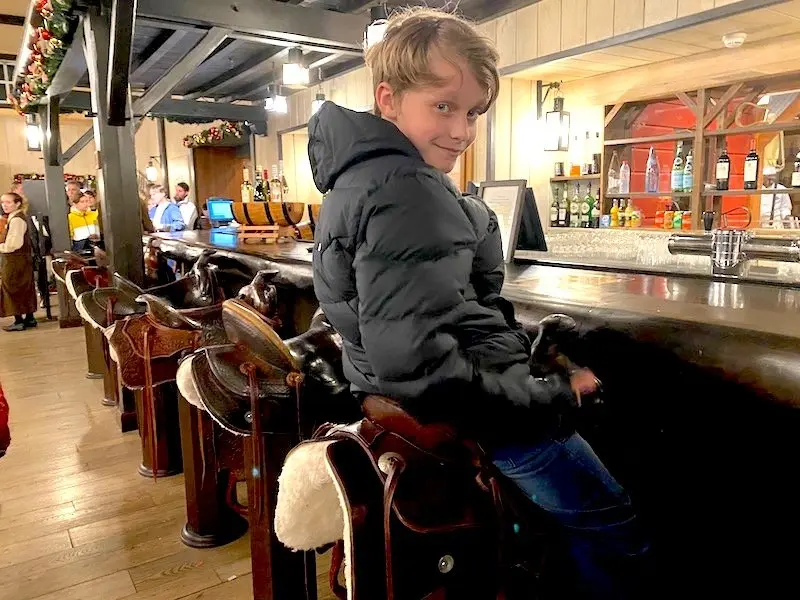 Chuck Wagon Cafe drinks
At the bar, complete with saddle seats, there's draught beers for €4.69, bottled beer for €5.99, a glass of wine starting from €7.99 and aperitifs for €6.49.
For the kids, grab a coke, fanta, sprite, fruit juice, or fuze tea for €4.09
There's also mineral water and hot drinks including tea, coffee, hot chocolate, cappuccino for €3.69.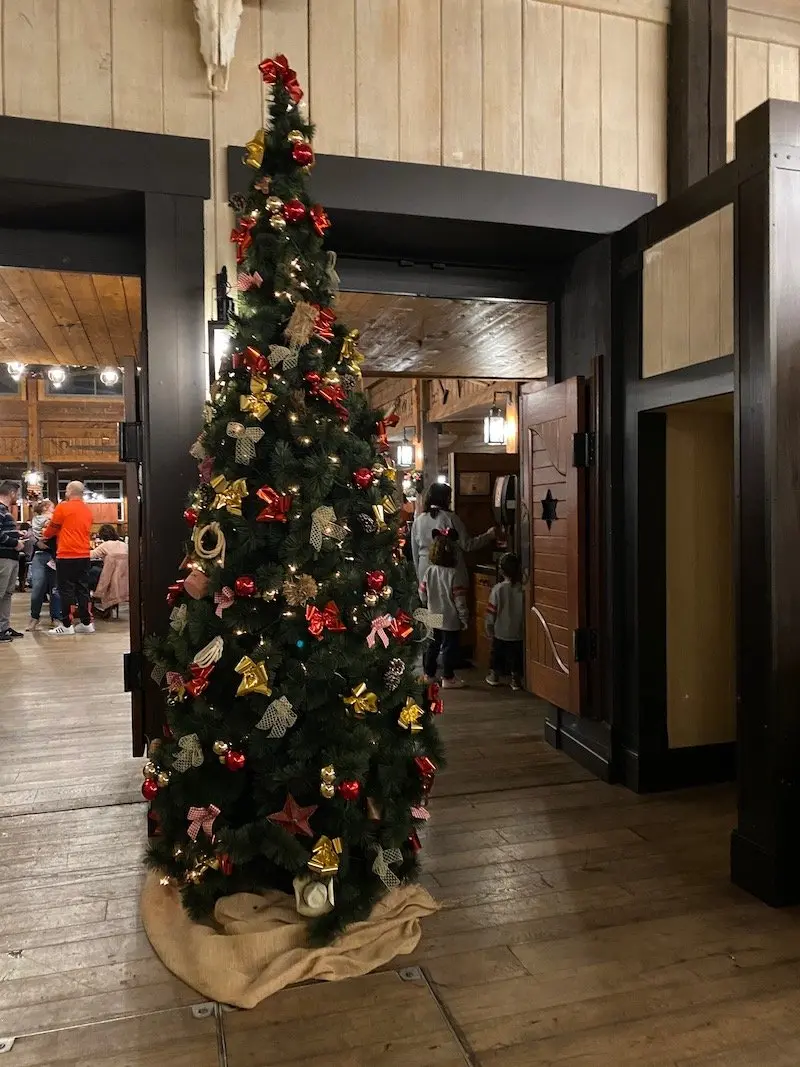 The Chuck Wagon Disneyland Paris Breakfast menu
The Chuck Wagon breakfast prices for the continental breakfast are:
€21 for adults
€14 for children (3-11 years)
The Chuck Wagon restaurant is open for breakfast from 7am to 11am.
Bookings required. Book at your hotel reception.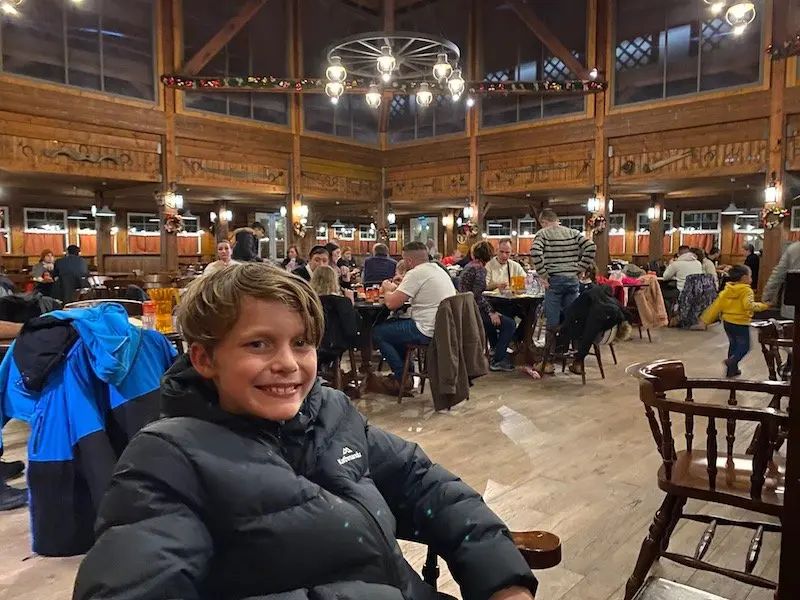 Chuck Wagon Cafe breakfast menu
The Chuck Wagon breakfast menu includes:
croissants
pain au chocolat
plain bread
cheese platters of cheddar, gouda, cheese spread, emmental cheese, and butter
cold cut platters of ham, chicken, mortadelle, and salami
yoghurt, flavored fromage blanc, fruit yoghurt, apple puree, and fruit salad
cereal including corn flakes and coco pops
hot drinks – coffee, tea, hot chocolate
cold drinks – juice and milk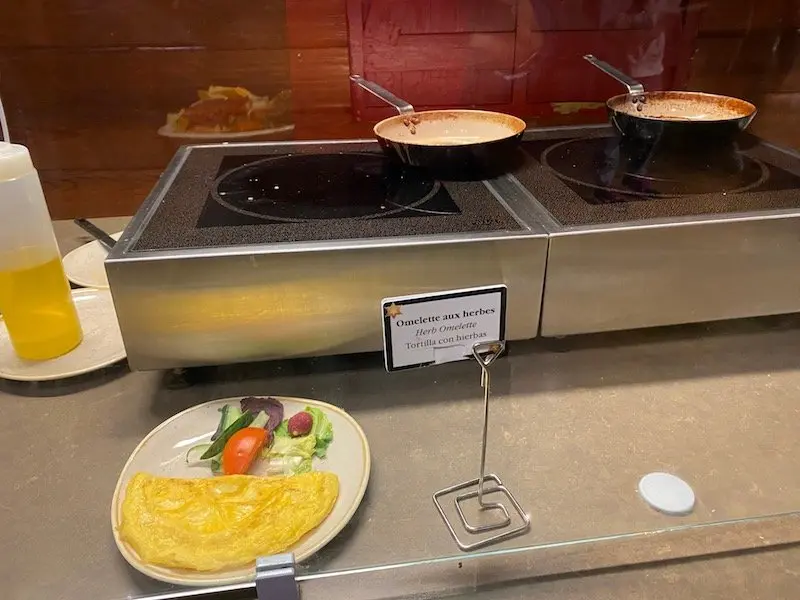 The Hot Chuck Wagon breakfast menu
You can also find hot breakfast food including:
scrambled eggs
bacon and eggs
potatoes
toast
baked beans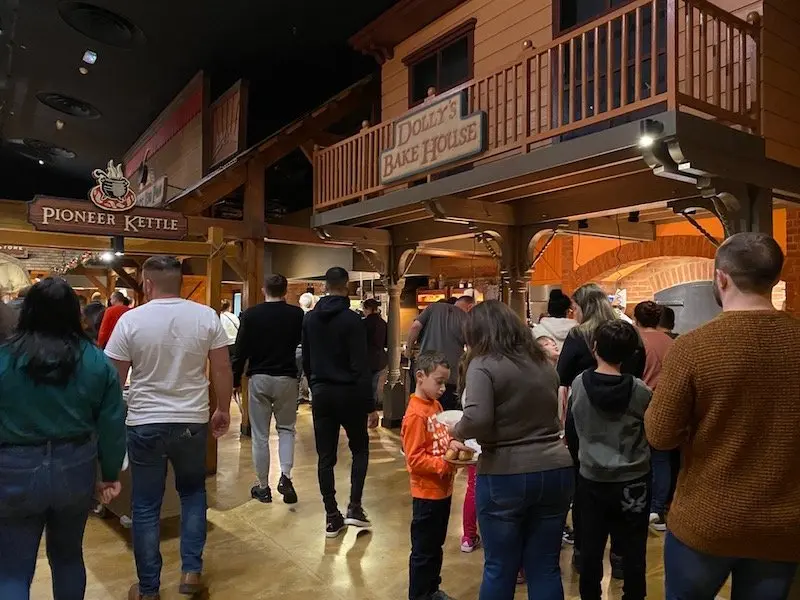 How to get to Chuck Wagon Cafe Disneyland Paris
By Shuttle bus:
Yellow shuttle buses depart in a loop every 12 minutes.
The last buses depart approximately one hour after the closing of the parks
By Car: Click here for directions from your location
By Foot: The main part of the Euro Disney resort and hotels is accessible by foot. But if you prefer not to walk, ask concierge to call a taxi.
The Chuck Wagon Cafe Disneyland Paris map
Toadstool Rating: Chuck Wagon café Hotel Cheyenne
Definitely one of the best restaurants in Disneyland Paris!
If you want to stay close to the Yee Haw action, make a booking at the Wild West frontier town, Hotel Cheyenne.
The rooms at the Disney Cheyenne Hotel are themed with elements from Toy Story – specifically Sheriff Woody style.
Disney Village, Walt Disney Studios Park, and Disneyland park are not far either.

Looking for more Disneyland Paris tips?
Click the blue links below for more Paris Disneyland tips
All you need to know about Paris Disneyland Christmas

The Best Walt Disney Studios Paris Rides & Attractions

Roam the Gnome's Disneyland Paris cars hotel Review

Catching the Eurostar to Paris Disneyland