INSIDE: Everything you need to know about Merlin L'Enchanteur Disneyland Paris.
Looking for the best Disneyland Paris shop for the whole family?
Take them to the MERLIN L'Enchanteur shop.
Expect all kinds of enchanted treasures, including:
jewelled tiaras
blown glass ornaments, and
magical wands.
You might even spy CINDERELLA'S GLASS SLIPPER!
Take a sneak peek inside below.
Disclosure: This article contains affiliate links. If you make a purchase after clicking on one of these links, we may receive a small commission at NO extra cost to you.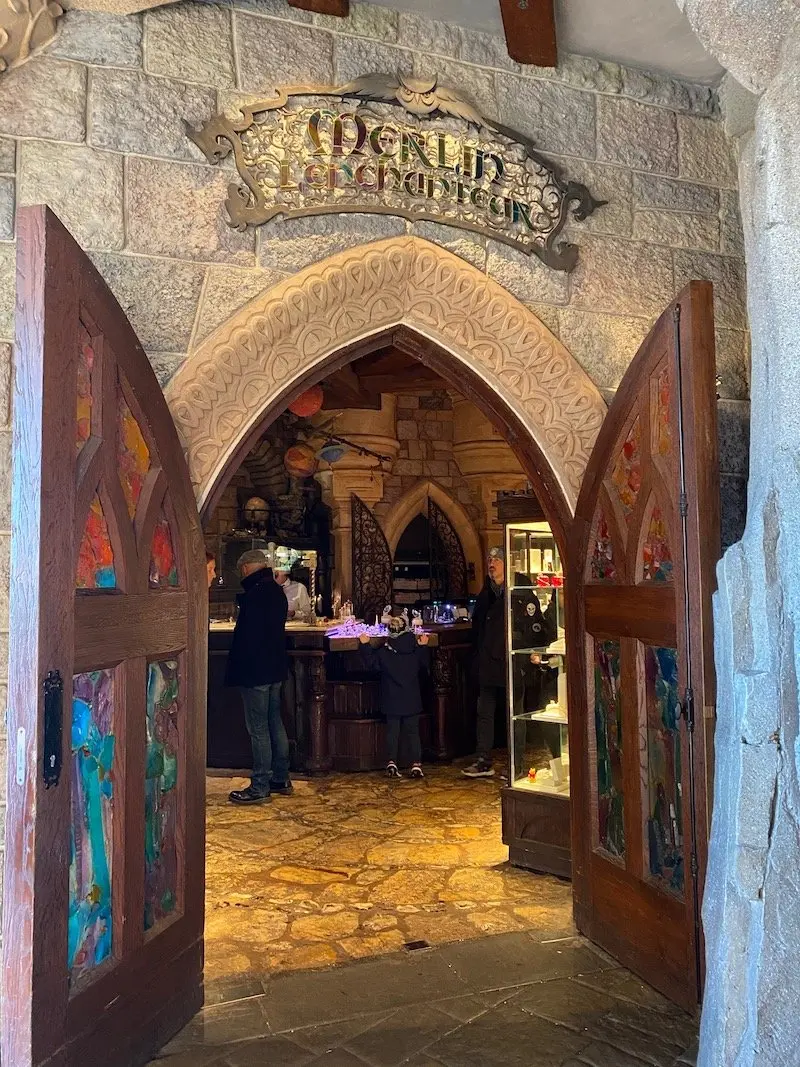 THE INSIDE SCOOP: Best Things to buy at Merlin L'Enchanteur Disneyland Paris
Correct at time of publication on Roam the Gnome. Please check with venue for updates. We apologise in advance if there have been any changes we are unaware of. All prices in euro, unless otherwise stated
This Disneyland Paris shop is one of the best, and should not be missed by anyone bewitched by the charms of Disney Parks & Disney films.
Merlin l'Enchanteur in English means Merlin the Wizard.
Wizardry means you're guaranteed to find all kind of enchantment including shiny crystals treasures and gems, as well as exclusive Disney ornaments and souvenirs.
Hot tip: Watch the 1963 Disney Merlin animated movie by Wolfgang Reitherman to learn about Merlin and Arthur for more insight.
Or Google Merlin L'Enchanteur Netflix to see if the Merlin Adventures Netflix series is currently available in your area.
You might even find out the answer to Was Merlin more powerful and more talented than Dumbledore ?
(Now we'd all like to know that!)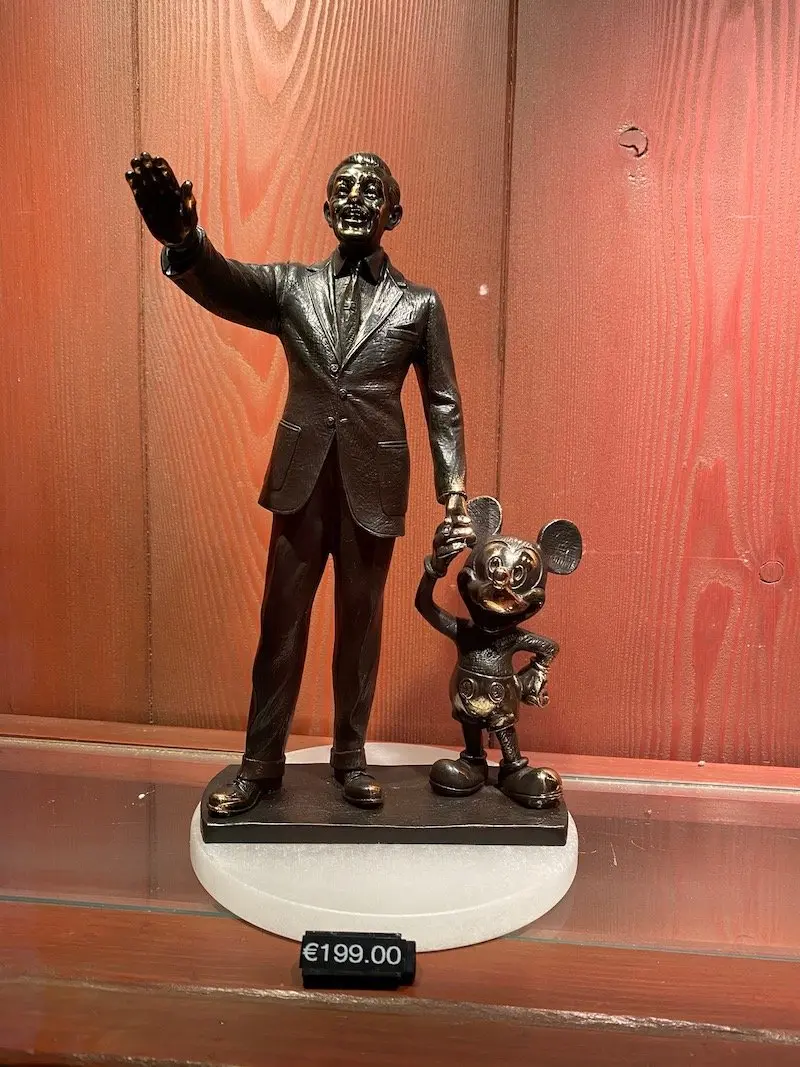 Walt and Mickey partners statue
This is the top end of town, and prices reflect.
But there are delightful buys to be found that suit everyone's budget, big or small.
Take a look at the best finds below.
RELATED: Monster List of the Top 25 Disneyland Paris Souvenirs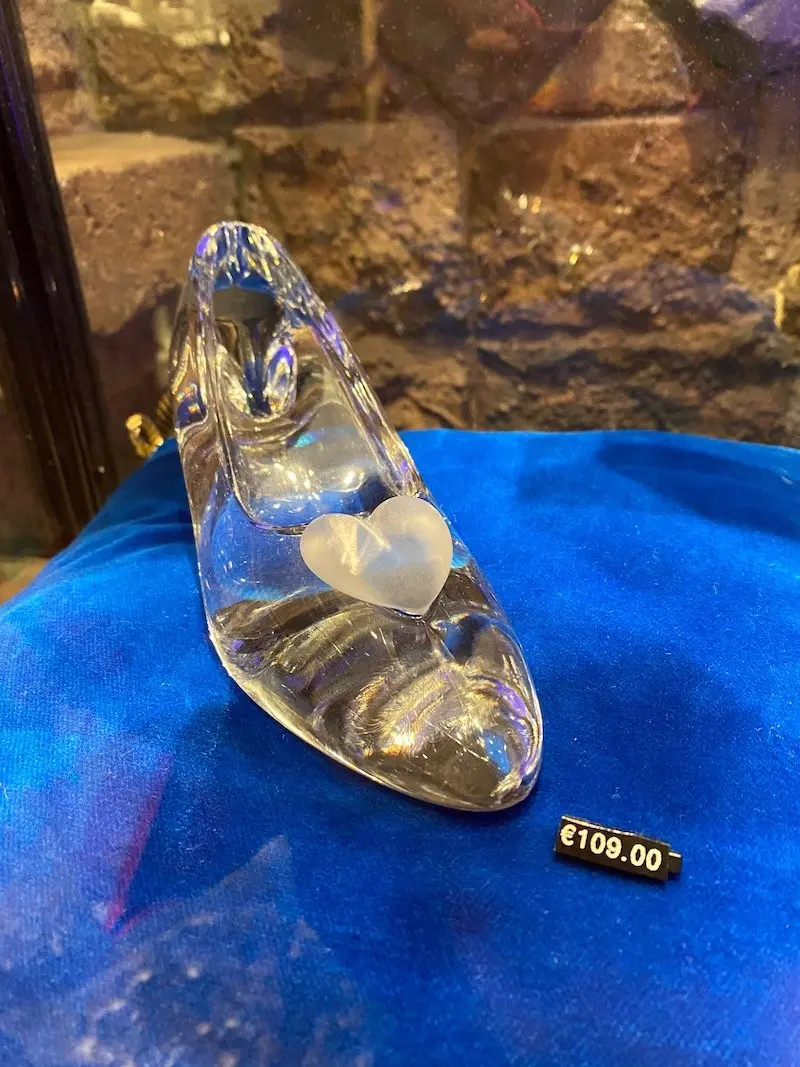 No.1: Disney Cinderella Glass Slipper Ornament
Spy Cinderella's slipper on the Royal Blue pillow.
This glass blown slipper is the ultimate collectors item for any Princess loving fan.
No.2: Cinderella ceramic figurines
If a replica Cinderella glass slipper is out of your price range, choose one of the Cinderella ceramic ornaments.
Or choose a miniature Cinderella glass slipper for just €24.99.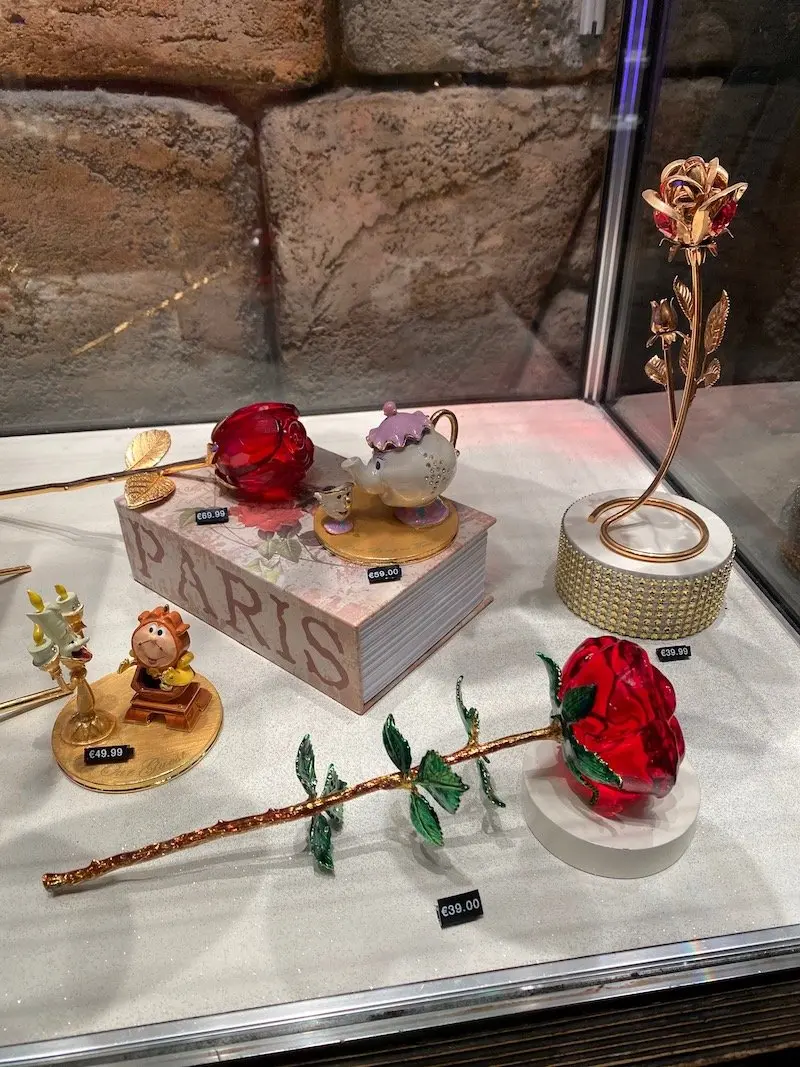 No.3: Disney Beauty and the Beast rose ornament
Fans of the Disney Beauty and the Beast film don't go without.
Look for the breathtaking Beauty and the Beast glass rose ornament – snap it up at €39.00
But you may have to put down the cute Mrs Potts and Chip ornament, or the Beauty and the Beast Candlestick Lumiere chatting to Cogsworth the clock first!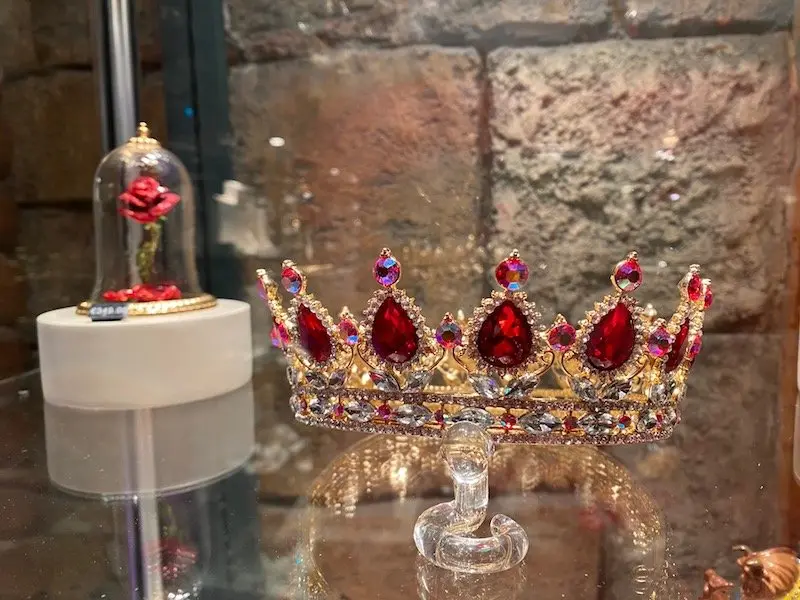 No.4: beauty and the Beast Disney Tiara
THIS Disney Princess Belle tiara is better than anything you'll find in a Disney store anywhere else.
It's the real deal, and definitely NOT a toy.
Showcase this bejewelled piece on display in your home, out of reach of toddler hands!
Hot tip: Princess for a Day Disneyland Paris!
Make your child's wish can come true with a total Princess makeover and hair-styling session.
This hugely popular add-on package costs between €55 up to €180, depending on the package you choose.
Bookings are essential.
Book any of the packages – with exception of the cheapest option – up to 90 days in advance through your travel agent or by calling Disneyland Paris customer services.
Expect to pay the full amount at time of booking.
If you want to stay flexible with your time, head to Boutique Galerie Mickey on the second floor of the Disneyland Hotel to book in person on the day you wish to attend, and hope for the best there's availability.
No.5: Disney Cinderella Coach ornament
Available in two sizes, these Cinderella pumpkin carriage ornaments are adorned with pastel colored gems.
Perfect for the mantlepiece in every Disney household.
Prices start at €39.00 for the smaller version.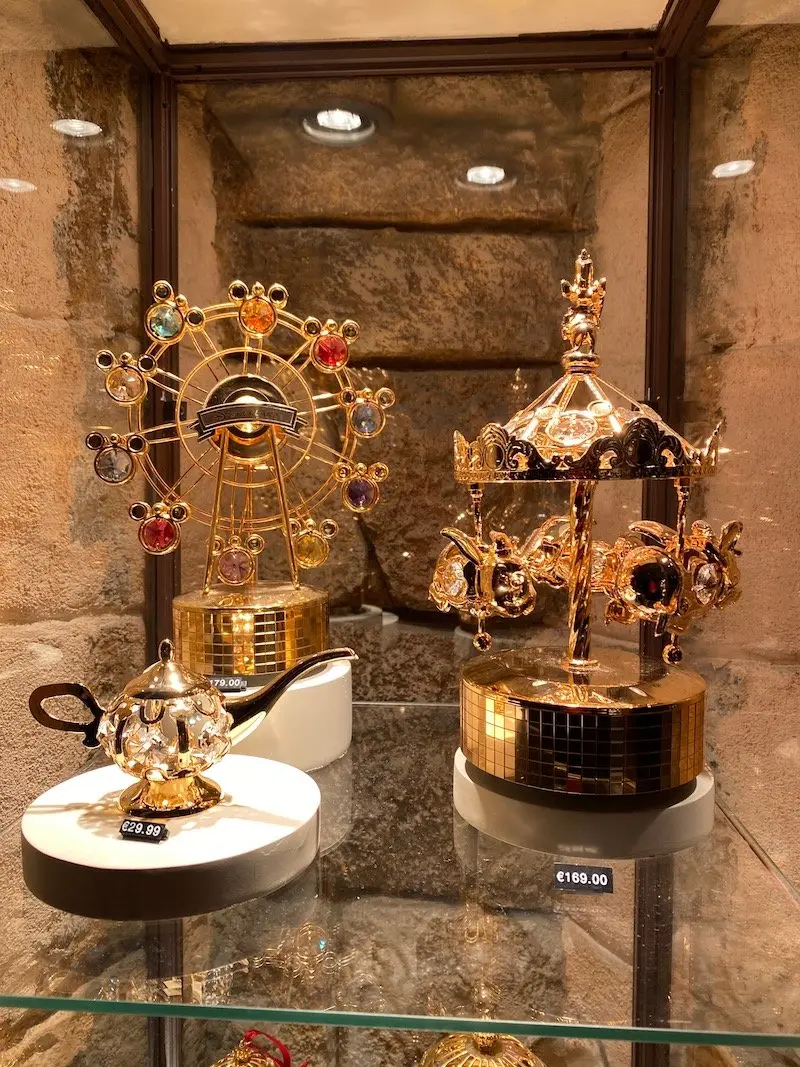 No.6: Dumbo the Flying Elephant Ride carousel ornament
Have you ever seen such a beautiful golden musical carousel ornament?
Bring a smile to everyone's dial with this Dumbo the flying elephant ride ornament for the shelf.
Perhaps the Mickey Mouse ferris wheel statue catches your fancy?
Or your eyes light up when you spy Aladdin's Magic Lamp ornament!
Perhaps it might let you make your own three wishes!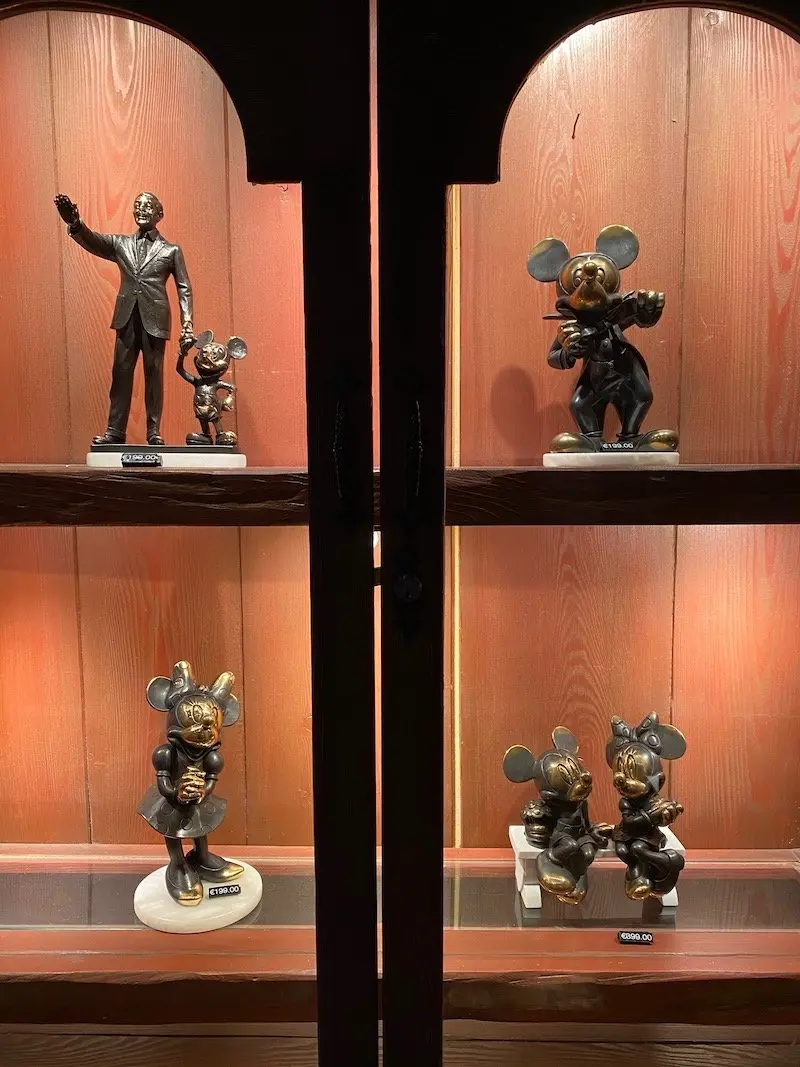 No.7: Walt Disney and Mickey Mouse statue
The Walt and Mickey partners statue (top left) is a take home version of the copper Partners statue created by Blaine Gibson in 1993, where Walt holds the hand of Mickey Mouse, the popular character he created, beloved by Americans and everyone else worldwide.
The bronze statue of Walt Disney and Mickey Mouse clocks in at €199.00
There's also an individual copper Minnie Mouse statue and a copper Mickey Mouse statue, as well as a statue of the two of them sitting on a park bench.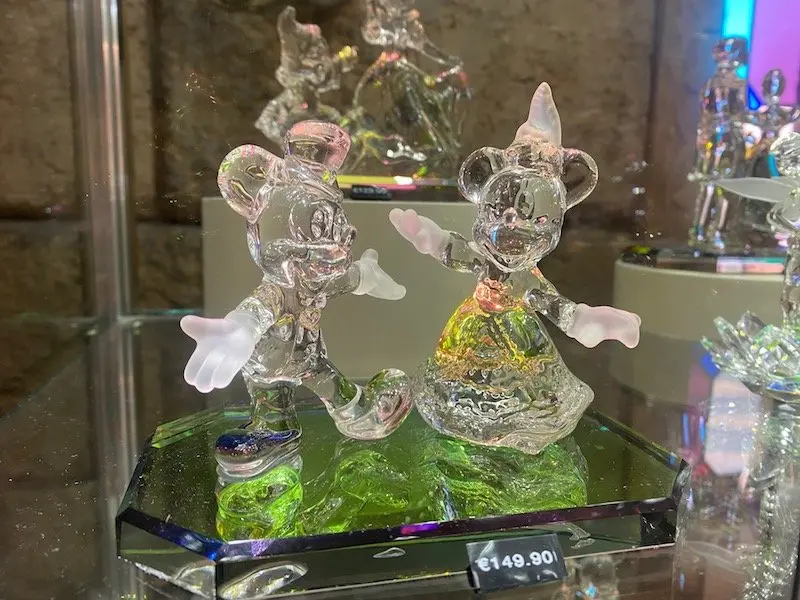 No.8: Mickey and Minnie Blown Glass Ornaments
If you prefer blown glass, check out this Minnie and Mickey ornament.
A rainbow hued collectible you'll love forever.
No.9: Disney Blown Glass Ornaments
Standing approximately 7cm high, these blown glass Disney ornaments caught my eye.
Take a look at the Blown Glass Mickey Mouse, or the Blown Glass Cheshire Cat.
Blown glass Winnie the Pooh
Blown glass Genie from Aladdin
Blown glass Toy Story aliens
Blown glass Goofy
Blown glass Pluto too!
Housed in a miniature glass dome, these are a unique Disney gift for a Disney Collector.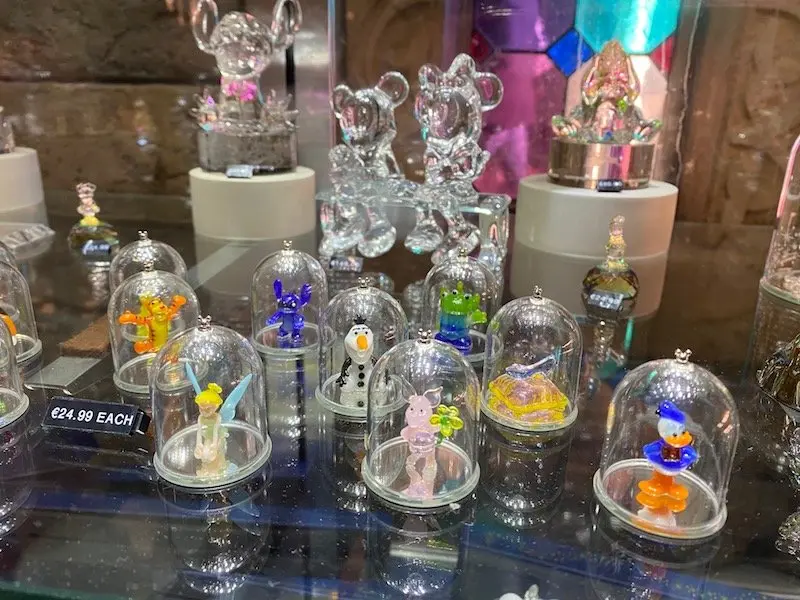 MORE Disney Characters Glass Blown Ornaments
You might also find:
Blown glass Piglet ornament
Blown glass Donald Duck ornament
Blown glass Cinderella slipper
Blown glass Olaf ornament
Blown glass Tigger ornament
In my eyes, the blown glass Tinkerbell is the most beautiful of all!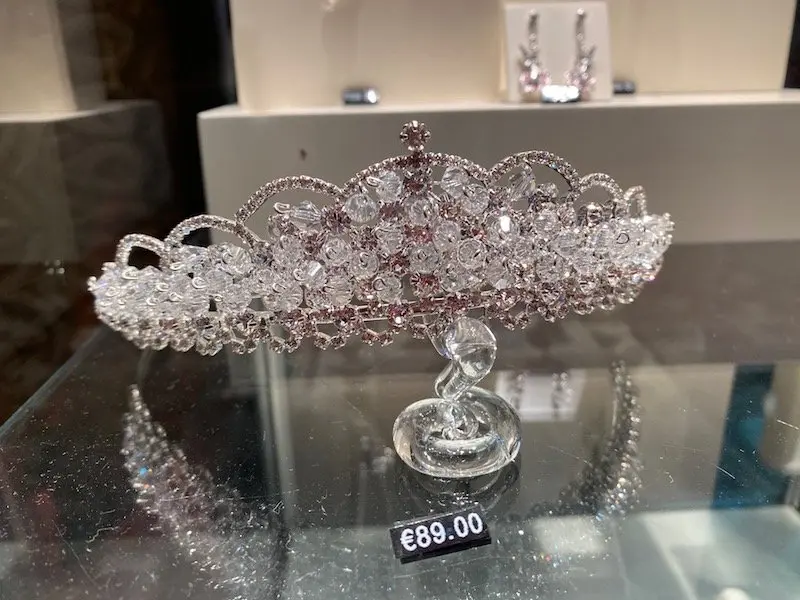 No.10: Princess Tiaras
If you've ever felt drawn to wearing a Disney Princess tiara, now is your chance.
The range of Disney tiaras here cannot be beaten.
Find something delicate like this one, for €89.00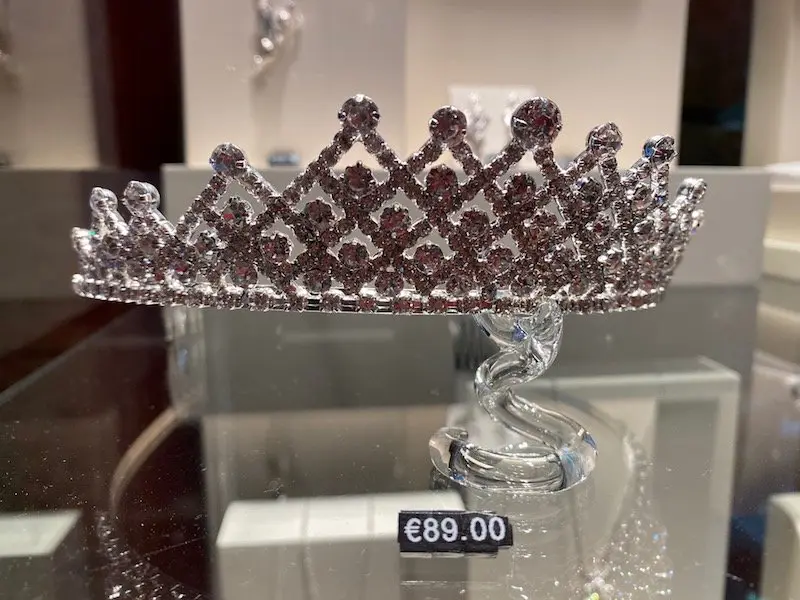 Or this…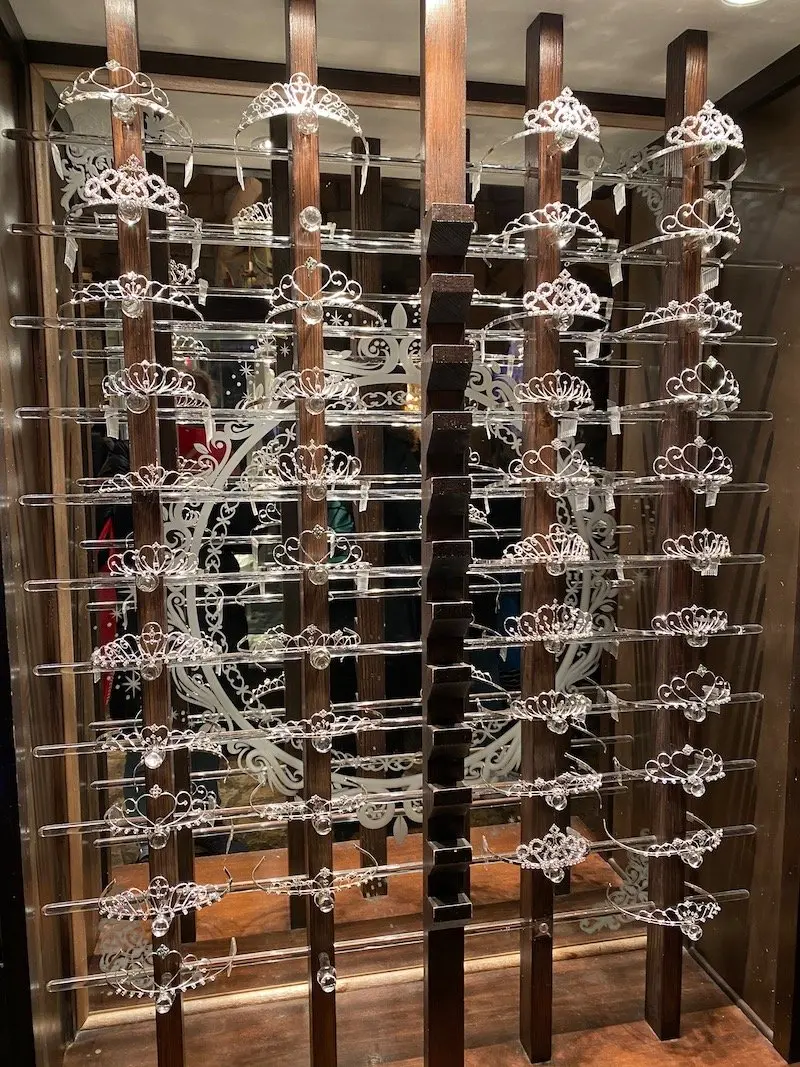 Or one of these…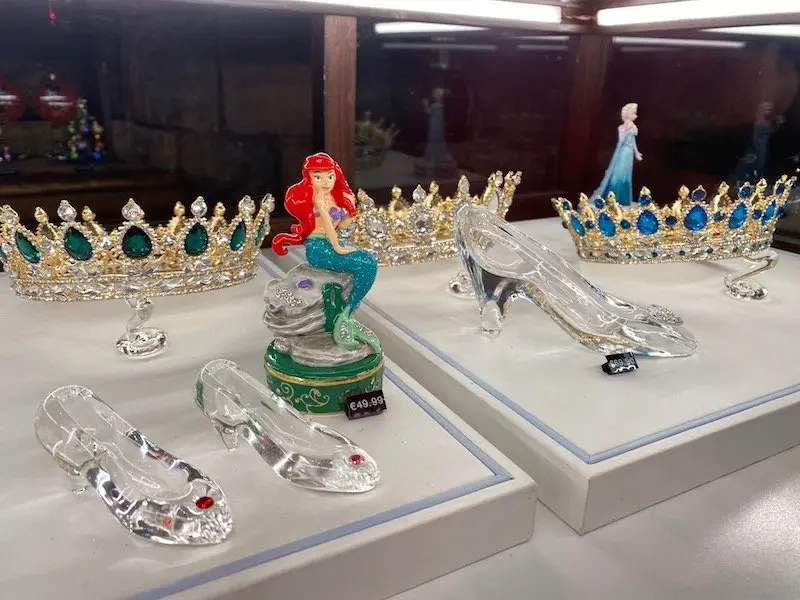 No.11: Authentic Disney Princess tiara collection
But our recommendation is to choose one to match your favourite Disney Princess.
There's Disney Princess Elsa tiaras with sky blue gems, and Disney Princess Ariel tiaras with emerald coloured gems.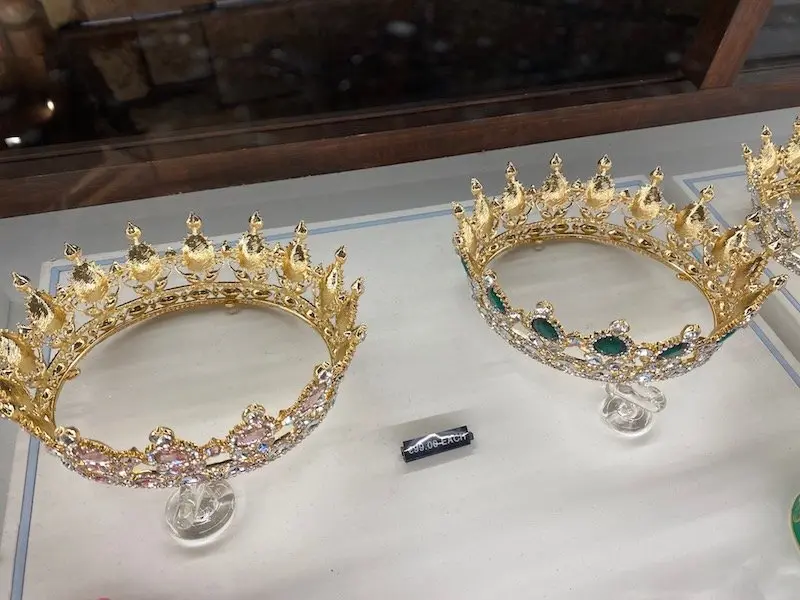 Cinderella tiara
Or pale pink ones for Cinderella.
At €99.00, it's the cheapest & quickest way to become a real Princess for the day!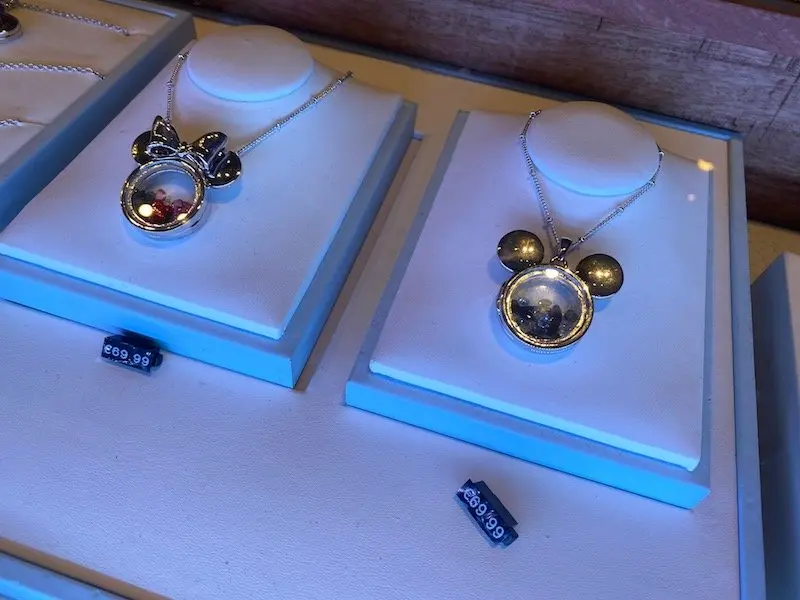 No.12: Mickey Mouse necklaces
And that's not all.
Check out these Mickey Mouse necklaces filled with sparkly gems.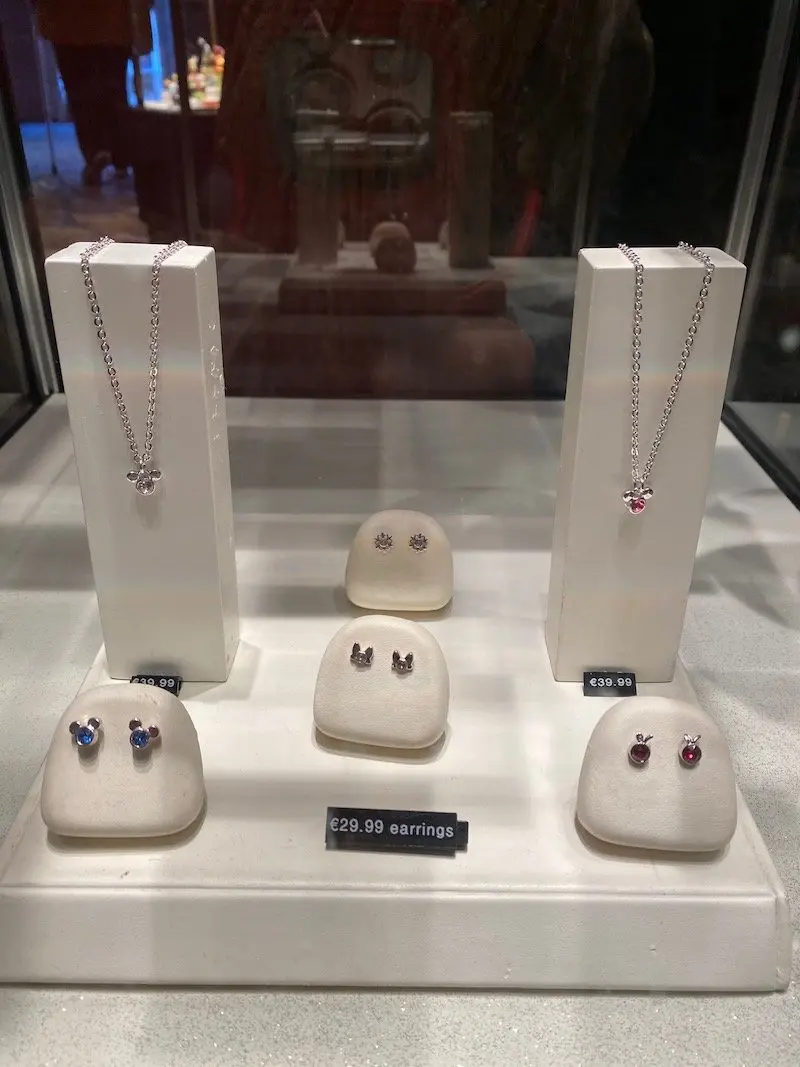 No.13: Mickey Mouse Earrings
Here's a budget Disney souvenir that's easy to carry home.
I cannot visit a Disney Park without adding to my collection of Mickey Mouse ears earrings with some kind of crystal inside!
At €29.99, these are a bargain, and perfect for nieces, daughters, and Disney loving colleagues.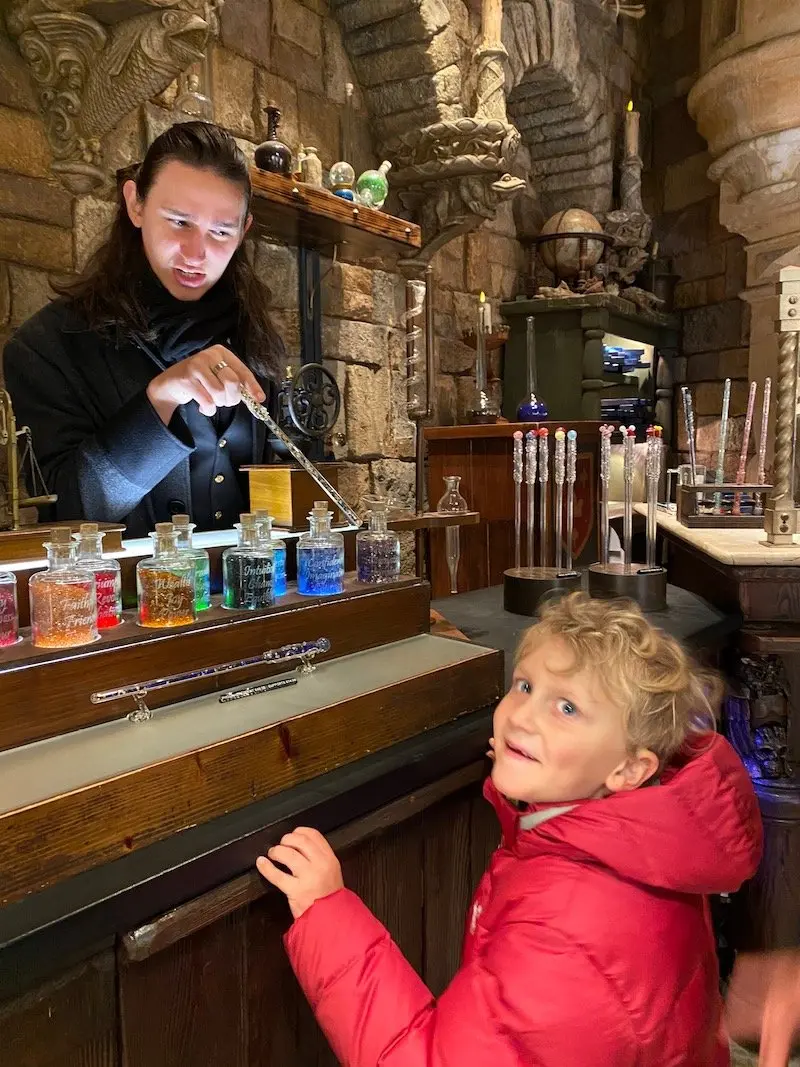 No.14: Merlin L'Enchanter Magical Wands
In one corner of the store, spy a range of magical blown glass wands!
Of all the Disney souvenirs and gifts in this shop, these holds magical appeal for kids.
Especially when Merlin himself is in charge of serving you.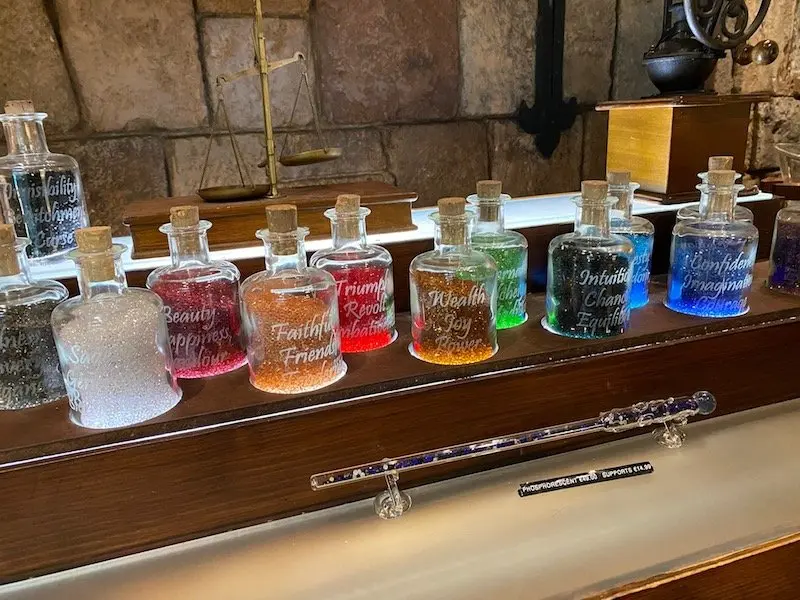 DIY Disney Princess Wands
Pick a wand, and fill it with your choice of magical gems, each one imbued with a special power:
Beauty and happiness
Faithful friendship
Wealth joy and power
Intuition, charm and equilibrium
Confidence, imagination and courage
Take care with the spell of invisibility, bewitchment and curse.
This could be both good, and not-so-good, depending on who's hands the power lands in!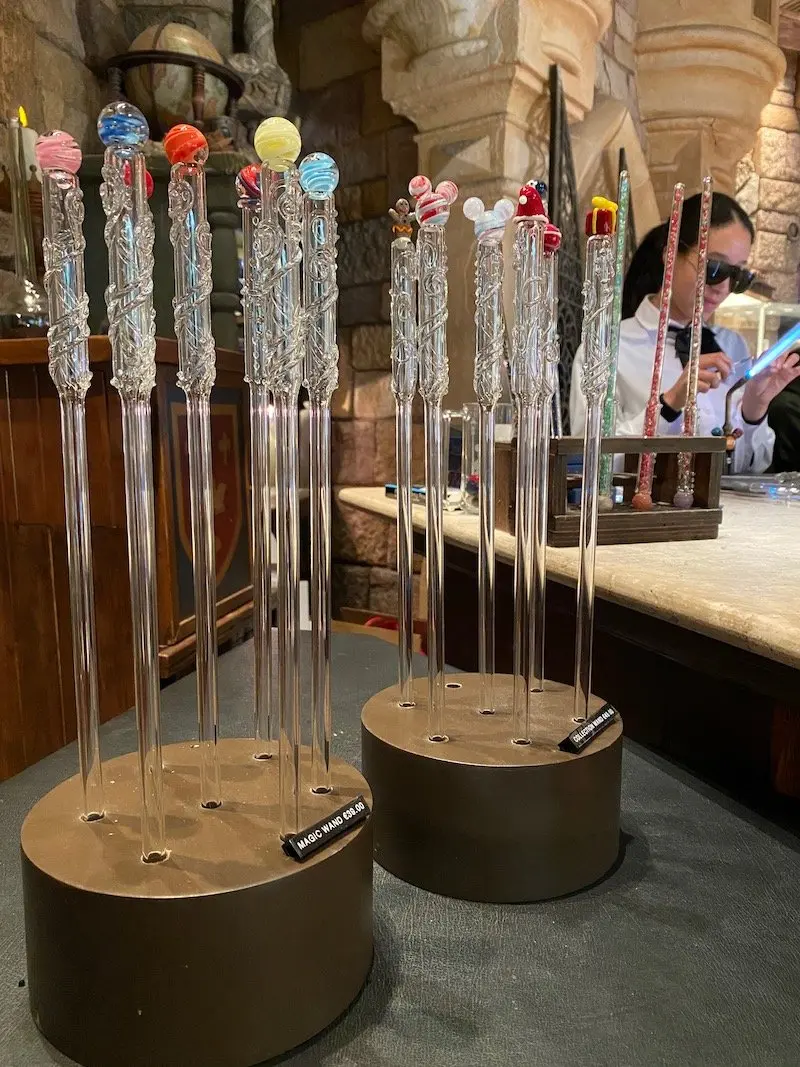 Disney Magic wands
These Mickey Mouse wands cost €39.00
Choose your favourite topper!
Christmas gift box
Planet sphere
Santa hat
Mickey Ears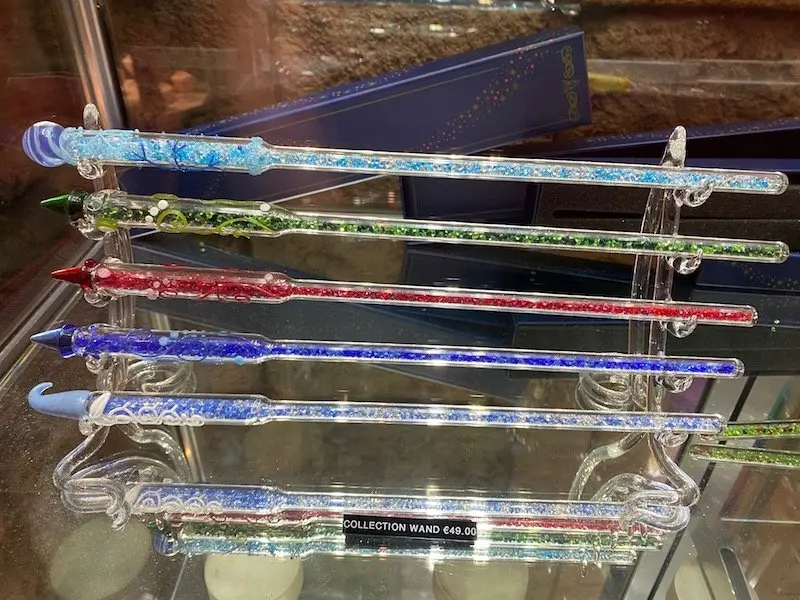 Disney Collection wands
Take a look at the cute Magician Hat toppers on these wands!
Collection wands cost €49.00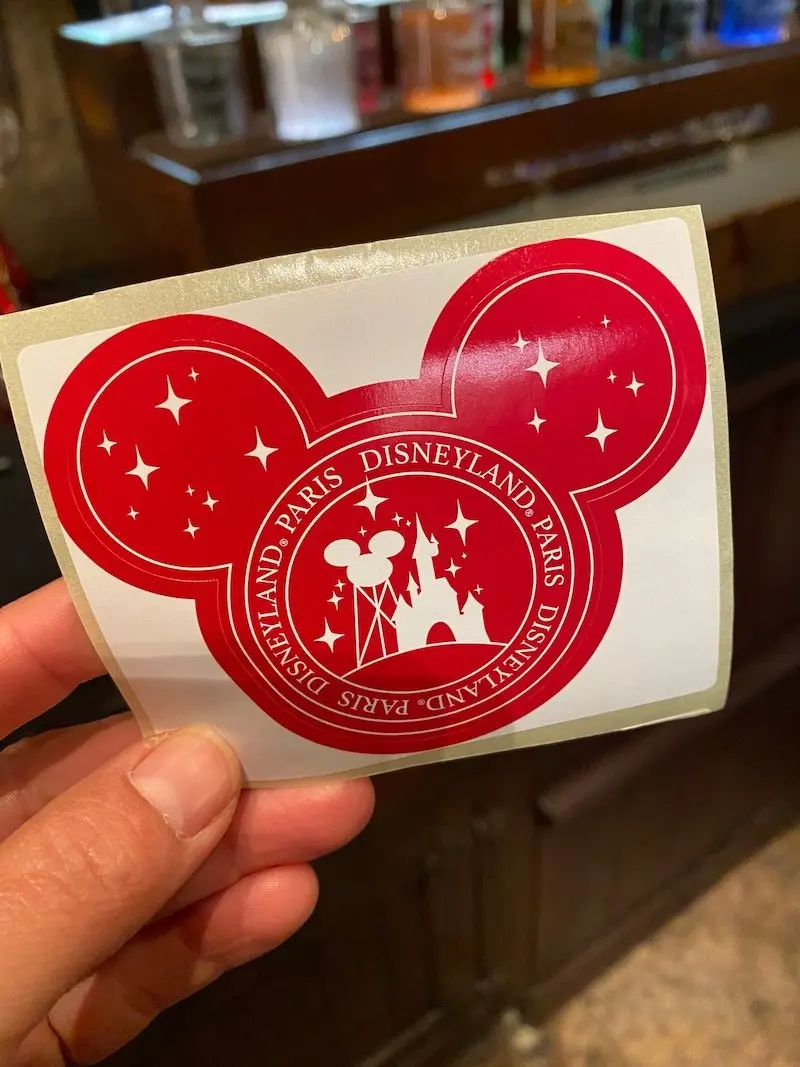 Hot tip: Disneyland Paris sticker
If you are lucky enough to create concoctions with Merlin himself, you may be in line for a magical wish coming true.
Plus, he may hand you your very own Disneyland Paris sticker to take home!
My boys were thrilled.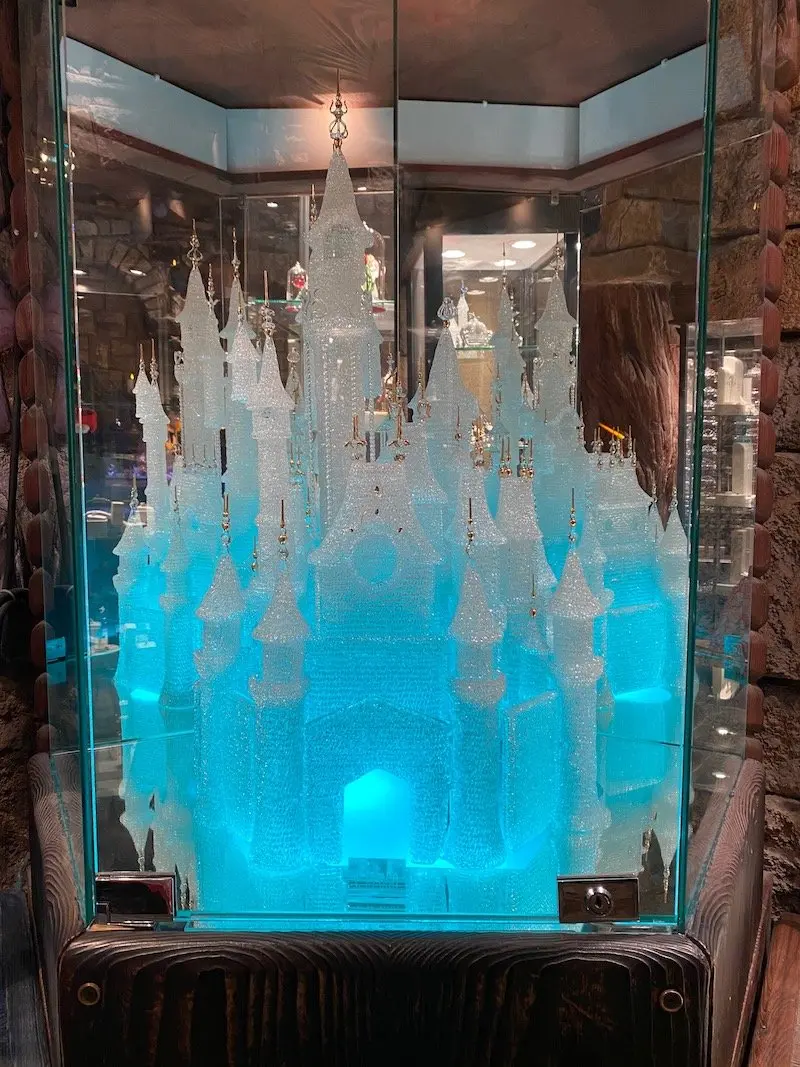 Check out the Swarovski Disney Castle!
Do not leave this shop without taking a close look at this most beautiful art sculpture.
Sadly, it's not for sale, but that means more of us get to see it.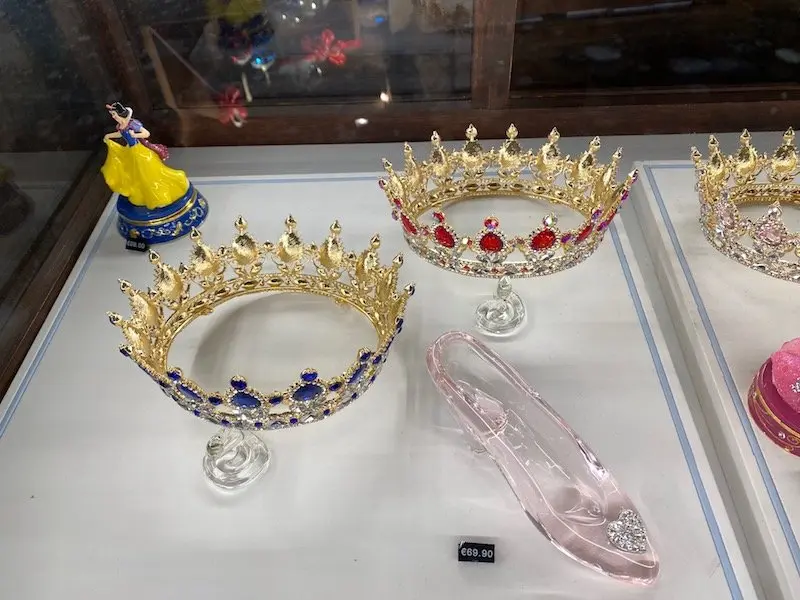 Best Value Disneyland Paris Park Tickets?
Check out Get your Guide for the best value Disneyland Paris tickets.
Compare prices here:
Disneyland Paris multi day tickets are a winner, saving big bucks for the family budget.
Best Disneyland Paris tickets offers?
Wondering where can you buy cheap tickets to Disneyland Paris?
The best bet is to check the official website for hotel and ticket packages.
This is where you'll find the best discount Disneyland Paris tickets across the year.
Specials tend to include:
free dining packages such as half board for free
seasonal specials eg for winter, or low season when demand is smaller
If you are somewhat local, or can get to Disneyland in Paris with relative ease, eg from London, it's worth considering if you should buy an Disneyland Paris annual pass.
READ MORE: Complete Guide to Disneyland Paris Fastpass System (coming soon)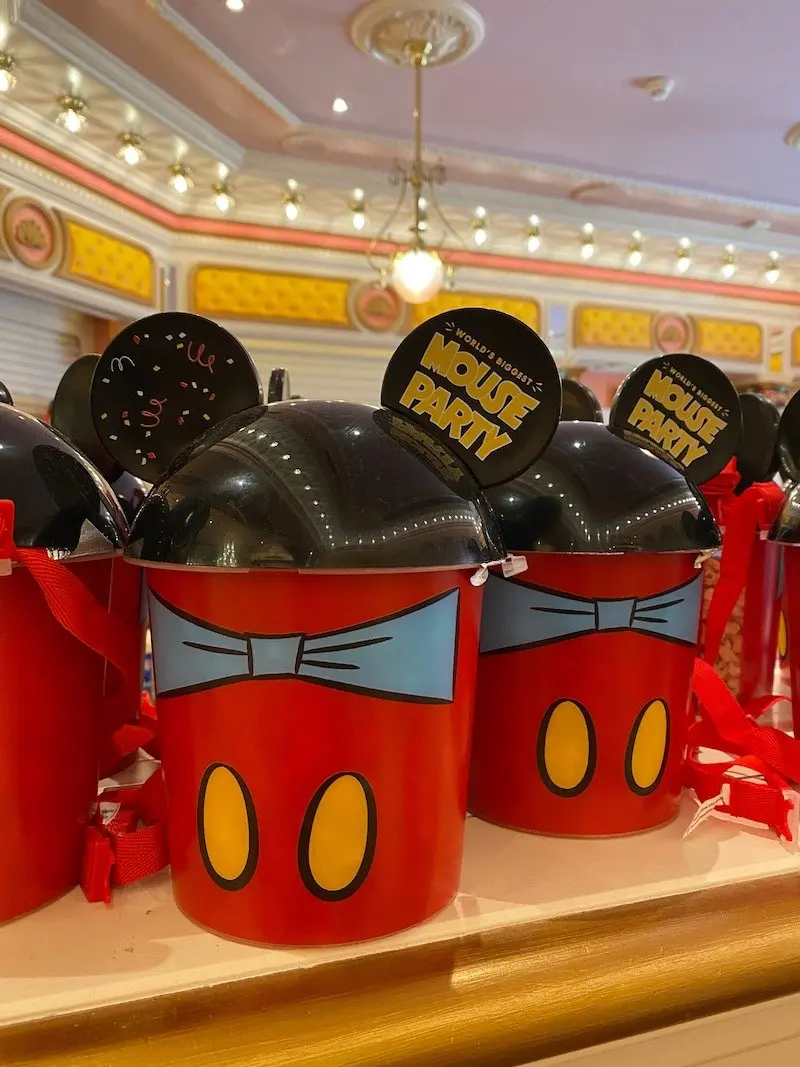 How to get to Disneyland Paris
Disneyland Paris By Eurostar: Click here for details
Disneyland Paris By Train from Paris:
The fastest way to get to Disneyland Paris from Paris city centre is via the Regional Express Network RER.
RER Line A train terminates at Marne-la-Vallee/Chessy station.
Walk to Disney Village, Disneyland Paris gates, and Walt Disney Studios Parc from the Train Station in about 2 minutes.
Hot tip: If you are staying at a Disney Hotel, book the Magical Express option.
This allows you to leave your luggage at the Magical Express counter at the station and not waste a minute of your precious time stuffing around. Your bags will be delivered to your hotel room directly.
Disneyland Paris by shuttle:
Click here for a airport transfer shuttle service from Paris airport to Disneyland Paris
Click here for details and price of the Offical Disneyland Paris Express shuttle bus transfer to Euro Disney with entrance tickets included
Disneyland Paris by Coach: Click here for details of Disneyland day tours, and mini breaks
Disneyland Paris By Car: Click here for directions to Disneyland Paris from Google maps
Disneyland Paris Car Park price: Click here for all the details of parking at Disneyland Paris
Disneyland Paris brochure PDF
Click here to download a copy of the Disneyland Paris e-brochure.
Toadstool Rating: Merlin L Enchanteur shop in Disneyland Paris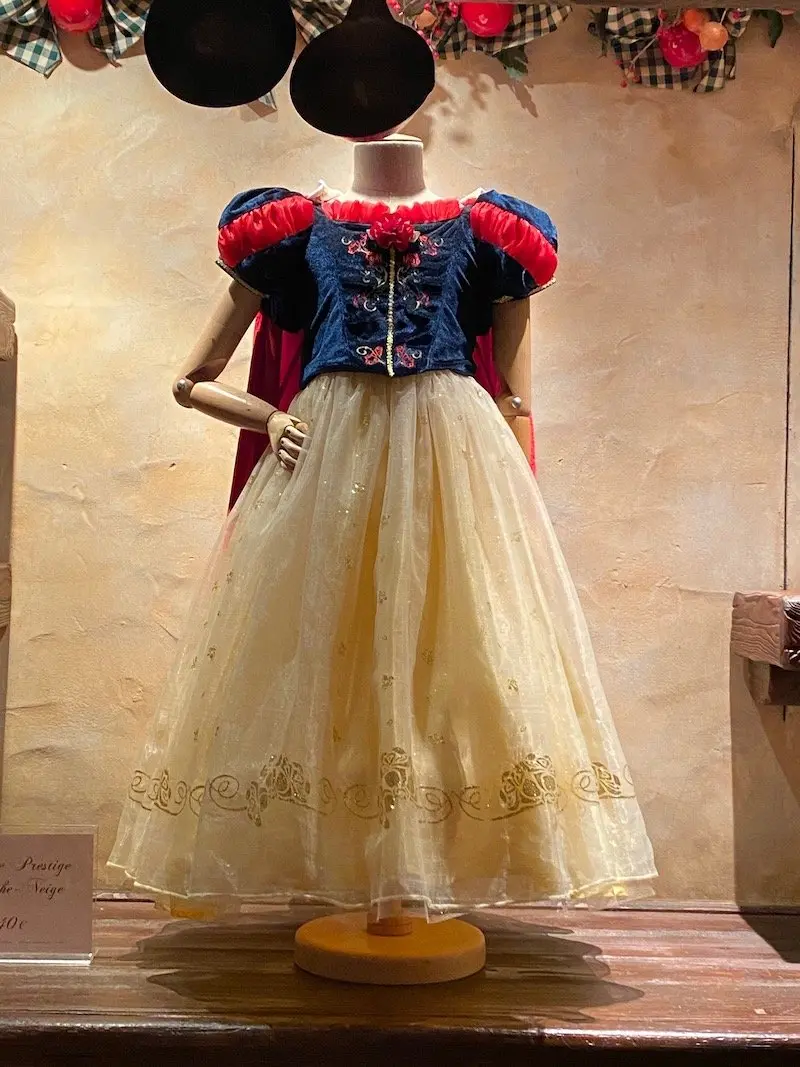 Looking for more fun things to do at Euro Disney?
Click on the blue links below for more Paris Disneyland tips